Zion and Bryce Canyon are two of the most popular stops along Utah's legendary Mighty 5 road trip. We are going to show you how to see and do the best of both Zion and Bryce Canyon in just 3 amazing days.
Your adrenaline will spike as you tick off two bucket list hiking trails at Zion, before leveling out your BPM as you marvel at a spectacular sunrise over Bryce Canyon's bowl-shaped amphitheater.
A Zion and Bryce Canyon road trip double header is the perfect long weekend break from Las Vegas or as part of a wider US Southwest road trip.
Don't forget to read our top 10 tips on how to plan a successful road trip next, but for now – let's get right into the Zion and Bryce Canyon action!
Important update for June 2021: Advanced reservations for the Zion Canyon shuttle bus have been discontinued as of 28 May 2021.
*Please note this post may contain affiliate links. If you click on one of them, we may earn a small commission at no extra cost to you! We recommend only products we use and as always, all ideas or opinions expressed in this post are entirely ours. Thank you for the support and happy travels!*
Why Visit Zion National Park?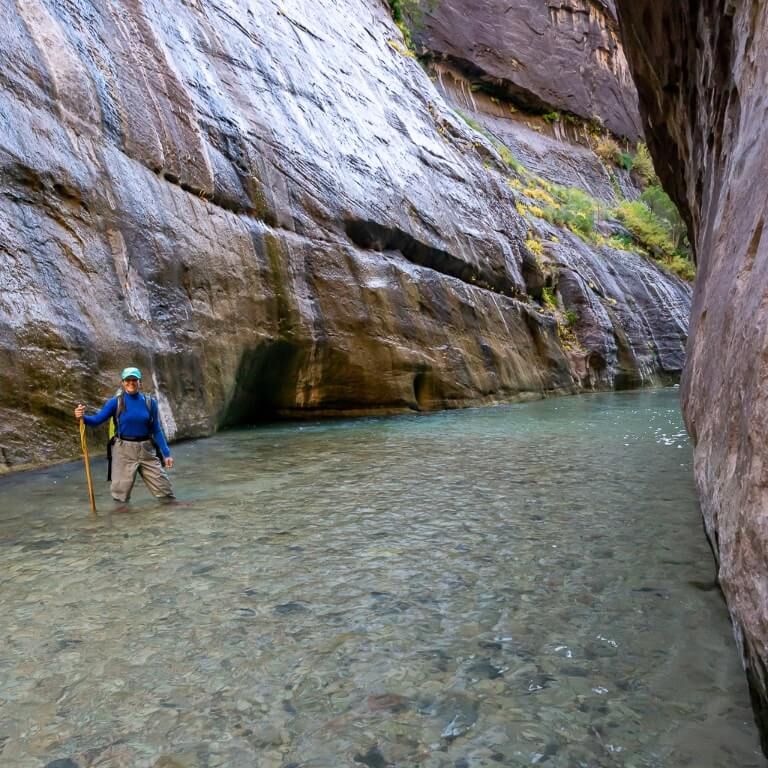 Zion was the fourth most visited US National Park in 2019 with 4.5 million recreational visits.
As 2 of those statistics, we can attest to how crazily jam-packed the park is … and we visited in October. It's hard to imagine how the park could get any busier, but Zion sees over half of all annual visits in June, July and August alone.
Genuine shock at the sheer volume of cars inside Zion quickly fizzled out as we began to realize why the park is so popular. Angels Landing and the Narrows are among the most exciting hikes in any US National Park and canyon views ooze wow-factor.
However, neither are family friendly hikes. In fact, Angels Landing isn't friendly for most adults!
But there are alternative smaller, easier and less death defying hikes suitable for the whole family while still offering similar types of dramatic valley views.
Don't be put off visiting Zion if you're not keen on hiking either of its most famous trails. There's still plenty on offer for you.
Zion National Park Factfile
Address: Springdale, UT 84767
Website: nps.gov/zion
Phone: (435) 772-3256
Park Hours: All day, every day
Entrance Fee: US$ 35 Vehicle 7 Day Pass (free with America the Beautiful Pass)
Visitor Center: Open 8am – 6pm Spring & Fall / 8am – 7pm in Summer / 8am – 5pm in Winter
Campgrounds: South & Watchman (see campgrounds)
Accommodation: Good selection at nearby Springdale and other smaller towns (see lodging)
Backcountry camping: Backcountry Use Permit Required (pay in advance)
Top Activities: Hiking, Camping, Rock Climbing, Stargazing, photography
Annual Visitors: 4.5 million
Best Time to Visit: May, June or September (comfortable temperatures & less crowded)
Why Visit Bryce Canyon National Park?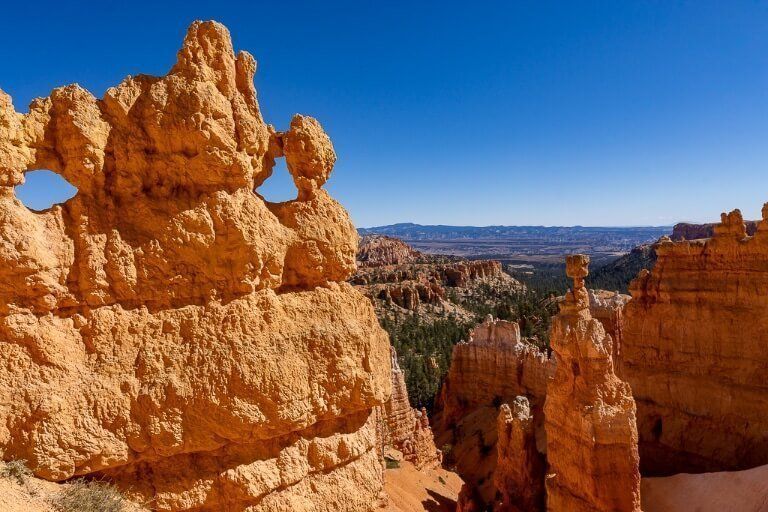 Bryce Canyon National Park offers a completely different experience to Zion. Bryce is much more compact, easier to visit and far more family friendly.
A small number of entertaining hikes passing by weird and wonderful rock spires – also known as hoodoo's – are at the heart of Bryce Canyon's appeal.
Walking along Bryce Canyon Queen's Garden and Navajo Loop Trail almost feels like you've been transported to an orange rock maze, with towering cliffs to either side.
Read our complete guide to Queen's Garden and Navajo Loop – the best hike at Bryce Canyon.
Bryce Canyon's beauty lies within nature's creation of a magnificent needle-like amphitheater, which illuminates spectacularly at sunrise and sunset.
Read our Bryce Canyon photography guide to learn more.
Bryce is a must visit for avid photographers and families of all ages looking for easier hikes. One of our favorite aspects here is its smaller size, which makes the park less overwhelming.
Bryce Canyon National Park Factfile
Address: PO Box 640201, Bryce, UT 84764
Website: nps.gov/brca
Phone: (435) 834-5322
Park Hours: All day, every day
Entrance Fee: US$ 35 per vehicle 7 day pass (free with America the Beautiful Pass)
Visitor Center: Open 8am – 6pm Spring & Fall / 8am – 8pm Summer / 8am – 4.30pm Winter
Campgrounds: North & Sunset campgrounds (see campgrounds)
Accommodation: Few nearby hotels, better to book early (see lodging)
Backcountry camping: Backcountry Use Permit Required
Top Activities: Hiking, Camping, Stargazing, Photography
Annual Visitors: 2.6 million
Best Time to Visit: May, June or September (comfortable temperatures and less crowded)
How To Get From Zion To Bryce Canyon
Zion to Bryce Canyon
Take US-89 N and UT-12 E for just over 72 miles, or reverse the directions if heading the opposite direction. Drive time should be around 1 hour 20 minutes on a clear day.
Las Vegas to Zion National Park
Take I-15 N to exit 16 and UT-9. Distance is 160 miles and drive time is just over 2 hours and 30 minutes.
Flying to Zion and Bryce Canyon
Las Vegas McCarran is closest airport to Zion at 165 miles (2h 42m). Salt Lake City is the next best option at 273 miles (4h 05m).
When we travel, we always use and recommend:
You might found our guide on how to find and book the cheapest flights helpful, before searching for your next air tickets.
What You Need To Know Before You Visit
Both Zion and Bryce can become extremely busy during peak visiting months.

Bryce Canyon offers a free shuttle bus service between mid April and late October. Although highly recommended, using this bus service is not compulsory.
Conversely, between mid March and October, in order to access Angels Landing, the Narrows and other trails through Zion Canyon, the use of shuttle bus is compulsory.
You can not drive your car to the most popular hikes in Zion outside of Winter.
Parking your car at Zion visitor center between March and October is going to be a challenge. If you don't arrive very early, you will be forced to pay way over the odds for parking or drive around for hours waiting for a place to open up. We can't stress enough the importance of arriving early at Zion.

You will benefit greatly from early rises at both Zion and Bryce Canyon.

Being on the very first shuttle bus into Zion Canyon is vital to beat the crowds on both Angels Landing and the Narrows hikes.
It's worth the effort of getting up early at Bryce to enjoy a gorgeous sunrise as its deep orange amphitheater illuminates with the first rays of sunlight.
Frequently Asked Questions About Zion and Bryce Canyon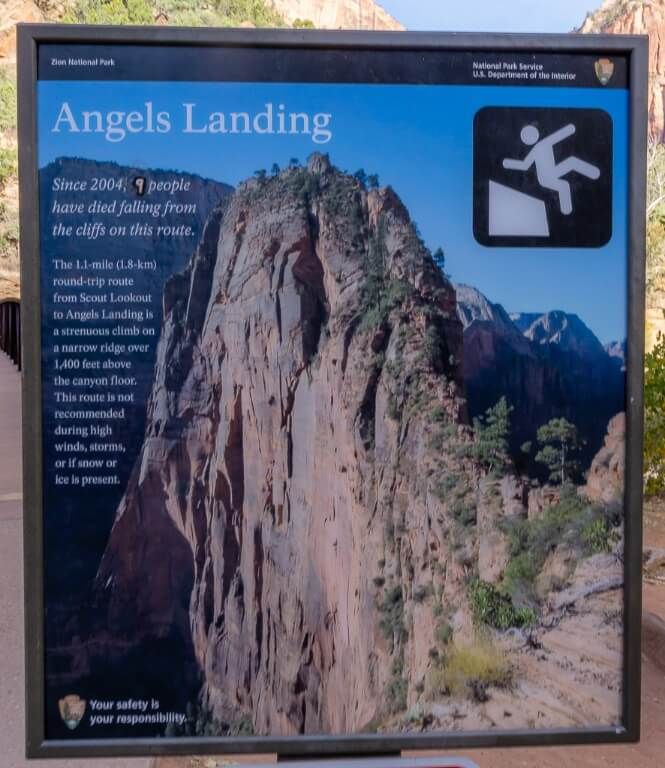 Can you see Zion and Bryce in one day?
Technically yes, but you would miss out on the best bits of both parks. We strongly recommend you don't try to visit both in one day.
How long do I need to visit Zion and Bryce Canyon?
At a minimum you need 2 full days at Zion and 1 full day at Bryce. This itinerary covers both National Parks across 3 days, in which you will see and do all of the best bits.
Which is better between Zion and Bryce?
That depends entirely on your preferences. If you can only choose one park, go to Zion if you're searching for adventure and amazing hikes or go to Bryce Canyon if you enjoy photography and unique rock formations.
Can you hike Angels Landing and the Narrows in one day?
Yes, if you are quick and fit. Getting on the first shuttle of the day is critical to get a head start on a busy day. Hike Angels Landing first and then head into the Narrows.
Be aware that you probably won't be able to reach Big Spring at the 'end' of the Narrows on this timeframe.
Has anyone died hiking Angels Landing?
Unfortunately, yes. There have been a reported 9 fatalities on Angels Landing since 2004, but that number is likely much higher.
Does this mean you shouldn't hike the trail? No, but it should serve as a reminder that you need to be extremely careful on both the ascent and descent.
The Narrows Hike Zion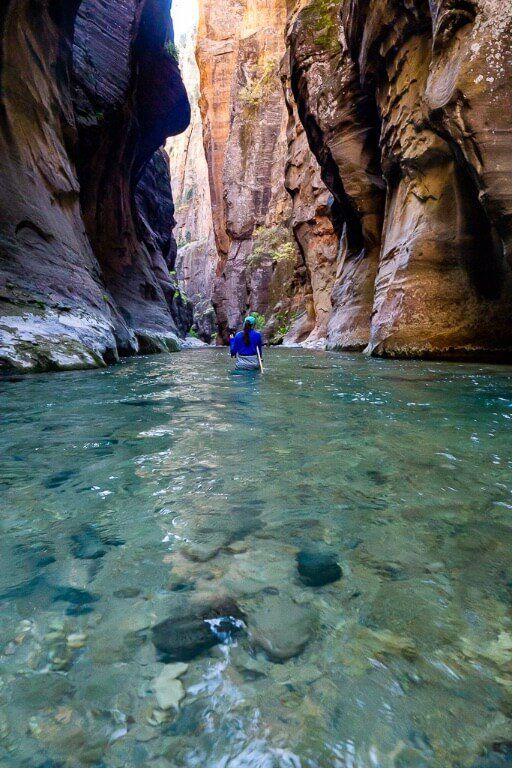 The Narrows at Zion National Park is one of the United States most iconic trails and one of the world's best slot canyon hikes.
A truly stunning narrow gorge – at times 1000 feet deep and just 20 feet wide – formed by the shallow Virgin River is a unique hiking opportunity that simply cannot be missed on a visit to Utah.
Miles of wading through a river, obstacles to contend with and just a pole for balance – you feel like you're in an Indiana Jones movie or a computer game.
The further you walk, the fewer people you will see which adds to the incredible experience. There were periods when we didn't see a single person for 30, 40, 50 minutes at a time.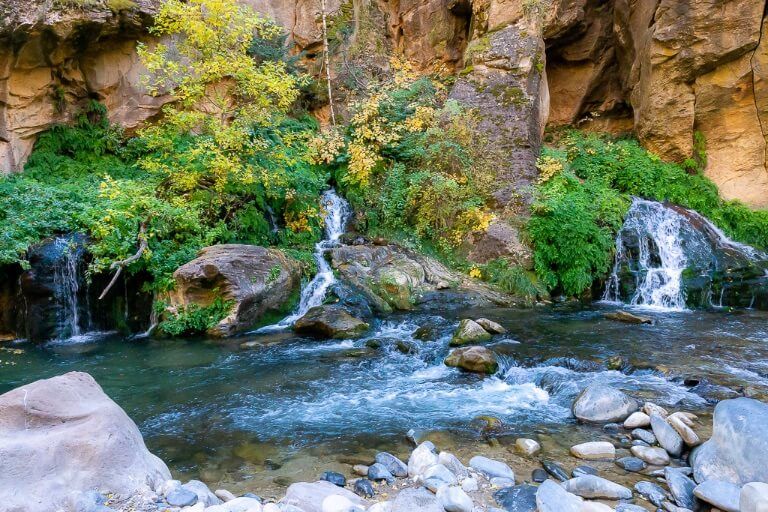 There are two ways you can hike the Narrows:
The Narrows top down
16 miles from Chamberlain's Ranch, requires shuttle to beginning and permits are competitive. Released 3 months in advance and a lottery can be entered. More information.
The Narrows bottom up and return same day
10 mile round trip to Big Spring and back, not many people make it to the end each day. You will know when you reach Big Spring when you see the 3 small waterfalls pictured above.
That is where you must turn around. Only permit holders are permitted to go beyond, but they will be coming the other way.
Top Tips For Hiking The Narrows
Visiting outside of June, July or August? Suck it up and pay US$ 41 for Zion Outfitters Dry Pants Package. When we visited in October, the water was freezing but we didn't feel a thing with the hire gear on.

Also, if you want to take a camera or phone, store them in your sealed waterproof dry bag. Hire a dry sack at the same time as dry pants package if you don't own one.

Don't take a chance on picking up a stick where Riverside Walk meets the beginning of the Narrows. You will not get far without a solid pole, so pick one up at Zion Outfitters.
Would you like to learn more about the Narrows? Our in depth day hiking the Narrows guide covers all you need to plan one of the most amazing hikes in the US.
Angels Landing Hike Zion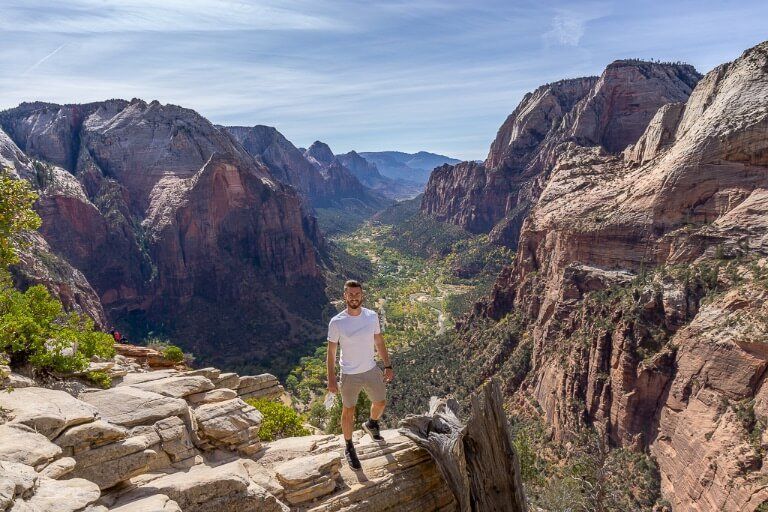 Notorious Zion trail Angels Landing is exhilarating, terrifying and dangerous.
If you are even remotely afraid of heights, do not attempt this section of the trail. Stay at Scout Lookout instead and watch as others return with wobbly legs and sweat pouring off of them.
That's not from heat, it's from pure adrenaline!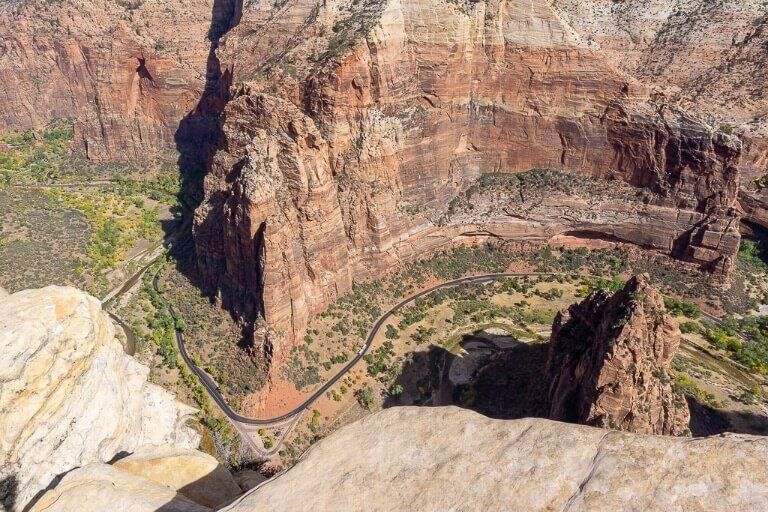 Panoramic views from Angels Landing are nothing short of phenomenal, but the major prize is overcoming your fears and making it back in one piece.
That may sound dramatic but once you're on the shark fin-like precipice and someone in front of you has broken down sobbing on their hands and knees with fear, you will know what we mean!
Did that happen to us? Oh yes!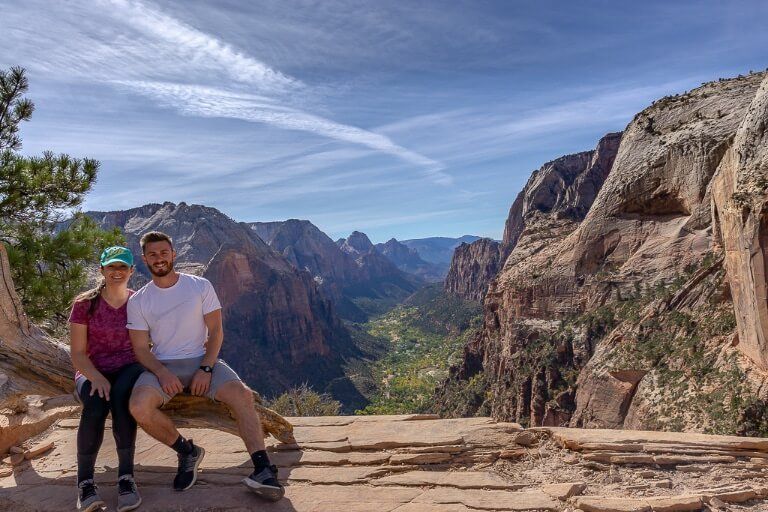 Summiting is emotional! A flat surface provides welcome relief from the tension your body will feel as you climb and pass by countless others who are equally as frightened.
Unfortunately, you have to go through it all again on the way down and this trail is far busier than it should be.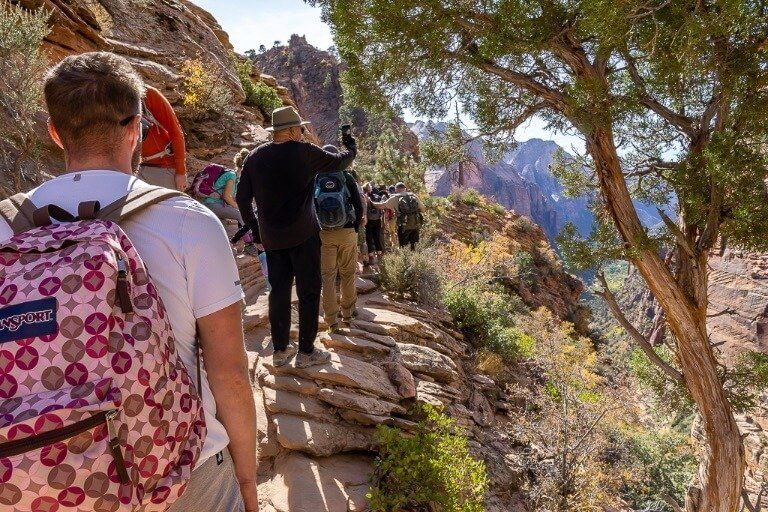 Do we recommend taking it on? Only if you are confident in your own ability, you're not afraid of heights and you don't think you will endanger others.
This last one is important. We endured too many … rogues … who cared not for anyone else and barreled their way through.
Do you think you can take on Angels Landing? Read our comprehensive hiking guide to the epic but terrifying Angels Landing Trail to learn more.
Map For Zion To Bryce Canyon 3 Day Road Trip Itinerary
Use the interactive map above to explore the geography around both Zion and Bryce Canyon national parks.
Each icon represents the best things to do, hikes, shuttle bus locations, hotels, campgrounds and all other important landmarks in this itinerary.
Click or touch to activate the map, zoom in / out and move around the area.
Epic Zion To Bryce Canyon 3 Day Road Trip Itinerary
Let's start piecing together this 3 day itinerary aimed at efficiency and ticking off the best aspects of each park.
We will assume you either travel to a Zion campground the night before or leave Las Vegas early on the morning of Day 1. By arriving early (leave Vegas at 6am to arrive before 9am) you can secure a parking spot and begin this itinerary.
There are a number of hiking options for different levels of ability and relative fear of heights at Zion. We will focus the most popular things to do at Zion and Bryce Canyon, but we will provide alternative options for each day at the end.
Day 1: Zion – Hike The Narrows and Star Photography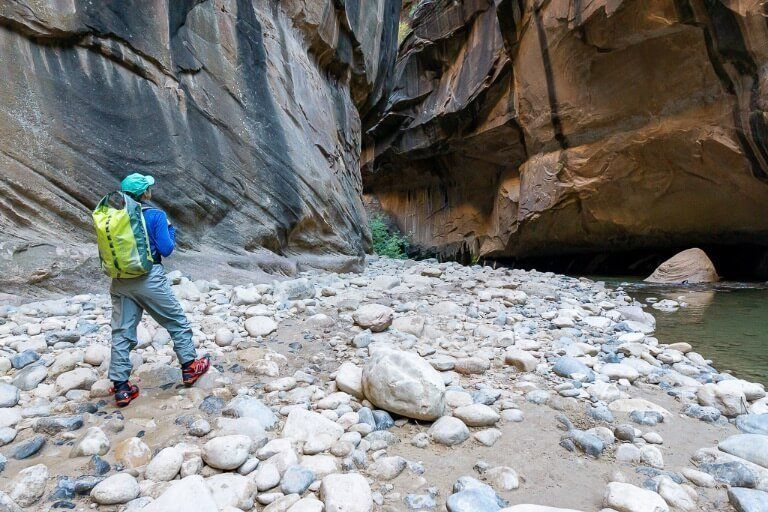 Arrive early from Las Vegas, park up and grab your reserved or first come first served camping spot. Once you're set up, get changed into your comfortable hiking clothes and sturdy hiking shoes.
But if you're visiting outside of Summer, head over the bridge to Zion Outfitter just behind Zion Visitor Center. Pick up trousers, socks and boots to put over your clothes.
No matter your date of visit, don't forget to hire a walking pole. You won't get far without it!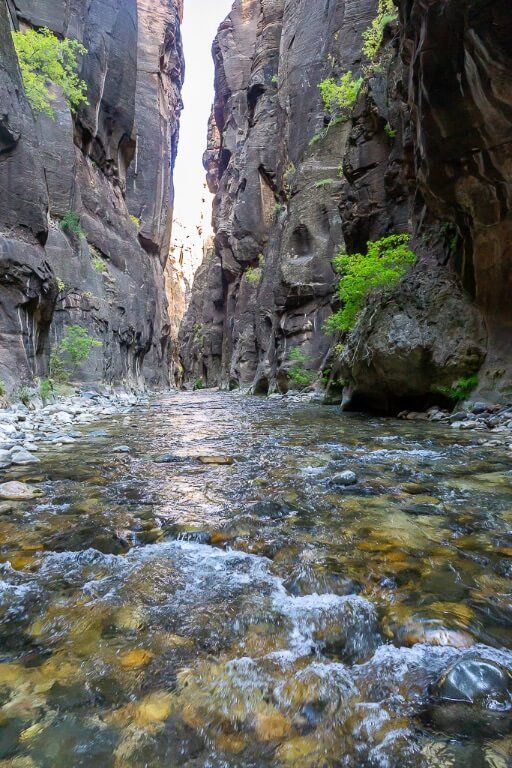 Jump on the earliest Zion Canyon Shuttle you can make (first shuttle leaves 6am Summer, 7am Spring and Fall). Don't get off until the very last stop: Temple of Sinawava.
Quickly hustle the one mile long Riverside Walk until you reach the very obvious entrance to the Virgin River. If you weren't able to get on the first bus, it will be busy as you begin hiking up the river.
It can be tempting to go hell for leather to escape other groups of people but use caution. Underfoot this hike can be a real challenge, you need to be surefooted every step because it only takes one lapse in concentration to break an ankle.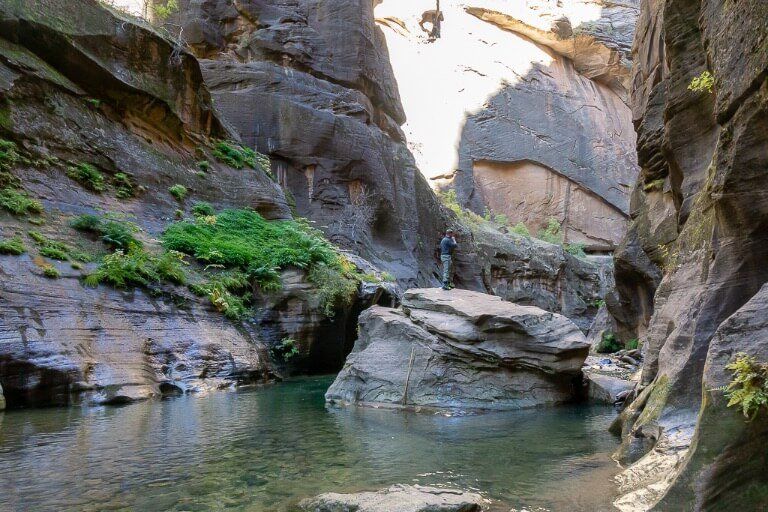 Many people just want to sample the Narrows, so eventually crowds will begin thinning out.
You will pass through shin deep, knee deep and even neck deep sections of water the further into this stunning slot canyon you venture.
There are obstacles to contend with. One such is a huge boulder with deep pools left and right, but it can be climbed!
To reach the end of the Narrows, keep going until you reach 3 small waterfalls and a passage leading away from the river. There will be times where you think 'surely, this has to be the end'. It isn't! Keep going.
Big Spring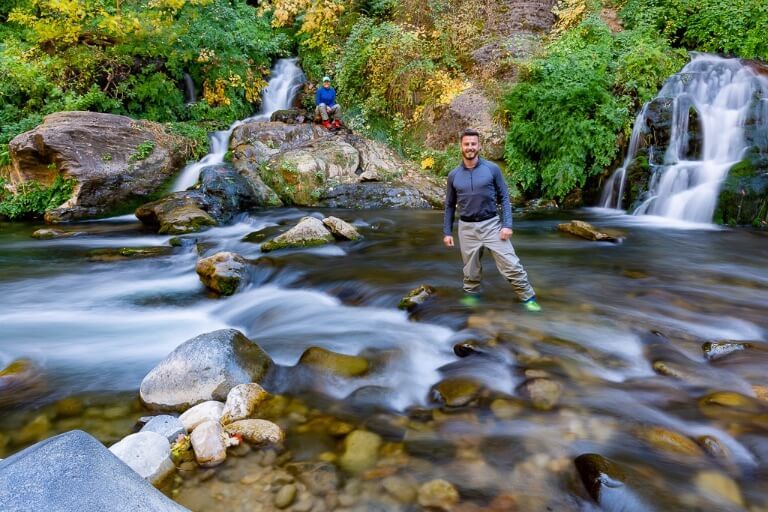 Big Spring is a good place to recharge, take on some water and eat tons of snacks or sandwiches. You will need the energy for the 5 mile return leg.
By the end you will be tired but it's important to guard against complacency to avoid injury.
Hiking to Big Spring and back took us just over 7 hours 30 minutes including food breaks and photographs, so plan for that time and give or take 30 minutes.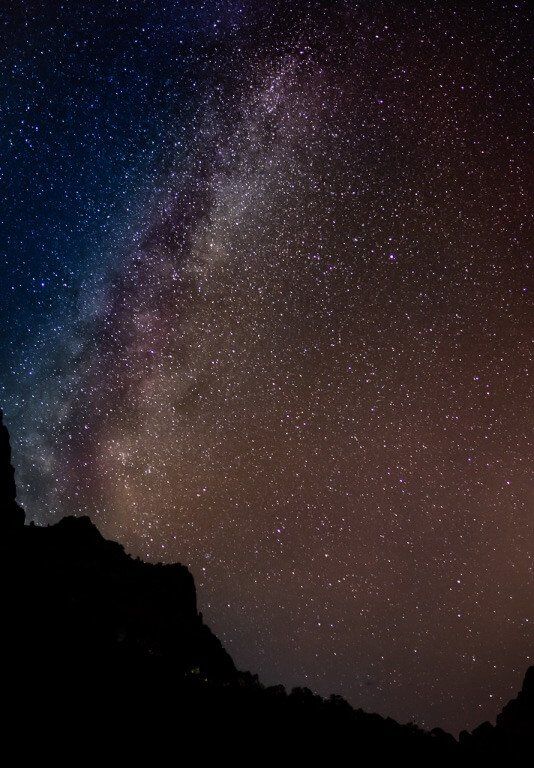 Take the shuttle back to Zion visitor center and drop all your gear back off at Zion outfitter. By now you'll be more than ready to get changed into comfortable clothes!
Head back to your tent or lodging and go out for dinner or cook up a storm in your camping spot. But don't think you're done for the day…!
Once it gets dark, grab your head torch and hand torch, plus your camera and tripod. It's time to shoot the stars. Zion has a fantastic clear night sky with barely any light pollution.
It depends where the Milky Way is when you visit as to which location to shoot from. Remember you can't drive into the Canyon. We drove up the winding switchbacks towards Zion tunnel hoping for the Milky Way to be leaping out from Canyon Overlook. It wasn't to be, but we still had a detailed Milky Way.
Day 2: Zion – Hike Angels Landing and Canyon Overlook, Drive to Bryce Canyon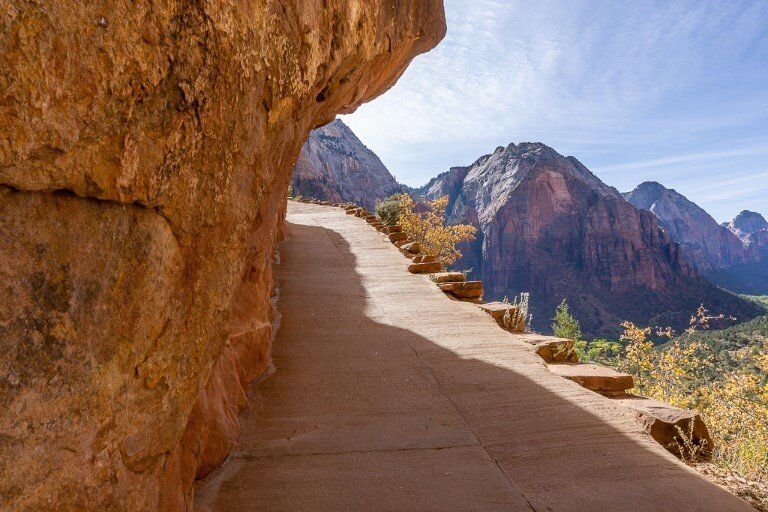 Are you ready for an intense adrenaline rush? Today is the day you hike one of the most dangerous trails in a United States National Park: Angels Landing.
Get an early start, pack your tent up or check out of your hotel and eat a quick breakfast to ensure you make one of the first shuttles into the Canyon. This is one hike you don't want to be sharing with hundreds of others!
You need to get off at stop #6 'The Grotto'. Angels landing trail starts on the opposite side of the road, beginning with a nice flat walk alongside a river.
The trail inclines and quickly turns into switchbacks. A lot of switchbacks! Views over Zion Canyon improve step by step as you gain elevation and it becomes clear what your ultimate view will be once you reach the summit.
These switchbacks are fairly steep so take your time and conserve energy for when you'll really need it later.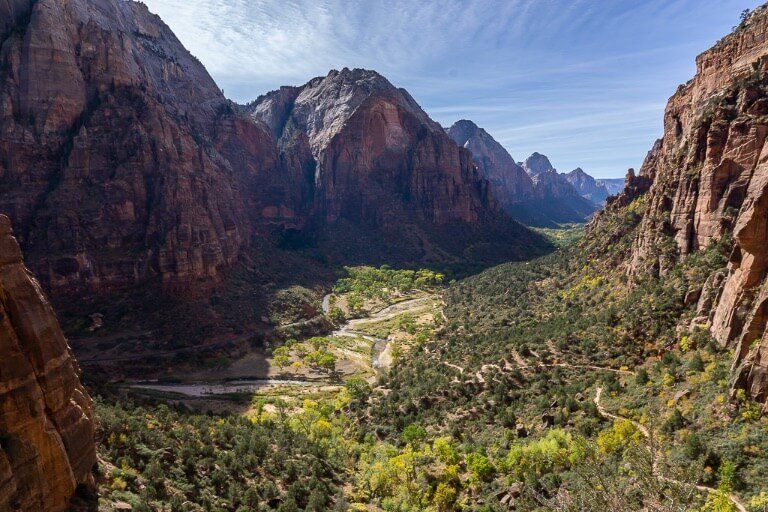 After a flat path takes you on a change of direction, you are greeted by another series of shorter switchbacks that will carry you up the first summit: Scout Lookout.
Scout lookout is an open and flat false summit. In order to summit Angels Landing, you will need to pass by the nervous looking people all staring at a razor sharp edged rock nearby.
Hopefully you have arrived early enough before the masses congregate on Scout Lookout, debating if they think they can handle it. As you edge closer to the intimidating trail and pass the sign telling you how many people have fallen off recently, doubt will inevitably cast its shadow over you.
Our first reaction was laughter borne out of absurdity, like a 'you've got to be kidding me' laugh. You know the one!
Angels Landing Summit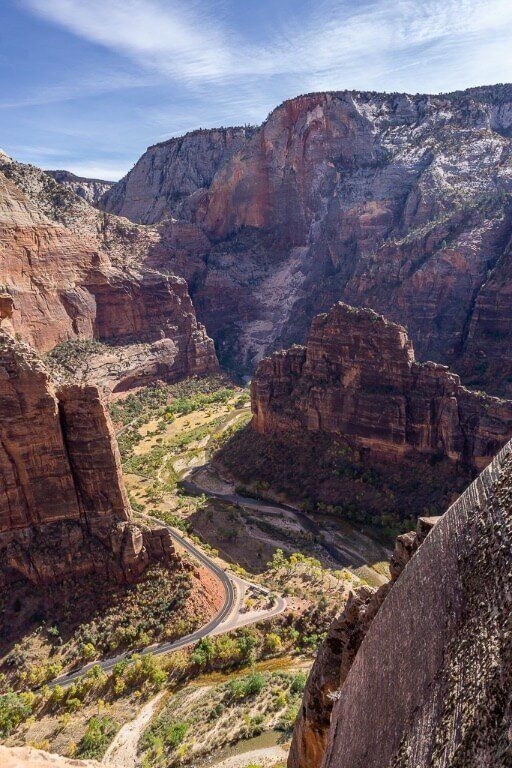 Remember to be cautious and careful of others. You don't know how other people will react when scared so be acutely aware at all times of what is going on around you.
Hold onto the chains where possible (you don't need us to tell you that!) and leave enough space for the person in front not to feel harassed.
Half a mile might not sound much but it is on Angels Landing. We saw plenty of tough looking men and women freezing and aborting at various stages on the ascent. You have to be reasonable with yourself. If you don't think you can make it, there's no shame and everyone will be safer for it!
Once you reach the top you will feel an overwhelming sense of achievement and relief. Those views you're now looking at were worth the effort, right?! Spend as much time as you need at the summit and we promise the descent is much easier because the fear of the unknown is eliminated.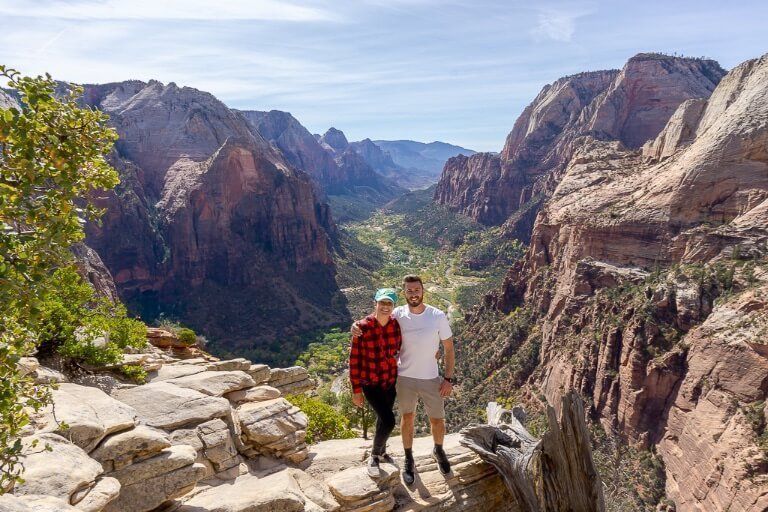 By the time you reach Scout Landing, you'll feel relieved, trust us! Take the path back down to the Zion shuttle.
If you're at the shuttle stop before or around lunch time, either walk the Kayenta trail to Emerald Pools or stop off at Zion Lodge #5 and hike the Emerald Pools trail.
Once you make it back to your car at the Visitor Center, grab some lunch in Springdale but be sure to go right into town (around 2 miles away from car park) for better restaurants.
After lunch, drive up Zion – Mount Carmel highway's scenic twisting switchbacks. You will reach the impressively engineered Zion Mount Carmel Tunnel. Pass through the one way traffic tunnel and park up as soon as you possibly can as you break out into sunlight the other side.
Seriously, be on the lookout for a space immediately and if you see one, take it. This area was insanely packed when we visited.
Zion Canyon Overlook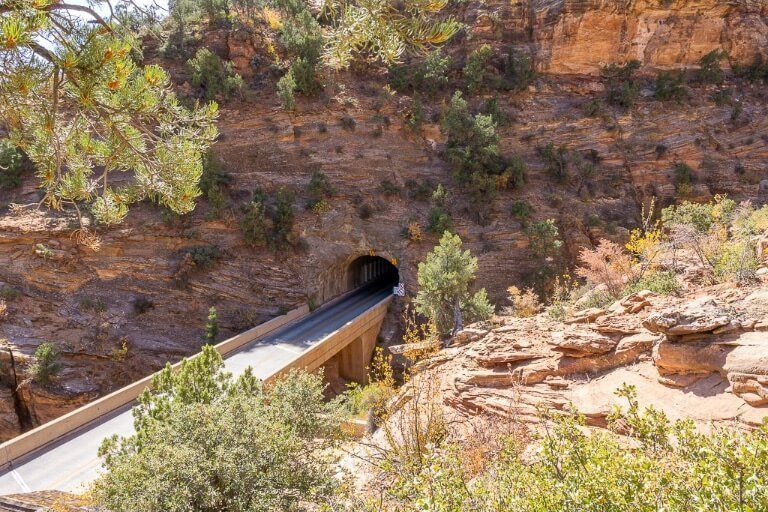 The trailhead for Canyon Overlook begins a few meters away from the entrance to the tunnel. This hike will be much easier on the nerves and is far more suitable for children.
You will notice the path becomes less obvious but this is by design. You can make your own route up to the viewpoint. Our advice is to imagine where the edge of the cliff is and carefully walk nearby.
Eventually, you will be able to find some isolated viewpoints with no one else around.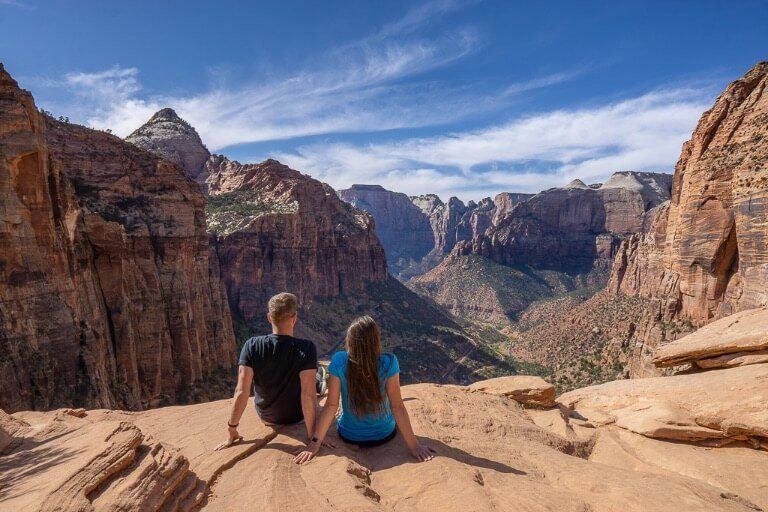 Canyon Overlook summit offers its own incredibly impressive viewpoint to rival that of Angels Landing. You have the opportunity to look upon the switchback roads you drove up with huge towering rock faces to either side.
If it's busy at the summit, climb up some of the huge boulders for peace and quiet while you enjoy the spectacular canyon views.
Head back to the car, follow 9 past East entrance and turn onto 89 North. The drive from Zion to Bryce Canyon should take around 1 hour 30 minutes.
Sunset Over Bryce Amphitheater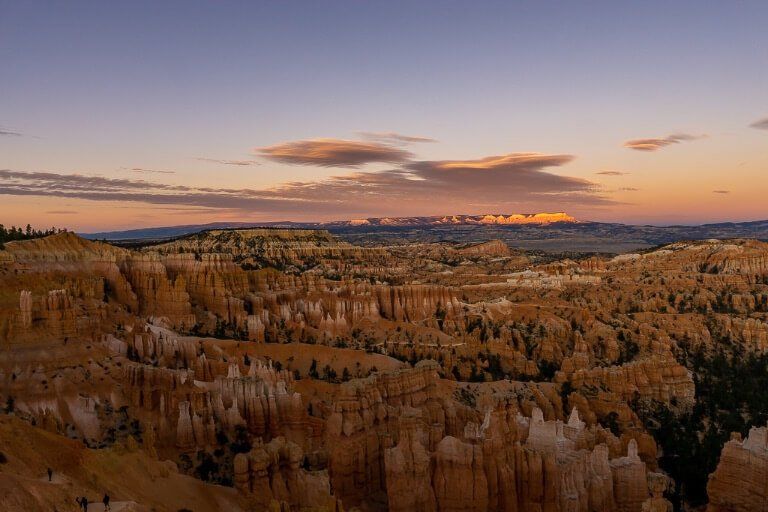 Drive straight through Bryce, pay entrance and continue to either North or Sunset campground. Quickly set your tent up and drive to Sunset Point to catch the final rays of sun coloring thousands of oddly shaped orange rocks.
Sunset isn't as impressive as sunrise but it's still a lovely spectacle. There's a peacefulness to sunset at Bryce Canyon that you will feel grateful for after a crazy day at Zion!
Make dinner at your campground or head back out of the park to find a restaurant, before grabbing your camera and tripod again. Drive back to Sunset Point and walk a few minutes down towards Wall Street.
There are a few nice spots to set up for astrophotography but don't expect to be alone!
Day 3: Incredible Sunrise Over Bryce Canyon Amphitheater, Hike Queens Garden Trail and Perspective at Bryce Point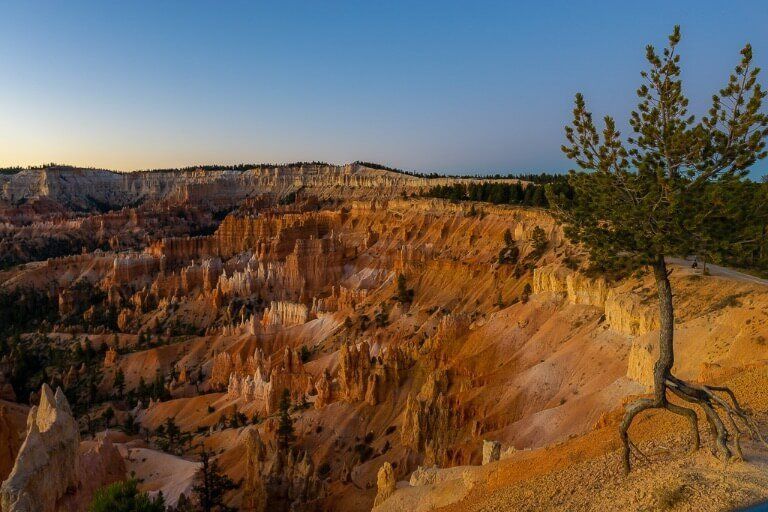 It's another early start today but this time you won't be fighting any crowds … at least not at first. Check sunrise times for Bryce Canyon and wake up at least 30 minutes before civil twilight – not sunrise.
Drive to Sunrise Point, get your camera and tripod set up in prime position and then tuck into coffee and breakfast while you wait for the sun to begin its journey over the Eastern horizon.
When we visited Sunrise Point, around 15 other serious photographers arrived before the sun appeared. We were second on site and using head torches for light.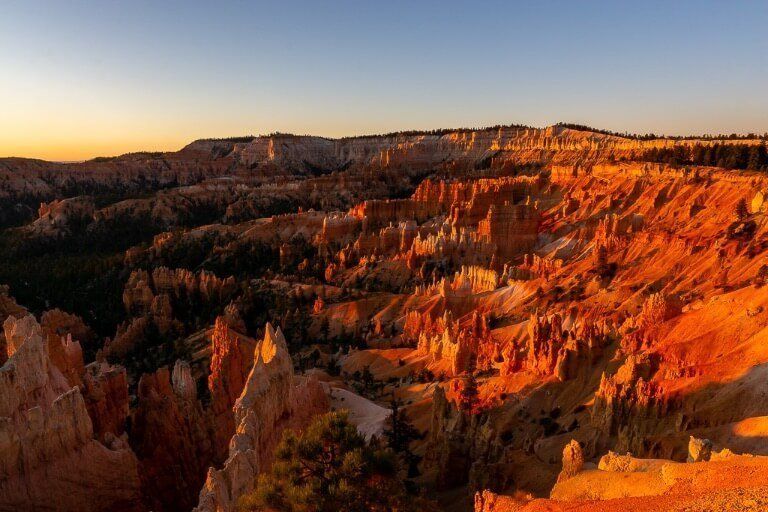 Bryce Canyon amphitheater illuminating brightly like red flames when sun kisses rock at first light is an awe-inspiring sight. We were blown away by how powerful and intense the red and orange hues shimmered as the morning sunlight glowed.
Another amazing sunrise in Utah is Mesa Arch in Canyonlands, but they are incredible sunrises for different reasons.
Once you're happy with your photographs at sunrise, it's time for your main hike at Bryce Canyon. If you feel up to a strenuous 8 mile loop, take on popular trail Fairyland Loop but it will take up most of your day.
Instead, we'd recommend you descend into the amphitheater right from Sunrise Point following Queens Garden Trail.
Wall Street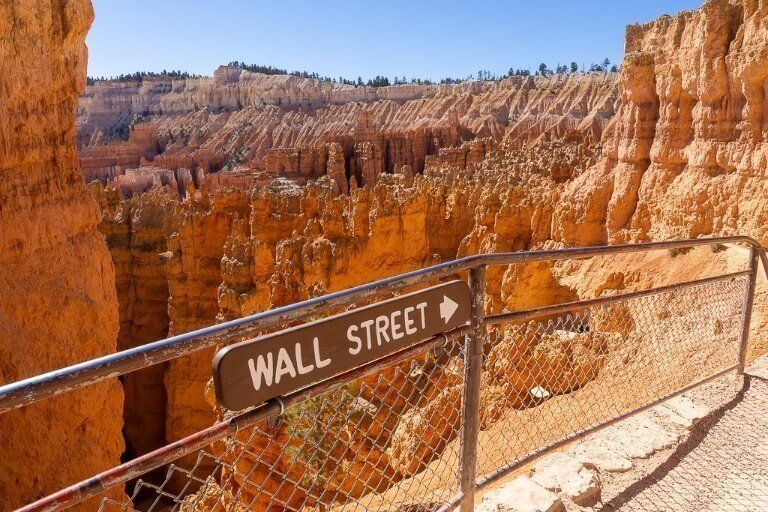 Queens Garden is a steep trip down but it's worth the effort. Plus, the entire trail loop is less than 3 miles, which makes it the perfect distance and length of time.
You will pass by stunning rock formations, unique to Bryce. At times the hoodoo's can feel a little eerie, especially when the low sun casts huge shadows and you get the chills in shaded areas.
When you reach a T junction at Navajo Loop, take the left and loop round to Wall Street. This is a heavily trafficked area in Bryce Canyon (and it closes in Winter) but it's surprisingly short.
Wall Street is an extremely narrow gorge with huge towering wall faces to each side, similar to the Narrows at Zion but even closer together and without the water.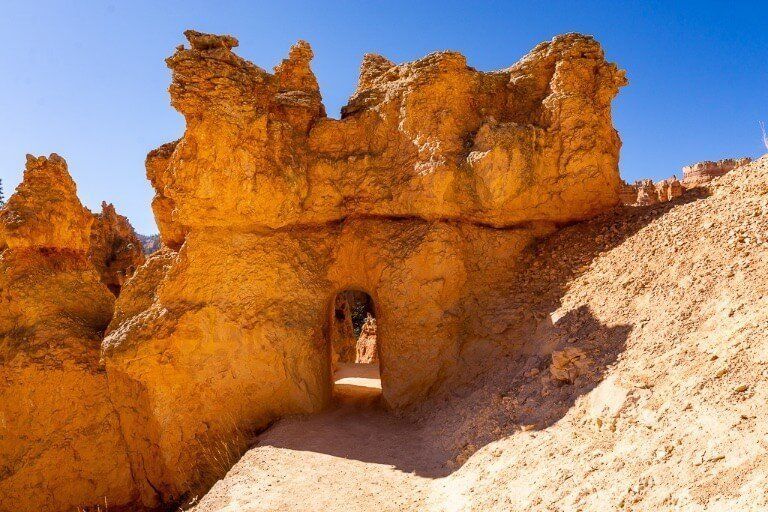 After Wall Street you have no choice but to hit the steep switchbacks up to Sunset Point.
But instead of walking straight back along Rim Trail to Sunrise Point, drop back down into the canyon on the other side of Sunset Point.
Don't worry you're not going down another set of switchbacks! Just before you get to the steep twisting trail, look left and you'll see a single needle like rock jutting up with what looks like Thor's hammer on top.
Grab a quick photo if you're worthy and head back along Rim Trail to your car.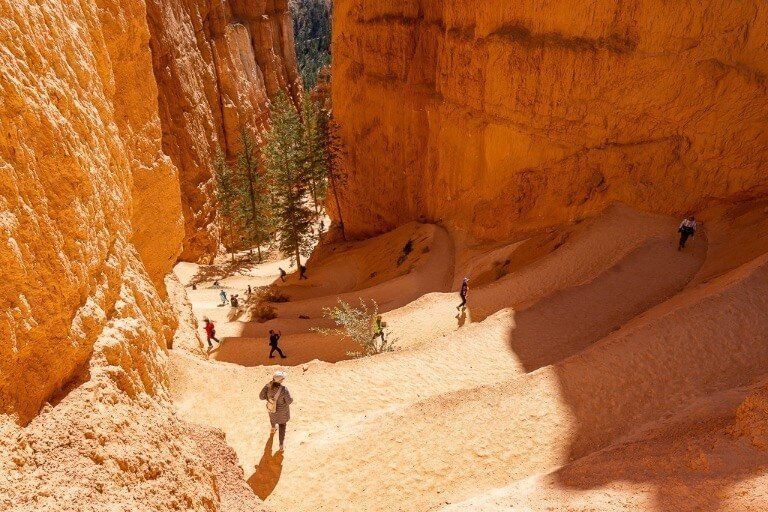 Finish up at Bryce Canyon by driving (or better yet taking the park shuttle) to Inspiration Point and Bryce Point for different perspectives of the impressive amphitheater.
It should be early afternoon which leaves you plenty of time to reach your next destination in daylight.
Bryce Canyon is smaller than you might think, so even though this may seem like a short amount time to spend here, you have seen and done the most important things by following this itinerary.
Alternative Options & Things To Do With More Time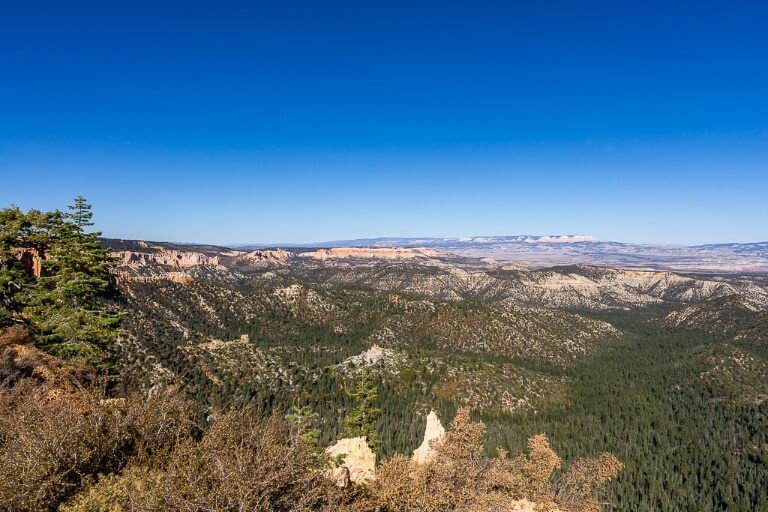 Zion Day 1
If you would prefer not to spend 8 hours hiking through a river, you could do a much shorter hike up the Narrows to leave time for some of Zion's shorter hiking trails.
Get a taste for the Narrows, then hike Emerald Pools, Pa'rus, Sand Bench Loop or Watchman back near the campground.
Zion Day 2
Instead of hiking Angels Landing which will be busy and terrifying, you could hike to Hidden Canyon and Observation Point.
Hidden Canyon would give you a taste of what it's like to have your heart racing with its own sheer drop offs but a little less severe. Observation point has the best view in Zion, plus it's much quieter.
Bryce Day 3
With more time at Bryce Canyon you can drive the 18 mile scenic drive down to Rainbow point. The most efficient way is to drive all the way to the end without stopping, because on the way back each stop will be on your side of the road with awesome perspectives into the amphitheater.
Alternatively, hike Peekaboo Loop or Fairyland Loop.
Camping At Zion and Bryce Canyon
Zion Campgrounds
Watchman and South campground are your choices if you want to be within the park boundary. Campground sites are notoriously difficult to get a spot at Zion, you will need to be organized!
Check prices and availability for Watchman and South.
Watchman Campground
Open all year except for the month of December. In January the campground operates a first come first served policy but for the rest of the year (all of peak season) you will need to book in advance.
Campgrounds sites are released on a 6 monthly rolling basis, which means you have to get in quickly with your dates. Tents US$ 20 and RV's US$ 30.
South Campground
Open beginning of March to end of October. Tent camping costs US$ 20 per night and sites are opened on a rolling 14 day basis. Check dates carefully and as soon as a new 14 day window opens, be ready to book immediately.
Note: The image above shows our tent at Watchman campground. Notice how the edges seem to be bulging? Well, that's because we couldn't peg into hard ground. So we had to use our cool box, backpacks, table and everything else with any weight! Something to consider for your visit …
Bryce Canyon Campgrounds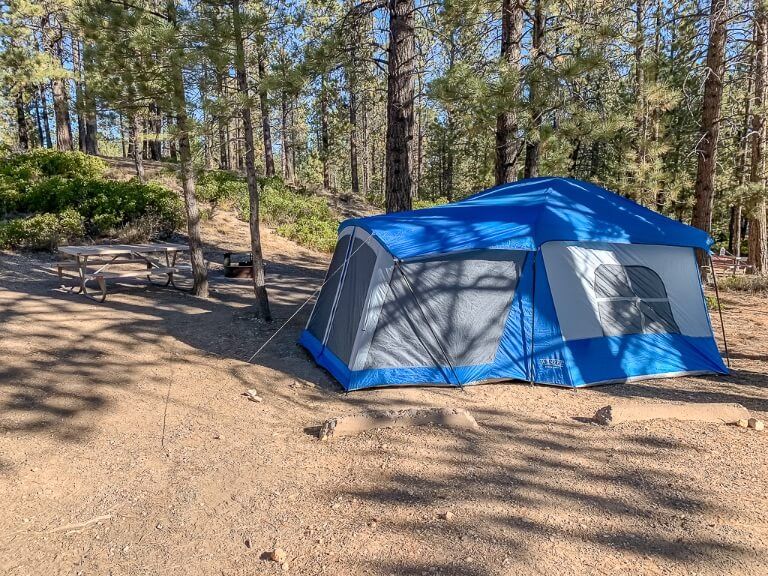 Booking a camping site at Bryce Canyon is less stressful than at Zion but still requires some organization. You can camp at either Sunset or North campground inside the park boundary.
Check prices and availability for Sunset and North.
Sunset Campground
Open mid May to the end of October at a cost of US$ 20 tents and US$ 30 RV's (non-electric). Camping sites are released on a 6 month rolling basis, which again means it is hugely beneficial if you know your dates well in advance.
North Campground
Open beginning of April to end of December at a cost of US$ 20 tents and US$ 30 RV's (non-electric). All sites are first come first served, but be aware that most sites are taken by mid morning so book ahead into Sunset if you plan to arrive later in the day.
Hotels Near Zion and Bryce Canyon
Zion Hotels
Zion is one of the only US National Parks we've visited with a town like Springdale on the doorstep. Springdale has a wide range of hotel options from budget to luxury and is within a stones throw of Zion.
Before you search for hotels, read our expert money saving tips on how to find the best value hotels.
Once you've finished reading the hotel money saving guide, check out our hotel recommendations below and book ahead of time into a Springdale hotel. It's important to book as far in advance as possible because these hotels fill very early.
We know because we had to spend one night in a town 25 miles away when booking last minute.
Our recommendations below are based on price, highest guest rating and how close they are to Zion visitor center (where you need to hop on an early shuttle).
Budget
Mid-Range
Luxury
Bryce Canyon Hotels
Bryce Canyon is far more challenging to organize accommodation. There are far fewer options and there is no handy town right on its doorstep like Zion has Springdale.
There are a small number of hotels within a 10 minute drive of Bryce Canyon entrance, but you might have to drive further to a town like Tropic or even find a hotel along UT-12 / US-89.
Again, we'd recommend booking accommodation as soon as you know dates. That way you stand a much higher chance of staying closer to the park.
Here are the best hotel options we can find near Bryce Canyon based on price, highest guest ratings and distance from the park.
Budget
Mid-Range
Luxury
Read More About Zion and Bryce Canyon
Do you want to see more of Utah? Read our 9 unforgettable Utah Road Trip Itineraries covering the Mighty 5 National Parks, Monument Valley and Northern Arizona.
More From Utah and Arizona
---
We hope this helped you plan your Zion to Bryce Canyon National Park road trip itinerary!
Please let us know if you have any questions about this itinerary or any of Utah's Mighty 5 National Parks, we'll be happy to help with your planning.
-Happy Travels-
Was This Post Helpful? Pin It For Your Visit to Zion and Bryce Canyon!
Valuable Resources For Your Next Trip