We're going to explain how you can plan the perfect road trip in this step-by-step guide to help you prepare and have the best time on your upcoming bucket list road trip. We will cover everything you need to know about planning your road trip so you feel confident and ready to explore. From destinations and budgets to vehicle options and cultivating the perfect route, we have you covered.
You will find our 10 easy steps to follow when planning a road trip and we will highlight common mistakes you should try to avoid. We've spent years traveling the world and a huge portion of that time has been road tripping, so we are speaking from direct experience.
This how to plan a road trip resource will use America as the example, but the information will apply no matter where you plan to take your epic road trip. Bookmark or save this page so you can keep referring to this article as you plan your road trip.
We personally think road trips are one of the very best ways to travel and we look forward to helping you plan your once in a lifetime vacation!
*Please note this post may contain affiliate links. If you click on one of them, we may earn a small commission at no extra cost to you! We recommend only products we use and as always, all ideas or opinions expressed in this post are entirely ours. Thank you for the support and happy travels!*
Essential Questions To Plan A Successful Road Trip
Planning for a road trip is both exiting and overwhelming at the same time. The world is your oyster, but where do you start?
After planning multiple trips around the US, we have been able to simplify this process into key areas for you to consider:
Where do you want to go?

What is your time frame?

How do you plan on getting from place to place?

What type of lodging will you sleep in?

Will you cook food or eat out?

What is your road trip budget?
Take some time to think about each of these questions. Your answers will significantly change your road trip experience so it is important to work out which scenarios will be the best for your budget and travel style.
If you plan to road trip with others, make sure they are involved in the decision making process as well.
Once you have formulated a loose plan based on the questions above, it is time to tighten up and fine tune your itinerary. Follow our fool proof system based on the 10 steps we take every time we plan a new road trip.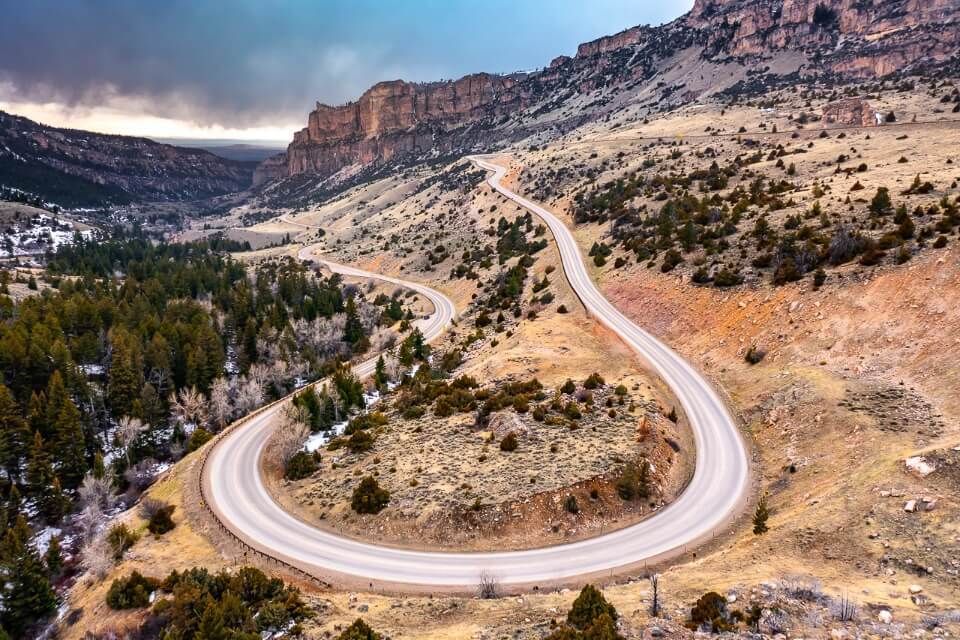 1. Pick a Destination For Your Road Trip
Are you planning a cross country road trip? Or do you plan to visit just a few states? Maybe you only plan to visit one specific region? The beauty of a road trip is that you can be flexible and choose exactly where to visit on each day.
After several road trips across the US, we highly recommend you make a decision about where you plan to spend most of your time. Do you see yourself soaking up spectacular scenery in national parks or are you one to take in cultural city sights?
Remember, the type of road trip you are planning will have an impact on which vehicle is the right choice for you and your travel style.
Picture yourself driving in rush hour through Los Angeles in your decked out RV. We saw it happen and we can tell you, they were not having a good time. Conversely, if you want to get off road in national parks, you will need a high clearance SUV or 4×4.
We will get into this later in the post, but just keep in mind what you are prioritizing for your trip.
If you're unsure about where to go, start by finding travel inspiration to help pick your road trip destination(s). We actually find this to be the hardest part of the entire process because on a road trip you have total freedom to choose where you want to go.
Remember, you won't be limited by train schedules, late flights or jammed packed busses. It's just you and the open road!
Here are some ways you can find amazing places to visit:
Create travel boards on Pinterest

Search Instagram for bucket list road trips 

Check out Online Forums 

Research Road Trip Itineraries

Read Guidebooks
2. Decide The Length Of Your Road Trip
Whether your road trip is one week or one year, we are excited you have made the choice to get out on the road. Hopefully by now you have a researched some amazing destinations and you have a better idea of where you are heading.
But next we need to focus on how many days you have to make this road trip happen? Another important consideration is how many hours you want to drive in a day?
From our experience, it's generally better to have at least a few weeks available if you will be road tripping across several states to minimize your driving time each day.
Try not to undercut yourself on time when planning your road trip. Things always take longer than the time you allocate in planning stages.
In 7 days you can road trip South Dakota's Black Hills or Utah's Mighty 5 national parks. But you might need 10 days to drive the California Pacific Coast Highway.
Top tip: Try to factor in a 'fudge day' just in case something unexpected comes up.
Long Driving Days
Here is an example of one road trip where we were severely limited on time…
We only had 18 days to drive cross country from NYC to Seattle, Washington.
This may seem like a decent amount of time but we ended up driving 5,000+ miles on this trip.
It was pretty full on and we wished we had more time to slow down to enjoy the sights.
We felt rushed and we had a few miserable driving days of more than 8+ hours which didn't make for such a fun journey.
We had to be in Seattle for a specific date, otherwise we would have slowed down.
The take home is this – if you're short on time, it may be more prudent to cover less miles, but see more every day.
For us, long drive days just aren't fun. In truth, they are exhausting and driving when you're tired can be dangerous for you and everyone around you.
The best way we have found to combat this problem is to limit how many hours you drive in a day. We try not to drive more than 5 hours in one day if it can be helped. And we also try to limit big driving days back to back.
For example, when we have a big driving day, we try to hike or visit an attraction with only a 1-2 hour drive the following day to break it up.
Avoid driving in rush hour and use google maps in real time to avoid traffic to limit drive time. Road tripping in peak season will also mean more crowds and your plans should account for this.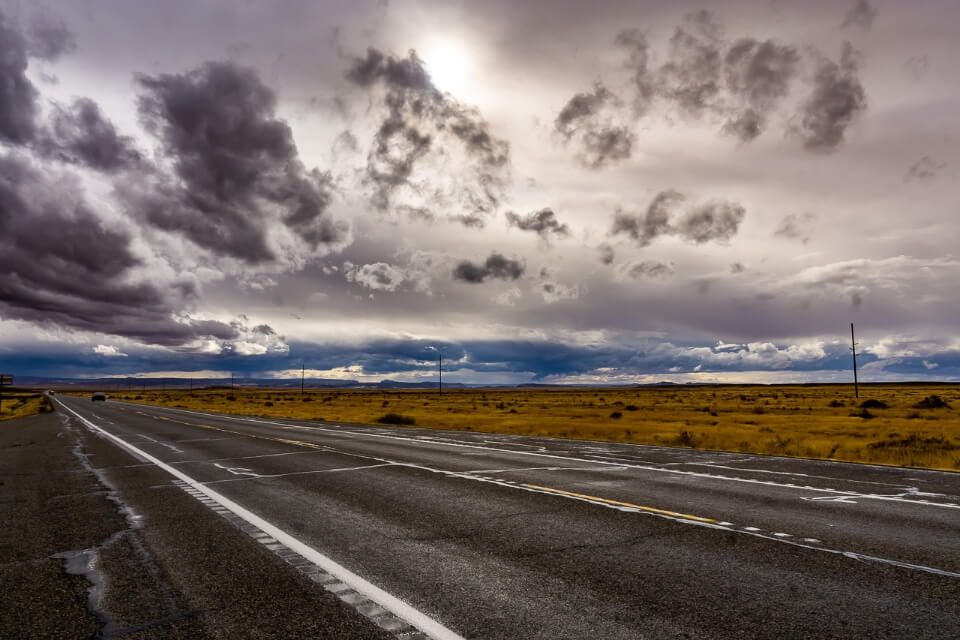 3. Create A Road Trip Budget
The cost of a road trip will vary depending on destinations and travel styles. But a road trip can be one of the most cost effective ways to travel if you are on a budget.
Traveling this way gives you the freedom to pick and choose your expenses because you aren't dependent on public transportation, limited hotels or local food options. You have complete control over where you go which means you can spend your money more wisely.
If you are counting your pennies, you can choose to camp and make your own meals. Alternatively, if you are don't mind splashing out on luxurious accommodation and fine dining, find the places you want to indulge and calculate potential costs.
You probably have a rough idea of what you would like to spend on your trip but we recommend you put a number on it and write it down. If you don't make a budget, you will be guaranteed to overspend.
You can really minimize costs if you thoughtfully plan your expenses.
This is what we typically budget for when planning a road trip:
Gas
Accommodation (hotels, camping, etc.)
Food and Meal Prep
Rental Car or Personal Car Costs
Major Transportation (flights or trains if needed)
Attractions
Before Trip Costs (Tent, Cooler, Hiking Boots, etc.)
On our first 3 months road trip across Western US, we spent an average of around $80/day for two people while both camping and staying in hotels in national parks and cities.
This might be very different if you splurge on luxurious hotels and fancy meals. But, you might also be way under if you camp most of the way.
Balancing Your Road Trip Budget
We always balance expensive days with cheap days. So when we paid for lodging in Yellowstone (because we couldn't camp due to the time of year), we camped to lower costs when we visited Badlands and Death Valley.
Balance is key if you want to stick to a set budget.
Before you book anything, we recommend you price out potential costs for flights, cars and/or hotels.
Avoid traveling in peak times to keep costs lower. If the demand is there, unfortunately the price tag usually increases.
We personally try to avoid US travel in July/August as these are the most expensive and usually the busiest months. But if you plan and book early enough, you can score better deals.
Top tip: If you are planning to visit multiple National Parks in the US, check out the America the Beautiful Pass. You will save money and can thank us later!
4. Choose Your Road Trip Vehicle
How will you get from place to place? Size, gas mileage, 4wd, comfort, safety, maintenance and reliability are all considerations when choosing a road trip vehicle.
When planning a road trip, it's important to remember you will be spending a lot of time in this vehicle so don't choose lightly.
We have always used our own personal SUV for road trips, but other options include a rental car, an RV or a campervan. The choice will really come down to your budget and preference. And remember, there is no right or wrong answer here!
We will go over everything you should take into account when choosing your road trip vehicle:
Personal Car
This is the best option for us because our Ford Escape has intelligent 4wd, it's roomy enough for us to sleep in the back and we get great gas mileage. We often compliment our road trips with both car and tent camping along with the occasional hotel for a nice warm shower and a big comfy bed. Since this is our personal vehicle, we always keep on top of our maintenance and we never have to worry about extra car insurance.
Things to consider for your personal vehicle:
Is your car is in good enough condition to handle the situations you will be facing?

Do you mind putting all those miles on your personal vehicle?

If you are planning to sleep in your car, will you be comfortable?
Are you willing to accept wear and tear caused by going off road in parks?
Rental Car
Maybe you are planning a road trip a long way from home? Or maybe you don't feel comfortable using your own car? Whatever the case, a rental car is a great way to bridge the gap.
We always have great experiences using Rental Cars when we can't use our own vehicle. Remember, you can pick up and drop off your vehicle in a different location if that works better for your itinerary. 
Things to consider for a rental car:
Is there any availability for the vehicle you need?

Does your personal car insurance cover your rental?

Are there any extra costs you need to be aware of?
Campervan and / or RV
The covid-19 pandemic has fueled the drive for campervans and RVs. Now more than ever, these homes on wheels can be seen driving on roads all across the country.
If you have some time before your road trip, a conversion might be the best option for you. We will be honest, we've thought about it several times!
If you plan to do a van conversion, make sure you do your research to see what features would be the best for you.
But if you plan to rent an RV or campervan, some of the most popular companies include Escape Campervans, Cruise America and Outdoorsy.
Things to consider for a Campervan and/or RV:
Will you feel comfortable driving a larger vehicle?

Would you like to have a kitchen available all the time?

Would you prefer to build your own or do you want to rent?

Do you need a toilet or a shower?
Everyone will have a different preference for their road trip and that's why we recommend you think about what is important to you.
There are pros and cons to each means of transport listed here, so which do you think would work for your trip most effectively?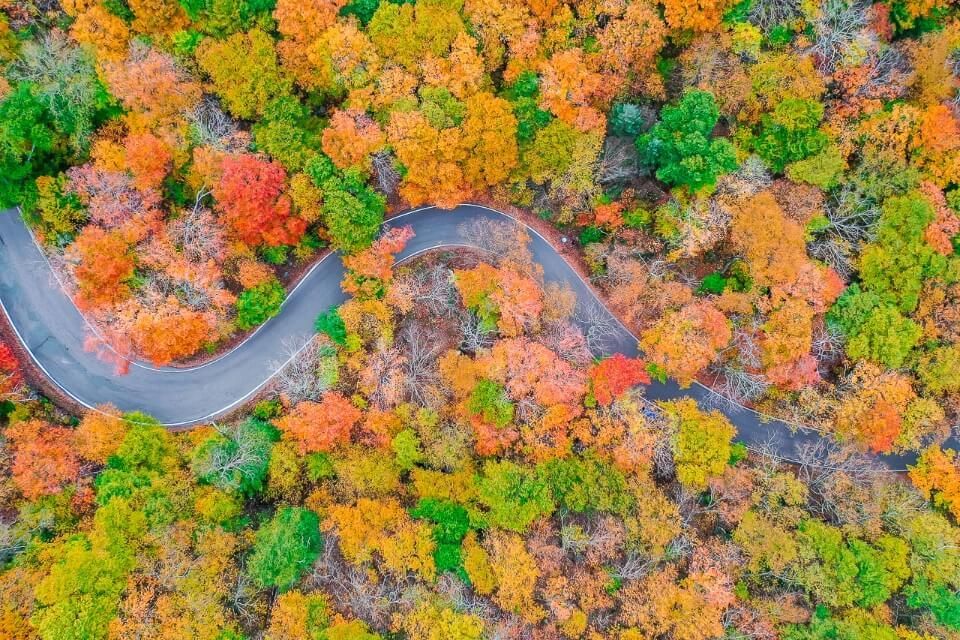 5. Plan Your Road Trip Route
With your destination, budget and vehicle out of the way, now you can begin the fun part of planning your road trip… making a route!
The easiest way to do this is to look at a map. It can be paper or it can be electronic, just as long as you can visually see a route being plotted.
Pick your point A and end with your point B. Is it a round trip loop? Or is it a one way trip arriving and departing from different airports?
All you have to do from here is decide what you want to visit in between. This can really become a lot of fun the more you research.
Planning a road trip means you can find wacky and unique sights along the way. We usually check Roadside America to find attractions and oddities. 
Some things to consider:
Are you traveling during peak or off season? Peak season will most likely mean more expenses and people.

What type of weather will you encounter? We had both 20 and 90 degree days on our road trip, make sure you have the essentials!

Will you use highways or interstates? We always like to take the scenic route but it isn't always the most efficient.

What are your interests? We always try to hit the best photography locations and hike the best trails.
How to start planning your road trip?
Use Google Maps and Wanderlog to create and visualize your road trip route.
We typically use Google Maps when deciding on which places to include in our itinerary so we can account for driving time. Google Maps is easy to use and the most simple tool for roughly planning each day on your road trip.
For example, we will see how long it takes to drive from Mount Rushmore to Yellowstone and if we don't want to drive for 6 hours that day, we find a place half way between to stop.
Once we have a route, we then use Wanderlog to plot each stop off point and include notes for each major attraction on any given day. Wanderlog is interactive, multi-functional and user friendly.
Don't try to cram in too much and pick a route that is reasonable for the amount of time you have.

Depending on your needs, you can even select to avoid highways.

Look for long stretches of drives and see where you can break it up.

Visualizing your route helps because you can get a feel for where your long drive days will be.

Plan as many fun things to do as possible, you are on a road trip after all!
After completing a number of successful road trips, we have learned what works best for us. We now loosely plan our road trips, as opposed to 100% nailing down every detail before leaving.
There are too many variables on a road trip and it's important to have wiggle room. What if we really like a place or don't like a place? If a road trip itinerary is too rigid it leaves no room for spontaneity.
The only issue is last minute bookings can be expensive and hard to find. But that's a trade off we are willing to accept.
6. Find Your Accommodation
Your road trip vehicle will set the scene for accommodation. Unless you have an rv or campervan, the majority of your accommodation will be hotels or campsites.
Decide which places you want to visit and figure out exactly where you plan to spend each night. If it's peak season, we highly recommend you book lodging in advance (especially in or near national parks), but if you are traveling during the off season you can most likely book as you go.
Hotels and Apartments
When it comes to booking hotels, we always use and highly recommend Booking.com to our readers, friends and families.
We have been traveling for years and in our experience there are no other sites that compare in quality, options or value.
The Booking genius loyalty rewards program automatically give you 10-15% off base price, free breakfasts and free room upgrades. If you find a room costs more when contacting directly, just ask and they might match the Booking.com price.
To find the best deals on accommodation and lodging, read our in depth post on how to find cheap hotels. 
The only issue with staying in hotels when on a longer road trip is expense. Even if you stay in low budget motels, 10 days at US$ 80 each night adds up quickly.
Other accommodation options include Airbnb and Hostelworld.
Airbnb tends to have different and quirky types of accommodations such as treehouses and yurts but beware of high cleaning and service fees.
Personally, we never got into the Airbnb craze, we found end of stay prices always worked out higher than Booking.com. But Airbnb is great if you want to meet hosts from around the world when you stay in a new place.
Hostelworld is great for shared spaces and meeting other like minded travelers at cheaper prices for those who don't mind sharing rooms.
Camping
Ah, the ultimate way to enjoy the outdoors! There are many different ways to find both free and paid campsites.
If you are reading this section, we are guessing you have already invested a good chunk of money on camping gear, fuel, tents, etc. So let's go over the difference between paid and free campsites and you can decide which better fits your style.
Generally, the more money you spend on a campsite, the more amenities such as showers, toilets, picnic tables, fire rings and water you will have access to. Paid campsites typically range anywhere from $10-30/night. Free campsites are typically primitive but hey what can you expect for free!
If you plan to camp in any of the US National Parks, you will need to make your reservations as soon as possible on recreation.gov, especially if you plan to visit June-August during the year.
These spots open 6 months in advance and go extremely quickly! But what happens when these campsites are completely booked?
There are several places you can disperse camp in the US for free or for a small fee. Some states require permits so it pays to do your research, but here are several options for places you can sleep in your car:
Bureau of Land Management

National Forest Land

State Forest Land

National Wilderness Areas
Note: It is not permitted to sleep in your car within National Park boundaries. You will be kicked out of the park if caught by a ranger. We've seen it happen!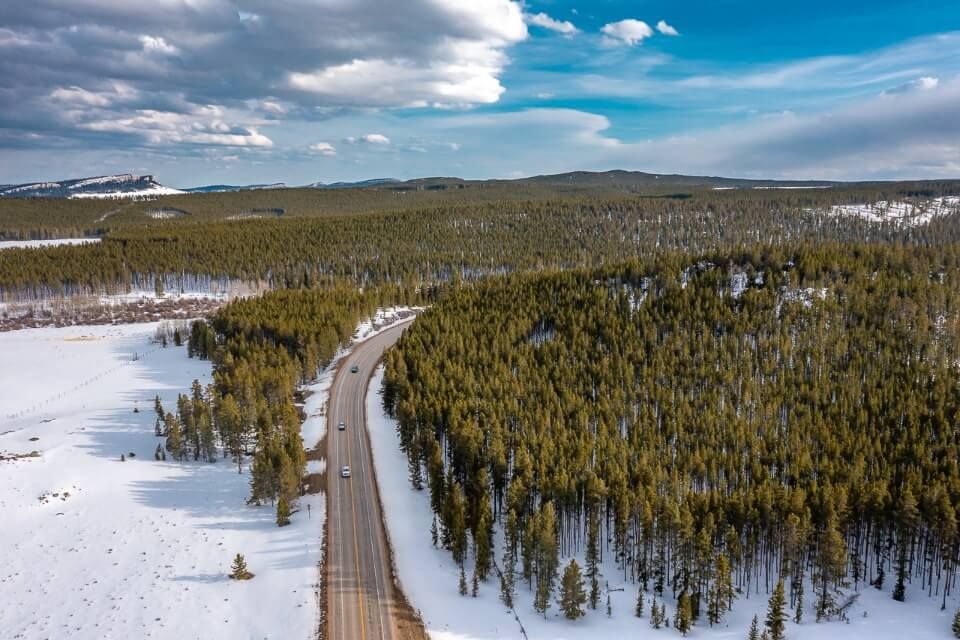 7. Finalize Your Itinerary
It's time to trim the fat in your road trip itinerary. Maybe you got a little too over zealous when you were planning?
You need to decide which stops are completely necessary and figure out which ones will go on the "if I have time" list.
Be sure to add in extra time in case of car trouble or unexpected traffic.
A busy but not jam packed itinerary will make for the most fun on a road trip.

If there are specific attractions or activities you really want to visit, we recommend you book these ahead of time to secure a spot.
Travel during and after the pandemic will be changed forever, but one aspect we have really struggled with is restaurants.
With limited capacities, we had found it difficult to get a table in restaurants. Fortunately, these limitations are on the way out but it could still be prudent to make a reservation for anything you really want to try.
It would take a little spontaneity out of the road trip, but you will be guaranteed a spot.
Read: Itineraries are something we specialize in because we have FOMO (fear of missing out). We pride ourselves on our extremely detailed itineraries and you can check out some road trip ideas on our US road trips page.
8. Use A Packing Checklist
Nothing ruins a road trip quicker than carting too much gear around. Whatever vehicle you decide to take, it's important to minimize what you bring. The easiest way to do this is to stick to a packing list.
We won't go into this much here but you can read our ultimate road trip packing list for a complete break down of exactly what to pack for a successful road trip.
Our road trip packing list includes a free PDF you can print and use while you pack so be sure to check it out.
Or better yet, you can download a copy of both our road trip planning and packing checklists by signing up to our blog below!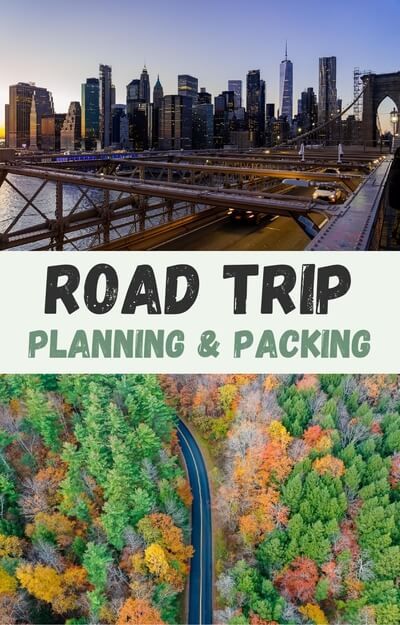 Need Help Planning Your Road Trip?
We would love to send you our detailed road trip planning and packing preparation checklists to get you started.
Sign up below to download your free copy now!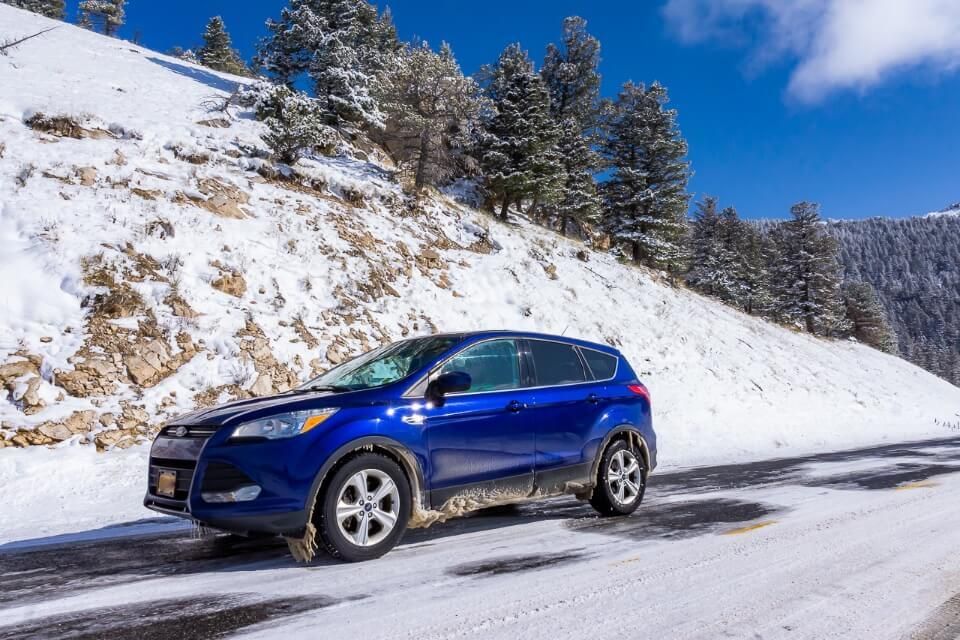 9. Plan Your Meals Ahead
Food is where we always overspend. What can we say, we just love to eat!
But seriously, if you're not careful on your road trip, food costs can get out of control very quickly and your health can spiral out of control equally as rapidly.
Planning out your food (if only a little bit of the time) will save you tons of frustration, cost and greasy fast food sweats.
Top tip: It is a good idea to have food and water on hand in case of your vehicle breaking down. Packed lunches, fruits and non perishables are a necessity on any road trip.
We always carry a 2 burner gas stove, bottle of propane, small pots, plastic cutlery and paper bowls / plates when we go on any road trip outing. Here are some easy camp stove meal ideas to get you started on what you can cook during a road trip.
After several road trips, some of our best tips include:
Minimize the amount you eat out to save money.
Buy your groceries locally and often to eat healthier.
Always carry at least a gallon of water to avoid soda stops.
But what about perishables? If you are in an RV or campervan, your perishable food can be easily stored in a refrigerator.
You won't have this luxury when tent camping or staying in your car, so use a cooler to keep your food from spoiling.
We refill the ice in our cooler every few days, which can be easily bought at a gas station or we fill up at the hotel ice dispenser.
Last but not least, if you plan on visiting a national park but don't have a way of making your own food easily, stop by a grocery store or gas station to buy some snacks before you enter the park to get you through the day.
This will hold you over until you can get a good meal later. Food in the national parks (if there is any) can be a little pricey and it also may take a while to find a cafeteria because some of the parks are huge.
Speaking from experience, you don't want to miss the beautiful sunset because your stomach is growling too much!
10. Prep Your Vehicle
One of the best ways to ensure you have a great road trip is to prep your vehicle before you leave. We do this every single trip and it has always paid off.
Get your oil changed, your tires checked and have your vehicle inspected if you have any concerns. It is better to have the problems fixed before you are in the middle of Death Valley with little to no service.
Keep an eye on your milage throughout the duration of your trip and have your oil changed on time. We had to change ours several times on our first 3 month road trip across the states. We also had to replace a solenoid towards the end of our trip so having a little bit of extra cash stashed away for emergencies is essential.
As some food for thought, would you know what to do if your vehicle broke down? Who would you contact? Where would you even start? We highly recommend you have a plan for a "just in case" scenario.
If you are planning a road trip in the United States, use AAA. We never leave home without peace of mind through AAA.
The American Automobile Associate (AAA) provides automotive repair, emergency roadside service, travel planning and insurance services. They provide extended towing up to 100 miles, free emergency fuel, locksmith coverage and upgrades for car rentals.
Even if you lock your keys in your car, AAA will be there for you. But try not to let that happen!
As an extra bonus, they also provide free paper maps and discounts on several hotels. When you check in, ask if they accept AAA discounts and most will give you 15% or more off base price.
Membership plans have several levels and options but typically cost anywhere between $40-100/year. A small amount of money to cover any automotive emergencies on your road trip.
Avoid These Road Trip Mistakes
Last but not least, this is a compilation of common mistakes you should avoid at all costs:
The car will be fine – Until it isn't! Give your car a full inspection before getting on the road and carry emergency necessities, first aid kits, spare tires etc.
Road signs are all I need – Not in the rural countryside. Download any apps you might need, especially google maps and use your GPS.
We can just eat out – It won't work, always bring snacks and water in the car. Sometimes those gas stations and restaurants are few and far between. No one likes a car filled with hangry people.
I can drive right through – Dangerous. Stop every few hours to stretch your legs or plan well with attractions on long drives.
We can't deviate from the plan – You'll miss out! Leave a little room in your itinerary for spontaneity so you can stop and see weird things on the side of the road like the 'World's Biggest Popcorn Ball' in Sac City, Iowa. That's what planning a road trip is really about.
Your road trip will flash by in the blink of an eye no matter how long you are on the road. Time flies when you're experiencing new places, trying new food and meeting new people.
Our best advice is to be present and enjoy every moment.
Car breakdowns and bad weather happen, but that time you share with friends and family is priceless. Try not to let a bad day ruin your time. That horrible road trip experience will make for a funny story in the future!
Let's
Find Your Next US Road Trip …
We hope this how to plan a road trip resource helps you enjoy your
time on the road!
Where are you planning your next road trip? What are the best places you've stopped at on a previous road trip?
Please let us know if you have any questions or need any help planning your visit.
-Happy Travels-
Was This Post Helpful? Pin It For Your Visit!
Recommended Travel Planning Resources