It's no secret that New Hampshire is home some of the most spectacular Fall foliage leaf peeping scenery in America. But have you heard of the captivating Kancamagus Highway road trip between Lincoln and Conway, NH?
This stunning 35 mile stretch of road cutting through White Mountain National Forest is up there with the very best places to visit on a bucket list New England fall foliage road trip.
The Kancamagus Scenic Byway is also known as Kancamagus Scenic Byway or just 'The Kanc' and the name is correctly pronounced 'Kan-kah-mah-gus'. It can take a bit of getting used to!
So where exactly are the best stops on the Kancamagus Highway?
In this comprehensive guide, we are going to show you 13 of the very best places to stop along the Kancamagus Highway, with first time visitor tips and the best places to stay at both sides of the gorgeous NH-112.
We enjoyed our drive through the White Mountains so much we had no choice but to include the Kancamagus Highway in our popular guide to the 30 best road trips in the USA.
Let's get right into exploring the top attractions along the picturesque Kancamagus Highway!
*Please note this post may contain affiliate links. If you click on one, we may earn a small commission at no extra cost to you. Thank you for supporting the free content we provide! Read more in our disclosure policy.*
What Is The Kancamagus Scenic Highway In New Hampshire?
Kancamagus Highway is a staggeringly beautiful scenic drive between Conway and Lincoln in the hugely popular White Mountains of NH.
Nearby in Franconia Notch State Park, hiking to Echo Lake overlook at the summit of Artists Bluff trail and walking around stunning Flume Gorge are two of the most famous New Hampshire Fall foliage stops before beginning or after completing Kancamagus Highway.
Loon Mountain ski resort in Lincoln marks the western side of The Kanc road trip and the charming town of Conway sits at its eastern side.
Hiking in Spring and Summer, leap peeping in Fall and skiing in Winter make this a year round resort.
You will be blown away by natural beauty, covered bridges, waterfalls and endless rolling hills illuminating with radiant reds, burnt oranges, golden yellows and emerald greens.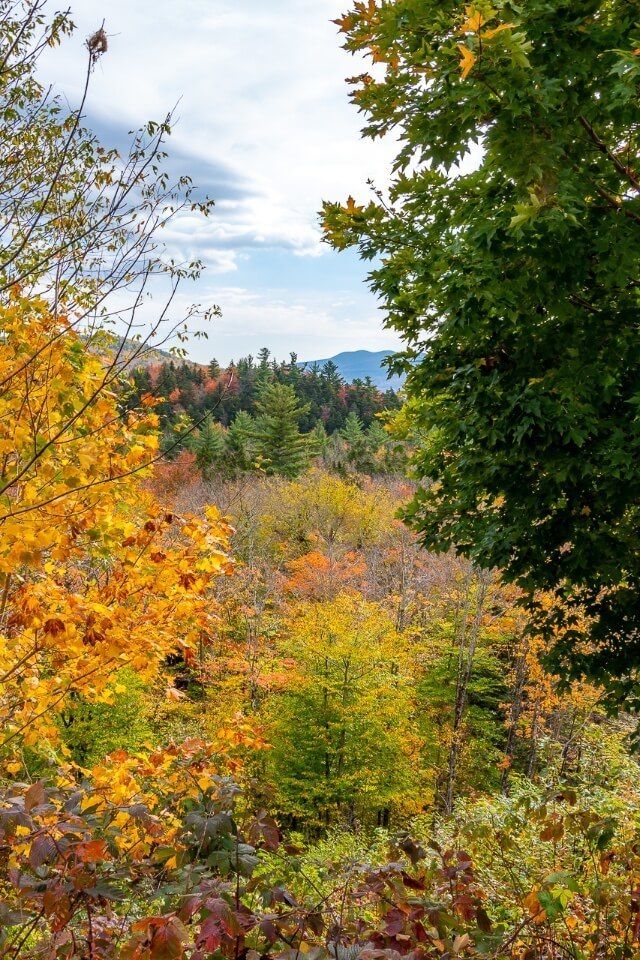 Where Is The Kancamagus Highway In New Hampshire?
The stunning Kancamagus Highway begins in Conway, New Hampshire at the intersection of Route 112 and Route 16. Then after 35 winding miles through the White Mountain National Forest, the Kanc will terminate in Lincoln, New Hampshire at the intersection of Interstate 93 and Route 3.
Click or touch to activate the map showing the location of the Kancamagus Highway in NH.
Move around, zoom in and out to orientate yourself with the local geography.
Best Stops Along The Kancamagus Highway
OK, so we've hyped the Kancamagus Highway up, but what is there to actually do and see along the scenic drive?
We drove the Kancamagus Highway from West to East, starting in Lincoln and ending in Conway. But you can drive it either way and they're both the same, there are no standout benefits to one or the other.
You could simply drive the entire 35 mile scenic byway without stopping or spend 2 days exploring the diverse attractions scattered throughout the Kancamagus Highway.
We suggest spending at least half a day and including some of these popular stops:
1. Loon Mountain
Loon Mountain is the place to stay in Winter if you're here to ski. It is also where you need to grab a great breakfast and fill up with gas before beginning your road trip.
White Mountain Bagel and Flapjacks Pancake House are both great choices for breakfast. But we can also highly recommend The Common Man for dinner if you do this route in reverse.
Just be sure to book dinner reservations in advance during peak season.
Are you into mountain biking? Outside of Winter, Loon mountain resort transforms into a downhill and cross country mountain biking adventure playground.
Once you're all stocked up in Loon Mountain, it's time to begin driving the Kancamagus Highway.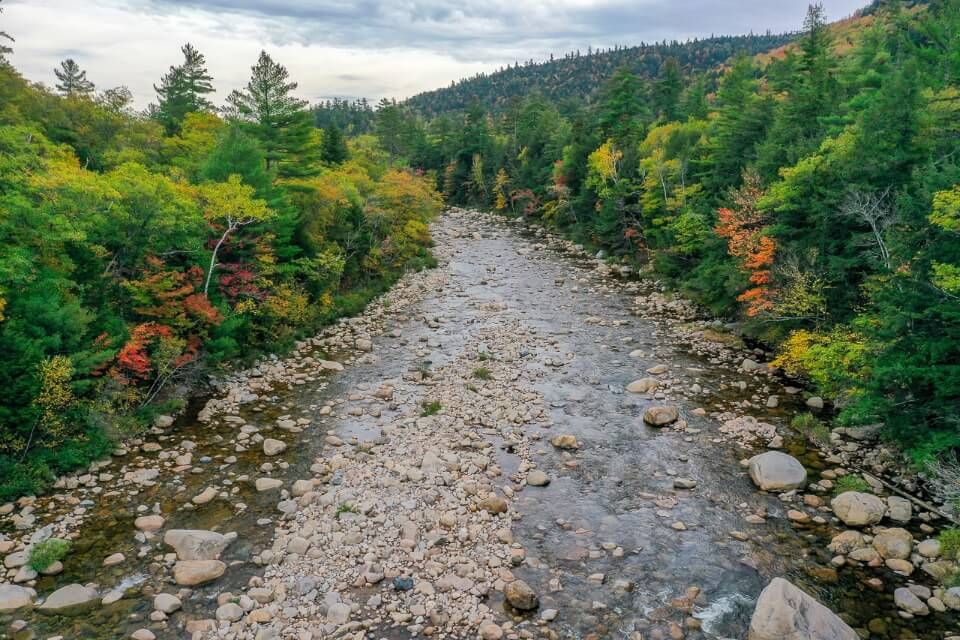 2. Lincoln Woods Trailhead
After just a few minutes of driving from Loon Mountain as you head East on the Kancamagus Highway, you will reach Lincoln Woods Trailhead – the gateway to Pemigewasset Wilderness area.
A visitor center, ample parking and restrooms can be found at the trailhead. Backcountry hikers can study popular routes into the heart of White Mountains National Forest.
Lincoln Woods is the first of many hikes you can take along The Kanc. Our suggestion is to read about them in this guide and choose one or two of your favorites.
If you decide to try this one, follow Lincoln Woods Trail for around 2.7 miles as far as Franconia Falls and / or Black Pond. You can choose to hike further but most people turn around at Franconia Falls.
The easy trail follows an old logging train track, climbing very gradually before reaching the scenic waterfall. Follow the exact same route back to the parking lot.
This is a 6 mile + round trip and can take anywhere between 2-4 hours. Only hike this trail if you have plenty of time on the Kancamagus Highway.
Read about Franconia Falls Trail on All Trails.
3. Hancock Overlook
Moving on, Otter Rocks is a lovely picnic spot if you decided to bring breakfast along in the car.
Just after crossing South Fork Hancock Branch you can hike or cross country ski a 7 mile roundtrip trail to Greeley Ponds.
But the next major stop on your Kancamagus Highway road trip is Hancock Overlook. You can't miss this one as it is right on an extremely tight U bend with a small road side parking lot for those who wish to stop here.
You will likely find one or two people flying drones overhead here to capture the U bend from above with fall colors in the trees. We put our drone up here but had high wind warnings so saved it for later.
But more importantly you can park here and hike a moderate 9 mile roundtrip trail to two 4,000 ft + peaks – Mount Hancock and South Hancock. The trail is mainly flat and easy with a steep but short final ascent.
Parking can be a challenge here so arrive early if you plan to hike this trail.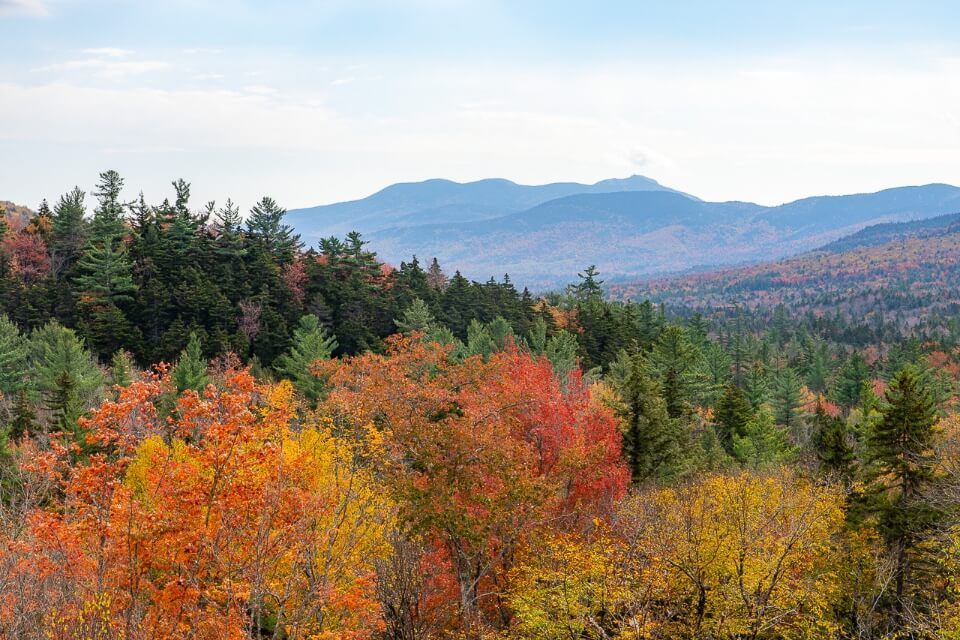 4. Pemigewasset Overlook
After gaining some elevation you will arrive at the top of Kancamagus Pass.
Right before the summit you can pull over into Pemigewasset Overlook, which open up to gorgeous rolling hills including Mount Osceola.
We flew the drone here and took a photo of the Kancamagus Highway road cutting through vibrant fall foliage. This is one of the best viewpoints on the scenic byway so be sure to stop here.
You can enjoy views over beautiful mountains and forest from a wooden pavilion if it is raining, which it does regularly in Fall. You can trust us on that one!
5. CL Graham Wangan Overlook
Your next stop is just 1 minute or 0.2 miles away, once you officially pass over the summit of Kancamagus Pass and begin your descent.
CL Graham Wangan Overlook is another of the most amazing viewpoints on the Kancamagus Highway so it's a dead cert stop on your drive.
At the previous overlook you were looking West over the Pemigewasset River. Now you're looking East at the Swift River and endless miles of rolling hills covered in colorful trees.
Remember all of these overlooks are roadside and are accessible for everyone.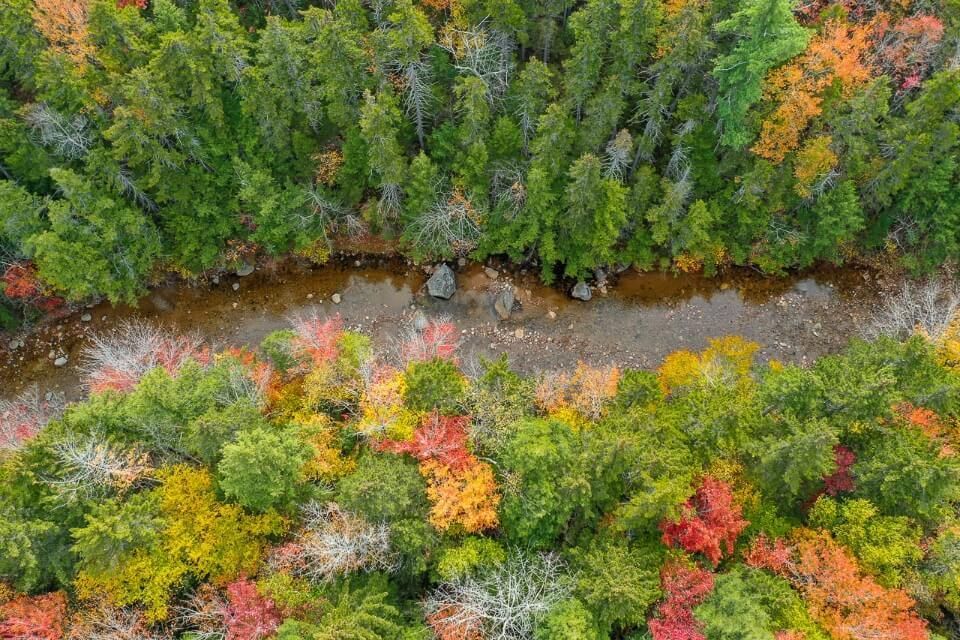 6. Sugar Hill Overlook
The last major overlook on your road trip through the spectacular White Mountains is Sugar Hill.
By now you are dropping down in elevation and views to your East are gorgeous but don't miss the parking lot for Sugar Hill Scenic Vista.
You will find another pavilion and likely even more drones flying in the air here because the overlook is so close to the Swift River.
This is the final spot you can look over miles of forest from an elevated vantage point. So get all the photos you need here before continuing to descend further.
7. Sabbaday Falls
Sabbaday Falls is one of the most visited waterfalls in New Hampshire and arguably the most popular stop along the Kancamagus Highway road trip.
This is a must-visit place to stop, as long as you can get a parking spot. A very easy 15 minute walk along a flat gravel track leads to the edge of Sabbaday Falls.
Those with older family members or disabilities can enjoy the falls from here, while others climb a steep stone staircase with wooden rails and boardwalk to see the falls from a higher vantage point.
The waterfall is a 45 ft series of cascades crashing through a narrow flume and it is a very picturesque scene, but it will be busy!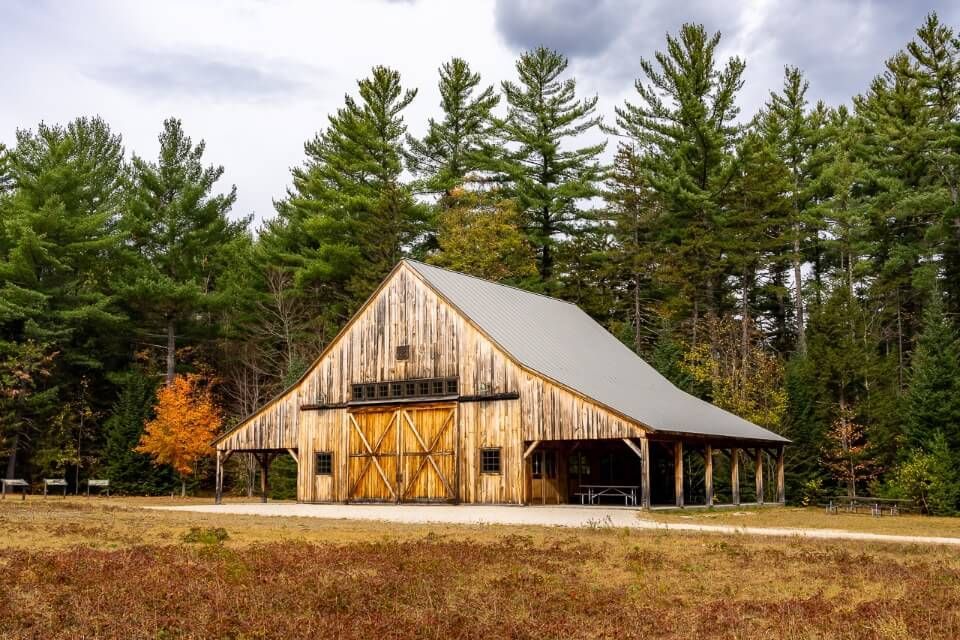 8. Russell-Colbath House
One of our personal favorite stops along the Kancamagus Highway is Russell-Colbath House and Barn.
There's not much to do here, but the timber frame barn is incredibly photogenic against a backdrop of emerald green trees.
Next door to the barn is Russell-Colbath house, which was built in 1832 and is the only original structure from the old town of Passaconaway.
You can also find an interpretive 0.5 mile hike called Rail 'n River Trail behind the historic buildings, which leads to the Swift River and contains educational information boards explaining logging in the area.
Simply park up, walk around the buildings and take a break from 'epic' viewpoints for a moment!
9. Champney Falls and Mount Chocorua
If you're into hiking, it doesn't get any better along the Kancamagus Highway than Champney Falls and Mount Chocorua.
You can either choose to hike a 3.1 mile roundtrip to Champney Falls or a 7.4 mile roundtrip to Mt Chocorua.
The waterfall is an attractive 70 ft cascade, which is much better to visit in Spring or after recent rainfall in Summer. In Fall, expect the water to be very low.
Mt Chocorua has some of the best 360 panoramic views in the entire region and many choose to include a spur trail to Middle Sister of The Three Sisters.
The final section to summit Mt Chocorua is a light scramble but otherwise it's a very nice moderate and easy to follow hike.
Parking is a problem and the trails are always busy so an early start is strongly recommended. It might be worth spending very little time elsewhere and arriving here before 8am if this hike will be the main part of your day.
Also consider it is 35 minutes from Lincoln and only 15 minutes from Conway to reach the trailhead.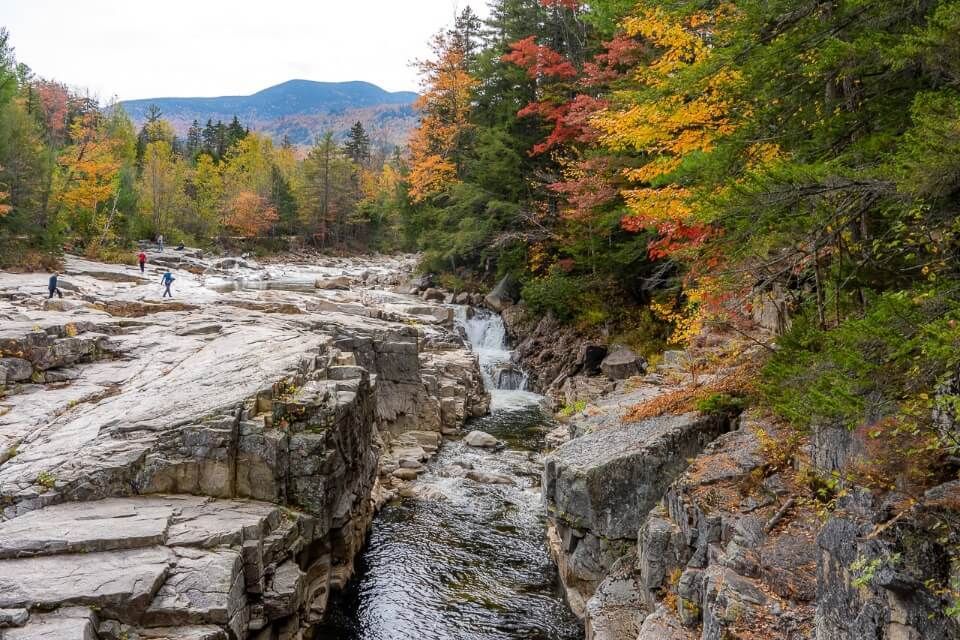 10. Rocky Gorge and Falls Pond
Rocky Gorge is a very popular stop on the Kancamagus Highway, particularly in Fall when peak foliage is remarkably radiant.
The Swift River narrows and cuts through flumes with wide open rocky surfaces either side, perfect for the kids to get out for a mini adventure.
A wooden bridge crosses the river and provides the classic view up and down stream with leaves illuminating the river flanks.
After crossing the bridge, follow short forest trails to Falls Pond and beautiful reflection photographs with Fall colors.
11. Lower Falls
The trade off with driving the Kancamagus Highway in Fall is lower water levels.
Lower Falls is the perfect example of a low running river later in the season, but it is still incredibly pretty with bright contrasting colors in the surrounding trees.
Lower Falls is an extremely popular recreational area with plenty of parking, bathrooms and picnic benches. This is the perfect place to swim in a large natural pool in the river, sunbathe, relax and eat lunch.
Note that swimming at Lower Falls is dangerous after heavy rainfall or when the current is strong.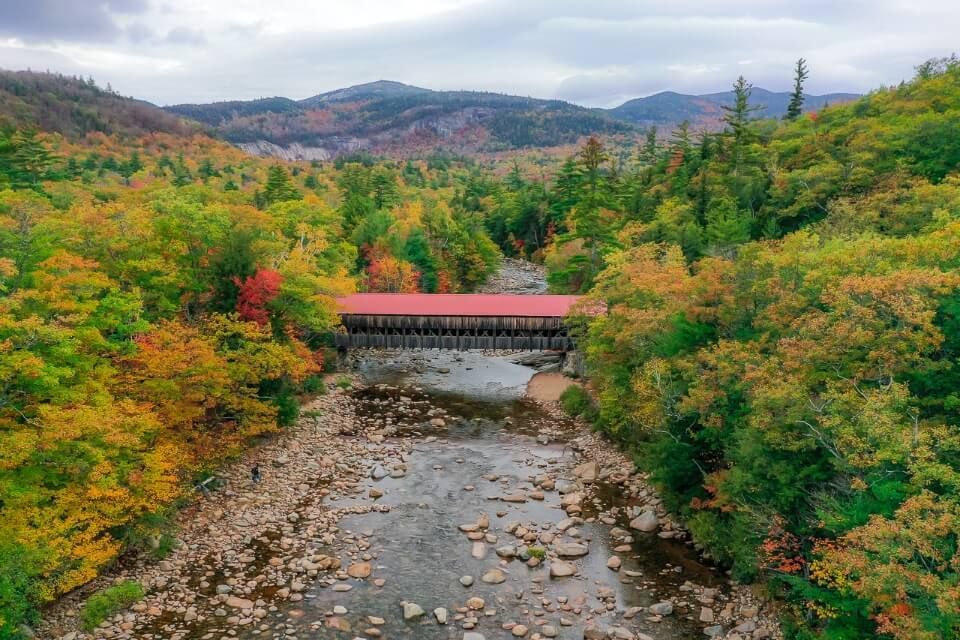 12. Albany Covered Bridge
Hiking and photography are our two favorite things to do when we travel. The Kancamagus Highway delivers on both and it doesn't get much better for photographers than Albany Covered Bridge.
Covered bridges are famous in New Hampshire, Vermont and all of New England for that matter. Albany covered bridge is stunning and one of our personal favorites.
Originally built in 1858, this gorgeous wooden bridge has required several restorations and repairs but it remains a must-visit on The Kanc.
Walk across the bridge, make your way down to the river edge to get a close up angled view and be sure to send your drone up if you have one.
Plenty of parking spots are available but don't forget you can actually drive across the bridge. Just note it has a clearance of 7 ft 9 in so please don't try it in a tall camper!
The penultimate hike we recommend begins in the same parking lot, Boulder Loop Trail. This is a 2.8 mile moderate difficulty loop trail with 900 ft elevation gain and wonderful summit views.
If you have a little more time or decided to stay a night in Conway before getting up for an early morning hike, take on South Moat Mountain just 4 miles from Conway.
13. Conway (North Conway)
After all that action, you've only driven 35 miles! Depending on how many trails you hiked and stops you made it could be 3 hours or 10 hours since leaving Lincoln / Loon Mountain.
Now, once you reach the end of Kancamagus Highway you will find yourself in Conway. Take Main Street and turn onto Washington Street to cross Saco Covered Bridge and / or Swift River Covered Bridge.
Head back to White Mountain Highway and continue until you reach North Conway. This is the place to end your road trip and spend an evening.
Here are some things you can do in North Conway: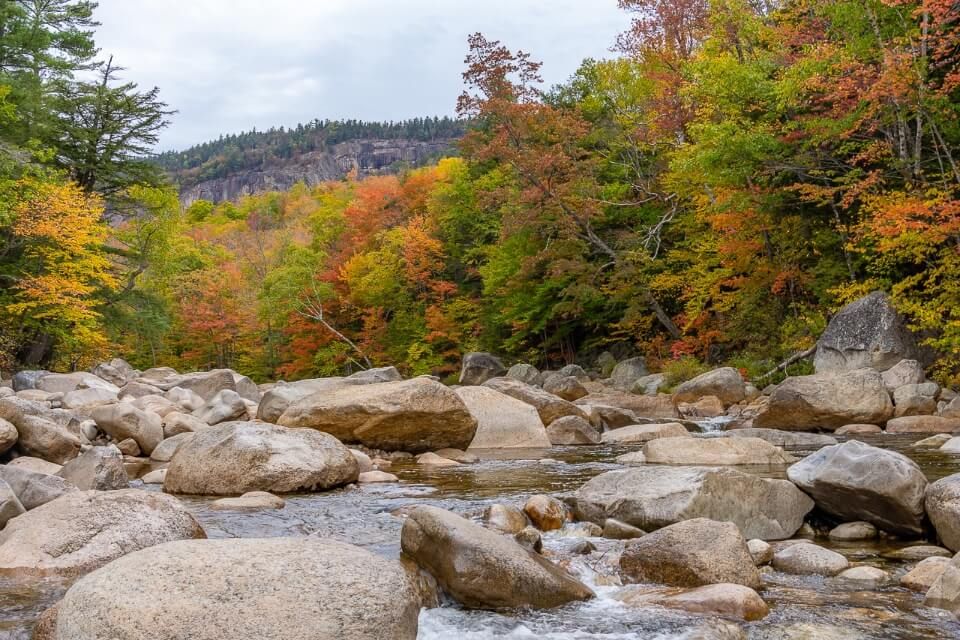 Kancamagus Highway NH Road Trip In Fall
Although the Kancamagus Highway is primarily visited in Summer and Fall, this scenic byway is still a gorgeous place to drive through during Spring and even Winter.
However, vibrant autumnal colors are at the heart of the Kancamagus Highway's fame and it is easy to fall in love with this part of New Hampshire during Fall.
From beginning to end you will see warm earthy colors illuminating the road side, hiking trails, rivers and ponds.
Don't forget your camera and remember drones are only allowed at certain points along the route. Look out for 'no drone' signs on notice boards.
When Do The Fall Colors Turn On Kancamagus Highway?
You can expect the colors to begin turning around the middle of September, but plan to visit during the first two weeks of October for peak Fall colors.
Each year is slightly different and it can hard to predict exactly where to be on which day. But if you aim for those first two weeks in October you stand the best chance of hitting it right on the money.
Kancamagus Highway Road Trip Tips
There are no gas stations between Lincoln and Conway. Fill up at whichever side you begin the road trip.
Cell service is non existent on The Kanc so download any maps you need and make any reservations for dinner or hotels before starting.
You will find no restaurants along the scenic byway so please eat breakfast before beginning. Bring a packed lunch if you plan to take on any longer hikes.
Recreation passes are required to park in any parking lot. The one off cost is US$ 3 per vehicle and they can be purchased at ranger stations or whichever parking lot you use first.
Take bug spray and sunscreen in Summer if you plan to hike a lot.
Even if it rains during Fall foliage season, colors are still gorgeous and it can create unique photography opportunities.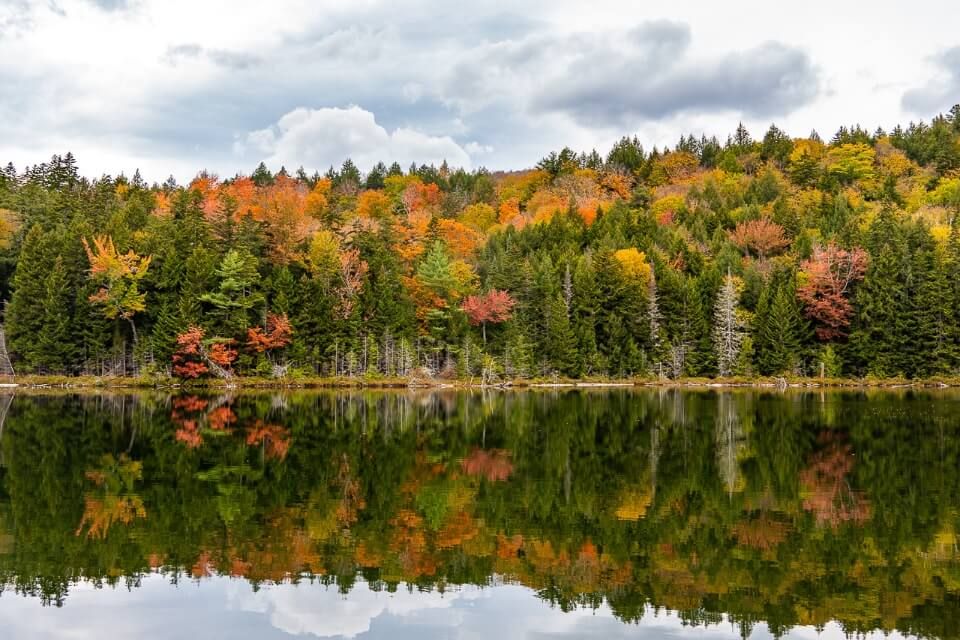 Where To Stay In Lincoln Or Conway NH
Most visitors to the Kancamagus Highway choose to spend a night in either Lincoln or Conway, before and / or after the drive, depending on how much time you want to spend in the area.
Personally, we spent a night in Loon Mountain, woke up early and got on the road so we could beat the crowds and grab a late lunch in Conway.
If you're looking for hotel recommendations, listed below are 3 top rated hotels by guests on both ends of the scenic byway:
Lincoln / Loon Mountain Hotels
Conway Hotels
Kancamagus Highway Campgrounds
If you'd prefer to spend a night camping along the road itself, you can choose between 6 campgrounds.
Campgrounds from West to East (Lincoln to Conway):
Covered Bridge
Blackberry Crossing
Jigger Johnson
Passaconaway
Big Rock
Hancock
Discover the 10 best places to visit on an unforgettable New England fall foliage road trip, with our detailed 5 days, 7 days and 10 days itinerary to help you plan the perfect visit.
FAQ's For Kancamagus Highway In NH
Let's finish with a very brief look at some of the most asked questions about the Kancamagus Highway in New Hampshire.
Is the Kancamagus Highway Worth It?
Yes, the Kancamagus Highway is worth it! If you drove the Kanc just for the scenery alone it would be worth it. The drive is a perfect way to spend a day because the beauty of the White Mountain National Forest is stunning especially in the fall.
How Long Does It Take To Do The Kancamagus Highway?
The Kancamagus Highway in New Hampshire is only 35 miles so it can easily be driven in a day. If you drove right through, it would probably only take 45 minutes to drive the entire Kanc.
But we would recommend you make some stops along the Kancamagus highway to experience everything the area has to offer. A half day or just a few hours would give you enough time to see some of the best sights along the Kancamagus Highway.
Fall is also a very busy time in New England with many people coming to see the fall leaves changing color. It may get crowded on the highway so be sure to allow yourself some extra time if visiting during the peak season.
Is The Kancamagus Highway Open Now?
The Kancamagus Highway is open year round. But the nine mile Bear Notch Road which intersects the Kanc is closed in the winter and has weight restrictions.
Where Does The Kancamagus Highway Begin And End?
The Kancamagus Highway begins at the intersection of Route 112 and Route 16 in Conway New Hampshire. As you drive the 35 miles of the Kanc, you will wander through the beautiful White Mountain National Forest. The Kancamagus Highway will end in Lincoln new Hampshire at the intersection of Interstate 93 and Route 3.
More From New England
Are you driving the Kancamagus Highway as part of a longer visit to New England?
Read about more amazing places and things to do in the area:
---
We hope this road trip guide featuring the top attractions and best places to stop along Kancamagus Highway in NH helps you plan your visit!
Please let us know if you need any help planning your visit to New England in the comments below.
Happy Travels,
Mark and Kristen
Was This Post Helpful? Pin It For Your Visit!