Whether you're planning a Las Vegas to Death Valley day trip or a California road trip with limited time to spare for Death Valley, we have the perfect action packed one day itinerary for you.
One day is enough time to hit most of the amazing Death Valley national park highlights but there will be some compromises and you will have to prioritize.
Death Valley. Who would want to visit such a dramatically end-of-life sounding environment?!
Well, we're going to show you the best things you can do on a one day day trip from Las Vegas to Death Valley, as you join over a million people each year braving this desolate landscape in California.
As long as you don't visit in blazing heat of Summer, Death Valley isn't as threatening as it sounds on the surface.
Prepare for wide open horizon stretching views, incredible 4 wheel canyon driving, silky smooth sand dunes and surprisingly vibrant colors in a harsh arena of death.
Let's get stuck into your epic one day in Death Valley National Park itinerary!
*Please note this post may contain affiliate links. If you click on one, we may earn a small commission at no extra cost to you!*
Why Day Trip from Las Vegas to Death Valley National Park?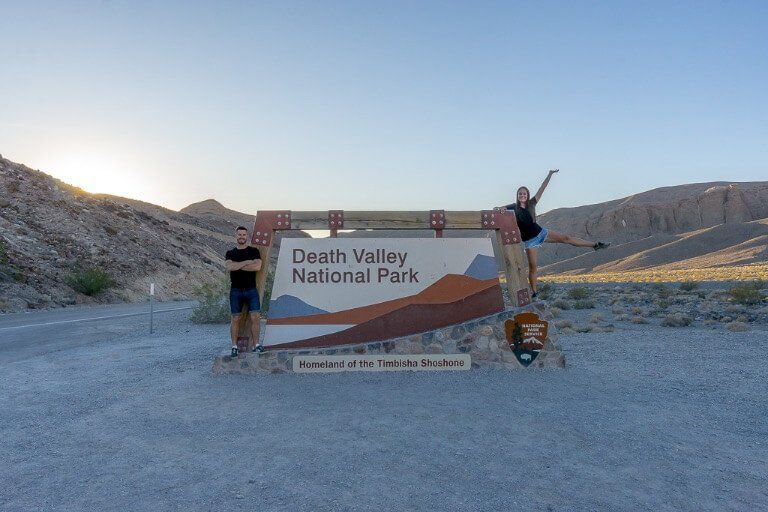 Death Valley is hostile but beautiful and diverse. Millions visit each year and we have to say Death Valley is one of our favorite national parks in the US.
You will be surprised by the range of amazing things you can do inside this scorched desert.
If you're into landscape and nature photography and get lucky with extreme weather conditions, you could capture some truly incredible photographs.
We'll take a guess that you've heard about Badwater Basin being the lowest place in North America. It's the most popular tourist attraction in Death Valley and a well known fact.
But did you know that at 3.4 million acres in area, Death Valley is the largest National Park in the contiguous United States?
That begs the question: "How on earth can I visit Death Valley in just one day?!"
Well, a lot of the park is barren wasteland and almost all of the major highlights are located reasonably close to each other, with a few exceptions but we'll get into that later.
Summer Months: If Death Valley is too hot in late Spring, Summer or early Fall, consider spending a few incredible days in Yellowstone and Grand Teton National Parks. Then visit Death Valley in Winter!
Weather In Death Valley
It's important to address potential weather concerns before you visit this mightily inhospitable National Park.
Peak visiting season falls between October and April instead of the typical Summer high season. There's a reason for that!
Hottest Recorded Day – July 10, 1913 the world's hottest air temperature record was set and has not been broken: 134 F (56.6 C).

Consecutive Days Over 120 F – 43 in a row over 120 degrees in 1917.

Yearly Averages – Over a 10 year period from 2010-2019, average highs in June 113 F (45 C), July 118 F (48 C) and August 116 F (47 C).
You get the picture! Death Valley is the hottest, driest and lowest US National Park. It should not be visited in Summer, unless you enjoy being turned into flames.
Why is it so hot?
Flanking the narrow low lying basin are two tall and steep mountain ranges. When heat is absorbed by the dry, arid desert surface and it radiates upwards, the mountains trap this hot air and recycle it back to the valley floor.
What else do I need to consider?
Summer monsoons can bring flash floods, particularly later in the Summer. Fall, Winter and Spring are more pleasant but you need to be aware of high winds leading to sudden dust storms. It is always windy!
Example from our own experience
When we camped at Sunset campground in October, the weather was perfect, warm and comfortable. We took the top cover off our tent and could see the stars crystal clear. How romantic!
Until at 4am a monster dust storm tore through Furnace Creek and blew our tent – and every single other tent – down in a matter of seconds.
Joshua Tree: Plan a trip to another Californian hot arid desert climate with this awesome Joshua Tree National Park day trip itinerary!
Death Valley National Park Factfile
Address: PO Box 579, Death Valley, CA 92328
Website: nps.gov/deva
Phone: (760) 786-3200
Park Hours: All day, every day
Entrance Fee: US$ 30 Vehicle 7 Day Pass (free with America the Beautiful Pass)
Visitor Center: Furnace Creek, open 8am – 5pm all year
Campgrounds: 4 Large and 5 Small (see campgrounds)
Accommodation: Small number in and around the National Park (see hotels & lodging)
Backcountry camping: Yes, no permit required
Annual Visitors: 1.3 million
Best Time to Visit: October – April to avoid extreme temperatures in Summer
Distances from LA, Yosemite and Las Vegas to Death Valley
Las Vegas to Death Valley (Furnace Springs) – You have 2 options both taking around 2 hours and 15 minutes:
First option 142 miles via US-95 and NV-373

.

Second option 124 miles via NV-160 and Bell Vista.
Los Angeles to Death Valley (Furnace Springs) – Again, you have 2 options both taking around 4 hours and 30 minutes:
First option 266 miles via CA-14, US-395 and CA-190

.

Second option 290 miles via I-10, I-15 and CA-127.
Yosemite Valley to Death Valley (Furnace Springs) – Your best option will take around 5 hours 40 minutes:
• 301 miles via CA-120 and US-395.
For those who live in Eastern US or outside of America, search for cheap flights using Skyscanner and fly into Las Vegas McCarran International airport.
You can hire a car at McCarran airport but be sure to enquire about taking the car on dirt roads in Death Valley. There may be something in the contract to say you can't take 4WD or Jeep rentals on dirt roads.
It's important to note it is prohibited to off-road in Death Valley, the 4WD roads are known as dirt roads.
Read: Our 15 best tips on how to find and book the cheapest flights every time you travel.
What You Need To Know Before Your One Day Death Valley Itinerary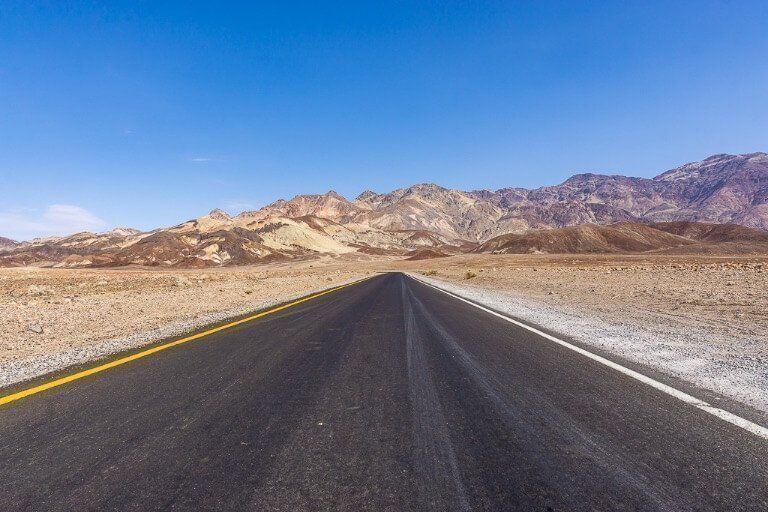 Death Valley is gigantic! You won't be able to do all of the best things in one day but we will get you through the majority of highlights in this awesome National Park.
Our travel itineraries are typically structured with precision in order to make sure you visit a new place with the most efficiency. However, due to the nature of Death Valley, this itinerary will be more open to your own interpretation.
For example, if you have a 4WD vehicle, you should not miss Titus Canyon. But it is not recommended for low clearance vehicles and we understand not everyone visiting Death Valley will have a high clearance car.
The park is dissected by roads in the shape of a giant X. Most of the best bits are along the Southeast part and this one day itinerary will focus mainly here, with some venturing up the Northeast and Northwest legs.
California: Plan your visits to the big 3 cities in California with our detailed travel guides to San Diego, Los Angeles and San Francisco
Safety in Death Valley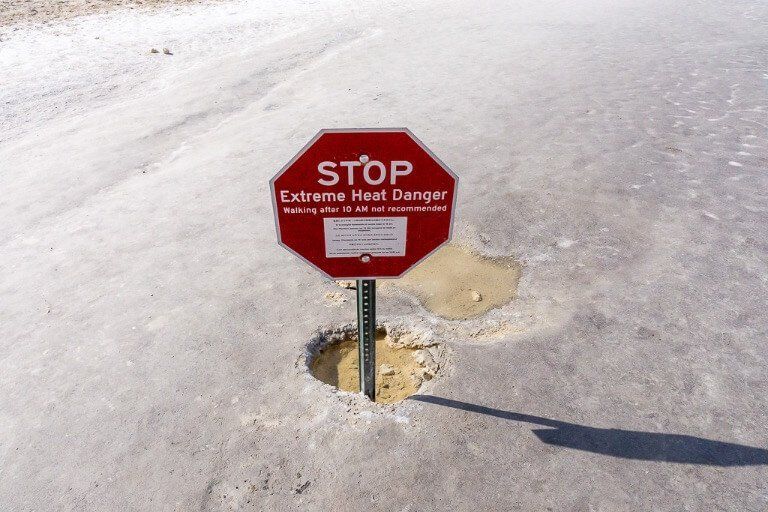 There are a few things to clear up before we jump into the best things to do in Death Valley. Please remember that intense and extreme heat is the norm in this National Park.
You will need the following:
Fully stocked supply of drinking water and enough food to last a day

Spare car parts and at least one spare tire

Full gas tanks (you do not want to break down in the middle of nowhere here)

Sunscreen goes without saying but hats and even thin layers for sun protection are a good idea

Hiking in Death Valley means you need to carry a serious amount of water for heat and dust
If you do decide to visit Death Valley in Summer, use extreme caution when hiking any trails at or below sea level.
If you're up in the mountains you'll be fine, in fact, you might even need serious Winter hiking equipment!
Las Vegas to Death Valley Best Things To Do In One Day
Here is your awesome list of the best things to do at Death Valley in one day.
Afterwards we will organize the highlights into 2 whirlwind itineraries, covering both a Las Vegas day trip and traveling through Death Valley.
1. Zabriskie Point
If you're in Death Valley before sunrise – for example if you arrived late the night before – spend the first hour of daylight at Zabriskie Point.
This is the best place in the entire National Park to watch sunrise thanks to its prominent Easterly position, meaning Death Valley's Badlands, red cathedral and towering Panamint mountains glow under the first rays of sunlight.
From the parking lot you will follow a short S-shaped path slightly uphill. We actually tried astrophotography at Zabriskie Point but it was far too windy.
If you'd like to immerse yourself into the mesmerizing yellow and orange mounds, there is a moderately difficult 2.5 mile hike through Death Valley's Badlands beginning and ending at Zabriskie Point.
Time Required: 1 hour at sunrise and/or 2 hours for the hike.
2. Badwater Basin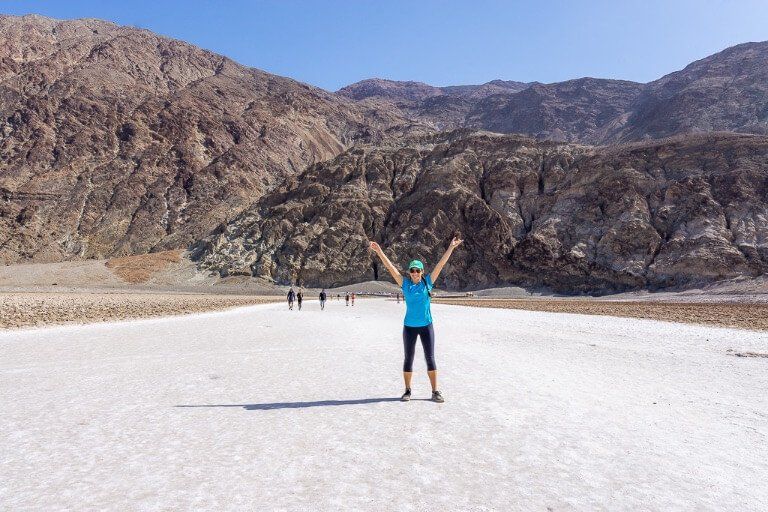 Sitting at 282 feet (86m) below sea level, the salt flats of Badwater Basin form North America's lowest point.
Badwater Basin's salt flat area is enormous and you can walk out among it for as long as you like. Just remember you have to come back on yourself! If you time it right between freeze-thaw and evaporation cycles, you will see quintessential salt hexagons associated with this type of climate.
Occasionally, the salt flats fill with a shallow temporary lake after heavy rainfall. However, except for a small spring fed water feature located right next to the parking lot, Death Valley's extremely dry climate quickly evaporates any attempts by the lake to make itself a permanent fixture.
This is the most popular and touristy area of Death Valley, so expect the parking lot to fill unless you arrive early or late in the day.
If you're a photographer, Badwater is best visited at sunrise, sunset or when there are interesting cloud formations. Pinamint mountains to one side and Black mountains to the other make a fantastic scene.
Don't forget to grab a photograph of the iconic wooden sign, the lowest point in North America.
Time Required: 1 hour to walk out and back.
3. Natural Bridge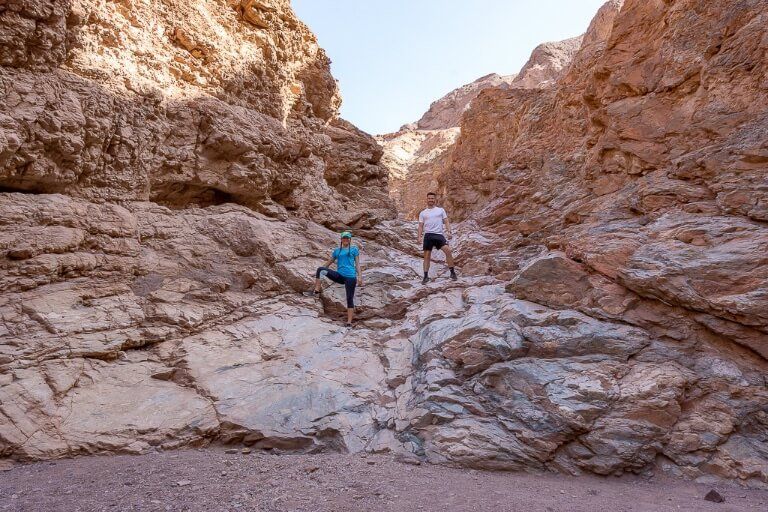 If you're interested in understanding Death Valley's geological history, don't miss this short hike up a narrow canyon with a 50 feet tall natural orange rock bridge.
This 2 mile round-trip hike should take around 1 hour to complete but allow a little more time for exploring.
There is more to see on the Natural Bridge hike, including one tall narrow dried up waterfall with a smooth semi-cylindrical shoot, and one wider shorter dried up waterfall with sharp boulders marking the end of the trail.
Be aware the hike up to Natural Bridge is slightly uphill but gravel and larger stones underfoot make the going fairly tiring. But that means your return slightly downhill is a piece of cake.
Time Required: 1 hour out and back (add more time for photographs).
4. Artist's Palette Drive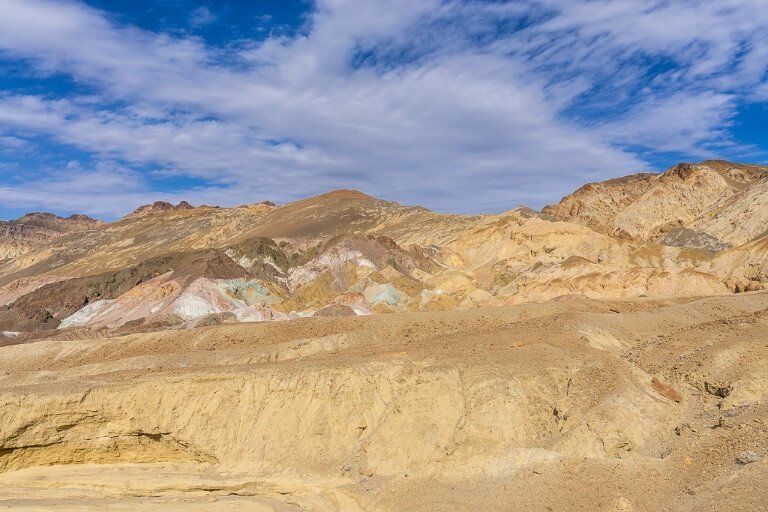 Drive the fun one-way horseshoe shaped scenic road through artists palette to see vibrant turquoise, brown and red rocks.
Many people drive this loop twice or even three times in a row. The brightly colored rocks look out of place in a desolate environment which adds to their appeal.
This is perfect for the less able because you can see the best bits from your vehicle. That being said, getting out to walk among the kaleidoscope of colors is much more interesting!
Time Required: 1 hour total for drive and walk.
5. Golden Canyon Hike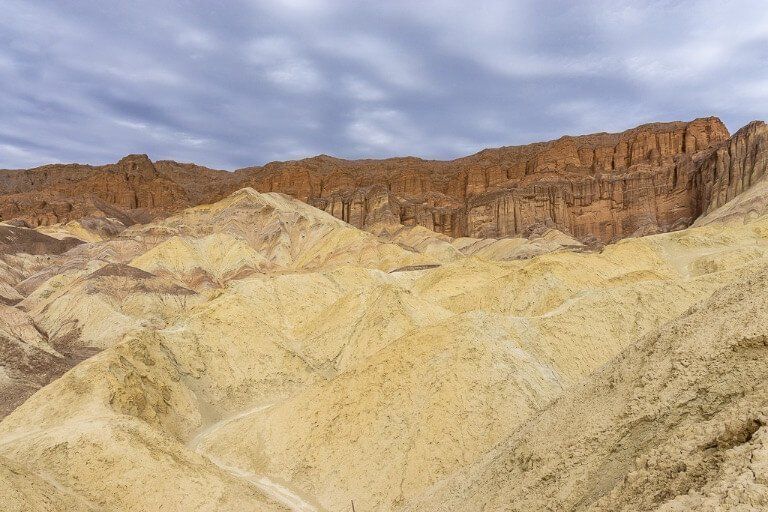 When standing at Zabriskie Point, look down at the Badlands and slightly to the right. You will be able to see Manly Beacon and further the Red Cathedral.
You can hike from Zabriskie Point to Red Cathedral. Alternatively, you can park on Badwater Road and hike a shorter trail through the Golden Canyon to reach Red Cathedral.
Golden Canyon is a 3 mile out and back labyrinth of narrow tunnels and golden mounds requiring some ledge climbing and overhang ducking!
This is likely to be the best hike you will do with just one day in Death Valley. There are more interesting and challenging hikes but they would take up your entire day.
Time Required: Depends how far you go – 1 hour 30 minutes to Red Cathedral and back.
6. Harmony Borax Works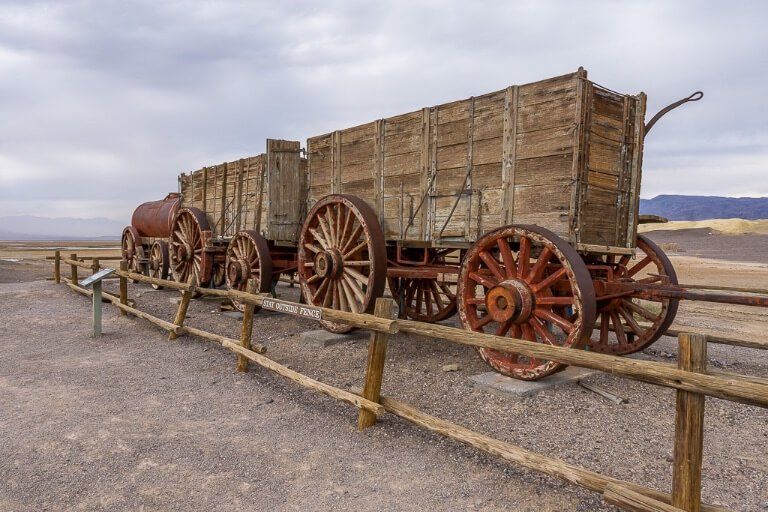 Borax is a natural mineral used in many household cleaners, laundry detergents and even teeth bleaching products today. This mineral played an important role of putting Death Valley on the map back in 1881.
Between 1883-1889, three million tons of borax were produced daily by the Harmony plant, but getting the product to the nearest railway line in the Mojave Desert required improvisation.
A 20 mule team pulling double wagons hauled the Borax through Death Valley, which has since become a symbol of the Borax industry.
There are many informative and educational boards to read here to learn about Death Valley's oldest industry.
Time required: 20-30 minutes.
7. Mesquite Flat Sand Dunes
When you think of a desert, what is the first thing that comes to mind?
Sand, right?
Well, less than one percent of Death Valley is covered in sand dunes, but remember this National Park covers 3.4 million acres! Mesquite is the most popular and easiest to get to in the park.
It features linear, crescent and star shaped dunes with the traditional curved ripples you imagine from sand dunes. You can sand board on these dunes but they only rise to a maximum of 100 feet at their peaks.
You might notice there is no photograph above – that's because we endured an almighty dust storm when we had planned to walk among the Mesquite sand dunes.
Weather is volatile in Death Valley and these dust storms are common, check weather reports before you plan your Death Valley trip.
Time required: 1 hour (more for photographers and sand boarders).
8. Eerie Rhyolite Ghost Town
Rhyolite is a fantastic example of a ghost town. The town sprang up hastily in 1905 as one of many mining camps during the Death Valley gold rush boom.
In a very short space of time Rhyolite was kitted out with infrastructure like electricity, water mains, hospital, school and even an opera house!
All of these services were financed by steel magnate Charles M Schwab.
Once the most profitable ore had been exhausted, Rhyolite declined faster than it was formed. In a few short years the entire town had been abandoned, leaving buildings the Las Vegas bound train station in the dust.
Technically Rhyolite is just outside the Eastern boundary of Death Valley and is in fact in Nevada! But it is on the way to the beginning of Titus Canyon's one way entrance.
Today you can see the remains of the Cook building bank's front facade, the railroad depot and old gas station among other smaller buildings.
Plus the super creepy ghost in the photo above! It is slightly eerie but definitely worth a visit.
Pro-tip – If you stay at Death Valley for a night and enjoy night photography, Rhyolite makes for the perfect place to paint abandoned trucks and building with light.
Time required: 30 minutes to 1 hour on site.
9. Incredible 4WD Titus Canyon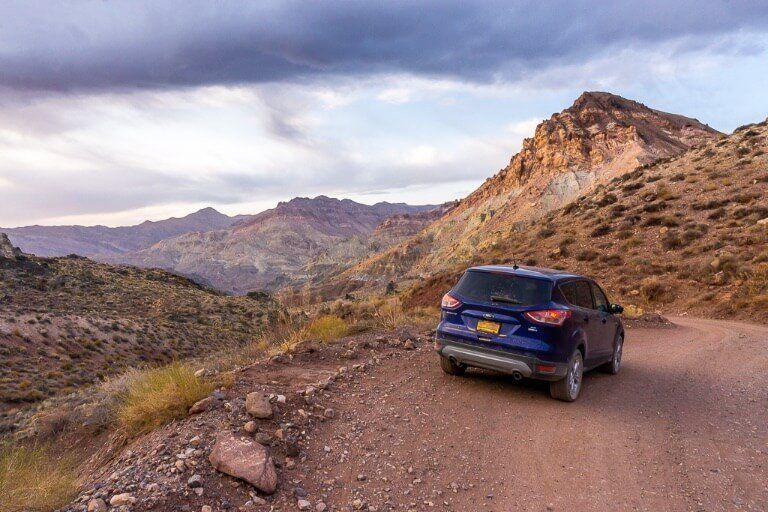 This incredible road is 27 miles long but it is steep, narrow and extremely rough at times. You will find yourself driving under 5mph for a lot of this trail!
Titus Canyon is an awesome one way drive over and through rugged and beautifully colored mountains. You will pass through another ghost town, petroglyphs, rare plants and wildlife such as Bighorn Sheep.
In truth, we probably shouldn't have driven Titus Canyon in a Ford Escape. It is classed as high clearance, but it is a low high clearance!
The car did magnificently and somehow we managed to escape (pun intended!) without a puncture or any issues.
However, it is very highly recommend you use caution before proceeding into Titus Canyon.
It is one way, so you can't turn around once you begin and you will certainly need to carry spare tires, puncture repair tools, plenty of food and water plus warm clothing if visiting outside of Summer.
This road is rarely patrolled and we only saw one other vehicle the entire time we were driving through the canyon, that car was parked and the people were hiking the Upper Titus Trail (2.5 miles one way).
The grand finale? A phenomenal 1.5 mile section of extremely narrow (less than 20 feet across) constantly curving canyons with tall walls to either side.
A bit like the Narrows hike at Zion National Park but you're driving and there's no water!
We gunned it through the narrow canyons and it was one of the most exhilarating 10 minutes of our entire 3 month US road trip. Highly recommended.
Time required: At least 2 hours but more likely to be 3 hours.
Death Valley Day Trip Route & Things To Do Map
Click into this interactive map, zoom in / out, scroll around and click on any icon to see more details. This will give you a rough idea of how each itinerary would work.
Epic One Day In Death Valley Road Trip Itinerary
Not everyone is visiting Death Valley in the same way.
You will find 2 itineraries formatted as efficiently as possible for both a Las Vegas to Yosemite route (or anywhere West of Death Valley) and a Las Vegas to Death Valley day trip loop.
If you're driving the opposite way ie Yosemite to Las Vegas, just reverse the itinerary. That should cover most visitors on a one day in Death Valley adventure.
If not, you can always leave us a comment at the end and we will provide you with the most efficient itinerary for your particular route.
Yosemite: Read our ultimate Yosemite guide for first time visitors before heading to one of the most amazing US National Parks. You will find efficient one, two and three day itineraries to help you plan perfectly.
Death Valley Example Itinerary 1 – Las Vegas To Yosemite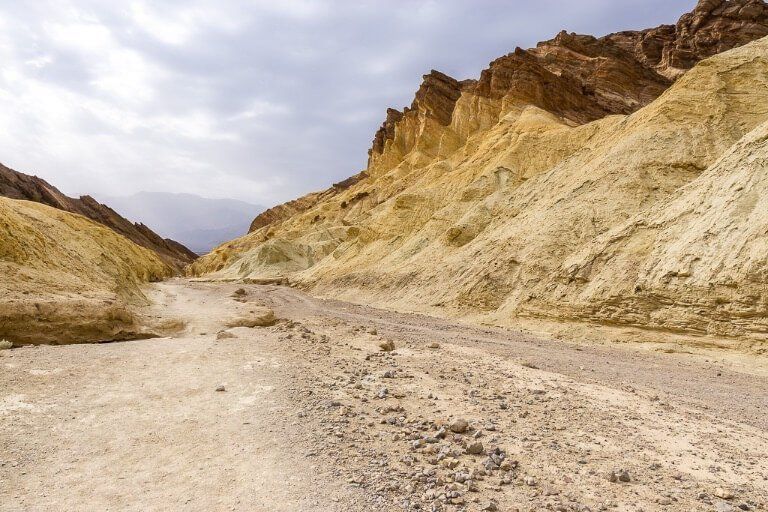 Zabriskie Point
Check sunrise times for Death Valley the night before you leave Las Vegas.

If you only have one day in Death Valley and can't miss a sunrise but didn't stay over the night before – you will need to leave Vegas early.

We're talking like 4am early but hey, at least you know the hotel check out will be staffed!

It's just over 2 hours to Zabriskie Point but you need to arrive before sunrise. Photographers should be on site when civil twilight begins.

Most people won't make it for sunrise but that's fine, you can still check out Zabriskie Point when you arrive as it's the most popular overlook in the National Park.

If you're not interested in making the sunrise, instead of heading to Zabriskie Point when you arrive, drive up to Dante's View on the way into the park for the best view of Death Valley. More effort and driving time but worth it.
Badwater Basin
Drive towards Furnace Creek but take the first left, just after you pass the luxurious Death Valley inn, onto Badwater Road.

Suppress any urges to stop, you want to drive all the way to Badwater Basin while it's still early before the mid morning masses arrive.

Head out into the basin, walk as far and wide as you need to blow the cobwebs off. Don't forget to get a photograph with the lowest point in North America sign. If you time it right for hexagonal crystals, you'll need a bit more time for photography.
Natural Bridge
Turn back on yourself and take the first right to Natural Bridge parking lot. Walk up into the cool canyon, slightly uphill and loose stones underfoot make it more difficult than it should be. It's worth the effort to see the bridge and barren waterfalls.

Continue back towards Furnace Creek. You can take the next left to Devil's golf course (not a real golf course!) if you have time. Devil's golf course is a massive expanse of flat land with sharp salt rocks as far as you can see. It is more 'otherworldly' than Badwater Basin.
Artist's Palette
A little further up take the right into Artists Palette one way scenic drive. This one is definitely worth it. Stop at the parking lot and take a quick walk among the surreal colorful mounds. The drive is fun and you may even be tempted to drive it again just for the roads!
Golden Canyon
Last stop on this Southeast part of the X is Golden Canyon and it is not one to miss. Walk all the way to Red Cathedral 1.5 miles each way through awesome terrain. This will be the most interesting hike you will do with just one day in Death Valley.
Furnace Creek
Now (finally!) drive to Furnace Creek village, check out the visitor center for information and ranger programs. Set up your tent if staying a night at one of the campgrounds, grab some lunch and take on a few gallons of water!
Harmony Borax Works
Walk the short loop trail among the old '20 mule team' historical area, learn about the Borax works of the 1880's and enjoy the views.
Mesquite Dunes
Follow the 190 north towards Stovepipe Wells. Take in the scenery around you as you drive through the heart of Death Valley.

Take the left into Stovepipe Wells, stop for any necessary food, water and gas.

Park up at the Mesquite Dunes parking lot and get lost in the sand for an hour! It will be baking hot in the middle of the day so use caution. Sandboard, photograph or simply enjoy the hot dry sand between your toes.
Rhyolite
Hop back in the car, turn back and take the first left onto Scotty's road, then a quick right onto Daylight Pass road. Drive to Rhyolite, the ghost town just across the border into Nevada.

Be sure to get out and explore this creepy area by foot. Take plenty of photos of the abandoned structures and vehicles.
Titus Canyon
If you have a high clearance vehicle (we hope you do!), it's time for the best part of your one day in Death Valley.

Just a few minutes from Rhyolite back towards the border and park boundary, take the right turn to Titus Canyon.

Driving this road is fantastic and adventurous way to end your day, but remember it will take around 2-3 hours so be sure you have enough daylight left!
Ubehebe Crater / Scotty's Castle
If you do not have a high clearance vehicle, drive up Scotty's road to Ubehebe Crater and/or Scotty's Castle. Both are excellent alternatives to visit before the end of your day.

Ending at Titus Canyon exit is perfect for take the road West through Stovepipe Wells and Panamint Springs to join the 395 North to Yosemite east entrance.

Stop at some of the best natural hot springs in Northern California near Mammoth Lakes on the way to Yosemite.

Ending at the crater or castle just adds on 30 minutes driving time.

If you're camping at Furnace Creek, it's a 30 minute drive from Titus Canyon exit.
Death Valley Example Itinerary 2 – Las Vegas To Death Valley Day Trip
Rhyolite
On a Las Vegas day trip to Death Valley, the most efficient way you can visit is by driving a big loop. Instead of heading towards Furnace Creek, set your GPS for Rhyolite.

You can drive from Vegas to Rhyolite in under 2 hours via US-95.

Explore the wasteland in the early hours to add to the eeriness.
Titus Canyon
Straight into the thick of the action for high clearance vehicles! If a thunderstorm is lurking, consider flash flooding possibilities before entering the one way road.

Hikers, don't forget you can park up half way along this road and hike to an awesome viewpoint.

Soak up the last 1.5 miles through canyon narrows. We'll be back just for Titus Canyon!

If you don't have high clearance, drive straight up to Ubehebe Crater and Scotty's Castle.
Mesquite Sand Dunes
Head down to Stovepipe Wells and stock up with any goods you need.

Park up and hit the soft sand dunes. You could easily spend 2 hours walking exploring Death Valley's famous dunes but reign it in, you only have one day!
Harmony Borax Works
Drive towards Furnace Creek but first stop at the historic Borax processing plant. Read all the information signs in the loop and be sure to photograph the old train.
Furnace Creek
Hit the visitor center, set up your tent if staying over, restock your supplies and prepare for the afternoon!
Badwater Basin
Drive all the way down to Badwater Basin, this is the most famous of all attractions in Death Valley and it's best to get it out of the way before the hikes. You can cope with missing a hike but you can't miss Badwater.

Walk out into the brilliant white salty basin. Get a shot of the lowest point in North America sign. You could even try some perspective photographs like you see from Bolivia's salt flats. Take some tiny figurines!
Natural Bridge
Turn around and take the first right to Natural Bridge. Hike up the loose stones into the tunnel-like canyon and don't forget to check out both the dry waterfalls.

Take the next left to Devil's golf course if you're doing well for time. Gaze upon the huge field of sharp jagged rocks and imagine the guy who gave the area its name originally back in the 1930's saying 'only the Devil could play golf on such a surface'.
Artist's Palette
Don't miss artist's palette drive and walk, particularly if you prefer photography to hiking. The colorful mounds are intriguing, especially the deep turquoise!
Golden Canyon
Excellent hike to Red Cathedral. Remember it's 1.5 miles each way so make sure you have enough daylight left in the bank. We actually ran to Red Cathedral and back because a dust storm was closing in quickly!
Zabriskie Point / Dante's View
On the way out of Death Valley towards Las Vegas, you have the choice of Zabriskie or Dante for your final viewpoint.

Dante is by far superior but is also a lot more driving and effort. Decide based on time and how much energy you have left.

Remember you still have a 2 hour drive back to Las Vegas.
What To Do With More Time In Death Valley
What are we missing out from your one day in Death Valley itinerary?
With 2 or 3 days in the park you can of course visit more attractions. Some we have included in the above itineraries and others are too far out to be a possibility.
Here are explanations for each of the remaining most popular things to do in Death Valley for your consideration:
The Racetrack
One of the most intriguing things of all US National Parks, rocks moving slowly along a flat dried up lake surface.
How do rocks move on a flat surface?! Scientists say that rain and wind allow stones to move extremely slowly but some have traveled over 1,500 feet.
Is it a hoax? Either way, to get there, you need a 4 wheel drive high clearance vehicle and it's quite a way off the main road.
Ubehebe Crater
A huge volcanic crater half a mile wide and 600 feet deep was created by steam and gas explosions in the Northwest of Death Valley.
If you're more interested in geology than hiking, be sure to consider driving up to the impressive looking crater.
Scotty's Castle
Walter Scott was a con artist who effectively stole money from wealthy investors from Eastern US who believed he had discovered a gold mine in Death Valley.
Scott spent all of the money living the high life before all investors but one pulled out when he produced not a single ounce of ore. The one investor remaining – Albert M Johnson – became enamored with Death Valley and the two men became lifelong friends.
Scott built a huge house for Johnson, known as Scotty's castle and today it is a museum.
Telescope Peak
This is the best adventure trail in Death Valley but only recommend for serious hikers/backpackers.
The 14 mile roundtrip hike gains 3,000 feet in elevation and is usually covered in snow, even in June. Hiking this trail is one of the only things best suited to Summer in Death Valley!
Dante's View
This is the best viewpoint in Death Valley. If you have more time definitely drive here (long vehicles not permitted).
If you visit on a particularly clear day with no dust or haze, it might be worth considering including Dante's View and excluding one of the shorter hikes or other attractions on the above itineraries.
Where To Stay In Death Valley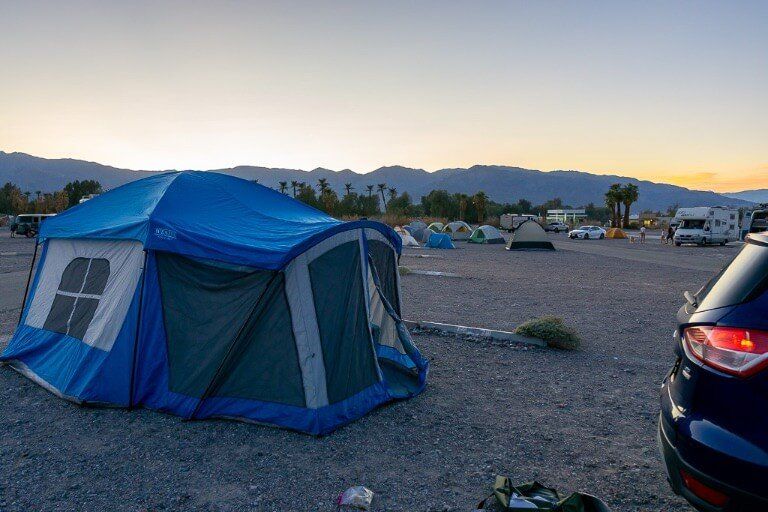 Death Valley Campgrounds
There are 5 smaller campgrounds dotted around Death Valley at higher altitude and more isolated regions.
For the purpose of this itinerary, we will provide details for only the 4 major campgrounds in case you decide to stay a night or two.
Of the main campgrounds, only Furnace Creek is open during Summer months due to high temperatures.

All 5 of the smaller campgrounds are at high altitude, therefore cooler in Summer and open all year.

The 4 major campgrounds plus Mesquite cost between US$ 14-28 per night, the remaining 4 smaller campgrounds are free.
All campgrounds require payment via automated machine on site at the campground.
Furnace Creek Campground
Open all year, reservations required October 15 to April 15 but not required in Summer, 136 sites and all services provided.
Sunset Campground
Open Fall to Spring, no reservations, 270 sites and some services. We stayed here and it's more like a car parking lot than a campground! You will not be able to peg your tent into the ground.
Texas Spring Campground
Open Fall to Spring, no reservations, 92 sites and all services provided.
Stovepipe Wells Campground
Open Fall to Spring, no reservations, 190 sites and some services provided.
Death Valley Hotels / Lodges
Like water, hotels, motels and lodges are rare in and around Death Valley, California.
Due to the lack of options and high demand in peak season, hotel prices are often inflated. But not everyone wants to camp.
Here are your best hotel options for Death Valley National Park:
Inside Death Valley
If you don't mind splashing out a little, you can stay in luxury right in the heart of Death Valley. Furnace Creek offers both a ranch and an inn.
The ranch is slightly cheaper, featuring outdoor pool, tennis court and access to the golf course – yes, there's a golf course in Death Valley! Check availability and prices for the Ranch at Death Valley.
The more expensive inn looks stunning, featuring outdoor pool, fitness center, sauna and lovely rooms. Check availability and prices for the Inn at Death Valley.
Alternatively, you can stay in Panamint Springs at a lower quality motel which is still quite expensive but is located right on the West boundary – ideal for driving to Yosemite early the next morning. Check availability and prices for Panamint Springs Motel.
Outside Death Valley
You do have some options nearby but they are limited. Your best bet is to simply search for availability and prices for all hotels around Death Valley National Park.
The results will be sparse but it will give you an idea about which side of the park you can spend a night and easily pick up the itinerary on day 2.
Here are some of the places you will find limited lodging near Death Valley:
Lone Pine to the West of Panamint Springs is close to Mount Whitney and offers a number of accommodations.

Beatty (close to Rhyolite) has a small number of motels.

Your best bet is Pahrump just over the border in Nevada, just a few miles from Death Valley Junction.
Read: 15 ways you can find and book cheap hotels every time you travel.
One Day In Death Valley National Park Interactive Map
This map shows locations of everything mentioned in this article, including all attractions not in the one day Death Valley itineraries, all campgrounds and hotels, gas stations and general stores.
Click into the map, zoom in / out and move around to better understand Death Valley's geography.
---
We hope this helped you plan your one day Las Vegas to Death Valley road trip!
Please let us know if you have any questions or need help planning your visit.
Happy Travels,
Mark and Kristen
Was This Post Helpful? Pin It For Your Visit to Death Valley!