South Dakota offers travelers an unforgettable road trip filled with stunning scenery, amazing hikes and the perfect opportunity to enjoy the great outdoors.
If you're planning where to go on your next bucket list US road trip and want to escape the crowds of Utah or California, this in-depth road trip vacation planner will help you decide if South Dakota is the state for you.
We accounted for 2 of the 14,500,000 visitors to South Dakota in 2019 as we were fortunate enough to explore the extraordinarily attractive Black Hills National Forest on our very first 3 month US Road Trip.
Each state we visited brought its own unique dish to the table. South Dakota brought a blend of natural beauty, diversity and dramatic scenery right out of a fantasy novel to conjure up a perfect road trip destination.
We must admit we were utterly besotted by Western South Dakota, which may in part be down to the fact we visited in peak Fall season. Nevertheless, we are sure it would be equally as stunning in any season.
*Please note this post may contain affiliate links. If you click on one we may earn a small commission at no extra cost to you!*
South Dakota Road Trip 2022 Update
We couldn't resist returning for a second dose of Black Hills action, ticking off many of the places we didn't have time for the first time around.
As a result, we have updated this article to include both a 4 day itinerary and a 7 day itinerary.
Our 4 day road trip itinerary remains as though traveling through South Dakota from East to West, whereas our 7 day itinerary begins and ends at Rapid City airport as a loop circuit.
What Can You Expect From This South Dakota Road Trip Guide?
We will show you the 4 most unmissable places to visit in South Dakota and the best of the rest, including one stop right over the border into Wyoming.
You will find efficient and detailed itineraries for 4 days and 7 days road trip through South Dakota. Use both example itineraries to tailor your own South Dakota road trip.
Here's a short YouTube video we put together with GoPro from our first visit to South Dakota.
Get To Know South Dakota
Before we dive into the road trip itinerary, here's a roundup of what you can expect from your South Dakota adventure. You will find key information, top reasons to visit South Dakota and some fun facts!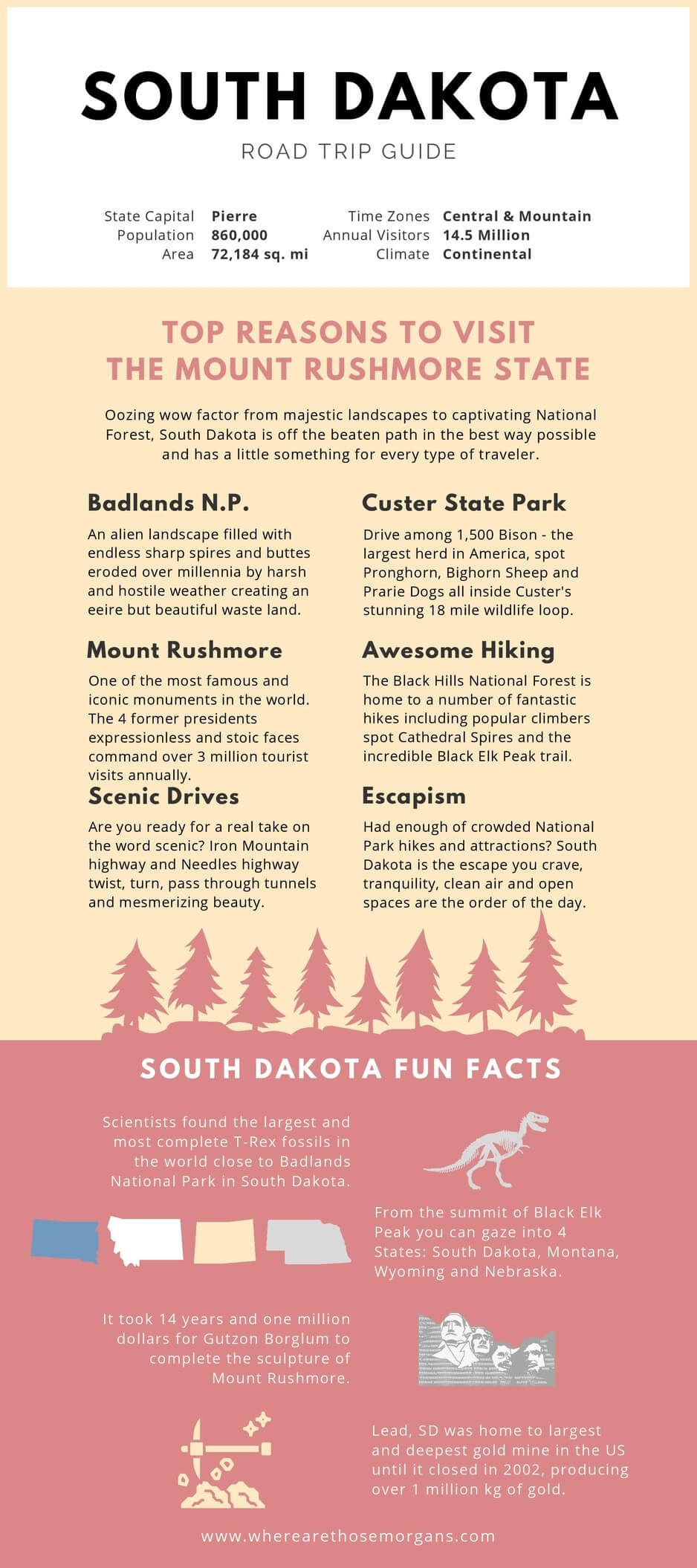 Why You Should Road Trip South Dakota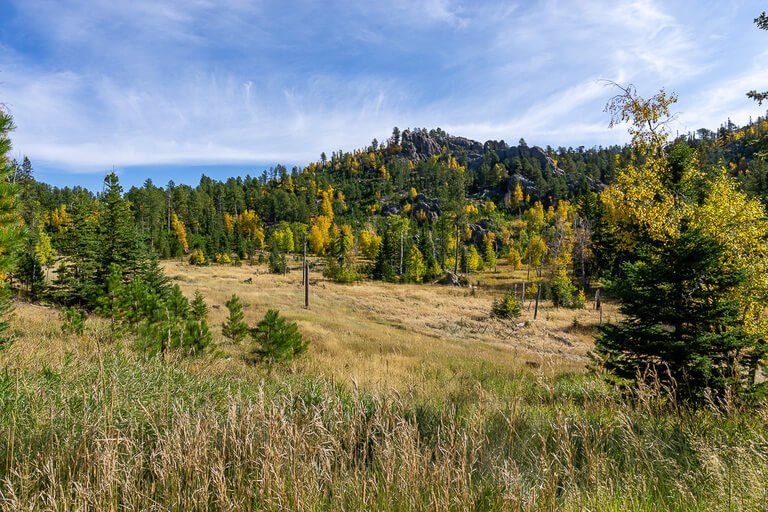 Let's take a quick look into what you can expect if you choose this beautiful part of the US Midwest for your next road trip:
South Dakota offers a diverse range of tourist attractions, suitable for families and perfect for nature lovers.
In truth, of all the states we passed through on our road trip, South Dakota would be one of the first we would return visit.
Our popular resources:
Driving & Flying To South Dakota
Road tripping any region of the US is likely to be done in one of two ways.
Either as part of a wider regional or national road trip over a longer period (such as a 3 month road trip) OR as a shorter trip encompassing just a few areas / National Parks (for example a 7 day vacation).
On a longer trip / driving through South Dakota
Are you driving from point A to point B and South Dakota happens to be somewhere in between? Use the 4 days itinerary to plan your stop off in SD.
That was the case for us as we drove the I-90 West from Chicago towards Yellowstone. Badlands National Park, Mount Rushmore and Custer State Park were on the way and far too important to pass up.
On a shorter trip / flying into South Dakota
We can tell you from experience that Western South Dakota is worth a visit of its own. It maybe gets overlooked in favor Wyoming, Utah or California but this small region is an awesome alternative for you to consider.
If you only have time for a long weekend or 1 week vacation:
Unmissable Stops On Your South Dakota Road Trip
South Dakota's Black Hills are among the best places to visit in the USA. You'll be shocked by how much there is to do in South Dakota and your major problem will be finding the time to fit everything in.
To that end, we've listed below what we believe are the 'must visit' parts of your road trip.
South Dakota Road Trip Stop #1 – Badlands National Park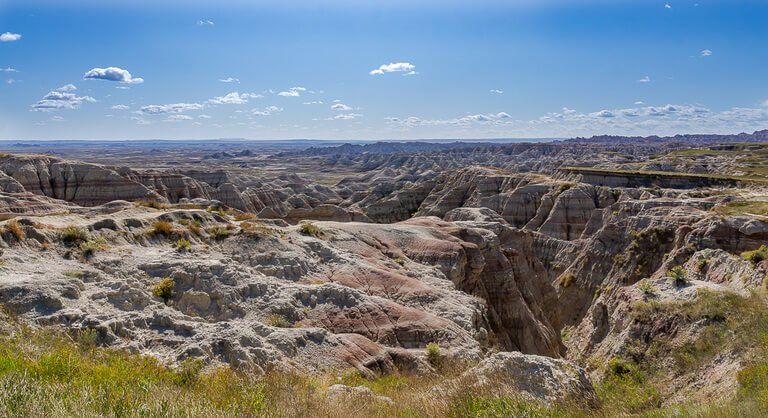 Badlands National Park simply can't be missed if you are visiting South Dakota. This vast open landscape is filled with a deep blue endless sky contrasting against dramatic topography as far as the eye can see.
Badlands is the perfect family friendly National Park, featuring a number of very short and easy hiking trails that allow you to see its most awe inspiring rock formations – such as the Badlands Wall – with very little effort.
A loop road dissects the entire park, which means you could drive the loop and not miss a thing. There are a number of overlooks to stop off along the loop, each offering its own perspective of this remarkable terrain.
Badlands is one of the best US national parks for those who like to escape the crowds. It can be visited in around 4-5 hours, but we recommend spending a night at one of the campgrounds or in a nearby hotel.
Staying over allows you to stargaze underneath an exceptionally clear night sky and affords you the best opportunities for wildlife spotting, both earlier and later in the day.
Read more in our Badlands travel guides:
South Dakota Road Trip Stop #2 – Mount Rushmore National Memorial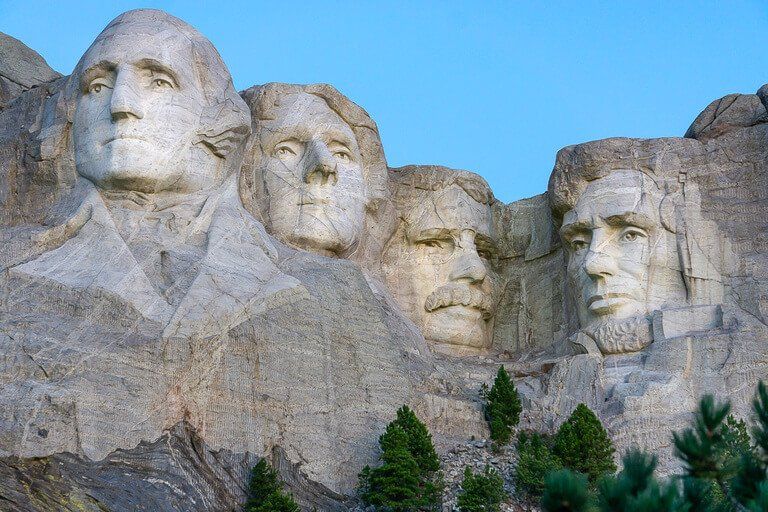 How could you go to South Dakota and not see one of America's most famous monuments?!
Mount Rushmore is located just 5 minutes drive from Keystone – which is where we would recommend setting up base throughout your South Dakota road trip.
It is, in fact, a National Memorial, carved into a towering granite rock facing directly at the sun in the morning. Which is why our top recommendation is to get up early and arrive BEFORE sunrise.
We were impressed not just by the intricately detailed carving, but the whole memorial complex. It is very well laid out, clean, easy to navigate and offers multiple areas to gaze up at the former presidents.
You can choose to go only as far as the amphitheater, or you can walk around the 'Presidents Trail' – a boardwalk with over 200 steps taking you closer to the giant sculpture.
Read more in our Mount Rushmore travel guides:
South Dakota Road Trip Stop #3 – Custer State Park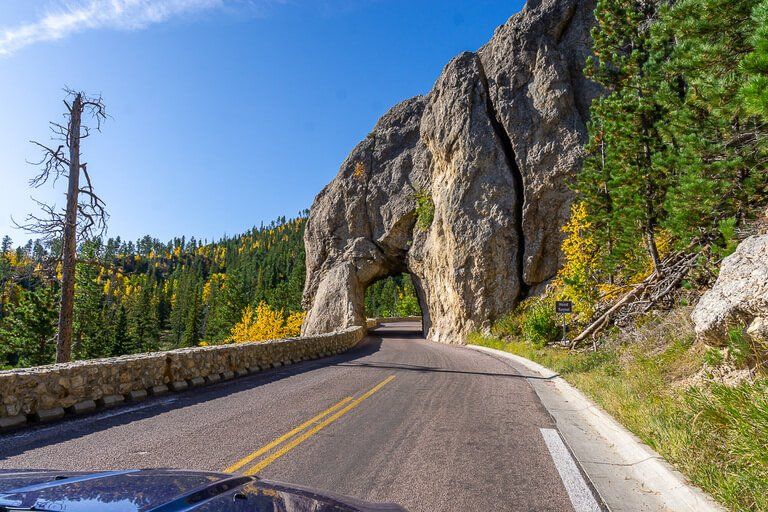 Custer State Park is renowned as one of the largest and best State Parks in the United States. We won't argue with that label!
Custer offers a one-way 18 mile wildlife loop through rolling meadows and hills, where it is very likely you will be stopped by herds of Bison crossing the road!
There are Burros, Prairie Dogs, Elk, Pronghorn, Mountain Goats, Bighorn Sheep and 1,500 Bison in Custer State Park. That's more Bison than anywhere else in the country.
Within the boundary of the park are entrances to 2 incredibly scenic highways. One is Iron Mountain Road (watch our Iron Mountain Road time-lapse) and the other is Needles highway.
Both are exhilarating driving experiences featuring hairpin bends, tunnels and fantastic views over the Black Hills. We can't recommend driving both roads highly enough!
Our top rated hiking trails are Black Elk Peak (which we will get into below) and Cathedral Spires.
The latter is a lovely 3 mile roundtrip easy/moderate hiking trail through beautiful forest and leading to needle-like granite rock formations.
The trailhead to Cathedral Spires can be found on Needles highway, right on a hairpin bend!
Read more in our Custer State Park travel guide:
South Dakota Road Trip Stop #4 – Black Elk Peak Hike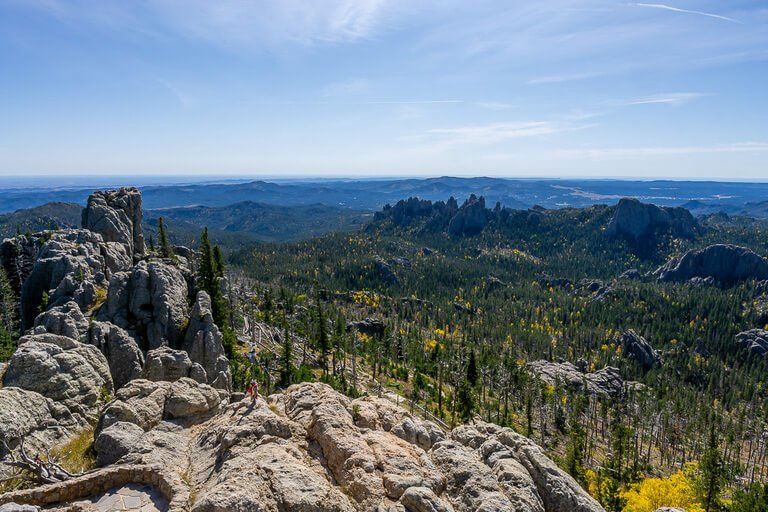 Hiking to the summit of Black Elk Peak was our favorite part of the South Dakota road trip. We have included Black Elk Peak in our popular list of the 50 top rated hikes in the US.
This is an easy to moderate 7 mile roundtrip hike that should take around 4-5 hours depending on how many stops you take.
You will walk through gorgeous forested areas along dry dirt paths and around booming granite rocks. Once you reach the summit (formerly known as Harney Peak), you will notice a stone watchtower.
Harney fire lookout tower was once used as an early warning fire detection overlook.
The trail offers stunning scenery and truly breathtaking views – particularly from the summit at which you can see into South Dakota, Wyoming, Nebraska and Montana.
We were blown away by the 360 degree panorama at the top of Black Elk Peak.
If you enjoying hiking, this is the one part of your South Dakota road trip you can't miss.
Read more in our Black Elk Peak hiking guide:
Other Places In South Dakota To Visit With More Time
Listed above are the absolute must visits on your South Dakota road trip. But there are many more fantastic places you can add to your itinerary if you have extra days.
Here's where you should consider visiting if you will be in the region for 5-7 days (these places will be included in the 7 days South Dakota road trip itinerary):
Deadwood
Deadwood is a popular historic Wild West gold rush town, which has retained elements of its old western appearance.
Stop for a hot chocolate in a quaint cafe next to the site where Wild Bill Hickok was assassinated in 1876, walk the historic main street and enjoy the architecture.
Crazy Horse
Crazy Horse is a partially carved mountain monument, which has been under construction since 1948 and is still a long way from completion.
If it is completed it will be much larger than nearby Mt Rushmore.
Entry fees are surprisingly steep but all proceeds go directly into furthering construction efforts.
Devils Tower National Monument
Devils Tower is a remarkable and quite literally unmissable rock feature just over the border into Wyoming. An enormous igneous rock formation dominates the skyline and it is even more impressive close up.
Hike a wonderful and relaxing loop trail around the base but don't miss the awesome view from Joyner Ridge.
Wind Cave National Park and Jewel Cave National Monument
Wind Cave is one of the longest and most complex cave systems on the planet, featuring unique formations known as boxwork.
There are a handful of hikes with excellent views and wildlife roam freely on rolling prairie. Daily tours allow visitors to walk through vast cave network routes.
Jewel Cave is the third longest cave in the world, with 208 miles of mapped and surveyed passages. Similarly to Wind Cave, ranger led tours are the only way to go inside the cave network.
Spearfish Canyon
Spearfish Canyon scenic byway turned out to be a huge surprise for us on our second visit to South Dakota.
There are a handful of waterfalls and trails to hike as you descend through a stunning deep gorge on snaking roads.
South Dakota Road Trip 4 Day Itinerary
Now you know the best places to visit on your road trip to South Dakota, let's start with a 4 days itinerary as though you were driving through the region on a longer road trip.
For Example: You enter South Dakota from the East after visiting Chicago, Wisconsin, Minnesota or Iowa. You then plan to continue driving West towards Yellowstone or Glacier.
Flip this itinerary if you are heading the opposite way across country.
Map 4 Days South Dakota Road Trip
Map created with
Wanderlog
, a road trip planner
Click into this interactive map, zoom in / out, scroll around and click on any icon to see details of attractions on each of the 4 days.
You can see exactly where each day takes you!
4 Days South Dakota Road Trip: Day 1 – Sioux Falls, Mitchell & Badlands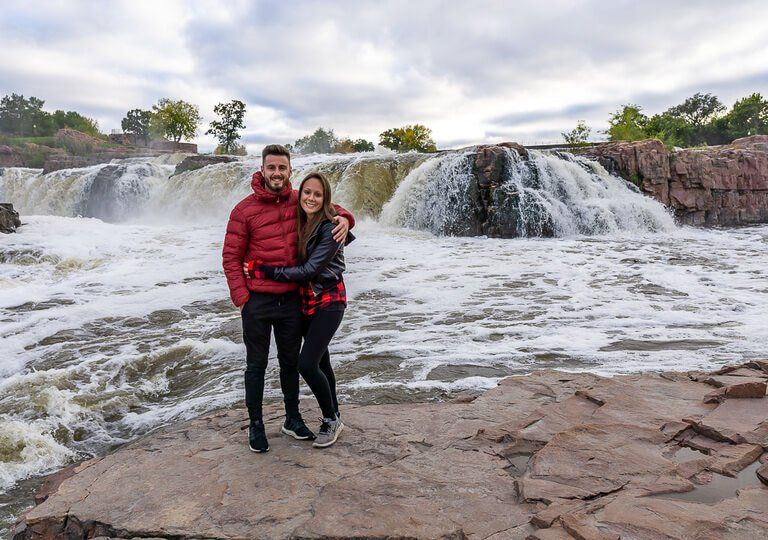 Sioux Falls
As you enter South Dakota from the East, your first stop along the I-90 is Sioux Falls. Turn off I-90 and drive 10 minutes to Falls park.
This is the perfect quick stop off to look upon lovely waterfalls flowing through a park, before quickly hitting the Interstate again.
Mitchell
Just 1h 15m further West, you will reach your second stop off, in the form of Mitchell and its famous Corn Palace. Yes – corn palace!
This is a building with an exterior facade made entirely out of corn, with certain sections shaped like ornate murals. Inside, you can learn about the "sweet" history of the World's Only Corn Palace.
About 3 more hours of driving will lead you to the Northeast entrance of Badlands National Park.
Resist the temptation and take the right to make a quick visit at Minuteman Missile Museum. You will learn all about the Cold War, including US Nuclear Missile locations.
You can also visit decommissioned missile silo's in the area.
Badlands National Park
Let's assume you're arriving at Badlands entrance around 3-4pm. You'll either pay US$ 25 or use your America the Beautiful Pass to enter.
Spend the next few hours cruising around Badlands Loop road, stopping off at every overlook along the way.
If you're camping at Cedar Pass campground or Sage Creek Campground (primitive), now is the time to set up before it's dark!
After you cook up a storm, when it eventually does get dark, it's time for some amazing stargazing. Check the ranger programs for stargazing activities or go to your own secluded spot.
If you are not camping, drive to Wall – just outside the Northwest entrance. Stay at one of four hotels in town (see lodging).
Check out Wall Drug Store, which you will have seen advertised on billboards for the last 300 miles!
4 Days South Dakota Road Trip: Day 2 – Badlands & Keystone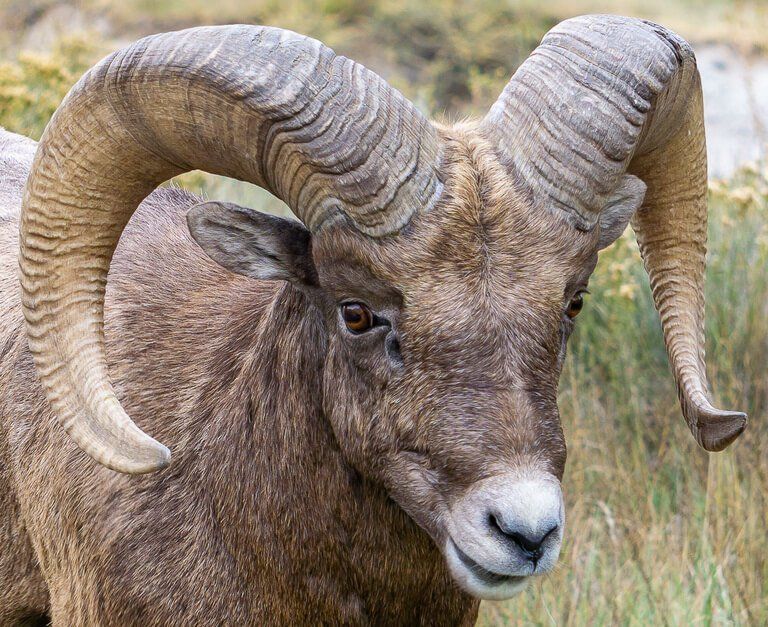 Badlands National Park
Get an early start on day 2 for the best chance of seeing wildlife at Badlands National Park. Animals are usually more active in the morning and your double bonus is far fewer people will be around.
Head to the East part of the park (Big Badlands Overlook / Door Trail) to watch the alien landscape illuminate red with the first light of day.
Spend the morning hiking Door, Window and especially Notch trails. They won't take long and give you the best views in the park.
Our must visit overlook is 'yellow mounds' – just because it is so unique, you'll see why!
Exit via Sage Creek Rim Road towards 'Scenic'. If you stayed at Sage Creek Campground you will have already driven some of it.
This is a much quieter dirt track road with excellent wildlife spotting opportunities.
Keystone
By leaving this way, it means you can avoid Rapid City on the I-90.
Take the 44, the 16BYP and 16 into Keystone. It should take just over an hour driving time. Check into your hotel in Keystone and grab dinner at 'Old-West' Red Garter Saloon.
You can go to an evening lighting ceremony at Mount Rushmore (Jun-Sept), or spend the evening relaxing in Keystone.
4 Days South Dakota Road Trip: Day 3 – Mount Rushmore, Needles Highway, Cathedral Spires & Custer State Park Wildlife Loop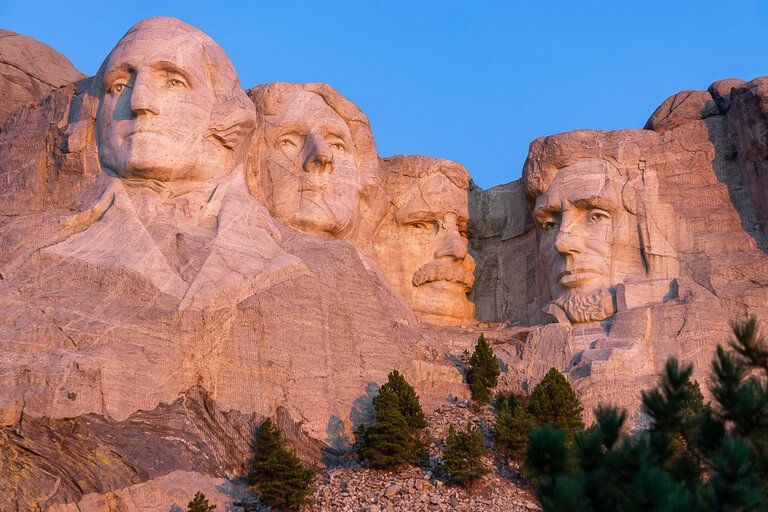 Mount Rushmore
The best way to start Day 3 is to get up exceptionally early in order to get inside Mount Rushmore before the sun rises. As awful as that may sound – trust us, it's worth it.
You will pass through the gorgeous colorful phases of golden hour (no light or shadows), light and dark pinks, then light and deep oranges as the sun fully rises.
Each light phase contrasts wonderfully against the stone colored granite of Mount Rushmore.
Walk the presidents trail, check out the Sculptor's Studio and enjoy the Memorial.
Needles Highway Scenic Drive
Continue on 244 until you hit the main road (16). Turn left onto 16 and take an immediate left onto Needles Highway (87).
Needles is an awesome drive, round tons of switchbacks and through narrow tunnels. You will pass Sylvan Lake where Black Elk Peak trailhead begins.
Drive right by, you will be back here tomorrow.
Cathedral Spires Hike
Just over 2 miles further along the highway, you will see some cars parked on a hairpin bend. Park here and begin the Cathedral Spires hiking trail.
This should take around 1h 30m to 2h total but is worth it.
Don't expect a magical viewpoint at the end of the trail – which halts abruptly – but more of a flat plain encircled by needle rock formations.
Once you've finished the hike, continue to the end of Needles highway.
Custer State Park
Turn left onto 16A and drive 6 miles to Custer State Park Visitor Center.
Watch the visitor center movie (narrated by Kevin Costner) and then hit the 18 mile long, one way wildlife loop.
It should be early evening by this point which means you have arrived at one of the two best times of day for active animals. The loop will take around 1h 30m but may be longer if you get stuck in a wildlife-jam!
Head back to Keystone via 87 / 753 / 359 / 40. That might look a lot, but it's just a straight line along different roads!
Avoid 16A for now, you will drive that first thing tomorrow.
4 Days South Dakota Road Trip: Day 4 – Iron Mountain Road, Custer State Park Wildlife Loop (Part 2) & Black Elk Peak Hike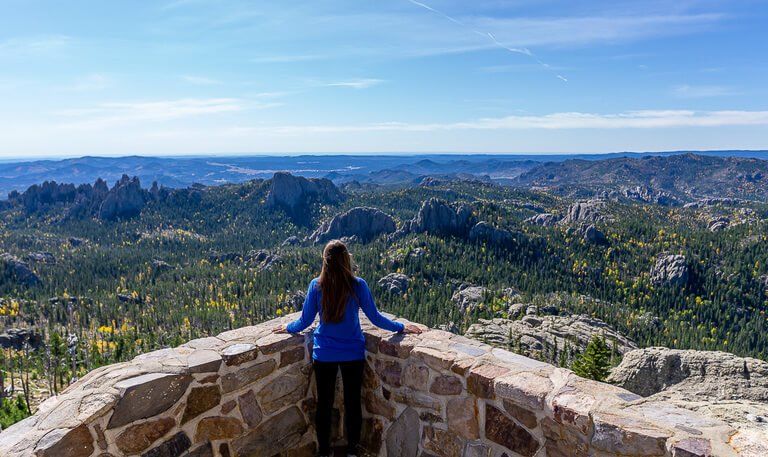 Iron Mountain Road
The early bird gets the worm in Western South Dakota. Don't give up now! Grab an early start, start the car and hit 16A – also known as Iron Mountain Road.
This is another fantastic and exhilarating scenic drive consisting of curves, hairpins, narrow tunnels (with Mt. Rushmore views) and even pigtail turns!
By starting early, you get to drive this road without sun and glare affecting your experience.
Custer State Park
Another benefit awaits at the end of Iron Mountain Road. You arrive into Custer State Park wildlife loop at the other best time for Round 2!
The pass you paid US$ 20 for is valid for 7 days – might as well get the use out of it. Plus, you are likely to see different animals in different areas of the loop today.
Black Elk Peak Hike
Once you complete the loop, turn left onto 16A and take 89 North to Sylvan Lake. Park up at Black Elk Peak trailhead and begin your 5 hour hike.
This is the perfect way to cap off a fantastic 4 days of touring through South Dakota. Those summit views are something else!
Are you heading West towards Yellowstone National Park?
It's less than 3 hours drive to Buffalo, WY – where you can take a pit stop before a longer driving day into Cody or Yellowstone park the following day.
7 Days South Dakota Road Trip Itinerary
Let's move onto a slow paced 7 days itinerary for a South Dakota vacation for those planning to fly into Rapid City, hire a car and road trip the stunning Black Hills region.
For Example: You land in Rapid City on Saturday lunch time, spend 7 days in South Dakota and fly out of Rapid City the following Saturday.
This is a loop route, flying in and out of the same airport and hiring a car to drop off at the same location. All of which means less admin and fewer headaches.
Use this example itinerary for ideas about how to build your own vacation. We will keep it as general as possible to suit the average visitor but it will not be perfect for everyone!
7 Days South Dakota Road Trip: Day 1 – Badlands National Park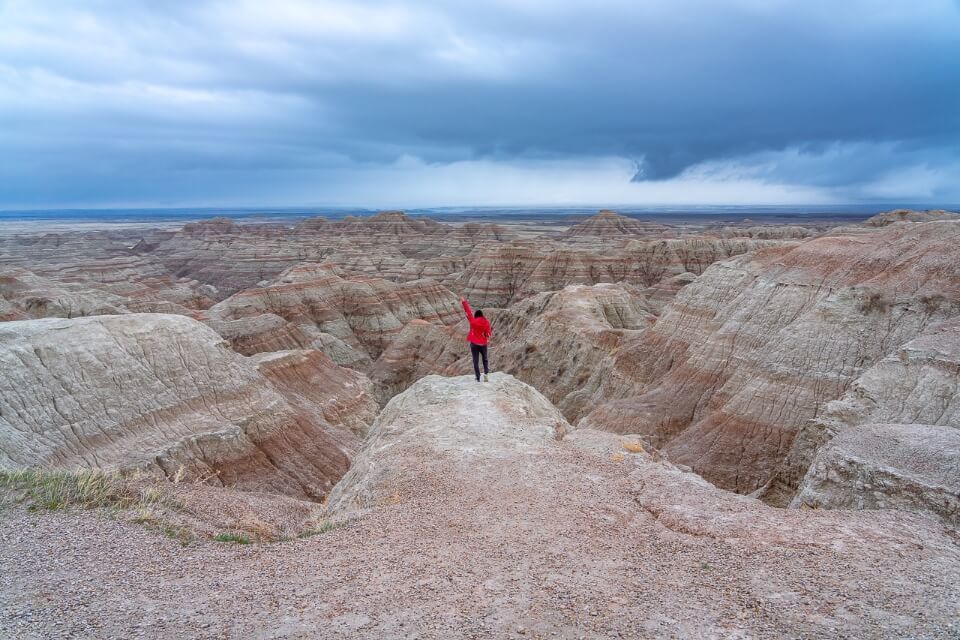 Badlands
Pick up your hire car at Rapid City airport and drive straight over to Badlands via I-90. It should take just over an hour.
Spend the late afternoon soaking up extra-terrestrial views from scenic overlooks and spotting wildlife.
Either camp in the park, stay at Cedar Lodge or drive to Wall to stay in a hotel.
7 Days South Dakota Road Trip: Day 2 – Badlands and Wind Cave
Badlands
Start early to get inside the park for sunrise. Hike Door and Notch Trails at the very least. If you're a big hiker, try Castle Trail afterwards.
Photography is stunning here in the morning.
Wind Cave
Once you're done in Badlands, it's time to drive to the furthest point South on this road trip. Either take I-90 or the scenic drive through the town of Scenic to SD-79.
Stop in at Wind Cave visitor center to get information about cave tours for the next morning. There is a nice short hike here called Wind Cave Canyon.
Drive to a hotel in nearby Hot Springs.
7 Days South Dakota Road Trip: Day 3 – Wind Cave, Needles Highway and Cathedral Spires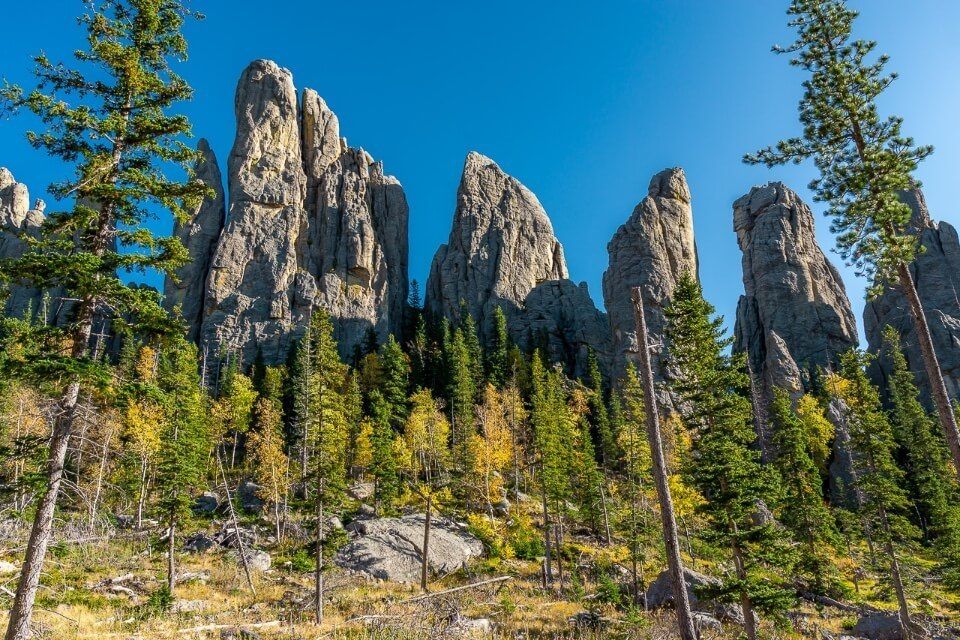 Wind Cave
Get an early start and be at Wind Cave visitor center around 30 minutes before it opens for the day. Cave tours are all first come first served and they sell out quickly after opening.
Take one or two (if you can get onto two) cave tours.
Drive up SD-87 as far as Rankin Ridge trailhead and hike the trail to a wonderful vantage point overlooking prairie from a watchtower.
Needles Highway
Follow SD-87 all the way to the East entrance to Needles Highway scenic drive.
Drive Needles Highway slowly and soak up the awesome views. Stop once you reach Cathedral Spires trailhead and park on the tight U bend.
Cathedral Spires
Hike Cathedral Spires and really appreciate the beauty of these famous granite rock formations. This is a stunning trail but it does not have a climax viewpoint.
Drive back to Custer for the night.
7 Days South Dakota Road Trip: Day 4 – Custer State Park, Sylvan Lake and Black Elk Peak
Custer State Park
Another early start gets you into the Custer wildlife loop when the animals are most active. Drive slowly through the one way park and maybe even get out of your car to walk up a hill for a better view.
Don't forget binoculars or a telephoto lens on your camera.
Sylvan Lake
Drive back along US-16A and choose either Needles Highway again or if you need a normal road, take SD-89 to Sylvan Lake instead.
Sylvan Lake is the perfect place for families to relax and have a picnic.
You can swim, hike around the lake in a loop and even take on one of the best hikes in the Black Hills called Sunday Gulch.
This moderate to strenuous trail starts right behind the gigantic boulders on the far side of the lake.
Black Elk Peak
However, as you already know, we're big fans of the Black Elk Peak hike and highly recommend this trail if you have the luxury of choosing between hikes.
Views from the summit of Black Elk Peak are just spectacular, really opening up the granite rocks and ponderosa pine trees.
Once you're down, drive back to Custer again for the night.
7 Days South Dakota Road Trip: Day 5 – Jewel Cave, Crazy Horse, Iron Mountain and Mount Rushmore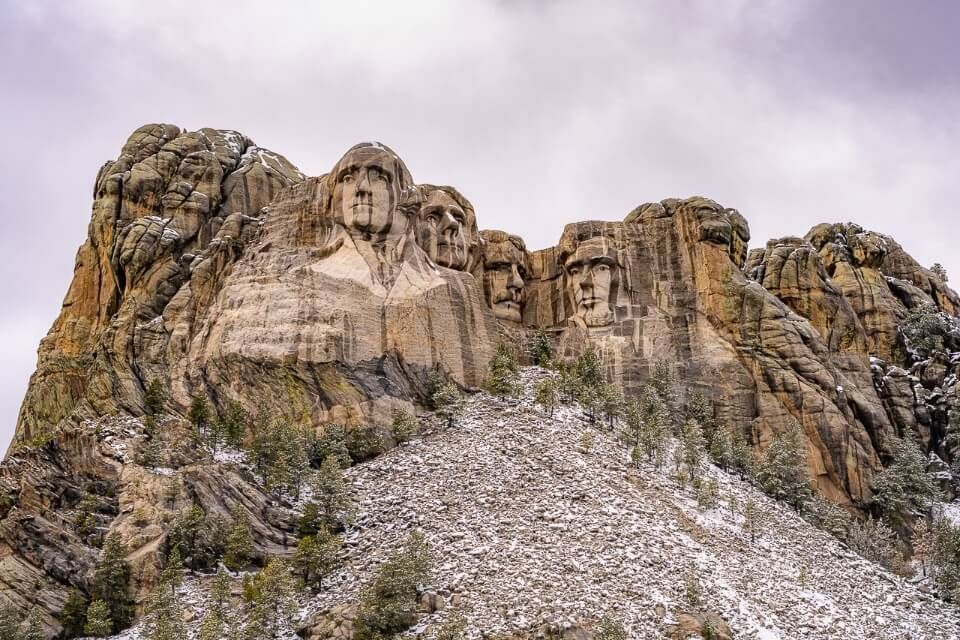 Jewel Cave
Arrive to Jewel Cave early to ensure you get onto a cave tour before they sell out. Jewel Cave is just 15 minutes drive from the town of Custer.
After your cave tour you could hike 5.5 mile roundtrip Hell Canyon Trail if you have plenty of time spare.
Crazy Horse
This one is optional. We chose not to enter due to the high cost and unfinished sculpture but it does look cool and your entrance fee does help go towards the building fees.
With that said, you can actually see it from the main road so it's not necessary to enter if you're traveling on a low budget during your road trip through South Dakota.
The entrance to Crazy Horse is 11 minutes from Custer but you would then drive back on yourself to continue this itinerary.
Iron Mountain Road
Getting back to free and amazing things to do in South Dakota, Iron Mountain scenic drive is simply awesome.
Drive from the town of Custer to Custer State Park visitor center and continue on US-16A as it begins to bend and wind through the hills.
Pull over often to enjoy the special views along this truly scenic drive.
Mount Rushmore
Finally it's time to arrive at Mount Rushmore! By now it will be getting to the later part of afternoon or early evening.
It could be a good idea to grab an early dinner in Keystone before entering Mt Rushmore parking lot. You could then see the sculpture in daylight and wait for the evening light show without having to leave in between.
Sleep in Keystone.
7 Days South Dakota Road Trip: Day 6 – Deadwood and Spearfish Canyon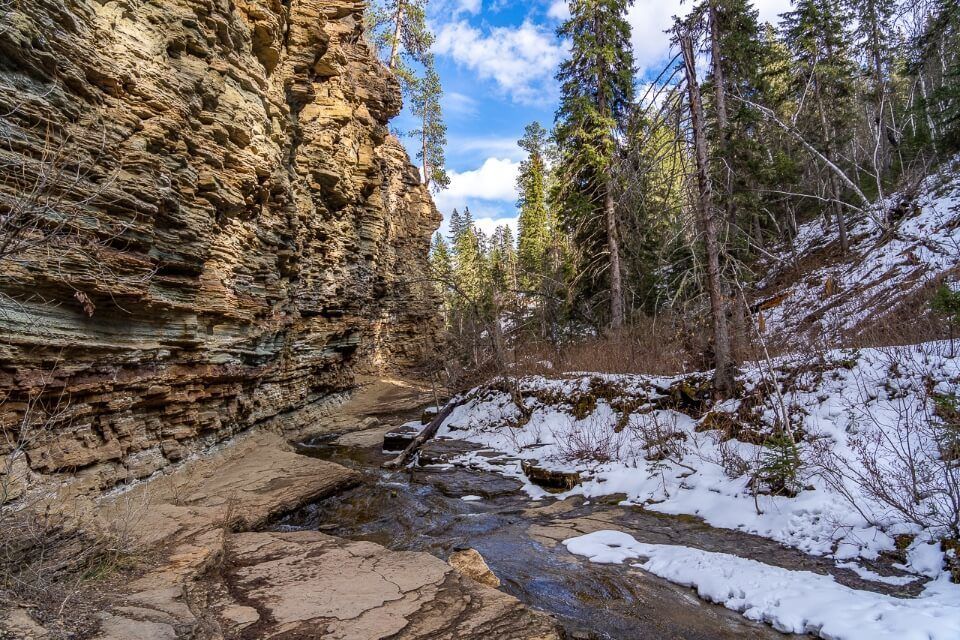 Deadwood
If you are interested in photography, we highly recommend you wake up early and see Mt Rushmore at sunrise. It is just a few minutes drive from Keystone so you're perfectly located.
Afterward (or if you don't want to see Mt Rushmore again), take US-385 1 hour North to Deadwood.
Once you arrive, walk down the historic main street, learn about famous Wild West characters and stop in for a coffee.
Spearfish Canyon
Jumping right in near the top of our favorite parts of the Black Hills, Spearfish Canyon is stunning.
From Deadwood, take US-14 Southwest as far as Cheyenne Crossing and Savoy. Stop first at Savoy to see Roughlock Falls.
Follow the road North as it drops into an enormous and deep gorge with huge canyon walls to the side. Hike Iron Creek or Devils Bathtub. We hiked the Bathtub and it was a fun trail with several stream crossings.
Stop at Bridal Veil Falls on the roadside and enjoy the drive.
Then sleep in Spearfish at the bottom of the canyon.
7 Days South Dakota Road Trip: Day 7 – Devils Tower and Rapid City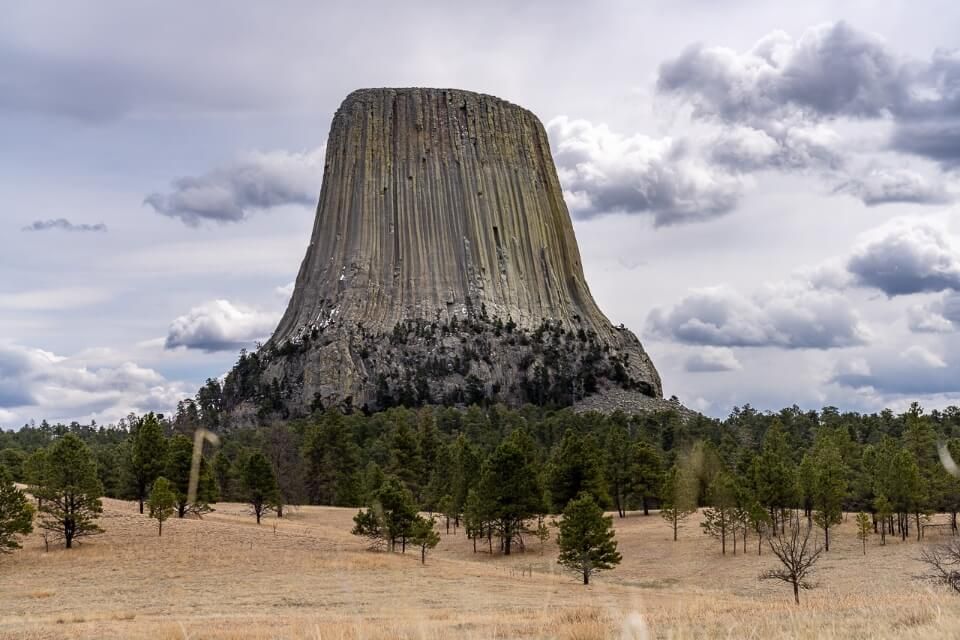 Devils Tower
Take either I-90 and US-14, or WY-24 to Devils Tower. We took the latter and it was very quiet.
Spend the morning admiring nature and geology, before asking yourself the same question we did – how on Earth did that happen?!
Don't miss the easy half mile loop around the base of Devils Tower. Our favorite viewpoints is from Joyner Ridge so be sure to stop there on your way out.
Rapid City
It will take around 1h 40m to drive I-90 as far as Rapid City, which is the best place to spend the night before flying out of Rapid City airport the next morning.
Rapid City is filled with excellent eateries for a final treat!
What To Pack For Your South Dakota Road Trip
What to pack for your South Dakota road trip will depend on what time of year you decide to visit.
We visited in October and the weather was perfect for hiking in shorts and t-shirts but it was cold in the morning and at night.
Here's a quick packing list of things not to forget:
For more in depth packing help, our ultimate travel packing list covers every type of travel scenario. Some of the sections might not be useful for this road trip but certain sections definitely will be helpful.
Once you're all set with clothes and electronics, next take a look through this list of road trip packing essentials with a specialized focus on road tripping, including automotive and safety equipment.
You can download or print a free checklist with both packing lists to keep handy.
Where To Stay On Your South Dakota Road Trip
You won't have any issues finding places to stay in South Dakota, with the exception of Badlands National Park if you wish to stay within a few miles of its entrance.
We've written a comprehensive guide to the best hotels in South Dakota's Black Hills, which goes into far greater detail on choosing the perfect place to stay in the region.
You might also want to read our ultimate guide to booking the cheapest hotels to learn about ways you can save money.
Below you can find our recommended hotel/accommodation options for each stop along this South Dakota road trip itinerary:
Badlands Lodging Options
Campgrounds – There are 2 inside the National Park: Cedar Pass RV Park and Campground has facilities and Sage Creek Campground is primitive (without facilities). More information.
Lodge – Cedar Pass Lodge is the only accommodation located within the park. More information.
Hotels – There are only the following 4 hotels in nearby town 'Wall'.
Check availability and prices for:
Mount Rushmore Lodging Options
Campgrounds – Camping is very popular around the Mount Rushmore area. Black Hills National Forest has around 30 campgrounds to choose between. More information.
Hotels – Arguably the most convenient place to stay near Mt Rushmore is Keystone. It has a very central location among the best things to do in the area. Here are some of the top rated hotels:
Check availability and prices for:
Custer State Park & Black Elk Peak Lodging Options
Campgrounds – Custer State Park has 10 campground options available, including right at the foothills of Black Elk Peak (Sylvan Lake). More information.
Hotels – If you'd prefer to set up a home base closer to Custer State Park's wildlife loop and Black Elk Peak, stay in the town of Custer which is in between the two attractions. Here are the best value hotels in Custer to consider:
Check availability and prices for:
Our South Dakota Travel Guides

…

Are you planning to visit South Dakota and Yellowstone in one epic vacation? Read our amazing 10 Day Road Trip Itinerary From Mount Rushmore to Yellowstone National Park.
More Amazing US Road Trips

…
---
We hope this vacation planner helps you plan your South Dakota Road Trip itinerary!
Please let us know if you have any questions or need help planning your trip in the comments section below.
South Dakota's Black Hills are a beautiful part of the country and we want you to make the most of your trip.
Happy Road Tripping,
Mark and Kristen
Was This Post Helpful? Pin It For Your South Dakota Road Trip!