Mount Rushmore National Memorial and Yellowstone National Park are two entirely different propositions but both are US bucket list juggernauts. We're going to show you the perfect way to bridge the gap, spending time in South Dakota's stunning Black Hills, where to stop along the road trip from Mount Rushmore to Yellowstone and what to do once you arrive into Yellowstone and Grand Teton.
Combining South Dakota with Yellowstone is the perfect way to tick off two giant bucket list US travel destinations in one of the very best road trips in the USA.
We've driven from Mount Rushmore and the Black Hills to Yellowstone twice and have created the perfect 10 day itinerary for you to use as a foundation for planning your own visit.
We're going to show you the very best things to do, where to stay and how to make the most of your visit to both South Dakota and Wyoming.
We have a ton of supplemental Mt Rushmore and Yellowstone resources to help you plan the perfect visit, which we will include in the appropriate sections in this road trip guide.
Let's get right into planning your unforgettable 10 day road trip from Mount Rushmore to Yellowstone National Park!
*Please note this post may contain affiliate links. If you click on one, we may earn a small commission at no extra cost to you. Thank you for supporting the free content we provide! Read more in our disclosure policy.*
Mount Rushmore National Memorial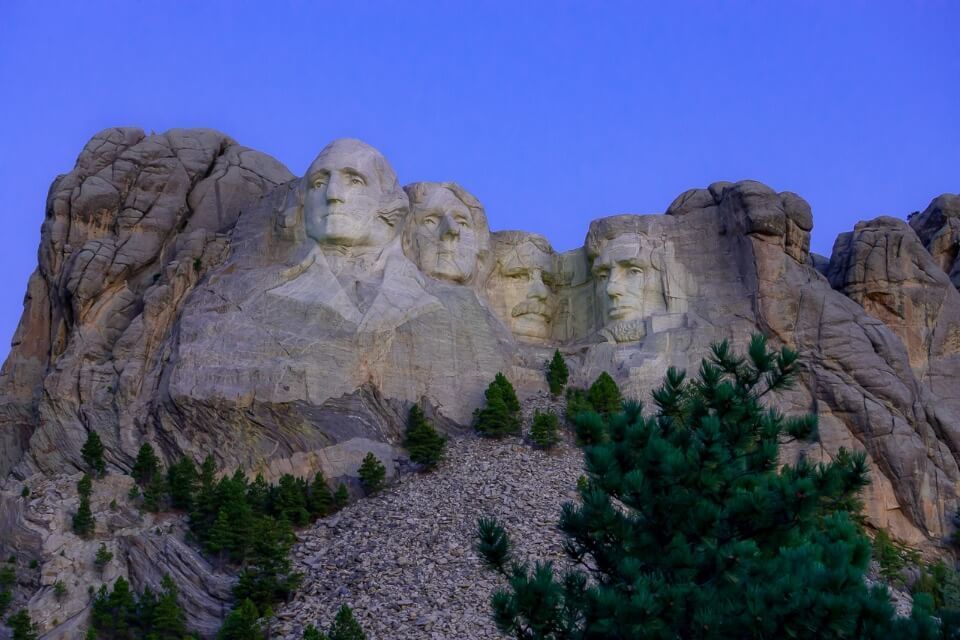 Mount Rushmore National Memorial is one of the most iconic and recognizable landmarks on the planet.
Mt Rushmore is simply unmissable on a visit to South Dakota and we have some useful tips for you having seen the famous carving ourselves on two separate occasions:
Visit at sunrise for the most spectacular colors illuminating the four former presidents faces.

A sunrise visit also means you will likely have the entire grounds to yourself.

The newly renovated amphitheater is perfect for nightly light shows illuminating the sculpture.

We highly recommend walking up the presidential trail boardwalk.

You do not pay for entry, you pay for parking and the cost is US$ 10.

Pick a ticket up as you enter the memorial and pay at a machine before leaving.

America the Beautiful Annual National Park Pass does not get you entry at Mt Rushmore.
Our Mount Rushmore Resources:
Yellowstone National Park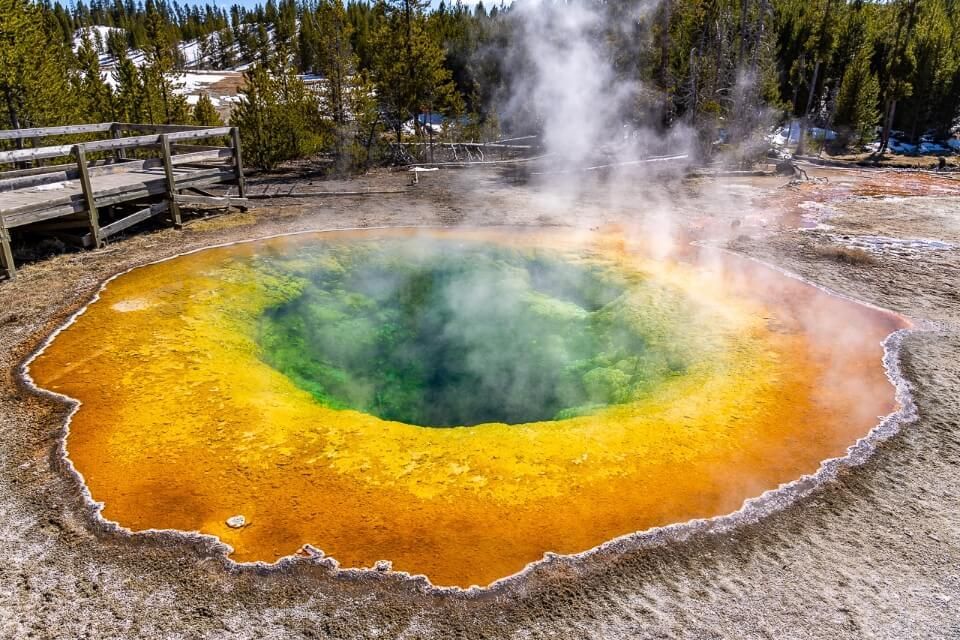 Yellowstone National Park is one of the most extraordinary and unique landscapes in the world.
We think Yellowstone should be a must visit destination on every USA national park bucket list and it will not disappoint even the highest of expectations.
We've visited Yellowstone twice, once in October and once in April. Both were incredible experiences but each came with a set of challenges, mostly weather and logistics related.
Here are a handful of top tips for visiting Yellowstone (although this list could easily be 1,000 long!):
Yellowstone is an amazing place to visit during all seasons.

Summer is extremely crowded at attractions, on hikes and when booking lodging.

Weather is unpredictable in Spring and Fall, but animals are at their most active.

Geysers, pools and hot springs are best seen in Summer months when the air is warmer.

Check for road, park entrance, hiking trails and lodging closures before booking anything.

Allow at least 4 full days if it is your first visit.

The park is huge, we typically spend 1 night in 3 different areas of the park to reduce driving.
Our Yellowstone Resources:
Best Things To Do In South Dakota's Black Hills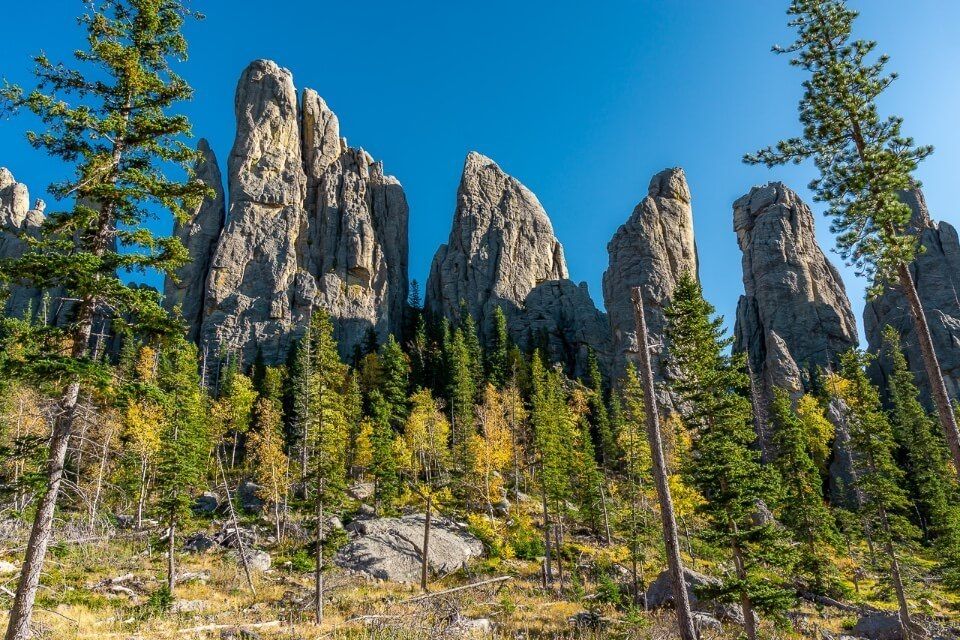 South Dakota's Black Hills are a spectacular and hugely underrated region around 7-8 hours drive from the more popular national parks in Wyoming.
The Black Hills have become one of our favorite parts of America to drive through and we think it is among the very best places to visit in the USA.
If you have a 10 day or 2 week break to combine the best of South Dakota and Yellowstone, there are many places to visit near Mt Rushmore, such as:
Needles Highway Scenic Drive

Sylvan Lake (Sunday Gulch Hike)

Wind Cave National Park

Jewel Cave

Spearfish Canyon

Badlands National Park (not in Black Hills but not far away)
Best Things To Do On A Road Trip From Mount Rushmore To Yellowstone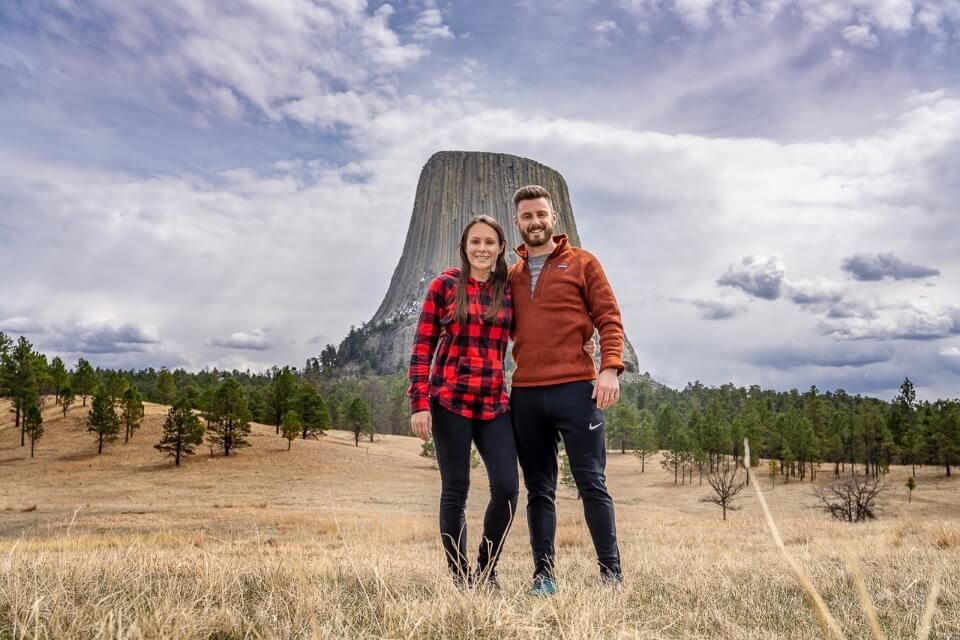 The journey from Mount Rushmore to Yellowstone is awesome if you avoid I-90 and instead take US-16 over Bighorn National Forest. This longer and slower route is far more scenic, taking in more of the most fun things to do in Wyoming.
It's a half day drive with plenty to keep you occupied along the way, before arriving into Cody and entering Yellowstone via east entrance.
Here are the best places to stop and drive between Mount Rushmore and Yellowstone:
Deadwood, Spearfish Canyon and Spearfish, South Dakota

Buffalo, Wyoming

The awesome Cloud Peak Skyway drive between Buffalo and Ten Sleep (US-16)

Cody, Wyoming
Best Things To Do In And Near Yellowstone National Park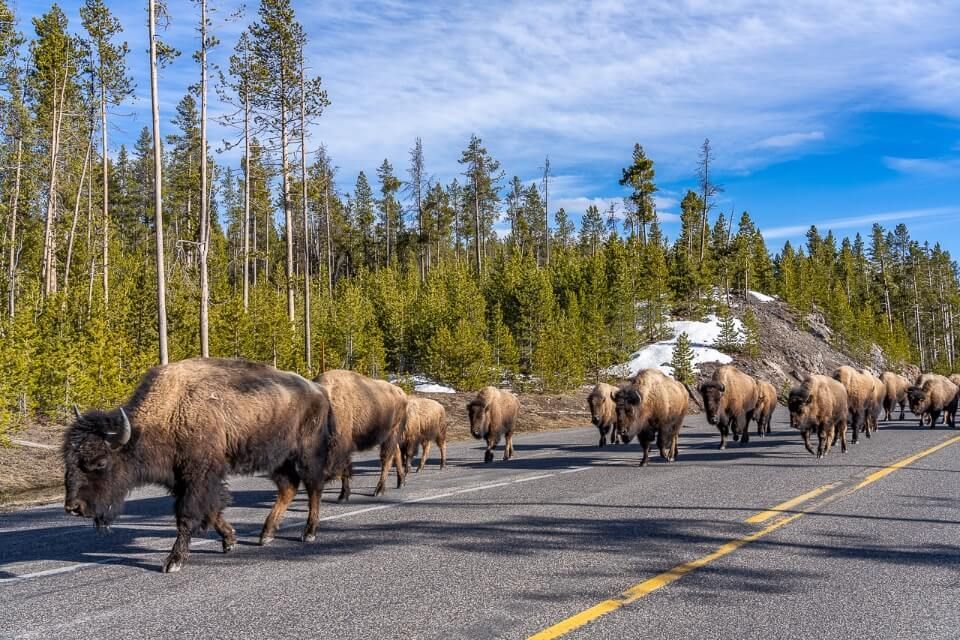 You could spend a full week inside Yellowstone and leave with dozens more geysers to see and trails to hike.
To keep things brief, here are the most famous and popular places to visit:
Old Faithful and Upper Geyser Basin

Grand Prismatic Spring and Midway Geyser Basin

Norris Geyser Basin

West Thumb Geyser Basin

Mammoth Hot Springs

Grand Canyon of the Yellowstone

Lamar and Hayden Valleys for wildlife spotting
But don't forget you are in a very fortuitous location at Yellowstone.
If you have more time at the end of your Yellowstone itinerary, here are just some of the nearby places you can visit:
What You Need To Know About The Drive From Mount Rushmore To Yellowstone
The actual road trip itself from Mount Rushmore to Yellowstone is great. But it is arguably the least scenic compass direction to approach Yellowstone, considering some of the stunning landscapes found in the US northwest:
From the South and Salt Lake City, you have scenic roads and majestic Grand Teton National Park.

Those approaching from the North have one of the most dramatic parks in the US – Glacier – en route.

Seattle and Portland to the West can choose between a multitude of staggering natural formations to include on a road trip itinerary.
But all hope is not lost.
The journey from Mount Rushmore and South Dakota is still a very picturesque drive, as long as you approach Yellowstone via its east entrance.
Important: If you are driving this route between October and May, please be sure to check on the NPS website for live road conditions at Yellowstone.
If the East entrance access road is closed after Cody, try the Northeast entrance via Cooke City.

Often both roads close under similar conditions and at that point your only alternative is to drive all the way around the top of Yellowstone to the North entrance at Gardiner via I-90.
As you might expect, I-90 isn't the most picturesque drive.
Top tip: If you have plenty of time (such as 2 weeks), avoid I-90 as much as possible and drive US-14 the whole way into Yellowstone from pretty much Deadwood, SD!
Mount Rushmore To Yellowstone Itinerary Information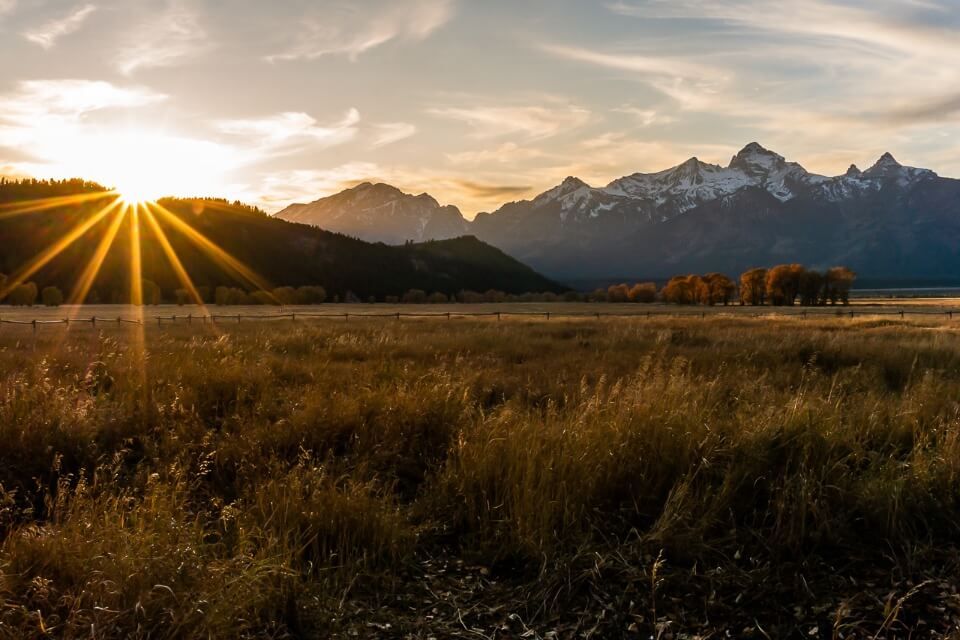 The most important aspect of planning this road trip between Mount Rushmore and Yellowstone is time of year.
Certain roads in and out of Yellowstone and Grand Teton close down for a long Winter period and you need to be sure the national parks are accessible before visiting.
We're going to present this itinerary as though you want to see and do the best of both regions, but at the same time keeping it realistic for the average traveler with a typical amount of time available.
Please note this is just an example to give you an idea about how you can allocate your vacation days. Use this guide and combine its efficiency with your own travel preferences to find the perfect balance.
Why 10 Days? We think it's the perfect amount of time for the average visitor to see and do the best of both areas.
This itinerary will begin in Rapid City, South Dakota and end in Jackson, Wyoming. We will assume you arrive the night before Day 1 and leave the morning after Day 10, for a total of 10 full days.
If you are planning to road trip in the opposite direction from Yellowstone to Mount Rushmore and the Black Hills, simply reverse this itinerary.
And of course if you don't have exactly 10 days available, you can cut any of the days out from your itinerary.
Need help organizing your visit to Yellowstone? Our popular 60+ page Yellowstone Guidebook can help you with planning every aspect of your trip.
Where To Stay On Your Mt Rushmore To Yellowstone Road Trip Vacation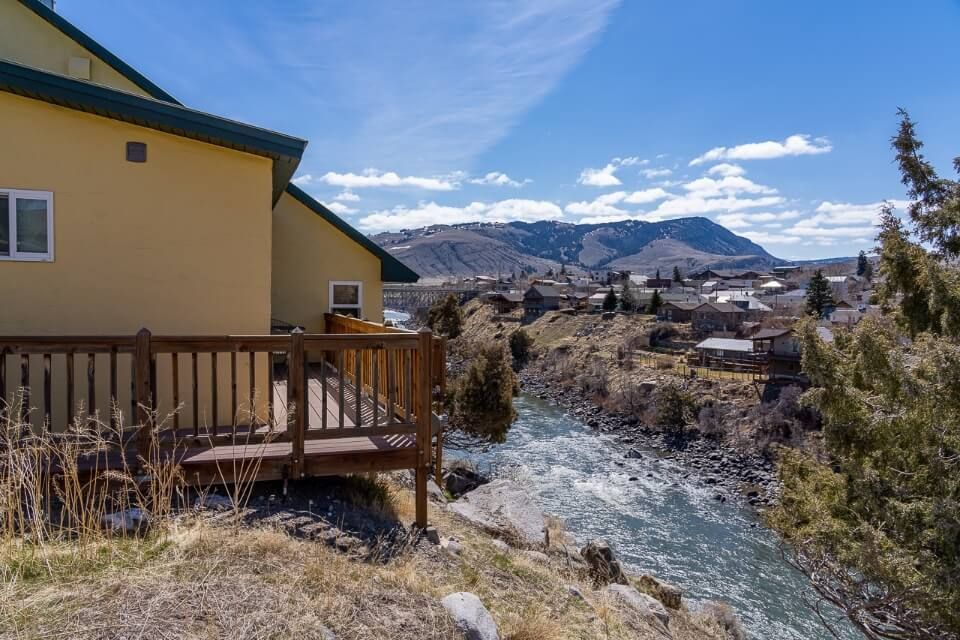 Figuring out where to stay each night on a road trip covering so many areas is going to be one of your biggest challenges. But it can be done!
As much as it is an organizational nightmare to move hotels regularly, it really will serve your needs better on this adventure.
You will find our top hotel and lodging recommendations for each night on this Mt Rushmore to Yellowstone road trip at the end of each day within the itinerary below.
Each accommodation option is based on personal experiences, top guest ratings, location and value.
One final thing before we get into the road trip itinerary; we have teamed up with The Dyrt (the most popular camping resource in the US) to offer our readers who love to camp a fantastic opportunity:
Camping Exclusive
Do you plan to camp during your road trip from Mount Rushmore to Yellowstone?
Take advantage of our exclusive 30 day free trial of The Dyrt PRO to get reservations at sold out US campgrounds around the US including the Black Hills, Yellowstone and Grand Teton. You can also gain access to free dispersed camping locations along the road trip route. Try The Dyrt PRO for free today with no strings attached!
Mount Rushmore To Yellowstone 10 Day Road Trip Itinerary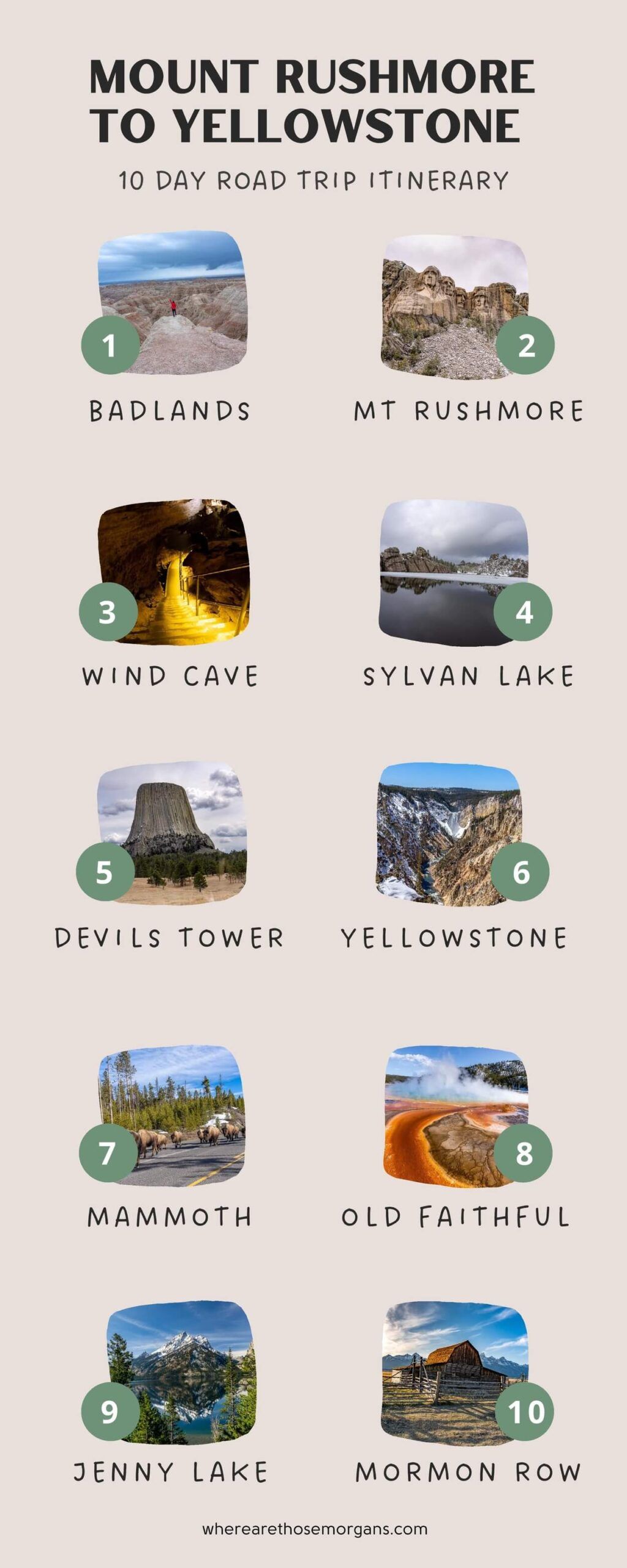 So finally, after a lot of extremely brief summaries about what you can expect in each area, let's get into the thick of the action with an in depth Mount Rushmore to Yellowstone road trip itinerary.
Day 1 – Badlands National Park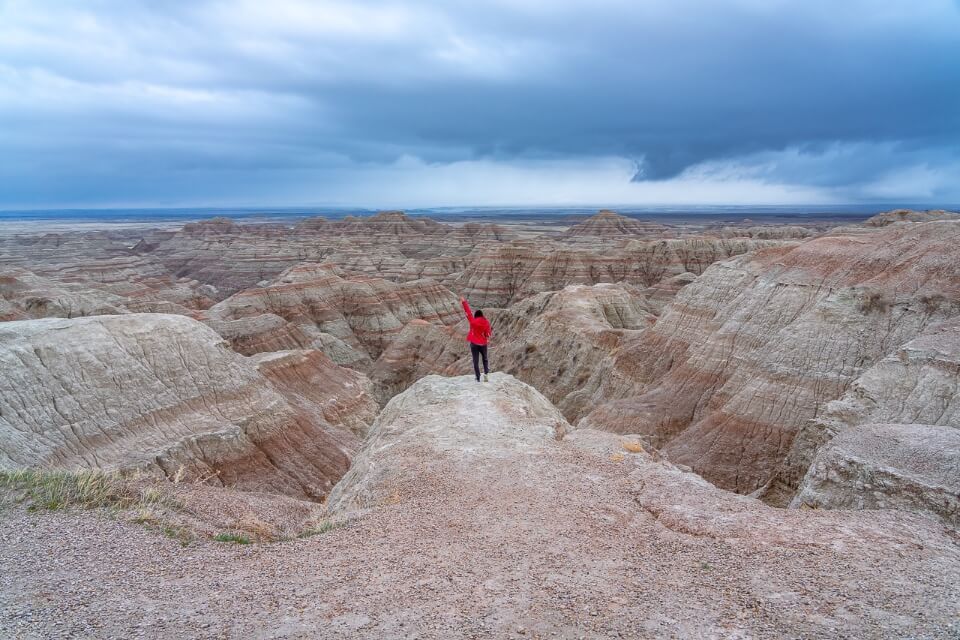 Morning
After arriving into Rapid City the evening before, either stay in Rapid City or pick up your hire car and drive to Wall.
Wall is the nearest town with food and accommodation to Badlands, which means you can get an early start and spend a good half day inside the National Park.
Enter via the West entrance (directly below Wall) and get your first glimpse of the amazing Badlands landscape at Pinnacles Overlook.
Drive southeast on Badlands Loop Road, stopping at as many overlooks as you like the look of … which will likely be all of them!
Yellow Mounds, Panorama Point, White River Valley Overlook and Big Badlands Overlook are some of our favorite viewpoints.
Stop at Fossil Exhibit for an easy boardwalk trail with educational boards explaining many of the intriguing natural features inside Badlands.
One end of Castle Trail also begins / ends here, the longest hike in the park. Some could hike to the other side and the others could drive to meet at the other end of Castle Trail – the Door, Window & Notch Trails parking lot.
Saddle Pass trailhead is up next, this is a short steep hill providing park views and joins with Castle trail.
Stop at the visitor center to learn more about the park and walk the Cliff Shelf Nature boardwalk which usually has wildlife close by.
Afternoon
Next up you will reach the aforementioned parking lot where Door, Window and Notch trails begin. Plus, it's the other side of Castle Trail.
Door and Notch are the two best hikes in Badlands National Park for effort to reward ratio. Door is easy, Notch Trail has a few adventurous sections.
Leave Badlands via the East exit and stop at Minuteman Missile Visitor Center, it's awesome!
Drive to Keystone in the Black Hills.
Every evening in Summer there is a night show you can watch from the amphitheater, when Mount Rushmore is illuminated by lights. If you arrive to Keystone in good time, be sure to head over to Mt Rushmore to watch the evening lighting ceremony.
Where to Stay in Keystone on Night 1:
Read our complete guide about exactly where to stay in Keystone SD for any budget on our sister site Best Hotels Anywhere.
Day 2 – Mount Rushmore, Iron Mountain Road and Custer Wildlife Loop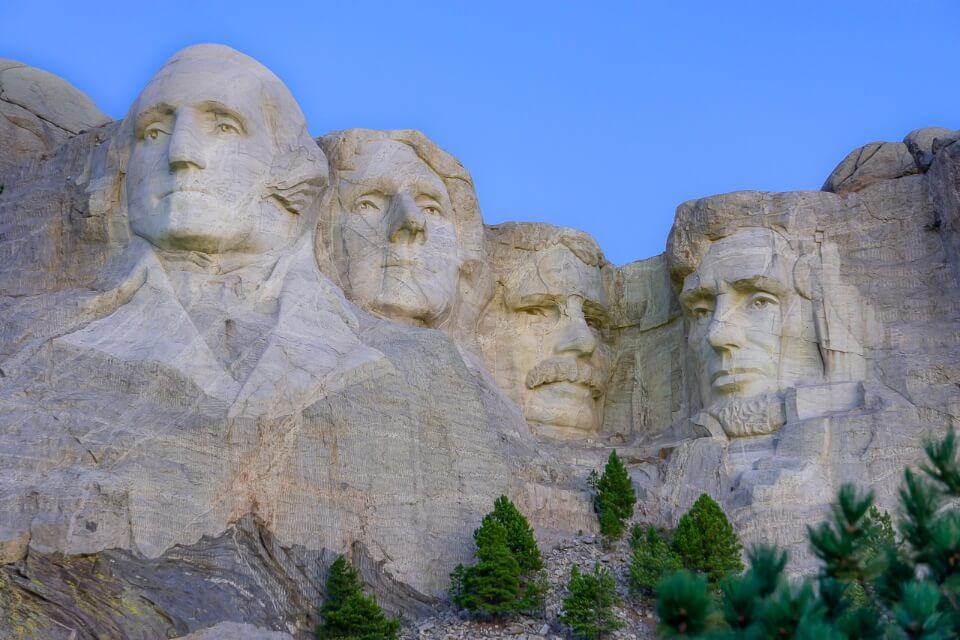 Morning
Get an early start from your Keystone hotel and drive the 2.5 miles to Mount Rushmore National Memorial.
We very highly recommend going early to beat the crowds but also because sunrise is by far the best time of day to see Mt Rushmore illuminate pinks and oranges before turning back to grey granite rock color.
Walk the presidential trail boardwalk, which includes over 400 steps.
Jump in the car and half way back to Keystone, turn right onto US-16A – better known as Iron Mountain Road.
Iron Mountain is a lot of fun to drive, with endless curves, hairpin turns and even 'pigtail bends'.
You will pass through tunnels and overlooks, all of which should be stopped at to enjoy the view. One even includes head on views over Mt Rushmore.
Afternoon
At the end of Iron Mountain, turn right and you will arrive at Custer State Park wildlife loop. This is an 18 mile one way loop road cutting through a wild region filled with nothing but scenery and animals.
Turn left at the end of the loop and you'll be in the town of Custer, which has a better selection of dining options and hotels.
Where to Stay in Custer on Night 2:
Day 3 – Custer Wildlife Loop, Wind Cave National Park and Needles Highway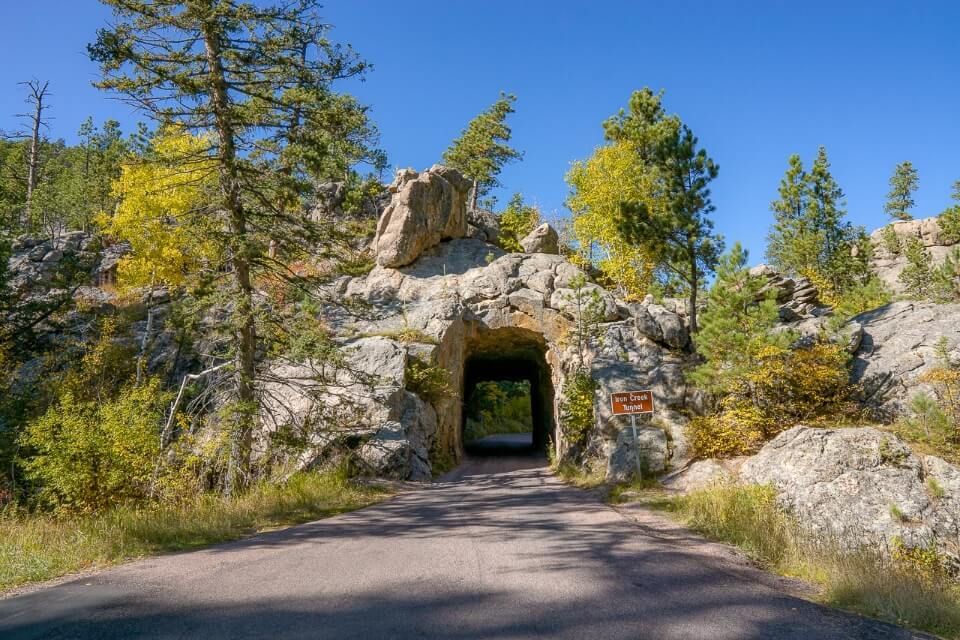 Morning
Another early start and drive straight back to Custer Wildlife Loop.
Why? Because animals are more active at dawn and early in the morning, so you're more likely to see wildlife.
Instead of completing the loop, turn left when you reach SD-87 and follow it 7.5 miles to Rankin Ridge trailhead within Wind Cave National Park boundaries.
Rankin Ridge is a 1 mile loop trail with a fair amount of elevation but providing excellent valley views. If you're looking for a much longer hike, try Centennial Trail instead.
Otherwise, continue 6 more miles down 87 to reach Wind Cave National Park visitor center.
The problem with Wind Cave is they run all cave tours on a first come first served basis. If you desperately want to do a cave tour, skip the wildlife loop on this morning and arrive here for opening.
Cave tours are cool, family friendly and educational as a ranger leads each tour. But there are some serious caving tours available for adventurers.
Afternoon
You'll only need a few hours at Wind Cave. Drive back up 385 to Custer for lunch and then continue up 89 to Sylvan Lake.
Don't stop at Sylvan Lake. Turn right instead and drive the incredibly scenic Needles Highway as far as Cathedral Spires trailhead.
Cathedral Spires is a fantastic short hike surrounded by ponderosa pine forest and granite needle-like rocks.
Head back to Custer for the night.
Where to Stay in Custer on Night 3:
Day 4 – Black Elk Peak, Sylvan Lake, Deadwood and Spearfish Canyon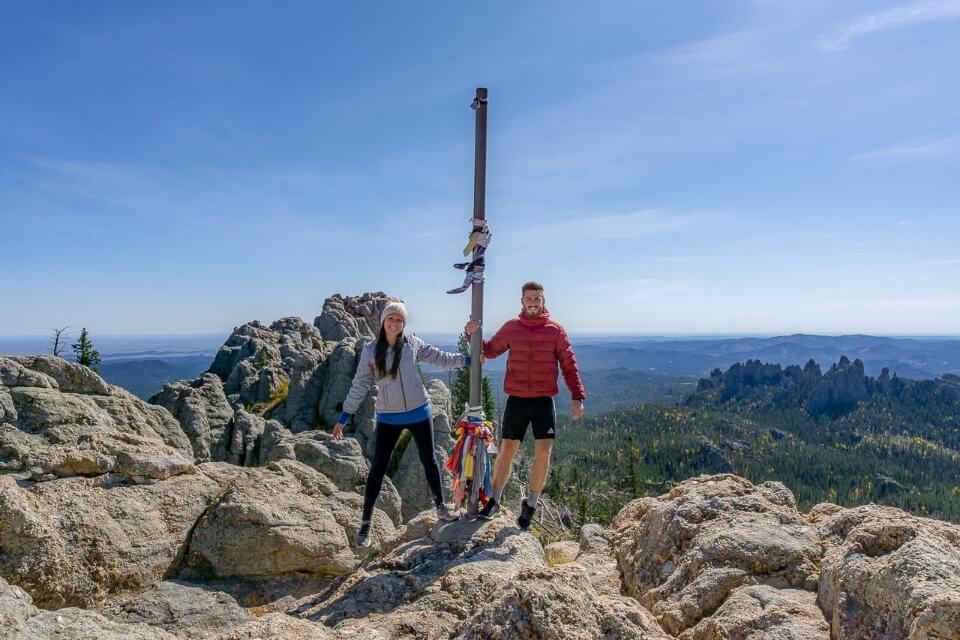 Morning
Early starts are a necessity on this trip!
Head up to Sylvan Lake first thing and choose between hiking Sunday Gulch or Black Elk Peak trail.
Sunday Gulch is a fun and exciting trail that should take between 2-3 hours.
Black Elk Peak is our top recommendation. It is a 7 mile roundtrip hike with spectacular 360 degree views over 4 US states from the summit. We have included Black Elk Peak in our popular guide to the 50 best hikes in the US.
Go up trail #9 and come back down trail #4 to make a scenic loop if you do decide to hike Black Elk Peak.
Afternoon
Head back down Needles Highway towards Hill City. If you want to visit Crazy Horse, now is the time to do so, but it is expensive and unfinished.
Drive 1 hour to arrive at Deadwood. Spend an hour walking around the historic main street, stopping in for a drink at a cafe or bar.
Head back out of Deadwood the same way but take 14-ALT through Lead to Cheyenne Crossing. Turn right to stay on 14-ALT and the hugely underrated Spearfish Canyon Scenic Byway.
Stop at Roughlock Falls, Eleven Hour Gulch, Devils Bathtub Trail and Bridal Veil Falls on your way down the canyon.
Dinner and sleep in Spearfish.
Where to Stay in Spearfish on Night 4:
Day 5 – Devils Tower, Cloud Peak Skyway and Cody, Wyoming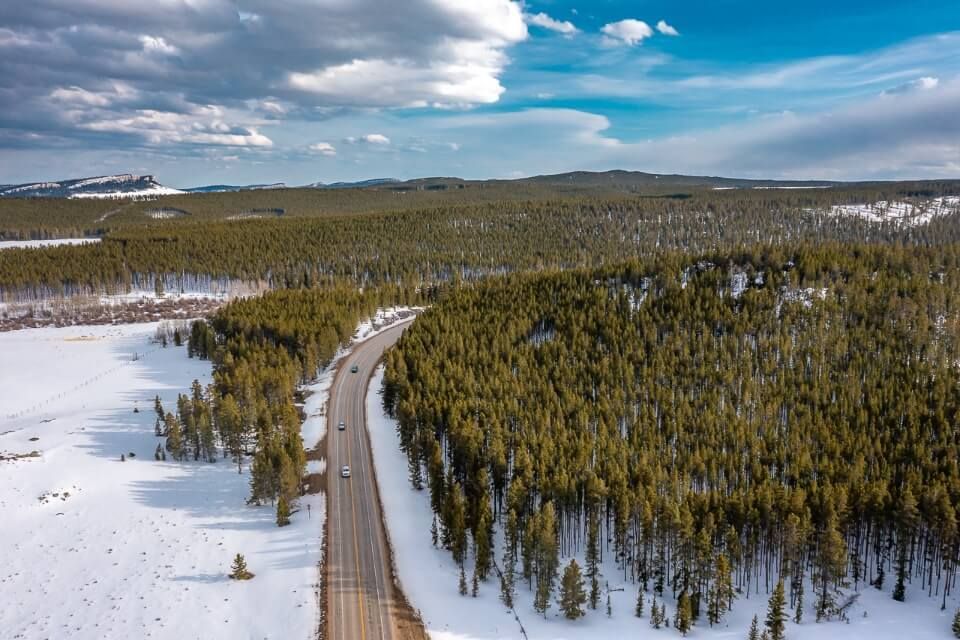 Morning
The big road trip driving day between Mount Rushmore in the Black Hills and Yellowstone in northwest Wyoming is on day 5.
By starting in Spearfish instead of Keystone, you already cut out the drive time to Cody from 6h 30m down to a much improved 5h 30m.
Even better? Your first stop is less than 1 hour drive away and it is the awesome Devils Tower National Monument.
Do not miss Devils Tower on this road trip. It doesn't add much time on to your day and it is without question worth the stop.
Hike around the easy and flat Devils Trail circling the enormous igneous rock formation. But on the way back out of the main parking lot, take a right on W Rd to Joyner Ridge.
Views over Devils Tower from Joyner Ridge are fantastic and our top tip.
Back on the I-90 it's around a 2 hour straight shot to Buffalo, Wyoming. Stop for lunch along the main street and check out the wall art on building sides.
Afternoon
Now comes the fun part of the drive. US-16 Cloud Peak Skyway climbs, winds, dips and climbs some more as you pass over the southern part of the Bighorn Mountains.
Stop off at overlooks and enjoy the scenery but the best is yet to come.
As you descend from the Bighorn pass you just crossed, there's a 10-15 mile section of epic scenic driving as you drop into a canyon with towering cliff edges.
We put our drone up a few times on this stretch of road and the U bend photo at the very beginning of this article was taken on this stretch.
It's less than 2 hours from Ten Sleep to Cody and the roads will be almost exclusively yours.
This is a really relaxing part of the road trip between Mount Rushmore and Yellowstone after I-90 and a narrow scenic drive over a mountain pass!
Arrive into Cody for a late dinner and check in.
Where to Stay in Cody on Night 5:
Want to stay in Cody? Read our guide to the 8 best hotels in Cody Wyoming on our sister site Best Hotels Anywhere to see your top options.
Day 6 – Lake Yellowstone, Hayden Valley, Mt Washburn and Grand Canyon of the Yellowstone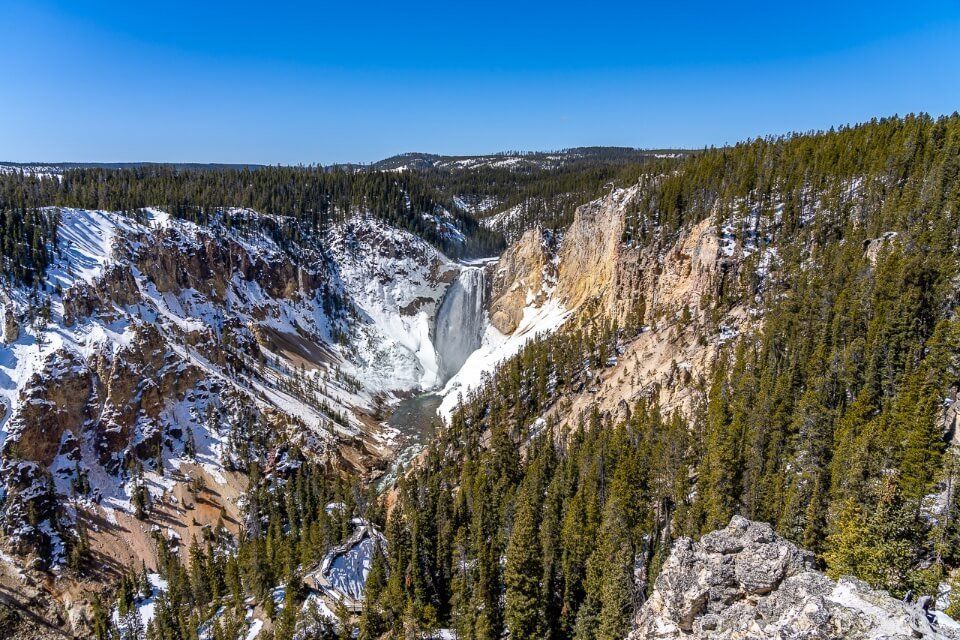 Morning
The beauty of staying in Cody the night before is that you can stay in a room to suit your budget before waking up early for a full day in Yellowstone.
Take the east entrance slowly and keep an eye out for wildlife. Everyone knows about Lamar and Hayden Valley for prime wildlife spotting but the east entrance is a lesser known hotspot.
A challenging hike on the way in is called Avalanche Peak or a nice easy hike here is Storm Point trail with awesome views over Yellowstone Lake.
Take the right on Grand Loop Road and begin your Yellowstone adventure. The first stopping point is Mud Volcano and Dragon's Mouth Spring. There's a short loop trail here.
A little further ahead you will be entering Hayden Valley, which is a well known wildlife spotting area. Pull out your binoculars alongside Yellowstone River.
Next up is one of the highlights of your Mount Rushmore to Yellowstone road trip, the Grand Canyon of the Yellowstone.
Take South Rim drive first for a fantastic up and down river shot from a bridge, plus the best vantage point over Lower Falls of the Yellowstone River from Artist Point.
Telephoto lenses can capture stunning images through the canyon to the waterfall from Artist Point. (Note: We recommend returning here at sunrise the next morning).
Stop at Upper Falls View on the way out of South Rim drive. Uncle Tom's trail has been closed for a long time and is unlikely to reopen any time soon.
Take the turn onto North Rim drive next. Stop at Brink of the Lower Falls (if it is open), Lookout Point, Grand View and Inspiration Point.
Afternoon
You will enter Canyon Village as you leave North Rim on a one way road. If you are staying at Canyon this night, check in now before heading back out.
Otherwise, continue up Grand Loop Road and either hike to Mt Washburn from the trailhead near Dunraven Pass or Chittenden Road a little further up the loop road.
Views over Yellowstone from the top of Mt Washburn are worth the hike but it is a very popular day hike so expect the trail to be busy. Continue on from Mt Washburn to Mammoth accommodation or a Gardiner hotel for the best start the next day.
Where to Stay in Gardiner on Night 6:
Want to stay in Gardiner? Read our guide to the 8 best hotels in Gardiner MT on our sister site Best Hotels Anywhere next!
Day 7 – Lamar Valley, Mammoth Hot Springs and Norris Geyser Basin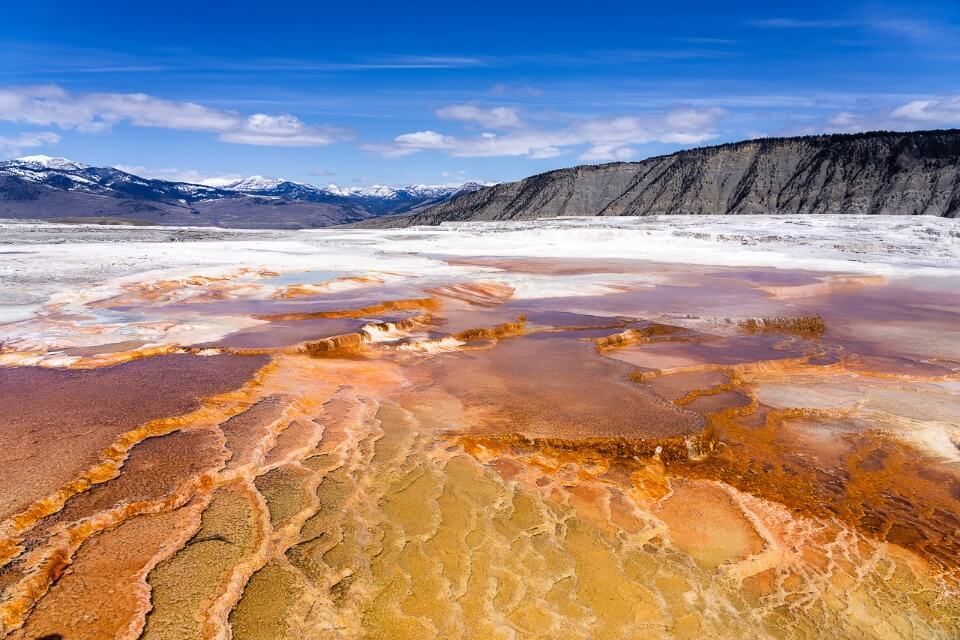 Morning
The reason we suggest Gardiner the night before is so you have easier and quicker access to Lamar Valley this morning.
Lamar is widely known as the premier wildlife spotting area in Yellowstone and you want to be here early to stand the best chance.
Get out of the car and walk around carefully or just relax in the car and wait for animals to appear. Look for groups of people with telescopes and binoculars but be respectful.
After Lamar Valley, return to Mammoth Hot Springs and explore the boardwalks on the lower and upper terrace levels.
This large area should take care of the rest of your morning.
Afternoon
There's not a huge amount to see between Mammoth and Norris Geyser Basin, your next stop.
Norris is split into two sections and both will keep you occupied for a while. Don't miss Steamboat Geyser and Echinus Geyser in the Norris basin.
Gibbon Meadows are pretty and right after the meadow you will find the parking lot for Artist's Paintpots trail. This very short hike leads to a series of unique and colorful pools like a painters palette.
Walk up the hill to find grey bubbling mud pots spewing bubbles of all shapes and sizes.
Gibbon Falls is the last stop of this day inside Yellowstone National Park. This is the perfect place to end for exiting the park to West Yellowstone dining and hotels.
Where to Stay in West Yellowstone on Night 7:
Want to stay in West Yellowstone? Read our guide to the 8 best hotels in West Yellowstone on our sister site Best Hotels Anywhere next!
Day 8 – Lower, Midway and Upper Geyser Basins (Grand Prismatic Spring and Old Faithful)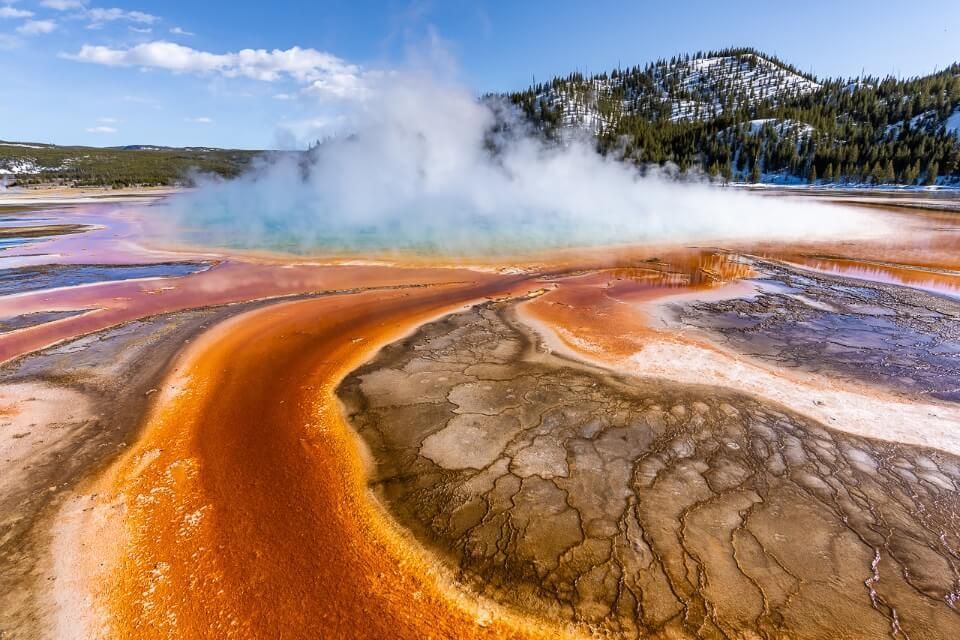 Morning
This will be one of the best days on your entire Mount Rushmore to Yellowstone road trip. One full day dedicated to walking around the most famous Yellowstone features.
Start at Lower Geyser Basin with Fountain Paint Pots trail. Next, make your way down to Midway Geyser Basin, which includes Grand Prismatic Spring.
Excelsior Geyser kicks off a serious amount of steam when it is cold outside, which will subside in warmer weather. The loop trail around Grand Prismatic is smaller than you might imagine, it doesn't take long.
Look out for Opal Pool and Turquoise Pool nearby.
Drive to Fairy Falls Trail parking lot and hike the first mile or so of Fairy Falls Trail until you reach the Grand Prismatic Spring Overlook (one of our highest recommendations for Yellowstone).
This is the iconic view over GPS from above, so be sure to work this hike into your itinerary.
Avid hikers can continue the trail to reach stunning Fairy Falls.
Afternoon
Back in the car, next stop is Biscuit Basin with more boardwalk trails leading to various geysers. Again, avid hikers can continue to Mystic Falls.
Moving on, you will next stop at Black Sand Basin which won't take long but is a worthwhile visit.
Finally you will arrive at Upper Geyser Basin, which is where the world famous Old Faithful Geyser blows almost right on cue throughout the day.
Check for eruption times or ask around to find out. If an eruption is close, stick around the amphitheater-style seating area.
If not, turn right and walk around the trail until you see a sign for Observation Point trailhead. Hike to the Old Faithful viewing area for a quieter experience.
Don't think your work here is done! There are many more stunning geysers and hot springs to see in Upper Geyser Basin.
We highly recommend walking around in a huge loop on the boardwalks, ending once you reach Morning Glory Pool (one of our absolute favorites).
Jump back in the car and head towards West Yellowstone, but turn onto Firehole Lake Drive and stick around to watch an amazing sunset which can reflect beautifully in Great Fountain Geyser.
Spend the evening in West Yellowstone.
Where to Stay in West Yellowstone on Night 8:
Day 9 – West Thumb Geyser Basin, Signal Mountain and Jenny Lake (Grand Teton)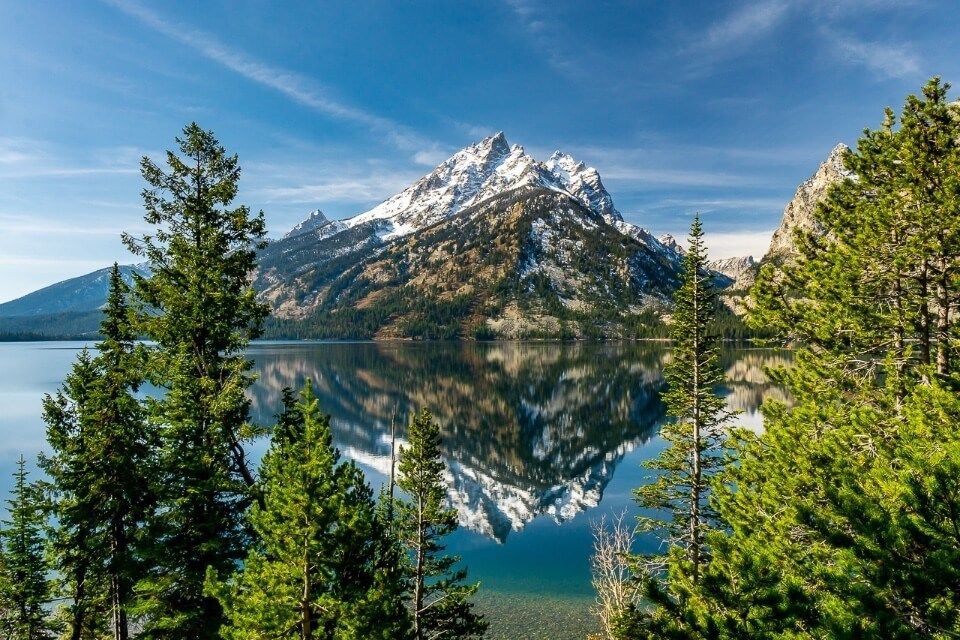 Morning
Unfortunately, there's quite a lot of driving back on yourself at Yellowstone.
This morning as you leave the park to the South, stop off at anything along the way you want to see again when it's much quieter.
Pass Old Faithful and arrive into West Thumb Geyser Basin.
Don't skip West Thumb, it's a really gentle, easy boardwalk trail with very colorful pools and stunning views over Yellowstone Lake and mountains near the east entrance.
Make tracks down John D Rockefeller Jr Memorial Parkway to Grand Teton National Park. It's just a 1 hour drive from West Thumb to the start of Teton Park Road.
Afternoon
Turn right onto Teton Park road and not far after crossing Jackson Lake Dam take a sharp left turn onto Signal Mountain Road.
Drive 4 miles up a winding narrow road (closed in Winter) until you reach Jackson Lake Overlook. Walk a few hundred feet down the trail and soak up some seriously special views over the Teton range.
Drive up to the top but it's not as impressive with trees blocking views.
Once back down, continue toward Jenny Lake but be sure to stop at each of the turnouts. Mountain View turnout is unmissable.
Immediately after Mountain View turnout, take the right onto Jenny Lake road and stop at String Lake. Walk around the crystal clear waters and look for pristine reflections of trees, logs and mountains in the lake.
Continue to Jenny Lake Overlook and enjoy the views over this stunning landscape.
You'll be back here tomorrow but for now drive on to Chapel of the Transfiguration to see the famous 'Mountains through Church Window' image.
Back on the main highway US-191 it's just 12 miles to Jackson.
Eat dinner and spend the night here.
Where to Stay in Jackson on Night 9:
Want to stay in Jackson? Read our complete guide to the 8 best hotels in Jackson Wyoming on our sister site Best Hotels Anywhere.
Day 10 – Mormon Row, Schwabacher Landing, Oxbow Bend and Jenny Lake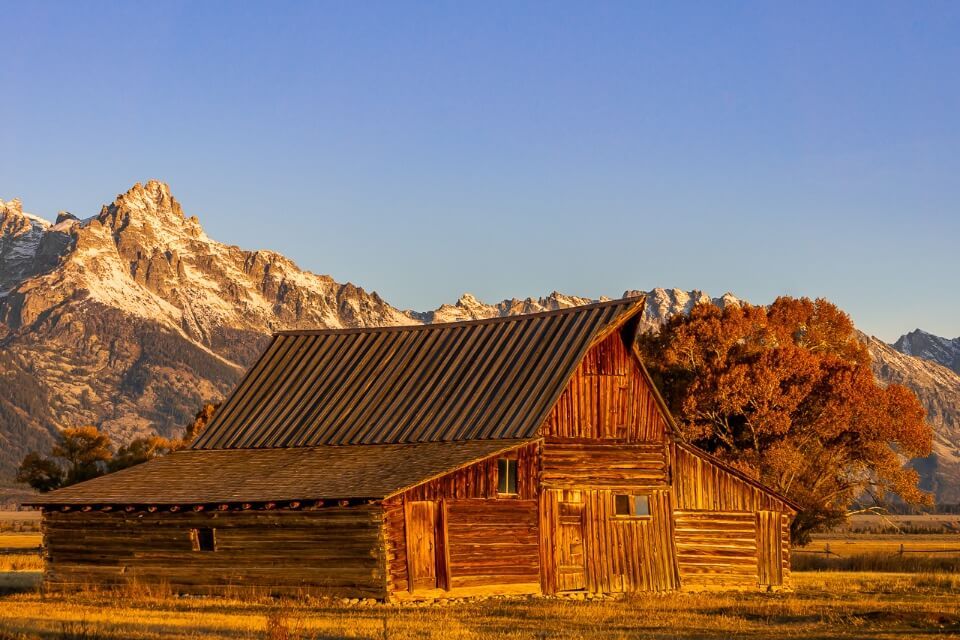 Morning
Last day and last early start. Make this one your earliest!
Be at Mormon Row standing near either John Moulton or TA Moulton barn before the sun rises. Mormon Row is a hugely popular (almost folklore!) sunrise photography location for serious hobbyists and pros.
Views are spectacular and it is one of our top recommendations for this Mount Rushmore to Yellowstone road trip itinerary.
Move swiftly onto Schwabacher Landing right after sunrise. This is an equally as impressive sunrise location if you are lucky enough to get still water and colors in the sky.
Mountains, trees and clouds reflecting perfectly in the Snake River is a postcard perfect scene. This is also a popular wildlife spot around sunrise, Moose are common at dawn.
Stop next at Snake River Overlook, then Oxbow Bend.
Afternoon
Loop back around to Jenny Lake.
This is your last afternoon of a truly unforgettable road trip and we recommend you spend it either lazing by Jenny Lake, hiring a boat or kayak, swimming or hiking.
We recommend the hike.
Either walk around Jenny Lake or take a ferry service across to West Shore Boat Dock to cut out a few miles. From there it's just a short trail up to Hidden Falls and Inspiration Point, the most popular day hike in Grand Teton.
Drive back to Jackson when you're pleasantly exhausted for a celebratory beer!
Where to Stay in Jackson on Night 10: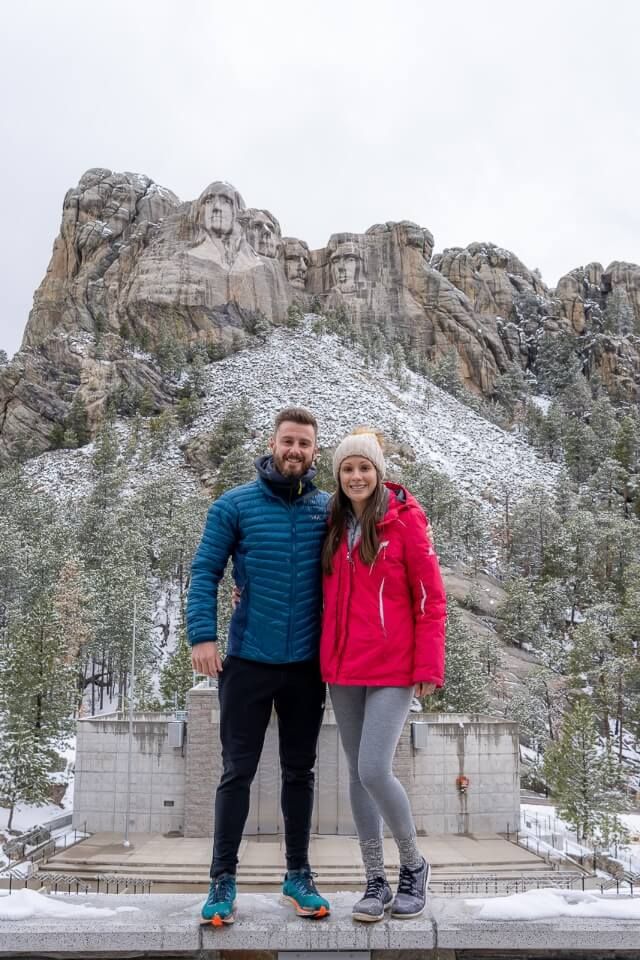 Road Trip Planning and Packing
After driving thousands of miles across the US on a number of our own road trips, we have gained valuable experience in how to prepare for a successful adventure.
Click below to read our in depth guides on:
---
We hope this guide and itinerary helps you plan the most amazing Mount Rushmore to Yellowstone Road Trip!
Have you road tripped between South Dakota and Yellowstone? Any other awesome places to stop along the way for people to include on the drive over?
Comment below to let us know if you have any questions or need any help planning your visit.
Happy Travels,
Mark and Kristen
Was This Post Helpful? Pin It For Your Visit!