Hiking The Wave in Arizona is one of the most memorable experiences of our extensive world travels to date. We're going to explain everything there is to know about how to hike The Wave in the Coyote Buttes North area of Vermilion Cliffs National Monument.
Winning an immensely competitive Wave permit will set your heart racing, but laying eyes on exquisitely elegant patterns throughout The Wave for the first time will blow your mind.
Photos (including ours in this guide!) don't do this extraordinary topography justice. But we will do what we can to showcase exactly what you can expect upon arrival at one of the most sought after and unique landscapes in the world.
This comprehensive guide covers updated permit processes, packing, preparation, photography and a full walkthrough of the hike to The Wave, widely regarded as one of the best hiking trails in the US.
Use this guide to begin your application process today, for planning your hike and as a reference throughout your visit to the Southwest.
Let's get your permit and start hiking to The Wave in Northern Arizona!
The Wave Arizona Hiking Statistics
Trail Distance: 6 miles + roundtrip
Type of Trail: Out and back
Trail Difficulty: Moderate
Time Required: 3-4 hours
Elevation Gain: 450 ft +
Trailhead: Wire Pass
Dogs Allowed: Yes
How Difficult Is It To Hike The Wave In Northern Arizona?
The Wave is generally regarded as a moderately difficult hike, with a handful of slightly more challenging sections thrown in to give hikers a good work out. Certain parts of the hike are flat and easy, others require light scrambling and there are one or two instances in which you have to hike through or up deep sand.
Most people don't give the hike itself a thought due to such a competitive permit process and the thrill of a win. But once your adrenaline stops flowing, you do need to consider the trail leading to The Wave.
We've personally hiked an eclectic mix of amazing trails in the US, and comparatively speaking, we found hiking to The Wave very easy.
However, excessive heat in Summer or icy conditions in Winter would significantly increase the difficulty of hiking The Wave in Arizona.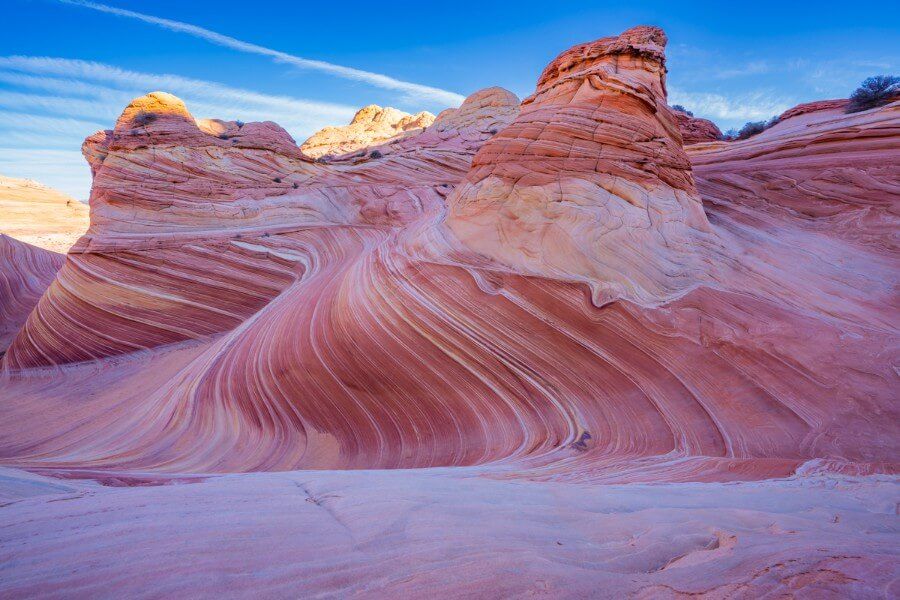 How Long Is The Hike Into The Wave?
The Wave hike is 6 miles roundtrip, but that only includes directly hiking to the exact site of The Wave and returning. However, there are many more astounding rock formations and beautiful patterns to be found in the immediate area.
So what starts out as a 6 miles round trip hike quickly turns into 7, 8 or even 9 miles after you account for exploring around The Wave in Coyote Buttes, Arizona.
Similarly, elevation gain is listed as around 450 ft but if you go climbing to arches and second waves, you will add on total elevation gain to your hike.
Elevation at Wire Pass is 4870 feet
Elevation at The Wave is 5225 feet
But in truth, you won't feel a single bit of the distance or elevation once you set foot on The Wave.
How To Get A Permit For Hiking The Wave In Arizona
You must apply for and win an advanced lottery permit or a daily lottery permit in order to hike The Wave in Arizona. But the Wave is renowned as being one of the most competitive hiking permits to win in the entire United States network of parks and popular trails.
If successful, you must display part of your Wave permit issued by the Bureau of Land Management (BLM) in your vehicle (parking permit) and another part on your person (person permit) during your hike.
We have written a comprehensive in depth guide about how you can win a lottery permit for The Wave, but we will summarize the most important sections below.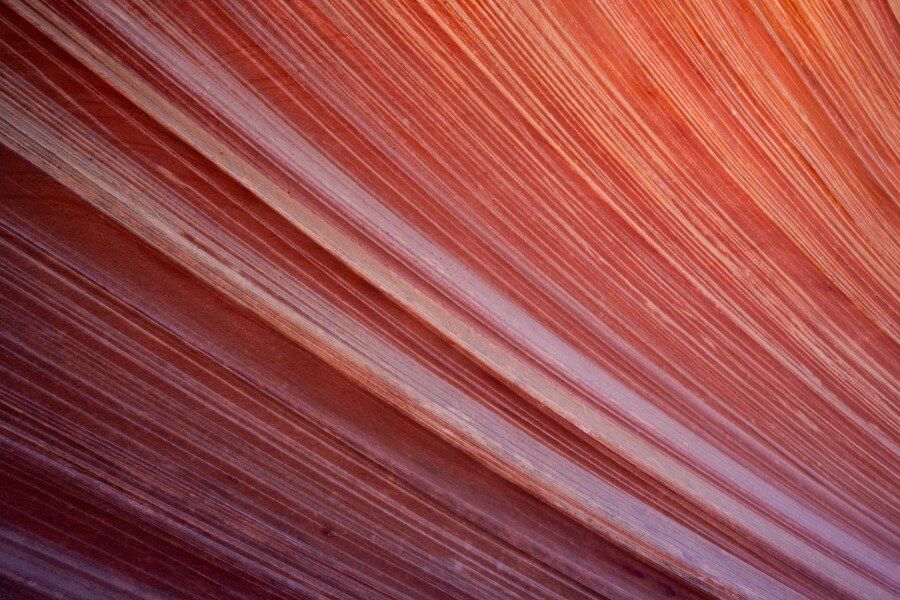 How Many Wave Permits Are Issued Each Day?
Up to a maximum of 64 permits for The Wave are issued each day. There are a maximum of 48 spots up for grabs in the advanced lottery and a maximum of 16 spots available every day in the daily lottery.
Why do we keep saying maximum?
Well, that's because every day will have a different amount of total hikers, based on how many "groups" win permits on any given day.
How Does The Permit Lottery Work?
Each applicant for The Wave can submit for up to 6 people.
The advanced lottery works by selecting either 48 people or 12 groups, whichever comes first. Whereas the daily lottery will select either 16 people or 4 groups, whichever comes first.
That can be confusing so here are some examples:
1 – If 12 groups of 1 individual hiker win the advanced lottery, only 12 permits will be issued.
2 – But if 12 groups of 4 hikers win the advanced lottery, all 48 permits will be issued.
3 – If 4 groups of 1 individual hiker win the daily lottery, only 4 permits will be issued.
4 – But if 4 groups of 4 hikers win the daily lottery, all 16 permits will be issued.
So there will be a minimum of 16 (12+4) and a maximum of 64 (48+16) people hiking to The Wave every day of the year.
Typically, the numbers will be somewhere in between.
The day before we hiked, we won a next day walk in permit (before it changed to the new online permits process) and we were 2 of only 7 permit winners.
Three groups of 2 hikers plus one group of 1 hiker made up the 7 winners from our daily lottery.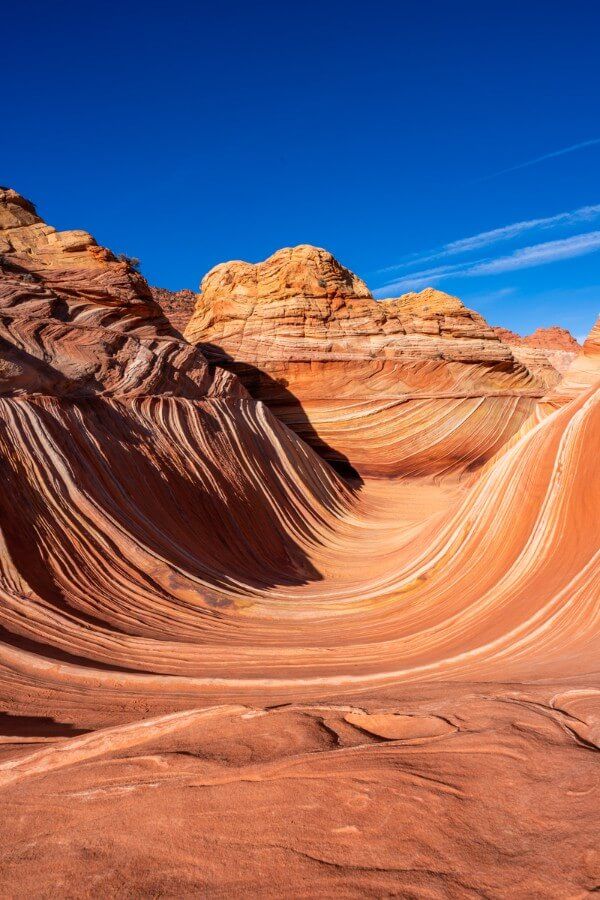 Advanced Lottery Process
Apply 4 months in advance from anywhere in the world and on any device.
Pay a non refundable $9 application fee.
You can apply anytime within a month to win a permit 4 months later.
Results are drawn 1st of the month following application.
Example – It is August 12th and you apply for a permit to hike The Wave on December 20th. Results are drawn on September 1st.
Apply for The Wave through the advanced lottery here.
Daily Lottery Process – Updated In March 2022
Until March 2022, an in person lottery would take place in Kanab Center gymnasium in Utah to win a permit for the next day.
However, a new online lottery system is in place and you can only apply online to win a permit 2 days ahead of the date you apply.
You have to be within a geofenced area in northern Arizona or Southern Utah (see the geofenced area here) to apply but it is much better than losing a morning in Kanab.
Here's how it works:
Apply for a daily lottery permit between 6am to 6pm two days ahead of your desired hiking date. Results are drawn at 7.15pm same day.
If successful, the next day you must accept and pay a non refundable $9 permit fee, and attend safety briefing.
The day after, hike to The Wave.
Example – It is February 23rd and you apply at 2pm for a daily lottery permit to hike The Wave February 25th. Results are drawn at 7.15pm on the 23rd and you win. On February 24th you pay and attend the briefing, before hiking The Wave on February 25th.
Apply for The Wave through the daily lottery here (only accessible on mobile devices).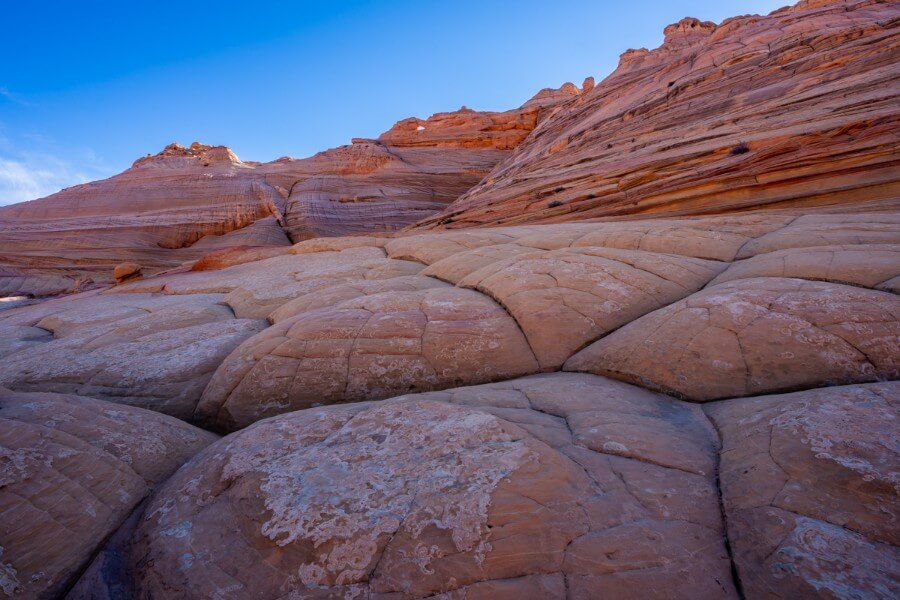 What Are The Odds Of Winning The Wave Arizona Lottery?
The odds of winning The Wave lottery have increased dramatically since 2021 when the daily permit number exploded from just 20 to 64.
It is not possible to calculate the odds of winning until application statistics are revealed from 2021. But we can tell you they are significantly higher than they were a few years ago.
Odds all depend on how many people are applying for any given date. Try to avoid the busiest dates for a better chance of being successful.
How To Increase Your Chances Of Winning
Here are a handful of tips you can use to improve your chances of winning a permit:
Daily permits yield a higher chance of winning a permit based on the ratio of applicants to permits issued. Far more people apply for the advanced lottery, and therefore it is harder to be selected.
Apply for a weekday permit instead of a weekend spot.
Spring and Fall are the busiest seasons of the year to apply for permits. Avoid them for a higher chance of winning.
Winter is the quietest time of year for applications to hike The Wave. Enter in December, January or February to stand the best chance.
Summer can bring dangerously high (and even fatal) conditions to the Arizona Utah border, but it does open up opportunities to win permits due to less demand.
Apply in smaller groups to give your group a chance of sneaking in at the back end of a draw. If 13 permits are issued from 3 groups in the daily lottery, any group with 4, 5 or 6 in will automatically be out of the running because 16 is the maximum number issued.
What Happens After You Win A Wave Permit?
If you win a daily lottery permit, you must attend a safety briefing for your Wave hike the following day in a BLM office either at The Kanab Center in Kanab Utah or at the Page Lake Powell Hub in Page Arizona.
This is where you will pay for and pick up your permit.
Advanced lottery applications are pay up front but you only pay for daily lottery permits if you win as of March 2022. This means you don't get a double sting of paying and losing on site.
Can You Hike To The Wave In Arizona Without A Permit?
No, you can not hike The Wave without obtaining either an advanced or daily lottery permit. One part of your permit must be clearly displayed inside your vehicle and the other part is a green tag you must attach to a backpack you take on the hike.
If you try to hike The Wave without a permit and a BLM ranger asks to see your permit but you don't have one, you stand to be fined up to $10,000.
The Wave is truly amazing, but is it really worth a $10,000 hit?!
Navigation is one of the hot topics when hiking to The Wave in Arizona. There is no obviously marked trail and you can get lost if you don't prepare correctly.
With that said, we have to be honest and say we expected the trail to be much harder to find after listening to the instructions provided at the safety briefing.
If you're not so hot with directions and maps, you will need to study the directions and take photos of each landmark to the front and back as you hike.
But if you're typically sound with directions, maps and pathfinding, you will not have any problems finding The Wave or your way back afterwards.
We're not saying take navigation lightly, we're just saying try not to get worried or anxious about directions.
How Do You Not Get Lost At The Wave?
During your safety briefing you will receive a map with numbered directions on pictures of landmarks. This is your primary route planner, so keep it safe. If rain is possible on the day of your hike, consider laminating it or using a raincoat to cover the paper.
The first step to not getting lost is to use the map provided by the Bureau of Land Management. Look out for each landmark along the route and check the map regularly to make sure things appear correctly.
Alternatively, you can always just follow other hikers at a distance and let them do the hard work.
Using Offline Maps
At the safety briefing, you will be directed not to use AllTrails, GAIA or similar hiking navigation apps as your main source of directions because the rock formations will wreak havoc with your maps.
We always use GAIA Premium (here's a link you can use for 20% off GAIA Premium) for downloading offline maps when we're hiking any trail that we know isn't going to be well marked.
GAIA worked great for most of the hike, but when we got to The Wave area, we lost our marker. After restarting the app, our location marker reappeared on our offline map.
In truth, we only used the paper map and easily found The Wave. We just checked in on our GAIA app from time to time out of curiosity and for our hiking statistics.
The take home is not to rely on technology as your major map reading source for hiking The Wave, just in case it fails, the rocks cause your location to be inaccurate, you have no cell phone service or your mobile device runs out of battery.
You won't need an offline map app anyway because the paper map directions provided by the BLM at your safety briefing are easy to follow. It's just nice to have one as a backup.
Top tip: If you're worried about getting back from The Wave, pin your location or GPS coordinates on a map throughout your hike. That way you can always aim for your pins on the way back.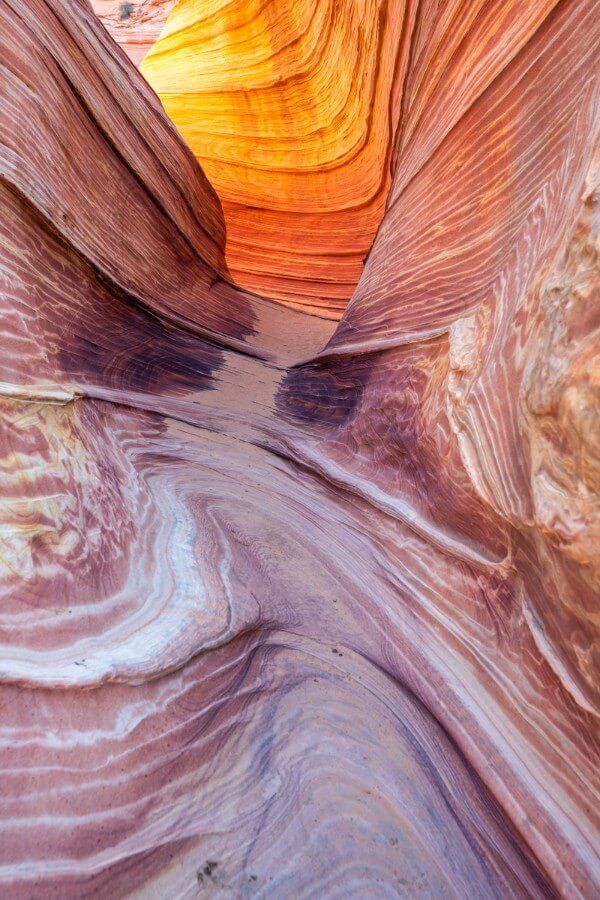 How To Get To Wire Pass Trailhead To Hike The Wave
The Wave Trailhead is located at Wire Pass, which also serves as a trailhead for hiking slot canyon Buckskin Gulch. Wire Pass is located 8.3 miles down House Rock Valley Road, a dirt road which can cause access issues for hikers and may require the use of a 4×4 high clearance vehicle.
The Wave is technically located within Coyote Buttes North in Paria Canyon Vermilion Cliffs Wilderness Area. You must hike from Wire Pass into Vermilion Cliffs National Monument to reach The Wave.
House Rock Valley Road
House Rock Valley Road is the only way in and out of accessing The Wave trailhead. The road is made of clay and gravel, which effectively turns into deep thick mud and renders the road completely useless after a significant downpour.
Vehicles
Two wheel drive cars can navigate House Rock Valley Road most of the time. Check the weather report for Kanab and if it looks clear, you will be fine in a two-wheel drive.
If the road is wet, a 4 wheel drive high clearance vehicle is highly recommended. That means if the weather report looks questionable and you are hiring a car, pay extra for a 4×4 so you don't take any chances.
The good news is that you can use the 4×4 for loads more activities near Kanab during your trip.
The bad news is that if the rain is significant, even a high clearance 4 wheel drive will not make it. People have tried and failed.
Here's the BLM site for more information on Wire Pass.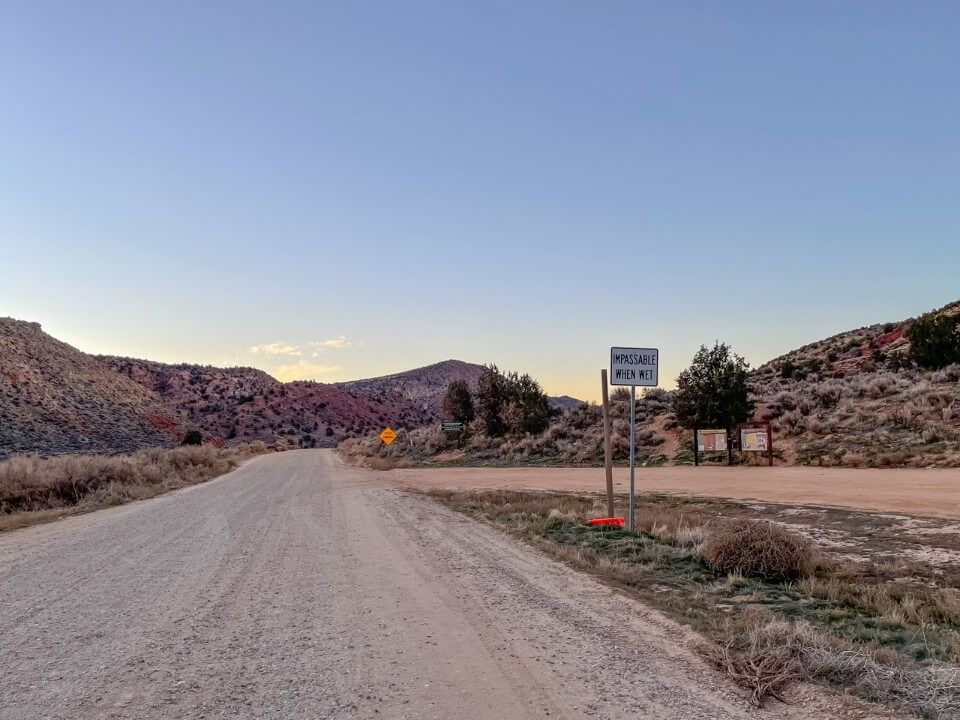 What Happens If The Road Is Impassable
You will not be able to hike The Wave if this road is subjected to heavy rainfall. Permit dates can't be changed if House Rock Valley Road is not passable. Unfortunately, it means you will not be able to hike to The Wave despite winning and paying for a permit.
So not only do you need luck on your side to win a permit, but you also need the weather gods to be shining down upon you in the days leading up to your hiking date.
Parking At Wire Pass
The parking lot for hiking The Wave and Buckskin Gulch is the same area at Wire Pass. There are plenty of parking spaces for even the busiest of days.
There are restrooms you can use in the parking lot. You will also find wilderness sign in / out stations, which must be filled in both at the start and end of your hike to The Wave.
Directions To Wire Pass Trailhead
Are you using decimal GPS coordinates? Wire Pass trailhead is located at 37.0191822, -112.0248391.
Otherwise here are directions from Kanab Utah and Page Arizona to The Wave Trailhead:
Take Highway 89 (heading East from Kanab / heading West from Page)
Turn off 89 at House Rock Valley Junction (on a U bend in the road)
This leads onto The Cockscomb
Stay straight and continue onto House Valley Rock Road
8.3 miles after leaving Highway 89 you will reach Wire Pass Trailhead
Whether starting out in Kanab or Page, set your Google Maps or Apple Maps destination for "Wire Pass Trailhead".
Here's a link to our Google Map showing the roads to take from both Kanab and Page, with Wire Pass the driving destination.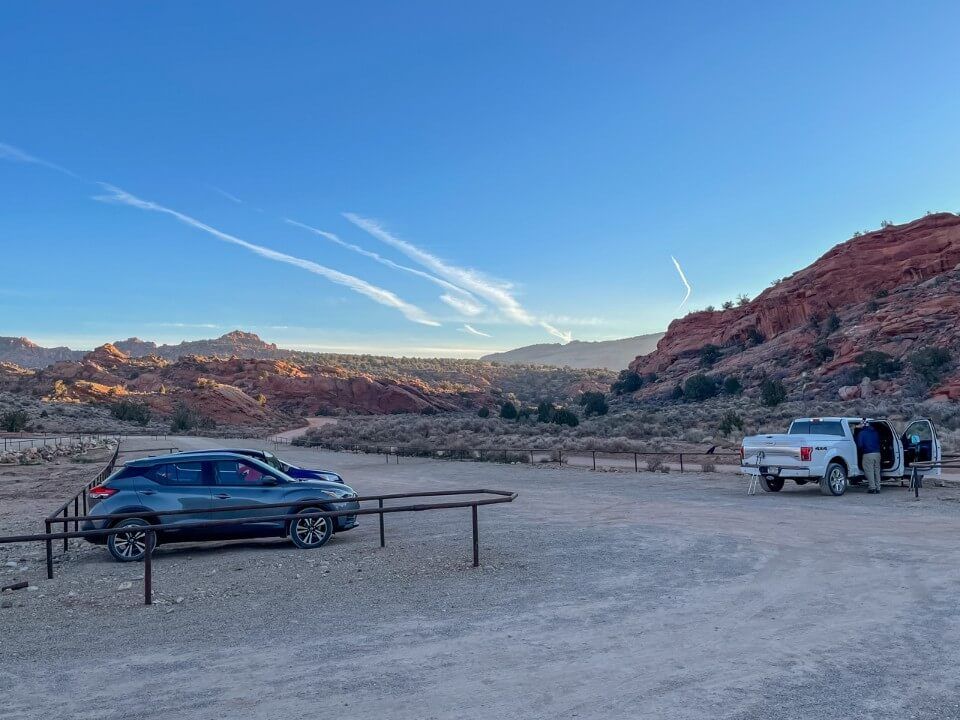 How Far Is The Wave From Kanab Utah?
Wire Pass trailhead for hiking The Wave is exactly 47 miles from the city of Kanab in Southern Utah. Drive time should be around 1 hour but could be slower depending on the condition of House Rock Valley Road.
Kanab is the traditional staging area for hiking The Wave because the old walk in permit system took place right in town.
Now, instead of losing your morning in The Kanab Center, you can apply any time during the day while enjoying some of the best things to do near Kanab in Southern Utah, including slot canyons, 4×4 adventures, sandboarding on Coral Pink Sand Dunes and visiting Moqui Caverns Sand Caves or Moqui Cave museum.
Distance from Kanab: 47 miles
Drive time from Kanab: 1 hour
How Far Is The Wave From Page Arizona?
Wire Pass trailhead for hiking The Wave is exactly 44 miles from the city of Page in Northern Arizona. Drive time should be around 1 hour but could be slower depending on the condition of House Rock Valley Road.
Popular photography spots Antelope Canyon and Horseshoe Bend are both located in the city of Page, Arizona.
As a result of the updated daily lottery permit process, you can now apply for your permit to hike The Wave from Page and not lose any time from your US Southwest itinerary.
That means you can apply to hike The Wave, then explore both Horseshoe Bend and Antelope Canyon in Page before finding out if you will hike The Wave 2 days later.
Distance from Page: 44 miles
Drive time from Page: 1 hour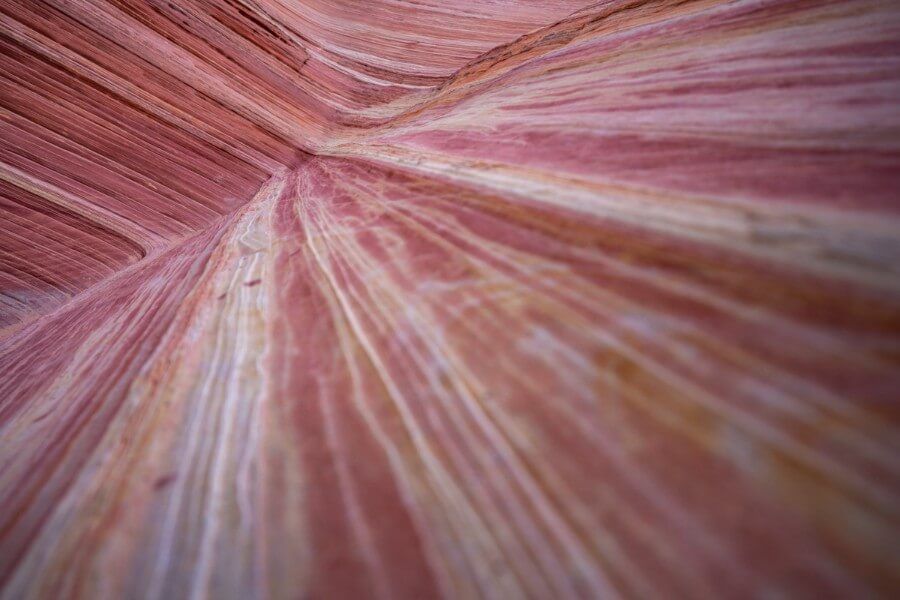 How Far Is The Wave From Zion?
The Wave trailhead is 90 miles and around 2 hours drive time from Springdale and the Zion National Park visitor center. Those with advanced lottery permits can drive straight across from Zion to hike The Wave.
But remember you can't apply for a Wave permit from Springdale or Zion. This area is not part of the geofenced location from which you can apply.
Distance from Zion: 90 miles
Drive time from Page: 2 hours
How Far Is The Wave From Grand Canyon South Rim?
The Wave trailhead is 181 miles and around 3 hours 20 minutes drive time from Grand Canyon South Rim. Those with advanced lottery permits can drive straight across from South Rim to hike The Wave.
But remember you can't apply for a Wave permit from Grand Canyon South or North Rim. Neither area is part of the geofenced location from which you can apply.
Distance from South Rim: 181 miles
Drive time from South Rim: 3 hours 20 minutes
Airports Closest To The Wave
The closest major regional airport to The Wave is St George in Utah and the closest major international airport to The Wave is Las Vegas McCarran in Nevada.
You can charter a plane to Kanab or Page, but 99.9% of us are going to use either St. George or Las Vegas.
St George airport to Wire Pass is 132 miles / 2 hours 25 minutes drive
Las Vegas McCarran to Wire Pass is 254 miles / 4 hours 20 minutes drive
Only Phoenix, Dallas Fort Worth, Denver and Salt Lake City fly non stop to St. George.
Whereas you can fly from almost any major airport around the world into Las Vegas, and domestic US travelers have an option to use low cost budget airlines.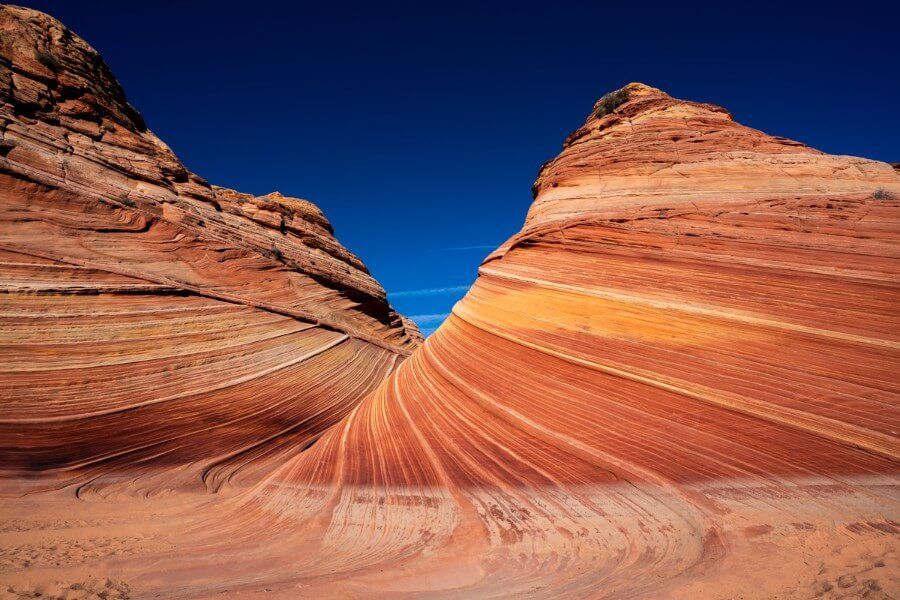 What Time Should You Arrive At The Trailhead?
There is no right or wrong time of the day to hike The Wave. You can arrive and leave whenever you wish within a 24 hour window.
It depends on your plans before and after hiking, whether you're hiking for photography primarily, or if you're just looking to beat the crowds.
Bear in mind there will be a rush in the morning and you might be better off going later in the day.
We hiked The Wave on December 3rd 2021, so sunrise for us was 7.26am. We tried to time it so we would be driving down House Rock Valley Road just as daylight gave us enough light to see the road properly.
Our goal was to set off on the hike as early as possible to beat the crowds but in daylight so we could see the trail and follow the map.
The Wave AZ Hiking Walkthrough
We have created a topographic map infographic showing the exact route you should follow when hiking The Wave in Arizona which you can find below.
The map shows:
Wire Pass trailhead
A dotted line route to The Wave
Important directions and landmarks along the route
All of the major photography spots to explore around The Wave
But there are two things to note here:
1 – This map should not be used as your main source of directions for the hike, you should follow the paper map instructions provided by the BLM upon winning a permit.
2 – Spoiler alert! Part of the fun of hiking The Wave is the mystery of finding the route. If you don't want to ruin the adventure, skip right past the image below.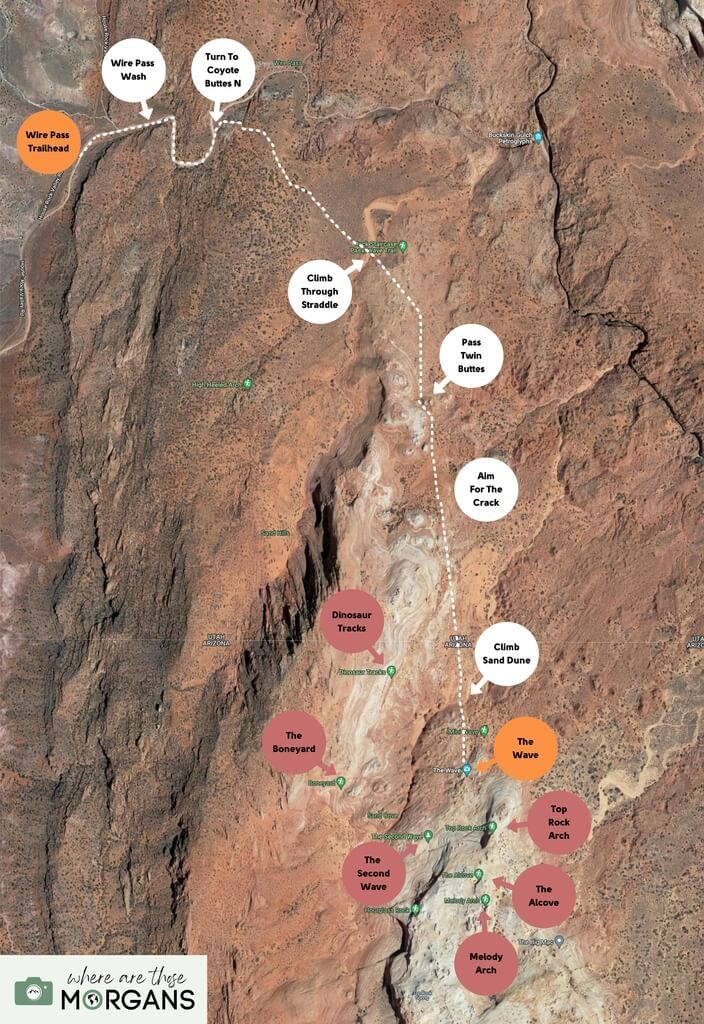 We're going to walk you through hiking to The Wave in Arizona exactly as we did, which means waking up early and arriving at Wire Pass trailhead not long after sunrise.
This is one of the most highly sought after hikes in the US, so if you've reached this point, we know how excited you are!
Let's get stuck into the trail.
Park At Wire Pass Trailhead And Register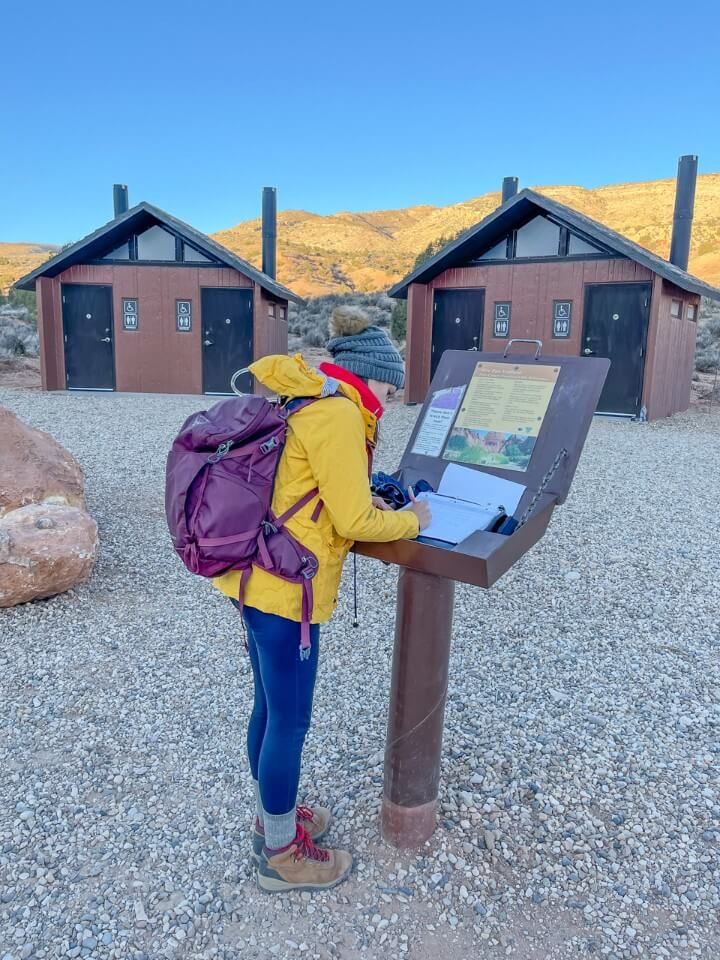 First things first, you need to get parked up at Wire Pass trailhead. If you arrive early enough, the parking lot will be empty.
We were the third car to enter Wire Pass. One of the cars had hikers bound for Buckskin Gulch and we were second on The Wave trail.
Leave your parking permit on your dashboard and head over to the restrooms to find a registration book. Do not forget to sign in, this is for your safety.
One final check to make sure you have all your equipment, water and map of Coyote Buttes North in Arizona for reaching The Wave. Attach your green permit tag to your backpack before setting off.
Follow Wire Pass Wash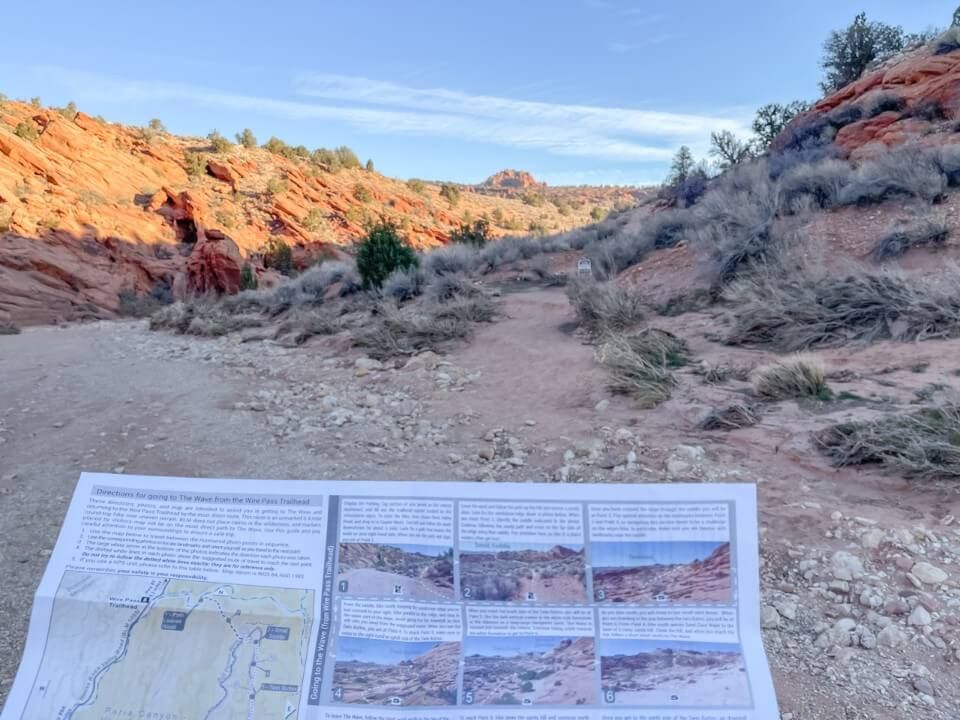 Once you're ready to begin, head East out of the parking lot and cross House Rock Valley Road. Continue heading East for 150 feet until you reach a very obvious dry bed wash.
Turn left so you are heading North and stay inside Wire Pass Wash for around half a mile. This dry bed wash meanders and bends but keep following along until you see a sign marked with Coyote Buttes North.
Take the right turn out of Wire Pass Wash and walk uphill. If you don't take this turn, you will end up in Buckskin Gulch, which is the longest slot canyon in North America.
If that happens, turn around and find this turn off.
Gradual Downhill To The Saddle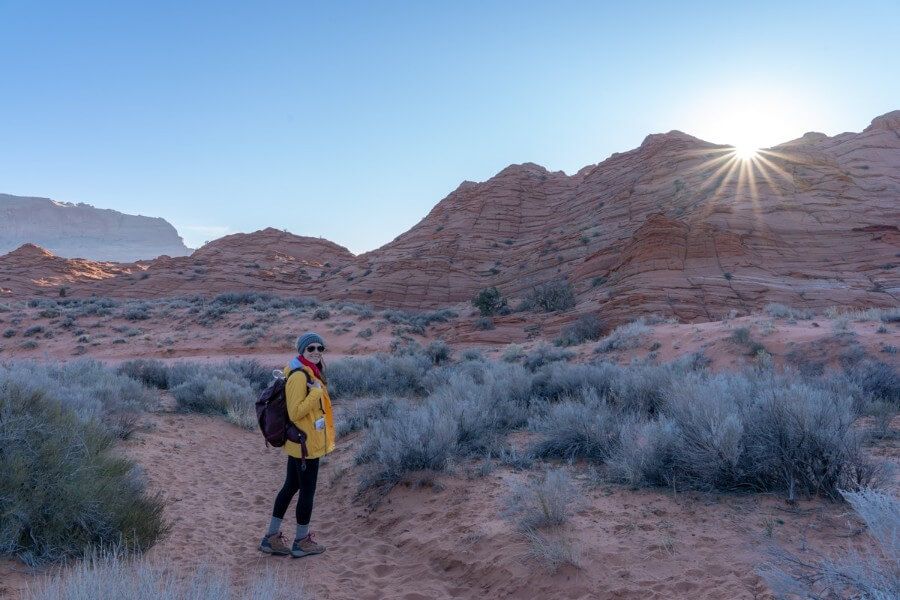 For over half a mile you will gradually descend through a picturesque sage field with soft sand underfoot. The trail is easy to follow and you can always look for footprints in the sand for reassurance.
You will see a shallow ridge ahead, which is higher on the right side and lower on the left side. Keep the left central side of the ridge in mind as that is where you will cross over.
At the end of the sage field you will enter another dry bed wash. Walk straight over the wash and find the most gradual rock face of The Saddle to pass through.
Aim For Twin Buttes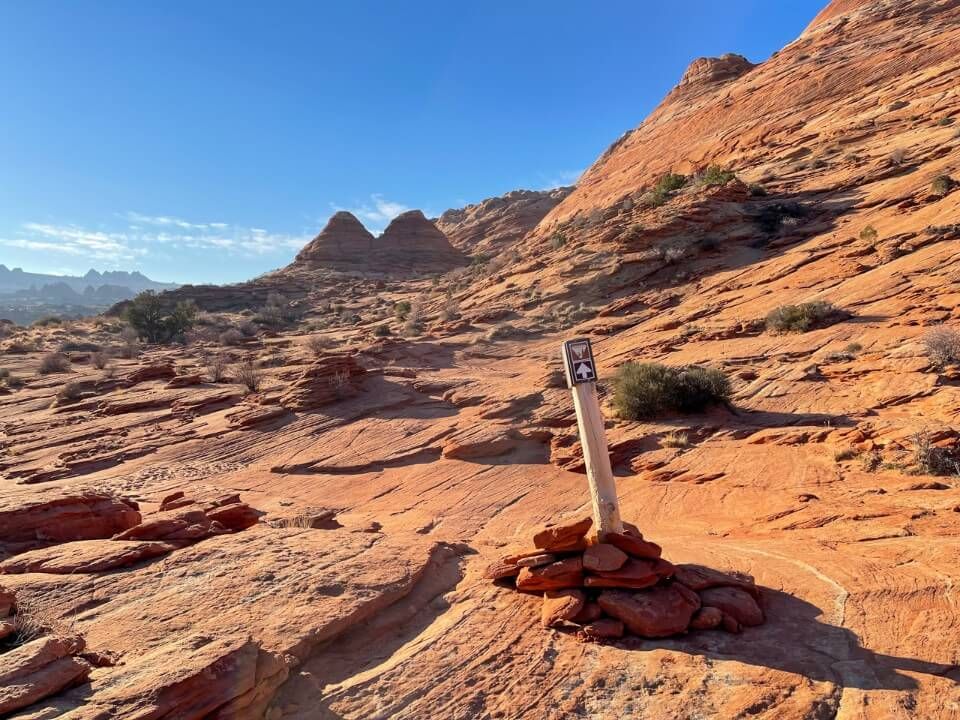 From The Saddle onward you are in permit only Coyote Buttes North wilderness area.
Head due South and aim for the very obvious Twin Buttes formation. You can't miss the two pointed domes and you are now walking exclusively on slanted slick rock.
These angled rocks could be treacherous under icy conditions and you may need to navigate to flatter areas.
You will notice there are cairns dotted around, and the BLM inform you that they may or may not be correctly positioned. Use your paper map for navigation and plot your position via pins on your offline map.
There is a small signpost with direction pointing to the right as you hike in case you need a hand. Then there are a further two sign markers directing you straight ahead so that Twin Buttes are entirely unmistakable.
Pass Twin Buttes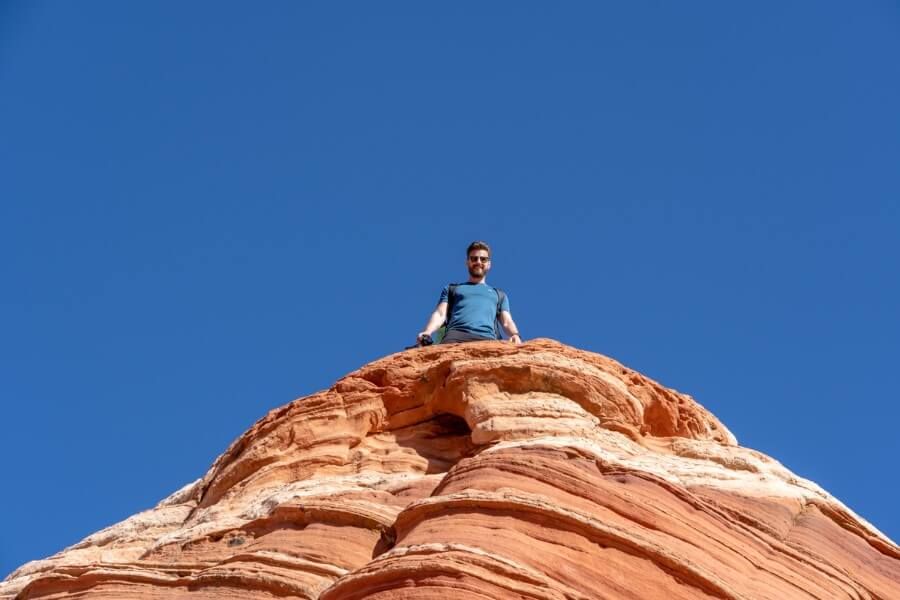 After around a third of a mile you will reach Twin Buttes. Heads up, you are permitted (by the BLM) to climb up either of the Twin Buttes, which Mark duly obliged.
You can either go around to the left side (East) which is more gradual or climb the steeper bank to the right side (West). The paper map directions suggest right.
We took the right so we could get closer to the Buttes but it really doesn't matter which way you go.
Aim For The Crack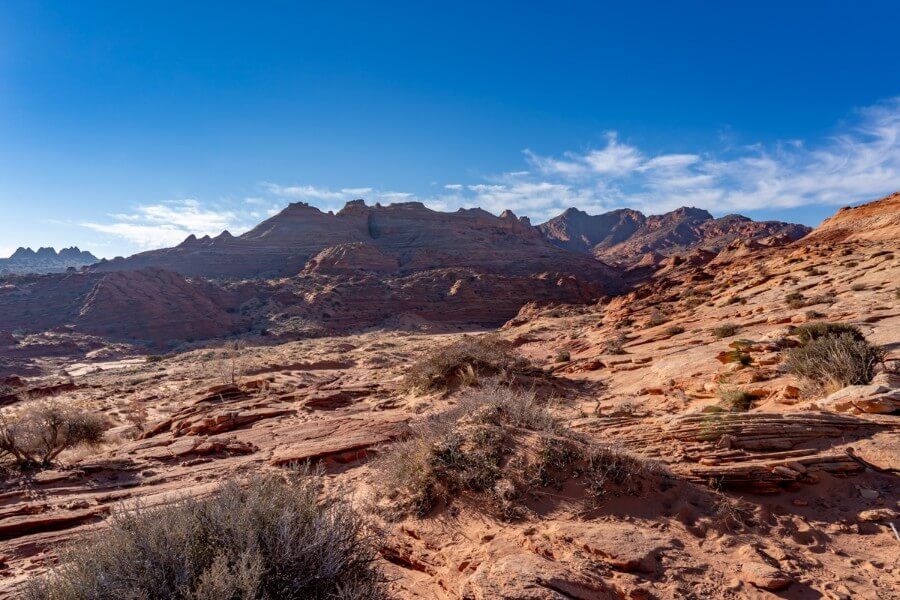 For the next three quarters of a mile you will head due South, aiming for a significant crack at the top of an enormous formation directly ahead.
It looks like a giant hole and will be deep in shadow, so you really can't go wrong here.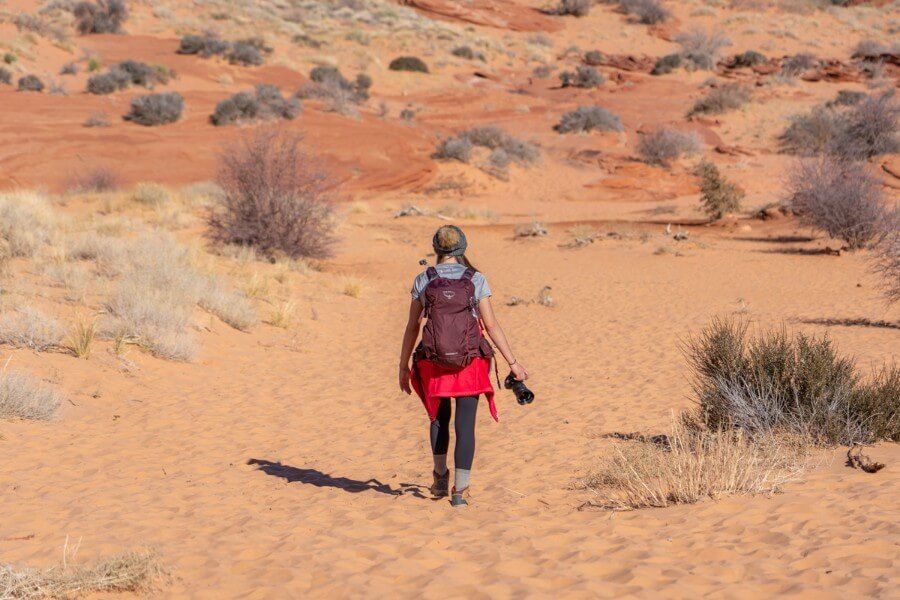 This part of the trail flattens on slick rock and certain sections of the trail transition into sand.
The going can be tough on the deeper sandy areas and by now you will be starting to warm up as the sun gets higher in the sky, you are exerting yourself and excitement rises as you approach the grand finale.
Steep Climb Up A Sand Dune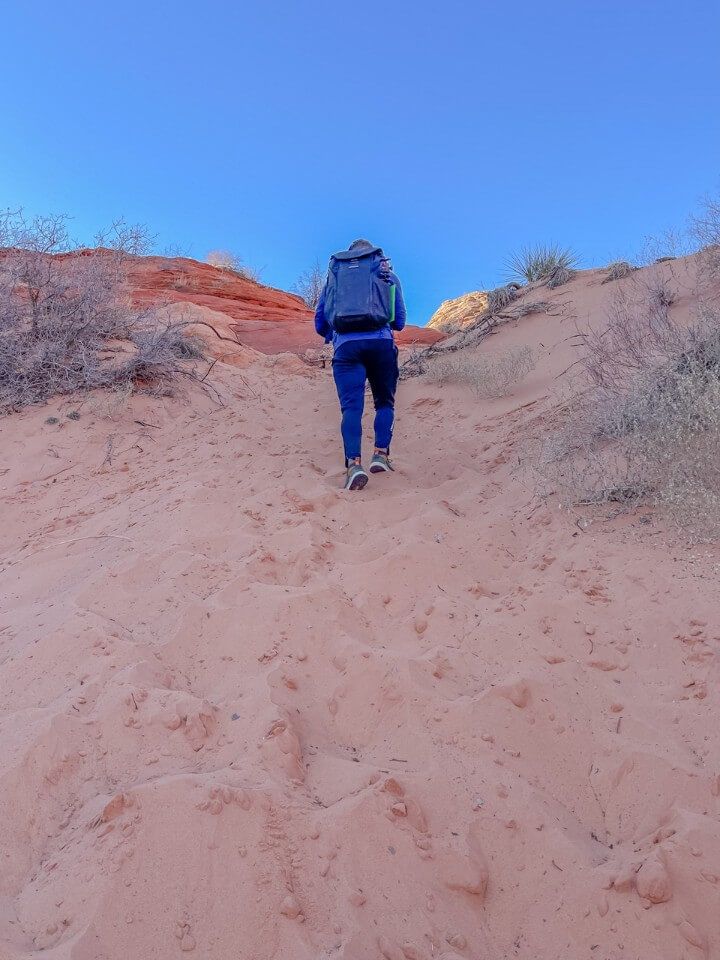 You will descend a gradual sandy decline in the trail before crossing over the final dry bed wash on the hike. At the far side of the wash, follow an obvious sand path while keeping the crack ahead.
Where the sand meets rock, look for a steep sandy path leading up to the right side. This is one of the more challenging sections of hiking to The Wave, but it is short and will be over in no time.
Once you summit this small hill, you are just a few steps away from having your mind blown.
The Wave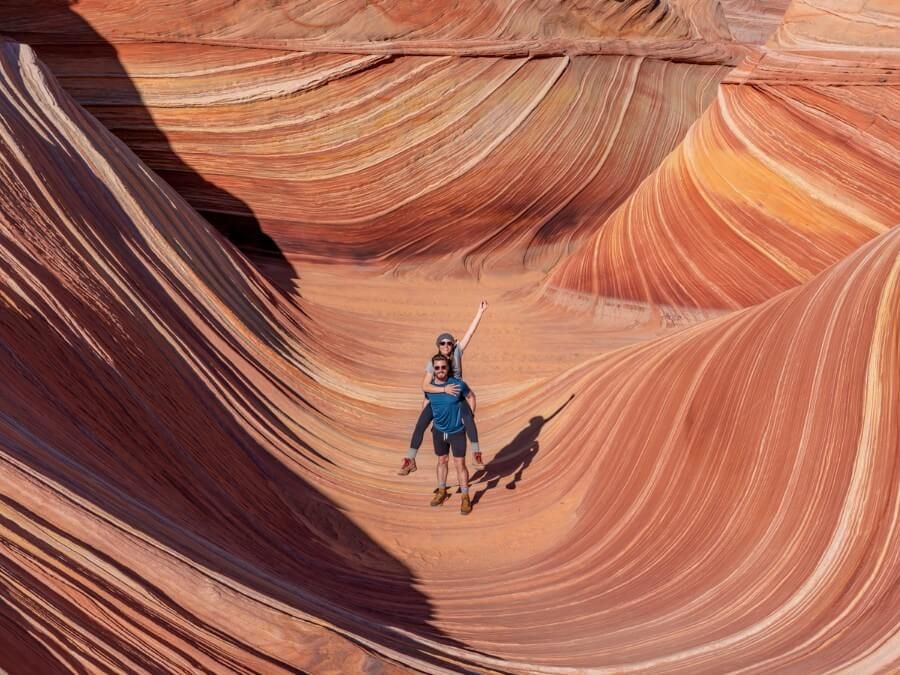 A colorful rock face appears into view right ahead of you as you summit. Follow the rock to the right and you can see an opening maybe 100 feet away.
Enter the opening from the North and you are now inside one arm of The Wave. You will instantly be met by otherworldly patterns, swirls and perfect layers of colorful rock formations.
There may or may not be a pool of water when you enter The Wave. The day we hiked in December just a shallow and small pool remained but we have seen photos without water and with far more water.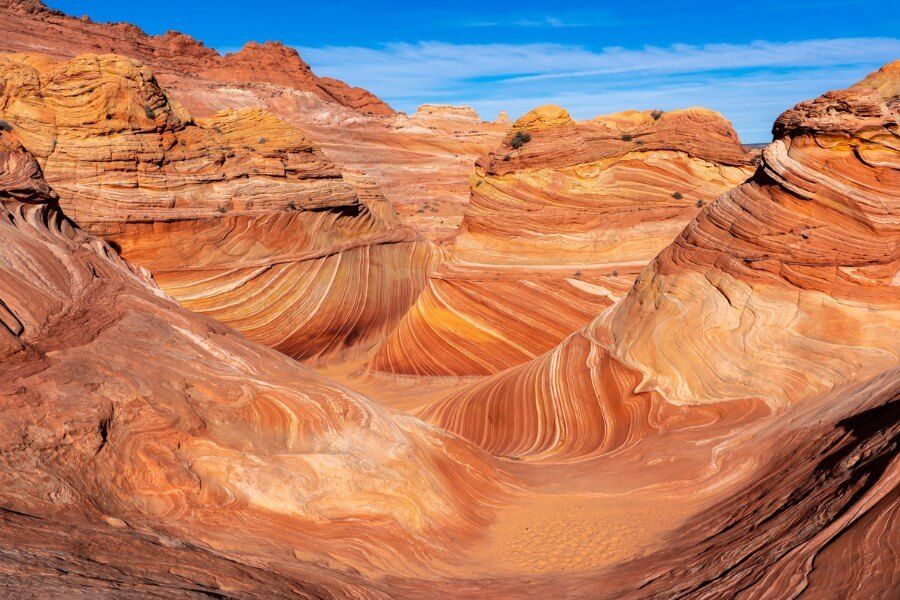 Pass by the water and look to the right for a narrow passage with staggering patterns, then to the left to see the main chamber of The Wave.
Explore and take as many photos as you can, especially if there are very few or even no other hikers around yet.
The Wave is even more remarkable in person, to a point where it is almost hard to fathom how this geologic wonder could look this way.
And you immediately understand why this permit is so competitive.
The Second Wave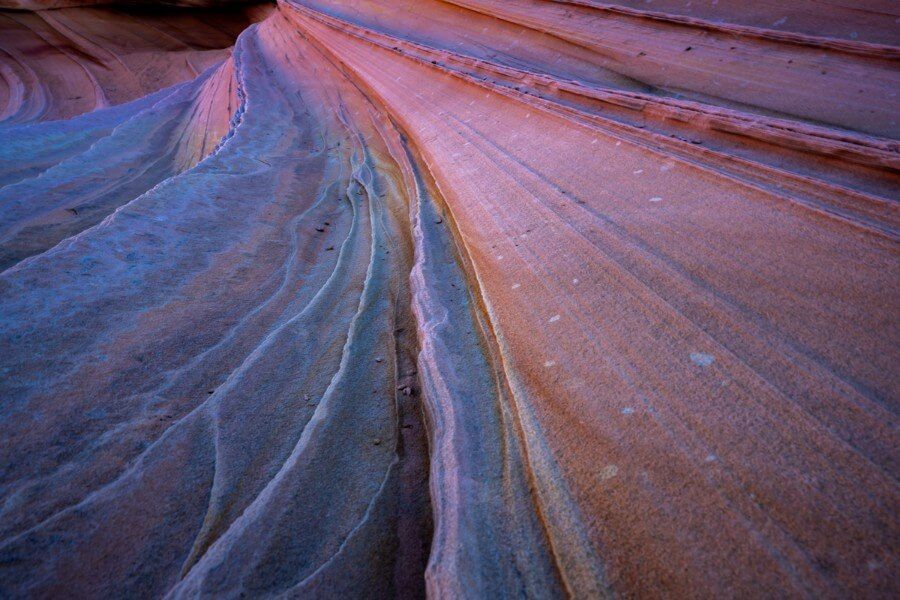 Coyote Buttes North in Northern Arizona is famous because of The Wave, but there are so many other special formations to uncover in the immediate area.
We would recommend you start at The Wave, explore a little and come back to The Wave for different lighting. In the meantime, head up behind The Wave to the South and start walking Southwest.
Around 700 feet to the Southwest you will find The Second Wave, which is not as iconic in nature as The Wave but it is equally as spectacular in its own way.
Look for exquisitely detailed and smooth lines, with deep hues covering the entire color spectrum. This entire area around The Second Wave is gorgeous and it will be much quieter vs The Wave.
Climb Higher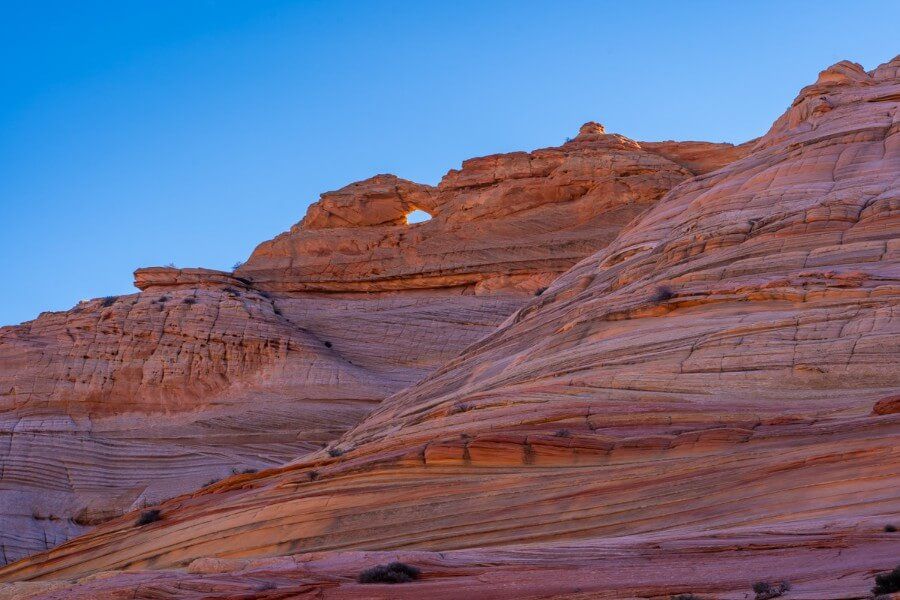 Experienced hikers can consider climbing and scrambling higher above The Second Wave to see more stunning features and formations:
Top Rock Arch – Natural window arch that you can see from down inside The Wave.
The Alcove – Horseshoe shaped bowl formation and a wonderful photo opportunity.
Hourglass Rock – Fun formation shaped almost exactly like an hourglass with sand pouring.
Melody Arch – Highest formation to find, stunning narrow arch and window together.
South Teepees – Collection of smooth domes but quite a bit further beyond other formations.
Dinosaur Tracks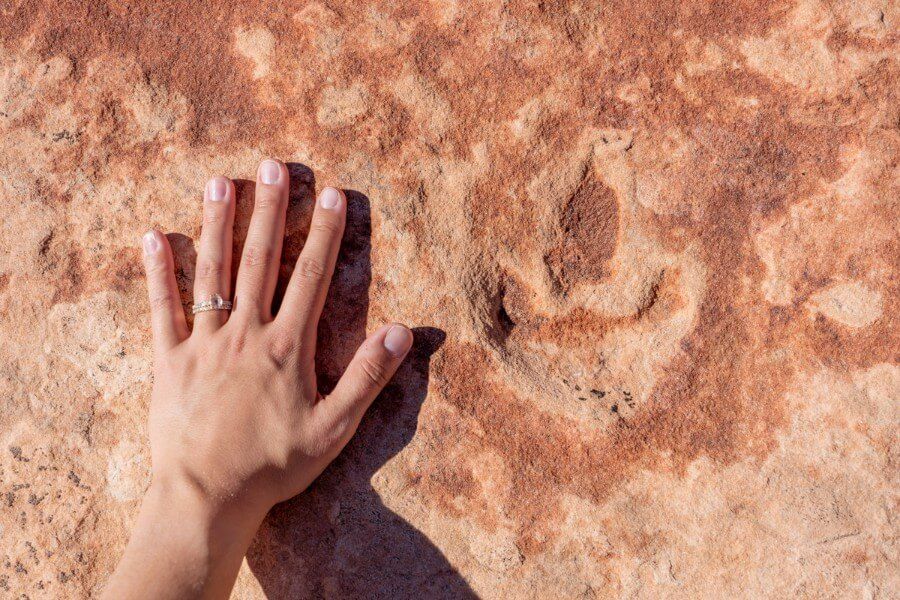 After The Wave and The Second Wave, most will hike back down the same sand dune used as an approach and go hunting dinosaur tracks.
Once you're at the bottom of the sand dune, turn left on a West heading and aim for the obvious horizontal red and white layers in the sloped rocks ahead.
You'll need to climb up a fair way to reach the layer so keep going until it becomes obvious you have reached the layer. Turn left and follow the layer Southwest as you scan the rocks for dinosaur prints.
You will find them, and once you do, make sure you snap a photo of your own hand next to the dinosaur track.
If you are using GPS coordinates, use 36° 59′ 57.3″ North, 112° 00′ 35.6″ West (source) to find clear prints.
Boneyard And Sand Cove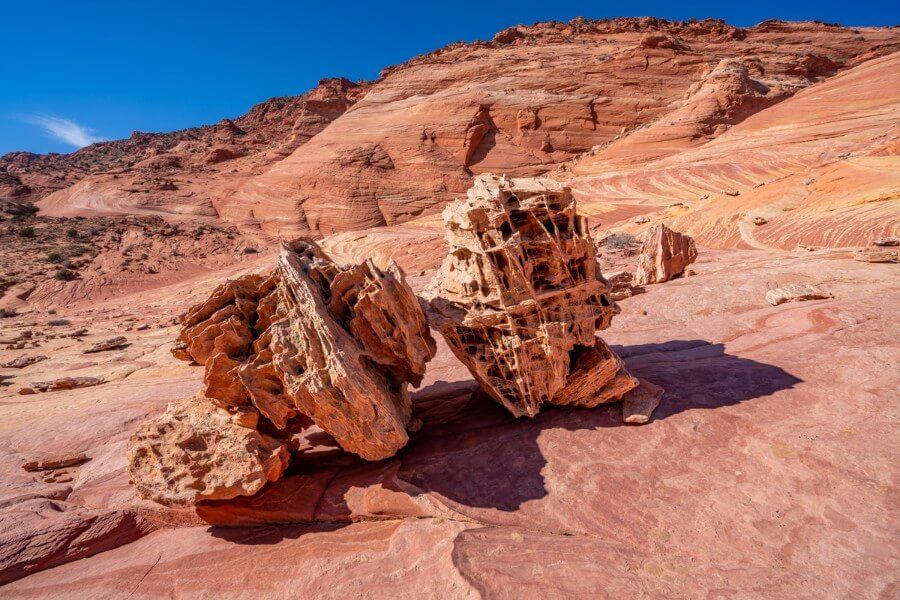 Keep heading South for another 0.3 miles until you reach The Boneyard, which is also called Fatali's Boneyard after the photographer who named it after himself.
You will know you have arrived when the area opens up and you can see striped lines in brown and yellow. Look for box or lace rocks scattered throughout the Boneyard. The rocks are incredibly fragile and should not be touched.
Instead, find some intriguing box rocks and line them up with stripes for yet more awesome photos.
An extra optional area to explore is Sand Cove, which is very close to The Boneyard but requires crossing uneven surfaces and larger rocks.
If you make it down to Sand Cove, you can enter what is like a slot canyon and head North until you end up back at the Wash which leads up to The Wave.
The Way Back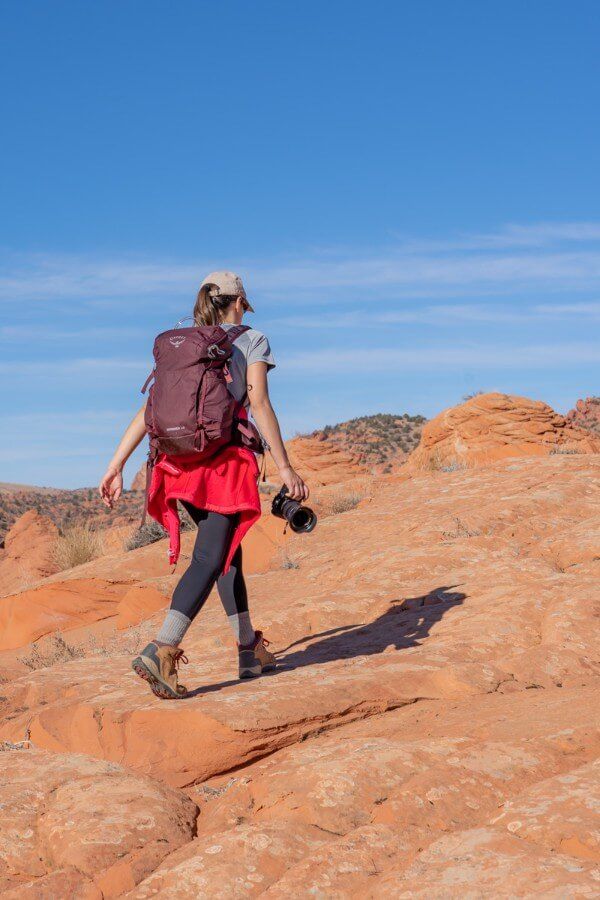 Navigating back to the trailhead is easy. You will remember the route you followed on the way in, and likely won't need to consult your paper map.
If you're hiking alone, don't meet any other hikers at The Wave and know you are terrible with directions, plot your points along the route in so you can just aim for your pins on the way out.
We met 3 other hikers at The Wave and spent the rest of the day exploring together before walking back to the trailhead as a group of 5, which made our overall experience more enjoyable.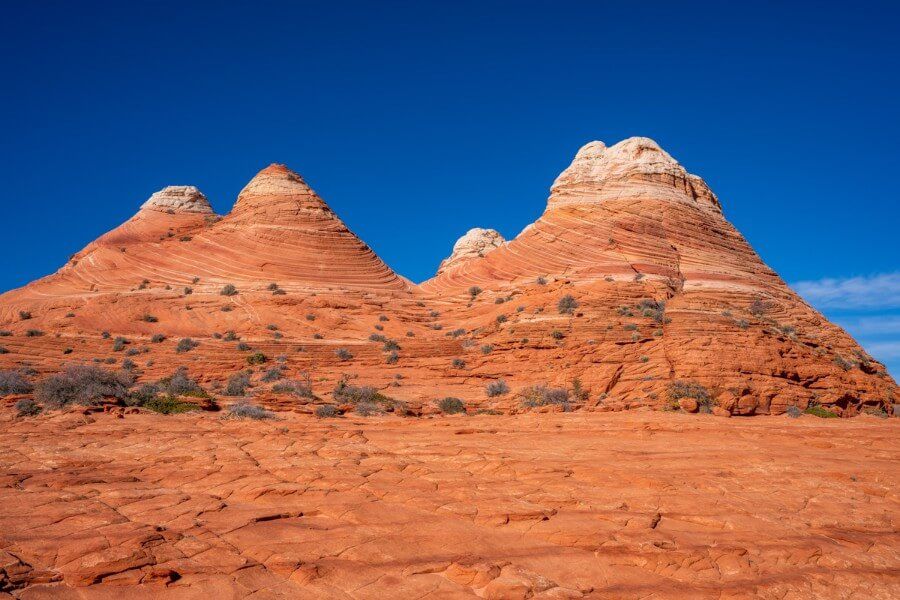 Just stick to the same landmarks and you'll breeze back to Wire Pass. You will also appreciate the topography of each section of the hike on the return leg now that you're not tunnel visioned on getting to The Wave.
One thing to bear in mind is higher temperatures of late afternoon. Remember to reapply sunscreen, cover up and drink loads of water on the way back.
Don't forget to sign the register and mark your return time so a search and rescue party is not sent out looking for your group!
How To Photograph The Wave In Arizona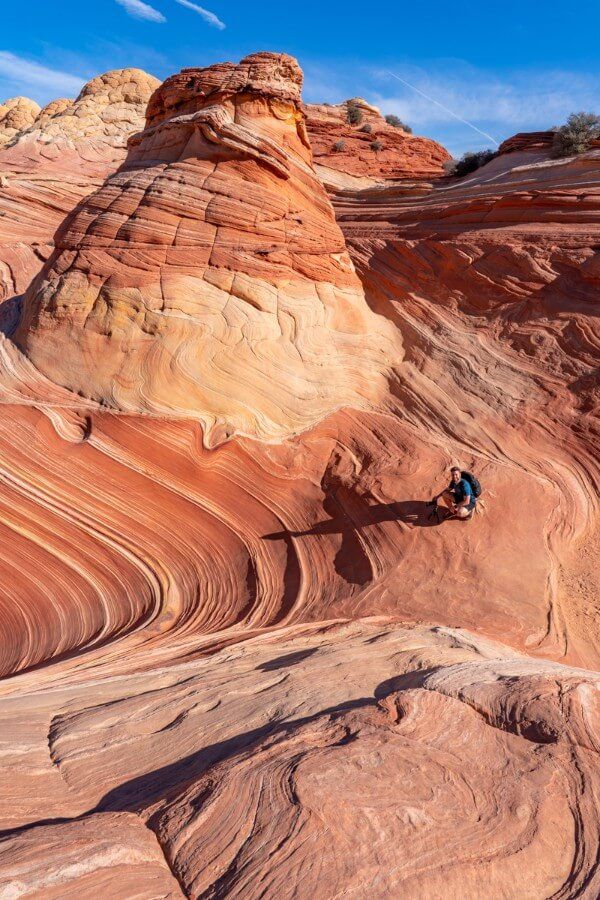 The Wave and surrounding formations showcase one of the most photogenic landscapes on the planet. Leading lines, patters, swirls, domes, reflections, sun and shadows will all play a major role in photography of The Wave.
Professional photographers will be applying for Wave permits by the dozen each day for a chance to capture unique frames and exposures of this remarkably stunning sandstone topography in Northern Arizona.
Are you visiting The Wave primarily for photography?
If the hike is secondary and your sole purpose is walking out of Vermilion Cliffs with print worthy images, there are a few things you need to know:
Shape Of The Wave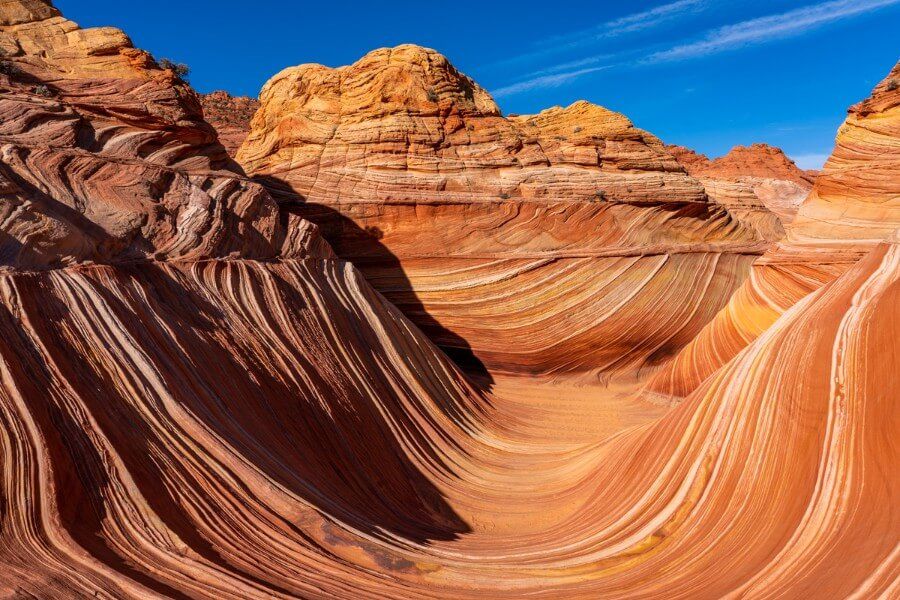 The first thing to figure out is orientation of The Wave when you arrive.
Imagine the shape of a capital Y flipped upside down (like a Mercedes-Benz symbol). The Wave is shaped exactly like this.
North arm – You will first enter The Wave at the end of your hike directly into the North arm of the upside down Y. This is where you will find the famous shallow pool of water for reflection shots.
Southeast arm – The iconic photo of the Wave is from the Southeast facing Northwest through the curving formation.
Southwest arm – This is the narrowest of the 3 arms, but it provides intense reflected light once the sun fills The Wave.
For reference, the photo above was taken from the Southeast, looking Northwest through the main part of The Wave.
At the end, a right turn would take you North and back to the trail. A left turn at the end is through the narrow slot canyon like Southwest arm and leads to The Second Wave.
Reflections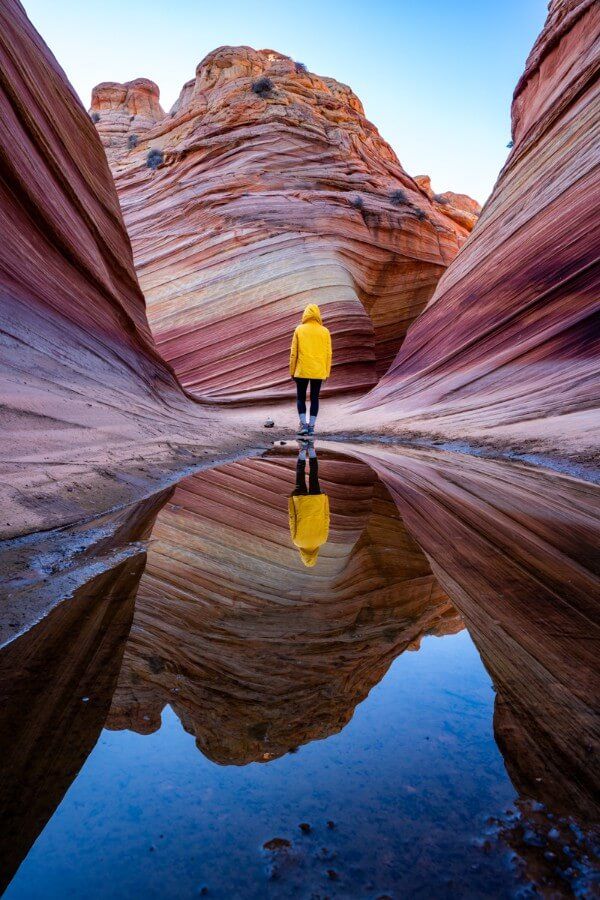 There are two specific areas in which you can shoot pristine reflection photos around The Wave. One inside The Wave and one to the South side at a higher elevation.
If you arrive early enough before the sun gets up too high and too far round from the East to the South, you can capture photos of the pool inside The Wave without any shadows in the background or on either flanking wall.
As you can see in the photos above, we just about made it in time before the sun kissed the upper section of the formation behind us.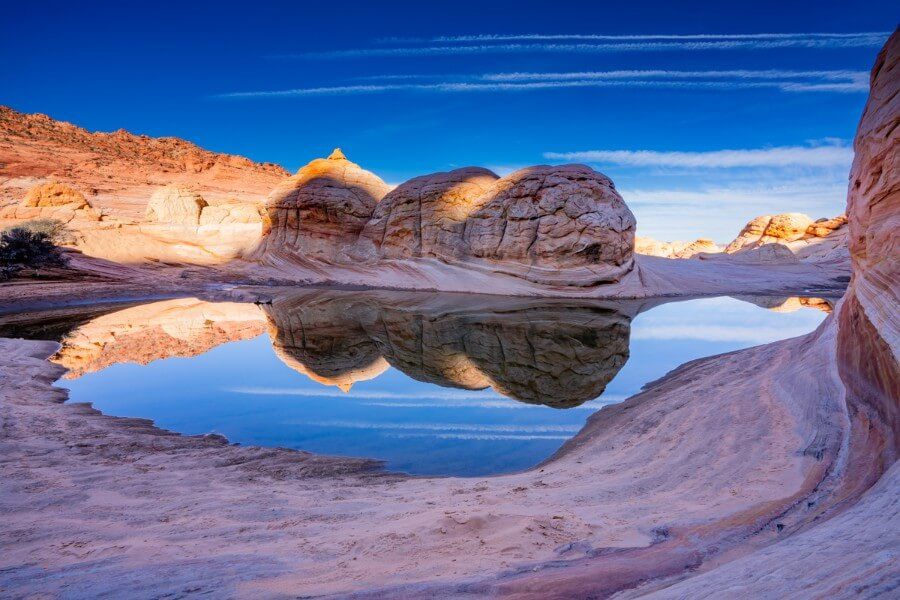 Don't miss the other reflection (if there is water during your visit) behind The Wave. On the way over to The Second Wave, look for a pool of water surrounded by swirling patterns.
Set up your frame so you can use three small domes in a line reflecting in the pool. Sunlight is going to be a problem with shadows later in the morning.
Shadows And Sun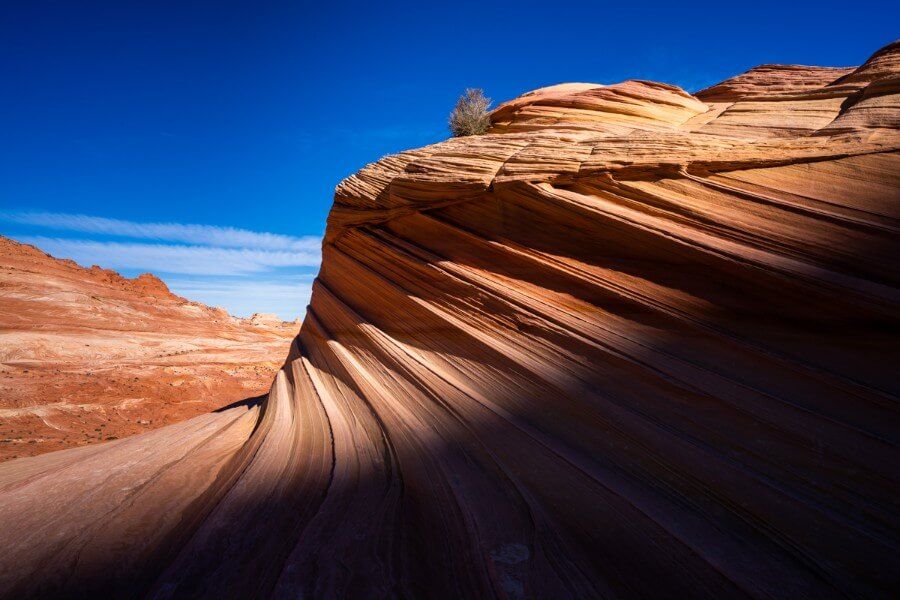 The most important aspect to consider when photographing The Wave is light and shadows, both of which are abundant and will make or break your exposures.
It is not possible to be in each of the best photo locations at the optimal time of day. All of the popular photo spots in Coyote Buttes North will also phase in and out of shadow, including The Wave.
The best time to avoid shadows for the iconic Wave photo is around mid-morning as the sun is Southeast in the sky and directly filling The Wave with light.
Right after sunrise the North wall of The Wave will start to lightly shadow, and around noon the South wall of The Wave will be covered in a layer of deep shadow like in the photo above.
Nearby Formations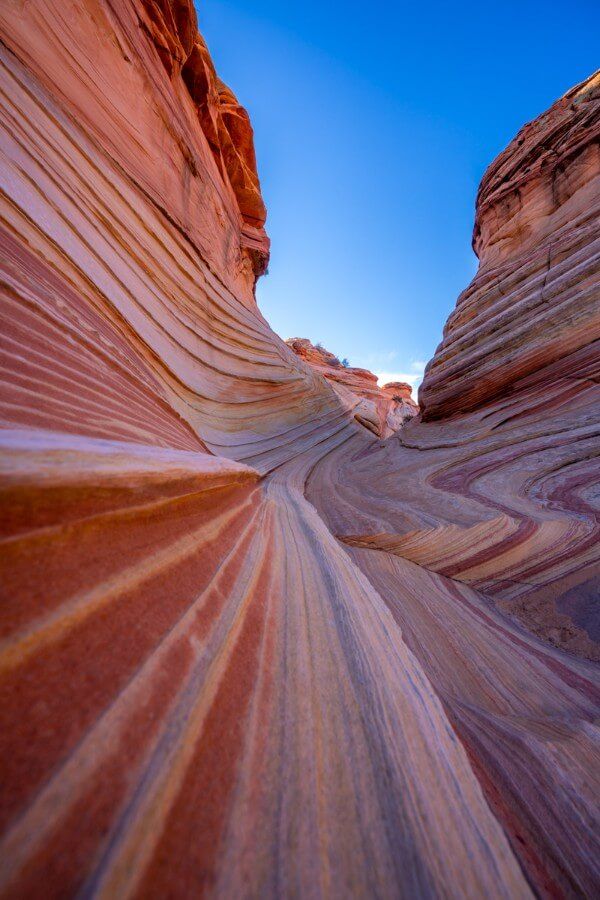 As mentioned above in the walkthrough, The Wave is just one part of the beauty found in Coyote Buttes North. Don't make your photography shoot all about The Wave, save a little space on your sim cards for other areas.
We have to say The Wave was a hundred times better than we hoped after seeing photos, but the areas around were a thousand times better because we had no expectations.
Second Wave is spectacular with sweeping and slightly curving lines of sand layers, vibrant colors and endless framing opportunities.
If you're a strong hiker you can climb up to the arches and viewpoints to create wide angle panoramas and starbursts with the sun through arches.
Don't forget dinosaur tracks and Fatali's Boneyard.
Hikers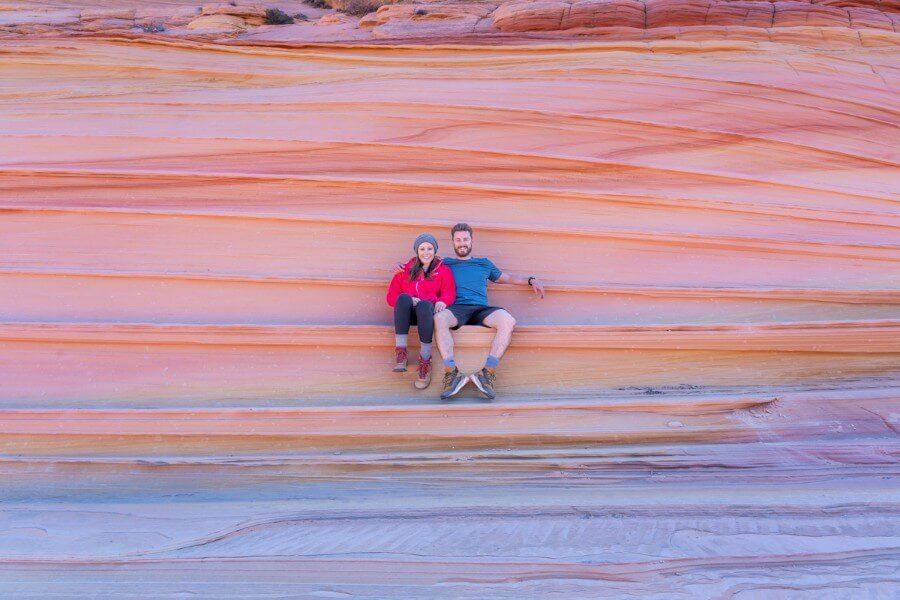 You can control where you set up and your camera settings, but you can't control weather or other hikers getting in your frames.
Weather aside, the good news is that only a maximum of 63 other hikers are going to be visiting The Wave on the same day as you. But most will arrive around mid morning, right when The Wave is at its prime for exposing.
The day we hiked to The Wave, everyone was incredibly courteous and respectful of one another, which allowed all of the photographers to shoot person-free photos of The Wave.
But we have heard stories of others not being so accommodating. Be prepared to share The Wave with others and hopefully everyone will behave well!
Sunset and Stars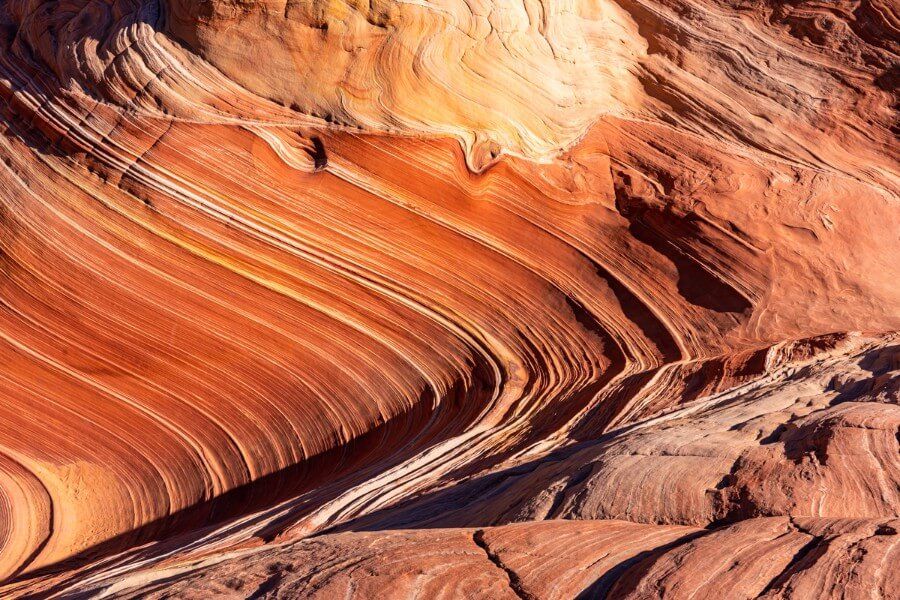 If you want to avoid the crowds and take home a completely different perspective of The Wave in Arizona, hike out around late afternoon and shoot the whole area at sunset, then stay out for astrophotography.
We wouldn't recommend this if it is your first visit to The Wave, but we would probably do exactly this if we were to win another permit to hike The Wave.
June and July would be the best months to shoot astrophotography at The Wave. The Milky Way would stretch across the sky and the temperature would be comfortable at night.
Best Time To Visit The Wave In Arizona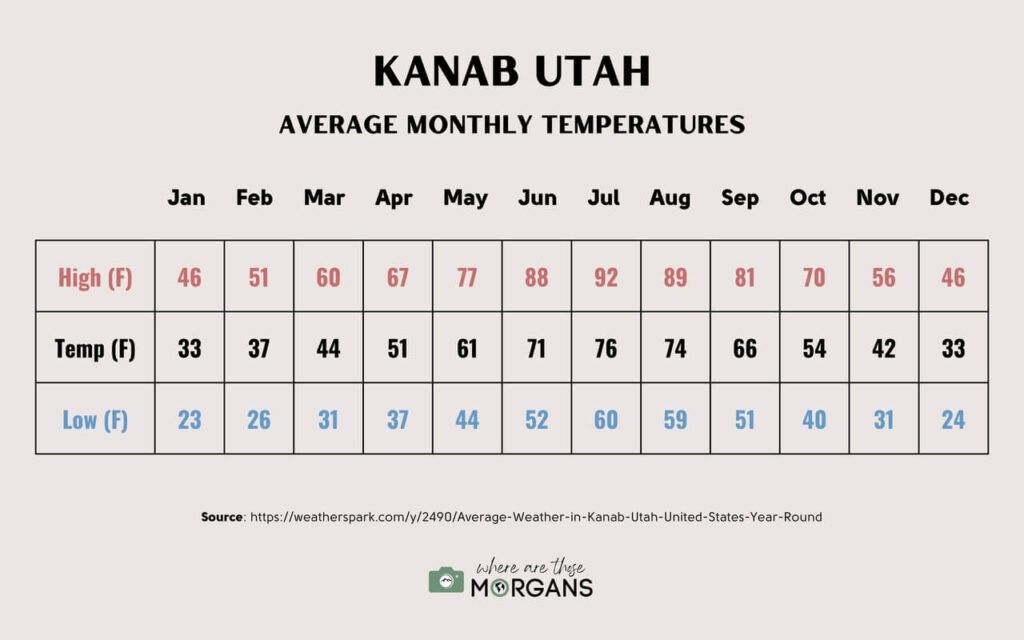 When is the best time to visit The Wave? Well, we think the 'best' time is any time you are fortunate enough to win a permit.
Two things you can do to help with choosing when to apply:
Look at the annual temperature chart for nearby Kanab Utah above and study the conditions.
Check recent comments from hikers on AllTrails to see what people are saying about conditions in each month of the year.
Here are some important things to know about hiking The Wave in different months of the year:
Hiking The Wave Arizona In Spring And Fall
March, April, May, September, October and November are arguably the best time to hike The Wave for the most comfortable hiking temperatures, and less chance of cloud cover and rain.
However, Spring does have the highest wind speeds in the American Southwest, which is something to consider because sand can whip up and cover some of the stunning patterns found around The Wave.
April, May, September and October are the hardest months of the year to win permits as the demand is highest.
Hiking The Wave Arizona In Summer
The Summer months of July and August are the two hottest months of the year in the US Southwest, and soaring temperatures can create dangerous conditions.
With that said, far fewer people are applying for permits at this time of year, which means you have a higher percentage chance of winning.
We highly recommend you hike The Wave as early as possible in the morning if you do go in July or August. Set off on the hike close to sunrise and be back before noon.
June could be an excellent month because it is right before temperatures get out of control. You would have the longest daylight hours of the day and the northern hemisphere Milky Way will cover the night sky, perfect for astrophotography.
Hiking The Wave Arizona In Winter
We hiked The Wave in December and had a beautifully sunny day. It started out relatively chilly but soon warmed up and by 10am, it was easily warm enough for shorts and t-shirts.
You will stand the best chance of winning a permit to hike The Wave in the Winter months of December, January and February due to lower demand.
However, lower is relative. There are still a huge amount of applications, just not as many as Spring, Summer or Fall.
Ice and snow can be problematic in Winter, but those days are rare. White out days will mean you can't see the special landscape and it could ruin the experience.
Icy conditions on slick rock could also result in certain sections of the hike ending up like waterslides. Exercise extreme caution if you hike on a day with ice.
The Wave sits at an altitude of 5,225 feet, which means mornings, evenings and nights can become very cold.
We highly recommend hiking in Winter if the weather is fine, speaking from personal experience.
What To Pack For Hiking The Wave In Arizona
Packing shouldn't be too much of an issue for hiking to The Wave in Arizona and it will be completely weather dependent. You can hike with a small daypack as long as you have enough room for plenty of water.
Here's what you can consider packing:
Water – Guidelines are 2 -3 liters per person, but that depends on time of year. We took 2 liters each in December and it was ample. In Summer, you will need more than 3 liters per person.
Food – You'll be hiking for around 4 hours and it's another hour to Kanab or Page. You will need to take snacks and maybe even a sandwich or equivalent for refueling.
Sun – In Summer you're going to need sunscreen, sun hats and maybe even light long layers for sun protection. Sunglasses are recommended year round.
Layers – Conversely in Winter, you will need to wear layers and leave room in your backpack to put those layers once it warms.
Toilet paper – Remember this is a pack in pack out wilderness area. Nobody wants to see any surprises along the trail.
Map – Don't forget your map with directions, your smartphone fully charged with downloaded offline map for backup.
Camera – The Wave is one of the most visually spectacular landscapes you will see, so this is the time to make sure you have a fully charged camera with space on your sim card.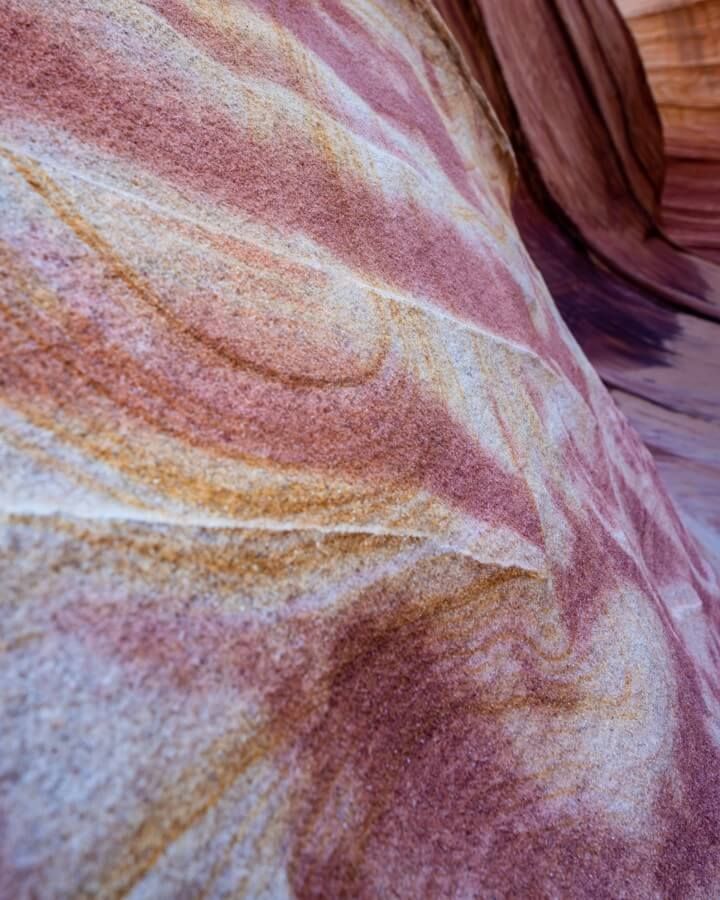 Where To Stay When Hiking The Wave
Kanab in Utah and Page in Arizona are equidistant from Wire Pass trailhead, and with the March 2022 updates you can be anywhere within the geofenced area to apply for daily lottery permits, so you have more control and flexibility over where to stay for hiking The Wave.
We personally stayed in Kanab for 2 nights and enjoyed the chilled vibe in the quiet city. After hiking The Wave we continued onto Page for a night, but that was our second stay in Page.
Both places offer surprisingly affordable hotel rooms.
Personally, we prefer the atmosphere, hotels and restaurants in Kanab.
We think Kanab is one of the best places to visit in Utah because of the many fun things to do nearby, including hiking The Wave into Arizona.
Top rated hotels in Kanab, Utah
Budget
Mid Range
Luxury
Click on each hotel to see prices for the nights you will be visiting Kanab.
It works more efficiently to stay in Kanab before hiking The Wave if you are working down from Zion to Grand Canyon on a longer USA road trip through Utah and Arizona.
Want to see the top Kanab hotels?

Read our complete guide to the 12 best hotels in Kanab Utah to see a detailed roundup of your top rated cheap, mid range and luxury hotel options.
Top rated hotels in Page, Arizona
Budget
Mid Range
Luxury
Want to see the top Page hotels?

Read our complete guide to the 10 best hotels in Page AZ to see a detailed roundup of your top rated cheap, mid range and luxury hotel options.
Our advice is to check prices of every hotel in each category because hotel prices in Page fluctuate significantly and there are often deals on certain hotels at different times.
Page works better if traveling from Grand Canyon up towards Zion and Bryce Canyon. Or stay here after leaving Kanab and hiking The Wave.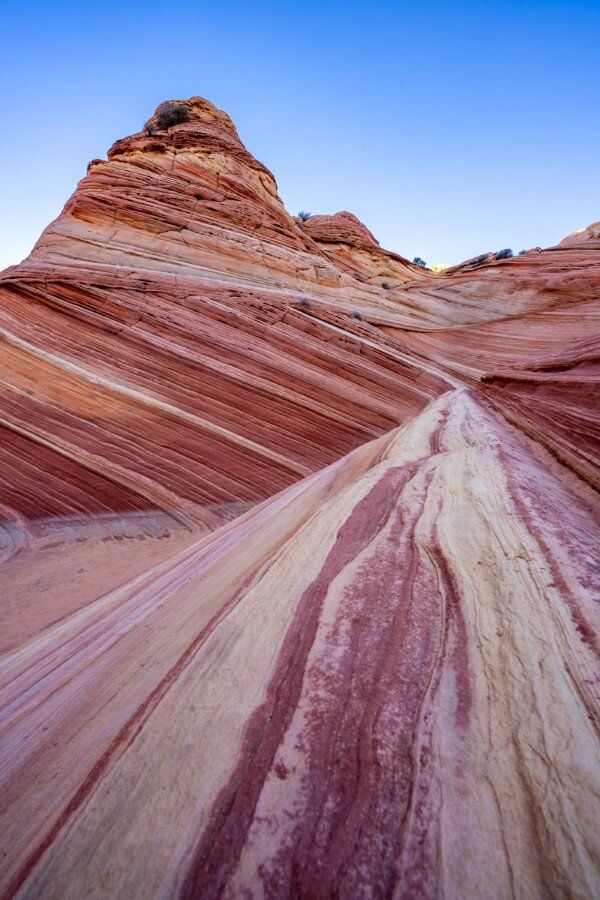 FAQ's
Let's take a quick look at some of the questions people have about The Wave that we haven't yet covered:
Can You See The Wave In Arizona Without Hiking?
Unfortunately for those less able, you can't see The Wave without hiking. It is a minimum of 6 miles roundtrip hiking to reach The Wave and there are relatively challenging sections requiring good physical condition.
Are Dogs Allowed To The Wave?
Dogs are allowed to hike The Wave and do not count against the quota of 64 daily permits but they must be included on your permit and you will pay an additional $7.
Be sure to follow basic dog owner principles, such as keeping your dog on leash and picking up after his or her business. The Wave is incredibly well preserved so don't forget your bags!
Do You Need A Guide To Hike The Wave?
We didn't personally hire a guide for The Wave so we can't comment on whether it worth paying for or not. However, there are options for anyone who wins an advanced permit and feels like they don't want the stress of planning.
Finding The Wave isn't the issue or reason for hiring a guide.
But accessing the trailhead in bad weather or wanting to see all of the best parts around The Wave would be valid reasons for the expense involved.
Here's a link to a page with contact information about various tour operators you can use as guides.
Is The Wave In Utah Or Arizona
The Wave is located in Northern Arizona, but Wire Pass trailhead is located in Southern Utah. You will cross the border into Arizona around 85% of the way into your hike, which is moments before the iconic formations begin.
Hiking the Wave is certainly one of the best things to do in Arizona. Utah missed a trick with this one!
What Is The Difference Between Coyote Buttes North And South?
Coyote Buttes North (The Wave) and Coyote Buttes South (NOT The Wave) are two entirely different parts of the Vermilion Cliffs in Northern Arizona, with different entrance points and each requiring its own permit, despite being located close to one another.
If you climb up high enough when hiking around The Wave, you might be able to see parts of Coyote Buttes South on a clear day.
South is made up of a larger area of those spectacular domes, spirals, swirls and colors but without the intense permit process. Only 20 permits are handed out each day for South, but there are significantly fewer people applying.
North Coyote Buttes is more famous because of The Wave but the South has its own special formations, which would definitely be worth visiting on a second trip to the area.
What Type Of Rock Is The Wave Made From?
The quintessential red rock formations found throughout The Wave and Vermilion Cliffs National Monument in Arizona are from Navajo sandstone.
But the stunning layers you really care about were – in a simplified version – created from various types of sand being blown into the same area over millennia and solidifying under rainfall.
Hiking The Wave In Arizona Pros and Cons
Pros:
One of the most incredible hiking climaxes in the world
Very few hikers each day adds to the 'lost world' feel
Plenty of parking at the trailhead
Kanab and Page are both within an hours drive
Cons:
Extremely competitive permit process

Road into the trailhead can be impassable during bad weather

Completely open and exposed the elements with little to no shade
We usually comment on 4 pros and cons but there are no more cons!
What Else Is Nearby?
More Hiking
---
We hope this guide to hiking The Wave in Arizona helps with planning your visit to the American Southwest!
Please let us know if you have any questions about hiking The Wave, or planning your visit to Arizona and Utah in the comments below.
Happy Hiking,
Mark and Kristen
Was This Post Helpful? Pin It For Your Hike!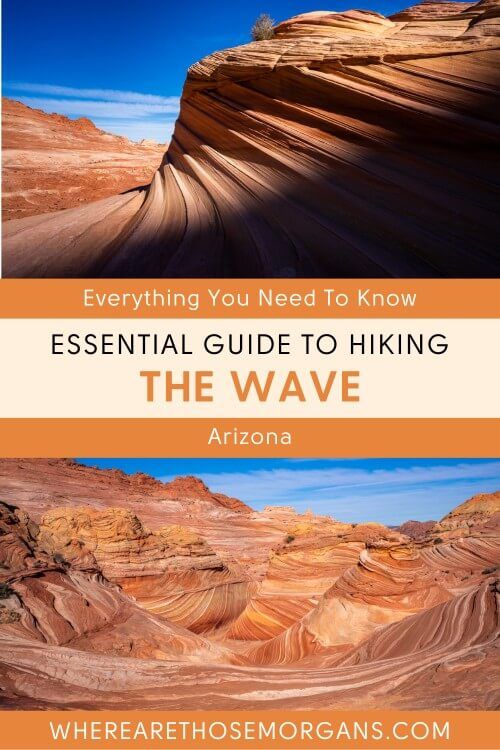 Note: This article contains affiliate links. When you make a purchase using one of these affiliate links, we may earn a small commission at no extra cost to you.
All Rights Reserved © Where Are Those Morgans, LLC. Republishing this article and/or any of its contents (text, photography, maps, graphics, etc.) in whole or in part is strictly prohibited.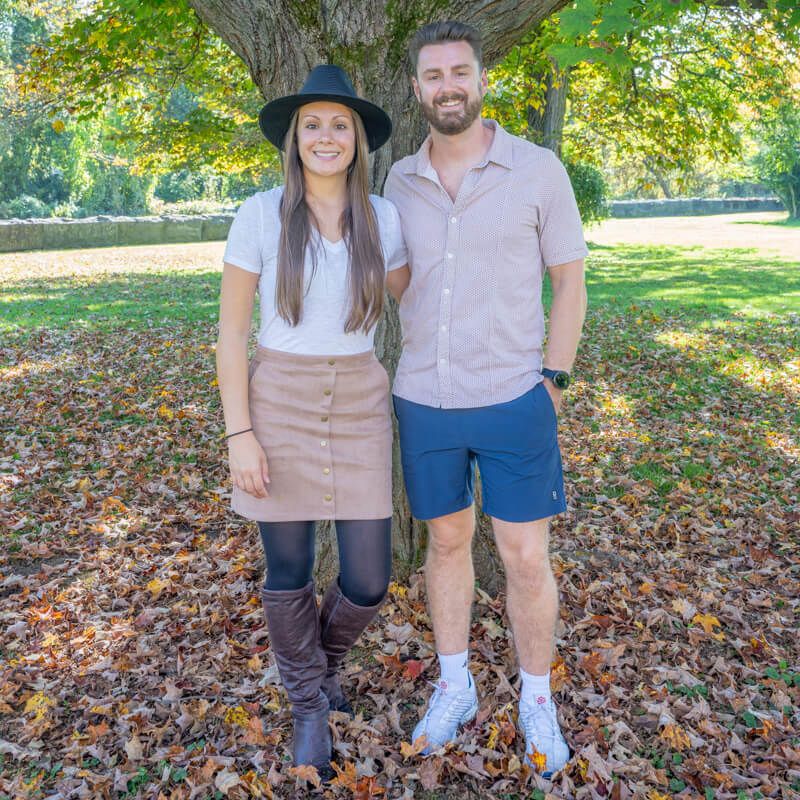 Mark and Kristen Morgan are travel, hiking and photography experts. Over the last 6 years traveling full time, they have explored more than 40 countries and 30 US states.
Their work has been featured in USA Today, Gestalten, Get Your Guide, CityPASS and Condé Nast Traveler along with various other publications.