There are many places in the world you can see leaves turn in Autumn, but they pale in comparison to one famed and celebrated region in the US northeast, where science, nature and climate combine to put on an extraordinary light show each year. We are of course talking about fabled New England and we're going to show you 10 places you can't miss when planning your New England fall foliage road trip, with 5 day itinerary, 7 day itinerary and 10 day itinerary examples included to help you nail down the best possible route for your trip.
We will use our first hand experiences from road tripping New England in Fall to bring you tips, advice and unmissable stops to take on your visit. This is one of those true bucket list USA road trip experiences in which it pays to be organized, plan effectively and make the most of every day.
So, let's get stuck into those 10 unmissable stops and planning your perfect New England fall foliage road trip itinerary!
*Please note this post may contain affiliate links. If you click on one, we may earn a small commission at no extra cost to you!*
The Science Behind Fall Colors
What do we know about the changing of colors to give ourselves the best chance of being in the right place at the right time?
Well, we know that Fall colors peak furthest north and work southward through the latitudes. So for example, the Blue Ridge Parkway in Virginia and North Carolina is gorgeous in Fall, but the colors won't change there until much later in the season.
Also, we know elevation plays an important role in when 'peak' colors will be on display. Colors will change first in mountainous regions of Maine, New Hampshire and Vermont before they do at lower elevations.
But the most important aspects are weather conditions leading into Autumn, and amount of daylight. It all starts way back in Spring! A late Spring or intense Summer drought can potentially delay 'peak' Fall colors by a week or two.
Conditions Affecting Predictions For Peak Fall Colors
In addition to elevation, latitude and weather conditions before Fall, there are more specific conditions that can affect 'peak' Fall once we actually reach Autumn:
Soil moisture levels
Amount of sunlight during the day
Length of night
Day and night temperature (important)
So what would constitute as perfect conditions for the best chance at 'peak' fall colors being their most radiant and predictable?
Wet and warm Spring conditions
Summer without drought or unusually high / low temperatures
Warm Autumn days and cool but not freezing nights
And what causes the colors to change once conditions are right?
Sunlight pumps leaves full of chlorophyll during Spring and Summer. Once daylight wanes in Autumn, so does the amount of chlorophyll.
That leaves room for other pigments in the leaves, such as anthocyanin and carotenoids to shine.
Why Focus On VT, NH, ME and Even NY
The region of New England technically contains 6 states; Connecticut, Rhode Island, Massachusetts, Maine, New Hampshire and Vermont. In Fall, this entire region transforms into an adventure playground for leaf-peeping lovers and passionate photographers.
However, there are three New England states among the six that we feel just have to be prioritized for the very best scenery and most radiant colors; New Hampshire, Maine and in particular Vermont.
But we're also going to throw a curve ball by including a region not technically part of New England (gasp!) … New York's Adirondack Mountains are a stone's throw from the border with Vermont and the colors are just as special.
We want you to see the best places in New England when you take your Fall road trip, but we would prefer you to see the best colors. That means skipping the likes of Boston, Portland and Providence on this particular visit to the northeast.
They're all awesome places and we visited them all on our New England road trip in Fall. But they don't have the colors of rural Vermont and New Hampshire, plus we had days to spare.
Here's why you should focus on the northern parts of New England for a fall foliage road trip:
Vermont
Vermont's rolling hills are overflowing with charming rural towns, barns and covered bridges. But the state is 80% covered in forest and that can only mean one thing – spectacular Fall foliage everywhere you look. Here are the very best places to visit in Vermont.
New Hampshire
New Hampshire mixes excellent hiking options in stunning mountainous areas with staggeringly beautiful Fall foliage colors.
It also has one of the best mini road trip routes in New England during Fall – the Kancamagus Highway.
Maine
Maine is huge. It is much bigger than the other New England states and that means it's hard to fit most of the northern parts in to your road trip. Unless you have more than 2 weeks of course.
However, Acadia National Park is one of the very best places you can visit in all of New England in Fall so if you have the spare time, it's hard to skip.
New York
New York's Adirondack Mountains, including Winter olympic town Lake Placid and its surroundings are beautiful in Autumn. The popular mountainous region is incredibly popular thanks to a host of activities and of course glorious foliage colors.
When Should You Plan Your New England Road Trip For Peak Fall Colors?
It is impossible to plan the perfect 'peak' fall road trip itinerary in New England. You would need to be in many places at the same time for that to be possible. We're not quite there, yet!
Historically, the last 2 weeks of September and the first 2 weeks of October are when the colors change. So that would put October 1st in the middle of that and therefore a 'peak' fall foliage target.
Science tells us that colors change in the North and at elevation first, eventually working South and to lower levels.
We'll get into example itineraries below, but here are some rough dates to use for each itinerary time frame working North to South:
5 Day New England Fall Road Trip – We would suggest aiming for September 29 through October 3.
7 Day New England Fall Road Trip – Add a day either side, so September 28 through October 4.
10 Day New England Fall Road Trip – Add a day before and two after, so September 27 through October 6.
Should You Book Your Trip In Advance?
Here are two scenarios:
You don't book in advance and keep an eye on live fall foliage updates to guarantee hitting peak fall. This also means you have flexibility on bad weather days. However, there are very limited hotels available and those that do have rooms will be more expensive.
You plan and book your whole trip in advance, getting good value in hotels and can relax. But there's a chance you won't time it just right and you will have to deal with whatever weather comes your way.
We can't offer a 'better' solution here because both have pros and cons.
Our trip was mainly booked in advance which meant we spent less but we had to put up with a lot of disappointing rain days, as you will see in the photos below!
Top Tips For Planning Your New England Fall Road Trip Itinerary
Finally, before we jump into the 10 unmissable stops and the New England Fall road trip itineraries, let's have a quick look at some important tips to consider when planning your vacation:
New England is insanely popular in Fall.
Booking accommodation in advance will save you a lot of money.
Carefully plan where you want to spend each night based around hikes and photography.
Start in the North and work South through New England.
Expect frequent rain and clouds in Fall and accept that there's nothing you can do about it!
Always carry loads of water and snacks in the car.
Try to find elevated vantage points as often as possible.
Some of the best and most unique fall photos are along rural country roads.
You need multiple spare batteries for your camera!
You can use a drone in many parts of New England for aerial photography.
Don't worry if you miss 'peak' colors.
Our popular road trip resources:
10 Places You Can't Miss On The Best New England Fall Road Trip
1. Lake Placid, New York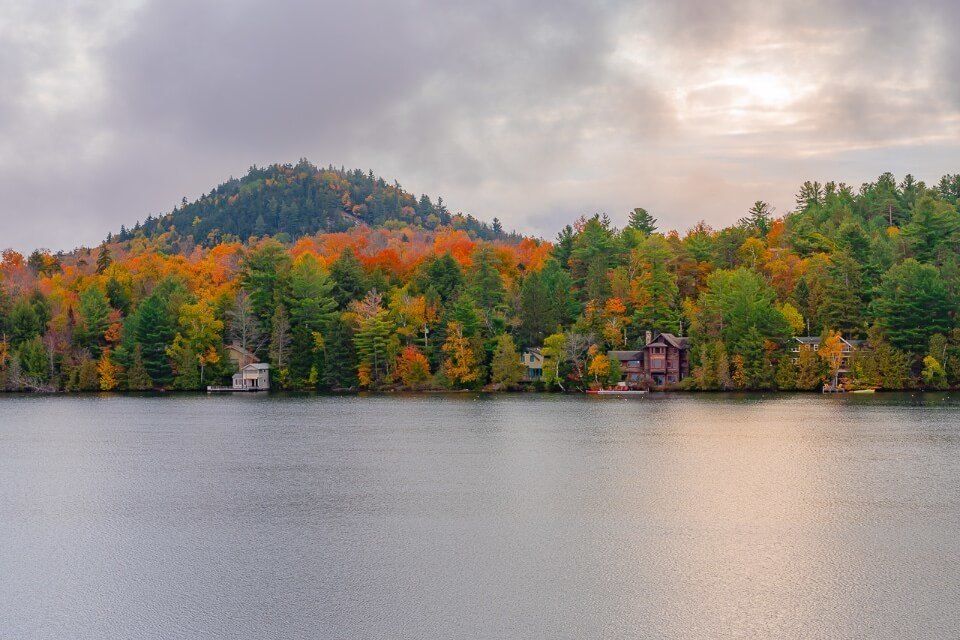 Lake Placid of 1980 Winter Olympics 'Miracle on Ice' fame is located at the heart of New York's revered Adirondack Mountains. It is the perfect base for adventure activities throughout all four seasons, from hiking in Summer to skiing in Winter.
The charming town of Lake Placid is an incredibly popular centralized location for leaf peeping in the Adirondacks. As a result, hotels here are in high demand and not cheap from the end of September until mid October. We know from experience when our bank balance took a mighty hit!
Walk around Mirror Lake in town for the easiest way to soak up gorgeous fall colors. If you have time and enjoy challenging hikes, you can't miss Mount Marcy. It isn't the prettiest trail but it is the tallest peak in New York.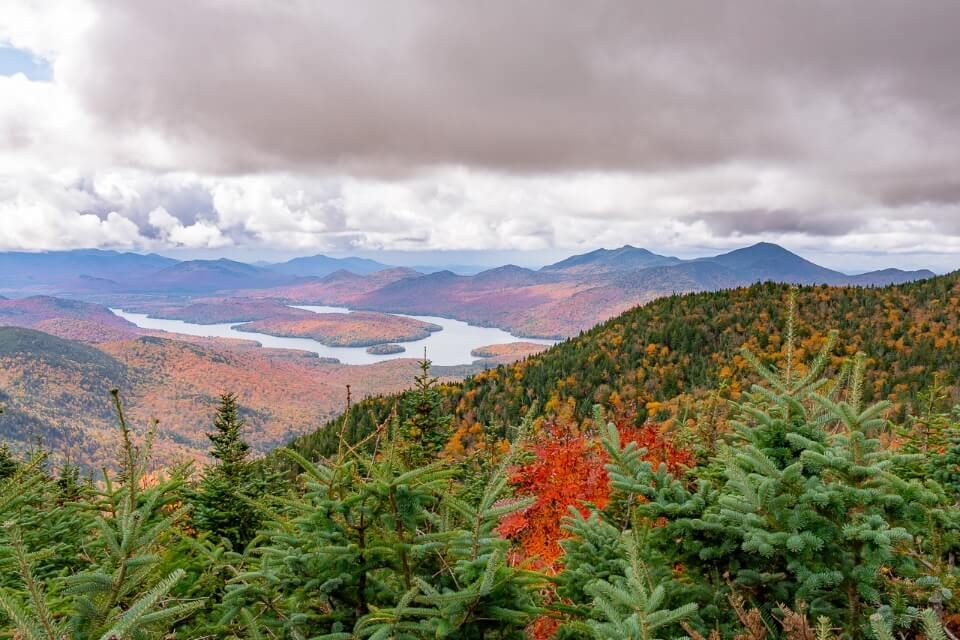 Things To Do In Lake Placid, NY
Take a relaxing walk around serene Mirror Lake.
Visit the Olympic ski jumping complex.
Photograph John Brown barn.
Drive to the summit of Whiteface Mountain.
Take the Cloud Splitter cable car to Little Whiteface.
Walk through picturesque High Falls Gorge.
Hike Mount Marcy, the tallest peak in New York.
Read our Lake Placid guides for more information:
Where To See Fall Foliage In Lake Placid, NY
Mirror Lake in town is gorgeous, walk through residential areas surrounded by colorful trees.
John Brown barn is a hidden gem for fall colors.
The top of the ski jump provides sweeping views over the Adirondacks.
Mount Marcy summit is the highest point in the entire region, providing the best views over rolling hills.
Whiteface Mountain and Little Whiteface offer more stunning views of fall foliage.
2.

Burlington, Vermont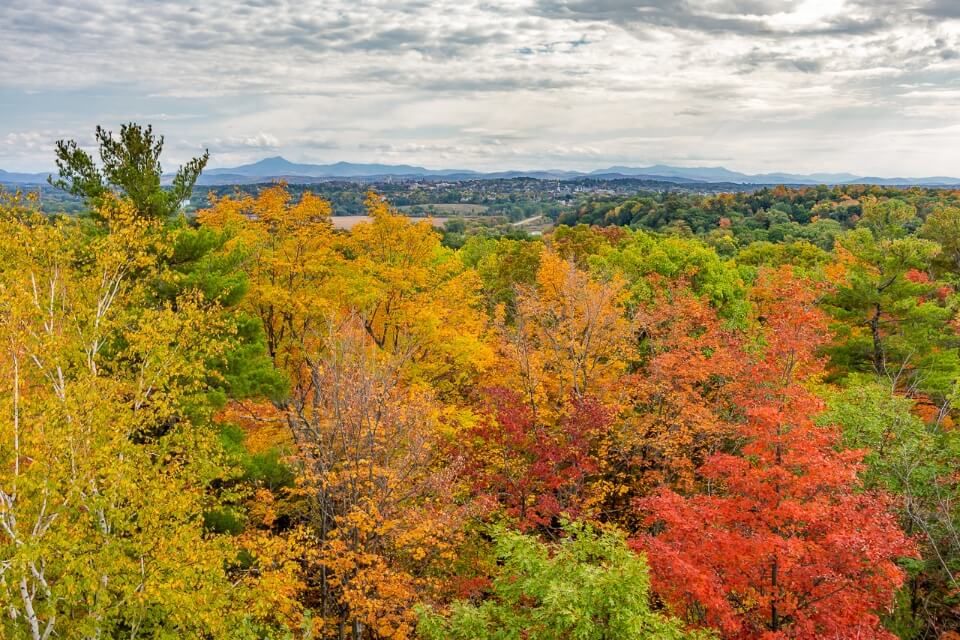 Burlington in Vermont might not be the first place you think of for a New England fall foliage road trip destination. However, it is one of the easiest places outside of Boston to fly into the region if you are visiting from further afield.
The small town also happens to be filled with beautiful and radiant foliage colors at every turn. From lakeside bike paths to park towers with stunning views, Burlington is the perfect stop off between Lake Placid and the more famous foliage destination of Stowe.
Hotels in downtown Burlington can be limited and expensive in Autumn, so if you are visiting New England on a budget, try looking for hotels in surrounding villages and towns.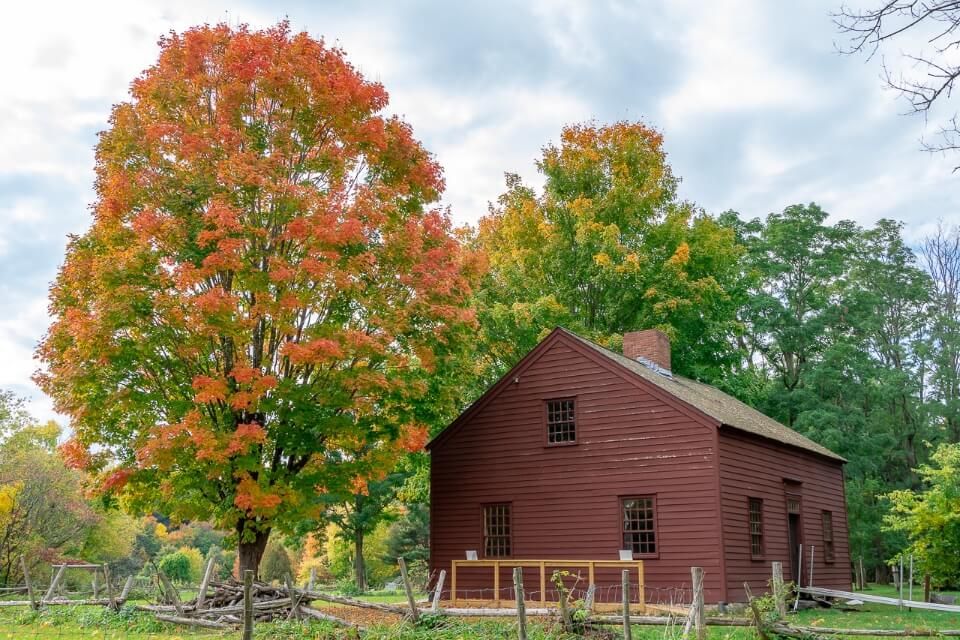 Things To Do In Burlington, VT
Eat, drink and soak up the atmosphere along Church Street.
Walk through Waterfront Park alongside Lake Champlain.
Cycle the Burlington bike path to Grand Isle.
Explore Ethan Allen Homestead and Museum.
Stand on top of Ethan Allen Tower for amazing views.
Taste chocolate at Lake Champlain Chocolates flagship store.
Read our guide to the 10 best things to do in Burlington VT to help plan your visit.
Where To See Fall Foliage In Burlington, VT
Anywhere along the Lake Champlain waterfront where there are trees.
Ethan Allen Park and the top of the tower in particular have the best fall foliage views in Burlington.
Ethan Allen homestead and museum are surrounded by beautifully colorful trees.
3. Stowe, Vermont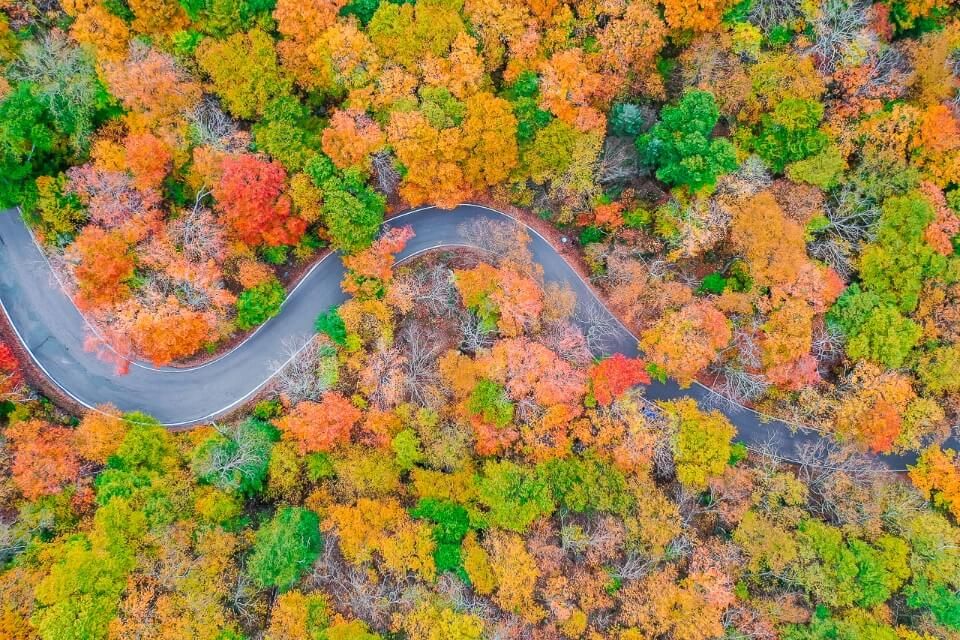 Stowe is one of the unmissable fall foliage classics on any New England road trip. The white church in town is one of the most photographed churches in the US and almost all of those photographs are taken in Fall.
The town is quaint and attractive but be sure to spend the majority of your time up in Stowe Mountain Resort. This is where you will find hikes, Mt Mansfeld, waterfalls and Smugglers Notch.
Colors will change first up in the higher elevations. So, if you're a little early, head up to the resort. On the other hand, if you're a little late, stick to the lower elevations around Stowe town for the most vibrant colors.
Personally, we love to hike, we like flying our drone and we enjoy photographing waterfalls. Stowe was one of the best stops on our New England fall road trip circuit for allowing us to do all of those things.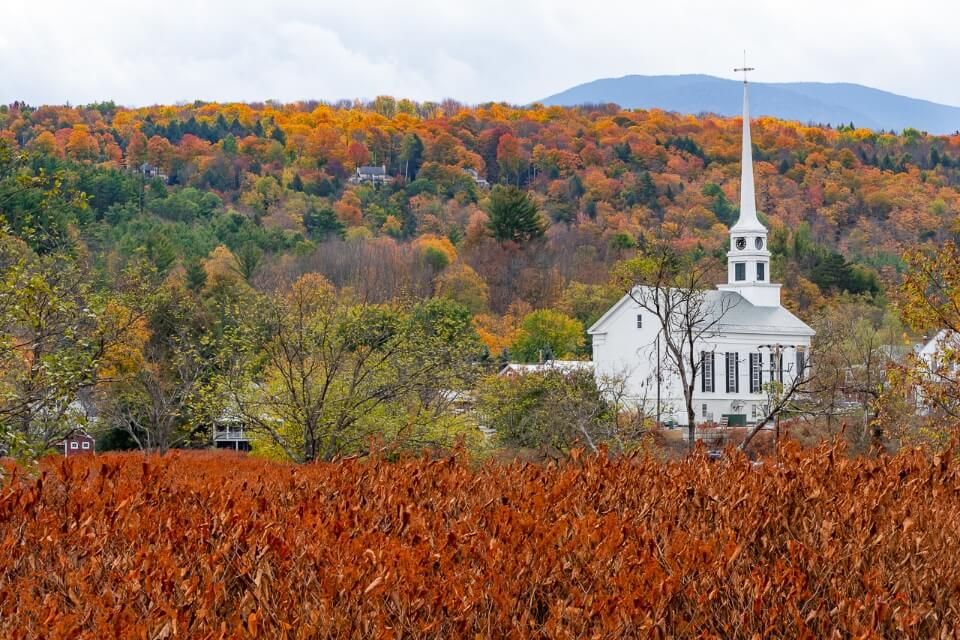 Things To Do In Stowe, VT
Photograph the famous white church in Stowe town.
Drive or hike to the summit of Mount Mansfield.
Drive through stunning Smugglers Notch pass.
Ride a bike along Stowe Rec Path or Lamoille Valley.
Take the SkyRide Gondola to Mt Mansfield.
Hike a wide range of awesome trails.
Visit both Bingham Falls and Moss Glen Falls.
See more in our detailed 15 best things to do in Stowe VT travel guide.
Where To See Fall Foliage In Stowe, VT
In Stowe town, the iconic white church backed by a hill of fall colors is unmissable on your New England road trip.
But the best colors are in Stowe Mountain Resort. The drive up from town is gorgeous.
No matter how you get to the top of Mt Mansfield, you can guarantee spectacular fall foliage views.
Smugglers Notch is our top recommendation for Stowe. If you have a drone, this is the place to fly.
4. Woodstock, Vermont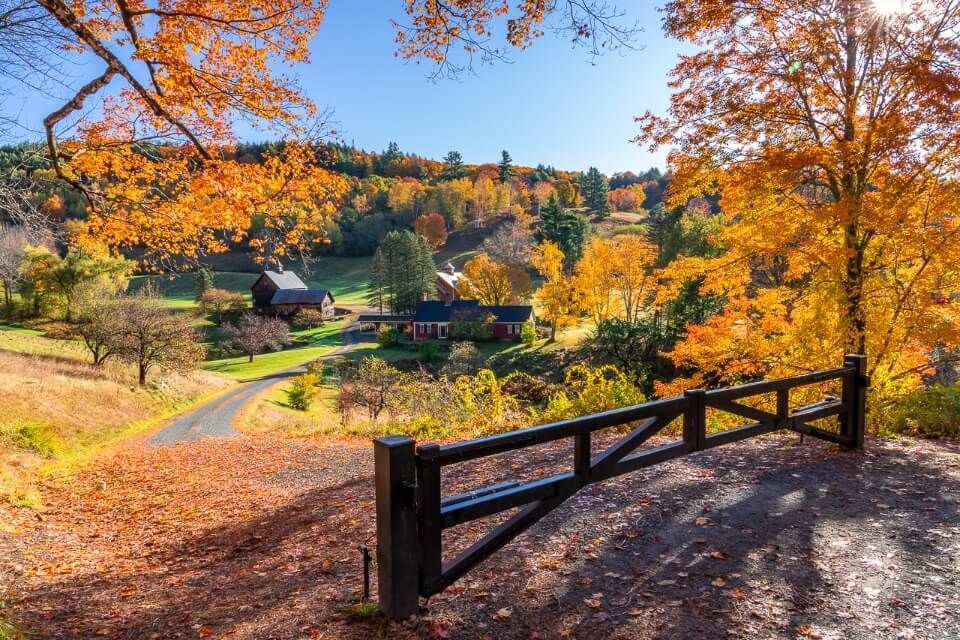 Woodstock in central Vermont is arguably the most picturesque and charming town you will visit on your New England fall road trip itinerary. It truly is like something out of a fairytale. We had no choice but to include Woodstock in our popular guide to the 50 best places to visit in the USA.
Remarkably pretty farms with golden leaves dancing in sunlight and reddish-brown leaves covering the ground create picture perfect scenes. Sleepy Hollow Farm and Jenne Road Farm are featured on many Fall foliage calendars you will see in shops on your visit to New England.
Don't miss the many stunning historic covered bridges around Woodstock. Middle covered bridge is right in town, Taftsville and Quechee are very close by and Cornish-Windsor is a 30 minute drive. The beautiful bridge in the photo below is a privately owned bridge near South Woodstock on the main road to Jenne Farm.
Woodstock is one of the more expensive places to visit on a road trip through Vermont, but it is worth taking a hit on the extra chunk of budget. Simply driving around the narrow country roads near Woodstock for a few hours would provide enough fall foliage colors to last a week of photography.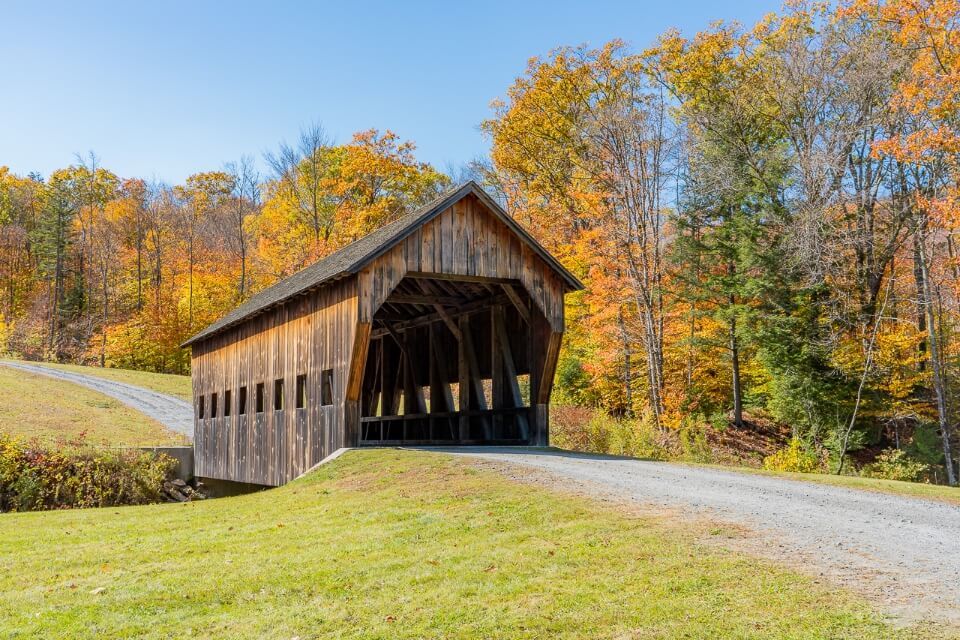 Things To Do In Woodstock, VT
Walk around the charming town and admire diverse architectural styles.
Photograph two postcard perfect farms – Jenne Road Farm and Sleep Hollow Farm.
Visit a host of historic and stunning covered bridges.
Explore Marsh Billings Rockefeller Park and hike to amazing viewpoint overlooking Woodstock.
Visit nearby Quechee Gorge and village.
See Jersey dairy cows at Billings Farm and Museum.
Plan your visit perfectly with our 15 best things to do in Woodstock VT guide.
Where To See Fall Foliage In Woodstock, VT
Woodstock is incredibly photogenic during Fall throughout the town and immediate surroundings.
The lookout over Woodstock from Mount Tom hike is iconic Fall photography.
The best two Fall photographs in Woodstock are at Jenne Road Farm and Sleepy Hollow Farm. They are two truly unmissable stops on your New England fall road trip itinerary.
Drive your car around the narrow rural roads near Woodstock for some of the most special colors.
5. Manchester, Vermont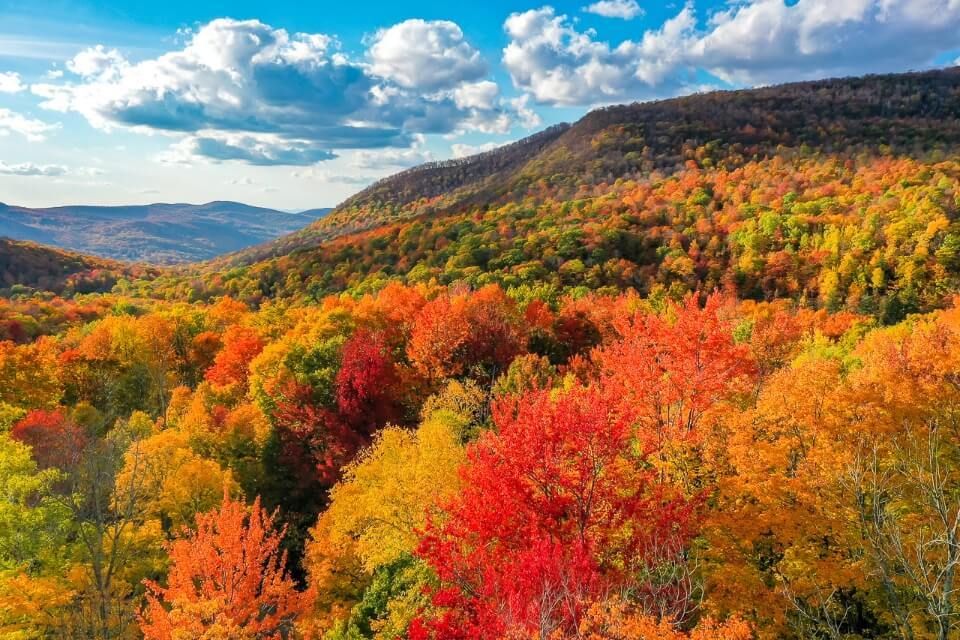 Similarly to Stowe, Manchester is a four season resort with skiing in Winter and hikes during Spring or Summer. In Fall, the town located in the heart of Green Mountain National Forest transitions into a colorful paradise for leaf-peepers.
Manchester can be split into the old historic district and the newer modern resort town. The newer part is livelier and closer to amenities but the historic district is quieter, prettier and more colorful.
Use Manchester as a base for one night to explore nearby elevated areas for some of the most expansive views of rolling hills on a New England fall road trip.
Equinox Mountain is the tallest peak in the area. You can hike it or drive it to open up far-reaching views over three US states. But our top tip is to simply stick to the narrow country roads again and you will find more unique fall foliage photographs.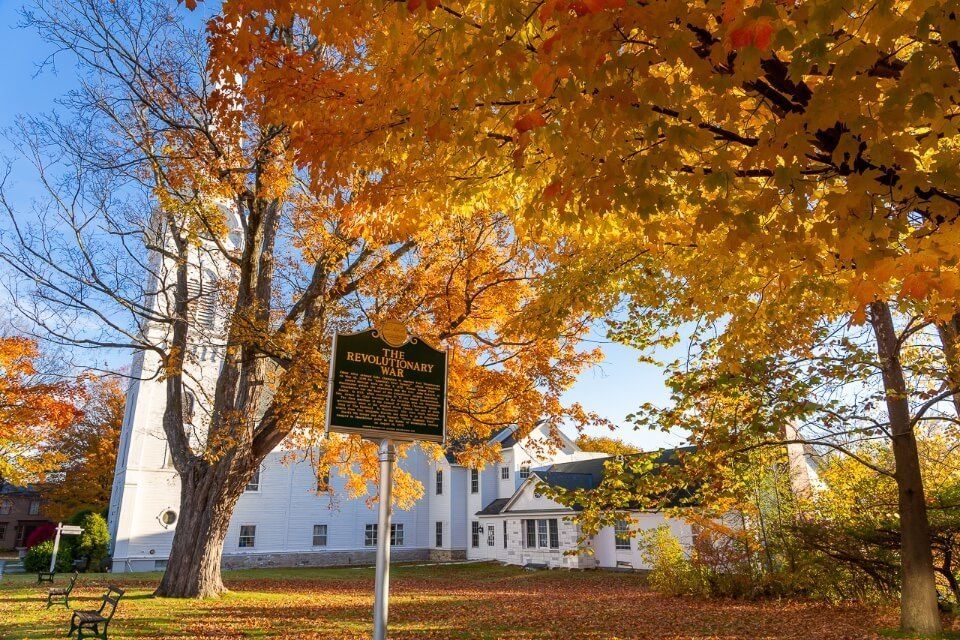 Things To Do In Manchester, VT
Drive the Skyline Auto Toll Road to Mount Equinox summit.
Explore Hildene, the Lincoln Family Home.
Walk around quaint Manchester Historic Village District.
See the American Museum of Fly Fishing Museum exhibits.
Buy a book in popular Northshire bookstore.
Visit nearby covered bridges.
See the Bennington Battle Monument.
Visit Robert Frost stone house museum.
Read more in our 15 best things to do in Manchester VT travel guide.
Where To See Fall Foliage In Manchester, VT
Manchester is the heart of the Green Mountains, so the entire area surrounding the town is staggeringly attractive.
Rolling hills for endless miles covered in glowing fall colors can be seen from any elevated vantage point.
Equinox Mountain summit provides the best panoramic views over three states.
Another place you jump in the car and find unique fall photography opportunities on rural roads.
Manchester Historic Village District is leafy and the church is surrounded by golden yellow leaves.
6. Franconia Notch State Park, New Hampshire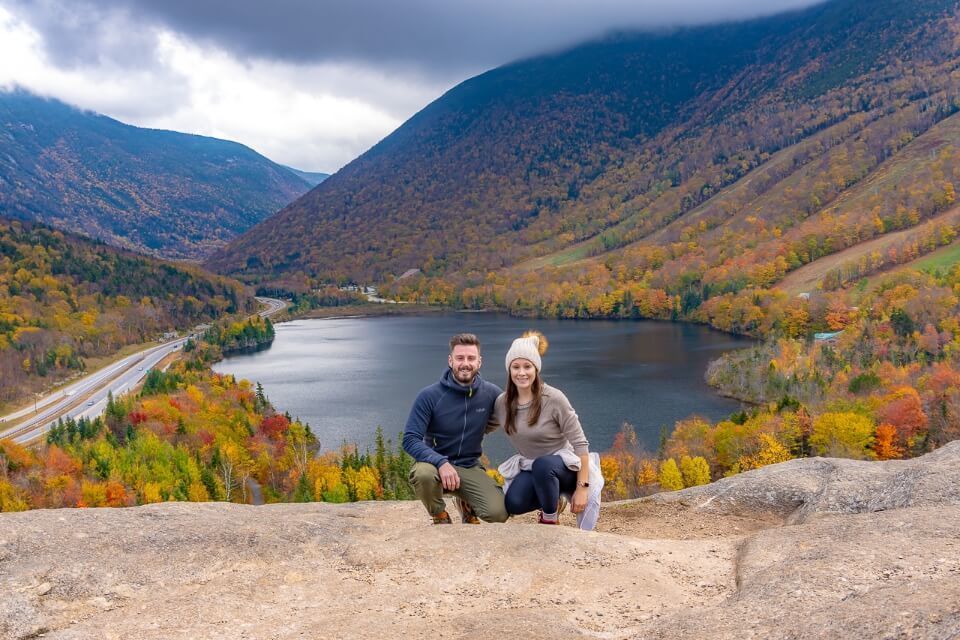 Franconia Notch is one of New Hampshire's premier tourist regions for hiking, picturesque mountains, skiing and of course fall foliage. A two lane highway mountain pass dissects the Kinsman and Franconia mountain ranges, with a number of fantastic recreational stops along the way.
Artists Bluff is a very short but steep hike leading to a rocky ledge. Its summit overlooks Echo Lake and is most popular in fall when the colors change. As you can see, we hiked the trail on an incredibly cloudy and grey day, which doesn't help with highlighting the beauty of this viewpoint. We have included Artists Bluff in our popular guide to the 50 best hikes in the US.
Franconia Notch State Park is where you will find the stunning Flume Gorge hike. A little over 2 miles of waterfalls, narrow gorges and forested paths welcome thousands of visitors each year. For us, the best part of Flume Gorge were the two ultra-photogenic covered bridges; Flume and Sentinel Pine.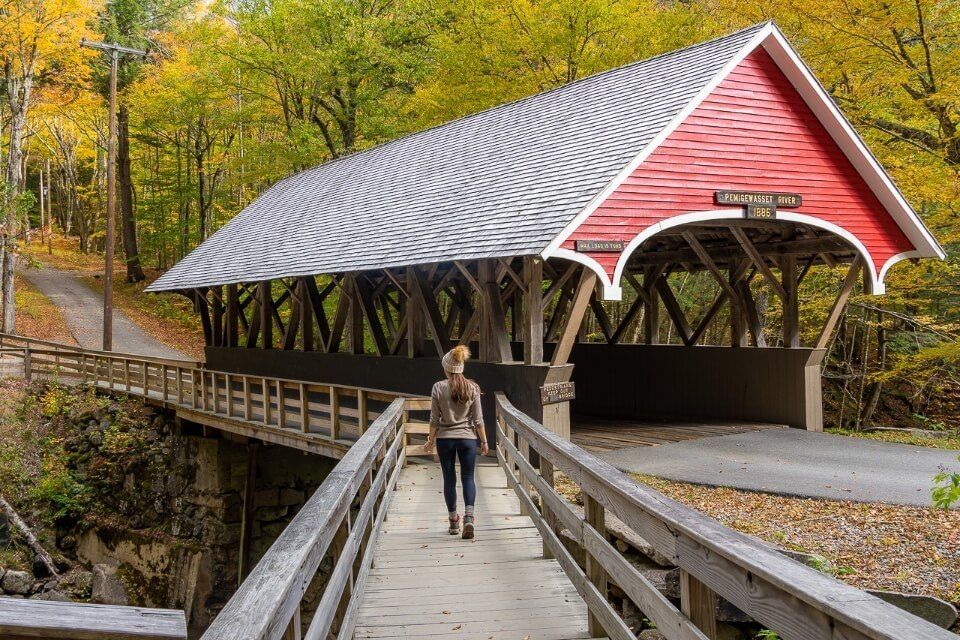 Things To Do In Franconia Notch State Park, New Hampshire
Hike the short but steep trail to Artists Bluff summit for stunning views.
Walk through impressive and extremely popular Flume Gorge.
Hike Cannon Mountain or take the Cannon Mountain Aerial Tramway.
See a whole host of waterfalls or hike one of a dozen other mountain trails.
Ski Cannon Mountain Resort in Winter.
Read more in our Franconia Notch guides:
Where To See Fall Foliage In Franconia Notch State Park, New Hampshire
The single most well known fall foliage photograph in Franconia Notch NH is from the summit of Artists Bluff.
However, don't miss the chance to walk through the incredibly picturesque Flume Gorge in fall.
Not only are the colors vibrant, but waterfalls are attractive and two special covered bridges are incredibly photogenic.
Anywhere at elevation, which means every hike up a mountain side or the tramway with sweeping valley views.
7. Kancamagus Highway, New Hampshire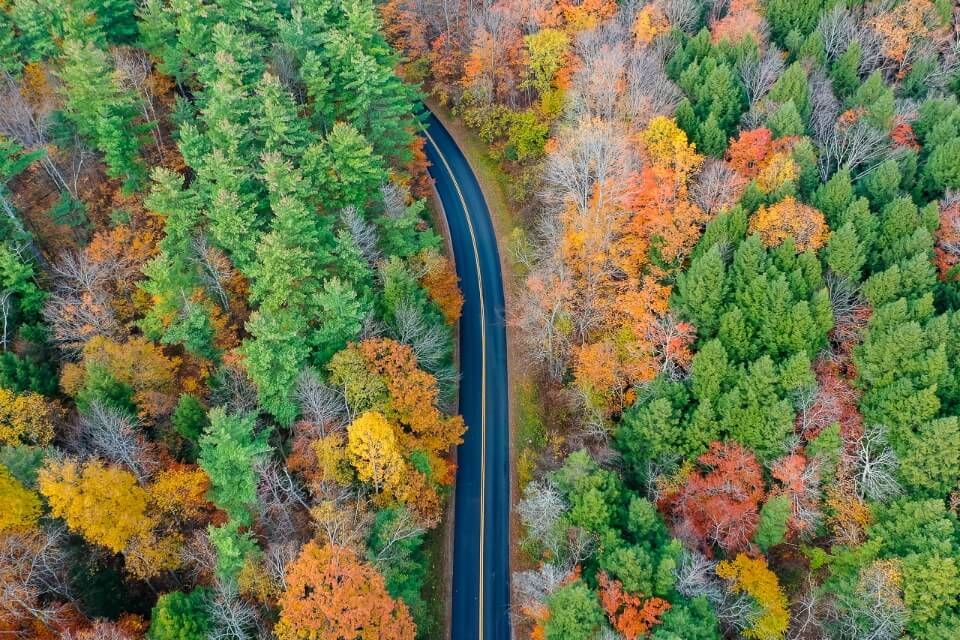 New Hampshire's supremely scenic Kancamagus Highway is one of the very best parts of New England to road trip in fall foliage season. We would put it firmly in the category of 'unmissable'.
The road between Lincoln and Conway NH is only 35 miles long, but it 35 miles of pure foliage bliss. You can either drive it in one go and simply soak up the colors roadside. Or you can stop at a multitude of overlooks, hiking trails, waterfalls, lakes and covered bridges.
If there's one part of your New England road trip itinerary to time it right for peak foliage colors, you would do well to beat the Kancamagus Highway in its prime.
A note for photographers and videographers – You can use your drone in many parts of the Kancamagus Highway. We captured amazing photographs and videos of endless miles over rolling hills covered in radiant color.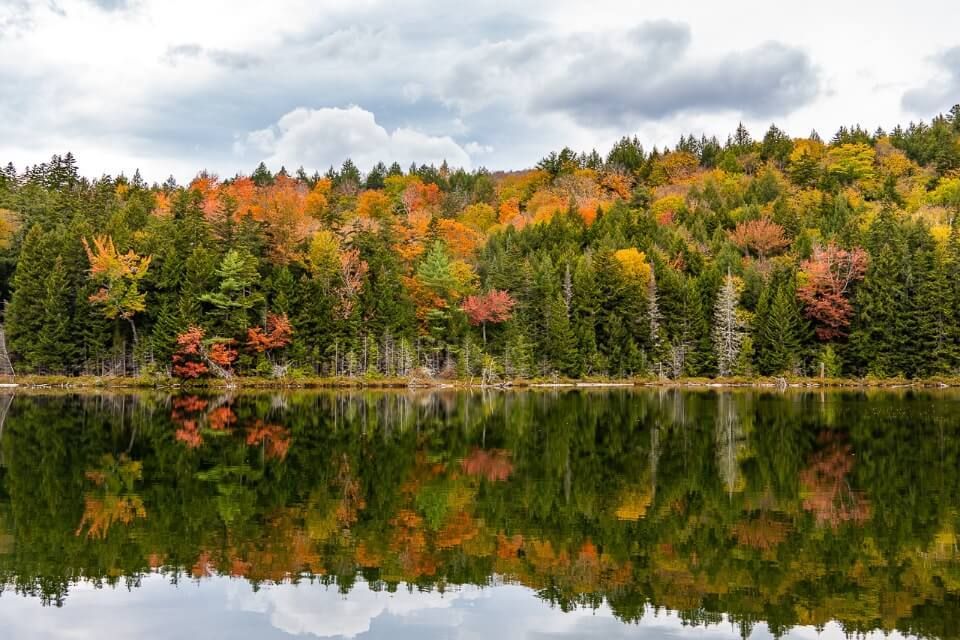 Things To Do On Kancamagus Highway, New Hampshire
Stop at various high elevation overlooks with spectacular views over White Mountain National Forest.
Walk to Sabbaday Falls, Champney Falls and Lower Falls.
Hike Lincoln Woods or Mount Chocorua.
Walk out on Rocky Gorge boulders.
Photograph Russell-Colbath House and the picture perfect Albany Covered Bridge.
Explore ponds and lakes to your hearts content.
Read about 13 places you can't miss along Kancamagus Highway in Fall.
Where To See Fall Foliage On Kancamagus Highway, New Hampshire
Views over rolling hills from every overlook are astonishing in Fall.
Once the Kancamagus Highway reaches its highest elevation, you will see an ocean of color in all directions.
Walk through any forest trail or along any waterfall hike to immerse yourself into those foliage colors.
Albany covered bridge is one of the most picturesque bridges you will find in New England.
Rocky Gorge and nearby lake with reflecting fall colors are wonderful.
Even on both ends of the road in Lincoln (Loon Mountain) and Conway the colors are vibrant.
8. Mount Washington, New Hampshire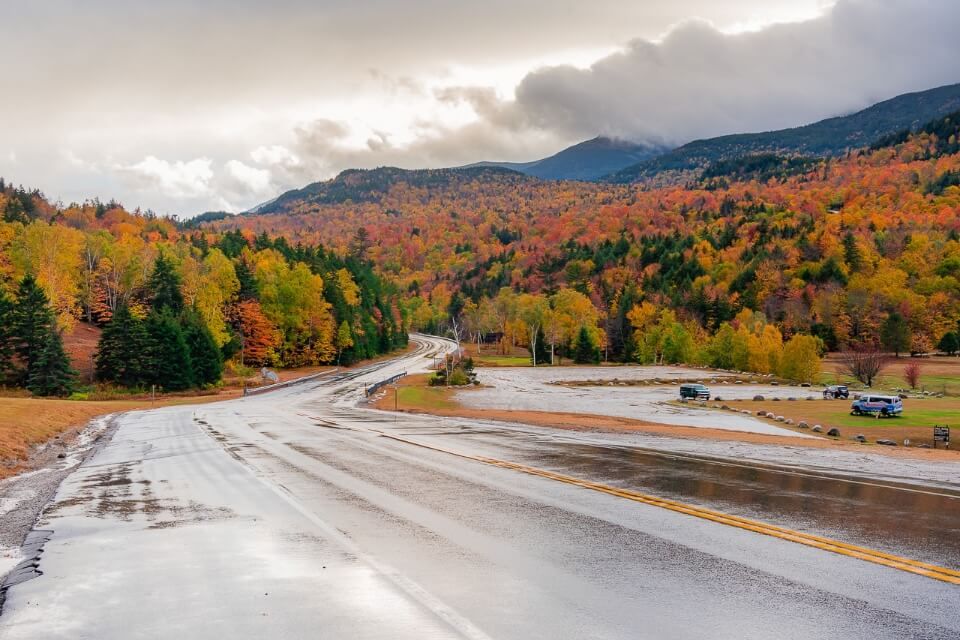 At 6,288 ft tall, Mount Washington is the tallest peak in Northeastern United States. It is renowned for wild and unpredictable weather, including the recording of a world record wind speed over over 230 mph.
As our images indicate, Mount Washington can be very wet and cloudy in Autumn. But if you get slightly more luck on your road trip and time it on a sunny day, you will enjoy some of the most beautiful colors and scenery in the entire region.
Avid hikers can climb to the summit, otherwise you can take a historic cog rail train or drive up an auto toll road to reach the top. Views from almost 2,000 meters high over an ocean of bright colors are incredible.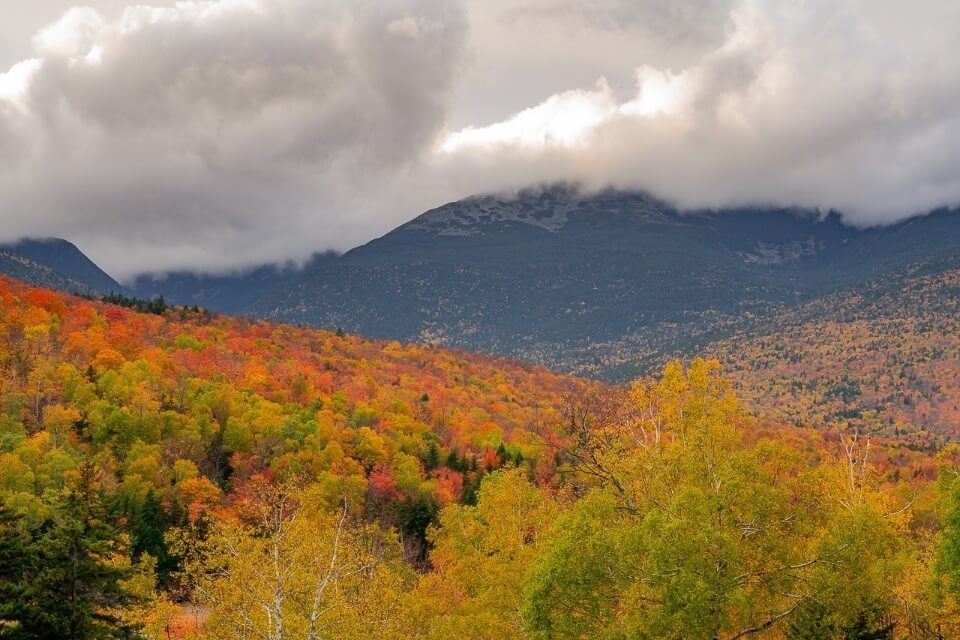 Things To Do Around Mount Washington, New Hampshire
Hike a very challenging but rewarding trail to the summit of Mount Washington.
Consider a night hike, Fall colors won't matter in the dark but it is hugely popular for astro and sunrise photography.
Alternatively, drive the Mt Washington Auto Road to the summit.
Or, take the most scenic and historic route to the top – by Cog Railway.
Conway scenic railroad nearby ventures deep into fall foliage forest.
Endless miles of hiking, 100 waterfalls and a handful of covered bridges to discover.
Crawford Notch State Park is close by and features more views, hikes and waterfalls.
Where To See Fall Foliage Around Mount Washington, New Hampshire
Just gain elevation in the White Mountains and you'll open up valley views with a sea of foliage colors.
Mt Washington summit is the iconic NH vantage point for sweeping Autumnal vistas.
For a unique experience, the Conway Scenic Railroad cuts through some of the best colors in NH.
Crawford Notch State Park is stunning in Fall, with fantastic valley views from hikes.
9. Lake Winnipesaukee, New Hampshire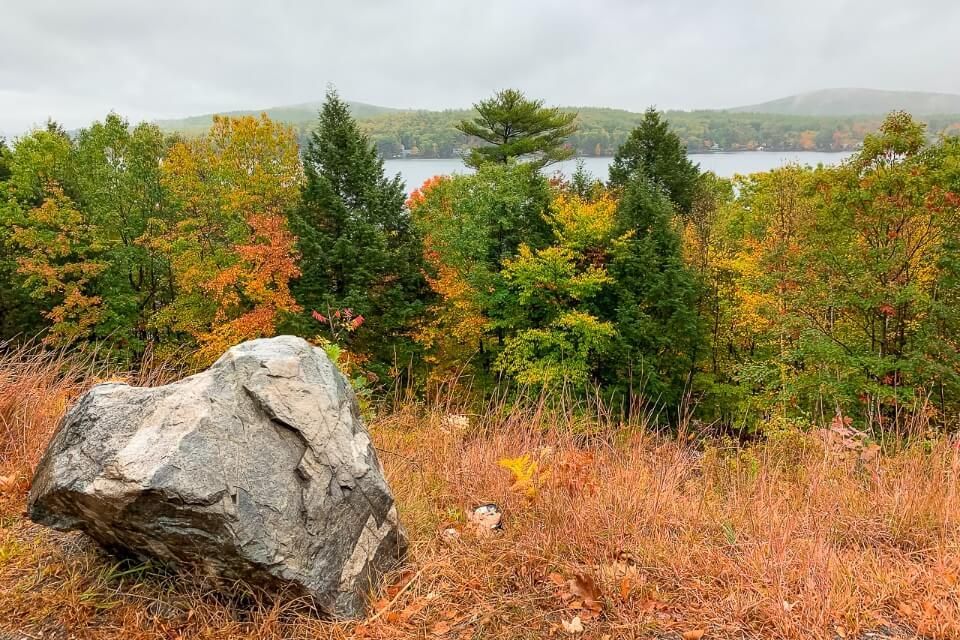 Heading due South of Mt Washington you will find Lake Winnipesaukee encircled by gorgeous fall foliage colors. Unfortunately for us, the rain was back in full swing but you can still see how vibrant the colors are in this area.
You can drive an 81 mile loop road around the entirety of the lake, or take to the waters aboard M/S Mount Washington cruise boat.
Visit Castle in the Clouds for family entertainment and hiking, Weirs Beach for arcades or Wolfeboro for a more relaxing experience. The most popular trail in the area is Mount Major, which we highly recommend for hikers looking for excellent views over the lake.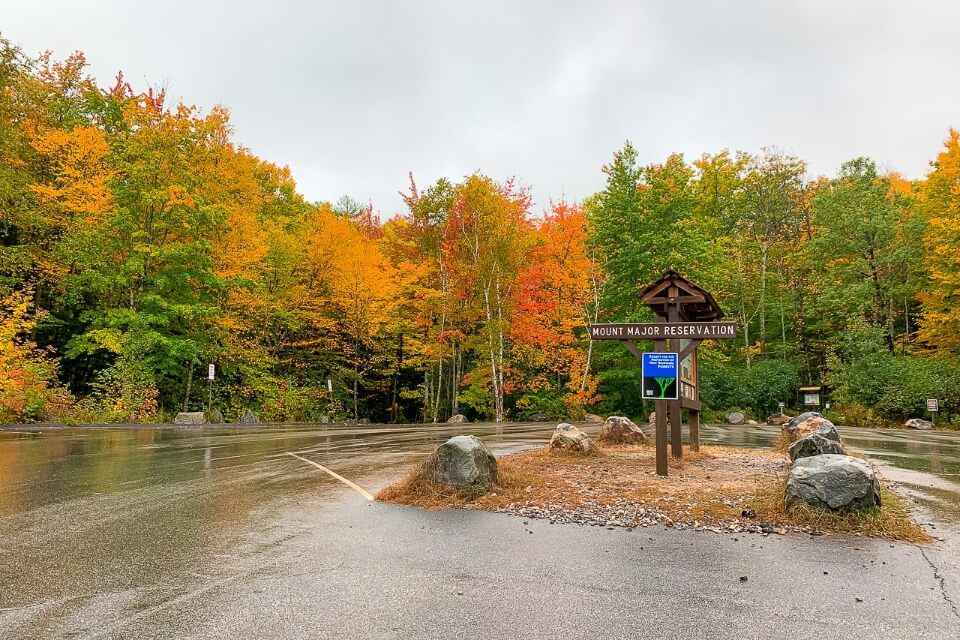 Things To Do Around Around Lake Winnipesaukee, New Hampshire
Take a cruise on the M/S Mount Washington.
Or rent a boat of your own for the day.
Ride the Lake Winnipesaukee scenic railroad.
Try your hand at arcade games in Weirs Beach.
Hike the popular half day trail to Mount Major summit for fantastic lake views.
Where To See Fall Foliage Around Lake Winnipesaukee, New Hampshire
Elevation is your fall foliage friend around the lake if you want expansive views.
Mt Major is the perfect moderate hike to include on your New England Fall road trip itinerary.
But nearby Belknap Mountain is also a popular choice for Fall hikers.
Gunstock Mountain Resort has zip lines and ski lifts for easy elevation gain.
For easier and more close up Autumnal color vistas, simply hire a boat on the lake and explore.
Or sit back, relax and soak up the views on Lake Winnipesaukee scenic railroad foliage tour.
10. Acadia National Park, Maine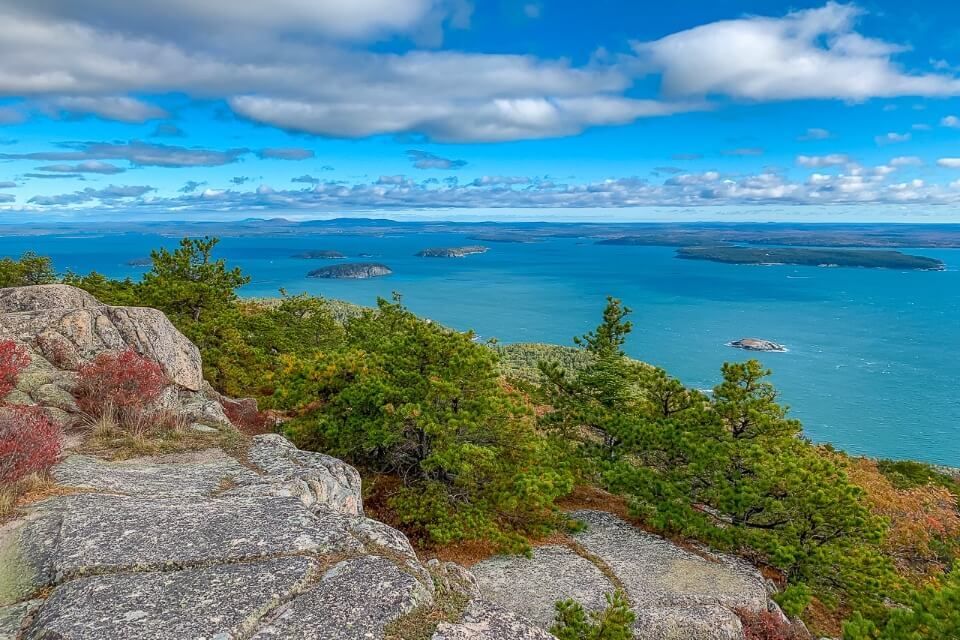 Acadia finds itself in the list of top 10 most visited and best US National Parks each year. Millions of tourists descend on Bar Harbor annually to enjoy a diverse range of amazing things to do inside the awesome park.
Varied hikes suitable for all ages and abilities, including the famous adrenaline pumping climbs Beehive Trail and Precipice Trail, are a huge draw. But despite being a typical Summer destination in the north of America, Acadia is equally as popular in Autumn and that is purely down to its glowing fall foliage colors.
Sunrises from Cadillac Mountain or Schoodic Point can be extraordinarily beautiful if conditions are right, and sunset at Bass Harbor Head Light is a very highly regarded spectacle. You will need to bring your best hiking gear, spare camera batteries and a lot of energy to the wonderful National Park in Maine.
The only problem you will face with including Acadia on a New England fall foliage road trip is its location. You will have a long drive to and from Acadia from Vermont or New Hampshire. However, if you have the time, it is unquestionably worth the extra effort.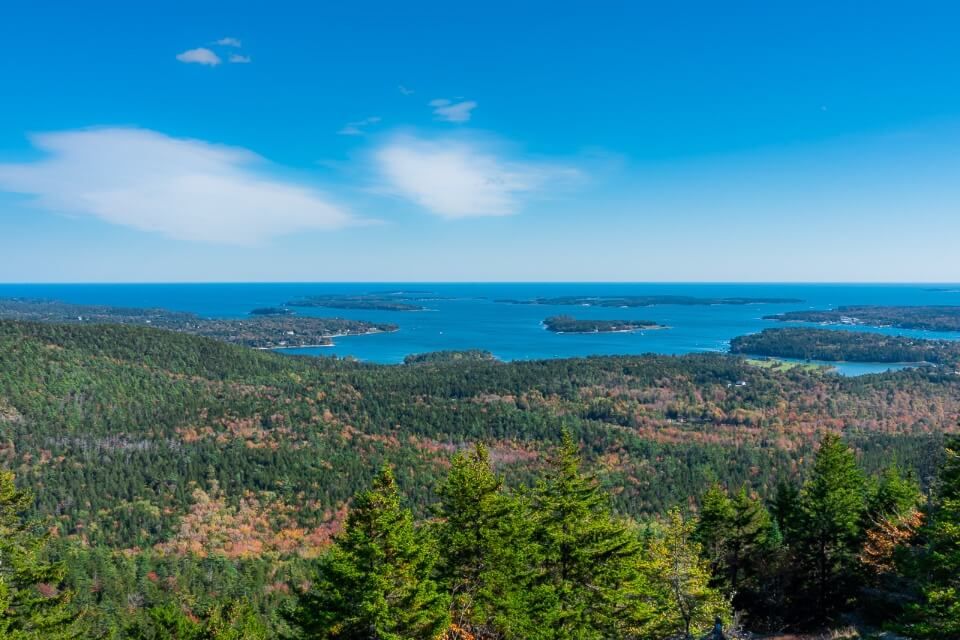 Things To Do In Acadia National Park, Maine
Hike various amazing trails from easy to hard (to exhilarating!).
Photograph stunning sunrises, landscapes and Bass Harbor Head Light.
Drive to Cadillac Mountain summit, the tallest peak on the US east coast.
Walk or cycle maze-like carriage roads through the park.
Explore Jordan Pond and swim in Echo Lake.
Eat and drink in glitzy Bar Harbor, Maine.
Read our Acadia National Park guides to learn more:
Where To See Fall Foliage In Acadia National Park, Maine
Mountain summits from any hike opens up special views over rolling hills covered in fall colors.
Carriage roads are the perfect way to explore forested trails which are surrounded by trees.
Drive the national park loop road for easiest access to fall colors.
Jordan Pond in particular is encircled by vibrant autumnal hues.
Cadillac Mountain summit opens up 360 degree views over Maine and the ocean.
Planning Your New England Road Trip Itinerary
New England is an enormous region and choosing exactly where to visit can be challenging. Here are a few questions to ask yourself before you begin plotting a route:
Which places are top of your list? Vermont? New Hampshire? Acadia?
How many days can you spare on your trip?
Do you want to book accommodation in advance or take it day by day?
Are you in New England solely to see and photograph fall colors?
Or are you focused primarily on hiking with colors as an added bonus?
Do you want to use small and quaint towns as your main places to stay?
Or are you more interested in being rural and remote each night?
What is your budget? Can you afford to splurge on activities?
Once you have an idea about how you see your road trip panning out, use that idea as a guide to make the best decisions based on your travel style.
Next, we will go through a number of potential scenarios for 5 day, 7 day and 10 day road trip examples through New England in Fall.
Use the examples as a reference but remember, they are generic and based on how we personally would plan our itineraries with hikes and photography in mind.
5 Day New England Fall Road Trip Itinerary
Only having 5 days isn't as much of a negative as it might usually be. Yes, you are going to have to be selective and it is going to be none stop action. But one of the major benefits to a road trip in Fall is that all of the best scenery is seen when driving.
Also, the smaller states of Vermont and New Hampshire don't require a huge amount of drive time between their most scenic places for fall foliage. Include Lake Placid in the Adirondacks and you can easily tick off most of the places in our list in 5 days.
Another consideration is with just 5 days you don't need to worry as much about 'following' peak fall colors. They won't change too much in that time frame when compared to 10 days.
Example 1 – Lake Placid NY to Manchester VT
D1 – Lake Placid: Walk around Mirror Lake, drive up Whiteface Mountain and explore High Falls Gorge. Stay in Lake Placid.
D2 – Burlington and Stowe: Walk down Church Street, cycle Burlington bike path, explore Smugglers Notch and Stowe Mountain Resort, sunset at Stowe church. Stay in Stowe.
D3 – Franconia Notch and Kancamagus Highway: Hike artists bluff trail, walk around Flume Gorge, drive Kancamagus Highway and down to Wolfeboro. Stay in Wolfeboro on Lake Winnipesaukee.
D4 – Lake Winnipesaukee and Woodstock VT: Spend morning exploring the lake or hike Mt Major, then drive to Woodstock in Vermont via Cornish-Windsor covered bridge, Quechee Gorge and Taftsville covered bridge.
D5 – Woodstock and Manchester: Visit the farms near Woodstock, drive through Green Mountains to Manchester and end at the top of Equinox Mountain.
You could start and end in New York City if flying into Newark or JFK works from your origin and budget. Alternatively, Montreal would be a better place to start for Lake Placid, hire a car and drop it off in NYC or Boston after leaving Manchester, VT.
Example 2 – Lake Winnipesaukee NH to Manchester VT
D1 – Lake Winnipesaukee: Explore the lake, hike Mt Major, take a cruise and stay in Wolfeboro.
D2 – Kancamagus Highway and Franconia Notch: Drive Conway to Lincoln across Kancamagus Highway, hike Flume Gorge and Artists Bluff. Sleep in Franconia.
D3 – Stowe and Burlington: Stowe church, hike to waterfalls in Stowe Mountain Resort, drive Smugglers Notch and on to Burlington. Ride the bike path for sunset. Stay in Burlington.
D4 – Lake Placid: Whiteface Mountain, High Falls Gorge, Ski Jump and Mirror Lake. Or hike Mount Marcy instead but that is a full day commitment. Stay in Lake Placid.
D5 – Woodstock and Manchester: Visit the farms, covered bridges and drive through Green Mountain countryside to Manchester, finish with Equinox Mountain again.
This version would allow for a round trip loop from Boston, MA airport or Portland, ME airport.
The key to making the most of this shorter trip is to accept that you will be in the car driving a lot but that is where you will see most of the best scenery.
7 Day / One Week New England Fall Road Trip Itinerary
With a week, you can get more creative, include more places or take things slower. You have more flexibility but still not enough time to add a trip to Acadia, unless you really can't miss it and don't mind the driving.
Colors can change a noticeable amount in 7 days, so (if possible!) factor in starting your one week trip just before 'peak' begins.
Either of the 5 day examples above would work with 7 days by simply taking more time in certain spots. The alternative is to add in more places to visit. Let's look at both:
Example 1 – Lake Winnipesaukee NH to Manchester VT
D1 – Lake Winnipesaukee: Explore the lake, hike Mt Major, take a cruise and stay in Wolfeboro.
D2 – Kancamagus Highway: Take the awesome road trip slowly, stop at every attraction and stay in Loon Mountain or Lincoln.
D3 – Franconia Notch and Stowe: Hike Flume Gorge and Artists Bluff before driving to Stowe to photograph the church. Hike the waterfall trails and see Smugglers Notch. Stay in Stowe.
D4 – Burlington and Lake Placid: Church Street and Burlington bike path, then drive to Lake Placid, get stuck into the best bits of Lake Placid and spend the night there.
D5 – Lake Placid and Woodstock: Spend the morning in Lake Placid and drive to Woodstock later in the day. Hike to Mount Tom for amazing views over Woodstock. Stay in Woodstock.
D6 – Woodstock: Sunrise at Sleepy Hollow Farm, Jenne Road Farm, visit the nearby covered bridges and relax in town. Drive to Manchester later in the day to stay over.
D7 – Manchester: Hildene, Manchester old town and stunning Green Mountain country roads, finish at Equinox Mountain.
This variation could begin and end at either Boston, MA or Portland, ME as in the itinerary above. It just gives you more downtime and time to fully explore the places you will visit.
Example 2 – Manchester VT to Lake Winnipesaukee NH
D1 – Manchester: Drive from Boston airport to Manchester, spend the day at Hildene, Equinox Mountain and exploring the town. Stay in Manchester.
D2 – Woodstock: See the best of Woodstock and spend the night.
D3 – Stowe: Hit the top highlights in Stowe and stay there for the night.
D4 – Mount Washington: Take the cog train, drive to the summit or even take on the hike. Sleep in North Conway.
D5 – Kancamagus Highway: Spend a full day on The Kanc. Sleep in Loon Mountain or Lincoln.
D6 – Franconia Notch: Hike Flume Gorge and Artists Bluff but drive to Lake Winnipesaukee later to spend the night.
D7 – Lake Winnipesaukee: Spend the last day around the lake, cruising, hiking or relaxing.
This loop direction was reversed to give an idea about how you could make it work in a clockwise route. Again this would be starting and ending in Boston or Portland, with JFK or Newark as alternative options.
Instead of driving out to Lake Placid, you could stick to Vermont and New Hampshire, which is where the very best colors are found.
10 Day New England Fall Road Trip Itinerary
With a full 10 days to spend on your New England fall road trip, you can either max out your itinerary and see all of the best bits or choose to spend more time in fewer places.
Personally, we're the max out itinerary type and we would definitely include Acadia National Park in our 10 days. It adds in some serious driving time but the journey there is picturesque, rural and most importantly colorful.
Here's one way you can include each of the places mentioned in this list, including Acadia National Park (this is the way we drove but we spent 14 days doing this route with other non-fall foliage places included in our itinerary):
Example 1 – Lake Placid, NY to Manchester, VT via Acadia National Park, ME
D1 – Lake Placid: Spend the day hiking and surrounded by gorgeous colors. Sleep Lake Placid.
D2 – Burlington: Full day exploring town and cycle the entire bike path to Grand Isle. Stay in or near Burlington.
D3 – Stowe: Smugglers Notch, Mountain Resort, Mt Mansfield and church in town. Stay in Stowe.
D4 – Franconia and Kancamagus Highway: Hike Artists Bluff and Flume Gorge, drive The Kanc and sleep in North Conway.
D5 – Mt Washington and drive to Acadia: Drive to the summit or take the cog train before driving US-2 all the way to Acadia. Sleep in Bar Harbor.
D6 – Acadia: Sunrise Cadillac Mountain, Hike Acadia Mountain and Beech Mountain, sunset at Bass Harbor Head Lighthouse. Stay in Bar Harbor.
D7 – Acadia: Sunrise Schoodic Point, Hike Beehive Trail and Precipice Trail, Walk around Jordan Pond, Great Ocean Path and carriage roads by bike to see the best fall colors. Final night in Bar Harbor.
D8 – Lake Winnipesaukee: Final morning in Acadia, long drive to Wolfeboro and explore Lake Winnipesaukee.
D9 – Woodstock: Photograph Sleepy Hollow and Jenne Road, hike to Mt Tom, see covered bridges.
D10 – Manchester: Hildene, Mount Equinox, nearby Bennington battle monument and covered bridges.
Tips For The 10 Day Itinerary
The only concern with this itinerary is the inclusion of Acadia National Park. It's a 4 hour drive from Mt Washington to Acadia and 4 hours 20 minutes back from Acadia to Wolfeboro.
However, if you do have more time you can include stops on the way to and from Acadia to break up the longer drives. US-1 and US-2 are picturesque but slow going. If you're pushed for time, take the less scenic but faster I-95 instead.
Alternatively, if you're not so bothered by Acadia, plan to spend even more time in each of the other 9 places in this list. That would give you wiggle room in case of bad weather and plenty of time to relax.
Notice how the route starts furthest north and loops around Acadia then comes back further south?
That's because with 10 days you should try to 'follow' the peak colors as they transition southwards over the first two weeks of October.
Map Of New England Fall Road Trip Stops And Routes
Red Markers

– Locations of the 10 best places to visit on a New England fall road trip itinerary.
Click or touch the map to activate.
Zoom in and out, move around the map of New England to find locations for the best places to visit in the area.
Our New England Travel Guides
---
We hope this guide to 10 places you can't miss on the perfect New England Fall Road Trip help you plan your Fall foliage itinerary!
Have you been to New England in fall? Which were your favorite places to visit?
Please let us know if you have any questions or need any help planning your visit in the comments below.
Happy Travels,
Mark and Kristen
Was This Post Helpful? Pin It For You New England Fall Road Trip!