The beauty of being surrounded by nature is only bettered by the fact hikes can be enjoyed by people of all ages and fitness levels. Are you new to hiking? This list of 21 important hiking tips for beginners will get you out on your feet in no time.
So does that mean if I'm a veteran hiker with thousands of miles under my feet, this won't apply to me?
Absolutely not! These tips apply to all who venture out into the wilderness.
*Please note this post may contain affiliate links. If you click on one, we may earn a small commission at no extra cost to you!*
What Makes Hitting The Trails So Special?
First, consider the lack of equipment required for the majority of hikes. Then multiply that by the cost of hitting trails (almost always free!) and you have the perfect money saving pastime.
Next, let's think about accessibility. There are hiking trails everywhere, right?!
Finally, take health into account. Not only has this pursuit shown to improve physical health, but hiking also helps to decrease stress levels.
The goal here is to share our best hiking tips for beginners so everyone can have the best experience possible on the trails!
Beginner Hiking Tip 1 – Stay Hydrated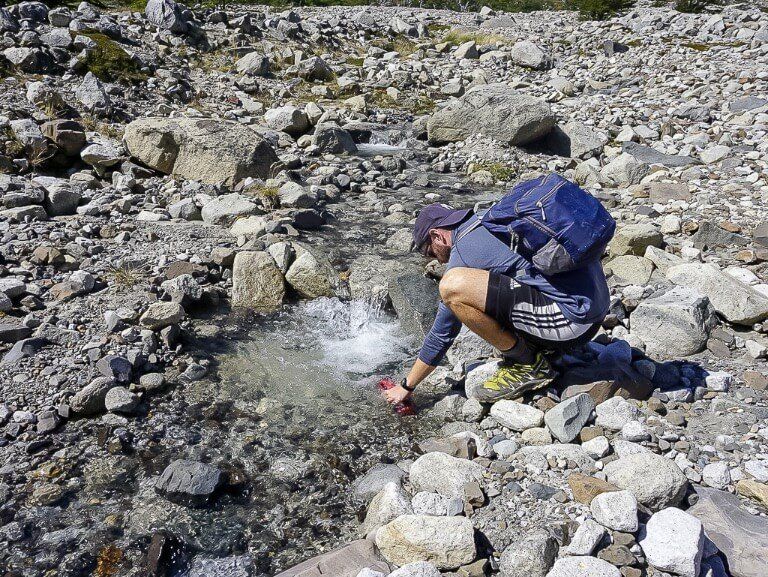 Hydration is key for hiking, a tip that applies for beginners and experts. You wouldn't believe the amount of people we encounter at the summit of a huge hike and don't have any water. Not a good idea!
You should aim to drink one to two cups of water before hitting the trails. Additionally, try to limit your caffeine intake because this actually increases fluid loss.
Throughout your hike, drink water even when you don't feel thirsty. A good rule of thumb is to drink about half a liter of water for every hour of hiking. You may need to increase this depending on temperature and intensity of hike.
For example, if you're Summer hiking in Death Valley, California increase that drinking rate!
Another seriously useful trick is to mix water with a sports drink like Gatorade to help your body replace electrolytes. We like to freeze this water/Gatorade concoction because it usually lasts for a few hours even on a warm day. It's perfect for cooling down during a hot hike!
Beginner Hiking Tip

2 – Bring Extra Snacks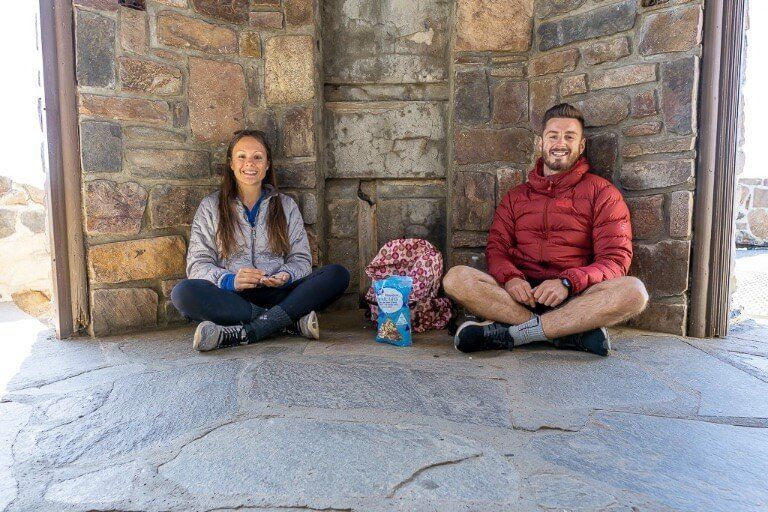 No matter if you are going on a day hike or a multi-day hike, always bring extra food. In the wilderness, you never know what is going to happen. You may be hiking for longer than you originally planned or you could even run into someone having an emergency who needs food.
Determine how much food you need for the duration of your hike and then throw in some extra. The best foods to bring will give you plenty of energy without weighing you down. You want to look for foods with complex carbs and proteins.
Ideal snacks to bring are trail mix, energy/protein bars, jerky, seeds, and fruit (that doesn't require refrigeration).
Beginner Hiking Tip

3 – Wear Comfortable & Appropriate Footwear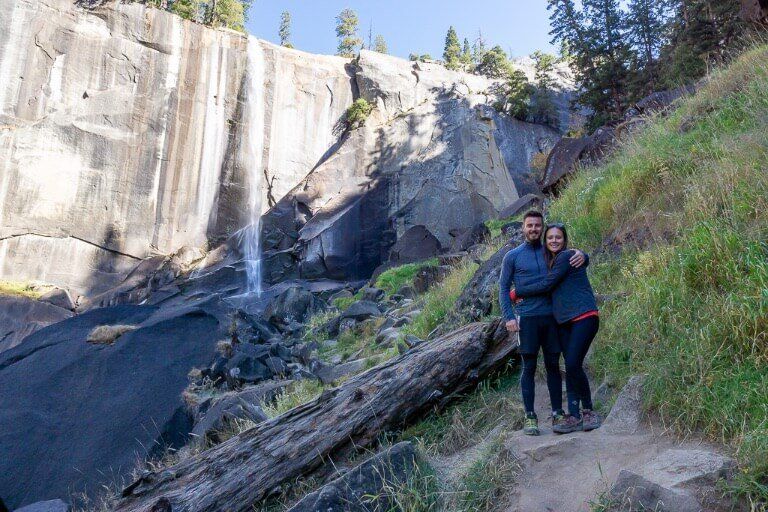 If you only take in one of our hiking tips, let it be about footwear. As a general rule on thumb, your footwear should be snug on your feet and you should still be able to wiggle your toes.
The important part is to select footwear appropriate for the hike at hand.
If you're just walking up a steady incline on a flat dirt path, you do not need boots on. Trail running shoes or even sturdy road running shoes will give you improved flexibility.
Conversely, if you are hiking 3,000 feet up a challenging mountain trail with boulders and loose gravel underfoot, do not wear your running shoes!
Everyone has different feet so be sure to get fitted properly for your boots, shoes or trail runners. Personally, we prefer our lighter trail shoes and lean towards wearing them when appropriate.
We recommend wearing in your shoes/boots before you head out for your hike. This way your feet can become acclimated and you can be sure the footwear will work for you.
For hiking shoes we recommend:
Beginner Hiking Tip 4 – Socks Are Just As Important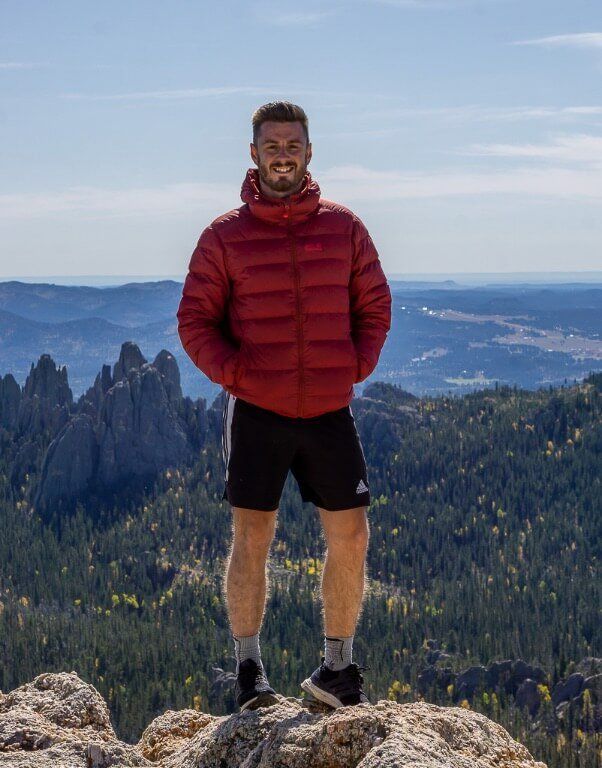 Blisters suck. And they suck even more in the middle of a hike. As you walk, your feet will become sweaty and rub against your socks. This constant rubbing and friction can cause blisters.
Buying higher quality socks can rescue your feet from developing blisters. Prevention is preferable over cure here!
Avoid fabrics like cotton because it holds moisture against your skin and this can actually increase your chance of getting blisters. The best hiking socks are typically a blend of fabrics like merino wool, polyester, nylon and bamboo.
The thickness of socks also comes into play. Thicker socks providing more padding tend to be better for endurance hiking. Choose substance over style on a long beast of a hike, put those thin cotton 'no show' ankle socks back in the drawer!
Beginner Hiking Tip

5 – Layers Will Save You Time & Time Again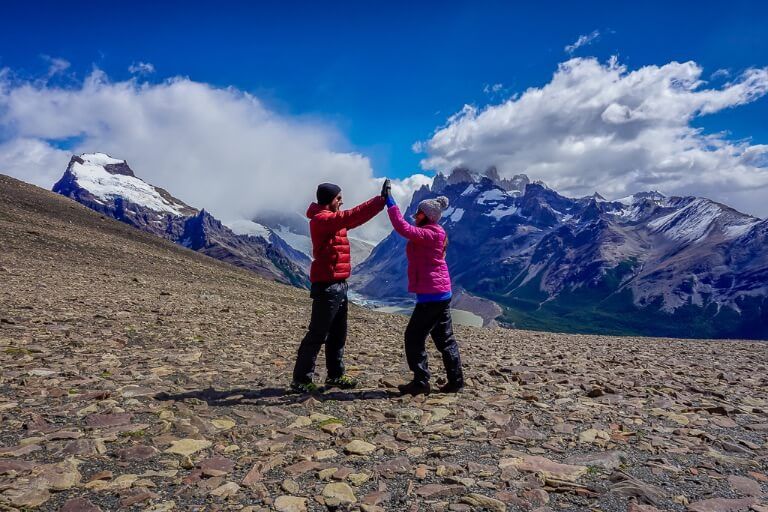 Wherever and whenever you will be hiking, be sure to pack layers. Weather can be very changeable – especially the higher you climb in altitude – and we all know weather reports aren't always correct.
While you may be comfortable walking the trail in your base layers, it can get cold when you stop for a break or when you reach the summit.
Remember that sweat is moisture and especially in a harsh wind that moisture can quickly become extremely cold. You want to enjoy the views at the top instead of thinking about how you wished you packed a warm layer!
Our learning curve came at the top of Mount Batur in Bali at 5am for sunrise, sweaty ascent – freezing at the top.
Now, we always carry a down jacket or a vest for hikes. These heat blankets are lightweight, windproof and can be packed down into just a tiny amount of space.
Beginner Hiking Tip

6 – Tell Someone About Your Plans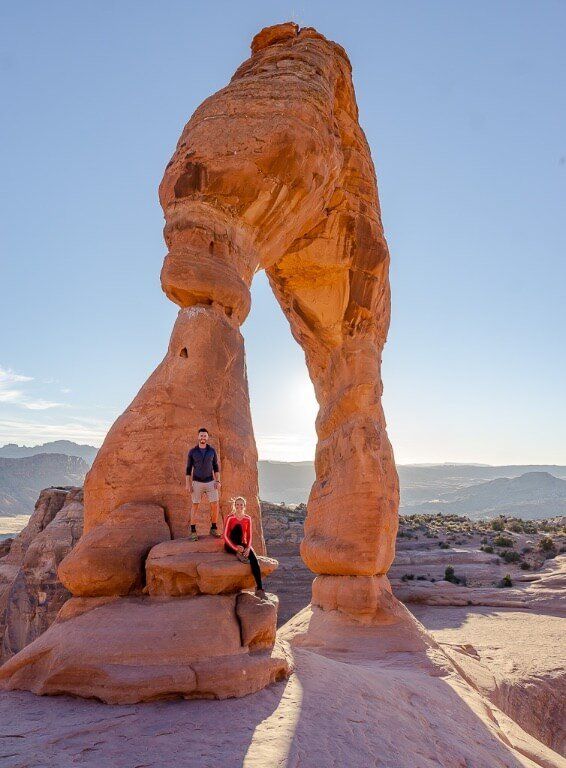 One of the best hiking tips for beginners on the list. This is safety precaution, but could be life saving!
Accidents can happen to both inexperienced and experienced hikers. If you are hiking solo or even in a group, be sure to tell someone where you will be hiking. Make sure they know which trails you are planning to complete and roughly when you plan to return.
Have a contingency plan ready in case you don't get back in the timeframe you suggested. If you happen to change your plans at any point, don't forget to inform this person!
It's important to remember that you might not get cell phone service on hiking trails.
Beginner Hiking Tip

7 – Bring a Hat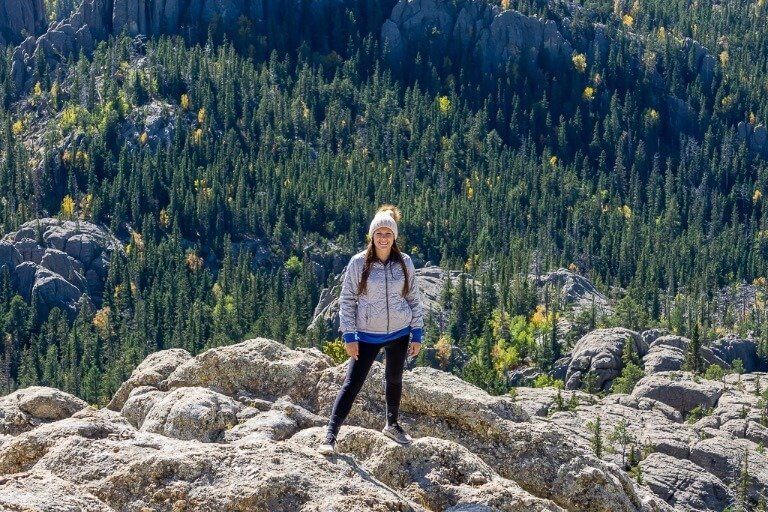 The elements can be harsh and a hat will help to protect your head against all of them. If you are out in the sun for hours, a hat will help keep your head from getting sunburned. Trust us, a burned head hurts.
There are a few options to consider depending on the weather. Choose a brimmed hat like a classic sun hat or a baseball hat to keep the rain and/or sun out of your eyes.
If you are hiking in cold weather, a beanie or a winter hat will help to keep your head warm. The old wives tale of losing 80% of your body heat through your head is not true, but your ears will thank you!
Beginner Hiking Tip

8 – Check For Leeches, Ticks, Etc.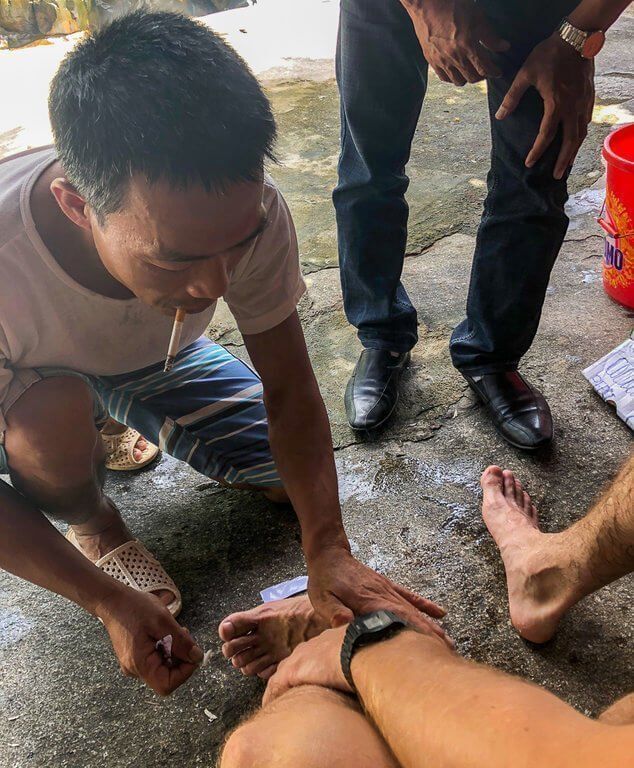 Yes, you read that right. Be sure to check for any creepy crawlies.
Please excuse the crude photograph of a man smoking a cigarette – this is in fact a Vietnamese man burning a leech off Mark's leg. It wasn't the most pleasant experience so do what you can to prevent this happening to you.
It pays to do your research and know about the bugs in the area so you hopefully can avoid any bites of any kind. Insect repellent will help for mosquitoes and long pants will help to avoid leeches.
However, ticks can be quite tricky. Carry a tick remover with you in case you need to remove one of these critters. Also, once you have completed your hike, have someone else check your back and legs for ticks to prevent contracting Lyme disease.
Beginner Hiking Tip

9 – Choose the Right Trail for Your Fitness Level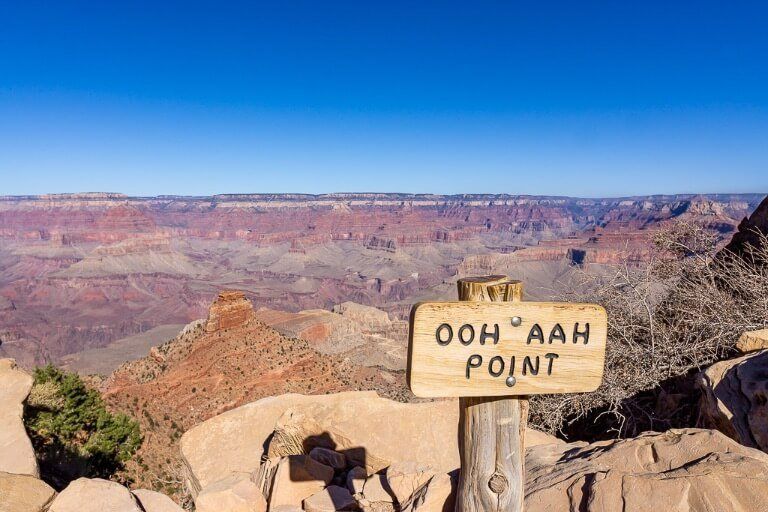 Choosing the right trail may not be as easy as it would seem. There are a few factors to consider when picking a trail such as time, difficulty, distance, elevation gain and scenery.
For beginners, we recommend starting with shorter hiking trails so you can give yourself a good test. Start with a trail under 5 miles in length with little to no climbing. It's important not to over-estimate your ability until you know you are capable!
For more experienced hikers, consider approaching a summit via alternative routes for a challenge and make a training plan before your hike if necessary.
No matter your level, always research a hike before starting it. You can learn from other peoples experiences and apply them to your own.
Remember your hike is supposed to be enjoyable, so choose a trail that suits your level of ability and consider what you want to get out of the hike. We tend to opt for hikes that have beautiful viewpoints or scenery. It's great to be rewarded for all that hard work!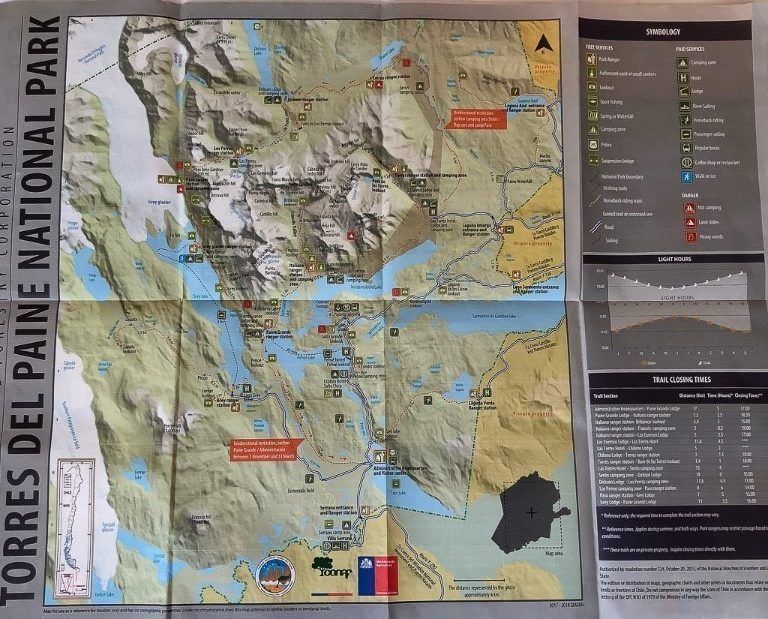 From our experience, a combination of both electronic and paper maps work best for trail navigation. Print out or pick up a map of the trail you plan to hike and learn the route beforehand.
Knowing where you are can be difficult on trails without good signposting. A great tip for beginners is to check forums or official websites for any obvious markers you can use as checkpoints along the hiking route.
If necessary, buy an OS map which will show markers like telephone pylons, streams and bridges, walls, farmhouses etc. A compass is vitally important on multi-day hikes, especially on backcountry trails. Unless of course you can navigate by the sun and stars?!
Our favorite example of using markers to your advantage is hiking in the UK, where the best trails pass by a number of country pubs. Hey, they're also checkpoints!
If you're looking for some serious safety gear, the Garmin inReach Mini is an awesome GPS Navigation option. The inReach is lightweight, provides options for downloadable maps and displays weather forecasts but it's outstanding feature is having a service for 24/7 SOS search and rescue monitoring center (subscription required).
Using offline maps through one of the best hiking apps like Gaia GPS is the perfect way to track your progress on longer or wilderness trails.
Be sure to download the map for the route you need before you begin your hike. Once you get to the trail, just open up the map and you are all set for hiking!
Beginner Hiking Tip

11 – Time it Right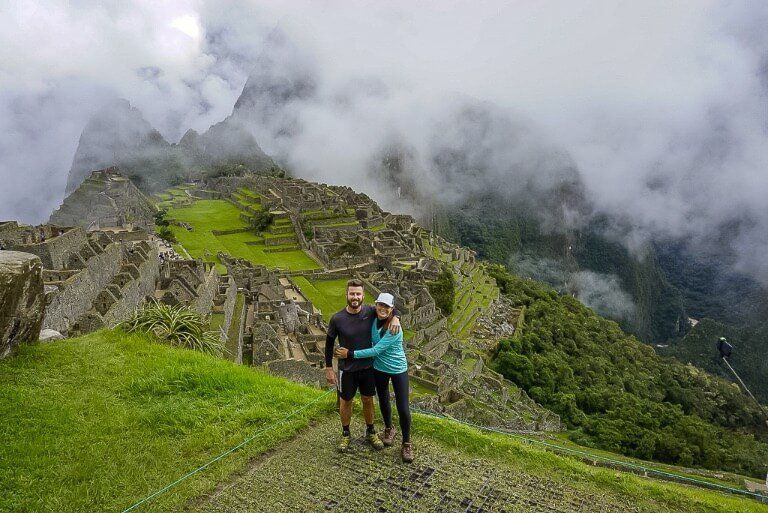 Timing consists of the time of day as well as the time of year or season.
Ever heard of the expression 'the early bird gets the worm?' Well, we have to admit as painful as it can be to get up early, some of our best ever hikes and photographs have been from before/during sunrise!
We recommend starting your hike (especially if you are planning a day hike) as early as possible. The longer you wait to start, the more people will be on the trail. As a bonus, you could even see a beautiful sunrise if you start early enough!
Weather and time of year are other factors you need to consider.
As an example, National Parks in the US are insanely crowded in the summer. It may be a better option to hike in shoulder season or off season to avoid the large crowds.
For our own example, refer to the photo above. That is Machu Picchu and it is covered in clouds. Sometimes weather is out of your control, but you can choose the time of year most likely to get fine weather.
Fortunately, those clouds blew away pretty quickly! It helps to reinforce our point here, right?!
Beginner Hiking Tip

12 – Keep Track of Your Progress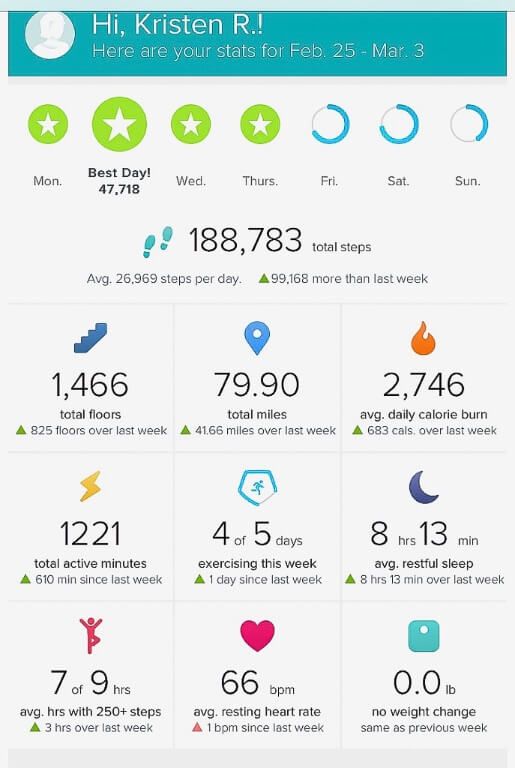 Seeing your stats after a hike is an amazing feeling! It helps you to piece together all of that hard work. Hiking/Fitness watches are the best way to keep track of your hike through step counts, heart rate, altitude gained, etc.
Our stats above are from hiking the W Trek in Chile, pretty impressive! What that doesn't include is the tent, roll mats and sleeping bags, plus 5 days of food and clothes we carried … it hurts just to think about that!
There are a ton of smart, hiking and fitness watches on the market at all different prices and levels of quality. So, where do you even begin?
If you're looking for a serious hiking specific watch, you need a Garmin Fenix 6 or Suunto 9 Baro. For a much cheaper watch, a Casio Pro Trek could do the trick. You need to work out which aspects are important to you, for example the cheaper Casio won't have in-built GPS.
Look for app compatibility, long battery life, water resistance/waterproof, GPS capabilities and sleep tracking (if this interests you). Determine if you want a smart watch or fitness watch – they are different.
The watches we recommend for all around fitness tracking are:
Beginner Hiking Tip

13 – Wear Your Backpack Correctly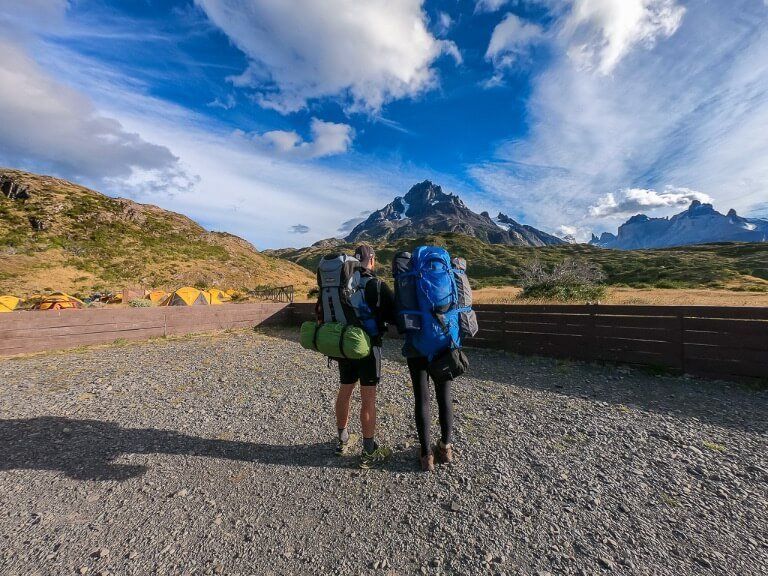 Paying close attention to exactly how you wear your backpack can prevent potential back pain and problems. These simple yet effective tips will ensure you have a successful hike without subsequent issues:
1). Always wear both shoulder straps when you are hiking. If you only use one strap, this unevenly distributes the weight which can leads to back issues or oblique strains.
2). Waist straps are there for a reason! Especially if your backpack is on the heavier side, use the waist strap to help take a proportion of the extra weight off your shoulders and on to your hips. On longer hikes/multi day hikes, this becomes even more important.
3). Make sure your backpack sits in the middle of your back. Any higher or lower and this may cause a strain on your back and shoulders. The key is to play around with positioning until you feel happy with how it distributes weight around your body. You'll know when you hit the sweet spot.
4). Choose the right backpack for the occasion. There are awesome travel backpacks like the Osprey Farpoint 40 (check prices / read our review) and then there are awesome hiking backpacks like the Osprey Talon 22 (check prices). Hike with the Talon!
Next, we are going to address the Seven Principles of leaving no trace. These simple tips will help you understand the importance of maintaining minimal impact while you are hiking in the great outdoors.
Beginner Hiking Tip

14 – Do Your Homework to Plan & Prepare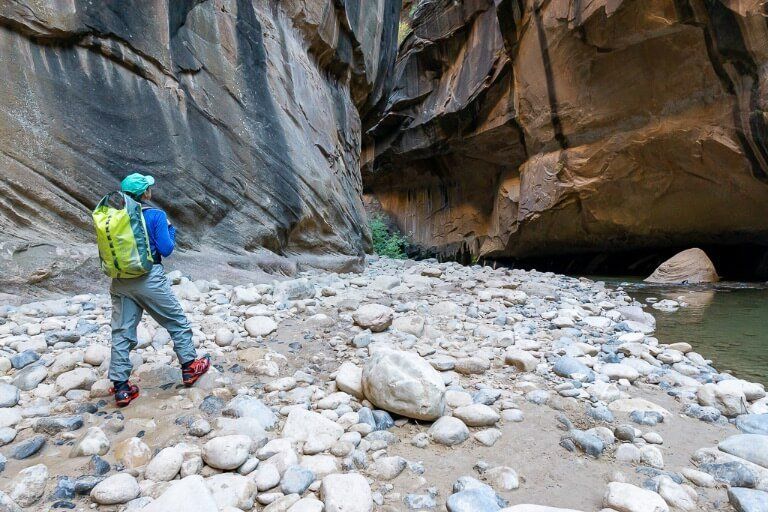 It pays to plan ahead and prepare for your hike. Doing your research can help you combat any potential problems you may face on the trails.
Websites for National and State Parks along with government agencies can have extremely useful information for the area you will be visiting. However, it's also good practice to keep these hiking tips in mind:
Time – How long do you plan to hike?
Elevation – For every 1000 feet, add about an hour to your hike.
Wilderness Permit – Is one required for your hike at any point?
Weather – Very changeable at times! Know the forecast(s) and have a plan just in case the weather takes a turn for the worst.
Animals– Research the area you will be hiking and know about any animals you may encounter. Keep in mind any food storage requirements as well.
Features – Are there any awesome landmarks you should be aware of on the trails? Is there something you just can't miss? Is there a great photo spot?
When we hiked the amazing Narrows trail at Zion National Park in Utah, we researched the hike and learned that in October (when we visited) the water would be cold. Therefore, we knew we had to hire the waterproof gear available if we wanted to reach the end of the trail. Plan and prepare!
Beginner Hiking Tip

15 – Stay on The Trails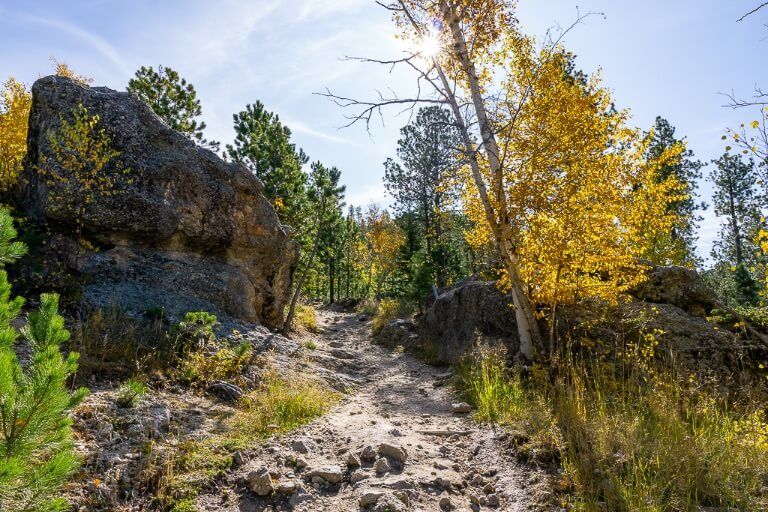 Designated hiking paths are formed to protect people, plants and animals. Trails are also created to provide easily identifiable walking routes so visitors have maximum exposure to sites, while minimizing exposure to the environment.
By deviating from these trails, we may create new paths which can have negative effects on the ecosystem in the area. Organic matter like leaves helps to protect the land from erosion due to wind or rainfall. When you remove the organic matter, the area can become eroded much quicker, destroying the land for future visitors.
Look where you are stepping. Surface vegetation also serves a natural purpose and may destroy a food source for animals. Over time, this can have a harmful effect to wildlife habitats.
Some places allow you to leave marked tracks such as primitive trails like Devil's Garden at Arches National Park. Take extra care on primitive and backcountry trails.
Beginner Hiking Tip

16 – Dispose of Your Waste Properly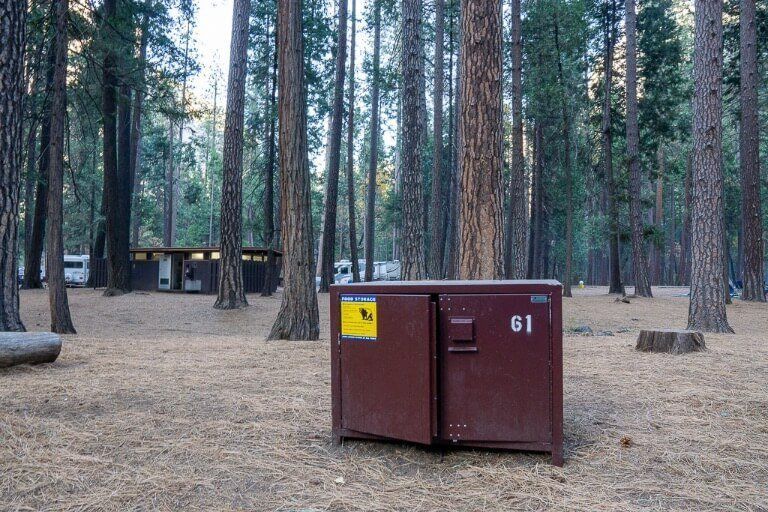 Disposal includes both trash and human waste.
For trash, carry in and carry out everything! It's a pretty simple concept, but keep the trails exactly as you found them.
If you are camping overnight, avoid foods that are smelly and comply with garbage rules in the area (i.e. keep food in bear proof containers).
We also recommend using a biodegradable soap at your campsite.
If you have to go in the woods, no problem! Find a spot 200 steps from a water source, dig a hole 6-8 inches deep, bury your waste and pack out any used toilet paper.
Properly disposing human waste helps to eliminate pollution, minimize disease spread and increase the rate of decomposition.
Beginner Hiking Tip

17 – Leave What You Find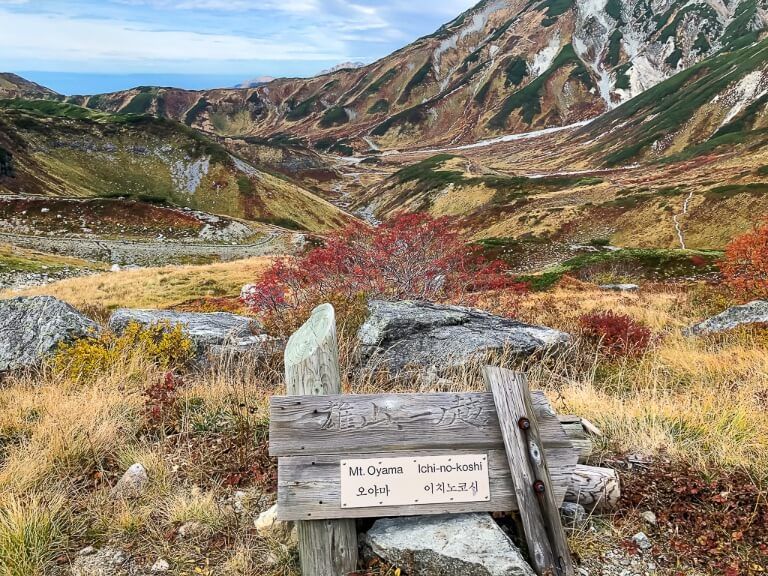 Do not take any souvenirs home with you. Leave what you find on the trail. Nature is meant to be appreciated by all. Imagine what would happen if every tourist started taking souvenirs from nature? Soon, we would have nothing left to enjoy!
This includes carving your initials into a tree or picking those colorful wildflowers because they would look pretty on your table at home. Instead, make a sketch, take a photo or paint a picture of the flower you found!
Beginner Hiking Tip

18 – Campfire Safety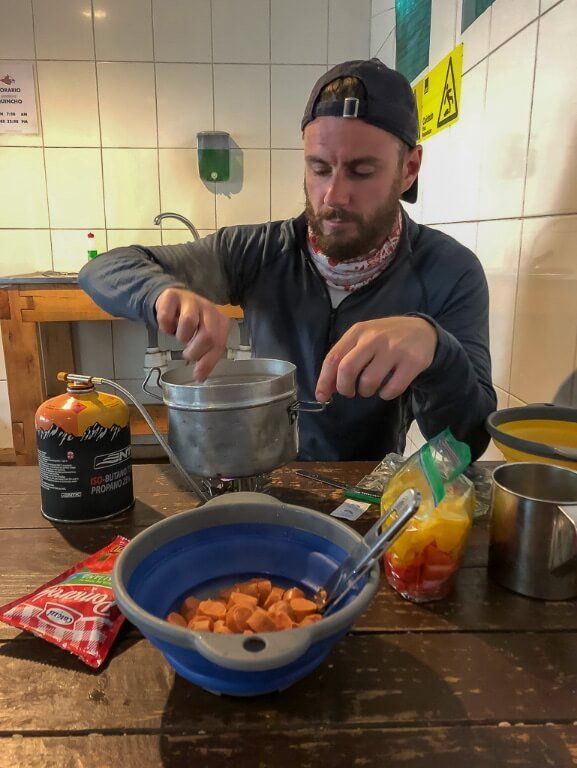 Will you have to build a fire at some point on your hike? If so, hiking and fire safety tips go hand in hand.
The most important aspect you need to consider is the damage your fire can cause if it becomes out of control. Having seen first hand the effects fire can have on nature, we are always extra careful it is not us who starts the next big wildfire. Try to do the same!
Maybe cooking with a stove would reduce the chances of potential problems?
Be sure to look up fire danger levels in the area of your hike at that particular time of year, as well as how to show no trace if you do build a fire.
Beginner Hiking Tip

19 – Respect Wildlife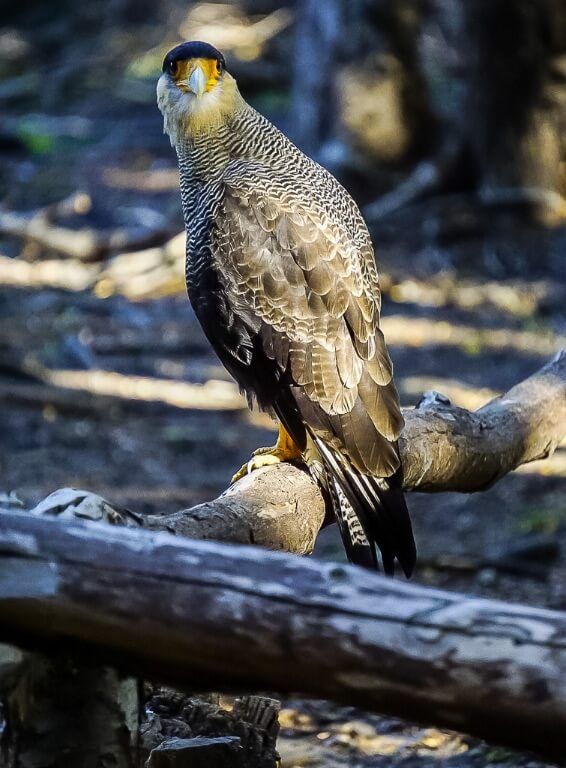 Every year, America's National Parks are experiencing record breaking numbers. 2019 brought a 2.9% increase of visitors and now with the Coronavirus pandemic, 2020/2021 are likely to surpass those already growing numbers.
Wildlife spotting is one of the many reasons people hit the trails. Yet, wildlife can be unpredictable – hence the wild part of the name! Close up encounters can be wonderful experiences but can be quite troublesome for the animals.
Follow these few simple rules:
Make sure you give animals space and keep a safe distance. Animals do not usually attack unless they feel

threatened.

Never feed wildlife. This makes them dependent on humans.

Make noises while you hike so animals are aware of your presence. Also, don't wear headphones so you are aware of animals that may be on the trail.

Animals are most active at dusk and dawn, including bears. Plan accordingly.

If you see wildlife when driving your vehicle, only pull over if it is safe to do so. Do not block the road.

Depending on the area you are hiking in, carry bear spray as a precaution.
These rules apply to respecting wildlife in all countries around the world, not just your home country.
Beginner Hiking Tip

20 – Be Considerate of Other Hikers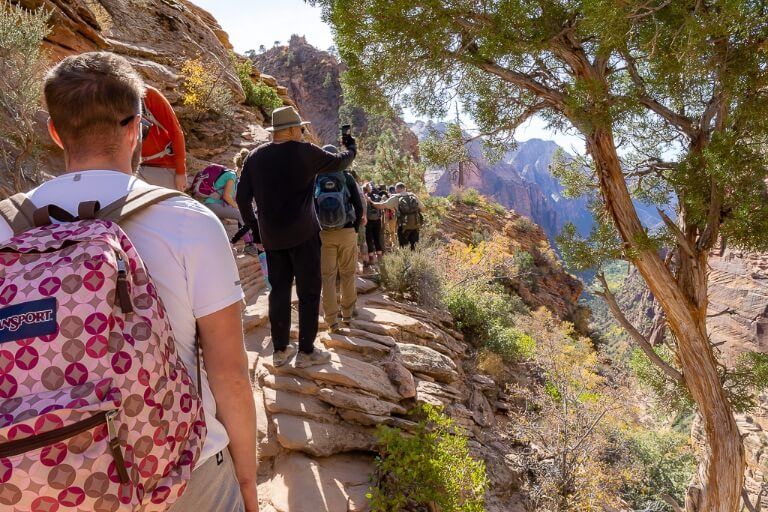 The photo here is very apt for this beginners hiking tip. When we hiked Angel's Landing at Zion in Utah, we could not believe the amount of people attempting to pass each other on those (very!) narrow paths with sheer drops either side. Perhaps it's adrenaline, but all etiquette goes by the wayside on this hiking trail.
Being considerate of other hikers is not only to be friendly, it is also to be safe.
Here are some 'unwritten' tips for polite hiking:
Say hello to other hikers. No need to have a lengthy conversation, but it's just the polite thing to do.

Hikers traveling uphill, aka exerting the most effort, have the right of way.

If you are in a group, be aware of your surroundings. Don't stop in the middle of the trail to have a conversation and take note of your volume.

Know the rules for hiking with your dog in the area. Be considerate of other hikers and remember, some people are scared of dogs.

If you're playing music loudly, turn it down when other hikers approach. People are hiking because they want to connect with nature.

Let faster hikers pass and if you pass someone, be respectful.

Don't make new trails. The paths are marked for a reason. Aim to leave no trace. If you need to get off the trail, only do it to let other hikers, bikes or horses pass.
Beginner Hiking Tip

21 – Enjoy the Journey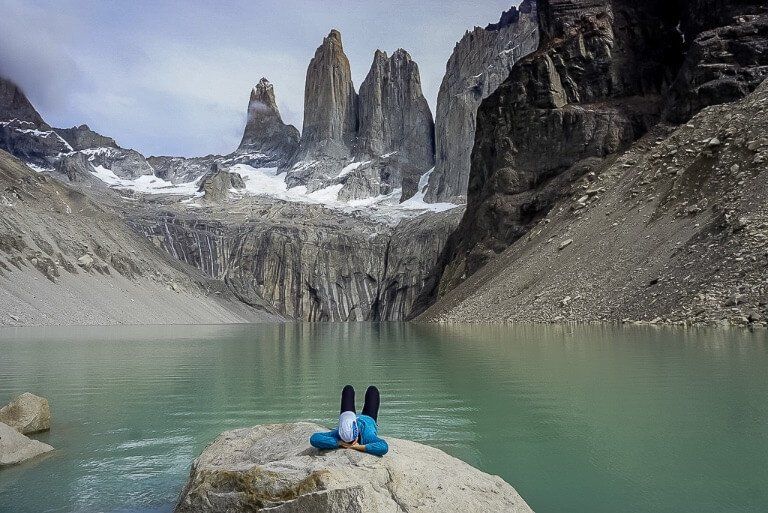 Of all the best hiking tips on our list, this one is the easiest and most important – enjoy your hike!
Packing Essentials
Now that you're stocked up on hiking tips, be sure to take a look through our complete travel packing list so you don't forget a thing!
Or, if are you planning a road trip, don't miss our road trip essentials with FREE downloadable checklists to make your trip even easier!
Read About Some Our Favorite Trails

…
---
We hope our hiking tips for beginners helps you prepare for an amazing time on the trails!
Please let us know if you have any questions about a hike you plan to take.
Happy Hiking,
Mark and Kristen
Was This Post Helpful? Pin It For Later!