Work With Where Are Those Morgans
Hello and thank you for your interest in working with Where Are Those Morgans.
Welcome to our partnership page!
Since creating our travel blog in 2018, Where Are Those Morgans has become a rapidly growing online multimedia platform. We focus on organic reach through carefully crafted SEO techniques to drive content to the first page of google. We also share original travel stories and first hand experiences on social media platforms.
Being scientists by trade, we built a career from research, analyzing data and writing SOPs. These hard skills have translated into a strategic and methodical approach to every new project. We specialize in creating very-detailed long form content to offer high quality tips and resources for any destination, review or product.
Our goal is to put the reader first by offering honest yet authentic information to help our client's objective or message strongly resonate. We strive to market a destination or product in an engaging and relatable way through enhanced online exposure for brands and/or partnerships.
Overview
Where Are Those Morgans features information on the following niches:
In-depth City Itineraries
Hiking Guides
Photography Tips & Locations
National Park & Road Trip Experiences
Our MISSION can be broken down into three simple concepts:
1). MOTIVATE READERS TO TRAVEL SOMEWHERE NEW – Our first goal is to show our readers the beauty of the world we live in. By writing about our travels and personal experiences through this blog, we want to encourage others to take that trip they have always wanted. Life is short and it's worth living in the now!
2). ENCOURAGE READERS TO MAKE THE MOST OF THEIR TIME – Next, our prerogative is to give our readers the tools to have the best trip possible. Our incredibly detailed itineraries help others know exactly what to expect once they get to their destination!
3). INSPIRE READERS TO IMPROVE THEIR PHOTOGRAPHY SKILLS – Last and most important, we aim to help our readers keep these precious moments from their travels forever by honing their photography skills.
What Do We Offer?
Affiliate Partnerships
Are you an affiliate marketer with a great product you know would be a perfect fit for our readers in travel, hiking and photography? Let's work together!
Brand Ambassadorship
If you have amazing products for customers who love to travel and/or be in the great outdoors, we would love to increase your exposure and brand awareness. We are always on the lookout for brands reflecting our readers passions.
Newsletter Advertising
We take pride in our quickly growing newsletter which is published once weekly. Our "Morgan Mondays" newsletter currently has hundreds of subscribers with a high open rate.
Destination Marketing, FAM Trips & Press Campaigns
Are you looking for experienced content creators to expand your online exposure and attract travelers to your destination? We can help get your destination, product, service or event onto the screens of a large and engaged audience. As passionate travel writers, we deliver long-form content which always includes our own photography. We will work with you to increase awareness though our blog posts, social media updates and of course, high-quality photos of our travel experience.
Product Sponsorship
Want a new way to promote your product? Send us your product for review and we will take it on our next trip to be featured in an exclusive article and promotion. Please note we do not write about any product we wouldn't use ourselves and/or cannot fully recommend.
Sponsored Blog Posts
Are you interested in sponsoring a post on Where Are Those Morgans? Having mastered the best SEO practices and understanding for google rankings, we can create highly-engaging material to be feature on this blog. Our authentic long-form content enhanced with targeted keywords and internal linking structure have proven content success over time. We will also provide social media promotion and a mention in our weekly newsletter.
Social Media Campaigns
We can promote your brand to maximize your ROI on the channels and hashtags of your choice.
Photography & Video Creation
Need professional content created for your product or destination? Being self-taught photographers, we take great pride in our gear: SONY A7R IV, Sony FE 16-35 f/2.8 GM lens, Sony FE 24-105 f/4 G lens and DJI Mavic 2 Pro Drone. We have the ability to create professional photos and/or video content to make your brand truly come to life. Choose between either high-resolution or low-resolution professionally edited photos for your needs.
Who Is Our Audience?
The majority of our readers are young professionals and families who travel on mid-range budgets and know when to splurge.
Their interests include adventurous travel, outdoor activities and photography.
Where Are Those Morgans is read in 120+ countries, but our readers are primarily based in North America, the United Kingdom, Europe, India and Australia.
Gender Breakdown
Female – 55.8 %
Male – 44.2 %
Age Demographics
18-24 – 9.99 %
25-34 – 25.40 %
35-44 – 18.64 %
45-54 – 16.76 %
55-64 – 17.69 %
65+ – 11.51 %
Brands We've Worked With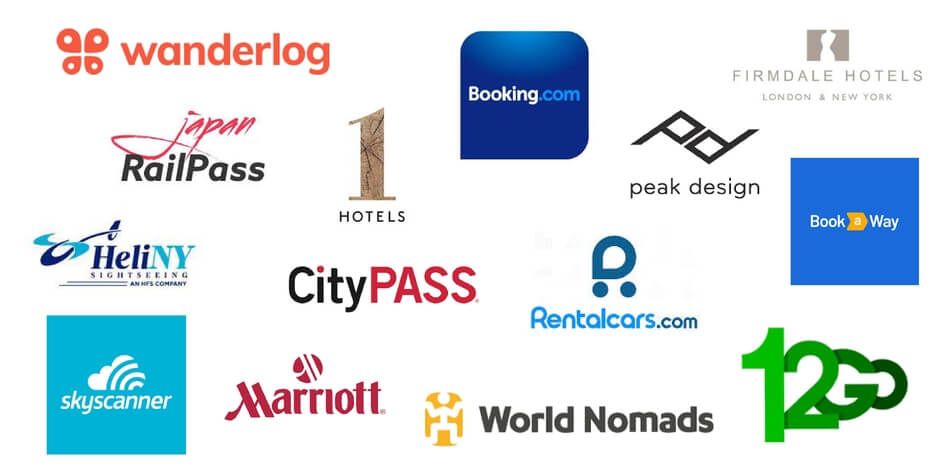 Let's Work Together!
If you feel our values are similar, we would love an opportunity to work with you!
Head over to our about page to read more about Mark and Kristen.
To contact us directly, please email us at: