Fire Wave Trail leads hikers to the Fire Wave, the most striking natural landscape inside Valley of Fire State Park in Nevada. We are going explain everything you need to know about how to hike Fire Wave Trail, with tips and stunning sunrise photos from our visit.
Is the Fire Wave Trail worth the time on your Valley of Fire State Park or Las Vegas itinerary?
Yes, Fire Wave Trail is definitely worth the time on your visit to Valley of Fire! We strongly recommend hiking the amazing Fire Wave Trail if you have three or more days in your Las Vegas itinerary, or you plan to drive between Las Vegas and Zion.
The easy Fire Wave Trail leading to a spectacular Mars-like climax is included in our popular list of the best hikes in the US.
Here's what we will cover to help with planning your hike:
Where to park and directions
Passes and fees to enter the park
Complete hiking walkthrough
Beautiful sunrise photos
Pros, cons and is it worth it?
Let's hike to the Fire Wave in Valley of Fire State Park near Las Vegas, Nevada!
*Please note this post may contain affiliate links. If you click on one, we may earn a small commission at no extra cost to you. Thank you for supporting the free content we provide! Read more in our disclosure policy.*
What Is The Fire Wave?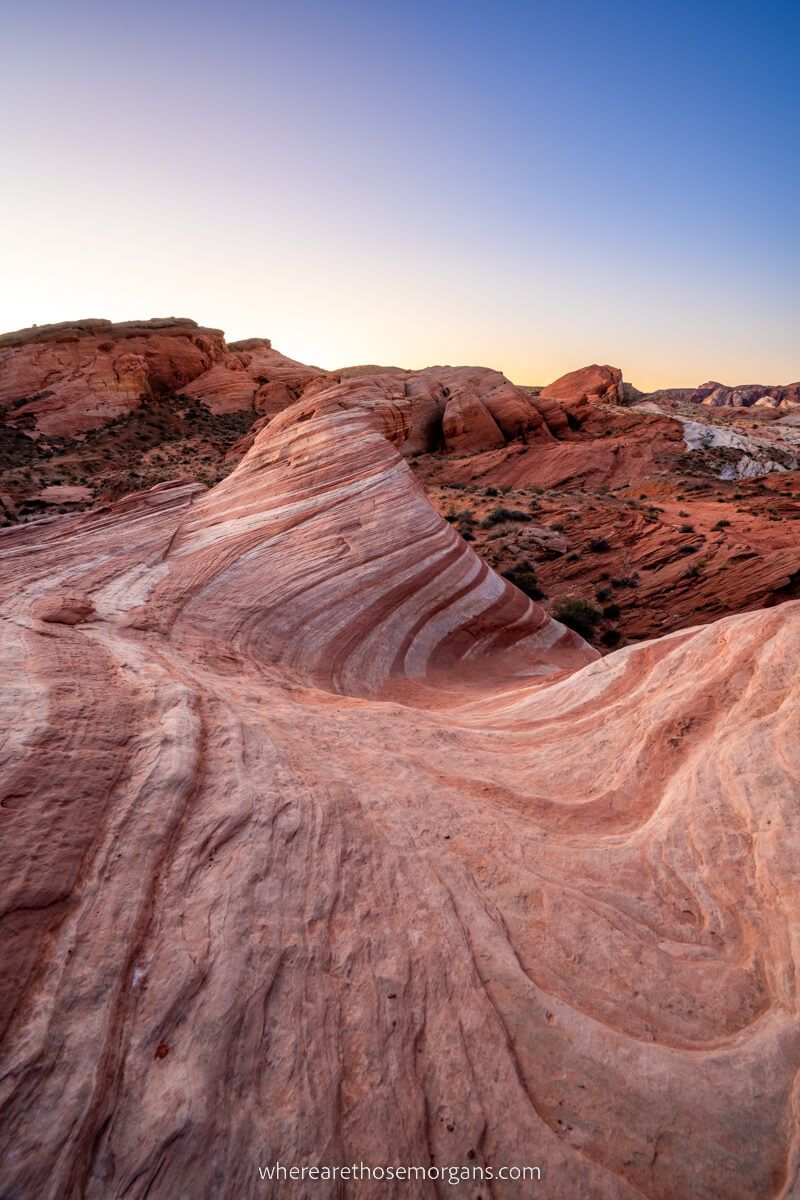 Fire Wave is the best and most popular hike in Valley of Fire State Park. A short, easy and family friendly hiking trail follows a sandy path until it reaches fiery red sandstone rocks which ultimately leads to an astounding scene of swirling patterns and smooth sandstone domes at the Fire Wave.
The flaming red landscape appears as though it belongs on Mars. Layers of red and white sandstone waves curving around dome shaped formations creates a mind bending whirling effect like a lollipop.
You're going to need your camera for this hike, the incredibly photogenic Fire Wave is one of the best bang for your buck returns for lovers of nature at its finest.
Visiting Valley of Fire? Read our complete guide to visiting Valley of Fire State Park next to see the other 14 awesome things you can do in the park.
Similarities With The Wave In Arizona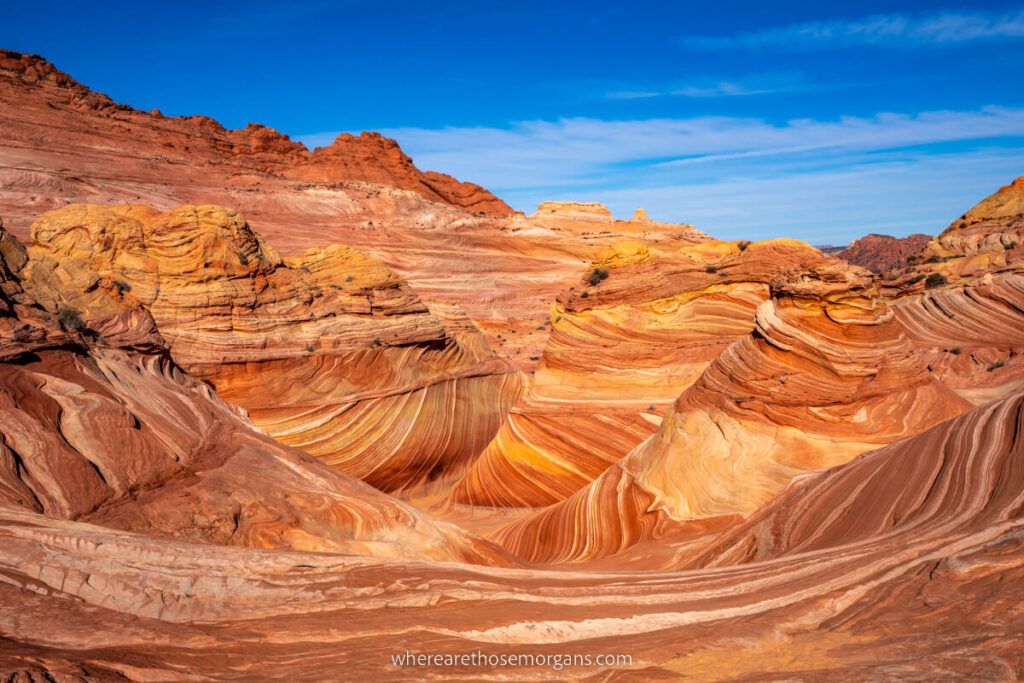 Have you heard of the bucket list hiking trail called The Wave in Arizona?
Well, Fire Wave here in Valley of Fire State Park is a similar landscape to The Wave in Arizona, just on a much smaller scale.
Granted, The Wave is on another level completely in terms of scale and beauty, but it also requires hikers to win the hardest hiking permit in the entire US.
You can hike to Fire Wave in Valley of Fire without a permit, between sunrise and sunset for the majority of the year. If you enjoy what you see at the Fire Wave, it might be worth considering a lottery application for the upgrade to The Wave!
Here's the info you need on obtaining a permit to hike The Wave AZ.
Fire Wave Hiking Statistics + Trail Description
Trail Distance: 1.5 miles roundtrip
Elevation Gain: 230 feet
Hike Difficulty: Easy
Time Required: 2 hours
Fire Wave Trail is rated as easy in difficulty level. It is short, has very little elevation gain and is suitable for all hikers.
The best part is that it leads to a spectacular crescendo for very little effort.
You could easily hike out and back to Fire Wave in under 1 hour if you just want to see what all the fuss is about or if you're on a tight time frame.
However, we recommend you plan to spend at least 30 minutes admiring the unique and otherworldly landscape at the end of Fire Wave Trail before turning back.
Is Fire Wave Trail Closed?
Valley of Fire State Park is open seven days a week, 365 days a year and visitors are permitted to hike Fire Wave Trail between sunrise and sunset daily.
However, Fire Wave Trail temporarily closed in 2022 during the summer months between June 1st and September 30th for safety reasons. Intense heat can cause problems for hikers in Valley of Fire State Park in summer.
As a result this trail and other popular hikes in Valley of Fire were closed for 4 months in 2022.
It is important to note these closures did not occur the year before so it could be a one off due to excessive heat. However, to avoid disappointment we advise against visiting Valley of Fire in summer.
You should have no problems hiking Fire Wave between October and May but it is still vital to carry plenty of water despite the short trail distance.
This is the Nevada desert after all!
Accessibility
Fire Wave is a very easy hike suitable for almost all visitors, especially families with younger kids who will enjoy the varied terrain.
However, the Fire Wave hike is unfortunately not accessible for wheelchairs or strollers due to several deep sandy sections and for geological preservation of the sandstone formations.
You cannot see the Fire Wave landscape from the road or anywhere else, which means the only way to see it is by hiking.
Where Is The Fire Wave In Valley Of Fire?
Fire Wave is a wide open expanse featuring several colorful dome formations at the end of the Fire Wave hiking trail, which is located in Valley of Fire State Park close to the end of Mouse's Tank Road, around 60 miles from the Las Vegas Strip in Nevada.
Click or touch the map above to activate. Zoom in and out, move around and familiarize yourself with the location of Fire Wave within Valley of Fire and around Las Vegas.
Hikers must follow a short 0.75 mile long trail from Mouse's Tank Road heading east, southeast and south to reach the area known as the Fire Wave.
The American Southwest is one of the all time best road trips in the USA and Valley of Fire is perfectly located between Las Vegas and the famous Utah National Parks, which means you can easily include this hike into your itinerary.
Where To Park For Hiking Fire Wave Trail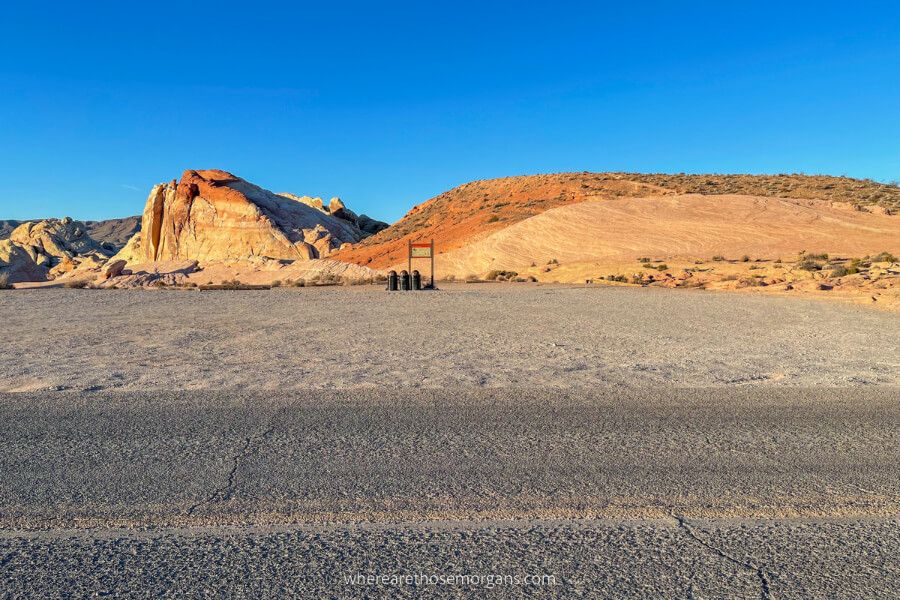 Hikers must park in one of two off road parking lots located on either side of Mouse's Tank Road at the Fire Wave Trailhead. Parking on Mouse's Tank Road is not permitted.
Before you set off set your navigation for the following:
GPS coordinates = 36.48830, -114.52815
Google Maps = "Fire Wave Trailhead"
There are plenty of parking spaces on the west side of the road in a half moon shaped gravel lot. In addition, there's room for maybe 10-15 cars in a horseshoe shaped dirt lot on the east side of the road where the trail begins.
Note: There are no restrooms at the Fire Wave trailhead. The nearest vault toilets are located 1 mile away at the very end of Mouse's Tank Road at The White Domes Trail.
Alternate Parking and Hiking Trail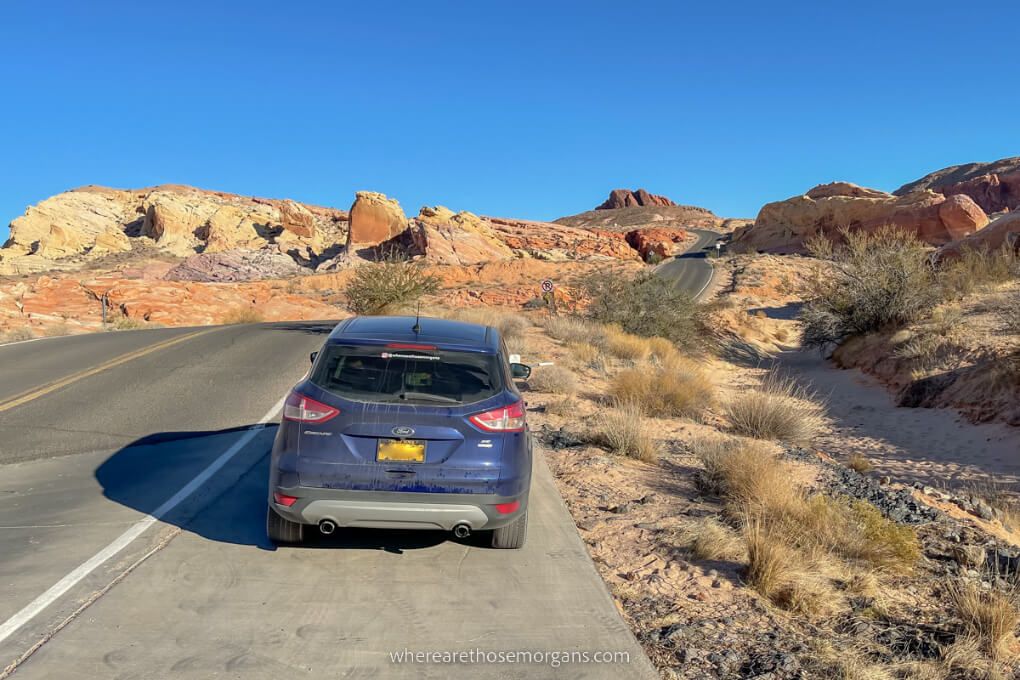 Technically, the official designated Fire Wave Trail is almost always followed from its main trailhead. But after we noticed a few other hikers arriving to Fire Wave from the opposite side, we investigated and found another way to the photogenic ending.
One of the best 'hidden gem' areas in Valley of Fire State Park is called Pink Canyon (or Pastel Canyon). To access Pink Canyon you will need to park in one of very few roadside spaces near the canyon entrance.
If you look on Google Maps you can find "Pastel (Pink) Canyon Trail" or "Crazy Hill / Fire Wave Trailhead". It appears you can walk through Pink Canyon and continue to Fire Wave.
We would suggest only parking here as a last resort if the main lots are full. There are maybe three or four spaces and they are dangerously close to traffic on Mouse's Tank Road.
Do You Need A Pass To Hike Fire Wave Trail In Valley Of Fire State Park?
In order to hike Fire Wave Trail you have to pay for day use or overnight camping entry to Valley of Fire State Park. You cannot hike this trail without paying the state park fee as you arrive via the east or west entrance.
If you plan to spend one afternoon and one morning in Valley of Fire, you will have to pay twice for individual day use entrance.
Valley Of Fire State Park Fees
Day use entrance fee:
$10 per vehicle (for Nevada vehicles)
$15 per vehicle (for non-Nevada vehicles)
Camping fees:
$20 per vehicle, per night (for Nevada vehicles)
$25 per night, per vehicle (for non-Nevada vehicles)
+ $10 for sites with utility hookups
America The Beautiful Pass
Valley of Fire is a Nevada State Park and that means you cannot use your America the Beautiful Pass to gain entry.
All US State Parks are exempt from the Interagency Pass.
Fire Wave Trail Map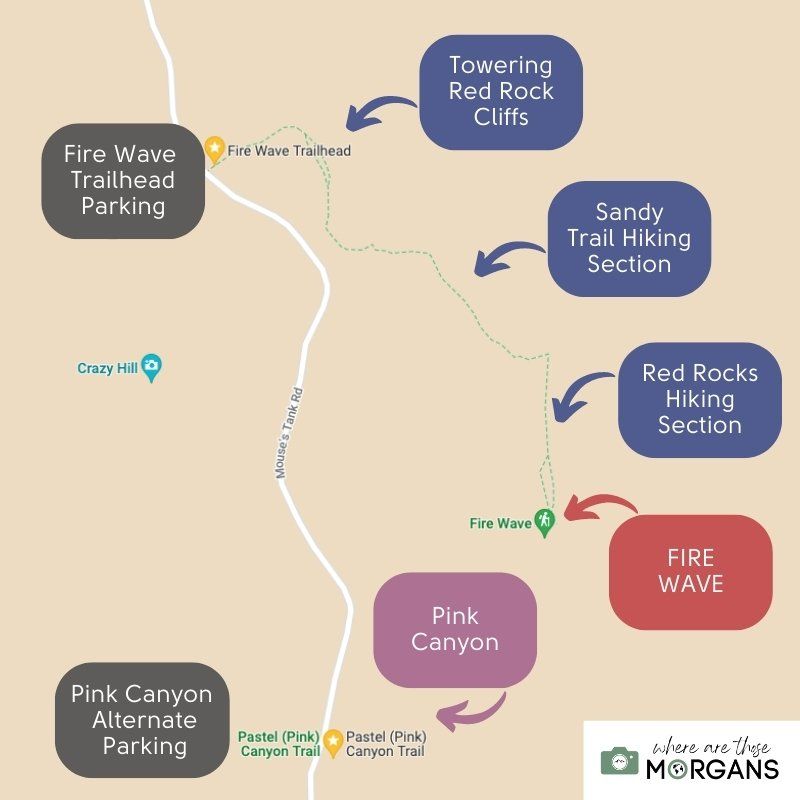 The map above shows exactly what you can expect when hiking Fire Wave Trail in Valley of Fire State Park with directions and parking options.
Hiking Apps
Do you use any of the best hiking apps for offline maps?
We always download offline maps onto our premium Gaia GPS app so we can keep track of our location on hiking trails. All Trails has a similar app but we have found Gaia to be excellent for navigation.
We used our offline maps function to navigate Fire Wave Trail in the dark so we could arrive before sunrise.
If you are interested in tracking your own hikes, you can sign up to Gaia GPS premium with our exclusive 20% discount link.
Fire Wave Trail Hiking Directions
OK, let's get into the hiking walkthrough!
We personally hiked Fire Wave Trail before sunrise so we could enjoy the colors at their best. Once the sun comes up it bleaches and washes out the color, but it is still beautiful and well worth the hike.
The photos you see below at each step of the walkthrough were taken on the way back to the parking lot once the sun had come up. Otherwise every photo of the trail would be in the dark!
Park At Fire Wave Trailhead
Drive up Mouse's Tank Road and find a spot in one of the two parking areas at Fire Wave trailhead. You shouldn't have too much of a problem finding a space despite this being a popular hike.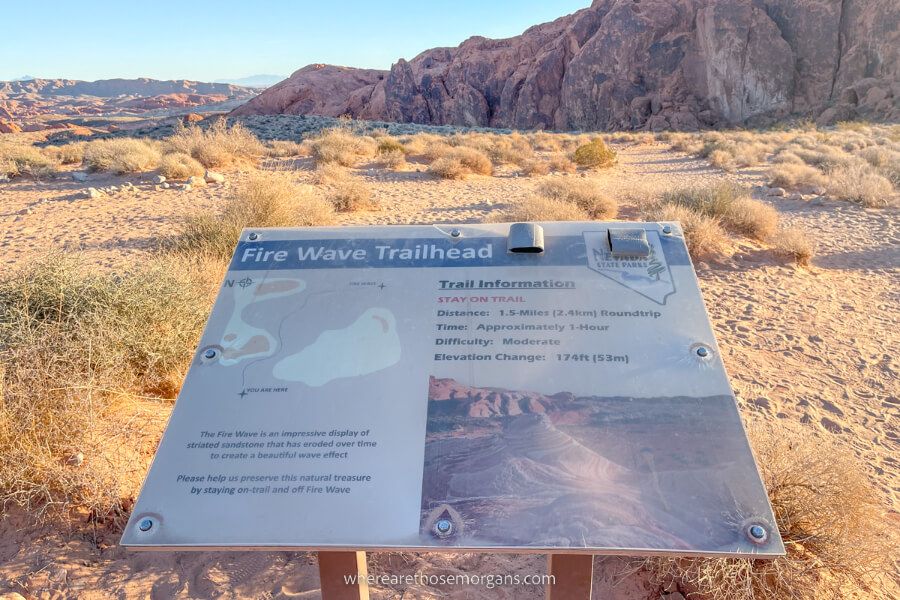 Head For The Huge Cliffs
The trail begins by walking east towards an enormous gently sloping red rock formation. You will follow a sandy path as it cuts through a sea of short desert vegetation.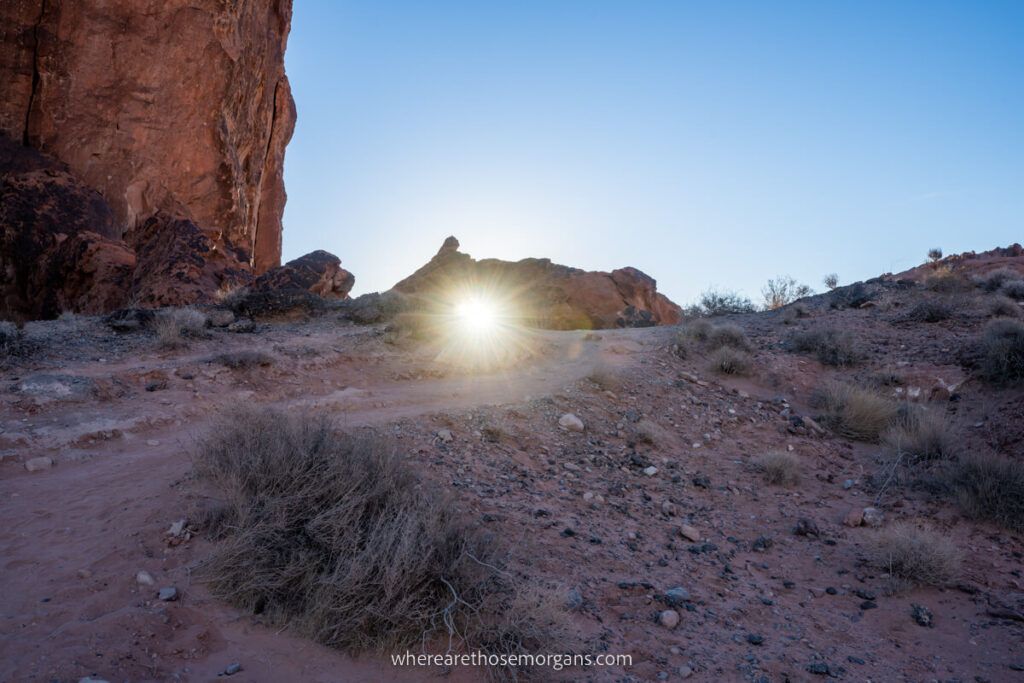 Turn Right
Take a right turn once you reach the base of the towering cliffs and follow the wooden poles with reflective yellow strips so you are heading southeast.
Eventually you will reach a cluster of huge boulders and small stones in a pile. The trail circles around the boulders with a very slight elevation gain until it crests and transitions into a gradual descent.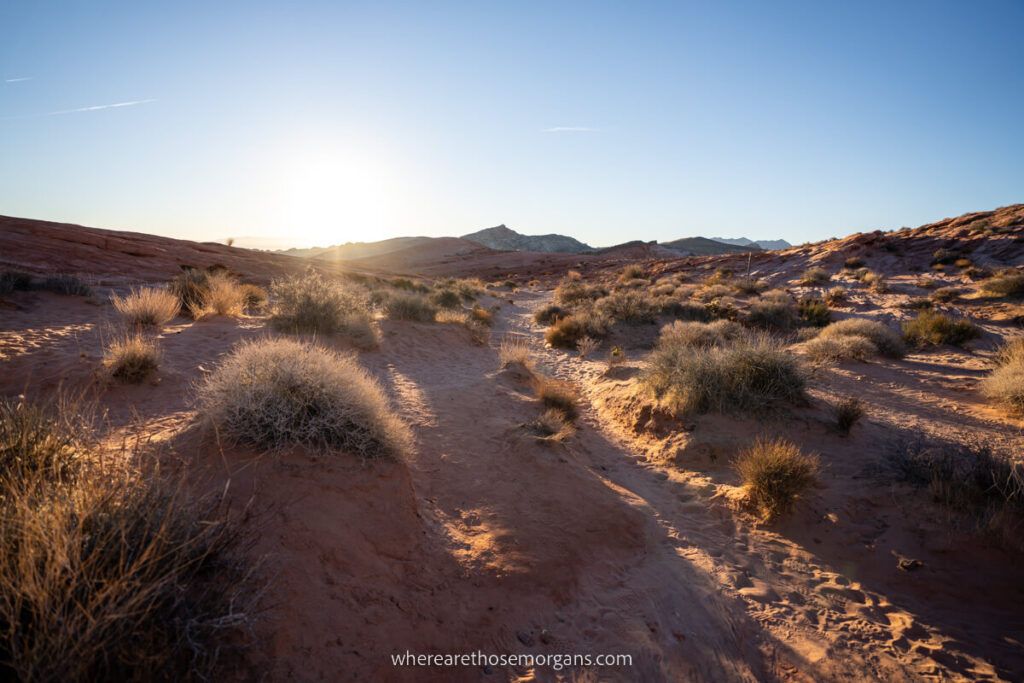 Follow The Sandy Path
You will now follow the narrow sandy trail as it cuts through a shallow valley. It is here you will begin to see the contrasts in colors between grays and reds.
Continue along the path following the poles with yellow stripes. It is worth noting that during our hike in the dark this part of the trail was hard to follow, but it is very obvious in daylight.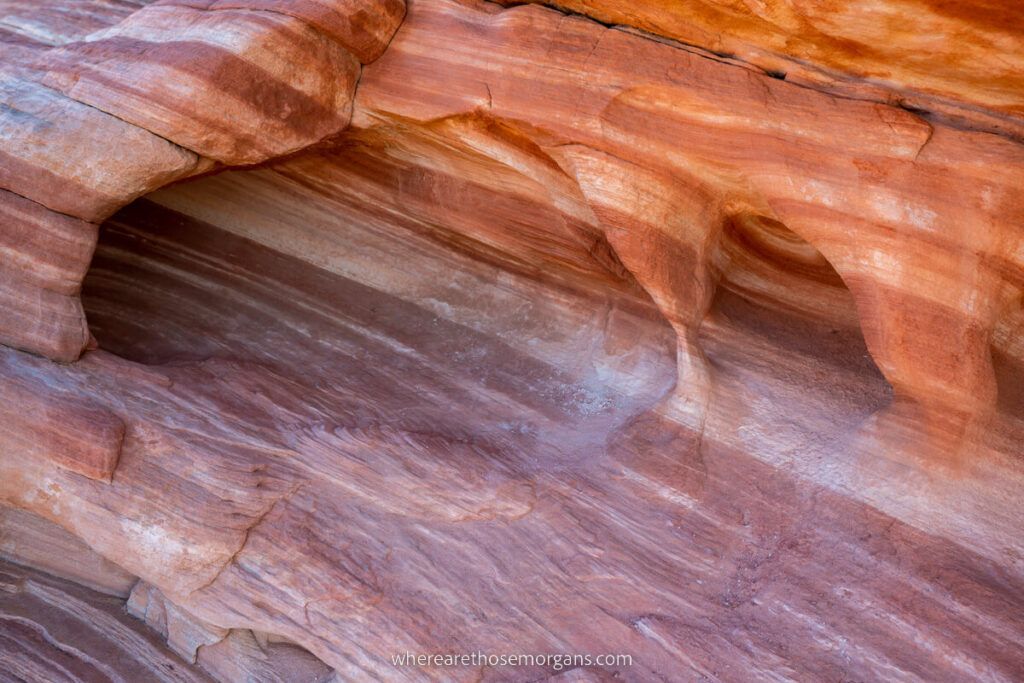 Red Rocks
Eventually the sandy gravel trail meets red rocks and follows alongside for a short time.
Just keep following the trail marker poles and before you know it those poles will begin appearing on top of the red rocks.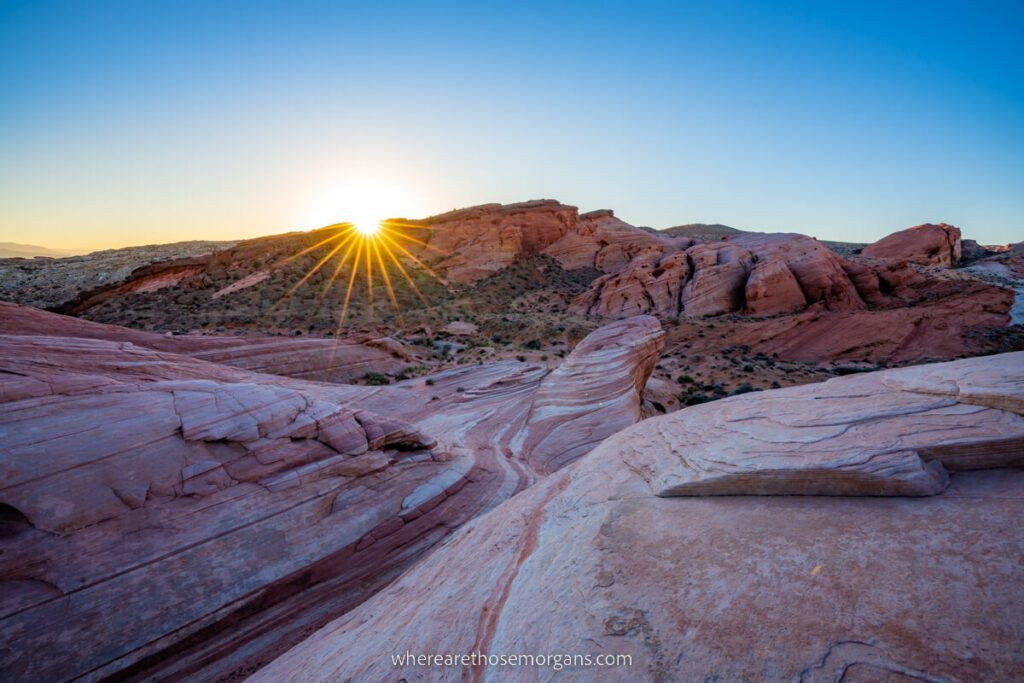 Pass Over The Hump
Once you reach a very obvious smoothly sloping red rock face, the trail turns due south and gains elevation one final time.
This part kind of feels like you're walking into the clouds and as soon as you reach the hump it feels as though you've been teleported to another planet.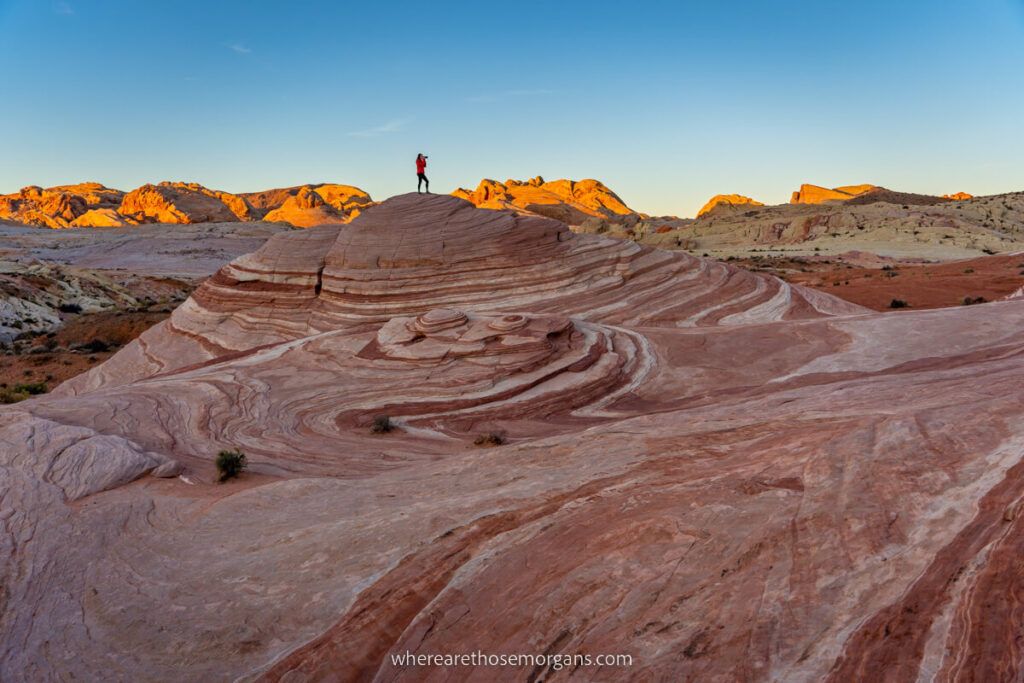 Enjoy The Remarkable Fire Wave
Take your time slowly descending to the main event at the Fire Wave. Look beyond the smooth red and white domes to find more alien looking mounds full of color.
It's time to take a whole bunch of photos!
You can walk freely around the area without restriction but please be respectful of others who want to take photos. Don't be those people who sit right in the photo zone and start eating lunch!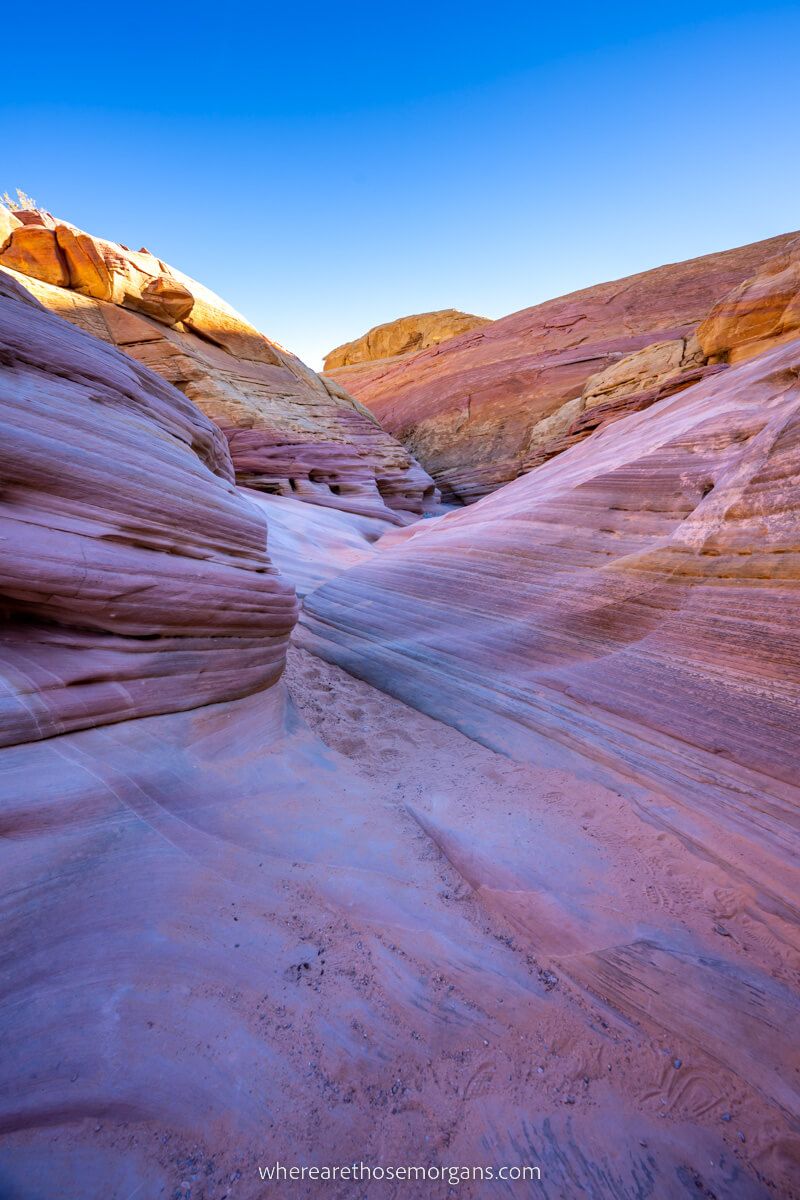 Continue Further Into Pink Canyon
Instead of going straight back to your car and fighting to park in one of the very few (and dangerous) Pink Canyon parking spots, you should continue beyond Fire Wave and enter the Pink Canyon now.
We were not aware of this during our visit but would definitely do this the next time we visit Valley of Fire. To reach Pink Canyon simply head southwest towards the yellow and pink colored rocks you can see.
Fire Wave Trail Pros And Cons
Let's take a quick look at the pros and cons of the Fire Wave hike in Valley of Fire State Park.
Pros:
Easy, flat and fun hike suitable for all levels
Spectacularly photogenic ending
Perfect for solo visitors, couples and families
Cons:
Can be overcrowded at peak times
Photos don't look as good during the day
Trail can be dangerously hot in summer
Best Time To Hike Fire Wave Trail
Season
Fall, winter and spring are the best seasons to hike Fire Wave Trail. We advise against visiting Valley of Fire State Park in summer due to excessive heat in Nevada.
The colder winter months of November, December and January are arguably the very best months to hike Fire Wave Trail thanks to cooler hiking temperatures, fewer crowds and later sunrises.
No matter which season you visit Valley of Fire, try to avoid weekends and holidays.
Time Of Day
The best time of day to hike Fire Wave Trail is around sunrise. Dawn benefits from cooler temperatures, far fewer crowds and most vibrant colors before sunlight kisses the red rock landscape.
After sunrise, we would suggest hiking Fire Wave for sunset as a second best or backup option. Just remember to take headlamps with spare batteries if you plan to hike in the dark.
Hiking during the day is fine and definitely the safest time for families or beginner hikers. However, you will miss out on the most striking colors at the Fire Wave.
Fire Wave Trail Sunrise Photos
We took a lot of Fire Wave sunrise photos during our hike!
This place is special and we had it all to ourselves for a good 30-40 minutes before, during and right after sunrise.
Nearby Zion, Bryce Canyon and Grand Canyon are all among the very best national parks in the USA, but this landscape at little known Valley of Fire State Park is up there among the most picturesque in the southwest.
Let's take a look at just a few more of our favorite Fire Wave sunrise photos.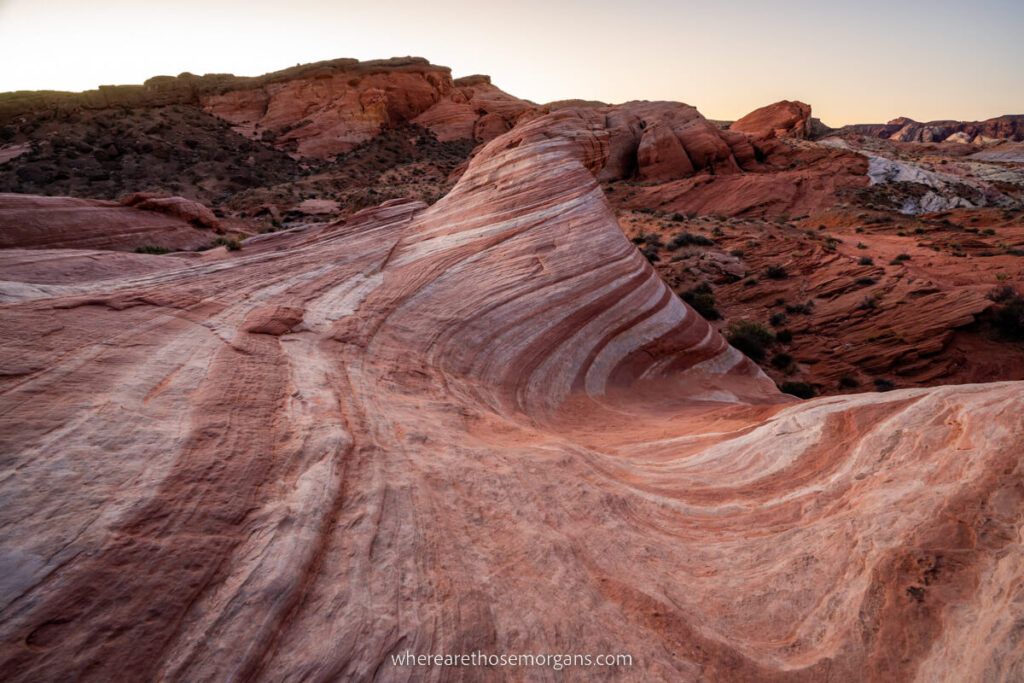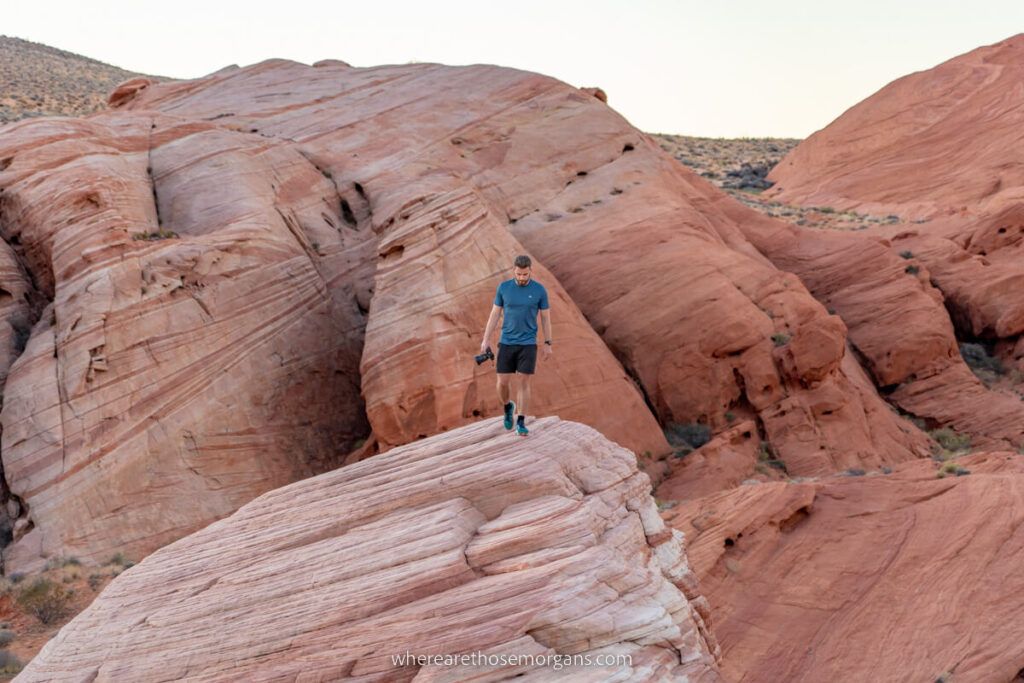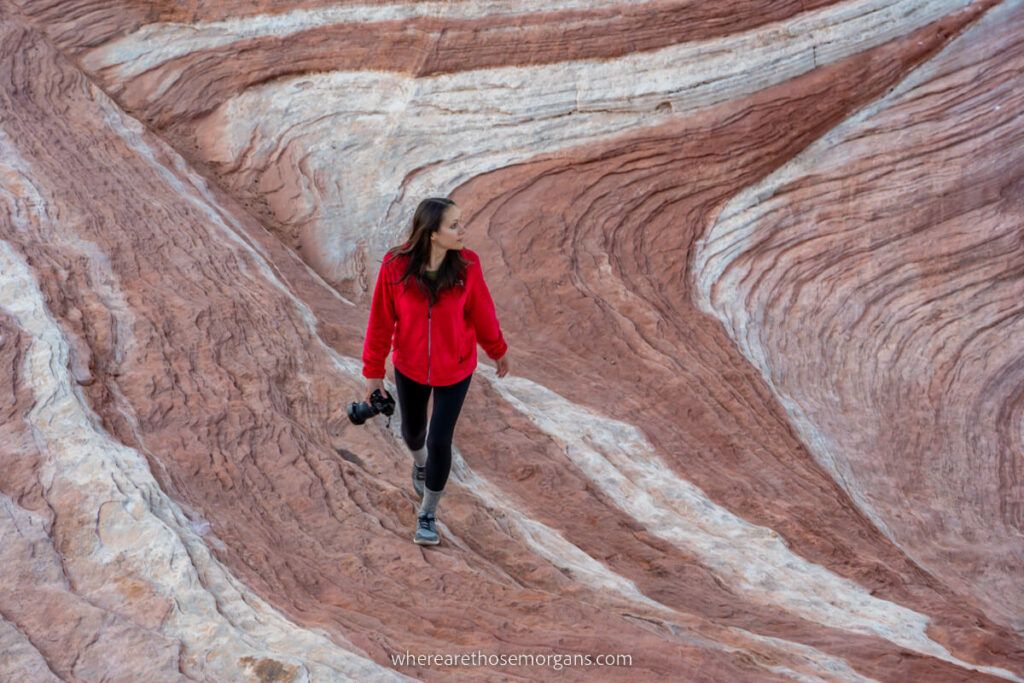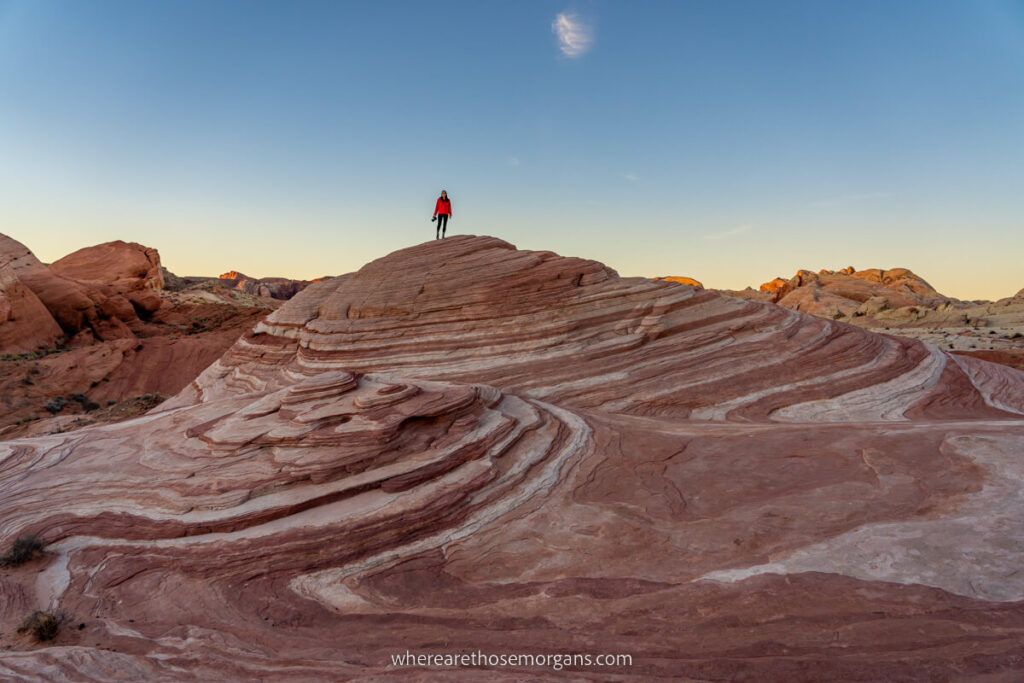 What To Pack For Hiking Fire Wave Trail
Footwear – We always recommend wearing a pair of shoes with good traction and grips for hikes. The landscape at Fire Wave is essentially sloping rocks which would be slippery when wet.
Water – This is a short hike but don't be fooled, you'll still need to carry plenty of water. Summer months require more water and even electrolyte drinks.
Sun protection – Sunglasses, sun hats, long light layers and sunscreen are vital if you are visiting hiking on a hot day. The entire hiking trail is open and exposed with no shade.
Winter – Early starts and late finishes can be surprisingly chilly in winter. Make sure you wear layers and pack warm essentials if you try a sunrise or sunset hike in winter.
Where To Stay Near The Fire Wave Trail
Fire Wave is located in the heart of Valley of Fire State Park, which is located around 60 miles drive from Las Vegas. The best place to stay if you want to visit Valley of Fire over two or more days is Overton, just 11 miles from the east entrance and 19 miles from Fire Wave Trailhead.
North Shore Inn at Lake Mead is the closest hotel to the park. It's actually the only real option available and we spent a night at the hotel ourselves the night before hiking Fire Wave for sunrise.
There's a great little Mexican place right over the road from the hotel.
>> Check prices: North Shore Inn at Lake Mead
Is Fire Wave Trail Worth Hiking?
Yes, the Fire Wave Trail is definitely worth hiking! It is the best hike in Valley of Fire State Park and it leads to one of the most photogenic landscapes of any hike in the American Southwest.
Las Vegas is one of the best places to visit in the USA and we hope you are able to enjoy Valley of Fire during your trip, just make sure the one thing you do is hike Fire Wave Trail.
Fire Wave Trail FAQ's
Let's finish with some of the most asked questions about the Fire Wave hike in Valley of Fire State Park, Nevada.
How Long Is The Fire Wave Trail?
Fire Wave is a 1.5 miles roundtrip hiking trail in Valley of Fire State Park, Nevada. The easy Fire Wave hike has just 230 feet of elevation gain and takes around 2 hours to complete with time for photos.
How Was The Fire Wave Formed?
Valley of Fire's striking Fire Wave has the appearance of a striped red and white candy sweet as a result of wind and water erosion over 150 million years. Layers of sediment eroding, washing out and blowing around over millennia have given us these postcard perfect rock formations to enjoy today.
Our Popular Las Vegas Guides
Things To Do – Do you know exactly what you will do in Vegas? If not sure yet, read our ultimate guide to the 40 best things to do in Las Vegas both on and off the famous strip.

Best Hotels – Which of the iconic hotels will you stay at on the strip? Read our comprehensive guide to the 25 most popular Las Vegas hotels on the strip to see which looks best for you.

Best Shows – Do you know which Vegas shows you want to watch? Here are the 30 most popular Las Vegas shows to help choose the perfect experience for your visit.

November – Planning a visit to Vegas in Autumn? Here are 10 key things you need to know about visiting Las Vegas in November.

Food Tour – Want to try something unique in Vegas? Read our Las Vegas Secret Food Tour Review to see if tasting celebrity chef dishes is a good fit for your travel plans.
Our Las Vegas Day Trip Guides
Day Trips – Planning a day trip on your visit to Vegas? Here are the 10 most popular Las Vegas day trips with details on how to DIY or take a tour.
Valley Of Fire – The complete list of 15 best things to do on a visit to Valley of Fire, including family friendly hikes and beautiful photo spots.
Red Rock Canyon – Looking for another awesome place to hike near Las Vegas? Here's our guide to the 10 best hikes at Red Rock Canyon less than half an hour from the Vegas strip.
Hoover Dam – Are you planning to visit the Hoover Dam on your trip to the US southwest? Read our complete guide to driving from Las Vegas to Hoover Dam and exactly what you can expect.
Seven Magic Mountains – Do you enjoy photography and interesting art exhibits? Read our guide complete guide to visiting the Seven Magic Mountains near Las Vegas.
Our Popular US Southwest Guides
Grand Canyon – A must visit landscape, here is our ultimate guide to visiting Grand Canyon South Rim and our popular hiking guide the 17 best hikes at Grand Canyon South Rim.

Sedona – One of our favorite places to visit in the US, here are our guides to the 20 best things to do in Sedona, the 20 best hikes in Sedona and the perfect Sedona itinerary.

Zion – One of the most popular US national parks, here are our guides to the 20 best hikes in Zion and the perfect one day Zion itinerary.
Want more Nevada content? Head over to our Nevada Travel Guides to explore State Parks, beautiful landscapes and the best things to do in Las Vegas.
---
We hope this hiking guide to Fire Wave Trail helps with planning your visit to Valley of Fire State Park, Nevada!
Please let us know if you have any questions about hiking Fire Wave Trail or your visit to Las Vegas in the comments below.
Happy Hiking,
Mark and Kristen