Hiking perfectly combines a fantastic work out with the discovery of beautiful natural environments. It provides us with a much needed escape from every day life, important elements of exercise and an opportunity to clear our minds. But what do we bring on a day hike to pump up those feel-good endorphins and positive feelings of escapism on the trails without the concern of under or over packing? Well, we are here to give you our list of the very best things to bring on a day hike!
Packing for a day hike is a balancing act, but it quickly becomes second nature. You will learn exactly what works best for your hiking style, but more importantly how you can improve your packing for safety and comfort.
Under-packing is arguably more dangerous than over-packing for a day hike. It can be easy to underestimate a trail and forget that accidents do happen. Plenty of small, cheap and easy to pack survival items are a key element of packing for a day hike.
This checklist is intended for short, medium or long hikes, which can be completed in one day. Please note this list does not cover longer multi-day backpacking trips. Having completed hundreds of day hikes from short to long and from easy to hard, this is our tried and tested checklist of the items we personally bring on every day hike.
Let's start packing the day hiking essentials!
*Please note this post may contain affiliate links. If you click on one, we may earn a small commission at no extra cost to you. Thank you for supporting the free content we provide! Read more in our disclosure policy.*
Day Hiking Apps And Tools
Before we get started with our day hiking essentials, there are a few tools which can set you up for the perfect day hiking experience. Let's start with hiking apps.
The hiking app we use on the trails is GAIA GPS, the premium membership. This app is perfect for challenging, long or wilderness day hikes because of the navigational capabilities.
Use our special link for a 20% discount off your GAIA GPS membership.
We won't go into much detail here, but if you want to see why GAIA GPS is our go to hiking app, read this guide about the best hiking apps currently on the market.
Other popular outdoor apps and tools include:
AllTrails – The free version is great for reading comments about a specific hike and current trail conditions.
The Outbound – Here you can find camping, glamping and outdoor adventures, such as nearby hot springs.
Meetup – This app will help you connect with people and upcoming outdoor events.
Once you find the perfect day hike, be sure to do your research and study the trail beforehand. It is important to understand the distance and elevation you will encounter on your day hike.
Even if you are hiking an easier trail, preparation can never be overlooked. For more hiking tips, be sure to read our hiking for beginners guide before hitting the trail.
You can also use our popular guide to the 50 best hikes in the US for inspiration to find your next hiking challenge in America.
Day Hiking Essentials: The 10 Items You Need To Bring
For the remainder of this guide, we will individually go over each important item you should be brining on a day hike every-time.
In the section above, we discussed tools you can use when planning which trails to take on. Let's start our list with when navigation comes into play on your day hike.
Most day hikes will be on the beaten path, with easy to follow signage and plenty of other hikers around to help with directions. However, there are a never ending supply of hiking options and you may find yourself out in the wilderness alone. Keep in mind there is often no cell reception or WiFi in remote parts of a country.
Losing your way in the backcountry can be a serious life-threatening situation. And if there is an emergency, it's critical you can identify your exact location. Be sure to have an up-to-date topographical map, a compass and basic navigational skills if an unexpected situation happens.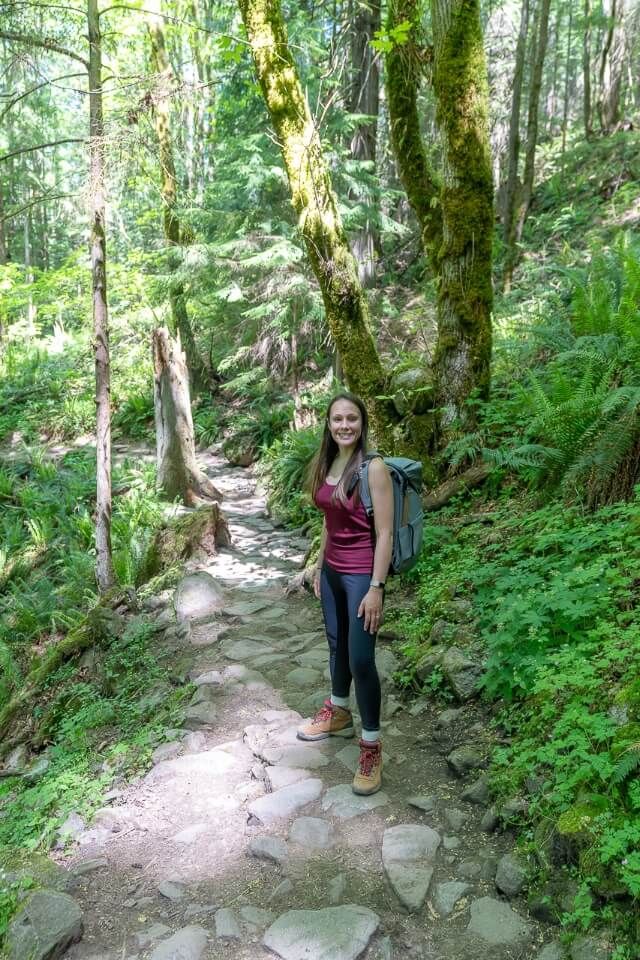 There are several smartphone navigation apps with offline maps and GPS resources to help ensure you know where you are going. We love Gaia GPS or AllTrails to keep us on track.
You can download an offline map to your phone before you hit the trails. This will let you trace your location in real time without the need for cell service.
And while many people solely rely on smartphone navigational tools, it's important to have a paper topographical map as a back up. A GPS app won't do you much good if your phone battery dies. Pack a lightweight power source to keep your phone sufficiently charged.
A very useful but more expensive item and not necessarily a must-have is a satellite communication device such as Garmin inReach Mini. This offers SOS + 2 way texting for communication with friends, family and rescuers. This tool is designed for the more adventurous day hiker!
2. A Hiking Backpack
Backpacks are one of those items you class as both a necessity and a luxury. It can be very easy to get carried away with buying backpacks, trust us, we know!
But in truth, choosing the correct backpack for a day hike can significantly improve your hiking experience. The type of backpack you need will depend on your goals and how much / type of gear you want to carry.
Choosing A Backpack For A Day Hike
The first place you want to start is with a great hiking backpack that is comfortable and well-fitting. But it also needs to be functional and practical.
When we first started hiking, we will admit we skimped on backpacks. We often used an old Herschel or Jansport backpack designed for little more than commuting to work in order to save money.
Buying high quality and fit-for-purpose hiking backpacks has truly changed the game for us. It was the easiest change we could make at the time to dramatically improve our overall experience.
This is what to look for in a solid day hiking backpack:
A typical day pack ranges in 15-30L in size. You want your backpack to hold the essentials on this list, plus any specific additional items you may need.
A hip belt to take some of the load off your shoulders is important for longer day hikes with heavier packs.
An interior sleeve for a hydration pack or side pockets for a water bottle.
Made from high quality materials for durability and to withstand all types of weather.
Several outside pockets to make it easy for stashing items on the go.
We personally required a day hiking backpack for photography equipment. Do you have any special requirements from your hiking backpack?
We own a variety of different backpacks so we have options depending on the length of our day hike and our content creating equipment. Our two favorite brands for hiking backpacks are Osprey and Peak Design.
Here are the day hike packs we recommend you take a closer look at:
Read our in depth review of the Peak Design Everyday Backpack to learn more about the backpack we take on hikes to carry our photography equipment.
3. Footwear For Your Day Hike
High quality hiking shoes and/or boots are even more important than your backpack. Footwear truly can make or break your hike.
How many times has the wrong type of footwear or poorly fitting shoes impacted on your hike? Plenty of times we would guess, because it happens all the time.
In an ideal world with a bank balance to rival the Rockefeller family, you would have 4 or 5 pairs of shoes to suit all terrain, weather and trail types. But not many of us have that kind of financial freedom. So we have to pick a 'jack of all trades' pair of hiking shoes.
Work out the type of trail and weather conditions you will hike in the most:
Do you hike in cold weather conditions on rough and uneven trails? You will be better with a robust, high ankle support shoe with padding and extra warmth.

Or do you typically hike in hot climates on easy and flat trails? A low profile, breathable and flexible shoe would suit you more.
On longer or cooler hikes with rough and rocky terrain, we recommend hiking boots. These will provide good traction, support and stability. If you have weak ankles (like Kristen) make sure you use hiking boots with high ankle support.
For shorter hikes on paved, sandy or smooth terrain, hiking shoes or trail runners will be be sufficient. As these were designed for runners, they are sturdy, breathable and light weight.
As a bonus, we always like to have a pair of sandals handy to slip on after a day hike. We use our trusty Birkenstocks. At the end of the day, your hot and swollen feet will thank you immensely.
Day Hiking Socks
Once you've chosen the perfect pair of hiking shoes, it's time to move onto one of the most overlooked items on a hikers' shopping list – socks. This is the one area we find most hikers go wrong … please wear the right socks!
Nothing will ruin a day hike more than blisters, or even cold damp feet. You want to stay away from materials like cotton because this material absorbs moisture. Blisters are the arch enemy of the hiker and socks are just as important as shoes at deterring them from forming.
Look for wools and synthetics which wick sweat away and can regulate the temperature of your feet. Make sure to also pick a hiking sock that is a few extra inches above where your footwear ends.
Our favorite hiking socks and the ones we wear for almost every hike are Merino Smartwool.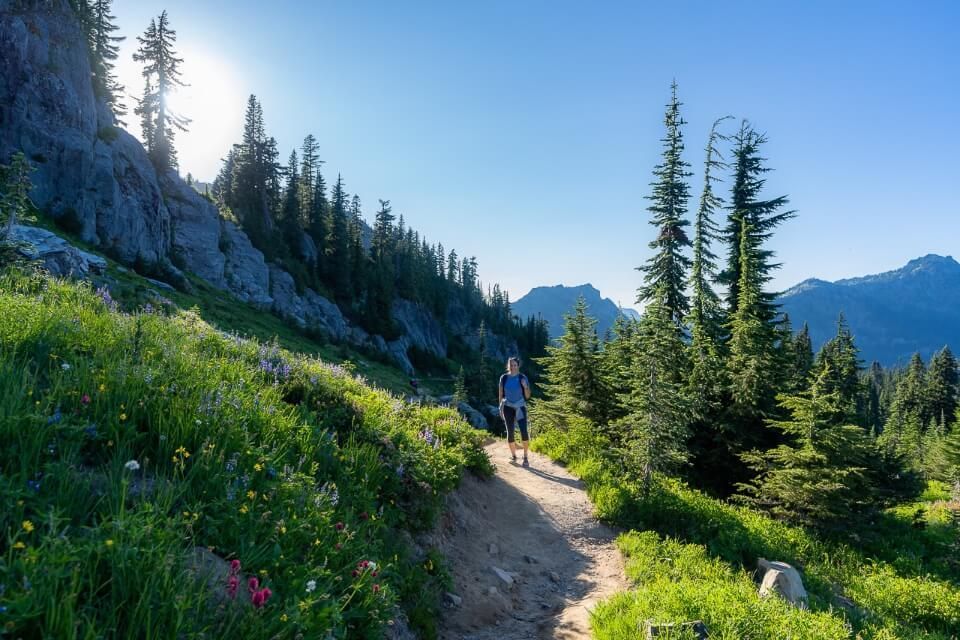 4. Day Hiking Layers
When we exert ourselves, our body temperature increases and in response, our body sweats to regulate the temperature. The best hiking clothes will remove this sweat from our skin to keep us dry.
Especially when hiking in the mountains, temperatures can be very different at the summit compared to the base. The best way to prepare for temperature differences is to establish the worst possible conditions you can encounter.
Layering is key to preparing for a successful hike in cooler or colder conditions, such as on a visit to Yellowstone in October or similarly Yosemite in October. Cold mornings but warm afternoons mean layers are key to a comfortable hike in both places at this time of year.
On a warm or hot day at low altitude, you won't need to worry as much about layering. Instead, you need to consider sun hats, baseball caps or even lightweight longer clothing to protect against the sun.
All of these layers are an important consideration for any day hike you plan to take.
What Is The Layering System?
A good layering system is an assortment of clothing allowing a hiker to adapt quickly to changing conditions on a trail. As weather and physical activity continuously evolve, layers can be easily added or removed to ensure safety and comfort of the individual.
This system will help to regulate your body temperature and keep you comfortable in all types of weather conditions.
Fabrics good for hiking include merino wool, polyester, fleece and nylon. These materials dry fast and wick sweat away from the body. Avoid cotton at all costs as this material will hold moisture against your skin and takes a long time to dry.
The Base Layer
This is the direct line of contact with your skin. The base layer wicks sweat away from your body.
Let's start by saying, Underwear is never to be overlooked! This is the first contact with your skin so it's important to keep this in mind. Don't spend a ton of money on hiking layers while neglecting your underwear.
The best hiking underwear is seamless, hygienic and non-chaffing. Materials such as merino wool also have natural antimicrobial properties.
When it comes to a sports bra, the same principle applies. A good fitting sports bra will minimize movement while keeping you comfortable. Sports bras typically range in low, medium and high support. Choose the bra based on your level of activity.
For your top and bottom base layer, choose from lightweight, midweight and heavyweight layers depending on the conditions of your hike.
A lightweight layer works best in warm to moderate temperatures.
A midweight layer works best in cool temperatures.
And a heavyweight layer is best in cold to below freezing temperatures.
We tend to keep this layer as thin as possible on longer or more challenging hikes.
The Mid-Layer
The second layer is known as the insulating layer and it conserves the heat generated by your body.
For mild to cool weather, our favorite fleece jackets to wear when we stop for food or to enjoy summit views are the Patagonia Better Sweaters. We didn't have these when we first started hiking and boy we wish we did! It's easy to tell how much we love these because we have accumulated several in different colors and styles over the years.
For colder weather, a highly compressible insulated down jacket is our go to for our food breaks and summit panoramas. Down is perfect insulation material because it's naturally provides warmth and is extremely lightweight.
One way to determine the quality of down is fill power, which typically ranges from 450 to 900. This is the volume in cubic inches that one ounce of down fills. This means the higher the number, the warmer the down.
We have three favorites in this category
Keep in mind both fleece and down are breathable, which is perfect for hiking comfort but not when the wind or rain picks up. You will no longer have the warm insulating properties if your gear gets wet.
The benefit of a synthetic jacket is that it maintains insulating properties even if it gets wet. We love the Patagonia Nano Puff for rainy weather.
The Outer Layer
The outermost layer defends you from the elements. It is essential this layer is both wind proof and water proof.
Staying dry is the key to avoiding hypothermia. This layer should also be breathable so it doesn't trap moisture as you hike. We always pack a rain jacket even if the weather does not predict rain. The weather can be extremely changeable, especially in the mountains at high altitudes and it's always better to be prepared.
The old school Patagonia Torrentshell is our go to rain jacket. The 3 additional layers allow you to easily adapt to your hiking conditions. You might also want to consider rain pants if you will be hiking somewhere that experiences a lot of rain.
5. Food And Water
Food and water are your fuel for the day. Please do not forget to pack enough water to last the duration of your hike, particularly when hiking in Summer or in traditionally warmer climates.
But how much is enough? Great question!
On level ground, most people generally average a walking pace of around 3 miles per hour. A good rule of thumb is to consume about two cups (or 0.5L) of water per hour of activity.
So for example, if you plan to hike 9 miles – which should take 3 hours – you will need around 6 cups or 1.5L of water. This requirement will increase with difficult terrain, steep inclines and hot weather.
Water can be stored either in hydration packs or water bottles. We carry water bottles on shorter hikes and hydration packs on longer hikes, but there is no correct way to do this. It's down to your personal preference and the type of backpack you carry.
Unless you are hiking somewhere with pure mountain springs, you may need also a filtration straw or filtration tablets if you run out of water. It's a good idea to carry one just in case you end up hiking for longer than expected.
In addition to water, we often like to carry a Gatorade to help replenish our electrolytes. This definitely gives us an extra boost on the trail.
Even though you are only going for a day hike, it's important to keep up your energy with snacks. Use them as little rewards every time you meet a goal on your hike. We save our best snacks to enjoy while taking in the best views from our effort.
Here are some of our favorite snacks for a day hike:
Fresh Fruit
Jerky
Crackers / Cheese / Pepperoni
Power Bars
Trail Mix
Hard Boiled Eggs
Sandwiches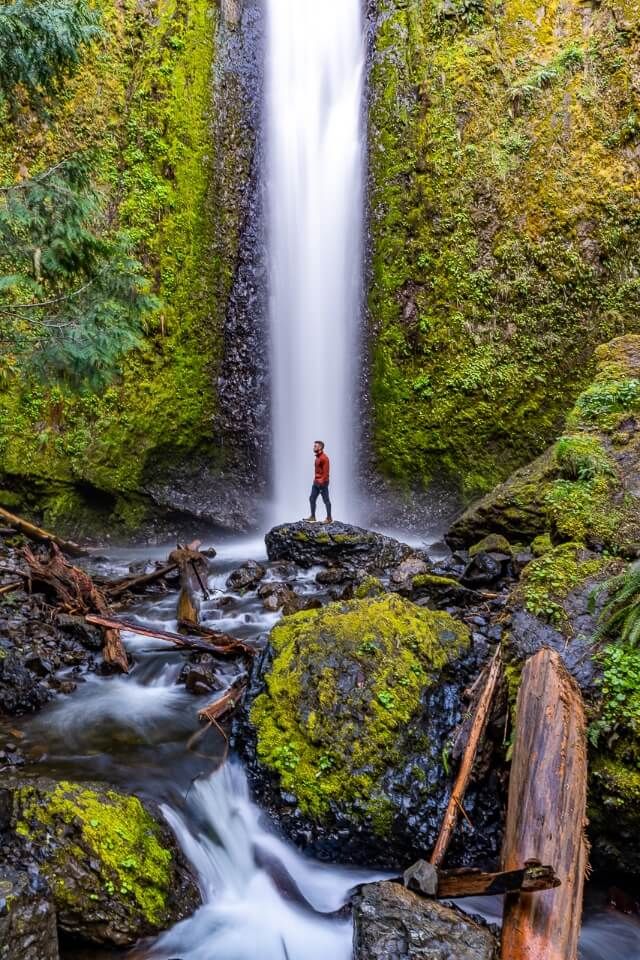 6. Sun Protection
Never, ever, ever underestimate the sun! As travelers, hikers and photographers, we spend hours outside and must stress the importance of looking after your skin.
Whether in your later years or teens, it's never too early to look after your skin. Remember, you can still get a sunburn even when it's cloudy.
The easiest way to protect yourself from the sun is to cover up with light and long layers.
Wear a long-sleeve shirt and long pants to minimize your exposure.
Avoid a tank top if you plan to be hiking all day. Trust us, your shoulders will thank us later.
Use dark clothing with tightly woven fabric to block as much sun as possible.
Look for clothing with sun-protective materials for further protection as another layer of protection.
Don't forget the sunscreen, EVER! Use a broad spectrum sunscreen which protects against both UVA and UVB radiation. Apply sunscreen at least 30 minutes before you hit the trail and use an SPF of 30 or higher.
As agonizingly uncomfortable as it can be when hiking, it is a very good idea to reapply sunscreen every few hours, especially if sweating or swimming.
If possible, try to avoid the sun when it's at peak intensity and heat between 11.00am and 4:00pm. Start your hike early in the morning or save it for later in the evening when appropriate.
But if you do plan to be hiking during peak sun hours, pick a shady trail or take breaks in the shade to minimize your exposure.
We always carry a few additional items for added protection:
Sunglasses are a necessity to protect your eyes from harmful rays. They also reduce the risk of cataracts.

A sun hat or hiking cap will also help to protect your face, ears and neck. While you might not feel the sunburn right away, your face will be one of the first areas to burn and it will definitely hurt tomorrow.

SPF Chapstick has been a lifesaver. Even when wearing a hat, our lips have gotten burned and we can't recommend this enough. Sunburned lips are not fun!
7. Day Hiking Safety
Even for a day hike, it's best to be prepared for the unknown. Do you know what you would do if had an animal encounter, had to hike through the night or had to start a fire?
For the most part, animal encounters are extremely rare, but they can happen. Bear spray is essential and we never leave home without it if hiking in known bear regions.
This spray is highly effective when dealing with an aggressive bear. It uses Capsicum derivatives which temporarily inflames the mucous membranes of the bear, giving you time to run away. We have never had to use our bear spray (and hopefully we never do), but it always gives us peace of mind when hiking in bear country.
Getting lost on a hike can be frightening and when the sun starts to set, it can get even worse. With the navigation tools mentioned earlier in this post, along with an LED headlamp, you will be well equipped if it starts to get dark. We like LED headlamps because they last for hours. Do not solely rely on your smartphone flashlight!
A multi-tool or a knife is a small enough to pack for a day hike and can definitely come in handy in the outdoors. Every time you venture out for a hike, you never know what you might come across. It's always a good idea to be prepared for anything.
You should also know how to start a fire. Carry waterproof matches and / or a lighter for just-in-case scenarios.
Gear can also break on a hike so having a small gear repair kit is critical. This can be tailored to your needs but we typically carry:
Electrical or Duct Tape
Safety Pins
Extra Batteries or Spare Incandescent LED bulbs (for non-LED)
Zip-Ties
Nylon cord
Sewing Repair Kit
Solar Charger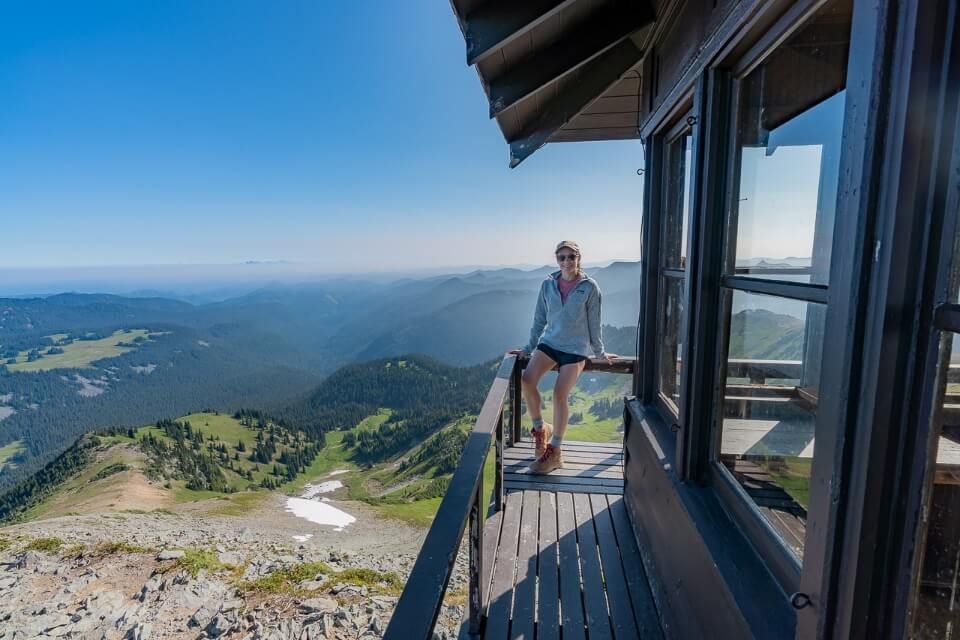 8. First Aid For Day Hiking
Basic first aid can be useful in both non-threatening and life-saving circumstances. Accidents can happen to either you or anyone on the trail.
The longer your hike, the higher your chances are of a problem arising. Equip yourself with basic items along with the skills to handle emergencies and you will be prepared for anything that comes your way.
We bought a pre-packaged first aid kit and then customized it to our needs. Depending on the difficulty and length of our hike, we change what we take with us. A good starter kit will have:
Antiseptic Wipes
Antihistamine for allergic reactions
Antibacterial Ointment
Assorted bandages of all sizes
Aspirin and Ibuprofen
Gauze Pads
Hand Sanitizer
Insect Sting Treatment
Medical Tape
Tweezers
Evaluate each item in your kit and decide if it's something you might need. Don't forget personal prescriptions or special items such as an epi pen if you have allergies. This is just a list to get your started because you know yourself best.
If you plan to spend a lot of time in the backcountry, basic first aid skills can certainly come in handy. Buy a first aid book or take a course to brush up on your safety skills.
Knowing how to prepare for venomous bites, sprained ankles and other crisis situations, just might save a life. We also would recommend a CPR certification.
9. Emergency Shelter
Always carry some sort of emergency shelter even on a day hike. If you get stranded or injured and need to spend a night on the trail, you will need to have a plan.
An emergency shelter will provide you with protection from the wind and rain if necessary while keeping you warm. We carry two emergency space blankets which pack up super small and give us ample peace of mind.
There are also several different kinds of emergency shelters and bivys bags available at REI or Backcountry.
These are ultralightweight and compact bags easily fitting one or two people. Look for a bivy with a silver coating on the inside which will reflect your body heat back at you.
Knowing basic survival skills like understanding how to start a fire and purifying water are essential. These all go hand in hand when a day hike turns into a serious life-threatening situation.
In our opinion, hiking is one of the best ways to explore the outdoors. There is nothing like taking in the view after a challenging hike. But as a hiker, you will be faced with many challenges and we want you to be equipped with the knowledge to take on anything.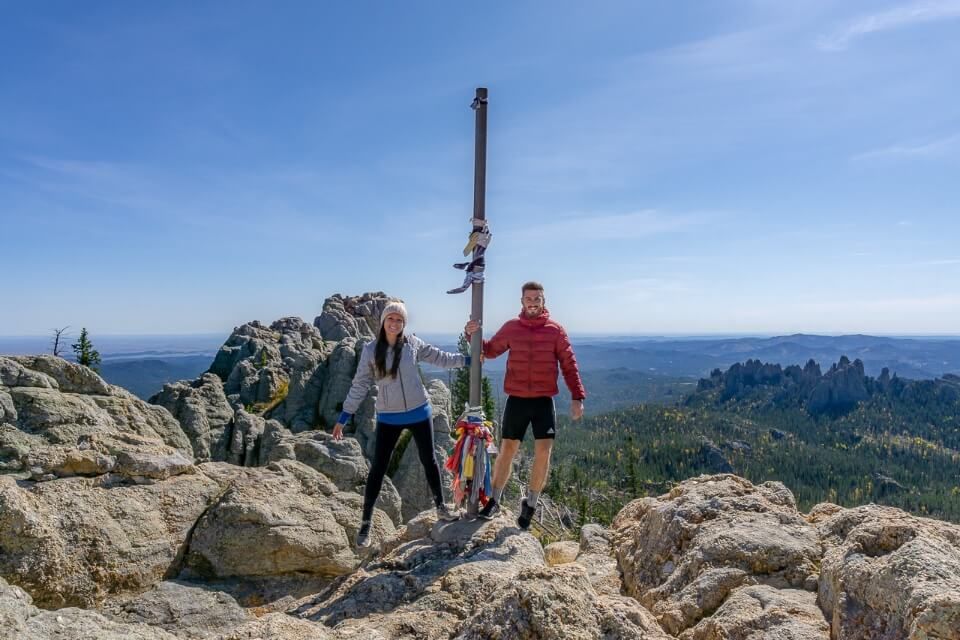 10. Important Day Hiking Extras
The items listed below are not always necessary for a day hike, but depending where you will be hiking, they may be a good idea.
Mittens and / or Warm Hat – When hiking in colder seasons, always bring these two essentials. While you might be warm when moving, you will cool down pretty quickly when stopping for a rest or a snack. Temperatures at altitude are usually much colder as well so it's nice to have something to keep you warm while you enjoy the view.
Buff – A buff has become one of our go to essentials because of its multifunctionality. It's basically a tube of lightweight breathable fabric which can be used in all sorts of ways. You can wear a buff as a scarf, headband, bandana, sun guard, neck warmer, etc. The options are endless! Shop buffs here.
Microspikes – These small chains are often required for safely hiking in snowy and icy conditions. They provide traction on slippery trails and fit right over your hiking boot or shoe. They can also be used in place of snowshoes if the snow isn't too deep.
Camera Gear – As photographers, we carry more camera gear than the average person. If you are interested in photography, be sure to check out our photography page. We used to recommend the Sony a6000 as a beginners camera but now it is outdated and the Sony A7R II offers a better quality to value ratio. We currently use (and love!) the Sony A7R IV as our advanced camera body.
Long Fleece Pants – If we are hiking to photograph a sunrise or sunset, we always bring an extra pair of warm long fleece pants. Once the sun goes down, it can get chilly, especially after the summer months.
ID – Whether it's a passport or a drivers license, always carry some for of identification.

Coins, Cards, Cash – You never know what the day may bring. Maybe you will meet some new friends on the trail and you go for a few beers afterward! Be sure to keep some money, especially cash when in remote areas to cover anything you may need.
Travel Insurance – No matter where you are planning a day hike, you should consider some form of medical insurance. In the states, we are covered by our medical insurance, but we always use World Nomads for extra coverage and international trips.
Mask – Be sure to check the mask mandate in the area you plan. COVID restrictions are ever evolving.
Bag for Trash – Keep in mind whatever you carry in with you on your day hike, should also be carried out by you. This helps to preserve nature for generations to come. Carry a trash bag for anything you may need to throw out during your hike. This also limits the amount of garbage left in trash bins at the trailhead. Please never leave your trash on the trail (we see this all too often).
Insect Repellent – Mark is always eaten alive by bugs no matter where we hike. This has become a staple for us because there is nothing that ruins your days faster than itchy bites everywhere. Take this one seriously and read recent trail reviews on All Trails to see if the hike will be 'buggy'.
Day Hiking Budget Saving Tips
We know, hiking gear isn't cheap! It's taken us years to build up our collection and we still have many items to buy.
REI often has used gear for sale and take advantage of 10% off every purchase with an REI membership. You will be paid out in dividends each year to put towards more gear.
If you will be hiking in any of the National Parks, be sure to purchase an America the Beautiful Pass. For $80 a year, this pass will get you into any National Parks and National Monuments for free. This annual parks pass has saved us hundreds of dollars over the years!
More Hiking And Planning Guides
Best Day Hikes
---
We hope this guide to the best things to br
ing on a day hike helps

you plan your next hiking adventure perfectly!

Please let us know if you have any questions or need any help planning your day hike in the comments below.

Happy Hiking,

Mark and Kristen

Was This Post Helpful? Pin It For Your Visit!