Looking for a detailed list featuring the key things you should bring on a day hike? We know packing for a day hike is a balancing act, but it quickly becomes second nature the more you do it.
In this day hiking packing list, we will show you:
How to pack the 10 essentials for emergencies
Preparing for a hike with the appropriate layers
How to find the right hiking shoes
Recommendations for a quality hiking backpack
A few non-essentials and personal items to consider
In additional to all of this, we will even give you a downloadable free day hiking checklist. So let's start packing the day hiking essentials!
Our Hiking Experience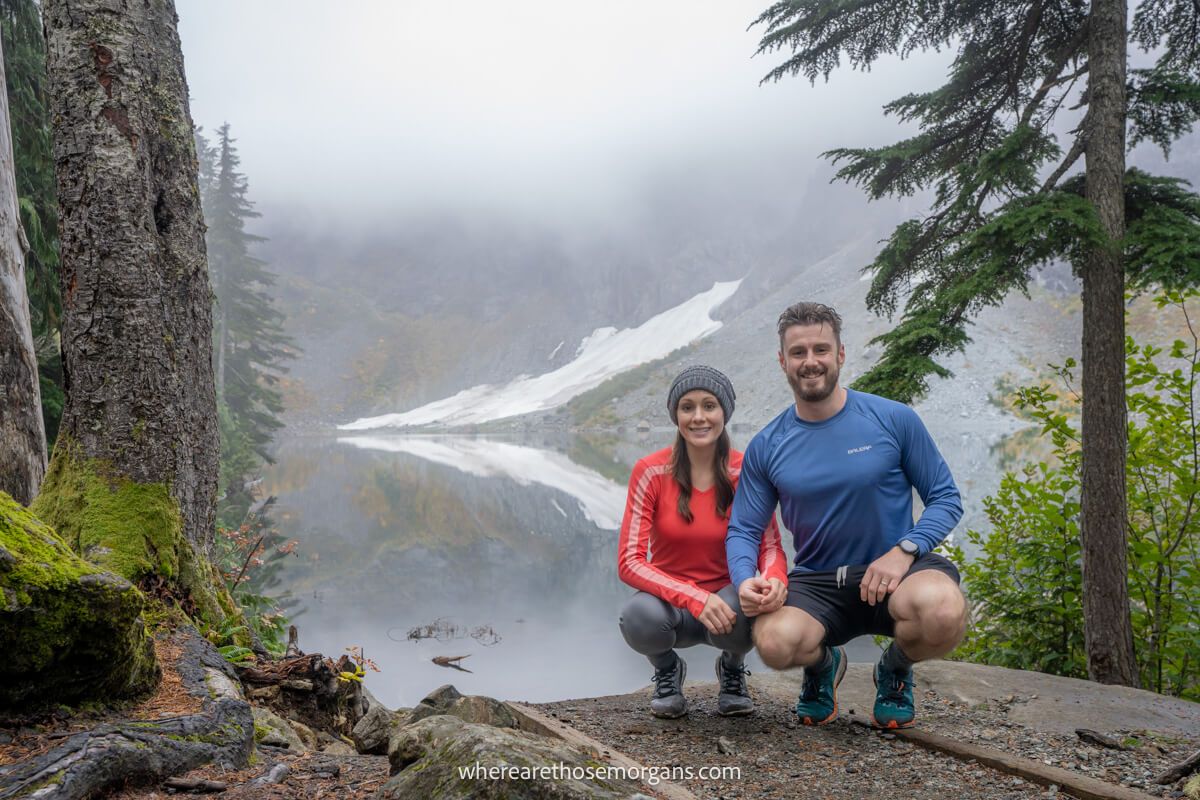 As a popular hiking blog, we love to share our first hand experience from hiking trails all around the US and the world.
We have completed some pretty epic trails including Tour du Mont Blanc, the W-Trek in Chile and the Inca Trail to Machu Picchu (hiking guides coming soon).
Once Mark officially immigrated to the US in 2019, we spent the next several years road tripping around the country checking off the best hiking trails in the United States.
But if there is anything we learned while hiking, it's that you can never be too prepared. In this guide, we will focus on how to pack for a day hike to help anyone who wants to safely hit the trails.
Free Day Hiking Essentials Checklist
Before we dive right into the hiking must haves, you should download our free packing list for day hiking offered in this guide.
While you are packing, use our day hiking checklist to make sure you bring all of the essentials you will need for the trails.
This download is our tried and tested hiking checklist featuring the items we personally bring on every day hike. All of these items will be further discussed in this day hike packing guide.
10 Things To Bring On A Day Hike
The best place to start when packing for a hike is with the ten essentials. This is a collection of emergency and first aid items that will aid with survival should anything unexpected happens on the trail.
A hiker should always carry the 10 essentials on a day hike:
Navigation
Emergency Shelter
Illumination
Firestarter
First-Aid
Knife And Mini-Repair Set
Sun Protection
Extra Water
Extra Food
Extra Clothes
After the 10 essentials, hikers should tailor their required hiking gear based on specific needs. For example, if you are hiking in the winter months, you will need to bring additional warm clothes.
But let's start with the 10 hiking essentials first…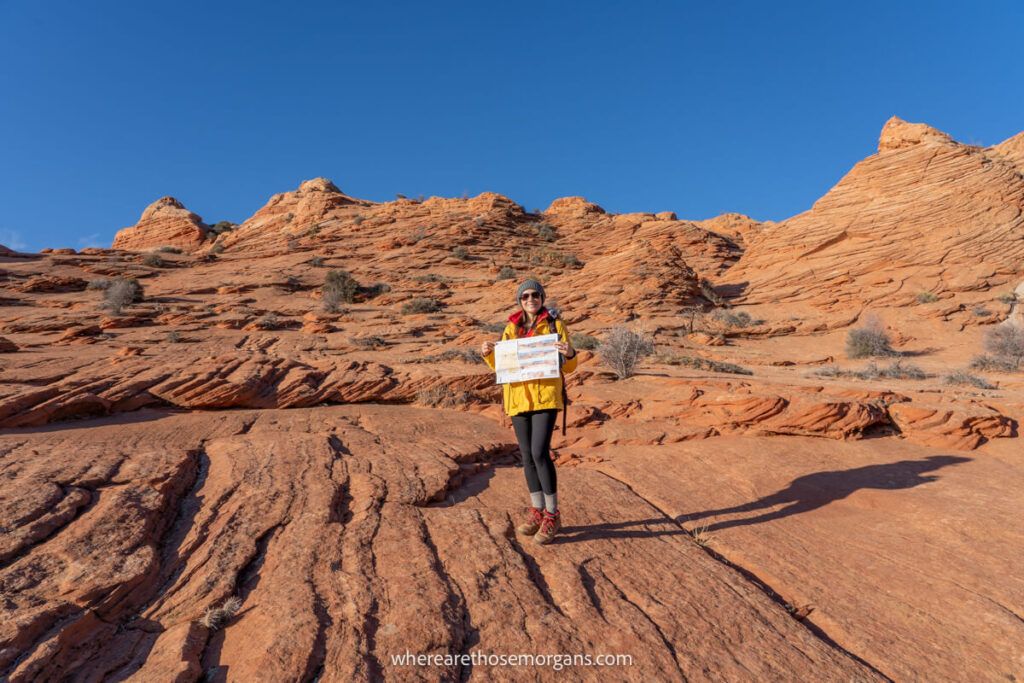 During your hike, you will need to navigate your way along the trail to make sure you are following the correct route. Sometime trails can overlap other another so as a hiker, you will have to choose the right way.
Day hikers should carry multiple forms of navigation including:
Downloaded map of hike (for offline use)
Up to date paper park or trail map
Compass
A physical map is the most reliable form of navigation. You can typically pick up a physical map at a visitors center in a National Park, at the trailhead or by purchasing one ahead of time.
However, paper maps are not the most convenient option so most hikers always use a digital map as well. Digital maps are great because they can be downloaded for offline use and you can track your progress during your hike.
We recommend Gaia GPS or All Trails Pro if you are looking for a new hiking app. From our experience, Gais GPS has always been the most accurate for navigation while AllTrails is great for trail conditions.
Additional forms of navigation include a route description guidebook, a GPS device or an altimeter watch. If you are a more experienced hiker, you may want to consider a Garmin inReach Mini.
Hiking Tip: Take a photo of the trail map on your phone whenever you start a hike at the trailhead.
2. Emergency Shelter
All day hikers should carry an emergency shelter (also known as a bivouac shelter or bivy) in case you have to spend an unexpected night outdoors.
A bivy is not only waterproof and windproof, but it reflects up to 90% of your body heat back to you while keeping you protected from the elements.
The good news is emergency shelters are extremely lightweight and compact so they can be easily packed in the bottom of your hiking backpack. This will give you piece of mind should you have to use it.
We also like to hike with an emergency all season blanket which can come in handy for a number of emergency uses.
3. Illumination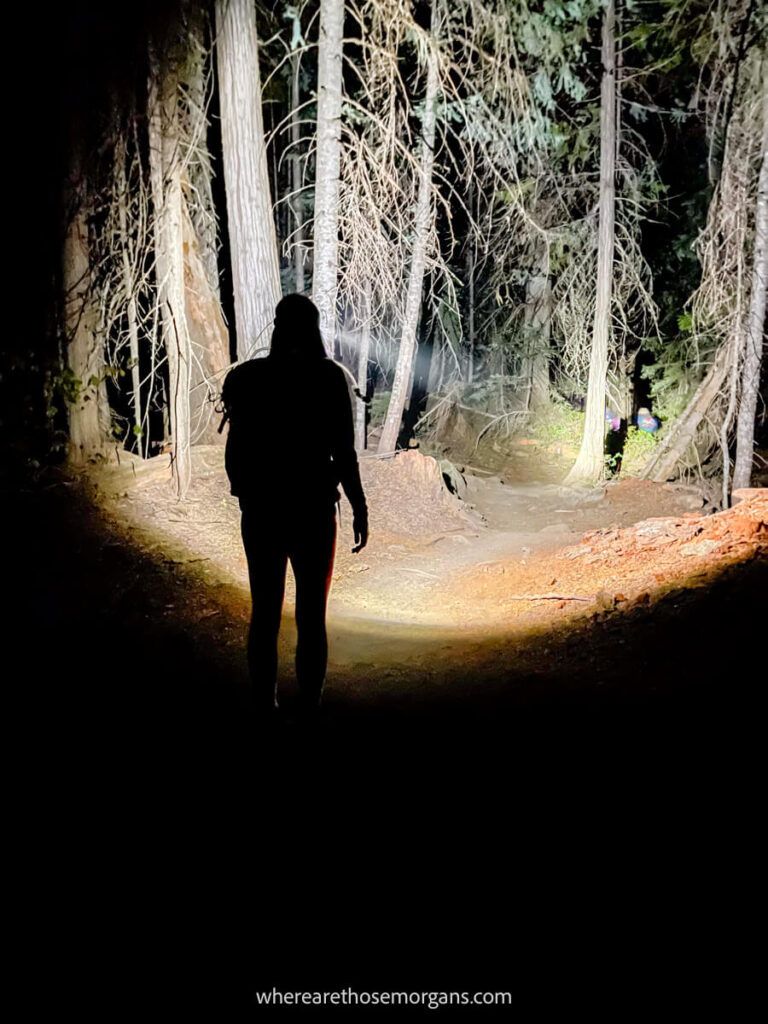 Another day hiking essential all hikers should carry is some form of illumination such as a headlamp or a flashlight. Personally, we prefer to use headlamps because we this will free up our hands while hiking.
Headlamps are also great for photographers because the red light option will preserve your night vision when hiking in the dark for shoots.
Beginner hikers may be temped to rely on their cell phone flashlight as their sole means of illumination. But this will leave you stranded when your phone battery dies so we never recommend using your phone.
We love Black Diamond headlamps because they are durable, waterproof, chargeable and highly rated.
Hiking Tip: Be sure to charge your headlamp before hitting the trails.
4. Firestarter
One of the most important things to bring on a day hike is a way to start a fire just incase an emergency leaves you injured, lost or stranded.
Waterproof matches or fire starters are both good options for day hiking essentials because they are lightweight and won't take up much space.
Prior to hitting the trails, hikers should know how to start a fire as one of the their wilderness survival skills. We like this video from REI which shows how to safely start a campfire.
5. First Aid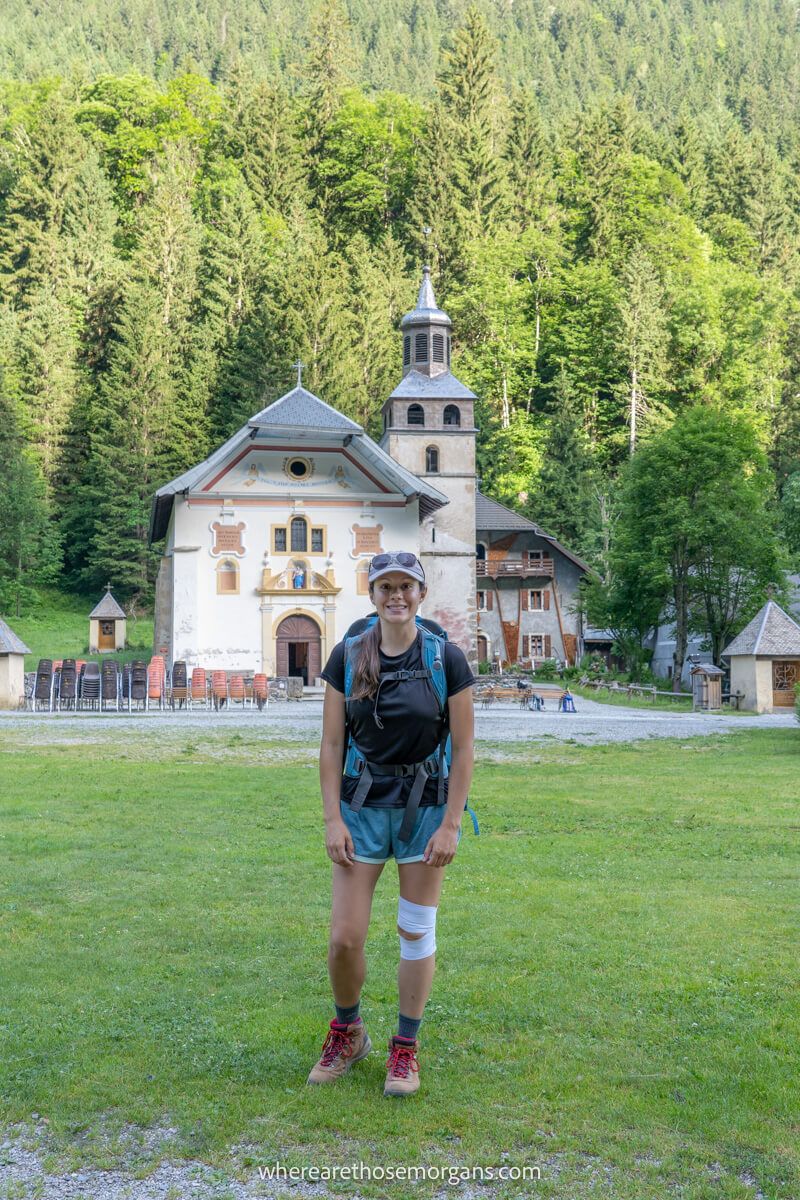 Accidents can happen to either you or anyone on the trail. Basic first aid can be useful in both non-threatening and life-saving circumstances.
If you equip yourself with essential first aid items and learn basic wilderness emergency skills, you will be prepared for anything that comes your way.
We bought a pre-packaged first aid kit and then customized it to our needs. Depending on the difficulty and length of our hike, we change what we take with us. A good first aid starter kit will have:
Antiseptic wipes
Antihistamine for allergic reactions
Antibacterial ointment
Assorted bandages of all sizes
Aspirin and Ibuprofen
Blister treatment
Gauze pads
Hand sanitizer
Insect sting treatment
Medical tape
Precision tweezers
Small scissors
This is just a basic first aid list to get you started because you know yourself best.
Evaluate each item in your kit and decide if the item is something you will need. Don't forget personal prescriptions or special items such as an EpiPen for asthma and allergies.
If you plan to spend a lot of time outdoors, you should consider learning some basic first aid skills. Buy a pocket first aid guide or take a first aid course to brush up on your safety skills.
Knowing how to prepare for venomous bites, sprained ankles and other crisis situations, just might save a life. We also recommend a CPR certification.
6. Knife And Mini-Repair Set
Another few essentials hikers should always bring on a day hike is a small pocket knife or a multi-tool along with a mini-repair kit.
To further build on our previous point about the wilderness being unpredictable, hikers should prepared for any situation that comes their way. But sometimes the problem occurs with your hiking gear.
We always carry a Swiss Army Knife, but many hikers like using this multi-tool. The multi-tool is a more robust option with needle-nose pliers, wire cutters, a wire stripper, serrated knife and saw.
A mini-repair kit is practical for fix small gear emergencies like a tear in your backpack or a broken strap.
Small repair kits contain various items depending on individual hikers needs, but we always carry:
Electrical or duct tape
Safety pins
Polyester paracord
Sewing repair kit
This gear aid tenacious tape is one the first items we always pack for hiking.
7. Sun Protection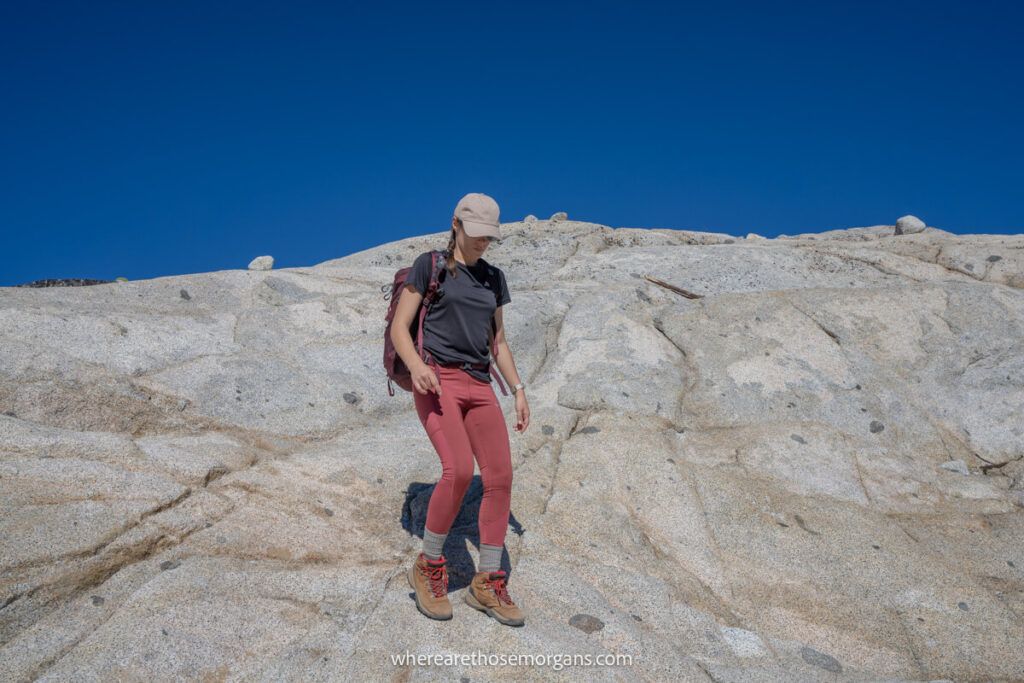 Just like any outdoor activity, you need to protect yourself from the sun while hiking. Here is what every hiker should use for sun protection during a day hike:
Sunscreen
Sun hat or hiking cap
Sunglasses
Sunscreen should not be your first line of defense for sun protection. Long sleeved shirts and long pants with UV protection factor (UPF) are essential for any hike because this is the best way to shield yourself from the sun.
Dark colored clothing will protect you more from the sun compared to light colored clothing. You also want to look for clothes with tightly woven fabrics to minimize sun exposure.
Choose a broad spectrum sunscreen that protects against both UVA and UVB radiation. Apply sunscreen at least 30 minutes before you hit the trail and use an SPF of 30 or higher.
If you are hiking at higher elevations, the sun is going to hit you much harder, but you may not realize it. The atmosphere is thinner at higher altitudes meaning it absorbs less UV radiation from the sun.
Keep in mind UV radiation intensity increases about 10-12% for every 3,000ft in altitude so sun protection becomes even more important. We always use a chapstick with SPF to help protect our lips at elevation.
You can still get a sunburn even when it's cloudy so whether you are in your teens or later years, it's important to look after your eyes and skin properly. You can read more about sun protection here.
Hiking Tip: Try to avoid the sun when it's at peak intensity between 11:00 am and 4:00 pm. Start your hike early in the morning or hit the trails later in the evening.
8. Extra Water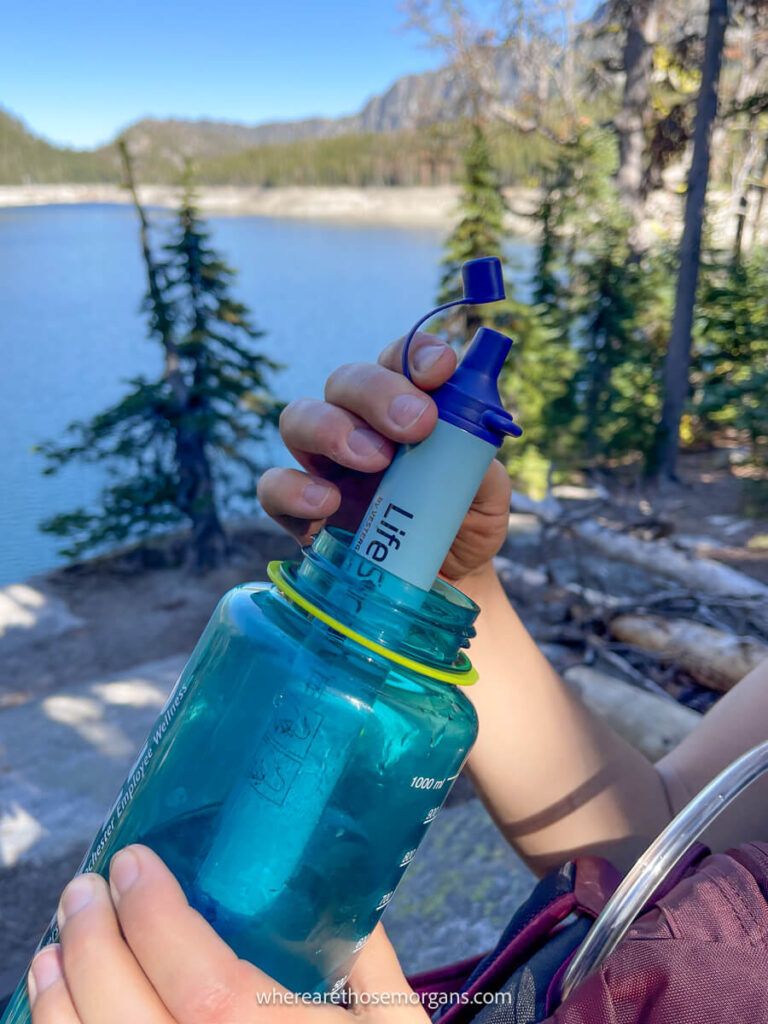 Water is the most important item you can bring on a hike. It is critical to bring even more water when hiking in hot dry climates or pushing yourself on very strenuous hikes.
A good rule of thumb is to consume about 0.5L (16.9 ounces) of water for every hour of hiking. But you need to double this number when you are hiking in warmer climates or on difficult trails.
If you are going on a shorter hike, the best way to carry your water supply is in a lightweight reusable water bottle. We love Nalgene Bottles because they are durable and hold a large amount of liquid.
If you are planning a longer hike, we recommend using a hydration reservoir (sometimes called a bladder). We typically use a 3L reservoir when hiking longer trails such as Mount Marcy in New York.
Another hiking necessity is a small water filtration device for emergencies. A water filtration device is good to have in case your water source is depleted or you need more water urgently.
A very popular filtration device, especially with beginner hikers, is the LifeStraw. We always carry this water filter as a back up during an easy day hike because you just never know what the trails holds.
Water purification tablets are another day hiking essential often used by long distance hikers. But it really depends on your preference and what you feel comfortable bringing on a day hike.
One last item you may want to consider for your hike is something to help replenish your electrolytes. We typically use Gatorade or Sport Hydration Tablets depending on the hike we choose to complete.
Travel Tip: We like to start with about 2-3L of water, especially when hiking in the desert. You can always dump what you don't use if you need to lose some weight towards the end of your hike.
9. Extra Food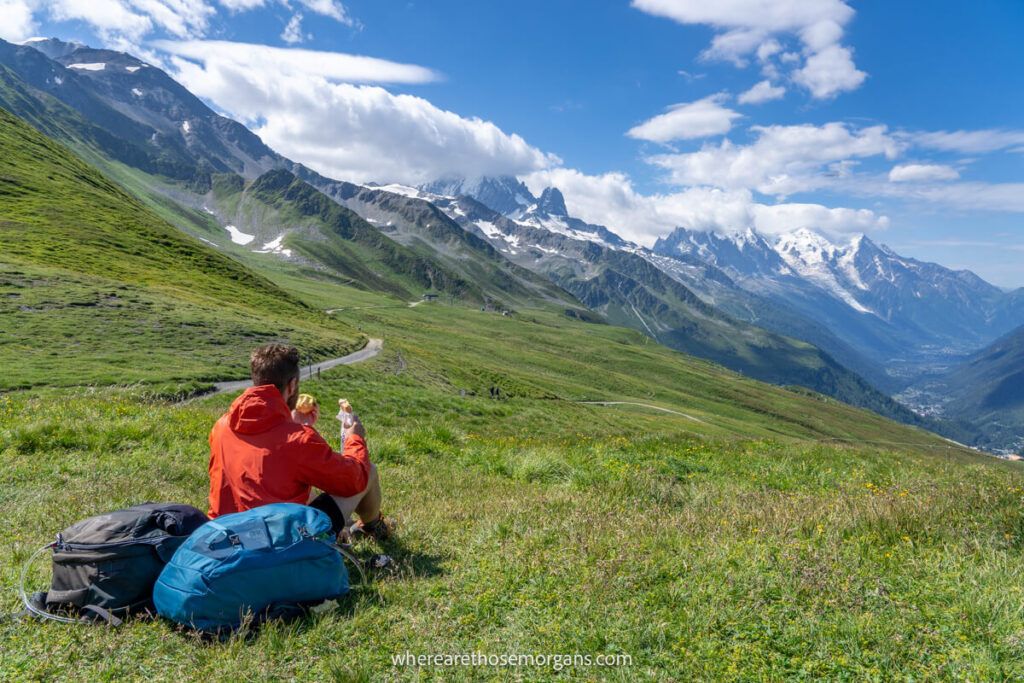 Even though you are only going for a day hike, it's important to keep up your energy with snacks. Use snacks as little rewards every time you meet a goal on your hike.
We save our best snacks to enjoy after the hardest part of the hike, typically at a summit or a long distance.
But what should you pack for hiking snacks? Here are some of our favorite things to bring for a day hike:
Fresh fruit
Jerky
Crackers / cheese / pepperoni
Power bars
Homemade trail mix
Hard boiled eggs
Fresh sandwiches
The energizing snacks we listed above are great for shorter day hikes, but when you are hiking a longer trail you many need something more substantial.
Make sure you bring enough food to cover the drive home as well. We always carry at least one full day of food even if going on a short day hike.
We also like to bring Adventure Meals for longer hikers and throw in a few Emergency Food Rations when we are driving long distances through remote areas.
Are you planning to camp as a hiking beginner? We have teamed up with The Dyrt to offer our readers an exclusive 30 day free trial with The Dyrt PRO.

This is our favorite camping app because it helps you find the best campgrounds. You can use Dyrt Alerts to receive notifications when sold out campgrounds have recent cancellations.
10. Extra Clothes
The entire next section of this day hike packing guide will cover what to wear for hiking including a detailed description about basic layering concepts which is important for any day hike.
Depending on where you will be hiking, you will need different items so let's figure out your hiking gear essentials…
Hiking Outfits: What To Wear For Hiking
When we exert ourselves, our body temperature increases and in response, our body sweats to regulate the temperature. So the best hiking clothes will remove sweat quickly from your skin to keep you dry.
Hikers should look for clothing made out of quick-drying and moisture wicking fabrics such as:
Merino wool
Nylon
Polyester
You want to avoid cotton or denim as a hiker because these fabrics easily soak up sweat which will leave you feeling wet and cold on the trails, especially the higher you climb in altitude.
In addition to fabrics, you also need to consider layers to be comfortable on any hike.
What Is The Layering System?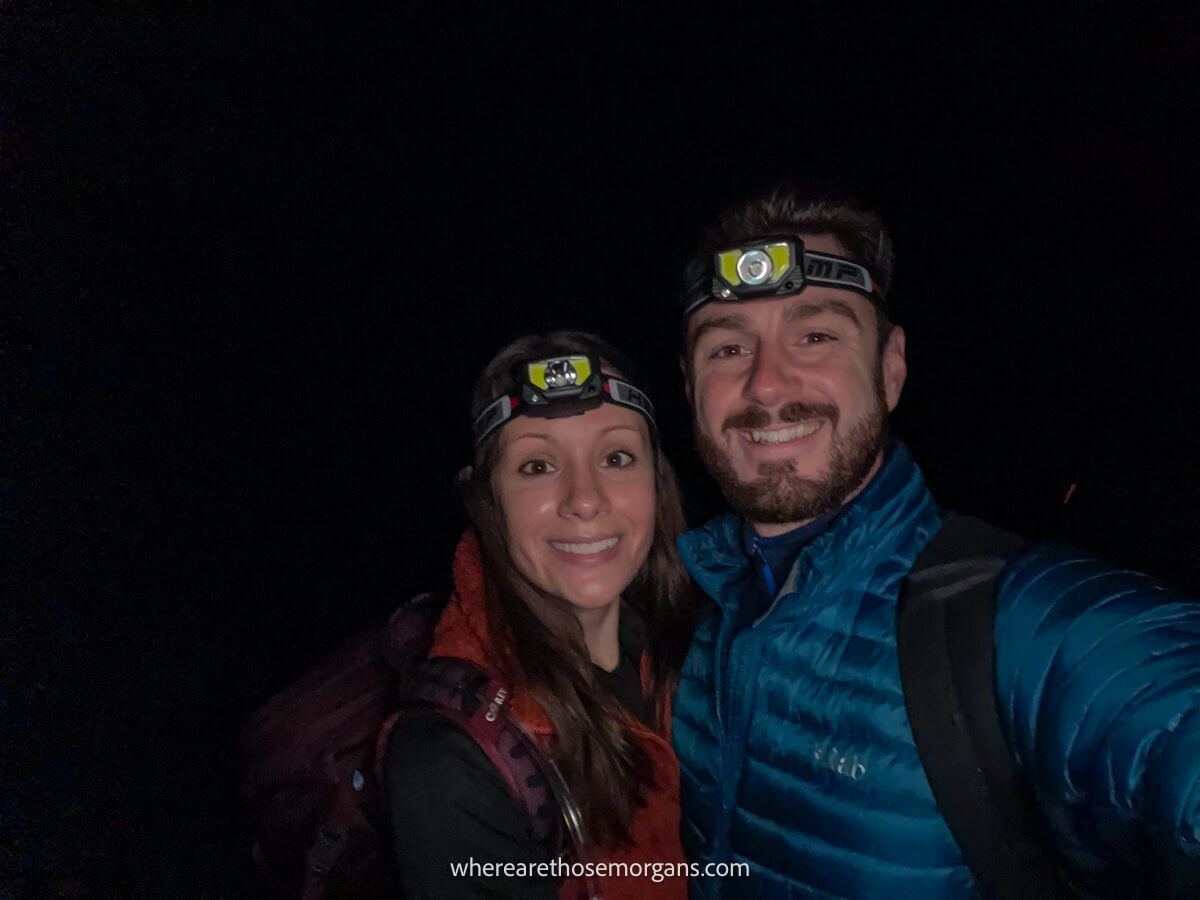 The layering system is an assortment of clothing allowing a hiker to quickly adapt for various weather conditions during a hike. This system often refers to jackets or tops, but hikers can layer pants or bottoms as well.
As weather and physical activity change, layers can be easily added or removed to ensure safety as well as comfort of a hiker. When packing things to bring for a day hike, you need to worry about three layers:
Base Layer – underwear layer
Mid Layer – insulating layer
Outer Layer – protects you from the elements
Layering is critical to preparing for a successful hike in cooler conditions, such as a visit to Yellowstone in October or similarly Yosemite in October.
Or when hiking in the mountains, temperatures will be very different at the summit compared to the base and weather can be extremely changeable.
On a hot day with low elevation, you won't need to worry as much about layering. Instead, you need to consider sun protection such as lightweight long clothing to prevent sun overexposure.
The Base Layer
The first layer hikers need to pack for a day hike is the base layer. This layer lies in direct contact with your skin and a good base layer will wick sweat away from your body.
Depending on the weather conditions, your base layer can range from a short sleeve hiking t-shirt to a long sleeved option. Hikers should look for lightweight base layer that dry quickly with odor resistance properties.
If you are hiking in warmer weather, Patagonia Capilene shirts are a very popular lightweight option. You can purchase a t-shirt or a long sleeve shirt depending on your hiking needs.
For hikes in warmer weather, we recommend Smartwool base layers. But if you are a budget, you can also try REI merino wool base layers.
One more important thing to consider when packing for a day hike is undergarments. We both love Merino products for underwear while hiking because they do not chafe.
Hiking Tip: We tend to avoid hiking in tank tops for longer hikes because these kinds of shirts expose your shoulders to the sun and your hiking backpack may start to rub on your bare skin.
The Mid Layer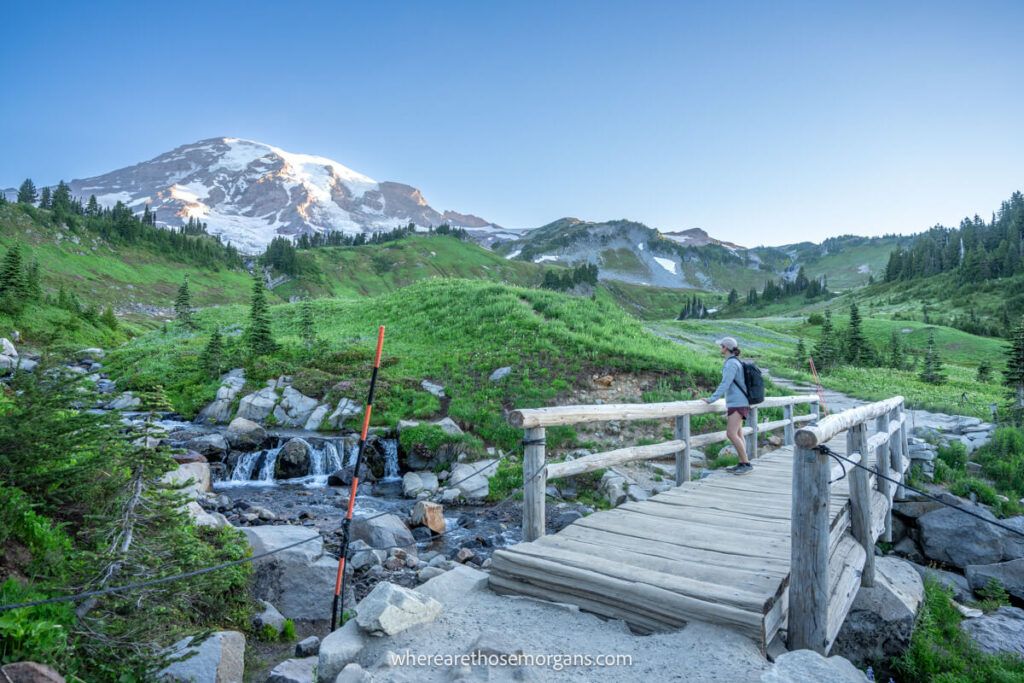 The mid layer is known as the insulating layer and it works to preserve the heat generated by your body. We often start hiking with this layer and then quickly put it inside our backpack once we have warmed up.
When hiking in the summer, we like to use mid-weight base layers including a long sleeve or a pull over option. Anything lightweight made from merino wool will work great.
If you are hiking in cooler months such as spring or fall, we recommend a fleece jacket such as the Patagonia Better Sweater. We didn't have these sweaters when we first started hiking and boy we wish we did!
Love hiking in the fall? Don't miss our popular New England fall road trip itinerary to add to your bucket list!
For cold weather, hikers should always carry a highly compressible insulated down jacket. Our recommendation is the Patagonia Nano Puff or you can pick up the REI 650 down jacket for a cheaper price.
Down is perfect insulation material because it's extremely lightweight and proves a significant amount warmth. One way to determine the quality of down is fill power with as scale ranging from 450 to 900.
Fill power correlates to how many cubic inches of loft (or fluffiness) one ounce of that particular down produces. Higher fill power numbers correlate to greater loft and insulation.
Hiking Tip: Fill power should only be used as an indicator for insulation not warmth because many other factors affect warmth.
The Outer Layer
The outermost layer protects hikers from the element such as wind and rain. This layer should be a hard shell that is at least water resistant if not waterproof.
We have used our Patagonia Torrentshell jackets for years, but many other popular outdoor brands carry rain jackets and you can shop for jackets here.
Even when packing for a short day hike, we often bring a rain jacket because it's best to be prepared.
If you are preparing for a multi-day hike, you may want to consider protective rain pants. These have been a life saver for us on long hikes such as Tour Du Mont Blanc when we need to stay dry for days at a time.
When initially hitting the trails, you shouldn't be wearing all of your layers immediately. We like the saying "be bold and start cold" because this is a good way to remember how to appropriately dress.
Once you begin hiking, you will quickly warm up so try to remove any layers before you start sweating or adjust your pace as needed.
If the weather takes a turn for the worse as you are hiking, try to put on any shell layers before your clothing gets wet. The key here is to stay as dry as possible on the trails.
What Footwear Should You Take Hiking?
Footwear is the next day hike packing essential we are going to discuss because this will make or break your time on the trails.
The best way to figure out what kind of shoe you need to bring hiking is to work out what type of trails you will be walking on.
For shorter hikes on paved, sandy or smooth terrain, you should use a basic hiking shoe or a trail runner. These are durable as well as lightweight and offer the best balance protection for hikers.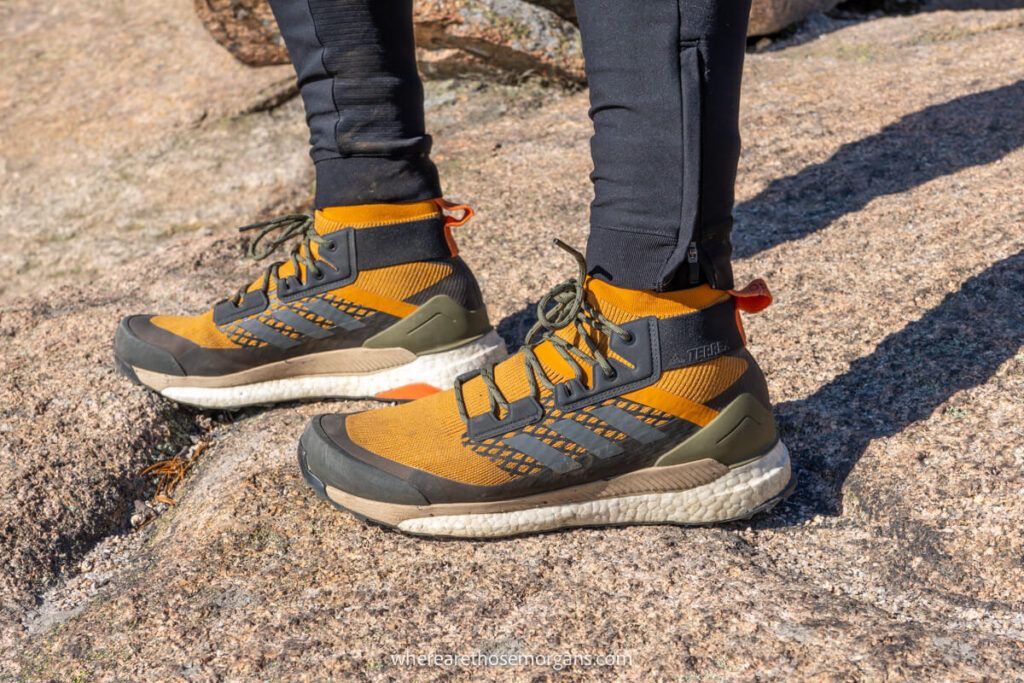 Here are the best hiking shoes for women and men:
On longer hikes with rough and rocky terrain, we recommend hiking boots. These will provide good traction, support and stability. If you have weak ankles, you should look for boots with higher ankle support.
Here are the best hiking boots for women and men:
After hiking, we always like to have a pair of sandals waiting in the car. We always use our trusty Birkenstocks because at the end of the day, your hot and swollen feet will thank you immensely.
Best Socks For Hiking
After you have found the right pair of shoes or boots to bring on your hike, you need to find the right pair of socks for hiking.
Nothing will ruin a day hike more than blisters or cold damp feet. Similar to the products featured on our gear hiking list, you need to look for socks made from wool or a synthetic blend.
This type of fabric will wick sweat away and help to regulate the temperature of your feet. Hikers should avoid cotton socks because this material absorbs moisture and will lead to blisters.
Our favorite hiking socks are Darn Tough. We have used these socks during our multi-day hikes over hundreds of miles and never got one blister.
Another great option for a day hike packing list is a Merino Smartwool sock because these socks are cheaper compared to Darn Tough, but still get the job done.
Hiking Tip: Choose a hiking sock that extends a few inches above the line where your footwear ends.
How To Find The Best Backpack For Hiking
Last but not least, hikers need to find the right kind of hiking backpack.
In the beginning, you can use a bag you have laying around the house, but if you are serious about hiking, you need to purchase a hiking day bag or backpack.
Here is what hikers should look for in a backpack:
A typical day pack ranges 15-30L in size. You want your backpack to hold the essentials on this list, plus any specific items you may need
A hip belt to take some of the load off your shoulders which is important for longer day hikes with heavier packs
An interior sleeve for a hydration reservoir or side pockets for a water bottle
Made from high quality materials for durability and able to withstand all types of weather
Several outside pockets to make it easy for stashing items on the go
We also personally required a day hiking backpack for our travel photography equipment. Can you think of any special requirements for your hiking backpack?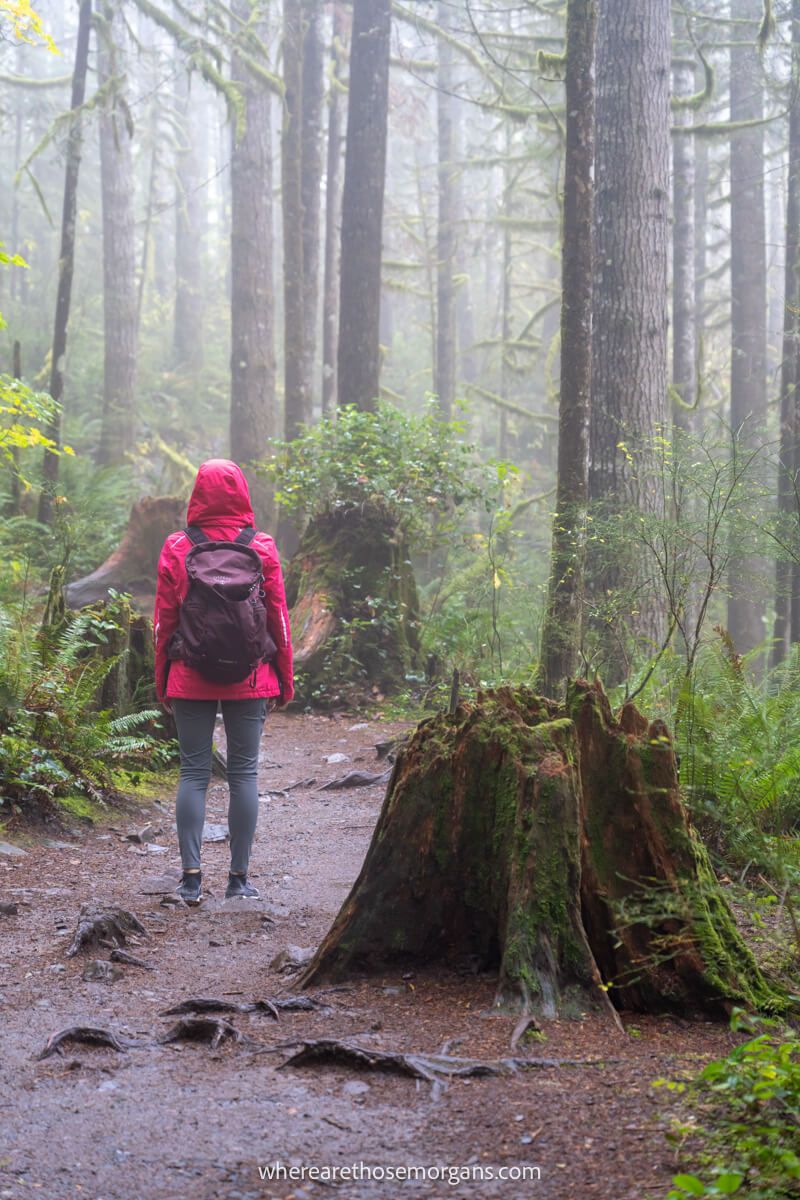 Best Backpacks For Hiking
We own several different hiking backpacks so we have options depending on the length of our day hike as well as our content creating equipment.
Our favorite brand for a hiking backpack is Osprey, but we also like Peak Design to store our camera equipment. However, we don't recommend Peak Design for long hikes.
Here are popular hiking backpacks for men and women:
Read our in depth review of the Peak Design Everyday Backpack to learn more about the backpack we use to carry our photography equipment.
Love travel? Check out the best carry on backpack we have used for years.
Hiking Non-Essentials
The next items on this hiking essentials list are not always necessary, but they help to make your hike a little more enjoyable. We like to this of these as personal items or luxurious extras.
ID – Whether it's a passport or a drivers license, always carry some for of identification.
Cards, cash & coins – Be sure to always have some money on you, especially cash when in remote areas to cover anything you may need.
Required permits – If you had to secure a permit like at Angels Landing, be sure to have a paper or digital copy of your permit incase you are asked for it while hiking.
Trash bag – Following the principles of leave no trace, you should always carry out what you bring in.
Insect repellent – When hiking trails such as Bench and Snow Lakes in Mt Rainier National Park, the bugs are awful. We always like to carry a small can of insect repellent to avoid numerous bites.
Additional Cold Weather Hiking Gear
Buff or neck gaiter – We love hiking with a buff because of its multi-functionality. This tube of lightweight breathable fabric which can be worn as a scarf, headband, bandana or neck warmer.
Kahtoola MICROspikes – These small chains are often required for safely hiking in snowy and icy conditions. They provide traction on slippery trails and fit right over your hiking boot or shoe.
Conclusion For Day Hiking Essentials
This day hike packing list is meant to be a comprehensive guide so you can properly prepare for your next time on the trails.
But in conclusion, you only need to bring a few items on your hike:
The 10 emergency hiking essentials
The right hiking layers
A durable day pack or backpack
Quality hiking shoes or boots with breathable socks
A few personal and non-essential items when appropriate
And that's all folks! We hope you have a wonderful day hike.
Day Hike Packing FAQ's
Let's finish by taking a quick look at the most asked frequently questions about things to bring on a day hike.
What should you bring on a day hike?
Every hiker should bring the 10 essentials with the appropriate layers as well as a quality hiking backpack and durable hiking shoes.
What should you not bring hiking?
Hikers should leave valuables and non-essentials at home. This includes jewelry, make up, too much clothing, books and bulky items such as large camera lenses.
Can you bring food on a hike?
Yes, you need to bring enough food to help you maintain the calories you are burning during the day in addition to extra food in case of an emergency. Use a bear canister to properly store food.
Our Popular Hiking Prep Guides
More US Hiking Guides
Want more hiking content? Head to our Hiking Guides for more tips and explore the world's best hikes.
---
We hope this day hike packing guide helps with planning your next outdoor adventure!
Please let us know if you have any questions about what to bring on a hike or day hike essentials in the comments below.
Happy Hiking,
Mark and Kristen
Enjoy This Day Hiking List? Pin It For Your Hike!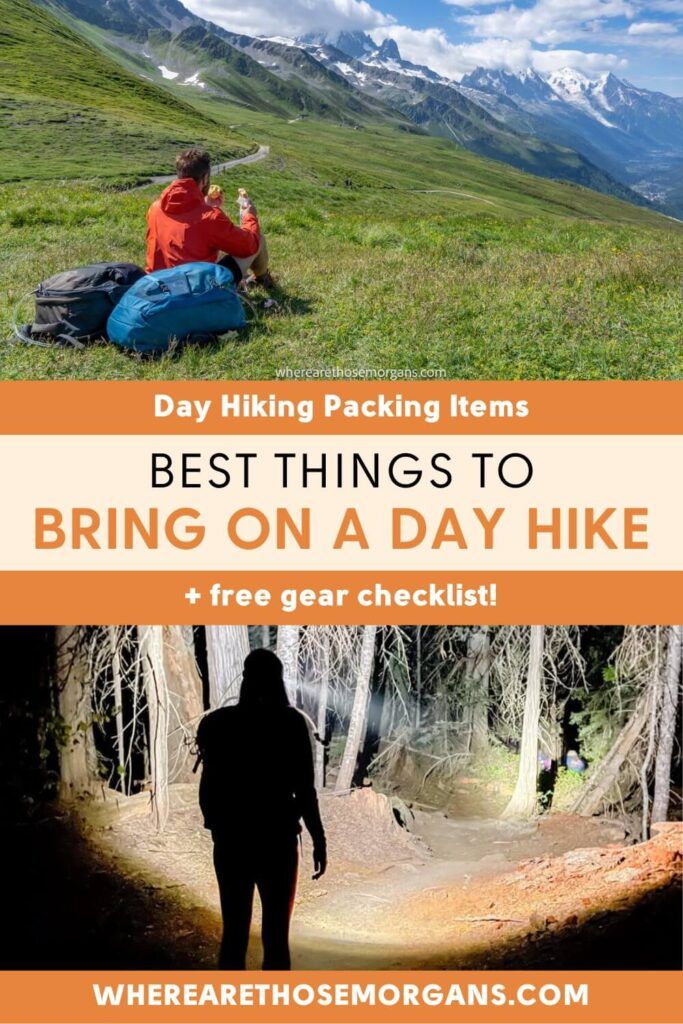 Note: This article contains affiliate links. When you make a purchase using one of these affiliate links, we may earn a small commission at no extra cost to you.
All Rights Reserved © Where Are Those Morgans, LLC. Republishing this article and/or any of its contents (text, photography, maps, graphics, etc.) in whole or in part is strictly prohibited.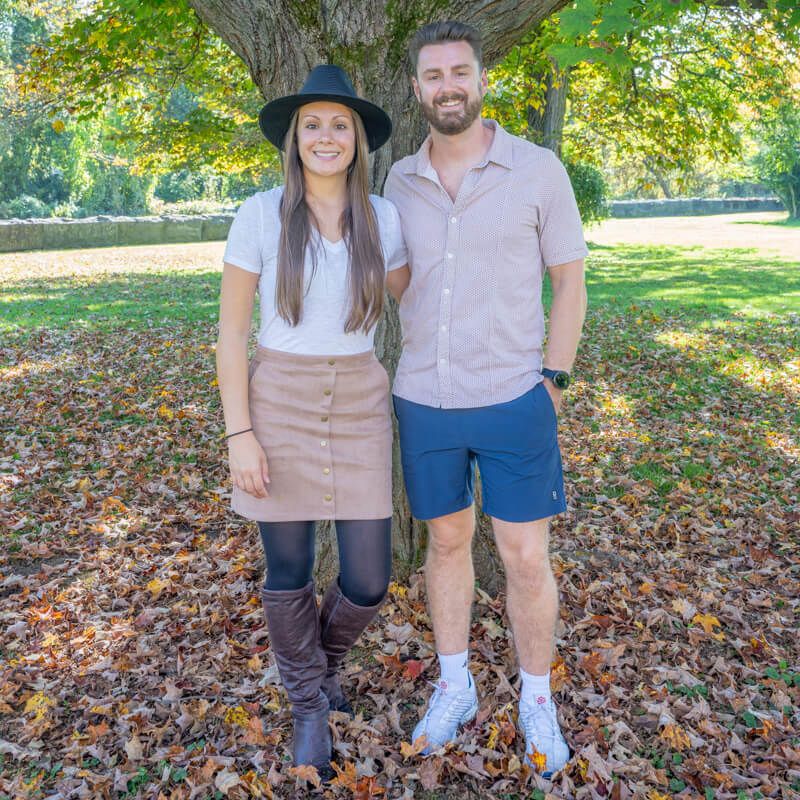 Mark and Kristen Morgan are travel, hiking and photography experts. Over the last 6 years traveling full time, they have explored more than 40 countries and 30 US states.
Their work has been featured in USA Today, Gestalten, Get Your Guide, CityPASS and Condé Nast Traveler along with various other publications.