Winter is one of the best and most unique times of year to visit Zion National Park, with benefits ranging from fewer crowds on popular hiking trails to driving your own vehicle into the canyon. But there are a number of important things you need to know before arriving into Zion National Park during the Winter months of December, January and February.
Crowds, weather, roads and lodging are the four major aspects to consider when planning a trip to Zion at any time of year. We will explain each aspect in detail and discuss how it may impact on your Zion National Park itinerary from a Winter perspective.
Once the key components are covered, we'll get into specifics about hiking permits and the best Zion hiking trails, plus what you need to know about food and photography.
Let's see why Winter is one of the most wonderful times of the year to visit Zion National Park in Utah!
Important update for 2023: Advanced reservations for the Zion Canyon shuttle bus remain discontinued (since May 1st 2021). However, a permit is required to hike past Scout Lookout to Angels Landing any time of the year with seasonal and day-before lottery options
*Please note this post may contain affiliate links. If you click on one, we may earn a small commission at no extra cost to you. Thank you for supporting the free content we provide! Read more in our disclosure policy.*
1. Crowds – Zion National Park Is Much Quieter In Winter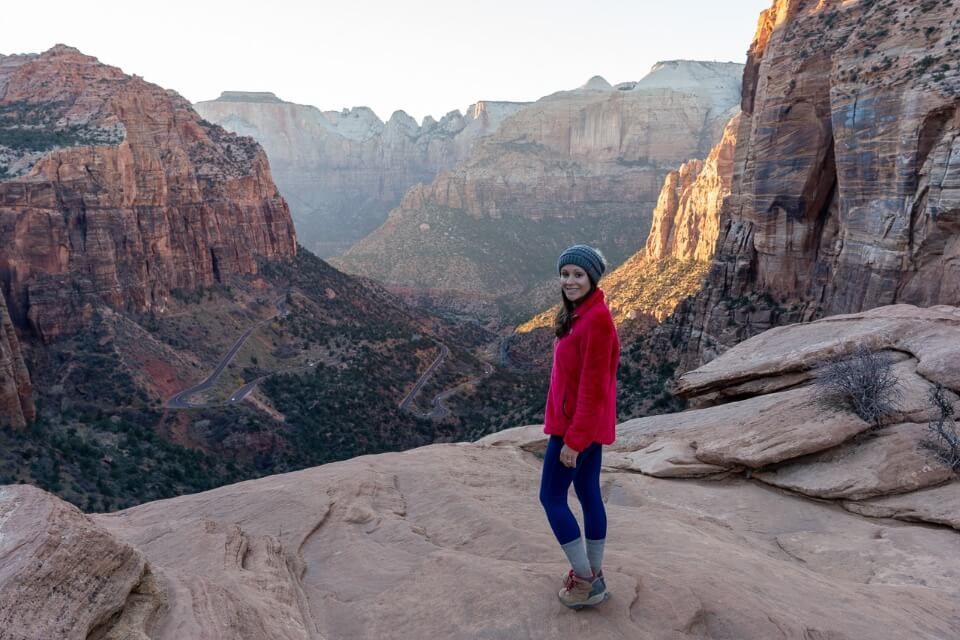 Overcrowding is a real problem in Zion National Park and the Winter season provides a welcome relief.
To combat this significant overcrowding, a Zion canyon shuttle advanced reservation system was temporarily implemented back in the Summer of 2021.
Despite quickly being scrapped, it demonstrated acknowledgement that something had to be done in order to improve the tourist experience.
We have personally visited Zion on two separate occasions. The first was in October 2019 and the second in December 2021.
Bearing in mind we have been to many of the most popular USA national parks at various times of year, we have never seen a park so densely populated as Zion was during our visit in October.
Our December visit was a complete contrast.
Springdale was like a ghost town in comparison, hiking trails were more or less empty and we were able to enjoy our experience infinitely more than first time around.
Zion is a tiny park filled with unique hiking trails. There's not enough room for the millions of visitors the park receives each year.
But fortunately, very few visit Zion in Winter.
How Will Fewer Visitors Benefit You?
Zion is a phenomenal natural hiking arena and the trails are much quieter, far more pleasant and more accessible in Winter.
Park rangers open Zion canyon to private vehicle access which means no relying upon shuttles.
Springdale has plenty of hotel rooms available, at more affordable prices and available last minute.
You stand a much better chance getting permits to hike Angels Landing and The Subway in Zion during Winter.
Overall experience from eating to hiking and from your hotel to photography will be more relaxing.
We will go into greater detail about many of aforementioned aspects later in this guide. But just these reasons alone are justification for choosing Winter as the perfect time to visit Zion National Park.
Remember, Zion is one of the most popular places to visit in America, so you should seriously consider a Winter vacation if you want to see the famous park in relative peace and quiet.
2. Weather – How Cold Is Zion National Park During Winter?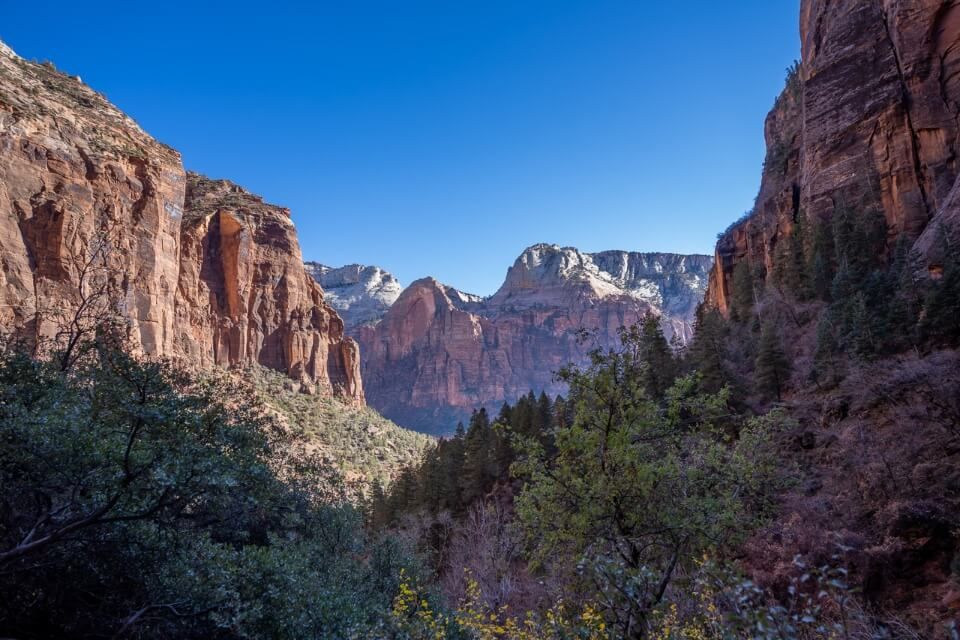 Weather in Zion National Park during Winter is cold and frequently wet but it very rarely snows. You can mostly expect those crisp and cold but sunny days, which can be fantastic conditions for hiking. Rainfall is likely, with between 5-7 rainy days expected to fall in Zion each month during the Winter.
Temperatures can be as balmy as 50-60 F (10-15 C) during the day but commonly drop below freezing at night.
February is considerably less harsh in terms of cold temperatures and volume of freezing days than both December and January, but February is also the rainiest month of the year in Zion National Park.
This means you need to pack layers for hiking and you'll need warm gear if hiking or shooting photography at sunrise or sunset.
Does It Snow In Zion National Park During Winter?
Just 0.5 days of snow on the ground are expected at Zion National Park in December, January and February respectively.
So yes it does snow in Zion during Winter, but it is rare and seldom makes it down to the canyon floor. The sun will burn off most snow within a matter of hours, unless it stays cold and is in shaded areas of the canyon.
Have you been to nearby Grand Canyon in Winter?
Springdale and Zion canyon floor sit at just 3,900 ft elevation. Whereas, South Rim is 6,800 ft above sea level, which is a huge difference when compared to Zion.
The lower elevation in Zion National Park means much less chance of snow, except maybe on top of the tallest peaks.
Your odds of seeing snow are higher at the Grand Canyon in Winter.
You have to be very lucky to be in Zion and see a light dusting of snow completely cover those famous orange sandstone canyon walls.
What Is The Coldest Month Of The Year In Zion National Park?
December is the coldest month of the year in Zion National Park. The first month in Winter has a slightly lower average low and average high temperature than January.
December also has the highest amount of expected days in which the temperature drops below freezing at 32 F or 0 C at 20.8 days.
Let's take a quick look at some temperature stats:
December: Av Low – 28.2 F / Av High – 52.6 F
January: Av Low – 28.9 F / Av High – 53.4 F
February: Av Low – 32.6 F / Av High – 57.8 F
In February as Winter starts its transition into Spring, you can see Zion warms quite significantly both on the average low and high end of the temperature range.
Read more about Winter weather and climate at Zion National Park.
Need a hand organizing your visit to Zion?

Our popular 40+ page Zion National Park Guidebook can help you with planning every aspect of your trip.
Our Zion Weather Example
When we visited Zion National Park in December, we had exactly the weather conditions we expected. Those predictable conditions were bitterly cold mornings and evenings sandwiched by comfortable hiking conditions during the day.
Our sunrise summit of Angels Landing was very cold but we knew it would be, so we wore plenty of layers with gloves and hats for the top.
Conversely, we were easily warm enough in shorts and t-shirts for hiking to The Subway and in Kolob Canyons during the middle of the day.
On these occasions we carried light thin layers in case we stopped or had to spend prolonged periods in shade.
We were happy enough to deal with carrying light layers as long as the trails were quiet in what is among the most popular places to visit in Utah.
It might sound like a lot of effort to pack loads of gear for visiting Zion National Park in Winter, but it's far more comfortable than hiking in July or August when conditions would be unbearable.
3. Roads – You Can Drive Your Own Car Into Zion Canyon In Winter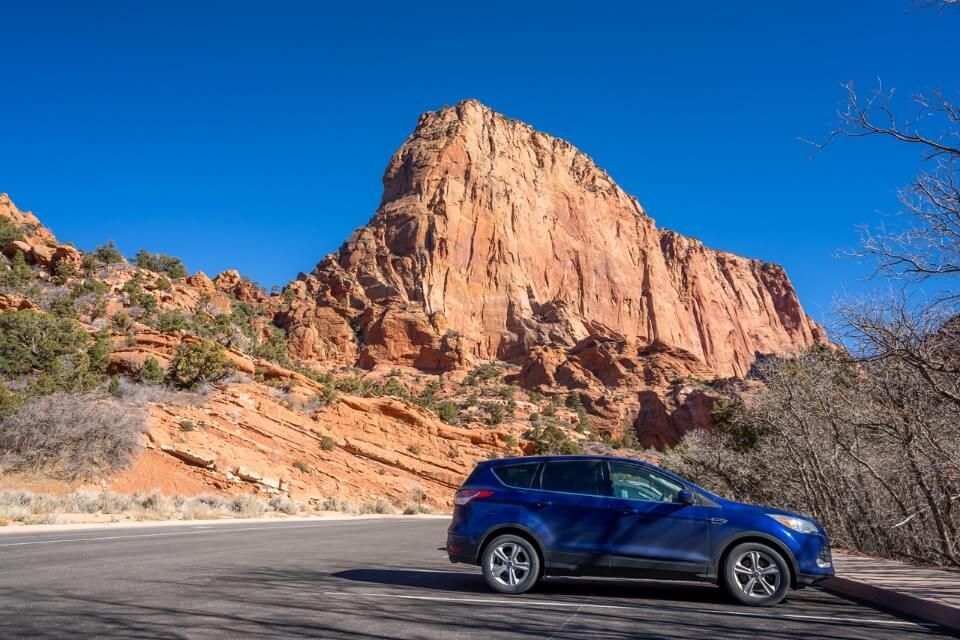 Zion National Park consists of three areas joined together in wilderness regions but not by roads. Most people visit just the main canyon but we will cover road conditions in each area.
We will discuss typical road conditions at Zion during Winter but please always check current road conditions for live updates on roads in the park.
Zion National Park rangers may close internal park roads at short notice in Winter due to snow and ice.
However, access roads into the main canyon from any of the closest airports to Zion National Park shouldn't be a problem, even in Winter.
Many of the best USA road trips in Winter are based around the southern areas of the United States, including Zion National Park and nearby Grand Canyon.
Main Zion Canyon
One of the best things about visiting Zion National Park in Winter is being able to drive your own car up into the main Zion canyon between the beginning of December through mid-March.
You don't have to rely on shuttle bus timetables and you have more independence to enter and exit the canyon freely.
In fact, apart from a handful of weekends from mid-February through mid-March, the shuttle doesn't run at all.
As a result, a new problem is introduced. You will have to fight for parking spaces at each trailhead. It's never easy when visiting popular national parks!
Parking is limited at the likes of Angels Landing and The Narrows. The best way to get a spot is to arrive very early or much later in the day once the crowds are back in Springdale.
With all that said, after seeing the carnage of far too many people trying to park in not enough spaces at Zion visitor center and in Springdale, we would take being able to drive into the canyon any day.
All other roads in and out of the main Zion canyon stay open year round. You won't need to worry about closures on the Mt Carmel highway or tunnel.
Kolob Terrace
Kolob Terrace is around 20 miles from the main canyon but things here are very spread out. You are less likely to visit Kolob Terrace than Kolob Canyons.
One of the major reasons visitors to Zion even know about Kolob Terrace is because it is where the Left Fork Trailhead is for adventurous hikers to walk upstream and see The Subway.
Read our guide to day hiking The Subway bottom up if you plan to apply for a permit. It is an amazing experience but you do have to be aware of the roads if hiking in Winter.
Kolob Terrace is subject to occasional closures if ice and / or snow are deemed too dangerous. The road can be closed at different points (mile markers) in any given weather cycle.
Kolob Canyons
Are you planning to explore the Kolob Canyon area during your visit to Zion in Winter? It is the furthest to reach at 40 miles from the main canyon but it is a hugely underrated part of the national park in our opinion.
However, the main benefit to visiting Kolob Canyon is more suited to Summer. It is much quieter and more peaceful than the main canyon in each season but is most beneficial in Summer.
In Winter, it's so quiet here you might even have a hike to yourself. Read our guide to the 4 best hikes in Kolob Canyon for more information on the trails.
The one main road into and out of Kolob Canyon is subject to closures when snow and / or ice make it impassible. Keep an eye on those current conditions in the days leading up to your visit and check weather reports.
4. Lodging – Springdale Hotels Are Empty And Affordable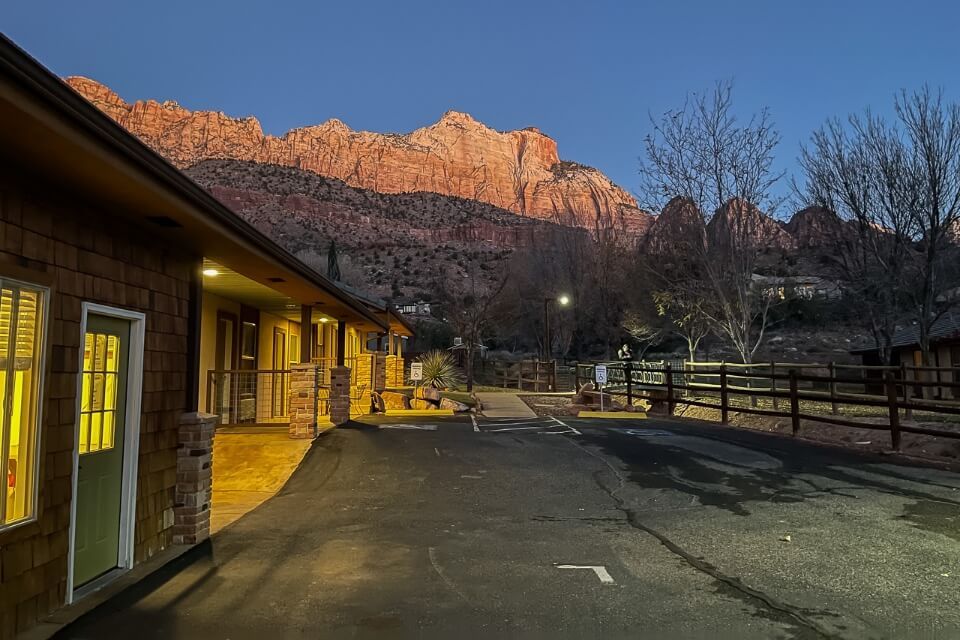 Finding affordable rooms or even available rooms at popular US national parks can be a real problem. We've been there many times and it can be incredibly frustrating.
Fortunately, you won't have to deal with this issue here. Zion National Park has plenty of lodging options and in Winter you can pick up some seriously cool deals on hotels.
The town of Springdale is overflowing with quality hotels spanning the price range and it is right on Zion's doorstep. This makes life so much easier than when visiting a park like Yosemite or Grand Canyon.
In peak season, hotels in Springdale significantly inflate their prices and even then rooms are snapped up at an alarming rate.
Many visitors are forced to book hotels in La Verkin or Hurricane as a result. These towns are close enough to day trip into Zion but far enough away so you don't overpay for convenience.
However, in Winter you can pick up comparatively excellent value rooms at hotels in Springdale. This reason alone makes Winter one of the best times to visit Zion National Park.
You would get even better value if you stayed in La Verkin or Hurricane, but the difference in price isn't as noticeable as in peak season.
Let's take a look at your options:
Zion Lodge
Zion Lodge is the only official national park lodge you can stay at in the entire three regions of Zion. It is located opposite the trailhead for Emerald Pools.
There are hotel rooms and suites, or semi-detached log cabin style rooms. A buffet style breakfast is included but you will have to pay extra for any coffee you drink.
We stayed at Zion Lodge for one night during our visit to Zion in December. The reason was so we could be close enough to summit Angels Landing at sunrise (before permits were introduced).
Truth be told, we were disappointed by cabin we stayed in. It wasn't clean and our neighbors were loud. For the price we paid, we could have stayed in one of the best rooms in a top rated hotel in Springdale.
But with all that said, it is still an experience and you get to stay inside Zion canyon. See if you can find a good deal at Zion Lodge.
Best Hotels In Towns Near Zion National Park
Springdale is the best place to book a hotel for your visit to Zion National Park any time of year but especially in Winter when it is more affordable.
We've written a popular guide on where to stay near Zion National Park which covers the best hotels for all budgets in Springdale and all surrounding areas.
There are plenty of hotel options and loads of great restaurants, grocery stores and coffee shops in Springdale. But we would also suggest looking at La Verkin and Hurricane to see if prices are more suitable for your budget.
Here's a handful of the top hotels in Springdale, La Verkin and Hurricane with ratings from previous guests:
Springdale
La Verkin
Hurricane
Camping In Zion During Winter
Do you have a motorhome or converted van? Or are you brave enough to tent camp in Zion during Winter?!
Either way, you should know that all campgrounds are closed, with the exception of Watchman campground, which is open but requires reservations year round.
Watchman is the main campground in Zion and is located just a few minutes walk from the main visitor center. It is also perfect if you want to hike The Watchman Trail or The Pa'rus Trail, both of which are easier hikes.
5. Hiking Permits – Easier To Obtain In Off Season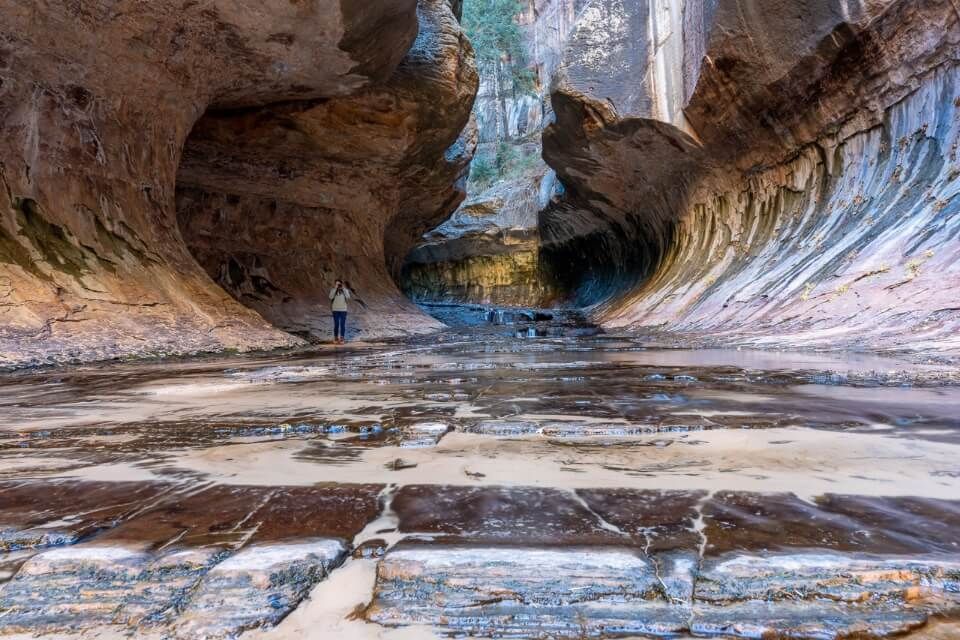 Hiking permits are notoriously tough to 'win' when applying via national park lotteries. We've had 2 attempts at Half Dome and not been successful yet, so we know how frustrating it can be.
Historically, Zion only had a handful of hiking permits, including The Subway bottom up, The Subway top down, and The Narrows top down. You can hike The Narrows bottom up without a permit.
But as of April 2022, a permit pilot program is being introduced for Angels Landing. This is big news. It means if you want to hike one of Zion's fabled trails, you are going to need a permit.
Getting a permit for The Subway has always been a challenge. There are up to 60 advanced reservation permits per day and a minimum of 20 last minute draws or walk in permits.
Angels Landing has never had a permit process, so let's see it how it goes throughout 2022. We don't know how many permits are available each day but you do have to select between 3 time periods on your desired date.
Getting A Hiking Permit In Winter
However, visiting Zion National Park in Winter means the odds are stacked in your favor when it comes to hiking permits. Far fewer visitors means far less demand and higher percentage chances of you snagging an all important permit.
Not only will you have less competition if applying for a permit in Fall to hike in Winter, but you also stand a very good chance of picking up a walk in permit when you arrive into Zion National Park.
We were on a long road trip in the US southwest and had no idea the exact date we would arrive into Zion in Winter. In the end, we were able to apply for a next day walk in permit to hike The Subway and we only saw 7 people all day.
Although there's no data to back this up, we're confident that you would stand a better chance of winning a permit to hike Angels Landing in January than you would in August.
Note: You also need permits for canyoneering in Zion National Park, which are likely to be easier to obtain in Winter.
6. Angels Landing – Popular Zion National Park Hike Has Pros And Cons In Winter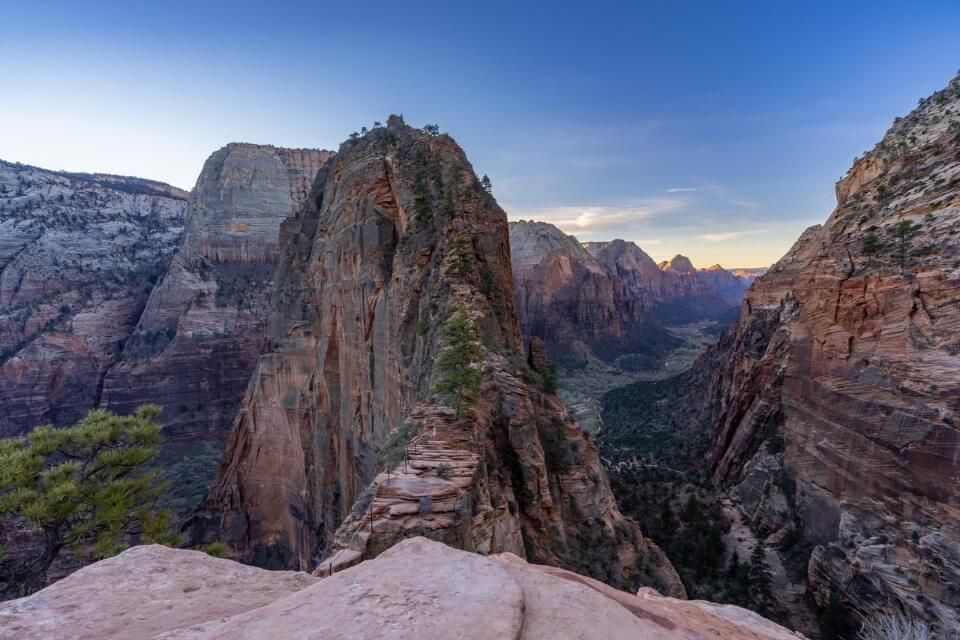 We're already on the topic of discussing Angels Landing, so let's keep that ball rolling.
Yes, you will stand a much better chance of getting approved on an advanced reservation permit for Angels Landing if you choose to visit Zion National Park in Winter.
And yes, you will have a significantly higher chance of snagging a next day walk in permit in December, January or February.
But what about the hike itself?
Is Angels Landing safe to hike in Winter?
Well, we can tell you from experience that Angels Landing is an exhilarating but terrifying rollercoaster hike no matter when you do it. Read our in depth hiking guide to Angels Landing for more information.
But Winter temperatures and weather can create even more dangerous conditions than the hike already is on a good day. Ice is a real possibility on the coldest days after rain and snow in Winter.
You do not want to hike Angels Landing if there is the remotest chance of ice on the trail. Trust us, it's hard enough without doing your best triple pike.
However, Winter is one of the best times of the entire year to hike Angels Landing if you are lucky with weather.
The fact it is much quieter as a result of it being off season means Angels Landing is already a safer hike than in Summer. We were truly shocked by how many people were on the razor thin trail when we hiked it in October 2019.
Our Angels Landing Zion Hike In Winter
Due to how crowded it was the first time we hiked it, we made a point of summiting Angels Landing at sunrise. Yes it was Winter and we knew it would be quieter but we still wanted the 'shark fin' rock to ourselves.
It was freezing cold to begin but we soon warmed up on the steep ascent. There was no ice and we didn't encounter any slick surfaces on any section of the hike to Scout Lookout or Angels Landing.
Our solo sunrise from the summit was stunning and we didn't see a single other hiker until part way down the descent, on the flat part after Walters Wiggles.
Even with permits in place, you'll be able to hike Angels Landing in Winter with fewer hikers in each time period.
7. The Narrows – Most Famous Zion National Park Hike Is Cold In Winter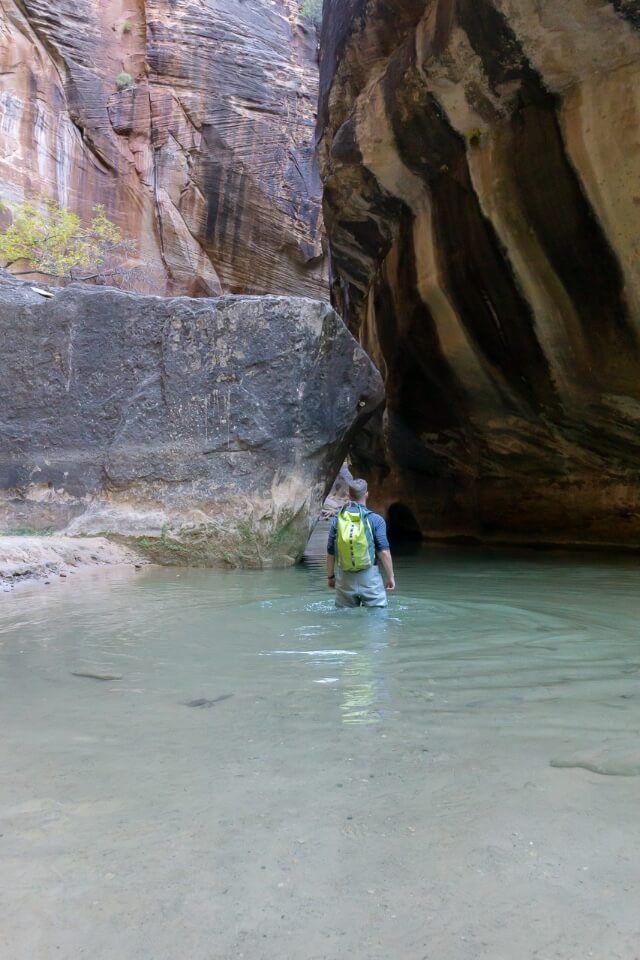 The Narrows is Zion's most popular hike. Every visitor to the park wants to experience a river slot canyon hike and we can't blame them. It is an amazing experience.
However, it is also an unbearably busy experience if you try it in peak season. Right at the start and for the first mile, you will be surrounded by hundreds of other hikers.
Hiking The Narrows in Winter means you can escape the crowds and get a real 'lost world' feel. You will share the river with very few others and it will be a better experience.
The only downside is how cold the water is going to be inside The Narrows in Winter. You will have to buy the 'dry pants' package from Zion Outfitter or similar outfitter in Springdale.
You might even need to wear a dry suit if you plan to hike as far into The Narrows as we did.
Please do not underestimate how cold that water and the air temperature will be inside the narrow slot canyon. You also will need a pole to walk with, do not start without one.
Our Hike Up The Narrows
Despite getting on the very first shuttle of the morning, it was packed once we reached the Virgin River staging area. And this was October.
Remember you can drive your own car up to the trailhead if you visit Zion in Winter.
We hiked The Narrows all the way to Big Spring which is the furthest you can go on a bottom up day hike. Read our guide about how to hike The Narrows bottom up for more information.
As we hiked further into The Narrows, the crowds did begin to thin out and we saw fewer people until all of a sudden there was nobody else around and we were alone in the famous Zion river slot canyon for hours.
But very few people actually go to the end on a bottom up day hike. Most hikers will hike upstream for maybe an hour or two and turn around. It took us 8 hours total.
We hired the dry pants package and needed it in October, so you definitely need it in December, January or February.
8. All Other Zion National Park Hiking Trails – Winter Is The Perfect Time Of Year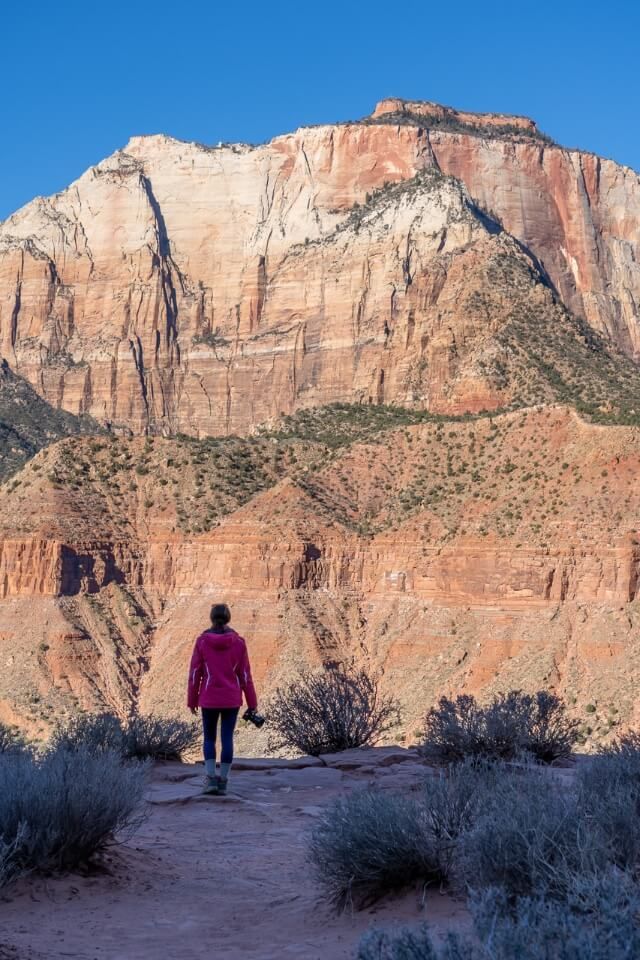 We've covered Angels Landing and The Narrows in Winter, Zion national park's two most popular and famous hikes. But there are plenty more trails in this adventure playground for adults.
Winter is the perfect time of year to hike the more relaxing, less death defying and drier trails in Zion National Park, such as family friendly Emerald Pools Trail or Zion Canyon Overlook.
Here's why:
You can drive your car into the canyon to park at some of the lesser known trails.
You'll stand a better chance getting parked up for Zion Canyon Overlook and the East Rim trails.
Fewer hikers in general will be a much more relaxing experience overall.
Temperatures can be idyllic for hiking with layers vs extreme Summer highs.
We've already discussed permits for The Subway, and again you stand a far greater chance of successfully winning a permit when fewer people are in Zion.
Getting a next day walk in Subway permit is feasible if you visit Zion National Park in December, January or February.
Kolob Canyon will be even quieter than it is in peak season. You might even have Timber Creek Overlook Trail, South Fork Trail and Taylor Creek Trail to yourself.
Just remember to take plenty of layers when hiking in Zion in Winter. You're going to need lighter and thinner layers, through thicker and warmer layers.
9. Food – Some Springdale Restaurants Close For Off Season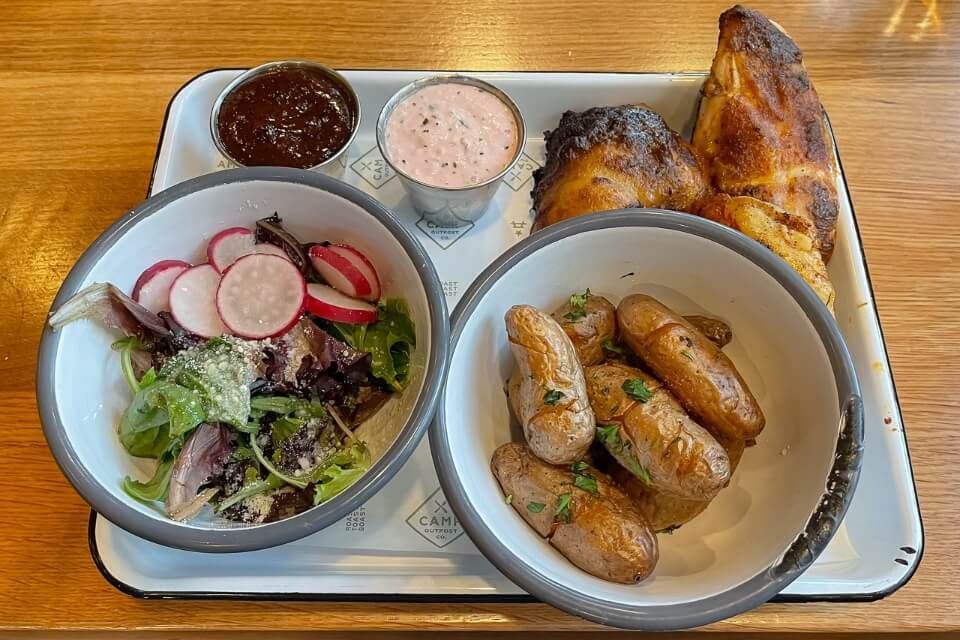 So far it's all been good news, but something has to give. One of the only minor downsides to a Zion Winter visit is that a handful of restaurants in Springdale close for the off season.
However, that doesn't mean all restaurants will close.
If you're in the planning stages and you've already picked out a place or two you like the look of, check out their websites to see if there is any information about seasonal closures.
But if you're just a few days away from your Winter visit or you're in Zion reading this, you can load up google maps and see if the restaurant is open or closed by clicking on the restaurant name and checking opening hours.
This could save you some disappointment at the door!
Best Places To Eat In Springdale
There are plenty of great places eat in Springdale so even with some closures you will still be able to grab a decent dinner after a full day of hiking. Just be prepared for one or two places to be closed.
For example, we ate at Zion Pizza & Noodle on November 29th 2021 and it closed for the season the very next day on November 30th. This is a popular pizza place and always has a line outside the door.
We also ate at Camp Outpost and Oscar's Cafe, both are highly rated and both were excellent. Camp Outpost serves up rotisserie style American comfort food and Oscar's is a Tex-Mex with great atmosphere.
Thai Sapa is the only Thai place in Springdale and it has a fairly low rating on google. However, we love to eat Thai food so we went anyway and we have to say it was much better than its rating.
10. Photography – Zion National Park Is Stunning In Winter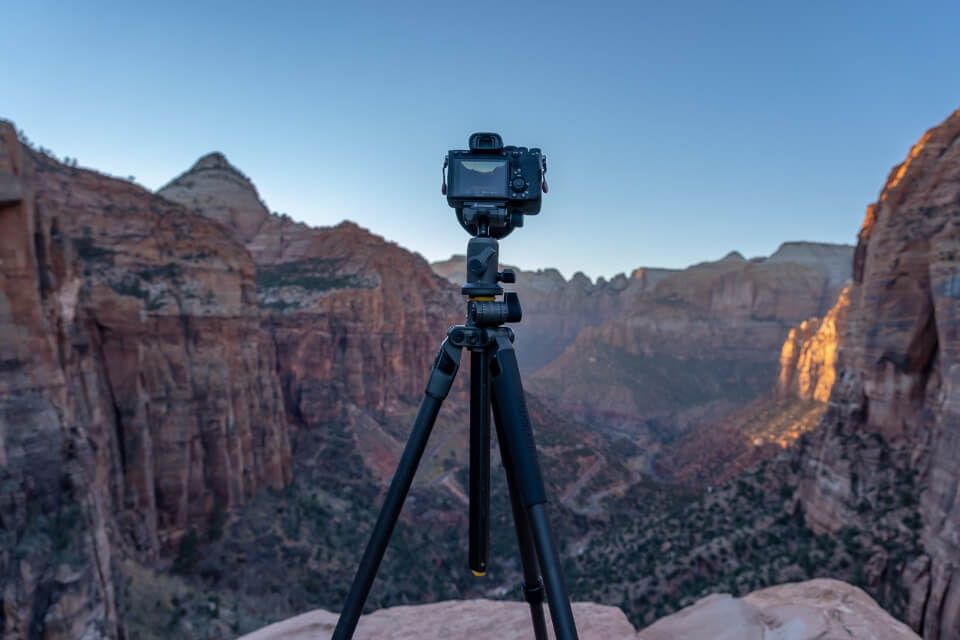 Winter is one of the best times of year for photography in Zion national park with or without snow covering those iconic sandstone mountains.
If you're among the few each year who leave Zion with snow photos, count yourself as fortunate. However, most of us won't be so lucky!
But those bitterly cold Winter mornings and evenings do come with a major benefit. If you want to shoot sunrise or sunset photography in Zion, you don't have to get up early and you don't have to stay out late.
You can wake up at a reasonable hour and hike to Watchman Overlook, Zion Canyon Overlook or even Angels Landing before sunrise.
Golden hours at dawn and dusk are more intense and heavily contrasting between shadows and highlights. Sunlight illuminates Zion's enormous orange walls so deeply that they glow above darker canyon floors below.
Cool, crisp and haze free conditions are common on Winter days when snow or rain clouds aren't passing overhead, which makes for the clearest down-canyon shots.
And finally, if you visit in early Winter, stunning yellow leaves radiate throughout Zion canyon under Winter sunlight.
Zion photography tip – Many parts of the canyon and most trails are in shadow throughout the day. You will need your tripod if you want to keep your ISO down at 100, especially if you take your camera into The Narrows.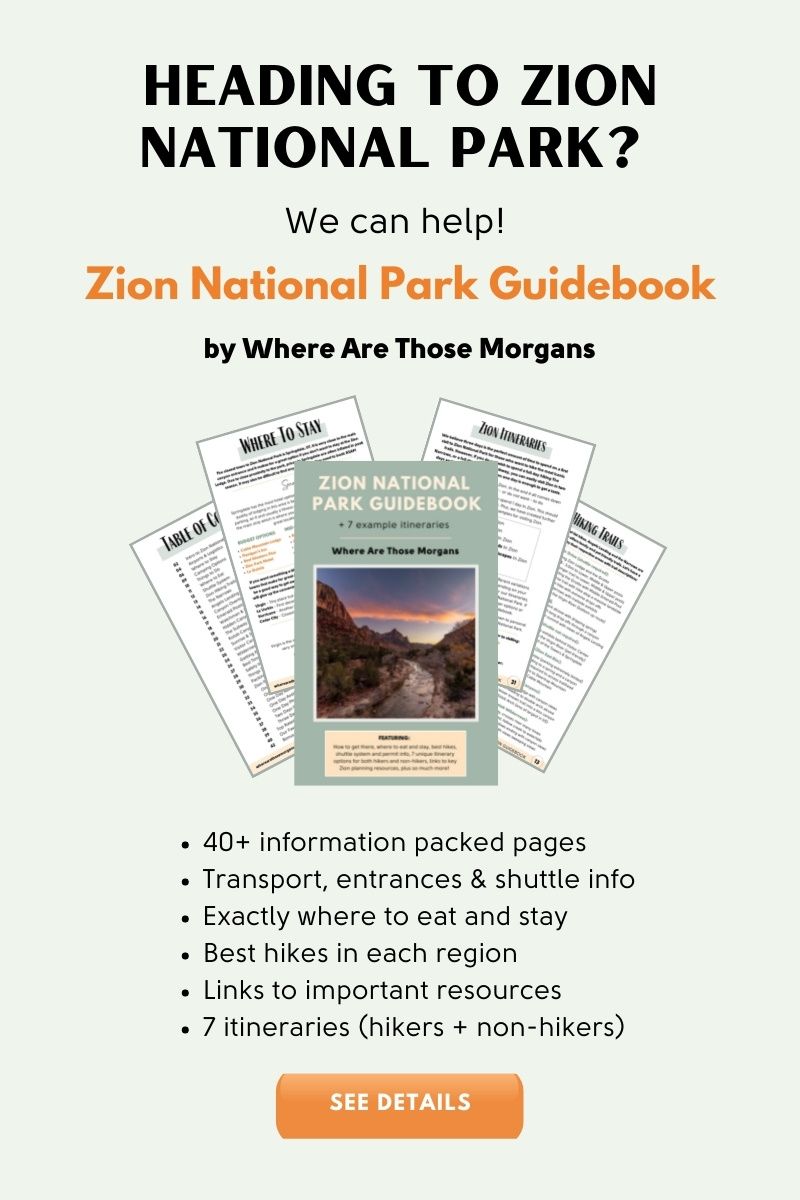 Is Winter A Good Time To Visit Zion National Park?
There are so many benefits to exploring Zion national park in Winter that it has to be considered one of the very best times of year to visit.
Quiet trails, comfortable hiking conditions, better chance of getting permits, being able to drive your car into the canyon and affordable lodging options cannot be ignored.
When compared to heavy overcrowding during peak season in Zion, we will happily put up with colder mornings and evenings, and deal with one or two amenities closing for Winter!
Our Popular Zion National Park Guides
More Zion Hiking Guides
Want more Utah content? Head over to our Utah Travel Guides to explore the Mighty Five National Parks and beyond.
---
We hope this detailed guide helps with planning your visit to Zion National Park in Winter!
Please let us know if you have any questions about visiting Zion during a specific season in the comments below.
Happy Travels,
Mark and Kristen
Enjoy This Guide? Pin It For Your Visit!