Are you short on time in Moab Utah and can't decide which National Park you should visit between Arches vs Canyonlands? Well, we have news for you that will be like sweet music to your ears: You can visit both Arches and Canyonlands in one unforgettable day.
You're in for a long day, but follow this step-by-step walkthrough itinerary and it will be a memorable one.
Having visited both National Parks on our first epic 3 month US road trip, we can tell you with confidence that both Arches and Canyonlands should be visited.
Luckily, there are no conflicts of interest at dawn and dusk. Sunrise is extraordinary at Canyonlands and sunset is incredible at Arches, which makes planning your visit easy.
This whirlwind one day itinerary begins early and ends late but you will leave Moab having ticked off the best bits of both Arches and Canyonlands.
Buckle up for a rollercoaster ride through two of Utah's Mighty 5 in under 24 hours!
Important 2023 Update: A timed entry ticket is required to enter Arches National Park from April 1st to October 31st between the hours of 7:00am – 4:00pm.
*Please note this post may contain affiliate links. If you click on one, we may earn a small commission at no extra cost to you. Thank you for supporting the free content we provide! Read more in our disclosure policy.*
Why Visit Arches National Park?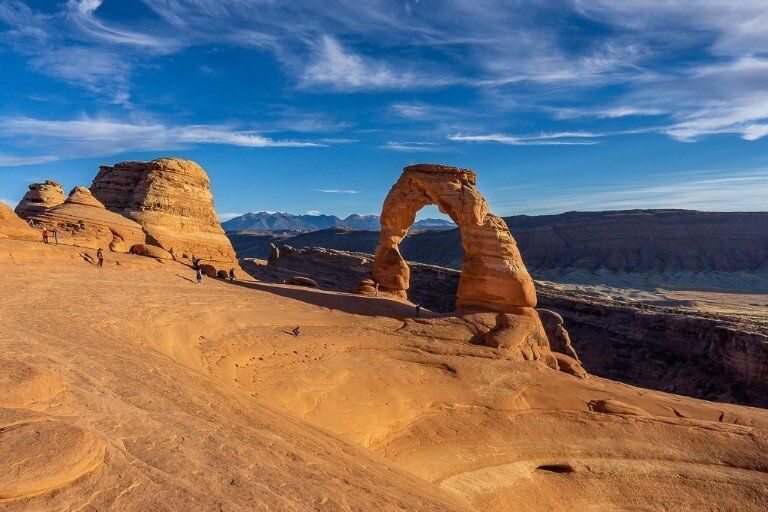 Arches has one of the most fascinating and magnificent landscapes among the best US National Parks and considering the company, that is a bold statement. Canyons are cool, no doubt about it. But more than 2,000 arched sandstone rock formations are unique and defy explanation.
You know those times where you shake your head in disbelief or raise your eyebrows in appreciation – expect those moments at Arches.
You will find yourself asking 'how on Earth did those arches form?!' on several occasions!
To spare you from a geology lecture, the short answer is: Millions of years of geological processes and extreme weathering under perfect Arch forming conditions caused these astonishing acts of Mother Nature.
Dozens of intriguing sandstone arches of varying shapes, sizes and level of wow-factor await your gasps and camera flashes at Arches National Park.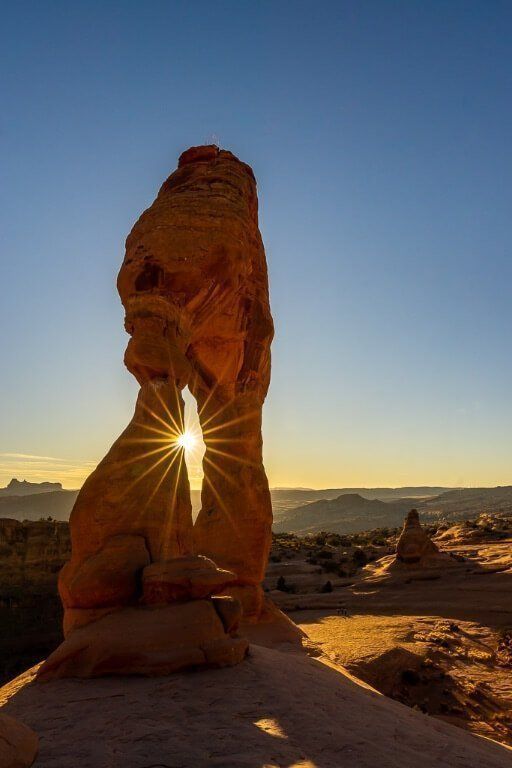 An awesome 7 mile (partly primitive) looped trail called Devil's Garden passes by 7 arches and 1 spire. It is the most popular hike in Arches and one of the best hikes in the USA.
Arches most iconic rock formation – Delicate Arch – is best seen with a deep orange sun disappearing behind a flat horizon, before a brilliantly bright Milky Way illuminates overhead. Priceless memories.
Compact size, ease of access and family friendly attractions make Arches National Park the perfect day trip from Moab for those with very little time to spare.
Arches National Park Factfile
Address: PO Box 907, Moab, UT 84532
Website: nps.gov/arch
Phone: (435) 719-2299
Park Hours: All day, every day
Entrance Fee: US$ 30 Vehicle 7 Day Pass (free with America the Beautiful Pass)
Visitor Center: Open 8am – 5pm Spring & Fall / 8am – 6pm in Summer / 8am – 4pm in Winter
Campgrounds: Devil's Garden (see campgrounds)
Accommodation: Excellent selection at nearby Moab, Utah (see hotels)
Backcountry camping: Permitted with Backcountry Use Permit
Top Activities: Hiking, Rock Climbing, Stargazing, Photography
Annual Visitors: 1.5 million
Best Time to Visit: Spring & Fall (comfortable temperatures)
Do You Need A Reservation For Arches National Park?
Arches National Park will require a timed entry ticket from April 1st to October 31st in 2023. Tickets are required for all visitors arriving to Arches between 7:00am and 4:00pm daily.
Please make sure you get your ticket in advance before visiting Arches. The only way around not having a ticket is to enter before 7:00am or after 4:00pm.
Get your timed entry ticket on the Arches NPS website.
Note: Tickets are not required for those with camping, backcountry, Fiery Furnace, or special use permits.
Why Visit Canyonlands National Park?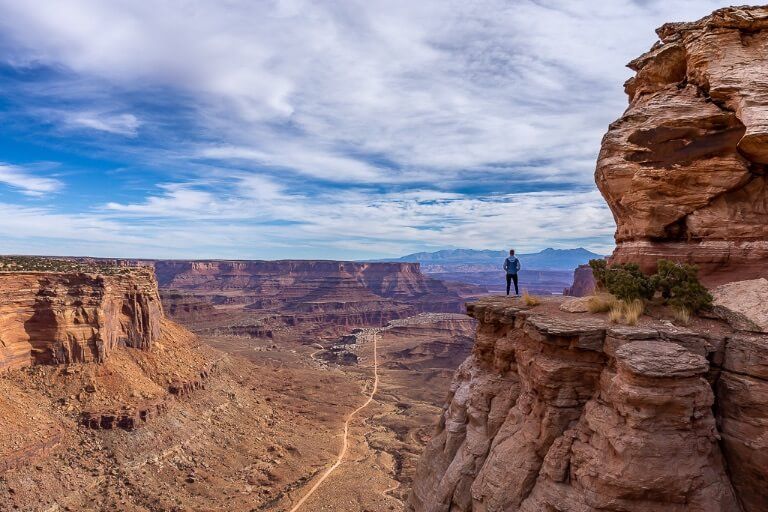 Canyonlands National Park, as you can guess from its name, consists of intricately carved canyons buried in the Colorado Plateau. Soft sedimentary rock has allowed both the Colorado and Green Rivers to slice their way through Canyonlands landscape over millions of years.
To give you an idea of scale, Canyonlands is 5 times bigger than Arches. It is huge! But it's also difficult to explore with varying entrance points and 4WD requirements.
Canyonlands is split into several regions, namely Island in the Sky, Needles, The Maze and Horseshoe Canyon. Island in the Sky holds the key to this one day itinerary with what we believe to be its most spectacular assets.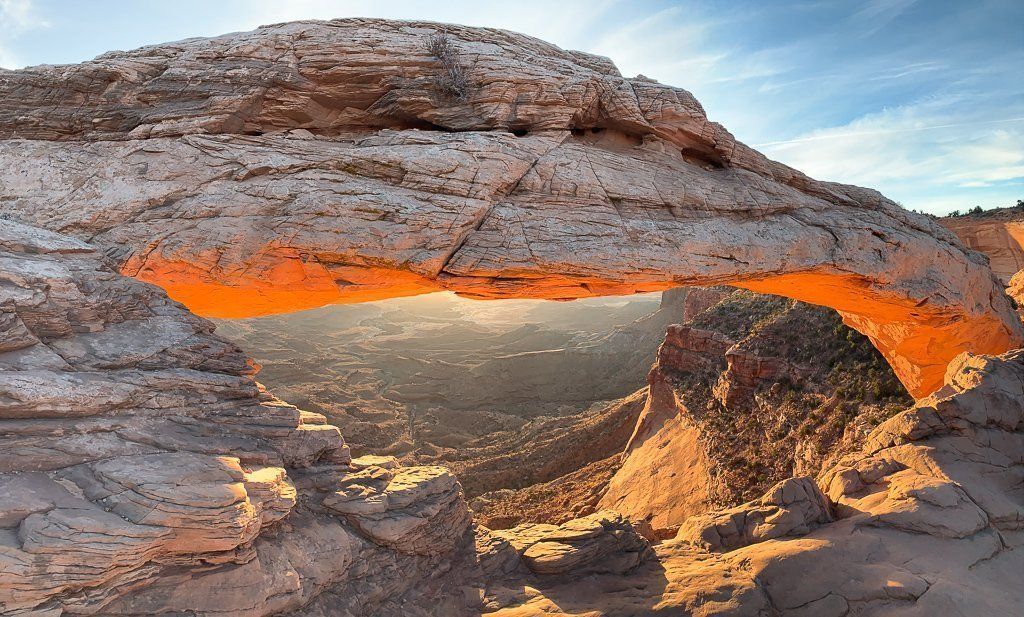 Arches may have the sunset, but Canyonlands has THE sunrise, maybe one of the best in the United States. Photographers flock from around the world to shoot their own take on sunrise over a beautiful canyon landscape.
There are a range of easy to difficult hiking trails into and around Canyonlands deep ravine-like rocky layers. One easy and family friendly 2 mile hike offers some of the best canyon views in the park.
Not into hiking? Well, the beauty here is that you can enjoy the vastness of this stunning canyon region from the comfort of your vehicle.
Canyonlands is not just a smaller version of the Grand Canyon in Arizona. It offers amazing hiking opportunities and the chance to get up very close and personal with cliff edges. Plus, there's a fraction of the crowds to contend with.
Canyonlands National Park Factfile
Address: 2282 SW Resource Boulevard, Moab, UT 84532
Website: nps.gov/cany
Phone: (435) 719-2313
Park Hours: All day, every day
Entrance Fee: US$ 30 per vehicle 7 day pass (free with America the Beautiful Pass)
Visitor Center: Open 8am – 5pm May-Sept (various opening times out of peak season)
Campgrounds: Willow Flat (see campgrounds)
Accommodation: Excellent selection of hotels in nearby Moab, Utah (see hotels)
Backcountry camping: Backcountry Use Permit Required
Top Activities: Hiking, Horseback Riding, Stargazing, Photography
Annual Visitors: 734,000
Best Time to Visit: Spring & Fall (comfortable temperatures)
How To Get From Moab To Arches And Canyonlands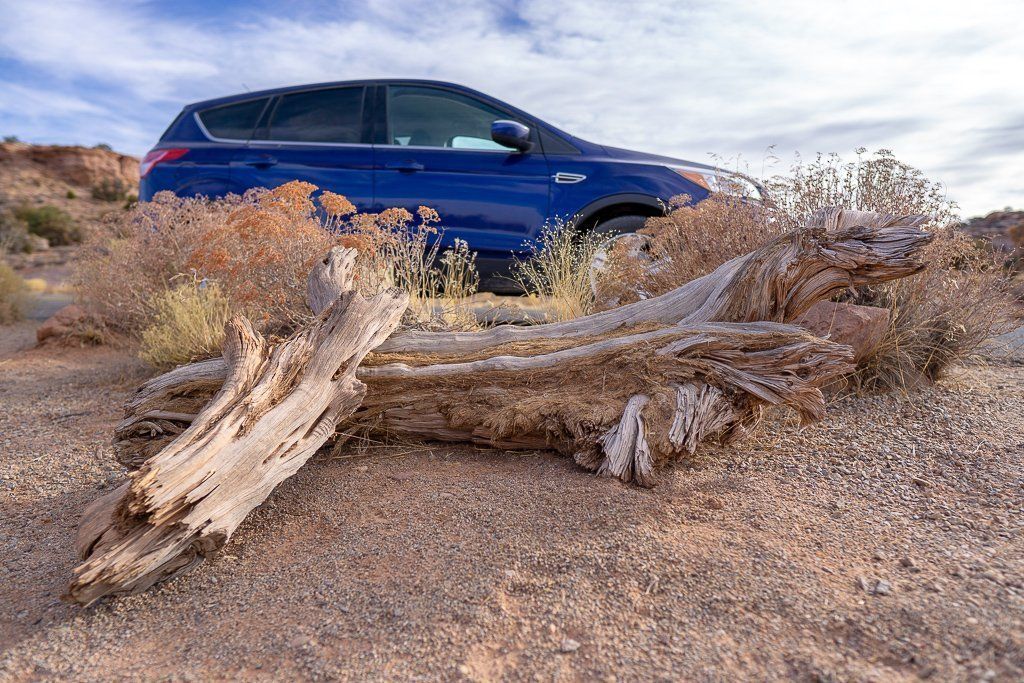 Moab to Arches National Park
Moab is ideally located less than 5 miles from the entrance to Arches National Park. Driving time takes less than 10 minutes and Arches Visitor Center is situated just inside the park boundary, with plenty of parking spaces.
From Arches Visitor Center to Devil's Garden trailhead (furthest point) you only need to cover 18 miles one way. Arches is relatively small for a National Park but it is one of the most popular places to visit in the USA.
Moab to Canyonlands National Park
Island in the Sky region of Canyonlands National Park is a little further in the same direction as Arches (North out of Moab). Driving time is closer to 40 minutes total, with 11 miles (15 minutes) on US-191 before turning onto 313 for 22 miles (25 minutes).
Island in the Sky Visitor Center is located before you reach any of Canyonlands major attractions. From Visitor Center to Grand View Point (furthest away) you will drive a further 12 miles.
Arches to Canyonlands
You won't need directions from Moab if you're camping at both Arches and Canyonlands. Driving time between the two visitor centers is around 35 minutes over a distance of 29 miles.
However, driving through the parks can add a deceptive amount of time on to your journey. Take into account driving time between Devil's Garden Campground (Arches) and Willow Flat Campground (Canyonlands) is 1 hour 20 minutes over a distance of 54 miles.
Best Time To Visit Arches and Canyonlands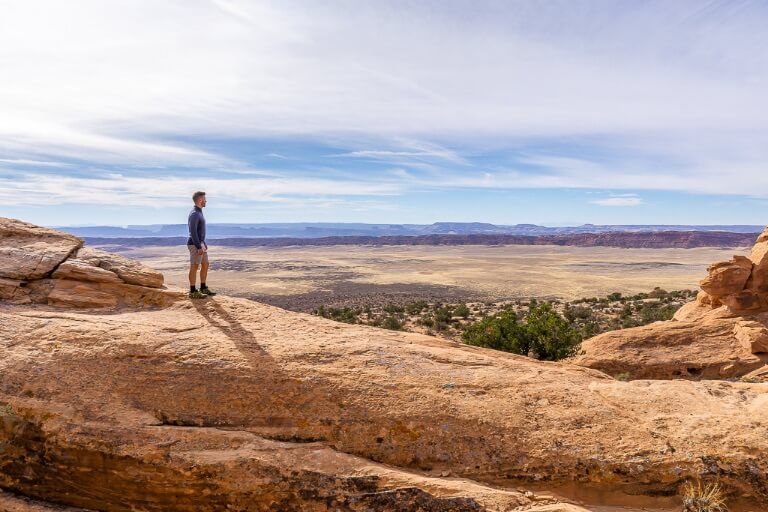 Spring and Fall are the best seasons to visit Utah's National Parks for comfortable hiking temperatures. Summer can bring intense heat and Winter can be harshly cold.
If you plan the Utah portion of your bucket list US road trip in Fall, try to spend a day at Capitol Reef National Park for the best Utah park foliage colors.
All of Utah's national parks are best visited in March, April, September and October.
Adventure parks Zion and Bryce Canyon are extremely crowded in Summer but Arches and Canyonlands are less busy, so visiting in Summer is fine.
To avoid the biggest crowds at Arches and Canyonlands, stay clear around Memorial Day and Labor Day weekends when both parks are at their busiest.
If you really want to have either of these parks to yourself, plan to arrive early or late in the day to avoid the masses.
However, be aware that Mesa Arch (Canyonlands) will be a battle ground of pro photographers in the morning and Delicate Arch (Arches) will be packed for sunset.
Arches vs Canyonlands and How Many Days Do You Need?
Which is the better park Arches vs Canyonlands?
This is a tough one. It depends whether you find deep canyons or arched sandstone formations more interesting.
Personally, we have to admit we preferred Arches overall because it is so unique. Arches catches the eye more and Devil's Garden Hiking Trail has a fun primitive section.
However, hiking and photographing both parks are among the most fun things to do in Utah so try to visit both if possible.
Is one day enough time to visit both Arches and Canyonlands?
Honestly, you can see the best bits of both parks in one long and intense day (following this itinerary) but be prepared for hustling.
In one day you will see the best bits of both parks but there may be some things you are forced to miss out on. Of course more time would allow you to relax and take things slowly.
I have more time available, how many days should I spend at each park?
Not everyone can spare days for a longer visit to Moab but if you're one of the fortunate few we suggest two full days in Canyonlands plus two full days in Arches.
Four days is easily enough to do everything at both parks, including horse riding, rock climbing, stargazing and 4WD routes. The extra day at Canyonlands allows you to visit Needles region, which has drawn comparisons to Bryce Canyon.
Sunrise, Sunset and Star Photography at Arches and Canyonlands National Parks
Whether you're a professional or amateur photographer, you are going to be blown away by twilight landscapes around Moab, Utah.
Heck, even if you have no interest in photography, you won't regret making the effort to see the following three events:
Sunrise – Mesa Arch, Canyonlands
Sunrise belongs entirely to Canyonlands in the battle of the two Moab National Parks. Mesa Arch is a truly mind-blowing sunrise and you would do well to see a more dramatic scene anywhere else in the United States.
Through Mesa Arch you will see a striking canyon floor and a beautiful sun rising directly ahead. On a clear day you can see the La Sal Mountains in detail. However, it is not uncommon for the canyon and mountains to be shrouded in a thin veil of mist at dawn.
The only downside to sunrise at Mesa Arch is a very early start in Moab. But we promise it is worth your effort 100 times over.
Read: Complete guide to Mesa Arch at Sunrise Including Photography Tips
Sunset – Delicate Arch, Arches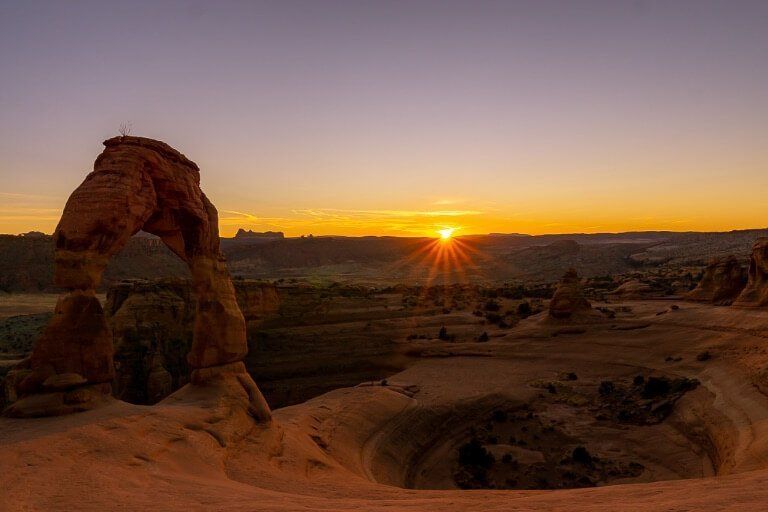 Conversely, sunset belongs to Arches and Arches only!
One popular spot is 'The Windows Section', conveniently located on the way out of Arches National Park and is extremely picturesque.
However, our top recommendation to you is a mesmerizing Delicate Arch sunset, the highlight of Arches National Park.
It has the most awe-inspiring landscape as you watch the sun slowly fade at dusk. Delicate Arch and a huge bowl-shaped depression cooling down as the sun sets over the distant horizon makes for amazing photography.
Read: Stunning Delicate Arch sunset hiking and photography tips
Stars – Delicate Arch, Arches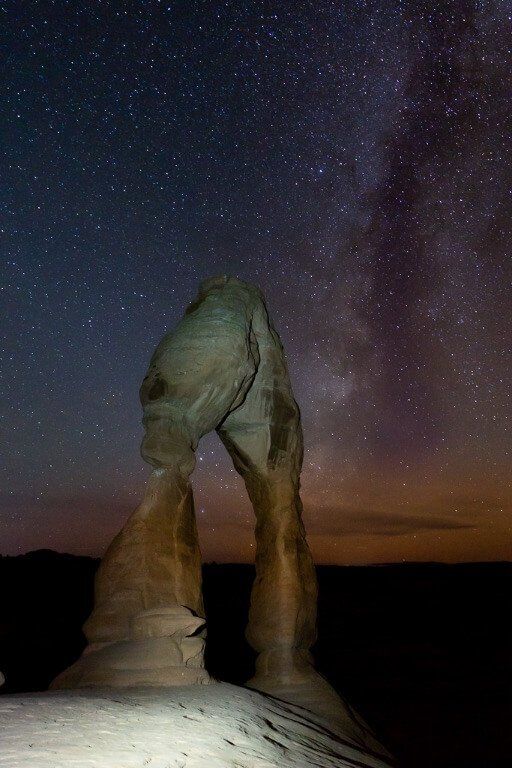 The Windows Section is a contender for best stargazing location at Arches. You have an opportunity to see the Milky Way appear through a huge arch (North Window).
That being said, we can't recommend you stargaze at Windows.
Not when we were left speechless as we stargazed at Delicate Arch ourselves. If you have any interest in photography, the stars or just plain cool landscapes you should not miss this spectacle.
The best part is you're already there and all you have to do is wait for the stars to appear. Remember to take at least 2 strong torches for the descent and to paint Delicate Arch if you're feeling creative.
Best Hikes In Arches and Canyonlands
Arches is a smaller National Park with fewer hiking options, whereas Canyonlands has vast open backpacking trails you could spend a week walking around.
For the purposes of this article whereby you only have one day at both Arches and Canyonlands, we will focus on the achievable trails.
If you're looking for super adventurous Utah hikes, read our complete guides to the exhilarating Angels Landing hike and the incredible Narrows slot canyon, both at Zion.
Best Hikes At Arches National Park
Arches has three fun and off the beaten path hiking trails: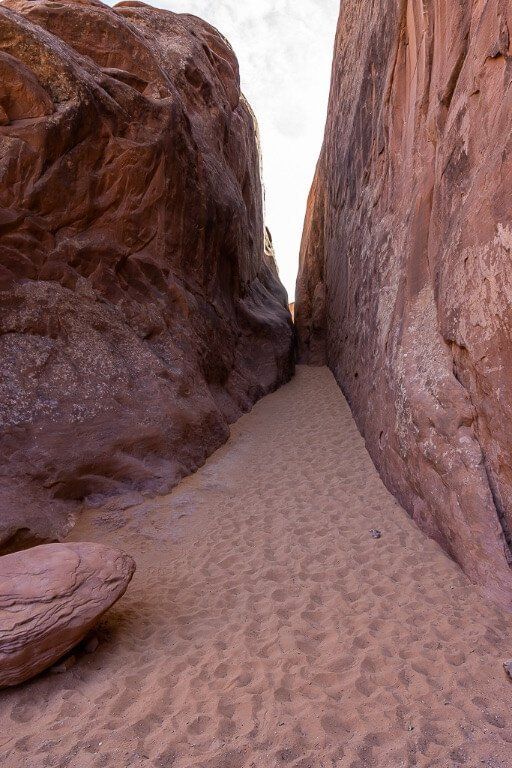 Devil's Garden Trail
Awesome 7 mile loop (partly primitive) perfect for adventurous hikers.
Parts of the trail are easy, before becoming difficult with some scrambling and lack of recognized path. There may be shallow water to pass through and there are considerable drops to be aware of.
Delicate Arch
The most famous stone arch in the world and it comes with an added bonus – a fun filled 3 mile roundtrip adventure trail to its base.
You will effectively walk directly up a steep rock.
The Windows
Consists of North and South Windows, two huge arches close to one another at the end of a very short hike.
What makes them interesting is the primitive trails around both arches means you can explore the area without any designated trails.
Our complete guide to the 3 best hikes at Arches goes into greater detail about the Windows, Devil's Garden Trail and Delicate Arch hikes – including a full one day hiking itinerary.
They are the three 'must do' hikes at Arches.
With more time consider including Park Avenue, a 1 mile each way moderate difficulty hike through the Courthouse Towers region close to Arches Visitor Center.
This trail begins and ends at separate areas along the main road, which means the return leg can be avoided if a designated driver picks up hikers at the end of 1 mile.
Best Hikes At Canyonlands National Park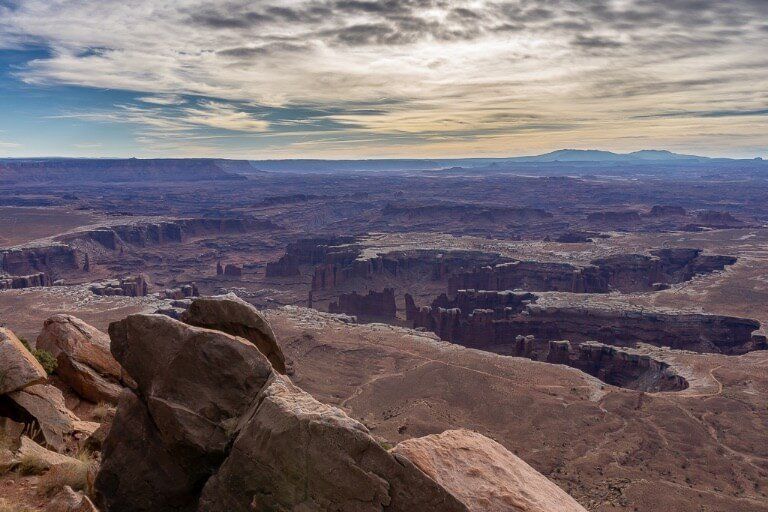 Canyonlands has hundreds of miles of hiking trails from which you can explore the park's natural features. Once down in the canyons you can walk for miles.
However, for the purpose of this itinerary we will suggest only the following Island in the Sky hikes:
Mesa Arch
Less than 1 mile roundtrip loop trail leading to one of the most stunning arch views on the planet. Making the effort to see this arch for sunrise will be one of the best things you do in Moab.
Grand View Point
Easy 2 mile roundtrip hike with mesmerizing canyon views as your reward. This trail is flat and offers close up panoramas as you peer down into Colorado and Green river carved gorges.
If you're a keen hiker and have an extra day in Moab, consider including the following:
Syncline Loop
8.3 mile strenuous difficulty loop circling Upheaval Dome crater. It can be done in one long day but a backcountry campsite is located half way round if you want to turn it into a 2 day adventure.
Plus, an optional 7 mile spur (out and back) ends with stunning views over Upheaval Dome crater.
Needles region
Big Spring to Squaw Canyon and Chesler Park are popular hiking trails.
Hiking: Are you new to hiking? Don't forget to read our 21 most important hiking tips before you hit the trails!
Arches And Canyonlands In One Day Whirlwind Itinerary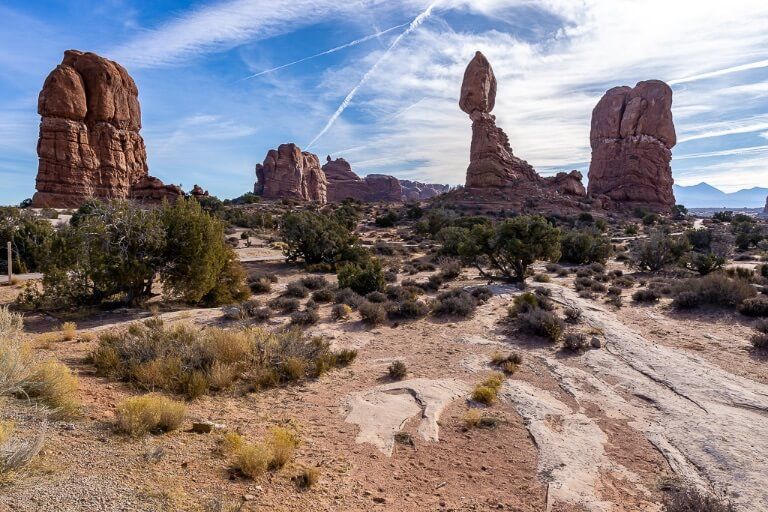 Okay, so you have all the information but now it needs to be organized into an efficient timeline so you don't miss any of the highlights at either park.
Follow this precise step-by-step guide to get the most out of your trip. Are you ready to begin your action packed one day in Arches and Canyonlands National Park itinerary?!
Let's get stuck in!
4am – Early Start For A Spectacular Sunrise At Mesa Arch, Canyonlands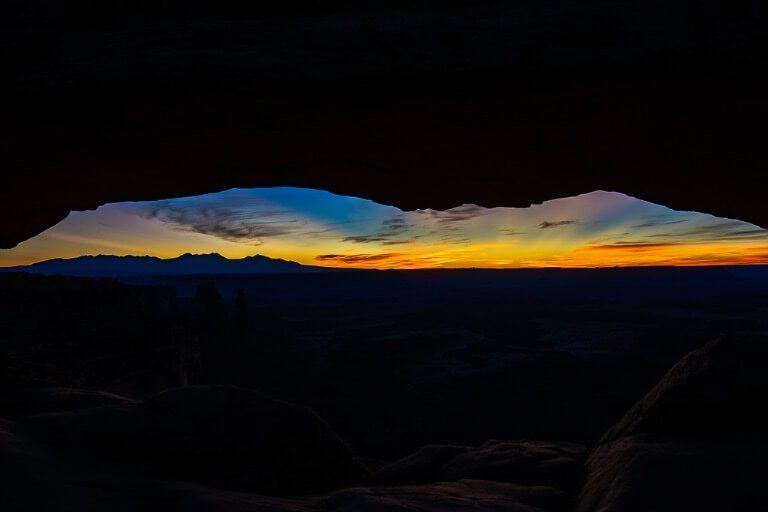 Check Canyonlands sunrise times the night before and be sure to wake up 1 hour and 30 minutes before Civil Dawn.
You need to arrive at Mesa Arch 30 minutes before civil dawn begins. For example civil dawn may be 5.30am – 6am. You need to leave Moab at 4am to arrive by 5.00am.
That gives you an hour to drive and hike to Mesa Arch before it becomes packed with professional and hobbyist photographers. It's important to get a good position on the tiny photographers dance floor.
The hike is easy and only take 10 minutes but remember your torches to light the path in darkness.
As soon as you see Mesa Arch and its stunning canyon backdrop, you will know you're in for a real treat.
Set up your tripod, chat to other photographers about how ridiculously early it is and wait for the sun to illuminate the underneath of Mesa Arch with a beautiful bright red glow!
There could be anywhere between 5-35 photographers depending on time of year.
Ask for help from any other photographers you strike up conversation with. Maybe even see if they want to switch positions for a few quick snaps.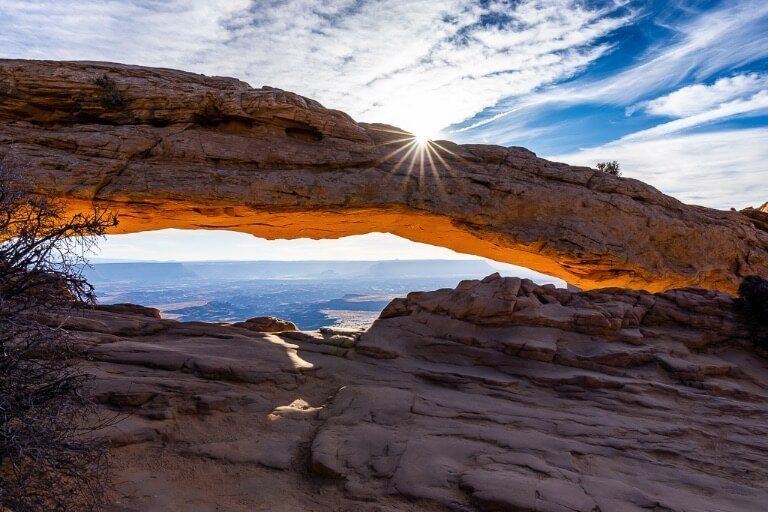 Don't make the common mistake of leaving Mesa Arch just a few minutes after the sun finally dances over the horizon.
Watch as all of a sudden everyone will vanish! Stick around for 30 minutes and you'll be rewarded with more amazing photographs. Particularly those with entry level cameras struggling for image quality in low light.
7.30am – Grand View Point and Green River Overlook, Island in the Sky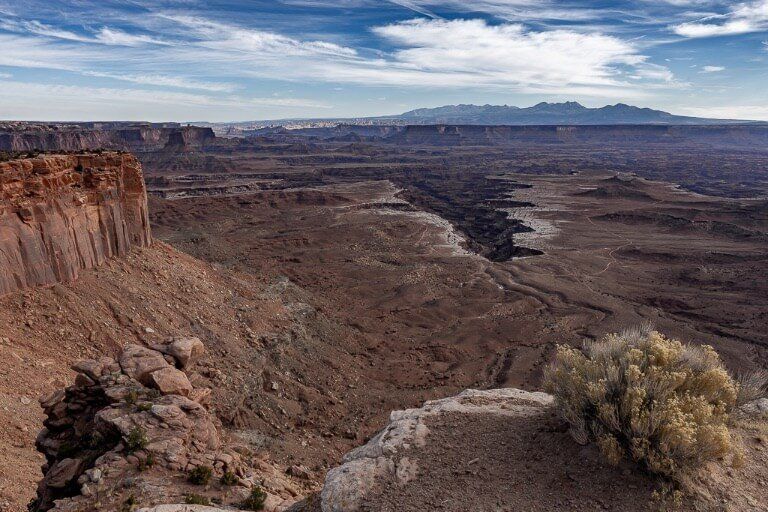 The major Canyonlands spectacle is over but you still have Grand View Point and Green River Overlook to marvel at.
A 10 minute drive will take you to Grand View Point. You have awesome views from the parking lot but take on the 2 mile roundtrip easy hike along the rim to get even closer to the action. You can appreciate the scale far more from the hiking trail.
Allow roughly 1 hour here for a slow walk to enjoy the jutting buttes and ravines.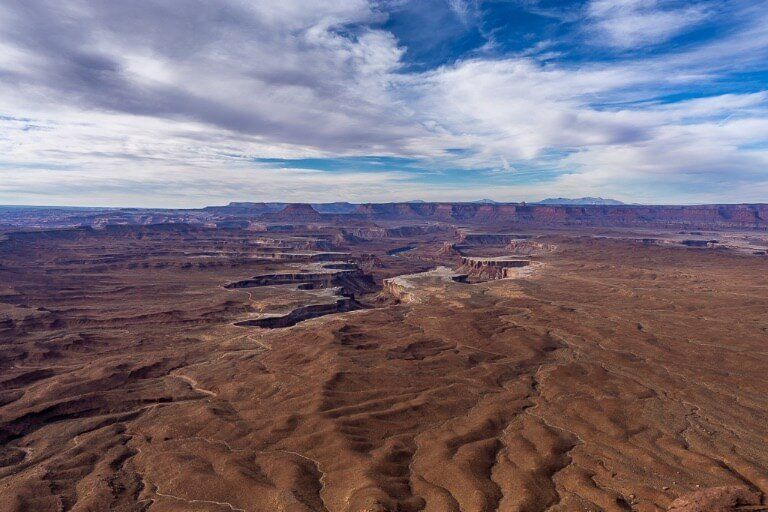 Head back towards Mesa Arch but take 2 left turns in quick succession to Green River Overlook. This fantastic viewpoint is where you will find Willow Flat campground if you decide to camp.
Views over Green River are special, you can see as far as the horizon with sharp fault-like tunnels cutting sharply through the valley bed.
9.30am – Leave Canyonlands via Shafer Trail and Drive to Arches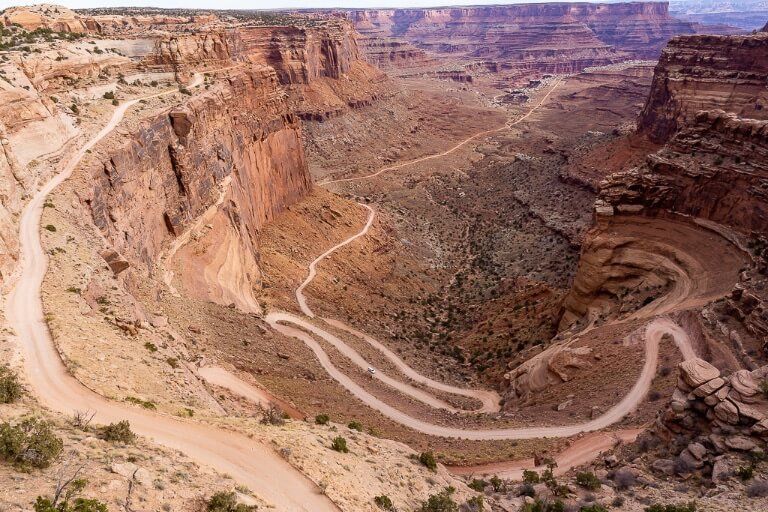 That's the best of Island in the Sky ticked off. Drive 15 minutes past Mesa Arch to Shafer Trail Viewpoint.
You passed this in darkness on the way into Canyonlands and you will be shocked at how awesome yet terrifying the 4WD track looks!
There's a cool viewpoint you can walk out onto but be careful of the sheer drop over the cliff edge.
If you have a 4WD and a few hours spare (plus courage in abundance!) this road runs all the way back to Moab, passing by the edge of Dead Horse Point State Park.
This may seem like a short period to spend at Canyonlands National Park but that's all you can spare on a one day flash visit with Arches still to come.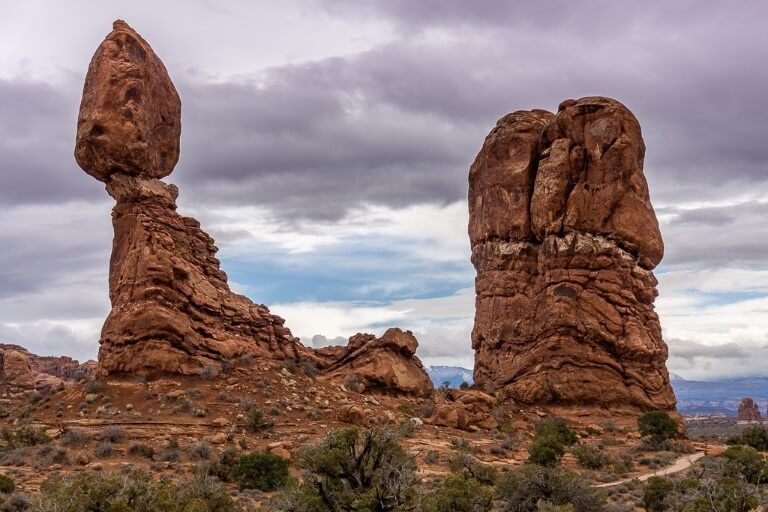 It should take around 35-40 minutes to reach Arches Visitor Center. Have a quick look around before driving a further 25 minutes through Arches towards The Windows Section.
Along the way you will pass by fantastic rock formations and scenery. Try not to stop too many times otherwise your day will disappear and there's a lot to get through!
One place to definitely take a pit stop is Balanced Rock. This huge slightly rounded boulder sits perched atop a half-pyramid shaped rock and appears as though it could roll off at any moment.
11am – Explore The Windows and Double Arch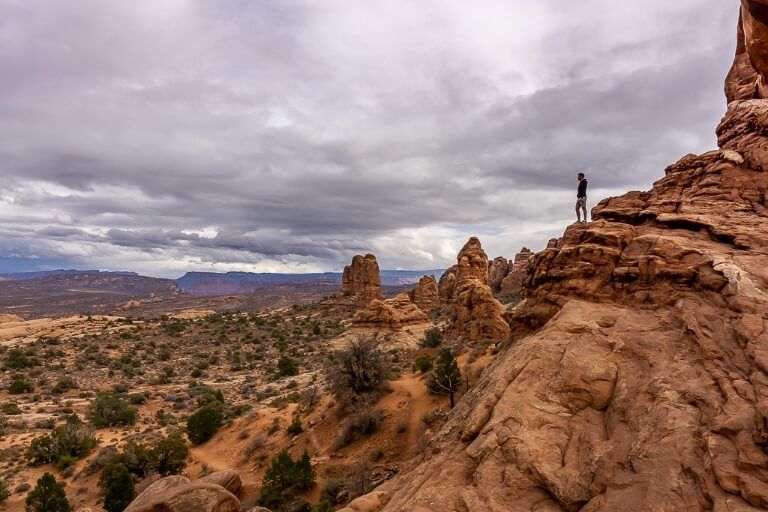 The Windows Section consists of North and South Window, plus Double Arch and Turret Arch. This is a lovely and picturesque area to walk around for an hour.
Snap some photos of yourself looking ant-sized underneath North Window and check out the snow capped La Sal Mountains through an array of arched sandstone rocks.
If you're doing well for time, there's a short primitive loop trail running behind North Window and offering views over a flat plain up to the distant mountains.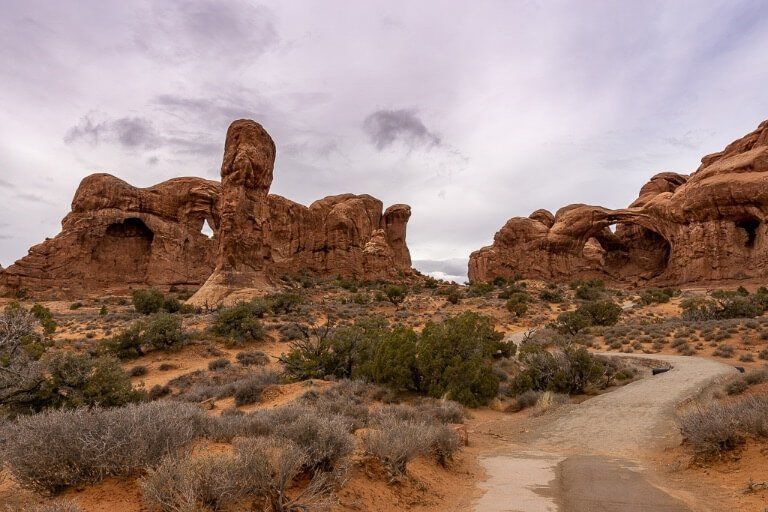 Double arch is unique in that two separate arches share the same foundation stone for one leg, with the other legs opening out in different directions.
This area has more natural arches than anywhere in the world, formed by water erosion from above rather than from the sides.
A very quick and easy trail leads from a car park toward the base of Double Arch, so visitors can take a much closer look to appreciate its grandeur.
12.30pm – Hike Devil's Garden Loop Trail to 7 Arches and 1 Spire
Landscape Arch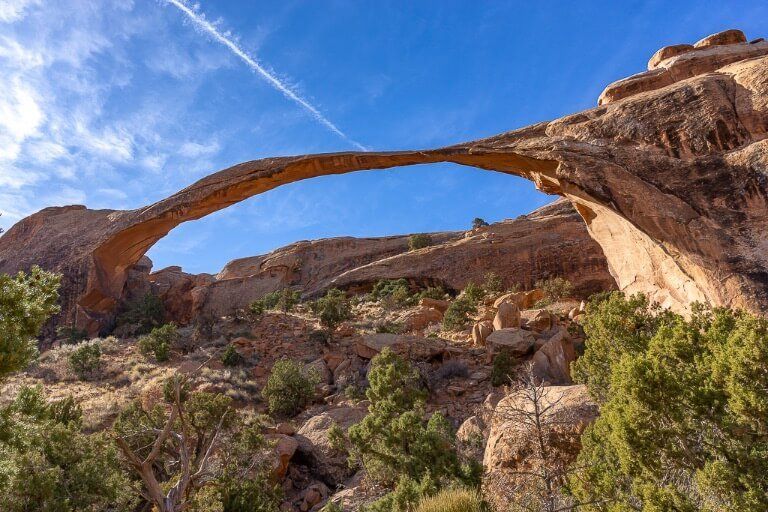 Drive another 20 minutes to the furthest point you can reach inside Arches: Devil's Garden Trailhead parking lot.
You only have one day in Arches and Canyonlands so it's important to choose the best things to do and this hike is the best trail in either park.
Take plenty of water on this trail and expect the loop to take anywhere between 3-5 hours.
Follow the path until it forks and take your left towards Landscape Arch. Continue to walk until you reach another fork where you will again take a left. Within 2 minutes you will be standing close to the longest arch in North America.
Landscape Arch is one of the most impressive natural stone arches you will see anywhere. At 93 meters in length, you will be surprised to learn that the diameter is just 1.8 meters at its narrowest. Fragile!
In 1991 a huge portion measuring 18 meters fell from Landscape Arch, a reminder that these arches can collapse at any given time.
Partition Arch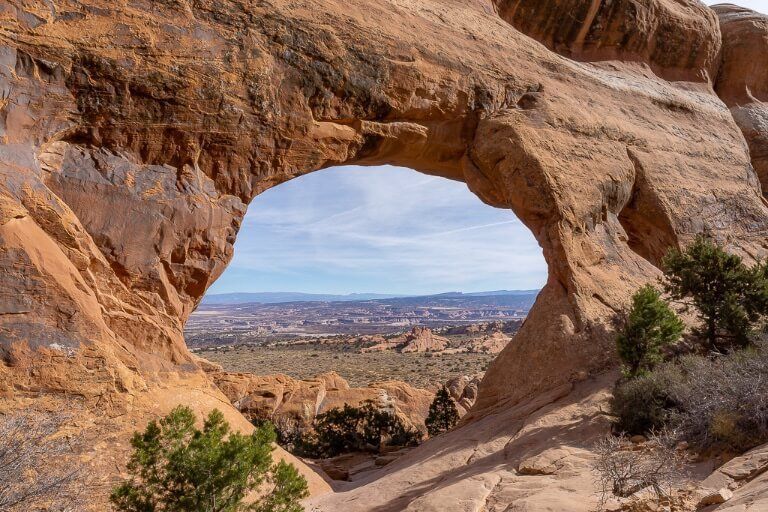 After Landscape Arch, the trail becomes difficult, with some scrambling required.
At this point we would recommend anyone who doesn't feel confident with uneven paths, a little climbing over boulders, walking through water or is afraid of heights to turn back now.
We've been on much worse and saw plenty of teenagers on the trail but it's not suitable for young children.
This is where the fun begins! Follow what looks like the path up a wall and eventually you'll reach a sign showing left to Navajo and Partition Arches. Take the left and walk down each of the two small trails.
First up is Partition Arch (above photo) through which you can get a fantastic scene of rock and valley as far as the eye can see. Partition Arch is a window arch with a view!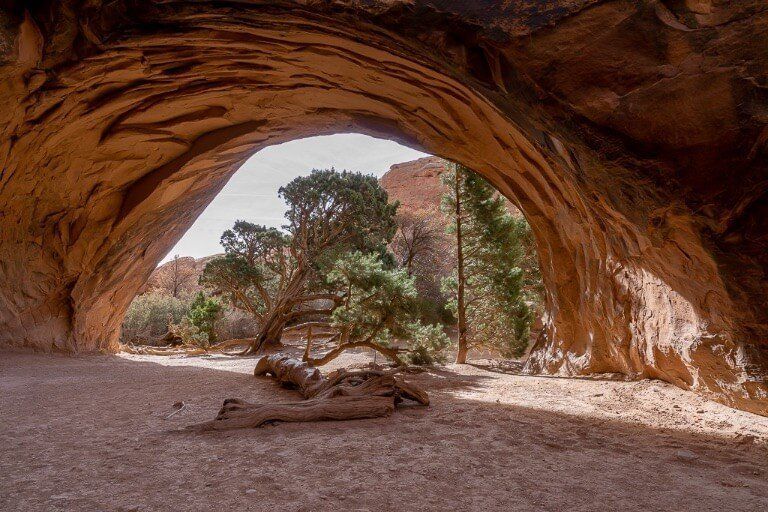 Your third stop is Navajo Arch, which is more like a shady tunneled area with dry trees and vegetation.
The arch has an intimate low profile and inside is similar to a sandy alcove you would expect to see on a Greek Island. It's as though Batman has a secret sandy cave in the Utah desert.
The tunnel-like arch is impressively sized and the deep sand underfoot is a nice change of scenery. Plus, not many people bother with these 2 spur trail arches.
Double 00 Arch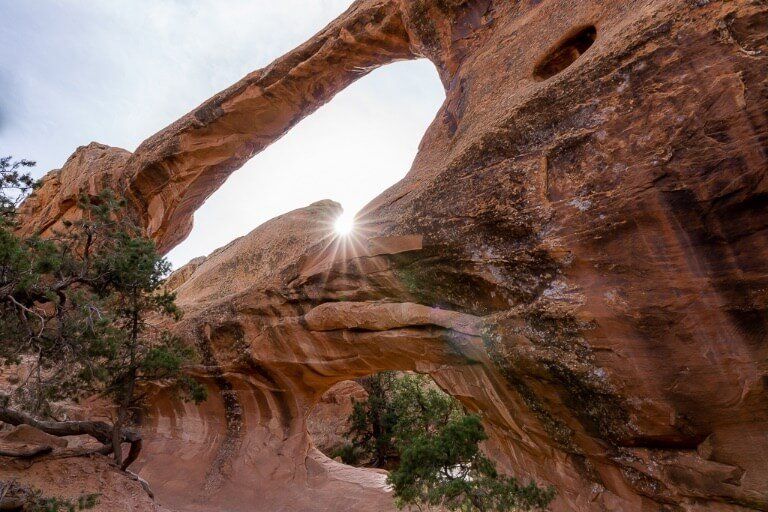 You'll need to walk 1 mile to reach the next stop and one of our favorites: Double 00 Arch. This is one of the best arches for photography in the park.
The higher of the two is much larger than the lower and smaller hole-like arch. It's like an old penny farthing bicycle on its side! One huge wheel and one tiny wheel.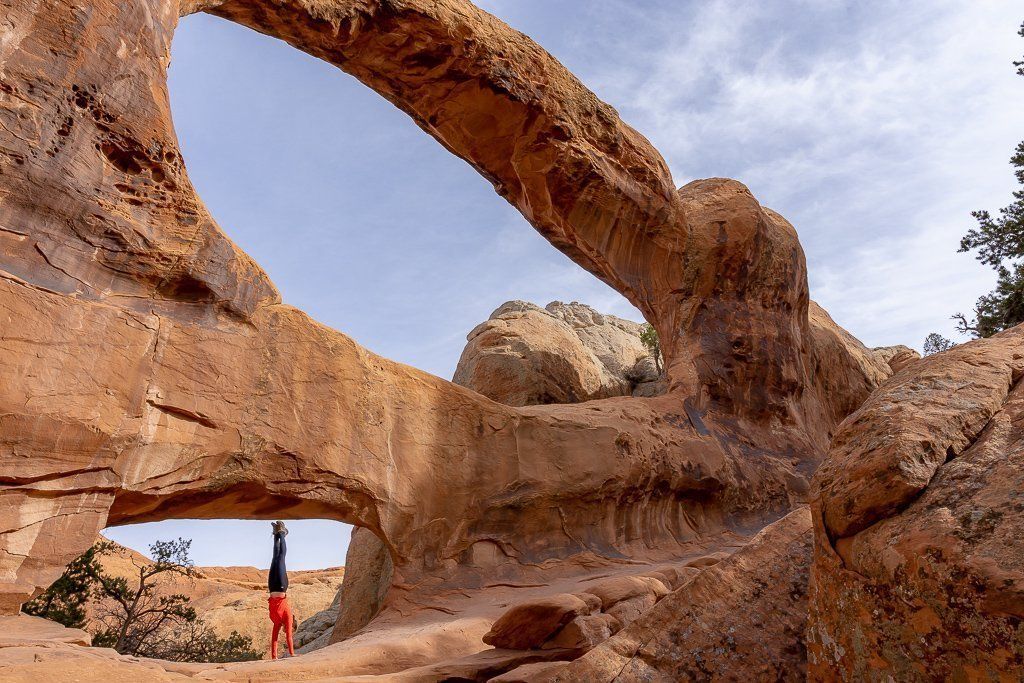 Frame your photo so you can get a nice sunburst effect against different parts of the arches. Move around both sides of the wall and try climbing up some of the primitive pathways nearby for various perspectives.
Or work on your handstand form!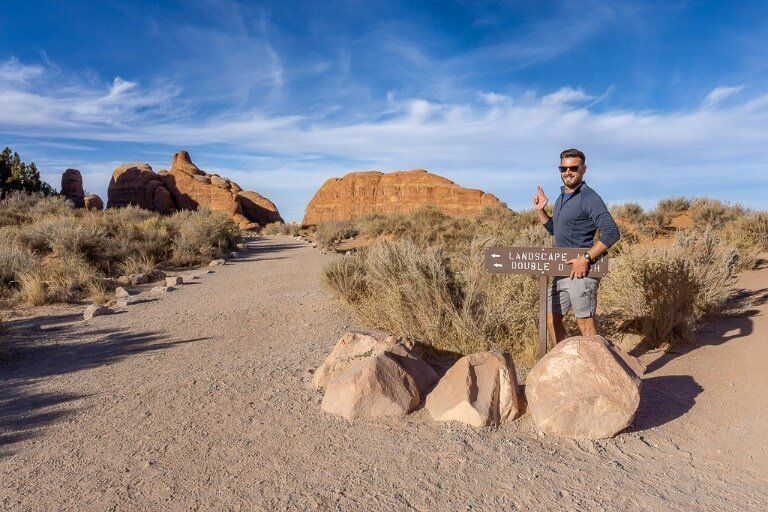 Okay, so the photo above is not technically at Double 00 Arch, it's just a signpost along the trail – but how could we resist adding a 7 to the end and brandishing a hand and fingers Walther PPK?!!
Dark Angel Spire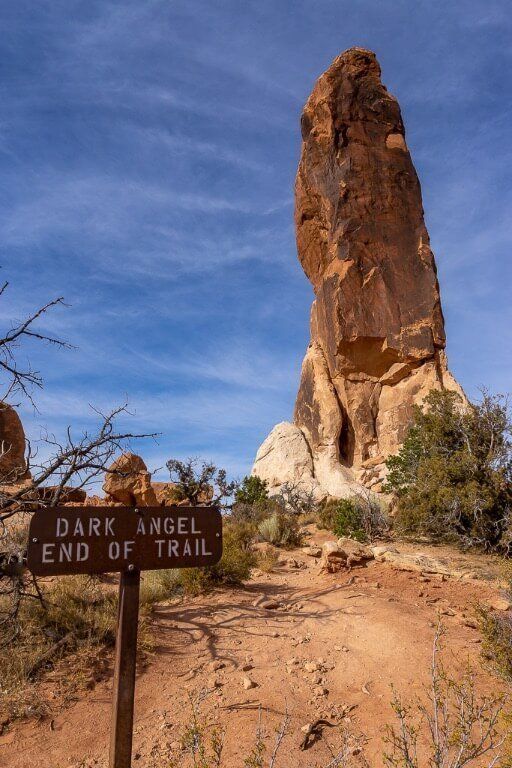 Very close to Double 00 Arch you will find the trailhead to Dark Angel Spire.
It is 0.5 miles one way, so adds on a 1 mile section to the total. If you are a little behind schedule, do not continue to Dark Angel, it isn't mightily impressive and will add on a good 30 minutes of time.
That being said, if you're on time and want to complete the full trail, crack on to Dark Angel.
It's a tall and thick rock arching slightly as though it was warming up for a yoga class. The lower part is light orange but it becomes increasingly dark colored the higher up you look.
Private Arch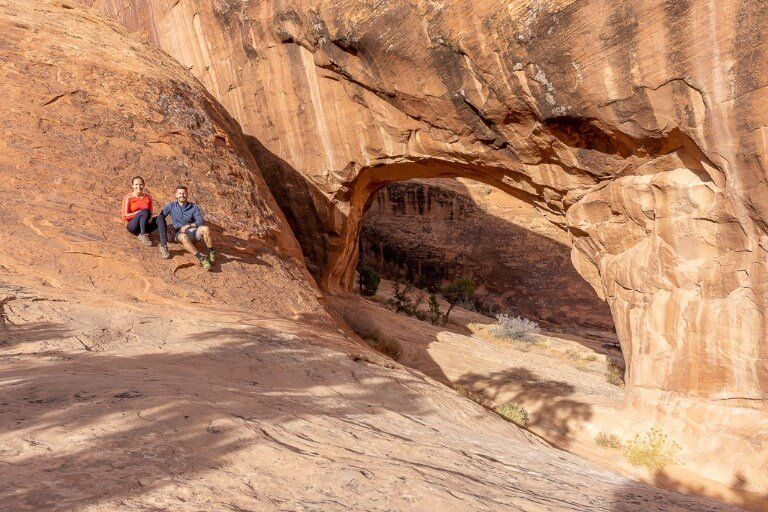 Continue to loop around the primitive part of Devil's Garden Trail. You are now half way round but have seen the majority of star attractions.
A little further round the trail you will spot a sign for Private Arch. This is another 10-15 minutes each way with a decent but not amazing conclusion.
Skip this one if you are pushed for time, otherwise enjoy the change underfoot as huge boulders rise and fall around you.
Fascinating formations surround you as you walk towards Private Arch, which are more impressive than the arch itself. Look to your left and you will see a tall thin wall shaped like a battleship.
Pine Tree Arch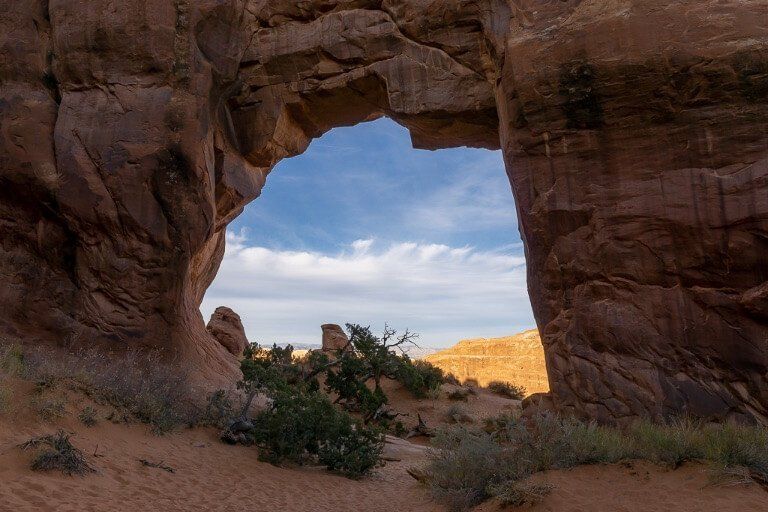 From Private Arch trailhead, you will hike the furthest section without stopping again at 2.2 miles.
This is also the most enjoyable part of the entire trail as you will make your own path along rocks, ravines and even water if you time it right.
Don't underestimate how long this section will take because there will be occasions where you have to calculate routes and backtrack.
Keep going once you join the main trail you forked off near the beginning but this time take the left towards Pine Tree and Tunnel Arches.
Pine Tree arch is one of the least impressive arches so again you can skip this one if short on time but we know how important it is to complete this type of challenge and we wouldn't have missed it ourselves!
Tunnel Arch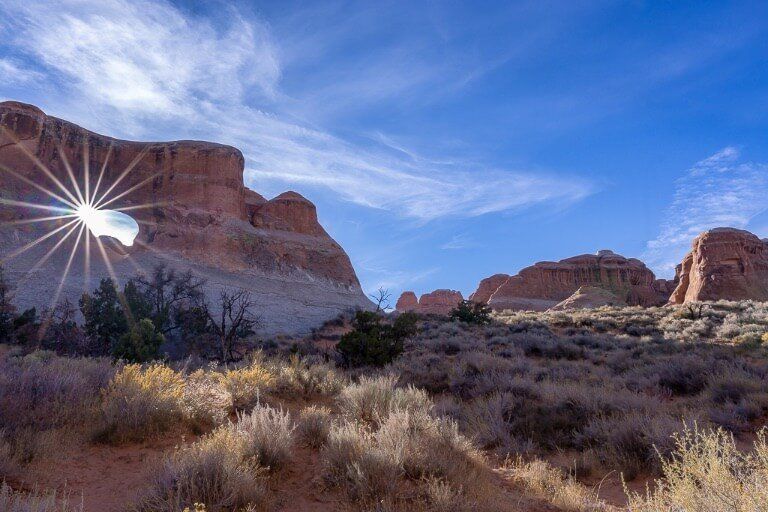 Your eighth and final stop to complete the set is Tunnel Arch, which we actually timed perfectly as the sun was directly behind the arch. This one is basically a huge hole in a gigantic wall.
You've successfully hiked Devil's Garden trail! Now is the best time to grab snacks and take on sports drinks with electrolytes to recharge.
If you have time and a gas burner, quickly cook up a small meal. We remember being pretty tired after this hike but you still have to ascend Delicate Arch so no time to lose!
4.30pm – Hike Up To Delicate Arch For Sunset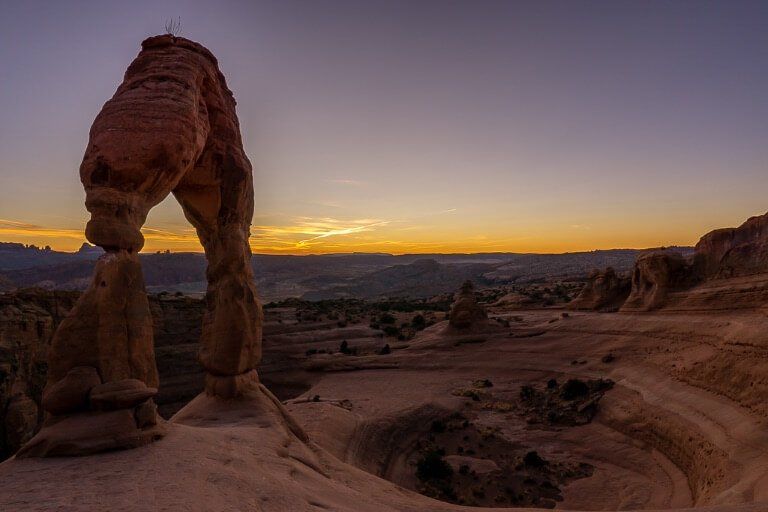 It's just a 15 minute drive to Delicate Arch parking lot, close to Wolfe Ranch. Try to begin hiking the trail at least an hour before sunset, if not more.
You're looking at a 30 minute hike to summit and you'll want some time to appreciate the magnificent landscape before it gets dark.
You will find the trail fun and different because for the most part there is no path! It's just a huge slab of rock and you walk directly up it at a steep angle. Eventually the trail returns for the very last section.
Be careful once you reach Delicate Arch and Bowl. You will notice how the ground is at a steep angle all the way around the bowl, almost pulling you down like a gravitational force. People have been injured here.
When you first see Delicate Arch right in front of you, look to the left and you will spot a small 'viewing gallery' where photographers are likely to be set up.
This is where you should watch the sun setting over the opposite horizon.
7.30pm – Wait for the Milky Way to Shine Next to Delicate Arch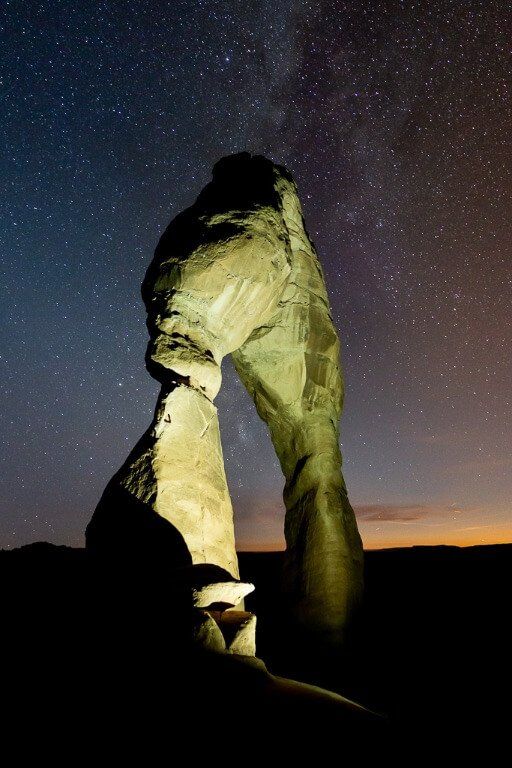 Golden hour and twilight bring vibrant hues to the sky and turn orange rocks into pinkish red. After a long hard day of hiking and sightseeing, a beautiful and relaxing sunset is exactly what the doctor ordered.
We cracked out our sandwiches and even took a small bottle of wine to share at the top, why not?!
Most people will leave after the sun disappears but not you, not on this itinerary! Chill for an hour, wrap up in layers if you need to and wait for the stars to appear in the dark night sky.
We visited Arches in November and the Milky Way was almost directly behind Delicate Arch from the 'viewing gallery' position. But we recommend you move down the bowl and angle yourself against Delicate Arch to get the best Milky Way position you can depending on time of year.
Paint Delicate Arch with light from your torch to add a creative element to your photographs.
There is barely any light pollution up here and it gets dark quickly. We had 3 other photographers for company and we all had our desired photos before 9pm!
Take care on the descent, using head and hand torches to light the path. The drive back to Moab will take around 30 minutes.
You've ticked off the best bits of Arches and Canyonlands in one action packed day!
Alternative Options & Things To Do With More Time
Canyonlands
Visit the Needles, the Maze and Horseshoe Canyon district for 4WD trails, hiking and more spectacular canyon views.
Or stay in Island in the Sky and take on Syncline Loop, Upheaval Dome and some longer canyon trails.
Arches
Book onto a ranger led tour of Fiery Furnace, there's a small fee and it must be reserved.
Fiery Furnace is a 3 hour moderately difficult trail through a maze with obstacles. It is named so because it is a scorching sun trap in Summer.
Otherwise there's not much else to do in Arches except visit the same places more slowly than our one day itinerary allows.
One Day In Arches And Canyonlands National Parks Interactive Map
Click into this interactive map, move around and zoom in on both Arches and Canyonlands to orientate yourself with both parks before your one day visit. Understanding the geography in this area will help on the day.
You will find the hikes, arches, viewpoints and campgrounds mentioned in this itinerary.
Campgrounds Near Arches and Canyonlands National Parks
Arches National Park Campgrounds
There are a dozen or so campgrounds around the perimeter of Arches, but only one campground is situated within the park boundary: Devil's Garden Campground.
Devil's Garden
Open all year. Reservations required between 1 March and 31 October. First come first served between 1 November and 28 February.
Campground sites are released 6 months in advance and usually fill up a few months before the date.
This campsite is typically difficult to snag a site, which means you have to be organized and get in quickly with your dates. Sites cost US$ 25 and do not have electric hookups. More information.
Canyonlands National Park Campgrounds
Similar to Arches, Canyonlands has only one easily accessible campground in the Island in the Sky region.
Willow Flat
Open year round on a permanent first come first served basis. Sites cost just US$ 15 per night but there are only 12 sites available, which fill up quickly through Spring and Fall. More information.
There are a number of campgrounds nearby, some requiring hiking, others 4WD vehicles to access and more in other regions of the National Park.
Alternatively, you are permitted to backcountry camp in Canyonlands.
Moab Hotels Near Arches and Canyonlands
If camping isn't your thing or there is no availability because you're booking last minute – don't worry, Moab will come to your rescue!
We really liked Moab. It is small but packed full of restaurants, bars and hotels.
You might find our popular how to book the cheapest hotels guide helpful for saving money when booking hotels.
We stayed at Expedition Lodge and Aarchway Inn during our first trip to Moab, UT. Both hotels were affordable and excellent stays.
Check availability and prices for:
Want a full list? Read our popular guide to the 12 best hotels in Moab Utah, including the top cheap, mid range and luxury hotel options available.
Moab Thai Bella Restaurant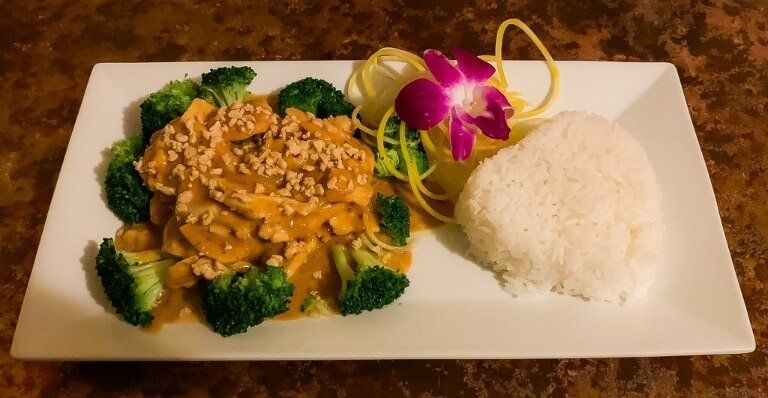 Our top foodie recommendation is Thai Bella.
The food was amazing, seriously try the chicken in peanut sauce and be brave with 3 chilis!
Next time we're in Moab we will be eating here every night and we couldn't let you visit Utah without giving you this gold mine of flavors.
Our Popular Utah Guides
More US Southwest Guides
Want more Utah content? Head over to our Utah Travel Guides to explore the Mighty Five National Parks and beyond.
---
We hope this helped you plan your one day in Arches and Canyonlands Utah National Parks adventure!
Have you visited all 5 of Utah's National Parks? Which one was your favorite?
Please let us know if you have any questions about this itinerary or any of Utah's Mighty 5 National Parks.
Happy Travels,
Mark and Kristen
Was This Post Helpful? Pin It For Your Visit to Arches and Canyonlands!