Smartphone hiking and outdoor apps have significantly advanced over recent years with both Gaia GPS and AllTrails topping the charts.
The best hiking apps now give us the ability to navigate offline as we explore new landscapes, connect with other hikers and venture further off the beaten path in search of crowd free trails.
Whether you are a beginner hiker or a veteran hiker, hiking apps are a great resource to find new trails and track hiking statistics, but they may also save your life.
In this hiking app guide, we will show you:
Why you should consider a hiking app
Examples on how to use offline maps for hiking
10 best gps hiking apps with pros and cons
15 best outdoor adventure apps
Now, let's find the best hiking and outdoor apps currently on the market!
Our Hiking Experience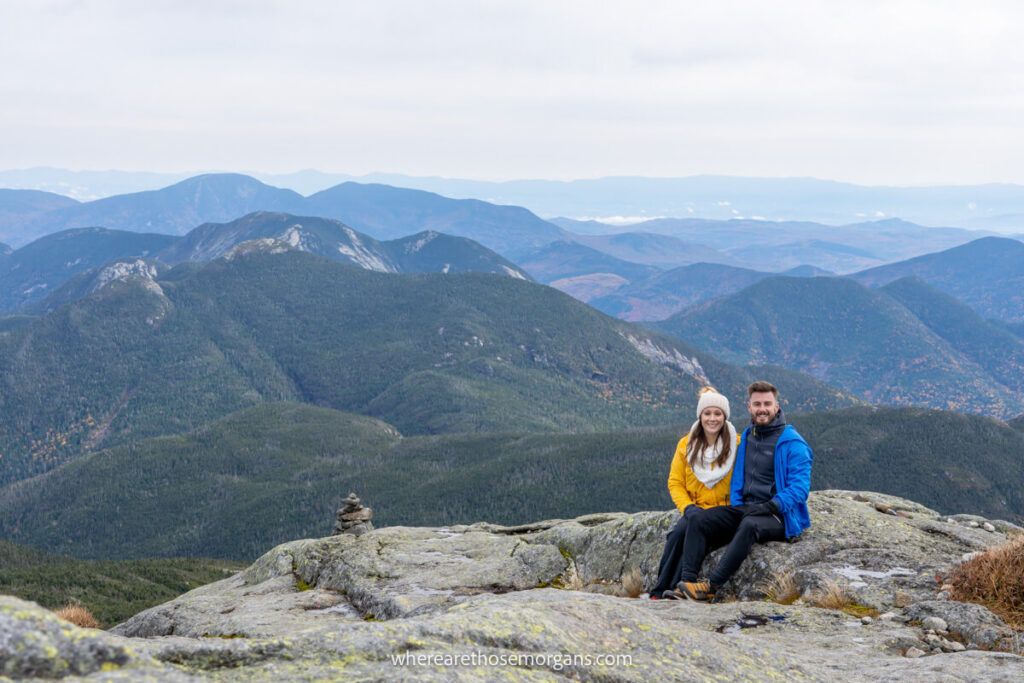 As a popular hiking blog, we love to share our first hand experience from hiking trails in the US and around the world.
We have completed some pretty epic trails including Tour du Mont Blanc, the W-Trek in Chile and the Inca Trail to Machu Picchu.
Once Mark officially immigrated to the US in 2019, we spent the next several years road tripping around the country checking off the best hiking trails in the United States.
We spend a lot of time outdoors both in the US and abroad so in this guide, we are going to share the best hiking and outdoor apps we always rely on to keep us safe.
Why Should You Use A Hiking App?
Hiking is an extremely popular hobby for millions all around the world. Smartphones also make it possible to have a wealth of information directly in the palm of your hands.
It's only natural hiking apps have skyrocketed in popularity because these apps have numerous benefits when used correctly on the trails.
Here are five reasons you should consider downloading a hiking app today:
One of the best features of a hiking app is the ability to navigate offline without service or Wi-Fi.
Some apps require you to download a map of the trail for use offline, whereas other apps have complete GPS functionality.
2. Organize Your Favorite Hikes
Many of the hiking apps on this list allow users to organize hikes into different folders. Depending on your needs, you can organize hikes based region, difficulty, completed treks or customizable categories.
3. Discover New Trails
The best hiking apps have an extensive database of information, which means these apps can help you find new trails pretty much anywhere you want.
You can search for hiking trails based on difficulty, distance, dog-friendliness, etc or find inspiration for a hike you have never heard about before.
4. Track Your Hiking Statistics
As former scientists, we love using trail apps to track our hike. A good hiking app will track your elevation profile, speed and distance throughout your entire hike.
This is a great way to see your progress as well as challenge yourself on that next trail.
5. Ability To Stay Safe
One of the most important reasons to use a hiking app is the ability to stay safe while outdoors and we are sure this something your loved ones will appreciate.
Some of the hiking apps on this list will allow you share your location in real time so those back at home don't have to worry as much during your hike.
Packing for a hike soon? Make sure you always bring these 10 hiking essentials every time you hit the trails.
Our Examples With Using Offline Map Apps For Hiking
Using the two images below, we will show you what a downloaded offline hiking map looks like both before and after selecting a planned hike with Gaia GPS Premium.
Our top pick for the best hiking trails app is Gaia GPS. But there are several other hiking apps available for instant download offering certain features that may be better suited to your individual needs.
We will discuss why Gaia is our favorite hiking app later in this guide, but first we want you to understand why hiking apps are worth it when exploring new trails because downloadable maps are offered with most platforms.
Before Hiking App Trail Example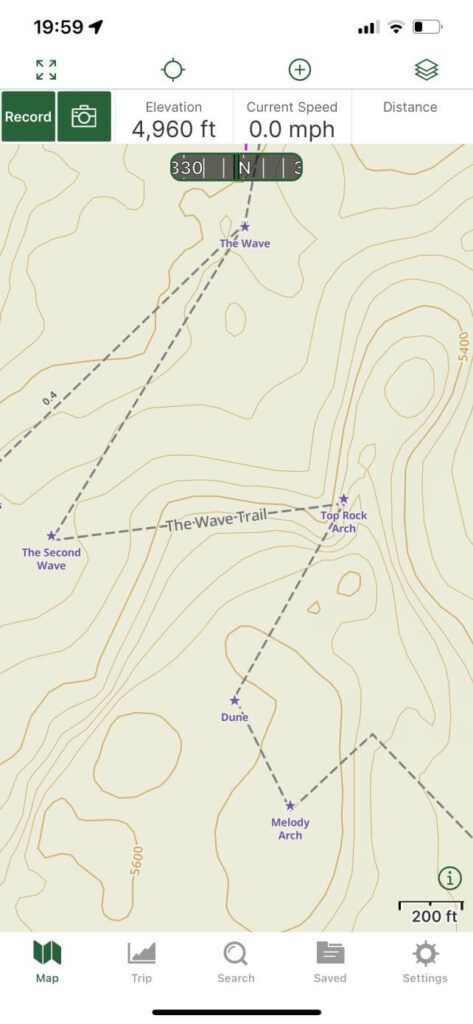 In this first example, you can see a dotted line connecting the top photography spots at the end of a hike to The Wave in Arizona within the Gaia GPS app.
We like hiking apps because not only do they show you the correct trail, but they often include points of interest so you won't miss a beat during your hike.
It sucks to complete a trail only to find out you missed one of the best views so this is just another reason why you should consider using at least one hiking app.
Prior to hiking the trail, we knew there would be no internet so we downloaded the map offline.
Once we downloaded offline map of the hike in the Gaia GPS app, a solid purple line was laid over the top of this initial dotted line.
All we had to do the next day at The Wave was follow the line using our red arrow locator. As a result, we had no issues navigating around the region despite having no internet in the area.
Downloaded Hiking Map Example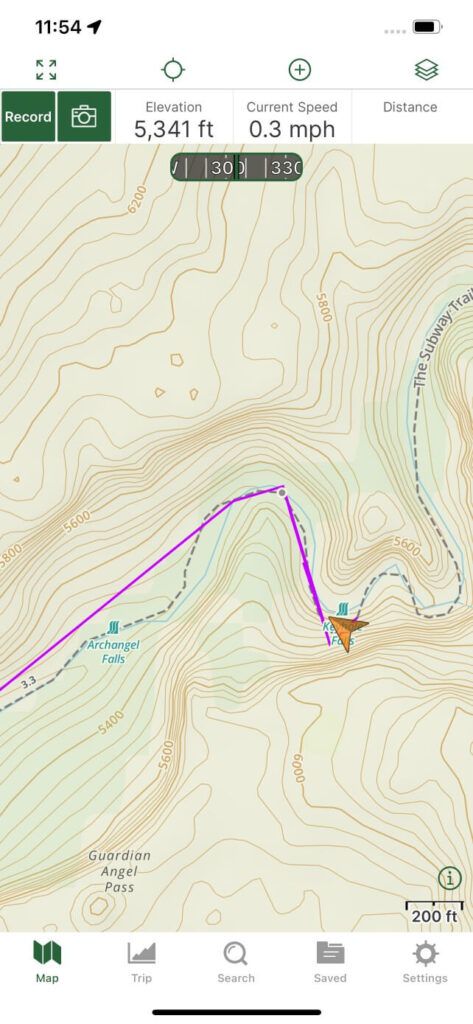 In this next example, you will see a screenshot of our Gaia GPS offline map downloaded with the solid purple line added. The orange triangle shows our exact location on the trail when we took this screenshot.
You can see we had no internet when we arrived to the amazing climax of The Subway hike in Zion National Park, but we knew exactly where we were at all times because we used a downloaded map.
New to hiking? You might like our popular guide featuring hiking tips for beginners.
How To Choose The Best Hiking App?
The best hiking app for your individual needs will be based on cost, app features, location and your personal hiking preferences.
Start answering questions such as:
How much do you want to spend on a hiking trail app?
What type of maps do you need to access?
Do you want to hike with your dog?
Where do you plan to hike?
Once you narrow down exactly what you want out of a hiking app, create a shortlist and select between the most appropriate apps on our extensive list.
Not all hiking gps apps are created equal and some apps are better than others when it comes to various features.
In this guide, we will break down each hiking app based on:
Price
Membership options
Free vs premium features
Pros and cons
While some hiking apps are free to use, others may require a paid version or additional in-app purchases.
The free version often limits what features you can use and the premium version will unlock any remaining features. However, we sometimes find the free version is all you need.
Quick Note About Smartphone Battery Life
It is important to keep in mind that while hiking trail apps are a fantastic resource, you should never solely depend on your smartphone alone.
You can choose the best hiking app on the market, but if you run out of battery on a wilderness hike and have no backup plan, you will be in big trouble.
Using GPS and tracking features with any outdoor based apps will very quickly drain battery life on your smartphone.
From our experience during day hikes, using offline maps for 6-8 hours on a fully charged new phone will wipe out the entire battery.
One of the easiest ways to combat this problem is to carry a backup source of power, like a solar charger or power bank, but never rely on your phone as your sole source of navigation.
You should always plan accordingly with a paper map and compass just in case. Be sure you know how to use a compass prior to hitting the trails.
Hiking Tip: During a long day hike, we only use one phone to navigate with an offline map. We keep the other phone turned off with full battery in case our first phone dies and we have an emergency.
Best Hiking Apps By Category
If you are in a hurry, you can browse our summary of the best hiking and outdoor apps by category below.
The first 10 positions on this list feature popular apps for hiking and the 15 remaining positions include outdoor apps. These additional apps are very useful for both hikers or any outdoor adventurer.
Here are the best hiking apps on the market today:
Best gps app for hiking: Gaia GPS
Best free app for hiking: AllTrails
Best planning app: Google Maps
Best app for finding new hiking trails: Hiking Project
Best app for serious outdoorsman: Spyglass
Best hiking app for safety: Cairn
Best app for multi-day hiking trails: Far Out (Guthook Guides)
Best hiking app for offline map use: Avenza Maps
Best hiking app for mountain ID: PeakVisor
Best app for understanding elevation: 3D Maps Pro (iOS only)
All hiking apps listed above are available through both the Apple Store (iOS) and Google Play (Android) with the exception of #10.
Comparison Chart For The 10 Best Hiking Apps
We created a chart comparing the 10 best trail apps for hiking so you can easily see which apps are best for your individual needs: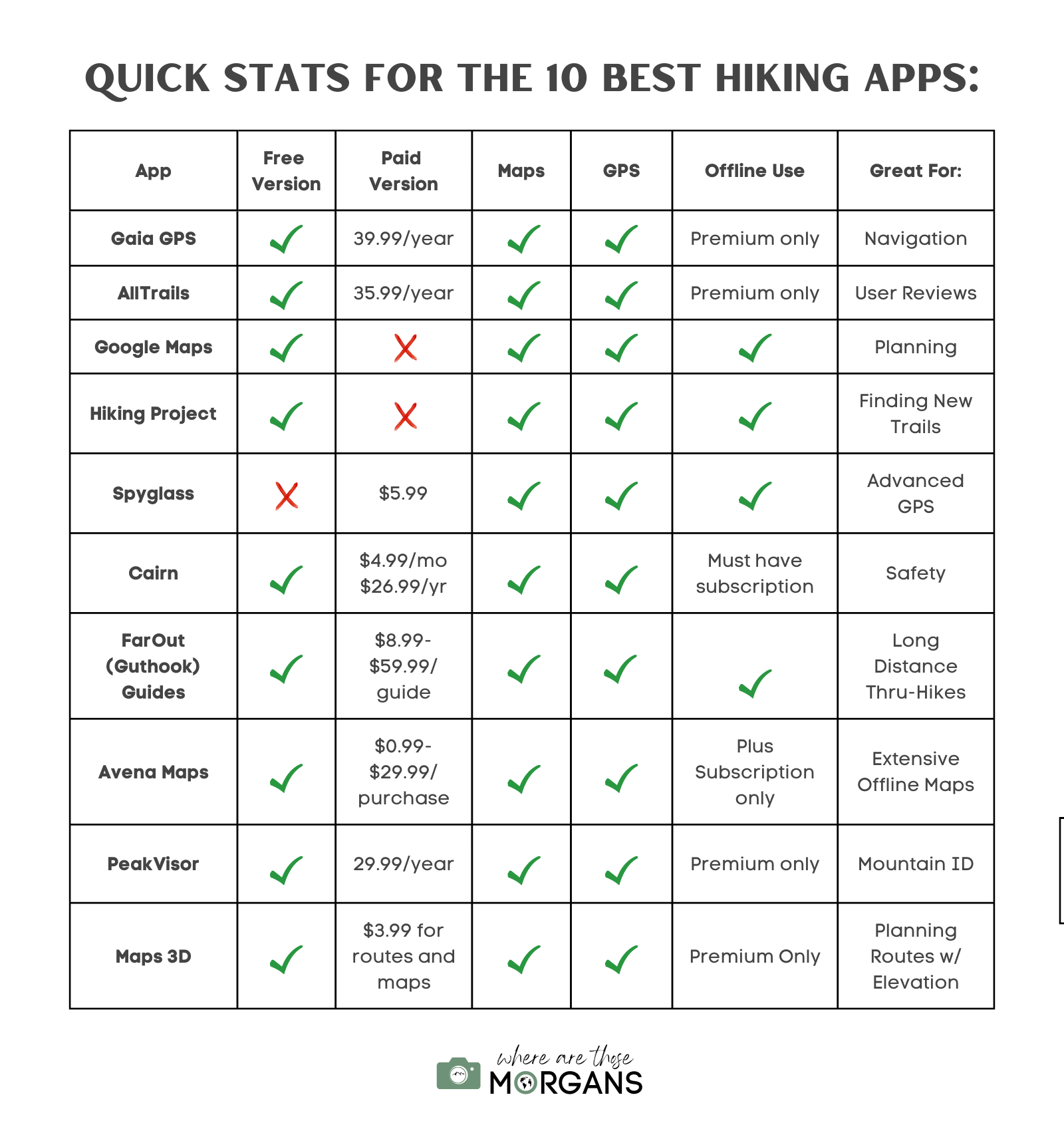 Best Outdoor Apps By Category
In this next section, we show you the 15 best apps for outdoor adventurers. Depending what you are looking for in a hiking or outdoor app, you may only need a few apps on this list.
Here are the best outdoor apps on the market today:
Best app for nature lovers: Seek by iNaturalist
Best app for cycling navigation: Komoot
Best app for tracking performance: Strava
Best app for mountain climbing: Mountain Project
Best app for camping: The Dyrt
Best outdoor app for international travel: Wikiloc
Best language app: Google Translate
Best US travel planning app: Recreation.Gov
Best national park app: National Park Service
Best outdoor app for star ID: Star Walk2
Best hiking app for Apple Watch: Outdoor Active
Best Indigenous history app: Native Land.Ca
Best basic first aid app: First Aid Red Cross
Best survival app: SAS Survival Guide
Best app for fitness training: Apple Fitness+ (iOS only)
All outdoor apps listed above are available through both the Apple Store (iOS) and Google Play (Android) with the exception of #15.
This is a lot of information to absorb!
But the main point we are trying to make is you have several apps available to make your time in the wilderness more enjoyable.
Most of these apps will help keep you safe so it's important to think about what apps will come in handy during your next adventure.
Keep reading to find out why we have named these 25 individual apps the best hiking and outdoor options because we have thoroughly explained the highlights about using each platform.
Need new hiking gear? Check out the best gifts for hikers including top options for both him and her.
---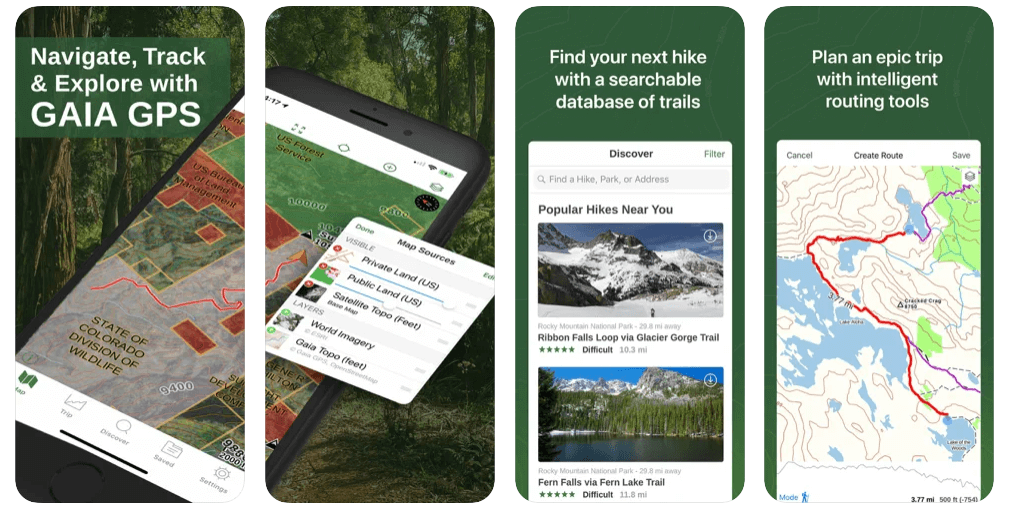 1. Gaia GPS – Best GPS Hiking App
The best gps app for hiking is Gaia GPS because this the gold standard when it comes to smartphone trail navigation capabilities.
With better maps and navigational accuracy compared to AllTrails, the Gaia GPS hiking app is our number one recommendation for hikers.
Having hiked hundreds of miles using Gaia GPS, we always find this hiking app to provide extremely accurate routes. It's also very easy to use compared to others on this list.
The free version of Gaia lets you minimally track routes, find waypoints and look at topographical maps, but you will need to purchase the premium version to unlock features such as offline capabilities and speciality maps for other countries.
In addition to accuracy, one of our favorite features for Gaia GPS is the ability to record extremely detailed statistics from our hikes.
With a premium membership, you can track hiking statistics such as your elevation profile, distance on ascent and descent, average speed, moving speed, moving time as well as stopped time.
Free and premium membership ($39.99/year)
Available on: iOS, iPad, Apple Watch or Android
Gaia GPS app free features: Record activities, plan routes, drop waypoints, view topo maps, search for hiking trails
Gaia GPS app premium features: NatGeo trails illustrated, additional high res satellite imagery, specialty maps, customizable maps, wildfire condition maps, mountain biking maps
We love this hiking app so much, we have teamed up with Gaia GPS to offer our readers an exclusive 20% discount. Save 20% on a Gaia GPS Premium Membership* here = $31.99/year* WATM discount
Pros: Extensive trip statistics, great free or premium plan, ability to find and organize trails, weather forecasts, extremely accurate GPS navigation
Cons: Offline use limited to premium version
---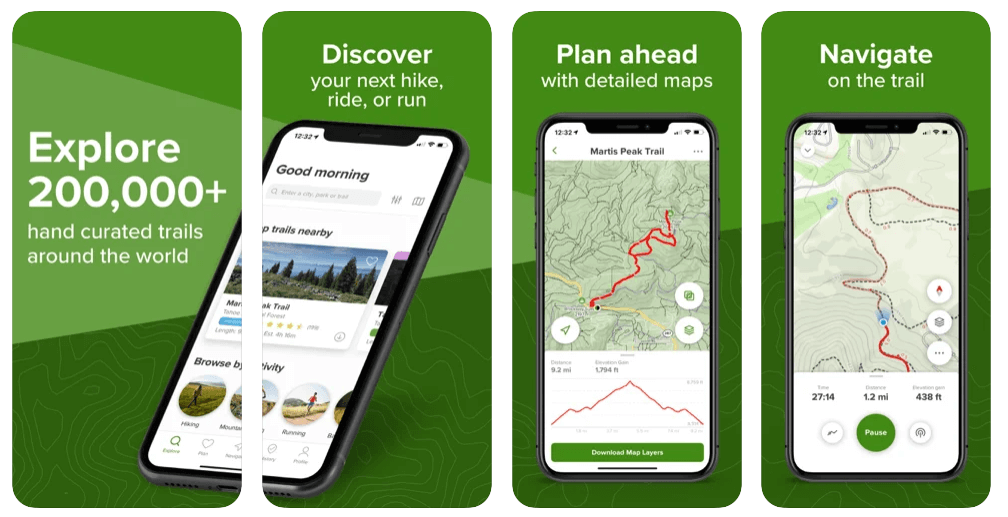 2. AllTrails – Best Free Hiking App
AllTrails is the most popular hiking app on the market.
It was created in 2010 as an app focused on outdoor recreation through the power of crowdsourcing. AllTrails is our most used hiking app next to Gaia GPS.
The best part about the AllTrails hiking app is the reviews from other hikers. Before every hike, we always check recent reviews for trail conditions and potential issues that others may have recently experienced.
We have the free version of the app because we use Gaia GPS premium for navigation. The AllTrails app has proved invaluable for the recent review sections.
With this app, you will truly feel like you are part of a hiking community. Sign up for the free trial period of AllTrails Pro to see if you like the features before transitioning to the premium version.
Free and pro membership ($35.99/year)
Available on: iPhone, Apple Watch or Android
AllTrails app free features: Detailed hike descriptions, user-friendly interface, large audience of active users, ability to see recent reviews
AllTrails app pro features: Required to access most features, download maps and offline access, lifeline capabilities, alerts for when you are off route, real-time map overlays
Pros: Ability to find trails based on tags, detailed hike descriptions, pet-friendly status, recommendations, reviews from other users, record hiking statistics
Cons: Best features locked behind pro version, crowdsourced maps not always accurate
---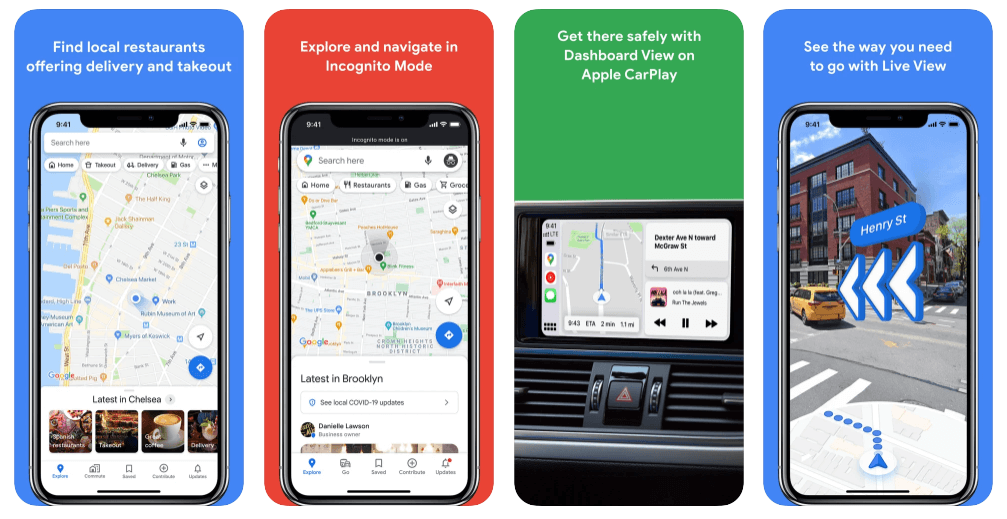 3. Google Maps – Best Planning App
Google Maps has one of the most impressive bandwidths of all the apps on this list and it's a great app to have when visiting somewhere new.
We use Google Maps to plot points of interest before visiting any new place. This way we are sure not to miss any of the important points on our itinerary.
Google Maps also has offline capabilities, but you will need to download the maps while you still have access to wifi or a decent amount of signal.
How To Download An Offline Map With Google Maps:
Click on your profile picture in the right hand corner
Click the cloud button with a backslash through it or look for 'offline maps'
Next click 'select your own map'
Highlight the specific are you want to download
However, we don't recommend you use Google Maps as a way to navigate trails because this app is limited. The strength of Google Maps is in cities and road travel not hiking routes.
Use Google Maps to find your way to the trailhead and then use one of the other hiking apps on this list while you are actually on the trail.
Free version only
Available on: iPhone, iPad, Apple Watch or Android
Visit Google Maps official website here
Google maps app features: Over 220 countries and territories mapped, real-time ETAs and traffic conditions, large user base, ability to review restaurants and businesses, see how busy locations are based on time periods
Pros: Many active users, up to date information, ability to include points of interest and share your location, completely free
Cons: Availability depends on service, hiking trails are very limited and not accurate
---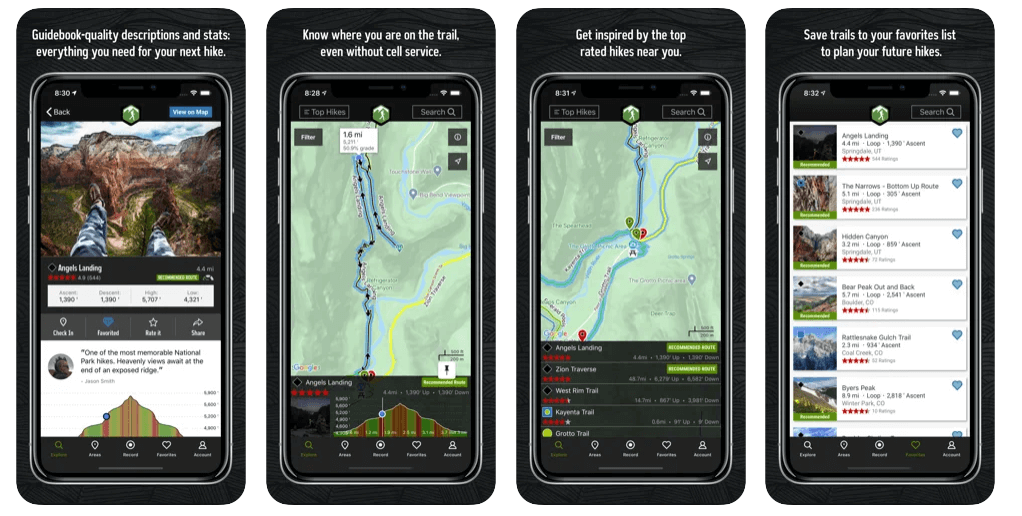 4. Hiking Project – Best App For Finding New Trails
Hiking Project is one of the best free hiking apps. It is a crowdsourced hiking app similar to AllTrails and backed by REI. This app shines with its detailed descriptions of trails and guidebook feel.
Popular features on this app include adding 'gems' or points of interest as well as searching by region or popularity.
We love this app for discovering new trails for future hikes. The detailed descriptions will inform you if a certain pass is required for the area as well as give you updates about current trail conditions.
Free version only
Visit the Hiking Project official website here
Hiking Project app features: Large database, detailed trail descriptions, user contributions, offline functionality, user-friendly interface, exact location shown on trail, ability to check-in on trail
Pros: Detailed descriptions of trails, ability to search and save new hikes, completely free, great AllTrails alternative
Cons: No ability to track distance, mostly US based
---
5. Spyglass – Most Advanced Hiking App
Spyglass is a very robust offline GPS hiking app built for both outdoor recreation and off-road navigation. There are so many features we struggled to list all of them.
This hiking app is very advanced and provides access to an extremely accurate digital compass. It operates in 3D and uses augmented reality to display real-time locations.
You can manually enter location coordinates, find saved places and track multiple targets simultaneously. Spyglass will give you detailed real time data involving imperial, metric, nautical and surveying units.
Our favorite feature is the ability to track the position of the sun, stars and moon with precision. As avid travel photographers, Spyglass is one of our favorite hiking apps for this reason alone.
Premium version ($5.99) with in-app purchases available
Visit the Spyglass official website here
Spyglass app premium features: Compass, gyrocompass, trackers, finder, GPS, speedometer, altimeter, offline maps, inclinometer, optical rangefinder and so much more
Pros: Optical rangefinder, augmented reality overlay, tactical GPS, speedometer, offline maps, ability to track the moon and stars
Cons: Steep learning curve, better used with a large screen, no free version
---
6. Cairn – Best Safety Featured Hiking App
Cairn takes the cake when it comes to safety. You can easily share your plans and GPS location with loved ones who are designated as safety contacts.
Another great feature is the ability to see where others have found cell coverage on the trail. This way you will be able to check in with your safety contacts and send updates with just a single tap.
Customizable ETA statistics are another highlight of Cairn. The proprietary algorithm calculates your speed, distance and elevation change on thousands of trail worldwide.
If safety is your number one priority when choosing the best hiking app, Cairn should be one of your top contenders. Take advantage of the free trial available for the first 30 days before purchasing!
Monthly ($4.99/month) and annual membership ($26.99/year)
Visit the Cairn official website here
Cairn app free features: Maps, trails and cell coverage information
Cairn app premium features: Live-tracking, trail statistics, GPS and offline maps, send updates to loved ones, customize your ETA based on recent activity
Pros: Real-time location sharing, safety contacts are notified when you are past due, trail statistics
Cons: Does not rank hikes by difficulty which most other hiking apps do, key features locked by premium
---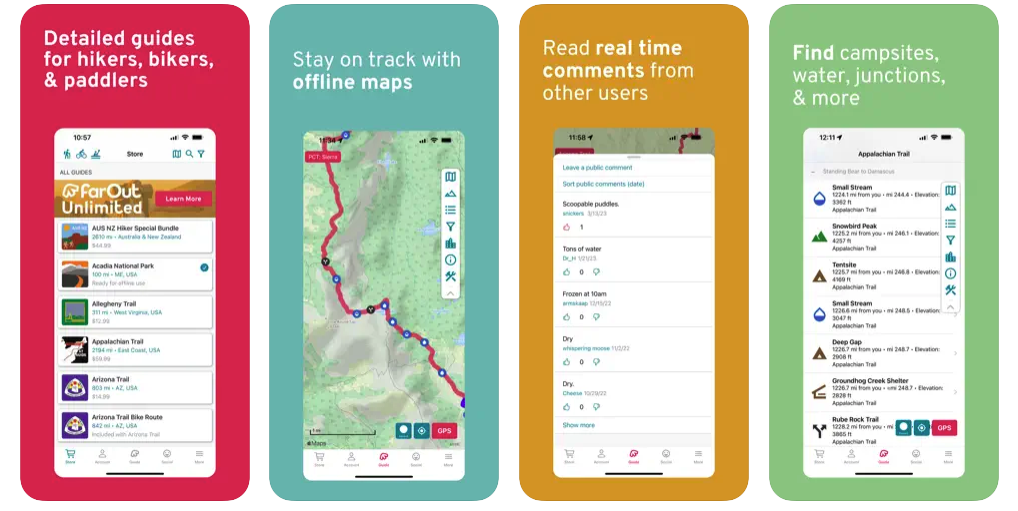 7. FarOut (Guthook Guides) – Best Hiking App For Thru-Hikes
FarOut, formerly known as Guthook Guides, is a very popular app with detailed guides for long distance hiking, biking and paddling. There are over 35,000 miles of hiking trails and waterways in its database.
This is a favorite hiking app for thru-hiking long distance trails around the world such as the Pacific Crest Trail, the Application Trail, Tour Du Mont Blanc and Torres del Paine.
The FarOut app is free but you must pay for each trail guide individually ($8.99-$59.99)
Visit the FarOut official website here
FarOut app free features: Ability to search for trails
FarOut app premium features: Offline maps, family and friends can follow with updates and check-ins, detailed waypoints and town resupply guides, elevation profiles
Pros: Detailed waypoints and town guides, offline maps, ability to share location and create custom routes, great Gaia GPS alternative
Cons: Free app limited, must pay per guide
---
8. Avenza Maps – Best App For Extensive Offline Maps
Created in 2010, Avenza Maps can be compared to Gaia GPS because they are both great GPS hiking apps and each app allows users to download maps for offline use.
However, Avenza claims to have the world's largest map collection featuring hiking, topographic, cycling, city, nautical, travel, and trail maps.
We like Avenza Maps because their maps are created by professional publishers including National Geographic, National Park Service, and the US Forest Service.
The Avenza Maps app is free but you must pay for in-app purchases ($0.99-$29.99)
Visit the Avenza Maps official website here
Avenza Maps app features: Ability to locate realtime GPS positions, track your hike with gps, add photos or notes to any location, measure distances and estimate times
Pros: Very detailed volume of maps, ability to save placemarks and export data, GPS hike tracking, can layer on multiple maps
Cons: Must pay for app you want to use, difficult to search maps, no synchronization
---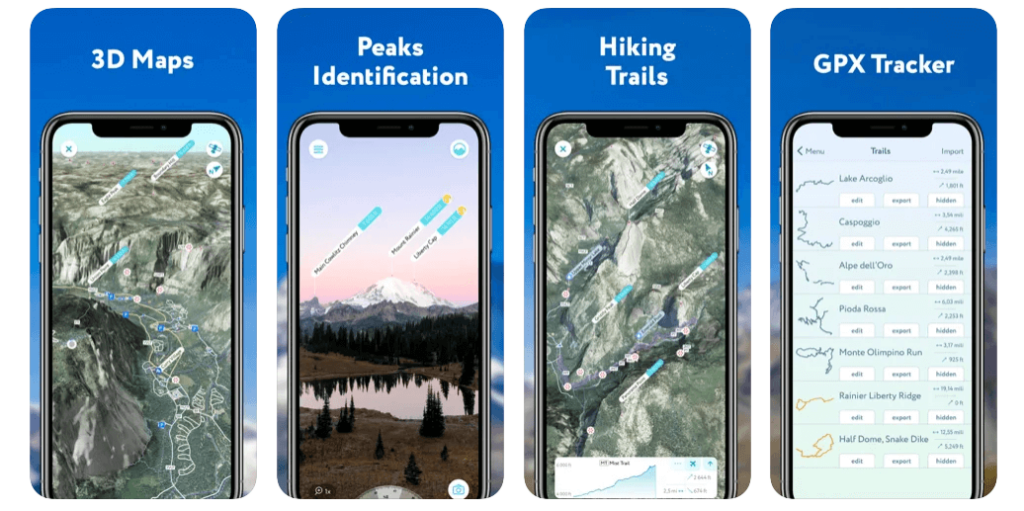 9. PeakVisor – Best For Identifying Mountains
The PeakVisor hiking app is perfect for those who hike in the mountains. High precision terrain modeling allows you to gain insight to nearby mountains, hills and landscapes with a detailed profile each time.
This profile typically includes altitude, spanning mountain range, topographical info, additional photos and information pertaining to where it is located.
PeakVisor also has the capabilities to help you plan hiking routes and uses a GPS tracker so you can share your mountain adventures. With the premium version, the entire app works offline.
Our favorite feature on this hiking app is the ability to upload a photo you have previously taken. PeakVisor will then tell you the name of the mountain or mountain range in question.
Monthly ($3.99/month) and annual membership ($29.99/year)
Visit the PeakVisor official website here
PeakVisor app free features: Ability to 3D map your hike, ID mountains hundreds of miles away, use a GPS tracker to share your progress, plan hiking routes
PeakVisor app premium features: Same features but does not require cell service or wifi
Pros: Mountain identification, plan hiking routes, GPS tracking, 3D topographical maps
Cons: Free version can be limiting
---
10. Maps 3D – Best App For Understanding Elevation
Maps 3D is one of the best hiking apps for planning a trip or a route because this platform offers some of the best topographical maps on the market.
But unlike any of the other hiking apps on this list, 3D maps will also allow users to see the actual dimension of a route instead of just topography.
Rounding out our list of the top 10 best hiking apps is Maps 3D. The app currently boasts over 1.7 million users so they must be doing something right!
The Maps 3D app is free but you must pay for in-app purchases ($3.99)
Available on: iPhone
Visit the Maps 3D official website here
Maps 3D app features: Stunning topographical maps, searchable maps, ability to share your trips, search for towns or streets offline, track route by GPS and distance traveled
Pros: 2D and 3D color topographical maps available, offline access, very detailed and accurate, maps for 340 ski resorts worldwide
Cons: Available on iPhone only, steep learning curve
---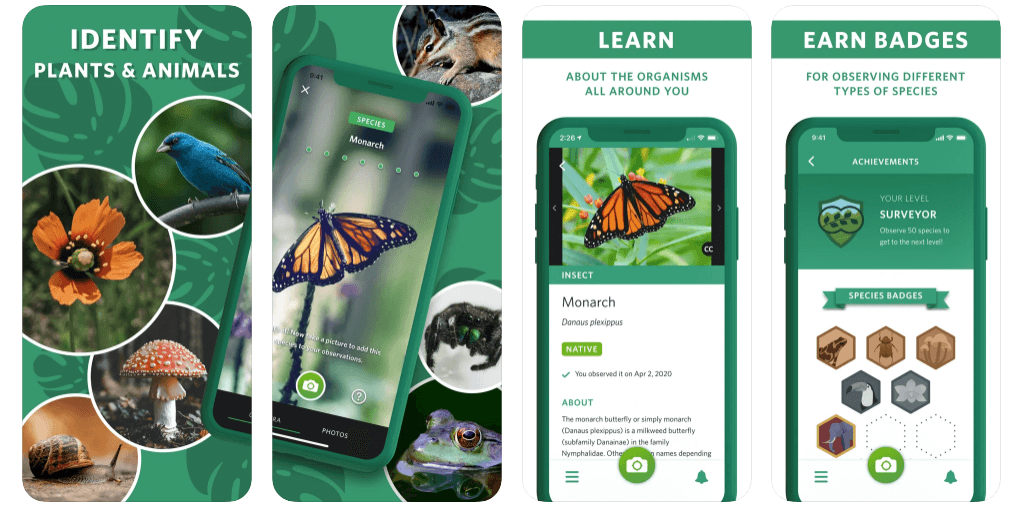 11. Seek by iNaturalist – Best Hiking App For Nature Lovers
Seek by iNaturalist is an image recognition app that allows users to identify wildlife, plants and fungi just by taking a photo.
This is not your typical hiking app, but it is definitely one you should consider if you spend a lot of time in the outdoors or around nature.
After uploading your photo, iSeek will make an identification and then provide information about the species in question.
Free version only
Visit the iSeek official website here
Seek by iNaturalist app features: Ability to identify wildlife, plants and fungi, earn badges for observing different types of species
Pros: Great for kids, ability to identify many different organisms, free to use
Cons: No maps or trail descriptions, app requires very clear images for positive ID
---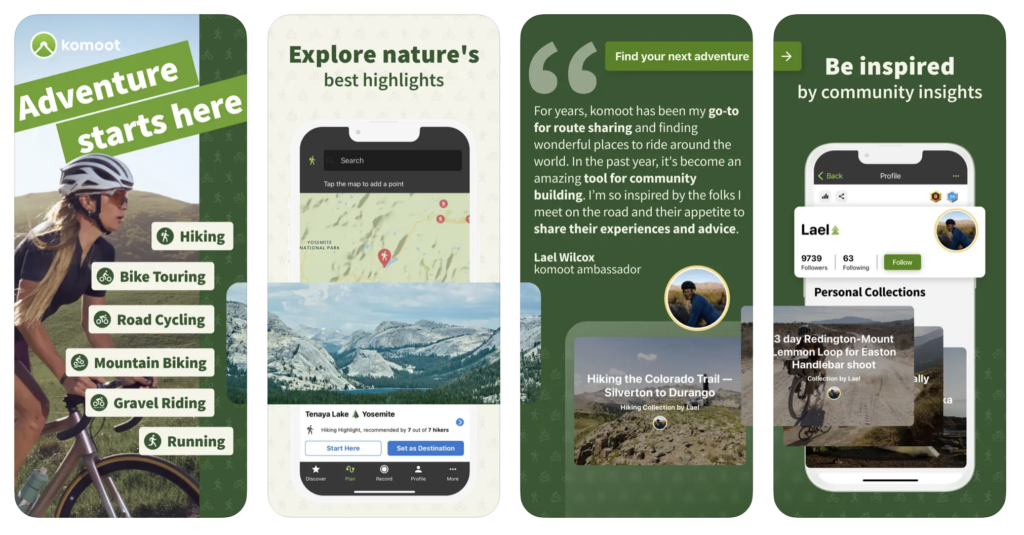 The next two outdoor apps on this list are great for those who like to bike or cycle. Komoot is a newer cycling app which specializes in mountain biking and road cycling.
One of the most top rated features of Komoot is turn by turn voice navigation which is very similar to other popular hiking apps like AllTrails. This app helps users keep one eye one the road while their hands are busy with biking.
Popular Komoot app features include offline maps for navigation, highlights in Komoot community favorites, syncing across numerous devices and tracking hikes or bike rides.
The Komoot app is free but you must pay for each region after the initial one ($19.99-$59.99)
Available on: iPhone, iPad, Apple Watch or Android
Visit the Komoot official website here
Komoot app free features: First region is free
Komoot app premium features: Choose regions, region bundles or the world pack
Pros: Turn by turn voice navigation, offline map capabilities, great for bikers and cyclists, syncs with Apple health
Cons: Limited amount of free information
---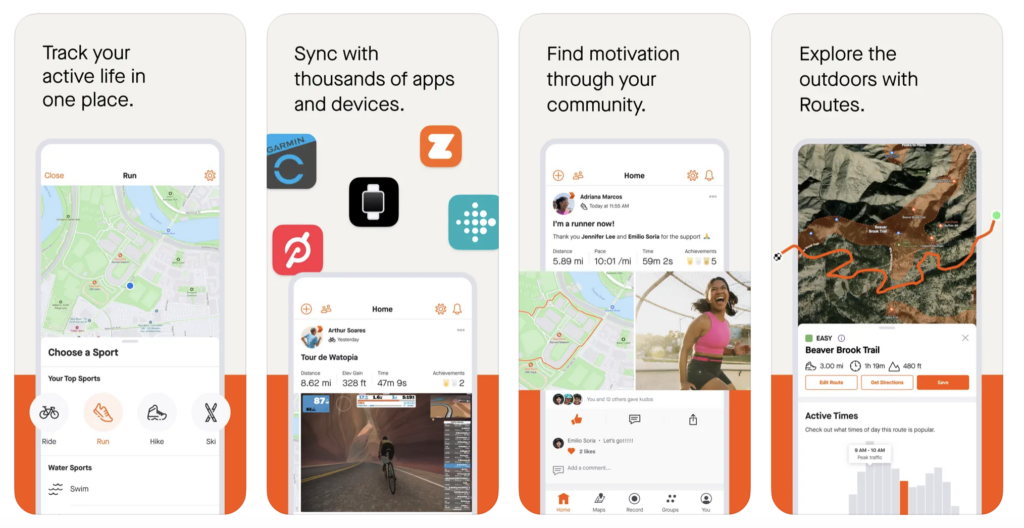 13. Strava – Best App For All Around Performance
Strava is a very popular cycling app which can also be used to track your fitness by recording everything from runs, hikes, yoga and bike rides featuring over 30 different sports.
One of the biggest perks of this outdoor adventure app is that users can sync progress with just about any device including Apple Watch, Garmin, Fitbit, etc.
Best features of the Strava app include an extensive support network, recommended routes, a training log with extensive statistics and ability to create challenging routes.
Pros: Fun to use especially in cities, can help you find new running or cycling routes, ability to share with others, great for motivation
Cons: More geared toward serious fitness enthusiasts, lack of privacy
---
14. Mountain Project – Best App For Climbing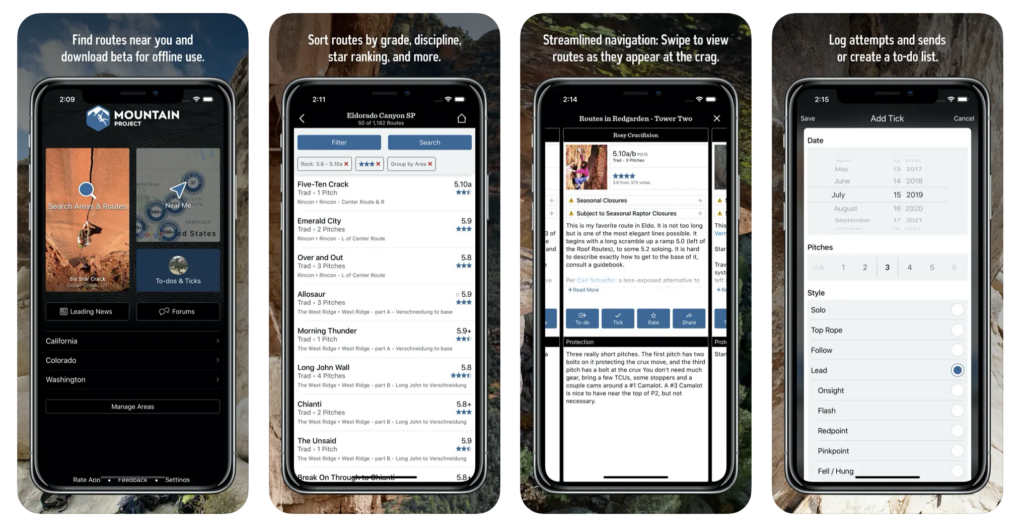 Mountain Project is one of the most popular outdoor apps for rock climbing because their database includes an impressive 155,000+ climbing routes.
Features of the Mountain Project app include downloadable offline gps maps, critical safety info, photos and ability to find a specific routes stats (for example, how many 5.11s a route includes).
Users can easily sort climbing routes by discipline or star ranking to find climbs perfectly suited to their individual needs.
---
15. The Dyrt – Best App For Camping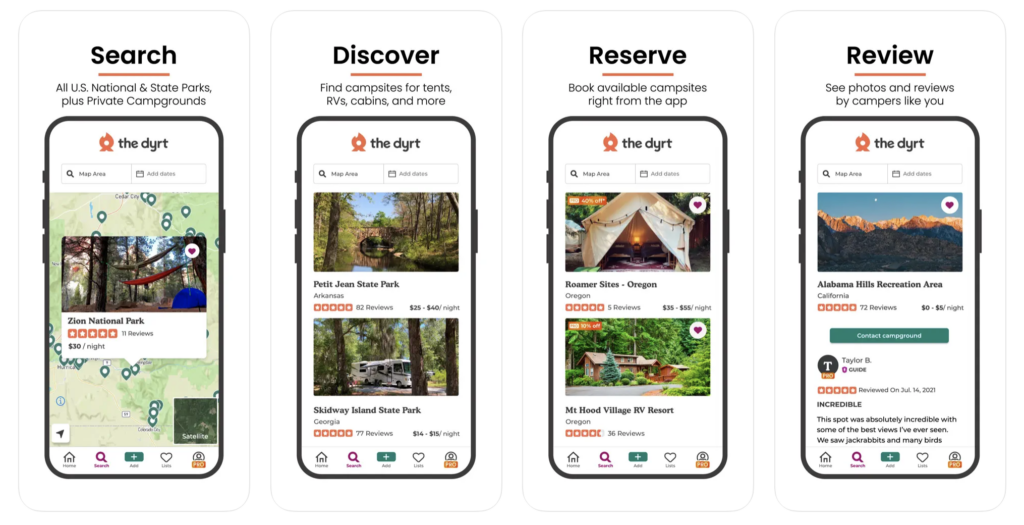 We love The Dyrt camping app because it offers users the ability to find both free dispersed campsites as well as paid bookable campsites all throughout the United States.
Starting June 2023, you can now use Dyrt Alerts to secure a reservation at sold-out campground including National Park campgrounds.
With these alerts you can scan up to 10 sold-out campgrounds at one time. If a campground reservation is cancelled (think North Pines in Yosemite), you will immediately receive an alert so you can book it.
Use our exclusive 30 day free trial of the Dyrt PRO to find your next campground, RV, cabin or snag a sold-out campground!
Love Camping? Use our popular gift guide for campers to find popular outdoor items for your next adventure.
---
16. Wikiloc – Best International Hiking App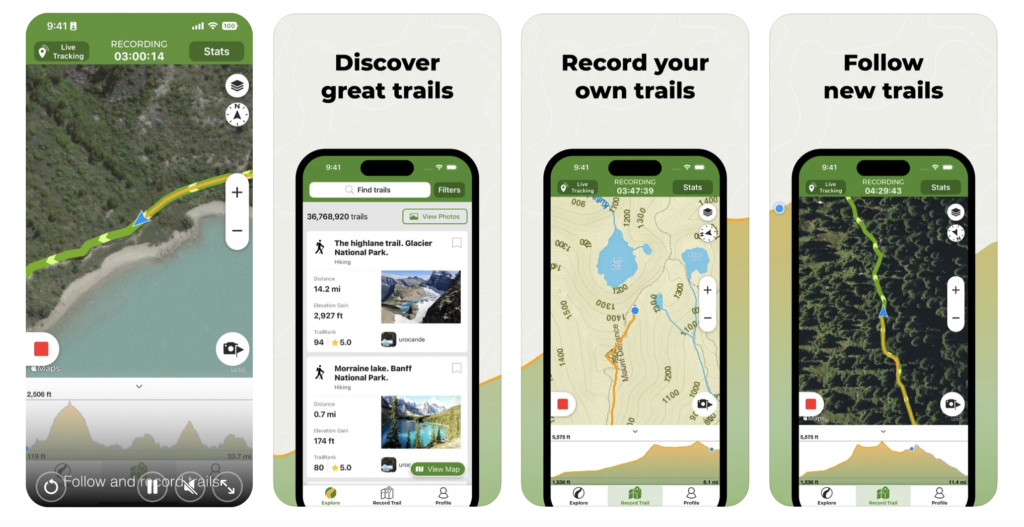 We use Wikiloc when traveling abroad because it has one of the most extensive databases featuring trails around the world.
Similar to other hiking and outdoor apps, Wikiloc features up to 80 different types of activities such as hiking, running, bike, MTB, kayaking and even skiing.
Best features of the Wikiloc app include access to topographical maps from all around the world, ability to record routes, add waypoints and upload photos.
---
17. Google Translate – Best App For Language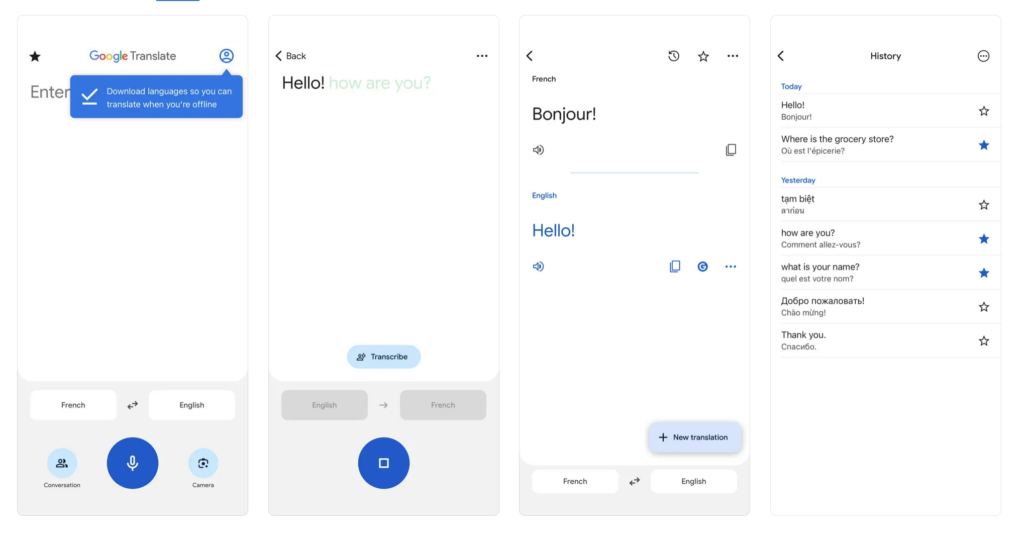 This language app is a must have if your are planning to hike in a foreign country where a different language is spoken. We have used it to communicate with other hikers from various countries.
Another benefit to using the Google Translate app is the ability to take a photo of words and have it translated back to you in your native language. This instant camera translation will help you identify the correct routes when hiking abroad.
Best features of Google Translate include ability to interpret between 133 languages through text, handwriting, conversational dialogue and photos.
---
18. Recreation.Gov – Best App For US Travel Planning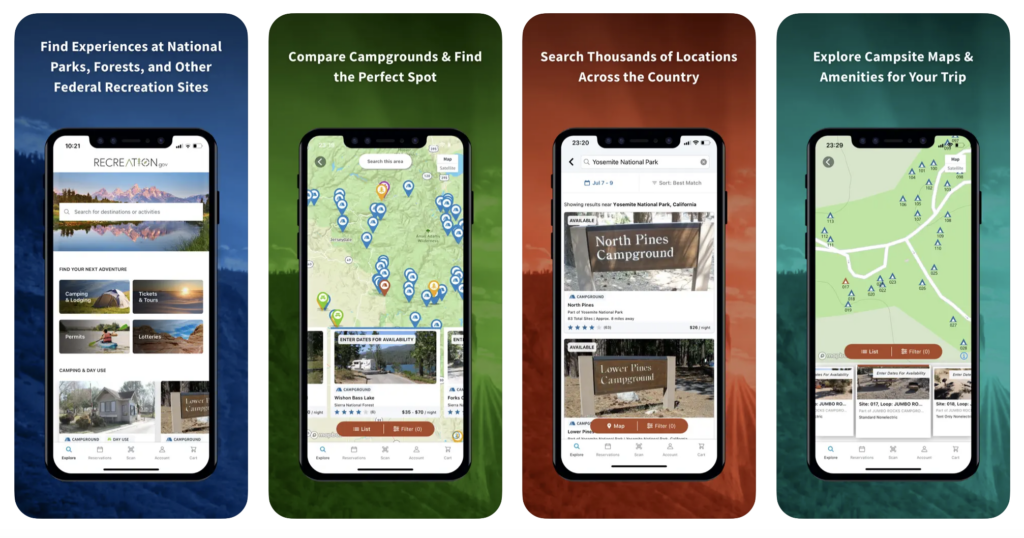 This Recreation.gov app is a great resource to search for new hiking trails, find campgrounds and enter lotteries for high demand outdoor experiences in the United States.
For example when hiking the Wave in Arizona, you need to apply for a Wave lottery permit.
We also use this outdoor app to book campgrounds as well as quickly access information for both past and upcoming reservations in campgrounds on federally managed public lands.
Use the Recreation.gov app to secure campgrounds, learn about shuttle tickets, apply for wilderness access (Mt Whitney and Denali), enter lotteries (Half Dome), purchase Interagency passes and find ranger tours.
Love US National Parks? Don't miss our popular US National Park Travel Guides.
---
19. National Park Service – Best US National Park App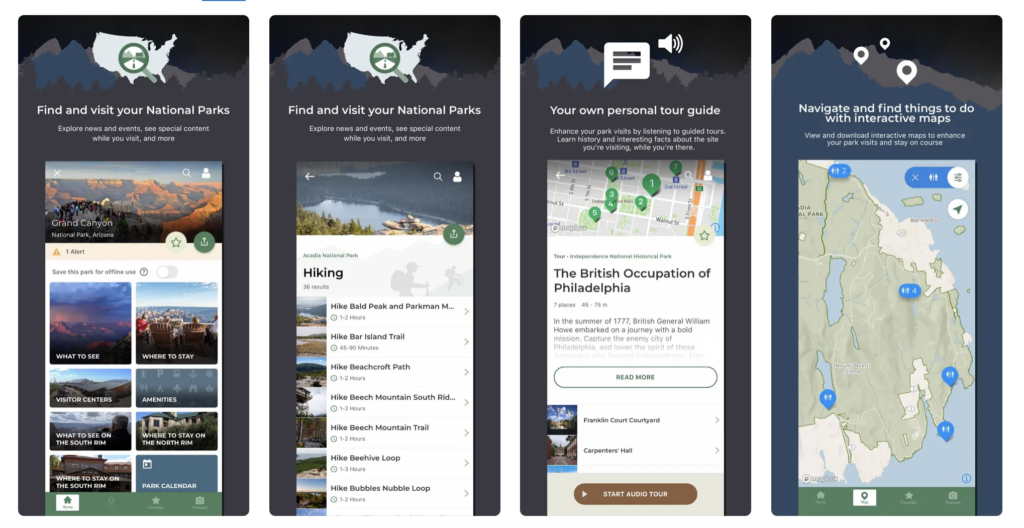 The NPS app is the official app for the National Park Service which services 420+ parks in the United States. If you love the US National Parks, you should download this app for your next trip.
Personally, we find the hiking gps trail and tracking functions to be lacking, but this is a great app for information about each individual park featuring detailed descriptions, recent updates and open statues.
Popular features of the NPS app include interactive maps, trailhead locations, reservations, tour information, trail descriptions and amenity information.
Heading to a US National Park? Use a National Park Passport to document your next adventure.
---
20. Star Walk2 – Best App For Stars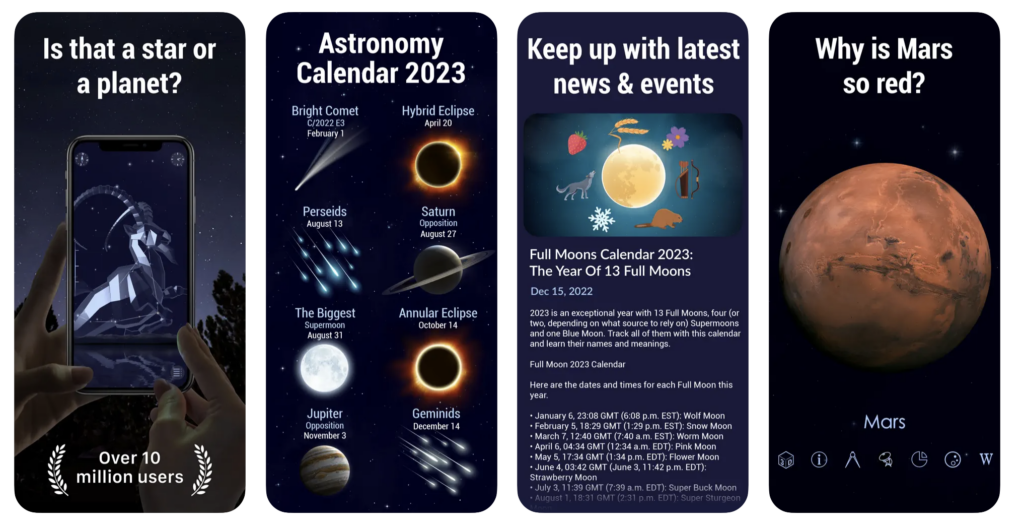 We use the Star Walk2 app to find stars, planets and constellations in real-time when adventuring in the outdoors.
Uses can point their device up in the sky to learn about what stars are visible in their direct line of sight.
Popular features of Star Walk2 include information about celestial bodies, upcoming astronomical events, 3D models of constellations and ability to see what is "visible tonight."
---
21. Outdoor Active – Best Outdoor App For Apple Watch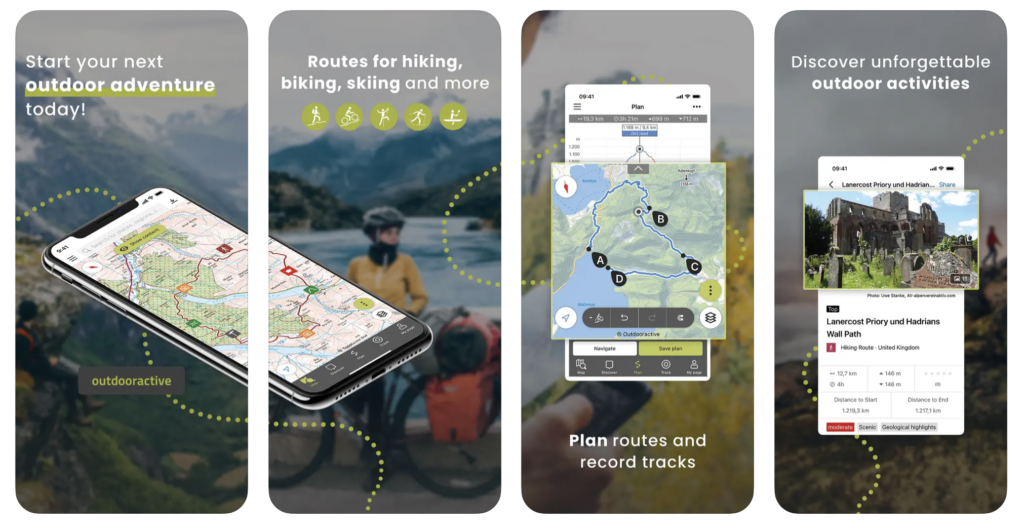 If you are familiar with the ViewRanger app, it is now part of the Outdoor Active family. Both teams from each platform are working together to create an amazing platform in one place.
Outdoor Active is the best app for Apple Watch because it has a very smooth integration with Apple Health. This outdoor app is a catch all for anything outdoors related.
The Outdoor Active app features include gps navigation, travel guides, an extensive global trail database with accurate info about hiking and cycling trails in protected areas.
---
22. Native Land.Ca – Best App For Indigenous History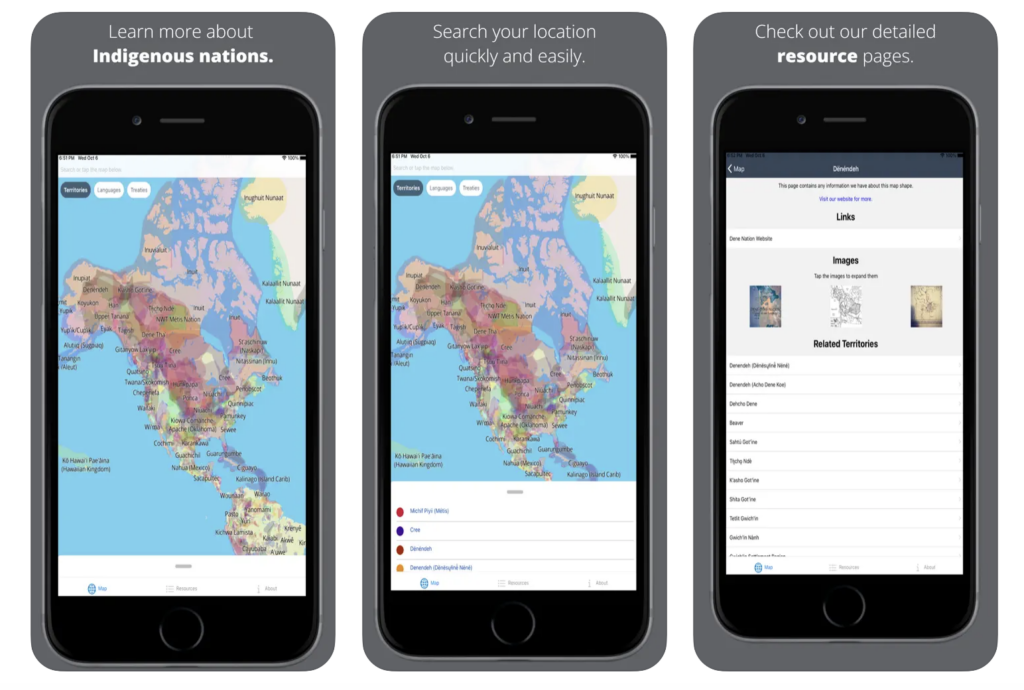 The Native Land app is a great resource for those who want to learn about Indigenous territories, lands, languages and ways of life.
This is a relatively new project, but additional territories are added regularly to the Native Land.ca app.
Interested in Indigenous history? You might like to read about Montezuma Castle which is one of the best-preserved ancient dwellings in North Central Arizona.
---
23. First Aid: American Red Cross – Best First Aid App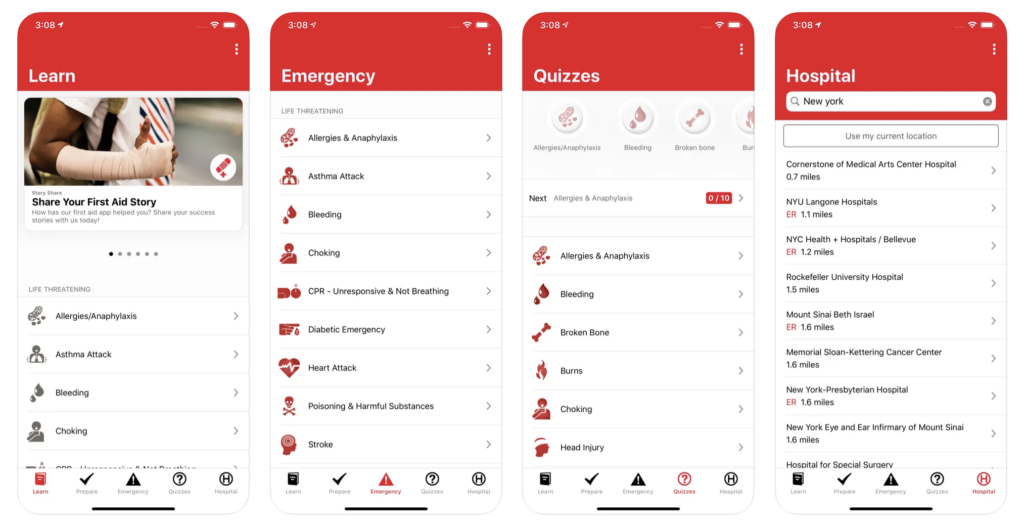 The American Red Cross first aid app should always be readily available on your phone when exploring the outdoors because accidents can easily happen.
This app allows users to have instant access to videos, quizzes and step-by-step advice for everyday emergencies. It is also fully integrated with 9-1-1 so you can call EMS directly from the app.
Popular features for the first aid app include preloaded content, animations for easy learning, safety tips and Spanish language toggle.
---
24. SAS Survival Handbook – Best Outdoor App For Survival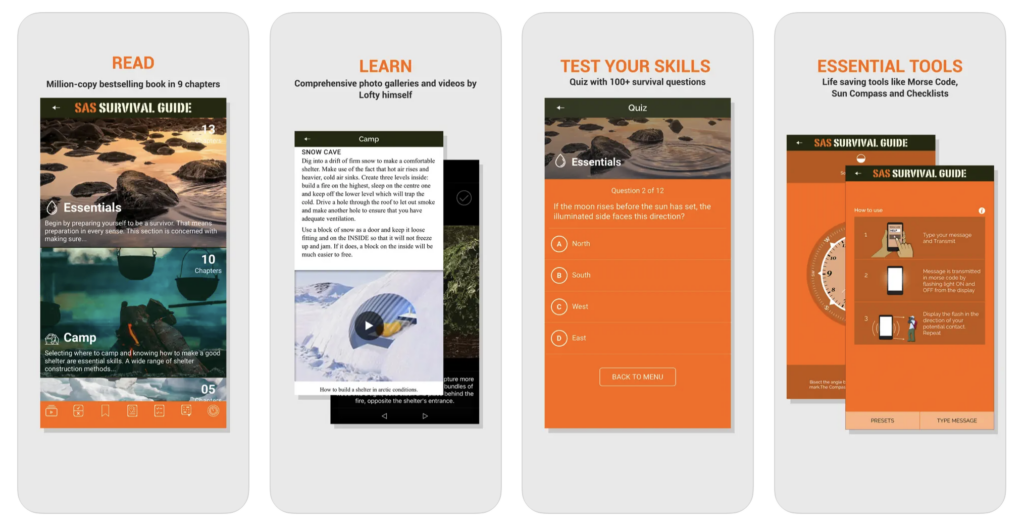 SAS stands for the British Special Air Service (SAS) and this app is a popular resource for learning critical wilderness survival or disaster situation skills anywhere in the world.
We like this app because it features videos, quizzes, checklists and useful tips to help your prepare for time in the outdoors.
You can also purchase the SAS Survival Guide in book format if you would prefer a hard copy.
---
25. Apple Fitness+ – Best Fitness App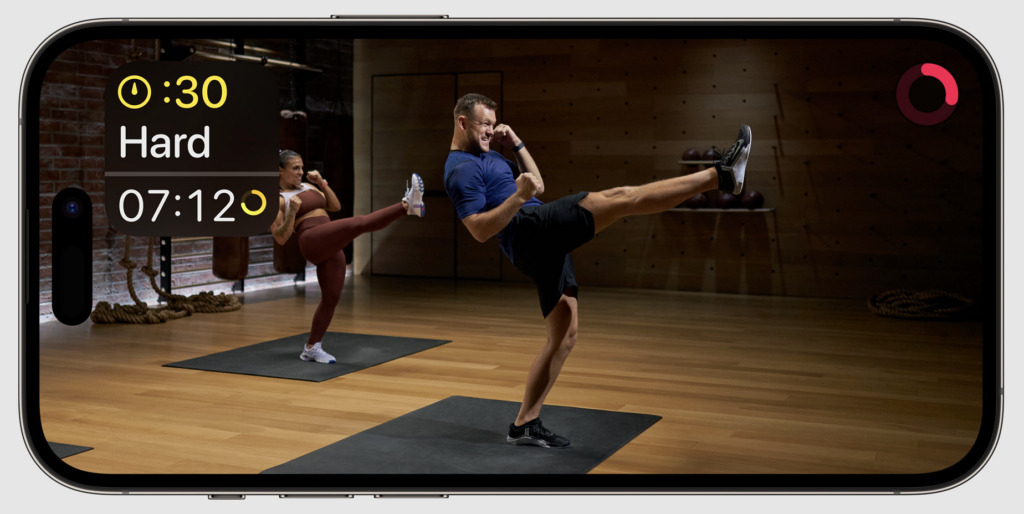 Apple Watch has become a popular way to track hikes and record stats through the Apple Fitness+ app. This app has the largest library of 4K Ultra HD fitness and wellness content world wide.
Users have access to over 3,000 workouts, trainers, meditation programs as well as help with fitness goal planning.
Monthly ($9.99) or annual subscription ($79.99)
Available on: iPhone, iPad or Apple Watch
Visit the Apple Fitness+ official website here
Features of the Apple Fitness+ app include GPS capabilities, heart rate monitor functions, magnetic compass, barometric altimeter and blood oxygen sensor.
Need some motivation? Don't miss our popular guide featuring inspirational hiking quotes.
---
Hiking And Outdoor App FAQ's
Let's finish by taking a quick look at some of the most asked frequently questions about the best apps for a hike and outdoor adventure apps.
Which Is better AllTrails or Gaia GPS?
Overall, Gaia GPS is better compared to AllTrails because this hiking app is extremely reliable for gps accuracy and recording performance data. Because Gaia GPS is a robust navigation app, we recommend it for longer hikes through the backcountry, off-roading and mountaineering. If you are planning smaller day hikes and want access to recent reviews, we recommend AllTrails instead.
What is the biggest and most popular hiking app?
AllTrails is the best free hiking app. It is the most popular and well-known hiking app on this list. There is a very large database of users which helps you instantly connect to the hiking community so you can easily meet new hikers.
What is the best hiking gps app?
The best map app for hikers is Gaia GPS (premium membership) or AllTrails (PRO version). If you do not want to pay for two subscriptions, we recommend the premium membership of Gaia GPS for navigation paired with the free version of AllTrails for trail descriptions and user reviews.
Our Popular Hiking Prep Guides
More US Hiking Guides
Want more hiking content? Head to our Hiking Guides for more tips and explore the world's best hikes.
---
We hope this best trail apps guide helps with planning your next outdoor adventure!
Please let us know if you have any questions about offline hiking apps or specific apps for hikers in the comments below.
Happy Hiking,
Mark and Kristen
Enjoy This Best Apps For Hiking Guide? Pin It For Your Hike!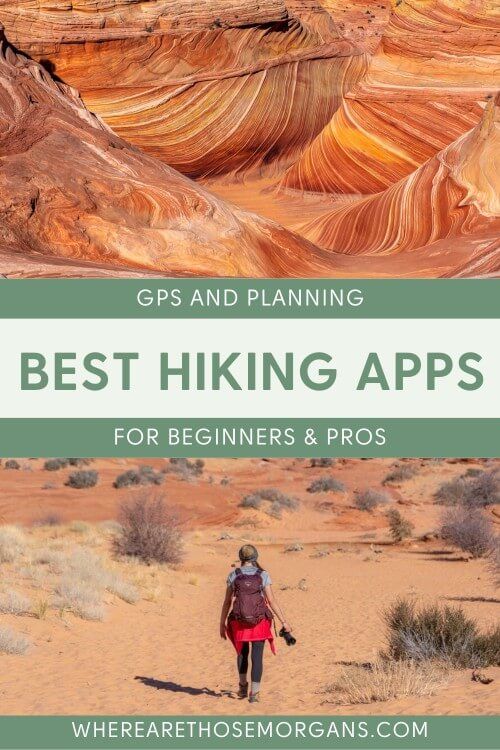 Note: This article contains affiliate links. When you make a purchase using one of these affiliate links, we may earn a small commission at no extra cost to you.
All Rights Reserved © Where Are Those Morgans, LLC. Republishing this article and/or any of its contents (text, photography, maps, graphics, etc.) in whole or in part is strictly prohibited.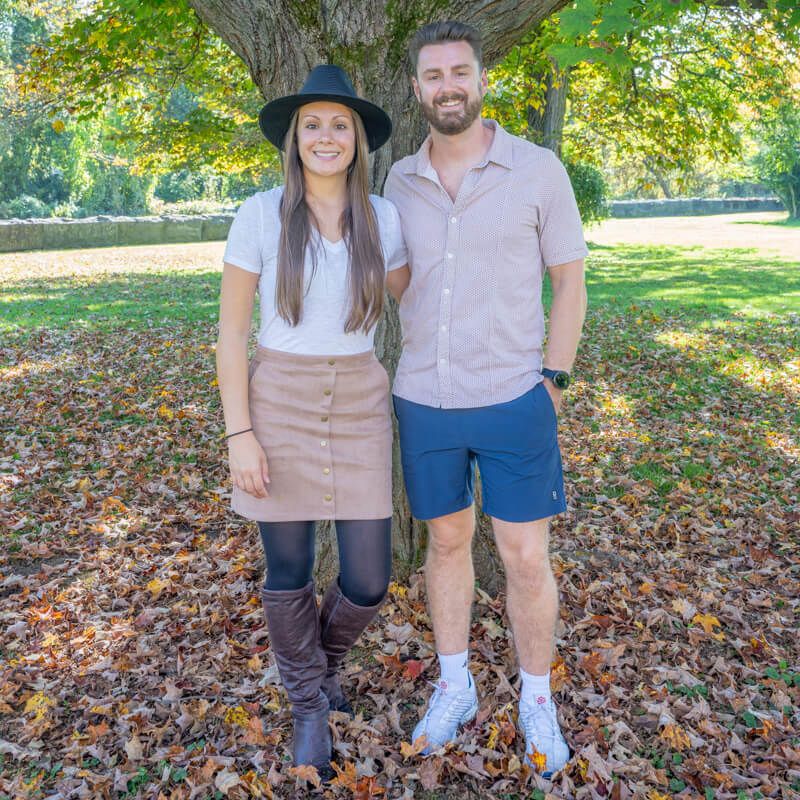 Mark and Kristen Morgan are travel, hiking and photography experts. Over the last 6 years traveling full time, they have explored more than 40 countries and 30 US states.
Their work has been featured in USA Today, Gestalten, Get Your Guide, CityPASS and Condé Nast Traveler along with various other publications.