Smartphone hiking apps have significantly advanced over recent years. The best hiking apps on the market now give us the ability to navigate offline as we explore new landscapes, connect with other hikers and venture further off the beaten path in search of crowd free trails.
Whether you are a beginner hiker or a veteran hiker, hiking apps are a great resource to find new trails and track hiking statistics, but they may also save your life.
Our top pick for the best hiking app is Gaia GPS. But there are several other hiking apps available for instant download offering certain features that may be better suited for your individual needs.
Let's take a look at the best hiking apps for beginners and pros in 2022!
*Please note this post may contain affiliate links. If you click on one, we may earn a small commission at no extra cost to you! Thank you for supporting the free content we provide. Read more in our disclosure policy.*
Why Should You Use A Hiking App?
Smartphones make it possible to have a wealth of information directly in the palm of our hands. Hiking is a wildly popular and healthy hobby for millions around the world, so it's only natural hiking apps would gain popularity.
Here are just some of the reasons you should consider downloading a hiking app today:
One of the best features of a hiking app is the ability to navigate offline without service or Wi-Fi.
Some apps require you to download a map of the trail for use offline, whereas other apps have complete GPS functionality.
Organization
Many of the hiking apps on this list give you the ability to organize your hikes into different folders such as region, difficulty, completed treks or even your own customizable categories.
Discovery
The best hiking apps have an extensive database of information, which means they are the perfect way to find new trails.
You can search for hiking trails based on difficulty, distance, dog-friendliness, etc and find inspiration for a hike you have never heard about before.
Statistics
As former scientists, this is our favorite feature when it comes to hiking apps. A good hiking app will track your elevation profile, speed and distance throughout your entire hike.
We love to track our hikes!
Safety
This is a feature your loved ones will appreciate.
Some of the hiking apps on this list will allow you share your location in real time so those back at home won't have to worry about you during your hike.
Further Reading: Always bring these 10 hiking essentials every time you hit the trails.
2 Personal Examples Of Using Offline Map Apps For Hiking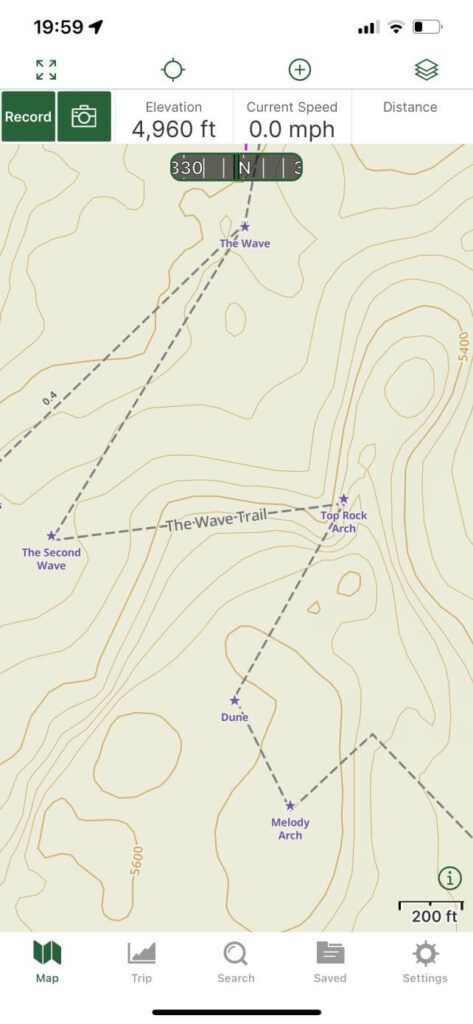 In the 2 images above, you can see what an offline map looks like before and after selecting a planned hike on Gaia Premium, which we personally use as our preferred choice of best hiking app.
On the left you can see a dotted line connecting the top photography spots at the end of a hike to The Wave in Arizona.
Prior to hiking the trail, we knew there would be no internet so we downloaded the map offline.
We selected the hike, which adds in a purple line and all we had to do the next day at The Wave was follow the line using our red arrow locator.
As a result, we had no issues navigating around the region despite having no internet in the area.
On the right side you can see an example of the Gaia offline map with the purple line added.
You can see we had no internet when we arrived to the amazing climax of The Subway hike in Zion National Park, but we knew exactly where we were at all times.
Both trails above are included in our popular guide to the 50 best hikes in the US.
How To Choose The Best Hiking App?
The best hiking app for you will be based on cost, app features, your location and your personal hiking preferences. Once you narrow down exactly what you want out of a hiking app, create a shortlist and select between the most appropriate apps.
Do you have a budget? Are you only interested in "hikes near me"? Do you want to hike with your dog?
Not all hiking apps are created equal and some apps are better than others when it comes to certain features.
While some hiking apps are free to use, some may require a paid version or in-app purchases. The free version will limit which features you will be able to use.
The Premium version will then unlock the remaining features. But sometimes, the free version is all you need and we will cover all these free versus premium features.
In this guide we will break down each hiking app based on:
Price
Membership options
Free versus Premium Features
Pros and cons
Smartphone Battery Life
It is important to keep in mind that while hiking apps are a fantastic resource, you should never solely depend on your smartphone alone.
You can choose the best hiking app on the market, but if you run out of battery on a wilderness hike and have no backup plan, you're in big trouble.
Using GPS and certain other features within hiking apps will very quickly drain battery life on your smartphone. On a long day hike, using offline maps for 6-8 hours will significantly reduce a phone's battery.
You should always plan accordingly with a paper map and compass just in case. But the easiest way to combat battery problems is to carry a backup source of power, like a solar charger or power bank.
We typically use one of our mobile phones with offline map and keep our other phone turned off with full battery in case our first phone dies and we have an emergency.
Comparison Chart For The Best Hiking Apps
Here's a comparison of the best hiking apps on the market today: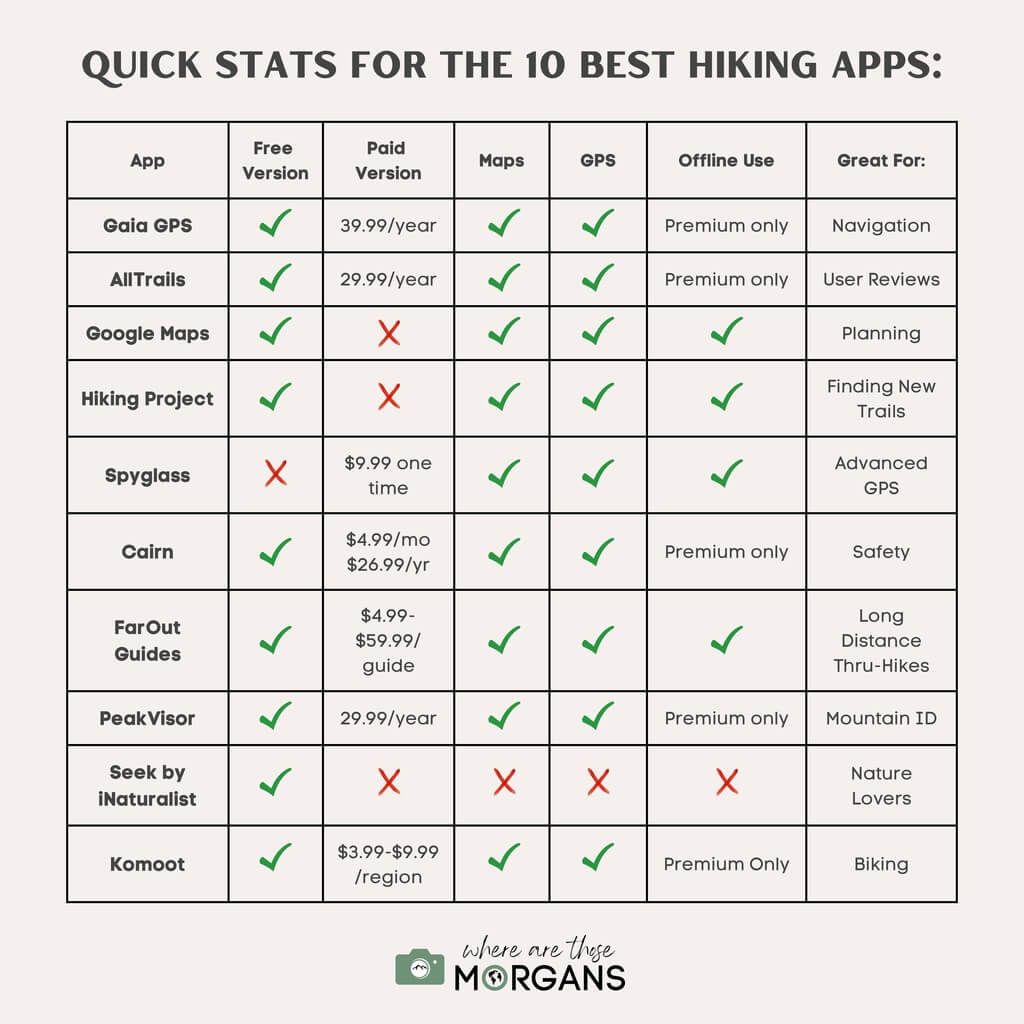 Top Hiking Apps For iPhone and Android
Let's get into our summary of the best hiking apps for both iPhone and Android. Most hiking apps are available for download on both Apple Store and Google Play.
Click the app names to see official websites for the app. Alternatively, click iPhone, Apple Watch or Android to access each app in store:
---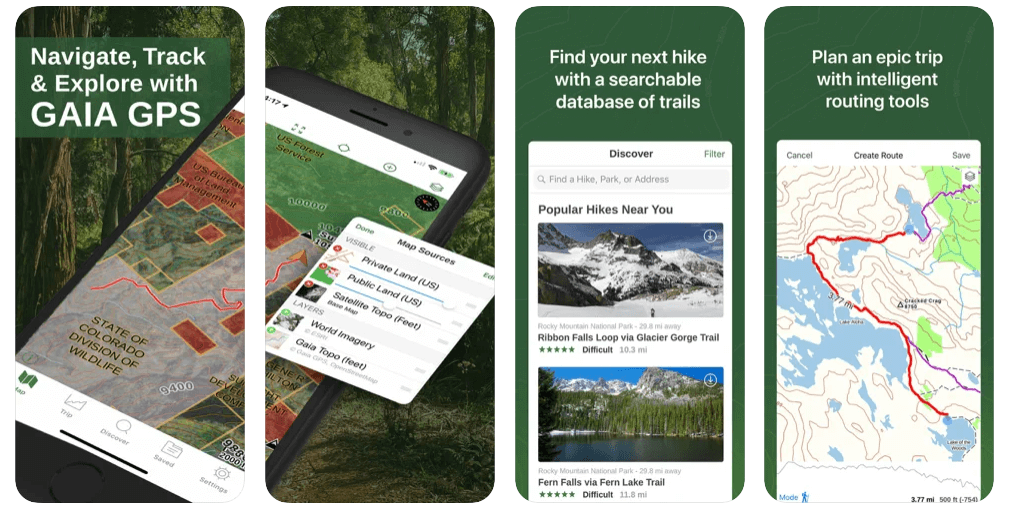 1. Gaia GPS – Best GPS Hiking App
Gaia GPS is the gold standard when it comes to smartphone GPS navigation. The free plan lets you track routes, find waypoints and look at topographical maps, but you will need to purchase the Premium version to unlock features such as offline capabilities and speciality maps for other countries.
Having hiked hundreds of miles using Gaia, we found this hiking app to be accurate and easy to use. Our favorite feature of Gaia GPS is the ability to record useful data from our hikes.
With a premium membership, you can track statistics such as your speed profile, elevation profile, distance on ascent and descent, average speed, moving speed, pace, moving time and stopped time.
This app has never failed on us on hiking trails across the United States, South America, Europe and Asia.
Free and Premium Membership ($39.99/year) available
Free Features: Record tracks, plan routes, drop waypoints, view topo maps, search for hiking trails
Premium Features: NatGeo trails illustrated, additional high res satellite imagery, specialty maps, customizable maps, wildfire condition maps, mountain biking maps
Pros: Extensive trip statistics, great free or premium plan, ability to find and organize trails, weather forecasts, very accurate GPS navigation
Cons: Offline use limited to Premium version
---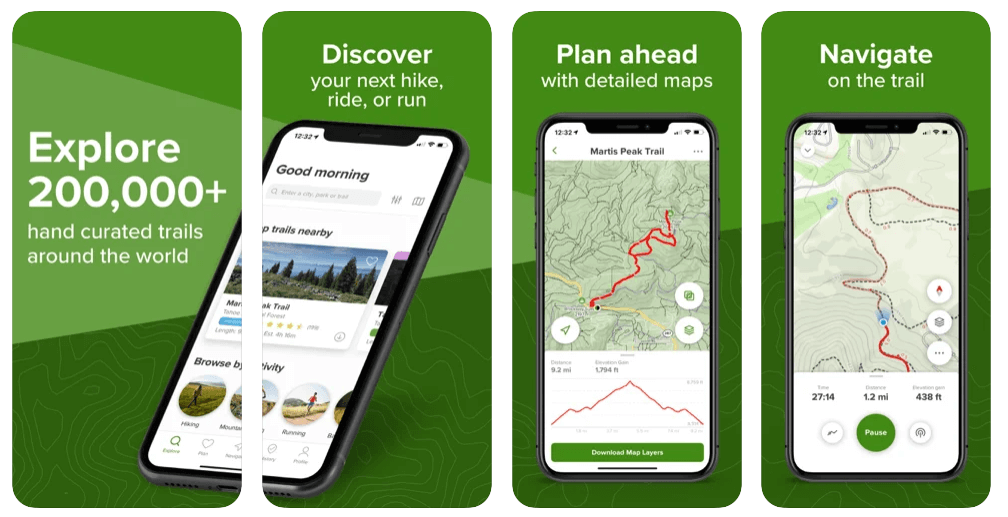 2. AllTrails – Best Free Hiking App
AllTrails is the most popular hiking app currently on the market. It was created in 2010 as an app focused on outdoor recreation through the power of crowdsourcing. AllTrails is one of our most used hiking apps next to Gaia GPS.
Similar to many of the hiking apps on this list, the Pro version will give you access to many more features, but we have the free version and use it for the helpful recent review sections, which has proved invaluable.
Our favorite part about this app is the reviews from other hikers. We always check recent reviews for trail conditions and potential issues that others may have recently experienced before every hike.
With this app, you will truly feel like you are part of a hiking community.
Free and Pro Membership ($29.99/year) available
Free Features: Detailed hike descriptions, user-friendly interface, large audience of active users
Pro Features: Required to access most features, download maps and offline access, lifeline capabilities, alerts for when you are off route, real-time map overlays
Pros: Ability to find trails based on tags, detailed hike descriptions, pet-friendly status, recommendations, reviews from other users, record hikes
Cons: Best features locked behind Pro version, crowdsourced maps not always accurate
---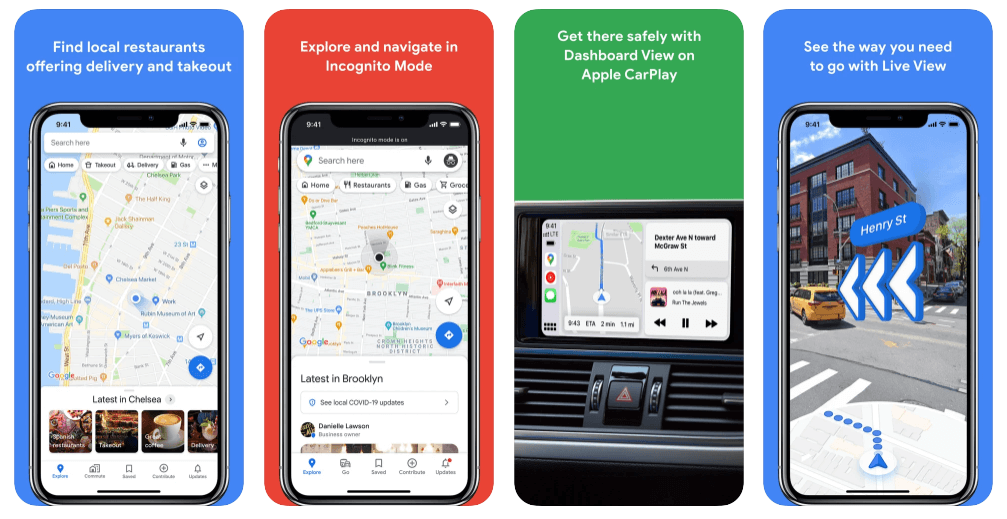 3. Google Maps – Best Planning App
Google Maps has one of the most impressive bandwidths of all the hiking apps on this list. It is not only a great hiking app but a great app to have when visiting somewhere new.
We use Google Maps to plot points of interest before visiting any new place. This way we are sure not to miss any of the important points on our itinerary.
Google Maps also has offline capabilities, but you will need to download the maps while you still have access to wifi or a decent amount of signal.
How To Download An Offline Map With Google Maps
Click on your profile picture in the right hand corner
Click the cloud button with a backslash through it or look for 'offline maps'
Next click 'select your own map'
Highlight the specific are you want to download
Features: Over 220 countries and territories mapped, real-time ETAs and traffic conditions, large user base, ability to review restaurants and businesses, see how busy locations are based on time periods
Pros: Many active users, up to date information, ability to include points of interest and share your location, completely free
Cons: Availability depends on service, hiking trails are limited
---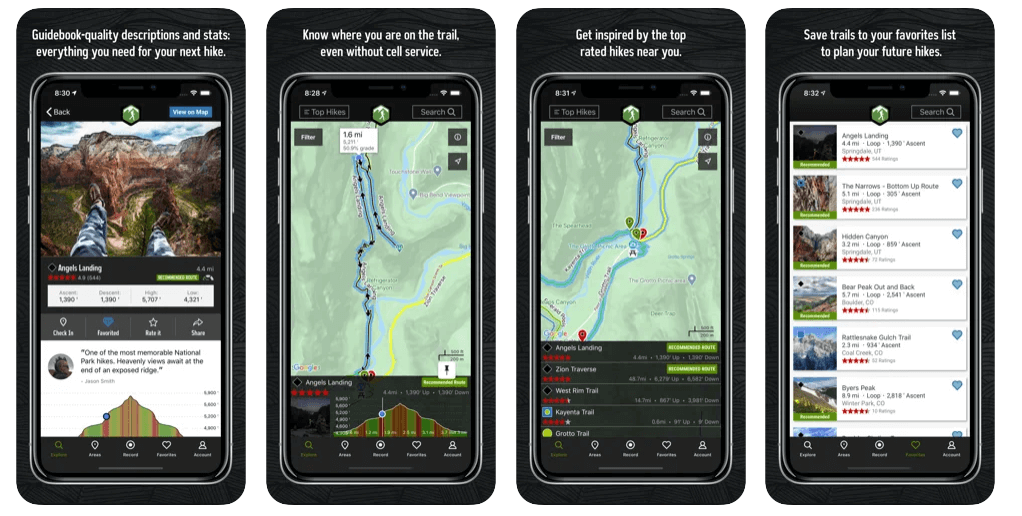 4. Hiking Project – Best Hiking App For Finding New Trails
Hiking Project is one of the best free hiking apps. It is a crowdsourced hiking app similar to AllTrails and backed by REI. This app shines with its detailed descriptions of trails and guidebook feel.
Popular features on this app include adding 'gems' or points of interest as well as searching by region and/or popularity.
We love this app for finding new trails for future hikes. The detailed descriptions will inform you if a certain pass is required for the area, current trail conditions, highlights and even driving directions.
Features: Large database, detailed trail descriptions, user contributions, offline functionality, user-friendly interface, exact location shown on trail, ability to check-in on trail
Pros: Detailed descriptions of trails, ability to search and save new hikes, completely free
Cons: No ability to track distance, mostly US based
---
---
5. Spyglass – Most Advanced Hiking App
Spyglass is a very robust offline GPS app built for both outdoor recreation and off-road navigation. There are so many features we struggled to list all of them.
This hiking app is a very advanced and accurate digital compass. It operates in 3D and uses augmented reality to display real-time locations.
You can manually enter location coordinates, find saved places and track multiple targets simultaneously. Spyglass will give you detailed real time data about using imperial, metric, nautical and surveying units.
But our favorite feature is the ability to track the position of the sun, stars and moon with precision. As avid travel photographers, Spyglass is one of our favorite hiking apps for this reason alone.
Premium version ($9.99) with in-app purchases available
Premium Features: Compass, gyrocompass, trackers, finder, GPS, speedometer, altimeter, offline maps, inclinometer, optical rangefinder and so much more
Pros: Optical rangefinder, augmented reality overlay, tactical GPS, speedometer, offline maps, ability to track the moon and stars
Cons: Steep learning curve, better used with a large screen, no free version
---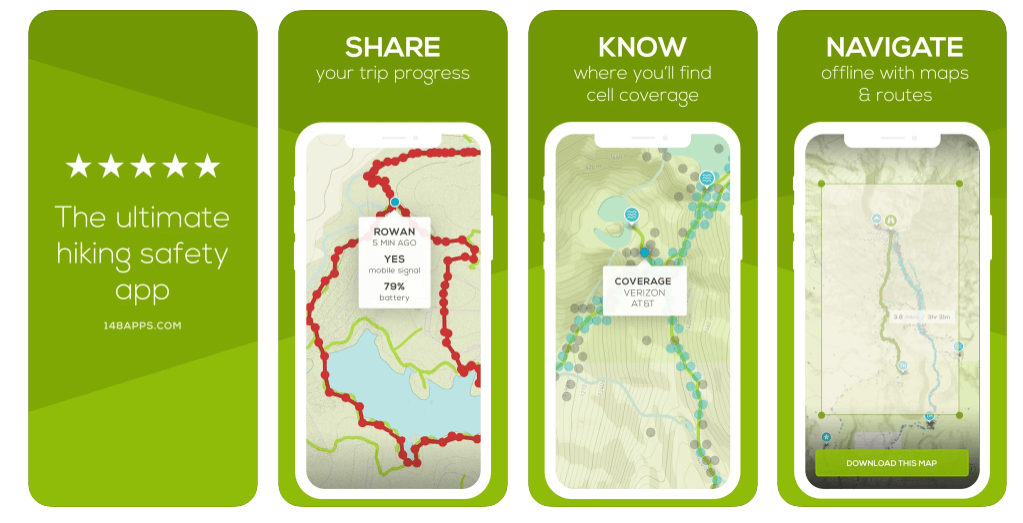 6. Cairn – Best Safety Featured Hiking App
Cairn takes the cake when it comes to safety. You can easily share your plans and GPS location with loved ones who are designated as safety contacts.
Another great feature is the ability to see where others have found cell coverage on the trail. This way you will be able to check in with your safety contacts and send updates with just a single tap.
Customizable ETA statistics are are highlight of Cairn. The proprietary algorithm calculates your speed, distance and elevation change on thousands of trail worldwide.
If safety is your number one priority when choosing the best hiking app, Cairn should be one of your top contenders.
Free and Premium Membership ($4.99/month or $26.99/year)
Sign-up for the free trial available for the first 30 days
Free Features: Maps, trails and cell coverage information
Premium Features: Live-tracking, trail statistics, GPS and offline maps, send updates to loved ones, customize your ETA based on recent activity
Pros: Real-time location sharing, safety contacts are notified when you are past due, trail statistics
Cons: Does not rank hikes by difficulty which most other hiking apps do, key features locked by premium
---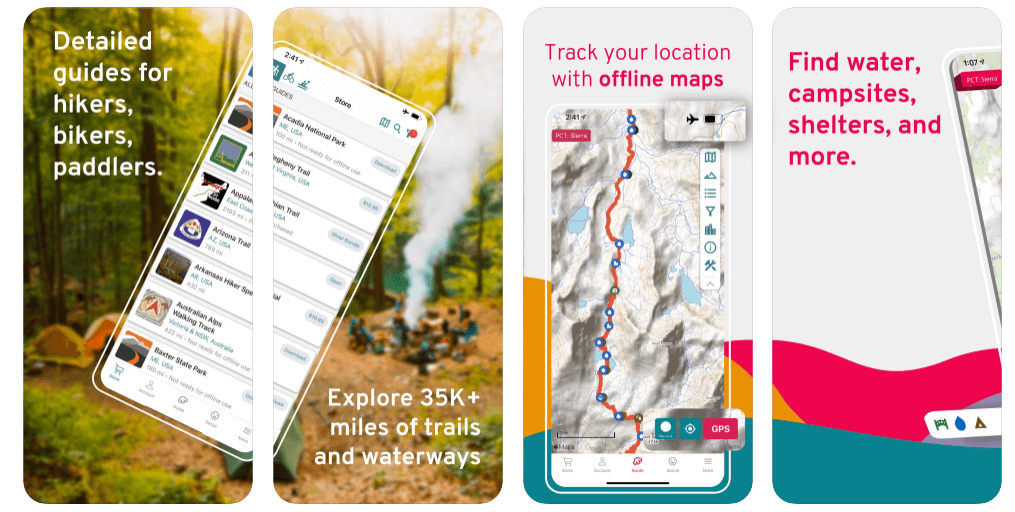 7. FarOut (Guthook Guides) – Best Hiking App For Thru-Hikes
FarOut, formerly known as Guthook Guides, is a very popular app with detailed guides for long distance hiking, biking and paddling. There are over 35,000 miles of hiking trails and waterways in its database.
This is a favorite hiking app for thru-hiking long distance trails around the world, like the Application Trail, Tour Du Mont Blanc and Torres del Paine.
The FarOut app is free but you must pay for each trail guide individually ($4.99-$59.99)
Free Features: Ability to search for trails
Premium Features: Offline maps, family and friends can follow with updates and check-ins, detailed waypoints and town resupply guides, elevation profiles
Pros: Detailed waypoints and town guides, offline maps, ability to share location and create custom routes
Cons: Free app limited, must pay per guide
---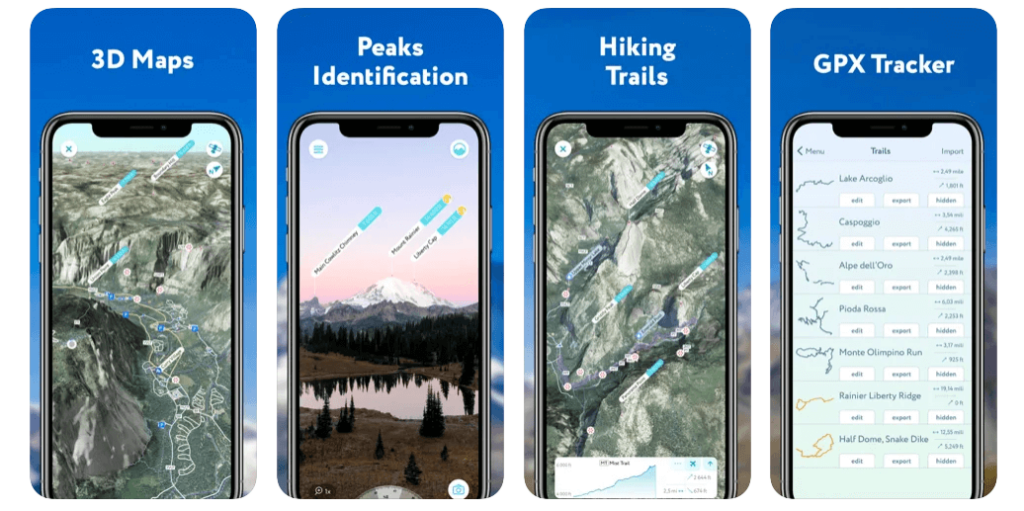 8. PeakVisor – Best For Identifying Mountains
PeakVisor hiking app is perfect for those who often hike in the mountains. High precision terrain modeling allows you to gain insight to nearby mountains, hills and landscapes with a detailed profile each time.
This profile typically includes altitude, spanning mountain range, topographical info, additional photos and information pertaining to where it is located (i.e. in a national park).
PeakVisor also has the capabilities to help you plan hiking routes and uses a GPS tracker so you can share your mountain adventures. With the Premium version, the entire app works offline.
Our favorite feature on this hiking app is the ability to upload a photo you have previously taken. PeakVisor will then tell you the name of the mountain or mountains in question.
Free and Premium Version ($29.99/year)
Free Features: Same features but requires cell service or wifi
Premium Features: Same features but does not require cell service or wifi
Pros: Mountain identification, plan hiking routes, GPS tracking, 3D topographical maps
Cons: Free version can be limiting
---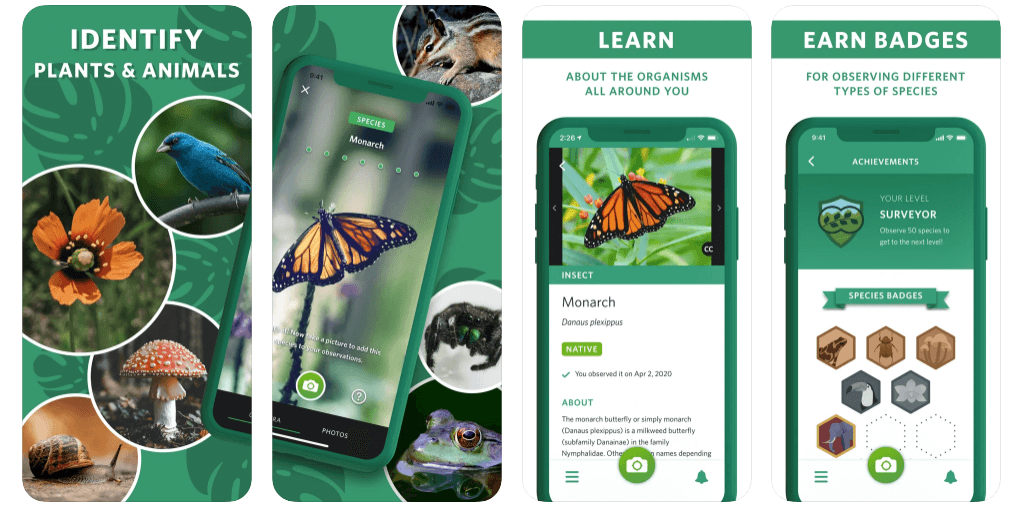 9. Seek by iNaturalist – Best Hiking App For Nature Lovers
Seek by iNaturalist is an image recognition app that allows users to identify wildlife, plants and fungi just by taking a photo.
This is not your typical hiking app, but it is definitely one you should consider if you spend a lot of time in the outdoors or around nature.
After uploading your photo, Seek will make an identification and then provide information about the species in question.
Features: Ability to identify wildlife, plants and fungi, earn badges for observing different types of species
Pros: Great for kids, ability to identify many different organisms, free to use
Cons: No maps or trail descriptions, app requires very clear images for positive ID
---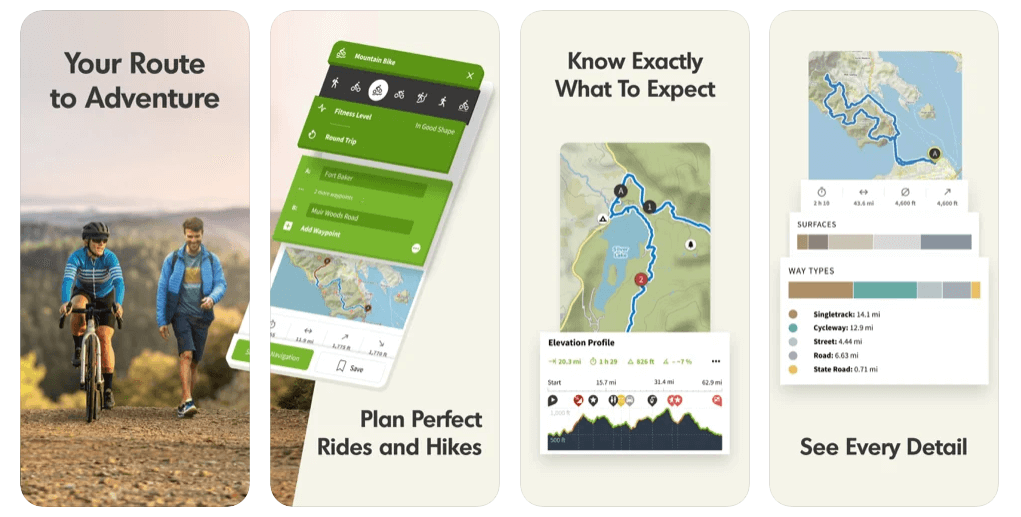 10. Komoot – Best App For Biking
Rounding out our list of the top 10 best hiking apps is Komoot. The highlight of Komoot is its turn by turn voice navigation. This will allow you to keep your eye one the road or trail when your hands are busy.
Popular additional features include offline maps for offline navigation, highlights in Komoot community favorites, syncing across devices and tracking hikes and/or bike rides.
The Komoot app is free but you must pay for each region after the initial one ($3.99-$9.99)
Free Features: First region is free
Premium Features: Same features after first initial region
Pros: Turn by turn voice navigation, offline map capabilities, great for bikers and cyclists, Syncs with Apple health
Cons: Limited amount of free information
Honorable Mentions For Outdoor Hiking Apps
There are so many more hiking apps and we're sure there will be more released in the near future as the worlds of hiking and technology evolve.
Here are some additional outdoor apps you can consider for more specific and niche areas within hiking:
Maps 3D Pro – This is a great app if you do not want to read the topography of a trail map like many of the apps listed above do. Maps 3D Pro will allow you to see the actual dimension of the route (free with in-app $3.99 purchases).
The Dyrt – This popular app helps you find your next place to camp. Use reviews and photos from other users to find exactly what you need. The Dyrt Pro version will unlock more features (price is $29.99/year).
First Aid Red Cross – Understanding basic first aid and CPR could not only help you but help someone else along the trail. Consider a certification to further hone your skills (Kristen is certified in CPR!).
GoSUP – This stand up paddleboarding app is exclusively made for apple watch and was created to track all of your SUP sessions. GoSUP features paddle stroke detection, pace statistics, compass information and much more.
Ramblr – This outdoor sharing app was created with social media and blogging in mind. It allows you to geotag your photos, video and notes all while sharing your outdoor experience to social media.
Knots 3D – This educational app will teach you how to tie over 150 knots, including knots for boating, camping, climbing, fishing, scouting and even decorative knots.
SAS Survival Guide (iOS, Android) – Popular app showing you how to survive in many different scenarios. It features videos, quizzes, checklists and useful tips to help your prepare for the outdoors.
Google Translate – This is a must have if your are planning to hike in a foreign country where a different language is spoken. We have used it to communicate with others all over the world.
Regional Hiking Apps
If you plan on hiking exclusively within a certain region or area, there may be apps focused on that specific location. For example:
National Park Service – With the ability to explore over 400 parks, this app will help you plan your next visit to one of America's iconic parks with interactive maps, tour information, updates and so much more.
Recreation.gov – This app will help you quickly access information for past and upcoming reservations. It also is a great resource to search for new trails, find campgrounds and enter lotteries for high demand outdoor experiences.
Washington Trails Association – After living in temporarily living in Washington, we will always have a soft spot for this beautiful state. This app advocates for the protection of wilderness and promotes hiking in Washington state.
Find local or state apps for your area. They are great for trail descriptions but also meeting fellow hikers.
Looking for hiking motivation? Don't miss our popular list of inspirational hiking quotes.
Best Hiking App For Apple Watch
Apple Watch has become a popular way to track hikes and record stats. Features of the Apple Watch include GPS capabilities, heart rate monitor functions, magnetic compass, barometric altimeter and blood oxygen sensor.
However, depending on the version of your Apple Watch, these features may not be available.
You will also need a hiking app for features such as trail mapping, and unfortunately not all hiking apps on this list are available on Apple Watch.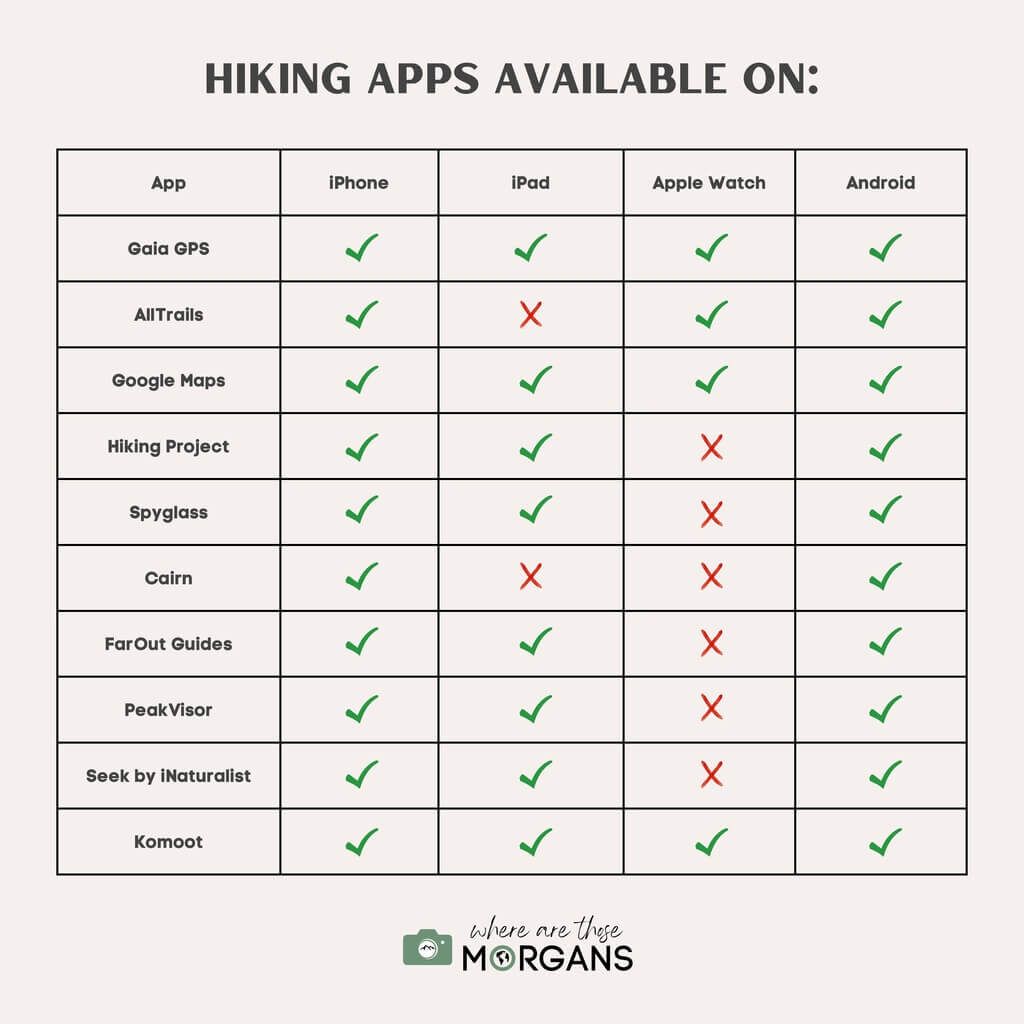 The best hiking apps for Apple Watch include:
But here are a few more hiking apps we didn't include on our original list:
Apple Watches are great for casual hiking and smaller trails, but if you more of an avid hiker, we would recommend you download some of the top rated hiking apps we have listed onto your smartphone.
The battery life of your Apple Watch may drain very quickly when using a hiking app. Always have a back up plan if your Apple Watch dies.
Looking for new hiking gear? Don't miss our gift guides for Outdoorsy Women and Outdoorsy Men.
Frequently Asked Questions
Let's take a look at some of the most frequently asked questions about hiking apps.
What Is The Best Map App For Hikers?
The best map app for hikers is Gaia GPS (Premium membership) or AllTrails (PRO version).
If you do not want to pay for two subscriptions, we would recommend the Premium membership of Gaia GPS for navigation paired with the free version of AllTrails for trail descriptions and user reviews.
What Is The Best Free Hiking App?
AllTrails is the best free hiking app. It is the most popular and well-known hiking app on this list. There is a very large database of users which helps you instantly connect to the hiking community.
Is Gaia GPS or AllTrails Better?
We have found Gaia GPS to be extremely accurate when it comes to GPS accuracy and trail statistics. It is always our go to app for navigation, especially in the backcountry.
Gaia GPS features extremely detailed maps, enhanced GPS features and comprehensive performance data which makes it a better hiking app than AllTrails.
However, we believe Gaia GPS and AllTrails are best used together with Gaia GPS for navigation and AllTrails for trail descriptions and recent reviews.
Outside Magazine has also named Gaia GPS as the best Navigation App.
Our Popular Hiking Guides
Interested in hiking? Head over to our hiking guides to find many of the top trails from around the US and beyond.
---
We hope this guide to the best hiking apps helps with planning your next hike!
Please let us know if you have any questions about hiking apps or anything about hiking in the comments below.
Happy Hiking,
Mark and Kristen
Was This Post Helpful? Pin It For Your Hike!