The Watchman Trail is an easy to moderate 3.3 mile roundtrip hike in Zion National Park, perfect for the whole family to watch sunrise or sunset with stunning far reaching views over the small town of Springdale, towering orange walls and lower Zion Canyon.
Unlike most of the other best hikes in Zion National Park, The Watchman Trail begins and ends at the visitor center in Springdale. This makes for easy access by car, from Zion's campgrounds and all of Springdale's hotels.
We're going to walk you through one of the most popular 'easy' Zion hikes, with photos from our own sunrise ascent to The Watchman Trail overlook so you know exactly what to expect.
Let's hike!
Zion Watchman Trail FAQ's
Here are the questions most hikers have about The Watchman Trail in Zion National Park:
How Hard Is The Watchman Trail In Zion National Park?
The Watchman Trail is rated as a moderate hike by the NPS. There's just 368ft of elevation to climb over 1.65 miles in order to summit. The 1.65 miles back to Zion visitor center is a very gradual descent and you'll be ready to move straight onto your next hike.
Watchman Trail is definitely on the easier end of moderate.
You do not need any specialist equipment or clothing for this hike. There are no technical elements, and you won't need to scramble or climb with hands.
How Long Does It Take To Hike Watchman Trail In Zion?
Hiking The Watchman should take you anywhere between 1.5 – 3 hours, but the average hiker can aim for around 2 hours 15 minutes total.
The hike itself won't take all that time. But you will want to factor in time for photos along the trail and certainly at the summit.
Those hiking for sunrise or sunset should also allow for arriving before and leaving after the event.
Watchman is the perfect hike to include on a one or two day Zion National Park itinerary, thanks to its shorter time and location near Springdale.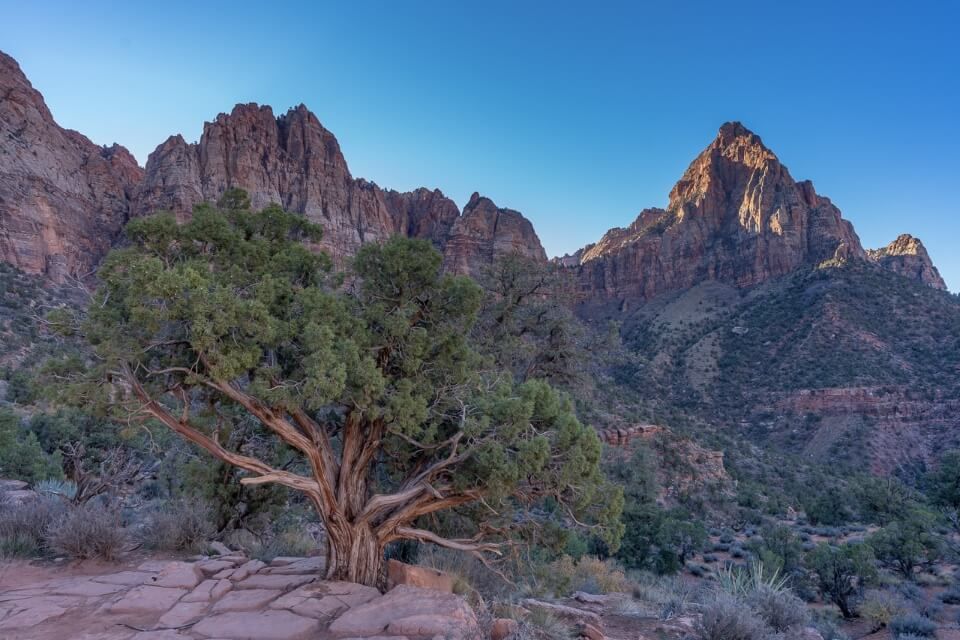 Is The Zion Watchman Trail A Loop?
The Watchman is an out and back trail but it does include an optional loop at the summit. We highly recommend you do follow signs for 'Loop Trail' once you arrive at the top.
Walking anti-clockwise, the loop provides views over lower Zion Canyon, then Springdale town with enormous orange canyon walls as a backdrop, followed by Towers of the Virgin and The Watchman.
The Watchman Is The Perfect Zion Hike For …
Zion National Park is an adventure hiking paradise, but The Watchman offers a welcome relief from strenuous mental and physical hikes.
The likes of Angels Landing, The Narrows and The Subway are adrenaline pumping trails that challenge hikers. The Watchman is one of few family friendly hikes ending with excellent views in Zion National Park.
Zion Canyon Overlook Trail and Emerald Pools Trail are the other top family hikes with fun trails and scenic vistas.
Target audience for The Watchman:
Large groups of hikers
Families with kids
Sunrise and sunset photographers
Those looking for a quieter Zion hiking experience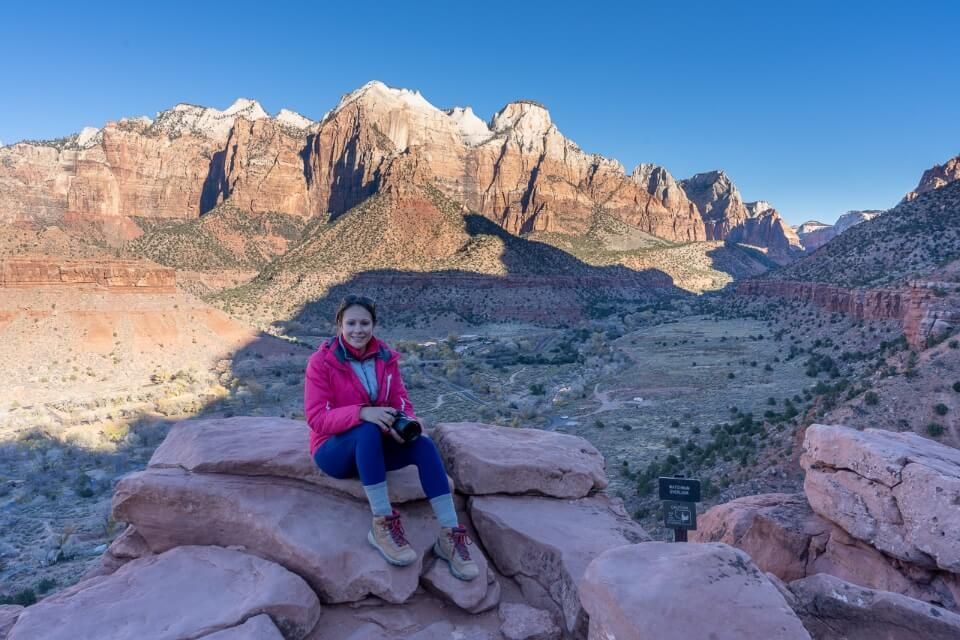 Looking for hiking inspiration? Check out our popular guide to the 50 best hikes in the US next!
How To Get To The Watchman Trail In Zion National Park
The best part of hiking The Watchman Trail is ease of access when compared to the other trails at Zion. You just need to head to the main visitor center, find the trail marker and start walking.
You can park at any of the following:
Zion main visitor center
Your Springdale hotel and either walk or take a shuttle to the visitor center
A paid day-parking lot in Springdale
We have visited Zion in October, November and December. Crowds and parking were out of control in October, but November and December were much quieter – one of the best reasons to visit Zion National Park in Winter.
If you visit Zion between April and October, you are likely to face problems with getting parked up.
One of the best ways around parking is to book your Springdale hotel way in advance and just leave your car in the hotel parking lot.
The Watchman Trail Zion National Park Hiking Details
Trail Distance: 3.3 miles roundtrip
Type of Trail: Out and Back
Trail Difficulty: Easy / Moderate
Time Required: 2 – 2.5 hours
Elevation Gain: 368 ft
Trailhead: Zion visitor center, Springdale
Top Tips For The Hike
Hike very early or much later in the afternoon to get parked and avoid crowds
Avoid hiking The Watchman on holidays and weekends
Technical hiking shoes are not required here
The Watchman Trail is NOT dog friendly
Take plenty of layers if you hike The Watchman Trail for sunrise and sunset even during Summer
Don't forget your camera
Our top tip for The Zion Watchman hike:
For large parts of the year, park rangers will close the barrier leading into Zion Canyon at dusk. That means access to the popular trails of Angels Landing, Emerald Pools, The Narrows etc ends right after sunset.
The Watchman is accessible any time of day or night. You won't have to wait for the barrier to open in the morning for a sunrise hike.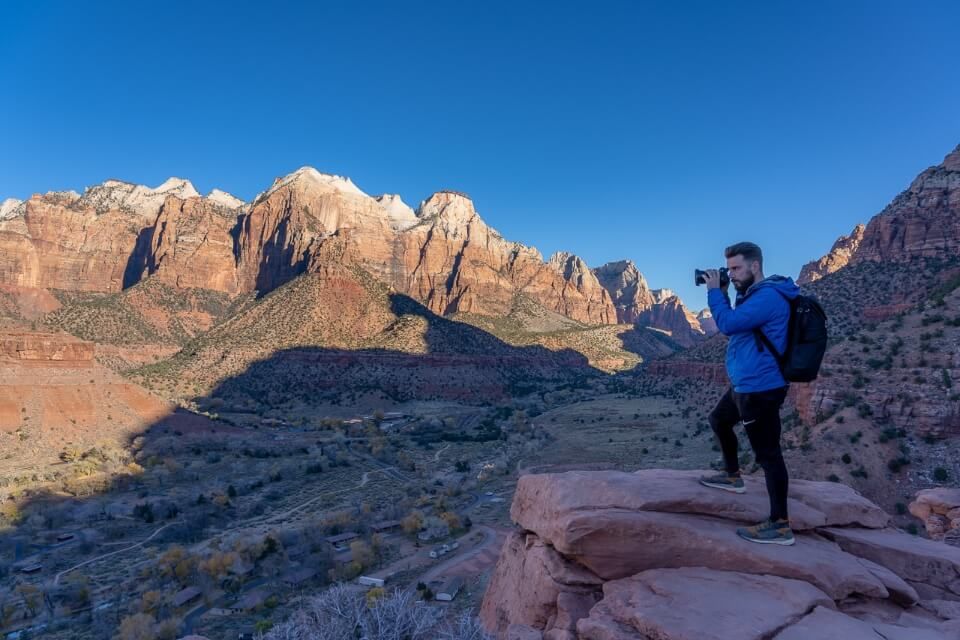 Hiking The Zion Watchman Trail At Sunrise Or Sunset
You can of course hike The Watchman Trail at any time of day and it will be a good workout with fantastic views from the Southern side of Zion.
However, sunrise and sunset at Zion are both very popular times to hike The Watchman Trail. Summit views are open to the North, West and South.
Views to the East are blocked by huge towers and temples.
Sunrise – Illuminates gigantic orange walls behind Springdale and casts an ocean of deep dark contrasting shadows over the town below. You will be in shadow for the whole hike and throughout sunrise.
Sunset – The complete opposite experience. You will see and be exposed to the sun throughout your hike up, and the sun will set over those gigantic walls behind Springdale.
Why hike for sunrise or sunset?
Well, as mentioned above in our tip earlier, you have complete access to this hiking trail at all times of day. You could head up for Milky Way astrophotography at 2am if you wanted.
There aren't any easy to reach and obvious standout sunrise or sunset locations in the main Zion Canyon. Yes, Angels Landing is awesome at sunrise. And yes, Zion Observation Point is amazing at sunset.
But they are not simple and stress-free to reach.
We paid way over the odds one night and stayed at Zion Lodge just so we could get to Angels Landing for sunrise. If you're camping at South or Watchman campground, you are basically already at the trailhead.
The Watchman gives you simplicity and great views at sunrise and sunset. Once you're done, it's a relaxing walk back down to your car or hotel near the trailhead.
Need a hand organizing your visit to Zion?

Our popular 40+ page Zion National Park Guidebook can help you with planning every aspect of your trip.
Watchman Trail Walkthrough
If you're hiking The Watchman Trail for sunrise or sunset, make sure you check times the day before so you know exactly when to start. Here are Zion sunrise and sunset times.
Now we've covered everything you need to know about the trail, let's get into the hike itself: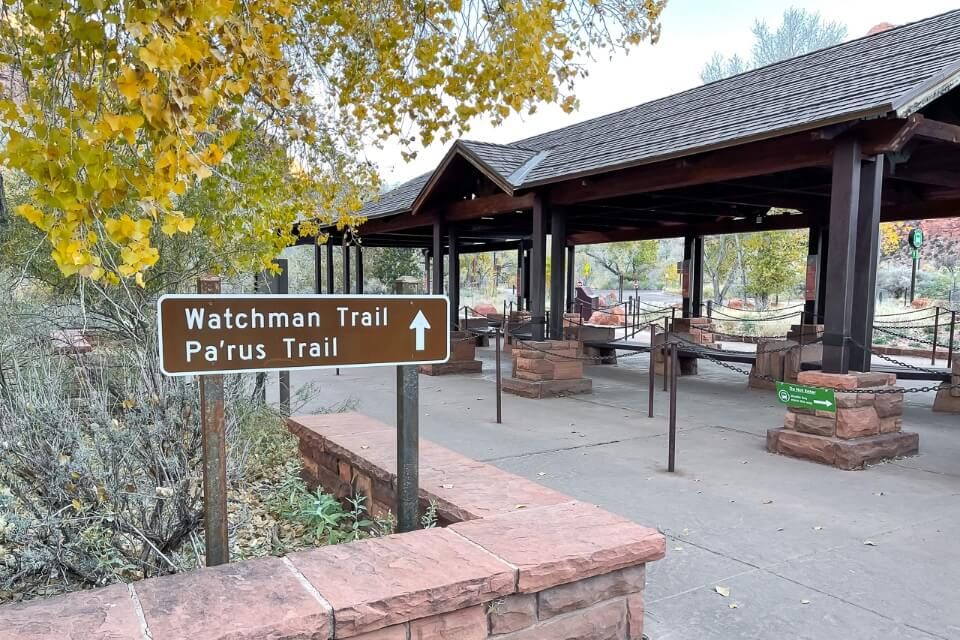 Start At The Visitor Center
Arrive early to the Zion visitor center if you want to stand a chance of getting parked up. This goes not only for hiking The Watchman Trail, but for visiting Zion National Park in general during peak season.
If you're staying in Springdale, leave the car at your hotel and either walk or take the village shuttle to Zion visitor center. Restrooms and park information can be found at various buildings around the visitor center.
Right behind the canyon shuttle shelter with rails, look for a brown sign for Pa'rus Trail and Watchman Trail. Hug the Virgin River, cross the road and look for information signs to both Pa'rus Trail and Watchman Trail.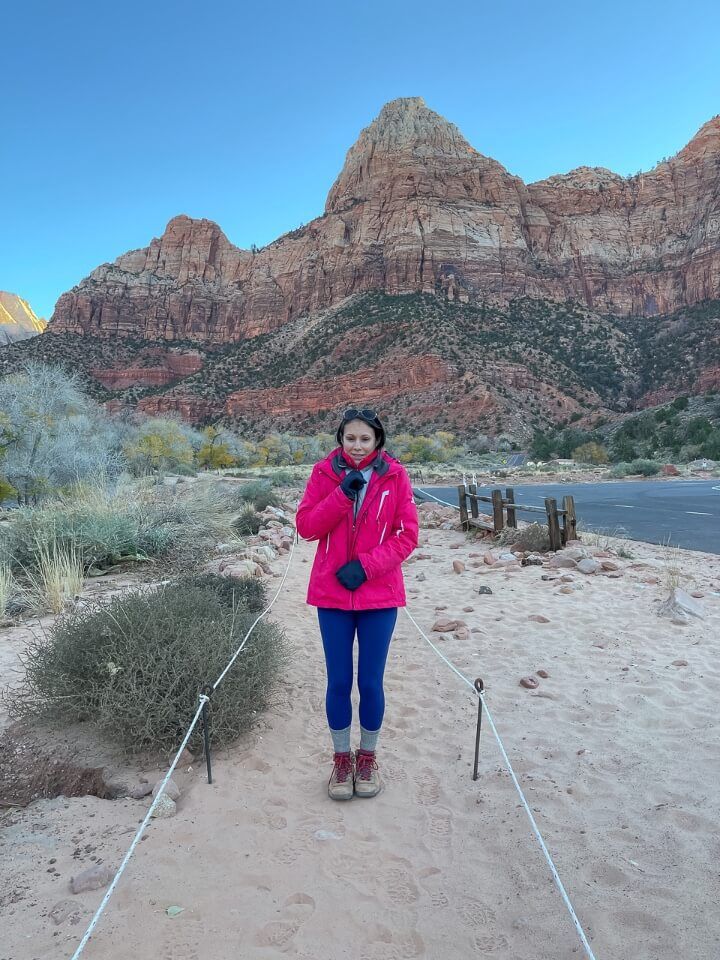 Gradual Climb
Left takes you to the start of an easy, flat and photogenic riverside hike perfect for the family called the Pa'rus Trail. But you want to take the right turn toward Watchman.
Many visitors to Zion choose to hike Pa'rus Trail right after Watchman. They're both relatively easy and they begin / end at the visitor center so you won't have to get a shuttle.
A flat and sandy trail will lead you away from the river alongside a road until you reach a crosswalk with another sign for Watchman.
This is where the gradual ascent begins. You will follow a narrow dirt path with small to medium sized rocks and steps to navigate. Keep an eye out for information signs detailing local vegetation.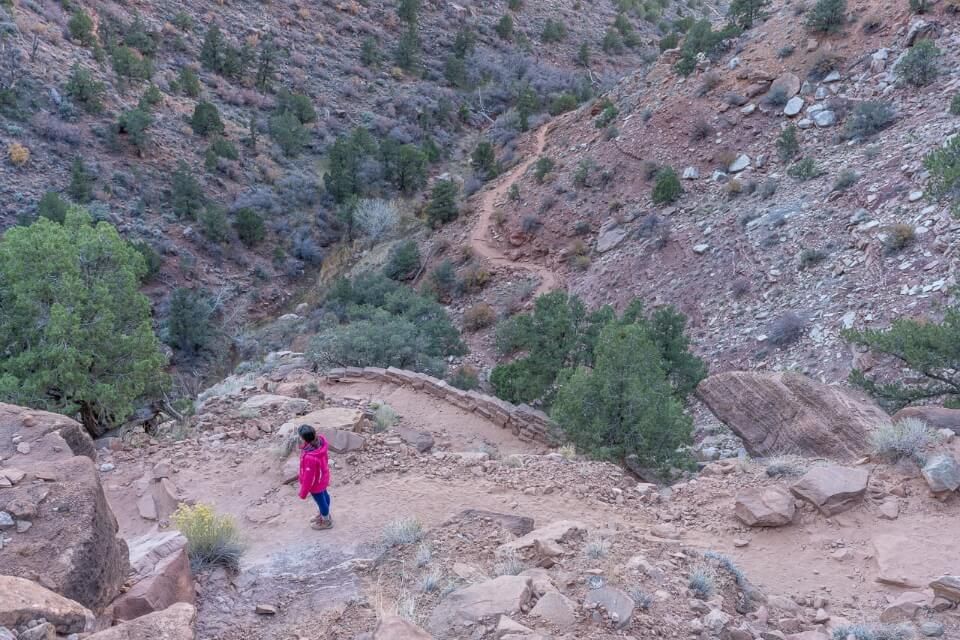 Switchbacks
It was cold the morning we hiked up to The Watchman during our December visit to Zion National Park. Wrap up with layers if you go for a sunrise or sunset at Watchman overlook.
At just 0.7 miles into the hike you will hit a short series of switchbacks. The trail here is dusty, powdery and sandy as it snakes up the hillside. You'll be up these easy switchbacks in a breeze.
After 4 U-bend turns in quick succession, you will be able to see right along a sweeping curve in the path leading to the summit of The Watchman.
The curve is very gradual and easy going all the way to the trail end.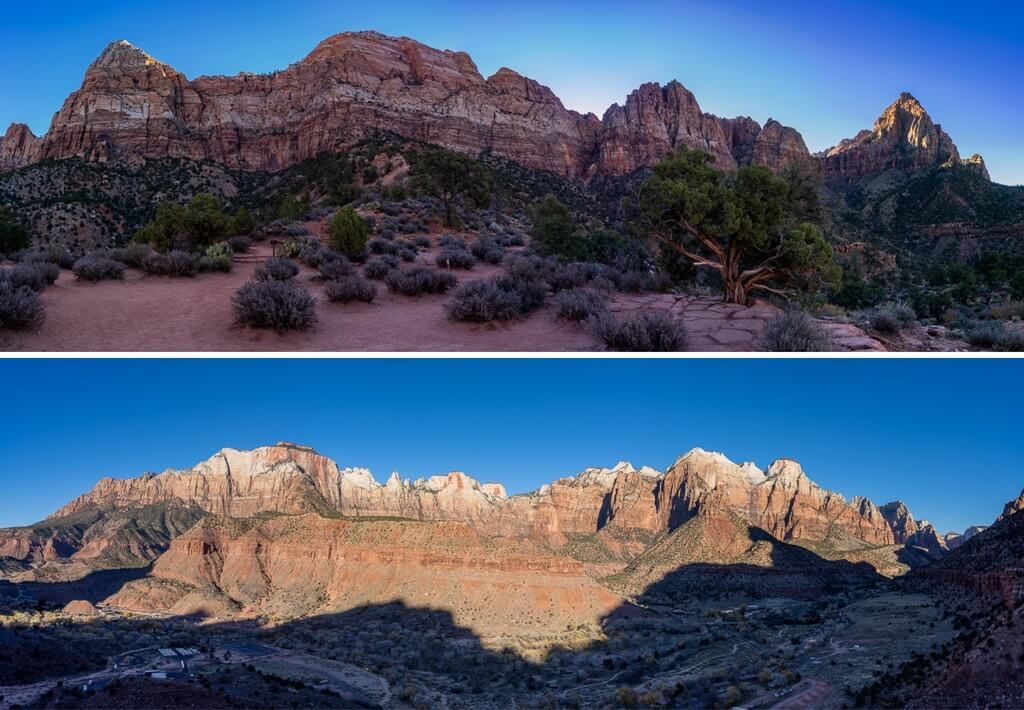 Summit
Those switchbacks are the only real trail identifier, and once you reach the top of the switchbacks it is just 0.4 miles to the summit.
Views are surprisingly far reaching considering you've only gained 368ft.
We stitched two panoramas and combined them in the image above looking both East (top) and West (bottom) at The Watchman summit during sunrise.
South – You can see a long way to the South beyond Springdale and beyond where the Virgin River forks.
North – Walls narrow before they enter Zion Canyon and closer the trail you just hiked is apparent as the sandy path stands out against darker colored rocks.
West – Springdale looks tiny from up here at The Watchman summit with Zion's West canyon walls exploding under yellow sunrise light at dawn.
East – But the best view is the one behind you to the East. Rugged temples and towers appear super-sized from this close up vantage point.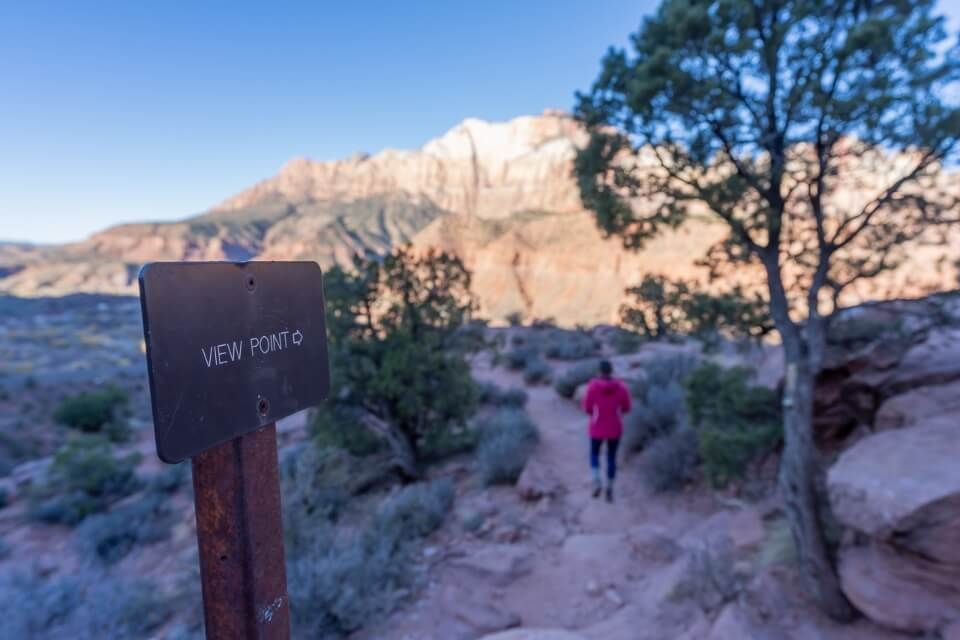 Walk The Loop
Keep following the dirt path until you see signs for 'Loop Trail' and 'View Point' leading off onto a circular trail. You can follow it either clockwise or anti-clockwise, there's no 'better' way to walk the loop.
There are various parts of the loop you can stop to grab photos facing in all directions. Find a spot and settle in for breakfast, lunch or dinner and a glass of wine depending on the time of day you hike.
You'll find far more hikers walking the loop atop The Watchman Trail at Zion around sunset between May and September. The temperature should be warm enough to be comfortable in light layers.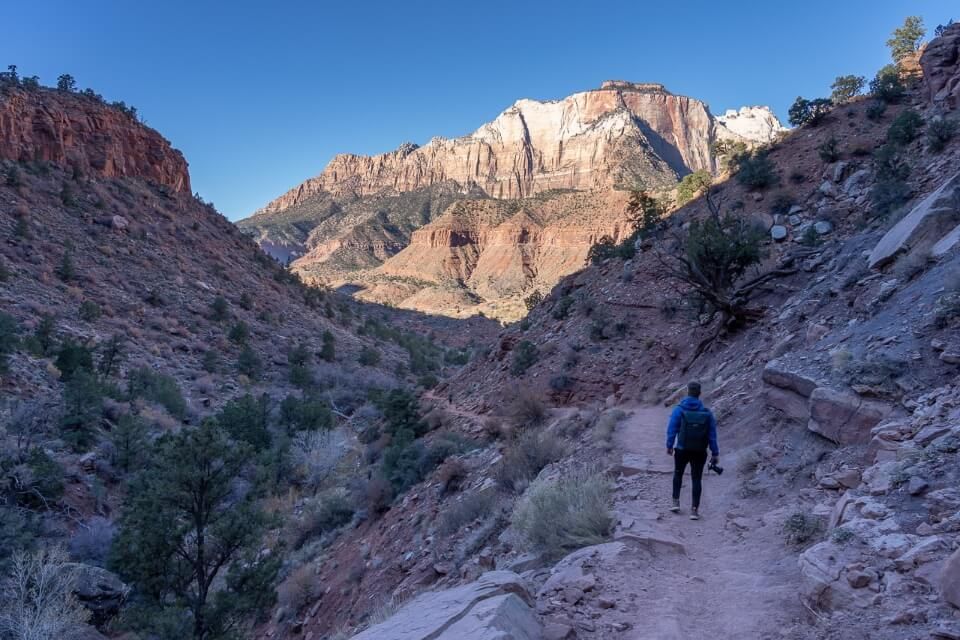 Descend To The Visitor Center
The hike back down to Zion visitor center is a piece of cake. There aren't any steep sections or boulders to hop between. Nothing to worry about if you struggle with ankles or knees during descents.
Just don't forget your head torch if you do hike The Watchman Trail for sunset.
Check live and current hiking trail information at Zion National Park before planning your hike to The Watchman or any hike. Trails are renowned for closing at short notice throughout the year.
Pros For Hiking The Watchman Trail
Easy hike with easy access
Can hike any time of day or night
Far reaching summit views
Not as busy as most Zion hikes
Cons For Hiking The Watchman Trail
Not a challenging or adventurous Zion trail
Views aren't quite as spectacular as other hikes in the park
We usually give 4 of each but there are no other cons!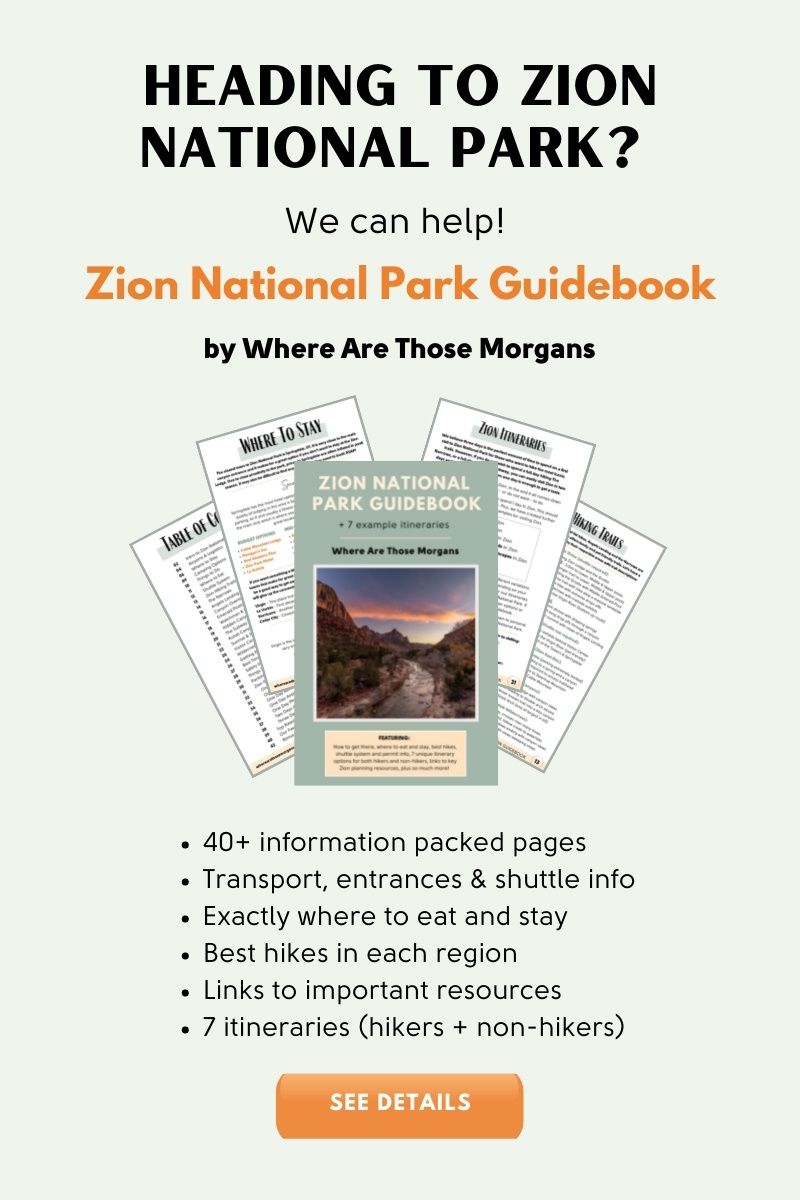 Our Popular Zion National Park Guides
More Zion Hiking Guides
Want more Utah content? Head over to our Utah Travel Guides to explore the Mighty Five National Parks and beyond.
---
We hope this guide to hiking The Watchman Trail helps with planning your visit to Zion National Park!
Please let us know if you have any questions about The Watchman Trail hike, Zion National Park or your visit to Utah in the comments below.
Happy Hiking,
Mark and Kristen
Enjoy This Guide? Pin It For Your Hike!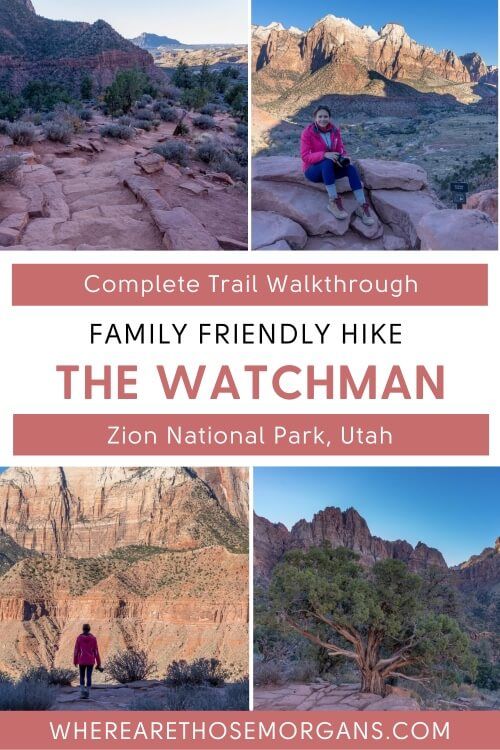 Note: This article contains affiliate links. When you make a purchase using one of these affiliate links, we may earn a small commission at no extra cost to you.
All Rights Reserved © Where Are Those Morgans, LLC. Republishing this article and/or any of its contents (text, photography, maps, graphics, etc.) in whole or in part is strictly prohibited.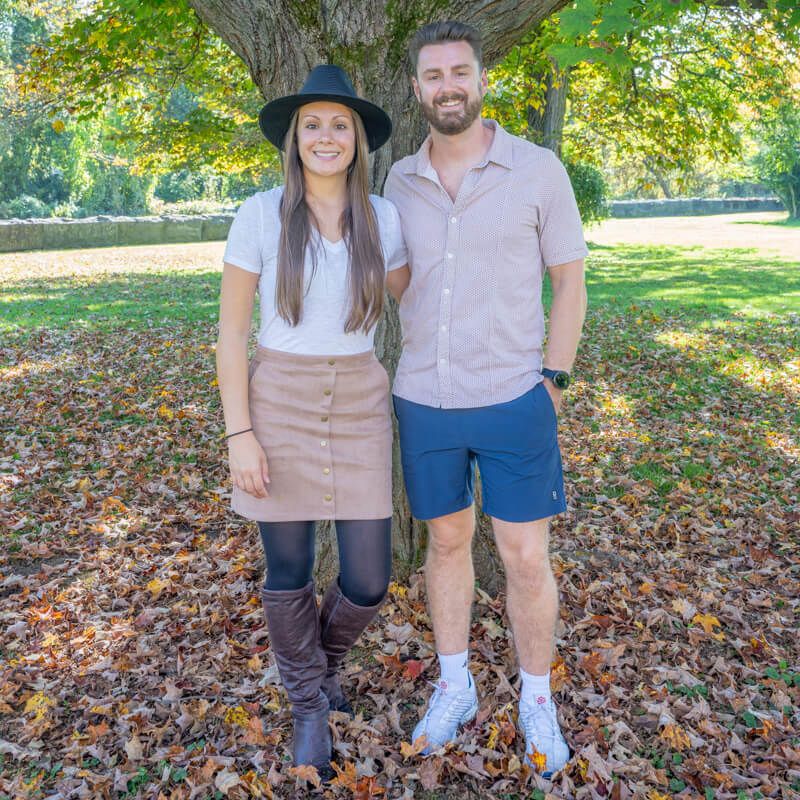 Mark and Kristen Morgan are travel, hiking and photography experts. Over the last 6 years traveling full time, they have explored more than 40 countries and 30 US states.
Their work has been featured in USA Today, Gestalten, Get Your Guide, CityPASS and Condé Nast Traveler along with various other publications.