Adventure, danger, exhilaration and terror. Mind-numbing thoughts swirling around your brain relentlessly like a tornado as your knees weaken and you fight the urge to look down 1000 ft to the distant canyon floor. Welcome to the notorious Angels Landing hike in Zion National Park, Utah.
Angels Landing is not just one of the most popular hikes in Zion, it is one of the most famous trails among all US National Parks. For better and for worse.
Adventure junkies will be in their natural habitat. But for the majority of hikers, you can expect trembling, trepidation and maybe even tears.
Through deep breaths, skyrocketed BPM and a metric ton of adrenaline coursing through our veins, we hiked the razor thin chained trail to Angels Landing when we visited Zion in October 2019.
Is it worth putting yourself through the ordeal just for a view? Without question.
Both the hike and viewpoint epitomize (quite literally) the adjective 'breathtaking'.
We're going to walk you through all you need to know about hiking to Angels Landing in Zion National Park so you feel confident and ready for your hike.
Let's get stuck in!
Important update for 2022 – Angels Landing will be a permit only hike as of April 1st 2022. You must apply 2-3 months in advance of your travel dates, or win a 'day before' permit on site. More information.
*Please note this post may contain affiliate links. If you click on one of them, we may earn a small commission at no extra cost to you! We recommend only products we use and as always, all ideas or opinions expressed in this post are entirely ours. Thank you for the support and happy travels!*
What Is The Notorious Angels Landing Hike In Zion National Park?
Let's start by highlighting the fact Angels Landing is a truly unforgettable hike with a phenomenal panoramic vista as your reward.
Half way up, you can look down at your feet and see the canyon floor. It's a real butterflies in the pit of your stomach adventure.
We're talking bucket list hike and viewpoint here. Not to mention the positive intrinsic feedback of conquering your fears. Triple win!
Angels Landing is an extremely narrow and rugged sandstone rock formation jutting out into Zion canyon like the spine of a dinosaur or a sharks fin.
To reach the landing and gaze upon Zion's Jurassic and Triassic period rock formations, hikers must climb from the safety of Scout Lookout along the extremely narrow (4-5 feet wide) spine cut into sandstone with severe 1000 ft sheer drops to either side.
Robust metal chains have been installed for hikers to hold as they climb toward the landing. And you better believe they will feel like your life support machine!
Angels Landing Hike Factfile
Distance: 5.4 miles
Difficulty: Strenuous
Elevation Gain: 1488 ft / 453m
Trailhead: The Grotto (#6)
Time: 3-5 hours roundtrip
When: Year round (best Spring, Fall)
Top tip: Go early
Permit required: No
What You Need To Know Before Hiking Angels Landing / FAQ's
Before we jump into the Angels Landing hike overview, let's address some important frequently asked questions about the trail.
If you have any more questions than we've covered below, please feel free to leave us a comment at the end.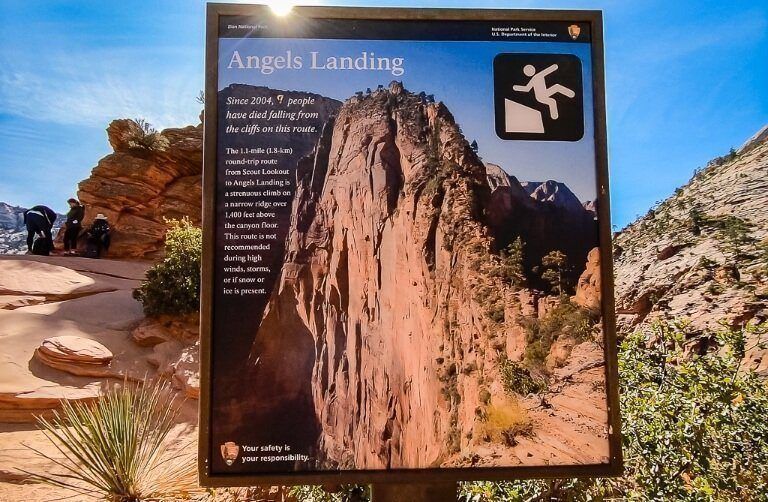 Is Angels Landing Safe?
There is no denying Angels Landing is one of the most dangerous hikes in the United States.
Many people have sadly fallen to their deaths when climbing the narrowest sections of the spine and you have to be sensible about your decision to take Angels Landing on.
Like with driving, often the problem isn't you, it's the people around you.
We were genuinely shocked on more than one occasion by the way some people were climbing around the main path to get ahead, or putting hikers under unnecessary pressure to go quicker.
Chains are in place to keep hikers safe and 99.99% of the time this hike is safe. You just need to hyper-sensitive about your surroundings, senses and other people. Fear will heighten your senses naturally.
Can Beginners Climb Angels Landing?
If you're an inexperienced hiker, you absolutely can make it to Angels Landing – as long as you are confident in your ability, do not have a fear of heights and have a good level of stamina.
You will already be tired from hiking to Scout Overlook but the hike to Angels Landing requires both physical and mental agility.
Alongside over-zealous hikers, inexperienced hikers can cause problems on the narrow sections close to the top of Angels Landing. Correct hiking etiquette is more important than ever on this hike. There will be times when you have to stand on a knife edge to let people pass.
The last thing we want to do is put anyone off because this is a unique hike with an amazing crescendo. But it is vital you are true to yourself once you arrive at Scout Overlook and see the hike to Angels Landing.
If you commit, will you be able to make it?
Of course, you can turn around at any point and we saw plenty of hikers do just that. But the further up you go, the narrower the trail gets and the more dangerous it becomes if you panic.
One group caused a blockage when a person in their group broke down crying and shaking not far from the summit. Not only was the path blocked, but they were striking fear into nearby hikers at the same time!
The perfect alternative for beginner hikers is Canyon Overlook.
Stunning summit views are almost on par with Angels Landing and the trail is family friendly. You can find Canyon Overlook near the Zion-Mount Carmel tunnel.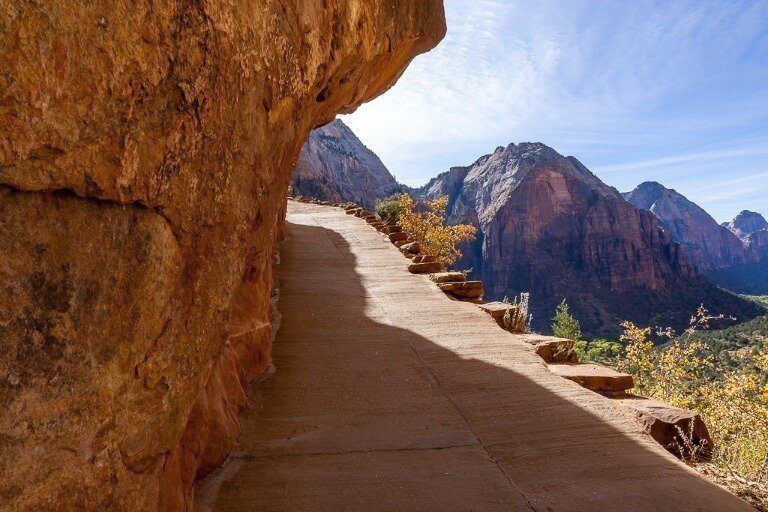 Is It Worth Hiking To Scout Lookout Without Climbing The Chain Section To Angels Landing?
Yes, hiking to Scout Lookout is undoubtedly worth it even without climbing the chained section to Angels Landing.
It is still a fairly challenging hike with steep sections. Plus, you will get part of the canyon view and you get the satisfaction of watching others come down pale as ghosts with relief written all over their faces!
If your group has younger kids and a person who knows they won't be able to climb the spine to Angeles Landing, this is the perfect place to wait.
Remember, you can continue on West Rim Trail which gains elevation and offers impressive views of Angels Landing.
Can Kids Make It To Angels Landing?
This one is down to you as parents to make the judgement once you see the trail.
We saw kids as young as 13 or 14 make it to the top (and probably with less fear than most adults!) but we also saw a surprising amount of adults carry their babies up in baby slings attached to the parents' back.
We don't have kids of our own yet – but what we can tell you is we had enough to think about getting ourselves up to Angels Landing, let alone worrying about anyone else!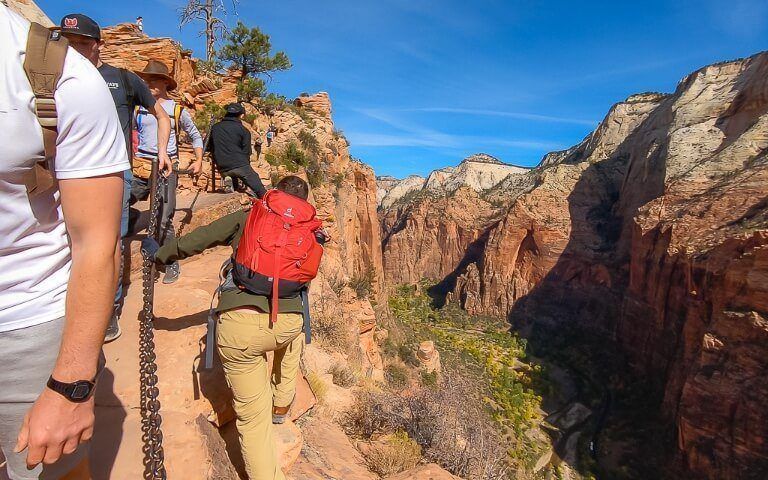 Is It Possible To Hike Angels Landing and The Narrows In One Day At Zion?
You can hike both of Zion National Park's most popular trails in one day but you will only be able to get 1/3 or 1/2 of the way up the Narrows if combined with Angels Landing.
We would suggest you begin with Angels Landing as early as possible to beat the crowds and allow yourself more time in the amazing Narrows slot canyon.
In Summer, you will be able to go directly from Angels Landing to the Narrows (stop #6 to #8).
However, the major issue with hiking both trails when visiting in Spring or Fall is hiring waterproof clothing to withstand colder water in the Narrows.
You might need to take a shuttle back to Zion Outfitter before taking another shuttle bus to Temple of Sinawava.
Read our in depth hiking guide to the Narrows so you know what to expect from Zion's other incredible and unique hike.
Walkthrough Of The Epic But Terrifying Angels Landing Hike
Here's a complete walkthrough of what you can expect when hiking to Angels Landing at Zion National Park.
This is a half day hike beginning at the visitor center next to Watchman campground.
If you're staying at the campground or in a hotel in Springdale (highly recommended – find your Springdale hotel here) you can walk to the shuttle first thing.
However, if you're staying outside of Zion, you'll need to arrive as early as possible to secure a parking spot – they're like gold dust.
1. Shuttle Bus To The Grotto (Stop #6)
Zion is the most crowded National Park we've seen and we visited in October. We can only imagine what it must be like in Summer!
The early bird gets the worm and you should try to make the first shuttle bus of the day to get ahead of the inevitable swarms of tourists descending upon Angels Landing.
Beginning 2020, Zion is operating an advanced ticketing system for booking shuttles into the canyon. We experienced similar at Acadia National Park in 2020 and it caused problems with people being able to see certain areas.
We strongly recommend you book your shuttle tickets as far in advance as possible. Otherwise you may not be able to hike Angels Landing and / or the Narrows.
Note that you can drive your own vehicle into Zion canyon as late as the beginning of March. NPS information about canyon shuttle tickets and here's where to buy your shuttle tickets.
Take the shuttle to stop number 6 – the Grotto. Cross the road and Virgin River before taking a right turn to follow West Rim Trail.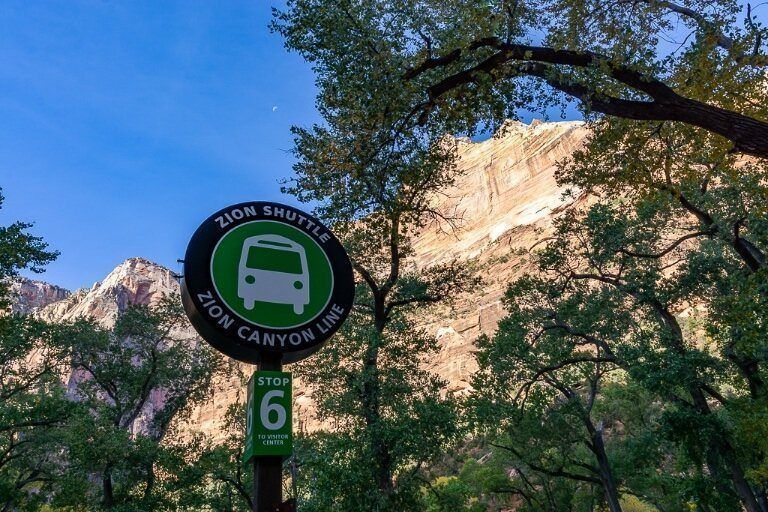 2. West Rim Trail
You can see the heart-in-mouth sandstone spine as soon as you cross the Virgin River next to the shuttle stop. It looks pretty crazy from below – but wait until you see it from Scout Lookout!
The hike to Angels Landing begins with West Rim Trail, a 2 mile section of the trail starting flat and following the banks of Zion National Park's famous Virgin River.
Eventually a gradual climb leads away from the river and you begin to see the canyon open up behind you. A short series of fairly steep switchbacks are enough to get the blood pumping, plus your thighs, calves and glutes burning.
This area is known as refrigerator canyon because it's partly in shade but only if you arrive early enough. Once the sun climbs over the towering canyon walls to the East, even this part becomes a challenge in the blazing Utah heat.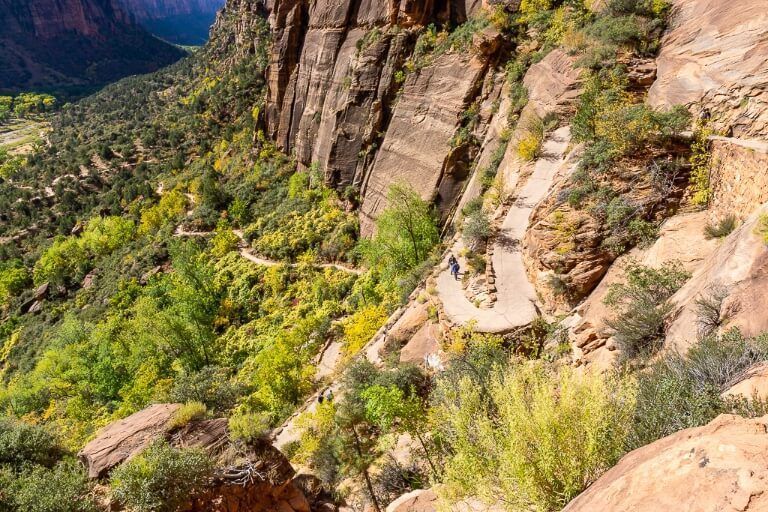 3. Walters Wiggles
After zig-zagging and walking underneath overhanging ledges, suddenly the trail leads back in the opposite direction from Angels Landing.
This area is likely to be shaded and the perfect time to rest, refuel, take on water and snacks because once you reach Scout Lookout you will be entirely exposed to the elements.
The flat trail here is a welcome relief until you reach a series of 21 very short switchbacks known as Walters Wiggles. Try not to race up this section, you will need all of your energy for the Angels Landing hike.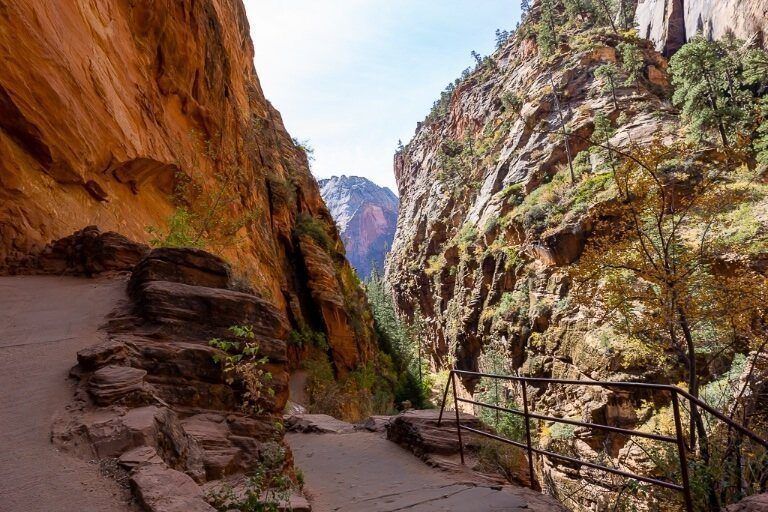 4. Scout Overlook
Once you've defeated the dizzying switchbacks you will have hiked a short but steep 2 mile trail to reach Scout Lookout.
West Rim Trail continues to the left but you will follow straight ahead to what is best described as a staging area for Angels Landing.
Views into Zion Canyon are amazing and from here you can see hikers ascending / descending the stomach-turning shark-fin-shaped monolith.
You may notice a pungent smell in the air – that would be the pop up bathrooms to the back end of Scout Lookout. Remember, there are a lot of extremely nervous people around, so enter at your peril!
Scout Lookout is the first time you can appreciate the severity and seriousness of the drops either side of the razor thin Angels Landing hike. This is no joke and you really need to consider if you want to put yourself at risk.
If you don't feel like you will endanger yourself or more importantly other hikers, then prepare for one of the most unforgettable and exhilarating hikes of your life!
5. Angels Landing Hike
This is where the real action begins!
If you were able to arrive early and hike fairly quickly up to Scout Lookout, you will be one of the first to hike Angels Landing and you will have Zion Canyon views to yourself.
However, if you arrive between 10am-3pm, you can expect this trail to be dangerously crowded. We know from experience because we left Scout Lookout for Angels Landing at 3pm ourselves and it was extremely busy.
The first section is fairly easy. Yes, you will have to climb and use the chains but there are no drops to be worried about just yet. Use this part to determine if you feel comfortable.
Once you hit the ridge and the central section of the spine opens up, you will understand why people turn around half way. All of a sudden you will face a path no more than 4 or 5 feet wide with no guard rails, just sheer 1000 feet drops into the canyon below.
There are climbing sections where you will use your hands as well as your legs. Try to stick as closely as you can to the rock, use your center of gravity to pull yourself inward. There were times we wanted to put superglue on our hands and feet to stick to the sandstone!
The final section is slightly wider than the middle but is more difficult because you gain the most elevation and vertigo sets in.
Once you finally reach Angels Landing, sweaty and running on pure adrenaline, you will feel on top of the world. The 360 degree views are extraordinary and you have just defeated your fears – trust us, you will be scared!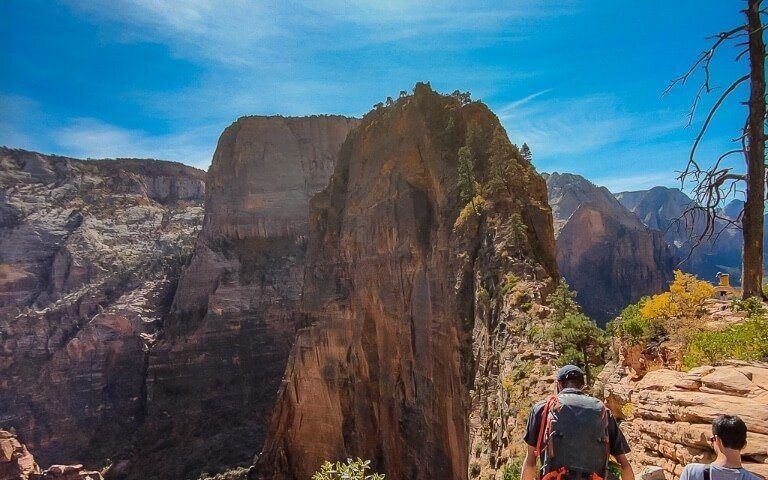 6. The Way Back
Some people find hiking uphill easier whereas others prefer downhill. Angels Landing is challenging both ways because of the obvious and constant reminder of the drops either side.
Half the battle with Angels Landing is fear of the unknown, you don't know what is coming next.
On the way down, fear of the unknown is eliminated but waiting for other hikers to climb up past you can be frightening when you are standing on cliff edges with no protection at all.
Once you reach Scout Lookout you will breath some serious sighs of relief. Back on flat land and safe again. The 2 mile hike back to the shuttle will fly by as you discuss why you just put yourself through that!!
What To Pack For Your Hike
Hiking Angels Landing Quick Tips And Preparation
The earlier you arrive the quieter it will be.

Wear a sturdy pair of shoes, no flip flops or slide ons. We wore running shoes with excellent grips.

Don't forget water, the hike is very exposed to sun.

Do not feel obliged to go up Angels Landing, there are plenty who will sensibly stay at Scout Lookout.

Don't carry anything in one of your two hands (like a tripod), you will need both hands.

Some hikers swear by trekking poles but we needed our hands free to hold chains and rocks.

Try not to block the path and be courteous to others who may be in a better position to pass up / down.

Ignore anyone pressuring you to go faster, just let them pass when it is safe to do so.

Attach your GoPro to a head or chest strap so you can watch (and listen to!) your hike afterwards.

The bathrooms at Scout Lookout are some of the worst we saw at any US National Park, go before you hike!
Best Time Of Year To Hike Angels Landing At Zion National Park
Winter: Ice and snow can create beautiful but seriously dangerous conditions for hiking Angels Landing. Many still do hike in Winter, some with crampons but we'd say only do this if you are very able and experienced. Not recommended.
Spring: Fantastic time of year to hike to Angels Landing and visit Zion in general before the Summer crowds. Weather should be perfect for hiking.
Summer: By far the busiest time of year at Zion National Park and Angels Landing will be incredibly crowded. Personally, we wouldn't even attempt this in Summer simply due to the volume of hikers. Will be hot and exposed so take plenty of water.
Fall: Best time to visit along with Spring due to favorable weather conditions and far fewer crowds than Summer. Also lines up well with the Narrows which is less prone to flooding in Fall. Stunning foliage colors are another factor to consider in Fall. Recommended.
Read More About Zion National Park
Are you planning a trip to Utah? Our Ultimate Utah Road Trip Planner covers all of Utah's Mighty 5 National Parks, plus crosses into Northern Arizona to complete the most amazing loop route.
You May Also Like
---
We hope this helped you plan your Zion National Park Angels Landing Hike!
Have you been to Utah? Which is your favorite National Park?
Please let us know if we missed anything from this hiking guide, if you have any questions or need any help planning your visit.
-Happy Hiking-
Was This Post Helpful? Pin It For Your Hike!
Recommended Travel Planning Resources