Notorious Zion National Park hike Angels Landing is not just one of the best hikes in Zion, it is one of the most famous trails among all US National Parks. We're going to explain everything you need to know about the amazing yet terrifying hike to Angels Landing in the main Zion canyon.
We have personally hiked to Angels Landing twice, once at midday in October and once for sunrise in December. Both were entirely different experiences and we will share each with you in this hiking guide.
Angels Landing is a unique and truly unforgettable hike with a phenomenal panoramic vista as reward for pushing yourself through a mental barrier. It is not a hard hike physically, but it will push you to your limit.
Hiking permits are now required in order to climb from Scout Lookout to Angels Landing due to heavy overcrowding. You can't go up without one, so we will cover exactly how you can obtain a permit.
Let's climb the razor thin trail to Angels Landing in Zion National Park!
Angels Landing Hiking Permit
The NPS have finally reacted to concerns from nearby residents and other hikers expressing disbelief that the hike to Angels Landing had not yet been regulated.
Important update for 2023: Advanced reservations for the Zion Canyon shuttle bus remain discontinued (since May 1st 2021). However, a permit is required to hike past Scout Lookout to Angels Landing any time of the year with seasonal and day-before lottery options
As much as getting hiking permits can be pain in the neck (we know from personal experience how frustrating it can be), we have to say we are surprised it has taken this long.
Limiting hikers will help with preservation of the trail but that is really just a byproduct of the main reason for implementing a permit.
The hike to Angels Landing is very narrow with sheer drops and an alarming amount of hikers trying to pass one another. A number of people have fallen from this dangerous trail.
Bear in mind this is currently a 'pilot' permit program, which means it could be subject to change at any time.
Zion also trialled a shuttle bus advanced reservation system but it didn't work well and is no longer in place.
How To Get A Permit To Hike Angels Landing In Zion National Park
There are two ways you can obtain a paid permit to hike Angels Landing after the pilot program begins April 1st 2022:
The first is a 'seasonal lottery', which will require you to apply for dates 2 through 5 months away.
The second is a 'day before lottery'.
Here's an example of how the seasonal lottery permit application works for advanced reservations to hike Angels Landing:
You want to visit Zion and hike Angels Landing on July 20th 2022.
The seasonal lottery opens on April 1 for hiking Angels Landing on any day between June 1 – August 31.
You must apply for your permit between April 1 and April 20.
Get in early (ie April 1) to have a better chance of getting a permit on your preferred date.
The day before lottery is fairly self explanatory. If there are any permits left for the next day ahead, you can apply and hope to win a permit.
You have to select dates and time periods for both the seasonal and day after lottery applications. There are 3 time periods can you choose between:
Until Zion have had a chance to analyze the impacts on trail quality and hiker experience based on this new permit system, there are an unknown amount of permits available per day and per time point.
Once they have evaluated how well the permit system is working, they will be able to fine tune the number of permits per day accordingly.
Here's more information about the permits on the NPS website.
Angels Landing Hike Factfile
Distance: 5.4 miles roundtrip
Difficulty: Strenuous
Elevation Gain: 1488 ft / 453m
Trailhead: The Grotto (shuttle #6)
Time: 3-5 hours roundtrip
When: Year round (best Spring, Fall)
Top tip: Go early
Permit required: Yes – starting April 1st 2022
Recent Comments: All Trails
What Is It Like To Hike Angels Landing?
Hiking to Angels Landing is exhilarating, terrifying, dangerous and adventurous all in one. You will feel a combination of nerves and excitement as you climb, followed by relief and awe as you summit. Angels Landing is a hike you will never forget.
Many hikers don't even realize there's a fairly steep 2 mile hike just to arrive at Scout Lookout and the base of Angels Landing.
The hike to Angels Landing from Scout Lookout is extremely narrow with severe 1000 ft vertical drops to each side. That sounds dramatic, and trust us, it is.
As you ascend the rugged shark fin shaped sandstone rock, mind-numbing thoughts will swirl around your brain relentlessly like a tornado as your knees weaken and you fight the urge to look down at the distant canyon floor.
Adventure junkies will be in their natural habitat. But for the majority of hikers, you can expect trembling, trepidation and maybe even tears.
Looking at your feet and seeing the canyon floor just a few inches to the side is a real butterflies in the pit of your stomach moment. This is one sight you will not forget in a hurry.
Robust metal chains have been installed for hikers to hold as they climb toward and away from Angels Landing.
You better believe they will feel like your life support machine!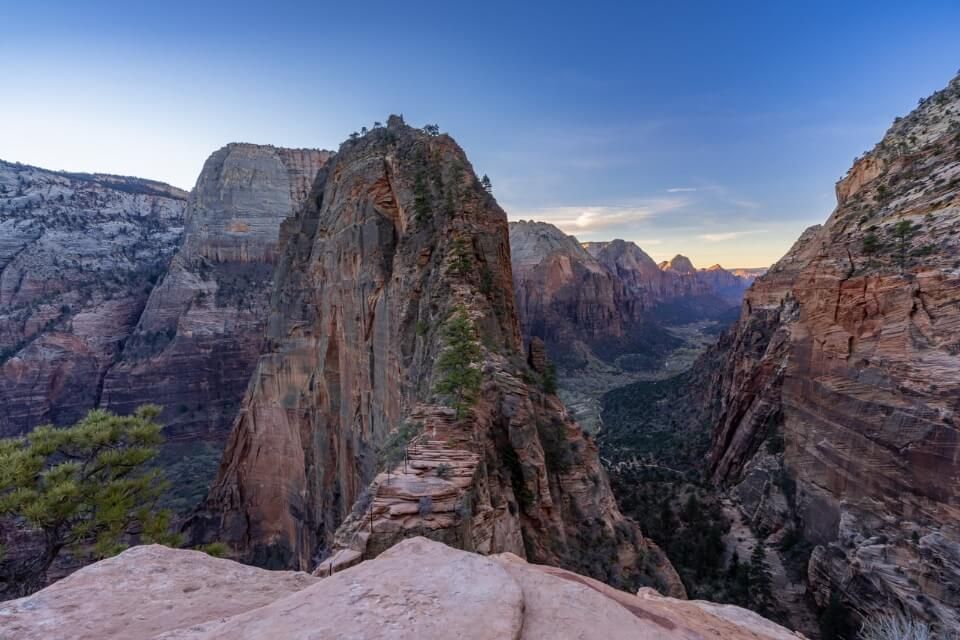 Our First Hike To Angels Landing
During our first visit to Zion National Park in October 2019, we hiked the phenomenal river slot canyon The Narrows all the way to Big Springs on our first day. Then the next day we hiked Angels Landing along with Zion Canyon Overlook.
Angels Landing was the hike we were most fired up for, and it didn't disappoint. We instantly knew why Angels Landing is regarded as one of the very best hikes in Utah.
Through deep breaths, skyrocketed BPM and a metric ton of adrenaline coursing through our veins, we hiked the razor thin chained trail to Angels Landing and soaked up spectacular views over Zion National Park.
Despite being an amazing adventure, the trail was dangerously overcrowded, and it was a very hot day for October.
We were surprised at how many people were passing each other on the narrowest of ledges with sheer drops.
Getting back down in one piece to Scout Lookout was one of the most relieving feelings we've ever had on any hike.
Our Second Hike To Angels Landing
We returned to Zion National Park in December 2021 with unfinished business.
We explored Kolob Canyon hikes and snagged a permit to hike The Subway – which has all of the wow factor and none of the typical Zion crowds.
After our first climb to Angels Landing, we knew we wanted to avoid the crowds, so we planned a sunrise hike.
It was a cold morning but we began in the dark with head torches and summited as the very first hikers of the day.
What a contrast.
The sunrise wasn't anything special, but being able to think about each hand and foot placement without worrying about what other hikers were going to do was worth the early start.
It soon started to get busy though, despite the early hour, the cold and the fact it was December.
A few weeks later we read that a permit system was being implemented for 2022, and that can't be a surprise to anyone who has hiked it in the past.
What You Need To Know
Before we get into the Angels Landing hike overview, let's address some important frequently asked questions about the trail.
Hiking to Angels Landing in Zion is definitely one of the most fun things to do in Utah. If you have any more questions than we've covered below, please feel free to leave us a comment at the end.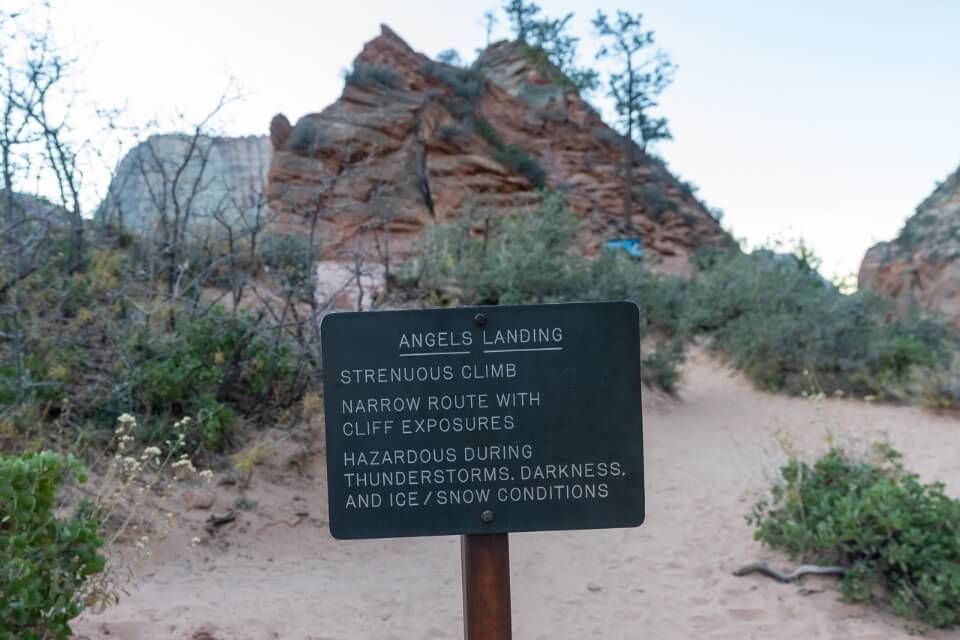 Is Hiking To Angels Landing Safe?
There is no denying Angels Landing is one of the best hikes in the United States, but it is also one of the most dangerous. The best way to safely hike Angels Landing is to visit at a quiet time of day during off season when crowds are at a minimum.
Many people have sadly fallen to their deaths when climbing the narrowest sections of the spine and you have to be sensible about your decision of whether you want to hike to Angels Landing.
As a result, the new Angels Landing hiking permit system is in place for the busiest periods of the year in Zion National Park.
Like with driving, often the problem isn't you, it's the people around you.
We were genuinely shocked on more than one occasion during our first Angels Landing summit by the way some people were climbing around the main path to get ahead.
Many were even putting other hikers under unnecessary pressure to go quicker.
Chains are in place to keep hikers safe and 99.99% of the time this hike is safe. You just need to be hyper-sensitive about your surroundings and other people.
Fear will heighten your senses naturally.
Need a hand organizing your visit to Zion?

Our popular 40+ page Zion National Park Guidebook can help you with planning every aspect of your trip.
Can Beginners Climb Angels Landing?
If you're an inexperienced hiker, you absolutely can make it to Angels Landing. But only if you are extremely confident in your ability, do not have a fear of heights and have a good level of stamina.
You will already be tired from hiking to Scout Overlook but the hike to Angels Landing requires both physical and mental agility.
Alongside over-zealous hikers, inexperienced hikers with a lack of confidence can cause problems on the narrow sections close to the top of Angels Landing.
Read our hiking tips for beginners if you are new to the trails.
There will be times when you have to stand on a knife edge to let people pass. Sudden or unexpected fear of heights is probably the biggest cause of accidents on the hike to Angels Landing.
The last thing we want to do is put anyone off because this is a unique hike with amazing climax. But it is vital you are true to yourself once you arrive at Scout Overlook and see the hike to Angels Landing.
If you commit, will you be able to make it?
Turning Around
It is important to remember you can turn around at any point and we saw plenty of hikers do just that. But the further up you go, the narrower the trail gets and the more dangerous it becomes if you panic.
One group caused a blockage when a person in their group broke down crying and shaking not far from the summit. Not only was the path blocked, but they were striking fear into nearby hikers at the same time.
Not sure if Angels Landing is for you?
There are plenty of other hikes you can try in Zion.
Try an easier hike such as Emerald Pools Trail, Zion Canyon Overlook, Pa'rus Trail and The Watchman Trail instead.
Is It Worth Hiking To Scout Lookout Without Climbing The Chain Section To Angels Landing?
Yes it is worth hiking to Scout Lookout without climbing the chained section to Angels Landing. The climb up to Scout Lookout is still a fairly challenging hike with steep sections and you'll still get a part of those canyon views.
Plus, you get the satisfaction of watching others come down pale as ghosts with relief written all over their faces.
Many couples or groups will leave one or two hikers at Scout Landing while the others climb to Angels Landing.
If your group has younger kids and a person who knows they won't be able to hike the razor thin shark fin to Angeles Landing, this is the perfect place to wait.
Remember, you could continue on West Rim Trail instead of stopping at Scout Lookout. You would gain elevation and be able to look back at impressive views over Angels Landing.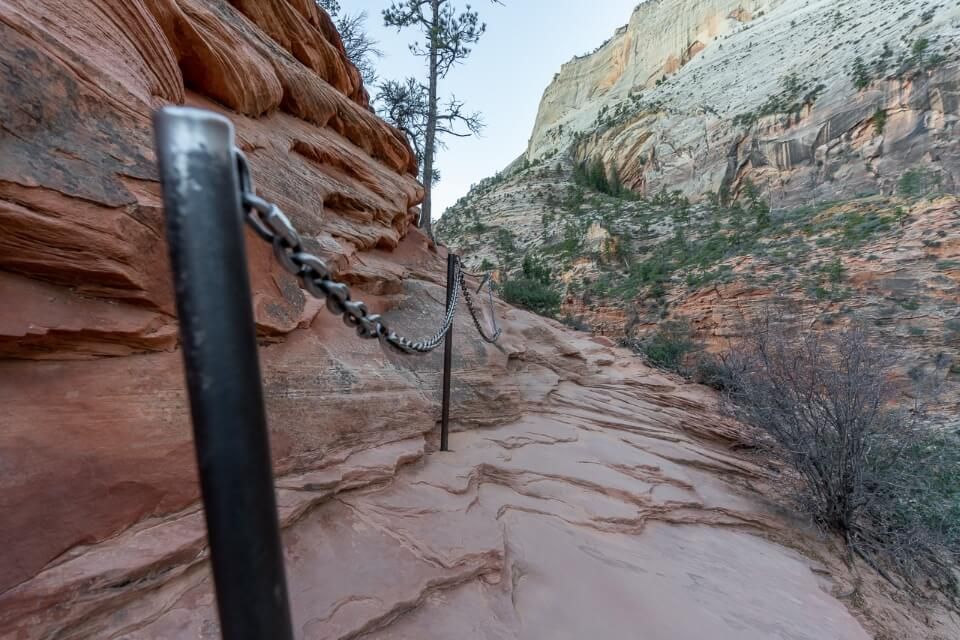 Can Kids Hike To Angels Landing?
Kids can make it to Angels Landing but it comes down to you as parents to make the judgement once you see the trail. We saw fearless kids as young as 13 or 14 make it to the top without issue, so it can be done.
They seemed to be enjoying it more than most adults!
The first part of the chained section isn't so bad, it's once you get onto the shark fin. So you might think the hype isn't real until you get over the first 'hump' and see the razor thin climb.
Is it safe? Well, it's not exactly safe for adults so it's definitely not 'safe' for younger kids. But it is doable.
Can You Hike Angels Landing and The Narrows In One Day At Zion?
You can hike both Angels Landing and The Narrows in one day at Zion National Park. But by taking on both of the most popular trails in the park in one day, you will have to cut your time down in The Narrows.
It's likely you will only be able to get a third or half of the way up the Narrows whether you hike before or after Angels Landing.
What if you're sure you want to hike both in one day?
Well, we would suggest you begin with Angels Landing as early as possible to beat the crowds and then arrive to The Narrows after the morning rush.
You'll see plenty of people coming back to The Narrows trailhead.
In Summer, you will be able to go directly from Angels Landing to the Narrows (stop #6 to #8) without need for waterproof equipment.
In Winter, you can drive your own car to each trailhead.
However, the major issue with hiking both trails when visiting in Spring or Fall is hiring waterproof clothing to withstand colder water in The Narrows and not being able to drive your own car.
You might need to take a shuttle back to the main visitor center so you can hire waterproofs at Zion Outfitter before taking another shuttle bus to Temple of Sinawava for The Narrows.
So your choices are either lose time or hike both trails with the waterproof gear in a bigger backpack.
Angels Landing Hike Zion National Park Walkthrough
Angels Landing is one of the most famous hikes at one of the best US national parks for hiking, so your expectations should be high.
Here's a complete walkthrough of what you can expect when hiking to Angels Landing at Zion National Park.
If you're staying at the campground or in a hotel in Springdale (highly recommended – find your Springdale hotel here) you can walk or take a village shuttle to the canyon shuttle first thing.
However, if you're staying outside of Zion, you'll need to arrive as early as possible to secure a parking spot – they're like gold dust.
This is a half day hike beginning at the visitor center next to Watchman campground.
1. Shuttle Bus, Drive Or Walk To The Grotto (Shuttle Stop #6)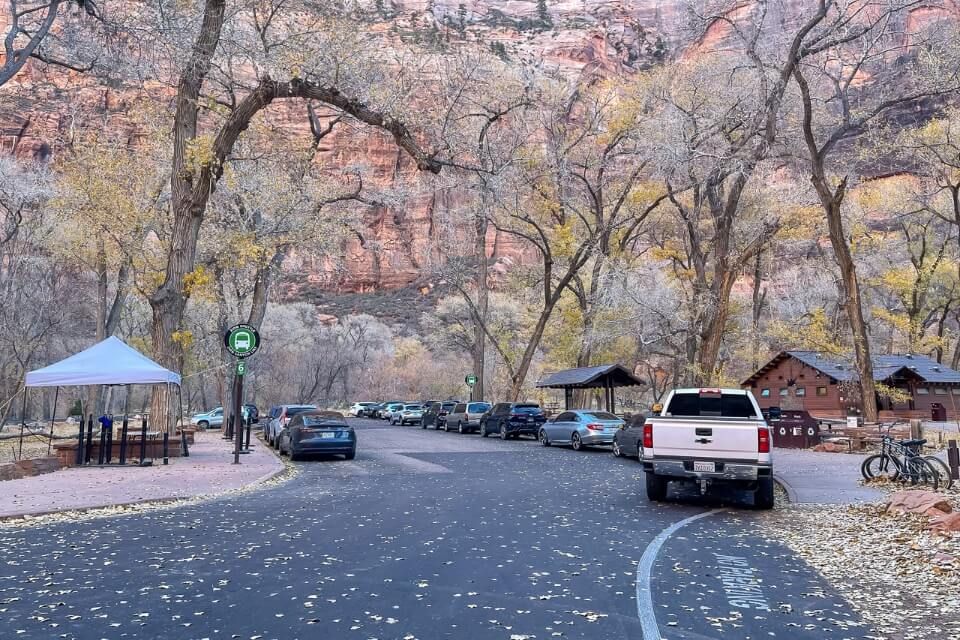 Zion is the most densely crowded National Park we've seen and we visited in October. We can only imagine what it must be like in Summer. No thanks!
The early bird gets the worm in Zion and you should try to make the first shuttle bus of the day in peak season to get ahead of the inevitable swarms of hikers descending upon Angels Landing.
Take the Zion canyon shuttle from the main visitor center to shuttle stop number 6 or The Grotto. Cross the road and Virgin River before taking a right turn to follow West Rim Trail.
Important – You can drive your own vehicle into Zion canyon each year roughly from the start of December through the beginning of March.
Parking is limited so arriving early is strongly recommended. Read about shuttle dates.
2. West Rim Trail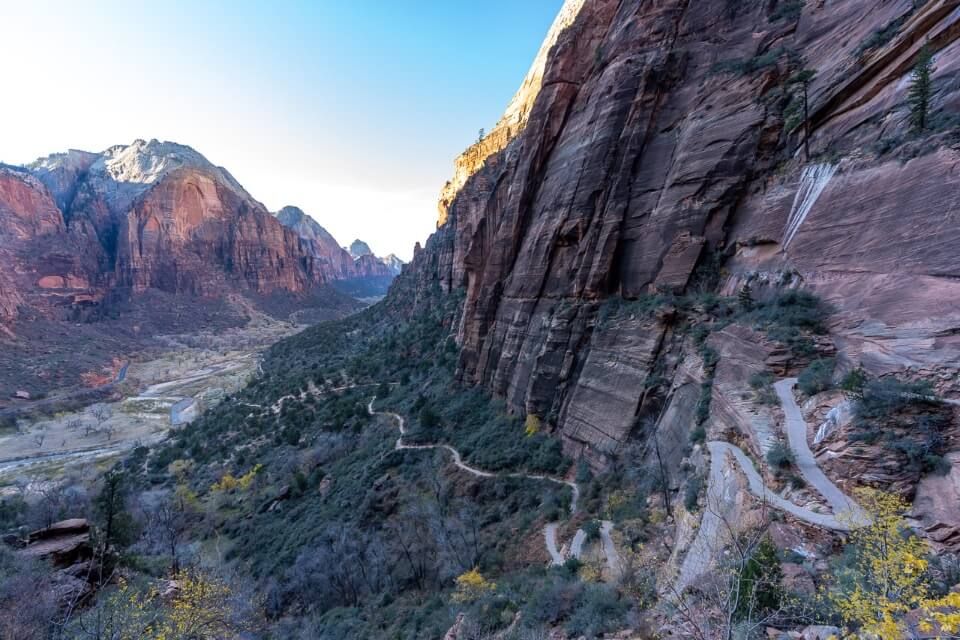 You can see the heart-in-mouth sandstone shark fin of Angels Landing as soon as you cross the Virgin River next to the shuttle stop.
It looks pretty crazy from below, but wait until you see it from Scout Lookout.
The hike to Angels Landing begins with West Rim Trail, a 2 mile section of the trail starting flat and following the banks of Zion National Park's famous Virgin River.
Eventually a gradual climb leads away from the river and you begin to see the canyon open up behind you.
A short series of fairly steep switchbacks are enough to get the blood pumping, plus your quads, calves and glutes burning.
This area is known as refrigerator canyon because it's mostly in shade for those who arrive early enough.
Once the sun climbs over the towering canyon walls to the East, even this early section of trail becomes a challenge in the blazing Utah heat.
3. Flat Trail Leading Away From The Canyon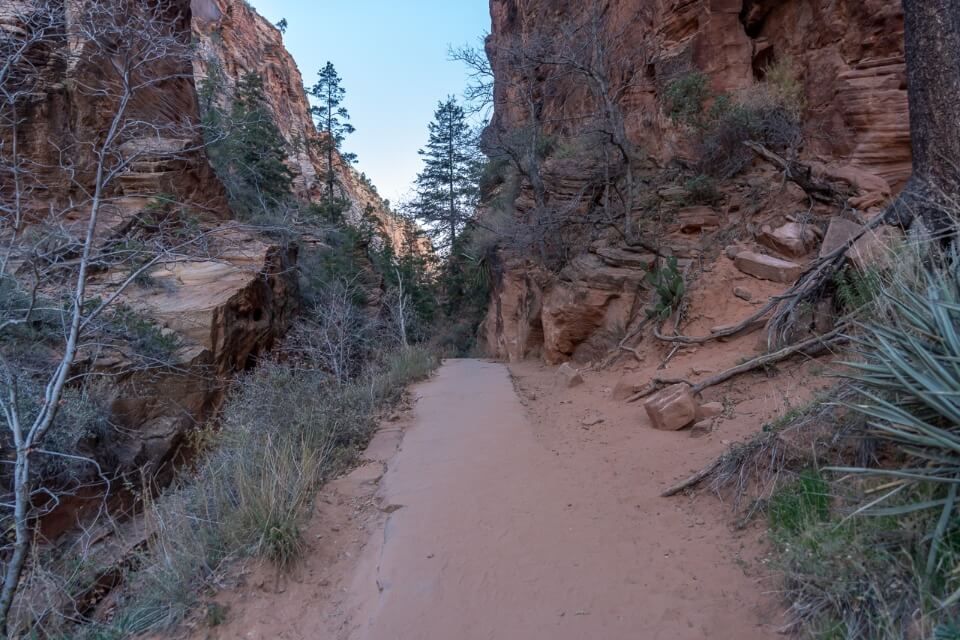 After zig-zagging the concrete path and gaining plenty of elevation, you come to an interesting and photogenic section of the hike.
The upper portion of West Rim trail has essentially been chipped out of a towering flat wall edge, which means you walk underneath low over-hanging ledges.
Views at this point over Zion canyon are beginning to expand nicely.
Suddenly the steep trail ends, turns to the left and leads back away from the canyon and Angels Landing through a narrow passage.
This section of trail is likely to be shaded and it becomes the perfect place to rest, refuel and take on water after a steep climb.
Once you reach Scout Lookout you will once again be entirely exposed to the elements.
4. Walters Wiggles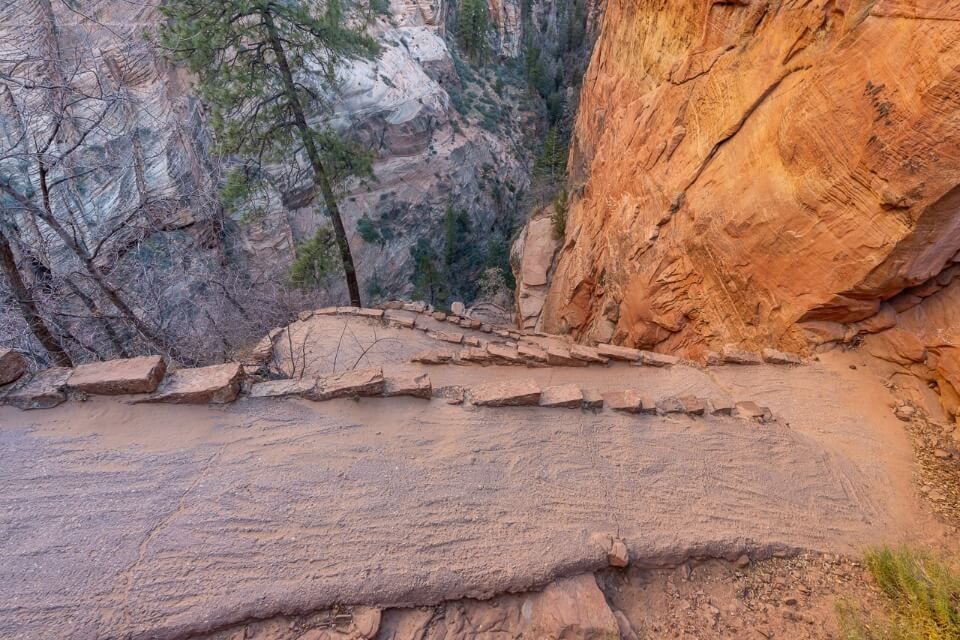 The flat trail leading away is a welcome relief and you'll need to catch your breath. It's about to get steep again, but this time it's your final push to reach Scout Lookout.
Before you know it, you'll be standing at the bottom of a series of 21 very short switchbacks known as Walter's Wiggles.
Try not to race up Walter's Wiggles, you will need all of your energy for the Angels Landing hike.
Despite being very short turns, these switchbacks are steep and they can be very busy if you don't arrive early enough.
5. Scout Lookout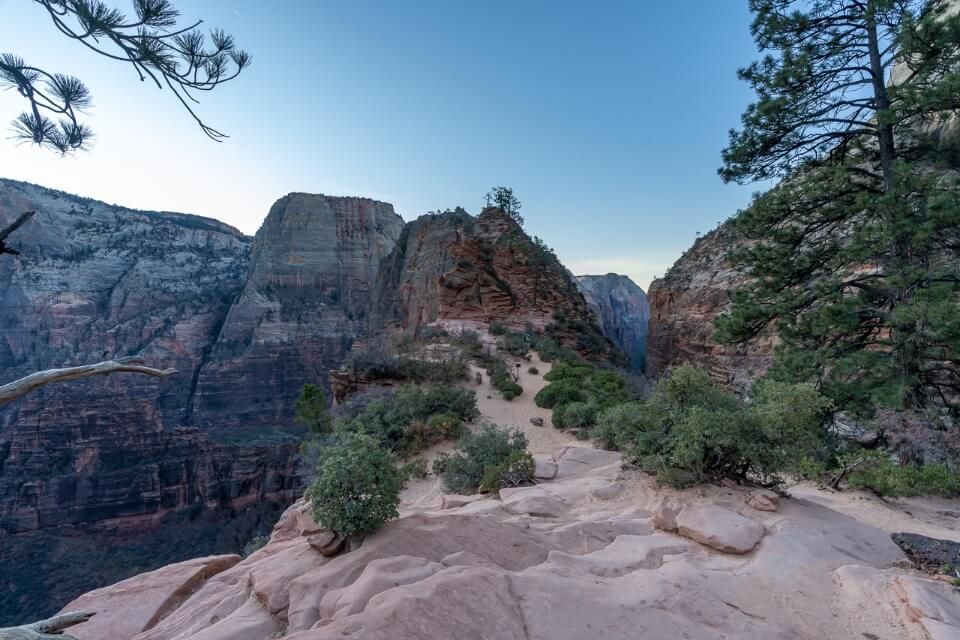 Once you've defeated Walter's dizzying Wiggles you will have hiked a short but steep 2 mile trail and arrived at Scout Lookout.
West Rim Trail continues to the left but you will follow straight ahead to what is best described as a staging area for hiking to Angels Landing.
Scout Lookout is itself a fairly narrow but flat and very sandy area that will be jam packed full of hikers on any given day.
It's nothing like how narrow it gets on Angels Landing but the drops are significant even from here.
Views into Zion Canyon are amazing and from Scout Lookout you can see hikers ascending or descending the stomach turning shark fin shaped monolith of Angels Landing.
You may notice a pungent smell in the air. That would be the pop up vault bathrooms to the back end of Scout Lookout.
Remember, there are a lot of extremely nervous people around, so enter at your peril!
Scout Lookout is the first time you can appreciate the severity and seriousness of the drops either side of the razor thin Angels Landing hike.
This is no joke and you really need to consider if you want to put yourself at risk.
If you don't feel like you will endanger yourself or more importantly other hikers, then prepare for one of the most unforgettable and exhilarating hikes of your life!
6. Hike To Angels Landing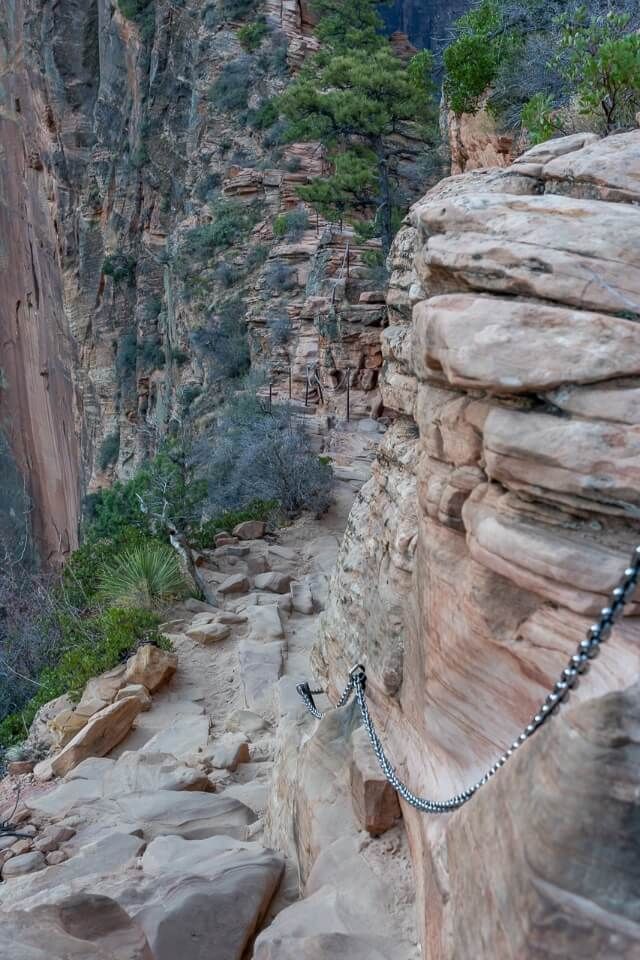 This is where the real action begins!
If you were able to get one of the first permits of the day and you hike quickly up to Scout Lookout, you will be one of the first to hike Angels Landing and you may have Zion Canyon views to yourself.
The good news is that with the permit system in place, the period between 10am and 3pm which historically was unbelievably overcrowded will now be safer.
Limiting the number of hikers per hour means safer conditions.
The first section of the hike to Angels Landing is fairly easy. There are chains and you can use them but there are no drops to be worried about just yet.
Use this part to determine if you feel comfortable with this style of hike.
Once you hit the first ridge and the central section of the hike to Angels Landing reveals the first view of just how narrow the shark fin becomes, you will understand why people turn around at this point.
After a short flat section on this first ridge, the trail drops slightly and begins to narrow. This leads hikers to the beginning of the shark fin climb.
You will see the trail is no more than 4 or 5 feet wide at times with no chains, just sheer 1000 ft drops into the canyon below.
There are times you may have to pass or wait on sections of rock no more than 3 feet wide, with just a chain to hold onto and trust in other hikers not to lose footing or trip.
Is it worth it? Heck, yes.
7. Enjoy The View Over Zion
You will wish you had some sort of superglue to stick your shoes to the sandstone rocks and you'll also find yourself pulling your center of gravity sharply inward toward the rocks until finally reaching the summit.
The final section is slightly wider than the middle but is more difficult because you gain the most elevation and vertigo sets in.
But it is the last push before being rewarded with a real sense of personal achievement.
Once you finally reach Angels Landing, sweaty and running on pure adrenaline, you will feel on top of the world. The 360 degree views are extraordinary and you have just defeated your fears.
Trust us, you will be scared!
Don't forget to look all around the rocky area at the summit. You can find a place to sit and grab breakfast or lunch and soak up those spectacular canyon views.
The best view of all is directly down through the narrow canyon with gigantic walls flanking each side.
Look for the Virgin River running through and watch out for the sun which will be directly on this southwest view around 12pm-2pm.
8. The Way Back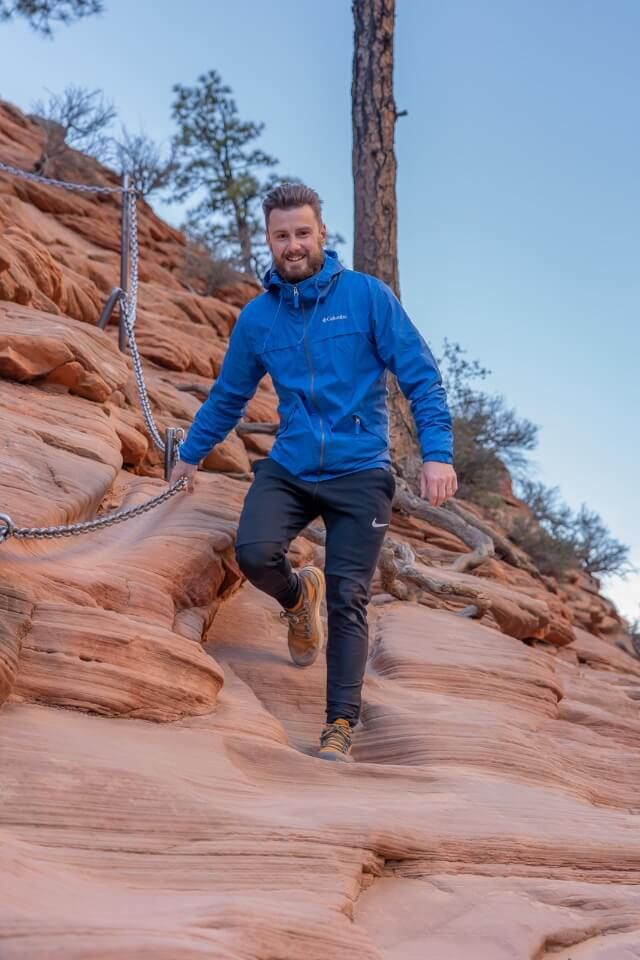 Some people find hiking uphill easier, whereas others prefer downhill. Angels Landing is challenging both ways because of the obvious and constant reminder of the drops either side.
Half the battle with Angels Landing is fear of the unknown, you don't know what is coming next. On the way down, fear of the unknown is eliminated.
However, waiting for other hikers to climb up past you can be frightening when you are standing on cliff edges with no protection at all. Each step seems further away on the descent.
Once you reach Scout Lookout you will breath some serious sighs of relief. Back on flat land and safe again.
The 2 mile hike back to the shuttle will fly by as you discuss among your group why on Earth you just put yourselves through that!!
Hiking Angels Landing Quick Tips And Preparation
The earlier you arrive the quieter it will be, try to get an early permit if possible.

Wear a sturdy pair of shoes, no flip flops or slide ons. We wore hiking shoes with excellent grips.

Don't forget water, the hike is very exposed to sun.

Do not feel obliged to go up Angels Landing, there are plenty who will sensibly stay at Scout Lookout.

Don't carry anything in one of your two hands (like a tripod), you will need both hands.

Some hikers swear by trekking poles but we needed our hands free to hold chains and rocks.

Try not to block the path and be courteous to others who may be in a better position to pass up / down.

Ignore anyone pressuring you to go faster, just let them pass when it is safe to do so.

Attach your GoPro to a head or chest strap so you can watch (and listen to!) your hike afterwards.

The bathrooms at Scout Lookout are some of the worst we saw at any US National Park, go before you hike!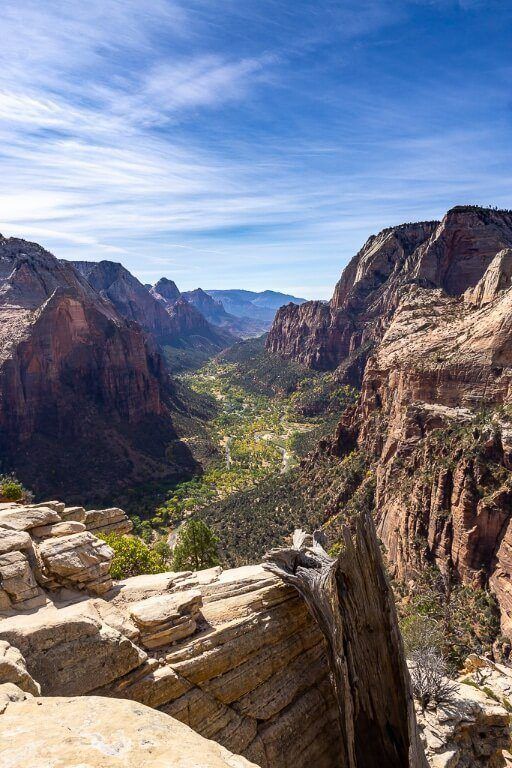 Best Time Of Year To Hike Angels Landing At Zion National Park
Spring and Fall are regarded as the best times of year to visit Zion National Park for perfect conditions, fewer crowds and better value for money on hotels.
The best time to hike Angels Landing are quiet mornings during the week outside of peak season. A Winter hike could be perfect as long as conditions are safe.
You now also have to consider ease of picking up a hiking permit for Angels Landing and each season will have a different volume of competition for permits.
Spring
Spring is a fantastic time of year to hike to Angels Landing and visit Zion in general before the Summer crowds. Weather conditions should be perfect for hiking.
The Narrows can be dangerous if flooding in Spring, which means if you are considering Zion to hike both Angels Landing and The Narrows, it's important to check trail conditions ahead of time.
Summer
Summer is far the busiest time of year at Zion National Park and obtaining permits for hiking Angels Landing will be most competitive. Make sure you're on the permit application page at the exact time it opens.
Personally, we wouldn't even attempt to visit Zion in Summer but it's hard for families with kids who have to work around school holidays.
Remember, Zion is one of the best places to visit in the US and it's going to be seriously busy in Summer. You will need to consider excessive heat and exposure on Angels Landing in June, July and August so take plenty of water, sunscreen and hats.
Fall
Favorable weather conditions and far fewer crowds than Summer make Fall a fantastic time to visit Zion. We personally think September or October are the ideal months to hike in Zion.
This time of year lines up well with hiking The Narrows, which is less far prone to flooding in Fall. Surprisingly radiant Fall foliage colors are another factor to consider hiking Zion in Fall.
Winter
Ice and snow can create beautiful but seriously dangerous conditions for hiking Angels Landing in Winter. Many still do hike in Winter, some with crampons but we'd say only do this if you are very able and experienced.
However, if you get one of those lovely Winter days, it can be the best time of year to hike Angels Landing. You'll also stand the best chance of getting a permit between December and February.
We hiked December 1st at sunrise and it was stunning.
Here's our popular guide to the important things you need to know about visiting Zion National Park in Winter.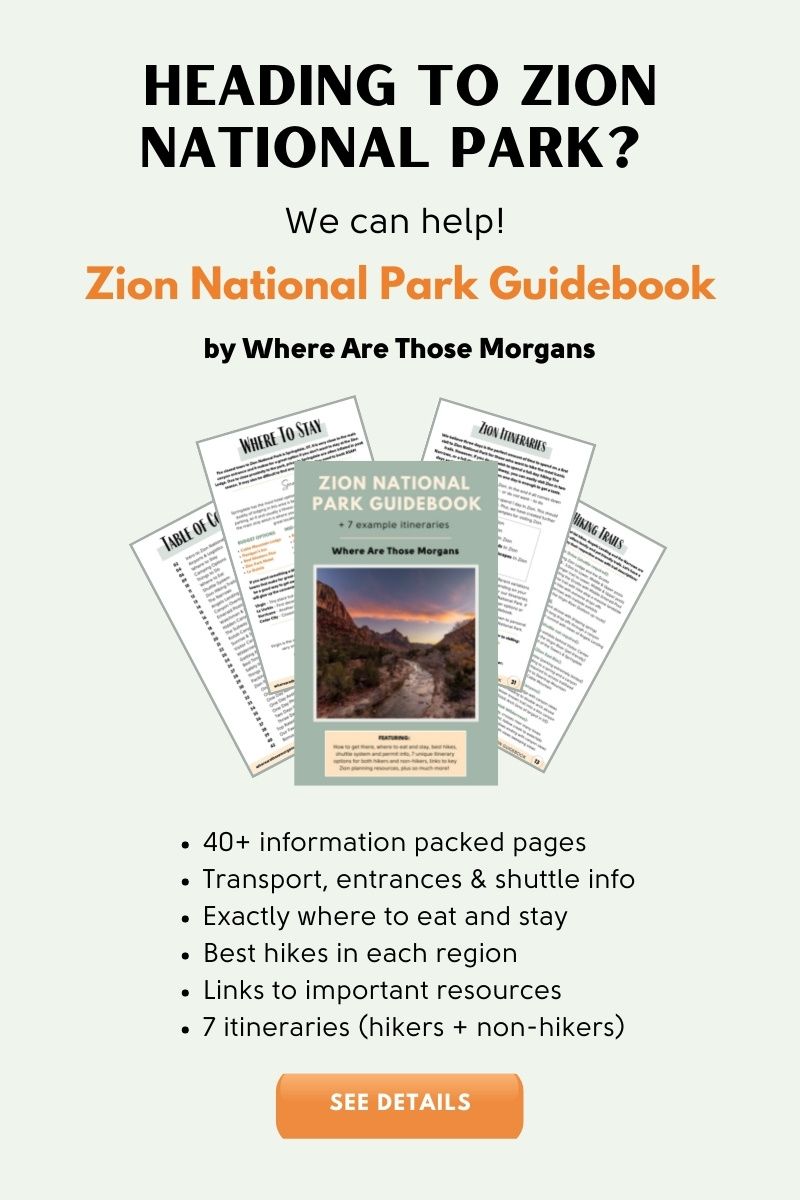 Our Popular Zion National Park Guides
More Zion Hiking Guides
Want more Utah content? Head over to our Utah Travel Guides to explore the Mighty Five National Parks and beyond.
---
We hope this helped with planning your Angels Landing hike in Zion National Park!
Please let us know if you have any questions about Angels Landing or Zion in the comments below.
Happy Hiking,
Mark and Kristen
Enjoy This Guide? Pin It For Your Hike!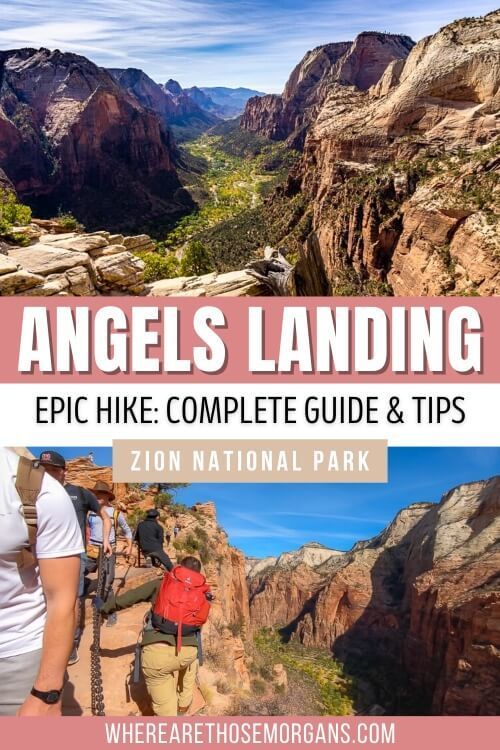 Note: This article contains affiliate links. When you make a purchase using one of these affiliate links, we may earn a small commission at no extra cost to you.
All Rights Reserved © Where Are Those Morgans, LLC. Republishing this article and/or any of its contents (text, photography, maps, graphics, etc.) in whole or in part is strictly prohibited.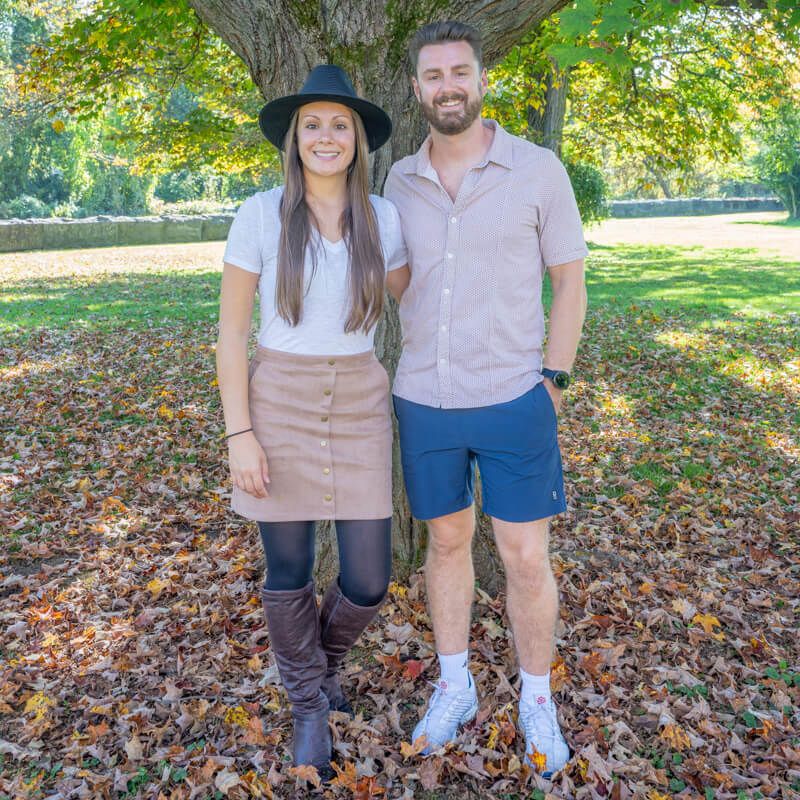 Mark and Kristen Morgan are travel, hiking and photography experts. Over the last 6 years traveling full time, they have explored more than 40 countries and 30 US states.
Their work has been featured in USA Today, Gestalten, Get Your Guide, CityPASS and Condé Nast Traveler along with various other publications.