Sunset is by far the most in demand time of day to visit and photograph one of the most famous natural geological features in the US – Horseshoe Bend near Page, Arizona.
But is sunset the best time to visit Horseshoe Bend?
We're going to explain exactly what you can expect from Horseshoe Bend at sunset, from parking and fees to the short sandy hike and sunset photography tips.
In addition, we will provide genuine pros and cons as we saw it from our own experience. Here's a hint – it's not all sunshine and rainbows!
*Please note this post may contain affiliate links. If you click on one of them, we may earn a small commission at no extra cost to you! We recommend only products we use and as always, all ideas or opinions expressed in this post are entirely ours. Thank you for the support and happy travels!*
What Is Horseshoe Bend?
Horseshoe Bend is an extraordinarily striking 270 degree U-shaped meander in the mighty Colorado River, close to the Northern Arizona border and wildly popular Utah Mighty 5 National Parks.
When forging a path through super-strong Navajo sandstone, the Southwest flowing Colorado River hit a dead end. But water is relentless.
If I can't go straight ahead, I will break through whichever side is weakest.
The result of erosion and time is a unique postcard-perfect horseshoe shaped canyon with 1,000 ft high cliffs, a man-made viewing terrace and spectacular sunset scene to boot.
Horseshoe Bend Factfile
Geological Feature: Horseshoe Bend
Known As: East Rim of the Grand Canyon
Nearest Town: Page
State: Arizona
Address: Horseshoe Bend Overlook, Page, AZ 86046
Things to do: Hiking, Sunset, Photography
Waterway: Colorado River
Open: All year
Annual visitors: ~ 2 million
Directions to Page AZ and Horseshoe Bend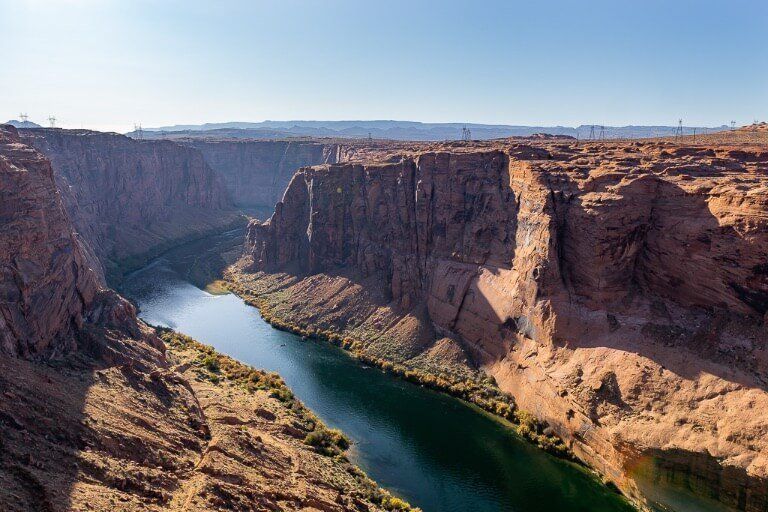 Horseshoe Bend parking lot is located 5 miles Southwest of Page, AZ.
When planning your trip, set your GPS for 'Horseshoe Bend Overlook' off US-89.
Page is the by far the most convenient place to stay for a night thanks to plenty of accommodation and restaurant options for visitors.
Distances and drive times from nearby cities and landmarks include:
Grand Canyon South Rim – Via AZ 64 Desert View Drive = 132 miles (2h 20m) OR
Flagstaff and Williams (when Desert View Drive is closed) = 215 miles (3h 30m)
Zion National Park – 115 miles (2h 20m)
Bryce Canyon National Park – 150 miles (2h 40m)
Monument Valley – 120 miles (1h 55m)
Moab – 275 miles (4h 20m)
Las Vegas – 270 miles (4h 30m)
Phoenix – 275 miles (4h 15m)
If you're flying into the region for a memorable Utah and Arizona road trip, our top recommendation is to search for flights using the useful Skyscanner search engine and hire a car with Rental Cars for best prices and most options.
You can also read our 15 expert tips on saving money when booking flights.
The closest airports for you to consider are as follows:
Las Vegas McCarran – 283 miles (4h 37m)
Flagstaff Pulliam (Only from Denver, Phoenix and Dallas/Fort Worth) – 134 miles (2h 12m)
Phoenix Sky Harbor – 277 miles (4h 15m)
Parking and Entrance Fee at

Horseshoe Bend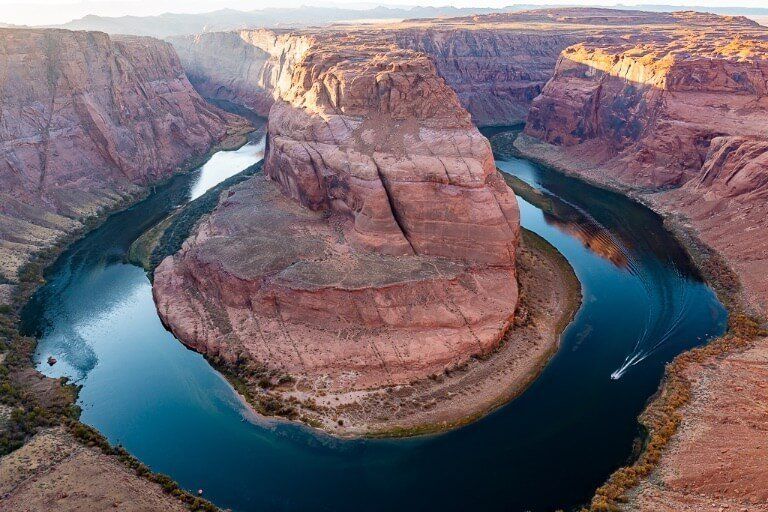 Parking at Horseshoe Bend was once a case of pulling over on the shoulder of 89.
However, since Instagram transformed Horseshoe Bend into one of the most sought after selfie spots in the US, a brand new parking lot featuring restrooms and pay station were introduced to handle the unprecedented spike in tourism.
Entrance to Horseshoe Bend parking lot is currently US$ 10.
Is it worth the 10 bucks? Yes, we think so.
The lot is huge with plenty of spaces to accommodate tourists. However, it still fills during peak season on weekends and holidays.
Sunset is the most popular time of day to hike to Horseshoe Bend, which means you should aim to arrive a few hours before the sunset rush to guarantee a spot.
If the lot is full you will be asked to leave and come back later.
Hike the Short, Easy & Sandy Trail to Horseshoe Bend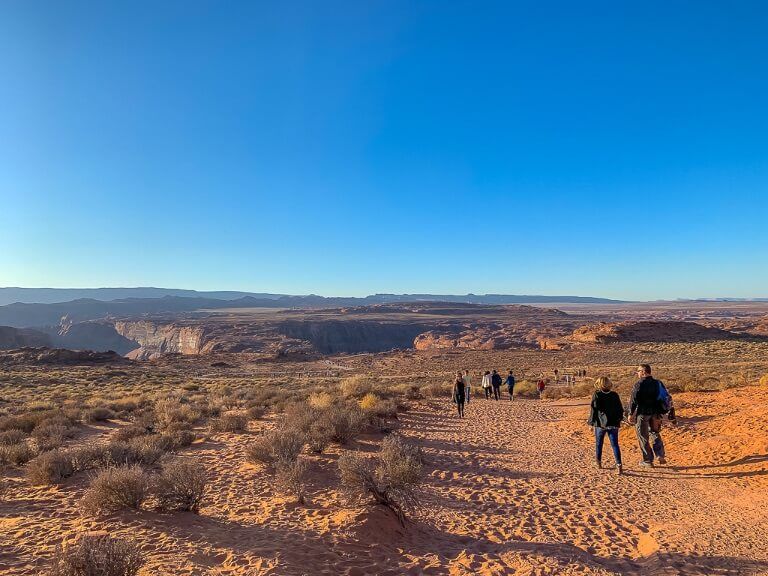 You'll be glad to hear the hike from Horseshoe Bend parking lot to the overlook is short, easy and almost completely flat.
Right at the parking lot you will need to climb a very short sandy incline but it doesn't last long. Once you're on top of the rim, it's a relaxing gradual descent until you reach the awesome curving Colorado River.
It is impossible to get lost, simply follow the crowds and you will know where the overlook is once you see an army of tourists!
Due to the expansion of facilities and inflated tourism leading to increased prices, the NPS (who manage the site – even though it is on Navajo Nation territory) are working on a more accessibility friendly path.
What was once effectively a sand dune will become solid and compact, which means there's a better chance you won't arrive at the viewpoint with half a beach inside your shoes.
Horseshoe Bend, AZ Trail Distance

: 1.5 miles roundtrip

Horseshoe Bend, AZ Trail Difficulty: Nice and easy
What Can You Expect From Sunset At Horseshoe Bend?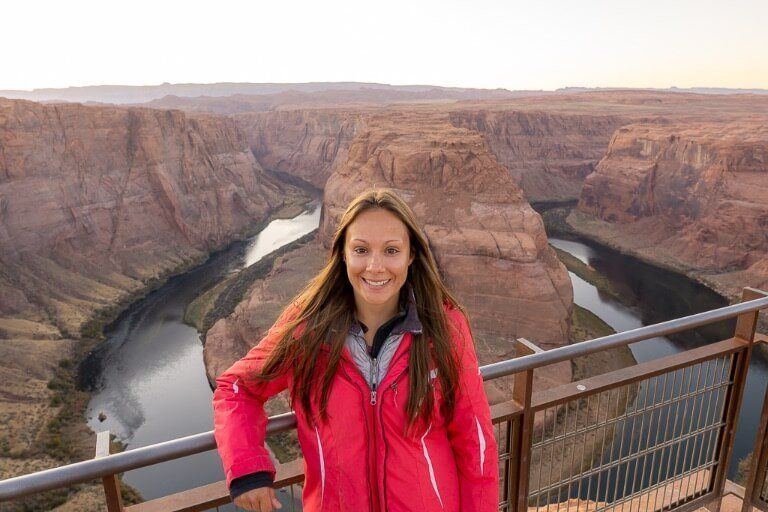 In a nutshell: a hive of activity and all of the selfie sticks ever manufactured … but a wonderful sunset.
When visiting any new place, it's too easy to let a few negatives impact your overall opinion. We can confidently say the negatives at Horseshoe Bend did not outweigh its beauty and highly recommend you visit.
But let's dig deeper and start with the positives.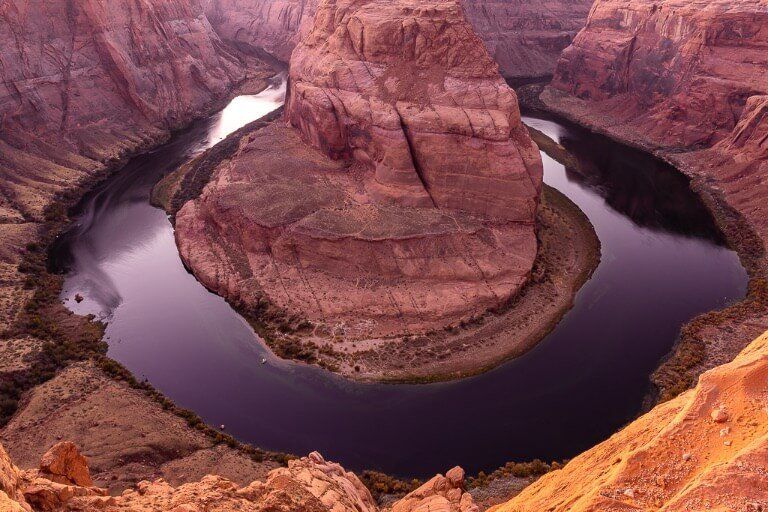 Positives
Horseshoe Bend truly is a staggeringly attractive geological feature and you will no doubt be mightily impressed by the scale of this U bend cutting through the canyon.

As we mentioned, the hike is very short and easy, which saves the whole 'wow, we've walked countless hours and miles for this!' scenario in the very unlikely circumstance you are underwhelmed.

A fence has been constructed to protect younger kids from falling (there have been 7 deaths here).

From Horseshoe Bend overlook, you are looking directly West at the bend itself. That means a beautiful orange and yellow sunset is straight ahead of you.

Between you and the sun are Horseshoe Bend and a flat table-top expanse of rock as far the horizon. Don't forget to cheer with everyone as the sun finally disappears!

The main reason you're visiting is to enjoy the view and they don't come much more uniquely stunning than this powerful act of nature.

If you can, stay later once the sun has set and people have thinned out for a brilliant Milky Way display.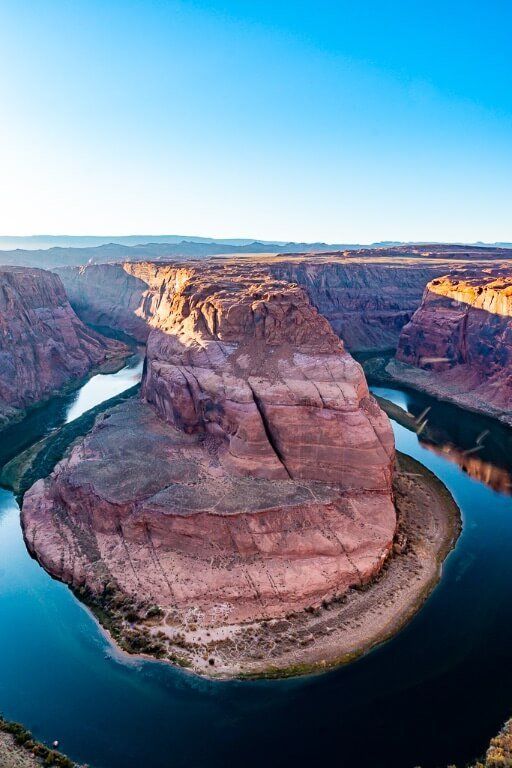 Negatives
We rarely list our negative thoughts on a place we visit but we feel compelled not to give a fairytale story about Horseshoe Bend. That way you can manage your expectations when you visit at sunset.
So at the risk of sounding like party poopers (which we promise we're far from!) let's take a look at what we personally felt were negative aspects here.
Horseshoe Bend has become wildly popular and particularly at sunset. Ok, so what's the problem? Well, the overlook is a very small area which quickly fills, so people are forced to fan out onto nearby boulders on either side where there are no barriers and dozens are vying for position to get unobstructed views.

At least when we visited, there were more than a few heart in mouth moments watching people trying to get the most daring selfie. Sitting on cliff edges and sliding down, balancing on one leg right on the edge or jumping between boulders with drops below. No, we don't want to witness the eighth death, thank you!

Watching a sunset is supposed to be relaxing, right? Well the sheer volume of bodies, noise and jostling for position made it difficult to actually unwind. And we visited in November. We can't imagine what it must be like in Summer!

Sunset and the hours leading up to it are not the best times to photograph Horseshoe Bend, you will have to wait until the sun has disappeared.
Horseshoe Bend, AZ Sunset Photography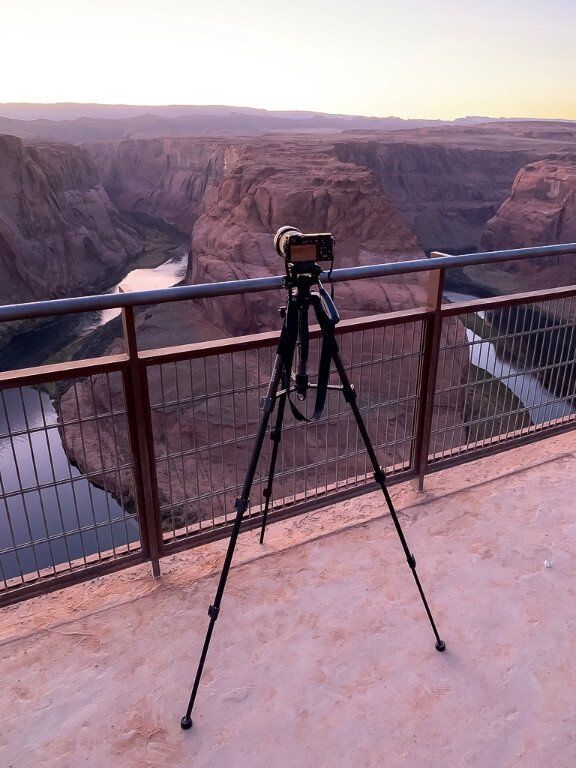 You've probably seen amazing photos of Horseshoe Bend plastered all over the internet. Well, it's not quite as simple as you might imagine to capture those images.
Ideally, you want to take the photograph from dead center to get beautiful symmetry in your frame.

The overlook safety barrier is definitely required for protection, but it makes framing Horseshoe Bend difficult because it is angled at around 45 degrees.

You'll need to get creative unless you have a tripod with center column reaching high over the barrier to angle down and a wide angle lens (12-24mm).

Golden hour before sunset is the worst time to photograph Horseshoe Bend. The sun is slightly left of center in your frame, causing a ton of angled lens flare / green dots. Unless, you are lucky enough to have a cloudy sky with stunning sunset colors.

However, if you do visit on a clear day with nothing to block the Sun, you have a good 30-40 minutes of prime time Horseshoe Bend photography once the sun has completely disappeared.

Between 11am-1pm is arguably the best time of day for photography at Horseshoe Bend. Midday gives you a chance of clouds, fewer shadows in the canyon and plenty of light to hand hold with a fast enough shutter speed to avoid blur without need for a tripod.

Mid-morning and mid-afternoon will cast deep, dark shadows inside the bend. Avoid those times at all costs.
Beginner Photography Tips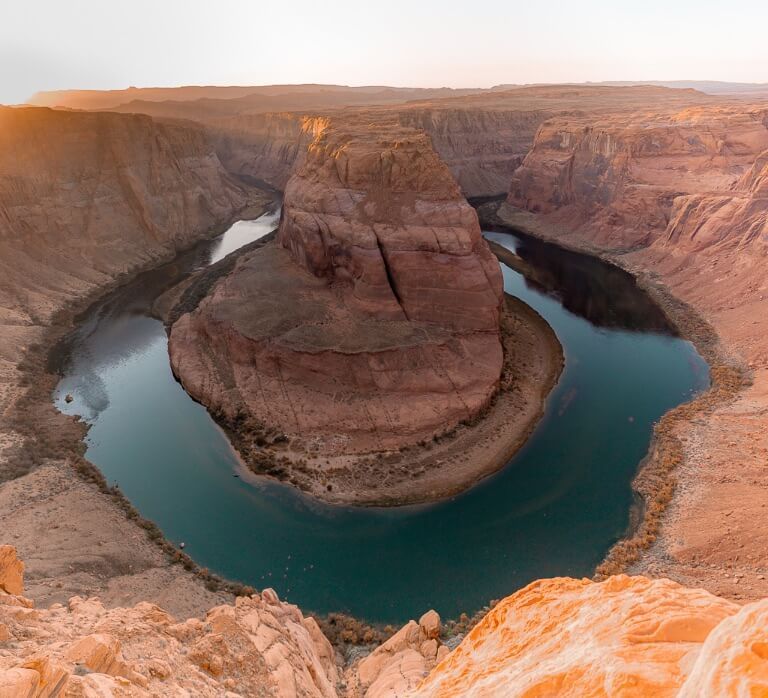 At the time we visited Horseshoe Bend for sunset, we had an entry level Sony a-6000 and Sigma 16mm f1.4 (24mm for crop). Our old travel tripod was flimsy and didn't extend past the top of the overlook barrier.
24mm was not wide enough to capture the whole scene in one frame. As you might have noticed in the photo of our old tripod, Horseshoe Bend isn't far back from the overlook!
If you have a 12-24mm, 16-35mm or fish-eye lens, you'll have no trouble framing the full bend with walls to each side, the bottom included and even some sky.
If you don't have an ultra-wide lens, you'll likely need to create a stitch and merge them together in LR in post editing.
You will need a tripod because of low light right after sunset and the lens has to be pointing down. Improvising with clothes or a bag are unlikely to provide the correct angle.
Here's how to capture the full scene as in the photo above (without a wide angle lens):
Wait for the sun to lose intensity so you don't get lens flare

Turn camera vertical and imagine dividing the landscape into 3 vertical shots

Begin on your left, move to the center and overlap with your first image, move to the right and overlap with center shot

Keep the same settings and horizontal plane (ie try not to move the entire tripod, just gently pan the head)

In LR, highlight the 3 images, right click, select Photo Merge and Panorama. That's it!
Stargazing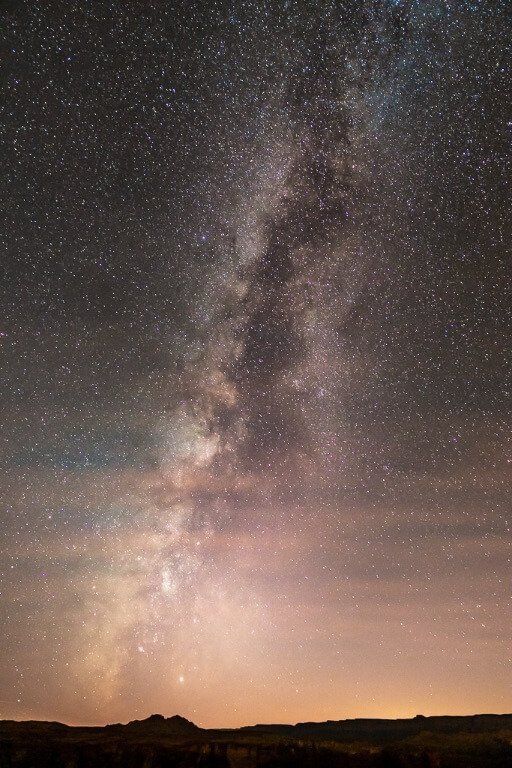 You'll be amazed at how quickly hundreds of people fizzle out to a hand full once the sun turns in for the night. But now is not the time to leave!
This is the time to finally relax, pull out your hot chocolate and extra hoodie, wait for the Milky Way to dazzle and fire the camera back up.
We visited in November which meant the Milky Way was shimmering as early as 8pm. Although it was cloudy on the horizon, sunlight hadn't completely diminished and the Milky Way season 'ends' in October.
We would have stayed later for total darkness but it was a freezing cold Northern Arizona night in Novemeber!
The town of Page only emits a little light so the sky isn't polluted, plus the sand dune you walk over blocks a lot of the light anyway.
Admittedly, it is difficult to get any sort of foreground in an astro image at Horseshoe Bend without an ultra-wide angle lens.
Remember head torches if you do stay for stars, the walk back to your car is unlit.
Best Time to Visit Horseshoe Bend, AZ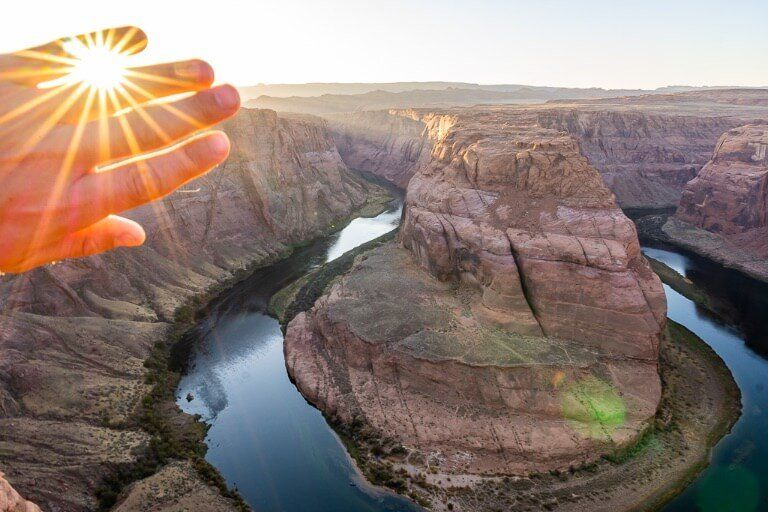 Best time of Year
Spring and Fall are the most comfortable times to visit. Winter will be chilly and Summer will be seriously hot.
We can tell you in November it's comfortable during the day but definitely begins to get cooler right after sunset. April, May, September and October are best months.
Best time of Day
This is up for debate. Some people will tell you morning, others afternoon. Some will say sunrise and others sunset.
Firstly, be sure to fit Horseshoe Bend around your travel plans and secondly it depends on your goals. If it's overcast or cloudy, you can visit any time of day without shadow concerns.
Sunset is awesome but incredibly busy and remember you can still take fantastic photographs post-sunset. It will certainly be quieter early in the day.
If you're visiting Horseshoe Bend simply to enjoy the scenery, you don't mind crowds, you're partial to a nice sunset and you have no interest in photography or your selfie game – you'll be perfectly happy arriving for sunset.
Where To Eat Near Horseshoe Bend
Whether you're passing through or staying a night in Page, it's the best place to fuel up in the immediate area.
We found many of the towns in between Grand Canyon and Moab to be short on food options and often there were unpredictable opening hours.
Here's a roundup of the most highly rated restaurants in Page, AZ for you to try out:
Where To Stay Near Horseshoe Bend
Unless you're just stopping off for a few hours at Horseshoe Bend on the way to Grand Canyon or Moab for example, Page AZ is the obvious choice for accommodation.
There are several NPS, private and primitive campgrounds in Glen Canyon recreational area. Find more camping information here.
You'll be pleased to hear there are a dozen or so highly rated hotels offering great rooms for exceptional value in Page. We've scoured all options and picked out the 3 best value for money hotels for you to consider.
Our 15 pro tips on booking cheap hotels is a good place to start and save money.
Click any of the buttons below to check availability and prices for our highest recommended hotels in Page, Arizona.
1. Best Western View of Lake Powell Hotel
Best Western is close to many of Page's restaurants and its higher elevation is complimented by a first floor terrace featuring views over Glen Canyon Rim. Facilities include outdoor pool, hot tub, fitness center and breakfast is included.
All of that for under US$ 50 per night is a steal!
Check price on Booking.com
2. Country Inn & Suites by Radisson
One of the closest hotels to Horseshoe Bend is also one of the most highly rated in Page, AZ. Country Inn & Suites also features a fitness center but its pool and hot tub are indoors. Breakfast is included.
One of the best hotels in Page and still under US$ 75 per night!
Check price on Booking.com
3. Baymont by Wyndham Page Lake Powell
Baymont is located close to Glen Canyon Dam Overlook just a few minutes drive from the restaurants in town. This is the cheapest of our recommendations at under US$ 45 per night, but it still includes indoor pool and hot tub, plus breakfast.
Not too shabby for a budget option!
Check price on Booking.com
Horseshoe Bend Map
Click into the interactive map, zoom in / out and move around the area to find all recommended restaurants, hotels, points of interest, parking lot, trailhead and Horseshoe Bend overlook.
Purple – Hotel recommendations in Page, AZ
Light Red – Restaurant recommendations in Page, AZ
Blue – Horseshoe Bend hike trailhead
Maroon – Horseshoe Bend parking lot
Orange – All points interest
Read More About Arizona & Utah
Plan your entire visit to Southern Utah and Northern Arizona with our comprehensive Road Trip Itineraries covering Utah's National Parks and areas of outstanding natural beauty in Northern AZ.
You May Also Like …
We hope this helped you plan your sunset visit to Horseshoe Bend Arizona!
Have you been to Horseshoe Bend? What time of day do you think is best for visiting?
Please let us know if you have any questions or need any help planning your visit in the comments below.
Don't forget you can look at our USA specific travel guides to help plan your next trip!
-Happy Travels-
Was This Post Helpful? Pin It For Your Visit!
Valuable Resources For Your Next Trip