The short but sweet hike along Zion Canyon Overlook Trail leads to one of the most spectacular sunset viewpoints in Zion National Park. We are going to explain everything you need to know about hiking the Zion Canyon Overlook Trail moments before sunset with photos so you can see the hike and viewpoint at its best time of day.
Canyon Overlook is undoubtably one of the very best family hikes in Zion National Park. The easy and interpretive trail is great fun for kids and adults alike, with some light improvised path finding required to reach the summit.
For very little effort, you are rewarded in a big way with staggering views over Pine Creek Canyon and dramatic sandstone canyon walls flanking the valley below.
Perhaps most importantly, when hiking Canyon Overlook Trail you won't have to contend with 1000 ft vertical drops either side of a 4 ft wide trail, like on Zion's popular Angels Landing hike.
Let's get planning your sunset hike up the relaxing Zion Canyon Overlook Trail!
Important update for 2023: Advanced reservations for the Zion Canyon shuttle bus remain discontinued (since May 1st 2021). However, a permit is required to hike past Scout Lookout to Angels Landing any time of the year with seasonal and day-before lottery options
What Is The Canyon Overlook Trail In Zion National Park?
Canyon Overlook is the most heavily trafficked hikes on the Upper East Canyon Rim of Zion National Park. The hugely popular trail leads hikers very quickly to a quintessential open canyon view rivaling that of Angels Landing and Observation Point in the main canyon.
Zion National Park is renowned as Utah's adventure hiking haven. But what if you're not looking for an all action adventure hike and still want those famous Zion canyon views?!
Most visitors to Zion will day hike the Narrows slot canyon and spend a second day hiking Angels Landing plus one other trail.
That other trail should be Zion Canyon Overlook, and sunset is the perfect time to summit.
Canyon Overlook trail was built in 1993 to provide easy access to magnificent views over Zion's Pine Creek canyon. Today, Canyon Overlook is an essential 'must hike' trail at Zion.
If you've already been to Zion or if you hike the Canyon Overlook trail on your way out of the National Park, you will know about 'The Great Arch' you can see from the famous switchback roads between Zion-Mount Carmel tunnel and the visitor center.
The arch isn't quite an arch yet – but it will be in millions of years. If you look to the flat open top of the great arch, that is where you will summit Canyon Overlook trail.
What Makes The Canyon Overlook Hike So Popular?
The Zion view from Canyon Overlook is incredibly photogenic and especially at sunrise or sunset it is one of the best things to do in Utah.
In summary, here's why so many people love to hike Canyon Overlook trail on a visit to Zion:
Short, quick, easy and fun for all ages and abilities

One of the best viewpoints in Zion National Park

You don't have to deal with the shuttle

You can drive your own vehicle to the trailhead

Arguably the most accessible sunset location in Zion

In a nutshell, you get the most bang for your buck of any hike in Zion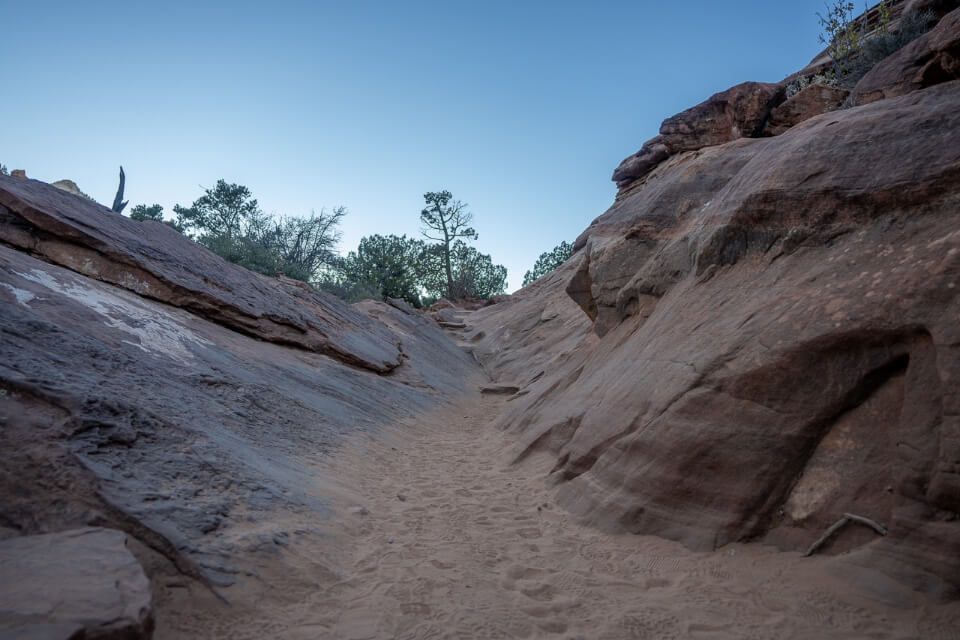 How Hard Is The Canyon Overlook Trail In Zion National Park?
Zion Canyon Overlook is rated as an easy to moderate difficulty hike. At just 1 mile roundtrip and with only 160 ft elevation gain, the hike to Canyon Overlook is short but it does have a number of steep sections, steps to climb and narrow trails.
If you're in reasonable shape and have no problems taking larger steps up or down, you'll be fine hiking to Canyon Overlook.
In truth, we would rate this hike as being on the easier side.
Note: The hike to Zion Canyon Overlook is not accessibility friendly. Steep steps account for the very start of the trail.
Looking for more hiking inspiration? Check out our popular guide to the 50 best hikes in the USA next!
How Long Does It Take To Hike Canyon Overlook Trail In Zion?
Including time spent at the summit, you should plan for at least 1 hour from start to finish when hiking the Canyon Overlook Trail in Zion National Park. The hike will take around 15-20 minutes each way for a total of 30-40 minutes hiking time.
However, you could easily hike the trail quicker if you are in a hurry. Conversely, you could make the hike last much longer if you stop for photos and enjoy the unique landmarks along the trail.
We've hiked the Zion Canyon Overlook Trail twice and both times we spent around 35 minutes hiking, but we spent much longer at the summit soaking in some of the best views in the entire national park.
The easy and short hike to an amazing viewpoint at Zion Canyon Overlook makes this hike unmissable on a one day in Zion National Park itinerary.
Zion Canyon Overlook Trail Hiking Statistics
Distance: 1 mile roundtrip
Difficulty: Easy to moderate
Elevation Gain: 160 ft / 48m
Trailhead: East entrance Zion-Mount Carmel Tunnel
Time: 1 hour roundtrip
When: Year round
Top tip: Stay for sunset
Permit required: No
Recent Comments: All Trails
How Do You Get To Zion Canyon Overlook Trail?
Zion Canyon Overlook Trailhead is located just meters from the eastern side of the impressive Zion-Mount Carmel Tunnel. It is just 6 miles from Zion's south entrance in Springdale and 5.3 miles from the east entrance to Zion.
You can drive your own vehicle to the trailhead, which means you don't have to battle for the shuttle but it also means you have to find a parking spot, which is easier said than done.
Staying In Springdale
Getting around Zion National Park is made easier if you are staying at Watchman / South campground near the visitor center or in a hotel in Springdale.
You'll be able to access the trailhead for Zion Canyon Overlook very early in the morning and later in the evening for sunrise and sunset if staying nearby, as opposed to a 30 minute drive away.
Springdale hotels fill very quickly, especially in the Summer months. If you're not staying in Springdale, you can expect a 20 -30 minute drive from the nearest towns. Trust us, we know!
Here's our detailed guide on where to stay in Zion National Park if you'd like more information.
Parking At The Zion Canyon Overlook Trail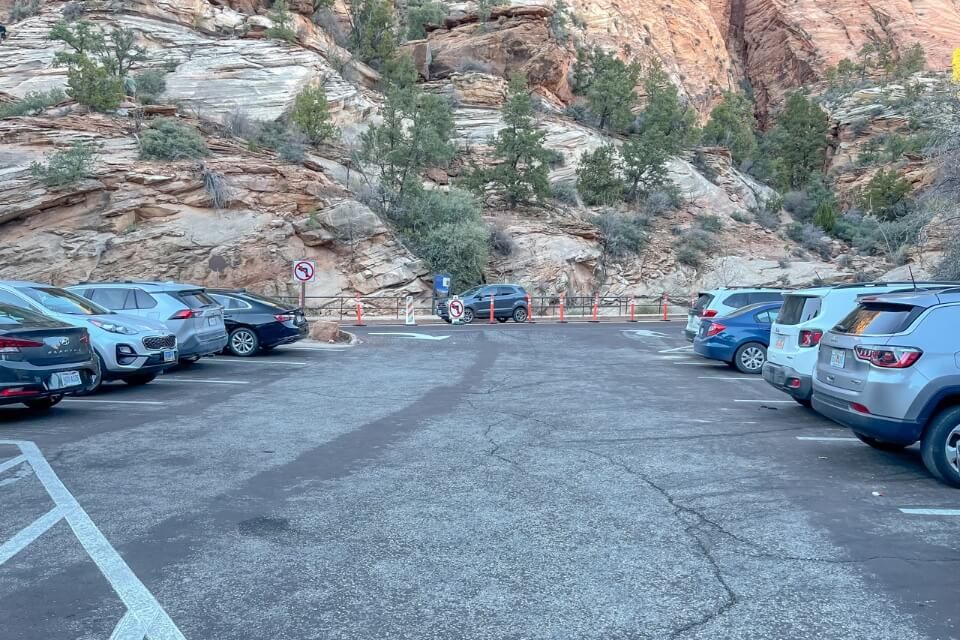 It is difficult to get parked up for the Zion Canyon Overlook Trail. The main parking lot is small and only accessible when driving out of the tunnel from Zion's main canyon. You can not access this parking lot if approaching from East entrance. Instead, you can park on the roadside or in an even smaller lot 0.1 miles before the tunnel.
Heading West – If you miss the parking lot on the right side if approaching the tunnel from East entrance, you will have to drive through Zion-Mt Carmel tunnel and turn around at the earliest opportunity.
Heading East – If you miss the parking lot on the right as you leave the tunnel, you can still park on the roadside further around the corner.
It sounds complicated and that's because it is! You will see cars abandoned and there will be a lot of frustrated drivers trying to get parked here.
Sunset is a popular time to hike Zion Canyon Overlook so it will be busy in peak seasons.
If you're hiking this trail during the day and can't get a spot, try parking at Zion visitor center instead and hiking The Watchman Trail followed by hiking the Pa'rus Trail instead.
Both are great family friendly alternatives with fantastic views.
Tips For Parking
Arrive Early – The best time to hike in Zion is first thing in the morning before the day trippers arrive. If you can get arrive not long after sunrise, you should be able to get a coveted parking space.
Or Arrive Late – Avoid the 10am – 2pm hiking rush. Sunset is a beautiful time of day to be at the summit of Canyon Overlook and it will be much quieter than midday. Hopefully there will be parking available!
Here's a hidden secret not many know about:
There's a different trail starting at the far side of the tiny Zion Canyon Overlook Trail parking lot next to the bridge, but it's a canyoneering trail leading into Pine Creek slot canyon.
You can see Pine Creek Slot Canyon from above when hiking the Canyon Overlook trail.
Sunset At Zion Canyon Overlook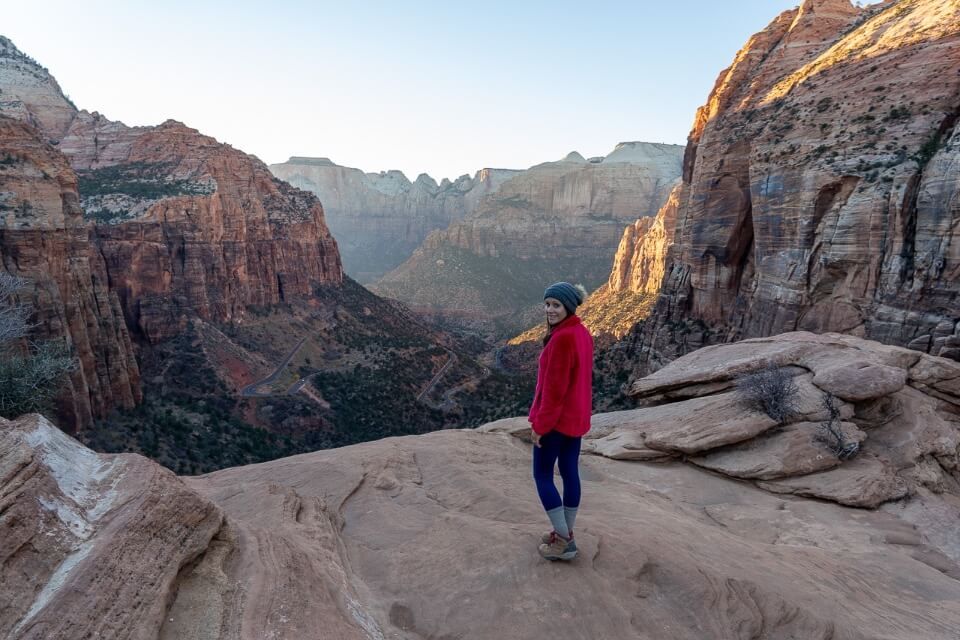 Sunrise and sunset are the two most beautiful and memorable times of day to be standing on the edge of Canyon Overlook Trail in Zion.
If you're staying nearby, you really should consider trying to get up here for sunrise when there will be nobody else around. But sunset is a much more achievable time for most visitors to hike the Zion Canyon Overlook trail.
Pine Creek Canyon as you look directly out at it from the summit of Canyon Overlook is slightly North of due West.
So you're not going to see the sun as it sets because it will disappear behind both the southern canyon wall (to the left in the photo above) and Zion's enormous west canyon wall (to the back of the photo above).
However, you're not up there to see the sun itself.
Remarkably intense beams of sunlight fill the back portion of the canyon at sunset and the sandstone canyon walls to your right side illuminate beautifully as the sun begins to set.
Zion's canyon looks different in golden hours around dawn and dusk. Patterns and details appear far more intricate, which makes photography very popular.
Need a hand organizing your visit to Zion?

Our popular 40+ page Zion National Park Guidebook can help you with planning every aspect of your trip.
Zion Canyon Overlook Trail Walkthrough
Here's a complete walkthrough of the Zion Canyon Overlook trail hike right before sunset so you know exactly what to expect when you arrive.
Check sunset times for Zion before hiking so you can begin the hike to Canyon Overlook around 1 hour before sunset.
This is a very short and quick hike for the entire family to enjoy at one of the very best USA national parks, so let's get into it!
1. Park Up & Begin Your Hike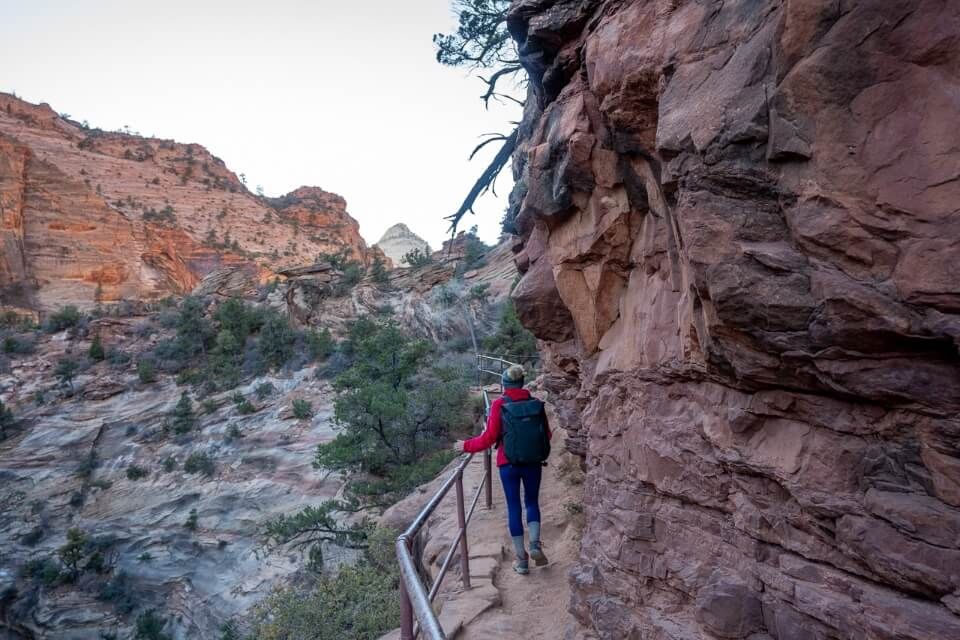 Once you've secured a parking spot either right next to the Zion-Mount Carmel tunnel or a little down the road, make your way to the trailhead.
The trailhead isn't particularly obvious. You need to look for a narrow set of stone steps opposite the small parking lot about 50-70 meters from the tunnel.
Be mindful of traffic, especially if hiking with younger kids. Cars are close to the path here and people are frustrated about parking.
2. Zion-Mt Carmel Tunnel Photo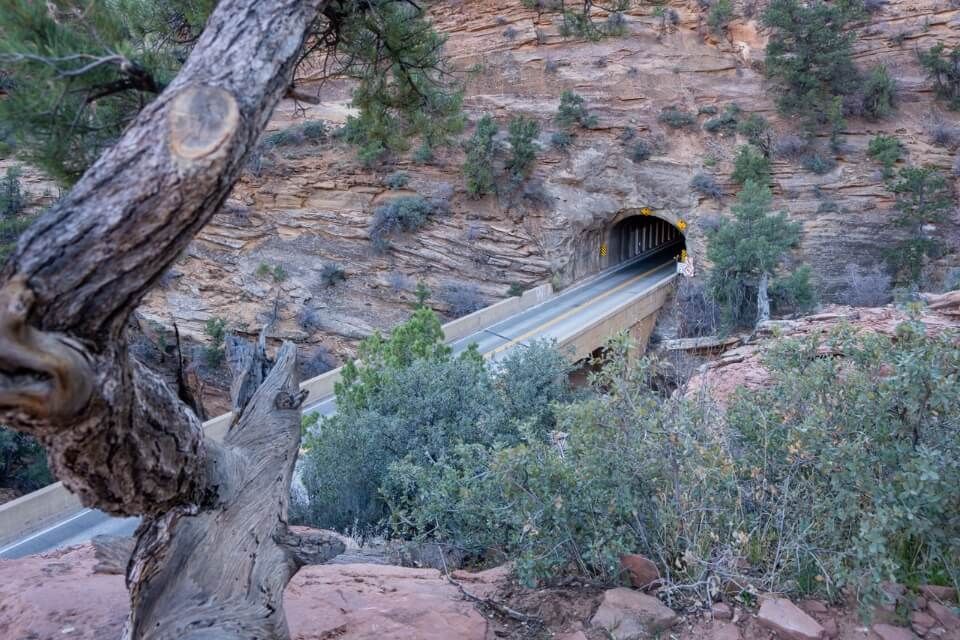 After a short burst up the stone steps, look over to your left for elevated views of the entrance to the Zion-Mount Carmel tunnel.
This is a classic photo location on the hike, so don't miss it!
3. Pass By Pine Creek Slot Canyon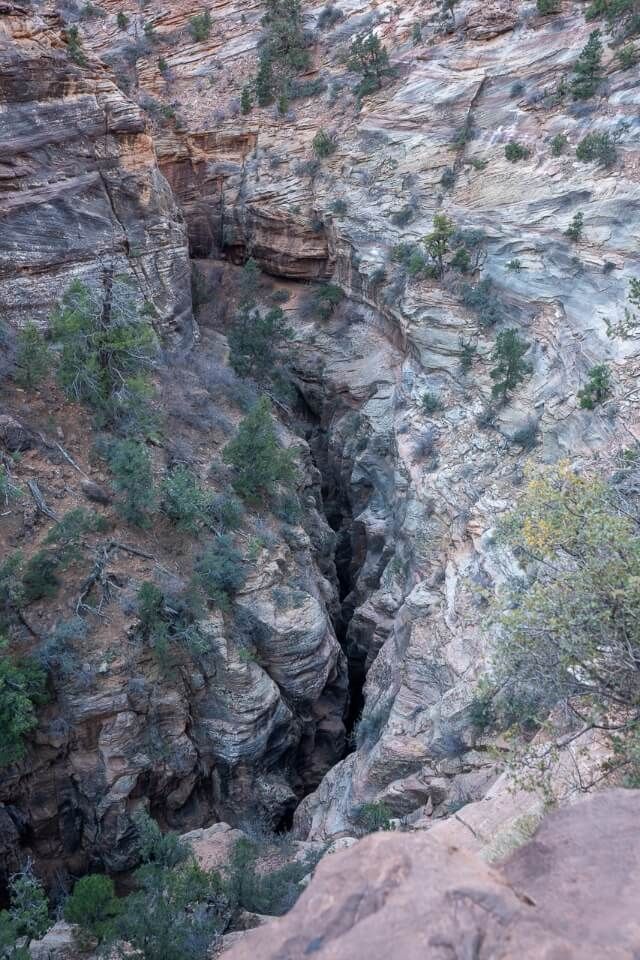 Not long after the tunnel shot, keep your eyes peeled to the left side of the trail for Pine Creek Slot Canyon. You can see how awesome but intimidating the dramatic tear in the earth appears.
This is a canyoneering trail requiring expertise with ropes and abseiling. So a little different to the nice easy hike to Zion Canyon Overlook!
4. Narrow Bridge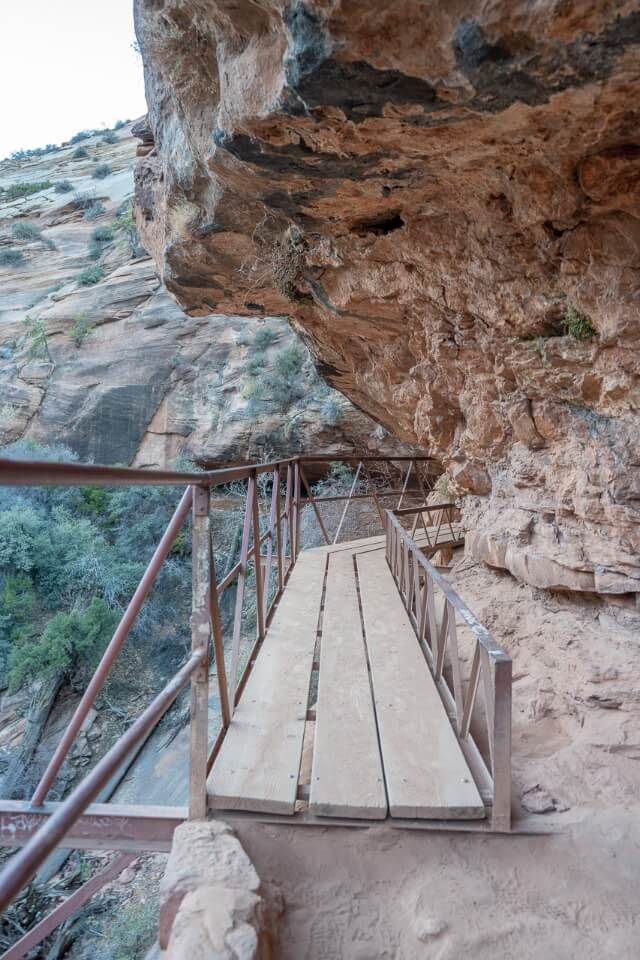 The next obstacle on the hike is a narrow bridge built by the NPS in order to navigate around a corner with drop off below.
A makeshift metal frame with three wooden planks connects the two sections of path to allow your progression on the hike.
Where does the bridge lead? Let's find out.
5. Sandy Cave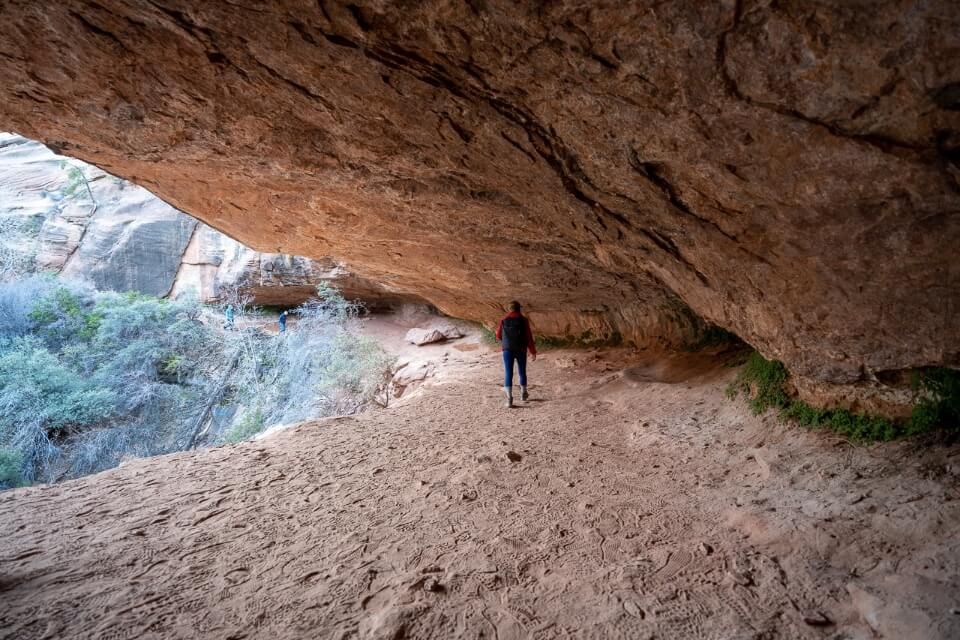 After turning right on the bridge you will immediately enter the half cave you can see pictured above.
You will walk around a semi-circle shaped sandy trail with sandstone walls curving over your head. Imagine a crescent moon or one half of a classic UFO from the movies carved into solid rock.
6. Improvised Trail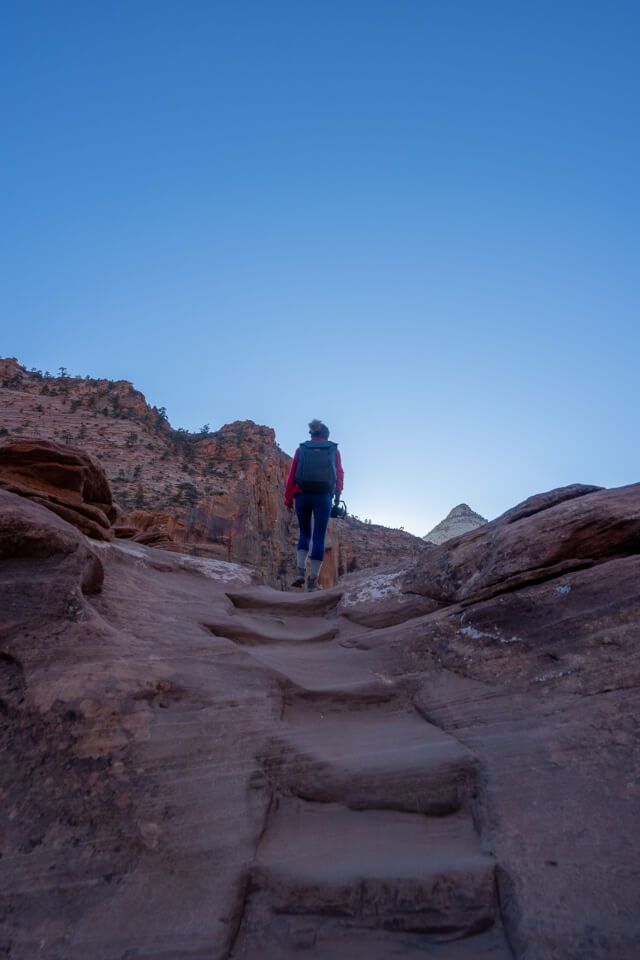 The trail then opens up and the beaten path is less obvious, which means you can find your own way to the summit.
If you are hiking without kids and looking for a bit of adventure, explore the area to your left side when the trail opens up.
Make your way towards what would be the cliff edge but be careful you don't go too far and fall off the end. You can find secluded little spots with incredible views over Pine Creek Canyon but without the crowds you will see at the summit.
Views here are similar to what you'll see at the top, but the summit will reveal more of the Eastern canyon wall so it's definitely worth completing the hike.
Are you planning to shoot some instagram photos on the hike to Zion Canyon Overlook? Try your luck in this area where you won't have other hikers in your frame.
7. Summit Zion Canyon Overlook For Stunning Sunset Views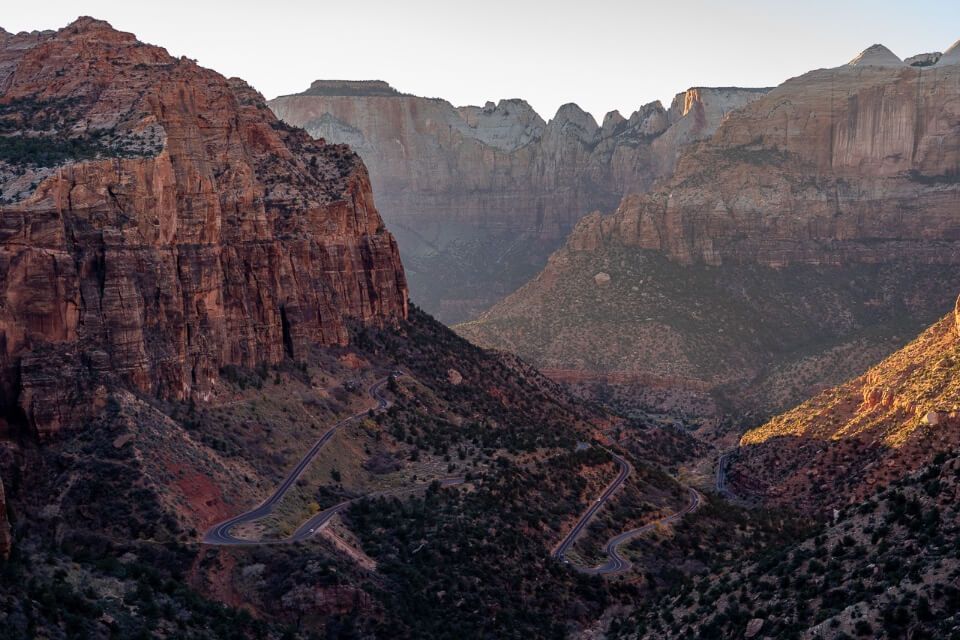 Continue to climb along any trail you can find with footprints engrained into the sand.
Eventually you will rejoin the 'main' path leading to the wide open and exposed summit of Zion Canyon Overlook right as sunset should be approaching.
Look for information boards right in the center of the viewpoint to learn about the terrain, before walking up huge boulders to either side of the barrier for different perspectives.
Soak up those truly special views over Pine Creek Canyon and maybe even take a telephoto lens or binoculars to zoom in on Zion's famous switchbacks on the the Zion-Mount Carmel Highway.
You are now standing directly on top of The Great Arch, which you can see when driving up or down the switchbacks and this is when you will realize why Canyon Overlook easily makes our list of the 25 best hikes in Utah.
Zion's towering canyon walls are a mightily impressive sight at sunset and you've barely had to make any effort for this reward.
Why not stay up for stars and astrophotography at Canyon Overlook once the sunset has faded and darkness descends upon Zion National Park?
Hiking Zion Canyon Overlook During The Day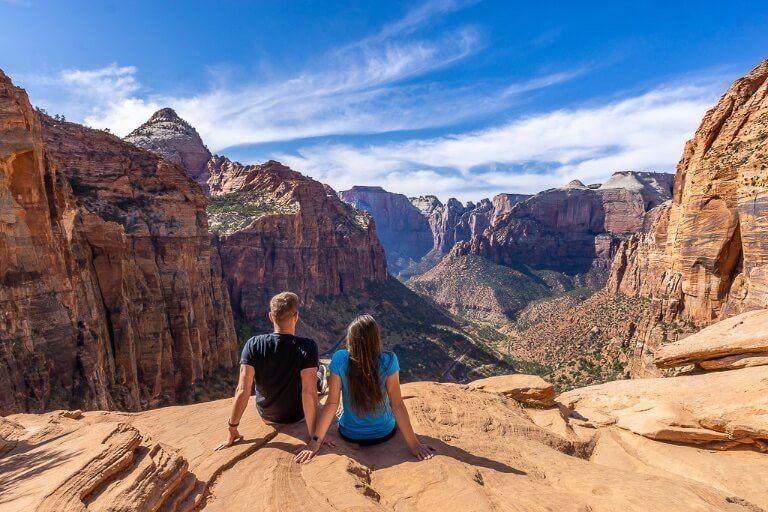 We first hiked Zion Canyon Overlook Trail on a beautiful day in October of 2019 in perfect hiking conditions around lunch time.
The photo above is not a true representation of our experience! It was extremely crowded both on the trail and at the summit.
Hiking Zion Canyon Overlook at sunset will be quieter than during the day because a lot of day trippers will leave before sunset.
But if you're visiting Zion in peak season, you should try to summit Canyon Overlook even earlier, just so you can find a nice little spot to set up your tripod or relax with a small bottle of wine.
Hiking Tips
Getting parked is the hardest part of this trail, arrive very early or preferably an hour before sunset.

Although this is a short hike, you still need to take plenty of water especially in Summer

.

Keep younger kids close by because there are severe drop offs if veering off the 'main' trail

.

The trail is exposed with little shade, don't forget to carry sunscreen in your backpack

.

You don't need any specialist hiking gear or shoes but good grip on footwear will help

.

Photographers will have no problems carrying a tripod to the summit

.
Check the NPS site for current conditions on hiking trails before visiting Zion.
What To Pack For Your Hike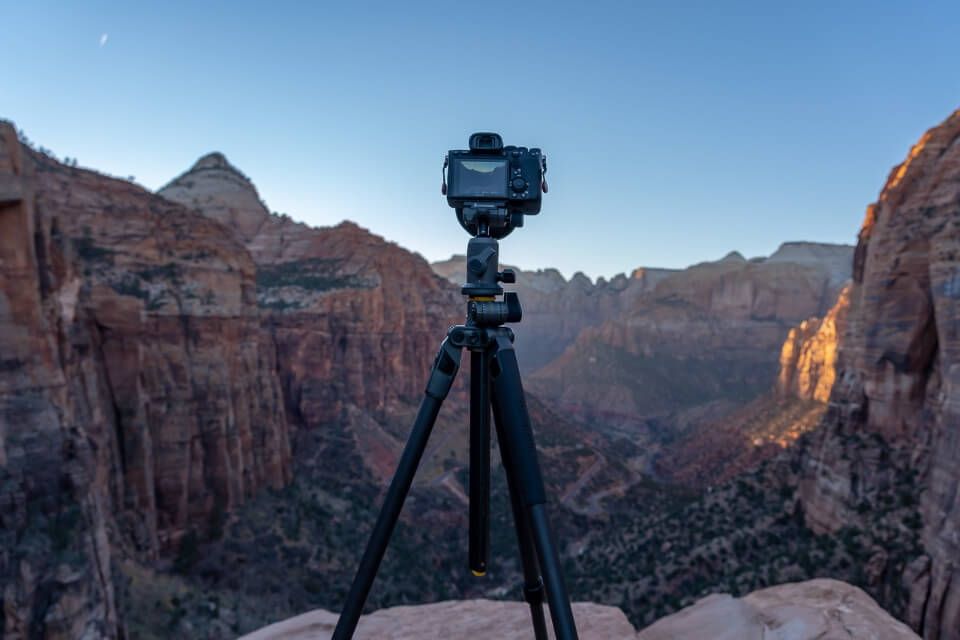 Best Time Of Year To Hike The Zion Canyon Overlook Trail
We've written a comprehensive guide to the best time to visit Zion National Park, but let's take a brief look at when you should hike Zion Canyon Overlook:
Winter
Cold mornings and evenings so you'll need to layer effectively. Snow is rare in Zion but if you're lucky it would make the canyon glitter beautifully.
Winter in Zion National Park means far fewer tourists in the park and as a result you might just have this viewpoint to yourself on weekdays.
Spring
Comfortable weather for hiking, not as busy as Summer which means easier parking and fewer people on the trail. Recommended.
Summer
Hot and extremely crowded both on the trails and roads. Harder to get into the campgrounds and hotels in Springdale. However, more daylight hours and warmer water if combining with the Narrows.
Fall
Perfect time to hike the Zion Canyon Overlook trail.
Excellent weather, far fewer tourists than Summer (makes a big difference to your overall experience) and best time to hike the Narrows if combining.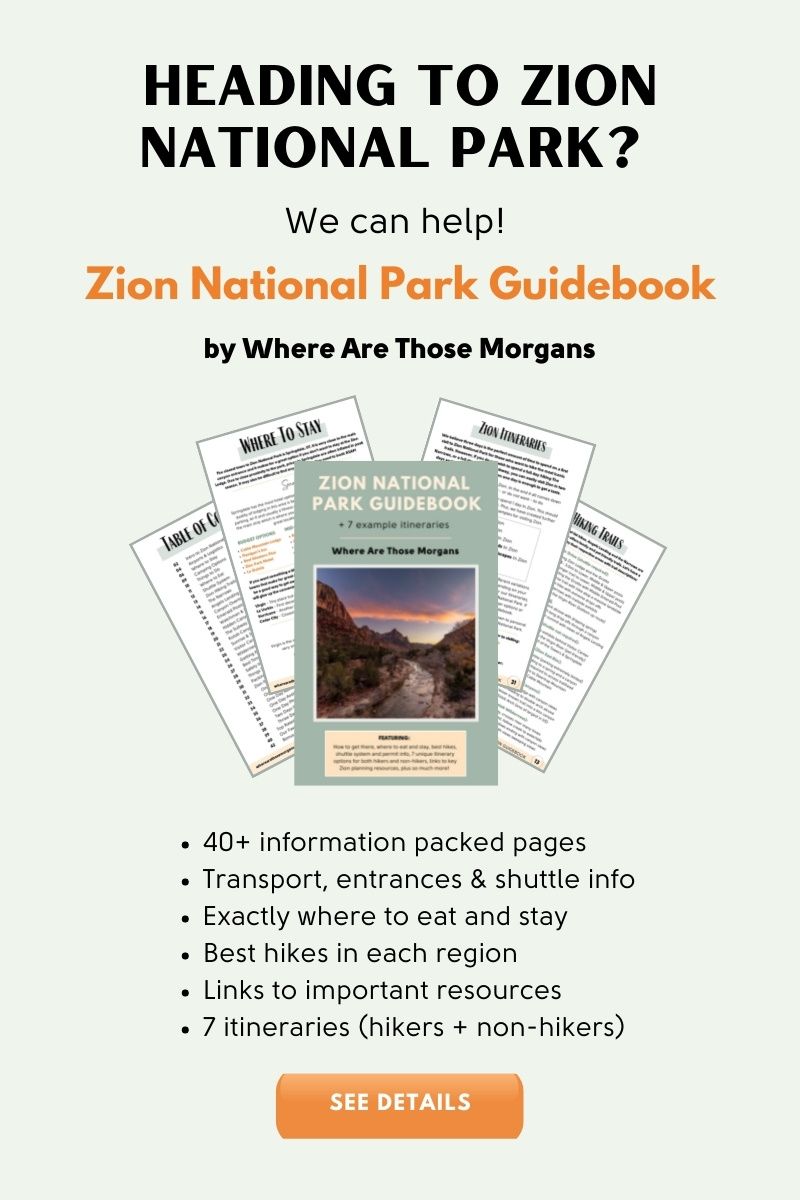 Our Popular Zion National Park Guides
More Zion Hiking Guides
Want more Utah content? Head over to our Utah Travel Guides to explore the Mighty Five National Parks and beyond.
---
We hope this guide helped with planning your Zion National Park Canyon Overlook Trail Hike!
Please let us know if you have any questions about the Canyon Overlook Trail or Zion in the comments below.
Happy Hiking,
Mark and Kristen
Enjoy This Guide? Pin It For Your Visit!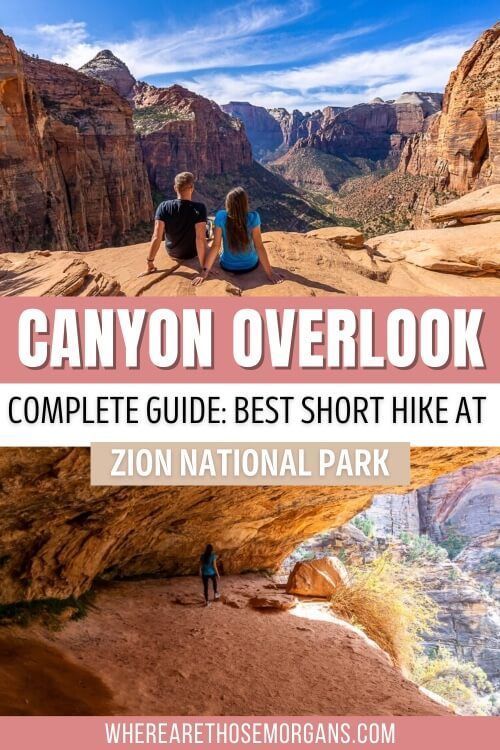 Note: This article contains affiliate links. When you make a purchase using one of these affiliate links, we may earn a small commission at no extra cost to you.
All Rights Reserved © Where Are Those Morgans, LLC. Republishing this article and/or any of its contents (text, photography, maps, graphics, etc.) in whole or in part is strictly prohibited.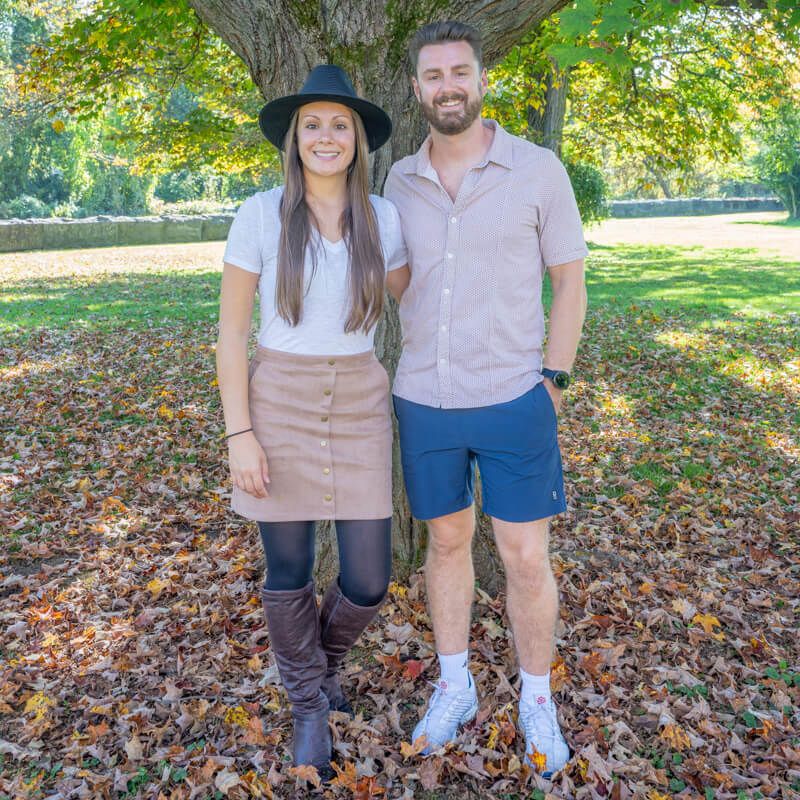 Mark and Kristen Morgan are travel, hiking and photography experts. Over the last 6 years traveling full time, they have explored more than 40 countries and 30 US states.
Their work has been featured in USA Today, Gestalten, Get Your Guide, CityPASS and Condé Nast Traveler along with various other publications.