Zion Canyon Overlook trail is the perfect family hike in Zion National Park.
The short, easy and interpretive hike is great fun for kids and adults alike. For very little effort, you are rewarded in a big way with spectacular views of Pine Creek canyon and towering sandstone walls encircling the valley below.
Perhaps more importantly, you won't have to contend with 1000 ft sheer drops either side of a 4 ft wide trail – like on Zion's death defying Angels Landing hike.
Let's plan your hike up the popular Zion Canyon Overlook trail!
June 2021 update: Zion National Park has discontinued advanced shuttle bus reservations as of 28 May 2021.
*Please note this post may contain affiliate links. If you click on one of them, we may earn a small commission at no extra cost to you! We recommend only products we use and as always, all ideas or opinions expressed in this post are entirely ours. Thank you for the support and happy travels!*
What Is The Canyon Overlook Trail In Zion National Park?
Zion National Park is renowned as Utah's adventure hiking haven. But what if you're not looking for an all action adventure hike and still want those Zion canyon views?!
Most visitors to Zion will day hike the incredible Narrows slot canyon and spend a second day hiking Angels Landing plus one other trail – that other trail should be Canyon Overlook.
The Canyon Overlook trail was built in 1993 to provide easy access to magnificent views over Zion's Pine Creek canyon. Today, this is an essential 'must hike' trail at Zion.
If you've already been to Zion or if you hike the Canyon Overlook trail on your way out of the National Park, you will know about 'The Great Arch' on the famous switchback roads between Zion-Mount Carmel tunnel and the visitor center.
The arch isn't quite an arch yet – but it will be in millions of years. If you look to the flat open top of the great arch, that is where you will summit Canyon Overlook trail.
What makes this hike so popular?
Short, quick, easy and fun for all ages and abilities

One of the best viewpoints in Zion National Park

You don't have to deal with the shuttle

You can drive your own vehicle to the trailhead

In a nutshell, you get the most bang for your buck of any hike in Zion
Zion Canyon Overlook Trail Factfile
Distance: 1 mile roundtrip
Difficulty: Easy to moderate
Elevation Gain: 160 ft / 48m
Trailhead: East entrance Zion-Mount Carmel Tunnel
Time: 1 hour roundtrip
When: Year round
Top tip: Stay for sunset
Permit required: No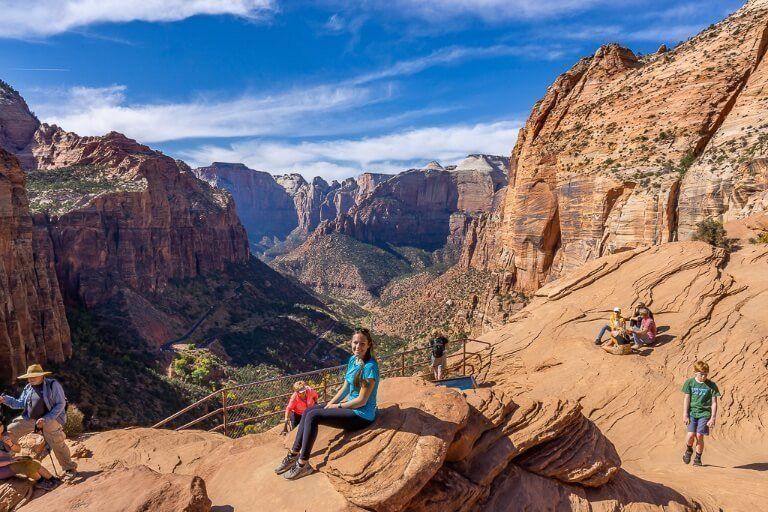 Parking At The Zion Canyon Overlook Trail
Canyon Overlook trail begins just meters from the East side of the impressive Zion-Mount Carmel tunnel.
You can drive your own vehicle to the trailhead, which means you don't have to battle for the shuttle but it also means finding a parking spot. And that is easier said than done at one of the busiest National Parks in the US, with just two tiny parking lots for this hike.
Start by trying the small parking lot right next to the tunnel's East entrance. The second place to try is an overflow parking lot 100 meters further away from the tunnel. After that, it's a case of finding an empty spot along the road side.
When we first arrived at Zion from Bryce Canyon around 11am, there were cars abandoned all over the road side for hiking the Zion Canyon Overlook trail and the line to get through Zion-Mount Carmel tunnel was enormous.
Considering we visited in October, it's hard to imagine what it must be like in July and August!
Tips for parking:
Arrive as early as possible –

E

ven if you finish hiking by 9.30am – 10am, you won't be able to get parked near the visitor center. You need to be back in Zion village before 9am.

Arrive late afternoon – Avoid the 10am – 2pm hiking rush at Canyon Overlook and by the time you finish your hike, day trippers will have vacated the parking lot back in Zion village.
Top tip – Save Canyon Overlook until you are leaving Zion via East entrance, you can hike any time of day without dealing with parking back at Zion village.
As much as we loved Zion, it was incredibly frustrating from a logistics perspective.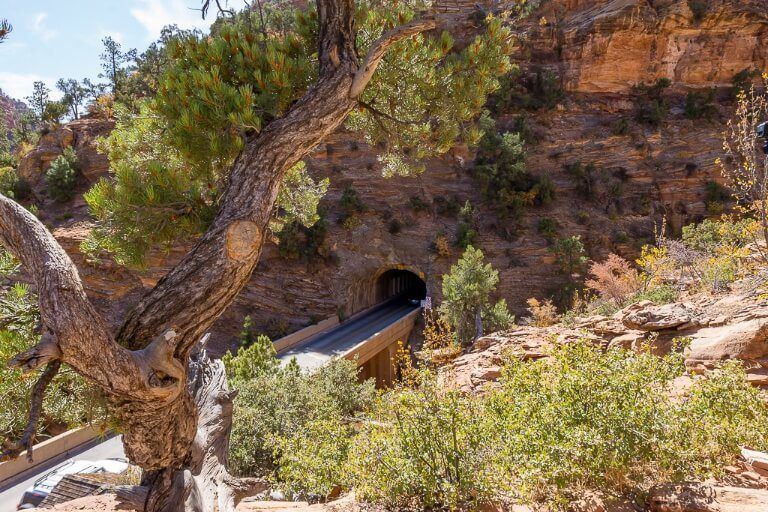 Zion Canyon Overlook Trail Walkthrough
Here's a complete walkthrough of the Zion Canyon Overlook trail so you know exactly what to expect when you arrive.
Getting around Zion National Park is made easier if you are staying at Watchman / South campground near the visitor center or in a hotel in Springdale.
Springdale hotels fill very quickly (especially in Summer) and if you're not staying in Springdale, you can expect a 20 -30 minute drive from the nearest towns. Trust us, we know!
Canyon Overlook is a very short and quick hike for the entire family to enjoy:
1. Park Up & Begin Your Hike
Once you've secured a parking spot, walk towards the Zion-Mount Carmel tunnel being mindful of traffic, especially if hiking with younger kids.
The Zion Canyon Overlook trailhead is around 70 meters from the tunnel entrance and begins with steps carved into sandstone. After a short burst up the steps, look to your left for elevated views inside the Zion-Mount Carmel tunnel.
As a side note, if you have anyone in your party who would prefer a technical hike into a slot canyon, this is also the same starting point for descending into Pine Creek gorge.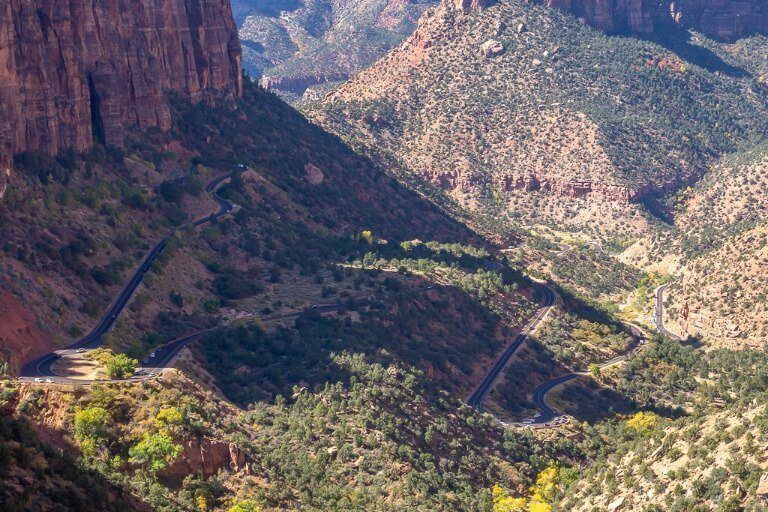 2. Explore As You Climb
Not long after climbing the steps, you will walk along a narrow section of the trail and enter what is best described as a half-cave.
You will walk around a curve in the path with orange rock below, to one side and above you. Imagine a crescent moon or one half of a classic UFO from the movies carved into solid rock.
The trail then opens up and the beaten path is less obvious, which means you can walk your own individual path. If you are hiking without kids, explore the area and make your way towards the view of Pine Creek Canyon without going directly up to the summit.
Tread carefully and eventually you will find the edge of the rock face you're hiking to the top of, only here there are no barriers and that's why we don't recommend you try this with younger kids.
Views here are similar to what you'll see at the top, but the summit will reveal more of the Eastern canyon wall so it's definitely worth completing the hike.
You will have more chance of finding a quiet, secluded spot to yourself here than at the summit – so this might be the time to get your photographs.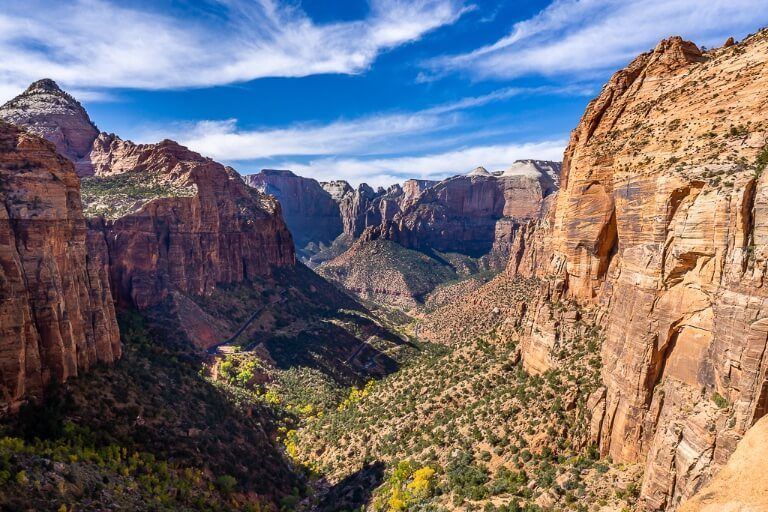 3. Summit For Epic Views
Continue up along any trail you can find until eventually you will rejoin the 'main' path leading to the wide open and exposed summit. Look for information boards to learn about the terrain and walk up huge boulders to either side of the barrier.
Soak up those truly special views across the entire canyon and maybe even take a telephoto lens or binoculars to zoom in on Zion's famous switchback roads at the end of the Zion-Mount Carmel tunnel.
You have summited Canyon Overlook right on top of the Great Arch you can see from the switchback roads scenic viewpoints. Zion's canyon walls are a mightily impressive sight and you've barely had to make any effort!
If the weather is favorable and you want to stay up at the summit to eat lunch, clamber over some of the big boulders to either side and find a secluded spot.
Top tip: Zion Canyon Overlook faces West (slightly Northwest), which means you can stay up for sunset. Perfect for photographers.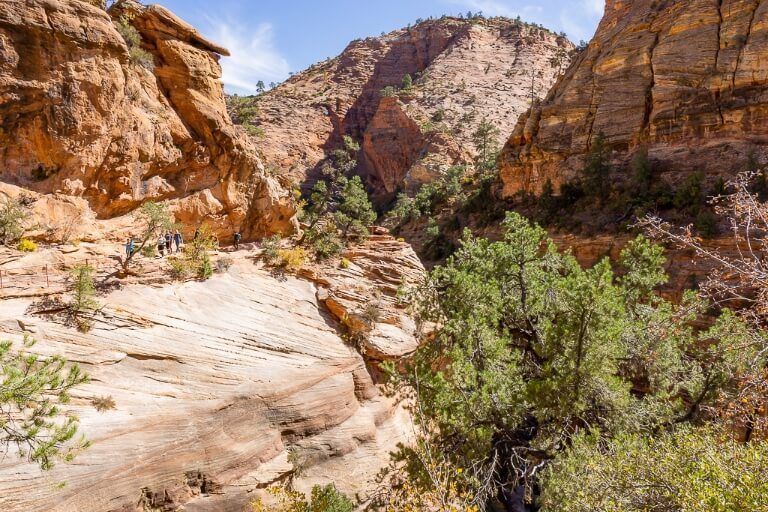 Hiking Tips
Getting parked is the hardest part of this trail, arrive very early or later in the afternoon

Although this is a short hike, you still need to take plenty of water especially in Summer

Remember the overlook faces almost directly West, perfect for watching sunset over the majestic Utah landscape

Conversely, sunrise is also awesome because you can watch the canyon walls light up as the sun is behind you

Better to hike this trail as you leave Zion to avoid parking problems at the visitor center

Keep younger kids close by because there are severe drop offs if veering off the 'main' trail

The trail is exposed with little shade, don't forget to carry sunscreen in your backpack

You don't need any specialist hiking gear or shoes but good grip on footwear will help

Photographers will have no problems carrying a tripod to the summit
What To Pack For Your Hike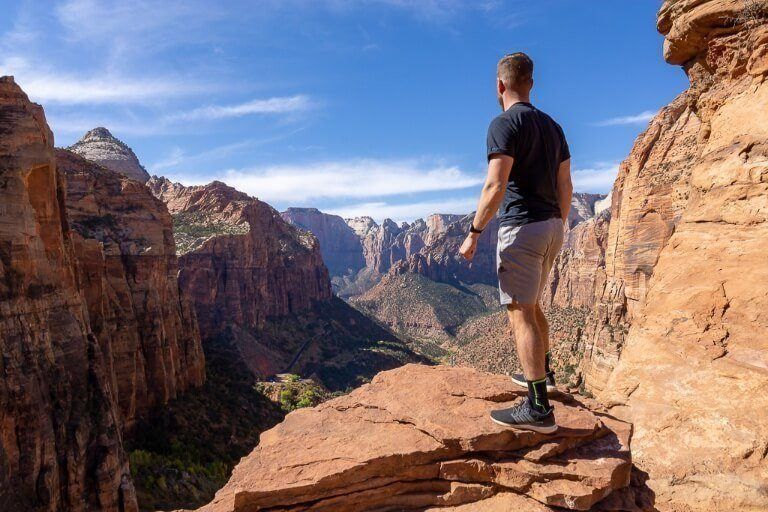 Best Time Of Year To Hike The Zion Canyon Overlook Trail
Winter: Cold and maybe even snow which would make the canyon glitter incredibly. Far fewer tourists and can drive vehicle into the Angels Landing / Narrows canyon to combine Canyon Overlook with those other awesome hikes without shuttle tickets.
Spring: Comfortable weather for hiking, not as busy as Summer which means easier parking and fewer people on the trail. Recommended.
Summer: Hot and extremely crowded both on the trails and roads. Harder to get into the campgrounds and hotels in Springdale. However, more daylight hours and warmer water if combining with the Narrows.
Fall: Perfect time to hike the Zion Canyon Overlook trail. Excellent weather, far fewer tourists than Summer (makes a big difference to your overall experience) and best time to hike the Narrows if combining. Plus, you get to admire some Fall foliage – not much, but still a little! Recommended.
Read More About Zion National Park
Are you planning a trip to Utah? Our Ultimate Utah Road Trip Planner covers all of Utah's Mighty 5 National Parks, plus crosses into Northern Arizona to complete the most amazing loop route.
You May Also Like
---
We hope this helped you plan your Zion National Park Canyon Overlook Trail Hike!
Have you been to Utah? Which is your favorite National Park?
Please let us know if we missed anything from the Canyon Overlook trail, if you have any questions or need any help planning your visit.
-Happy Hiking-
Was This Post Helpful? Pin It For Your Visit!
Recommended Travel Planning Resources