Are you looking for a list of the very best things to do in Kanab, Utah? We're going to show you why Kanab is the adventure capital of Southern Utah with this comprehensive guide to all of the top attractions in the area.
What can you expect on your visit to Kanab?
Stunning photography locations, unique otherworldly landscapes and some of the most memorable hikes in the US are at the heart of why Kanab should be included on your US road trip itinerary.
How can we help you plan your visit to Kanab, UT?
Well, here's what we will show you:
Where Kanab is and how to get around
Top rated restaurants and hotels in Kanab
When to visit and how many days you need
25 best things to do in Kanab, Utah
Let's get right into the action!
What Are The Best Things To Do In Kanab Utah?
The Wave: Most sought after bucket list hike
Buckskin Gulch: Best multi-day hike
Peekaboo Canyon: Best 4×4 tour
Coyote Buttes South: Best off the beaten path
Via Ferrata: Best for thrill seeking
The best things to do in Kanab Utah include hiking The Wave and exploring Buckskin Gulch slot canyon in Vermilion Cliffs National Monument to the East, and finding quirky but fun attractions like Belly of the Dragon and Moqui Caverns Sand Caves to the Northwest of the city.
You can get off road on 4×4 adventures, hike multiple slot canyons, sandboard on Coral Pink Sand Dunes and choose one of many photogenic places to watch a beautiful Kanab sunset each day.
We will get into all of these things and more throughout the guide.
Which activities will top your Kanab Utah wishlist?
Kanab Utah Visitor Summary
How to get around – Kanab is easy to access from anywhere in Southern Utah and Northern Arizona via Highway 89. Las Vegas is the nearest major city and airport. Once in Kanab, you can access most attractions with a car but some require a 4×4 high clearance vehicle.

When to visit – Kanab is a great place to visit year round, with hot Summers, mild Winters and perfect conditions in both Spring and Fall. One day will allow you to get a taste for the area, 2 days you can do most things in Kanab and 3 days you can complete the list.

Where to stay – Kanab Utah has a selection of highly rated but very affordable hotels, which makes visiting for multiple nights a welcome relief on your bank account. Top rated hotels include Red Canyon Cabins, Kanab Suites and Canyons Boutique Hotel.

Popular things to do – Hiking, photography, scenic drives, slot canyons, 4×4 OHV, National Parks, State Parks and National Monuments.

Don't miss – The Wave is Kanab's world famous hike and it has to be classified as the unmissable attraction in the area. You will need to win a permit to hike The Wave.
Where Is Kanab, Utah?
Kanab is located in Southern Utah, just 3 miles from the border with Arizona. It is sandwiched perfectly between Zion National Park and Bryce Canyon National Park to the northwest, and Vermilion Cliffs National Monument and Grand Canyon National Park to the southeast.
How To Get Around In Kanab
Most of the top attractions in Kanab are accessible by 2WD vehicles, but there are certain parts of the region you can only access if you have a 4WD off road vehicle.
If you want to see South Coyote Buttes, White Pocket or Peekaboo Canyon you will need a 4WD high clearance vehicle, or you will have to join a tour.
Certain roads suitable for 2WD cars can quickly become impassable if it has rained heavily around Kanab. Luck will play a part in your overall experience but hopefully you will have a dry visit.
The Wave and Buckskin Gulch are arguably the two most popular things to do in Kanab Utah.
Even the road leading to Wire Pass trailhead (which serves both hikes) called House Valley Rock Road turns into a graveyard for cars after rain.
If you want to see and do all of the best off the beaten path things in Kanab, you should hire a 4×4 high clearance vehicle at whichever airport you land in. You can also hire a Jeep in nearby Page Arizona.
Unless of course you already own such a vehicle!
Notable Driving Distances And Times
Zion National Park to Kanab Utah – 43 miles and 1 hour drive time from Springdale.
Bryce Canyon National Park to Kanab Utah – 87 miles and 2 hours drive time from Bryce Canyon City.
Page Arizona to Kanab Utah – 74 miles and 1 hour 10 minutes drive time.
Grand Canyon South Rim to Kanab Utah – 211 miles and 3 hours 30 minutes drive time from Grand Canyon village.
Las Vegas to Kanab Utah – 199 miles and 3 hours 20 minutes drive time from downtown Las Vegas.
What Is The Closest Airport To Kanab Utah?
St. George regional airport is the closest airport to Kanab in Southern Utah but Las Vegas McCarran is the closest international airport to Kanab.
St George Airport to Kanab Utah – 86 miles and 1 hour 30 minutes drive time.
Las Vegas McCarran Airport to Kanab Utah – 207 miles and 3 hours 30 minutes drive time.
Salt Lake City Airport to Kanab Utah – 317 miles and 4 hours 50 minutes drive time.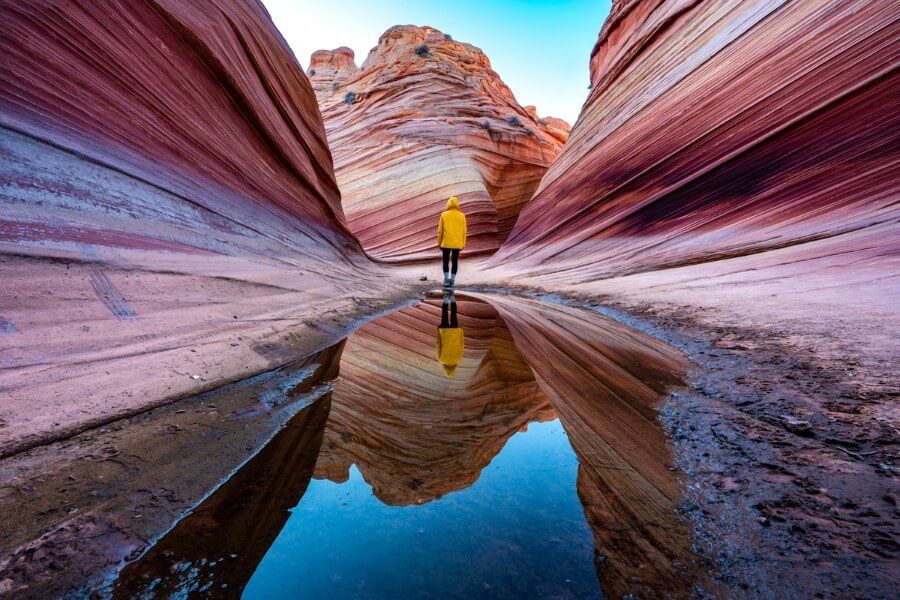 Why Visit Kanab, Utah?
Kanab is the perfect place to use as a base for exploring countless slot canyons, hiking incredible trails and photographing wonderfully varied terrains in southern Utah. The small city also has great hotels and restaurants at affordable prices.
Before driving on to Page in Arizona for Horseshoe Bend or Antelope Canyon, and on to Grand Canyon South Rim, you may want to consider stopping for a night or two in Kanab so you can experience the best of the surrounding areas.
Kanab is the perfect staging area for adventure activities and it should be a focal point when planning the best USA road trips in the Utah – Arizona border region.
How Many Days Do You Need In Kanab?
One day in Kanab Utah is enough time to combine some of the smaller and quicker to visit attractions with one or two of the major tourist spots. But 2 full days in Kanab would allow visitors to tick off all of the best things to do on both sides of the city.
If you can stretch it out to 3 days in Kanab, you can hike several of the best hikes in Utah, join a 4×4 tour or even pre-book a 4×4 off road vehicle to pick up at the airport for some serious desert exploration.
Our Time In The Kanab UT Area
Most people are on a Grand Canyon to Zion road trip or vice versa, but almost everyone will underestimate how much time is required for a fleeting visit to Kanab en route.
We have been guilty of this on two occasions!
The first time we road tripped the American Southwest we didn't even stop in Kanab. The second time we visited the area we included Kanab but didn't allow for enough time and had to reshuffle our itinerary.
We ended up spending 2 full days exploring all of Kanab, including hiking The Wave after winning a daily lottery permit in person at the Kanab Center gymnasium.
It was a bit of a whirlwind action packed two days but it was well worth sticking around.
As a result of our fantastic experience, we had to include Kanab in our popular guide to the 50 best places to visit in the USA.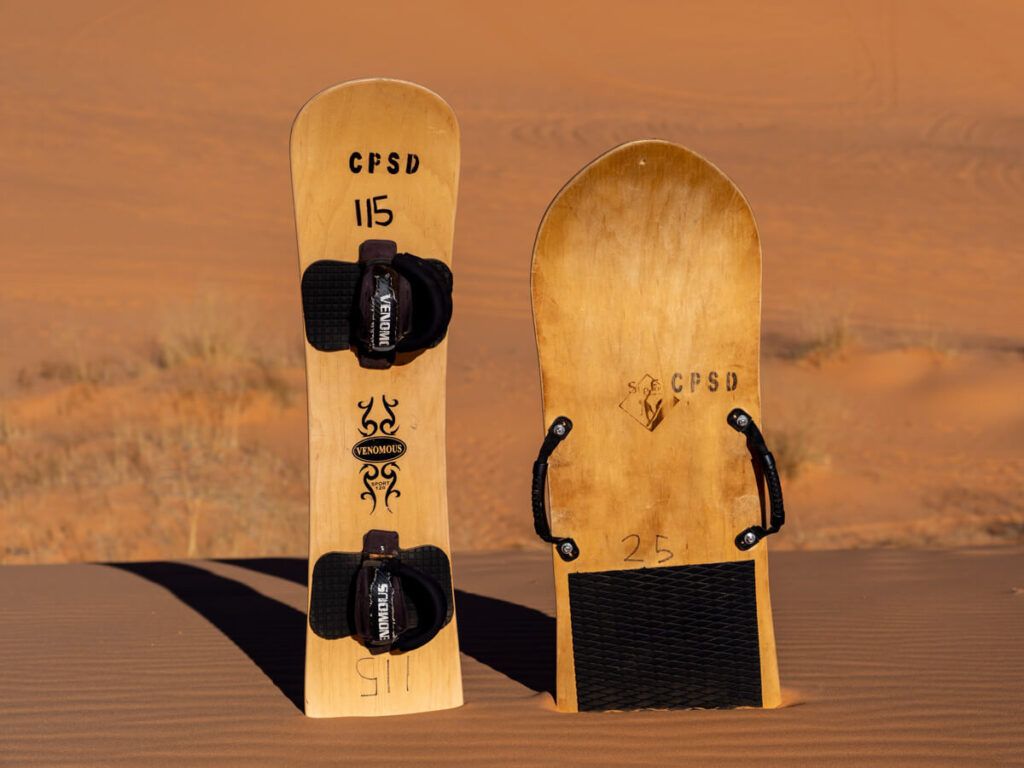 What Is The Best Time To Visit Kanab, Utah?
The Spring months of March and April, as well as the Fall months of October and November are the best times of year to visit Kanab Utah for most comfortable weather conditions, best value on hotels and reasonable crowd levels.
Summer months of July and August are extremely hot in Kanab, which can lead to uncomfortable hiking conditions. Winter is a fantastic time to visit Kanab with sparse crowds and excellent value on hotels.
Kanab is a four season adventure playground for hikers, families, couples and photographers. The best time to visit Kanab UT depends entirely on what you plan to do with your days.
What Is There To Do In Kanab In Winter?
Winter in Kanab is much like any other season, but it is much quieter and cheaper to travel in December, January and February. You stand a much better chance winning a permit to hike The Wave and all other trails will be crowd free.
The only thing you will need to consider is rain, snow and ice preventing access to trailheads or creating dangerous hiking conditions on trails.
If the weather plays nicely, Winter can be the very best time of year to visit Kanab, as we found out in December 2021.
Where Can I Watch The Sunrise And Sunset In Kanab?
The best sunrise locations in Kanab include The Wave, White Pocket, Lake Powell in Page, Toadstool Hoodoos and Canyon Overlook in Zion National Park which is only 45 minutes away.
The best sunset locations for Kanab are very much the same, but also includes Moqui Caverns Sand Caves.
What Is The Elevation Of Kanab UT?
The city of Kanab in Southern Utah sits at an elevation of 4,970 ft. Nearby Springdale for Zion is 3,900 ft above sea level and Grand Canyon North Rim is 8,300 ft above sea level for comparison.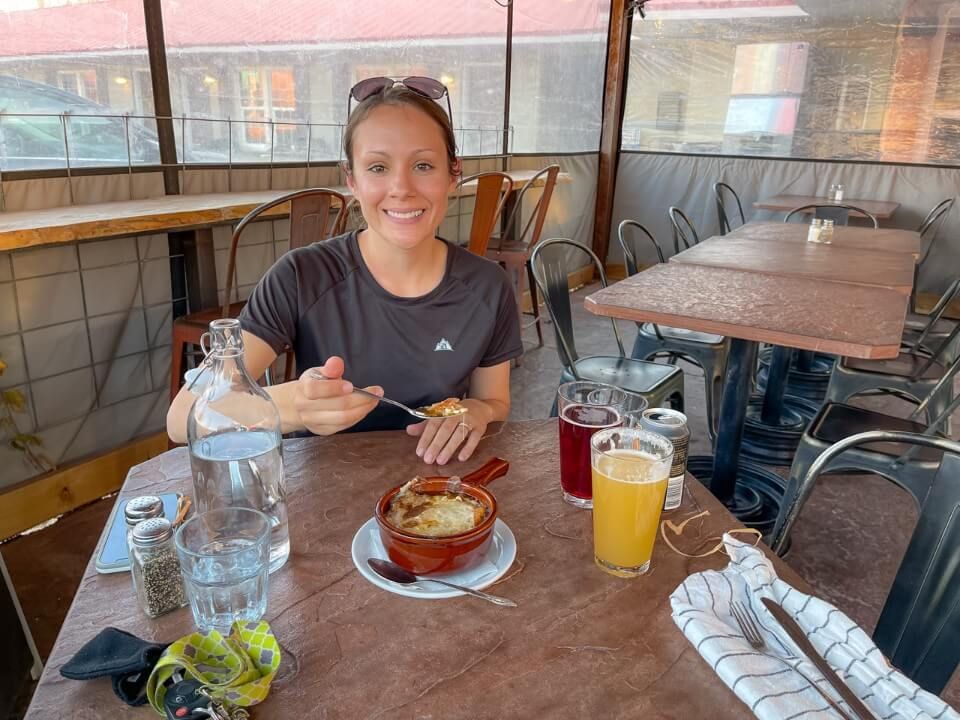 Where To Eat In Kanab, Utah
Kanab is overflowing with quality restaurants, cafes and food truck stops. The small city has a wonderful relaxing and chilled vibe on an evening, perfect for a great meal and a cold beer after a full day of exploring.
Here are a handful of the top rated food spots in Kanab, Utah:
Sego Restaurant
Peekaboo Canyon Wood Fired Kitchen
Sunny Creek Coffee
Rocking V Cafe
Wild Thyme Cafe
Escobar's Mexican
Tex's Chuckwagon
Where To Stay In Kanab, Utah
The small city of Kanab Utah has a surprising amount of high quality accommodation options at extremely reasonable price points.
We have rounded up the top rated hotels as per previous guests to the area taken directly from booking.com, which we typically use to book our own hotels when traveling.
Top rated hotels in Kanab, Utah
Budget
Mid Range
Luxury
Click on each hotel to see prices for the nights you will be visiting Kanab.
Want to see the top Kanab hotels?

Read our complete guide to the 12 best hotels in Kanab Utah to see a detailed roundup of your top rated cheap, mid range and luxury hotel options.
List Of The 25 Best Things To Do In Kanab, Utah
Let's go ahead and get stuck into this comprehensive list of the best places you can visit on a trip to Kanab, which is filled with some of the most fun things to do on a trip to Utah.
Attractions are not listed in any particular order, and you will find a summary for each activity detailing:
Is a hike is required?
Is a 4×4 vehicle is required?
The location of each attraction with Google Map link
How long you need for each attraction
Use the list below to start formulating ideas about what you would like to see the most.
We will cover example itineraries later in the guide.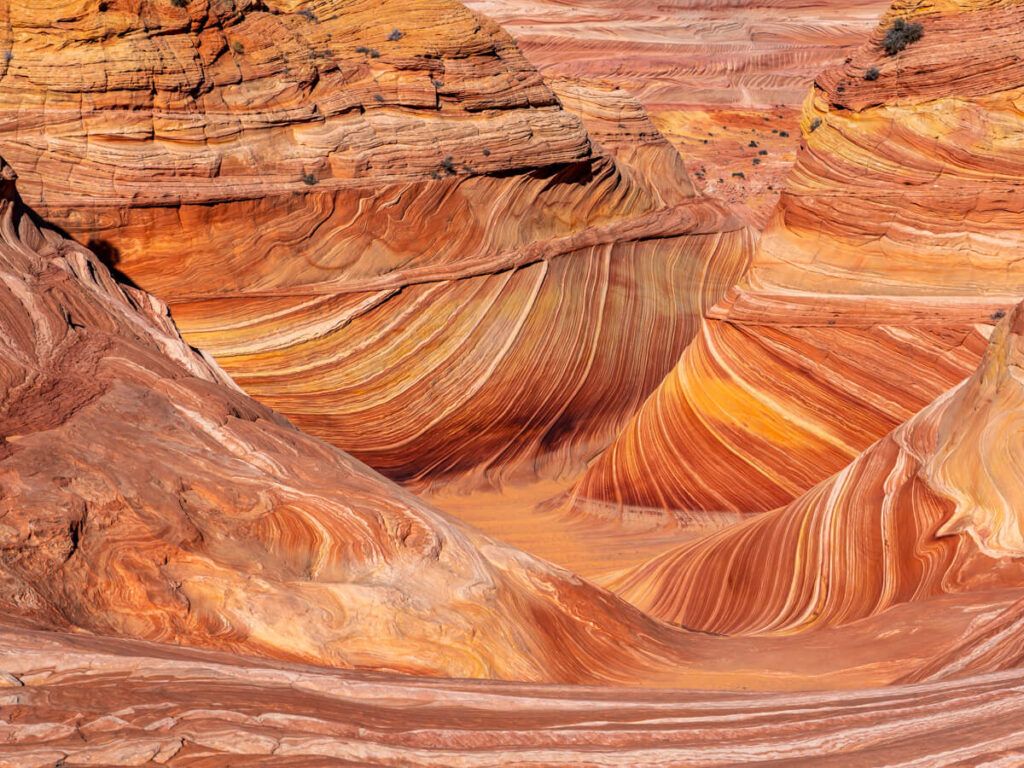 1. The Wave
What Is The Wave?
The Wave is one of the most sought after hikes in the United States.
After hiking for 3 miles using a paper map provided by the BLM (bureau of land management) for directions, hikers will climax at an extraordinarily spectacular landscape filled with swirling patterns and striped rocked formations bursting with color.
However, The Wave is just one small part of Coyote Buttes North wilderness area.
At the end of the hike, you can explore the entire region which includes more remarkable formations like The Second Wave, The Boneyard and The Alcove.
Why Hike The Wave?
The Wave is one of the top US bucket list hikes and it is world renowned among landscape photographers. It is one of the most unique and otherworldly terrains you are likely to see on our planet.
Hiking The Wave is classed as moderately difficult with just 450 ft elevation gain over a 6 miles roundtrip trail.
It should take between 3-4 hours depending on how much you explore around The Wave.
How To Win A Permit To Hike The Wave
You must win a permit to hike The Wave and it is widely regarded as the most difficult hiking permits to win in the entire US recreation network.
You can apply for an advanced lottery permit 4 months prior to hiking, or you can apply for a daily lottery permit 2 days before you want to hike The Wave.
2. Buckskin Gulch
What Is Buckskin Gulch?
Buckskin Gulch is the longest and deepest slot canyon in the United States, and one of the longest slot canyons in the world. It can be day hiked as an out and back for as little as 2 hours or it can be hiked one way to Lee's Ferry as a multi day camping adventure.
Most visitors to Kanab Utah will spend between 3 to 4 hours hiking 2 or 3 miles into Buckskin Gulch before turning back to Wire Pass trailhead.
There are multiple trailheads for Buckskin Gulch but Wire Pass is the most popular.
Why Hike Buckskin Gulch?
How often do you get the chance to walk through the longest slot canyon in America?!
The narrow but tall canyon walls create a lost world feel and you may have to navigate stagnant pools of water, boulders, ladders and ropes. It depends how far you venture into the canyon.
Do not try to hike Buckskin Gulch or any other slot canyon after rain as the narrow passage is prone to dangerous flash floods. You need a permit but there are no limits on numbers each day.
3. White Pocket
Hike: Yes, 0.5-3 miles loop
4WD: Essential, do not try without 4WD
Location: White Pocket
Lat/Long: 36.955011, -111.893296
Time: Full day
What Is White Pocket?
White Pocket is the perfect alternative to The Wave for those who don't win a permit. White Pocket does not require a permit and it is an equally as spectacular landscape. Instead of a red terrain, White Pocket looks more like a Moonscape.
However, accessing White Pocket is not easy.
You can take this tour of White Pocket from Kanab, or you can drive your own (or hired) 4WD high clearance vehicle. Be aware that sand on roads leading to the trailhead is very deep.
Why Visit White Pocket?
White Pocket is overflowing with remarkably beautiful topography, making it a photographers paradise. Various swirling patterns and smooth white domes form a landscape worth the extra effort required to visit.
Directions to White Pocket are a little complicated and the trailhead is over 2 hours drive from Kanab because the roads leading to the trailhead can be challenging.
Here are the BLM directions.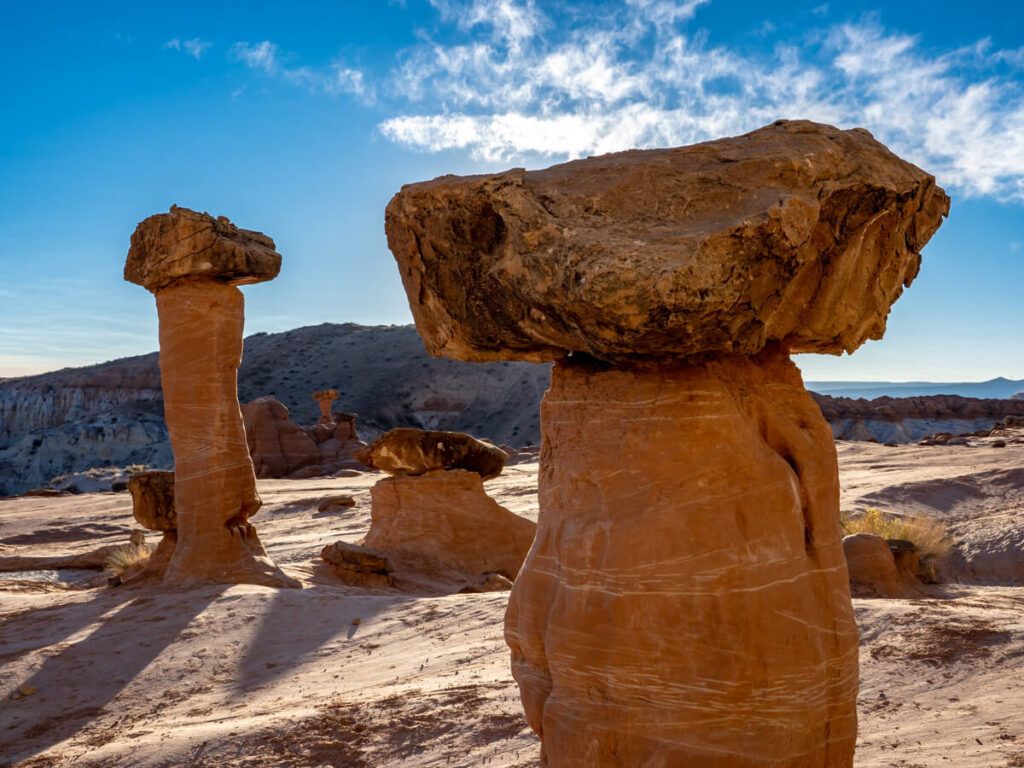 4. Toadstool Hoodoos
What Is Toadstool Hoodoos?
Toadstool Hoodoos is a short and easy hike leading to unique and intriguing mushroom shaped rock features. The family friendly trail follows a dry river wash until it reaches a bowl shaped landscape filled with fascinating sandstone mounds and formations.
Parking along Highway 89 is easy and the short hike is a perfect stop when driving between Kanab and Page.
Sunset is the best time to arrive at the Toadstool Hoodoos terrain, but photographers should aim to arrive 30 minutes to 1 hour before sunset for soft light.
Why Visit Toadstool Hoodoos?
Toadstool Hoodoos is an excellent addition to your list of things to do in Kanab because it is easy to visit, only has 140 ft elevation gain and it a fantastic photography location.
The Toadstool Hoodoos look just like mushrooms, with a long stem and a larger rock perched on top.
We haven't seen formations like these anywhere else, which makes this a very unique stop off in Kanab.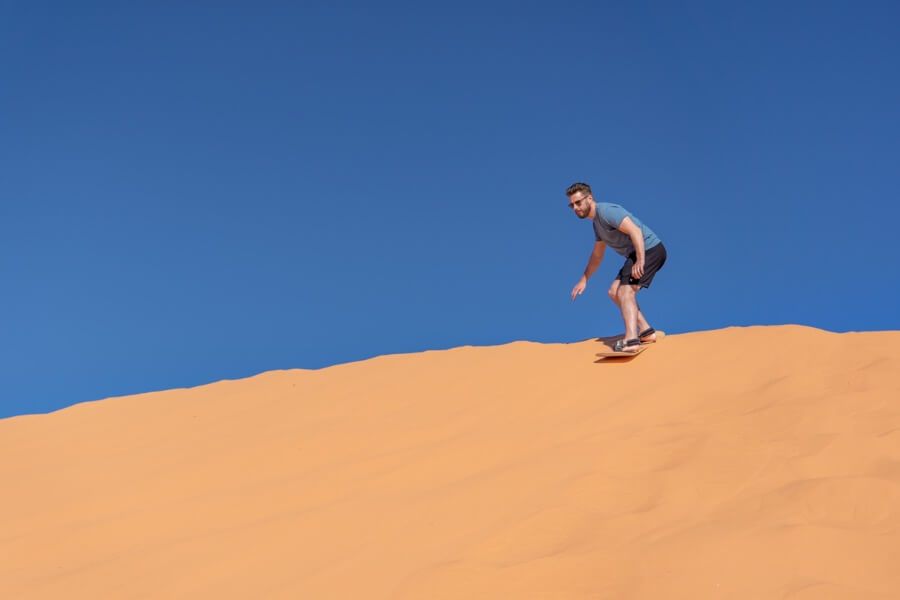 5. Coral Pink Sand Dunes
What Is Coral Pink Sand Dunes?
Coral Pink Sand Dunes State Park consists of 3,370 acres of sand dunes on which hikers, sandboarders and OHV enthusiasts can explore. It is a wide open landscape filled with smooth sand dunes backed by enormous sandstone cliffs.
Coral Pink Sand Dunes is one of the top ATV and OHV terrains in the area. But it's also a great spot for hikers or anyone who wants to have a go at sandboarding or sledding down sand dunes.
Why Visit Coral Pink Sand Dunes?
Most people will visit the pink colored dunes after leaving Zion National Park on the way down to Kanab. We have to say sandboarding on Coral Pink Sand Dunes is one of the most fun things to do in the area.
You can rent ATV's, sandboards and sleds to ride the sand dunes.
6. Peekaboo Canyon And White Wave
Hike: Very easy and under 1 mile
4WD: Yes, tours available or ATV
Location: Red Canyon Slot
Time: 6 hours
What Is Peekaboo Canyon?
Peekaboo Canyon, also known as Red Canyon, is a very easy walk through one of the most photogenic slot canyons in the Kanab area. This slot canyon has been dubbed "Antelope Canyon without the crowds", which means you can expect to take stunning photos at your own pace.
Access to Peekaboo Canyon is via a deep sandy road, which means only high clearance 4WD vehicles or more commonly ATV's can reach the canyon.
You can hire an ATV in Kanab, or you can join a tour of Peekaboo Canyon.
Why Visit Peekaboo Canyon?
Peekaboo Canyon is one of the best off the beaten path things to do in Kanab Utah.
Many visitors will choose activities not requiring ATV or paying for a tour, which means Peekaboo Canyon will be much quieter than other parts of Kanab.
This 1.5 hour tour and this 3 hour tour include guided Jeep tour and hiking in Peekaboo Canyon.
Peek-a-boo Canyon is one of the most attractive slots in Southern Utah, so don't forget your camera and tripod to stabilize in darker areas.
The White Wave
There is an additional tour option which combines Peekaboo Canyon with a visit to The White Wave, a hidden gem in Kanab. The White Wave is a beautiful sandstone formation with long wavy leading lines.
You will not find The White Wave on any map but it is located close to Peekaboo Canyon.
Adventurous types can search for it with an ATV, or you can join a Peekaboo Canyon and White Wave tour.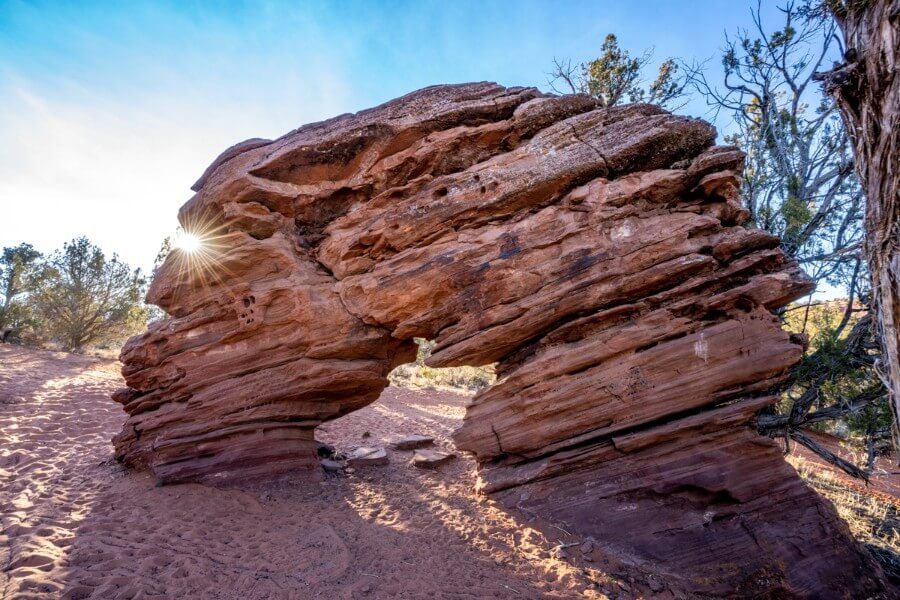 7. Sand Dune Arch
Hike: Yes, less than 1 mile roundtrip
4WD: Not required
Location: Hancock Road
Time: 1 hour
What Is Sand Dune Arch?
Sand Dune Arch is a large and thickset arch bursting out of a flat and sandy landscape filled with juniper trees. With very few other rock formations in the area, it is intriguing how this standalone arch has been spared from erosion over time.
A very short hike from Hancock Road leads beyond Party Rock and to Sand Dune Arch.
If you hire a 4WD high clearance vehicle, you can drive all the way to Sand Dune Arch but 2WD cars should be left on Hancock Road.
Why Visit Sand Dune Arch?
Sand Dune Arch is a very quick and easy stop to make on your Kanab itinerary. It is typically a very quiet attraction, which means you are likely to have it to yourself.
If you decide to visit Coral Pink Sand Dunes, this stop at Sand Dune Arch is on the way so it makes sense to see both at the same time.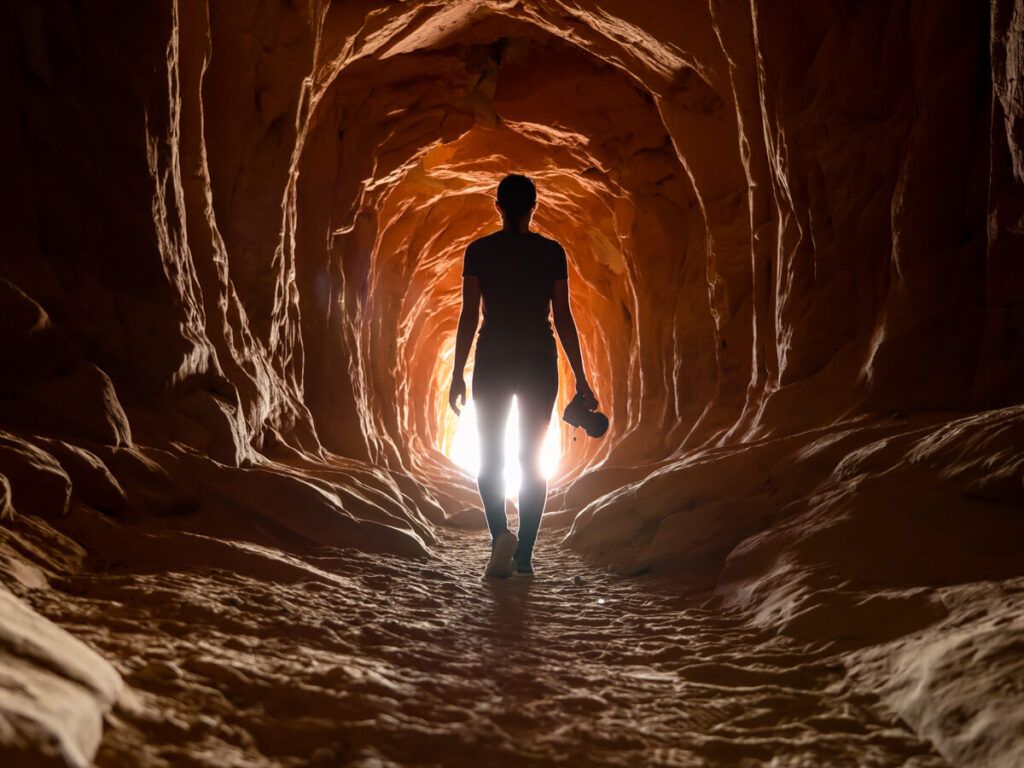 8. Belly Of The Dragon
What Is Belly of the Dragon?
Belly of the dragon is a water drainage tunnel running underneath highway 89 near Kanab in Utah. Water erosion over time has carved out extremely photogenic and irregular rock shapes inside the tunnel.
You can hike through the tunnel and optionally continue up a dry creek bed for up to 5 miles.
Not many go as far as a small slot canyon at the end of the 5 miles (which means a 10 miles roundtrip hike). Most prefer to just walk through the tunnel and take a ton of cool photographs.
Why Visit Belly of the Dragon?
Belly of the dragon has become something of an instagram photo must have when visiting Kanab. Light floods inside the tunnel and creates fun photo ops for couples and families with kids.
Parking is right at the tunnel, just a few hundred feet after turning off highway 89 at mile marker 80 across the road from a brown Zion National Park sign.
9. Great Chamber
Hike: Yes, but only 0.25 miles each way
4WD: Must have 4WD
Location: Great Chamber
Time: 1-2 hours on site but longer to access
What Is The Great Chamber?
Great Chamber at Cutler Point is a huge sand cave in Grand Staircase Escalante National Monument near Kanab, Utah. Accessing Great Chamber is difficult and should only be attempted by 4WD vehicles.
Play with framing the chamber entrance against clouds outside and light spilling into the cavernous sand chamber. A short and sandy hike is required to enter the chamber.
You can go it alone or take a tour to Great Chamber.
Why Visit The Great Chamber?
Great Chamber is incredibly photogenic and another classic Kanab instagram spot. It's another thing to do near Kanab that is going to be quieter due to the necessity of 4WD vehicle, so make the most of these spots if you hire a Jeep or similar.
Head north on US-89 and take the turn for Best Friends Animal Sanctuary. Beyond the sanctuary, roads 100 and 103 are only suitable for ATV and OHV's.
Alternatively, head in from Johnson Canyon Road to the east side of Great Chamber using roads 100 and 103.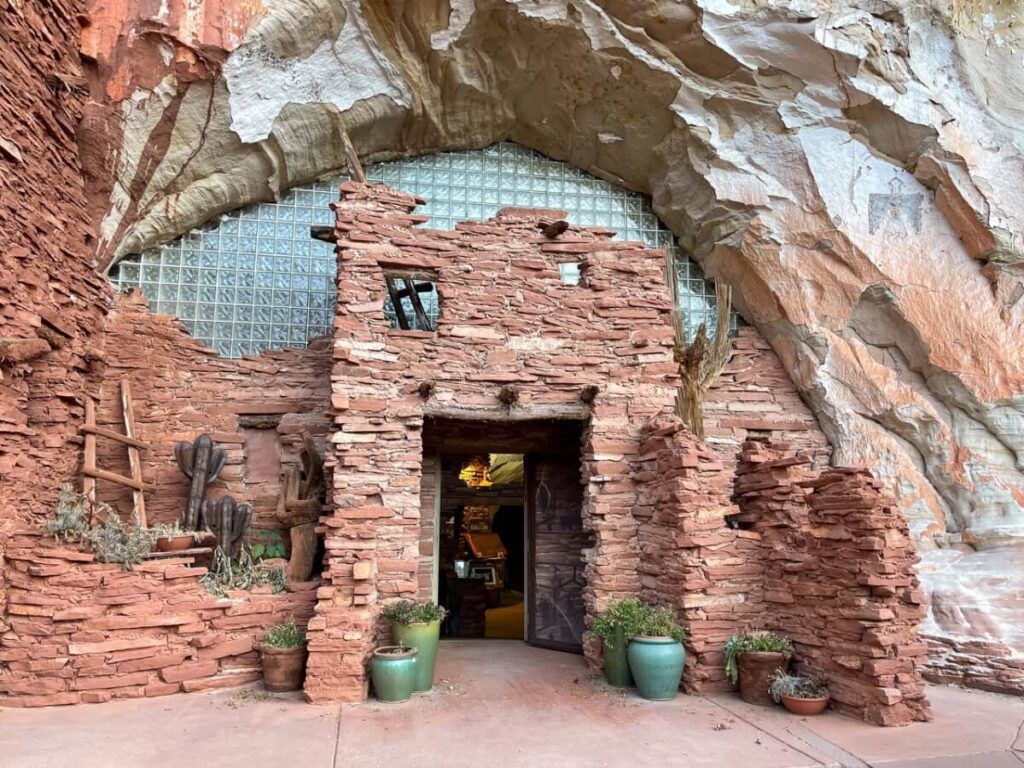 10. Moqui Cave Museum
Hike: No
4WD: Not required
Location: Moqui Cave
Time: 1 hour
What Is Moqui Cave?
Moqui Cave is a small natural history museum and Southern Utah landmark filled with artifacts, rare geological commodities and an eclectic mix of artwork. Before it was a museum, the cave was once a concert hall and bar.
The museum features four rooms, including the old bar itself, a gift shop and the old concert hall, which has been transformed into a museum containing fluorescent minerals, rocks and fossils.
Why Visit Moqui Cave?
Moqui Cave is extremely easy to visit, just 5 miles north of Kanab and right along highway 89. It is perfect for families with younger kids and anyone who wants to learn about the history of an interesting landmark.
Guided tours are included with a small entrance fee, and we have to say the staff were fantastic when we visited the cave.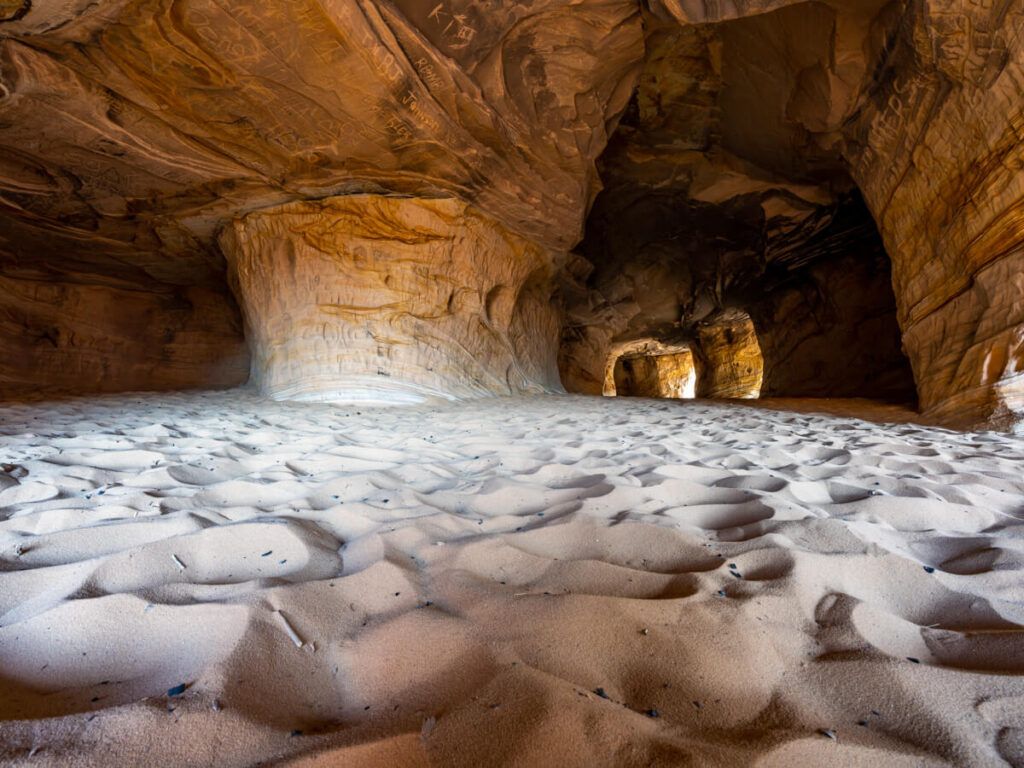 11. Moqui Caverns Sand Caves
Hike: Yes, 0.5 miles roundtrip
4WD: Not required
Location: Sand Caves
Time: 1 hour
What Is Moqui Caverns?
Moqui Caverns are a small series of man made sand caves near Kanab, Utah. A short but steep and slippery hike is required to reach the sand caves but they are a very popular photography location, especially around sunset.
Another thing to do in Kanab made famous by Instagram and other image based social platforms, Moqui Caverns illuminate a golden yellow around 1 hour before sunset.
Why Visit Moqui Caverns?
Moqui Caverns sand caves are extremely photogenic any time of day but particularly in late afternoon when light pours into the cavern network.
Parking is right on highway 89 and the hike is not marked, so you must find your own path up slick rock which is very sandy and slippery.
Wear shoes with good grips for the steep climb, you will need them.
12. Red Hollow Slot Canyon
Hike: Yes, approx. 1.2 miles roundtrip
4WD: Not required
Location: Red Hollow Ranch
Time: 1 hour
What Is Red Hollow Slot Canyon?
Red Hollow slot canyon is similar to many of the other slot canyons around Kanab, but this one is a little further out in Orderville and it is very lightly trafficked.
A short hike leads to Red Hollow slot canyon, which is also short in length but it is picturesque and it won't have the crowds of the more famous slots closer to Kanab.
Parking is not marked but you can park at a dead end (see below).
Why Visit Red Hollow Slot Canyon?
Red Hollow is the perfect fleeting stop to make on a drive down from Bryce Canyon National Park towards Kanab, Utah. The short and easy hike won't take long but you can experience a cool slot canyon in solitude.
Either follow the Google Map link above or drive into Orderville, pass the elementary school to your left and then turn left at the T junction.
You will reach an improvised parking area, but don't go further as it turns into private property.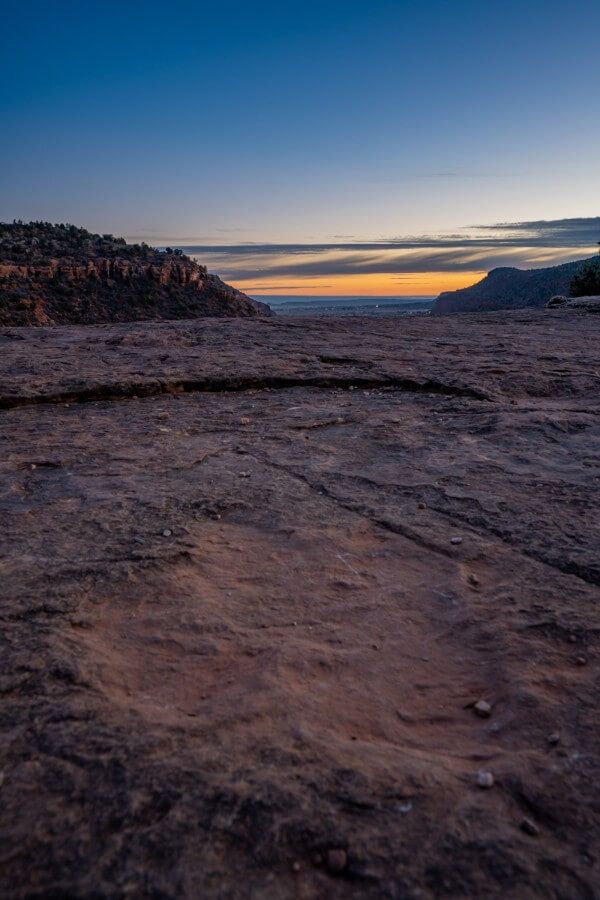 13. Dinosaur Tracks
Hike: Yes, steep 0.7 miles roundtrip
4WD: Not required
Location: Utah Port of Entry
Time: 1-2 hours
Read: How To Hike To Dinosaur Tracks
What Are The Dinosaur Tracks?
Dinosaur tracks is a very short but steep climb up a mound leading to a plateau with dinosaur prints embedded into rock. These prints are 185 million years old and have been revealed from wind and water erosion.
Parking is next to a port-a-potty on the south side of the Utah Port of Entry located just 3 miles north of Kanab. The climb is steep and on loose dirt which means good grips in shoes are a necessity.
Why Hike To The Dinosaur Tracks?
Dinosaur tracks is a quick stop on a Kanab itinerary and ends at Grallator prints, which you've probably never seen before. Views from the summit of the plateau are far reaching but are mostly over the highway.
If you have plenty of time on your visit to Kanab, include this hike. But if you only have one day in town, this is not top of your list of things to do in Kanab.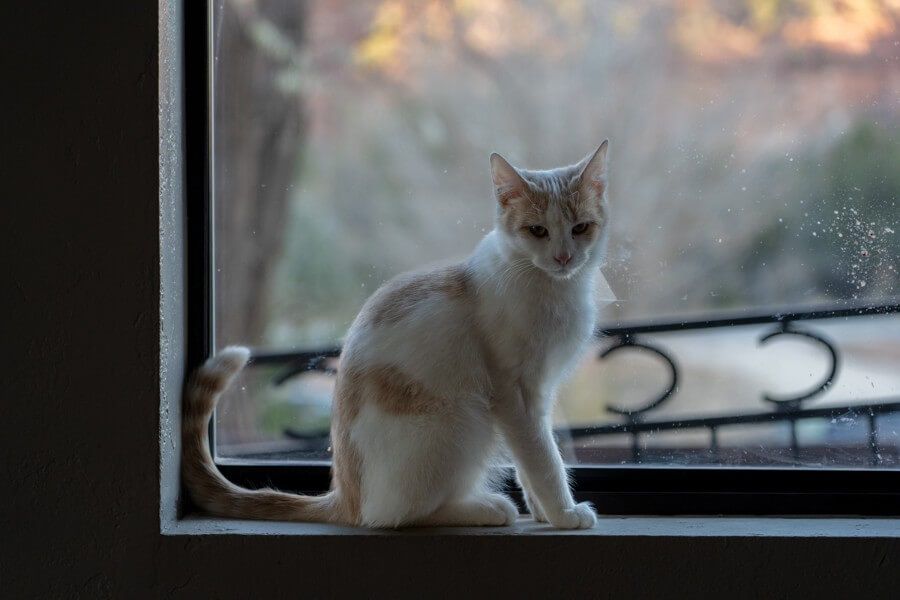 14. Best Friends Animal Sanctuary
What Is Best Friends Animal Sanctuary?
Best Friends animal sanctuary is a no-kill shelter home to around 1,600 rescued farm animals and domestic pets. Visitors can tour the grounds, volunteer to help out and even adopt pets on site.
Why Visit Best Friends Animal Sanctuary?
You can spend a morning or afternoon in your Kanab itinerary volunteering at dogtown, cat world or horse haven. Support the team caring for homeless animals or maybe sponsor an animal.
15. Kodachrome Basin Via Cottonwood Canyon Road
Hike: Yes, multiple trails
4WD: Only if wet on Cottonwood Canyon road
Location: Kodachrome Basin
Time: All day
What Is Kodachrome Basin?
Kodachrome Basin is a state park located a few miles from scenic byway 12 which runs between Capitol Reef National Park and Bryce Canyon National Park via Escalante. It is home to 67 monolithic spires known as sedimentary pipes.
Hiking, mountain biking, horsesback riding and stargazing are the most popular activities in the state park.
But it is more about the drive from Kanab to Kodachrome Basin via Cottonwood Canyon that puts this attraction on our list of best things to do.
Why Visit Kodachrome Basin?
Kodachrome Basin is a wonderfully photogenic and colorful landscape with far fewer visitors versus nearby national parks. It is the perfect day trip drive from Kanab if you take the Cottonwood Canyon road, as opposed to highway 89. Here's the official state park site for Kodachrome Basin.
Cottonwood Canyon road is 47 miles of stunning scenic driving with Grosvenor Arch a must visit landmark along the valley.
A 2WD car can handle Cottonwood Canyon road as far as Kodachrome Basin on a dry day. If wet, you need 4WD just like most places in the region.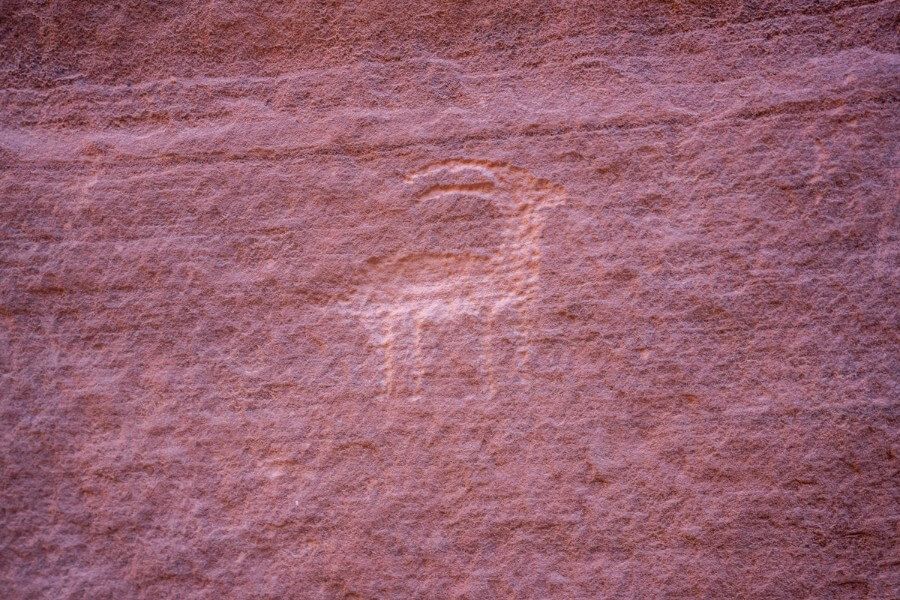 16. Mansard Trail
Hike: Yes, around 6 miles roundtrip
4WD: Not required
Location: Mansard Trail
Time: 2.5-3.5 hours
What Is Mansard Trail?
Mansard Trail is a 6 mile roundtrip hike with over 1000 ft elevation gain located 7 miles east of Kanab Utah. Hikers will climb steep switchbacks and even a rock scramble leading to a sandstone alcove with spectacular south facing views and ancient petroglyphs.
This is a fairly strenuous hike and care needs to be taken on hot days in Summer. Take plenty of water and light long layers to combat exposure.
Dogs may not be suited to this hike due to a number of steep scrambling sections.
Why Hike Mansard Trail?
Mansard Trail is the perfect hike in Kanab to really get out and stretch your legs with a steep ascent ideal for those looking for a good workout.
The climax is an enormous alcove with rock art on the floor dating back to the Anasazi period. It is important not to stand on or touch the petroglyphs.
See recent comments about the hike on All Trails.
17. Coyote Buttes South
What Is Coyote Buttes South?
Coyote Buttes South is a small area in the Vermilion Cliffs wilderness but it is home to some of the most impressive and visually astounding sandstone formations in Utah or Arizona. It is not the same as Coyote Buttes North, which is also known as The Wave.
Some say that the South side of Coyote Buttes is even more attractive than the North side with The Wave.
You can drive 2WD to Lone Tree trailhead, but you will need a 4WD to access Cottonwood Cove or Paw Hole trailhead.
Why Visit Coyote Buttes South?
Coyote Buttes South is one of the best alternatives to The Wave and a top thing to do in Kanab in its own right. The landscape is similarly alien like, but only 20 permits are issued each day which means it truly feels like you are on another planet.
Visiting Vermilion Cliffs is among the best things to do in Arizona.
There are 10 permits issued each day to advanced lottery applications and 10 permits each day for next day walk in applications. Far fewer people apply for South, so you stand a higher chance of winning.
You can apply at recreation.gov.
18. Via Ferrata Kanab
Hike: Climb rock faces
4WD: After rain yes but if dry no
Location: Caves Lake Canyon
Time: 1.5-2 hours
What Is Via Ferrata Kanab?
Via Ferrata is a thrill seeking adventure activity in which people climb up and down metal courses. The term Via Ferrata means Iron Path, and Kanab Utah has its own Iron Path visitors can climb.
You will be securely harnessed as you climb up Cave Lakes Cavern via metal ladders, before rappelling 180 ft back to the base.
The experience will last between 1.5 and 2 hours so you can easily include it on a one or two day Kanab itinerary.
Why Tour Via Ferrata?
The Via Ferrata tour run by Roam Outdoor is the only tour of its kind in Kanab, Utah. You will meet at Moqui Cave (#7 in this list) and the adventure begins on the opposite side of the road.
Tour prices are $99 for adults and $79 for youths aged 6-15, find booking details here.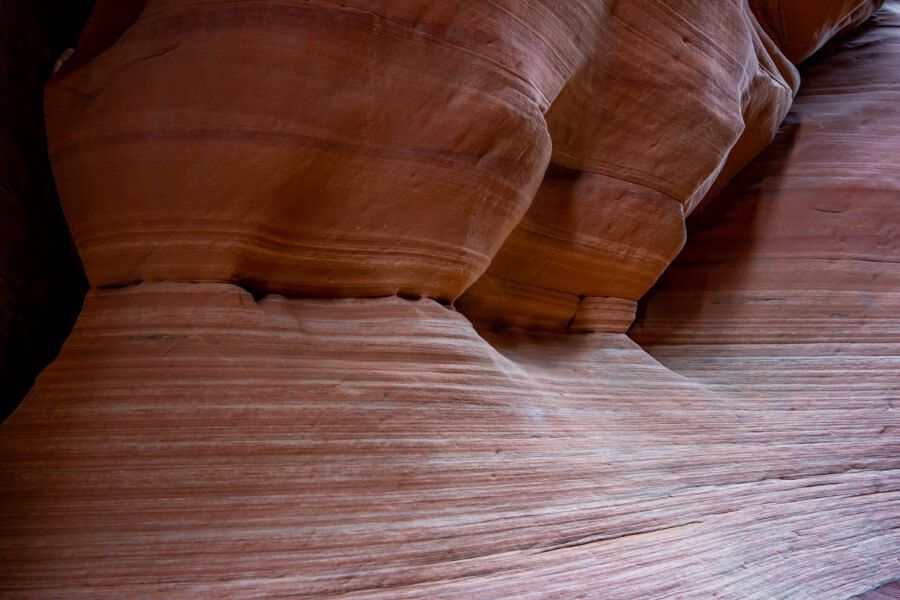 19. Paria Canyon
What Is Paria Canyon?
Paria Canyon is a hike from White House to Lee's Ferry through slot canyon and narrow walls as part of a multi day backpacking hike. Alternatively, hikers can day trip into Paria Canyon for a few miles before returning to White House.
You need a day use permit or an overnight permit to hike in Paria Canyon. Access is easy for this trailhead, just 2 miles off highway 89 near Toadstool Hoodoos.
Why Hike Paria Canyon?
Paria Canyon is very similar to Buckskin Gulch with awesome narrow cliffs and water to navigate. But instead of walking east through Buckskin Gulch to the Paria confluence, you would walk south through Paria Canyon and join the same point at the confluence.
The 2 or 3 day backpacking version of this hike would be a fantastic experience. You can see recent comments on All Trails and find more information about permits.
20. Willis Creek Slot Canyon
What Is Willis Creek?
Willis Creek Narrows is an easy to visit slot canyon with very little elevation gain a long way from the crowds of Kanab, Utah. Sandstone walls 100 ft tall flank a narrow trail with some water on the ground, so old shoes are recommended.
This hike can be done as a 2.6 mile roundtrip if you only include the narrows section of the canyon, or you can stretch it out to a 4.8 mile roundtrip loop with the creek included.
Why Visit Willis Creek?
Willis Creek is secluded and the slot canyon is likely to be very lightly trafficked, making it perfect for those looking to escape busier tourist areas around Kanab, Utah.
You can either drive up Johnson Canyon road and turn onto Skutumpah Road #500, or drive right round highway 89 and access the same road via Cannonville, close to Kodachrome Basin.
21. Old Paria Ghost Town
Hike: No
4WD: Not required when dry
Location: Old Paria
Time: 1 hour
What Is Old Paria?
Old Paria is a ghost town of former settlement Pahreah, which was active back in the late 1800's. A movie set was built on the site of the old town when westerns were at their heyday in the 1960's, but today the site is more of a photography location.
Why Visit Old Paria?
The surrounding rock formations around Old Paria are stunning and vibrant. It is easy to access around 34 miles east of Kanab and very few people visit each day.
There are no places to eat here, but you will find a primitive toilet. Kids can walk through a shallow river and it should be a peaceful experience.
22. Inchworm Arch
What Is Inchworm Arch?
Inchworm Arch is a double arch formation resembling a gigantic inchworm crawling along the top of a ridge, but it is only obvious from a very specific vantage point to the lower right side.
The roads to Inchworm Arch are very sandy and directions include miles of back roads to reach the arch formation, which makes it an adventure day out with hired ATV's, or part of a tour from Kanab.
Why Visit Inchworm Arch?
Inchworm Arch is very much off the beaten path in Kanab, which means you are likely to have the freedom of the entire area. Photographers will enjoy the landscape with double arches perfect for playing with starbursts of the sun.
Here's a link to directions if you go it alone, or you can take a tour with Kanab Tour Company.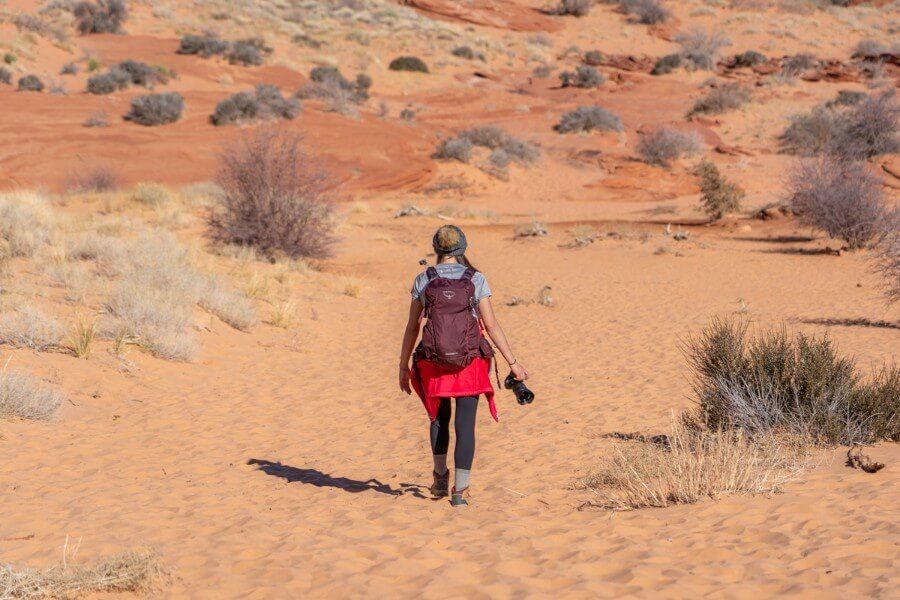 23. Cobra Arch
Hike: Yes, around 7 miles roundtrip
4WD: After rain yes but if dry no
Location: Cobra Arch Trailhead
Time: 4 hours
What Is Cobra Arch?
Cobra Arch is a unique snake-like natural sandstone formation in Paria Canyon Vermilion Cliffs wilderness near the middle entrance to Buckskin Gulch slot canyon in Kanab, Utah. The formation is shaped like a cobra striking as it rises 30 ft from the ground below.
Why Visit Cobra Arch?
Cobra Arch is a fun trail for hikers in the open desert with no set path to follow. The arch itself is visually stunning and can be walked on (with care!) for excellent photo ops.
The trailhead is located a few miles off highway 89 east of Kanab. If it is wet, 4WD vehicles are the only way you will access the trail.
24. Wahweap Hoodoos
What Is Wahweap Hoodoos?
Wahweap Hoodoos is a flat and easy going 10 mile roundtrip hike to a landscape filled with white rock formations shaped like spires with larger stones on top. It is similar to nearby Toadstool Hoodoos, but white replaces red in the primary landscape color.
Why Visit Wahweap Hoodoos?
Wahweap Hoodoos are fascinating formations perfect for photographers to use as interesting subjects. The best light is early in the morning before the hoodoos disappear into shade.
The trailhead is under 4 miles off highway 89 on the way from Kanab to Page. It is an easy hike up wash, but there are lots of rough patches of vegetation not suitable for long haired dogs.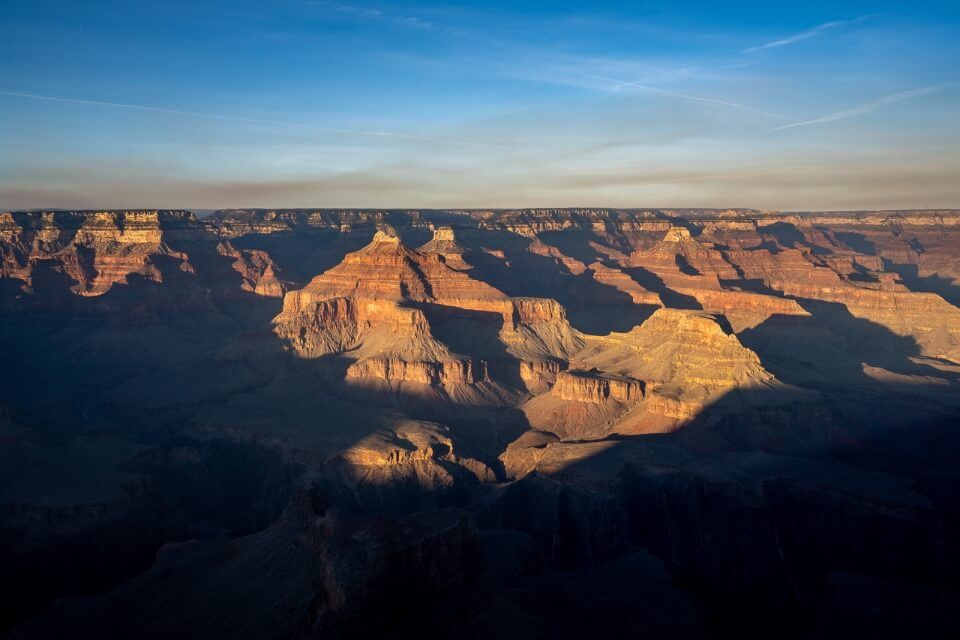 25. Grand Canyon North Rim
Hike: Yes or no
4WD: Not required
Location: North Rim
Time: 4-5 hours
What Is Grand Canyon North Rim?
Grand Canyon North Rim makes up one half of tourist access into Grand Canyon National Park in northern Arizona. Bright Angel Point and Cape Royal are among its top attractions.
North Rim is much higher in elevation versus South Rim and roads close for the Winter season.
When roads are open, North Rim is a playground for hikers, photographers and sightseers to enjoy one of the most well known landscapes on the planet.
Why Visit Grand Canyon North Rim?
Grand Canyon North Rim is often overlooked in favor of its much more popular other half, South Rim. But North Rim is equally as breathtaking, and much quieter than bustling South Rim.
Did you know it is just 79 miles and 1 hour 30 minutes drive from Kanab to Grand Canyon North Rim? If you have time on your road trip, don't miss the world famous jaw-dropping scar in the Earth's crust.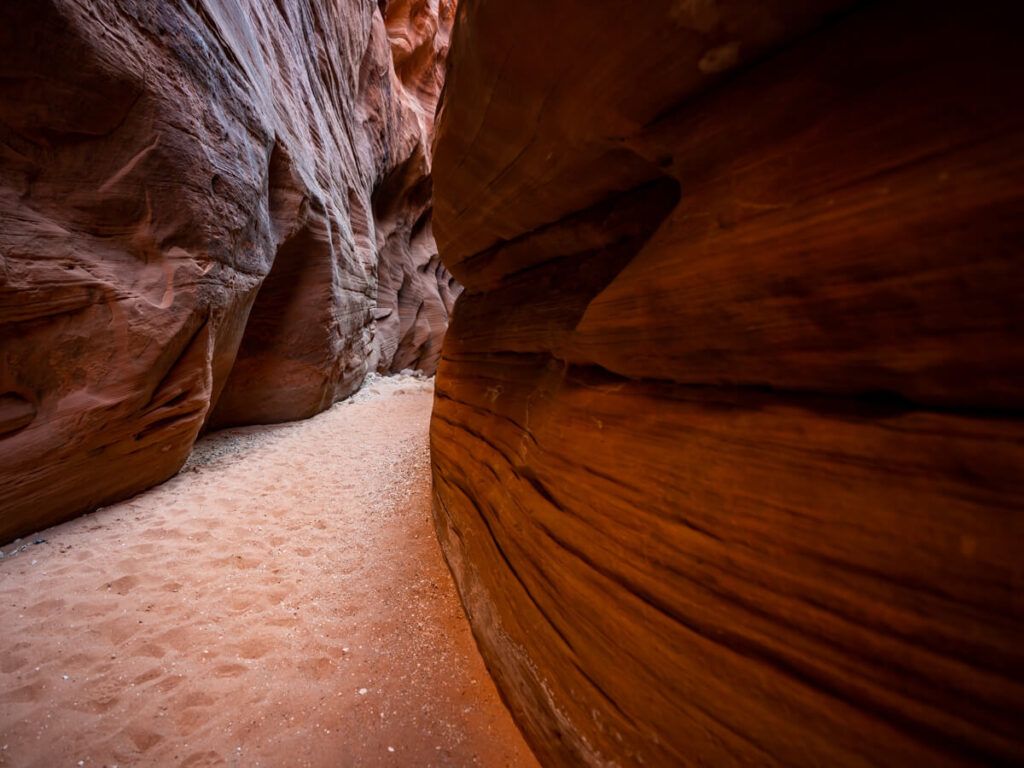 Kanab Utah FAQ's
Let's finish with a very brief look at some of the most asked questions about Kanab in Utah.
Is Kanab Utah Worth Visiting?
Kanab Utah is definitely worth visiting as part of a longer road trip itinerary in the US southwest. Solo travelers, couples and families will all find a wide range of fun things to do and the town of Kanab UT is a wonderfully relaxing place to stay for exploring the surrounding areas.
What Is Kanab Utah Known For?
Kanab is best known for being a small desert town in southern Utah close to several spectacular natural landscapes such as Zion National Park, Coyote Buttes, Buckskin Gulch slot canyon and Vermilion Cliffs National Monument.
What Is There To Do Between Page AZ And Kanab UT?
Exploring Lake Powell, hiking Toadstool Hoodoos Trail, walking through Buckskin Gulch slot canyon and hiking The Wave Trail are the most popular things to do between the towns of Page AZ and Kanab UT.
More From The US Southwest
Grand Canyon – South Rim receives around 90% of all visitors to Grand Canyon, you can see everything from the rim in one day with our Grand Canyon South Rim Itinerary or you can spend a few days hitting the trails with our guide to the 20 Best Hikes At Grand Canyon South Rim.
Zion National Park – Zion is a wildly popular part in Southern Utah, here's How To Spend One Day In Zion National Park if you're short on time or get stuck into the most iconic hikes with our popular guide to the 20 Best Hiking Trails In Zion.
Utah Road Trips – Are you visiting Utah for a longer period? Check out our 9 Utah National Park Road Trip Itineraries to get ideas for how to best spend you time, or keep things easy with our comprehensive guide to the perfect Zion to Bryce Canyon 3 Day Road Trip itinerary.
Moab – Will you be heading northeast from Kanab to visit Moab? Use this action packed Arches and Canyonlands One Day Itinerary to see the best of both parks for the ultimate Moab day trip. Here are the 12 best hotels in Moab UT to help plan where to stay.
Page AZ – The most popular place to visit before or after Kanab is Page AZ for Antelope Canyon, Lake Powell and for photographing Horseshoe Bend at Sunrise or Sunset. Here are the best hotels in Page AZ for every budget.
Las Vegas – Are you starting or ending your southwest adventure in Vegas? Here are our popular guides to the 40 best things to do in Las Vegas and 15 best things to do in Valley of Fire.
Want more Utah content? Head over to our Utah Travel Guides to explore the Mighty Five National Parks and beyond.
---
We hope this guide to the best things to do in Kanab Utah helps with planning your trip!
Please let us know if you have any questions about your visit to Kanab or the Utah / Arizona border area in the comments below.
Happy Travels,
Mark and Kristen
Was This Post Helpful? Pin It For Your Hike!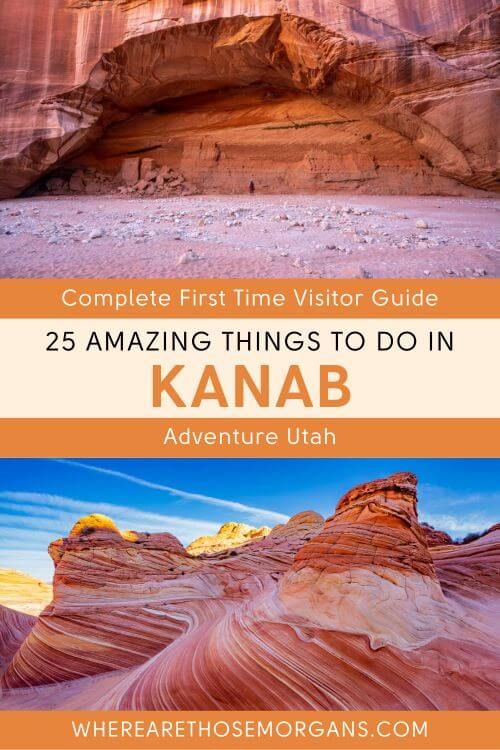 Note: This article contains affiliate links. When you make a purchase using one of these affiliate links, we may earn a small commission at no extra cost to you.
All Rights Reserved © Where Are Those Morgans, LLC. Republishing this article and/or any of its contents (text, photography, maps, graphics, etc.) in whole or in part is strictly prohibited.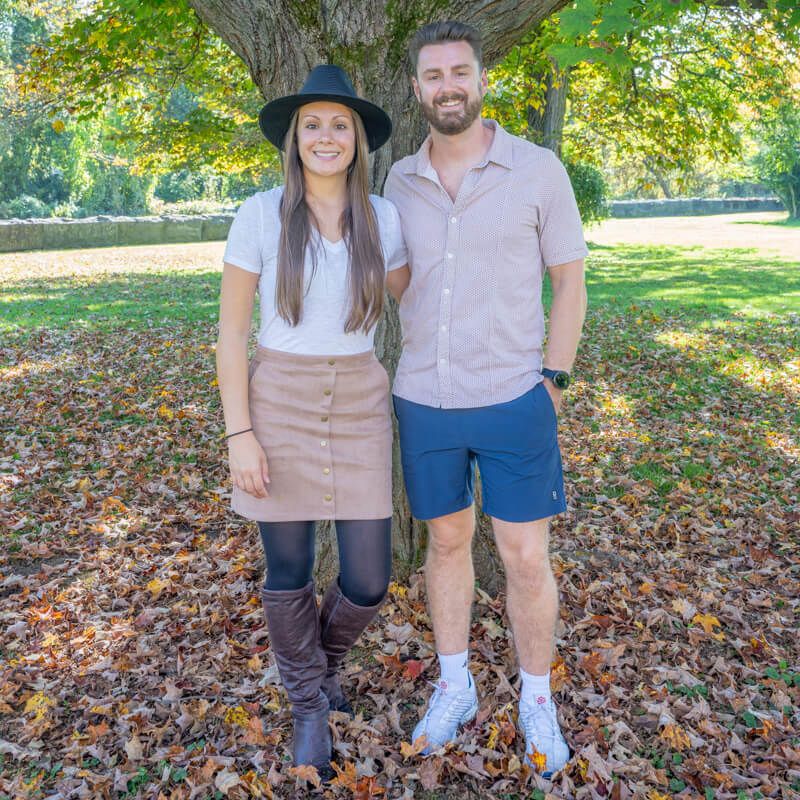 Mark and Kristen Morgan are travel, hiking and photography experts. Over the last 6 years traveling full time, they have explored more than 40 countries and 30 US states.
Their work has been featured in USA Today, Gestalten, Get Your Guide, CityPASS and Condé Nast Traveler along with various other publications.