If you only have one day or two days to see as much as possible at Arizona's world famous Grand Canyon National Park, visit South Rim and use this guide of the best things to do with easy-to-follow day trip and two days itinerary.
You will begin each morning in the beautifully deep blue hues of civil twilight and end each evening once the burning sun disappears over an unimaginably flat horizon on South Rim.
As night falls and the burnt orange rocks cool, you will leave one of the most jaw-dropping landscapes on Earth satisfied that you hit the major highlights and got a taste of hiking into Grand Canyon South Rim in just one day or two days.
Gaping ravines and unique rock formations are common practice among the US Southwest National Park circuit, but you haven't seen anything quite like the Grand Canyon before. The scale, depth and remoteness of this grandest of Grand Canyons is immense.
If an artist had painted the Grand Canyon before we knew it existed, it would be considered a masterpiece of imagination. Lucky for us it does exist – and we can all see it in person.
Let's get right into planning your one day and two days Grand Canyon South Rim itinerary!
*Please note this post may contain affiliate links. If you click on one of them, we may earn a small commission at no extra cost to you!*
Grand Canyon National Park South Rim Factfile
National Park: Grand Canyon (South Rim)
State: Arizona

Address: S Entrance Rd, Grand Canyon Village, AZ 86023
Telephone: (928) 638-7888

Campgrounds: Desert View, Trailer Village and Mather
Area: 1,218,375 acres

Things to do: Hiking, Rafting, Backpacking, Photography
Major Trails: Bright Angel and South Kaibab

Open: All year
Annual visitors: ~ 6 million (2nd highest in US)
Where is Grand Canyon South Rim

?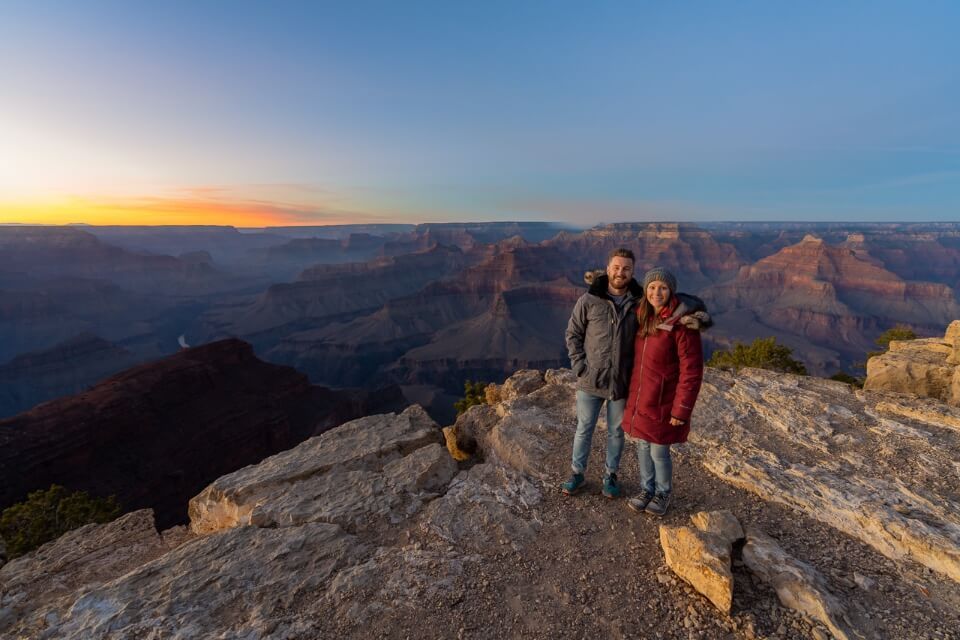 Grand Canyon National Park is located in the Northern reaches of Arizona, but accessing either South Rim or North Rim requires extremely different preparation and directions.
To drive from South to North Rim or vice versa is 200 miles (4h 30m). The canyon might only 18 miles wide but it is 277 miles long and you have to drive around!
Grand Canyon South Rim has two entrance stations:
Grand Canyon South Rim's main entrance is from the South on AZ-64. This entrance is well connected from both the East and West via I-40. This is the entrance you will use from Las Vegas, Phoenix and Sedona.
However, there is a second entrance to Grand Canyon South Rim located due East of Grand Canyon Village along Desert View Drive. This is the best entrance to use for onward travel to Monument Valley, the Utah parks and visiting North Rim.
Driving Distances To South Rim
Let's take a look at distances and drive times to Grand Canyon South Rim from nearby major attractions and cities:
Flagstaff – 79 miles (1h 30m) [South entrance]
Phoenix – 230 miles (3h 30m) [South entrance]
Las Vegas – 280 miles (4h 15m) [South entrance]
Monument Valley – 170 miles (3h 30m) [East entrance]
Moab (Arches) – 320 miles (6h 00m) [East entrance]
Zion National Park – 336 miles (5h 50m) [East entrance]
Millions of tourists visiting Grand Canyon South Rim will fly into the region each year. Others will drive in order to explore more of the stunning American Southwest.
Closest Regional and International Airports
If you will be flying to Grand Canyon South Rim either domestically in the US or internationally from afar, here's a brief summary of the most popular airport options:
Flagstaff Pulliam (Only from Denver, Phoenix and Dallas/Fort Worth) – 90 miles (1h 30m)
Phoenix Sky Harbor – 232 miles (3h 30m)
Las Vegas McCarran – 278 miles (4h 15m)
Las Vegas McCarran International will be the best airport to use for Grand Canyon South Rim, for most visitors. Despite being the furthest away from South Rim, you will find more flight routes and times and more package tours available.
However, always thoroughly check flight prices into the 5 closest airports to Grand Canyon National Park. Don't just assume Las Vegas is the best choice. It might well be, but at least you've done your due diligence.
Logistics resources:
Read our ultimate guide to finding cheap flights. We have a lot of flying experience and explain our best money saving secrets.
Search for flights using Skyscanner, the best flights search engine. It is easy to use and gives the most options.
If you're renting a car at any airport, we always recommend comparing prices first with RentalCars. They are the car rental company we use every time we travel without our own car.
Every time you search for flights and rental cars, use multiple search engines and always check direct with airlines or car companies. Once you find a great price, try to beat it.
Parking and Entrance Fees at Grand Canyon National Park South Rim
Visitor Center and Viewpoint Parking
Parking around Grand Canyon South Rim village is plentiful but spaces will fill very early in the peak months between May and September. You should have no problems with parking between October and April.
Especially difficult places to park in Summer include all major viewpoints along Desert View Drive. There aren't many spots so you'll have to be there either early or late in the day to avoid congestion.
Both times we have visited Grand Canyon South Rim we have had no issues with parking. In fact, we could choose exactly where we wanted to park up, which was useful at sunrise but more importantly at the overlooks.
A park shuttle bus is the only form of motor transport permitted to drive West from GC village along Hermit Road between March and November. You can hire bikes and cycle this road but no cars are allowed.
But you can drive your vehicle up Hermit Road December, January and February. Visiting Grand Canyon in Winter has its benefits!
Grand Canyon South Rim Entrance Fees and Stations
Here are costs and entrance fees to access Grand Canyon South Rim:
Vehicle: US$ 35 – covers up to 15 passengers in one non-commercial vehicle, for as many as 7 consecutive days.

Motorcycle: US$ 30 – covers one motorcycle and its passengers, for as many as 7 consecutive days.
Individual: US$ 20 – covers entering by foot, bicycle, park shuttle or private rafting trip.
Important – Cash is not accepted at Grand Canyon South Rim entrance stations. Credit or debit cards only. One entrance fee is good for both South Rim and North Rim within 7 days.
Travel Tip: Are you planning to visit more than 3 or 4 National Parks in the next year? We highly recommend you buy an annual US National Parks pass called America the Beautiful.
We buy one every year to use at various National Parks and National Monuments across the country, including Grand Canyon. Not only does it save us money, but it is incredibly convenient.
It costs US$ 80 and gets you into as many parks as you can see in 365 days. But it is only worth buying if you will actually visit multiple parks in a year.
Read our complete guide to the America the beautiful annual national park pass for more information.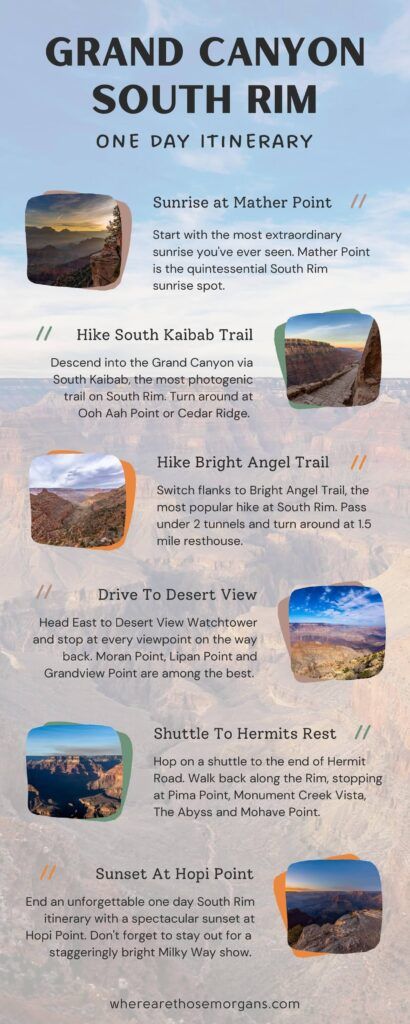 Best Things to do at Grand Canyon National Park South Rim in One Day
One day might not sound like a lot of time to visit a landscape as vast as the Grand Canyon. But in reality, one day is easily enough time to experience the best things to do at South Rim.
Here's the bad news:
Limitations will apply to hikers seeking adventure. One day is enough time to hike South Rim to North Rim or vice versa. It is also enough time to day hike South Kaibab to Bright Angel via Phantom Ranch and the Colorado River.
But either option is going to eat up your whole day.
You won't be able to raft on the mighty Colorado River, hike to popular Havasu Falls or ride a mule into the canyon. Again, that is unless you only do one of those things on your visit to Grand Canyon. But then you would miss the quintessential highlights.
Okay that all sounds doom and gloom! So, what about the things you are able to do in one day?
Well, here's the good news:
One day gives you enough time to hit the best overlooks, get a taste of hiking into the canyon and appreciate the sheer scale of this gigantic scar in the Earth's surface.
We're going to make the most of your short time at the Grand Canyon, therefore you will begin before sunrise and end after sunset.
Let's take a look at the best things to do at Grand Canyon South Rim in one day!
Do you need help planning your visit to Grand Canyon South Rim?

Our popular 30+ Page Grand Canyon South Rim Guidebook and Itinerary covers every aspect of planning a trip to Yosemite including hikes, hotels, restaurants, getting around, things to do and so much more!
1. Capture Incredible Grand Canyon South Rim Sunrise Photography Near Mather Point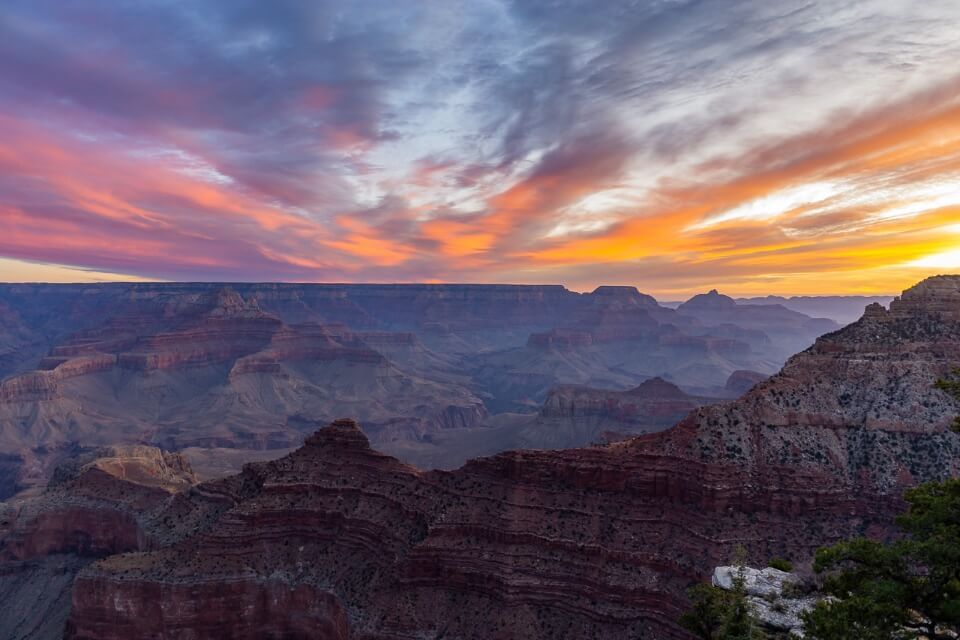 If there is only thing you are able to do at Grand Canyon South Rim, try to make it a spectacular sunrise. The sunrise we experienced at South Rim remains one of the most incredible we have ever seen.
We know it can be difficult if you are only visiting on a day trip from Las Vegas, but if you have the opportunity, don't miss it.
Mather Point is the most popular place along Grand Canyon South Rim to watch the deep blues of first light transform the sky into array of color. Dull and cold rocks in the canyon begin to glow yellow, orange and red as the spectacular sunrise show progresses.
However, our advice is to avoid Mather Point because it will be packed full of photographers and selfie sticks. Instead, walk a few minutes East (toward the sun) and find an empty rocky outcrop.
There may already be someone hidden away also looking for sunrise solitude. If so, continue until you find an empty spot. Take care around rock edges – especially if you arrive in complete darkness – the drop offs are sheer and vertical.
The sun will draw your gaze, but don't forget to look back into the Grand Canyon to watch as dramatic formations illuminate and glow.
Read our guide to the best sunrise and sunset locations at Grand Canyon South Rim for more information.
2. Hike South Kaibab Trail to Ooh Aah Point or Cedar Ridge
South Kaibab and Bright Angel are among the most popular Grand Canyon South Rim hiking trails for single day or multi day hikes.
If you only have one day at South Rim, you will have to make a difficult decision about which trail to descend into the Grand Canyon and which to miss.
South Kaibab Trail is the steeper, shorter and more direct of the 2 famous South Rim trails. There are 4 natural turnaround points on the way to the canyon floor to consider for your day hike goals.
Each stopping point with roundtrip distances:
Ooh Aah Point

– 1.8 miles

Cedar Ridge

– 3 miles

Skeleton Point

– 6 miles

The Tipoff

– 9 miles
Phantom Ranch – 14.6 miles
Consider your fitness level and be aware there are no water stations on South Kaibab trail. Do not underestimate the strenuous climb back out of the canyon if you go for Phantom Ranch and back (total 14.6 miles).
With one day, you might consider hiking as far as Cedar Ridge and back so that you have enough time to see everything else in the park.
Views from South Kaibab trail as you descend are extraordinary, the canyon feels more real and less like the world's biggest photoshopped image or green screen.
If you're visiting Grand Canyon South Rim with the intention of hiking Rim to River, we recommend you ascend back to the Rim via Bright Angel trail for a total 17.1 miles. But please do not take this hike lightly, it is challenging.
3. Hike Bright Angel Trail to 1.5 or 3 Mile Resthouse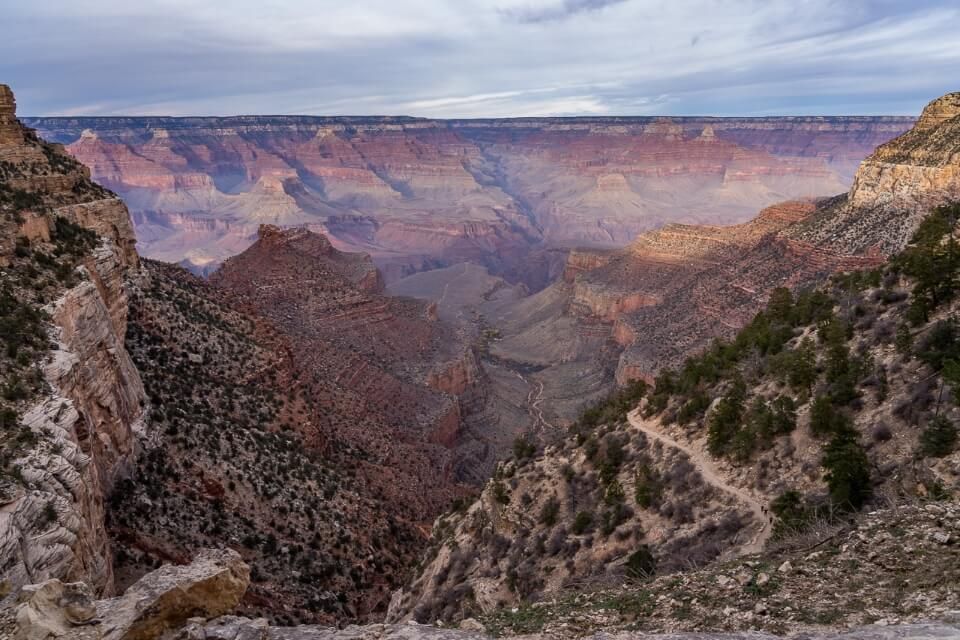 Bright Angel Trail is the most popular day hike at the Grand Canyon because it is closer to the visitor center, easier to access and less steep than South Kaibab.
There are several natural turnaround points along the trail to use for setting your day hiking goals.
Each stopping point with roundtrip distances:
1.5 Mile Resthouse

– 3 miles

3 Mile Resthouse

– 6 miles

Indian Garden

– 9 miles

River Resthouse

– 15.6 miles
Phantom Ranch – 19.6 miles
You will be able to fill water bottles with clean water at each stop on Bright Angel Trail, which makes it a safer choice on hotter days.
Views in our opinion aren't quite as 'breathtaking' as South Kaibab but the Bright Angel trail is less steep and strenuous. To reach Phantom Ranch you will need to hike 9.8 miles, which makes for a very long day hike.
Again, if visiting South Rim to hike Rim to River, we would suggest you descend on South Kaibab (as it is steeper) and ascend on Bright Angel for a slightly easier climb.
For those who just want a taste of Bright Angel before moving on to other parts of South Rim, hike to 1.5 mile or 3 mile point only before returning.
From May – September in particular, the earlier you begin hiking, the cooler it will be. We hiked in shorts and t-shirt in mid November and still got sunburned!
4. Drive East to Desert View Watchtower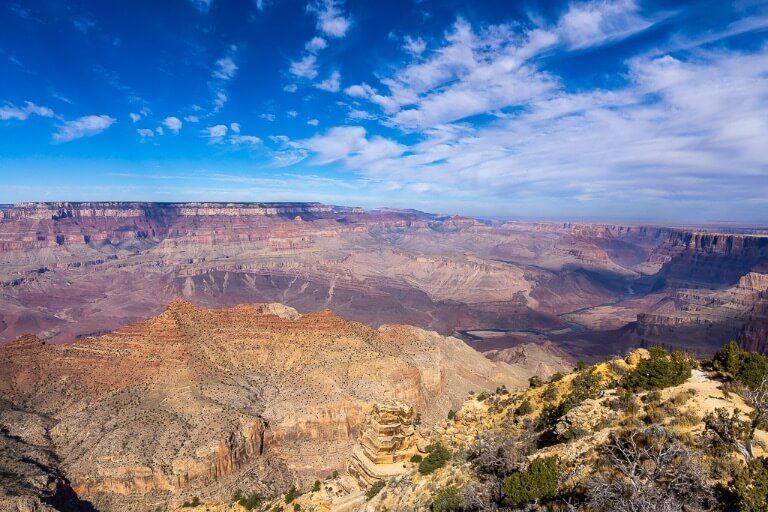 After your South Kaibab or Bright Angel hike, jump in your car and drive 23 miles East to Desert View Watchtower without stopping. South Rim shuttle doesn't run along this road so you have to drive.
We suggest not stopping on the way out because all the viewpoints are on the other side of the road, perfect for when you drive back toward South Rim village. Plus, congestion in peak season doesn't need making worse by cars trying to cut across the road to park.
Desert View Watchtower is a 70ft tall cylindrical stone watchtower built in 1932. Inside you will pass by intriguing murals as you climb 85 steps to reach a 360 degree observation platform.
However, views are slightly obstructed by stone and windows. So your best bet is to stand next to the watchtower as you gaze out across the Grand Canyon.
Desert View offers some of the most unobstructed views along South Rim of the mighty Colorado River.
As you can see in the photo above, the river snakes upstream to the North where it goes on to curve 270 degrees around Horseshoe Bend and eventually reach Canyonlands and Arches National Parks in Utah.
Services at Desert View include canteen-style restaurant and restrooms. We ate a light lunch here before heading back toward Grand Canyon village.
5. Stop at Every Viewpoint on the Way Back to South Rim Visitor Center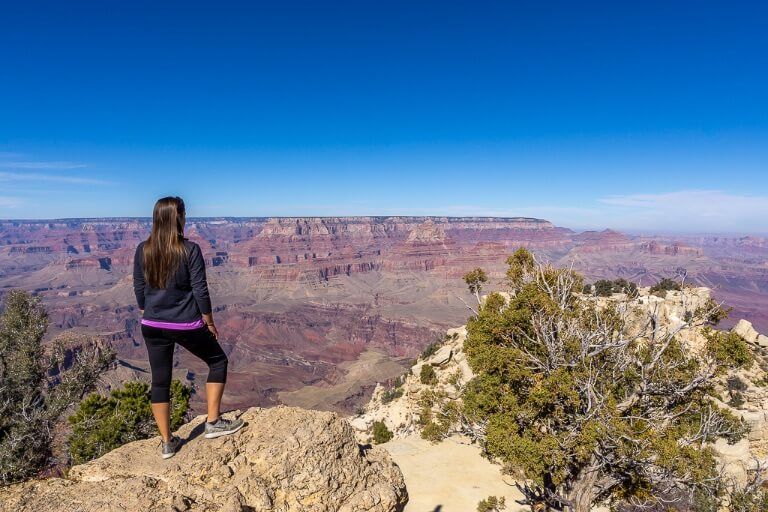 After lunch, begin making your way back to South Rim visitor center and stop off at every overlook you think looks interesting – which will be every single one!
Lipan Point, Moran Point, Grandview Point and Shoshone Point (the latter requires a short hike) are our top recommendations for you to consider.
Yaki Point is also a great stop to make. You will be able to see much of the hike you walked (or missed) earlier on the South Kaibab trail but from a cool elevated position.
However, you can't drive to Yaki Point. It's either a 1 mile walk from a roadside parking area on Desert View Drive or you'll need to take the orange Kaibab shuttle. Only consider Yaki Point if you have enough time.
Don't forget to take as many photos as you can along the drive back to South Rim village. Each overlook offers its own unique perspective of the magnificent Grand Canyon.
Something to consider with these viewpoints is shadows. The time of day significantly impacts on how deep and far reaching shadows will cast across the inner canyon. Midday is best for fewer shadows as the sun is highest in the sky.
6. Take the Shuttle to Hermit's Rest Viewpoint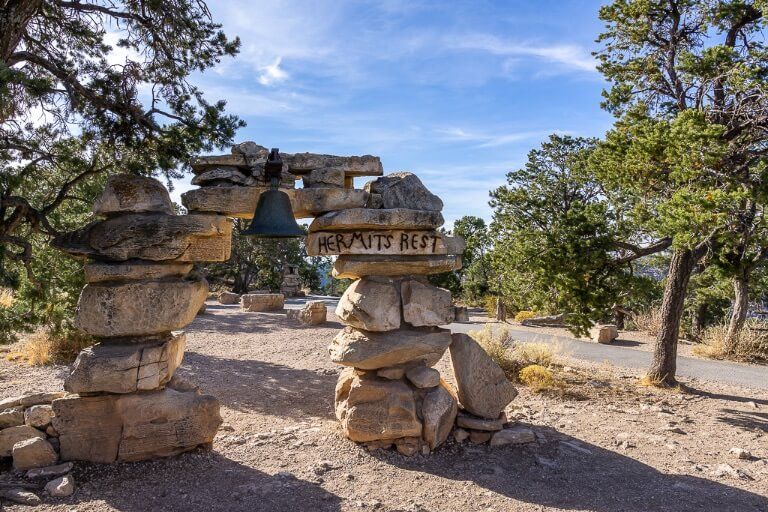 If you still haven't eaten, head over to Yavapai Lodge for a pub grub style lunch and a beer once you're back in the village.
Make your way over to Bright Angel Lodge (close to Bright Angel trailhead) so you can hop on the South Rim red shuttle to head out along Hermit Road.
There are limited parking spaces near Bright Angel but you can always take the blue village shuttle from the main visitor center. Or you can walk the Rim Trail from Mather Point past Yavapai Point and onto Bright Angel Trailhead.
Take the red shuttle until the last stop at Hermit's Rest. You will find a historic stone building with fireplace selling gifts and serving hot drinks.
Enjoy views over the western portion of South Rim. Mid afternoon will cast deep, cool and almost eerie-like shadows slowly stretching further out into the vast emptiness below.
If you're feeling fit and active or didn't hike into the canyon earlier, walk 3 miles along South Rim to The Abyss but expect it to take around an hour. Otherwise jump on the next shuttle!
Note: You can day hike into the West side of the canyon from Hermit's Rest. It will be much quieter but the scenery isn't quite as spectacular. Also, you can attach bikes to the front of South Rim shuttle buses if you wish to return by bike.
7. Shuttle to The Abyss and Walk to Mohave Point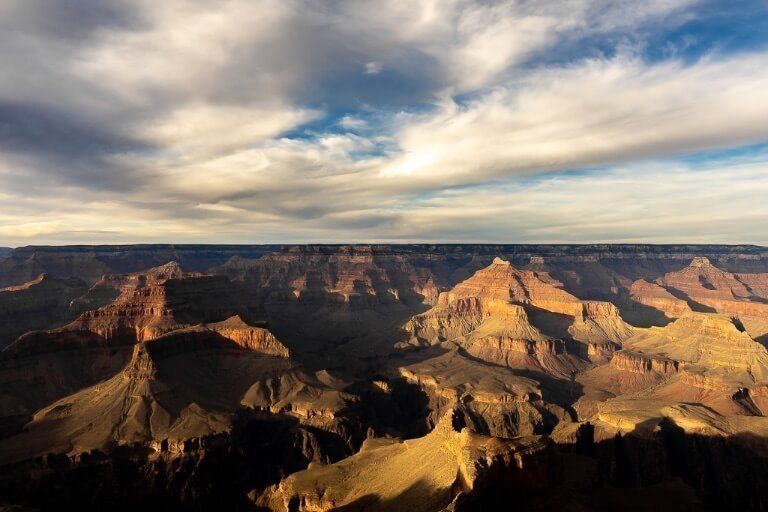 Whether you walked or shuttled from Hermit's Rest to The Abyss, we highly recommend you walk the next portion from The Abyss to Mohave Point. This section of the canyon is one of our favorites.
It should be getting into late afternoon by now and the sun will be low in the sky to your left. As you walk North and the Grand Canyon opens up to your left side, strong yellow colors are absorbed by the rocks and contrast strikingly against deep dark shadows.
We personally think the best Grand Canyon viewpoints are along Hermit Road, so if you're short on time, don't spend it all on Desert View Drive.
It's just a 1 mile walk from The Abyss to Mohave Point but go slowly and stop often to peer out across the canyon below. Grand Canyon South Rim becomes even more magical at both sunrise and sunset.
If it's getting close to sunset, walk this section a bit more quickly or take a shuttle to Hopi Point in time for the spectacle.
8. Walk from Mohave Point to Hopi Point Finding a Spot to Watch an Amazing Grand Canyon South Rim Sunset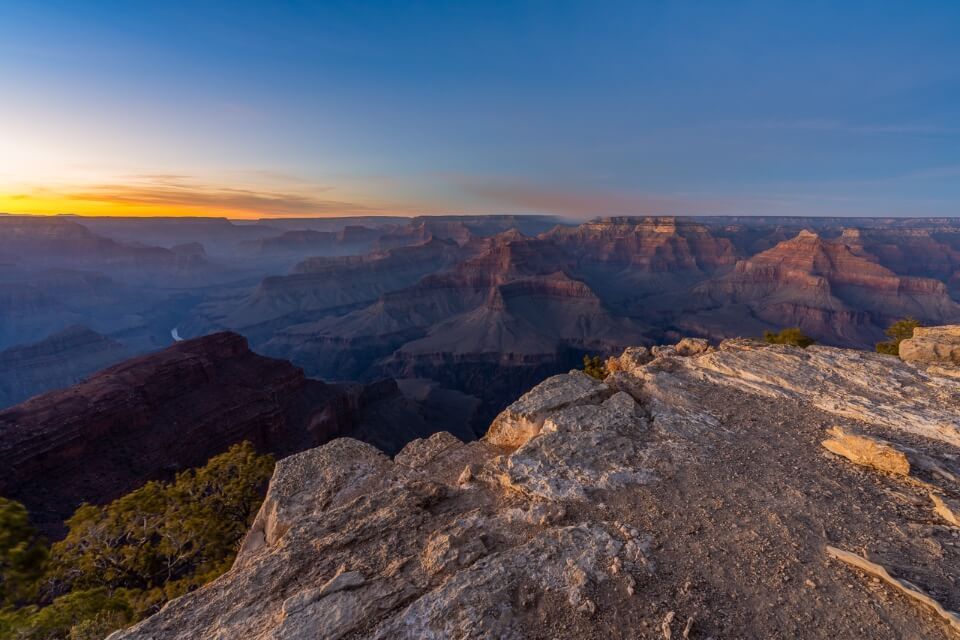 Hopi Point is regarded as one of the best places to watch sunset at Grand Canyon South Rim. The problem is everyone else at Grand Canyon knows that same information.
Pardon the pun but that means Hopi point is 'hopp-ing' every evening no matter the season.
Continue walking along the Rim trail between Mohave and Hopi points but as soon as you see a rocky outcrop you like the look of, stop there and settle in for sunset.
Don't walk all the way to Hopi point because it abruptly turns East and you can no longer see the sun. It also pays to be 200 ft or so away from the Hopi Point shuttle stop where the crowds will gather.
Sunset over the Grand Canyon is mind numbingly mesmerizing. This is where you need to pull out the bottle of wine you've been carrying around in your backpack all day!
Grand Canyon South Rim One Day Itinerary
Let's look at an example itinerary for your one day visit to Grand Canyon South Rim. It will help you to visualize each section and understand how long to allow for each:
5am-7.30am: Find the perfect sunrise spot near Mather Point and enjoy an incredible spectacle.
8am – 11am: Hike a portion of South Kaibab Trail or Bright Angel Trail to either of the natural turnaround points.
11am-11.30am: Drive to Desert View Watchtower.
11.30am-12.30pm: Look around Desert View and grab lunch at the canteen.
12.30pm-2.30pm: Stop at each of the viewpoints along the drive back to South Rim visitor center.
2.30pm-3.30pm: Make your way to Hermit's Rest by shuttle.
3.30pm-4pm: Look around Hermit's Rest and grab a drink.
4pm-5.30pm: Shuttle to the Abyss and walk to Mohave Point.
5.30pm-7pm: Walk from Mohave Point to Hopi Point stopping along the way for an unforgettable sunset.
Sunrise and Sunset Times For Your Itinerary
You might have to alter the exact timings in the above example itinerary to suit earlier or later sunrise / sunset times depending on the time of year you visit.
Don't forget to check sunrise times the night before.

Arrive to the parking lot 15-20 minutes before Civil Twilight (not sunrise).

In 2021, sunrise times ranged between 5.10am (June) and 7.39am (Dec) at Grand Canyon South Rim.

Sunset at South Rim ranged from 5.13pm to 7.49pm in 2021.

If you have time, stay for incredible stargazing once the crowds and light diminish.
Note: We are assuming you stayed within driving distance for sunrise the night before. See accommodation later for best areas to stay.
Grand Canyon South Rim One Day Itinerary Map
Here's a link to our Grand Canyon South Rim one day itinerary map.
Click into this interactive map, zoom in / out, scroll around and click on any icon to see details of attractions throughout the one day Grand Canyon South Rim itinerary.
We always find that spending just a few minutes working out where things are really helps when we arrive.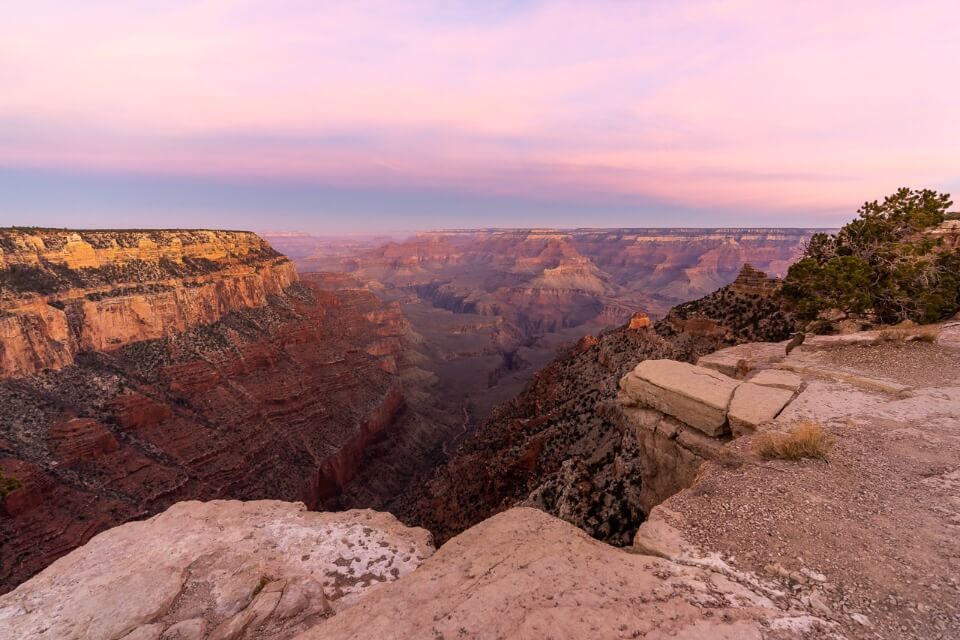 Grand Canyon South Rim Two Days Itinerary
Are you planning to stay a night and create an amazing two days itinerary at Grand Canyon South Rim? Let's take a look at why it pays to have that extra day in the park.
As you can see from all of the information above, there's not actually a huge amount to do at South Rim once you've seen the canyon from viewpoints along Desert View Drive and Hermit Road, and then hiked into the canyon.
But two days really allows you slow down and split your time more efficiently.
Do you want to hike a small part of both Bright Angel and South Kaibab?
Would you like to do one day of sightseeing and one day to hike Rim-to-River?
Are you desperate to try out two separate sunrise and sunset locations along South Rim?
Whatever your goals, a two days Grand Canyon South Rim itinerary means you can achieve all you set out to get out of this unique landscape.
Here's an example of how you could spend two action packed days at Grand Canyon South Rim if you want to see and do as much as possible.
Two Days South Rim Itinerary – Day 1
Check the weather for your stay. If you plan to hike one day and sightsee the other, decide which day works best for upcoming weather conditions.
Let's assume you want to sightsee on your first day:
5am-7.30am: Watch sunrise at Mather Point or Yavapai Point.
8am – 9am: Grab breakfast and a coffee at Bright Angel cafe.
9am-10am: Drive to Desert View Watchtower.
10am-10.30am: Look around Desert View area.
10.30am-12.30pm: Stop at each of the viewpoints along the drive back to South Rim visitor center.
12.30pm-1.30pm: Grab lunch and a beer at Yavapai Lodge.
1.30pm-2.30pm: Make your way to Hermit's Rest by shuttle.
2.30pm-3pm: Look around Hermit's Rest.
3pm-5.30pm: Walk Rim Trail to The Abyss and on to Mohave Point.
5.30pm-7pm: Walk from Mohave Point to Hopi Point stopping along the way for an unforgettable sunset.
Two Days South Rim Itinerary – Day 2
Your first day was purely an easy going and touristy day looking at the canyon from above. Let's take things up a level and descend into the canyon on your second day.
Are you a beginner hiker or don't feel comfortable hiking too far down into the canyon? Choose either South Kaibab or Bright Angel and pick whichever turnaround point you feel confident setting as a goal for your day hike.
We'll use the same trail we hiked for this example. Here's roughly what you can expect when day hiking Rim-to-River:
Jump on the 7am Hikers' Express Shuttle at the main visitor center
7.15am – Begin hiking down South Kaibab Trail
7.35am – Reach Ooh Ahh Point right as the sun is rising (amazing sunrise location)
8.00am – Arrive at Cedar Ridge
8.45am – Reach Skeleton Point
9.30am – Make it to The Tipoff
10.30am – Cross Black Bridge over the Colorado River
10.50am – Walk into Phantom Ranch
11.35am – Cross Bright Angel Bridge after lunch
12.05pm – Pass by River Resthouse and begin the ascent
1.35pm – Long and slow climb to Indian Garden
2.35pm – Reach 3.0 Mile Resthouse
3.25pm – Arrive at 1.5 Mile Resthouse
4.05pm – Summit back at Bright Angel Trailhead
Photography at Grand Canyon South Rim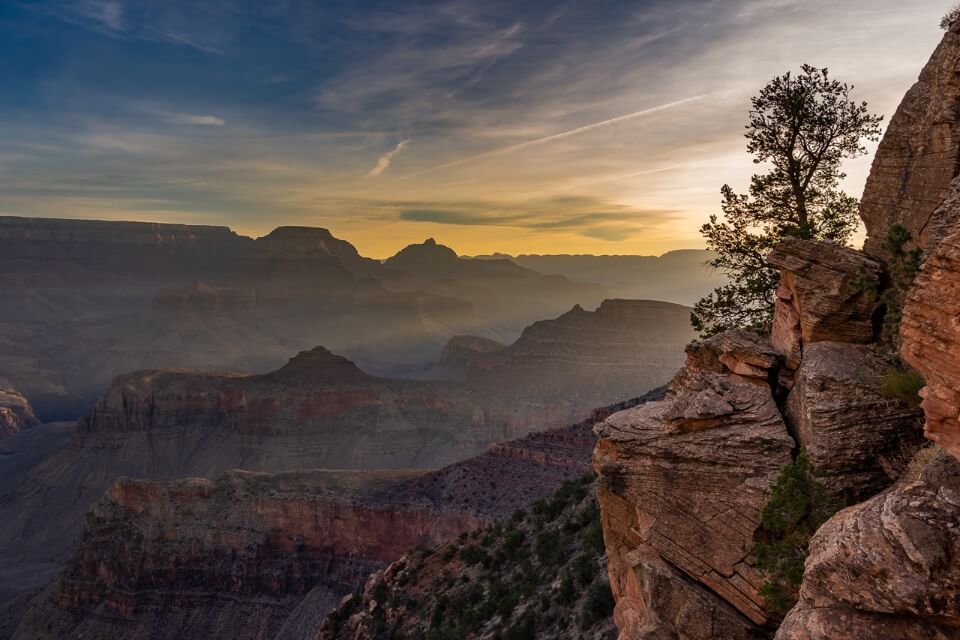 Grand Canyon South Rim makes stunning photography accessible to anyone. The vastness and openness of both the canyon and sky makes it hard to go wrong. Here are a few basic tips to remember:
Watch your horizon – the perfectly straight line of North Rim means you have to nail the horizon otherwise a wonky horizon line is the first thing people will notice.
Sky and canyon – try out using rule of thirds or splitting the scene into 2 obvious halves and see which you prefer. With no clouds, put your horizon on the top third, but with clouds you have more freedom to experiment. Remember shadows will be in your bottom third most of the day.
Canyon shadows – from mid morning to sunset, shadows are unavoidable at Grand Canyon South Rim. That's why it's best to shoot early and late, save the middle of the day for hiking and driving.
Sunrise and sunset – we have to admit we did prefer sunrise, partly because it's much quieter than sunset but also because the colors were more vibrant and striking. Do not forget your tripod in low light! And don't forget the canyon itself (looking away from the sun).
Inside the canyon – Some of the best photographs of your visit will be taken from inside the canyon, don't forget to keep looking up as you descend.
Here's our guide to the best Grand Canyon South Rim sunrise and sunset photography locations.
Other Things To Do At Grand Canyon South Rim With More Time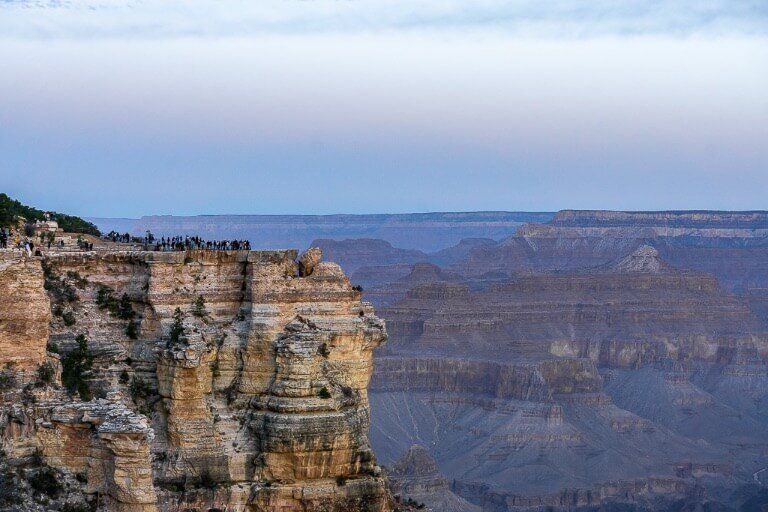 If you've planned in 2 or 3 days at Grand Canyon National Park South Rim, there are other things you can do and a number of ways you can best spend your time.
Let's take a look at the most popular:
Adding in these extra activities will mean you do need more time in your Grand Canyon South Rim itinerary.
The mule ride into the canyon typically requires one full day or two full days with a stay on the canyon floor. Rafting usually starts at Lees Ferry and ends at Diamond Creek.
You
Best Things To Do Near Grand Canyon South Rim
Do you have more time in the American Southwest and want to know the best places to include along with Grand Canyon South Rim?
In truth, you are completely spoiled for choice. You can combine South Rim with more national parks, more incredible landscapes, more amazing hiking arenas or immense photography spots.
Las Vegas – Needs no introduction. You can spend a few days in Sin City (but a few is enough!) before or after South Rim.
Hoover Dam – Near Las Vegas, very popular hydroelectric landmark.
Zion National Park – Some of the best hiking trails in all of the US National Parks.
Monument Valley – Famous rock formations on the Utah / Arizona border from Forrest Gump.
Page Arizona – Antelope Canyon and Horseshoe Bend are popular add-ons to South Rim.
Death Valley – Another fascinating, vast and unmissable landscape in the US Southwest.
Sedona Arizona – One of the most varied we've visited in America, endless hikes and photography locations.
Drive and hike to Havasu Falls – You do have to pay for this and it is out of the way but worth the effort. Read More
Grand Canyon Skywalk – This one is also a long way out, you can't take photos and it's expensive. Not worth the money in our opinion. Read More
Best Time to Visit Grand Canyon National Park South Rim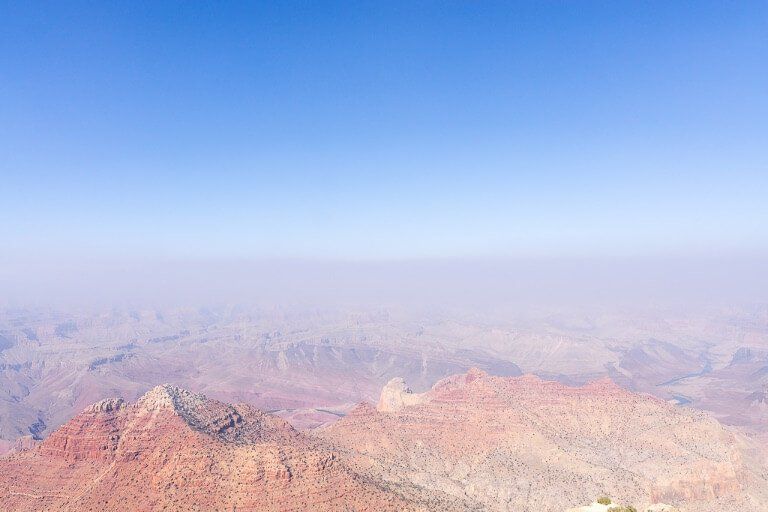 Here's a brief breakdown of what you can expect from the different seasons in Northern Arizona's famous landscape.
Read our guide to the best time to visit Grand Canyon National Park for a detailed analysis of each season and why it's a great time to plan your trip.
Grand Canyon South Rim in Spring and Fall
Spring and Fall are the best times to visit Grand Canyon National Park South Rim.
There will be fewer people than in Summer and temperatures will be far more manageable. Sunrise isn't too early and sunset isn't too late so you can plan a one day itinerary more easily.
It can get cold during the morning and at night so packing layers is crucial.
Grand Canyon South Rim in Summer
Hot and busy but often the only time families can book trips so sometimes unavoidable. Be prepared for prices to be inflated for all lodging options.
Take plenty of water and sunscreen, expect crowds and hike early in the morning to avoid the heat of afternoon. Summer does mean warmer evenings and more daylight to hike further.
Grand Canyon South Rim in Winter
Very quiet which would be to many people's taste. We've written a detailed guide specifically regarding 10 things you need to know about visiting Grand Canyon National Park in Winter.
Some of the most amazing photographs of Grand Canyon National Park are when there's a light dusting of snow settled on the orange and red rocks. Take plenty of warm gear, especially if hiking into the canyon.
South Rim is open year round but check for any road closures before visiting.
Where To Eat Near Grand Canyon South Rim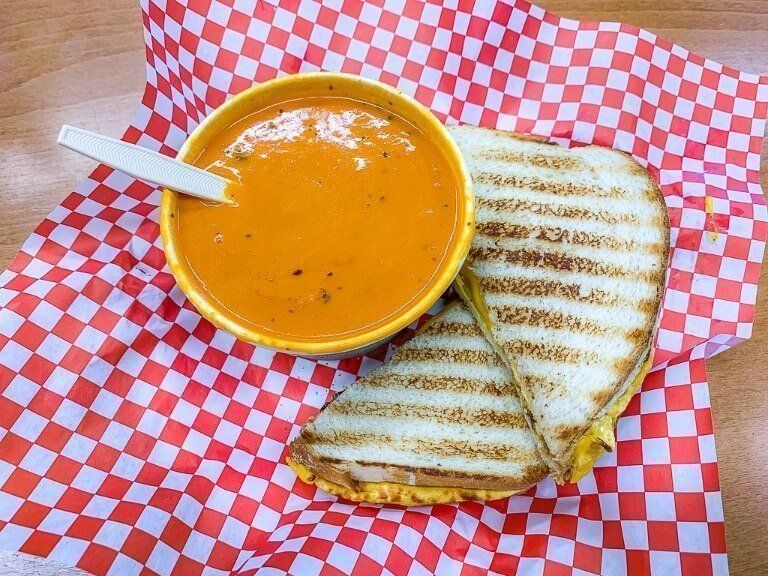 Okay, we're going to be brutally honest, finding a decent place to eat is hard work around Grand Canyon South Rim. That's not just our opinion, that's what you will find if you look at reviews on Google Maps.
Inside the national park you can expect to find the usual types of quick serve restaurant / cafe to cater for the masses. Park lodges have restaurants or bars but none are going to blow you away.
That being said, the soup and grilled cheese we got at Desert View canteen was pretty good (pictured above).
Here's the deal:
Some of the lodges in South Rim village have their own restaurant or sports bar.

Yavapai Lodge has a pub grub style place to eat a pizza and grab a beer.

Along the rim you will find one or two coffee shops with better reviews.

Hermit's rest has a very small cafe and Desert View has a canteen-style menu.
Nearby Tusayan offers a more diverse (but not much better in terms of quality or ratings) culinary scene. We can't recommend a particular restaurant as a 'must eat place' in town because we didn't find it ourselves.
Williams is 60 miles away, which of course isn't exactly a pop out for lunch drive, but if you're entering or leaving via Williams, eating here is our top recommendation for food near Grand Canyon South Rim.
Choose between Little Chicken Spot, Anna's Canyon Cafe, Bayou by You and Red Raven in Williams.
Where To Stay Near Grand Canyon South Rim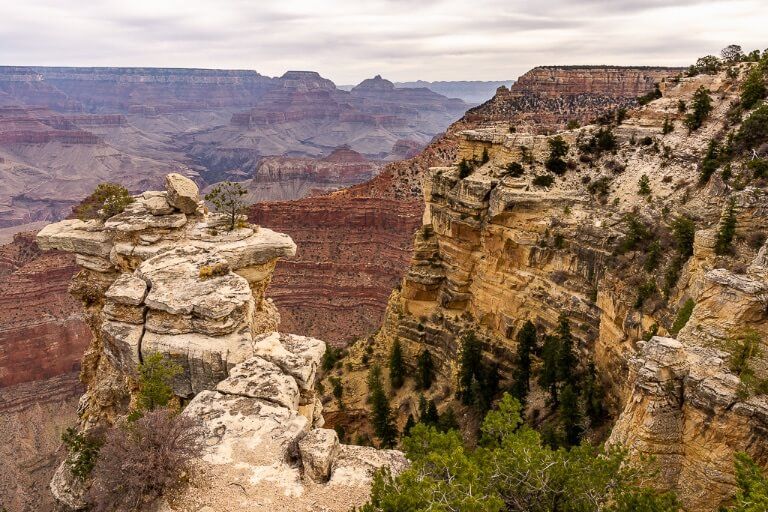 As with all US National Parks, booking a place to stay can be the most frustrating part of planning your trip.
We highly recommend taking a look through our guide to all 7 South Rim park run lodges, along with detailed lists of the top rated hotels in each nearby town / city.
Here's our comprehensive guide to all of the Top Rated Hotels and Lodges On and Near Grand Canyon South Rim
Grand Canyon lodges fill up very quickly. Our advice is to book as soon as you have dates but shop around to find a hotel to suit your budget.
We also have a popular guide on how to book cheap hotels that might be useful reading.
Let's take a brief look at hotels near Grand Canyon with highest guest ratings:
Closest Option – Tusayan
Tusayan is located just 7 miles from South Rim entrance, which means you can easily drive in and out of the park for sunrise, lunch or even stargazing.
There are 4 hotels in Tusayan for you to choose between as the best alternative to staying inside the National Park. Of those 4, the Grand Hotel and Best Western have the highest guest ratings.
You can click on either of the hotels below to check prices:
Next Closest – Valle (Grand Canyon Junction)
Valle is located 29 miles from South Rim entrance, which will take around 35 minutes to drive. It is the second closest place to stay after Tusayan but there are very few amenities in Valle.
There is one hotel and one 'glamping' option.
Click on either of the options below to check prices:
Route 66 – Williams
Williams takes the bronze medal but only in terms of distance. It is located 60 miles from South Rim entrance, which means driving time to South Rim is over an hour.
However, Williams has the best food and hotel options of the bunch by a landslide.
Williams works well if you are arriving from further Southwest or Southeast, spending a night, driving into Grand Canyon for sunrise and a full day, then moving on North East to Page.
Staying here allows you to eat at a great restaurant and have better hotel options.
With around 40 hotels, Williams has a hotel to suit every budget. The 2 best value for money hotels with highest guest ratings are La Quinta and Best Western Plus.
If you're looking for something a bit different, take a look at adults only 'Sheridan House' or Wild West Themed 'Trappers Rendezvous'.
Click on any of the recommended hotels to check prices:
Grand Canyon South Rim Camping
If you're visiting between May and September or want to be closer to the action to make life easier for getting sunrise / astro photography, consider staying at a Grand Canyon South Rim campground.
The other major benefit of course is costs associated with camping are much less than hotels, you just have to sacrifice comfort and convenience!
If camping in early Spring or late Fall, be prepared for cold nights with plenty of layers and extra blankets. First hand experience allows us to confidently inform you – you will need them!
Here are your campground options:
Mather Campground
Located inside Grand Canyon South Rim village and the ideal place to set up tents / small RV's. No hookups provided here and places fill incredibly quickly, particularly in Summer. You can book ahead up to 6 months, our advice is book as soon as you know your dates.
US$ 18 per night / site and 30 ft maximum RV or trailer.
Trailer Village
Opposite Mather campground is a site dedicated to RV's with hookups. This ideal location comes at a premium for RV'ers. Options to bundle breakfast into your site.
From US$ 55 per night / RV and up to 50 ft maximum length.
Desert View
Close to Grand Canyon East entrance and Desert View Watchtower (with awesome Colorado River views) is a smaller campground with jut 50 sites. Reservations can not be made, it is first come first served and they usually fill up before noon.
US$ 12 per night / site. Tents and RV's up to 30 ft but no hookups provided.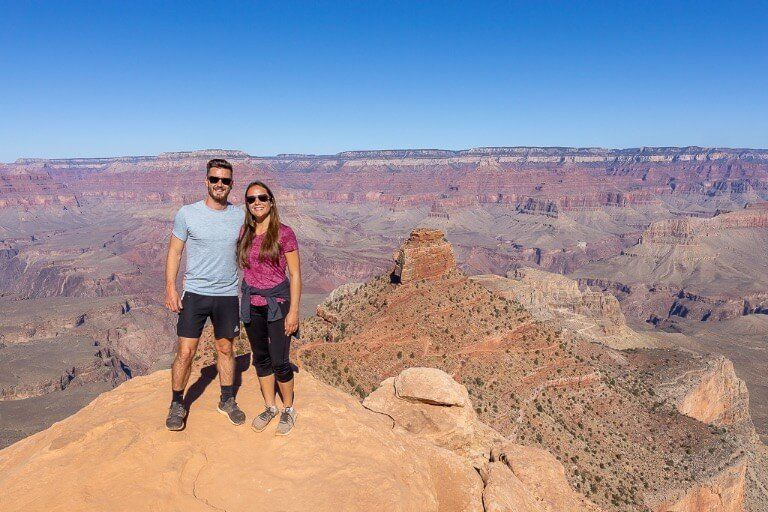 More Grand Canyon South Rim Planning Guides
Are you planning to visit Northern Arizona or Utah? Our detailed road trip itineraries cover 1-9 days and hit all the top highlights of Utah and Northern Arizona.
More From The US Southwest
Need Help Planning A Trip To Grand Canyon South Rim?
Grand Canyon is one of the most visited National Parks in the US. It is one of very few landscapes that will genuinely blow you away and we know how important it is to get your trip off to the best possible start by planning in advance.
We have been lucky enough to visit Grand Canyon South Rim twice, at different times of year and with different goals.
First to sightsee, shoot sunrises and sunsets, and see the canyon from every single viewpoint on the Rim.
Second to day hike Rim to River, South Kaibab to Phantom Ranch to Bright Angel in one day.
If you're planning a trip to Grand Canyon South Rim and need a hand with planning where to stay, where to eat, how to get there and use the shuttles, which hikes to do, which overlooks to visit, where to watch sunrise or sunset and any other question you have about your trip, our 30+ page South Rim guidebook with example itineraries is perfect to download to your phone or print a hard copy.
Click below to see the details and have a great time at South Rim!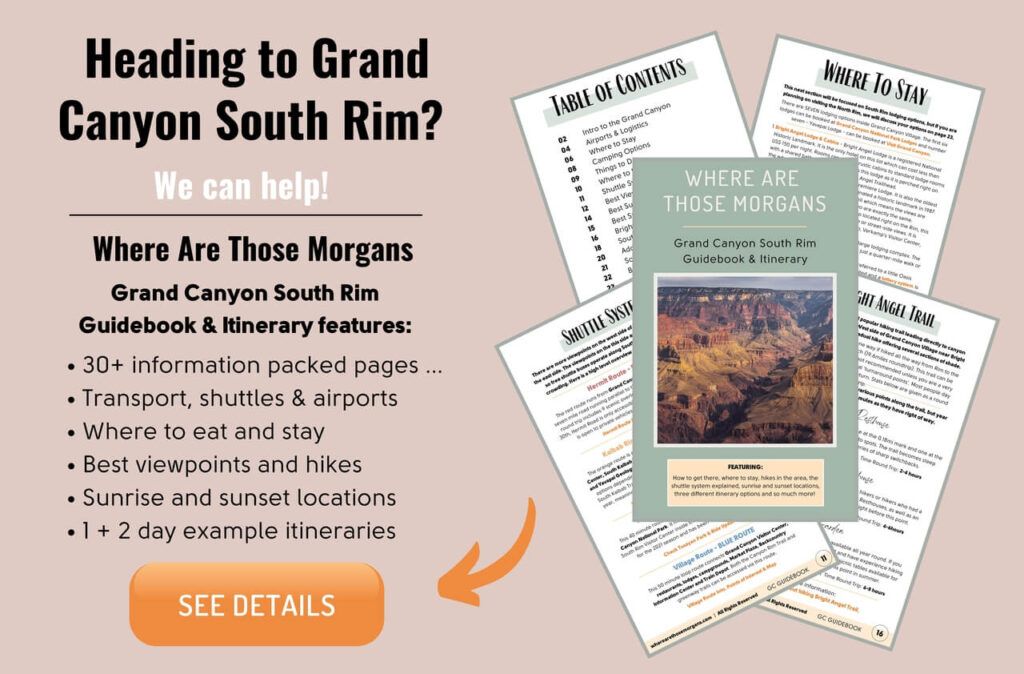 We hope this helped you plan your one day visit to the legendary Grand Canyon South Rim!
Have you been to Grand Canyon South Rim? How was your experience? Did it live up to your expectations?
Let us know in the comments below, or if you have any questions about South Rim.
Happy Travels,
Mark and Kristen
Was This Post Helpful? Pin It For Your Visit!