As far as US road trip loops go, driving through Wyoming from Salt Lake City to Grand Teton and Yellowstone has to be considered one of the most picturesque.
Teton is compact, mountainous and dramatic, whereas Yellowstone is enormous, volcanic and unique. Although surprisingly different considering how close they are to one another, both are unmissable highlights of this vacation.
But how many days do you need in Salt Lake City, Grand Teton and Yellowstone?
We're going to explain everything you need to know about the route, how many days you need in each place, an efficient example 7 day itinerary and options for where to stay each night.
Let's start planning your Salt Lake City to Yellowstone road trip!
*Please note this post may contain affiliate links. If you click on one of them, we may earn a small commission at no extra cost to you! We recommend only products we use and as always, all ideas or opinions expressed in this post are entirely ours. Thank you for the support and happy travels!*
Why Start a Yellowstone Road Trip in Salt Lake City?
Saying Salt Lake City is the 'perfect' place to start a Yellowstone road trip wouldn't be true. There's still a 4 hour drive to reach Grand Teton and an even longer drive back from North Yellowstone at the end.
However, SLC is still one of the 'best' places to start a road trip to Yellowstone when all things are considered.
You could begin and end your Wyoming road trip in a handful of other places but SLC is one of the best options for many reasons:
Less than 4 hours drive to Grand Teton

International airport

Beautiful downtown

Gateway to both Wyoming and the incredibly popular Utah Mighty 5 national parks road trip.
So, you can fly into SLC, hire a car and either hit the road or spend a day or two in town. For those with more time, you could combine Wyoming with Utah for the ultimate 'double loop' road trip experience.
Frequent flights from almost all mid to large airports in the US plus a handful of direct international flights land at SLC. Plus, you have an option to spend a day in downtown Salt Lake City, which we highly recommend.
You can read our in depth guide to the 6 best airport options near Yellowstone, which includes SLC.
Salt Lake City will be a natural stopping off point between visiting Glacier / Teton / Yellowstone to the North and the 5 Utah national parks to the South for those on longer US road trips.
Alternative Yellowstone Road Trip Start / End Points
Denver: International travelers planning a trip to Yellowstone should consider both Denver and Salt Lake City airports. Note that Denver airport leaves you a 10+ hour road trip to reach Yellowstone's South / Southeast entrance, whereas SLC is less than 5 hours drive.
Jackson Hole: Flying into Jackson Hole airport inside Grand Teton national park and hiring a car is an option you should also consider. However, flights are infrequent and expensive, plus routes only include the major US airport hubs.
South Dakota: Fly into Rapid City, hire a car, explore Mount Rushmore, Badlands and Custer before driving 8 hours West to Yellowstone. This is also a fantastic road trip option and one we did ourselves.
Useful Resources To Help With Planning
Booking Flights: When searching for flights to Salt Lake City or any other nearby airport, use Skyscanner flight search engine. You will find more options and cheaper prices than anywhere else.
Booking Hotels: Accommodation inside Yellowstone has to be booked through Yellowstone National Park Lodges, which means you pay whatever they are charging. In SLC, Jackson and outside the boundaries of Yellowstone, search for hotels with Booking.com to pick up the best deals.
Car Hire: If you're not driving your own car, you'll need to hire one when you land at SLC (or Denver, Jackson Hole etc) – our top recommendation is to search for vehicle prices with Rental Cars. Use the prices you find as a benchmark and try to beat them.
Salt Lake City to Yellowstone Wyoming Road Trip: Map of Route
Click into this amazing interactive map, scroll around the map, zoom in and out, click on each icon to show routes for each of the 7 days in this Salt Lake City to Yellowstone road trip itinerary.
Each day is represented by a different color and each icon is an attraction featured in the itinerary below. This is a great way to orientate yourself with the geography of your road trip.
SLC to Yellowstone Road Trip Tips
Before we get into the details, here are some important aspects to remember when planning your SLC to Yellowstone road trip:
Weekday / weekend – If possible, try to avoid weekends inside Yellowstone national park. Grand Teton is generally a quieter, more easy going park with more space, so even if it's busy in Teton it won't feel like you're crammed into a theme park like at Yellowstone.
Accommodation – If you decide to plan this road trip in Summer, be sure to get organized early and book all accommodation as far ahead of time as possible around Yellowstone. Spring and Fall give you a little more flexibility but it still pays to get in early to avoid disappointment. SLC and Jackson should be fine, even in Summer.
Season – Weather can play a significant role in the success of your road trip in Northwest Wyoming. Many attractions and roads don't open until May in Teton and Yellowstone. By October things are beginning to close for the Winter season.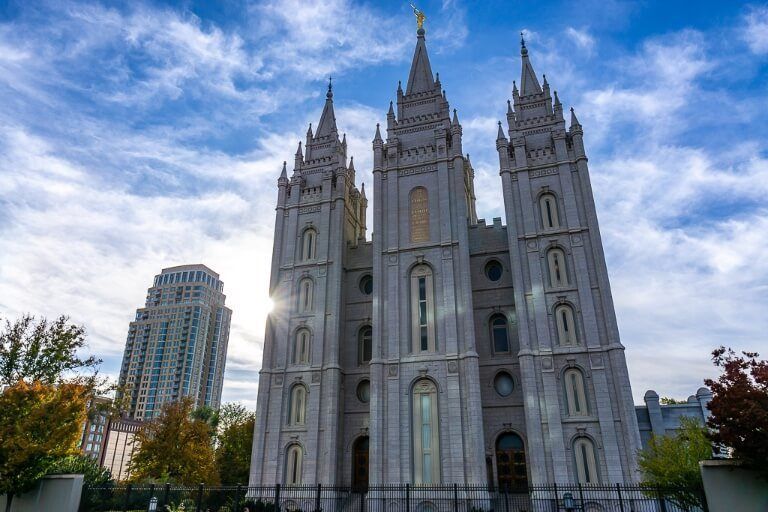 Salt Lake City, Utah
Salt Lake City is an amazing place to visit and we have plans to spend more time in the city next time we're out West.
In our example 7 day SLC to Yellowstone road trip itinerary below we only include 1 day in Salt Lake City. But if you have more time available, spend another day in town.
Surrounded by the Wasatch Mountains at over 4,000 ft high, incredible skiing opportunities and an array of national parks within a stones throw, SLC is an outdoor enthusiasts playground.
The mountain city is safe, clean, walkable and has a wonderful vibe. A booming culinary and brewing culture is emerging out of SLC, perfect for fueling up in between epic national park road trip loops.
Things to do in Salt Lake City
Temple Square – Square in central SLC filled with impressive religious buildings and a spectacular Tabernacle.
Natural History Museum – If the weather isn't great, hide out and absorb a wealth of knowledge about the world.
Red Butte Garden – If the weather is great, spend a half day walking around Utah's premier botanical garden.
Ski – If it's Winter or early Spring, spend an adventurous day skiing in Park City or Snowbird.
City Creek Mall – After a long flight, retail therapy could be the cure you need before hitting the road.
Antelope Island – Spend a day Bison spotting next to the Great Salt Lake.
Millcreek Canyon – SLC day hiking and epic views back over the city in preparation for national park hikes.
Where to stay in Salt Lake City
SLC Airport – If you arrive late into SLC airport and need a place to crash before setting off on your road trip to Yellowstone the next morning, here are the top rated hotels by guests at the airport (booking.com guest ratings /10 included):
Salt Lake City – Hopefully you do have a day or two spare to explore the city. Here are the best hotels for each budget range we can find based on guest rating, price and downtown location (booking.com guest ratings /10 included):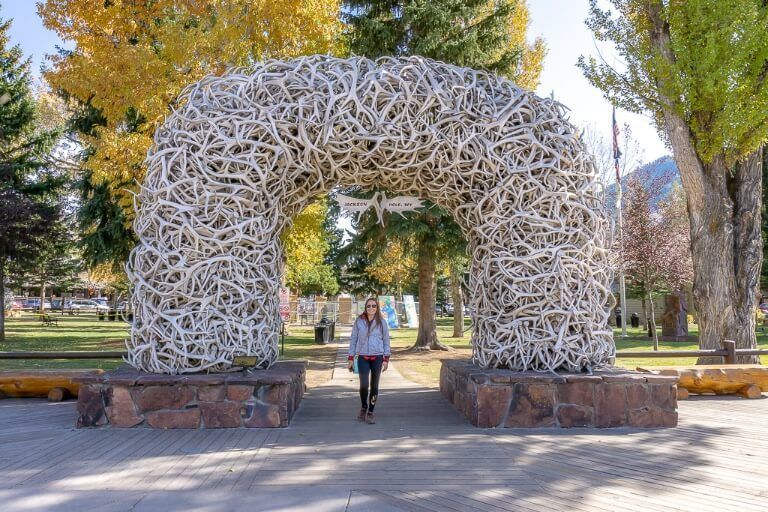 Jackson, Wyoming
Jackson is Wyoming's incredibly popular world-class ski resort town located just 12 miles from Grand Teton national park loop road.
Chances are you'll be visiting Grand Teton and Yellowstone in late Spring, Summer or Fall, which means Jackson will be (mostly) free of snow and the enormous crowds of thrill seekers in Winter.
Jackson has done a fantastic job of retaining its wild west feel, despite the obvious potential for commercialization.
We spent 2 nights in Jackson, used the town as a base for exploring Grand Teton, then enjoyed the culinary and night life scene on our evenings.
Nearby Teton village – nestled at the base of Jackson's ski lifts – is the obvious alternative to staying in Jackson.
Outside of Winter, the scenery around Teton village is spectacular and it's slightly closer to the national park. However, hotel prices here are much higher on average and there are fewer places to eat out.
Things to do in Jackson
Jackson is a quiet, relaxing wild west town with saloon-style bars and a great vibe.
There aren't any 'must do' things to do in Jackson, except walk around, enjoy the outdoorsy gear shops, eat and drink your way through town.
You're in Jackson to use as a staging area for exploring Grand Teton.
Where to Stay in Jackson
Jackson – If you prefer to stay downtown with plenty of restaurants and bars, stay in Jackson. Here are the top rated, best location and price hotels in town (booking.com guest ratings /10 included):
Teton Village – If you'd prefer the solitude and stunning surroundings of Teton village, here are the top rated, best value and location hotels (booking.com guest ratings /10 included):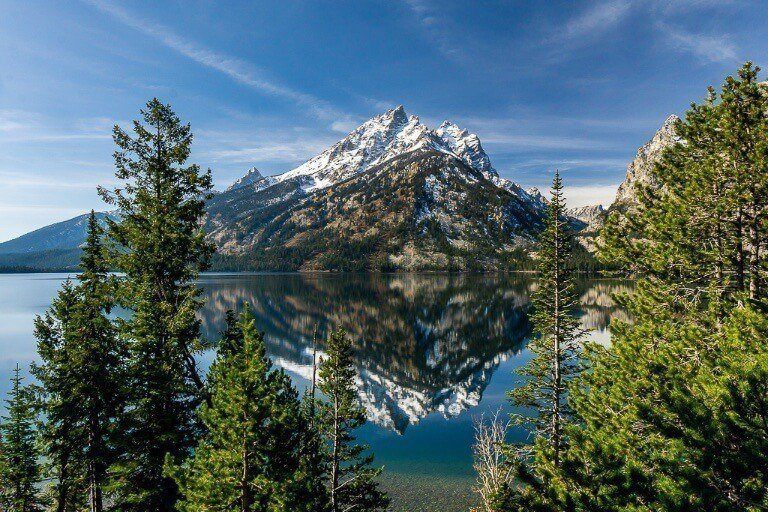 Grand Teton National Park
Grand Teton national park is a nature and landscape photographers arena and one of our personal favorites.
The smaller size of Teton allows you to really see and do everything in a day or two, depending on how long you spend taking photographs of the sheer beauty inside the park.
You can do a little bit of everything in Grand Teton, from hiking to wildlife spotting and from sunrise photography to swimming in lakes.
When planning your Salt Lake City to Yellowstone road trip, Grand Teton is the one other place you simply have to include into your itinerary.
We'd go as far as saying if you only have 4 days for your trip, take one from Yellowstone and give it to Grand Teton.
Things to do in Grand Teton
Explore Jenny Lake – Swim, kayak, photograph and take a shuttle across the lake.
Hike to Inspiration Point – The most popular hike at GT passes a hidden waterfall.
Drive up Signal Mountain – Winding road to one of the best viewpoints in the park.
Chapel Window – Photograph Teton Range through the window of a church.
Mormon Row – Sunrise and sunset at the 2 most photographed barns in the US.
Schwabacher Landing – Serene mountains and trees reflecting flawlessly in Snake River.
Oxbow Bend – More amazing mountain reflections in a longer bend in river.
Where to Stay Near Grand Teton
Jackson and Teton Village are the two most convenient places to base yourself when visiting Grand Teton, so the exact same recommendations apply as for Jackson (listed above).
One addition to the list is Jackson Lake Lodge, located between Grand Teton and Yellowstone national parks. It has a rating of 8.1 but location rating of 9.2 because it's one of the only lodges you can spend a night between the two parks if necessary.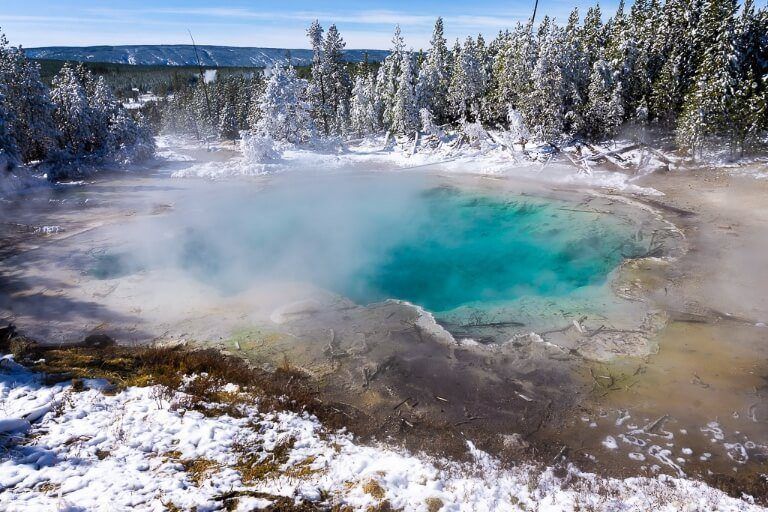 Yellowstone National Park
Majestic Yellowstone is the first and original US national park. At 2.2 million acres, with 5 entrances and over 4 million tourists each year, Yellowstone is a beast to visit!
Seeing geysers, hot springs, waterfalls and wildlife in Yellowstone is likely the main reason you're planning a Salt Lake City road trip. Yellowstone is an awe-inspiring and extraordinary landscape but it requires a bit of effort to do it the right way.
With the right planning and organization, you can nail down the perfect itinerary with little time lost driving back on yourself.
We have plans to revisit Yellowstone, spend more time taking things slowly and preferably not right after a snowstorm like last time!
Things to do in Yellowstone
West Thumb Geyser Basin – Colorful hot spring pools, views over lake and mountains in distance.
Old Faithful – The most famous of all geysers on Earth, frequently billowing hot steam.
Grand Prismatic Spring – Vibrantly colorful hot spring best seen from above.
Norris Geyser Basin – Steamboat geyser and dozens more steamy geothermal vents.
Yellowstone Falls – Grand Canyon of the Yellowstone and lower falls are staggering.
Hayden Valley – Prime time wildlife spotting alongside Yellowstone River.
Mt Washburn – The most popular hike in Yellowstone with epic views.
Lamar Valley – Renowned as the best place to see wildlife in Yellowstone.
Mammoth Hot Springs – Picturesque terrace like hot springs and great views.
Read our ultimate list of the 30 best things to see and do in Yellowstone National Park to see more places you can't miss during your visit.
Where to Stay In / Near Yellowstone
Finding accommodation at US national parks is notoriously difficult, especially if visiting in Summer.
Yellowstone is one of the more challenging parks to book rooms because demand is high and there aren't many options inside the park. It also helps to change hotels each night in order to visit efficiently.
You can stay inside or outside the park as you move between regions. If you want to stay inside the park, you have to book through Yellowstone park booking service.
There are two small towns you can stay at right on the outer boundary of Yellowstone if you are unable to find availability or prices are out of your budget – Gardiner and West Yellowstone.
Instead of listing hotel options here, we will cover your options in the itinerary below where it will be easier to understand.
In order to visit the park most efficiently, you will need to plan your accommodation as far in advance as possible. Being organized will save you money and time when you get to Yellowstone.
Read our popular guide listing the best places to stay at Yellowstone to help with planning the most challenging aspect of your vacation.
7 Day Salt Lake City to Yellowstone Wyoming Road Trip Itinerary
Now you know the best things to do and places to stay in Salt Lake City, Jackson, Grand Teton and Yellowstone. It's time to put it all together and create an unforgettable 7 day road trip itinerary.
This example itinerary can easily be adapted to 6 days or 8 days to slow things down or speed things up. If you're driving in reverse, switch the itinerary on its head and work backwards.
We will cover variations from this example after the itinerary to make it more inclusive to those who have more or less time than 7 days.
It is assumed you will arrive into SLC airport or city the night before we begin this itinerary. At the end of the 7 days, we will assume you have a late flight booked on the 7th day or an early flight on the 8th day.
Alternatively, you could begin your Utah road trip loop from SLC after the Wyoming loop in this itinerary.
Adapt the itinerary to suit your exact travel plans and please feel free to leave us a comment at the end if you need help planning for your specific vacation plans, such as hiking or photography focused.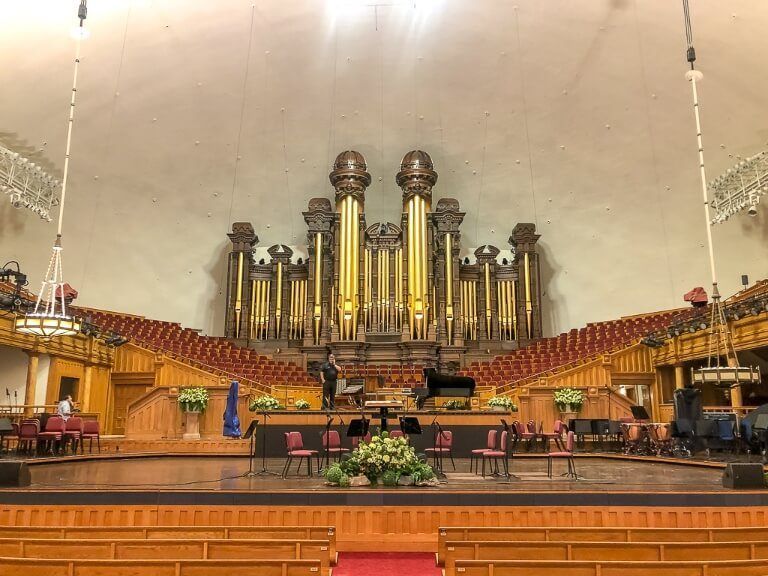 Day 1 – Explore Salt Lake City
The first day can be action packed or easy going depending on your journey to reach SLC and how you prefer to travel.

Whether you decide to go to Park City, the Great Salt Lake, hiking or to a museum, we highly recommend you spend at least an hour walking around Temple Square in the center of town.

Don't miss the Tabernacle right behind Salt Lake Temple. You can go inside with free entrance and might even strike it lucky with a choir performance. Thursday's at 7.30pm and Sunday mornings at 9.30am will give you the best chance.

Here's more information about the Tabernacle Choir.
If there's a Utah Jazz basketball game on, buy tickets in advance.
Check out City Creek Center – a stunning covered shopping and dining complex with high end shops and fountains.
Day 1 – Eat and Stay
SLC food / drinks recommendations include White Horse, Siegfried's Delicatessen and Caffe Molise.
Spend the night in Salt Lake City at Grand America or Homewood Suites.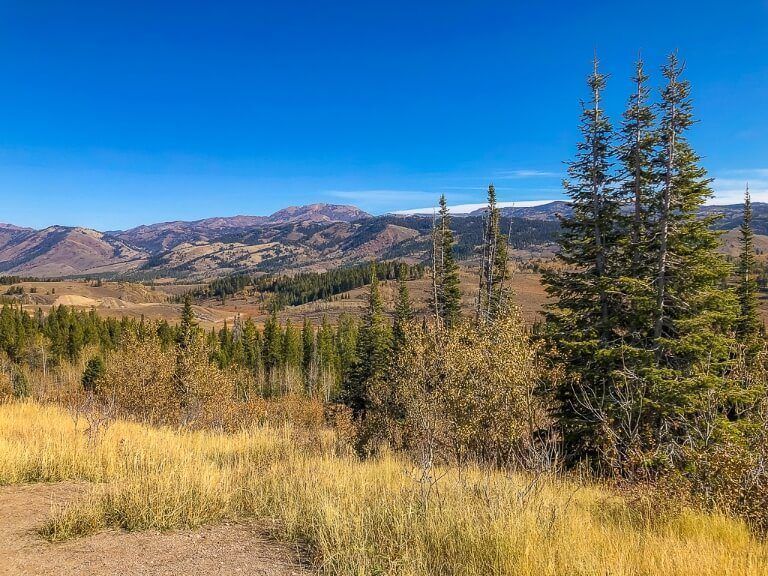 Day 2 – Drive from Salt Lake City to Jackson
Get an early start in SLC, jump in the car and hit I-15 N.

Turn onto US-89 N and follow the winding scenic road all the way to Bear Lake, following it's Western flank and crossing into Idaho.
Take the right onto N Beach Road to enter Idaho's North Beach State Park with US$ 7 vehicle entry fee and don't forget your swim suits!

After you're done at Bear Lake, take Merkley Lake road to US-30 W and get back on US-89 N.

Follow the 89 as far as Afton, the largest town in Star Valley and your next stop. Look for the world's largest Elkhorn Arch – made up of over 3,000 intertwined elk antlers – as you enter town.

Keep an eye out for ultra-picturesque Star Valley Mormon Temple as you drive through Afton.

Continue North and drive through Alpine Junction, which marks the beginning of a super scenic stretch of highway following the Snake River.

Pull over at as many of the scenic overlooks as you have time for to admire the valley views.

US-89 transitions into US-191 N and not long after you will arrive into Jackson, Wyoming.

Without stopping the drive should take around 4 hours 30 minutes, but you will be stopping so plan for more like 6-7 hours.
Day 2 – Eat and Stay
Spend the afternoon walking around Jackson town center, drop into a saloon-style bar for a beer and grab an awesome pizza at Hand Fire Pizza inside a converted theater.
Spend the night in Jackson at Wyoming Inn of Jackson Hole or Inn on the Creek.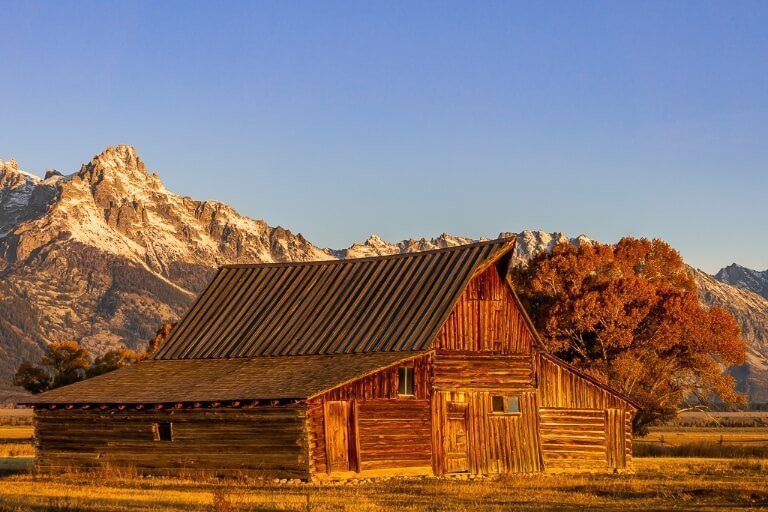 Day 3 – Discover Stunning Grand Teton National Park
Morning
Check Grand Teton sunrise times the night before and plan to arrive at Mormon Row at the start of civil twilight with camera in hand.

Follow US-191 N from Jackson and turn right onto Antelope Flats road. Note in Winter / early Spring, you will instead turn right onto Gros Venture road at an earlier roundabout.

Mormon Row is incredibly beautiful at sunrise. You will find dozens of photographers snapping away as sunlight kisses the snow capped Teton range at first light.
Once you've seen enough, quickly (but safely!) double time it to Schwabacher Landing to catch the end of sunrise. Head back to US-191, turn right and not long after take a left on Schwabachers Landing road.

If you're lucky there will be wildlife drinking fresh water or playing in the river. Look for crystal clear mountain reflections in the Snake River.

Continue North to Snake River Overlook and follow the road through flatland where you will see Bison roaming.

US-191 turns left and you're next stop is Oxbow Bend for more stunning mountain reflections.

Take the left onto Teton Park road, cross Jackson Lake Dam and continue until you take a left turn up Signal Mountain Road.
Afternoon
Drive the winding road to its summit for amazing views, descend and continue until you reach Jenny Lake road. Take the right turn, stop at String Lake and Jenny Lake Overlook for beautiful lake views.

Follow Teton park road as far as Chapel of the Transfiguration. Enter the chapel to take the iconic 'mountains through the church window' photograph.

Head back to Mormon Row for sunset, which is equally as spectacular as the sun set behind Teton mountains.
Day 3 – Eat and Stay
Day 3 is the most open to your interpretation part of this Salt Lake City to Yellowstone road trip.
We would personally recommend heading back to Jackson, staying in the same hotel as the night before so it's one less check out and check in process, you can grab a nice dinner and spend another sunrise in Grand Teton the next day before driving to Yellowstone.
However, when planning your road trip, you might want to get to Yellowstone a little earlier.
In that case, you could book to spend a night at Jackson Lake Lodge just North of where US-191 and Teton Park road meet near the Dam. You would have to eat in the on site restaurant as there are no other amenities nearby.
Alternatively, you could even book your first night at any of the 3 lodges around Old Faithful. It would mean driving some of the route in the dark and missing stunning scenery but if you're short on time this is a good option.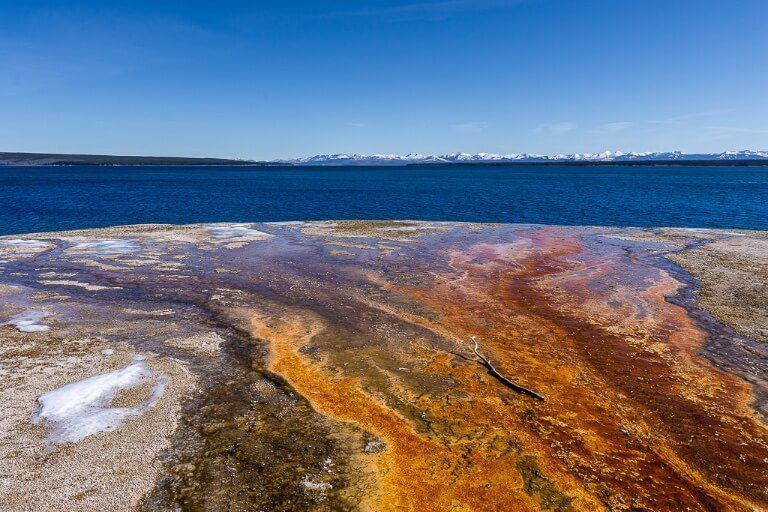 Day 4 – Grand Teton Sunrise and South Yellowstone
Assuming you stayed in Jackson on night 3, begin your fourth day with another sunrise but this time head straight to Schwabacher Landing to get there before the sun rises.

Use the morning to visit any of the areas in Grand Teton you liked the most, such as Jenny Lake or wildlife spotting in the plains.

If you're a big hiker, definitely spend the morning hiking to Inspiration Point via Hidden Falls. Take the ferry across Jenny Lake to cut out a hike around the lake and save time.

Jenny Lake to West Thumb Geyser Basin in South Yellowstone is around 60 miles and will take approximately 1 hour 30 minutes without stops, but you will want to stop a few times.

Lewis Lake as you enter the South of Yellowstone is one of the best places for kayaking in the park, otherwise continue until you reach West Thumb Geyser Basin.

Spend an hour walking around Abyss Pool, Black Pool, Big Cone Geyser, Fishing Cone and various other colorful hot springs.

Follow the Yellowstone Loop road towards Old Faithful, there's not much to stop at between the two.

Check in to your Old Faithful lodge or hotel room and head straight out to catch the next timely eruption.

If you have time and energy before sunset, hike up to Old Faithful viewing area to see the spectacle from an elevated position and maybe even with a fantastic sunset as you look Southwest at the world famous geyser.
Day 4 – Eat and Stay
This is where your accommodation options / challenges begin and why it really pays to be organized before you visit Yellowstone.
First choice here is a room at Old Faithful. Spend the night at one of the three lodges in Old Faithful village. Check availability and prices for:
If you can't get a room in Old Faithful or they are too expensive, book a night at a hotel in West Yellowstone. It's the closest place you can book hotels through normal channels (non national park reservation systems).
Here are some great hotel options in West Yellowstone for you to consider:
Although West Yellowstone isn't the perfect option, it is actually located very fortuitously for this itinerary between Day 4 and Day 5. You will only have to drive back on yourself a few times.
West Yellowstone is like a resort town and is filled with dozens of places to grab dinner. If you stay at Old Faithful you will be limited to eating in the restaurants or food courts on site.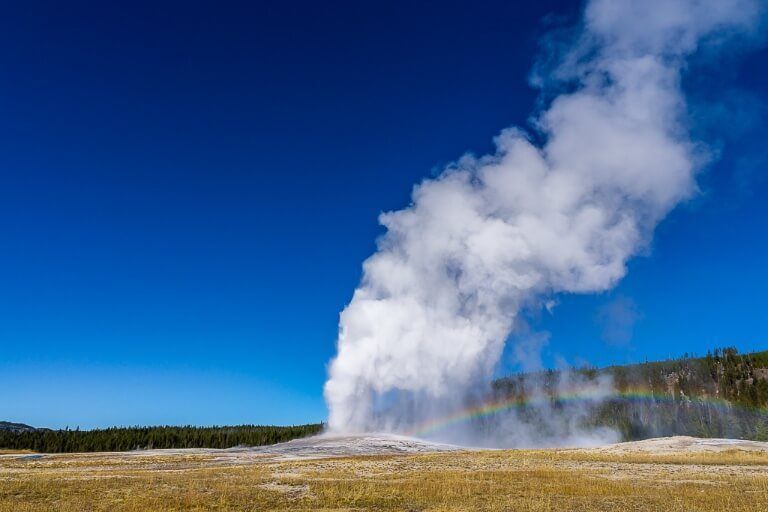 Day 5 – Upper, Midway, Lower, Norris Geyser Basins and Yellowstone Falls
If you were able to get a room in Old Faithful, you can begin Day 5 right as you leave the lodge in Upper Geyser Basin.
However, if you stayed in West Yellowstone, you will need to drive back to Old Faithful to begin Day 5.
Morning – Upper, Midway and Lower Geyser Basins
Spend around two hours walking through Upper Geyser Basin, the area with the highest concentration of geysers in Yellowstone.

Follow Firehole River as far as Morning Glory Pool, before returning to jump in the car and get on the road.

Park up at Fairy Falls Trail parking lot and hike 0.8 miles to Grand Prismatic Spring Overlook. This is one of the most famous elevated views in the entire park and shouldn't be missed.

Back to the car and drive to Grand Prismatic Spring parking lot to explore Midway Geyser Basin. Excelsior Geyser will be billowing and hopefully you have a clear day to see vibrant colors inside GPS.

Both Opal Pool and Turquoise Pool are worthy of keeping the camera handy.

A little further on loop road, take the right turn onto Firehole Lake drive, stopping to look at the various pools and geysers. As a side note, this is one of the most popular sunset locations in Yellowstone.

Right out of Firehole drive park up at Fountain Paint Pot Trail, this is Lower Geyser Basin. Walk the loop trail before continuing up the loop road.

If you want to swim, turn into one way Firehole Canyon road and drive the full loop to Firehole River swimming area. It is one of only 2 places you are permitted to swim in Yellowstone.
Afternoon – Norris Geyser Basin and Yellowstone Falls
Follow the loop road until you reach Gibbon Falls for a quick waterfalls stop.

Next up is Artist's Paintpots Trail, which we highly recommend. A short walk through forest ends with bubbling mud pots and colorful hot springs. One of our favorites and lesser known.

It will be getting into mid afternoon by now and time for Norris Geyser Basin. Spend an hour walking around the boardwalks passing by dozens of geysers with interesting names.

The geyser you can't miss at Norris is called Steamboat geyser, the world's tallest active geyser.

Drive through the center of Yellowstone Loop road (the joining part of the number 8) to Canyon.

Check in to your Canyon hotel or lodge and head straight back to the car, drive South for just over a mile and turn left into N Rim drive.

Stop at lookout point and look back into the Grand Canyon of the Yellowstone to see Lower Falls crashing into the Yellowstone River.

Continue to both Grand View and Inspiration Point and if you time it right, you will be at Inspiration Point for sunset looking West. It's almost like you planned it!
Day 5 – Eat and Stay
The night of Day 5 is the only night you absolutely have to book into a hotel, lodge, cabin or even campground at Canyon village. If not, you will have to drive 31 miles back to your West Yellowstone hotel.
Of course, you could skip the last part of Day 5 and instead of driving to Canyon, drive back from Norris to West Yellowstone. The next morning, you will have to drive to Canyon and pick up the itinerary.
Top-tip: There are ways to solve accommodation for every other night, so when you plan your Salt Lake City to Yellowstone road trip, focus your itinerary around whichever night you can book into a Canyon hotel room. Remember, in Spring or Fall it's unlikely you will run into this problem, but in Summer it is very likely all hotels will book up early.
Check availability and prices for Canyon village hotels, lodges and cabins.
Canyon village has a canteen style food court serving various cuisines and a huge seating hall centered around an open fireplace.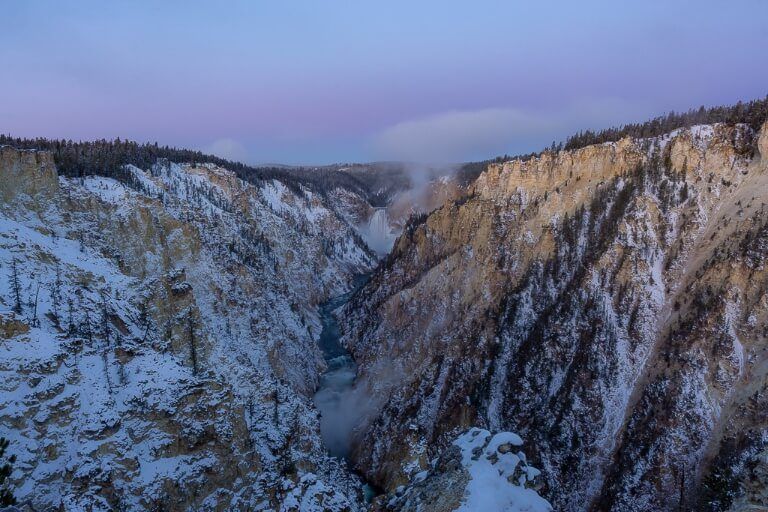 Day 6 – Yellowstone Falls, Hayden Valley, Mt Washburn, Lamar Valley
This will be one of the best days of the entire road trip. Stunning waterfall, abundance of wildlife and an awesome hiking trail.
Morning – Yellowstone Falls and Hayden Valley
Another early start for an unforgettable sunrise in Yellowstone. Drive South but this time turn left into South Rim Drive, cross the bridge (stopping for photographs) and continue to the end of the road.

Walk to Artist Point, our personal favorite viewpoint into Grand Canyon of the Yellowstone. Views are extraordinary and if you get a good sunrise, the waterfall, canyon and sky will light up stunning browns, pinks and purples.

On the way back, stop at Upper Falls view and Uncle Tom's trail if it's open.

Drive South into Hayden Valley for the first of your wildlife spotting experiences. Park alongside the Yellowstone River and look for bears, wolves, coyotes, bison, elk, eagles and dozens more species.

A little further South you will reach Mud Volcano and Mud Geyser. There are loads of interesting geysers here but it's a quick stop.
Afternoon – Mount Washburn and Lamar Valley
You can continue South to Yellowstone Lake but in this itinerary, we will head back towards Canyon and continue until you reach Mt Washburn.

You can either hike to Mount Washburn by parking at Dunraven Pass, or you can drive to the summit up Chittendon road. Views are some of the best in Yellowstone so don't miss this one.

Heading North, your next stop is Tower Fall, before turning right off loop road at Tower Junction towards Lamar Valley. It will be mid afternoon (or late afternoon if you hiked Mt Washburn).

Animal activity in Lamar Valley is greatest early in the morning and later in the afternoon / early evening. It is worth sticking around in Lamar Valley until later in the day, this is the best place to see wildlife.

Once done in the valley, drive to Mammoth and check out the awesome Hot Springs. There's not a whole lot to see in between Tower and Mammoth.
Important: The road between Canyon and Tower-Roosevelt is closed until 2022. Instead, loop from Canyon to Norris, up to Mammoth, over to Tower and into Lamar Valley. Mt Washburn is not accessible.
Day 6 – Eat and Stay
Mammoth is the only part of Yellowstone you can find accommodation year round. You can choose between a lodge-style hotel room or semi-detached cabin. We stayed in a cabin and it was great.
Check availability and prices for Mammoth accommodation.
This night of the itinerary also works if you either can't get a room in Mammoth or the prices are too high for your budget. Just 5 miles North of Mammoth is the town of Gardiner, outside the Yellowstone national park boundary.
Here are some of the best hotels in Gardiner for you to consider:
Mammoth has a grand dining hall serving all meals of the day and Gardiner has a varied selection of places to eat, although far fewer than in West Yellowstone.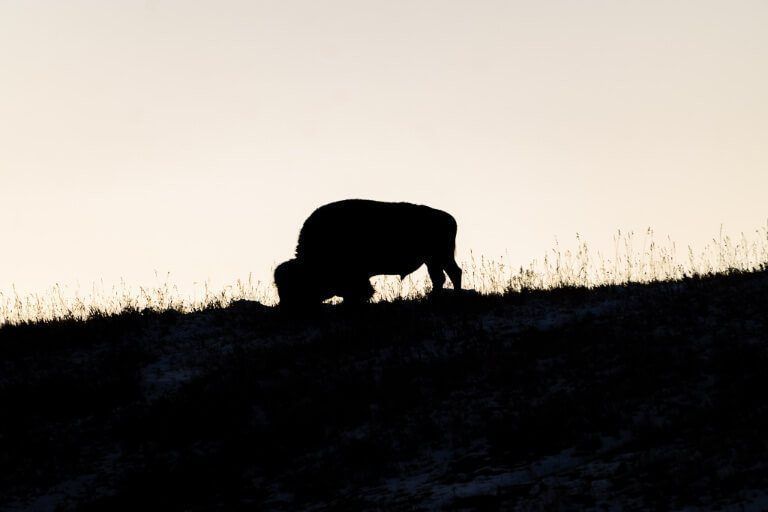 Day 7 – Mammoth / Lamar Valley and Drive to Salt Lake City
Your final day on this epic Salt Lake City to Yellowstone road trip begins in Lamar Valley.

Sunrise is the best best time of day to see wildlife and Lamar Valley is the best place to see wildlife in Yellowstone.

Pro-tip – You could stay at Tower Lodge the night before if wildlife spotting is your main priority.

As much as you want to stay watching wildlife roam freely all day, you have to get back to SLC.

Be sure to stop at Mammoth Hot Springs and spend more time exploring the stunning terraces in mid morning.

Drive South, passing Norris Geyser Basin and leave the park via West Yellowstone.

Head South on US-20 W as far as Idaho Falls and join I-15 S all the way to Salt Lake City airport (or city if you plan to begin another road trip loop through Utah).
Day 7 – Eat and Stay
Breakfast at Mammoth or Gardiner, followed by lunch in West Yellowstone on the way out of the park. Dinner either back in SLC downtown or at the airport.
Stay either downtown at the same hotels recommended above or at the airport in Tru by Hilton or Spring Hill Suites.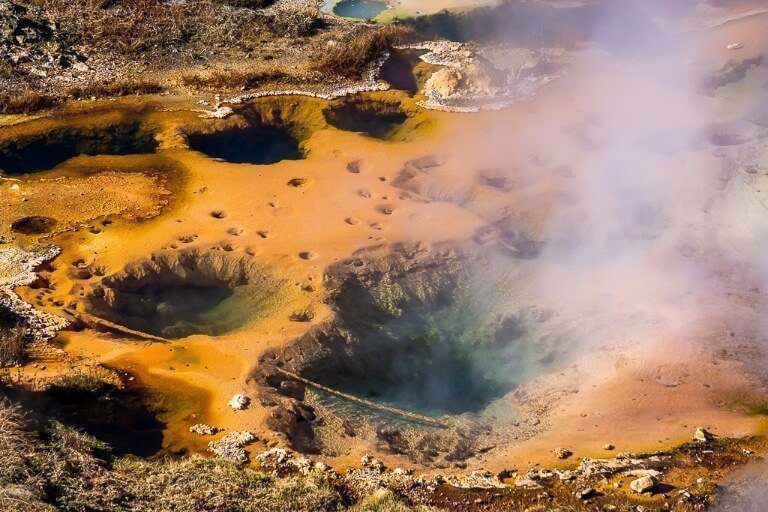 Variations Of The SLC to Yellowstone Wyoming Road Trip Itinerary
What if you have more or less time than 7 days? And maybe you'd prefer to get the longer drive out of the way first?
Let's take a very quick summarized look at how you could adapt this itinerary to suit your travel plans:
7 Days N to S: Instead of driving straight to Jackson, drive to Gardiner via I-15 on Day 2. Then work your way through Yellowstone and Grand Teton in reverse before driving back to Salt Lake City from Jackson.
6 Days: Cut out SLC, drive straight to Jackson on Day 1. Spend the evening and Day 2 in Teton before driving to Old Faithful to spend Days 3, 4 and 5 exploring Yellowstone. Leave mid morning on Day 6 to drive back to SLC.
8 Days: Spend an extra day in SLC either side of the road trip. Alternatively, add an extra day into Yellowstone or Grand Teton depending on your focus ie wildlife, photography, hiking etc.
Hiring A Car At SLC Airport
Planning and packing for a road trip involves more than just picking a route and booking accommodation. You need to consider hiring cars, automotive essentials, what to pack depending on season of your visit and more.
Hiring a car at Salt Lake City airport will be no problem and you should have plenty of options. Start by checking prices with Rental Cars, the car hire company we always use and recommend.
Once you've found a vehicle you're interested in, note the price and try to beat it with other car hire companies. Be sure to book in advance to guarantee availability for your road trip dates.
Wyoming Road Trip Packing List Essentials
Let's talk about safety.
Spending a few minutes considering what you need to pack can save you a fortune in time, money and energy later on your vacation.
After multiple long term US road trips we learned a thing or two about how to best prepare for a successful adventure.
Read our detailed guides about effective road trip planning and road trip packing for more information.
If you're road tripping SLC to Yellowstone in your own vehicle, you'll want to make sure you're carrying some or all of the following (many also apply to hire cars):
Spare tire

Plenty of Motor oil, Transmission fluid, Windshield wiper fluid, Brake fluid, etc.

Insurance, license, registration, identification, roadside assistance and extra car keys.
Once you have the safety essentials covered, everything else is a luxury and can be bought on the road. Don't forget hiking gear, cold weather clothes and plenty of layers.
Read More About Yellowstone and Grand Teton
Discover the 30 Best Things To See And Do In Yellowstone National Park with detailed descriptions and advice for your visit.
Have More Time For Utah?
Are you planning to complete a second loop into Utah before or after this amazing Wyoming road trip loop?
The Mighty 5 national parks in Utah offer an incredible experience filled with mind blowing landscapes and rock formations.
We've written many detailed guides about the Utah parks to help plan your vacation:
---
We hope this helps you plan your Salt Lake City to Yellowstone and Grand Teton Wyoming road trip itinerary!
Have you been to Yellowstone and Grand Teton? What are your favorite parts of both parks?
Please let us know if you have any questions or need any help planning your road trip.
-Happy Planning-
Was This Post Helpful? Pin It For Your Visit!
Recommended Travel Planning Resources