How does financially rewarding, travel savvy and plain old awesome sound to you? Well, they will be your results once you know exactly how to book the cheapest hotels every time you travel.
Follow the actionable step-by-step process in this article and you will save money on hotels. You will also learn a repeatable process to discover the best hotel deals for your budget, destination and travel style.
Booking hotels is a chore for some travelers, something that consumes too much time and energy. It's just a bed to sleep in before moving on to the next place.
For us, finding the best possible deal is part of the travel thrill. We'll assume you can relate because you're researching money saving techniques.
How much you save will depend on how much effort you put in to the hotel booking process. There is no mystical process or code to crack. All it takes is the right knowledge and a little digging.
Ask yourself: When I travel and spend my hard earned money, why pay more than I have to when booking hotels?
The hotel industry is a competitive market. Supply can often outweigh demand, which results in opportunity for you, the traveler. As long as you have the right tools to find those opportunities.
We will give you our top hotel money saving tips, followed by a step-by-step list of actions you can take to book hotels when planning your next trip.
*Please note this post may contain affiliate links. If you click on one, we may earn a small commission at no extra cost to you. Thank you for supporting the free content we provide! Read more in our disclosure policy.*
15 Tips To Book The Cheapest Hotels
Action can be taken on each of the tips listed below in order to filter and find the best possible hotel deals for your trip.
However, we do have one non-actionable tip that could save you more than all of the tips listed below combined:
Be as flexible as possible.
If you have the ability to move a day ahead or backwards, you can save staggering sums of money when traveling.
1. Use Credit Cards With Huge Travel Cash Back Perks
Start with the basics and get a credit card that gives you money back every time you buy something.
If you're a regular traveler – domestic or international – one of the easiest and most consistent ways to save money on booking hotels is to use a travel rewards credit card.
It sounds so simple and that's because it is.
You would book the hotel anyway, so why not book with a credit card that pumps 1.5% cash back (or equivalent points) straight into your account.
Use a credit card with travel specific rewards and no foreign transaction fees.
Example: A hotel in San Diego, California costs you US$ 400 for 5 nights, you can automatically subtract US$ 6.
It might not sound much but those small sums add up each time you book a hotel. After 10 hotels you have US$ 60 in your account that you wouldn't have had otherwise.
They are the fine margins helping you get the cheapest possible hotel bookings.
And how much effort do you have to make? None. Simply use your credit card to buy anything from gas to groceries and online purchases.
Build your points / cash back total and eventually use the travel rewards card cash / points accrued for booking flights, trains, hotels and so on.
Plus, you'll incur no foreign transaction fees on purchases, which is the major draw of the card – the cash back is just a bonus.
Travel rewards credit cards are a no brainer for regular travelers.
2. Sign Up To Hotel Booking Engines Loyalty / Rewards Programs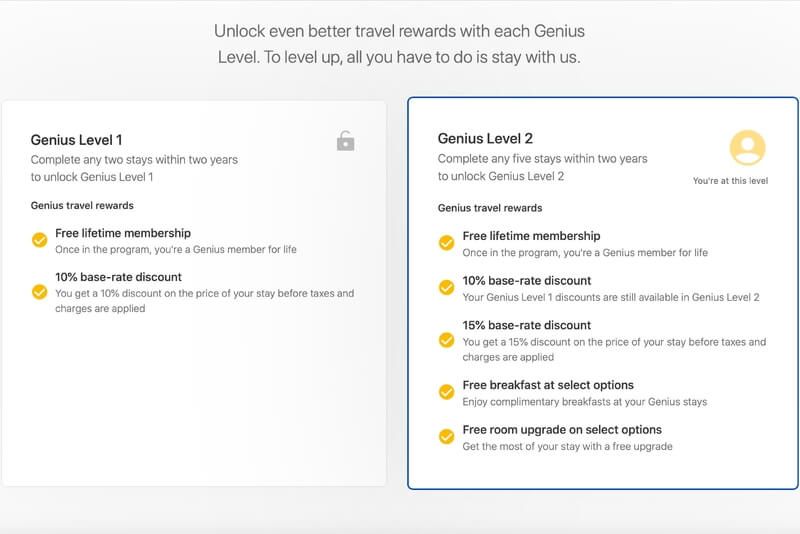 No matter if you prefer Expedia, Agoda, Booking.com or Hotels.com – signing up to the site and becoming a member WILL save you money time and time again.
This is the most obvious and simple form of booking the cheapest hotels every time you travel.
It won't cost you anything, so sign up!
The rewards you receive on hotel bookings far outweigh the odd promotional email clogging up your inbox.
Example: We personally signed up with booking.com years ago and have been enjoying Genius Level 2 rewards all over the world.
We typically get 15% off rooms, breakfast included where it wouldn't be otherwise or free room upgrades.
Now, you don't have to be a travel blogger to get those rewards.
No, all you have to do is book 2 hotel stays in 2 years to be Genius Level 1 or 5 hotel stays in 2 years to be Genius Level 2.
Have you stayed in 5 hotels in the previous 2 years?
If so, you could save 15% on future hotel rooms. No catches, no strings, just saving money.
True story – We've had many checking in experiences at hotels in the United States whereby the person checking us in couldn't believe the price we got a room for the night.
Genuine surprise.
Similar deals apply to all other major hotel booking engines, so check them all out and sign up to whichever you like the look of most, or all of them.
Click here to visit Booking.com homepage and create your rewards account now, it's free and easy.
3. Download Hotel Booking Smartphone Apps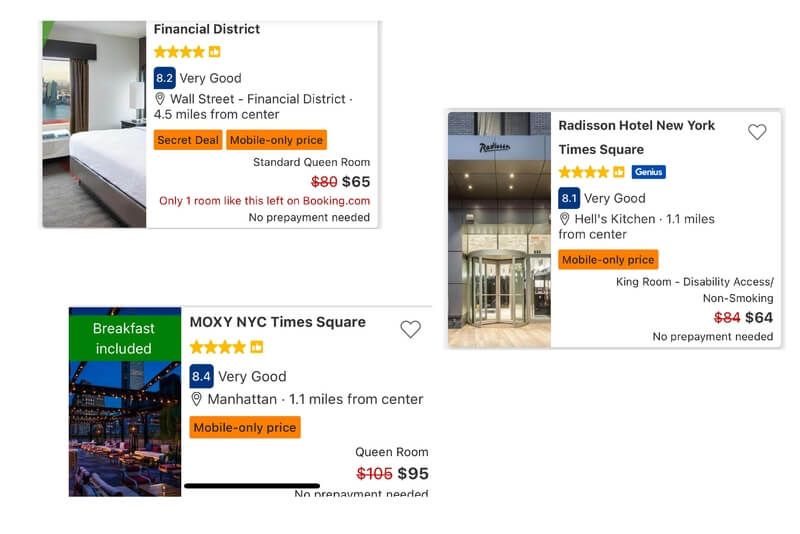 A clever and useful marketing innovation by hotel booking search engine services – like Booking.com – was the introduction of further discounts when booking by smartphone.
Example: You sign up to Booking.com and find a hotel in San Francisco on a desktop browser.
Download the Booking.com app to your smartphone and search the same dates in San Francisco. Now look for Mobile Only prices – you will find 5%, 10% or even 20% slashed off certain hotel prices.
Easy savings.
Why would the hotel prices be cheaper just because it's on your phone?
Well, if you have the app, you're far more likely to repeat custom with them because it's just SO convenient to book as you go using your smartphone, right?!
The amount of time we all spend on our mobile phones is increasing and convenience is a buzzword.
Therefore, when the big hotel booking companies are offering big discounts if you use their app – take advantage.
4. Check Prices Directly With Hotels
This is where the effort on your part begins.
If you truly want to book the cheapest hotels, you have to dig around to unearth the best deals.
Start by contacting any hotel you like the look of once you have a ball park figure through a booking search engine. Always contact a hotel through their direct phone number.
Hotel booking search engines are amazing resources but they are bound to the contract between themselves and the hotel.
If you call the hotel directly, you can negotiate free parking, breakfast, room upgrade or even a lower price at the hotel managers discretion.
Don't expect to get any of these things but it won't hurt to ask and sometimes it pays off.
We've had hotels offer a price match or give us a better deal for booking directly with them.
But conversely, others have been aghast at the price we had found by using a search engine like booking.com with Genius Level 2.
Either way you win.
They lower the price and throw in free parking OR they confirm you have nailed an incredible price online!
5. Book In Advance With Free Cancellation
Are you a super organized traveler?
If so, begin researching hotel prices way in advance and see if you can find a room at a rate you feel is excellent value that includes free cancellation.
Typically, when booking through a hotel search engine, a room has 2 rates:
A non-refundable lower rate
And a free cancellation higher rate
Booking with free cancellation in advance isn't necessarily going to get you a cheaper price but it is going to give you price security and flexibility.
We'll get into last minute bookings later but for now consider that booking a free cancellation room at a great price is the best way to guarantee you don't lose out closer to the time if you have to change your dates.
Example: You're not 100% sure of your dates for travel to Yosemite National Park in Summer, but you don't want to wait for prices to skyrocket by the time you have definite dates.
Go ahead and book a room in advance at a slightly higher rate but including free cancellation. You guarantee a room at a good rate and have the option to cancel if your plans fall through.
That's not to say you should always book a handful of hotels for each place you visit only to cancel them – hotel owners wouldn't stand for it if we all went about it that way.
However, if you aren't 100% on dates, this is the most effective way to save money.
6. Book In Advance With Non-Refundable Rate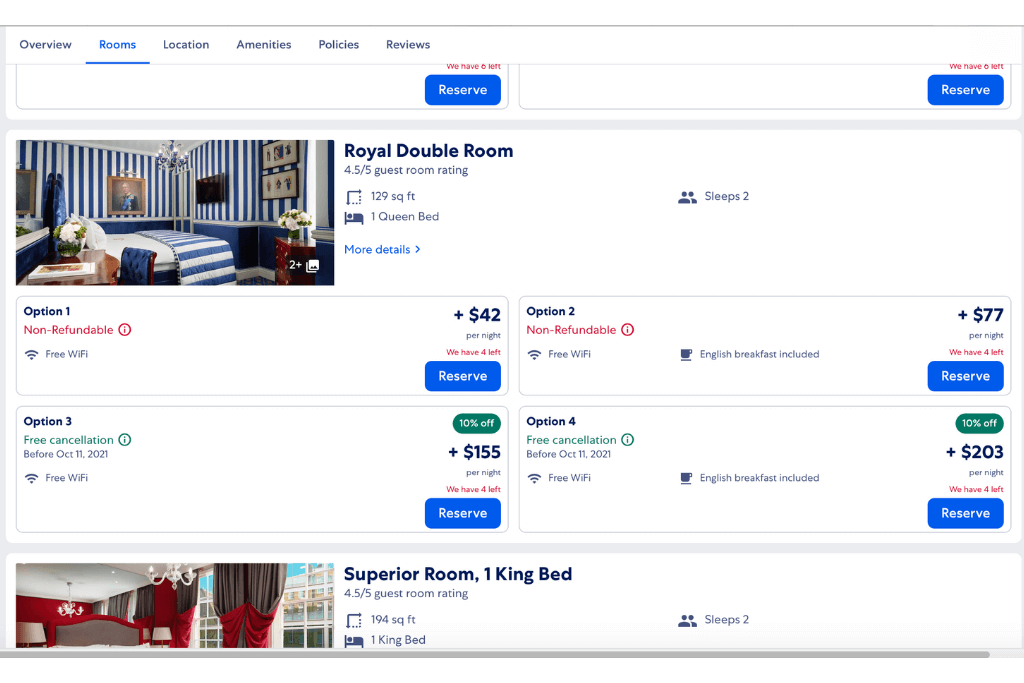 Conversely, if you can guarantee your dates, booking in advance with a non-refundable caveat can save you a lot of money.
We always book non-refundable rooms when we are certain of dates. There's a small risk factor in case of any unplanned issues but the low risk is worth it for the cost difference.
Big savings on hotels often comes down to risk vs reward.
Example: The London hotel room listed above includes surplus charges for adding a free cancellation clause to a booking.
You know your dates and don't need breakfast included, so you book the cheaper non refundable room (option 1) at +US$ 42 instead of the free cancellation rate (option 3) at +US$ 155.
Thereby saving US$ 113 per night on this particular hotel.
Be aware with these bookings that you will lose your money if you are unable to complete your hotel stay. Only choose this option if you are 100% sure of your ability to make the dates work.
Important: Due to (and during) COVID-19, do not book any hotel stay with a non-refundable option. It's not worth the risk of losing your money in case of local lockdowns. There are very few hotels currently offering a cheaper non-refundable option. Let's see if they become a standard hotel booking feature once again after the pandemic.
7. Consider Weekday / Weekend and Season of Visit
Almost every travel destination in the world has a peak season, shoulder seasons and a low season. Strongly consider the timing of your visit and its implications on booking the cheapest hotels.
Example: The hotel you want to stay at in New York City in August costs US$ 250 per night.
When you change your dates to February, the price drops significantly to US$ 80. Yes, it's obvious, but it's also one of the most basic ways to book the cheapest hotels when you travel.
The same applies to other parts of the world, such as Vietnam in South East Asia.
If you visit in off season, we would suggest searching for hotels but not booking anything before you arrive to a new city / town and simply talking to hotel owners on site when you arrive.
We negotiated prices at hotels in person many times in Asia because we didn't visit in peak season.
We would check prices on Booking.com and Agoda, then negotiate with owners to a lower price. If they wouldn't go for it, we would just book a room at their hotel on our Booking.com smartphone app.
Don't be shy and use the seasons to your advantage where possible.
Example: We once fell foul to not doing our research on a visit to Pittsburgh, Pennsylvania. Multiple events converged on one weekend and we ended up paying massively over the odds for a hotel.
If you visit a place in low season you have the potential to get more out of a deal because the hotel needs paying guests.
Whereas, demand is high enough in peak season and you will do well to get a free welcome drink!
Cities are naturally going to be busier at weekends with tourists and weekdays with business travelers.
Weekends will typically cost more in hotels than during the week unless there are midweek events, sports games, concerts or exhibitions.
Effective event research can save you money.
8. Book Longer Stays To Save
Staying at hotels for more nights will often drive the average cost down on a per night basis.
Why would the average nightly price be lower if you stay longer?
Because it eliminates your room having to be cleaned and guarantees hotel occupancy, particularly in low / shoulder season.
Example: You're looking at hotels in Jackson, Wyoming to visit Grand Teton and Yellowstone.
One night at a hotel you like in Jackson Hole costs US$ 70, 2 nights costs US$ 130 and 3 nights costs US$ 180. The average nightly price drops each time.
The take home for this tip is to look at prices for 1 night, 2 nights, 3 nights etc to see what happens with the total cost.
Be aware, this will not always be the case and you may have to spend time looking at different hotels to see this tip in action – but it does work and we always look for it.
This is particularly relevant if you're planning a road trip with a series of 1 night stays as you move from city to city or national park to national park.
It could pay to spend more nights in fewer hotels.
9. Compare Prices of Hotels, Cars and Flights Bundles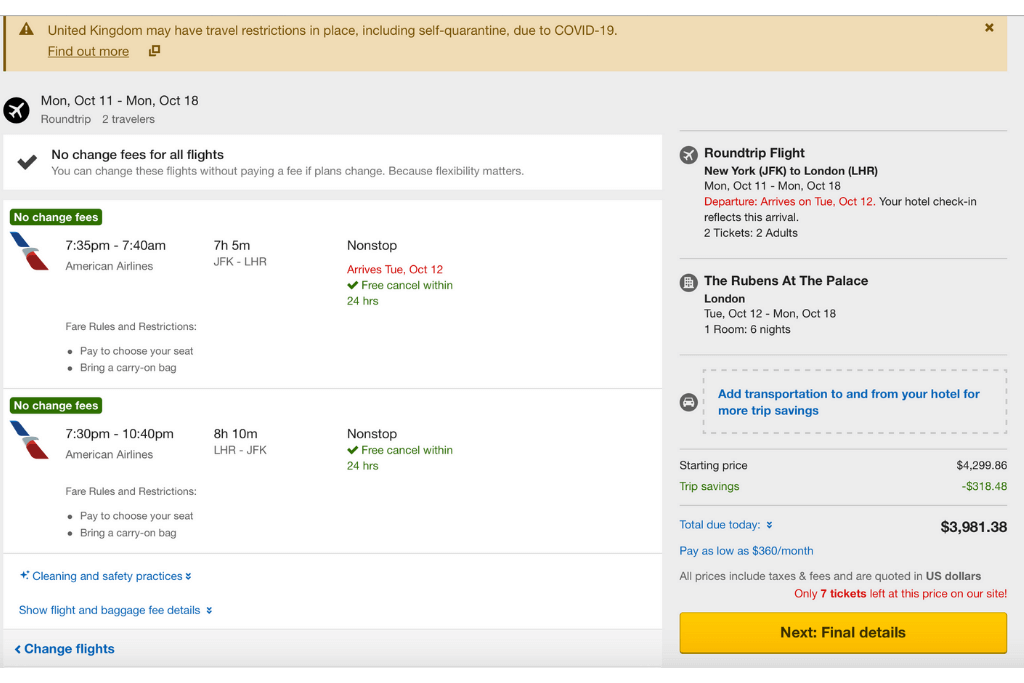 Gone are the days of walking down to your local travel agent and booking a package holiday.
Why?
Because you end up paying an astronomical mark up to the travel agent for services and you pay way over the odds for combining flights with hotels and transport.
Example: Flight arrival / departure times perfectly match hotel check in / out times for New York to London as listed above.
When creating this particular package, the amount of add ons were crazy, such as +US$ 85 for hold baggage or +US$ 90 for a queen room instead of a basic room.
We always recommend booking flights, hotels and hire cars individually for best value.
If you plan to fly somewhere, stay there and hire a car – chances are you've got Skyscanner, RentalCars and Booking.com all open.
That's exactly what we would be doing.
Read our 15 steps to save money on flights next for more budget friendly travel tips.
We've traveled the world for years and from experience, booking individually is more cost effective than booking in bulk with a one-stop-shop platform like Expedia.
Convenience and price have a direct X vs Y correlation.
The minute your trip becomes more convenient by packaging flights, hotels and ground transport – your total trip price explodes.
But that doesn't mean we don't check for special deals or package prices in the right circumstances.
What you should always do is price up the total cost of flight, car and hotel individually and then find the cheapest / best value Expedia package for comparison.
So when might this method be useful?
Package deals offer booking security, all-in-one confirmations and convenience.
Example: You're on a one stop trip to Paris or Tokyo and have a healthy budget.
The convenience of booking everything in one place could be worth the few hundred dollars you'd save by excruciatingly researching flights, hotels and hire cars with a fine tooth comb.
Always shop around and consider ways you can save, including each individual aspect of your upcoming trip.
10. Check Groupon For Special Deals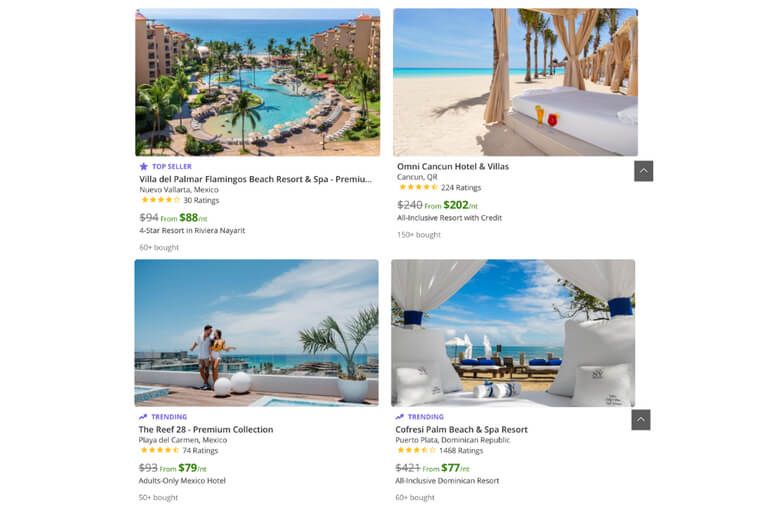 In truth, we rarely check Groupon ourselves.
But we do know they do put on good deals, particularly for specialist weekend spa breaks in B&B's or all inclusive packages to beach destinations.
We would suggest using any prices you find on Groupon as a guide and comparing against other hotel booking engines before contacting the place directly if you want to follow up.
That way you have 3 opportunities at getting the cheapest price.
What is useful is the directness of Groupon. Price of Hotel X in Resort Y on Caribbean Island Z will be quoted.
Example: Listed above is Cofresi Palm Beach & Spa Resort in Puerto Plata, Dominican Republic. It looks for all intents and purposes like it has a mind-blowing deal from US$ 421 down to US$ 77 per night.
Be careful not to get too excited and check this hotel with all other hotel search engines listed in this article. It may or may not be an incredible deal, but either way you will know you got the best price.
The specificity of Groupon selecting a hotel directly for you can eliminate the entire process of identifying your next vacation and adds another element of convenience.
This can work wonders for those who don't have time to search or are renowned for indecisiveness!
11. Check For All Inclusive Package Deals
Are you planning a visit to a resort?
If so, always check the different types of package on offer. Look out for self catering, half board, full board and all inclusive.
Depending on the type of traveler you are, there is potential to save big by selecting the best type of package for your group.
If you plan to eat and drink your way through 2 weeks in the sun, get the all inclusive package with your hotel room and you'll save a small fortune.
Conversely, if you prefer to eat out of the resort at local restaurants, go self catering and save money on the initial hotel payment.
Sometimes booking the cheapest hotel doesn't just mean the up front payment. Consider all options available and choose the most cost effective for you.
12. Save Money With A Last Minute Hotel Booking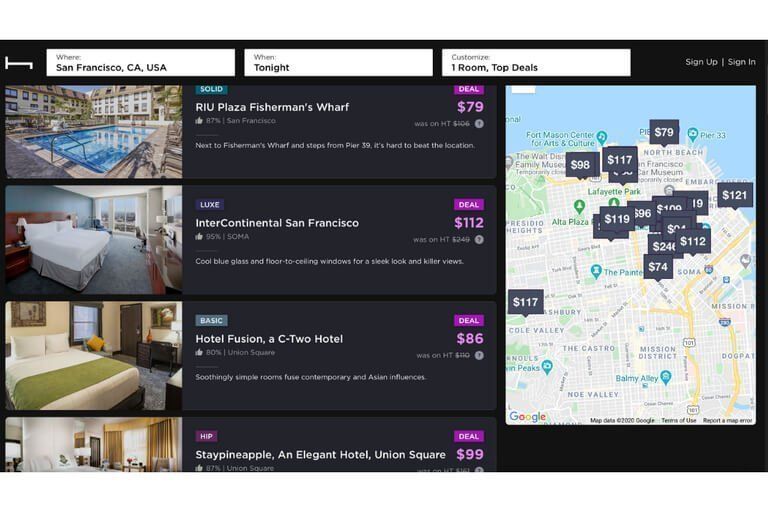 Last minute hotel bookings are a gamble, sometimes they pay off and other times they don't.
You will have ultimate flexibility, which is top priority for some travelers, but you will typically have significantly reduced hotel options.
It pays off if you travel out of season to a big city such as New York or Los Angeles because they have hundreds of hotels to fill.
It doesn't pay off if you need a hotel in a small town / rural area or a big city in peak season.
Hotel Tonight is a hotel booking search engine designed to get the best last minute deals for travelers. The greater the population or tourist attraction, the better this method works.
Hotels don't want empty rooms and punters want the cheapest last minute hotel rooms available – so this is a great tool for those who prefer to travel with maximum flexibility.
You can save fairly significant sums of money on hotels using Hotel Tonight. But it does mean living day to day and booking hotels as you travel.
If you're visiting small towns or rural national parks, last minute deals rarely work well.
There's always a trade-off.
13. Gamble on a Mystery Deal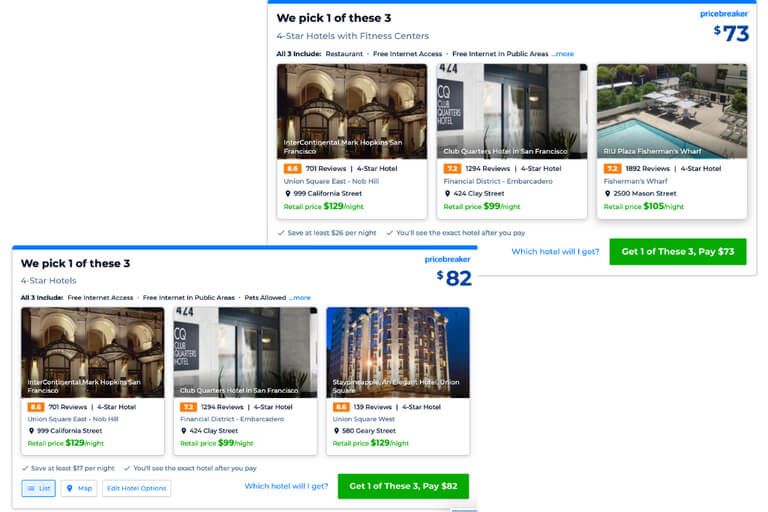 Mystery deals have come a long way in recent years.
Hotels are always looking for innovative ways to fill their rooms at competitive prices, particularly higher end hotels during shoulder and low seasons.
Without directly advertising cheap discounted rates, they often appear as mystery deals on websites such as Priceline and Hotwire.
If they were to directly advertise low prices, they set a precedent for future bookings.
Example: A Hotwire listing might say 4* hotel in downtown San Francisco, 40% off, US$ 90.
What you have to do is 'take a punt' on a hotel without knowing its name or any further details.
Alternatively, using the Pricebreakers function on Priceline – they select 3 similar hotels (4*, including fitness center etc) and give you 1 list price.
You can see the names of the three, which means you can check locations and guest ratings. You choose to pay the list price without knowing which of the 3 hotels you will be given until after confirmation.
Either way, you will usually get a better price on that hotel compared to booking directly or in advance.
You feel like you strike it lucky and the hotel fills its empty room without directly advertising low prices. Everyone wins.
Most of the time.
14. Book Someone Else's Non Refundable Hotel Room
Have you ever considered what happens to a hotel room when a guest books a non-refundable stay but can't make it?
That's right, the guest loses money and a potential hotel room for other visitors to that place is empty.
Until an auction-like site called Roomer created a marketplace for guests who can't make their stay.
Example: You book a non-refundable room at Tivoli hotel in Vail, Colorado for a few days on the slopes in December but something comes up last minute.
Instead of losing US$ 260 per night for 3 nights on your hotel room, you advertise the room on Roomer, where other visitors to Vail can snag your room at a discounted price of US$ 180 per night.
The new person is effectively picking up a room that would have been empty and paying far less than the average rate for that room.
In turn, you will not lose out entirely on your initial cost, even if you only make back 70% of your upfront payment.
This is another fantastic resource to check before making your final decision on a room, particularly if prices are higher than you might have hoped.
15. Consider Alternative Accommodation
If you've utilized every tip from this list and still can't book a cheap hotel room, it's time to consider looking at other options.
Our first port of call would be Airbnb – which we have mixed feelings about.
Although you will meet locals and usually get a lovely place to stay, cleaning fees and other added extras mean value for money isn't always the best.
Pay close attention to costs per night included and remember that longer stays are more cost effective with Airbnb.
Couchsurfing is a hugely popular way to spend time in a new place and save money on accommodation – it's not something we've ever done personally but we know plenty who have.
Surfing couches takes cheap to a new level – free!
Camping is a fun and family friendly alternative to consider when booking accommodation, particularly if you're visiting a rural area or National Park.
Hotel prices can be high in these areas because demand outweighs supply and campgrounds offer a cheaper alternative.
Our Tried and Tested 3 Step Process For Booking The Best and Cheapest Hotels
Now you know our top tips for finding and filtering hotels, but how exactly do we book the cheapest hotels?
You want a repeatable process to follow in order to guarantee success, every time.
In order to book the cheapest hotel, you are going to have to follow a process of elimination. Follow these steps until you find the absolute lowest price for a specific hotel.
Once you go through the process a few times it will become like second nature every time you go somewhere new.
Here are 2 things you need to do before you begin the search for hotels:
Get a credit card with awesome travel rewards benefits (like 3% cash back)
Create a Booking.com rewards account and download the smartphone app (or hotels.com, agoda etc)
And now follow these steps:
1. Use Google Maps To Narrow Your Search Area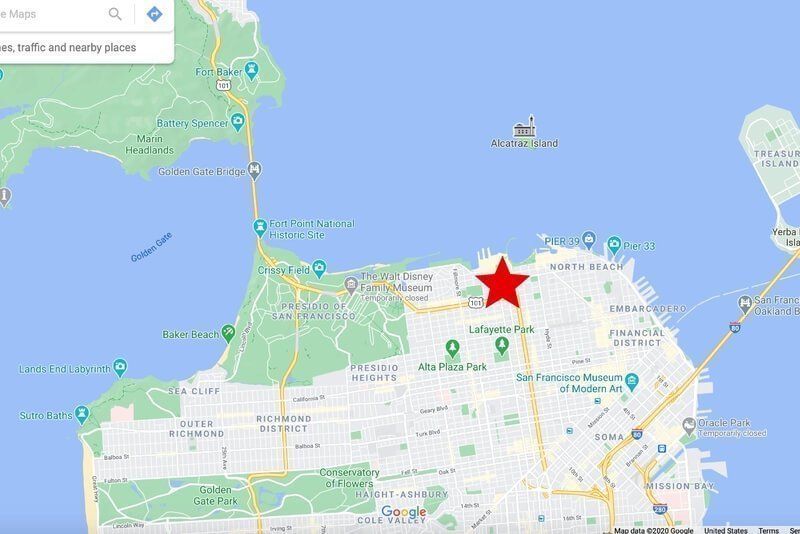 The first thing you need to do is narrow down your search area. The place we always start when booking hotels is Google Maps.
Example: You're planning a trip to San Francisco and the main reason for your visit is to photograph the Golden Gate Bridge.
Jump on google maps, familiarize yourself with the geography around the bridge and city to identify potential hotel locations.
You will get a rough idea of the best location for your visit, which would be somewhere in between the bridge and other major attractions in the city.
Cheap hotels are fantastic, but a hotel's location is usually more important. Consider your destination and your main reason for visiting.
What do you plan to see and do?
Look around the immediate area of your destination for any activities you plan to do, any restaurants you've been recommended or have identified, plus public transport options like train stations and airports.
Once you've taken into account the important aspects of your visit, you can plot a rough area of best possible locations and rule others out.
Example: Springdale (Zion national park in Utah) hotels fill up very early in Summer so you need an alternative.
Use google maps in order to locate nearby towns and check driving distances to Zion. Look for amenities in each town to suit your travel group.
Important: Always research neighborhoods / districts to avoid unnecessary safety risks.
Cheapest doesn't always mean best, safety should come before cost.
2. Find Potential Hotels Using A Booking Search Engine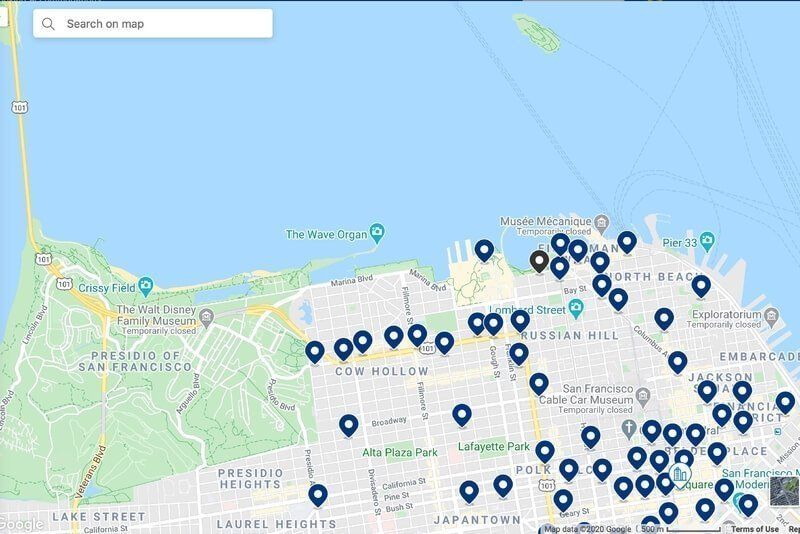 The next step is to identify all hotels within the narrowed down areas for your visit.
Go ahead and use any hotel booking search engine.
We typically use booking.com because they always have the most hotel options and we get incredibly cheap hotel rooms with Genius level 2.
You can use the booking.com hotel search box below to begin using our tips to save money.
Type in the name of your next vacation destination with your dates of travel.
Click search and a list will appear.
Click Search by Map View to transition to a map of your destination with all hotel options appearing.
This will allow you to zoom in directly to the areas you have already identified as best for your visit, filtering out all others for now.
Take note of any hotel names, guest ratings and prices.
These prices will act as your benchmark for reference.
The rest of the process involves trying to beat your current price, which will be a good one as you have rewards / loyalty benefits and mobile only discounts.
Hotel booking search engines such as booking.com are the best way to find all hotels and guest ratings in a particular area, even if you don't plan to book through them.
This incredibly useful function is often underestimated by travelers.
3. Try To Find A Better Price
Follow all the steps listed in the tips section to find a better price for a hotel you are interested in booking.
You may or may not find a better price but either way you will know you have the cheapest price.
Start by searching all other hotel booking engines like Agoda and Hotels.com for a lower price. This can be beneficial in certain regions such as Agoda having greater influence on deals in Asia.
Follow up by contacting the hotels directly. Can you get a lower price or free parking?
Next, look at Groupon, Priceline and Hotwire to see if the hotels are a part of any deals or discounted mystery rates for the dates of your stay.
Do any of the platforms offer an incentive for booking early or with a non-refundable caveat?
Always move your dates forward and backward by one, two or three days if possible. You will be amazed at the fluctuations in price.
Check prices if you stay a day less and a day more, or even a few more days. Average nightly fee may drop significantly.
If you don't like any options, widen your search radius to include more hotels and begin the process again OR look at alternative accommodation platforms like Airbnb, couchsurfing and camping.
Cheapest vs Best Value For Money Hotels
An important part of booking travel components like flights and hotels is to consider that it is not always about booking the cheapest flight or hotel, it's about getting the best value for your money.
Example: Let's say you found a New York City hotel for US$ 50 per night with a guest user rating of 6.5 out of 10.
If there was another hotel with a guest rating of 9.5 out of 10 but cost US$ 60 – you'd choose the better rated hotel for an extra 10 bucks.
It's always great when you can cheat the system but remember the cheapest hotel is rarely the best hotel, look for guest ratings and book something with a good balance between cost and review score.
Our final piece of advice to leave you with is this:
Do not spend forever and a day wading through hotel prices, it's easy to get lost in booking engines for hours but your time is more valuable than the 10 or 20 dollars you might save!
Our Popular Hotel Guides …
---
We hope these tips and processes help you book the cheapest hotels every time you travel!
Please let us know if you have any questions or need any help with your hotel bookings.
Happy Travel Planning,
Mark and Kristen
Was This Post Helpful? Pin It For Your Visit!