Pa'rus Trail is one of the very best hikes in Zion National Park for beginners. It is short, easy, flat and family friendly. Include Pa'rus Trail into your Zion hiking itinerary if you're looking for an easier but still incredibly photogenic hike.
We all know Zion to be an adventure playground for hikers. But what about anyone who wants to see the beauty of Zion without climbing the razor thin passage to Angels Landing, or wading through water with a pole in The Narrows?
Well, you actually have more options than you might imagine and Pa'rus Trail is at the heart of the Zion 'easy' hiking category. It is the single easiest hike to access in the park and as a result it is very heavily trafficked.
But there's even more to this seemingly inconspicuous hike, and we're going to explain everything you need to know about hiking the Pa'rus Trail in Zion National Park.
Let's hit the riverside path!
*Please note this post may contain affiliate links. If you click on one, we may earn a small commission at no extra cost to you. Thank you for supporting the free content we provide! Read more in our disclosure policy.*
Zion Pa'rus Trail FAQ's
We know what your first questions is – what does the name mean?!
In the local native Paiute language, Pa'rus roughly translates to "rushing waters". But rushing could be replaced by bubbling or tumbling.
This is a fantastic hike to include on a relaxing one or two day Zion National Park itinerary.
Here are the most asked questions about the Pa'rus Trail in Zion National Park:
How Hard Is The Pa'rus Trail In Zion National Park?
Pa'rus Trail is one of the easiest hikes in Zion. There is absolutely no technical difficulty and only 50ft elevation difference, which you won't notice over the course of the hike.
But it is a 3.5 miles roundtrip hike if you walk the entire trail from Zion visitor center to canyon junction bridge and back. Of course you don't have to complete the whole Pa'rus Trail if you'd prefer to shorten the distance.
One of the best things about hiking Pa'rus Trail is that it will remain open throughout Winter in Zion National Park without any safety concerns.
Another easy and short Zion hike with just 163ft elevation is Zion Canyon Overlook. But this one leads to incredible canyon views at its summit. Add it to your list.
How Long Does It Take To Hike Pa'rus Trail In Zion?
Pa'rus Trail should take around 2 hours total hiking time with stops.
Walking at a quick pace without stopping, you could complete the 3.5 miles out-and-back roundtrip Pa'rus Trail in a little over an hour.
But the average hiker on Pa'rus Trail is going to take things slowly, enjoy the gorgeous lower canyon scenery and not be racing to tick off yet another Zion hike.
If you plan to eat lunch or shoot some riverside photography, allow for 3 hours or more. Zion is a time-sucker, you won't believe how quickly your hours vanish.
If you're looking for something a little more challenging around a similar time frame, try the Emerald Pools Trail just a few miles into Zion canyon.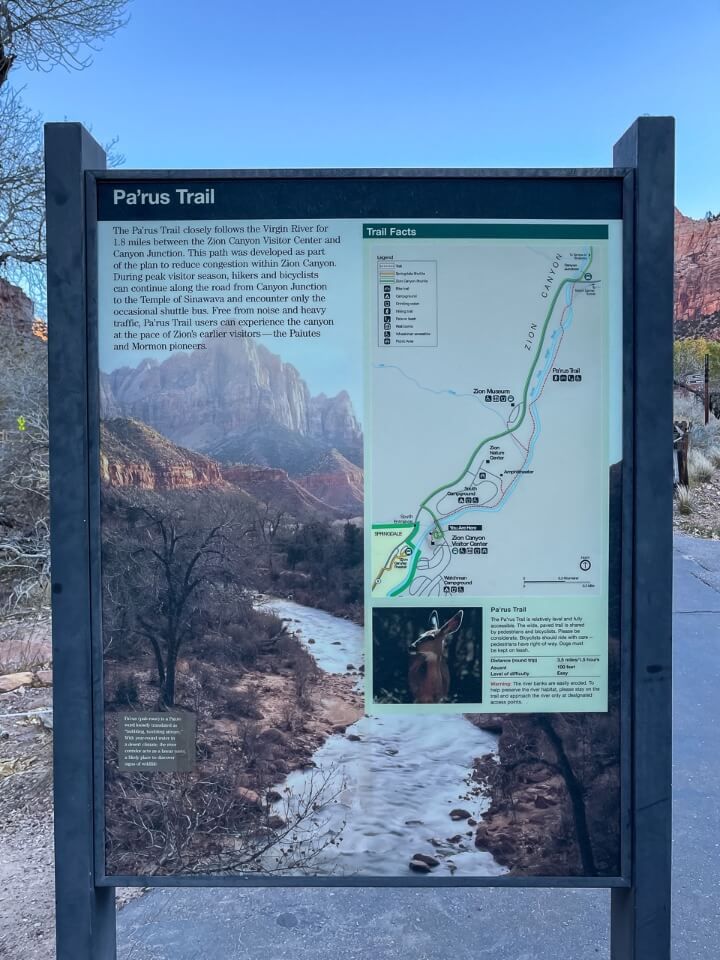 Pa'rus Trail Is A Unique Zion Hike
Here's the kicker – Pa'rus Trail is the only multi-use hike in Zion National Park. What does that mean?
It means that anyone can use, access and enjoy walking alongside the Virgin River. Let's take a look at why this trail is so popular:
You can walk your dog on a leash along Pa'rus Trail – the only hike in the park dogs are allowed on.
It is the only flat and fully paved trail in the park suitable for wheelchairs and strollers.
Pa'rus Trail is the only designated trail that bicycles are allowed to share with walkers.
It begins and ends right at the visitor center parking lot.
To summarize, Pa'rus Trail is the most inclusive hike you can do in Zion National Park. It is suitable for every visitor and any hiking ability.
Pa'rus Trail Zion National Park Hiking Details
Trail Distance: 3.5 miles roundtrip
Type of Trail: Out and Back
Trail Difficulty: Very easy
Time Required: 1.5 – 2 hours
Elevation Gain: 50 ft
Trailhead: Zion visitor center, Springdale
How To Get To The Pa'rus Trail In Zion National Park
Pa'rus Trail is the easiest trail to access in Zion National Park. You just need to park up at the main Zion visitor center, cross the bridge and you're on the paved riverside path.
One of the downsides to visiting Zion is getting parked. It is always busy in this national park and parking is very limited. If you visit in peak month between May and September, you will need to arrive very early.
You can park at any of the following:
Zion main visitor center
Your Springdale hotel and either walk or take a shuttle to the visitor center
A paid day-parking lot in Springdale
But we have two great tips for you, one about hiking and one about parking:
Hiking – If you plan to hike The Watchman Trail along with Pa'rus Trail, you will find both trailheads begin and end at Zion visitor center so no need to move your car or figure out parking again.
Parking – There is a tiny roadside parking area on the opposite side of Pa'rus Trail, just a few meters from the canyon junction bridge.
There's only room for around 4 cars but not many people know it connects with Pa'rus Trail. The image below shows the small parking lot to the bottom right side.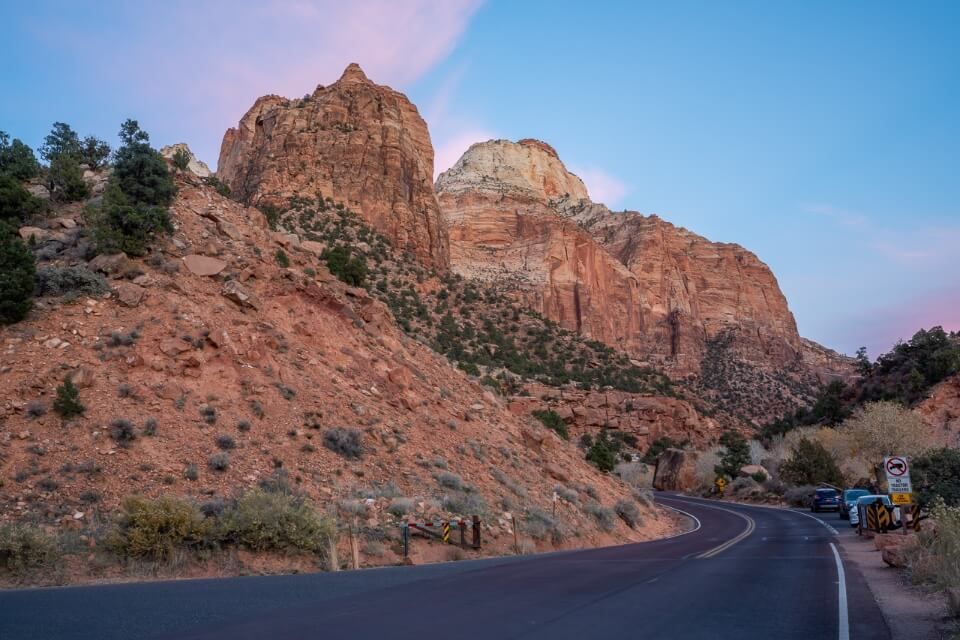 More Tips For The Hike
To avoid issues with parking in peak season you need to arrive early
Holidays and weekends are always much busier than weekdays

You won't need any technical hiking gear or footwear

Pa'rus Trail is dog friendly

Don't forget your camera on this trail
After hiking in Zion Canyon all day you can get off the shuttle at the last stop to walk Pa'rus Trail one way back to the visitor center.
Our top tip for Pa'rus Trail hike:
The turnaround point on Pa'rus Trail is canyon junction bridge. If you time it right for sunset or even once it gets dark, shoot an iconic Zion National Park photo from the bridge looking back down Pa'rus Trail.
Need a hand organizing your visit to Zion?

Our popular 40+ page Zion National Park Guidebook can help you with planning every aspect of your trip.
Pa'rus Trail Walkthrough
Are you planning to hike and photograph Pa'rus Trail around sunrise or sunset? Here are Zion sunrise and sunset times so you can plan the perfect time to arrive.
Now we've covered everything you need to know about the trail, let's get into the hike itself:
Start At The Visitor Center
We're not joking when we say you have to arrive early at Zion visitor center in peak season if you want a parking spot. Even during our first visit to Zion in October we were one of the last cars to get parked at 7.30am.
Staying at a hotel in Springdale gives you a room to sleep but also a place to park your car. If there are no parking spots at the visitor center, leave your car at the hotel and take the village shuttle back to the visitor center.
When walking around the visitor center area, look for a brown sign for Pa'rus Trail and Watchman Trail. It is located behind the waiting line to jump on Zion Canyon shuttles.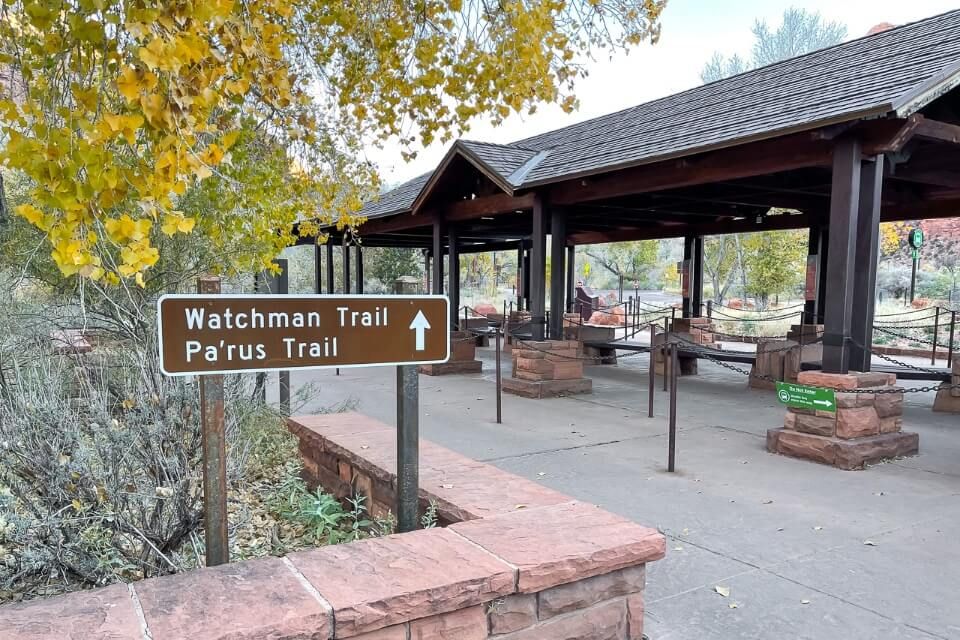 Ease Onto The Trail
The last time we visited Zion in December 2021 there was a temporary looking white canvas sheet displaying information about Pa'rus Trail.
Follow the left turn over the bridge and take the crosswalk to the other side. Within 1 minute of leaving the visitor center you are already on Pa'rus Trail.
This trail is completely exposed with little to no shade, especially in the middle of the day when the sun is highest. Prepare with sun hats, sunglasses and sunscreen.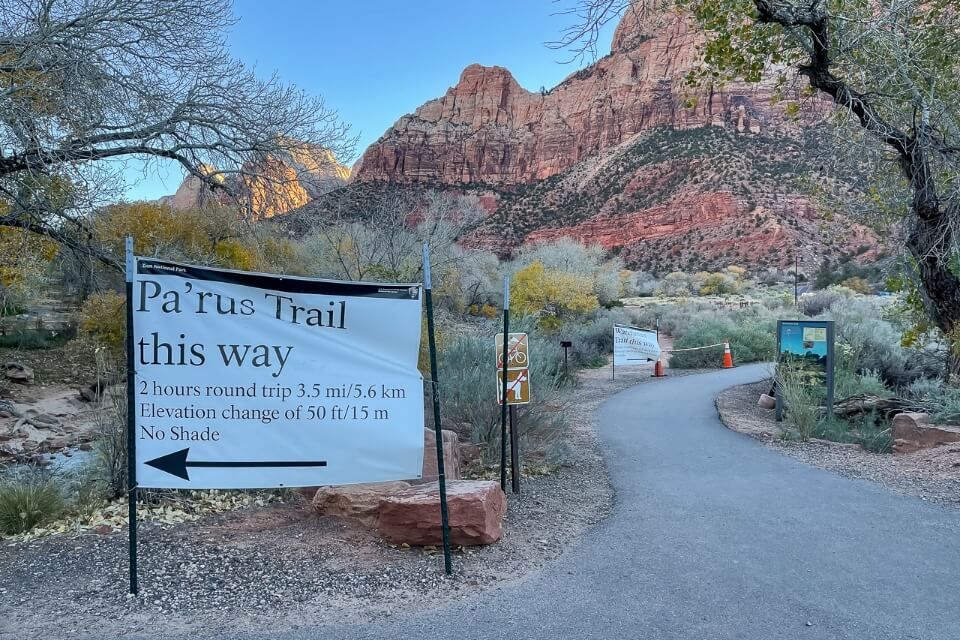 Walk The Riverside
The first part of Pa'rus Trail passes through a wooded as you cut directly through Zion South Campground. Once you're out of the built up campground area, the trail feels more quiet and countryside-like.
A wide and flat paved path dissects a grassy plain with trees to either side flanked by gigantic orange canyon walls. This is where you begin to appreciate the spectacular Zion landscape.
You'll cross a very quiet road and a bridge over the Virgin River, which is a fantastic photography location. The trail hugs the Virgin River before crossing back over on another bridge.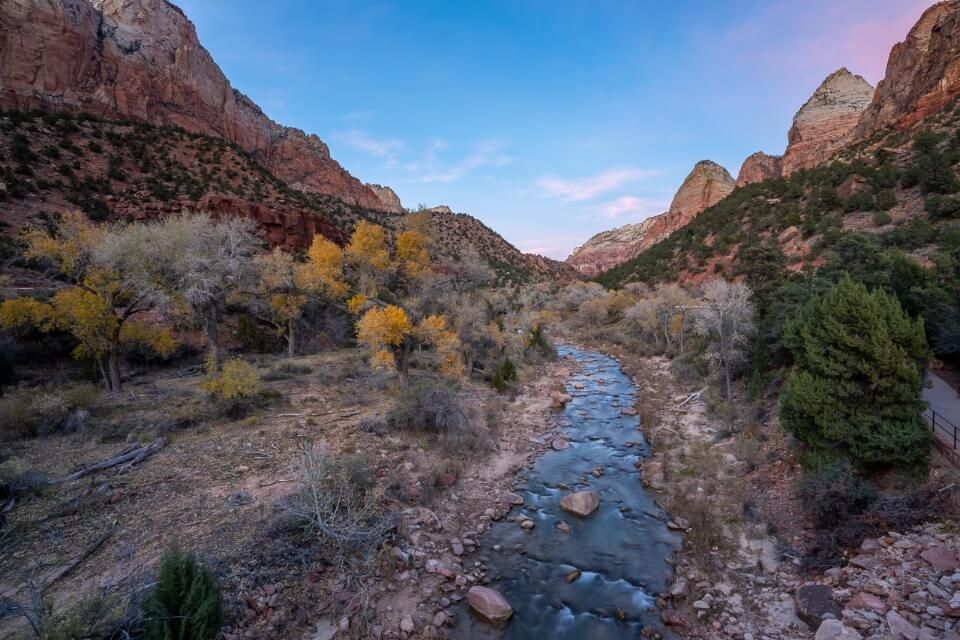 End At Canyon Junction Bridge
After crossing two more bridges and passing underneath canyon junction bridge you will arrive at the end of Pa'rus Trail.
Pedestrians are not technically allowed on canyon junction bridge but endless photos from the bridge over Pa'rus Trail would suggest otherwise.
Be very careful on the road and bridge if you do decide to go out and grab a photo.
You have three options once you end the trail here:
Continue straight ahead to jump on a shuttle into Zion Canyon (other side of the road).
Stay on the same side of the road and take a shuttle back to the visitor center.
Turn straight around and walk back to the visitor center to complete the out and back Pa'rus Trail hike.
Looking for hiking inspiration? Check out our popular guide to the 50 best hiking trails in the US next!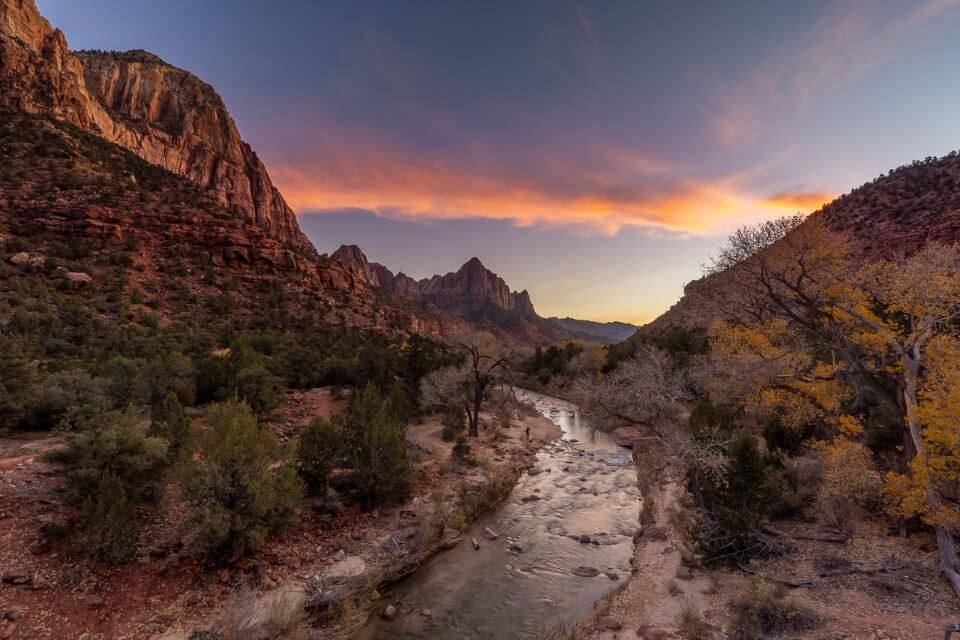 Turn Back To The Visitor Center
If you do decide you want to hike back along Pa'rus Trail to the visitor center, you know exactly what to expect now. Just cross those four bridges, take a ton of photos and enjoy those 360 degree sweeping canyon views.
Check live and current hiking trail information at Zion before planning your hike along Pa'rus Trail or any hike in the national park. Trails are renowned for closing at short notice throughout the year.
Pros To Hiking The Pa'rus Trail
Very easy hike with best access in the park
Spectacular Zion canyon views throughout
Suitable for all visitors and dogs on leashes
Con To Hiking The Pa'rus Trail
Not a challenging or adventurous Zion trail
No elevated views over canyon floors
Out and back means seeing the same things twice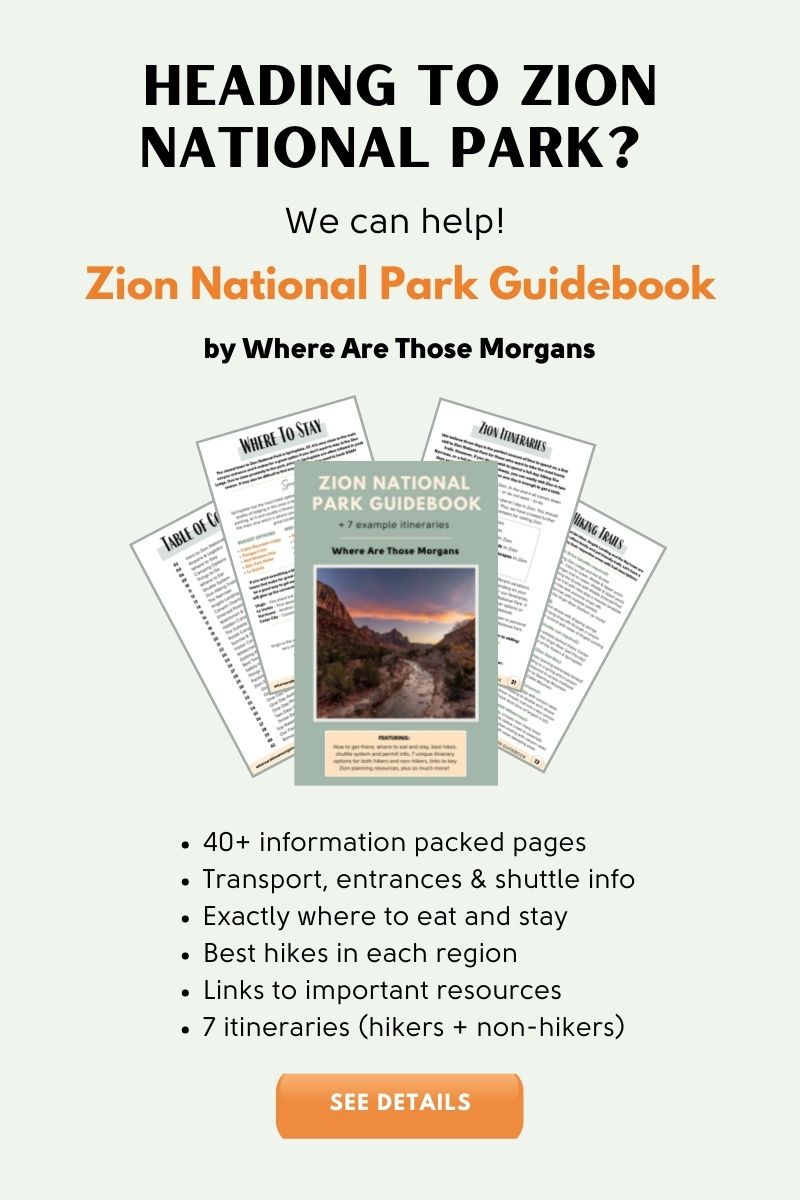 Our Popular Zion National Park Guides
More Zion Hiking Guides
Want more Utah content? Head over to our Utah Travel Guides to explore the Mighty Five National Parks and beyond.
---
We hope this guide to hiking The Pa'rus Trail helps with planning your visit to Zion National Park!
Please let us know if you have any questions about The Pa'rus Trail hike, Zion National Park or your visit to Utah in the comments below.
Happy Hiking,
Mark and Kristen
Enjoy This Guide? Pin It For Your Hike!