Day hiking the remarkable Narrows slot canyon trail at Zion National Park was one of the most unforgettable highlights of our epic 3 month Western US road trip.
Getting hold of a permit to hike the Narrows top down is challenging and you need to be extremely organized. For most visitors to Zion, one day will be allocated to hiking notorious Angels Landing and the other day for hiking as far up the Narrows as possible.
In October 2019, we hiked up and back down the Virgin River for a total of 8 hours, wading through water ankle deep, shin deep, knee deep and even waist deep. That's what it takes to reach Big Springs, the furthest point permitted on a bottom up day hike return.
But the beauty of the bottom up day hike is you only go as far as you feel comfortable, safe and fit.
The Narrows is immensely popular, extraordinarily thrilling and a truly unique adventure hiking experience. Very few hikers make it all the way to Big Springs on a day hike but we're going to explain exactly how you can be one of the few to complete the Narrows in one day.
Let's hike!
Important: Advanced reservations for the Zion Canyon shuttle bus have been discontinued as of 28 May 2021.
*Please note this post may contain affiliate links. If you click on one of them, we may earn a small commission at no extra cost to you! We recommend only products we use and as always, all ideas or opinions expressed in this post are entirely ours. Thank you for the support and happy travels!*
What Is The Famous Narrows Hike In Zion National Park?
The Narrows is a dramatic slot canyon through which the Virgin River flows in Zion National Park. It is the narrowest section of all canyons inside the park and is stunning from the first step you will take until the last.
As the river flows through the narrow canyon with sky-high walls, you will walk, wade and maybe even swim until you are ready to turn around.
There is no single 'best' part of the Narrows, no panoramic vista at the summit. The entire hike is equally as awe-inspiring.
Imagine you're hiking on a dirt trail roughly 10-15 feet wide surrounded by trees and grass.
Nice thought, right?
Now, replace the dirt trail with thousands of small smooth stones, hundreds of medium sized rocks and a few dozen huge boulders.
Next, replace the trees and grass with spectacular 1000 feet high towering vertical rock faces just 20-30 feet apart, blocking the sun and guiding your path.
Lastly and most importantly, throw in the Virgin River's North Fork, which ranges from ankle deep to waist deep. Now you are in for a real treat – the epic Zion National Park Narrows hiking trail.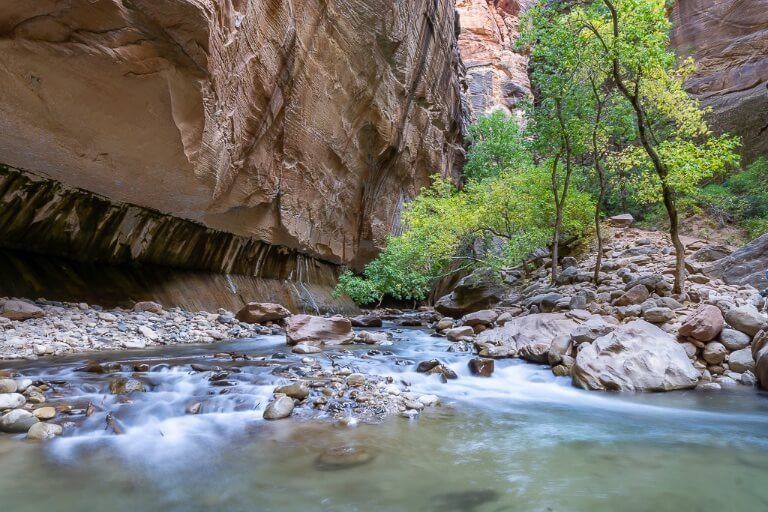 How Long Is The Narrows Hiking Trail?
The Narrows is a 15 mile hike through one of the most mind-boggling Utah landscapes. See Delicate Arch and Mesa Arch for more amazing Utah landscapes.
Add 1 extra mile from the Temple of Sinawava to the beginning of the Narrows hike on an easy trail known as Riverside Walk. Another 1 mile is added to the far end of the Narrows between slot canyon and Chamberlain's Ranch if you are doing the top down version with permit.
However, in this article we are going to talk you through the bottom up day hike which is 9.4 miles roundtrip inside the Narrows.
You will have to include 1 mile each way on Riverside Walk between shuttle and trailhead. Therefore, if you make it the whole way to Big Springs, your total hiking will be 11.4 miles.
Remember, this is not a challenge – you don't have to make it to the end!
Many people will combine the Narrows with other hiking trails such as Angels Landing or Canyon Overlook in Zion National Park on the same day.
The key take home message is this: The Narrows day hike is an out and back trail, however far you decide to go you must come the entire way back on yourself.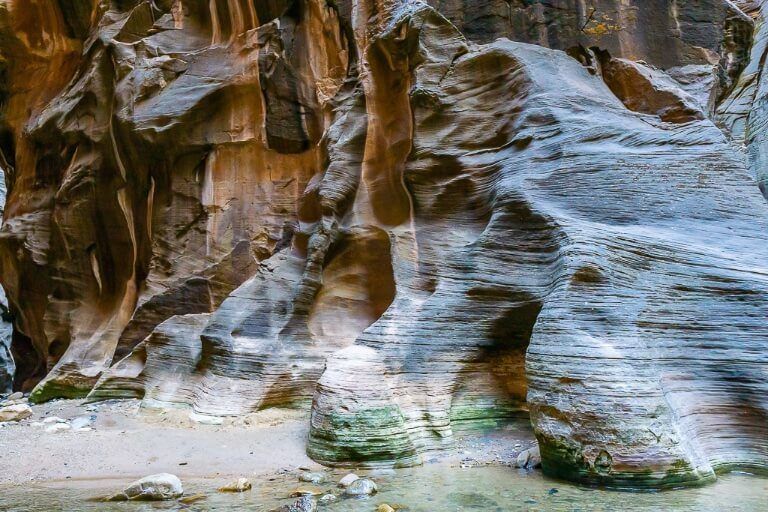 Is Fitness A Major Factor When Hiking The Narrows?
No matter which route you take or how long you spend hiking the Narrows, it is not to be underestimated. It takes its toll on you both physically and mentally.
Not only are you hiking a great distance but almost every single footstep needs to be thought out and carefully considered. Once fatigue sets in and concentration begins to lapse, it only takes one mis-step to fall and rocks hurt!
Safety should always take precedence over pride. If things aren't going your way or you take a fall (we saw a few), don't push it.
In terms of physical fitness, you do not need to be an athlete to reach Big Spring but you do need the following attributes:
Reasonable poise and balance to prevent slipping on rocks and withstanding currents

Moderate level of base fitness and stamina for the endurance aspect

Ability to climb over boulders if necessary (we had to scale a few)

Willpower! It takes a fair amount of determination to reach Big Spring
Hiring Waterproof Hiking Gear At Zion Outfitter
The Virgin River is warm enough in Summer to hike in your own sports / hiking gear. However, if you are visiting outside of the Summer months and you want to reach Big Spring – you will need to hire the Dry Pants Package from Zion Outfitter before you get on the shuttle bus at the visitor center.
The US$ 41 package contains:
Dry pants (waist high)

Canyoneering boots

5mm neoprene socks

Wooden hiking stick
Yes, it is expensive but it is the single best decision you will make at Zion. We didn't particularly want to part with US$ 41 each but as soon as we began the hike we knew it was the only way we would get far in the Narrows in October.
Even if you visit in Summer, it might be worth getting at least the boots and socks (Warm Weather Package at US$ 25) because you will be in the canyon a good 7-9 hours. The sun doesn't penetrate the canyon often, so you can expect temperatures to be roughly 10-20 degrees lower than in Springdale.
If you visit in Spring or Fall, there's no two ways about it and we can tell you from experience you'll need to bite the bullet and pay the US$ 41 per person.
We saw a few try to do it in October in their own sports shoes with shorts or pants but they did not last long.
We are not affiliated in any way with Zion Outfitter – this is just good advice!
More information at Zion Outfitter website.
What To Wear Underneath
Try to dress as comfortably as possible underneath the dry pants package. The last thing you want is chafing, rubbing, blisters or anything that will prevent you hiking 7-9 hours.
If it is warm enough, go with lighter, thinner layers and most importantly – quick drying. Take layers for any food stops to guard against chill.
Here's what we hiked in underneath our hire gear:
Mark – Typical gym gear, sports shorts and t shirt with socks and strong but flexible hiking shoes (not boots). One breathable quick dry thin – medium pullover layer and one down jacket for stops if cold packed in waterproof bag.
Kristen – Similar, sports shorts, quick dry t shirt, thin-medium fleece layer, socks and strong but flexible hiking shoes. Down jacket packed in waterproof bag, plus hair tie and baseball cap.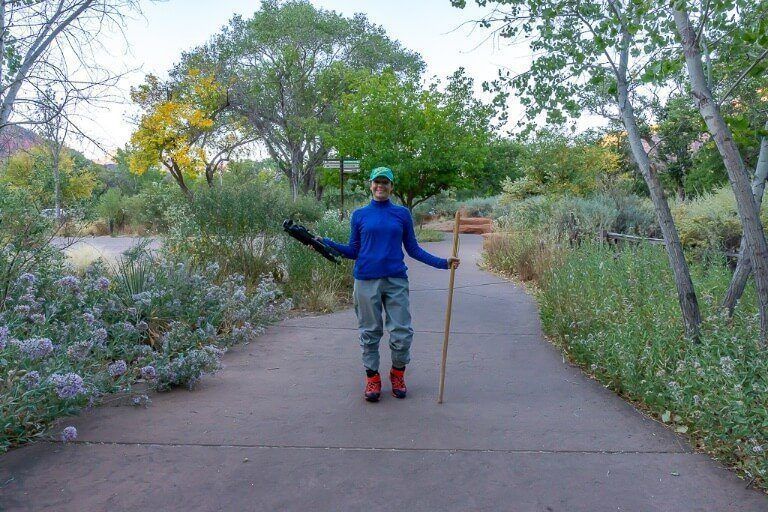 What To Pack For Your Hike
Do You Need A Walking Pole To Hike The Narrows?
The walking pole comes included with all packages you hire at Zion Outfitter. If you were to ask us what single thing made it possible for us to get as far as Big Spring, we wouldn't say the socks or pants, we would say without debate – the wooden walking pole.
Anyone reading this who has made it to Big Spring without a walking pole, we salute you!
Trekking poles won't cut it – the baskets (disk shaped plastic things at the bottom) will get caught in between stones, the length will be too short and trekking poles are likely to bend and scrape in the Narrows.
A long, thick, dense and solid wooden pole can take more of a beating with less damage caused to the environment and most importantly offers better stability for you.
Don't rely on finding a stick at the start of the Narrows hiking trail. There may be one or two but there also may not be any and you simply will not get far without one.
Is A Waterproof Bag Worth The Money?
For those who prefer hiking light with just water and sandwiches, you can carry a normal backpack. On the occasions where you are waist deep in water, just hold your bag above your head.
However, if you are taking anything of value, including smartphone, GPS and especially expensive camera gear – we strongly recommend you carry a waterproof / dry bag into the Narrows.
Imagine slipping on a rock and falling into the river with your US$ 2000 camera. Gives us shudders just thinking about that!
If you don't already own one, you can hire a Dry Bag at Zion Outfitter for an extra US$ 10.
Is 10 bucks worth saving your smartphone and camera? Yes!
The Narrows Bottom Up Hiking Overview
Here's a walkthrough of exactly what you can expect when you hike the Narrows at Zion. This is a full day out and back from the visitor center next to watchman campground.
If you plan to only hike for a few hours, follow this overview and turn around at Orderville Gulch.
Important: You do not need a permit when hiking the Narrows bottom up on a day hike.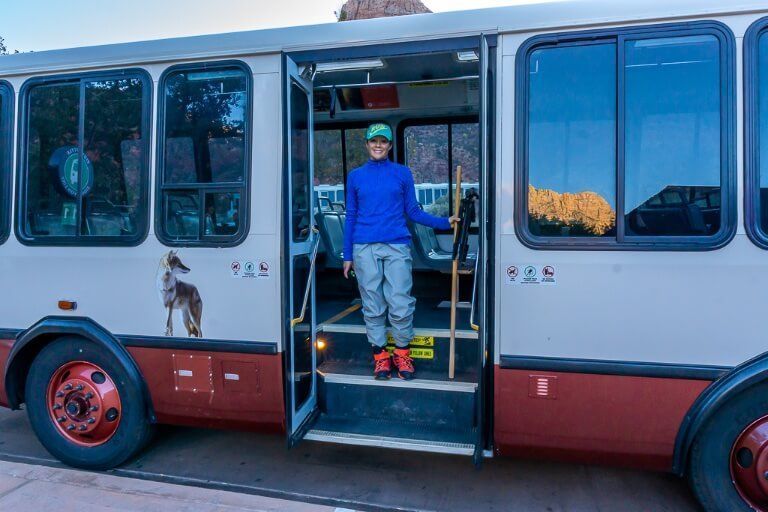 1. Zion Outfitters And Shuttle Bus
If you're camping at Watchman / South campground, or staying at a hotel in Springdale (highly recommended – find your Springdale hotel here) you can make your way by foot or village shuttle to Zion National Park visitor center.
If you are driving from further afield, please arrive as early as you can otherwise you will find the parking lots completely full.
At the visitor center you will find both Zion Outfitter and the shuttle bus you need to enter Zion canyon. Zion Outfitter opens at 8am and we suggest you arrive a few minutes early to get ahead in the inevitable line.
As we mentioned above, to stand any chance of making it to Big Spring outside of Summer you will need to hire the Dry Pants Package. The water is just too cold in Winter, early Spring and Fall.
Once you're kitted out, try to be on the earliest shuttle bus after 8am and stay on until the last stop – Temple of Sinawava. Many will exit at stop 6 for Angels Landing but everyone in dry pants gear will stay on until the final stop.
It is important to note that if you only intend to hike the Narrows for a very short period, you might not need to hire the dry pants package but you still need the walking pole.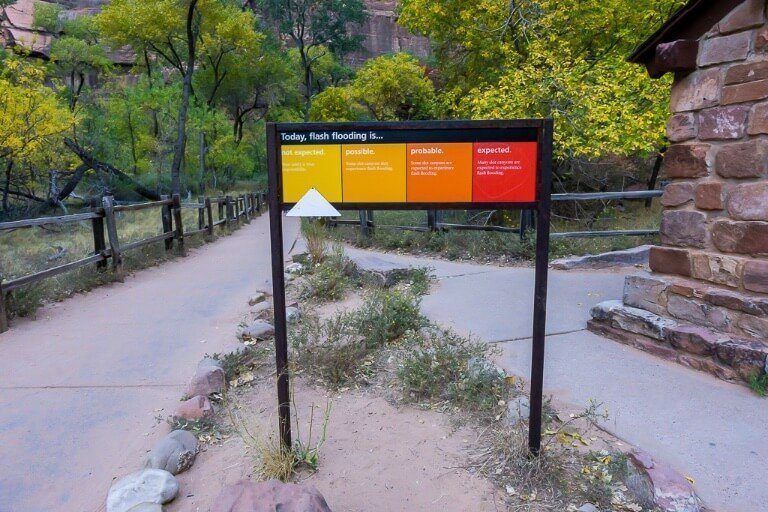 2. Riverside Walk
Exit the shuttle and head toward Riverside Walk, a flat and easy 1 mile path taking you to the start of the Narrows. You will notice a Flash Flood sign with 4 levels of seriousness ranging from not expected to expected.
If flash floods are a expected, you will not be able to hike the Narrows trail, Zion park rangers will close the route off for visitor safety.
Fall is the best time to visit to guarantee low water levels and least possibility of flash floods. Winter and early Spring water levels are much higher with snow melt.
Check for updated flooding information at Zion national park before hiking the Narrows.
3. The Narrows Begins
At the end of Riverside Walk you will come to a set of stairs leading into the river. Here there are a few benches to use for making final packing preparations before you begin hiking the Narrows.
Between May and September, you can expect this area to be packed full of tourists, especially if you arrive around 10am-12pm.
Your dry pants package socks and trousers will feel a little strange at first as they tighten around your legs when you enter the water. Any water that gets trapped inside quickly becomes warm.
There's a good chance you will be hiking the first mile or so of the Narrows with dozens of others. Some will be quick and others slow. There will be couples, families and plenty of people solo hiking.
It can be easy to get frustrated by the clog up here and you may want to go as fast as possible to get ahead. It is a long day after all.
Our advice is to pick your moments to get ahead, namely the drier ground, otherwise you can make less experienced hikers feel nervous or rushed in an already strange environment.
4. Orderville Gulch
After 2 miles of hiking, twisting and turning through the mesmerizing Narrows canyon of Zion National Park, you will reach Orderville Gulch.
By now you will have quickly learned how best to pace yourself and use your pole for balance.
This is the point in which the Orderville Canyon tributary flows into the North Fork of the Virgin River. You can turn into Orderville Canyon but are only permitted to hike 1/4 mile upstream.
It is a clear and obvious landmark you can use if following your route on GPS. More importantly it is a great place to turn around if only hiking a short out and back before moving on to another hike in the afternoon.
However, if you can squeeze in just one extra hour, the more iconic sections of the Narrows hiking trail are found after this point.
For those aiming to reach Big Spring, crowds will begin to thin out here.
Be sure to take time to look around and appreciate your surroundings. The smoothness of the canyon walls at the bottom, the sheer scale of the walls and even a colorful tree once in a while.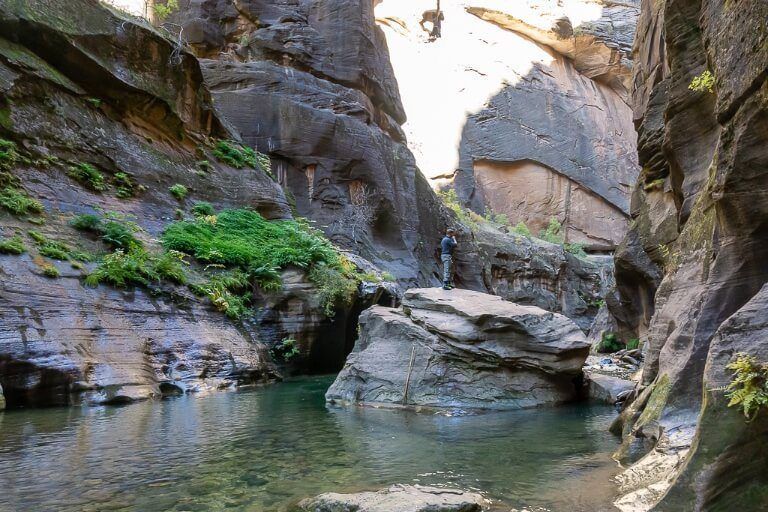 5. Epic Slot Canyon Hiking
The next 2 hours or so are simply mind-blowing. Hiking the Narrows is like being dropped into a computer game or a surreal maze but with only one direction so you can't get lost.
You will pass through stunning areas known as Mystery Canyon and Wall Street, staggered by how awesome this landscape is and how much you are enjoying yourself.
Before you realize it, you will be alone in the Narrows. In truth, there is a sense of eeriness and isolation at times which can either be slightly frightening or incredibly liberating. We found both to be true as we spent what felt like an eternity wading through the Virgin River in complete solitude.
There will be obstacles along your hike. You may have to climb out of the river up a steep bank to bypass a deep section of water. Or you might end up climbing over a boulder like we did.
You can swim around most of the obstacles but if it is early Spring, Fall or Winter, getting your top half submerged will not seem like a good idea!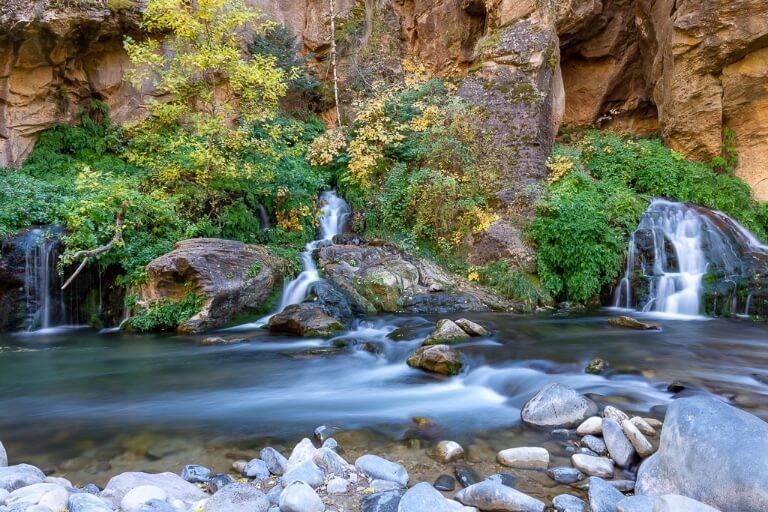 6. Big Spring Turnaround
Continue wading, walking and climbing. At times it might seem like you've gone as far as you can, an obstacle or false dead end perhaps. There are ways to continue through them all.
Even if you see people coming back who tell you 'the end is at the next obstacle' – it isn't.
We found that the hike upstream went on for such a long time, we weren't sure if we had made it to the end and passed it or if we were still miles away. The uncertainty became a little concerning for a short period.
Then all of a sudden, we knew we had made it to Big Spring.
Once you see 3 small waterfalls in a row and a path leading away from the river, you have reached Big Spring. It is not permitted to go any further on a bottom up day hike in the Narrows.
It should be roughly 4 hours after the time you started by now and the perfect time to relax with a late lunch. All uncertainty is removed because now you know you just have to go back on yourself the entire way.
7. The Way Back
We only recommend hiking as far as Big Spring in the Narrows if you consider yourself fit enough and you can afford to lose one full day at Zion National Park. The way back is long and grueling.
We found our concentration beginning to lapse by the 7th hour and were relieved to be back on the shuttle bus not long after. As hikers who prefer to go from point A to point B as opposed to an out and back, we found the way back to be a slog at times.
That being said, the return leg is spectacular and far more entertaining than your usual out and back hike!
Zion Narrows Hiking Quick Tips
Hire the equipment at Zion Outfitter!

Have a full set of spare clothes ready in your car for when you finish.

Don't attempt the hike without a wooden pole.

Do not lose your pole in the current or between boulders, the hike will be infinitely more difficult without it.

Start as early as possible to give yourself more daylight in the Narrows with fewer people.

Take plenty of water for hydration and snacks for energy, it is a long day hike.

If you're going for Big Spring, do not turn around until you reach the 3 waterfalls. Even if it looks like you might have reached the end – you haven't. Not until you see the waterfalls!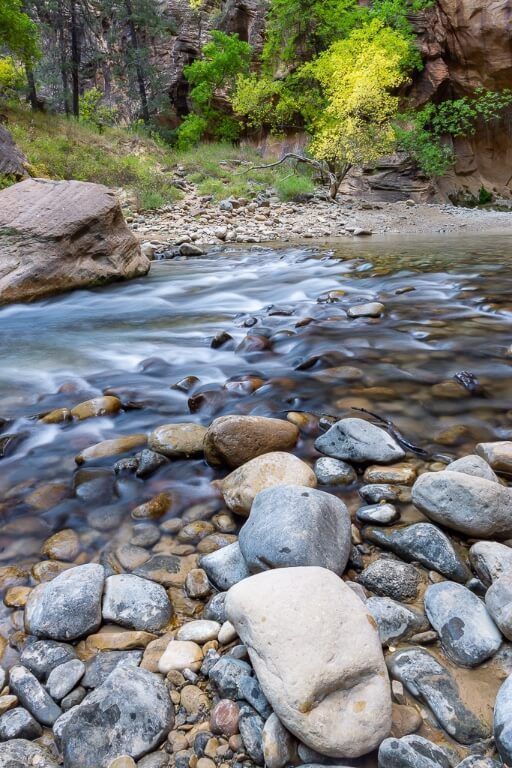 Zion Narrows Photography
Photography is challenging inside the Narrows slot canyon. It is dark and very rarely does sunlight penetrate the canyon walls.
That means you will have to bump up your ISO for almost every photograph or better still use a tripod. It's hard to keep your shutter speed faster than 1/125th second inside the canyon to capture people without blur.
Vertical images are much easier to take than horizontal to fully capture the natural environment and consider there will be a lot of deep dark shadows between late morning and early afternoon.
If you plan to take photographs, do not forget a waterproof / dry bag and a cross body camera strap. You are putting your equipment at risk every time you get your camera out because the stones are so uneven and the current can shift your balance.
There are plenty of dry patches of ground where you can set up a tripod and take great photographs inside the Narrows, just be hyper-aware of other tourists getting too close to your equipment. Remember this is called the Narrows for a reason!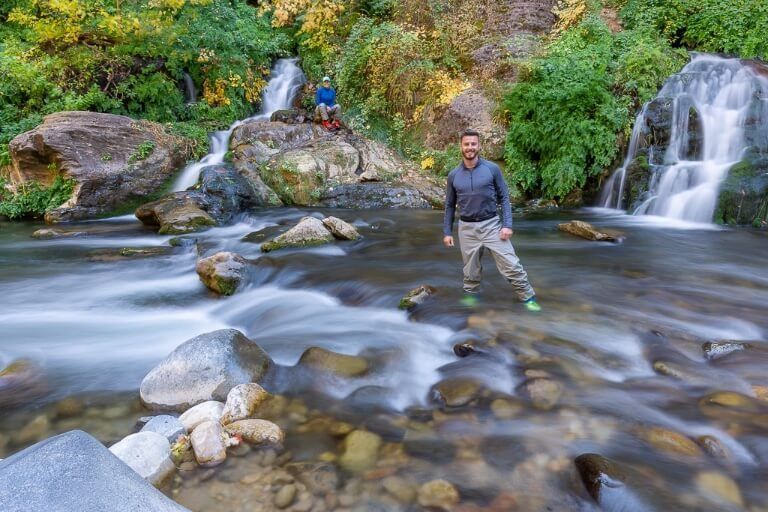 Best Time Of Year To Hike The Zion Narrows
Winter: Extremely cold water and high water levels. Benefit of very few tourists outweighed by difficult conditions. Not recommended.
Spring: Early Spring the Narrows is prone to closing due to snow melt causing the river flow at over 150 Cubic Feet per Second (CFS). Late Spring the water warm up and water levels begin to drop, however, this is the the time flash floods start being problematic.
Summer: Warmest water, low water but also flash floods a possibility. Longer daylight hours and may not need to hire gear. However, very busy in the Narrows and lines for shuttles will be long.
Fall: Low water levels and consistent weather but water begins to cool. Daylight hours dwindle but fewer tourists. We visited in October during perfect weather conditions, a weak current and no flooding. Bonus – foliage on the few trees inside the Narrows turn vibrant green and yellow! Recommended.
Read More About Zion National Park
Are you planning a trip to Utah? Our Ultimate Utah Road Trip Planner covers all of Utah's Mighty 5 National Parks, plus crosses into Northern Arizona to complete the most amazing loop route.
You May Also Like
---
We hope this helped you plan your Zion National Park Narrows Hike!
Have you been to Utah? Which is your favorite National Park?
Please let us know if we missed anything from the bottom up day hike, if you have any questions or need any help planning your visit.
-Happy Hiking-
Was This Post Helpful? Pin It For Your Visit!