Road trips are one of the best ways we can all travel to new places and see as much as possible in one epic vacation. No matter your destination – USA, South America, Europe, Australia – we have put together the ultimate road trip packing list to help you prepare for your time on the road.
There really is nothing like feeling the breeze in your hair and your favorite tunes blaring through the speakers as you hit the open road day after day. However, the day can take quite a turn if you haven't prepared properly.
You've meticulously researched the best way to plan a road trip and crafted the perfect route. But now that it's almost road trip time, what do you pack?
From first aid kits to camping gear to cooking essentials, we have you covered. This ultimate road trip packing list will prepare you for all scenarios.
More Packing: In this post, we address mainly camping and essential road trip items. For a complete guide to general travel packing please check out our ultimate travel packing checklist.
All of the essential items in this entire post have been condensed into a downloadable checklist that you can keep on your phone or even print out a paper copy. Tick each box as you pack to make sure you have everything.
*Please note this post may contain affiliate links. If you click on one of them, we may earn a small commission at no extra cost to you! We recommend only products we use and as always, all ideas or opinions expressed in this post are entirely ours. Thank you for the support and happy travels!*
Pre-Trip Packing Considerations
Yes, you are going on a road trip! We are so excited for you and we want to congratulate you on your awesome decision.
Road trips are such an adventurous way to travel. Not only do you experience point A and point B, you also get to experience all the hidden gems in between. But we want to make sure you have all your I's dotted and your T's crossed before you leave!
Let's start with a few basic questions:
Itinerary – What region do you want to travel?
Timeframe – How long will the road trip be?
Weather – What climates will you experience?
Budget – How much do you have to spend?
Vehicle – How are you going to get around? Car or campervan?
Camping/Sleeping Options – Where do you plan to sleep? Hotels, campsites or maybe in your car?
Must-See Experiences

– Is there

anything

you just cannot miss?
After you have answered all of these important questions, you will now be able to formulate a list of items you may need.
This is a complete road trip packing list of the items we always bring on a road trip, but tailor this guide to your specific needs.
Car Essentials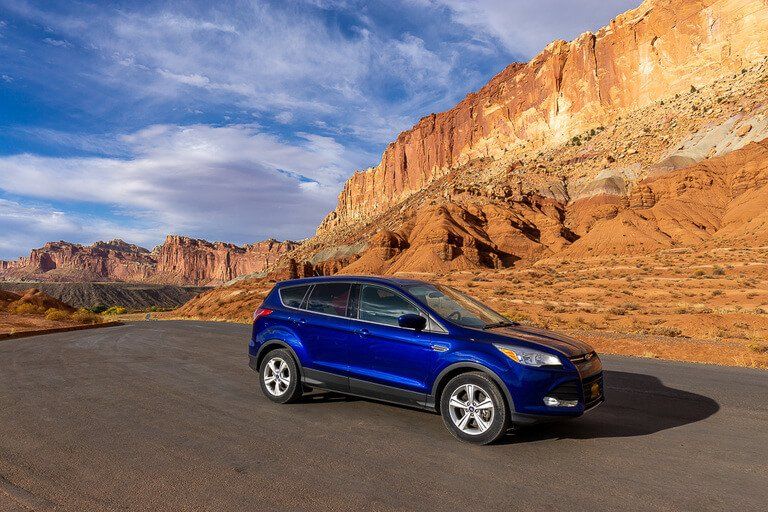 Make sure to start the trip right with all of the necessary paperwork. You don't want to be half way through your trip only to realize you can't find your car insurance when you need it! Depending on where you will be road-tripping, make sure to also have proper ID (or visa information if necessary).
We always cover ourselves with both travel insurance and roadside assistance when on a road trip.
If you are planning a road trip in the United States, AAA is the best option for roadside assistance. For about $100 a year, AAA allows up to 4 roadside assistance calls per year including towing up to 100 miles, flat tires and even help when you lock your keys in your car!
Bicycle assistance is also included with extra options for motorcycle and RV upgrade coverage if needed.
Passport (if needed)

Driver's License

Car Registration Paperwork

Insurance Information

Car Manual

Credit Cards / Debit Cards

Passport (if needed)
Driver's License
Car Registration Paperwork
Insurance Information
Car Manual
Credit Cards / Debit Cards
Travel Insurance: We always use and highly recommend World Nomads for the most comprehensive cover and peace of mind.
Automotive Necessities
Despite your knowledge level of car care, we highly recommend bringing some of these items in case of car trouble. Hopefully, you won't have to use any of these, but it is much better to be prepared.
We already had a lot of these items hanging around the house so we made our own 'car emergency repair kit.' Or if you don't have any of these items, just purchase the entire kit in a one stop shop!
You can't get where you are going unless you know how to get there! While most smartphones have great GPS systems, what happens if you do not have data, signal or battery?
Phone Car Mount

– Perfect for displaying your phone hands free.

Garmin Drive Smart

– For a road trip, we recommend a GPS navigation system like a Garmin. We personally use one on our road trips. The best part is that it doesn't use data on our phones.

Paper Maps – Technology still isn't perfect, especially when you are in the middle of nowhere. Be sure to always carry some paper maps with you just in case. We discussed AAA earlier in this post. Keep in mind, when you become a member (which also get you roadside assistance), you have paper maps available to you for free.
Journal and Pens

– Write down the things you see and do as you go!
Camping Gear
Cookware & Utensils
Backpacks and Daybags
We highly recommend the Osprey Farpoint 40 (or newer women's Fairview 40) for a travel backpack. However, depending on your road trip set-up, you may not need a backpack. We like the Osprey Farpoint 40 because it pretty much turns into a duffel bag as well as a backpack.
Duffel bags are great because they hold as much as a suitcase and can be squashed into smaller places. If you plan on hiking and going on day trips, the 'day packs' below are great options:
Travel Essentials
No matter the type of trip, there are a few essentials we always seem to pack. These items have come with us all over the world:
Clothing
Here are a few basics to get you started, but for a complete clothing list (and free printable PDF), be sure to check out our long term travel packing list.
Snacks
These are also great in the car if someone is starting to get a little hangry…
Kettle Corn

Hummus & Veggies

Apples and Bananas

Gum / Mints

Sunflower Seeds

Canned Tuna

Cheese Sticks

Sliced Meat

Jam / Peanut Butter
Personal Health & First Aid
Hopefully you will never have to use any of these items, but they are always good to have on hand.
The easiest way to tackle a first aid kit is to buy the one listed below and take out what you don't need. We then just added other items from the list to create the perfect 'emergency kit.'
Toilet Paper / Paper Towels / Kleenex
Allergy Medications

Any Prescriptions (with scripts if necessary)
Winter Items
We are going to ask you to really consider this option. When we left for our road trip in September from NY, it was a solid 80F. We didn't have one worry about the cold.
Fast forward to November and we were driving through multiple blizzards across the US. We were ecstatic we remembered some essential cold winter gear!
De-ice Windshield Fluid

Extra Warm Clothes

Tire Chains

Small Bag of Sand or Kitty Litter (to help with traction if you get stuck)
Extras For A Home On The Road
You are going to be spending a lot of time in your tent / vehicle. Just a few of these items from our road trip packing list will really make the place feel like a home away from home:
Rug for the Tent

Reusable Shopping Bag
Where Will Your Next US Road Trip Take You?
---
We hope this ultimate road trip packing checklist helps you pack perfectly for your adventure!
Be sure to let us know if there was anything you found helpful on our road trip packing list.
We hope you have an epic road trip vacation!
-Happy Packing-
Was This Post Helpful? Pin It For

Your Road Trip

!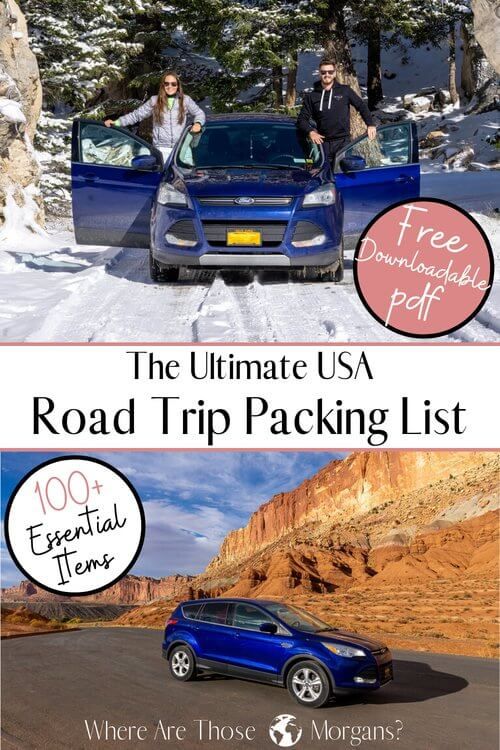 Valuable Resources For Your Next Trip