Capitol Reef National Park is Utah's quieter, smaller and lesser known of the epic Mighty 5 National Parks road trip circuit. But that doesn't mean it's any less worth visiting than the other players in the game. This one day Capitol Reef National Park itinerary will help you plan your trip to perfection.
Zion is king of hiking, Bryce Canyon and Canyonlands hold the keys to stunning sunrises, Arches is Mother Nature at her finest … so what does Capitol Reef have in its locker?
Well, Capitol Reef is the perfect choice for families and those looking for easier hikes. An extremely photogenic barn awaits budding photographers and you'll feel like you have the whole place to yourself, compared to the remainder of the Mighty 5.
We must admit that before we visited Utah, Capitol Reef was on and off our list of places to visit like a yo-yo. Should we make the extra effort driving? But we had to complete the Mighty 5 …
We are genuinely so glad we took on the extra driving, Capitol Reef National Park turned out to be a pleasant surprise. In some ways it offers more than Utah's bigger names and it is definitely one of the best places to visit in Utah.
Use this guide to help plan your one day itinerary to Capitol Reef National Park!
*Please note this post may contain affiliate links. If you click on one, we may earn a small commission at no extra cost to you!*
Why Visit Capitol Reef National Park?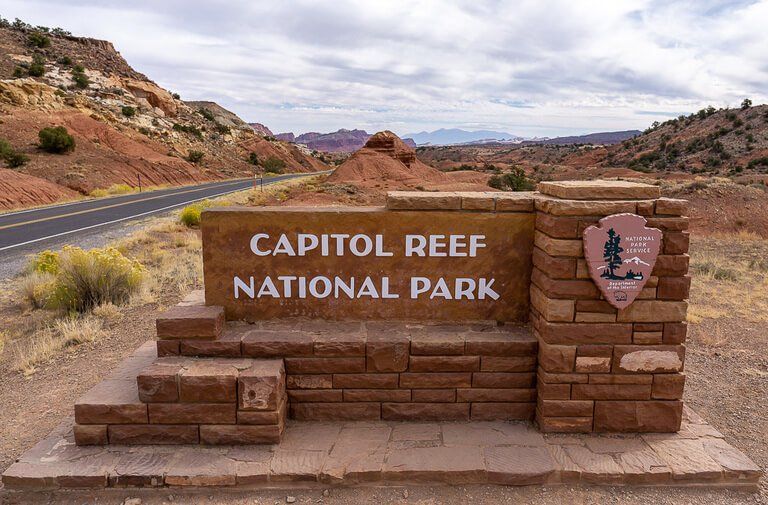 Capitol Reef is an easy going, straight forward and family friendly park to visit. You can visit in half a day and accomplish most of the best bits, unlike Zion, where you need at least two full days to do everything.
Hiking trails are suitable for all ages and abilities which further reinforces the family friendly aspect of Capitol Reef. This park is not for adventurous hikers or climbers looking for a challenge.
Avid photographers will enjoy snapping shots of the iconic Fruita Barn and kids will love running through orchards picking fruit. See our favorite Capitol Reef photographs.
Capitol Reef has one major downside but it actually gives the park its best aspect: It is frustratingly difficult to get to, but that means far fewer people make the effort and you will have the place more or less to yourself!
For comparison, Zion attracted 4.5 million visitors compared to 1.2 million at Capitol Reef in 2019.
We timed our visit to perfection for the most beautiful vibrant fall colors. Bright yellows leaves illuminated under sunlight, contrasting against deep orange rock faces and wooden buildings. Wow!
We highly recommend taking Scenic Highway 12 through Escalante and on to Bryce Canyon when you are ready to leave Capitol Reef. More on Highway 12 at the end.
Capitol Reef National Park Factfile
Address: Torrey, UT 84775 – but insert Capitol Reef National Park Visitor Center into your GPS.
Website: nps.gov/care
Phone: (435) 425-3791 extension 111
Park Hours: All day, every day
Entrance Fee: US$ 10 Vehicle (free with America the Beautiful Pass)
Visitor Center: Open 8am – 4.30pm daily (8am – 6pm in Summer)
Campgrounds: Fruita US$ 20 per night / Cedar Mesa and Cathedral Valley Free (Primitive)
Backcountry camping: Backcountry Use Permit Required
Accommodation: N/A
Top Activities: Hiking, Camping, Horseback Riding, Fruit Picking, Rock Climbing
Annual Visitors: 950,000
Best Time to Visit: Spring or Fall (comfortable temperatures)
Video: Watch our short YouTube Capitol Reef itinerary video for an idea of what you can expect during your one day in the park!
What Are The Best Things To Do On This Capitol Reef National Park Itinerary?
The best things to do at Capitol Reef National Park are all within close proximity to the visitor center, which is perfect for a half day visit. Listed below are the things not to miss on your visit (in no particular order).
At the end we will walk you through the most efficient way to visit the park in one day, including interactive map.
Capitol Reef National Park Scenic Drive
This is exactly what it says on the tin – a scenic drive down a quiet road with stunning views as far as the eye can see. How far down you go depends on how much time you have available at the park.
If you've ever wanted to snap a cool photo of your car / van / motorbike with a scenic backdrop – now is your chance.
An option for those with more time: After around 20 minutes you will reach Capitol Gorge Road and Capitol Gorge trailhead awaits you at its end.
Gifford House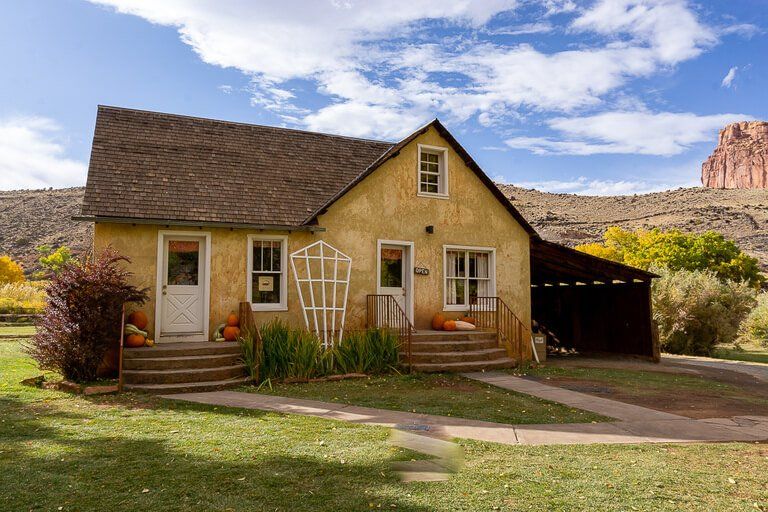 The Gifford's were the last remaining family to reside in Fruita before the area became Capitol Reef National Park. The homestead contains orchards and the original Gifford House.
You can buy delicious homemade pies, coffee, scones and cakes from inside the house and eat on picnic benches just outside the entrance, surrounded by peaceful scenery.
Here's our top tip – if you fancy treating yourself to a pie, don't wait until after lunchtime like we did … the pie cabinet was completely empty!
Fremont Petroglyphs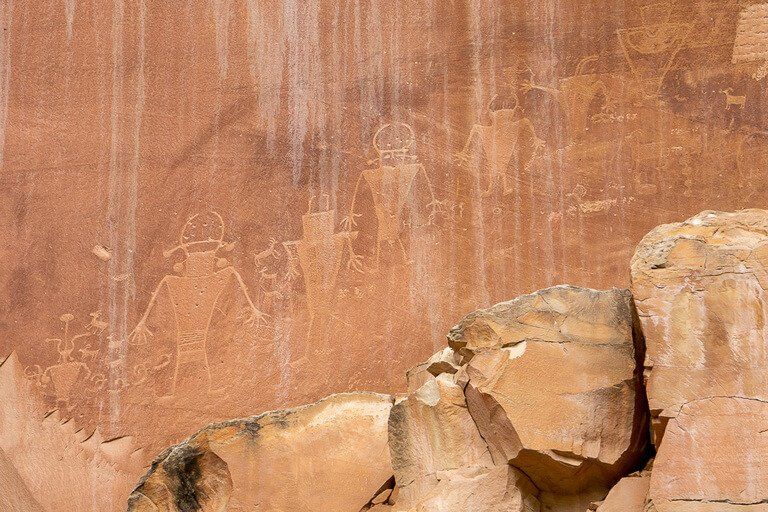 The Fremont Petroglyphs can be seen with just a brief stop. A short boardwalk leads to a huge orange rock face with carvings etched into the rock. There are information boards explaining what you are looking at.
You can see the petroglyphs from the parking area but it's worth getting a bit closer if you've never seen petroglyphs. Our advice here is to remember your zoom lens for the camera!
Fruit Picking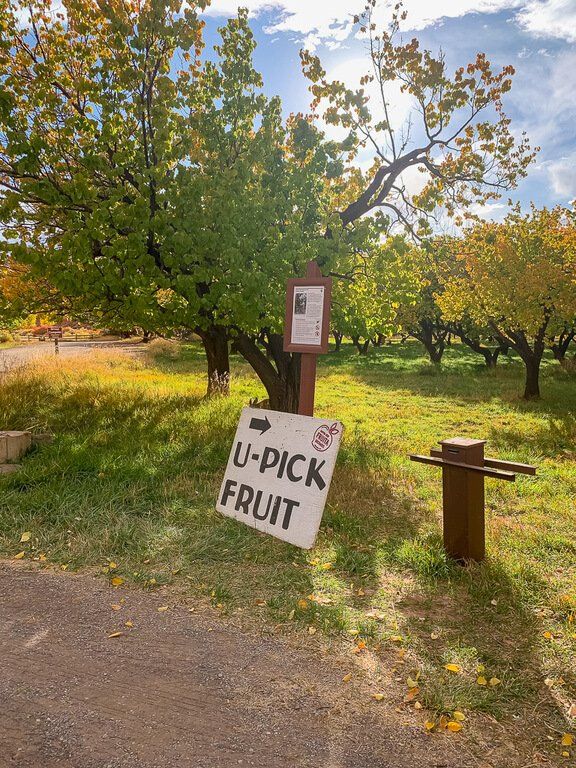 Yes you are allowed to go fruit picking!
As long as the fruit is in season for picking and the gate is unlocked, you can go right ahead and enter the orchard. If a gate is locked, it means the fruit isn't ripe or it's not ready to be picked.
Look out for signs saying "U-Pick Fruit" – that's your fruit picking confirmation notice. Harvesting usually runs from Mid June to Mid October for cherries, apricots, peaches, pears and apples.
Fruita Barn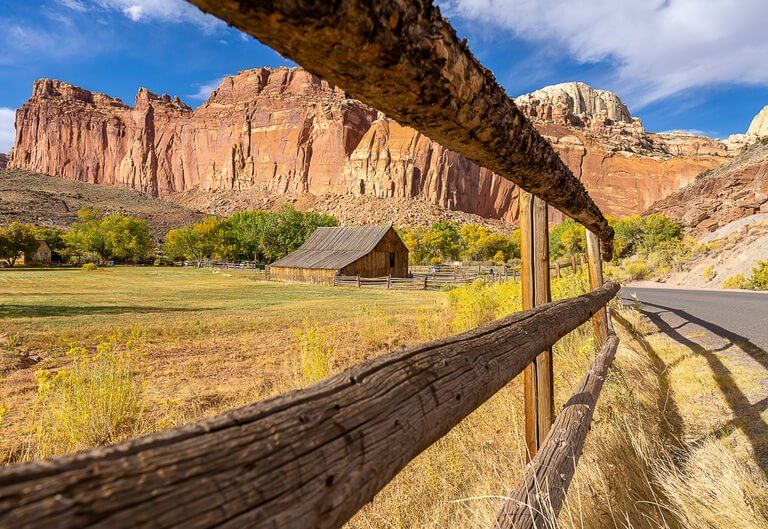 The incredibly photogenic Fruita barn is worth the visit alone if you enjoy photography as a hobbyist. If you're a pro – the barn is a must visit on a wider Utah road trip.
While it is less famous than John Moulton and T. A. Moulton barns on Mormon Row in Grand Teton, Fruita barn offers an entirely different background and we promise it will not disappoint.
Get creative by moving around the area to find new ways of composing photographs. Include the fence, road, grass and rocks in your frame.
Fruita barn is our 'must see' in Capitol Reef National Park.
Hickman Bridge – Most Popular Hike In Capitol Reef National Park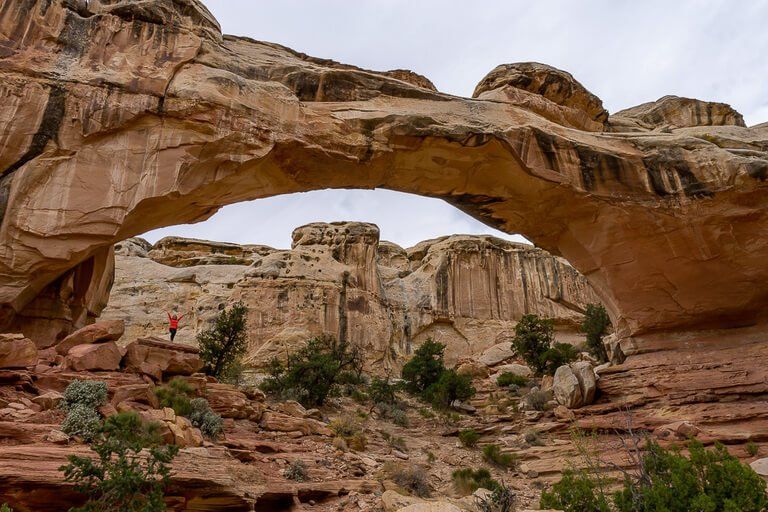 Difficulty: Easy to Moderate
Distance: 1.8 miles roundtrip
Suitability: Families / All
Recent Comments: All Trails
And the Hickman Bridge Trail is our 'must do' activity in Capitol Reef.
Park up in the car park or along the side of the road nearby if it's busy. The trail follows the Fremont River briefly, then climbs and becomes a fun trail to follow. It's not just a flat and easy footpath the whole way.
There are various points with smooth spherical shaped imprints into the rock as though an ice cream scooper had carved out the walls.
At the top of the trail, you will be welcomed by an enormous natural rock bridge – similar to many of the formations at Arches National Park.
The orange colored bridge is impressive and offers a nice perspective photo from below. Move off the path to try out different angles. If you only do one hike in the park, make sure it is this one.
For those with extra time or prefer hiking to sightseeing, try the Cohab Canyon trail as well. It starts next to Fruita barn.
Gooseneck and Sunset Points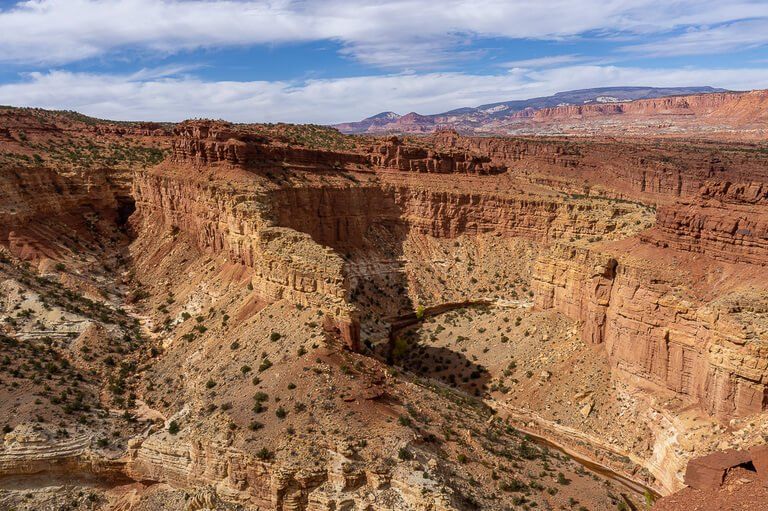 These 2 points can be reached by turning onto a road very close to the 'Capitol Reef National Park' entrance sign.
Be warned that the road is not smooth … at all! A low riding car will get you up to the top but it won't be too comfortable and your car might take a beating.
You will know when you get to the top as the road ends in a circle for parking at 2 trailheads.
Goosenecks requires no hiking and offer cool views into a meandering gorge

.

Sunset Point provides the best view over the park as the sun is setting.
This is the place to watch oranges turn to reds in the evening on the way back out of Capitol Reef National Park.
Fruita Schoolhouse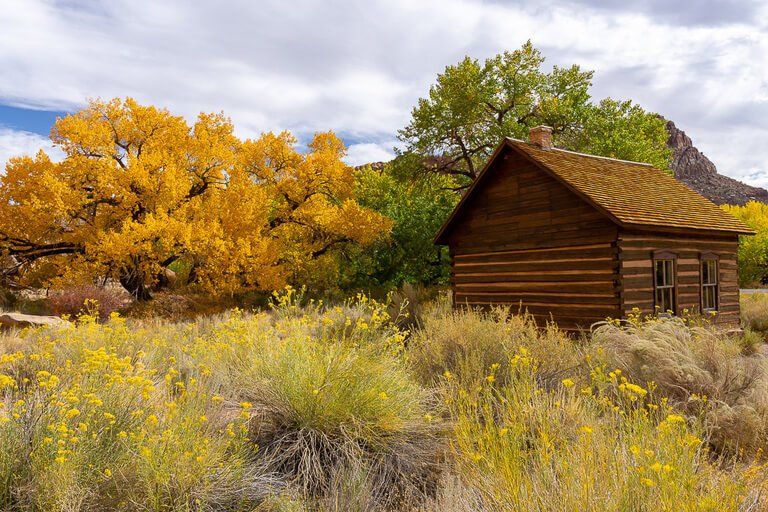 The Fruita schoolhouse is a tiny wooden structure surrounded by colorful trees, not far from the visitor center. It was once the only public building in the Mormon settlement and has continued to be used for education.
Park rangers run classes explaining geology, history and archaeology so be sure to check the days free programs occur at the visitor center.
When we visited, the building was full of tourists learning about the history of Capitol Reef National Park.
Look at how stunning the wooden building is when surrounded by radiant Fall foliage colors. We have to say that Capitol Reef has the most vibrant fall foliage colors of among the Utah Mighty 5 national parks circuit.
The Perfect 1 Day Capitol Reef National Park Itinerary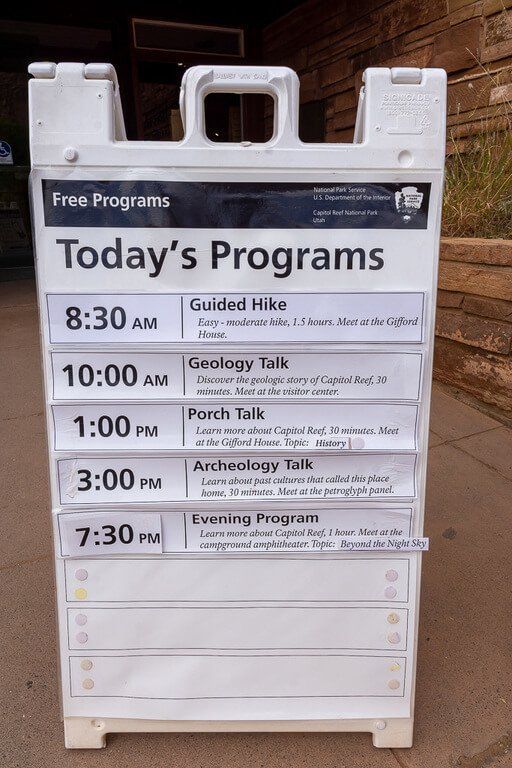 Morning
Unless you're coming from Moab/Denver to the East, you will enter by the West entrance close to Torrey. Plan to arrive as early as you can to beat the (comparatively low) crowds, heat and leave enough time to drive to Bryce Canyon in daylight.

As soon as you see the reddy orange rocks you will want to pull over, it's a natural reaction! However, resist the temptation and continue to the visitor center. Check out the ranger led programs for the day to see if you would like to join any.

Head to Fruita and explore the Gifford Homestead (grab a pie while they still have them!) including photographing the barn. If it's the right season, find an orchard with the 'U-Pick Fruit' sign and pick some fruit.

If you're a keen hiker, now is the time to walk the Cohab Canyon trail, but you'll need to come back on yourself.

Otherwise, jump back in the car and take the Scenic drive to the South. Again, you'll come back on yourself so the further you go, the further you have to come back. With enough time, you could venture up Capitol Gorge road now.

Drive back to the visitor center and take the other road at the fork. First stop will be the Fruita schoolhouse, even with no ranger program it's still a nice spot to photograph. Next up you will reach the petroglyphs site, this is just a quick stop but don't forget your binoculars or zoom lens to see greater detail.
Afternoon
Continue on a short drive until you reach the Hickman Bridge hike trailhead. Crack out the short hike and once you get back to the car it's time to head out of the park to the West.

Close to the entrance sign there will be a turning on the left up to Panorama point, Gooseneck point and Sunset point. If you have time and it's not too late in the day, take the turn and drive up the bumpy road.

Finally, head down highway 12 towards Bryce Canyon at least 3 hours before sunset.
Capitol Reef National Park Itinerary Interactive Map
Where To Stay Near Capitol Reef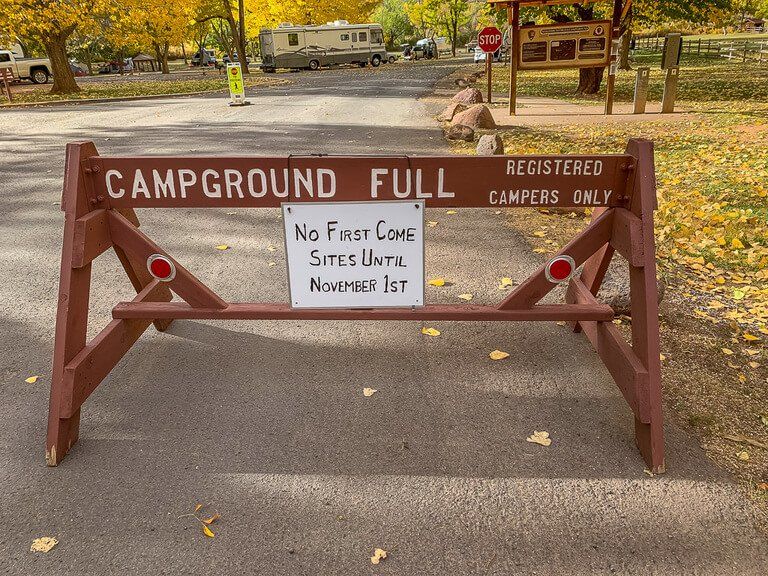 Would you prefer to stay the night at Capitol Reef National Park so you can spend more time exploring or to break up the journey around Utah?
Well, your choices are either camping inside the park or staying at a hotel in a nearby town. Don't miss our essential tips on booking the cheapest hotels when you travel.
The only developed campsite is in Fruita – close to Gifford House – and operates on a first come first served basis for all 70+ sites. When we visited in October, the campsite was completely full. If you do manage to find a campsite available (arriving early helps!), it will only cost you US$ 20 per night.
Cathedral Valley and Cedar Mesa primitive campgrounds offer no services except pit toilets, can only be accessed by gravel tracks and only have around 5 sites each.
Your alternative is to check prices of hotels in the town of Torrey, 11 miles West of Fruita. There's not a huge amount to choose between so better to book early. The good news is there's quite a range from cheaper motels to higher end hotels.
Hotels: Here are all of the lodging options available around Torrey and Capitol Reef National Park.
What To Pack For This Capitol Reef National Park Itinerary
It may not be one of the very best US national parks in terms of spectacular formations or legendary hiking trails, but the beauty of Capitol Reef lies in its simplicity. You don't need a whole lot of time or gear for your visit.
You'll need the usual suspects like sunscreen in Summer and a warmer coat in Winter. One important thing to remember is to take a packed lunch with you!
Don't forget a sturdy pair of hiking shoes for the Hickman Bridge trail – we prefer robust trail running shoes for strength and ease of movement, like the Salomon Speedcross 4.
You can fill up your reusable water bottles at the visitor center and of course you will need a quality day pack to store everything.
The final thing is to remember your camera and enjoy the pleasant photography surprises of the park!
Scenic Highway 12 Capitol Reef To Bryce Canyon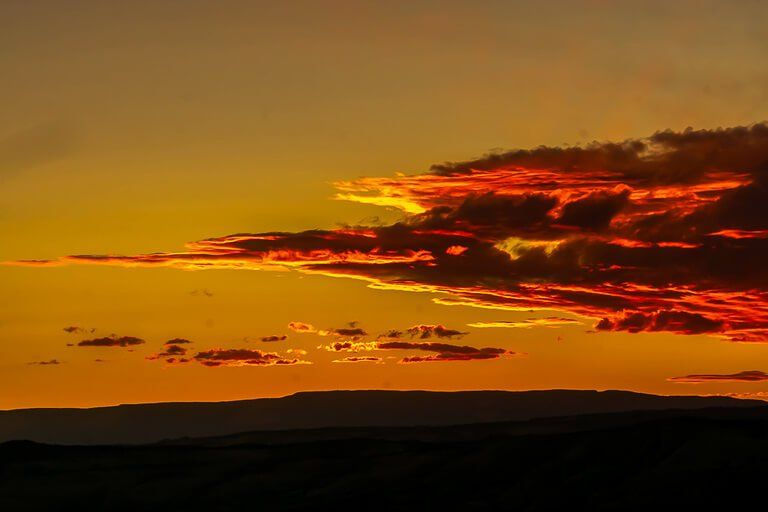 If you've ever road tripped the US, you will know there are 'scenic' highways around every corner. Some truly are incredible while others are … so-so.
Highway 12 between Capitol Reef and Bryce Canyon National Park is one of the incredible ones. We couldn't help but pull the car over every 5 minutes. It took us hours to get to Bryce Canyon!
Here's the thing – you need to leave Capitol Reef no later than 3 hours before sunset if you want to reach Bryce Canyon in daylight. Check sunset times and seriously leave 3.5 hours before that time.
That's why it's important to arrive to Capitol Reef as early as possible. Work through our 1 day itinerary and then shoot off. The drive is amazing, especially around Escalante.
In truth, we weren't aware of just how spectacular the drive was going to be and we left it too late to leave.
Which meant 2 things:
Firstly, we were lucky enough to see one of the most unbelievable sunsets over the canyons near Larb Hollow Overlook – doesn't it look like a fiery Phoenix?!

And secondly, we drove from Escalante to Bryce in the dark. The road turned out to be one of those constantly winding, 10mph hairpin bends at altitude kind of roads

.
We knew we were missing out on awesome views just from the snaking roads rising and falling over hilltops.
Give yourself enough time!
Read More About Utah

…
---
We hope this helped you plan your Capitol Reef National Park Itinerary!
Did you visit Capitol Reef? What was your favorite part?
Please let us know if you have any questions about Capitol Reef National Park or any of Utah's Mighty 5 in the comments below!
Happy Travels,
Mark and Kristen
Was This Post Helpful? Pin It For Later!