Capitol Reef National Park is Utah's quieter, smaller and lesser known of the epic Mighty 5 National Parks road trip circuit. Our one day Capitol Reef National Park itinerary will help you plan your trip to perfection.
We are genuinely so glad we took on the extra driving because Capitol Reef National Park turned out to be a pleasant surprise because this small park packs a mighty punch.
In some ways, this park offers more than Utah's bigger players in the game and it is definitely one of the best places to visit in Utah.
In our national park travel guide for Capitol Reef, we will show you:
How to get to Capitol Reef National Park
Hotels near Capitol Reef
Difference between the 3 Capitol Reef districts
22 best things to do in Capitol Reef
Easy, moderate and hard hiking trails in Capitol Reef
Itinerary for spending one day in Capitol Reef
Detailed interactive map for visiting
Our personal photos from visiting Capitol Reef
Now, let's explore the best of Capitol Reef National Park for your itinerary!
Our Capitol Reef National Park Experience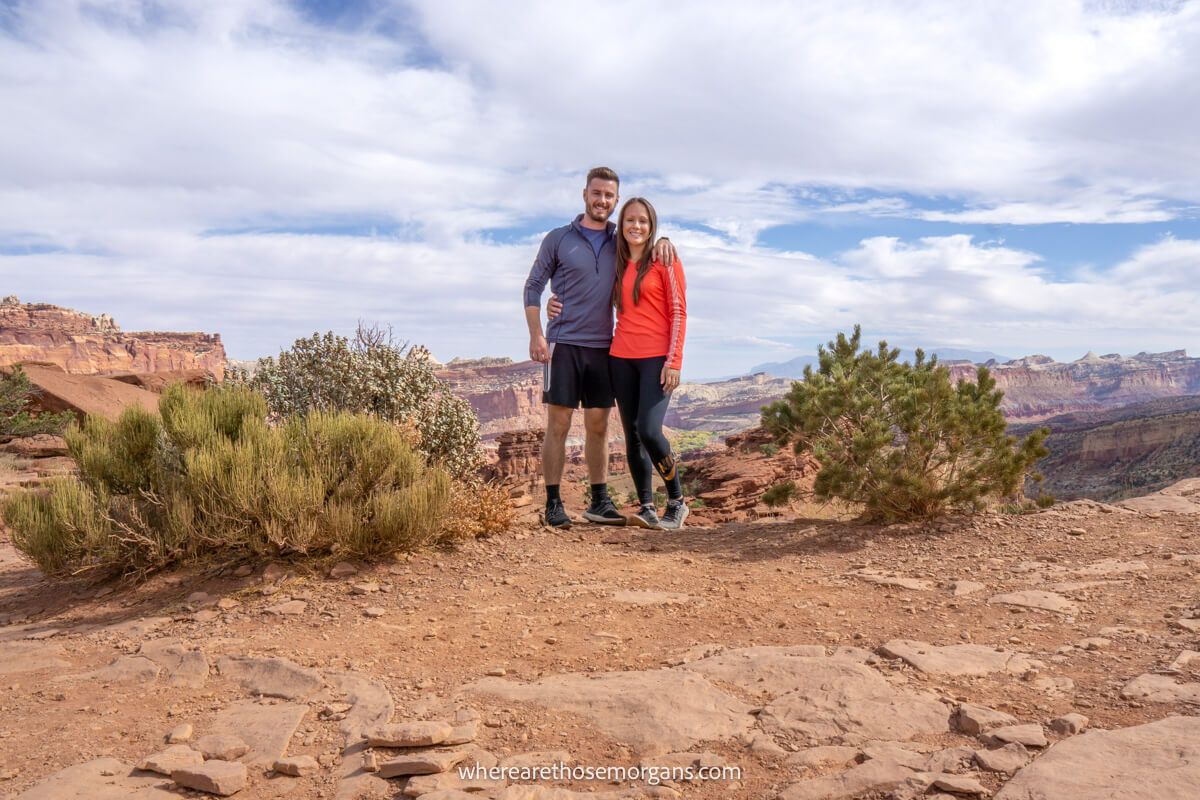 We first visited Capitol Reef in October 2019 as part of a three month US road trip. During our visit, we spent one amazing day exploring the stunning topography of this Utah National Park.
However, the one mistake we made was not giving ourselves enough time at this smaller and lesser known park. In hindsight, we would have done things a lot differently.
In this Utah travel guide, we will show you the best way to visit Capitol Reef National Park based on our personal experiences.
What Can You Expect From This Guide?
This comprehensive first time visitor guide covers everything you need to plan the perfect visit to Capitol Reef National Park in Utah.
We created this detailed guide to cater to every visitor because if you only have one day to experience Capitol Reef, your needs are going to be very different from someone who has 3 days to visit the park.
There are 3 main regions in Capitol Reef so we will show you the best things to do in each individual region as well as show you nearby hotel and restaurant options.
Towards the end of this guide, we will walk you through the most efficient way to visit the park in one day with an example Capitol Reef itinerary, including interactive map.
But if you are lucky enough to have more time in Capitol Reef, you will know exactly where to visit and what to do with your time frame.
Our main focus is to provide you with hiking and photography insights to make the most of your trip to Capitol Reef National Park.
Love national parks? Don't miss our popular guide featuring the 20 best nationals parks in the US.
Capitol Reef National Park Factfile
National Park: Capitol Reef
State: Utah
Website: NPS.gov
Address: 52 West Headquarters Drive, Torrey UT, 84775
Telephone: (435) 425 -3791
Campgrounds: 65 reservable sites + 2 primitive campgrounds
Backcountry camping: Backcountry use permit required
Accommodation: No hotels in the park
Popular activities: Hiking, camping, horse backing riding, scenic roads, fruit picking, rock climbing
Capitol Reef annual visitors: 1.2 million visitors per year
Park hours: Open daily year round
Best time to visit: Spring or Fall for comfortable temperatures
Entrance Fee And Permits For Capitol Reef National Park
There is an entrance fee charged for the scenic drive past the Fruita Campground in Capitol Reef National Park. The standard fee to enter is:
$20.00 private vehicle
$15.00 per motorcycle
$10.00 per person with no car
Capitol Reef does not have an official entrance station unlike most national parks. In order to buy a pass, visitors are required to stop at the visitor center.
All passes are valid for 7 days after purchase. Any visitor with an America The Beautiful pass are provided access to Capitol Reef for no additional cost.
You can also purchase your Capitol Reef pass online in digital form prior to your visit. After purchasing your pass online, save it to your phone incase you need to show it to a ranger.
For those visitors planning to backpack in the remote regions of the park, a free backcountry permit is required and can be picked up in the visitor center during business hours.
All canyoneering, bouldering and rock climbing groups also need to obtain a free day-use permit either online via email or in person at the visitor center.
Travel Tip: If you plan to only visit the Cathedral Valley or Waterpocket Fold districts as part of your Capitol Reef itinerary, you won't be required to pay the entrance fee.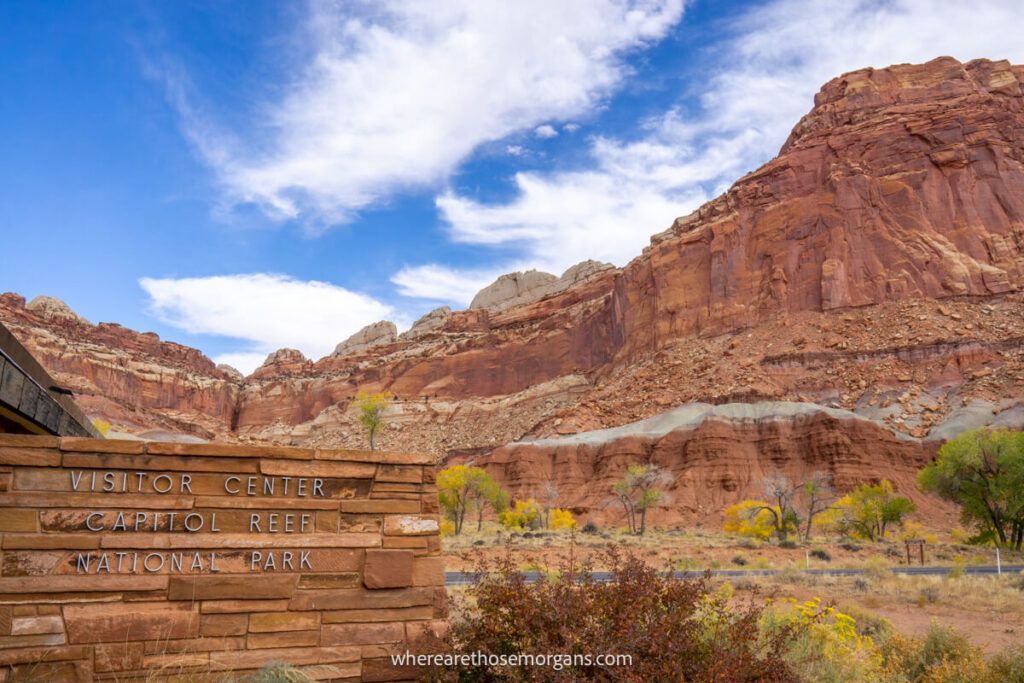 The National Parks Pass
If you are a frequent visitor to any US National park, you should consider purchasing the Interagency Pass, also known as the America the Beautiful Pass.
This wallet-sized pass grants you entry into 2,000 federal recreation sites across the entire United States including the all the national parks.
We purchase one of these passes every year and it has saved us a lot of money!
Interested in the National Park Pass? Read our review about the America the Beautiful pass.
Where Is Capitol Reef National Park?
Capitol Reef National Park is nestled in south-central Utah within red rock country. This park is home to giant monoliths, natural stone arches and beautiful dome formations.
The boundary of the park runs about 60 miles long in a north to south direction, but it's only about 6 miles wide when you measure east to west.
Most visitors spend their time along Highway 24 which spans east to west through the entire national park because this is the road you will drive if you are planning to drive the Mighty 5 circuit.
Salt Lake City International Airport (SLC) or McCarran International Airport (LAS) in Las Vegas are popular airport options if you are visiting from further afield.
Need to book a flight? We recommend using Skyscanner or you can read our guide on how to book cheap flights.
Capitol Reef National Park Driving Distances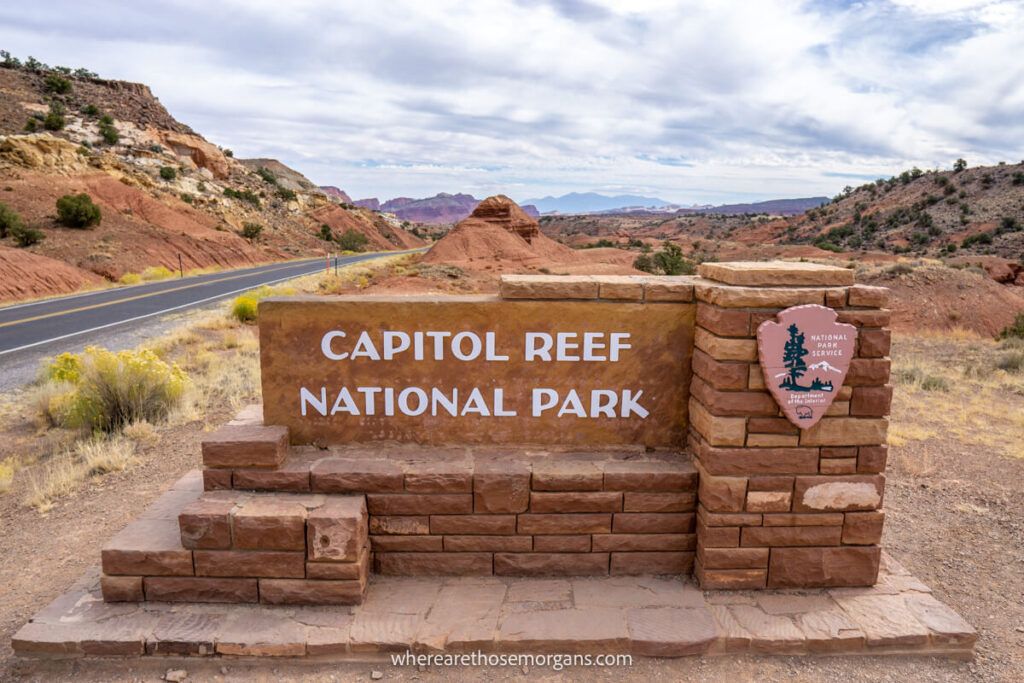 One of the best parts about Capitol Reef is location because this park is about 3.5 hours from Salt Lake City and only a few hours drive from other national parks or monuments in the region.
The Historic Fruita District is the most popular area in Capitol Reef National Park and the closest town of Torrey, Utah is only 15 minutes away.
Many visitors use Torrey as a primary gateway to explore the park. Here are driving distances to Capitol Reef from other popular places in Utah:
We highly recommend taking Scenic Highway 12 through Escalante and on to Bryce Canyon when you are ready to leave Capitol Reef.
Why Visit Capitol Reef National Park?
Capitol Reef is an easy going, straight forward and family friendly national park to visit.
You can visit Capitol Reef in a half a day and accomplish most of the best bits, unlike Zion, where you need at least two full days to do see the best sections.
Numerous hiking trails are suitable for all ages and abilities which further reinforces the family friendly aspect of Capitol Reef.
But those adventurous hikers or climbers looking for a challenge can visit the remote regions of the park for slot canyons, backpacking and 4WD scenic roads.
We have included 2 trails from Capitol Reef in our guide to the 25 best hikes in Utah, so don't miss them!
Avid photographers will enjoy snapping shots of the iconic Fruita Barn and kids will love running through orchards picking fruit.
You can see our favorite Capitol Reef photographs or Capitol Reef itinerary video for more inspiration after reading this guide.
Three Capitol Reef Districts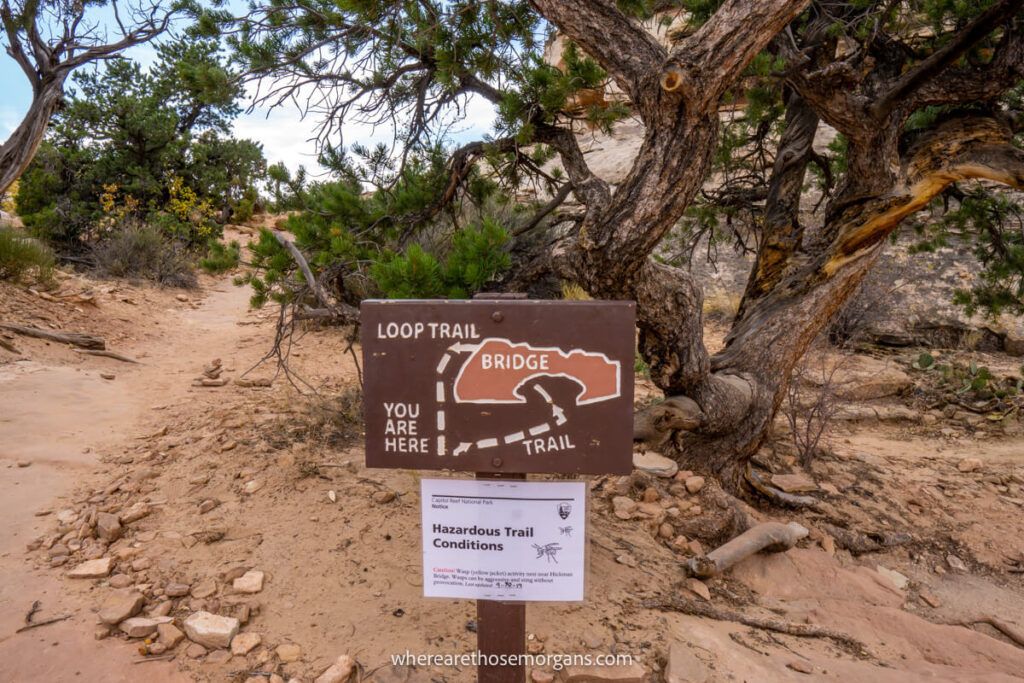 There are three main districts in Capitol Reef National Park:
Fruita Historic District
Cathedral Valley District (North)
Waterpocket Fold District (South)
The Fruita Historic District is the most-visited region of Capitol Reef National Park. Located right off Highway 24, many of Capitol Reef's top activities are located in this area.
We like the Fruita Historic District because not only can you easily visit popular attractions such as the Fruita Barn, Gifford Homestead and the petroglyph panel, but you do not need a high-clearance four-wheel drive vehicle.
The Cathedral Valley District is located in the northern remote section of Capital Reef National Park. To visit this section of the park, road conditions are extremely dependent on recent weather.
As you can expect, the Cathedral Valley District is one of the lesser visited regions of Capitol Reef National Park. If you have any problems, it might take hours or days for help to arrive.
One of the biggest pulls in the northern region of the park are towering rock formations such as the popular Temple of the Sun and Moon as well as gorgeous scenic drives.
The remote southern Waterpocket Fold District is accessible by most passenger cars, pick up trucks and vans, but the roads can become impassable after rain or snow.
Highlights of the southern region include a Looping the Fold driving tour to see the best geology of Capitol Reef National Park.
Hotels Near Capitol Reef National Park
One of the downsides to visiting Capitol Reef National Park is there are no restaurants or lodges located directly inside the park.
Most visitors to Capitol Reef use the town of Torrey as a base when exploring the area.
You can read our complete guide to the best hotels near Capitol Reef National Park next or take a look at any of the hotels listed below.
Popular hotels near Capitol Reef:
Need help finding hotels for your other trips? Check out our sister site Best Hotels Anywhere for top hotel recommendations around the world.
Capitol Reef National Park Campgrounds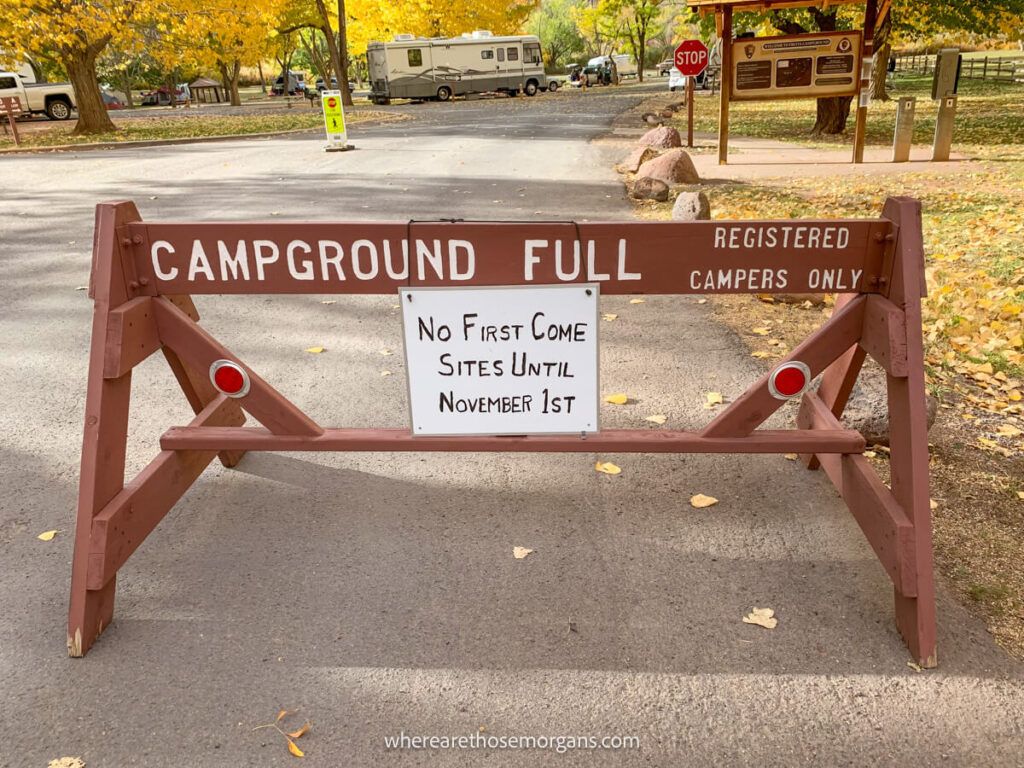 Since there are no hotels inside Capitol Reef National Park, your only option to stay a night inside the park is in one of the three campgrounds as part of your itinerary.
The only developed campsite in Capitol Reef is in Fruita. You will find Fruita campground adjacent to the Fremont River and close to the Gifford House.
The Fruita campsite used to operate on a first come first served basis, but now visitors must book a reservation from March 1st – October 31st on Reservation.gov for $25.00 / night.
When we visited in mid-October, the Fruita campsite was completely full. There are 65 reservable sites with the remaining sites used for administrative purposes.
Each campsite in Fruita has a picnic table with fire ring. There is also an RV dump station and potable water fill station near various entrances. Only three site have electrical hookups for medical devices only.
Primitive Campgrounds
Cathedral Valley and Cedar Mesa are two primitive campgrounds at Capitol Reef National Park. These campgrounds offer no services except pit toilets because they are located in remote locations.
The Cathedral Valley campground is situated at 7,000 feet (2,133 m) in elevation. It is located about halfway on the Cathedral Valley Loop Road which traverses the Cathedral Valley district.
To access the Cathedral Valley campground, a high clearance four-wheel drive vehicle is necessary.
The Cedar Mesa campground sits at 5,500 feet (1,676 m) in elevation about 23 miles south of Highway 24 along Notom-Bullfrog Road. Two wheel drive vehicles can typically access this campground.
You should always check road conditions before driving to primitive campgrounds by calling (435) 425-3791.
If you don't want to stay in a campground, you should check hotel prices in Torrey. We listed popular hotel options earlier in this guide.
Accommodation is limited so you should try to book as early as possible, especially if traveling in peak summer season.
Can't find a campground? Use our exclusive 30 day free trial of The Dyrt PRO to find both free and paid campsites near Capitol Reef or use Dyrt Alerts to snag a spot at a sold out campground nearby.
Best Things To Do In Capitol Reef National Park: Fruita District
If this is your first time visiting, we recommend you begin your visit at the Visitor Center in Capitol Reef National Park because you can ask questions about road conditions and learn more about the region.
Many of the best things to do at Capitol Reef National Park are all within close proximity to this visitor center so it sets you up for the perfect visit.
Listed below are the things not to miss on your visit to the Fruita District, the heart of Capitol Reef:
1. Capitol Reef Visitor Center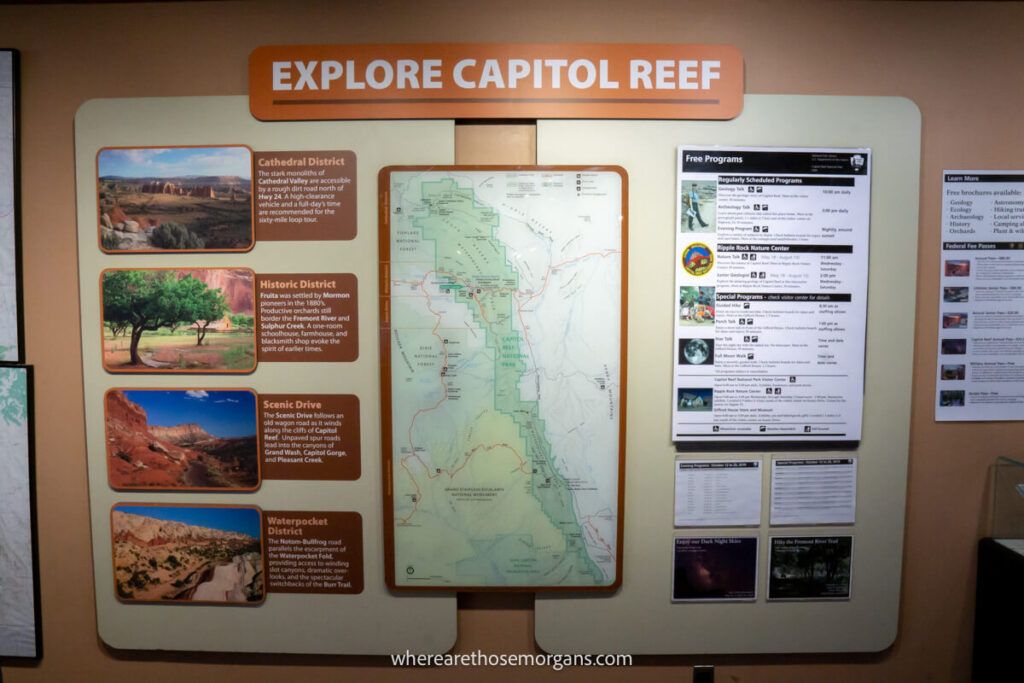 The main Visitor Center at Capitol Reef National Park is open year round from 8:00am – 4:30pm with extended summer hours and closed on some federal holidays.
In the visitor center, you can watch an orientation movie, view informational exhibits, shop in the bookstore and speak to the knowledgeable rangers.
There is also a picnic area nearby with restrooms, grills, picnic tables and drinking water.
Travel Tip: Fill up your water bottles at the Visitor Center before venturing into the park for the day.
2. See The Castle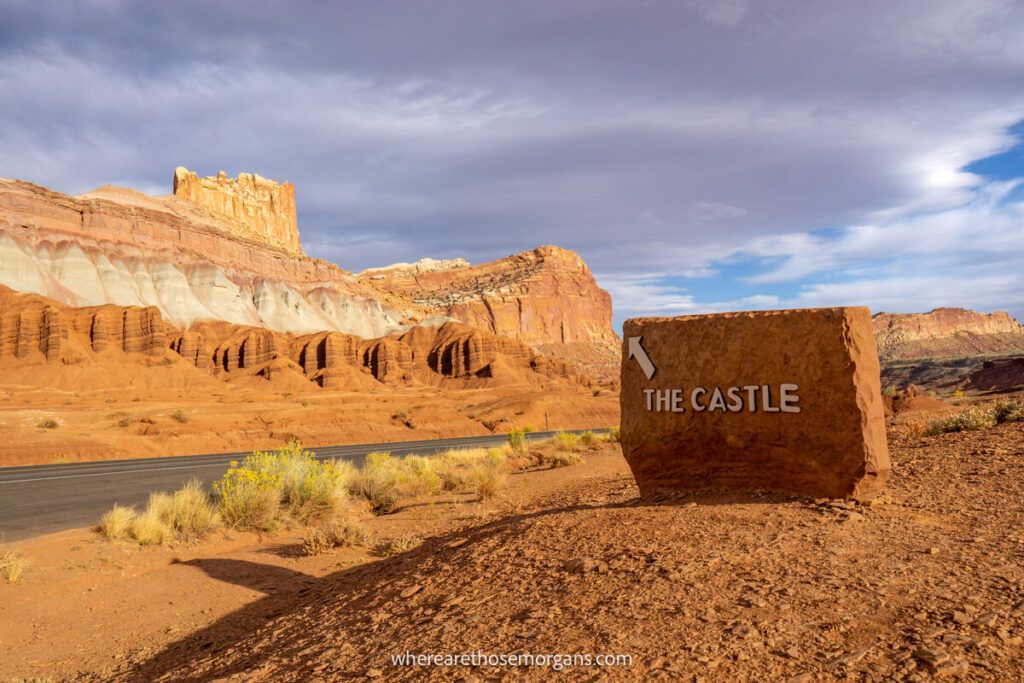 The Castle is a stunning rock formation located near the main visitor center. This is an easy thing to do at Capitol Reef because you can park at the visitor center and walk across the street.
When we visited in fall, the Castle was stunning because the bright yellow vegetation further highlighted the beauty of the castle next to the Fremont River.
3. Popular Scenic Drive At Capitol Reef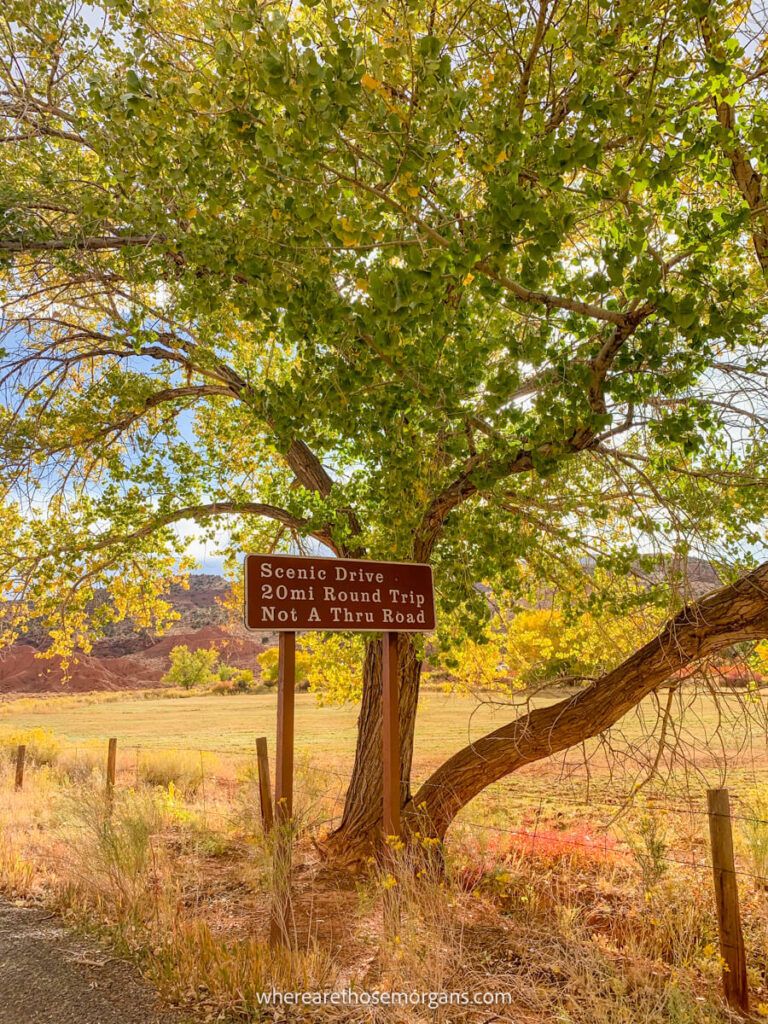 The scenic drive in this section of Capitol Reef features a 7.9 mile (12.7km) paved road which is suitable for passenger vehicles and connects with two dirt spur roads, Grand Wash and Capitol Gorge.
The Grand Wash will run through the upper portion of the Waterpocket Fold while Capitol Gorge is longer and more winding compared to Grand Wash.
Highlights of the Capitol Reef scenic drive loop include:
Grand Wash (canyon hike)
Cassidy Arch
Old Wagon Trail
Slickrock Divide
Abandoned Oyler Uranium Mine
Moenkopi, Navajo and Chinle formations
This scenic drive is one of the easier things to do in Capitol Reef because you can drive the entire loop in about 1.5 hours, but allow for more time if you plan to hike any of the trails in the area.
At the end of the scenic drive, make sure you walk down Capitol Gorge about half a mile and take a look at the canyon wall to see the Pioneer Register.
Carved into the sandstone, you will notice various names and dates of explorers, surveyors, cowboys and early visitors who passed through the region.
4. Gifford Homestead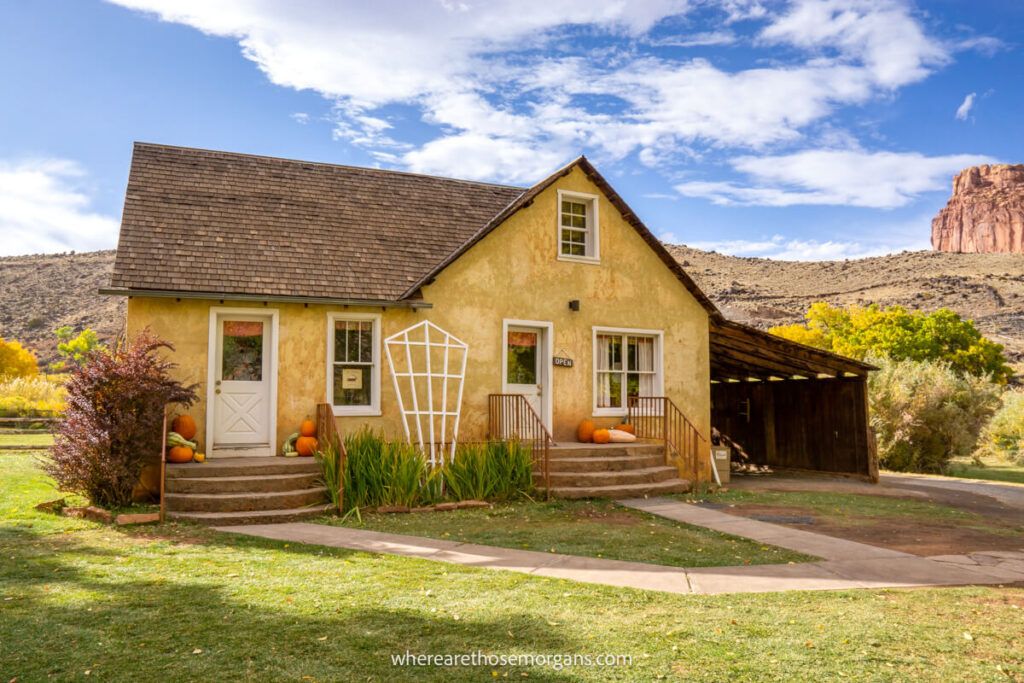 The Gifford's were the last remaining family to reside in Fruita before the area became Capitol Reef National Park. The homestead contains orchards and the original Gifford House.
You can buy delicious homemade pies, coffee, scones and cakes from inside the house and eat on picnic benches just outside the entrance, surrounded by peaceful scenery.
The Capitol Reef Natural History Association along with the NPS, completely renovated the Gifford Farmhouse to represent an early Mormon settlement in rural Utah during the early 1900s.
Travel Tip: If you fancy treating yourself to a pie, don't wait until after lunchtime like we did because the pie cabinet was completely empty!
5. Fremont Petroglyphs Panel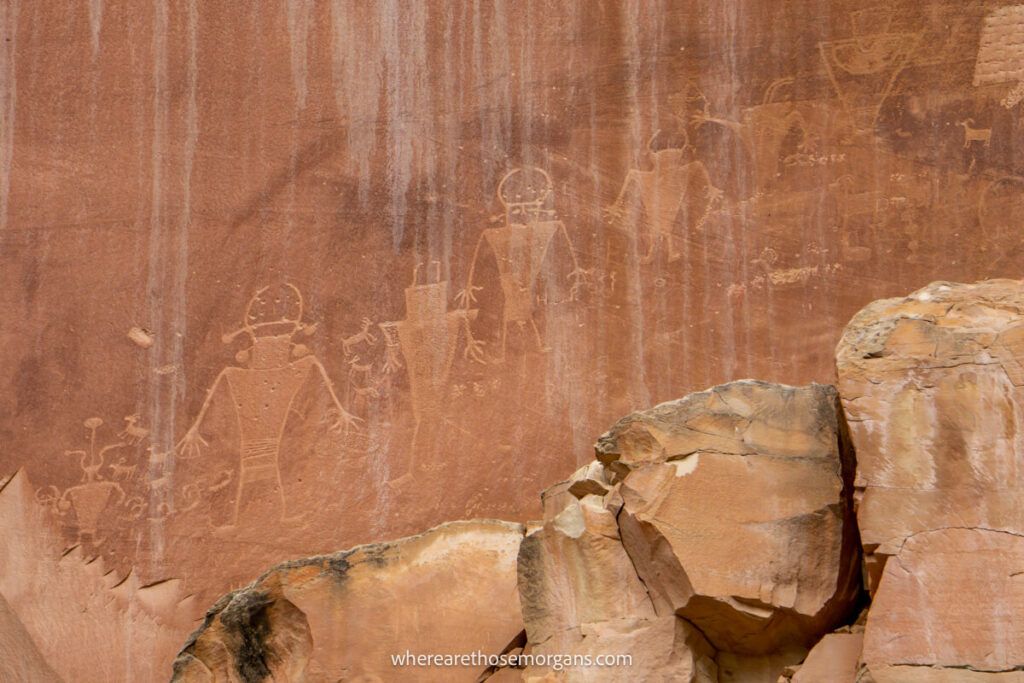 The Fremont Petroglyphs can be seen with just a brief stop.
Two boardwalks lead to a huge orange rock face with carvings etched into the rock. There are informational boards about the images on the stone as well as the history of the Fremont Culture.
You can see the petroglyphs from the parking area but it's worth getting a bit closer if you've never seen petroglyphs. Bring a pair of binoculars or a zoom lens to get a closer view.
6. Pick Fruit In The Orchards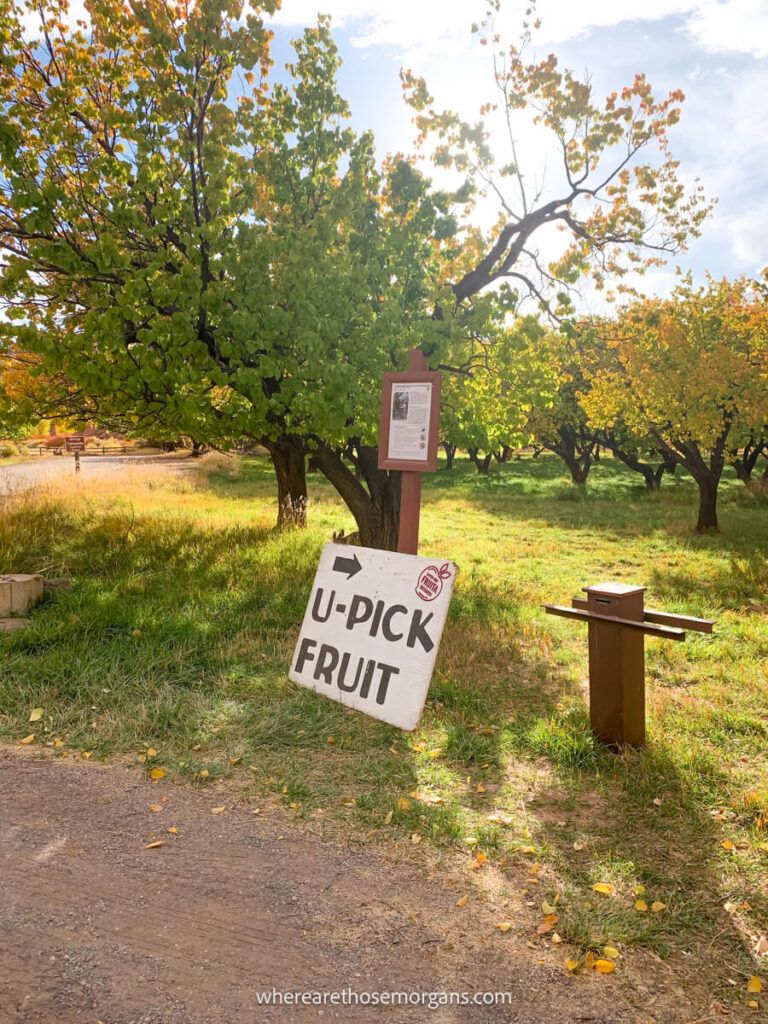 During their time in the fertile Fremont River valley, the Latter-Day Saints pioneers planted thousands of fruit trees. These orchards provided both food and a steady source of income to the families in Fruita.
The 1,900 trees in the orchards of Capitol Reef National Park are now protected under the Fruita Rural Historic Landscape on the National Register of Historic Places.
As long as the fruit is in season for picking and the gate is unlocked, you can go right ahead and enter the orchard. If a gate is locked, it means the fruit isn't ripe or it's not ready to be picked.
Look out for signs saying "U-Pick Fruit" because that's your fruit picking confirmation notice. Harvesting usually runs from mid-June to mid-October for cherries, apricots, peaches, pears and apples.
7. Fruita Barn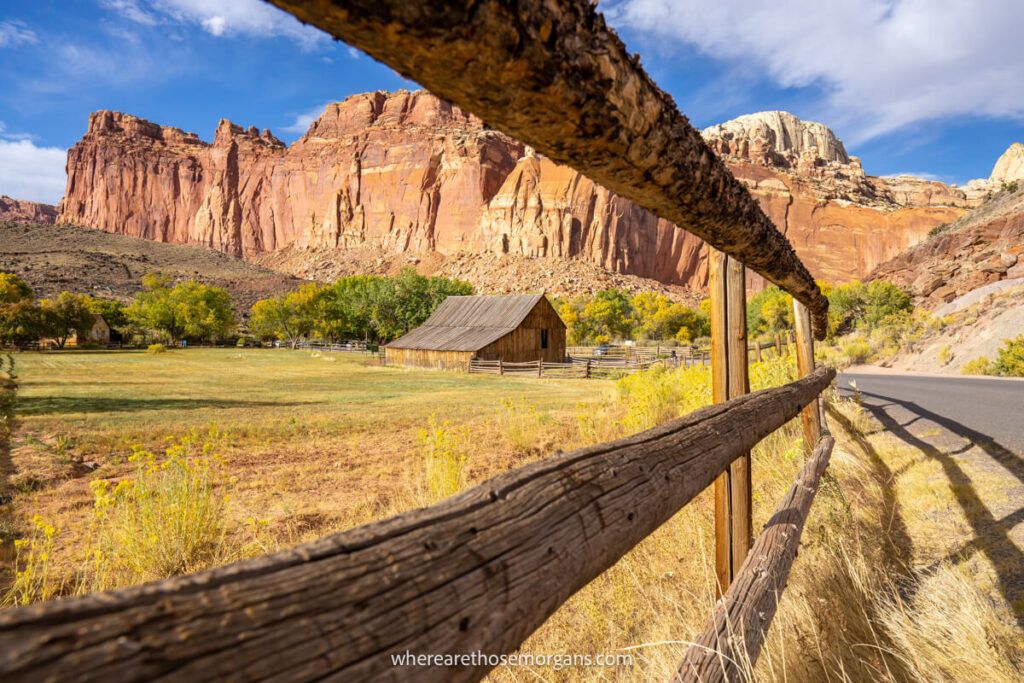 The Fruita Barn is our must see attraction in Capitol Reef National Park.
This incredibly photogenic Fruita barn is worth the visit alone if you enjoy photography as a hobbyist. If you're a pro, the barn is a must visit on a wider Utah road trip.
While it is less famous than John Moulton and T. A. Moulton barns on Mormon Row in Grand Teton, Fruita barn offers an entirely different background and we promise it will not disappoint.
Get creative by moving around the area to find new ways of composing photographs. Include the fence, road, grass and rocks in your frame.
Interested in photography? You might like our photography guides from around the world.
8. Hike To Hickman Bridge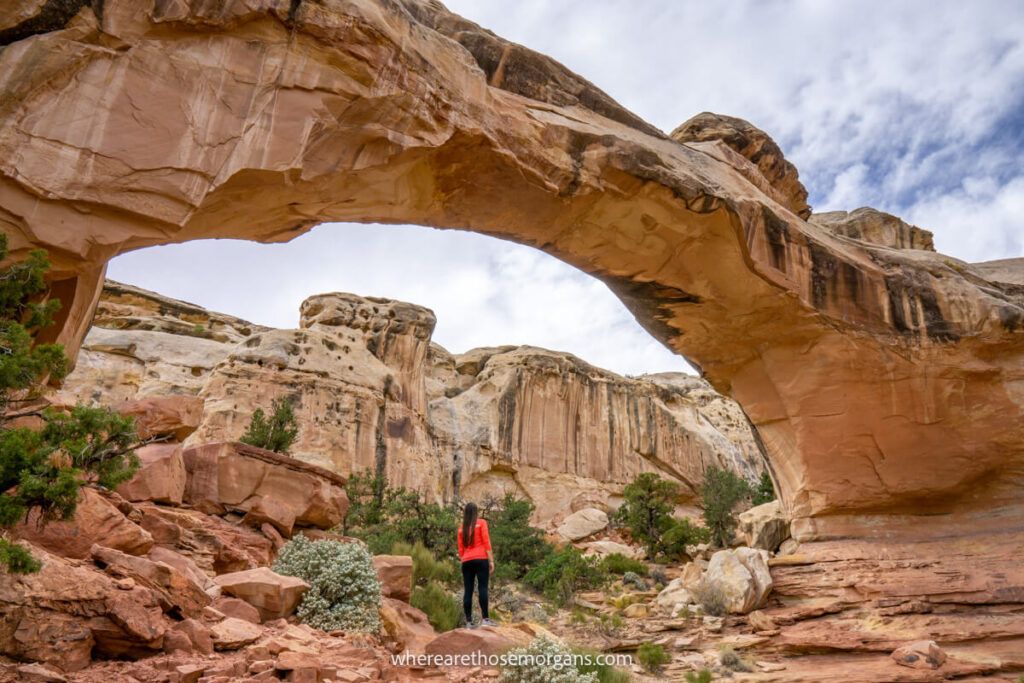 The Hickman Bridge is the most popular hike in Capitol Reef National Park and this is our must do activity when visiting.
Hike difficulty: Easy to Moderate
Distance: 1.8 miles roundtrip
Elevation gain: 416ft
Route type: Out and back
Dogs allowed: No
Recent comments: Visit AllTrails
You will find parking for Hickman Bridge in the lot adjacent to the trailhead or along the road nearby if it's busy. The trail follows the Fremont River briefly, and then gently climbs to its finale at the bridge.
We like the hike to Hickman Bridge because it's not just a flat and easy footpath the whole way. There are various points with smooth spherical shaped imprints into the rock as though an ice cream scooper had carved out the walls.
At the top of the trail, you will be welcomed by an enormous natural rock bridge, similar to many of the formations at Arches National Park.
If you only do one hike at Capitol Reef National Park, make sure it is Hickman Bridge.
The orange colored bridge is impressive and offers a nice perspective photo from below. Try snapping a different perspective shot of the bridge by playing around with your angles.
Need a new hiking app? Check out the most popular hiking and outdoor apps for your next adventure including our top recommendation!
9. Glance Up At Capitol Dome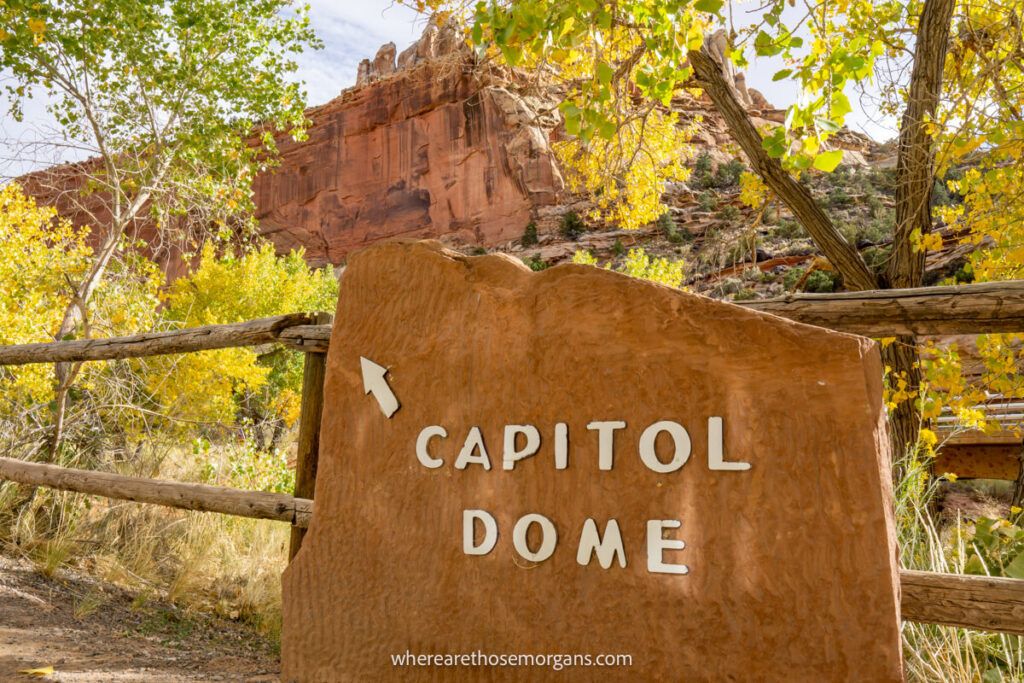 If you chose to hike Hickman Bridge, you will not be sorry because the Capitol Dome is best viewed from the trailhead.
Capitol Dome is made from white Navajo Sandstone and its name comes from the fact it resembles capitol building domes.
Further down Highway 24, you can also explore Behunin Cabin. This structure can be seen from an unpaved dirt parking lot large enough for multiple vehicles.
Tabitha Jane and Elijah Cutler Behunin were two early settlers who filed a homestead claim around the Fremont River. They lived in this cabin for only a year because it was a difficult area to homestead.
Travel Tip: You can only see Capitol Dome if you are heading east on Highway 24.
10. Explore Goosenecks And Sunset Point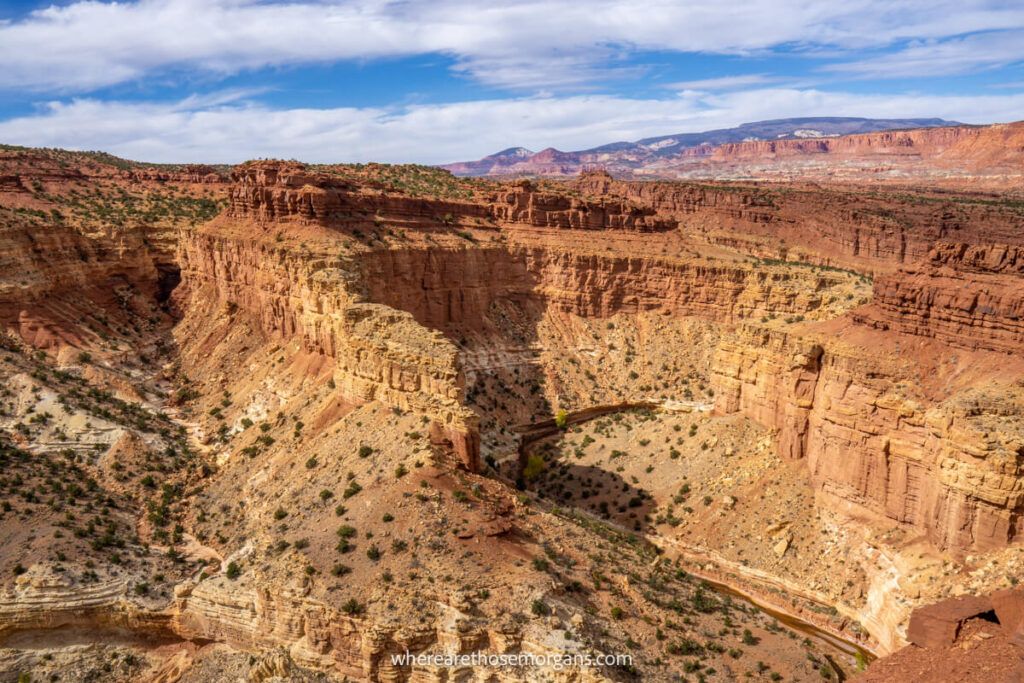 Goosenecks and Sunset Point are two relatively easy hikes ending in dramatic canyon views.
Both of these viewpoints can be reached via Highway 24. Look for the Capitol Reef National Park entrance sign because the road leading to the trailhead is nearby.
However, be aware the road is not entirely smooth and it may be an uncomfortable in a low riding car. You will know when you get to the top as the road ends in a circle for parking at 2 trailheads.
Goosenecks requires very little hiking (0.1 miles) and offers stunning views of the meandering gorge.
Sunset Point provides the best view of the Capitol Reef National Park when the sun is setting. This is the place to watch oranges turn into fiery reds in the evening hours.
New to hiking? You might like our guide featuring beginner hiking tips.
11. Fruita Schoolhouse
The Fruita schoolhouse is a tiny wooden structure surrounded by colorful trees, not far from the visitor center.
It was once the only public building in the Mormon settlement and has continued to be used for education.
Park rangers run classes explaining geology, history and archaeology so be sure to check the days free programs occur at the visitor center.
When we visited, the building was full of tourists learning about the history of Capitol Reef National Park.
Look at how striking the wooden building is when surrounded by radiant autumnal foliage colors. We have to say that Capitol Reef has the most vibrant fall foliage colors of among the Utah Mighty 5 national parks circuit.
12. Hike Another Trail In Fruita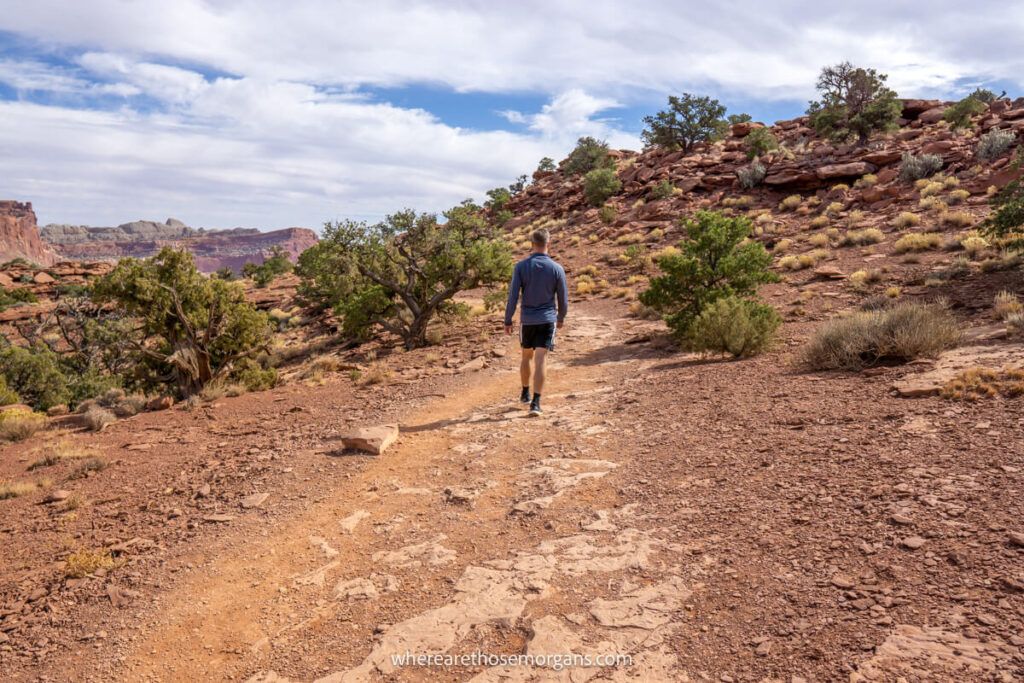 Depending on how much time you have in your itinerary, there are 14 hikes in the Fruita District of Capitol Reef National Park.
Our recommendation for first time visitors to Capitol Reef National Park is Hickman Bridge Trail, but the good news is you have many additional hiking options with varying levels of difficulty.
Distances listed below are one way with the exception of Chimney Rock Loop and Old Waging Trail Loop.
Easy hikes In The Fruita District
Goosenecks (0.1 mile) – amazing canyon views
Sunset Point (0.4 mile) – stunning panoramic views + good for sunset
Capitol Gorge (1.0 mile) – canyon hike with historic inscriptions
Grand Wash (2.2 miles) – deep narrow canyon
Moderate hikes In The Fruita District
Fremont River (1.0 mile) – river stroll with climb at end
Cohab Canyon (1.7 miles) – hidden canyon with gorgeous views of Fruita
Hickman Bridge (0.9 mile) – hike to a 133 ft natural stone bridge
Strenuous hikes In The Fruita District
Cassidy Arch (1.7 miles) – canyon views with natural arch
Golden Throne (2.0 miles) – Capitol Gorge and Golden Throne views
Fremont Gorge Overlook (2.3 miles) – mesa top and views of the gorge
Rim Overlook (2.3 miles) – views of Fruita and Waterpocket Fold
Frying Pan (2.9 miles) – Cohab Canyon and Cassidy Arch trail connector
Chimney Rock Loop (3.6 miles roundtrip) – views of Waterpocket Fold cliffs
Old Wagon Trail Loop (3.8 miles roundtrip) – hike through pinyon-juniper forest
Navajo Knobs (4.7 miles) – extension of Rim Overlook Trail
If you only want to visit the Fruita district in Capitol Reef, jump on down to our Capitol Reef Itinerary towards the end of this guide.
Best Things To Do In Capitol Reef: Cathedral Valley
Located in the northern remote and rugged region of Capitol Reef National Park is Cathedral Valley. The NPS recommends vehicles with 4WD to access this area.
The geology of Cathedral Valley highlights the uniqueness of Capitol Reef National Park. You will see different features in this section compared to the Waterpocket Fold.
However, rain and snow can leave road conditions washed out and muddy making Cathedral Valley impassable. Check road conditions at the visitor center before heading this way.
13. Cathedral Valley Driving Loop Tour
The Cathedral Valley driving tour loop takes about 6-8 hours to complete and it's one of the most popular things to do in this district of Capital Reef National Park.
Most visitors attempt the Cathedral Valley drive clockwise by starting at Hartnet Road and then continuing on to Hartnet Junction. The entire loop is 57.6 miles (92.7 km).
14. View The Benonite Hills
The Benonite Hills are striking and they can be found along Hartnet Road. Similar to banded hills you can see in Badlands National Park, the Benonite Hills appear red, purple, gray, brown and green.
15. Explore The Upper And Lower Cathedral Valley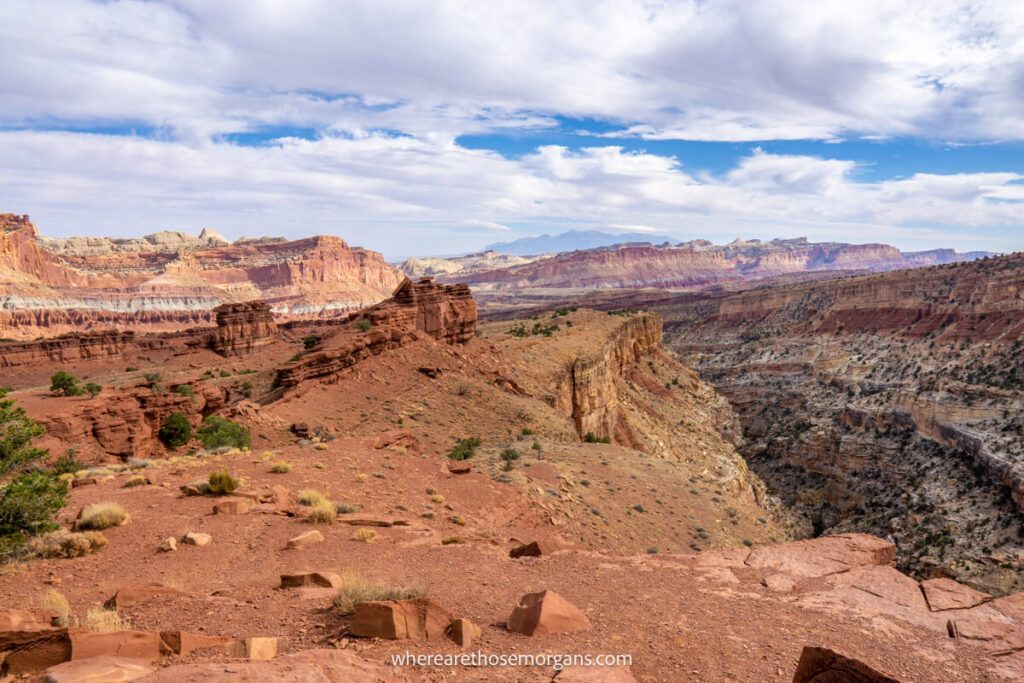 Another popular thing to do in Capitol Reef National Park is to visit upper and lower Cathedral Valley. This is where you can find enormous sculptured monoliths.
This region is home to the Walls of Jericho as well as the Temples of the Sun and Moon.
16. Visit The Glass Mountain
The glass mountain is a unique thing to do in Capitol Reef because it is made from selenite crystals. The selenite is composed of gypsum which is very common in the sedimentary rock found within Capitol Reef.
Interestingly, the Glass Mountain was formed from groundwater flowing through the Entrada Sandstone. The water dissolved the gypsum which then crystallized into a very large gypsum plug.
17. Peek Into The Gypsum Sinkhole
For those who are interested in the glass mountain, you will also be curious about the gypsum sinkhole. The sinkhole was formed by a similar yet reverse process from the one above.
In the case of the gypsum sinkhole, the groundwater has dissolved a gypsum plug and the cavity we see today was created when the overlaying rock layers collapsed under the weight.
18. Hike In The Cathedral Valley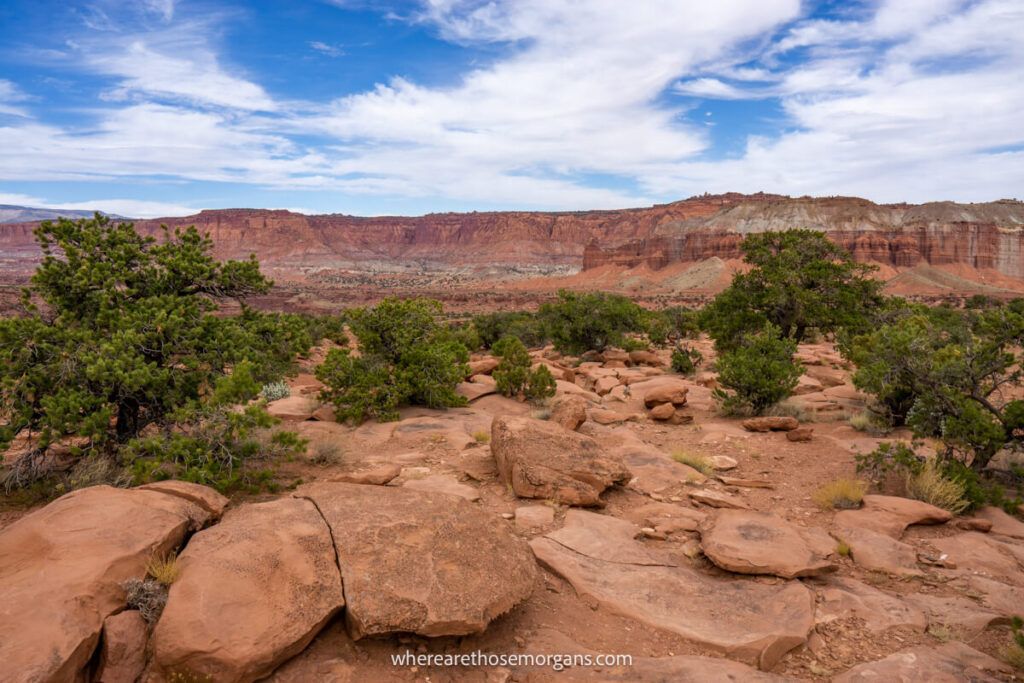 Hiking is a popular activity in the Cathedral Valley district of Capitol Reef National Park because this is remote backcountry with no paved roads.
Those who visit Cathedral Valley as part of their Capitol Reef itinerary will experience vast desert, gorgeous monoliths and volcanic dikes.
Here are easy and moderate hiking trails in the Cathedral Valley district of Capitol Reef (all distances are round trip):
Upper Cathedral Valley Overlook (0.2 mile) – Easy
Morrell Cabin Trail (0.4 mile) – Easy
Cathedrals Trail (2.4 miles) – Easy
Upper South Desert Overlook (0.4 mile) – Moderate
Lower Cathedral Valley Overlooks (1.5-2.5 miles) – Moderate
Jailhouse Rock + Temple Rock (4.5 miles) – Moderate
Just keep in mind, these are not maintained trails so you may experience obstacles when hiking through this district of Capitol Reef National Park.
Need help planning for your hike? Don't miss our popular guide to day hike packing essentials.
Best Things To Do In Capitol Reef: Waterpocket Fold
The Waterpocket district is located in the remote southern section of Capitol Reef National Park. This area can be accessed by most passenger cars, but you need to watch road conditions prior to visiting.
19. Loop The Fold Driving Tour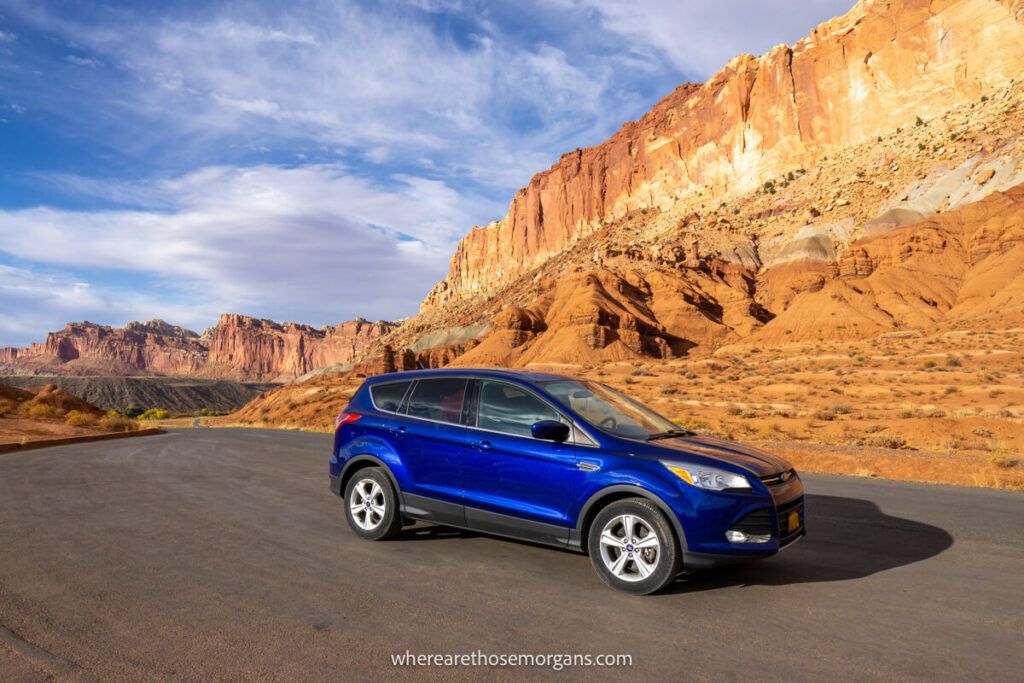 Similar to the Cathedral Valley district, one of the best things to do in the Waterpocket is to experience the 124 mile loop drive through Notom-Bullfrog Road and Burr Trail Road junction.
Geological highlights of looping the fold include:
Navajo and Page sandstones
Bentonite clay
Carmel formation
Cliffs of Mancos Shale
Wingate sandstone
The drive time for looping the fold is about 4-6 hours and it can be driven either clockwise our counterclockwise.
20. Discover The Oyster Shell Reef
As you travel along Notom-Bullfrog Road, you will have the chance to see a dense oyster shell reef featuring 100-million year old oysters.
Please leave no trace when visiting this section of the park and do not take any fossils home with you.
21. Visit Strike Valley Overlook
Strike Valley is just as striking as it sounds (pun intended) because this valley features numerous rock layers which are eroding at different rates.
One of the best things to do in this region of Capitol Reef is to hike the Strike Valley Overlook Trail (o.9 miles roundtrip). In just one hike, you will see 150 million years of geological history.
22. Hike In The Waterpocket Fold
Capitol Reef's southern remote section of Waterpocket is the most challenging hiking district featuring easy one hour trails to multi-day backpacking routes.
This is a very remote region of Capitol Reef so route finding and navigation skills will be required. Do not rely on your phone and rock cairns to mark the way. Keep in mind, if you require help, it may take days.
Here are easy and moderate hiking trails in the Waterpocket Fold district of Capitol Reef (all distances are round trip):
Surprise Canyon (2.0 miles) – Easy
Headquarters Canyon (3.2 miles) – Easy
Red Canyon Trail (5.6 miles) – Easy to moderate
Strike Valley Overlook (0.9 miles) – Moderate
If you are looking for strenuous backcountry routes:
Burro Wash, Cottonwood Wash and Sheets Gulch Slot canyons
Upper Muley Twist Canyon
Lower Muley Twist Canyon
Halls Creek Narrows
Flash flood season runs from July to September. Before hiking in slot canyons, it's critical to check weather conditions because there may be no escape if you encounter heavy rain.
How Many Days Do You Need At Capitol Reef National Park?
You can easily visit Capitol Reef National Park in one day, but if you want to see some of the remote regions or hike numerous trails in the park, we recommend you plan to spend 2-3 days in the area.
The Capitol Reef itinerary we provided below includes the best way to spend a full day which includes popular spots of Fruita like the Gifford house, Hickman Bridge, the Fremont petroglyphs and Goosenecks viewpoint.
If you only have a few hours in Capitol Reef, we recommend you experience the scenic drive through the Fruita District down Highway 24 to Capitol Gorge.
If you have multiple days at Capitol Reef, you should hike one of the additional trails such as the Grand Wash canyon trail to Cassidy Arch and drive to either Cathedral Valley or the Waterpocket Fold if you have the right type of vehicle.
Perfect One Day Capitol Reef National Park Itinerary
Unless you are coming from Moab or Denver to the East, you will enter Capitol Reef by the West entrance close to Torrey.
Plan to arrive as early as you can to beat the crowds and heat. If you don't like to drive in the dark, be sure to leave enough time to drive to Bryce Canyon in daylight.
Visitors can purchase baked or canned goods at the Gifford House from spring to fall season (March to October). We brought our lunch when visiting Capitol Reef National Park because there are no cafes or restaurants in the park.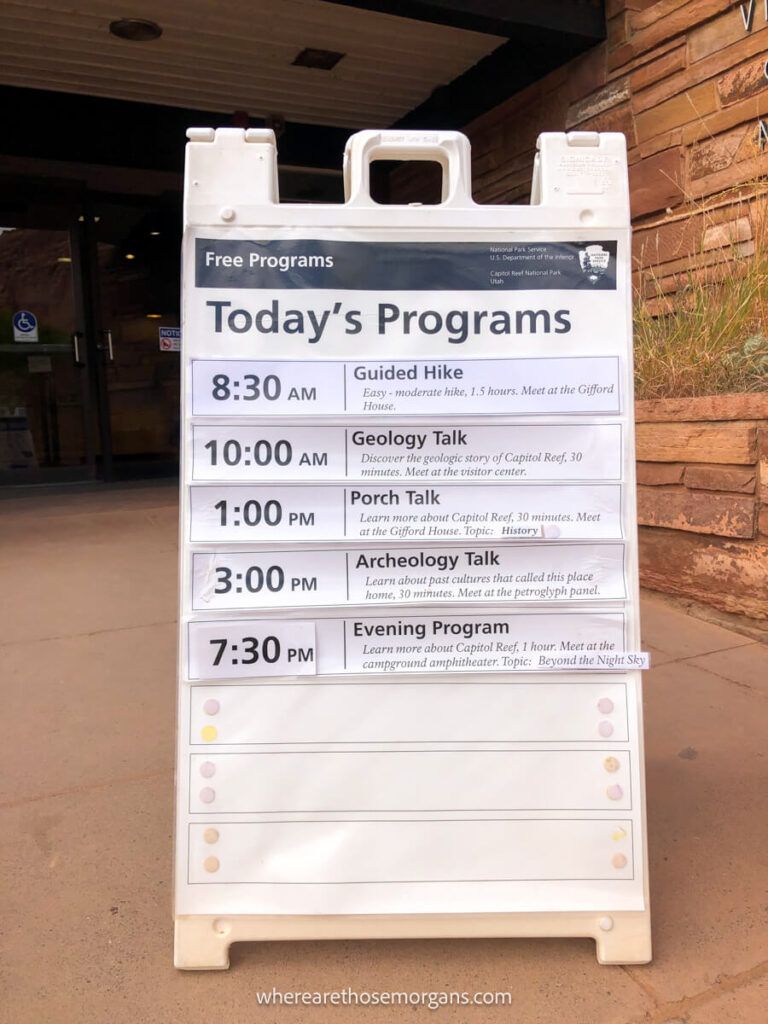 Morning Itinerary At Capitol Reef
As soon as you see the gorgeous red orange rocks you will want to pull over because it's a natural reaction! However, resist the temptation and continue to the Capitol Reef Visitor Center.
Check out the ranger led programs for the day to see if you would like to join any. Head straight to the Fruita District to explore the Gifford Homestead and grab a pie if they are still available.
If you visit during the right season, find an orchard with the "U-Pick Fruit" sign and pick some fruit to snack on later in the day. The orchards are located right next to the Gifford Homestead.
This is also your chance to photograph the Fruita Barn. If you are a hiker, you could also head to the Cohab Canyon Trail which begins near the Fruita Barn.
If you don't want to hike, jump back in your vehicle and take the scenic drive to the south. With enough time, you could venture up to Grand Wash or Capitol Gorge.
Once you have completed the hike and / or the scenic drive, stop by the picnic area near the Gifford House to enjoy some lunch.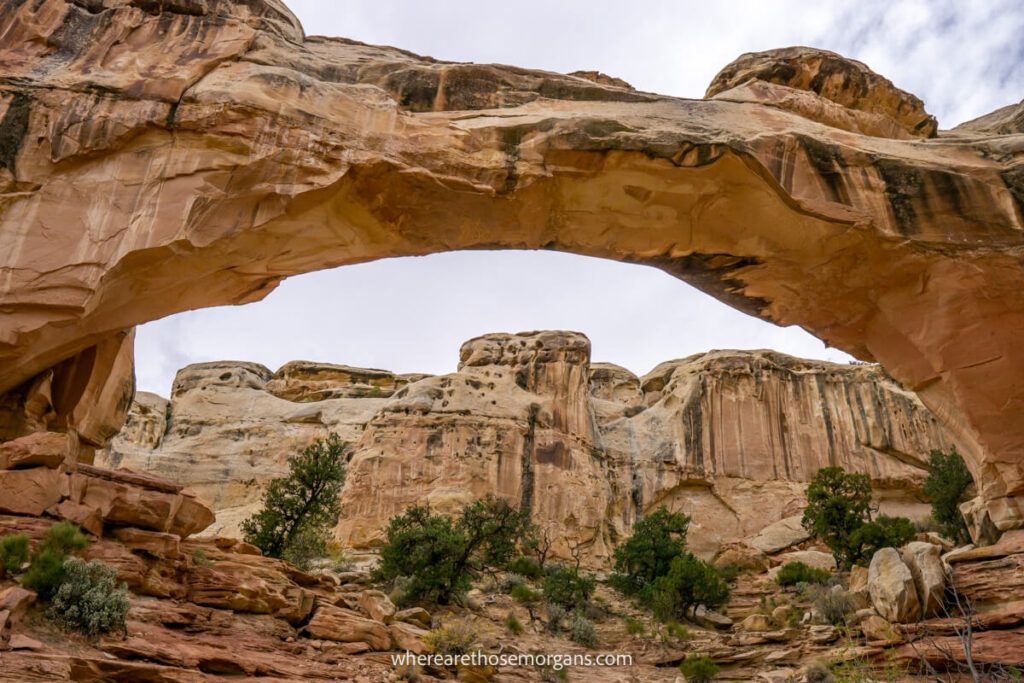 Afternoon Itinerary At Capitol Reef
After eating, drive back to the visitor center and take the other road at the fork towards Highway 24 as part of your afternoon Capitol Reef itinerary.
Your first stop will be the Fruita Schoolhouse. Even with no ranger program, this is still a beautiful spot to photograph.
As you continue along Highway 24, the next point of interest will be the Fremont Petroglyph site. This is will be a quick stop, but don't forget your binoculars to see the rock images in greater detail.
Continue along the same road until you reach the Hickman Bridge trailhead. Crack out the hike and get back into your vehicle because it's time to head west.
Near the Capitol Reef entrance sign, there will be a turning on the left up to Panorama Point, Goosenecks and Sunset Point. If you like to take photos with park entrance signs, this is a good time to snap a souvenir photo.
If it's not too late in the day, take the turn and drive up the bumpy road. Enjoy the sunset from the stunning viewpoints and make your way back to your vehicle.
Head down highway 12 towards Bryce Canyon. Aim to leave at least 3 hours before sunset if you want to avoid driving this distance in the dark.
Interactive Map For Capitol Reef
Above you will find the interactive map we have created for you to easily explore the park. You can also click on this link here to access our inactive map for your Capitol Reef National Park itinerary.
Key for our Capitol Reef interactive map:
Red – Fruita District
Orange – Cathedral Valley
Green – Waterpocket Fold
Blue – Hotels
Purple – Restaurants
We have added points of interest to all three sections of the park so you can find everything you need including hotel and restaurant locations too.
Tips For Scenic Drives And Hiking In Capitol Reef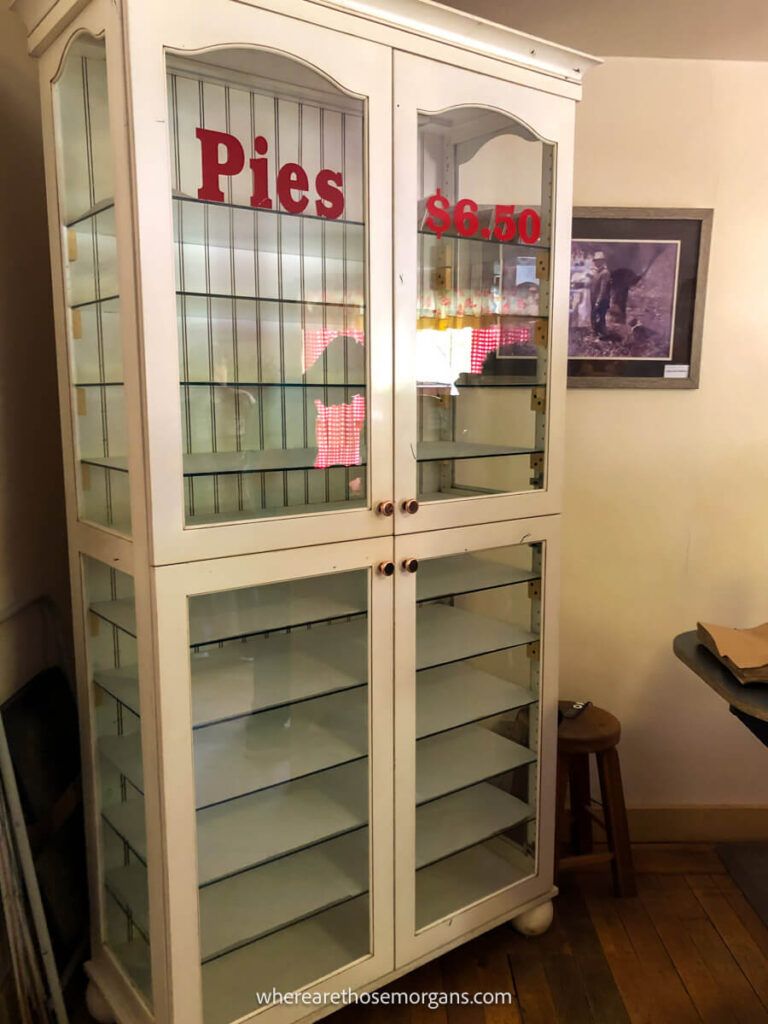 If you are planning a hike in Capitol Reef or you want to visit some of the remote sections in the park, here are a few important tips to keep in mind for your itinerary:
To play it safe, most of the scenic drives in Capitol Reef require a high clearance four-wheel drive vehicle. If you do not have this type of vehicle, stick to the paved scenic drive in the Historic Fruita District.
Always check the current conditions in Capitol Reef prior to visiting for road or canyon closures.
Capitol Reed is an International Dark Sky Park so it's one of the best places to look up at the stars.
If you are planning to explore remote regions, make sure you fill up on gas in nearby towns such as Torrey.
Visit Capitol Reef in the spring or fall when temperatures are cooler. We timed our visit perfectly to see the vibrant bright yellow leaves contrasting against deep orange rock faces.
Start hiking early in the day to avoid the heat and protect your skin from the sun.
Bring extra food because there are no cafes or restaurants in the park. Most visitors grab a bite to eat in Torrey or grab a pie at the Gifford Homestead.
Here are the best restaurants in Torrey, Utah:
We hope you have a fantastic time in Capitol Reef!
More Utah Road Trips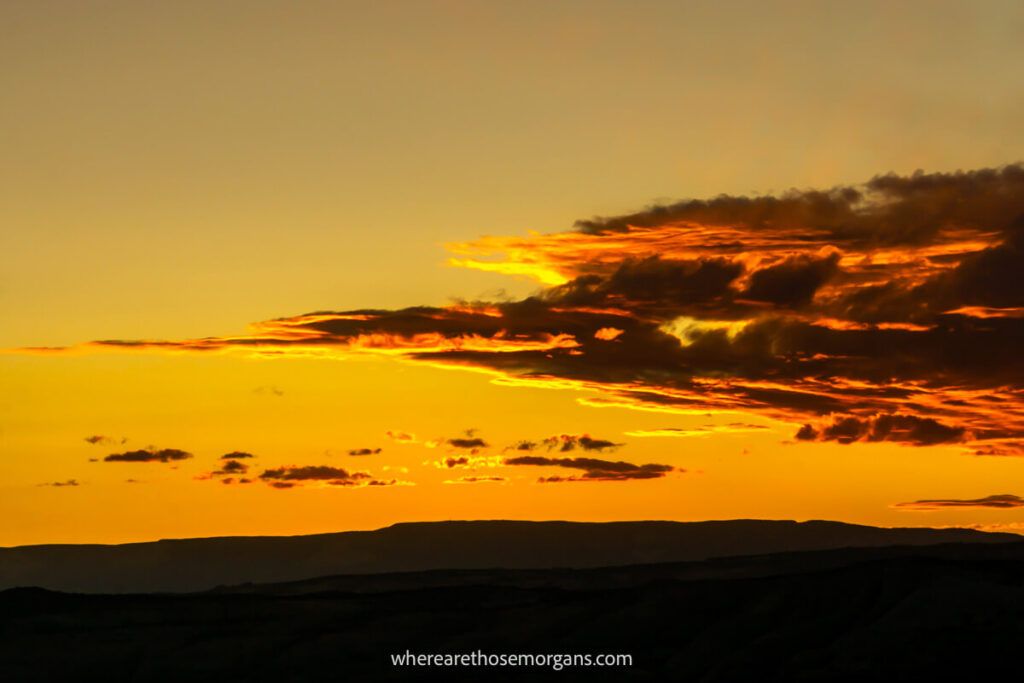 If you are visiting Capitol Reef, there is a good chance you are on a road trip. After Capitol Reef, we headed straight to Bryce Canyon National Park so we know exactly how that goes.
We drove Highway 12 between Capitol Reef and Bryce Canyon National Park. We got lucky because the sunset was stunning that evening and we enjoyed the views over Larb Hollow Overlook.
Below you can find more resources to help you explore the American Southwest:
No matter which direction you are headed, this is a stunning region to drive around so enjoy every second!
Best Things To Do In Capitol Reef FAQ's
Let's finish by taking a quick look at some of the most frequently asked questions about activities and hiking in Capitol Reef National Park.
Is Capitol Reef worth it?
Yes, Capitol Reef is worth visiting because it is one of Utah's smallest and lesser known national parks that offers many activities and numerous hiking trails of various difficulty.
Can you bring kids to Capitol Reef National Park?
Capitol Reef is one of the best national parks for children because there are easy hiking trails, orchards for picking fruit, a paved scenic drive and an old schoolhouse for them to explore.
What is the best itinerary for Capitol Reef?
We recommend you begin your Capitol Reef visit in the popular Fruita district and then explore the more remote areas if you have a 4WD vehicle. You can also choose one of the numerous hiking trails in Capitol Reef if you have extra time.
Our Popular Utah Travel Guides
More US Hiking Guides
Want more Utah content? Head over to our Utah Travel Guides to explore the Mighty Five National Parks and beyond.
---
We hope our detailed Capitol Reef National Park guide helps with planning your next outdoor adventure!
Please let us know if you have any questions about a Capitol Reef one day itinerary or best things to do in Capitol Reef in the comments below.
Happy Travels,
Mark and Kristen
Enjoy This Capitol Reef Itinerary? Pin It For Your Visit!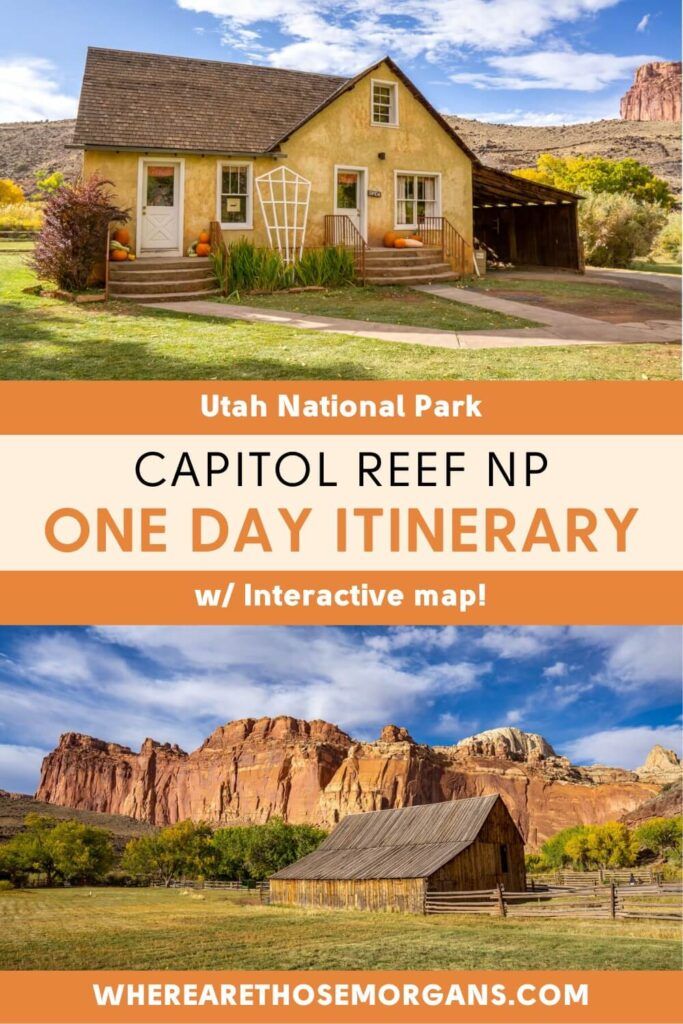 Note: This article contains affiliate links. When you make a purchase using one of these affiliate links, we may earn a small commission at no extra cost to you.
All Rights Reserved © Where Are Those Morgans, LLC. Republishing this article and/or any of its contents (text, photography, maps, graphics, etc.) in whole or in part is strictly prohibited.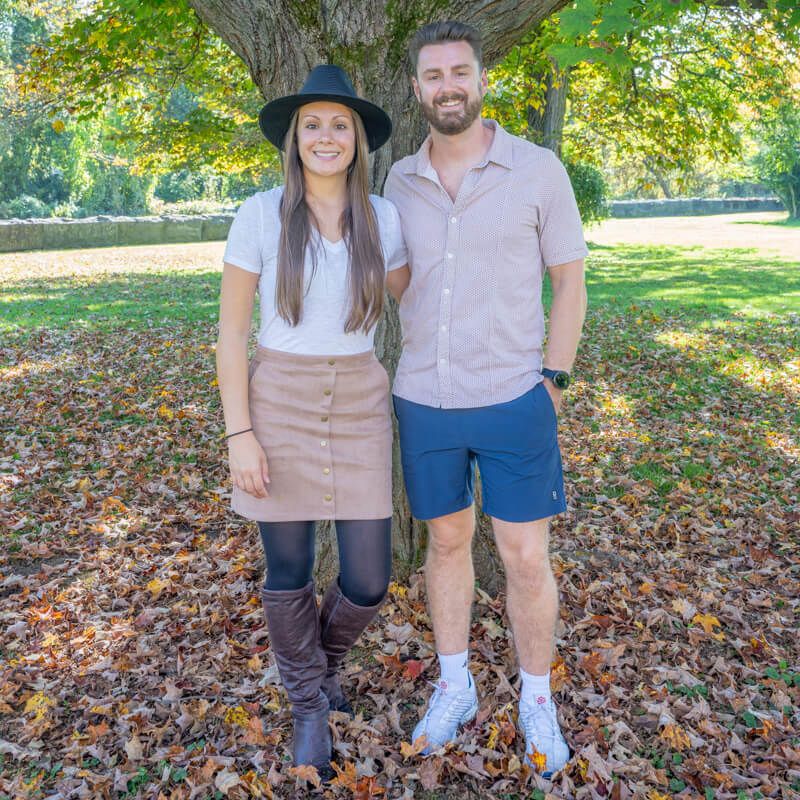 Mark and Kristen Morgan are travel, hiking and photography experts. Over the last 6 years traveling full time, they have explored more than 40 countries and 30 US states.
Their work has been featured in USA Today, Gestalten, Get Your Guide, CityPASS and Condé Nast Traveler along with various other publications.