Are you planning a day trip to Zion National Park? We're going to show you 5 amazing ways you can spend the perfect one day in Zion National Park itinerary, from sightseeing and hiking to photography and avoiding crowds.
Planning a one day trip to Zion is hard, there's so much to see and do that fitting it all in is near impossible. You'll have to compromise, but we're sure we can set you up to have the best possible day in Zion.
Let's get stuck into everything you need to know about planning a one day itinerary for Zion National Park!
*Please note this post may contain affiliate links. If you click on one, we may make a small commission at no extra cost to you.*
Can You Visit Zion National Park In One Day?
One day is easily enough time to visit Zion National Park if you just want to get a taste for the park or if you're not interested in hiking any of the major adventure trails like Angels Landing and The Narrows.
We have personally visited Zion on two separate occasions and each time we stayed for 3 days. But that's only because we hiked almost every trail in the park.
We'll get into 5 different ways you can visit Zion National Park in just one day in this guide.
Zion is one of the best and most popular national parks in the United States and we want you to plan the perfect trip for your travel style.
What Should You Do With Just One Day In Zion?
With just one day in Zion, you can either choose to spend the day driving and getting to know each area for your next visit, hike several of the lighter trails or choose one of the most adventurous hikes and use up your full day.
Zion is renowned as a phenomenal hiking arena and essentially it is a playground for adults. However, there are many other types of activity you can do in Zion that tend to go under the radar.
We'll cover those activities below so you can see what else is available.
Zion Entrances, Distances And Airports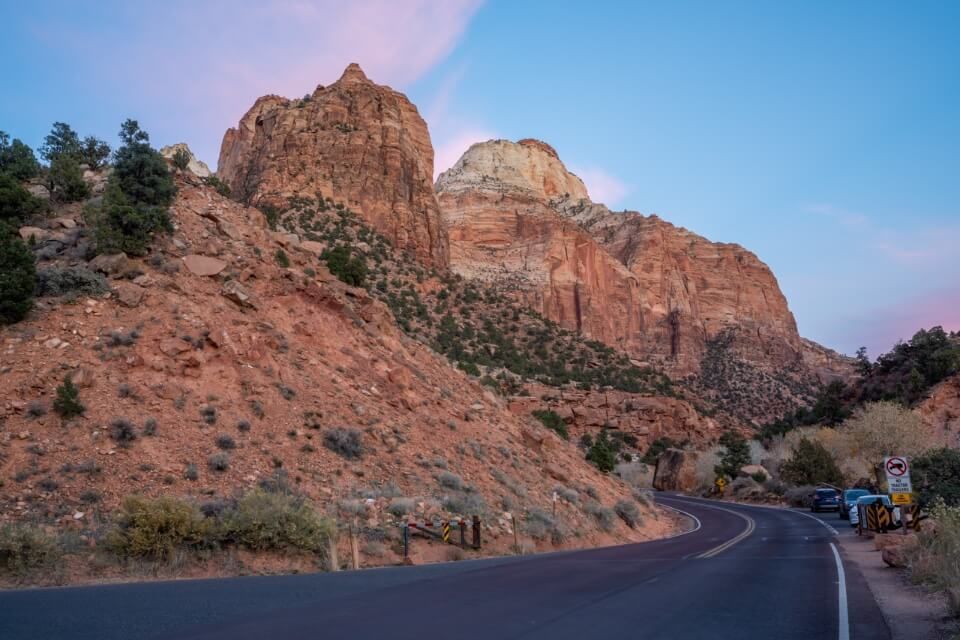 Zion National Park is located in Southern Utah near its border with Arizona and Nevada. Compared to some popular US National Parks, Zion is actually fairly easy to access by road and air.
Let's take a look at the most important things you need to know about getting to Zion.
Entrances To Zion National Park
Zion is made up of three distinct areas and each requires you to enter through a different route. The main canyon is accessed by two entrances, whereas the other areas only have one entrance and exit point.
Zion Main Canyon Entrance
There are two entrances to the main Zion canyon. South entrance is near the town of Springdale and easily accessed by Las Vegas or Salt Lake City via I-15, and East entrance is perfect for onward travel to Bryce Canyon National Park, Coral Pink Sand Dunes, the best things to do around Kanab and Grand Canyon National Park via the impressive Zion-Mt Carmel tunnel.
Most visitors to Zion will only use south entrance.
Only those who are also including trips to Bryce Canyon, Grand Canyon or other parts of Utah and Arizona on a longer road trip will need to use east entrance.
If you are planning a one day Zion National Park itinerary, are you also planning to visit other parts of the area?
Consider entering via one entrance and leaving via the other so you can see all of Zion in one day.
Our Zion to Bryce Canyon road trip itinerary is optimized for a 3 day visit to southern Utah. Two days are spent at Zion and one day is spent in Bryce Canyon.
This is the perfect amount of time for visiting the two parks together.
Kolob Terrace
If you want to hike The Subway, you are going to leave Springdale and drive to the tiny town of Virgin. Take a right turn onto Kolob Terrace Road and park at Left Fork trailhead.
There are also plenty of other hikes on this road, including West Rim trail beginning at Lava Point.
It is important to note there is not an entrance station to access Kolob Terrace. You will have to display your national parks pass or buy your entrance pass at one of Zion's visitor centers before parking along this road.
You can pick up an entrance pass at either the main visitor center in Springdale or in Kolob Canyons visitor center.
We highly recommend you buy an America the Beautiful annual national parks pass if you plan to visit multiple parks in the next year. That way you don't have to worry about paying entry at any parks, including Zion.
Kolob Canyons
If you choose to go hiking in Kolob Canyons, you do not need to worry about paying entry in the main visitor center in Springdale. Kolob Canyons has its own small visitor center and you can pay there if you don't have an annual pass.
There's just one road in and out of Kolob Canyons stretching for 5 miles up and then 5 miles back down to the entrance.
Distances And Drive Times
Let's go over distances and drive times to the main Zion visitor center in Springdale from popular origin points in the area.
Las Vegas To Zion Distance – 160 miles
Las Vegas To Zion Drive Time – 2 hours 45 minutes
Salt Lake City To Zion Distance – 305 miles
Salt Lake City To Zion Drive Time – 4 hours 30 minutes
Bryce Canyon To Zion Distance – 85 miles
Bryce Canyon To Zion Drive Time – 1 hour 50 minutes
Grand Canyon South Rim To Zion Distance – 250 miles
Grand Canyon South Rim To Zion Drive Time – 4 hours 45 minutes
Los Angeles To Zion Distance – 425 miles
Los Angeles To Zion Drive Time – 6 hours 30 minutes
Zion is fairly easy to access from many of the major national parks and cities in the US southwest. Even Los Angeles is only 6 hours and 30 minutes drive.
Technically you could drive up on Friday, spend a night and then have one full day in Zion before driving back on the Sunday for a weekend break.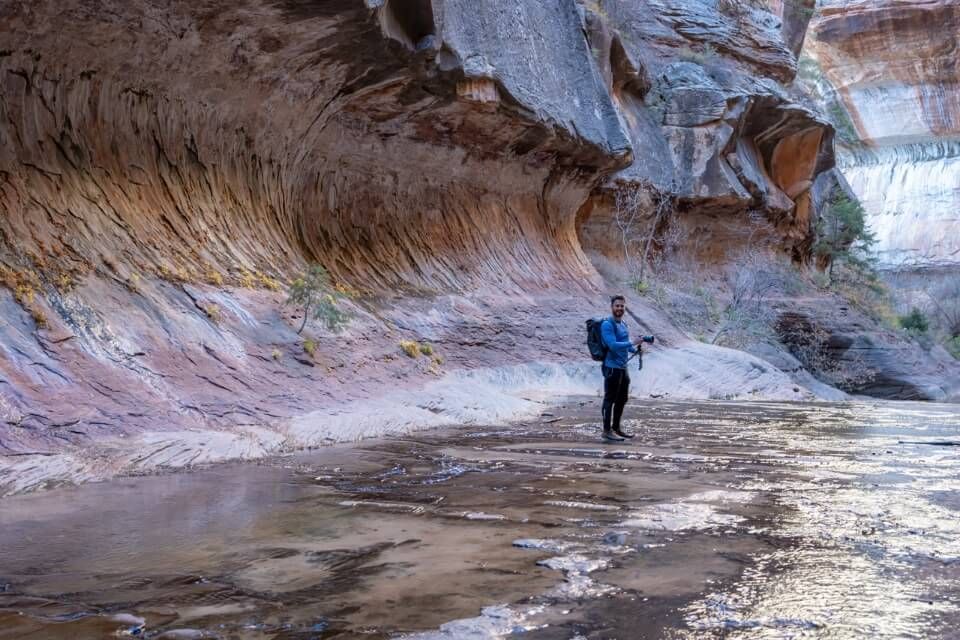 Best Airports To Use
Las Vegas McCarran is the closest and best international airport to use for Zion National Park. Salt Lake City International Airport offers a second international option and St George provides the closest regional airport to Zion.
Las Vegas McCarran Airport to Zion is under 3 hours to drive and you can fly into Las Vegas from most major airports around the world.
Domestically in the US, you will be able to fly cheaper budget airlines into Las Vegas if you are visiting Zion on a budget.
Read our comprehensive guide to the 4 closest airports to Zion National Park next for more details.
Zion Canyon Shuttle Bus
Zion Canyon Scenic Drive is only open to private vehicles if you visit Zion in the Winter months between December and mid March. Between mid March and the end of November, you can only access the main canyon via shuttle bus.
However, you can drive the Zion-Mt Carmel highway which passes through Springdale and up to the East Rim year round.
The shuttle service in Zion is frequent and easy to use. The NPS trialled a reservation system for advanced shuttle tickets in 2021 but it didn't last long as it was causing chaos.
Our best advice for getting the shuttle bus in peak season is to arrive as early as you can at the main visitor center so you can get a free parking spot.
Free parking spaces at the visitor center are a hot commodity.
You will have to pay to park in a private parking lot in Springdale or you might not even be able to find a spot on the busiest days.
Best Time To Visit Zion National Park
Spring and Fall are the best seasons to visit Zion if you want to avoid the worst of the crowds, have a chance at picking up hotel rooms with any sort of value and enjoy favorable hiking conditions.
But Winter is also a fantastic time to visit Zion in our opinion.
Our December visit was so much more relaxing compared to our October visit. We were able to pick up a next day permit for The Subway and scored a cheap hotel room in Springdale.
Summer brings out the Disneyland crowds in Zion, plus it's hot and hotel rooms in Springdale inflate their prices substantially.
If you only have one day to spend in Zion National Park, it is important to choose the time of year you visit wisely. Overcrowding can prevent you being able to see the best views or hike the popular trails in Zion.
Read our in depth guide to the best time to visit to Zion in which we break things down by season and month.
Best Hikes In Zion National Park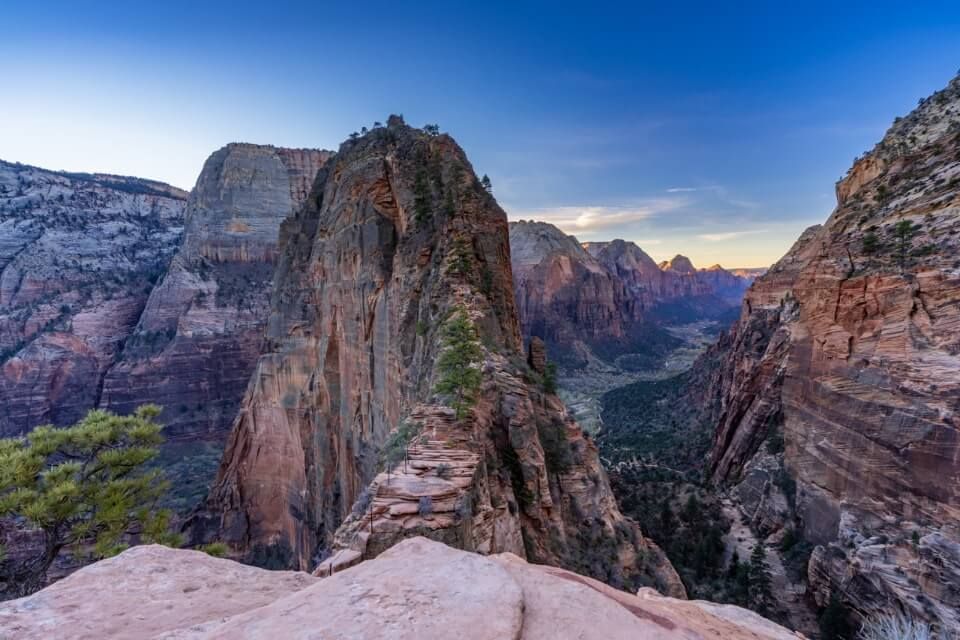 Angels Landing, The Narrows and The Subway are the quintessential adventure hikes in Zion. Whereas Emerald Pools and Zion Canyon Overlook are the top family friendly hikes.
But there are many more hikes in Zion suitable for all levels and hiking abilities.
Our incredibly popular guide to the 20 Best Hikes in Zion National Park goes into great detail about hiking and permit information.
Let's take a brief look at hikes in each difficulty category throughout all regions of Zion:
Easy Hikes
Pa'rus Trail – Easy hike, flat and paved for the entire family to enjoy starting at Zion visitor center.
Kayenta Trail – Connects the Grotto to Lower Emerald Pool, easy hike but moderate drop offs.
Riverside Walk – Flat and easy paved path leading to The Narrows trailhead.
The Grotto – Connects Zion Lodge to Scout Lookout and Angels Landing.
Weeping Rock Trail – Short family hike to a waterfall, but closed due to landslide.
Moderate Hikes
Emerald Pools Trail – Unmissable family hike to three pools and two waterfalls in the main canyon.
Sand Bench Trail – Very sandy and exposed trail shared with horse riders in peak season.
Scout Lookout Trail – Steep trail to the staging area for chain section to Angels Landing.
The Watchman Trail – Great hike starting at the main visitor center, perfect for sunrise or sunset.
East Mesa Trail – East Rim hike to Observation Point, requires 4×4 high clearance to reach trailhead.
Many Pools Trail – Relatively unknown hike to multiple small pools near east entrance.
Middle Fork Trail – Taylor Creek trail crosses a river multiple times before ending at Double Arch Alcove.
South Fork Trail – Hidden hike in Kolob Canyons through a box canyon to Namaste climbing wall.
Strenuous Hikes
The Narrows Trail – Bottom up day hike into Virgin river slot canyon is the most iconic hike in Zion.
The Subway Trail – Epic hike into Zion wilderness with a maximum of 80 daily permits and no obvious path.
Observation Point Trail – Hugely popular hike to one of the best viewpoints in Zion but closed as of Spring 2022.
La Verkin Creek Trail – Long but stunning hike in Kolob Canyons ending at Kolob Arch.
Wilderness Hikes
East Rim Trail – Starts at east entrance and leads to Cable Mountain, Deertrap Mountain and Observation Point.
West Rim Trail – Starts at Lava Point and descends into the main canyon via Angel's Landing.
Chinle Trail – Very quiet loop hike starting in Rockville joining with Coalpits Wash and Scoggins Wash.
Zion Hiking Permits
Zion's most popular hikes Angels Landing, The Narrows top down, and The Subway bottom up and top down all require permits. You must obtain hiking permits in advance or as a next day walk in permit on site in Zion.
It is important to note that day hiking The Narrows bottom up does not require a permit, so you can walk up this famous river slot canyon anytime throughout your visit to Zion.
You can choose between 3 time periods each day when you apply to hike Angels Landing. The Narrows top down and The Subway in both directions do not have time periods within each day.
Here are the permit information pages you need for each hike:
Is There Anything To Do In Zion Besides Hike?
Zion is overflowing with amazing things to do other than hike awesome trails but very few people know about it. Many activities are season dependent so you need to choose your dates carefully.
In truth, we have only ever hiked at Zion ourselves but that's because we love to hike and Zion is about as good as it gets for unique trails in a national park.
But if we were to return with our families, we would consider looking into other more inclusive activities. And that leads us nicely into the next section on the best things to do in Zion!
Best Things To Do In Zion National Park
Hiking is the best thing to do in Zion National Park and most people visit the park to hike. But if you look beyond the trails, there's a surprising amount of other ways you can spend you time in southern Utah's most famous park.
Let's take a look at some of the best things you can do in Zion National Park and add to your itinerary (other than hiking!):
Bike the Zion Canyon Scenic Drive
Rock Climbing and Canyoneering
Horseback Riding
Tubing on the Virgin River
Join a NPS led ranger program
Take a guided tour
Photography
See Checkerboard Mesa
Watch sunrise and sunset
Explore Springdale
Bird Watching
Drive through Zion
Driving Through Zion National Park
You can drive through Zion National Park from east to southwest but you can only drive through Zion's main canyon in the Winter months from December to mid March. This is one of the best reasons to visit Zion in Winter.
However, the drive you can all year is incredibly scenic.
Entering from the east entrance you will drive through the Zion – Mt Carmel Tunnel and zig-zag down into Pine Creek Canyon, before cutting through the canyon floor until you reach the Virgin River and Springdale.
Once in Springdale, you are situated in the southern parts of Zion's main canyon, with towering canyon walls flanking each side.
In Spring, Summer and Fall, the only way you can access the main Zion Canyon is via shuttle bus, bicycle or foot.
5 Awesome Ideas For Your One Day In Zion National Park Itinerary
OK, so now you know almost everything there is to know about Zion, let's piece the jigsaw together in a variety of ways so you can plan the perfect one day Zion National Park itinerary.
Each idea listed below is a completely different way you can day trip Zion. Figure out what you like the sound of and work it into your plans.
We will begin each itinerary in Springdale, which would assume you enter via South entrance or spend a night in the town before your full one day in Zion National Park.
In Winter you can drive your car into the canyon which makes a huge difference for how efficiently you get around.
However, most people visit Zion from Spring through Fall so we will assume you have to take a shuttle into the canyon.
1. Sightseeing – A Relaxing Way To Spend One Day In Zion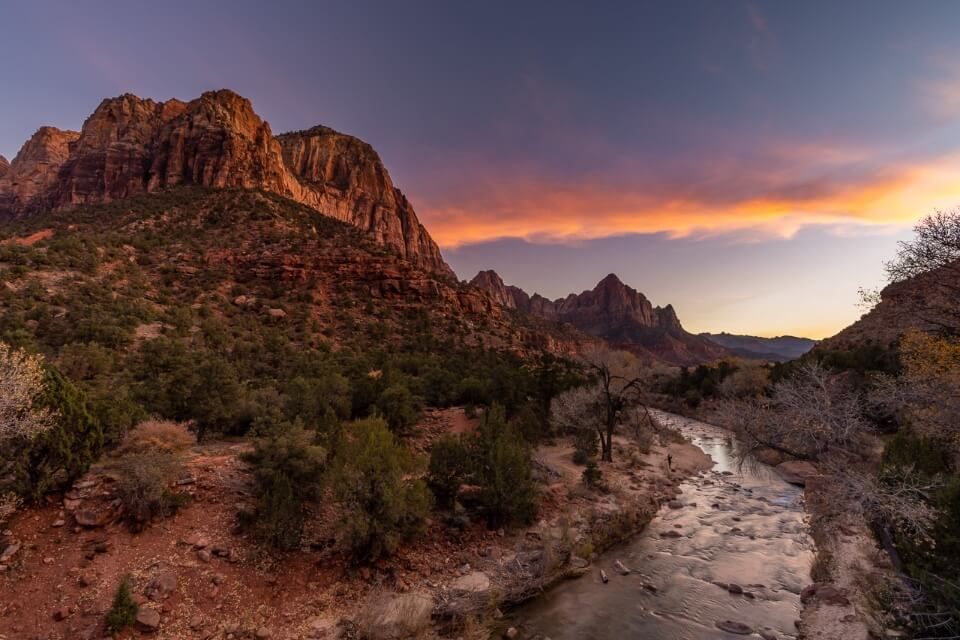 Let's start with a low key sightseeing day trip to Zion.
You would drive the most scenic roads and take a free shuttle into the main canyon during peak season to gently stroll around the riverside.
Here's how you could spend a relaxing one day itinerary in Zion:
Morning
8.00am – Jump straight on a free shuttle bus into Zion Canyon and get off at stop #6 – The Grotto.
9.00am – Eat breakfast on a picnic table surrounded by enormous canyon walls and colorful tree leaves. Look out for birds, deer and hikers starting or ending Angels Landing. you'll be able to tell the difference!
10.00am – Either walk half a mile to Zion Lodge or take the shuttle one stop back to #5 – Zion Lodge.
10.30am – Walk around the historic lodge and grab a coffee on the balcony terrace area for a different angle view of the West Rim walls.
11.00am – Walk along the Virgin River at the beginning of Emerald Pools Trail. Maybe even go as far as Lower Emerald Pool, which is accessible for wheelchairs and strollers.
12.00pm – Take a shuttle back to the main visitor center.
Afternoon
12.30pm – Grab lunch and a beer in Springdale (we'll cover restaurant options later).
1.30pm – Jump in your car and drive over to Kolob Canyons, enter and drive all the way to the end.
2.30pm – Walk up the very short Timber Creek Trail for spectacular views over Kolob Terrace and Kolob Canyons.
3.30pm – Drive back to the main canyon but go beyond Springdale and all the way up through Zion – Mt Carmel tunnel.
5.00pm – Drive as far as the small parking area for Checkerboard Mesa and take photos of unusual checkered patterns on the sandstone hill.
5.30pm – Turn around and pass back through the tunnel, but park up on one of the sharp U bends right in time for sunset.
6.30pm – Grab dinner back in Springdale.
Note: If you plan to drive onward to Bryce Canyon after Zion, simply continue to the east after Checkerboard Mesa or after sunset from the switchbacks on the main road.
2. Light Hiking – Combine Top Sights With Easy Hikes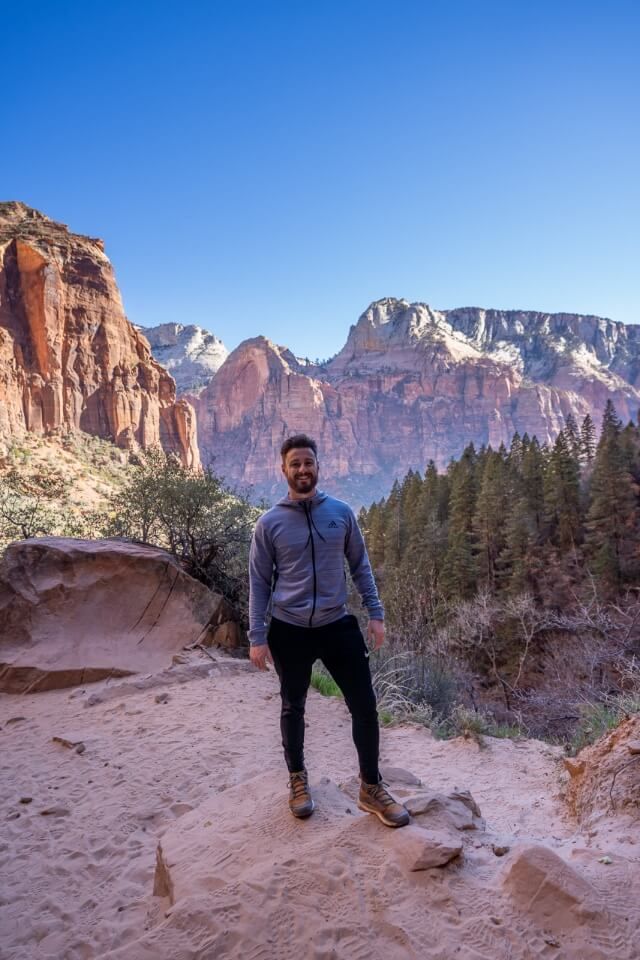 You can combine some light to moderate hiking with seeing the best sights in the main canyon. This is arguably the best way to spend one day in Zion National Park because it is the perfect compromise.
Here's how you could lightly hike your way through a Zion National Park one day itinerary:
Morning
7.00am – Hike The Watchman Trail for sunrise, it starts right behind the main visitor center in Springdale.
9.30am – Grab breakfast in Springdale.
10.30am – Walk along Pa'rus Trail to shuttle stop # 3 for Canyon Junction and then take another shuttle to stop #5.
12.00pm – Hike from Zion Lodge to Lower, Middle and Upper Emerald Pool.
Afternoon
1.30pm – Continue hiking along Kayenta Trail until you reach the trail for Scout Lookout and Angels Landing.
2.00pm – If you feel up to the steep climb, go up to Scout Lookout to see what all the fuss is about surrounding Angels Landing.
2.00pm* – Alternatively, take a shuttle to the last stop # 9 for Temple of Sinawava and hike Riverside Walk so you can see the start of The Narrows.
4.00pm – Shuttle back to the visitor center and hop in your car.
5.00pm – Drive up Zion – Mt Carmel highway and pass through the tunnel. Turn right the second you leave the tunnel and park in a small parking lot.
5.30pm – Hike to Zion Canyon Overlook right in time for a special sunset. Stay for stars if you're into astrophotography but don't forget your head torch.
7.00pm – Head back to Springdale for dinner or drive on to Bryce Canyon National Park.
3. Adventure Hiking – Spend Your One Day On The Best Adventure Trails In Zion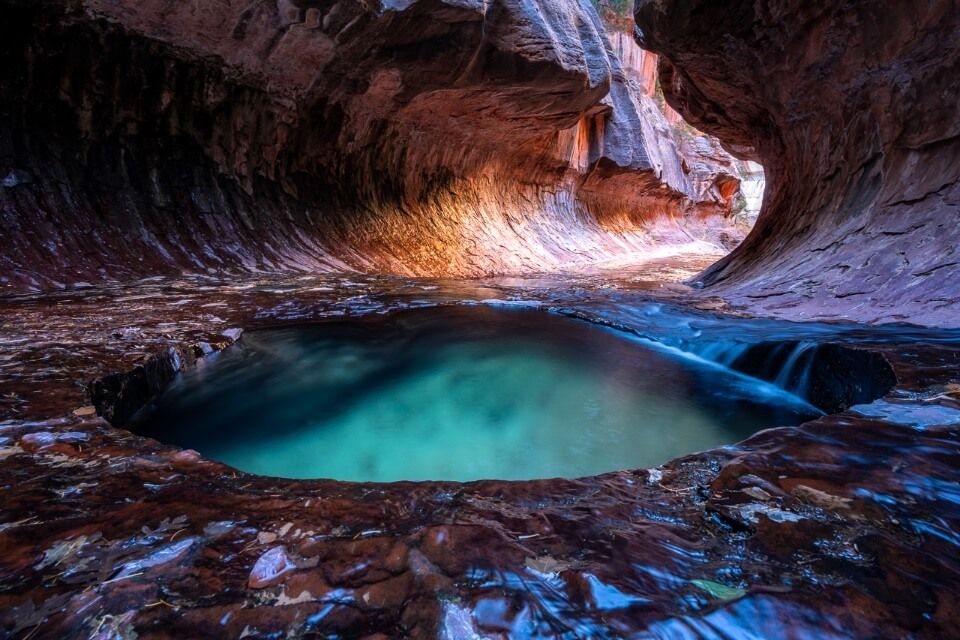 Most visitors to Zion National Park want to hike a combination of Angels Landing, The Narrows and The Subway. They are the three famous adventure hikes in Zion and we personally enjoyed every one of them.
But if you only have one day in Zion National Park, you are going to have to figure out exactly how you want to approach your adventure hike.
Hiking The Subway is going to take you pretty much all day. You would be able to include another shorter hike such as Zion Canyon Overlook but fitting in The Narrows is asking too much.
If you're a quick hiker and you get organized with permits ahead of time, you could hike The Subway and Angels Landing in one day but we would only recommend this if you are an experienced hiker.
Here's how you could spend one day in Zion if you're preferred itinerary consists only of adventure hiking:
Hike The Narrows
You can hike The Narrows top down or bottom up. Top down requires a permit and some canyoneering skills like repelling. So most people just day hike from the bottom up.
The beauty of hiking in The Narrows is that you can go as far as you feel comfortable, then turn around and go back on yourself.
However, if you want to 'complete' The Narrows, you have to hike all the way to Big Springs. You will know you reach Big Springs when you see 3 small waterfalls side by side.
We hiked to Big Springs during our first visit to Zion in October 2019 and it remains one of the most memorable hikes we've done to date.
Day hiking The Narrows bottom up took us 8 hours roundtrip so you need to give up your entire day in Zion to reach the end.
You need to be careful of high water levels and sudden flash flooding of the Virgin River inside the slot canyon.
Gear
If you want to have a realistic shot at reaching Big Springs in Spring, Fall or Winter, you will need to hire waterproof equipment from Zion Outfitter before entering the canyon.
The Dry Pants Package includes waterproof boots and pants, neoprene socks and a pole. You will not get far inside The Narrows without a pole, do not forget to take one.
For an additional charge you can also hire a waterproof backpack.
Remember to take plenty of food and water with you.
The hike is unique because you're submerged in water for hours with no sunlight but you will still sweat a lot underneath waterproof gear.
Hike Angels Landing and The Narrows
Can you hike both Angels Landing and The Narrows in one day?
Yes, you can.
But you will need to get your Angels Landing permit organized in advance so you can choose either the earliest or latest time possible.
If you win an Angels Landing permit for the middle time slot, you will struggle to get inside The Narrows.
We recommend you try to win a morning slot and go up Angels Landing for sunrise. During our second visit to Zion in December 2021, we hiked to the Angels Landing summit for sunrise and had the whole thing to ourselves.
Once you're down from Angels Landing, you will have to go back to the visitor center to hire your waterproof gear at Zion Outfitter, unless you visit Zion in Summer when the water is warm enough.
Take another shuttle all the way back to the last stop, hike Riverside Walk and you're in The Narrows. We would suggest aiming to go as far as Wall Street.
Wall Street is around 2 miles into The Narrows, for a total of 4 miles roundtrip wading through water. Watch your daylight hours and turn around at a sensible point!
Don't forget you still have to add in the mile back to shuttle stop #9 along Riverside Walk.
Hike The Subway
Similarly to The Narrows, you can hike The Subway either top down or bottom up. Both require permit but only the top down version requires you to rappel through narrow canyons.
The Subway is a phenomenal day hike in Zion National Park. Our favorite part of day hiking from the bottom up was the fact it is capped to just 80 hikers each day, which means you can seriously relax.
Hiking The Subway is going to take up the whole day for most hikers. So, any more hikes added on are just a bonus but don't count on them.
You will need to leave Springdale and drive to Virgin, before turning onto Kolob Terrace Road and parking at Left Fork Trailhead. You must display your bottom up permit on your dashboard.
Spend your day weaving through vegetation, crossing the river, lightly bouldering, climbing steep banks and effectively forging your own path.
Archangel Falls is stunning but The Subway tunnel and emerald pools are just extraordinary. We didn't want to leave!
4. Avoid Crowds – Skip The Main Zion Canyon And Hike In Kolob Canyons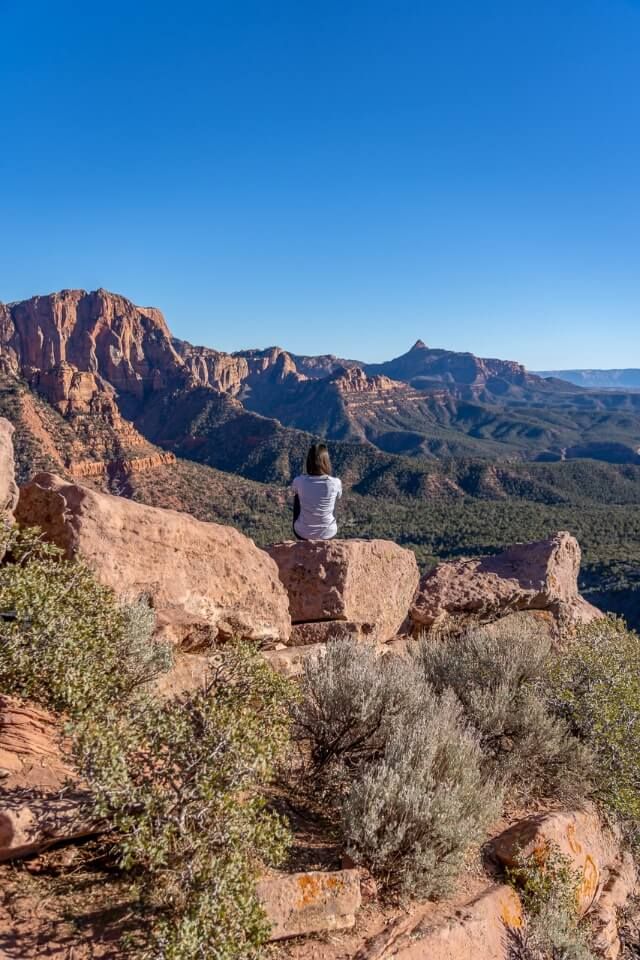 Kolob Canyon offers a quiet escape from overcrowding inside the main canyon. What many park visitors don't realize is that hiking in Kolob Canyons is incredibly scenic.
We think the implementation of permits for Angels Landing will lead to more visitors hiking in Kolob Canyons in future, so get in now while it's still quiet.
Here's how you could spend a peaceful day trip hiking in Zion:
Morning
8.00am – Drive to Kolob Canyons, pay to enter and check out the visitor center to make sure all trails are open.
8.30am – Park at the first parking lot on Kolob Canyon Rd and start hiking the Middle Fork of Taylor Creek.
9.45am – You will pass by 2 historic log cabins before reaching Double Arch Alcove, which is an awesome concave rock formation climax to the trail.
11.00am – Back at the car, drive round to the next parking lot which doesn't have any signs or obvious trails.
11.15am – Cross the road on the bend and you'll find a trail leading away, this is South Fork of Middle Creek and its our hidden hike lasting around 4 miles roundtrip, which ends at Namaste wall.
Afternoon
1.45pm – Drive to the next parking area at Lee Pass which is the trailhead for La Verkin Creek Trail. This is a 14 mile roundtrip hike so we definitely don't recommend trying to hike this one now.
2.00pm – After checking out the trail, get back in your car and finish driving to the end of Kolob Canyon Rd.
2.15pm – Hike the very short and easy trail to Timber Creek Overlook. This is one of the best viewpoints in Zion National Park and well worth the drive over.
3.30pm – Drive back to Springdale in time to hike The Watchman or Zion Canyon Overlook for sunset, or continue onto your next destination.
Note: There are no places you can eat or buy food inside the Kolob Canyons area of Zion. Take your own packed lunches, snacks and water.
5. Capture Landscapes – Spend Your Zion Day Trip Shooting Photography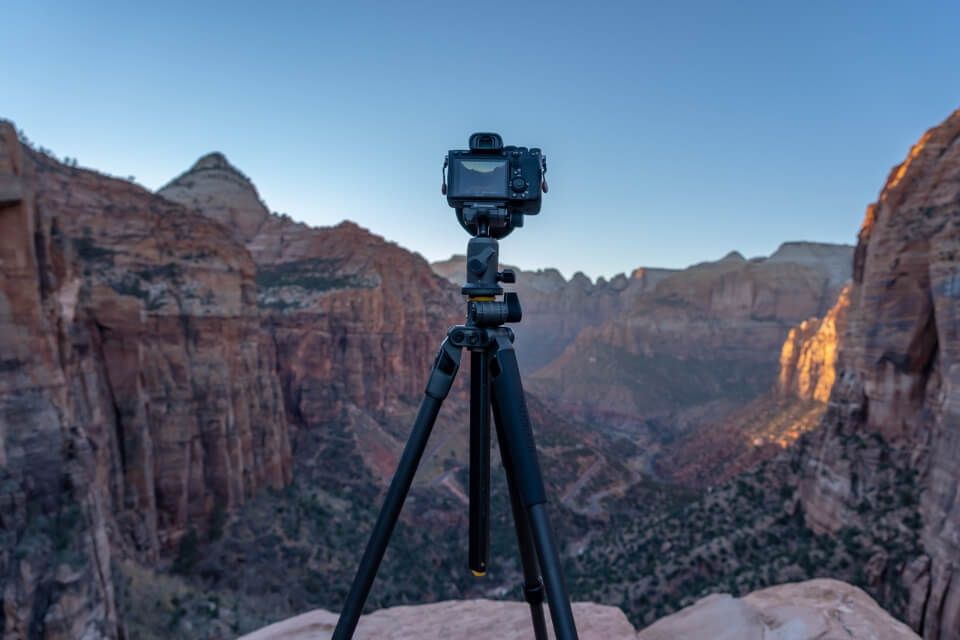 Zion is an incredibly photogenic landscape and there are many ways you can spend one day shooting the best locations from sunrise to sunset and stars.
After hiking most of the famous trails in Zion, our next visit will be a purely photography based trip and we can't wait to see the park from a different perspective.
Here's how you could spend one day in Zion with a photography only itinerary:
Morning
7.00am – Early start and head over to Zion Canyon Overlook to shoot an amazing sunrise. You can see Pine Creek Canyon illuminate as the sun rises behind you.
9.00am – Just a short distance east you can snap photos of Checkerboard Mesa and Many Pools.
10.30am – Head back down into the main canyon and walk the Pa'rus Trail for awesome canyon walls shots. You can also start shooting images of the Virgin River.
12.00pm – Shuttle to stop #5 for Zion Lodge and hike to Lower Emerald Pools for waterfall photography. You might need a tripod and ND filter for a classic smooth water effect.
Afternoon
1.00pm – Continue to Upper Emerald Pool for a second waterfall and a cool shot of towering sandstone walls converging.
2.00pm – Hike Kayenta to The Grotto to shoot a stunning part of the Virgin River, The Great White Throne and the hike to Angels Landing.
3.00pm – Consider hiking to Scout Landing for awesome down canyon shots. If you get a permit, hike some of Angels Landing with your camera but put it away for the narrow chain section.
5.00pm – Shuttle back but not all the way to the visitor center. Get off at Canyon Junction, cross the road and stand on the bridge looking back over Pa'rus Trail. You can photograph a quintessential Zion frame as the sun is setting.
5.00pm* – Alternatively, hike up to The Watchman for sunset.
2 Days In Zion National Park Itinerary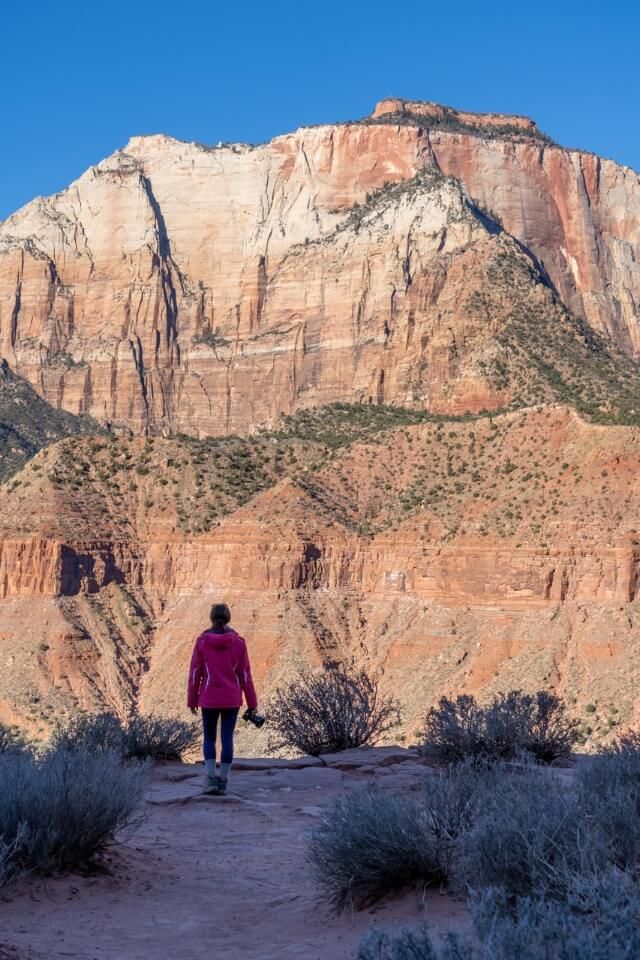 2 days in Zion National Park allows you to slow down, relax and combine many of the best hikes with the most amazing viewpoints. You won't have to sacrifice on one of the famous adventure hikes but you still won't have time to do them all.
We know this is a guide on how to spend one day in Zion National Park but it can't hurt to show you examples of what you could do with more time!
One option is to simply combine any 2 of the 5 ideas above and create a 2 day itinerary for Zion National Park.
However, the benefit of having more time is that you don't need to compromise as much, which is what most of the ideas above are based upon.
Here's how hikers could spend 2 days in Zion National Park:
Day 1 Morning
Hike The Watchman for sunrise and grab breakfast back in Springdale.
Get a permit in advance and hike Angels Landing in the mid morning.
Hike along Kayenta to Emerald Pools Trail and see all three pools.
Day 1 Afternoon
Grab a late lunch in Springdale.
Drive up to hike around Many Pools and Checkerboard Mesa.
Hike Zion Canyon Overlook for sunset.
Day 2
Spend the whole day hiking The Narrows or The Subway.
Or spend the whole day hiking in Kolob Canyons.
3 Days In Zion National Park Itinerary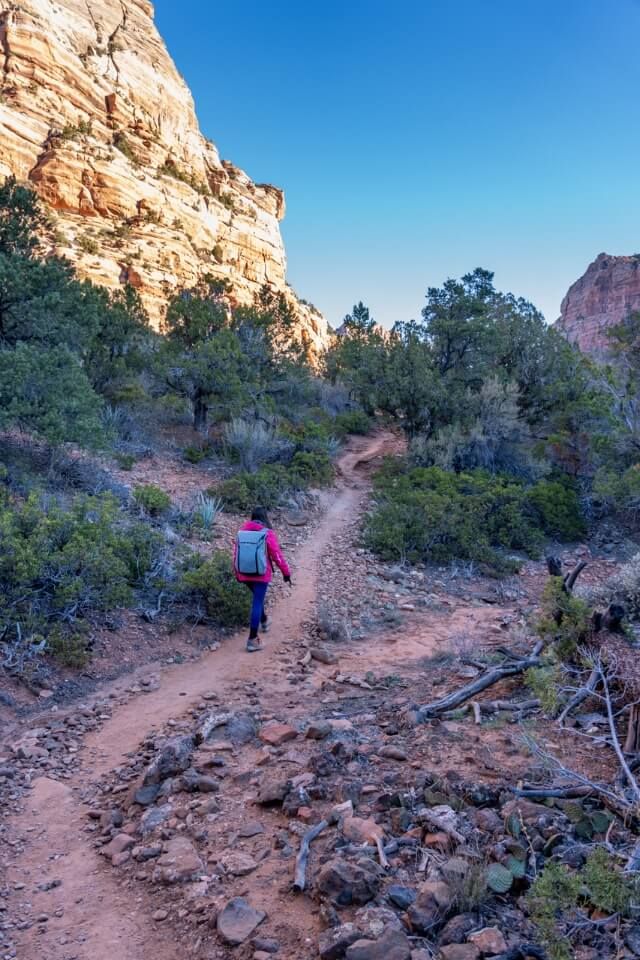 3 days in Zion National Park allows you to create any kind of itinerary you like, including all of the best adventure hikes, viewpoints, photography locations and even popular sunrise or sunset spots in the park.
If this is your first time visiting Zion, we would suggest you try to allow for a minimum of 2 days but 3 days would be better.
Here's an example of what you could do with a 3 day Zion National Park itinerary:
Day 1
Spend the whole day hiking The Narrows bottom up.
Day 2
Hike Angels Landing, Emerald Pools, Pa'rus Trail and The Watchman during the day.
Finish with Zion Canyon Overlook for sunset.
Day 3
Spend the day hiking The Subway bottom up.
Alternatively spend the day hiking Middle Fork, South Fork and Timber Creek Overlook in Kolob Canyons.
Where To Stay In Zion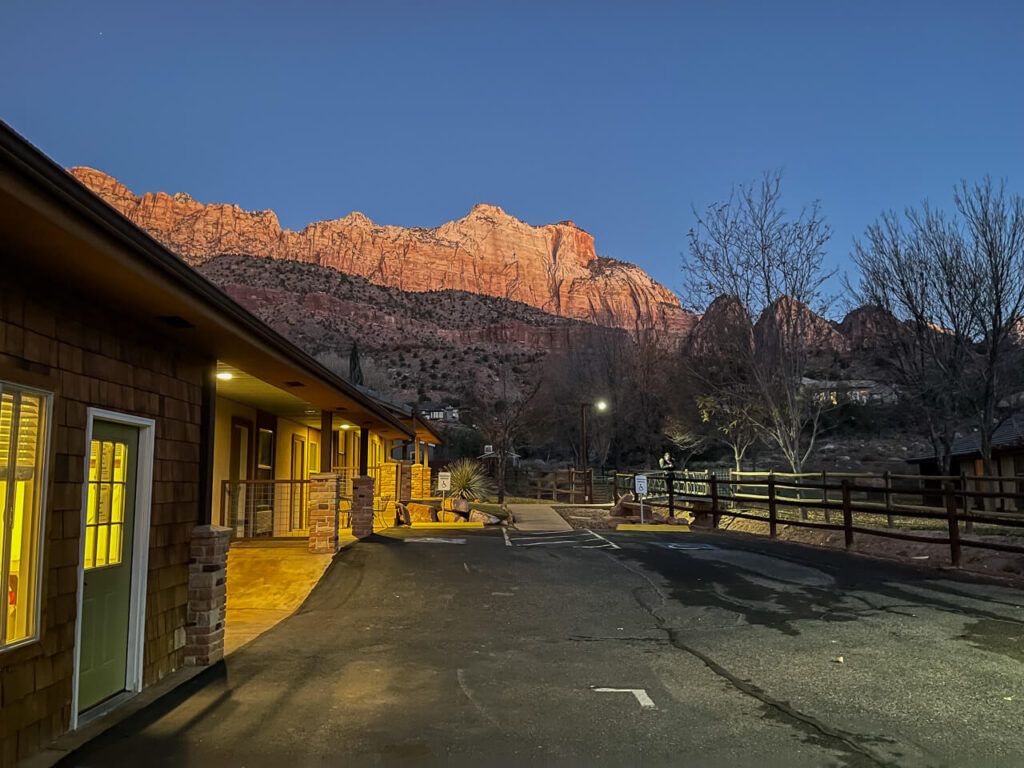 Springdale is the best place to stay near Zion National Park but Virgin, La Verkin and Hurricane offer more affordable back up options for those on a low budget.
We've stayed a night in each of La Verkin, Hurricane, Zion Lodge and Watchman Campground, as well as two nights at different hotels in Springdale.
So we've got a good idea about which places work best on a visit to Zion!
Even if you're planning a one day itinerary for Zion National Park, you still might need to spend a night nearby either before or after your trip.
We've written a complete guide on exactly where to stay in Zion National Park, which explains each area in detail to help you make the best decision on a hotel.
Here's a summarized version if you're short on time:
Zion Lodge
Zion Lodge is the only official national park run accommodation option in Zion, but we have to say we were left unimpressed.
It is overpriced and overrated in our opinion.
You can choose between a hotel style room or a semi detached cabin. Breakfast is included but you'll have to pay extra for coffee.
You'll find two restaurants and a gift shop on site. Both eateries are poorly rated on google and there are much higher quality options in Springdale.
You can book a room in Zion Lodge directly here.
Or try to find a better deal with TripAdvisor here.
Best Hotels In Springdale
Springdale offers a wide range of fantastic hotel options and amenities, all within walking distance of the Zion Canyon shuttle.
Hotels in Springdale are close to the park entrance and you don't have to worry about getting a parking space at the visitor center, just leave your car in the hotel parking lot.
The only downside is hotels here do inflate prices in the Summer months during peak season. You will pay for the convenience, but it is well worth it.
Here are a handful of the top rated hotels in Springdale with ratings as per previous guests:
Budget
Mid-Range
Luxury
Alternative Options
Virgin, La Verkin and Hurricane offer more affordable hotels because you lose the convenience of being right on the doorstep of Zion National Park.
If you can't find availability or you are priced out of a room in Springdale, check prices at these hotels:
Still can't find anything?
Consider camping at either South campground or Watchman campground.
But you'll need to be quick as campsites fill up as soon as they are released.
Where To Eat In Zion National Park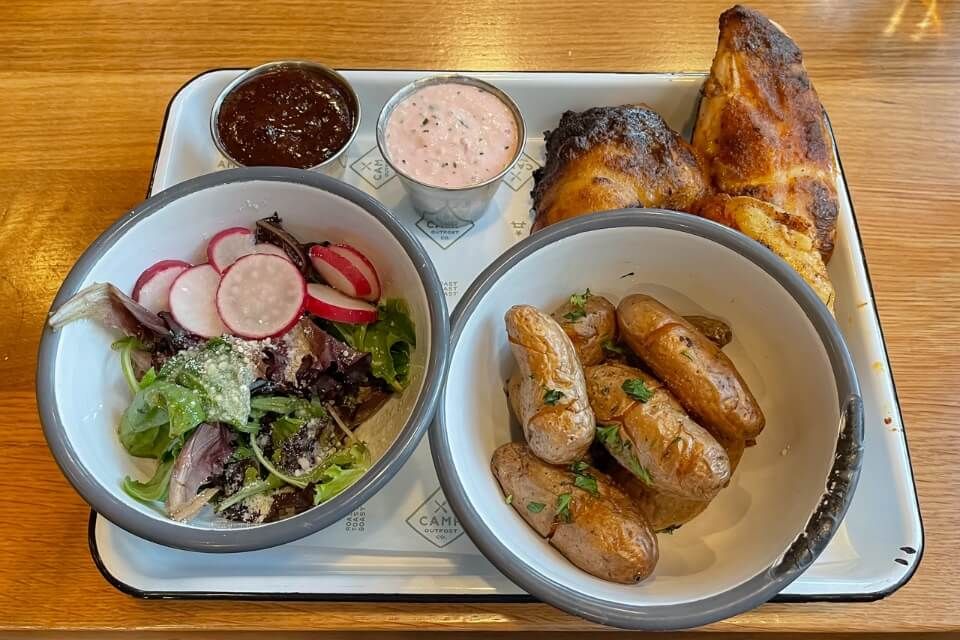 Zion is fortunate to have the town of Springdale on its doorstep. Along with a wonderful selection of hotels comes a whole host of excellent places to eat.
The same can't be said of many other popular US national parks, so we're grateful for Springdale!
Here are some of the top rated places you can check out for coffee, breakfast, lunch and dinner in Springdale:
You are spoiled for choice when it comes to eating out in Springdale when compared to the likes of Yellowstone, Yosemite and Grand Canyon.
There are plenty more options that we didn't cover, but we'll let you unearth them yourself during your visit to Zion National Park!
Read More About Zion National Park
Read More Itineraries
We hope this guide to the perfect one day in Zion National Park itinerary helps with planning your trip!
Have you been to Zion? What would you do with just one day in the park?
Please let us know if you have any questions or need help planning your visit by commenting below.
Happy Travels,
Mark and Kristen
Was This Post Helpful? Pin In For Your Visit!