Are you looking for a list of the best places to stay near Zion National Park in Utah? We are going to go one step further and show you exactly where to stay in Zion by rounding up the top rated hotels in Springdale, Virgin, La Verkin and Hurricane, before breaking them up into cheap low budget, mid range and luxury options for your visit.
We have personally visited Zion twice and stayed in each of Springdale, La Verkin and Hurricane. Plus, we also spent a night in Zion Lodge, which is the only national park run accommodation option inside Zion Canyon.
What about camping in Zion? Yep, you guessed it, we also spent a night in our big blue tent in Watchman Campground.
So we are well equipped to give you the best rundown on lodging in one of the most popular US national parks. Most people are here to take on the best hikes in Zion, but where you stay can have a huge impact on your overall experience.
Let's take a look at where to stay in Zion National Park and find you the best hotel for your budget!
*Please note this post may contain affiliate links. If you click on one, we may earn a small commission at no extra cost to you. Thank you for supporting the free content we provide! Read more in our disclosure policy.*
What Is The Closest Town And City To Zion?
Springdale is the closest town to Zion National Park and is within walking distance of the main visitor center and entrance. The closest small cities to Zion are La Verkin and Hurricane, while the closest large city is St. George, which is around 42 miles from the main canyon.
However, Springdale is by far your best bet for where to stay in Zion and we very strongly recommend you begin your hotel search here. There are plenty of options in Springdale, but you will pay for the convenience.
If you're looking for the closest major airport to Zion, you will have to travel 160 miles southwest to Las Vegas for McCarran international.
How Many Nights Should You Stay In Zion?
Two full days and one night in Zion is enough time to explore the best hikes, scenery and viewpoints if you're quick. But if you're looking for a more relaxing Zion experience, we recommend you book 2 nights and stay for 3 days.
Remember, even if you only have time for a one day Zion National Park itinerary, you may need to consider staying near Zion for a night either before or after your full day of exploring.
The only reason to stay 3 nights or more is if you plan to seriously hike all of the most famous trails, such as getting a permit for The Subway and venturing over to hike in the quieter Kolob Canyons area of Zion.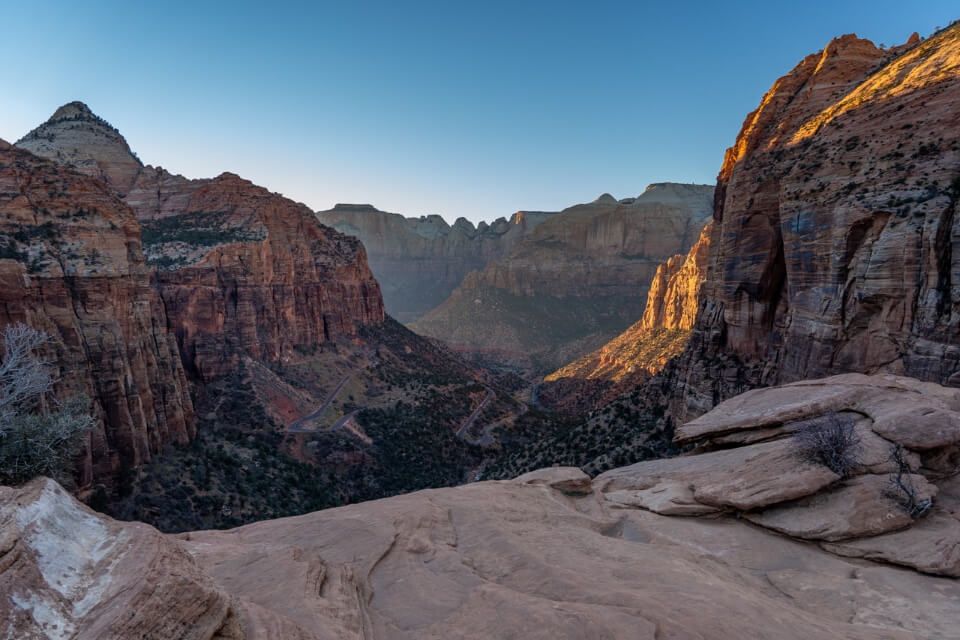 Where To Stay Inside Zion National Park
If you want to stay inside the boundaries of Zion in official National Park lodges, you have only one option and that is the aptly named Zion Lodge.
The historic lodge has a wonderful location half way up Zion Canyon scenic drive. It is directly opposite Emerald Pools Trail, one of the most popular family friendly hikes in the park.
A hotel and several semi-detached cabins make up your room options at Zion Lodge. You will find a gift shop and two on site restaurants, Castle Dome Cafe and Red Rock Grill.
Both are rated poorly by previous guests on google.
We have to admit we find it baffling that there aren't any higher quality places to eat at the lodge, considering the price you pay to spend a night here and the fact that Zion is one of the top national parks in the USA.
Our Experience In The Zion National Park Lodge
We spent a night in a semi-detached cabin and we have to say it really wasn't great.
Our loud neighbors didn't help but the door connecting the two cabins had huge gaps around the frame so sound proofing was non existent.
The cabin wasn't particularly clean and although breakfast was included in the price, we had to pay extra for coffee. Little things like this just kept adding up.
The worst part is we paid more for 1 night at the lodge than we did for our previous 2 nights in Springdale.
On a positive note, we did roll out of bed early, throw on our head torches and hike directly to Angels Landing for sunrise.
The location of the lodge is its major benefit. But you will pay for the convenience.
Need a hand organizing your visit to Zion?

Our popular 40+ page Zion National Park Guidebook can help you with planning every aspect of your trip.
Book A Room At Zion Lodge
We're not trying to put you off booking a room in Zion lodge. On the contrary, we just want to give you the most honest information we can from our own experience.
Eating breakfast in the restaurant overlooking Zion's spectacular canyon walls was by far our favorite part of staying in Zion Lodge.
If you would like to book a room or cabin in Zion Lodge, you can do it in two ways:
Book directly through Zion Lodge reservations.
Try to beat the price with Hotels.com.
Where To Stay Near Zion National Park
Springdale, La Verkin, Hurricane and Virgin are the four closest places you can stay near Zion National Park. Alternatively, you could stay in Las Vegas and day trip to Zion.
Remember, Zion is among the best places to visit in the US and it is always busy, which means there are plenty of hotel options available at competitive price points.
Staying in each of the cities and towns has pros and cons, so let's take a brief look at each place.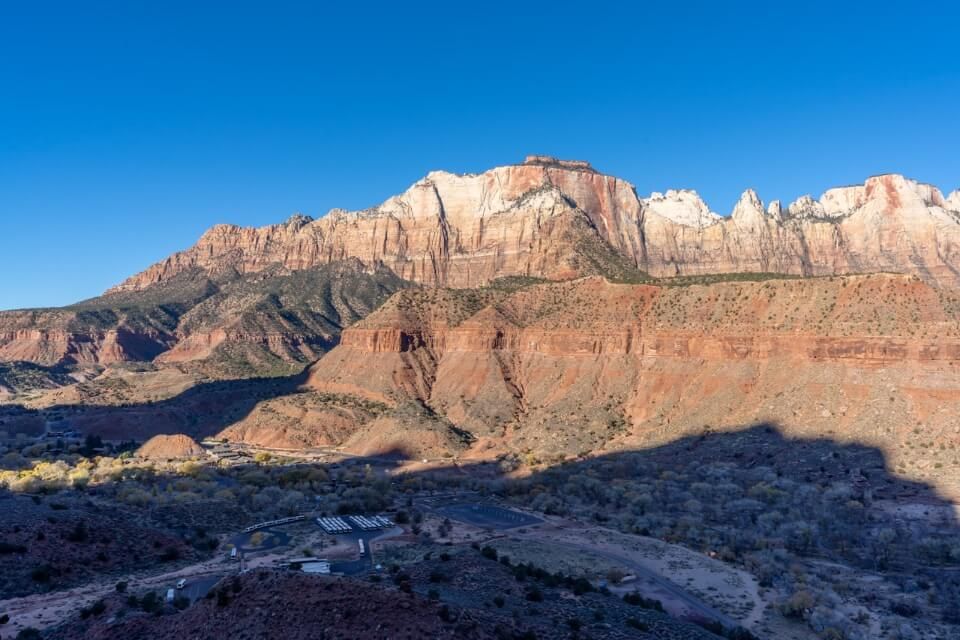 Why Stay In Springdale?
Springdale is by far the most convenient and best place to stay near Zion. It is quite literally on the doorstep of the national park and has around 20 excellent hotel options.
We personally think that having the town of Springdale as a place to stay for visiting Zion is one of its greatest attributes.
Have you visited Mt Rainier or Yosemite?
You will know how frustrating it can be trying to find a place to stay within day trip distance of the park. Imagine if those parks had a town with more than a dozen quality and highly rated hotels right on the doorstep?!
That is what Springdale is for Zion.
But it's not just a great selection of hotels. You will also find a handful of fantastic restaurants, cafes and grocery stores in town.
Our favorite restaurants in Springdale include:
Another bonus to staying in Springdale is that you can hire waterproof gear in town before heading into the canyon.
If you want to day hike The Narrows bottom up between Fall and Spring, you are going to need to hire waterproof pants and boots, as well as neoprene socks. You can even hire a waterproof backpack.
Where do you hire the gear? Zion Outfitter.
Zion Outfitter is located right at the visitor center in Springdale, which means you can pick up your gear on the way into the canyon and your hike inside The Narrows.
How Far Is Springdale From Zion?
Springdale is just 1 mile from the main visitor center and park entrance to Zion National Park. That's a 3 minute drive or a 20 minute walk. We're classifying Zion Pizza & Noodle as downtown Springdale.
You might want to drive that 1 mile if you visit Zion in Winter, but any other time of year you have an option to walk to the Zion canyon free shuttle stop.
The best part?
Getting parked up around the visitor center is nuts in peak season. You can leave your car at your Springdale hotel and walk or take a village shuttle from the town to the visitor center.
If you're asking yourself "where should I stay?" on your visit to Zion, Springdale should be top of your list.
Best Hotels In Springdale
Springdale is overflowing with excellent hotels near Zion National Park but you are going to have a lot of competition in peak seasons.
Booking a few months in advance is a great way to guarantee a room and get better value for money, especially in Summer.
Hiking in Zion is among the most fun things to do in Utah and hotels in Springdale are the preferred choice for most visitors, so it pays to be organized when planning this vacation.
We will list more hotels here versus any other section in this guide because the selection and quality of lodging in Springdale is far superior.
All hotels in Springdale offer free parking, free wi-fi and almost all of them have a fitness center. Check every hotel to find the best price and best options for your dates of travel.
Here are the best hotels in Springdale:
Budget Hotels In Springdale
Mid Range Hotels In Springdale
Luxury Hotels In Springdale
We spent a night at Springhill Suites by Marriott during our second visit to Zion in December 2021 and it was fantastic.
The Hampton Inn is directly next door and also looks great.
However, next time we are in Zion, we will try to book a room at Cable Mountain Lodge. The hotel looks fantastic, with outdoor pool, hot tub and exclusive picnic tables right on the Virgin River.
Plus, you could throw a stone from the hotel to Zion visitor center. It's top of our list for next time.
Be aware that prices for hotels in Springdale fluctuate excessively from day to day. We strongly recommend you check prices of every single hotel in each category to see if you can find an excellent deal.
Some days the hotels in our budget category will cost more than mid range and vice versa. It pays to spend 5 minutes checking.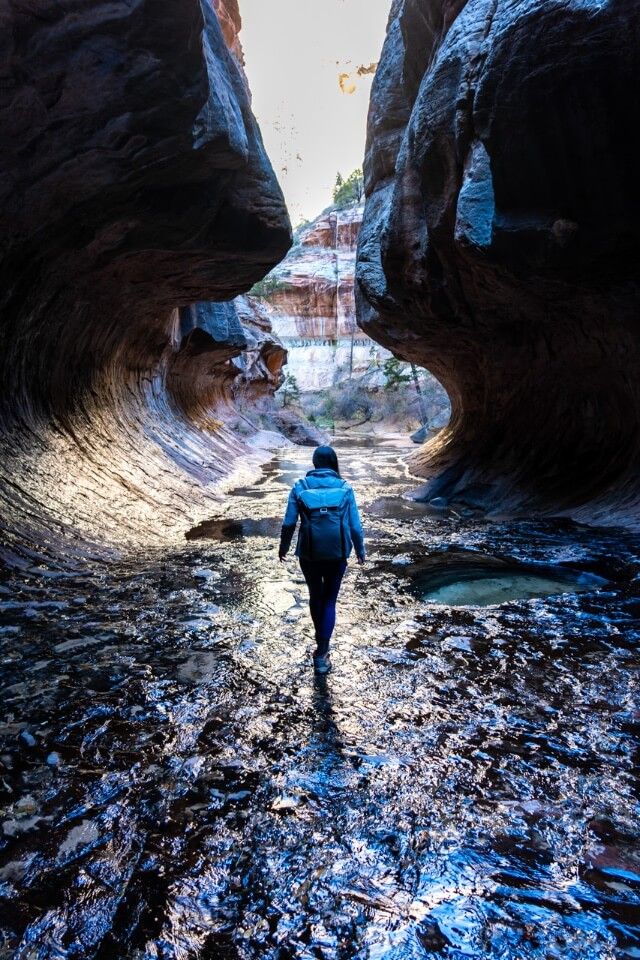 Why Stay In Virgin?
Virgin is the second closest town to Zion, but it is very small and only has one place you can eat called Balcony One. Fortunately, Balcony One has a great menu and is top rated on google.
There are 3 lodging options in Virgin, which we will get into later in this guide about where to stay in Zion National Park. Each is highly rated.
Virgin offers a peaceful escape from the crowds in Springdale, with just a short drive in and out of the park each day. This could be the perfect balance of compromises for certain visitors.
How Far Is Virgin From Zion?
Virgin is just 13 miles drive to the West of the main visitor center in Zion National Park. It will only take 15 minutes to drive from any hotel in the town to the main parking lot at the visitor center.
One of the best things about staying in Virgin is that you are at the entrance to the Kolob Terrace region of Zion. If you're planning to hike The Subway (which is one of the best hiking trails in Utah), you will have to drive to Virgin and take Kolob Terrace Rd.
However, if you're already in Virgin, you can save a good 15 minutes of drive time each way.
Best Hotels In Virgin
Virgin only has 3 lodging options but they all come with great reviews from previous guests. Only one is a traditional hotel, the other two are … an experience.
Check prices of hotels in Virgin if you're looking to get as close to Zion as possible but can't find availability or affordable rooms in Springdale.
Here's the list of accommodation you can consider in Virgin:
Mid Range Hotels In Virgin
Luxury Hotels In Virgin
Fairfield Inn is the only real brick and mortar hotel in Virgin and Zion Wildflower is more of a glamping under the stars option with tents and wagons.
Tiny Oasis is a very expensive proposition, but it does look pretty awesome. You would stay in an old fashioned train themed tiny house on wheels, with spectacular views and a hot tub.
We haven't stayed at any of these three hotels in Virgin ourselves but we would probably choose the Fairfield Inn for air conditioning in Summer and heat in Winter!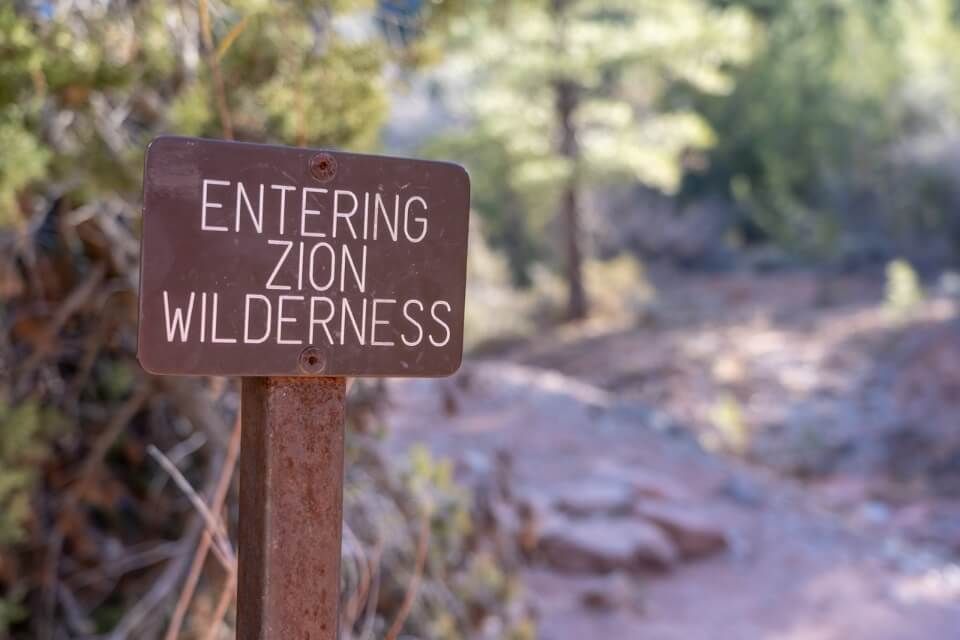 Why Stay In La Verkin?
La Verkin is the third closest place you can stay to Zion National Park main visitor center, but it is only slightly closer than Hurricane. The two small cities almost overlap, separated only by the Virgin River.
There are 4 lodging options we will discuss later in this guide for the La Verkin area. In addition, you can eat at a popular restaurant called Stage Coach Grille.
How Far Is La Verkin From Zion?
La Verkin is 20 miles to the West of Zion National Park and you're looking at a drive time of around 25 minutes if you decide to stay there.
The best thing about staying in La Verkin is that you are perfectly located for visiting each of the three major Zion areas.
If you plan to spend one day in each of Kolob Canyons, Kolob Terrace and the Main Canyon, La Verkin is the most centrally situated small city for day tripping to each area.
Best Hotels In La Verkin
Heading further out from Zion, La Verkin offers the least amount of quality hotels with top ratings.
Let's take a look at the 4 lodging options you have in La Verkin:
Budget Hotels In La Verkin
Mid Range Hotels In La Verkin
Luxury Hotels In La Verkin
The La Quinta hotel here is a good option, clean, modern and right on the road you take straight into Zion. You can't miss it on your way into Zion from anywhere West of the park.
We spent one night at the La Quinta on our way out of Zion in October 2019 and it was fantastic.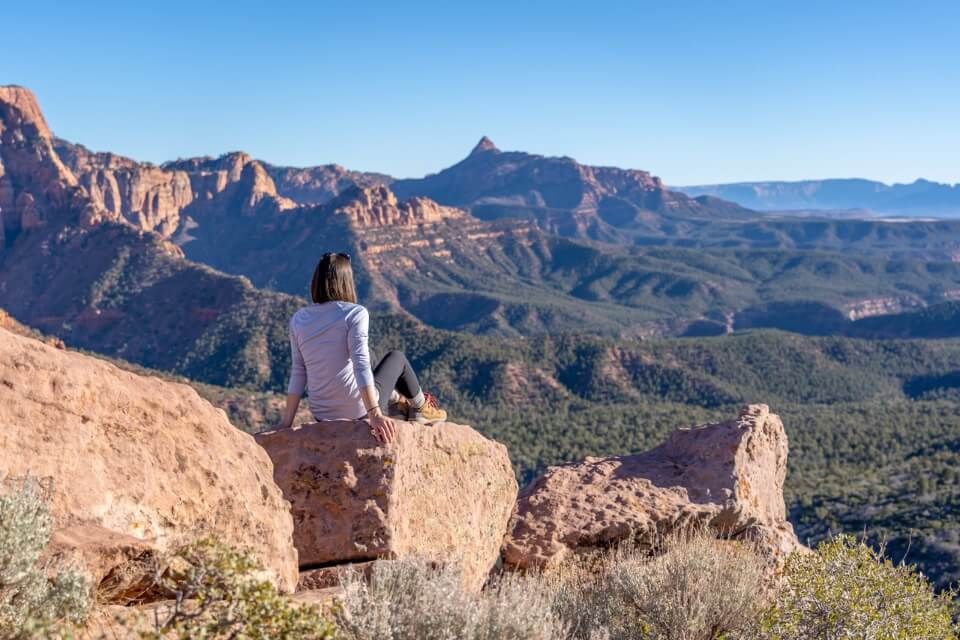 Why Stay In Hurricane?
Hurricane is the fourth closest place to stay near Zion National Park but it is the largest city within touching distance of the park. This is where you will find the closest typical fast food joints like McDonalds and company to Zion.
Along with a wide range of eateries comes a cinema, pharmacy, Walmart and a handful of lodging options for you to consider.
Hurricane has the most affordable hotels near Zion National Park for those on a tighter budget.
Top rated places to eat in Hurricane include:
How Far Is Hurricane From Zion?
Hurricane is 23 miles to the West of Zion, just 3 miles beyond La Verkin. Drive time from Hurricane To Zion visitor center is around 30 minutes.
Staying in the small city of Hurricane affords the same benefits as La Verkin of having a central location to each of the 3 main Zion areas.
However, half an hour drive into and out of the main canyon is bordering on frustrating. We've done it and we had to get a very early start in order to get a free parking spot at the visitor center.
Another way to look it at could be that Hurricane offers the best place to stay after leaving Zion if you need to crash for a night before driving down to Las Vegas for a flight.
St George is a much larger city with far more going on, but if you're looking for a quiet place to stay between Zion and Las Vegas, Hurricane offers the best location.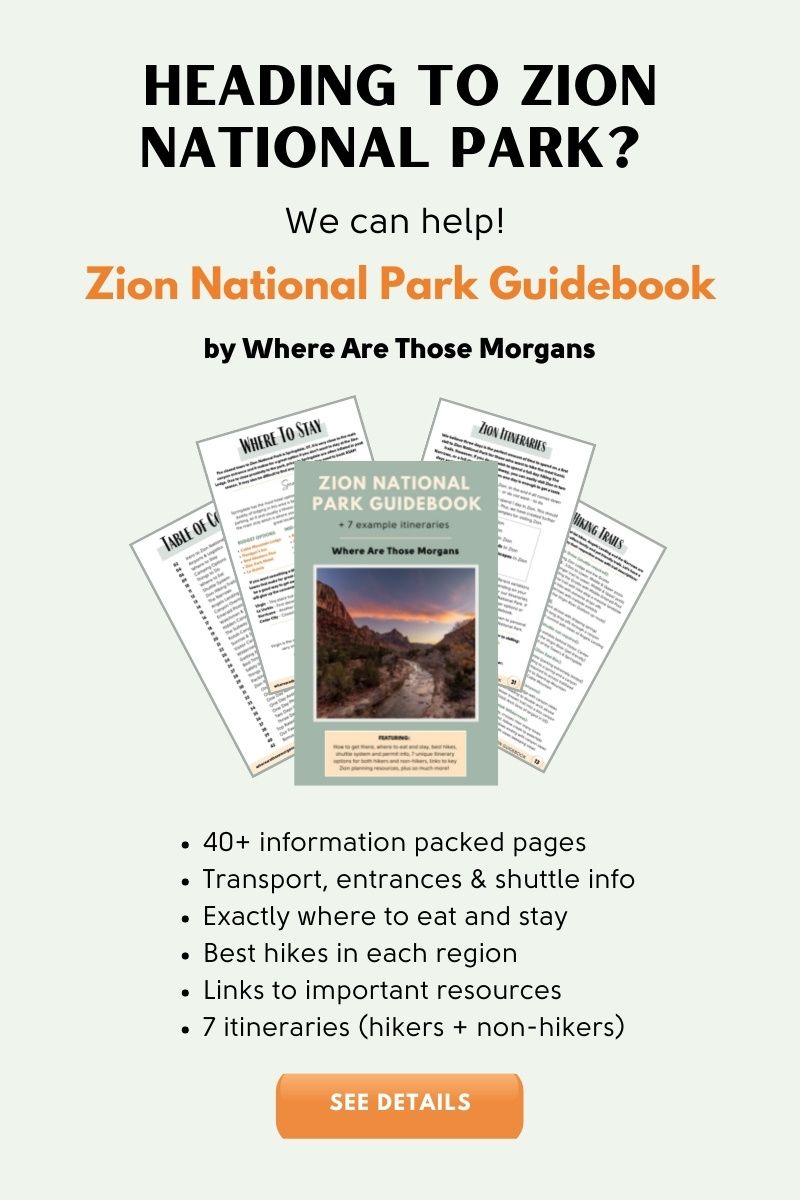 Best Hotels In Hurricane
Being the largest city in the area, you have more hotel options in Hurricane. However, there aren't any luxury hotels, so we will show you the best low budget and mid budget options.
Let's take a look at the best hotels in Hurricane, which are all very evenly priced and fall into the same mid range budget category:
Mid Range Hotels In Hurricane
We spent a night in the Sleep Inn and Suites hotel in Hurricane and it was excellent. The room was only around $70 because we visited in December.
Check prices of all 5 hotels to see if any of them are running special deals on your dates of travel.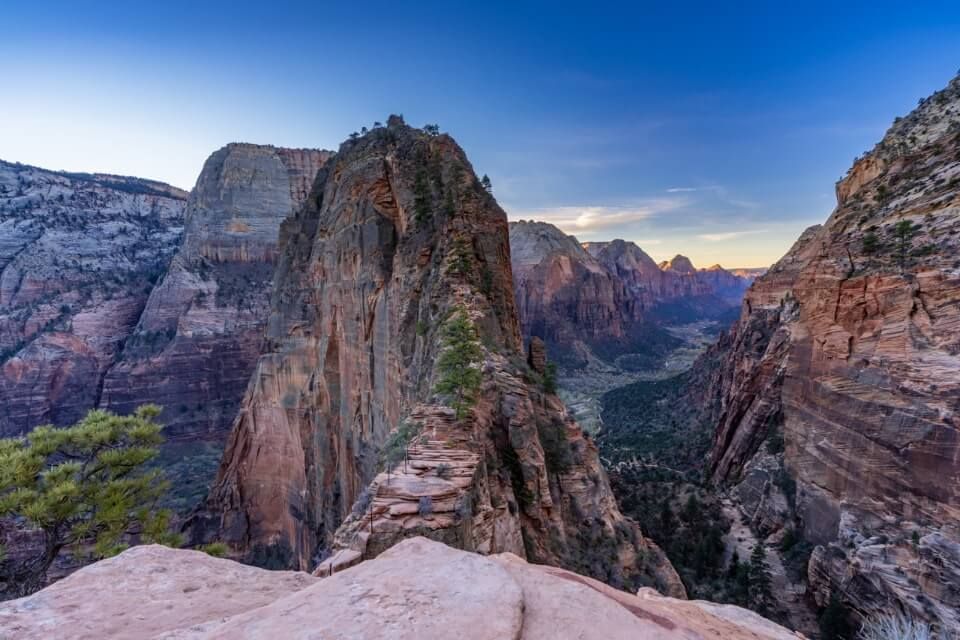 Bonus Areas To Stay Near Zion National Park
We have covered in depth the towns and cities near the main Zion canyon, but there are other places nearby that you can also consider.
Let's take a more brief look at your alternative options.
Zion Ponderosa Ranch Resort
Zion Ponderosa Ranch Resort is not technically inside Zion National Park boundary, but it is mighty close. Located through Mt Carmel – Zion tunnel and not far from Zion's east entrance, Zion Ponderosa Ranch Resort offers a rustic lodging option near the East Rim.
We're singling out this particular lodging option because it is borderline inside the park and near the park. So it gets it own category.
The reason we didn't mention it as a main contender is because despite being close to the park, it is still a 45 minute drive to reach the visitor center.
The Ranch offers glamping and converted wagon type accommodation but features plenty of outdoor activities including a seasonal swimming pool.
What makes it so great is easy access to hiking the East Rim to Observation Point on East Mesa Trail or to Cable Mountain / Deertrap Mountain.
This is also a great place to stay if you are heading to or from a hotel near Bryce Canyon National Park before or after Zion due to its location East of the main canyon.
Check prices and availability for your dates at Zion Ponderosa Ranch Resort.
Cedar City
Are you prioritizing Kolob Canyons on your visit to Zion National Park? You might want to consider staying in Cedar City, which is just 20 minutes drive from the Kolob Canyons entrance.
Cedar City is much larger than Hurricane but about half the size of St. George. So there are plenty of excellent dining and hotel options to choose between.
Here are the top rated hotels in Cedar City:
Budget Hotels In Cedar City
Mid Range Hotels In Cedar City
Springdale vs Zion Lodge
Springdale is a better place to stay versus Zion Lodge when visiting Zion National Park. Yes, the lodge has a slightly better location but it has very few amenities and it is far more expensive for very little in return.
Most people probably ask a similar version of this question before visiting Zion:
"Should I stay in Springdale or Zion Lodge when visiting Zion National Park?"
Well, let's break it down.
You must be wondering why there is only one park run lodge, right? You're not alone. We were racking our brains trying to figure this one out during our second visit to Zion.
At first we though it was down to the smaller size of Zion compared to other parks.
Think of Yellowstone, Yosemite or Grand Canyon South Rim lodges. There's just so much space for various clusters of buildings.
But then we realized it is because the town of Springdale is so close by and most people prefer to stay in the town because of all the amenities and a much better range of hotels suitable for all budgets.
There would be no point building more lodges inside the park because they likely wouldn't fill the rooms.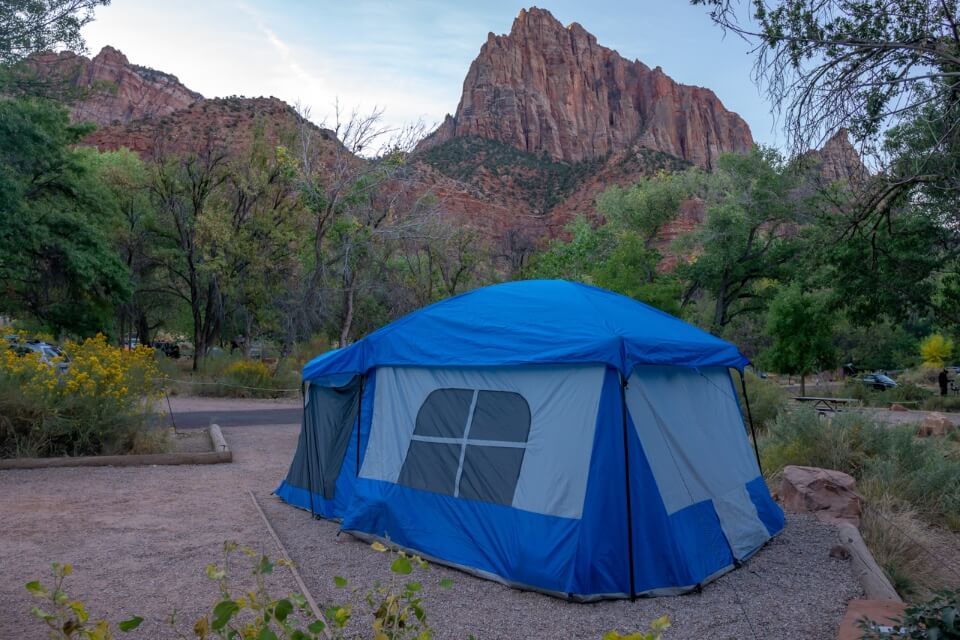 Best Time To Book Hotels Near Zion
The best value rooms in hotels near Zion National Park can be found in the Winter season, in early Spring and in late Fall. Hotels in Springdale inflate room prices significantly in Summer.
Our advice is to book your hotel in Springdale or any of the other nearby areas the minute you know your dates of travel to Zion. You can read our guide on the best time to visit Zion for more details on expenses.
We're talking about an insanely busy national park with millions of visitors each year all vying for the same hotel rooms. Booking months in advance isn't just a good idea, it is essential.
The first time we visited Zion in October 2019, there were very few rooms left in all of the Springdale hotels combined. And even those rooms were far too expensive.
So, we had to spend a night at the La Quinta in La Verkin. It was great but we didn't really want to be that far away.
The bottom line is you need to be extremely organized to avoid disappointment or paying well over the odds for hotels near Zion National Park.
Camping In Zion National Park
There are two major campgrounds in the main canyon of Zion National Park called Watchman and South. Lava Point campground is a third option but it is a one hour drive from Zion Canyon at the end of Kolob Terrace Rd.
If you can't find any hotels in Springdale but you don't want to stay outside the park, consider camping in Watchman or South campground.
Truth be told, you're going to have to get organized to camp in Zion. Imagine the volume of people who want to camp vs the amount of people who actually get a spot.
South campground has 117 reservation only sites but closes in Winter, whereas Watchman campground has 176 reservation only sites but stays open all year.
Something to consider is that we were able to book a one night stay in Watchman campground the day before we wanted the campsite.
It was October, which helped being out of peak season but it can be done as a backup. And let us tell you, it was freezing at night.
Maybe stick to those nice, warm and affordable hotels outside of Summer!
Our Popular Zion National Park Guides
More Where To Stay Guides
Want more Utah content? Head over to our Utah Travel Guides to explore the Mighty Five National Parks and beyond.
---
We hope this guide about where to stay in Zion National Park helps with planning your visit to the US Southwest!
Have you stayed near Zion? Which hotel and town did you stay in?
Please let us know if you have any questions or need help planning your visit by commenting below.
Happy Travels,
Mark and Kristen
Enjoy This Guide? Pin It For Your Visit!