Las Vegas is loud, extravagant and ludicrously expensive. But it is also one of the most unique and unmissable places to visit in the USA, and we love it. We are going to walk you through the 40 best free, cheap and fun things to do in Las Vegas, including 20 on the legendary strip and 20 off the strip.
Sin City, as it is infamously nicknamed, is a global icon visited by millions each year. The strip has evolved into a place for just about anyone, with endless amenities for couples, groups and families.
We have personally visited Las Vegas half a dozen times and we can't wait to show you the most popular things you can do on your own visit to Vegas!
Here's what we will show you in this guide:
20 fun things to do ON the Las Vegas strip
20 fun things to do OFF the Las Vegas strip
Are Vegas attraction passes worth buying?
Best things for families and couples to do in Vegas
Let's dive into the 40 best things to do in Las Vegas, Nevada!
*Please note this post may contain affiliate links. If you click on one, we may earn a small commission at no extra cost to you. Thank you for supporting the free content we provide! Read more in our disclosure policy.*
Is Gambling The Only Thing People Do In Las Vegas?
Let's address the elephant in the room right off the bat. Is it worth visiting Las Vegas if you're not into gambling?
Yes! Without question, Las Vegas is definitely worth visiting if you have no interest in gambling.
Don't be fooled into thinking that Las Vegas is about nothing but playing roulette or blackjack in the casino. On the contrary, many visitors to Las Vegas barely take a second glance at a slot machine.
Sure, the whole place is set up around extravagant and sometimes lavish casino hotels. But there are countless things you can do outside of the smoke infested gambling rooms.
Our job is to show you the best activities and attractions in and around Las Vegas. Casino's are just 1 of 40 in this guide.
What Is The Single Best Thing To Do In Las Vegas?
Let's suppose for a moment that you only have a few hours or half a day in Las Vegas.
Maybe you have a long layover at Harry Reid airport (it's not McCarran anymore) or you're on a business trip with very little downtime.
What should you do with your time? Or more to the point, what is the one unmissable thing to do in Vegas?
Well, the answer is simple.
You should start at the bottom of the strip and slowly walk to the top, absorbing every minute of the magical chaos and sensory overload.
Our Las Vegas Experience
Why should you listen to what we have to say about Las Vegas?
Well, we're seasoned visitors to Vegas and its awesome nearby attractions.
We know the strip like the back of our hand, we've stayed at 7 of the most popular Las Vegas hotels and we will be back again soon.
Say what you will about the place, but we do enjoy the odd long weekend or short midweek break to the glitz and glamour of Las Vegas.
20 Best Things To Do On The Las Vegas Strip
Let's get stuck into the Las Vegas activity action, starting with top things to do on the world famous strip.
Attractions are listed in no particular order, but look out for the activity cost at the beginning of each thing to do for reference.
1. Walk The Las Vegas Strip, Repeat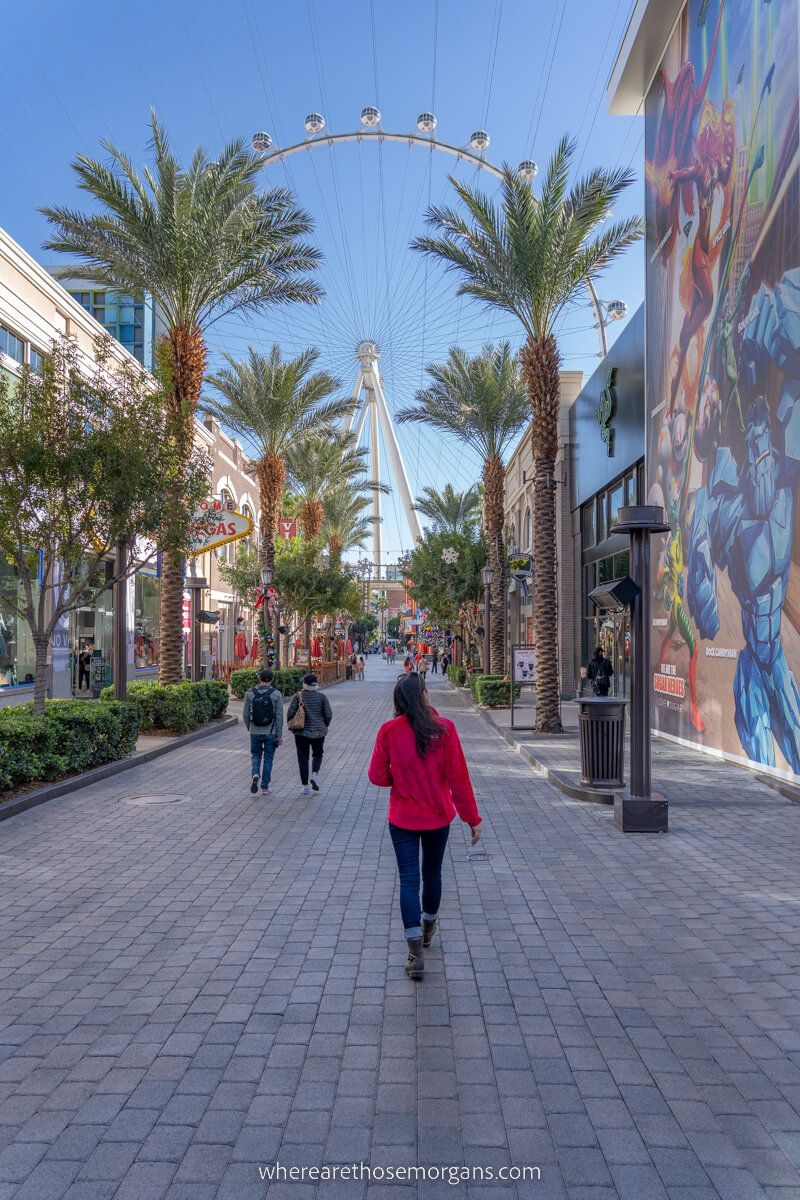 Cost: Free.
Walking up and down the strip is the best thing to do in Las Vegas and it is something you will naturally do over and over during your visit.
The strip is constantly busy, all day and all night. There are so many things to do and see as you walk the Las Vegas strip, and that's before you go inside all of the hotels you aren't staying in.
Just be sure to take your time, soak up the exuberant atmosphere and stop at everything along the way!
2. Explore The Iconic Las Vegas Hotels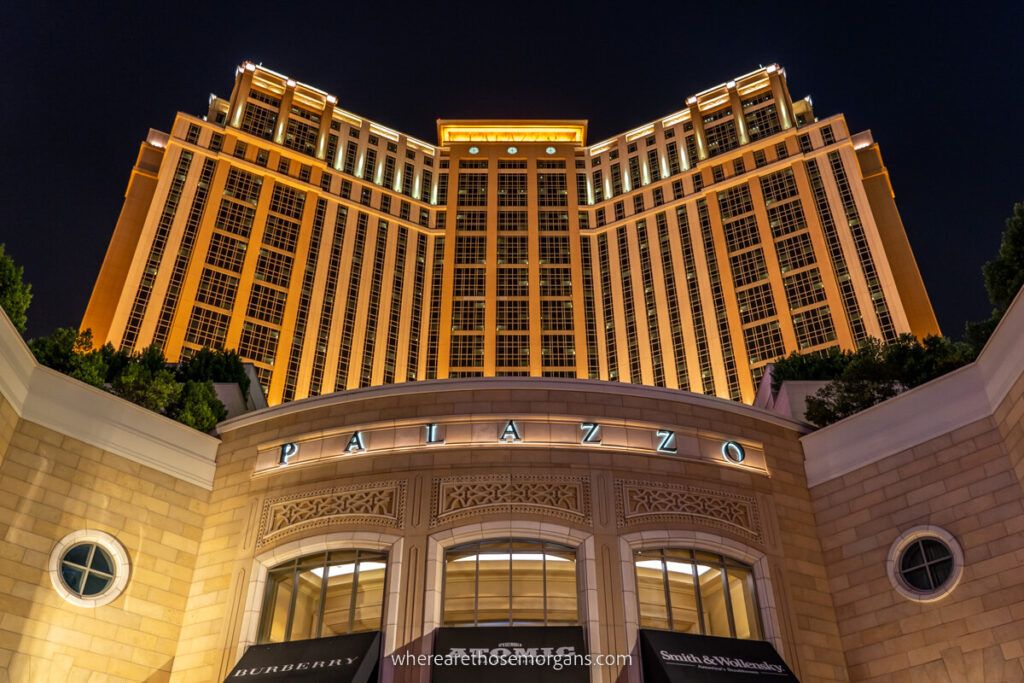 Cost: Free.
The unique and extravagant Las Vegas casino hotels are precisely what make this place so popular to visit. Make sure you explore every inch of the fun, absurd and lavish hotels on the Las Vegas strip.
The best part is that you can explore every hotel on the strip for free. Shop, eat, play, drink and admire the chaos!
Popular Hotels
Cool Mock Up Facades – Luxor, Excalibur, New York New York, Paris Las Vegas, Caesars Palace and Venetian.
Pure Class and Luxury – Bellagio, Wynn and Cosmopolitan.
Don't know which Vegas hotel to book? Read our in depth guide to the 25 best Las Vegas hotels on the strip to learn about locations, prices and quality.
3. Hit The Casino Tables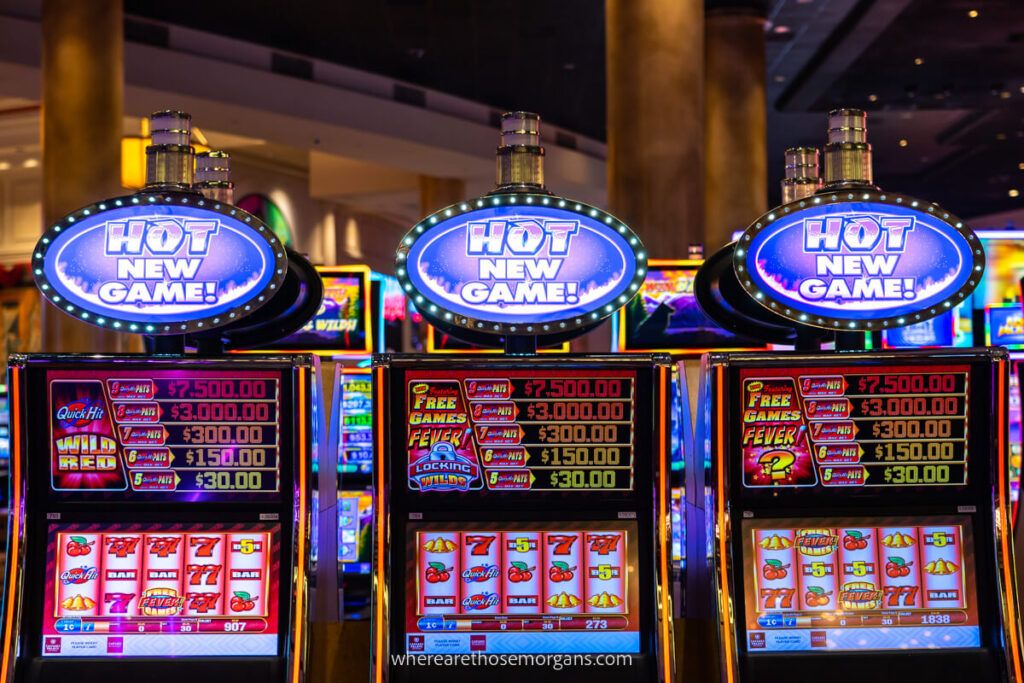 Cost: As much as you want to spend.
Like it or loathe it, there are a lot of people gambling at roulette, blackjack, poker and craps tables or playing slots in Las Vegas.
There is absolutely no pressure to spend a single dollar in a casino but it is at the heart of what makes this place run like a well oiled conveyor belt for tourism.
Our advice would be to pick an acceptable amount of money you are prepared to lose (because you will lose it!) and stick to that number. Stay away from the casino ATM!
Popular Casinos
Wynn Casino
Bellagio Casino
Cosmopolitan Casino
Venetian Casino
Aria Casino
Caesars Palace Casino
Luxor Casino
4. Eat At Celebrity Restaurants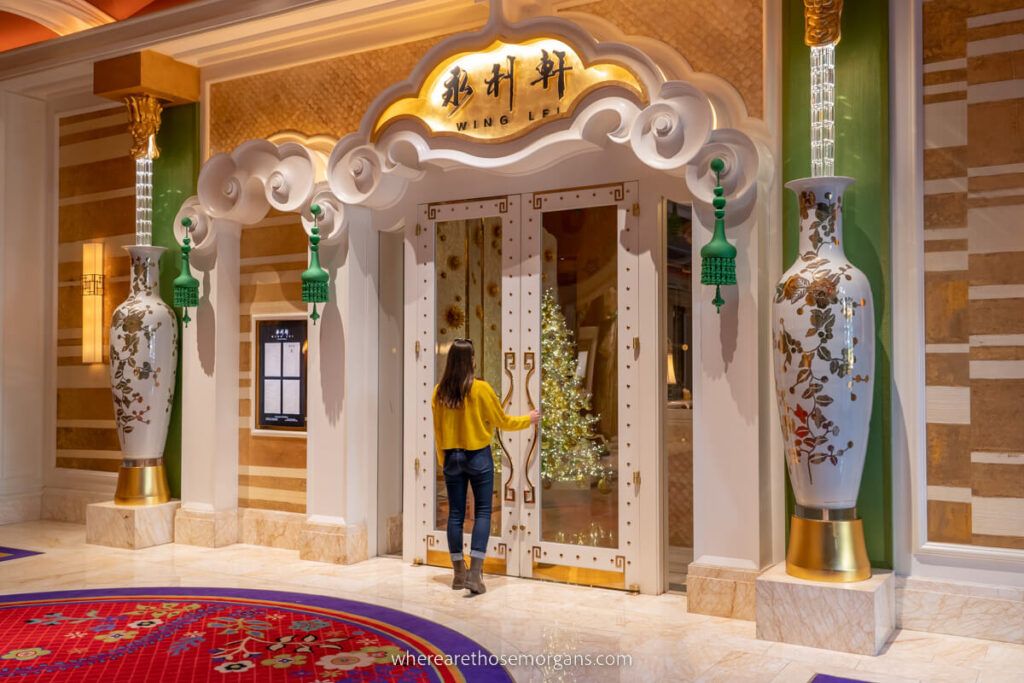 Cost: Cheap to very expensive.
One thing you have to do on your trip to Las Vegas is eat at a celebrity restaurant. Vegas has become the hottest property in the world for celebrity chefs and the competition is fierce.
You won't be able to miss the ever growing list of places Gordon Ramsay is opening, but there are seriously high end dining options hidden away in various hotels up and down the Las Vegas strip.
This is why it is so important to explore every hotel, you are certain to unearth a gem that suits your taste perfectly.
Are you looking to splurge?
Top Rated Las Vegas Celebrity Restaurants
Want to see more of the hidden celeb spots? Read our review of the Las Vegas Secret Food Tour which features stops at several celebrity eateries.
5. Have Fun In The Sun At A Las Vegas Pool Party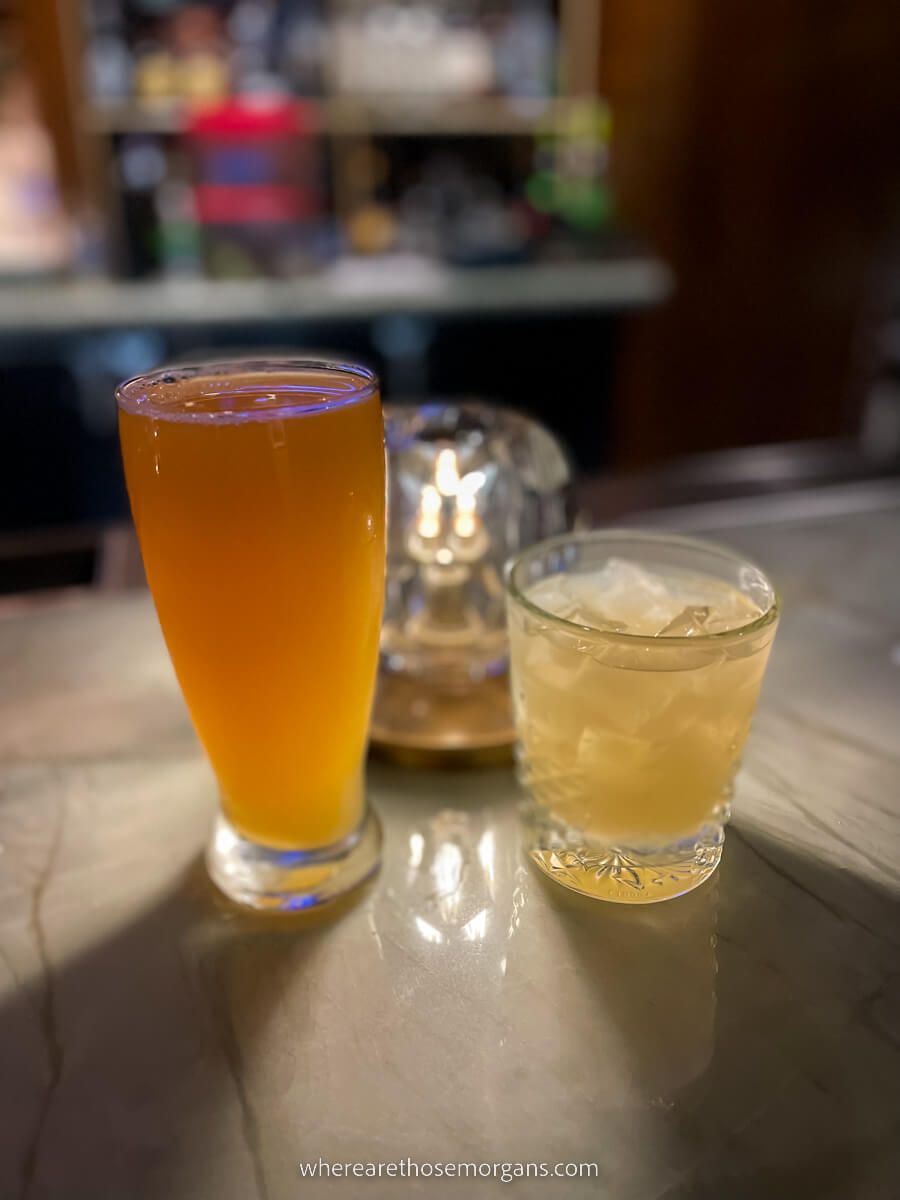 Cost: Cheap to expensive.
The younger crowd visiting Vegas should seriously consider buying tickets to a pool party for the ultimate fun in the sun.
Personally we think Las Vegas day parties are better than the nightclubs but that's just us. Simply head up to a pool, listen to DJ's blaring out the beats, drink (responsibly!) and mingle.
Check the Las Vegas pool party events schedule to keep track of which DJ's are playing at different hotel pools. It is going to get expensive the more you drink but it's why you're going to Vegas!
Top Vegas Pool Parties
6. Find The Top Happy Hour Spots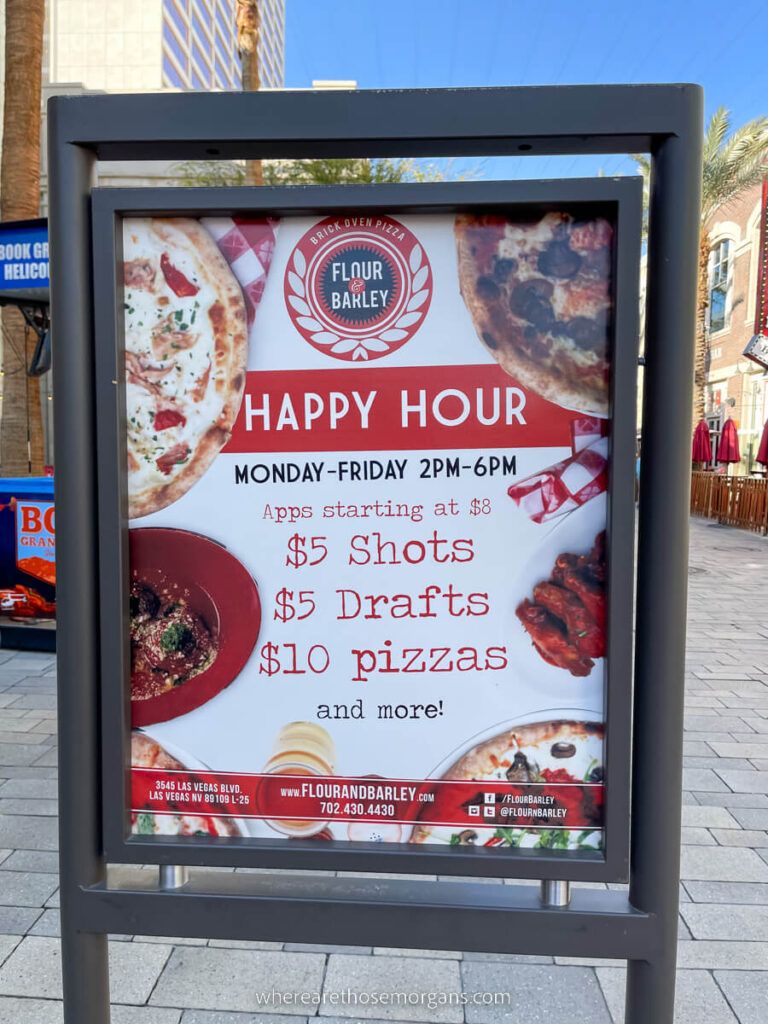 Cost: Cheaper than usual.
Not into the pool party scene or prefer to enjoy to drink a cheaper beer?
You need to figure out a great spot for people watching during those sought after and money saving happy hour periods.
There are several popular happy hour spots on the strip but they are spread out and surrounded by a sea of other bars, lounges, restaurants and fast food joints.
So you have to know where you're going.
Best Las Vegas Strip Happy Hours
Trevi – Popular Italian restaurant in Caesars Palace Forum shops offering discounted rates on booze from Monday to Friday between 3.00pm – 5.00pm.
Blondies – Sports Bar and Grill in Miracle Mile shops near Planet Hollywood. Monday – Friday from 3.00pm to 6.00pm is $20 drink all you can beers.
Peppermill – Hugely popular restaurant and lounge featuring happy hour every single day between 3.00pm and 6.00pm. The amazing Scorcese movie Casino was filmed here, north of the strip.
Grand Lux Cafe – Located in the luxurious Venetian and Palazzo you can find happy hour deals on food and drinks between 4.00pm and 6.30pm from Monday through Friday.
Flour + Barley – Shots, craft beers, cocktails and pizza all discounted Monday through Friday from 2.00pm – 6.00pm. Located in LINQ hotel.
7. Dress Up For Cocktails In A Fancy Lounge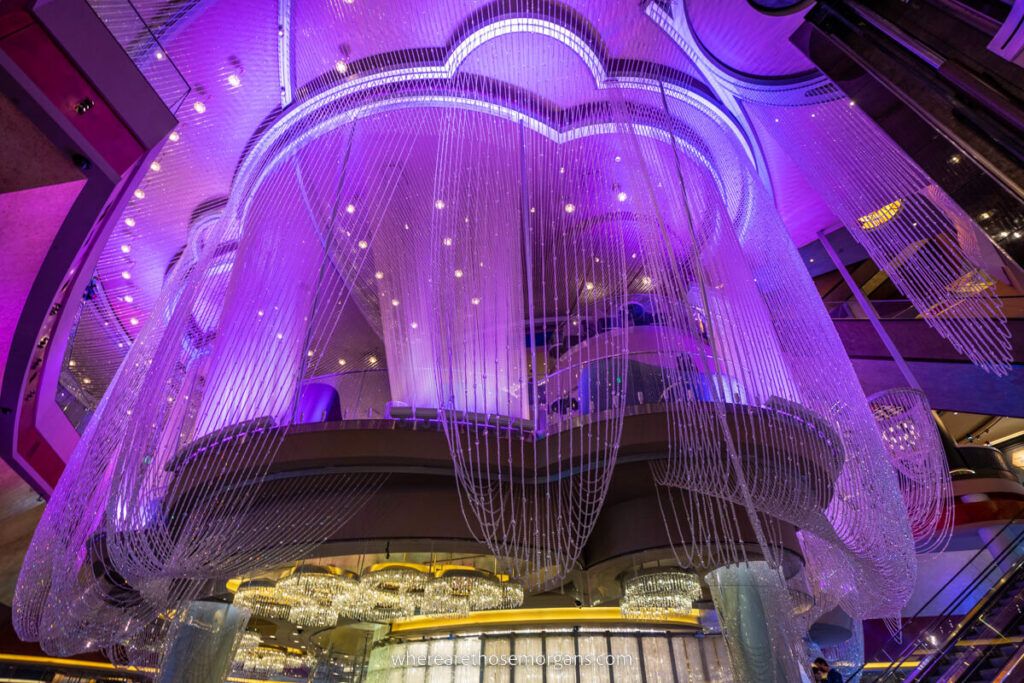 Cost: Expensive.
If you're looking for something a little more sophisticated to do during the evening, make your way into a classy cocktail lounge in a plush Las Vegas hotel. There is certainly no shortage of options.
Our advice is to prepare yourself for the exorbitant price of a cocktail before you arrive to avoid that awkward "how much?!" moment.
Even happy hour doesn't put much of a dent in it.
However, Las Vegas is all about the splurge, it is part and parcel of the experience. Let it happen, embrace it and you'll have a much better time!
Highly Rated Las Vegas Cocktail Bars + Lounges
8. Carry On The Party At A Popular Nightclub
Cost: Reasonable – expensive.
Last one based around alcohol we promise, but this is Las Vegas after all. Whether you do the pool party, the happy hour or the cocktail bar, if you're in town to party, you are going to a nightclub.
There are several nightclub options ranging from small and intimate to enormous super-club. Our advice is to figure out the type of music you like and pick the place based on that rather than reputation.
We've been to Tao and Hakkasan, both of which were great but they were also entirely contrasting experiences. Go where the music takes you.
Most Popular Clubs In Las Vegas
9. Watch An Iconic Las Vegas Show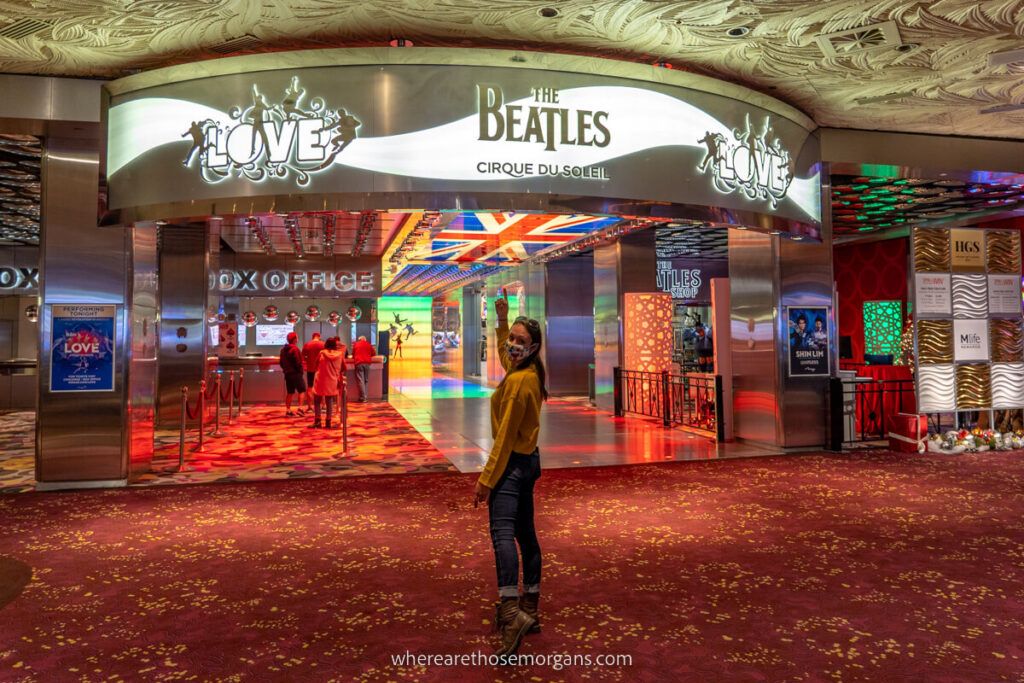 Cost: Cheap to fairly expensive.
For anyone who isn't in Las Vegas to party, we very highly recommend you watch at least one show. Cirque Du Soleil is the legendary entertainment company permanently based in Las Vegas and they have 6 very different shows on offer.
However, you can also choose between a wide variety of other theatrical performances, magic shows, comedy shows, family friendly shows and of course adult shows (this is Sin City, remember!).
Popular Las Vegas Shows On The Strip
Cirque Du Soleil

O – Bellagio
Ka – MGM Grand
Mystere – Treasure Island
Mad Apple – New York New York
Beatles Love – The Mirage
Michael Jackson One – Mandalay Bay

Magicians

David Copperfield – MGM Grand
Shin Lim – The Mirage
Mat Franco – LINQ

Comedians

Jeff Dunham – Caesars Palace
Terry Fator – New York New York
Carrot Top – Luxor
Want to see more shows? Read our in depth guide to the 30 best shows on the Las Vegas strip to see more of what is in store for your visit.
10. See A Concert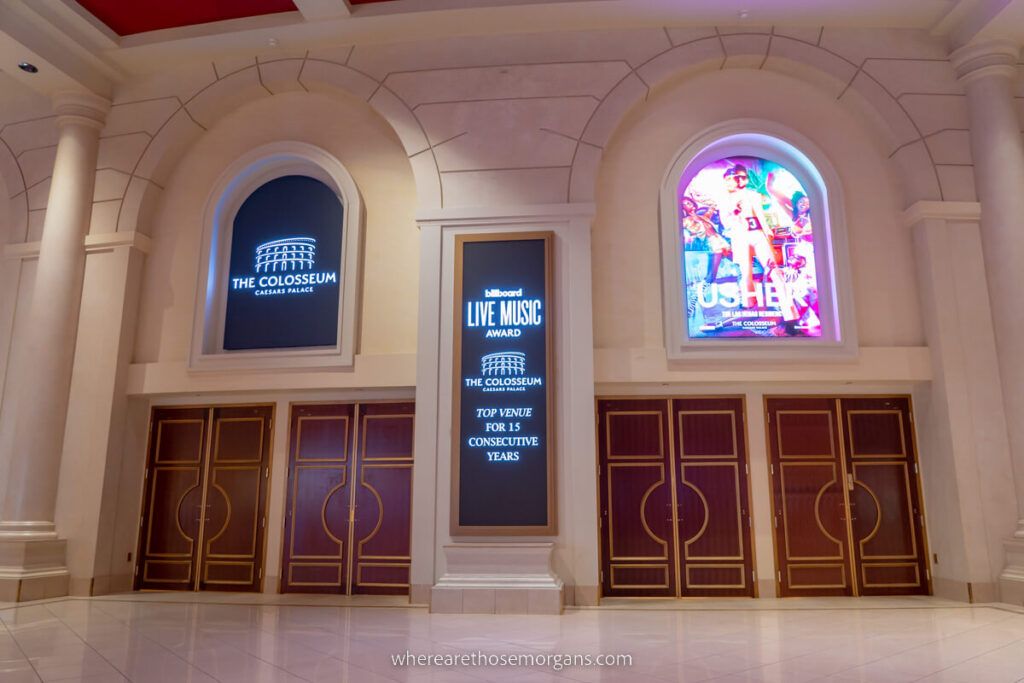 Cost: Moderately expensive, but what you would expect to pay.
Las Vegas plays home to several superstar artists who have residency in certain hotels on the Las Vegas strip each year.
Think along the lines of Adele, Celine Dion, Lady Gaga, Silk Sonic, John Legend and Luke Bryan. It might even be worth timing a trip to Vegas around a particular artist you want to see.
Las Vegas Concert Locations
Caesars Palace – The Colosseum
Park MGM – Dolby Live and T-Mobile Arena
Mandalay Bay – Michelob ULTRA and House of Blues
MGM Grand – Garden Arena
Planet Hollywood – Zappos
11. Relax In A Spa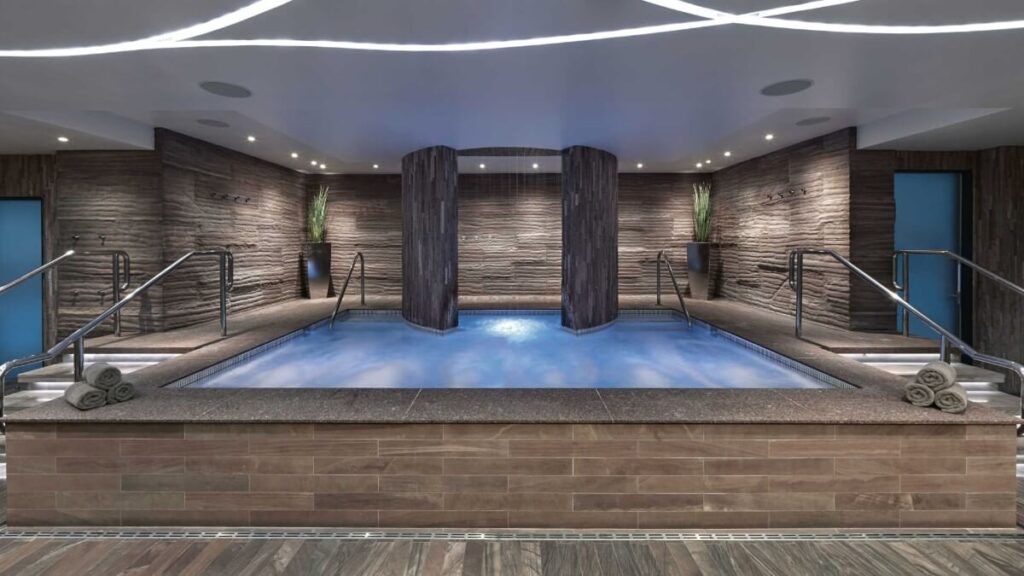 Cost: Different at each hotel.
After all the hustle and bustle, eating and drinking, watching shows and running up and down the strip, there's nothing wrong with a little pampering.
Almost every popular hotel on the Las Vegas strip has a spa. Just remember, you will pay more at the luxury hotels like Venetian, Aria and Cosmopolitan but they will also be the most lavish.
Look to see what is offer as part of the packages offered by each hotel spa. Some include specific types of amenity, whereas others are more basic.
12. Shop The Strip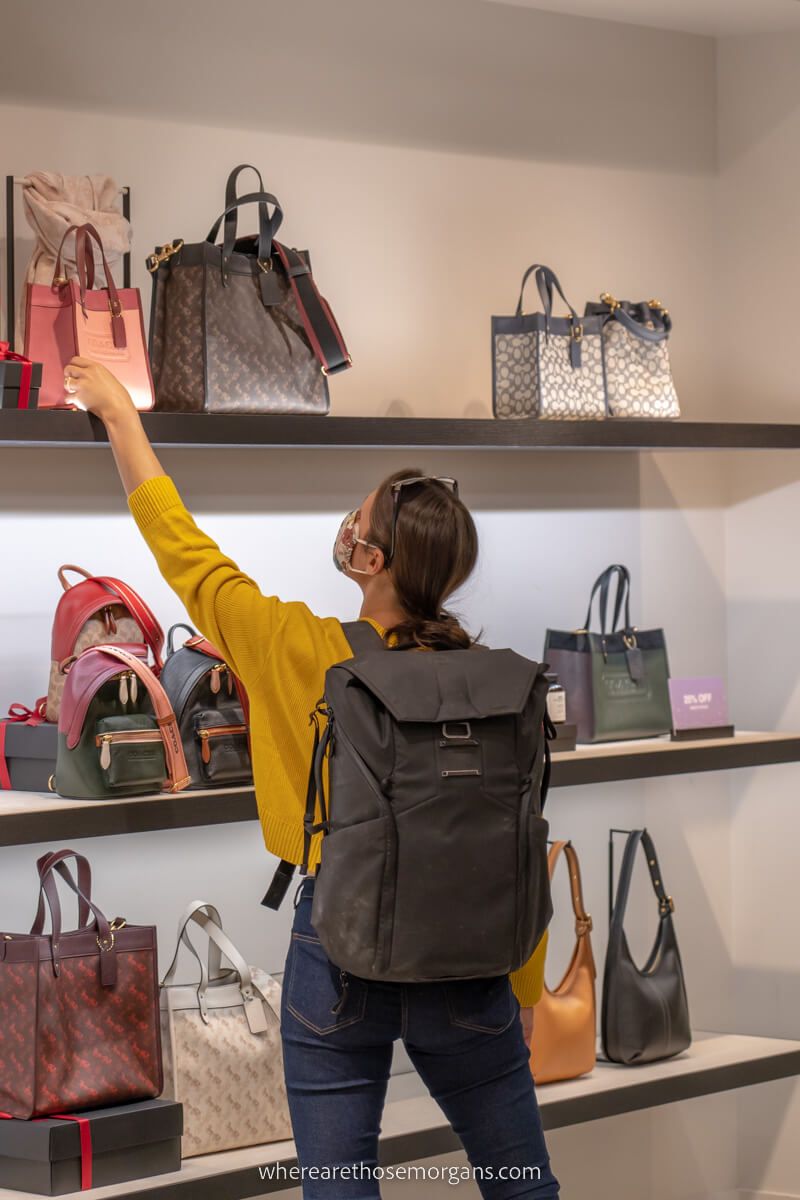 Cost: Free for window shoppers, can get expensive quickly.
Las Vegas is a paradise for those who love to shop. There are enough malls, hotel stores and strip-side shopping areas to fill a week.
You will find high street classics and high end designer stores scattered throughout the entire strip. However, the majority of the Las Vegas shopping scene is around the center and slightly to the north of center on the strip.
Just be warned, it is too easy to get carried away with the buzz of being in viva Las Vegas. Another important thing to consider is that you will pay an additional 8.4% in sales tax on anything you purchase.
Before you know it your suitcase is overflowing and your bank balance has taken a severe hit!
Best Las Vegas Strip Shopping
Caesars Palace – The Forum
Planet Hollywood – Miracle Mile
Venetian – Grand Canal Shoppes
Aria – The Shops At Crystals
13. Take The Kids To See Various Animals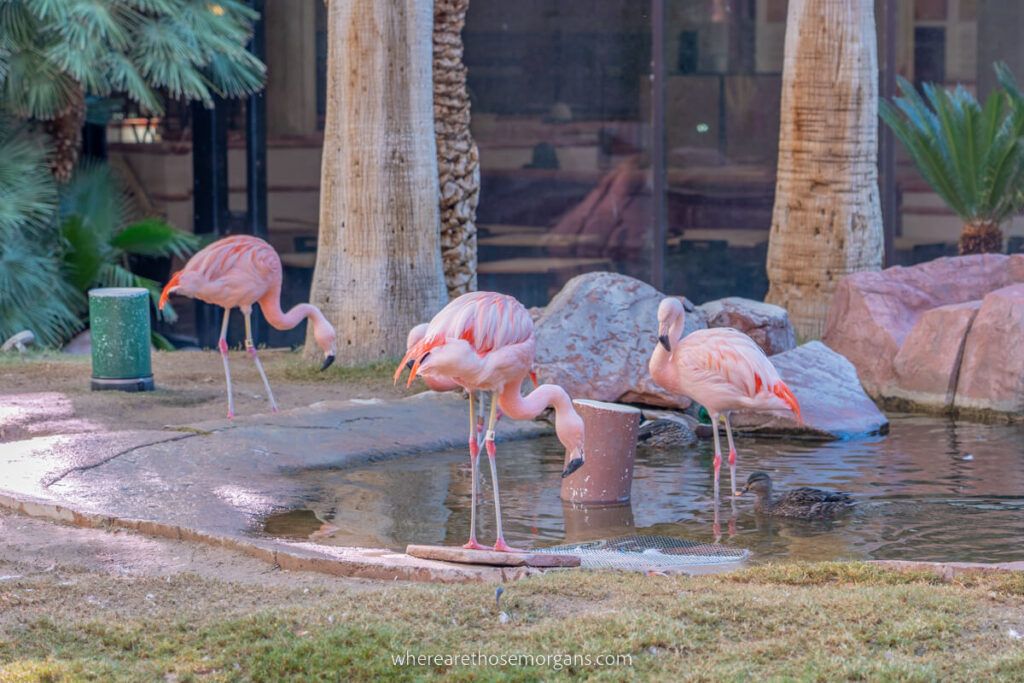 Cost: Free and cheap.
Are you visiting Vegas as a family with younger kids in tow?
Well, there's plenty to keep them occupied. One of the easiest places to start is with animals located at different places on the strip.
Where To See Animals On The Strip
Flamingo Hotel – Perhaps unsurprisingly you can see Flamingos at the wildlife habitat. This one is completely free and open daily for visitors.
The Mirage – Siegfried + Roy's Secret Garden and Dolphin Habitat allows visitors to get up close with bottlenose dolphins, white tigers, white lions and leopards.
Mandalay Bay – Head over to the Shark Reef Aquarium to see a variety of marine life including rays, turtles and of course sharks.
14. Walk LINQ Promenade + Ride The High Roller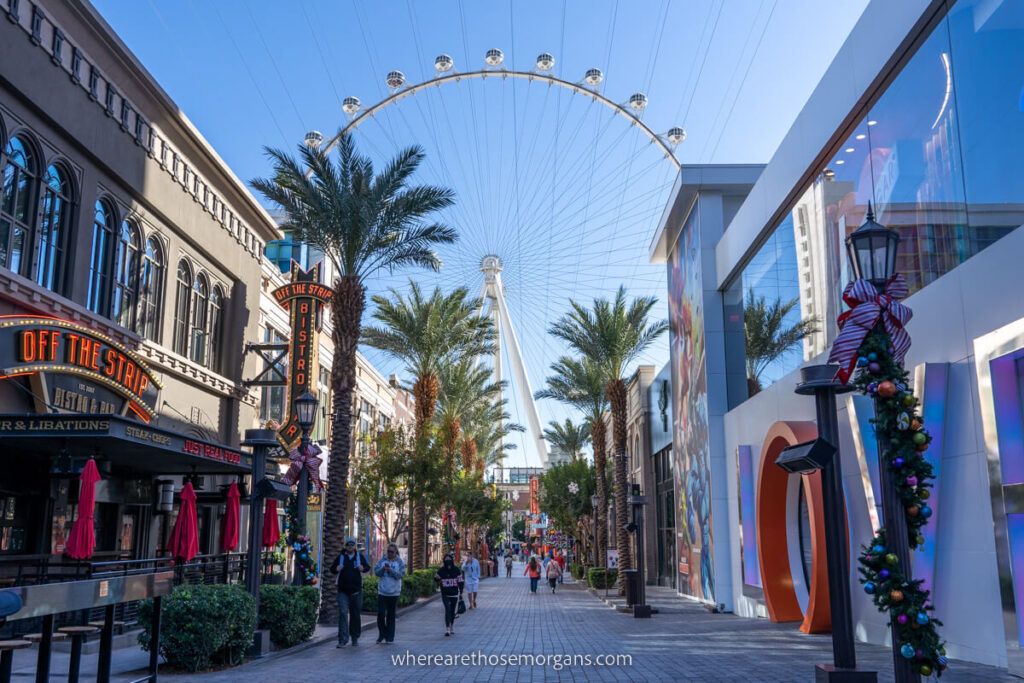 Cost: Free to walk and attractions are cheap.
The LINQ promenade is a popular spur street leading away from the Las Vegas strip to a collection of restaurants, bars, attractions and the popular High Roller observation wheel.
You can't miss the promenade as it is located right in between Flamingo and LINQ hotels. Walking around the Museum of Selfies and ziplining over the promenade on Fly LINQ are other popular things to here.
You will also find Gordon Ramsay Fish + Chips and Yard House, two very popular places to eat on the strip.
15. Work On Your Swing At Top Golf In MGM Grand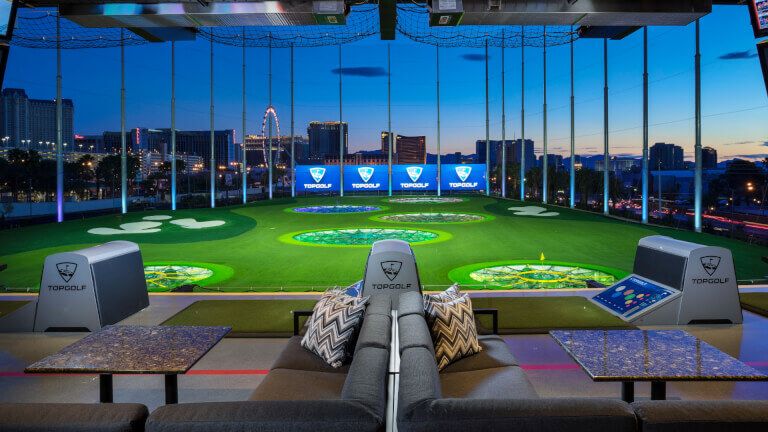 Cost: From $40 per hour / per bay (up to 6 people), but more expensive in afternoons and on weekends.
Topgolf is more than just a driving range. The recently opened Topgolf entertainment venue features 4 floors of driving range tee offs with high tech balls that score themselves depending on your game goals.
Outside of hitting golf balls into targets, you can drink at five bars, swim in two pools or just head down for the game which you can watch on screens dotted throughout the venue.
Topgolf at MGM Grand is one of the best things to do in Las Vegas for groups on vacation or bachelor / bachelorette parties. But golfing families will also thoroughly enjoy the experience.
16. Visit The Titanic Exhibit In Luxor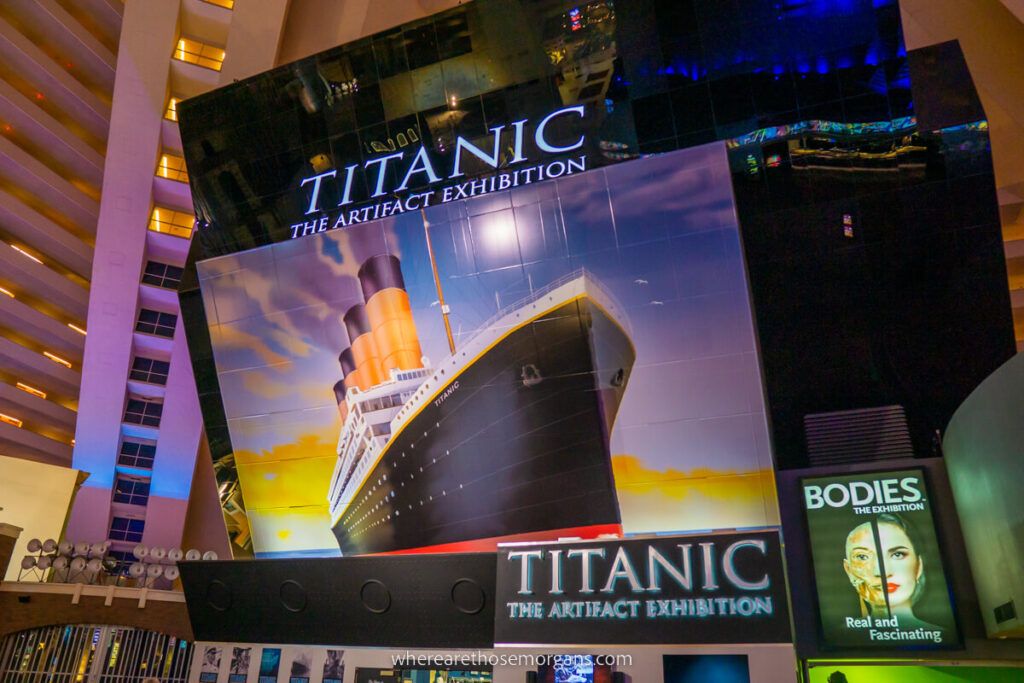 Cost: Around $35 / adult.
Titanic: The Artifact Exhibition at the Luxor has a 4.6 / 5 rating on Google with over 2,000 reviews. There are a ton of similar attractions like this in various hotels on the strip but Titanic is one of the top rated.
You can see more than 250 authentic artifacts recovered from the Titanic wreck. On top of that, the popular exhibit has extensively recreated some of the most famous rooms from the ship.
Take a trip down memory lane to see if your heart will go on and if you won't let go!
Check prices with MGM and Get Your Guide to see if any sales are running.
17. Take A Gondola Ride In The Venetian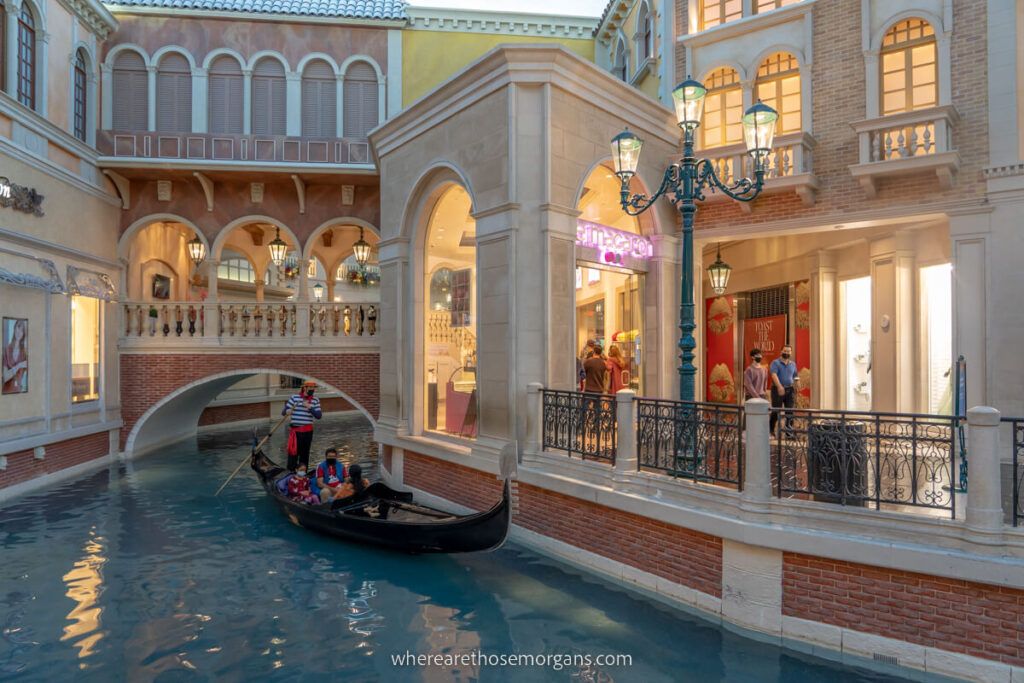 Cost: From $34 / adult.
Have you been to Venice in Italy?
If not, you can always just visit the Venetian hotel in Las Vegas and see a mock up of some its most famous sights, including St Marks Square, canal-side shopping, the Rialto Bridge and of course gondola rides.
Gondola rides run day and night both indoors and outdoors so you can take your pick depending on the weather and waiting lines.
Alternatively, you can book ahead to secure a gondola ride for your visit to the Venetian.
Tickets can be bundled to save:
18. Watch The Mirage Volcano Night Show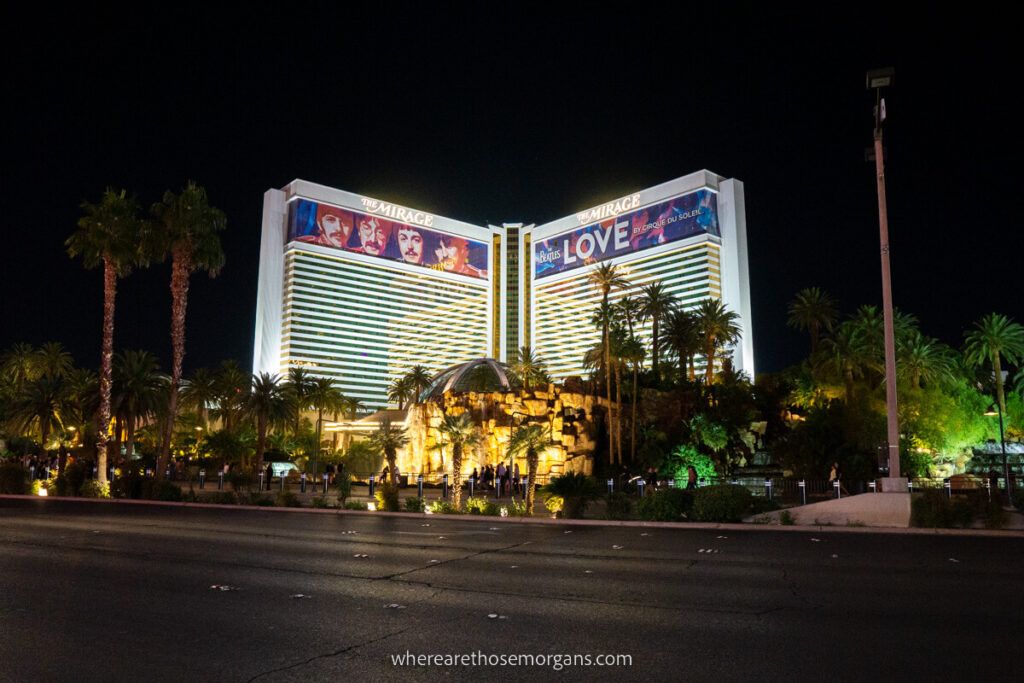 Cost: Free.
The Mirage Volcano is one of the longest running and most beloved free shows in Las Vegas. It is up there with the very best free things to do in Las Vegas and should be on everyone's itinerary.
The Volcano typically erupts at 8.00pm, 9.00pm, 10.00pm and 11.00pm nightly. Fire, water and music blast into the night sky, heightening the senses of sight and sound, and creating a wonderful spectacle suitable for the whole family.
Note: Hard Rock bought The Mirage from MGM resorts in December 2021 and they plan to tear down the Volcano as part of rebranding. We personally think that is a terrible shame and you should see it while you still can.
19. Go Up The Eiffel Tower At Paris, Las Vegas
Cost: From $25 / adult.
Yes, Las Vegas has a replica Eiffel Tower!
This one has an observation deck and an exceptionally in-demand restaurant. If you want to do the restaurant we recommend booking way in advance.
From the observation deck you can see the central part of the strip and the Bellagio fountains from a totally unique perspective. This is one of the easiest ways to reach a cool elevated viewpoint.
Here's two ways you can get up the replica Eiffel Tower:
20. Enjoy The Famous Bellagio Fountain Display
Cost: Free.
Arguably the single most popular attraction and without question one of the very best things to do (free or not) in Las Vegas is to watch the Bellagio fountain display dancing against the day and night sky.
Chances are high you will end up seeing the famous water feature showcasing its silky smooth dance several times during your visit as throngs of tourists are drawn into Bellagio like an unstoppable gravitational force.
The water jives and waltzes to around 30 different songs throughout the day from 3.00pm to midnight during the week and from noon to midnight on weekends.
It is best seen at night (especially for couples and romance) from the strip. But it is perhaps even better seen from one of the high end restaurants on the Bellagio lakeside.
Don't forget your camera for this one!
20 Best Things To Do Off The Las Vegas Strip
There comes a time during every visit to Las Vegas where you just need to get away from the strip for a minute. Fortunately, there are a whole host of awesome things you can do nearby!
Attractions are listed in no particular order, but look out for the activity cost at the beginning of each thing to do for reference.
1. Take A Photo With The Las Vegas Sign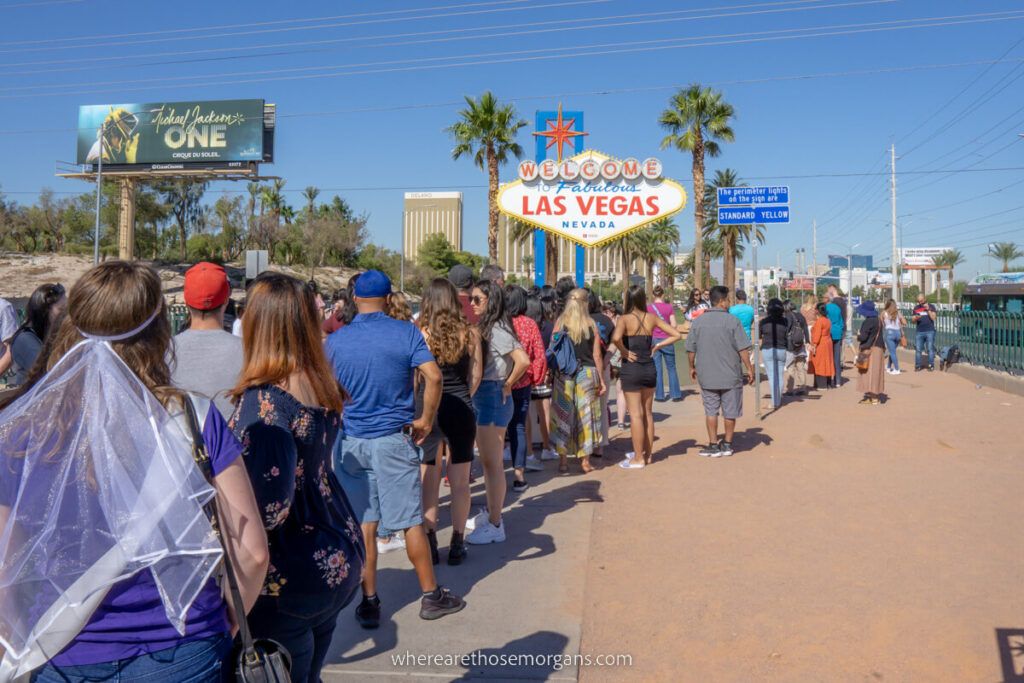 Cost: Free.
You can't leave without taking a photo under the iconic "Welcome To Fabulous Las Vegas" sign, can you?!
Fortunately, the sign is very easy to access if you're staying on the south side of the strip. It is just 15 minutes walk from Mandalay Bay.
Unfortunately, that it is over a one hour walk from the Venetian. If you're staying up in the north, you might be better off taking an uber or renting a bike.
Another unfortunately is that if you don't get to the sign before 7.00am – 8.00am, you are going to lose at least 30 minutes (probably more) standing in a long line.
Is it worth it? We'll let you decide!
2. Visit Several Highly Rated Museums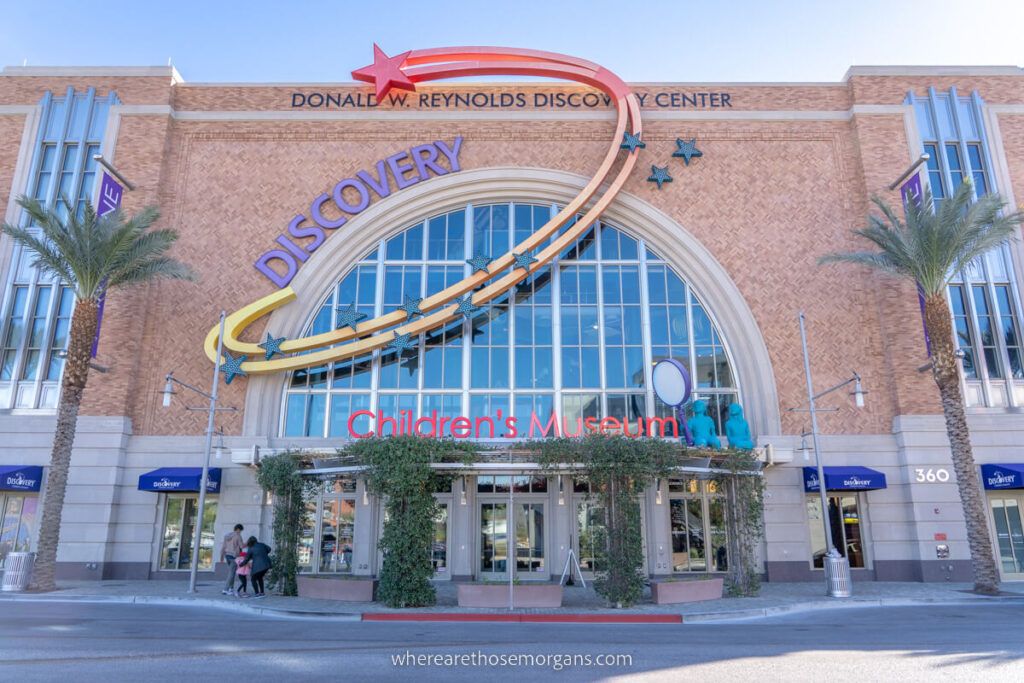 Cost: From free to $50 with special exhibits.
Las Vegas is full of seriously awesome museums for both adults and children.
Here's where we would start looking:
All of the museums above are rated very well by previous guests and are well worth a visit if you have time spare.
However, there's a more popular museum in Vegas that draws people away from the strip to the downtown area, The Mob Museum.
Mob Museum
The Mob Museum is one of the top rated museums in the city, with a 4.6 / 5 rating on Google after a whopping 13k+ reviews.
If you only do one museum, we recommend you take an authentic look at the startling history of America's organized crime here.
Compare prices with Mob Museum and Get Your Guide (slightly cheaper) for general entry. There are multiple special exhibits with additional fees.
3. Stand On The STRAT SkyPod Observation Deck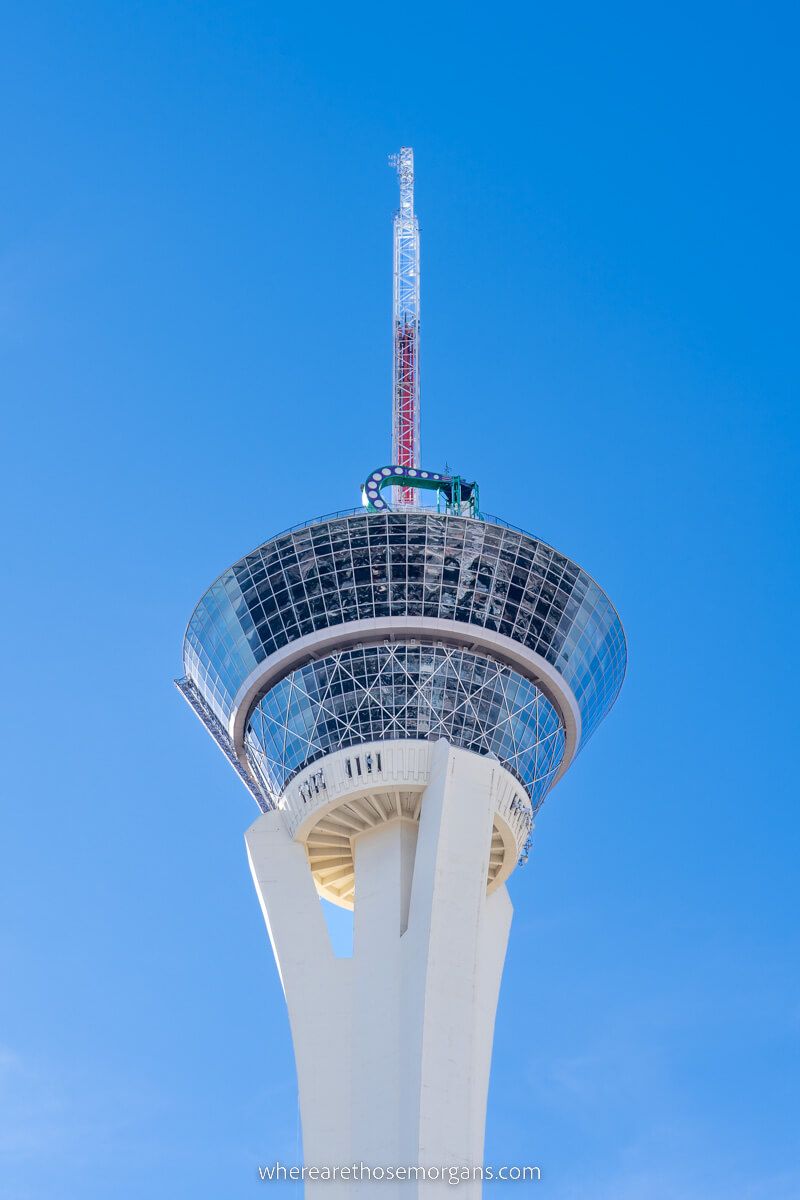 Cost: From $24 / adult.
The STRAT SkyPod is by far the tallest observation deck in the city and it hosts 4 thrill rides high up in the sky at 1,000+ feet elevation.
Rides include X-Scream, Insanity, Big Shot and SkyJump. So you get a double bubble when you hit the top; views and adrenaline pumping rides.
From the observation deck you can see the strip and you have a 360 degree unobstructed view of the landscape surrounding Vegas.
Late afternoon as sunset is approaching is the best time to go up STRAT, so you can see Vegas in daylight and when it lights up at night.
Compare prices:
4. Walk Over The Hoover Dam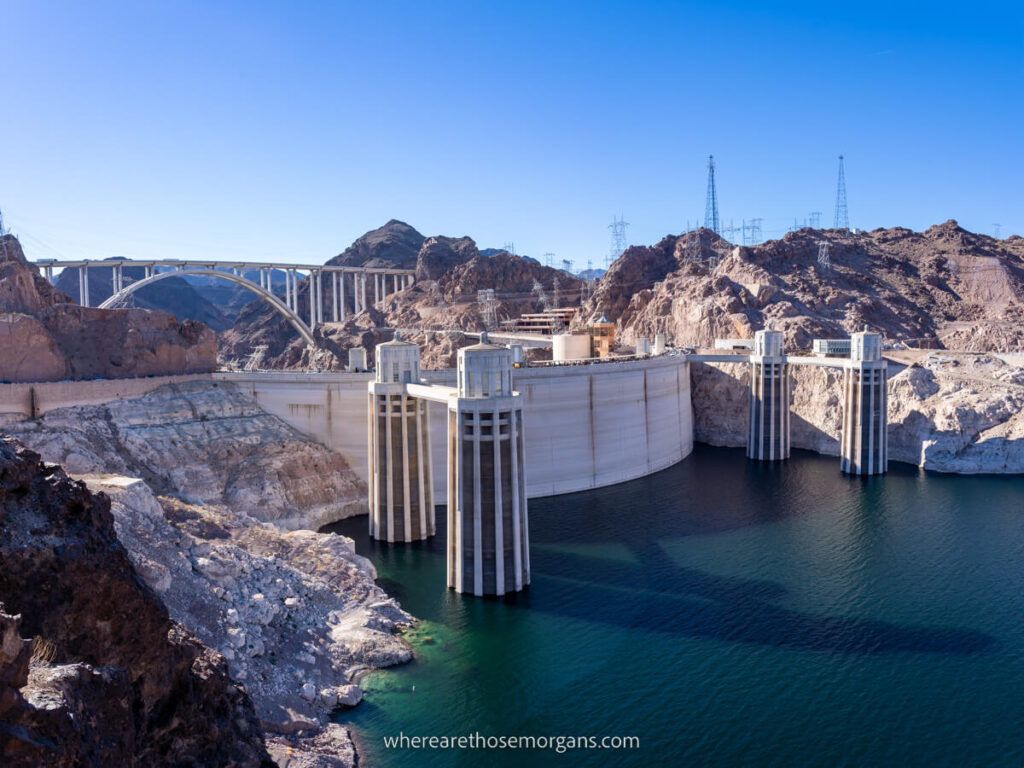 Cost: Free to visit but you can pay for tours if desired.
The Hoover Dam is among the most popular Las Vegas day trips, hosting thousands of Vegas visitors each year.
Dubbed one of America's engineering marvels, the Hoover Dam is even more impressive once you see it in person. Walk across the top, see it from the Memorial Bridge and imagine how challenging it must have been to build.
You can take a guided tour of the dam and power plant (both of which are great) or a self guided visitor center tour. See ticket options.
Thinking of going to Hoover Dam? Read our complete guide to visiting Hoover Dam from Las Vegas to find out the costs, journey and what you can expect when you arrive.
5. Watch The Motor Speedway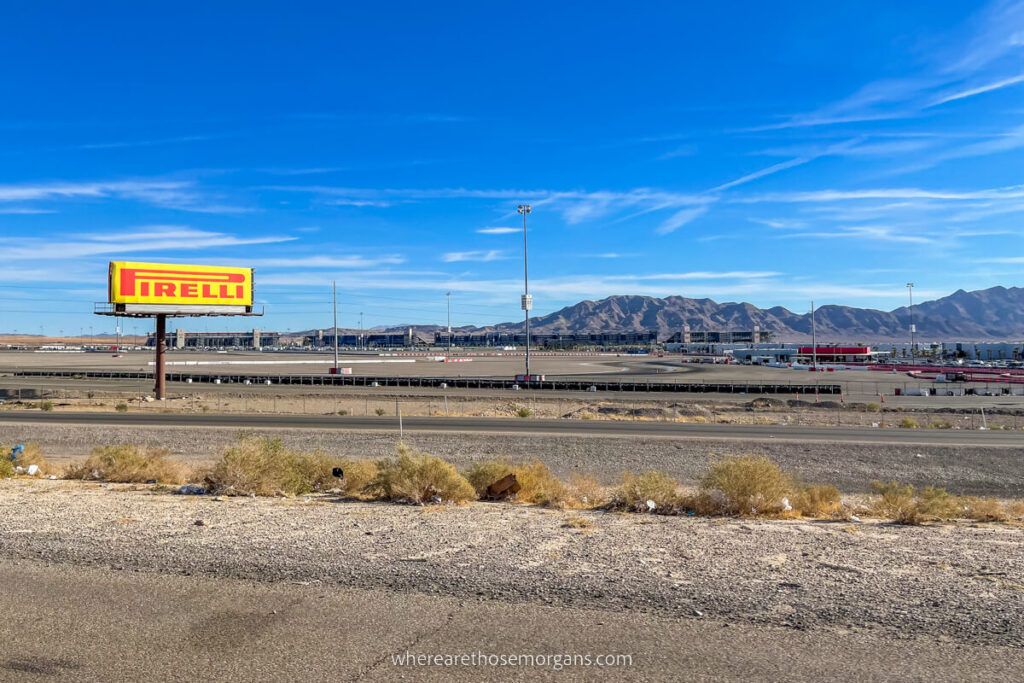 Cost: Cheap to expensive.
Are you into motor racing?
The Las Vegas Speedway hosts several events each month from legal drag racing to NASCAR. But those events can be few and far between so you have to time it right.
However, it also hosts multiple racing car experiences monthly and that is where your interest may be piqued. Imagine driving a NASCAR race car (yourself!) around the Speedway on your visit to Vegas.
6. Go To The Pinball Hall Of Fame
Cost: Free to enter, 25 cents old pinball machines / 50 cents newer pinball machines to play.
Looking to cure a bit of old school gaming nostalgia on your visit to Las Vegas rather than losing money on slot machines?
You can't miss the Pinball Hall of Fame, which is located opposite the "Welcome to Fabulous Las Vegas" sign near Mandalay Bay.
It features over 150 coin operated pinball machines, all of which you can play. Their only rule is that having fun is compulsory!
7. See The Seven Magic Mountains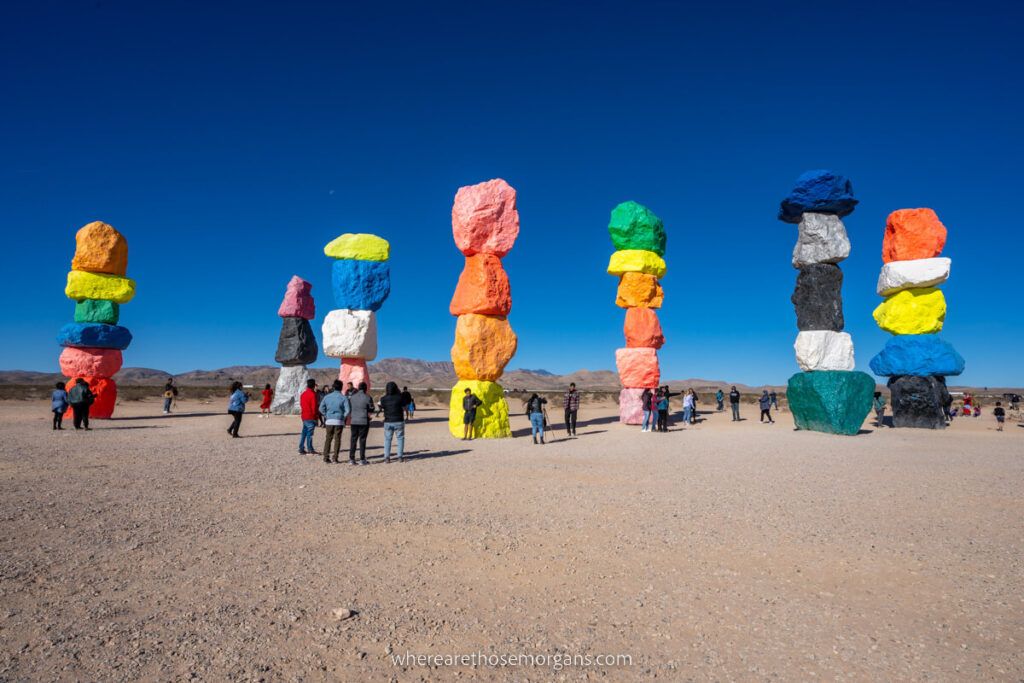 Cost: Free.
Seven Magic Mountains is a weird but quite wonderful and surprisingly photogenic art exhibit in the Mojave Desert to the south of the Las Vegas strip.
It might seem like an odd thing to see on your trip to Vegas, but colorful stacked boulders make for excellent photo ops. You can even fly your drone over the seven boulder towers for a different perspective.
In fact, we'd go as far as saying this one is unmissable for anyone who keeps busy on instagram, tik-tok et al. Arrive early for soft light and to beat the crowds.
Thinking of going to Seven Magic Mountains? Read our complete guide to visiting Seven Magic Mountains to find out exactly what you can expect from the unique art installation.
8. Take A Big Bus Tour
Cost: Around $50 / adult.
If you're short on time or you really don't fancy the long walk up or down the strip, why not hop on a Big Bus Tour so you can see Las Vegas in comfort?!
Big Bus features an open top deck and two different routes:
The first is a Big Bus Day Tour of the strip and downtown which has 8 stops, meaning you can get on and off as much as you like to see the top highlights on the strip and downtown.
The second is a Big Bus Night Tour of the strip and downtown, but this only stops once and has a live guide. It is less a hop-on hop-off style, and more of a sightseeing style ride. This one allows you to see the entire city lit up at night.
9. Hike In Red Rock Canyon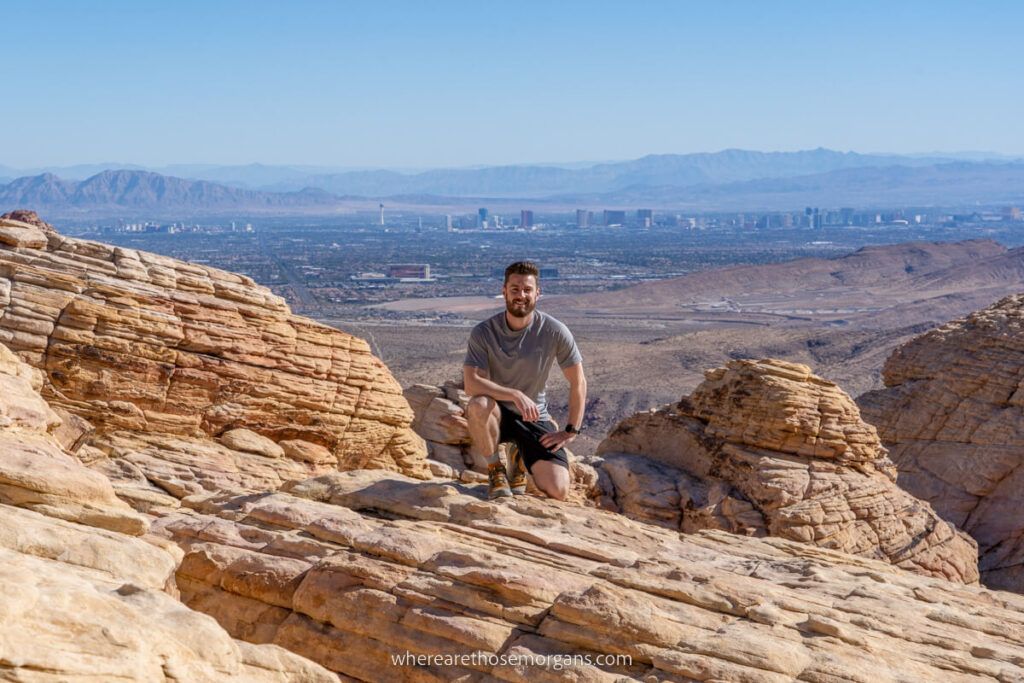 Cost: $15 entrance fee per vehicle.
Red Rock Canyon is the best place for hikers visiting Las Vegas to get out for a good stretch and to blow the strip-weaved cobwebs off.
Just 30 minutes drive from the chaos, you will pay 15 bucks to enter, drive a one way loop for 13 miles and stop at every hike you want to take on.
Calico Tanks and Ice Box Canyon are our two personal favorite hikes but there are plenty more trails to try out for all hiking levels.
Want to hike in Red Rock Canyon? Here's our popular guide to the 10 best hikes in Red Rock Canyon to help you plan the perfect hiking itinerary.
10. Photograph The Stunning Valley Of Fire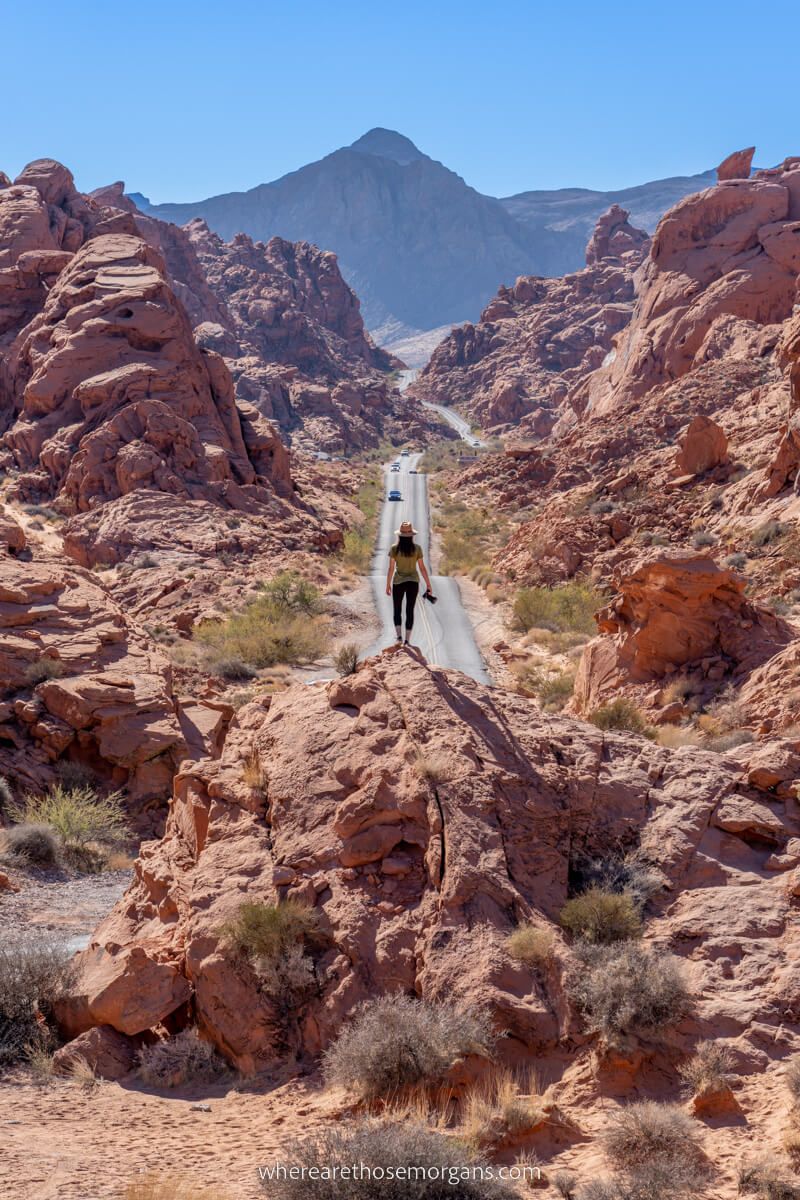 Cost: $10 entrance fee per vehicle.
Valley of Fire State Park is one of our favorite places to visit in the American southwest.
It goes slightly under the radar with the likes of Zion and Grand Canyon nearby but Valley of Fire is truly unmissable for anyone who enjoys light hiking and spectacular landscapes.
We very highly recommend spending a day of your Las Vegas itinerary in Valley of Fire, as long as you are visiting Nevada out of the summer months when it is too hot. It will be the best 10 dollars you spend in Nevada (unless you win the jackpot on the slots!).
The best thing to do is hike the stunning Fire Wave Trail, ideally in time for sunrise if you can make that happen. After that there are a whole host of amazingly photogenic spots to tick off.
Want to see Valley of Fire? Don't miss our complete guide to the 15 best things to do in Valley of Fire, with plenty of stunning photos so you can see why it is worth it.
11. Walk The Fremont Street Experience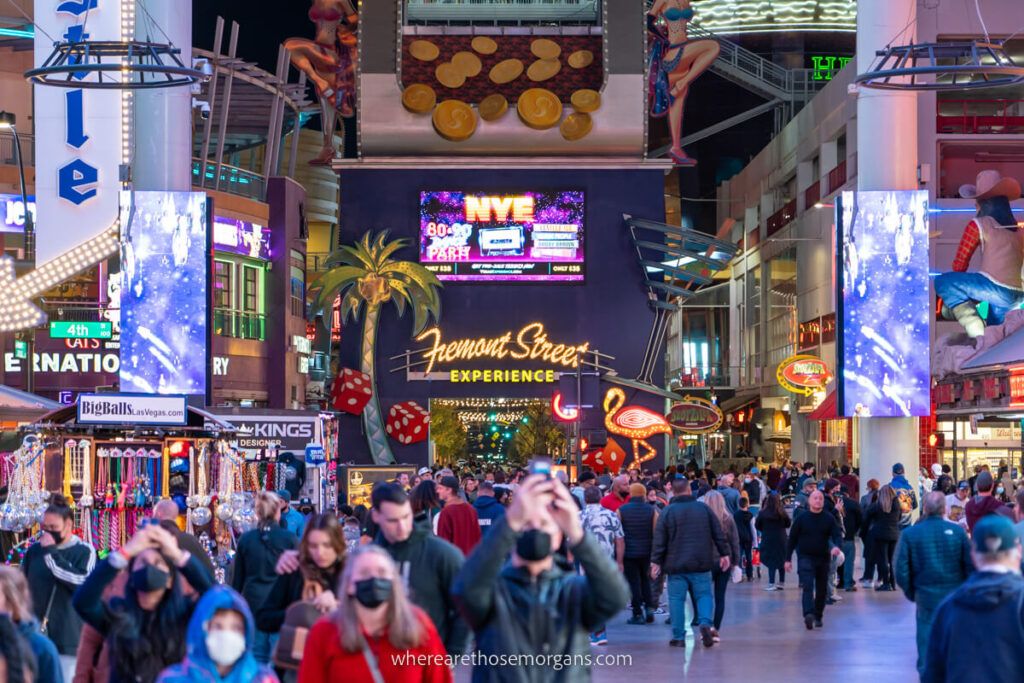 Cost: Free.
The Fremont Experience is whole different side of Las Vegas not many know about. Fremont Street is at the heart of downtown LV and there's a ton going to keep you entertained for at least a day.
The main drag is a walk through a narrow tunnel-like pedestrian only street lined with bars, restaurants, stages, casinos, hotels, museums, arcades and attractions. It's open air but there's a digital roof featuring light shows and music.
There's even a zipline overhead, the Mob Museum is nearby and Stadium Swim is right on Fremont Street.
The best part is prices for beers and food drop back down to what you would normally pay back home.
12. Watch The Game At Stadium Swim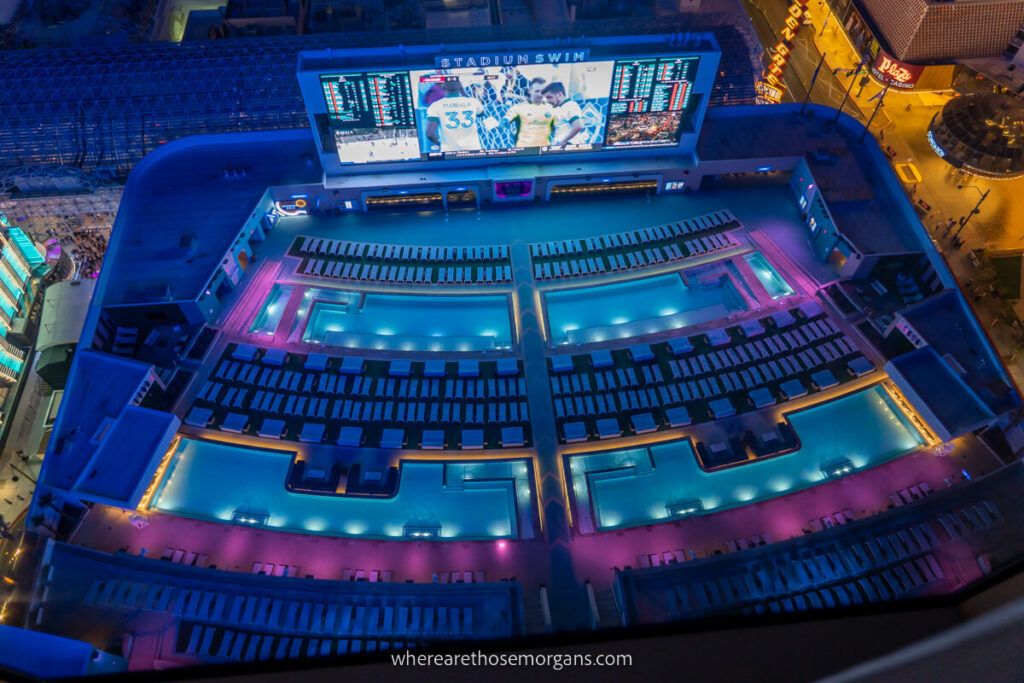 Cost: $26 per adult.
Stadium Swim at Circa hotel on Fremont Street takes the best of sports bars and sunny Las Vegas swimming pools and turns them into one enormous haven for pretty much anyone who enjoys sport.
Multiple swimming pools, jacuzzi's and cabanas all face a gigantic 40 foot tall HD screen. Imagine your home tv screen is 50 inches when measured diagonally. Well this one is 143 feet diagonally.
It's like being at the cinema, with the seats positioned so everyone gets a good view, only this time you're in a pool or a sun lounger watching football.
There is (of course!) a bar, food and sunshine, which all help improve the overall experience, even if your team loses!
13. Play A Round Of Golf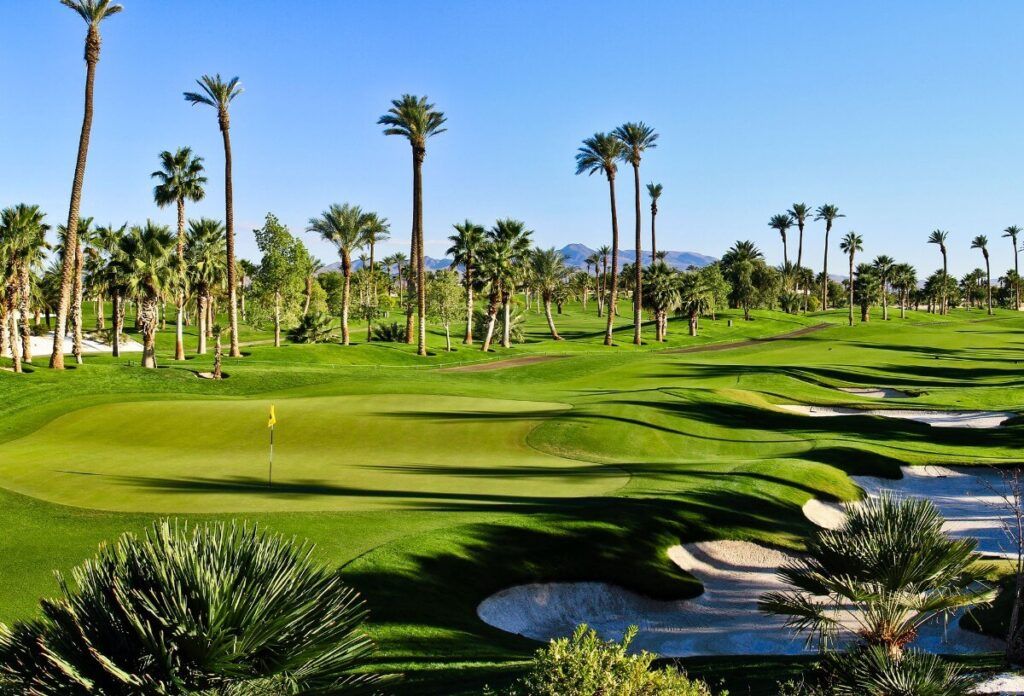 Cost: Expensive.
Golf is an immensely popular hobby for millions around the world and many visiting Las Vegas would love to get out for a round of 18. However, as you might expect, it is not cheap to play here.
Bali Hai Golf Club is the top rated and most popular course near the strip. Green fees are going to set you back around $250 each. The course is located on the south end of the strip near Mandalay Bay.
Wynn Golf Club is another highly rated course but it is regarded as having one of the most expensive green fees in America at $550-650. However, that price does drop in off-season to around $350.
14. Take Things Easier On The Wallet At Kiss Mini Golf
Cost: $11.95 per golfer.
If those eye watering green fees put you off, try mini golf instead at a fraction of the price.
KISS by Monster Mini Golf is an indoor glow in the dark KISS themed 18 hole mini dream for lovers of either the iconic rock band or mini golf. It is located in Rio Hotel, behind Caesars Palace.
The place is filled with KISS props, video and memorabilia. It even has a DJ by day and night.
15. Walk Around Springs Preserve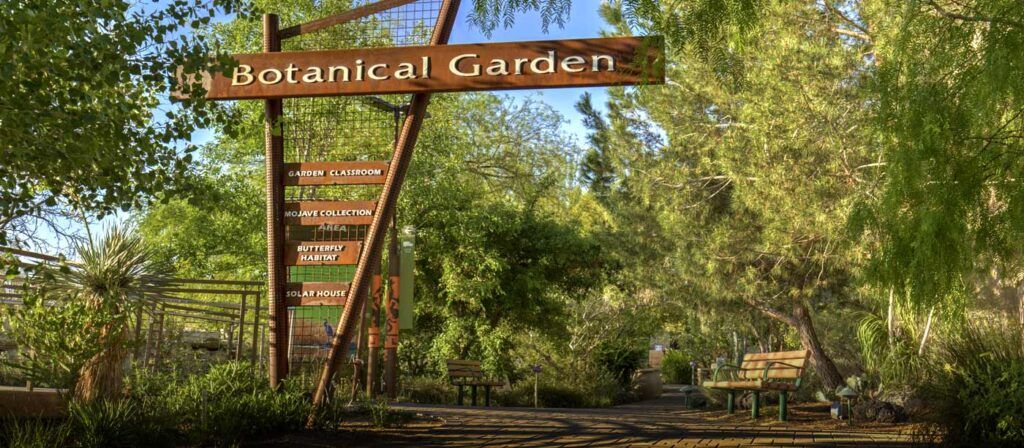 Cost: $9.95 per adult and $4.95 per child.
Springs Preserve is located a few miles west of downtown Las Vegas. It is home to a Botanical Garden, a Butterly Habitat, the Origen Museum and the Nevada State Museum.
All of the attractions listed above plus many more smaller exhibits are included for one single entry price. This is a great place to bring the kids or to have a breather from the strip.
16. See Mystic Falls Park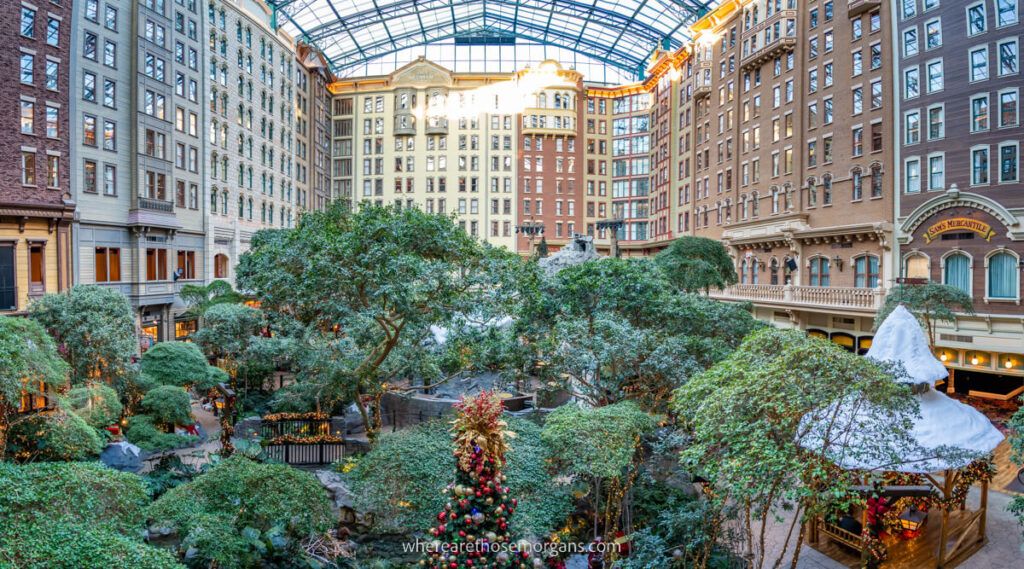 Cost: Free.
Mystic Falls Park is an indoor park surrounded by restaurants and a casino with a huge glass skylight covering the area.
The park consists of trees, winding paths, waterfalls, streams, animatronic animals and lasers which all come to life during nightly light shows.
This unique attraction inside Sam's Town Hotel + Casino is considered one of the best free shows in Las Vegas. It is especially worth seeing in the lead up to holiday seasons throughout the year.
If you're visiting Hoover Dam with the kids, Mystic Falls Park could be a great place to stop on the way back.
17. Take The Kids To The Adventuredome
Cost: $30 under 48 inches tall (kids) / $ 60 over 48 inches tall (adults).
Another excellent thing for families with kids to do in Las Vegas is head over to the Adventuredome in Circus Circus Hotel. It is rated at 4.4 / 5 on Google after almost 10,000 reviews.
You will find a mini theme park style set up, with coasters for adults only, family friendly rides, arcades, plenty of flashing lights and the usual suspects the kids will enjoy.
Don't expect Disneyland, manage your expectations and this could be an easy half day win for parents.
18. Renew Your Vows At Graceland Wedding Chapel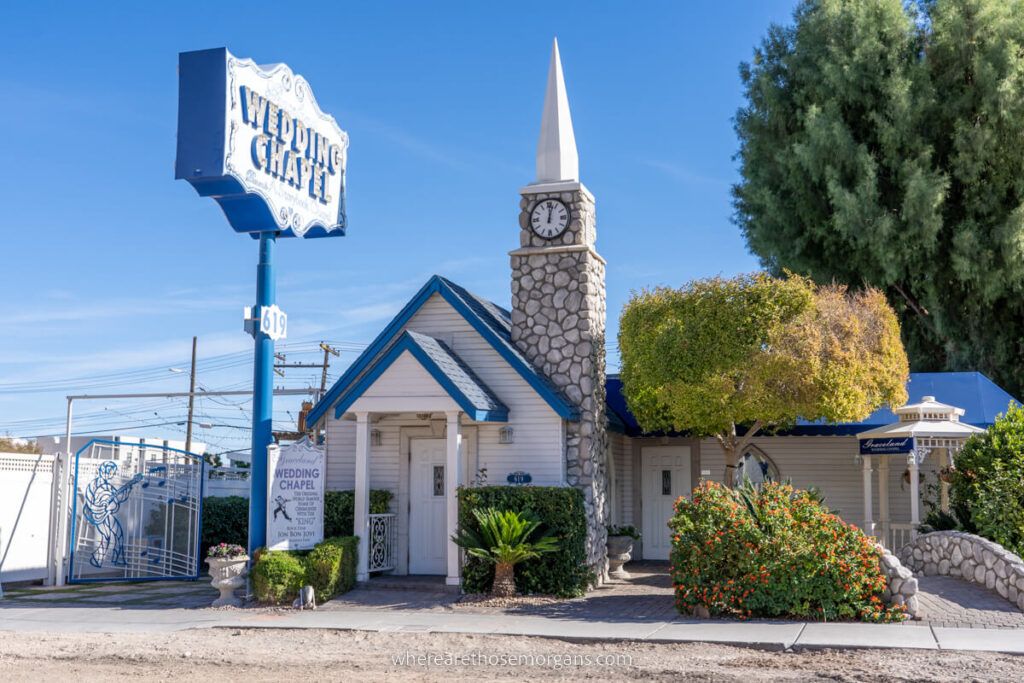 Cost: From $249.
Oh yes, we're very serious! It happens all the time!
If you're heading to Las Vegas to renew your vows or get married in the first place, there's only one place it can be – the world's first Elvis themed wedding chapel, Graceland.
Check out the rave reviews from this place on Google!
Now, we know very few of you will be planning an Elvis themed vow renewal, but on the off chance this is your style and you are interested, this is the venue.
19. Visit Nelson Ghost Town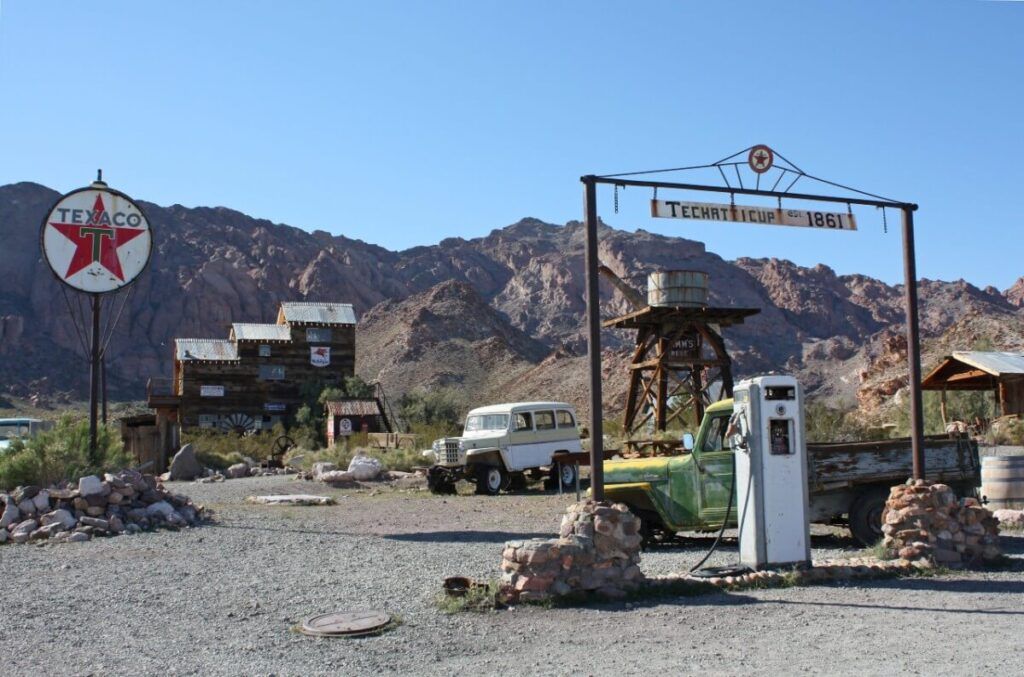 Cost: Free to visit with paid tour option.
Nelson Ghost Town is the site of an abandoned gold mine and restored buildings from the 1800's.
You can tour the gold mine called Techatticup Mine or you can simply walk around and admire the buildings.
Sound boring? Well, it really isn't.
The place is insanely photogenic, which means any hobbyist or pro photographers are going to have a field day. Plus, the mine tour gets rave reviews and people even get married here.
If you want to double dip, continue down the dead end road to Nelson's Landing, where you will reach the Colorado River. Look out for people cliff diving here.
20. Splash Out On A Helicopter Tour Over Las Vegas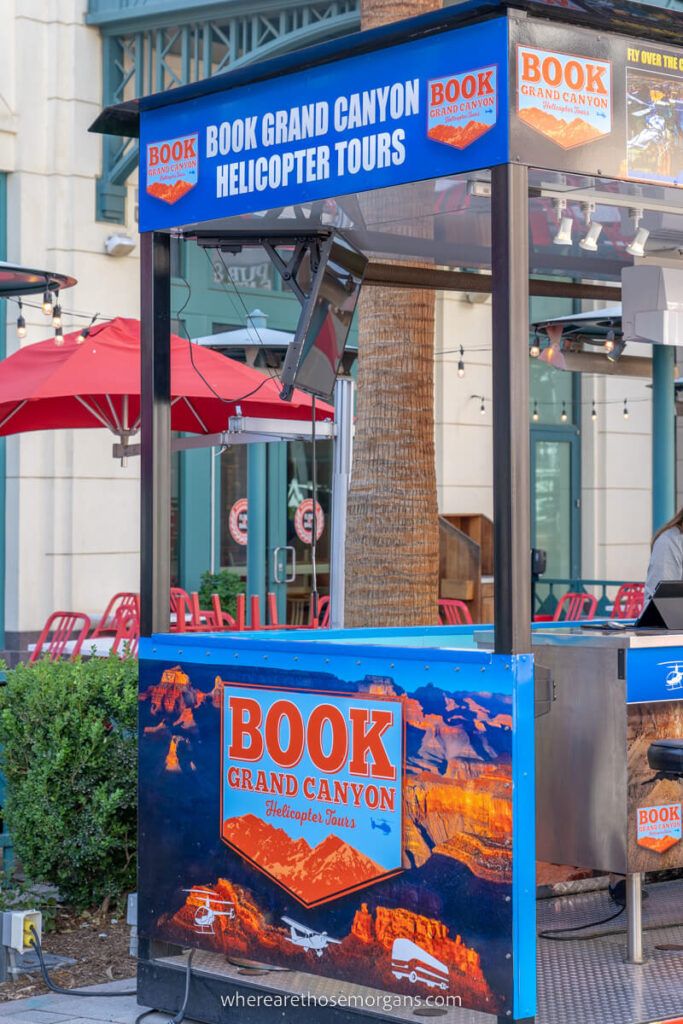 Cost: From $89.99 per adult to fly over the strip online, more expensive if you fly over Grand Canyon.
One of the single most popular things to splurge on in Las Vegas is a helicopter ride over the strip. It isn't anywhere near as expensive as you might imagine either, with flights starting at just $89.99 per person.
You can also choose between several add ons, including Red Rock Canyon, Hoover Dam and Grand Canyon West Rim packages by day, sunset or night.
Either book online in advance or try your luck in person when you are on the strip.
Take a look through the top rated helicopter tours in Vegas here to get an idea for prices.
Las Vegas Attractions Passes
Are you the type of traveler who loves to do and see as much as possible in a new place?
Well, in Las Vegas you are spoiled for choice. You could easily spend a full week ticking off a whole host of fun places to visit and still not get through it all.
We very highly recommend you look into buying a Las Vegas Sightseeing Pass or a Go City Las Vegas Pass so you can do more for less money.
Why Buy A Pass?
We always recommend (and use ourselves!) passes like these when visiting cities with so many things to do. Las Vegas is certainly one of those cities!
They work for visitors who plan to do a lot of attractions, like families or couples who want to do as mich as possible in Vegas, rather than sit by the pool.
Attractions you can bundle and save include Cirque Du Soleil shows, big bus, loads on the strip and even day trips to nearby national parks.
Pass Types
Both companies offer similar passes with similar attractions at similar prices. You can either choose by number of attractions or by number of days.
Attractions based passes allow you to simply choose 2, 3, 4, 5, 6 or 7 attractions from a long list. The more you choose, the more you save.
Day based passes allow you to choose 2, 3, 4 or 5 days in which to see and do as many attractions as you can fit in. That includes tours to places like Grand Canyon National Park.
Check both to see which will save you more money on your visit: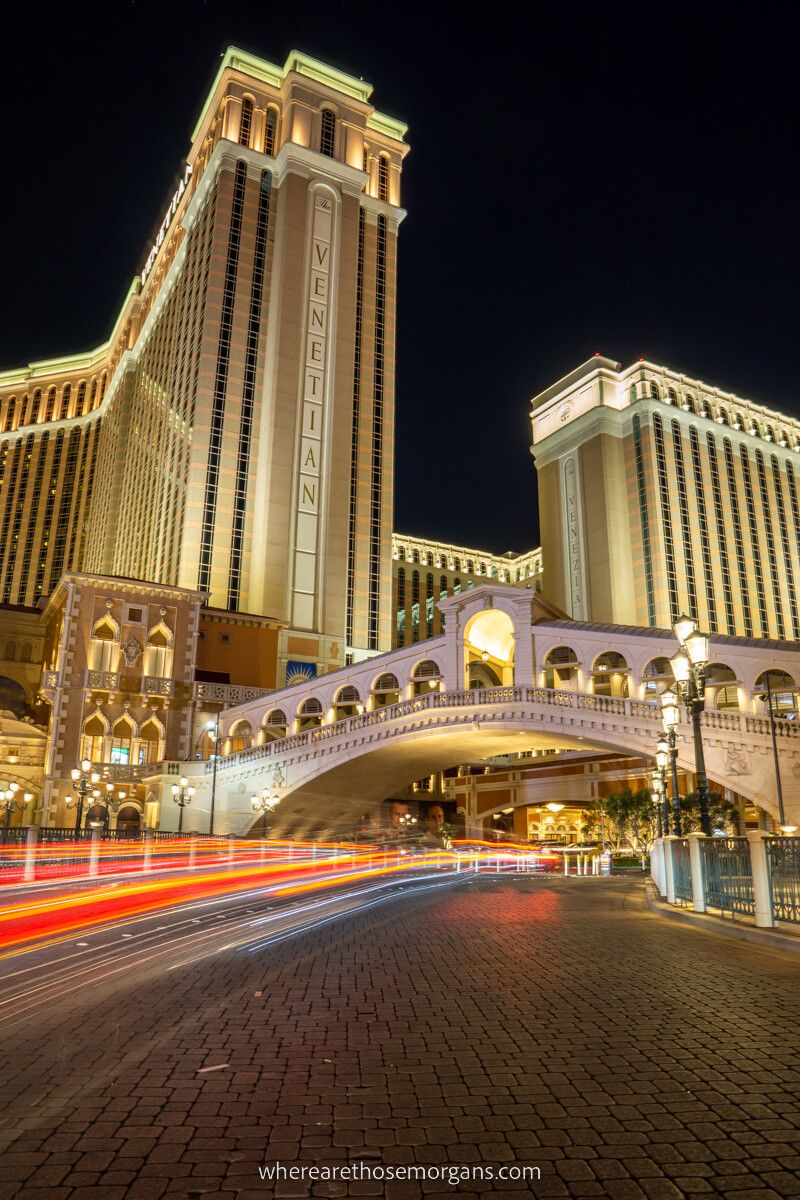 Best Free Things To Do In Las Vegas
Are you visiting Las Vegas on a shoestring budget? Let's take a look at the top things you can do for free:
Watch the amazing Bellagio fountain display
See the Volcano show at Mirage
Walk around the Seven Magic Mountains
Visit Mystic Falls or Nelson Ghost Town
And of course simply walk the strip and explore every hotel
Best Things To Do In Las Vegas For Couples
Taking a couples trip to Las Vegas? Let's take a look at the top things you can do as a dynamic duo:
Spend a day in a lavish hotel spa
Explore stunning Valley of Fire or hike in Red Rock Canyon
Dress up and hit the plush hotel cocktail bars
Eat out at high end celebrity restaurants
Watch a show or see a concert
Best Things To Do In Las Vegas For Families
Are you taking the kids on vacation? Let's take a look at the top things for families to do in Las Vegas:
Watch a Cirque Du Soleil show
Take a gondola ride at the Venetian
Ride the High Roller or go up the Eiffel Tower
Go to one of the top museums
Take the younger kids to Adventuredome
Best Things To Do In Las Vegas For Groups
Planning a boozy weekend break in Las Vegas with your friends? Let's take a look at the top things you can do as a group:
Check out the top pool parties and nightclubs
Hit the casino tables
Find the best happy hours and cocktail bars
Hit some balls at Topgolf in MGM
Walk Fremont Street and watch the game at Stadium Swim
Best Things To Do In Vegas FAQ's
Let's take a quick look at some of the most frequently asked questions about things you must do in Vegas.
What Can You Not Miss On The Vegas Strip?
On the Vegas Strip, you should not miss the Grand Canal Shoppes at the Venetian, the fountains at Bellagio, shopping at Caesars Forum in Caesars Palace, seeing a Las Vegas show, trying your luck in the casinos, sipping cocktails during happy hour and taking a day trip.
What Is The Most Famous Thing About Las Vegas?
Las Vegas is known around the world for gambling, entertainment, fine dining, shopping and lively nightlife in various casinos, bars and clubs.
What Should I Do On My First Trip To Vegas?
On your first trip to Vegas you should experience everything the strip has to offer by exploring the different hotels, dining at high end restaurants, shopping, relaxing or partying by the pool and splurging on a bucket list activity.
Is 3 days Enough In Las Vegas?
Yes, 3 days is enough time in Las Vegas. In 3 days, you can experience the best of Vegas, including shows, casinos, pool parties, top attractions, high end dining and shopping in plush hotels.
Our Popular Las Vegas Guides
Shows – Do you know which show you want to watch in Vegas? Here are the 30 best Las Vegas shows to help you pick the perfect experience for your visit.

Best Hotels – Which of the iconic hotels will you stay at on the strip? Read our comprehensive guide to the 25 most popular Las Vegas hotels on the strip to see which looks best for you.

November – Planning a visit to Vegas in Autumn? Here are 10 key things you need to know about visiting Las Vegas in November.

Food Tour – Want to try something unique in Vegas? Read our Las Vegas Secret Food Tour Review to see if tasting celebrity chef dishes is a good fit for your travel plans.
Our Las Vegas Day Trip Guides
Day Trips – Planning a day trip on your visit to Vegas? Here are the 10 most popular Las Vegas day trips with details on how to DIY or take a tour.
Valley of Fire – The 15 best things to do in Valley of Fire State Park including everything you need to know about visiting from Las Vegas.
Fire Wave – Exactly what you can expect from hiking the amazing Fire Wave Trail at sunrise in Valley of Fire State Park (the most popular thing to do).
Death Valley – Planning to visit harsh but beautiful Death Valley? Here are two amazing one day itinerary options you can use to plan the perfect Las Vegas to Death Valley day trip.
Red Rock Canyon – Looking for another awesome place to hike near Las Vegas? Here's our guide to the 10 best hikes at Red Rock Canyon less than half an hour from the Vegas strip.
Hoover Dam – Are you planning to visit the Hoover Dam on your trip to the US southwest? Read our complete guide to driving from Las Vegas to Hoover Dam and exactly what you can expect.
Seven Magic Mountains – Do you enjoy photography and interesting art exhibits? Read our guide complete guide to visiting the Seven Magic Mountains near Las Vegas.
Our Popular US Southwest Guides
Grand Canyon – A must visit landscape, here is our ultimate guide to visiting Grand Canyon South Rim and our popular hiking guide the 17 best hikes at Grand Canyon South Rim.

Sedona – One of our favorite places to visit in the US, here are our guides to the 20 best things to do in Sedona, the 20 best hikes in Sedona and the perfect Sedona itinerary.

Zion – One of the most popular US national parks, here are our guides to the 20 best hikes in Zion and the perfect one day Zion itinerary.
Want more Nevada content? Head over to our Nevada Travel Guides to explore State Parks, beautiful landscapes and the best things to do in Las Vegas.
---
We hope this guide to the best things to do in Las Vegas helps with planning your visit to Nevada!
Please let us know if you have any questions about visiting Las Vegas below in the comments and have a great trip.
Happy Travels,
Mark and Kristen
Enjoy This Guide? Pin It For Later!