You've meticulously planned your trip, perfected an amazing travel route and booked your flights. But at the final hurdle you find yourself utterly flummoxed: How are you going to create the perfect travel packing list?!
We've packed a few backpacks in our time and we're here to share our best practices with you. Packing for any type of trip can feel like a daunting task but it can be very simple when broken down into categories.
Try not to think about everything you need to take in one enormous explosion of shoes and jackets.
Take one step at a time. Be logical about your approach and ask yourself what you can't live without. Always remember that other countries sell clothes too.
Let's begin with travel packing basics!
Pre-Trip Packing List Considerations for Long Term Travel
Any long term travel packing list is going to depend on a number of variables. Here are some of the most important considerations to account for before you set off.
Itinerary – Where in the world are you going?
Weather – What is the typical climate for those places? Do you expect predominantly hot weather?
Outdoor Activities – Will you be hiking, mountain climbing, skiing or taking it easy on your trip?
Type of Traveler – Do you prefer to dress up more or dress down more?
Specialized Gear – Do you need ski's or climbing gear? Pro photographers will need extra equipment.
This guide covers a general approach to packing for long term travel.
The following is a list of what we included in our backpacks when we traveled to Europe, Asia, South America and North America in various weather conditions throughout all seasons.
We hike a lot and we prefer to dress down / be comfortable.
Road Trip Packing: If you're packing specifically for an epic road trip adventure, head over to our Road Trip Packing guide which is targeted at driving, camping and outdoor gear.
Important Documents For Your Travel Packing List
Make your trip a breeze by planning ahead and being an admin warrior!
We recommend a cloud base storage system to upload all of your important documents. We use icloud on our iphones, but Amazon Drive is another option. Plus, back everything up to a hard drive.
Be sure to carry at least two hard copies of your passport, vaccine records and drivers license. Put these hard copies in a different location to your money and original documents. It always pays to have extra passport photos when applying for visas on the road. This way you don't have to track down a photo booth!
Lastly, prepare a pre-trip itinerary and leave this with family/friends at home along with copies of your important documents. Hopefully, they will never have to use them, but at least you will be covering all your bases.
Passport (at least 2 hard copies)

Visas Required for Trip

Return Tickets / Onward Travel Proof

Accommodation Confirmations

Driver's License

Vaccine Paperwork (some countries require it)

Credit Cards / Debit Cards
Copies of all important documents (on phone + in some sort of cloud storage)

Itinerary (give to friends and family so they have an idea of where you will be)

Several copies of Passport Photos for Visas (at least 8)

Travel Insurance (and copies of your policy)
Choosing The Perfect Travel Backpack
We highly recommend you travel with a backpack for a long term trip. Backpacks are much easier to manage than suitcases when you're constantly on the move.
Imagine yourself climbing up stairs to hotel rooms and walking on unpaved roads with suitcases every day for months?
We love our Samsonite hard shell rolling suitcase for traveling between the UK and US on family visits, but we wouldn't dream of traveling for a year with it.
Check out our Osprey Farpoint 40L post to read about the importance of selecting the correct backpack. It's going to be stuck to your back for a long time, so take your time and research to find the right backpack for you.
After you choose a main travel backpack, keep the momentum and pick up a great day pack as well. We use Osprey day packs as well because they hold true to the test of time and durability.
Keep in mind you will need more space for traveling to certain areas than others.
For instance, if you plan a 3 month South America adventure including hiking the W Trek in Patagonia, you might want to carry a tent, sleeping bags and food with you.
You can't fit that into a 40L backpack. Trust us, we know!
On the other hand, if you're just cruising around South East Asia, 40L is more than enough space for what you will need.
Travel Accessories Key To Every Packing List
The longer you travel, the more you realize how important the simplest accessory has become to you. Below is a list of items we always carry.
We can tell you that Fort Knox would have to open its doors wide for us to trade any of these in!
Packing cubes will 100% change the way you travel! We NEVER go anywhere without them. They will save you so much space and make it incredibly easy to find that one specific item you are looking for!
A travel clothesline makes it a breeze for us to do laundry on the road. We wash clothes in the sink and leave them to dry while we explore a new place for the rest of the day.
Typically overlooked, we promise a mesh laundry bag will be a lifesaver by separating your clean clothes from the dirty ones!
If it seems like we are really pushing the laundry aspect in this section, it is intentional! Laundry on the road can be a pain in the butt. Stay organized and have options to do your own because the costs can really add up.
Women's Clothing
Everyone has their own style and preferences for how they like to dress. However, the key here is to pack light for a long term trip.
Think about the essentials as you are packing. Make sure every article of clothing will be used. If you have doubts, don't pack it. Aim to be a minimalist.
Remember, you will be carrying all of this gear yourself. A good rule of thumb here is to pack what you think you need and then cut that number in half!
Pack multi-functional items which can be adapted to work for a variety of uses. Seriously, if you have something in your bag taking up valuable room that you know you will only wear once at a very specific time, take it out! Everything needs to serve more than one purpose. Dress it up and dress it down.
We also want to stress the quality of your items. If you are on a budget, it is tempting to buy cheap gear, but this can really hurt you down the line when that gear doesn't hold up. Buy good quality items so you have one less thing to worry about on your trip!
Customize Your Style
As for our style, we tend to have more athletic gear because we love hiking. However, we do always have one nice shirt/pant each for nice occasions when we may need to dress up.
For the hiking boots, consider if these will be worth the weight. We never brought our hiking boots to Europe or Asia while they were essential in South America and America. Keep this in mind before you add the extra weight!
9 Pairs Underwear (enough for over 1 week)

9 Pairs Socks (enough for over 1 week)

2 Sports Bra + 2 Regular Bras (Bralettes are perfect for travel)

1 Set of Sleepwear

1 Bikini and 1 Full Piece Swimsuit

Sarong/Cover-Up or Lightweight Travel Scarf

1 Pair Flats

Cheap Flip Flops (for showers/etc.)

1 Pair Sandals

1 Hat (Sport Hat and/or

Havana Hat

)
Women's Travel Toiletries
This is where it can be really easy to over pack non-essential items. For the most part, you will be able to pick up anything you need as you travel.
However, if there are a few things you simply can't function without, make sure you have those items packed. The worst thing is when you don't have access to a product that works well for you.
For example, Kristen prefers one specific type of face wash so she always brings a few travel sized bottles just in case as a backup.
Moving us on to our next point that the best way to store liquids for long term travel packing is in TSA approved containers. We just fill these bad boys up while we are on the road! Another option is to bring solid soaps and/or lotions like the ones below.
We have also included makeup on our list but this really depends on the person. Kristen has found she barely wears makeup when we travel so it ends up just taking up space. Tailor the list below to your specific needs!
Covers for Toothbrush

Deodorant

Chapstick/Lip Balm

Hair Gel/Mousse

Razors (sometimes hard to find)

Contacts/Glasses if needed
Mascara

Eyeliner

Eye Lash Curler

Foundation

Concealer

Powder

Few Feminine Products (can be purchased on the road, but always have some on hand)
Men's Clothing
The same rules apply here are we discussed in the women's clothing section:
Only pack essentials, make sure every single article of clothing will be used and is multi-functional. If you have doubts, don't pack it. Aim to be a minimalist.
Remember, you will be carrying all of this gear yourself. A good rule of thumb here is to pack what you think you need and then cut that number in half!
We also want to stress the quality of your items. If you are on a budget, it is tempting to buy cheap gear, but this can really hurt you down the line when that gear doesn't hold up. Buy good quality items so you have one less thing to worry about on your trip!
Consider Where In The World You Traveling
For instance we never brought our hiking shoes to Europe or Asia but they were essential in South America and America. Tank tops are more suitable for Asia, whereas t-shirts and polo's are suitable for Europe. Similarly, it's worth considering leaving jeans out entirely in Asia.
You don't need deadweight anchoring you down.
5 T-shirts

1 Quick Dry Tank Top

5 Shorts (2 jean, 1 cargo ,2 athletic)

3 Long Pants (only 1 pair jeans)
9 Pairs Merino Wool Underwear (enough for over 1 week)

9 Pairs Socks (enough for over 1 week)

2 Bathing Suits

Comfortable Sneakers

1 Set of cheap Flip Flops

1 Pair Sandals
Men's Travel Toiletries
Life is usually a little easier for men in the toiletries department!
Typically, you will be able to find most men's toiletry items on the road. We always just buy what we need when we run out of something.
However, the best piece of advice we can give is to use TSA approved containers to store any liquids you bring with you. This will save you so much time and hassle at the airport!
Since we travel as a couple, we only bring one set of tweezers, nail clippers, etc. so if there is more than one person in your group, split up the toiletries to spread the weight and space in your backpacks.
Sports & Active Travel Gear
Our favorite travel packing list section and the one we struggle the most to pack. We typically bring a lot of athletic gear on our trips because we try to stay as active as possible.
We wear athletic clothes for walking the big miles around a new city, we work out a lot and we always hike the best trails in new places.
Check out our Travel and Wellness article discussing how travel can affect personal health throughout long term travel.
What is the benefit to replacing some of my trendy clothes for sportswear?
Athletic clothing is lightweight, durable, easy to pack, practical and most importantly – comfortable. We wouldn't travel without packing at least a few items of athletic gear per body part!
Two of Mark's top recommendations for your long term packing list are:
Cambridge Audio Melomania True Wireless Earphones – incredible sound quality and never fall out (even during HIIT workouts).
Flipbelt Running Belt – easily stores a smartphone, keys, money and you can barely notice it. Doubles as a fanny pack/bum bag at airports or dodgy situations!
Flipbelt Sports Belt
Running Shoes
Garmin Venu Fitness Watch
Resistance Bands (for substituting weights)
Photography & Videography List For Travel Packing
We work on the road so this list might be a bit more extensive than your needs. However, when we first left to travel, we just had one laptop and 2 old iphones. Hard to believe that was it!
We quickly fell in love with photography and videography which has led to a massive increase in our electronics gear. With packing for a long term trip, there isn't really room for souvenirs. Our solution to keeping these wonderful memories is to document as much as we can!
We cannot recommend the Sony Alpha Mirrorless camera series enough. The Sony a6000 was our first baby and you can read about us purchasing it in Japan here. For more advanced photographers, see our recommendations below.
We have also learned the more gear you have, the more spare batteries and chargers you will need. No matter your level of electronics, make sure to have all the extras.
Electronics List To Pack For Travel
Now we're getting to the fun stuff.
Our go to laptop is the Macbook Pro. This beautiful system is perfect for all of our photography, videography and website needs.
Your long term travel will most likely consist of long plane, train, boat, bus and/or car rides at some point. We recommend the Apple Ipad Mini so you can download any shows or books for the long journeys that lay ahead of you. You can even buy guidebooks (check out our section below) to carry along with you!
One item we couldn't live without is the electronics organizer. This sleek understated lifesaver keeps all of our electronics cords/batteries/memory cards in one easy to find place.
Cold Weather Gear
If you're heading off into a Scandinavian Winter, you will of course need to pack accordingly. For general travel, you will be surprised how often you find yourself cold even in the places you don't expect. We needed ours at US National Parks in Fall.
Cold weather gear can be bulky, which makes it unpractical. The best way to combat this is to pack multiple lighter and smaller layers. When you have several layers, they can function in place of a huge winter jacket.
Our go to layers which work for both upper and lower body are:
Base Layer –

be sure to have an extremely breathable fabric which also helps to hold in the heat on your body. Under Armour fabrics work wonders – check out our recommendations below.

Mid Layer –

The middle layer is important as it will provide extra insulation but it should also have some breathability. Fleece for colder climates and moisture wicking for warmer climates.

Outer Layer –

This

layer has to be water and wind resistant/proof to keep you warm and dry. You also want this to be breathable so you don't overheat.
If you follow the simple layering rule, you will be able to stay both warm and dry.
Mid Layer for Lower Body

Base Layer for Lower Body

Winter Boots

Wool Socks

Gloves
Camping List To Pack For Domestic Travel
This list will be very different depending on your trip. When we road tripped across America for several months, you bet we had every item on this list. However, when we camped all throughout South America, we only had room for a few smaller items.
If you have your own mode of transportation, we hgh recommend the Yeti Cooler. This cooler kept our food fresh for days and really allowed us to keep our costs down while road tripping.
We also recommend quality sleeping bags. Even if you are on a tight budget, do not skimp on the sleeping bags. Look for quality brands and/or materials. Be sure to also have an idea of any temperatures you will encounter, especially at night.
Personal Health & First Aid
Hopefully you will never have to use any of these items, but they are always good to have on hand.
The easiest way to tackle a first aid kit is to buy the one listed below and take out what you don't need. We then just added other items from the list to create the perfect 'emergency kit.'
Toilet Paper / Kleenex
Allergy Medications
Any Prescriptions (with scripts if necessary)
Travel Guidebooks
It isn't practical to carry around guidebooks for a long term trip. However, you certainly can prepare before your trip.
We highly recommend lonely planet guide books for an in-depth discovery about your bucket list places. We download guide books to our ipad so we have access to the information on the go.
Pro-Tip: Lonely planet provide an "On a Shoestring" series which serves those travelers on a budget.
List of Things to Avoid When Packing for Long Term Travel
Expensive Jewelry. Don't travel with your diamonds. You also will be on the move a lot which increases the chance of losing something. Nothing ruins your trip quicker when something valuable is lost or stolen. We never travel with our wedding rings or other special jewelry.
Hair Dryer. Most hostels and hotels will have one if you need it so save the room in your bag! We never ended up using one on the road anyway.
Keep the Clothing Colors Modest. You don't want to draw extra attention to yourself as a tourist by wearing those bright pink sneakers. Keep it chilled and neutral.
Don't Over Pack. Make sure to pack your basics. Take clothes you can re-wear and use with different items. Keep in mind you can always pick up something if you forgot it.
Tips for Your Travel Packing List
Bring more than 1 weeks worth of socks and underwear. These items take up a little space and you will be able to go longer without having to do laundry.
Always, always, always have hand sanitizer and toilet paper with you. It will save you in more ways that you can imagine.
Use packing cubes. We never travel without them!
Roll your clothes. It truly saves space and helps to minimize wrinkles.
Take half of what you need. Remember you can always buy items on the road.
Avoid cotton. While this material feels great against your skin, it does not dry easily. Look for merino wool and mixed fabric blends to wick the moisture away.
Keep your liquids separate from the rest of your things. It really sucks when liquids spill all over everything in your bag. A TSA approved toiletries bag works the best!
Wear your bulkiest items on the plane. This is geared towards carry-on only travelers but it works. Take the pain of wearing 5 upper body layers for a flight if it will save you US$ 50!
Choose a great backpack. If we haven't convinced you yet, the Osprey brand is the best. Our bags have lasted years now and are still like new.
Keep your best stuff at home. This applies to anything – clothes, electronics or jewelry. Things happen when you travel so keep your valuables at home.
A cheap pair of flip flops are great for gross showers. However, these are not great to walk in so be sure to bring a comfortable pair for walking in as well.
Bring written prescriptions. It doesn't hurt to have an option if you need to fill anything at some point.
---
We hope our travel packing list tips help you prepare perfectly for your next adventure!
Please let us know if you have any questions about packing for any part of the world.
Happy Packing,
Mark and Kristen
Was This Post Helpful? Save It For Later!
Note: This article contains affiliate links. When you make a purchase using one of these affiliate links, we may earn a small commission at no extra cost to you.
All Rights Reserved © Where Are Those Morgans, LLC. Republishing this article and/or any of its contents (text, photography, maps, graphics, etc.) in whole or in part is strictly prohibited.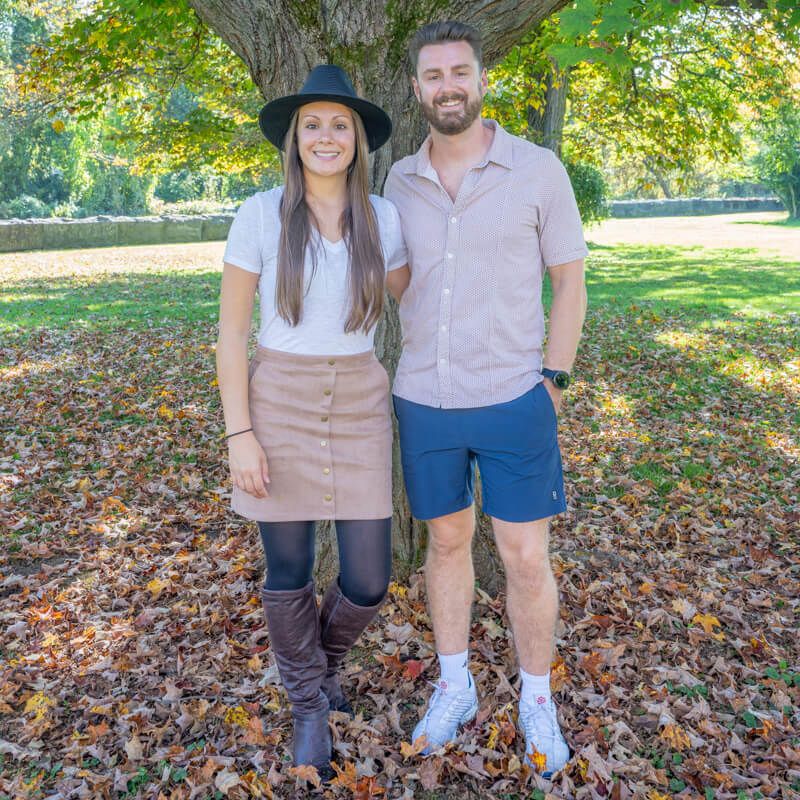 Mark and Kristen Morgan are travel, hiking and photography experts. Over the last 6 years traveling full time, they have explored more than 40 countries and 30 US states.
Their work has been featured in USA Today, Gestalten, Get Your Guide, CityPASS and Condé Nast Traveler along with various other publications.