Kolob Canyon hikes consist of three mapped trails and one hidden hike for visitors to enjoy when looking for a more peaceful area of Zion National Park to explore. We are going to explain each of the 4 Kolob Canyon hikes in detail, with tips and photos so you can see the trails before choosing which to add to your Zion hiking itinerary.
If you're researching the best hikes in the Kolob Canyon area, chances are high you're looking for an escape from the relentless swarms of hikers in the main Zion canyon. We hear you!
Well, no matter your hiking ability and experience, we're sure there's a hike for you in the quieter Kolob Canyon region. We will list the four hikes below in order of difficulty from easy to hard.
One final thing before we begin – Kolob Canyon may be less visited, but it is no less beautiful. Hiking trails here are fun and filled with those same amazing views of enormous orange canyon walls.
Let's find you a crowd-free hike in the Kolob Canyons area of Zion National Park, Utah!
*Please note this post may contain affiliate links. If you click on one, we may earn a small commission at no extra cost to you. Thank you for supporting the free content we provide! Read more in our disclosure policy.*
Hiking In Kolob Canyon Zion FAQ's
We all know Zion is a national park made for hiking. There's not much sightseeing to be done, it's all about hitting the trails and getting lost among mighty sandstone walls.
Have you visited Zion before? Or is this your first time?
We're guessing you've been before if you're looking at hikes in Kolob Canyon. This is a place many second time visitors in Zion go to get away from those insanely busy trails in the main canyon.
We have included all 4 of Kolob Canyons hikes on our list of the 20 most amazing hikes in Zion National Park. One is easy, two are moderately difficult and one is strenuous.
The only other way to escape Zion's main canyon crowds is to hike a wonderful trail called The Subway in the Kolob Terrace are of the park, but you need to apply for and win a permit.
Let's take a quick look at some of the most frequently asked questions about hikes in the Kolob Canyon area in Zion.
What Hikes Are In Kolob Canyon?
Kolob Canyon has 3 mapped hikes; Timber Creek Trail which is rated as easy, Taylor Creek Trail which is rated as moderate and La Verkin Creek Trail which is rated as hard.
You can find each hike on the NPS website and physically see the little dotted green trails on Google Maps.
But there's a 4th hike you can't see on the map or find on the NPS website. It doesn't have a name, but it roughly follows the South Fork of Taylor Creek, so we're going to call it just that in this hiking guide.
We would personally rate the 'hidden' hike as moderate, simply because it has steeper elevation gains in the beginning.
South Fork of Taylor Creek was our personal favorite hike in Kolob Canyon. The trail itself was great, but knowing that very few others realized it even existed made it all the more exciting.
Truth be told, we think there might well be another 2, 3 or 4 hikes in this area that aren't listed or that spur off of the already listed trails.
Sounds like real adventure, right?!
Is Kolob Canyon Worth Seeing?
Kolob Canyon is definitely worth seeing and adding to your Zion checklist. You can hike and enjoy the beauty of Zion National Park in relative isolation.
It has those same mighty orange sandstone walls and stunning views, plus the hikes are mostly in Zion Wilderness, which means you are getting off the beaten path and that is not easy to do in place like Zion.
Zion is one of the best places to visit in Utah and Kolob Canyons has four much quieter hikes for those looking to escape the crowds.
Without question, we would go back to Kolob Canyon, and that's how we always rate how much we enjoyed a place.
However, visiting Kolob Canyon is going to eat up between half to one full day in your Zion National Park itinerary, so make sure you have the time to spare.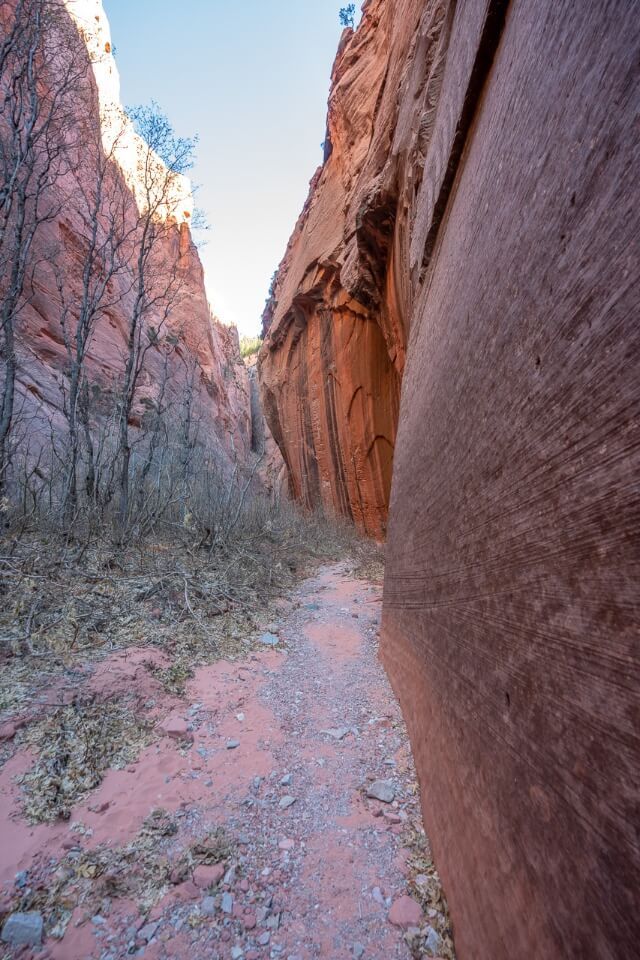 Is Kolob Canyon Crowded?
No, Kolob Canyon is not crowded and it is much quieter than the main Zion canyon. We know what you're thinking, Zion and quiet don't go hand in hand.
But despite being inside Zion National Park, the Kolob Canyon area really is like being in another park altogether.
Zion's main canyon is spectacular and many of the hikes are top level bucket list trails. But it is can be unbearably busy at times. It is one of the most popular USA national parks, after all!
Even on our first visit during October a few years back, The Narrows and Angels Landing were crazy crowded. Visiting the main Zion canyon in the Summer months of June through August makes us shudder!
If you feel the same, that is where Kolob Canyon comes into its own. Even on its busiest of days, Kolob Canyon will see a tiny fraction of the main canyon numbers.
Important – Angels Landing has been added to the list of hikes requiring a permit. It remains to be seen whether this will have a knock on effect in terms of more hikers considering Kolob Canyon.
Need a hand organizing your visit to Zion?

Our popular 40+ page Zion National Park Guidebook can help you with planning every aspect of your trip.
How Much Does It Cost To Go To Kolob Canyon?
Kolob Canyon is a part of Zion National Park and therefore entrance fees are the same as its main canyon.
Single vehicle access is $35 for up to 7 consecutive days and includes all passengers in that vehicle. You can use the same entrance pass in all three areas of Zion National Park, including the main canyon.
Alternatively, you might want to consider buying an America the Beautiful annual national parks pass.
This is also known as the Interagency Pass and can be used at all national parks, national monuments and many other places around the US.
We buy one every year and have saved a small fortune but that's only because we visit dozens of recreational areas like Zion each year. Only consider buying one if you intend on visiting multiple parks in the next 365 days.
Read our guide to the America the Beautiful annual national parks pass for more information.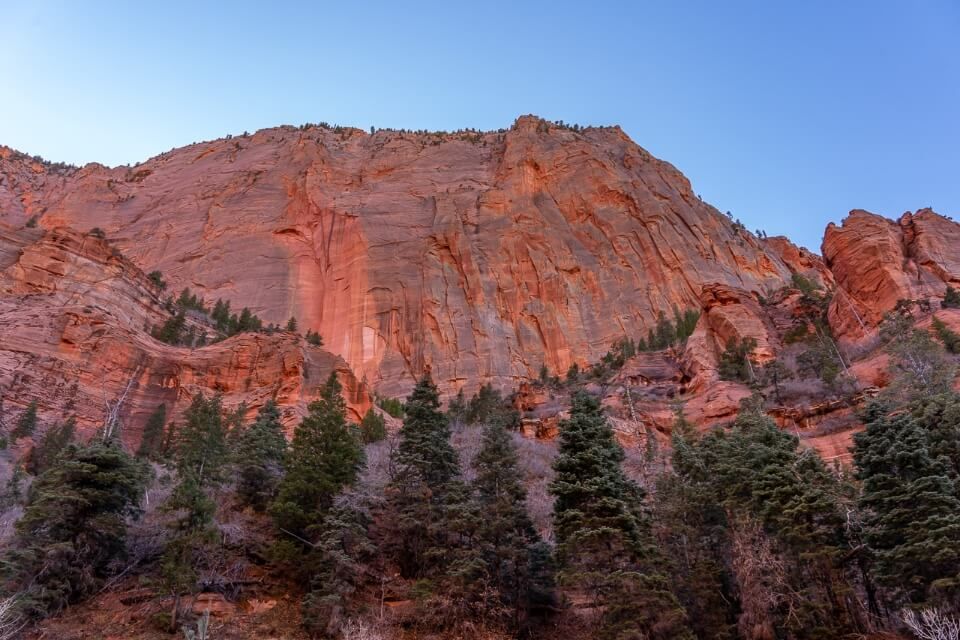 How To Get To Kolob Canyon In Zion National Park
Kolob Canyon is located right on I-15, about a third of the way up from Las Vegas heading towards Salt Lake City.
St George to Kolob Canyon is 33 miles and around 30 minutes drive time.
Zion main canyon to Kolob Canyon is 39 miles and will take about 45 minutes to drive.
Las Vegas to Kolob Canyon is 150 miles and will take approximately 2 hours and 20 minutes to drive.
The best way to visit Kolob Canyon is either before or after visiting the main Zion canyon, depending on your travel route.
For example: You land in Las Vegas and have 3 days to visit Zion. Drive straight to Kolob Canyon, spend the day, then drive to Zion main canyon and spend the next 2 days hiking.
It doesn't make as much sense logistically to drive into the main Zion canyon and day trip to Kolob Canyon.
If you're visiting Zion and only plan to hike in Kolob Canyons, it might be worth staying in Cedar City instead of Springdale.
Read our complete guide about the best places to stay near Zion National Park for all visitors and budgets for more information.
Best Time To Hike In Kolob Canyon
Kolob Canyon is going to be a much quieter area to hike in Zion National Park no matter which season you plan your trip. However, Spring and Fall are typically the best months for hiking in Zion.
Here's a brief summary of the best time to visit Zion for hiking in Kolob Canyon:
Spring – Water levels will be highest, which means you might get wet on Taylor Creek Trail.
Summer – Busiest and hottest season, parking may be difficult and you'll need to pack plenty of water.
Fall – Colors will be stunning and temperatures cooling, our favorite season in Zion.
Winter – Very quiet and isolated but conditions can turn cold and icy at times.
If you're just looking to escape the big crowds in the main canyon and have a relaxing hike in perfect conditions, visit Kolob Canyon in Spring or Fall.
But if you're looking for a true lost world feel, visit Zion National Park in Winter.
Tips For Hiking In Kolob Canyon
Parking should be fine but in peak season try to arrive early
Avoid holidays and weekends if possible
You won't need to hire any specialist equipment

Dogs are NOT allowed on hikes in Kolob Canyon

Don't forget your camera for the views and wall close-ups
Ice is common on Middle Fork tributary during Winter
South Fork Trail can be treacherous in Winter with steep slippery climbs
Snow can also be very deep on South Fork and it isn't officially maintained
Looking for hiking inspiration? Read our popular guide to the 50 best hikes in the USA next.
Our top tip for hiking Kolob Canyon:
There are no food amenities in Kolob Canyon, so you will need to bring your own packed lunch, snacks and plenty of fluids.
Fill the car up with some of those huge water bottles and fill up your personal water bottle often. And don't forget electrolyte drinks if hiking in warmer southern Utah weather during the Summer months.
OK, let's get stuck into the 4 trails you can hike in Kolob Canyon ordered by easiest to hardest!
1. Timber Creek Overlook Trail – Very Easy
Timber Creek Overlook Trail is by far the easiest hike in the Kolob Canyon area of Zion National Park.
At just 1 mile roundtrip and with only 100 ft elevation to gain, we think Timber Creek Overlook Trail offers one of the best effort to reward hikes in Zion National Park.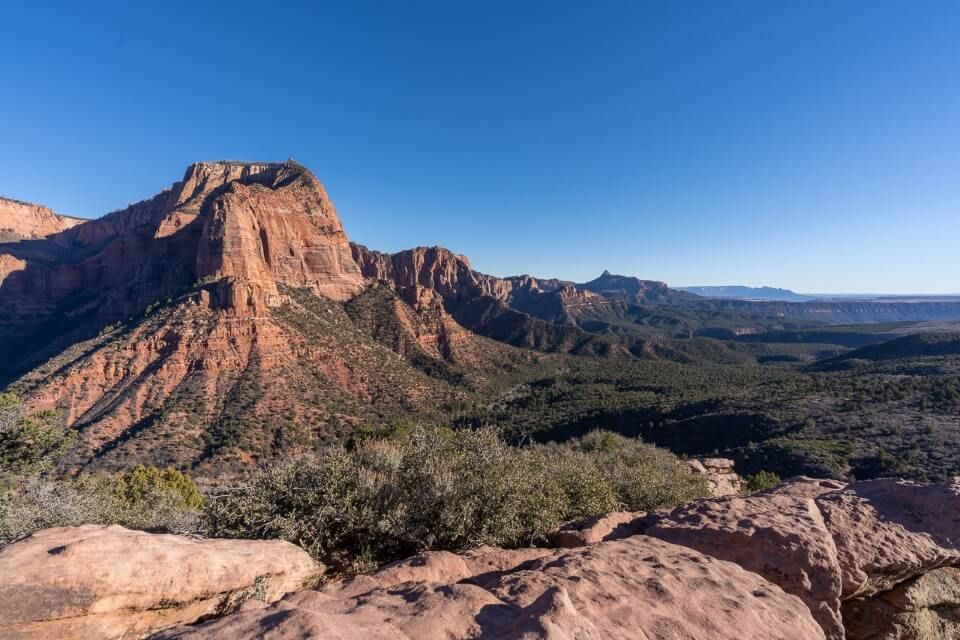 You will park at the very end of E Kolob Canyon Rd, 5 miles from Kolob Canyon entrance and visitor center. Make your way over to the trailhead and begin your very gradual climb.
The entire out-and-back hike is a straight shot due South on the way out, followed by due North on the way back.
You will partly walk over raised wooden paths, which prevent you from walking though mud after a heavy rainfall. The rest of the hike is on dirt packed trail, with occasional uneven rocks and stones to navigate.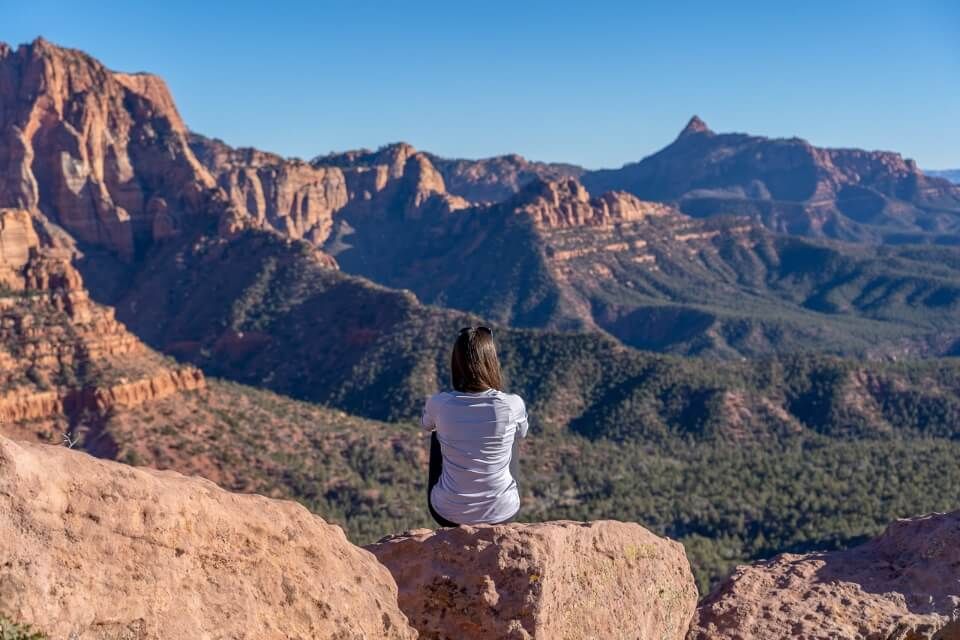 The crescendo is unobstructed 270 degree views to the East, South and West over Kolob Canyon, Kolob Terrace and the Pine Valley Mountains.
This hike won't make our list of the best hikes in Utah any time soon, but it is pretty awesome for a trail barely registering on your watch step counter.
Hiking Details – Timber Creek Overlook Roundtrip
Trail Distance: 1 mile roundtrip
Type of Trail: Out and back
Trail Difficulty: Very easy
Time Required: 1 hour
Elevation Gain: 100 ft
Trailhead: Fourth parking lot – 5.3 miles up E Kolob Canyon Rd
2. Middle Fork Of Taylor Creek Trail – Moderate
Taylor Creek Trail is the best hike in Kolob Canyon if you're looking for a good workout with a landmark climax but without the difficulty.
Also known as Middle Fork of Taylor Creek Trail, this hike is rated as moderate but it is certainly on the easier end of the moderate difficulty classification.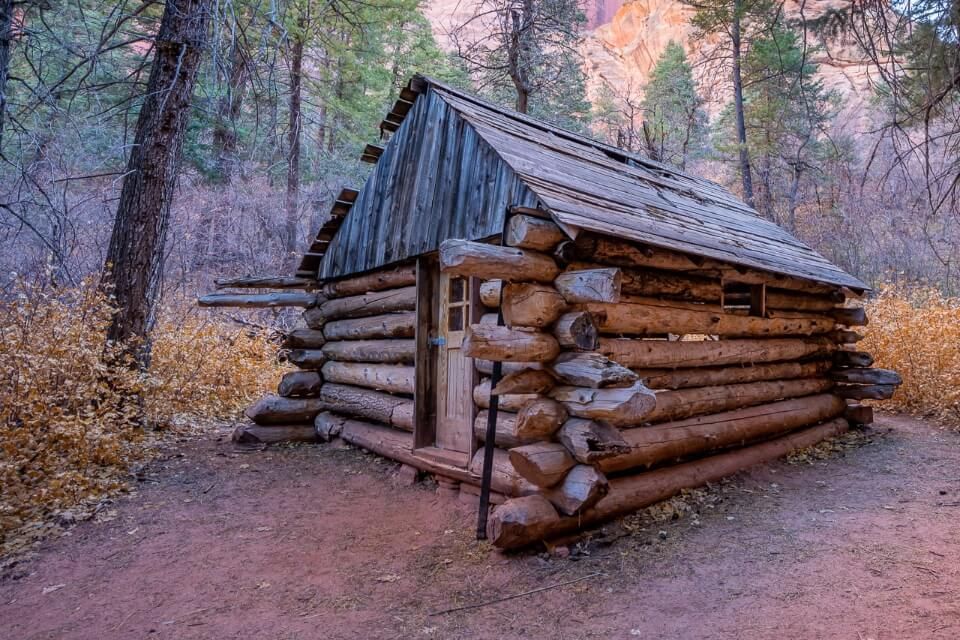 You'll face a very gradual 450 ft of elevation gain spread out over 2.5 miles each way, with no technical difficulty or steep climbs. The trail can be sandy at times, but the coral pink color is more beautiful than it is challenging.
On the trail you will continuously criss-cross the Middle Fork tributary, passing two stunning and historic log cabins surrounded by colorful forest leaves of green and yellow, and end at an immense concave rock formation called Double arch Alcove.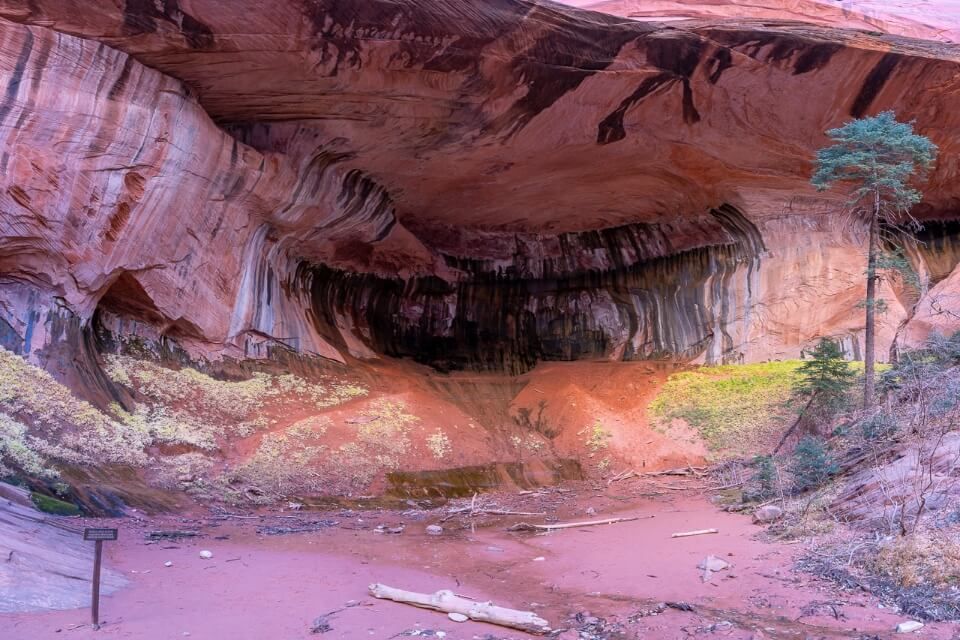 Middle Fork is a very shallow and lightly running tributary but in Spring or early Summer you may get your feet wet. Small stones and rocks are in place to use as foot placements for each crossing.
This is a family friendly trail, so expect to see plenty of kids tearing around, especially in the river crossings on hot Summer days!
Hiking Details – Middle Fork Of Taylor Creek Roundtrip
Trail Distance: 5 miles roundtrip
Type of Trail: Out and back
Trail Difficulty: Moderate
Time Required: 2-4 hours
Elevation Gain: 450 ft
Trailhead: First parking lot – 2 miles up E Kolob Canyon Rd
3. South Fork Of Taylor Creek Trail – Moderate
South Fork of Taylor Creek is an unofficial hiking trail running parallel to the South Fork tributary in Kolob Canyon.
If you stop in at Kolob Canyon visitor center and ask about the best hikes in the area, chances are the rangers will tell you about this "hidden" trail.
We say "hidden" in quotations because the hike has its own large designated parking lot and the trail is reasonably well maintained, at least for the first half.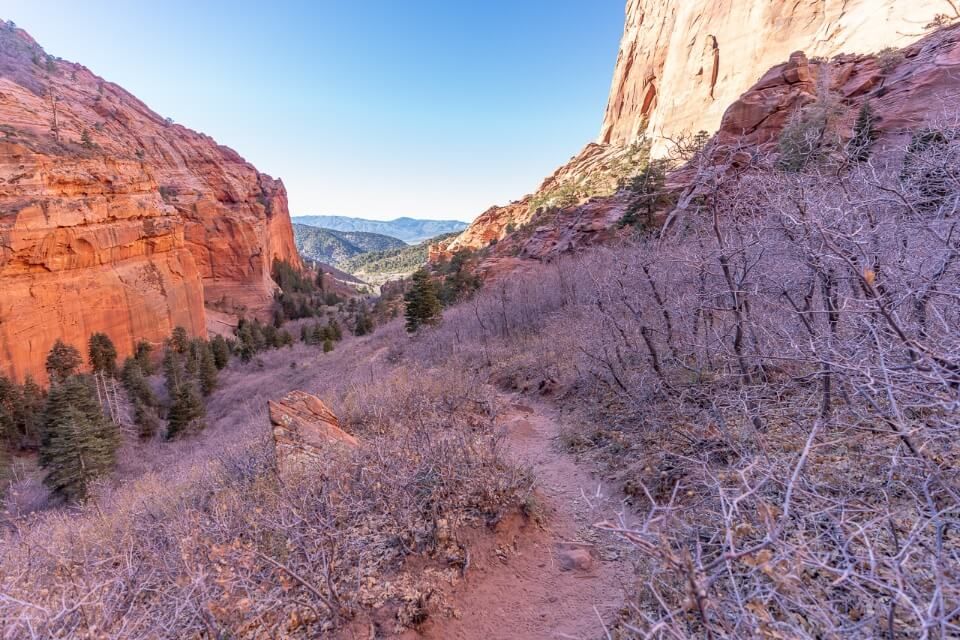 After parking at the second obvious lot along Kolob Canyon Rd, head due East and cross the main road on the bend. There is a vaulted restroom in this parking lot.
A rough path is visible after you cross the road. Follow it until the trail becomes clear as it leads down and away from the road.
The first half of this hike has steep climbs on narrow hard packed dirt paths. You are roughly following the South Fork, but you are climbing well above it in terms of elevation so you won't get your feet wet.
Once you're up, turn around 180 degrees for gorgeous views of forest with huge canyon walls to either side. Continue hiking further into box canyon as the walls gradually close in on you until you reach a point in which the walls meet.
Very close to the end you will pass a very popular rock climbing spot called Namaste Wall (pictured above). A stunning display of coral pink sand at the base of tall and deep orange walls is well worth the hike.
The coral colored sand here is even more vibrant than in nearby Coral Pink Sand Dunes State Park.
We didn't see another soul on this hike when we visited Zion in December.
Hiking Details – South Fork Of Taylor Creek Roundtrip
Trail Distance: ~4 miles roundtrip
Type of Trail: Out and back
Trail Difficulty: Moderate
Time Required: 2.5 – 4 hours
Elevation Gain: ~ 500 ft
Trailhead: Second parking lot – 3.3 miles up E Kolob Canyon Rd
4. La Verkin Creek Trail – Hard
La Verkin Creek Trail is a strenuous 14 miles roundtrip hike and by far the most challenging trail in Kolob Canyon.
It is the only hike we did not do ourselves when we were in the area for a day because we would have had no time for the other three hikes on this list.
This adventurous hike begins 3.8 miles up E Kolob Canyon Rd at Lee Pass Trailhead. We stopped at La Verkin Creek Trail parking lot, which has 18 spaces, to take a photo of the trailhead.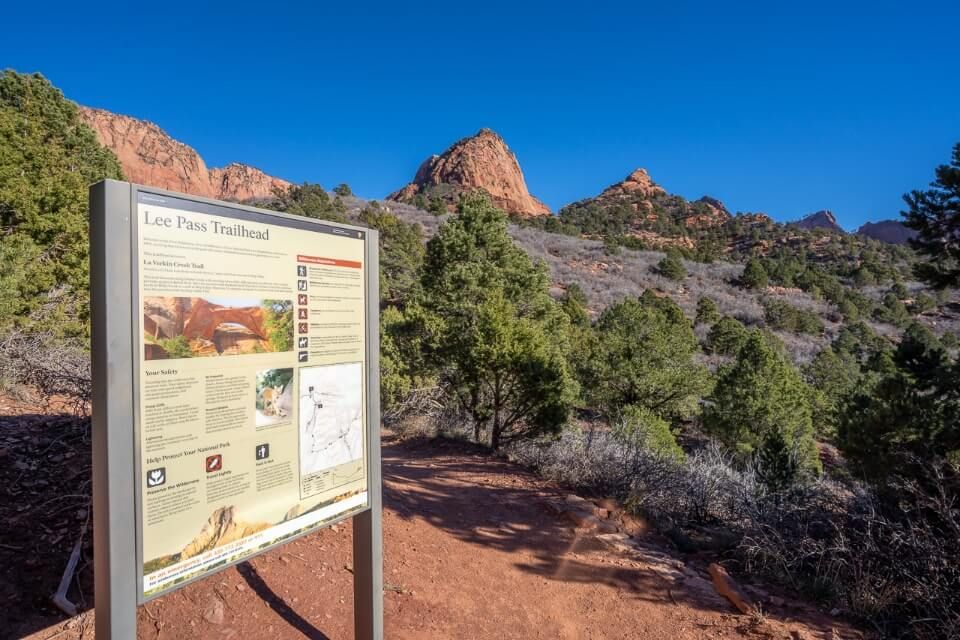 The first part of the trail follows Timber Creek with stunning views over Kolob Canyons. Once La Verkin Creek comes into view, it's a straight shot descent down a slope into the creek bottom.
You will then hike upstream along La Verkin Creek until you reach a spur trail leading to Kolob Arch for the classic day hike route. Kolob Arch is one of the largest free-standing natural arches in the US and provides a worthy climax.
Total elevation gain is over 1,000 ft, mostly on the way back to your car. Be prepared to effectively climb out of a creek and back up to the road.
For the even more adventurous, you can continue beyond Kolob Arch. Beartrap Canyon, Willis Canyon and Hop Valley are popular among the favorites of experienced backcountry hikers.
This is Zion wilderness hiking at its best.
Hiking Details – La Verkin Creek To Kolob Arch Roundtrip
Trail Distance: 14 miles roundtrip
Type of Trail: Out and back
Trail Difficulty: Hard
Time Required: Allow for 8 hours
Elevation Gain: 1,050 ft
Trailhead: Third parking lot – 3.9 miles up E Kolob Canyon Rd
Hiking Resources
Kolob Canyon hikes are mostly wilderness trails and they are typically very quiet. We recommend you let someone know where you plan to hike, just in case something happens and there are no other hikers around.
South Fork of Taylor Creek is not listed on the NPS trails map, nor can it be found on Google Maps. However, if you use Gaia GPS or AllTrails, you can read recent comments and see the trail on a map.
We always use the best hiking apps to download offline trails, typically by using Gaia GPS. We never hike without having the app track our speed, elevation and moving position.
Where Are Those Morgans has an exclusive 20% saving on annual Gaia subscriptions. Follow this 20% discount link over to Gaia GPS for more information.
AllTrails is a popular resource for hikers and we use it ourselves, but mainly for recent comments by other hikers on specific trails.
AllTrails has South Fork Trail rated as hard, 2.7 miles and 1,069 ft elevation. Personally we clocked the hike as moderate, 4 miles and 500 ft elevation.
Need a campsite in Zion? Take advantage of our exclusive 30 day free trial of The Dyrt PRO to get reservations at sold out campgrounds like Watchman and South near Zion by using a fantastic new feature called Dyrt Alerts. You can create alerts to notify you of cancelations at the most popular campgrounds around the US, including Zion. Try it for free today!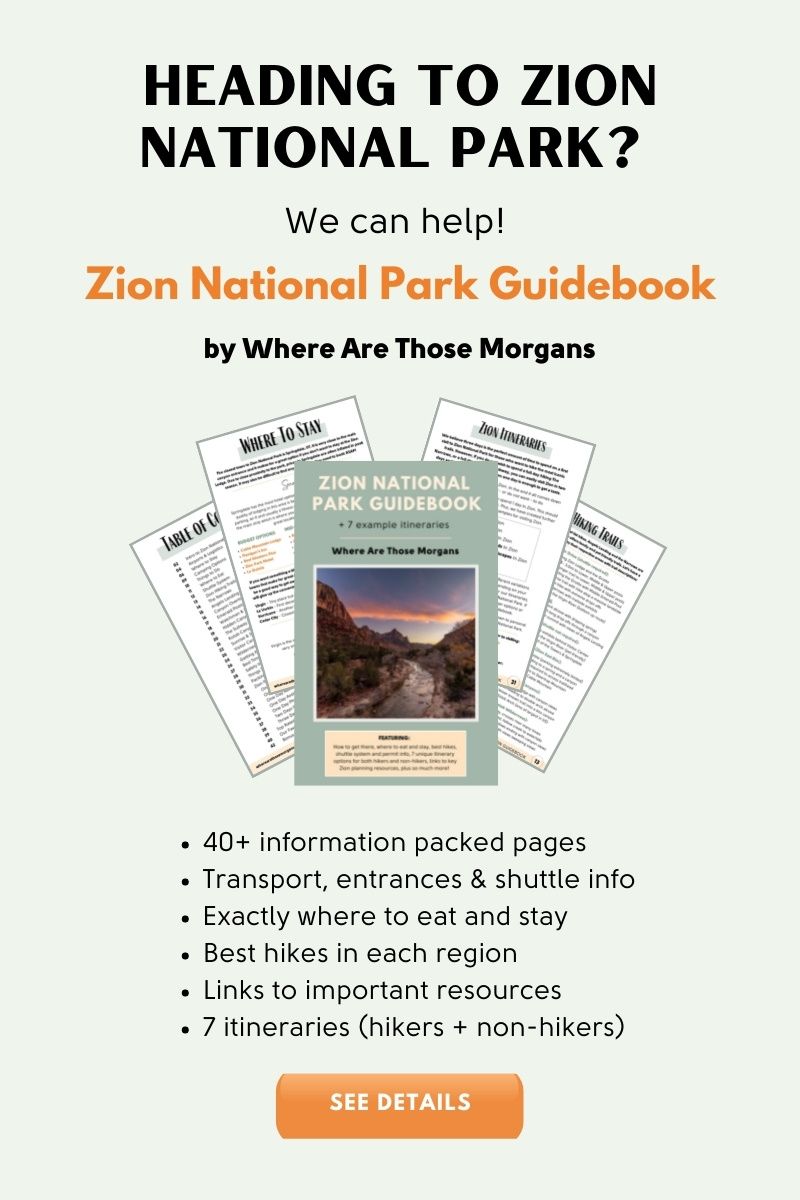 Our Popular Zion National Park Guides
More Zion Hiking Guides
Want more Utah content? Head over to our Utah Travel Guides to explore the Mighty Five National Parks and beyond.
---
We hope this guide to the best hikes in Kolob Canyon helps with planning your visit to Zion National Park!
Please let us know if you have any questions about hiking in Kolob Canyon, Zion National Park or your visit to Utah in the comments below.
Happy Hiking,
Mark and Kristen
Enjoy This Guide? Pin It For Your Hike!