Our ultimate goal as professional travelers and photographers is to inspire you to travel and take photographs. So, how can we inspire you to travel and take pictures of somewhere new in the US? Well, you can start with this wonderfully diverse list of our personal favorite Pictures of America!
You will find well over 100 of our own photographs taken in various parts of America including cities, national parks, structures and more – which makes this photography article perfect for anyone planning a trip around the US and those simply seeking some good old fashioned travel inspiration.
Photography has grown into one of our great passions when we travel. We love to shoot sunrise, sunset and night photography if possible. However, many of the most incredible US landscapes are best shot in daylight hours. Therefore, you can expect to find the right balance of images.
This photography article was created in essence for you to discover parts of America you might not have visited yet and to stir up the dormant travel bug inside!
We will continuously add to this list each time we travel somewhere new, so be sure to pin it at the end or bookmark it to stay up to date.
How Our Pictures Of America Are Organized
The United States is a vast country filled with iconic cities, mind-blowing landscapes, harsh desert, lush forest, dramatic mountains, thousands of miles of coastline and countless bucket list destinations.
We considered presenting from East to West, North to South, grouping Cities and National Parks and many more alternatives.
However, in the end we settled on a traditional approach for maximum diversity and to make things easier for you to navigate: Alphabetical order. Each US state is listed alphabetically, and within each state, each city or park is listed alphabetically.
Selecting which images to use for each place was the difficult part of putting together our favorite pictures of America. We have thousands upon thousands of images to filter through!
You will find between 1-5 photographs for each destination and if you like the look of a place, simply click the links to our blog posts for more information.
Let's dive in!
Pictures of America: ARIZONA
Grand Canyon National Park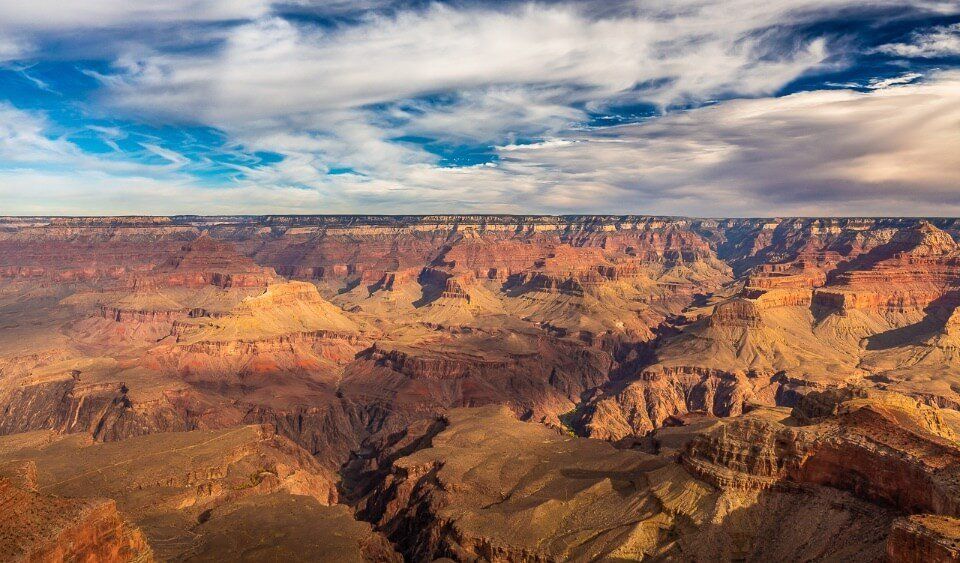 Spectacularly rugged ravines at Grand Canyon National Park, Arizona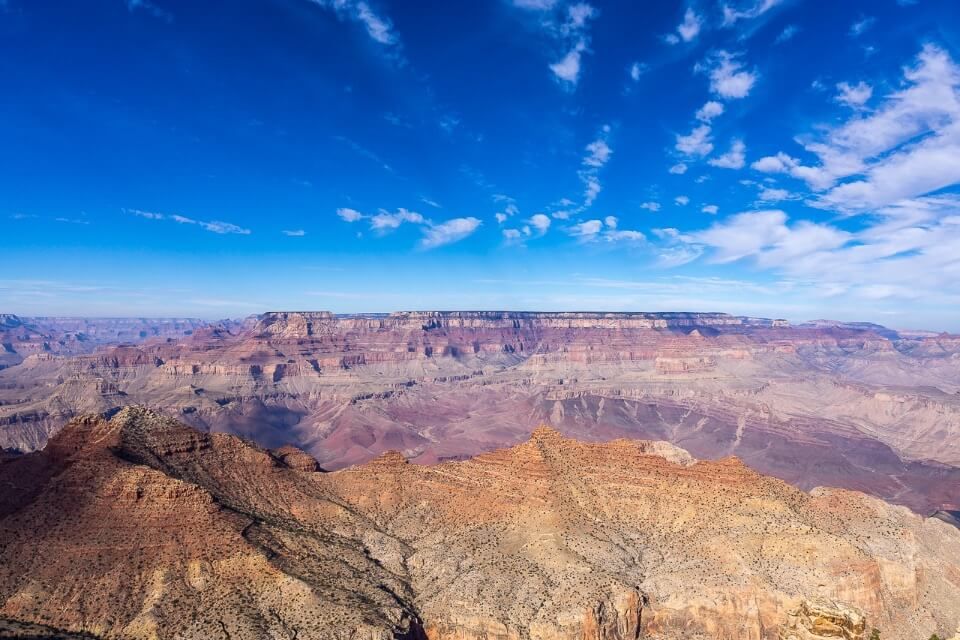 Amazing contrast between colorful canyons and deep blue sky – iconic picture of America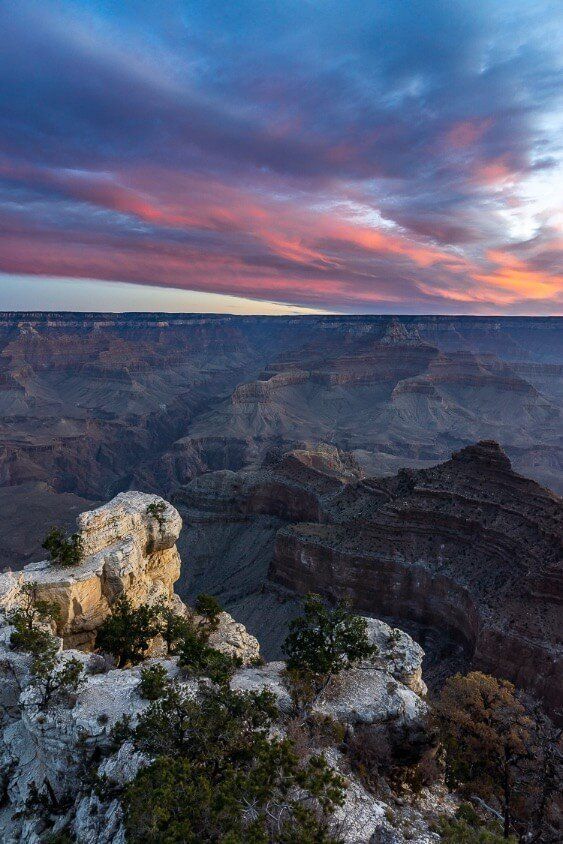 Grand Canyon sunrise extravaganza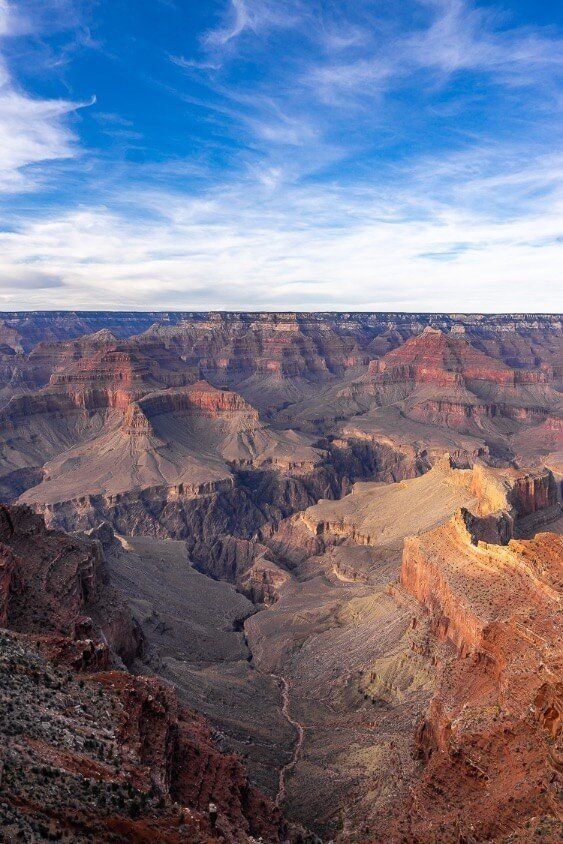 Endless ravines, gorges and rocks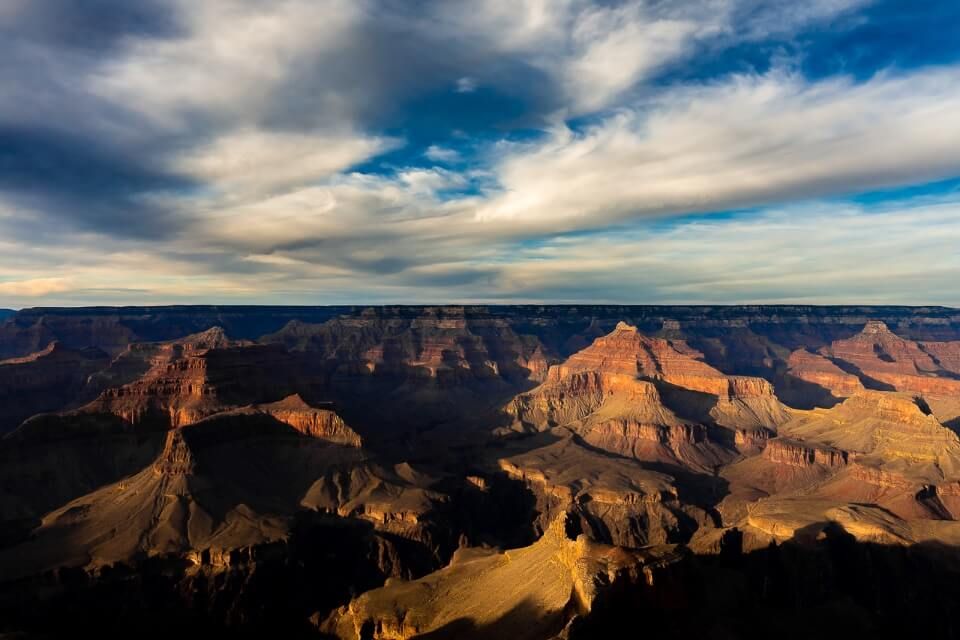 Late afternoon shadows casting eerily across the canyon before sunset
Last rays of sun beating down on Horseshoe Bend, Arizona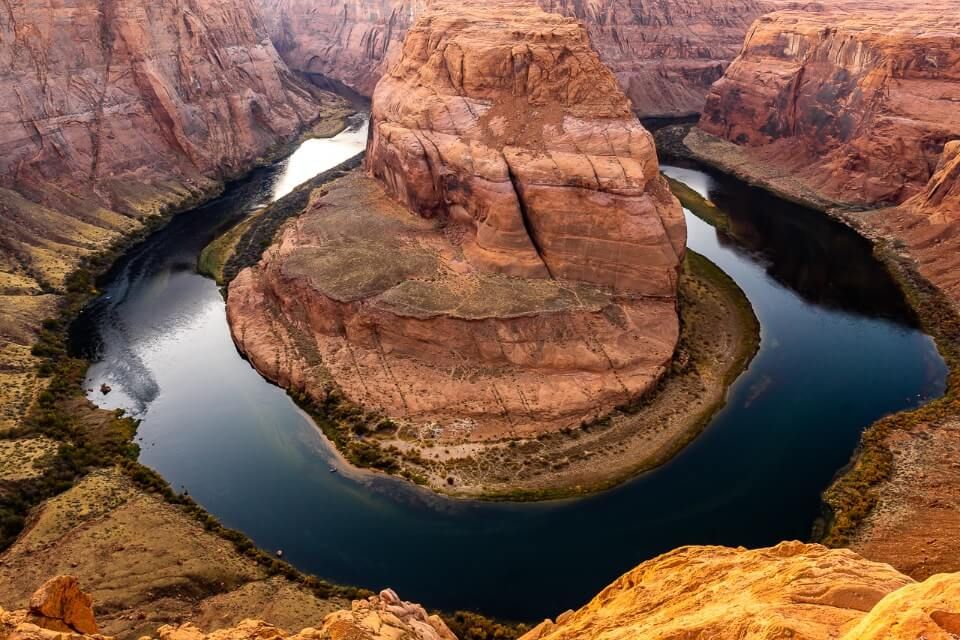 Orange rocks after sunset over the Colorado River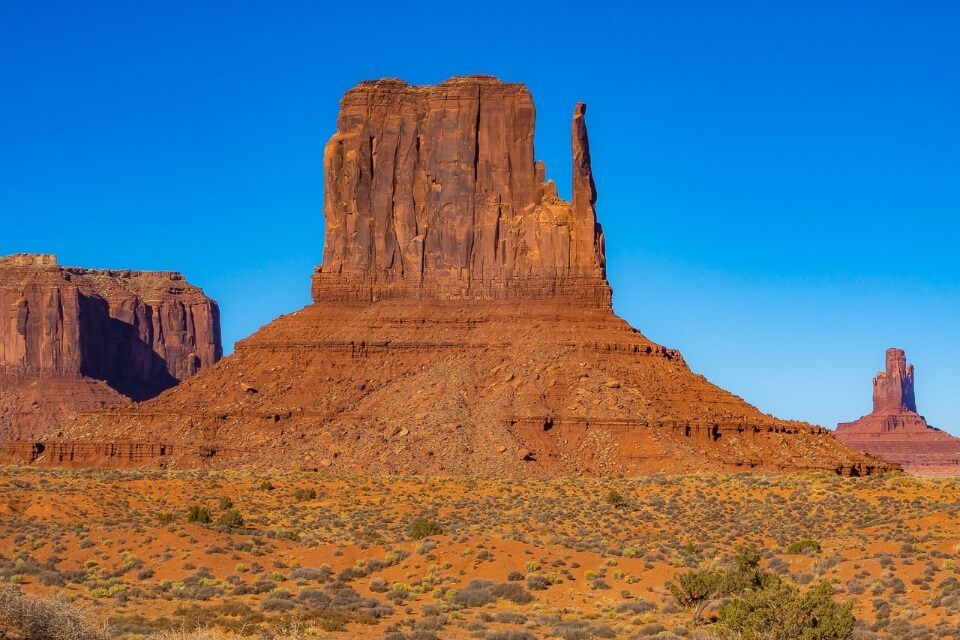 Scorching sun in the Arizona desert at Monument Valley
West Mitten, East Mitten & Merrick Buttes bursting out of an orange sea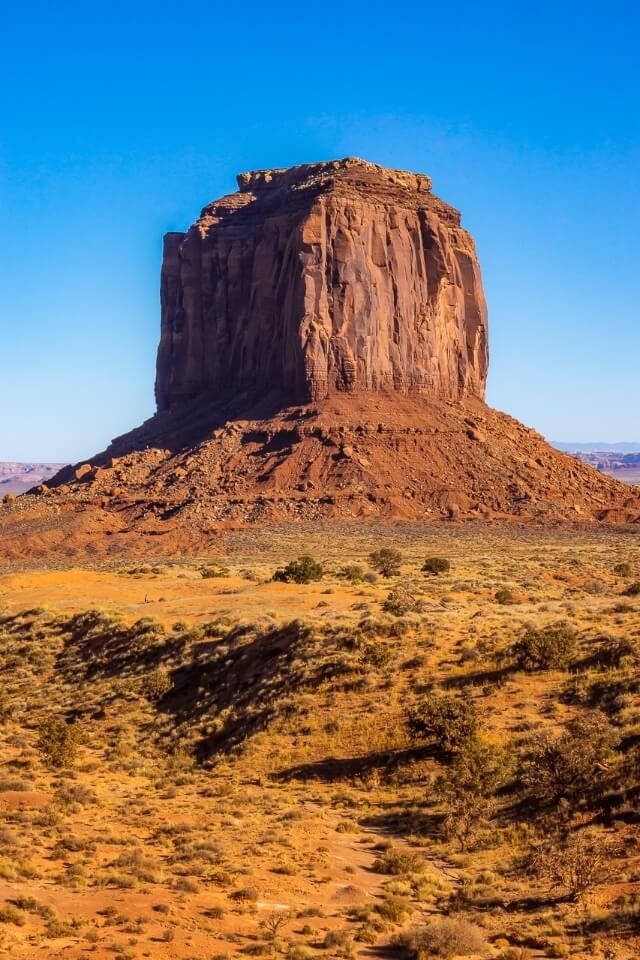 Dense, deep orange and cube shaped Merrick Butte close up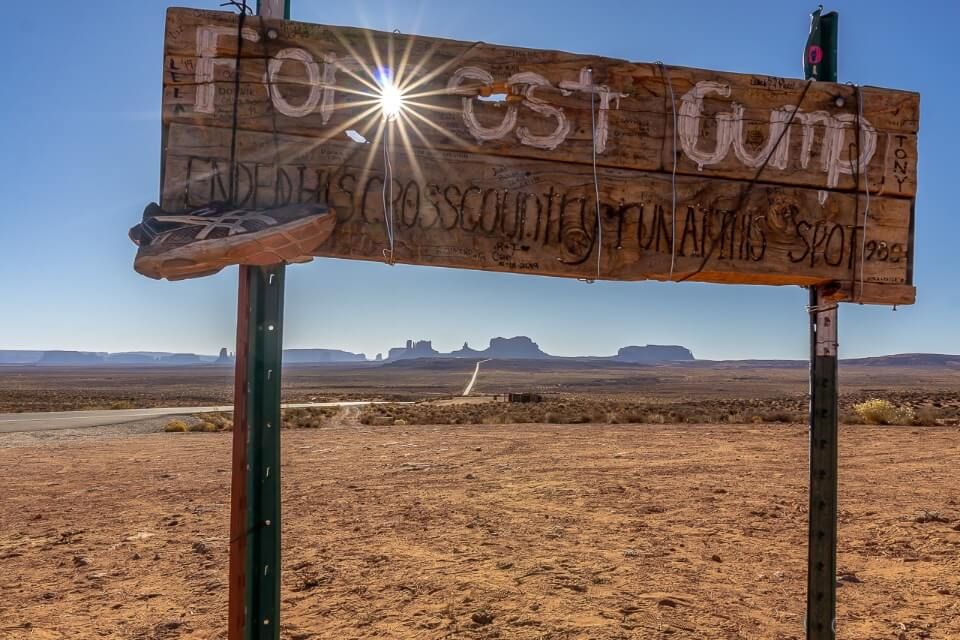 Starburst of a burning bright Sun through the famous Forrest Gump sign
Pictures of America: CALIFORNIA
Death Valley National Park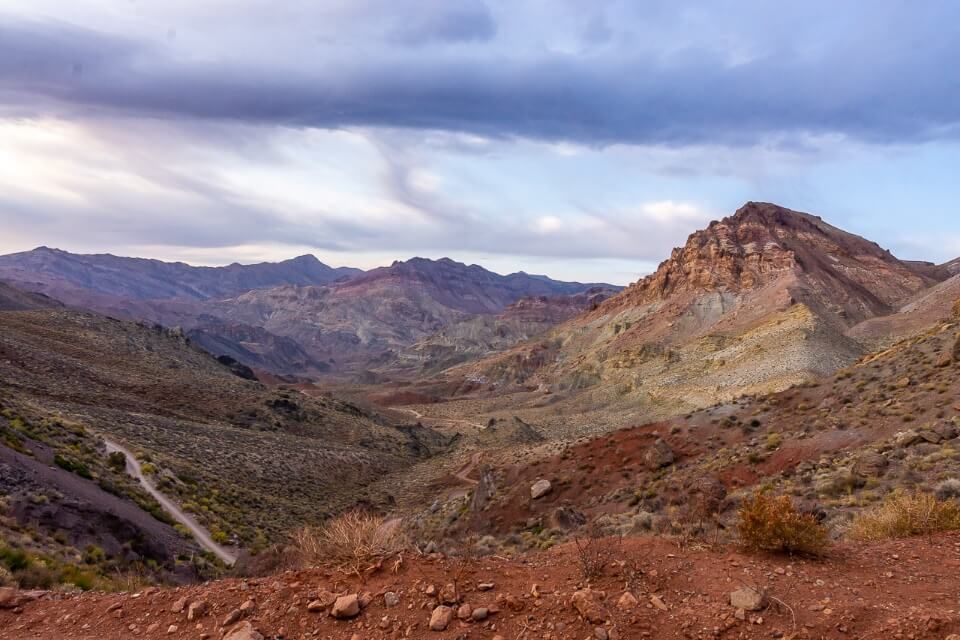 Unexpected vibrant colors driving awesome Titus Canyon in Death Valley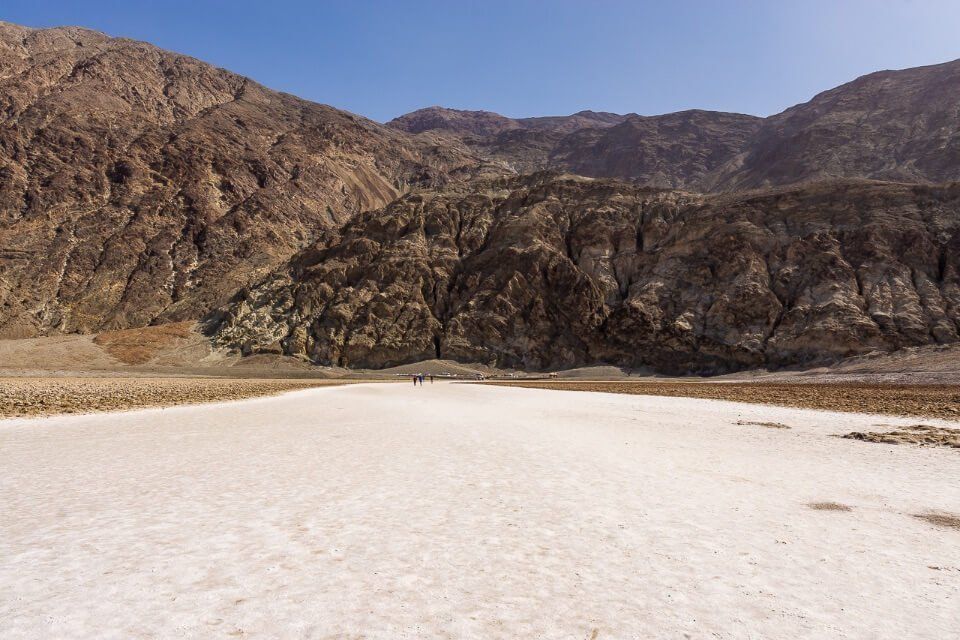 White salt flats of Badwater Basin – the lowest point in America 86m below sea level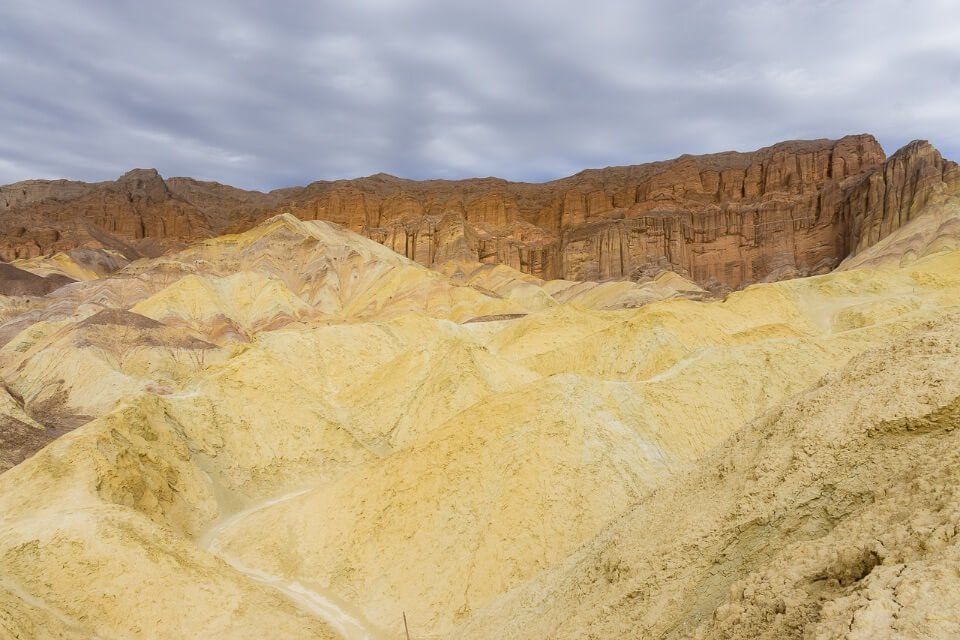 Golden Canyon hiking trail through yellow mounds to Manly Beacon
Joshua Tree National Park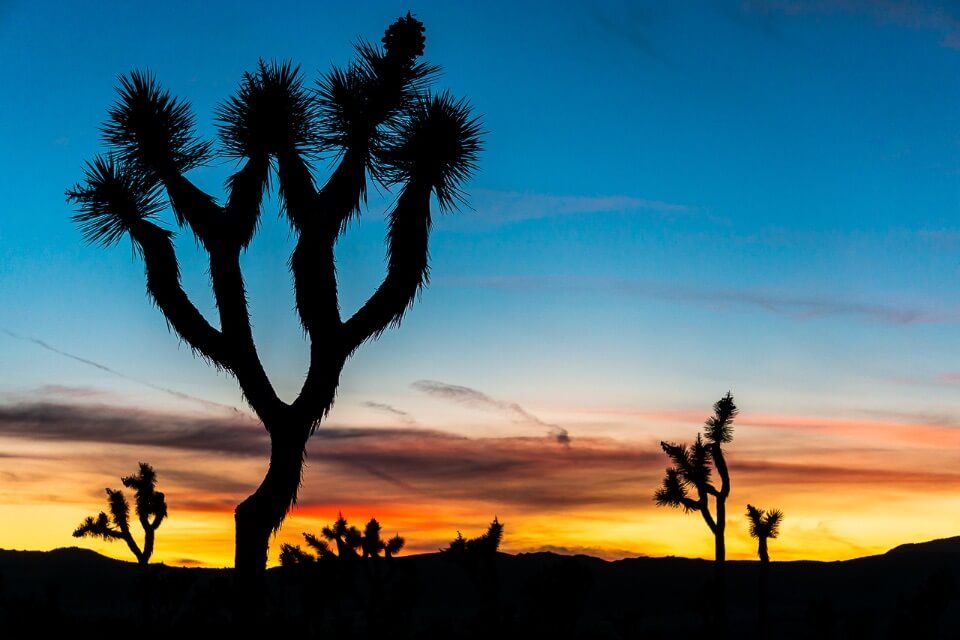 Beautiful colors at sunset with silhouetted dancing Joshua Trees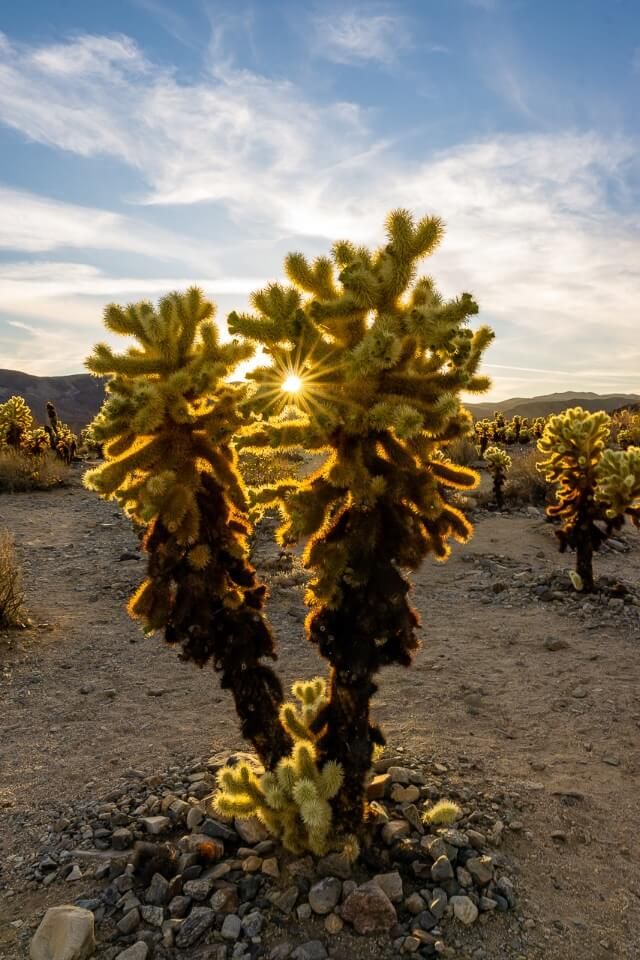 Starburst through twin cacti at Cholla cactus garden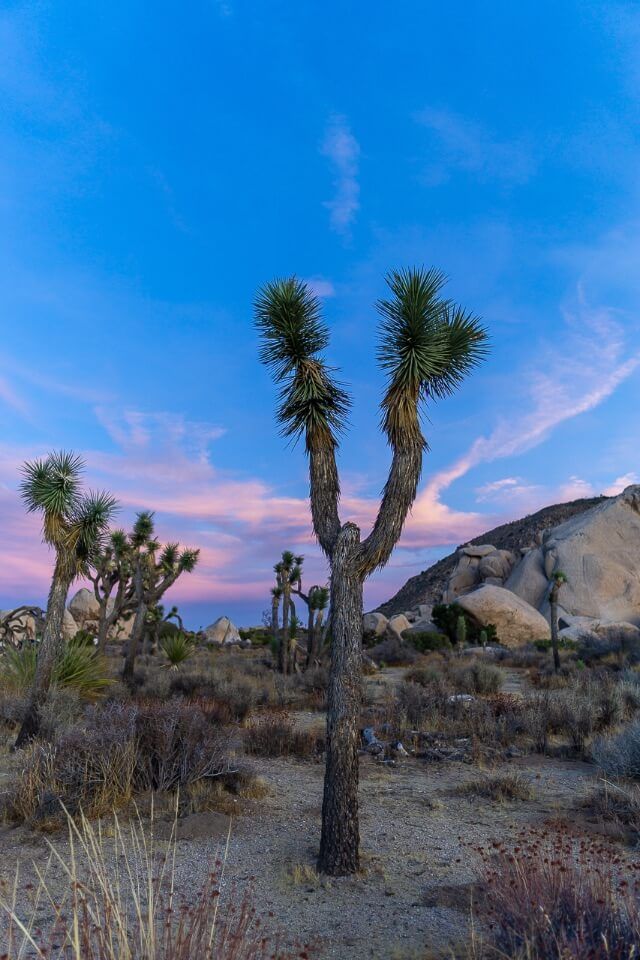 Typical Joshua Tree image of boulders, brush and sporadic yucca plants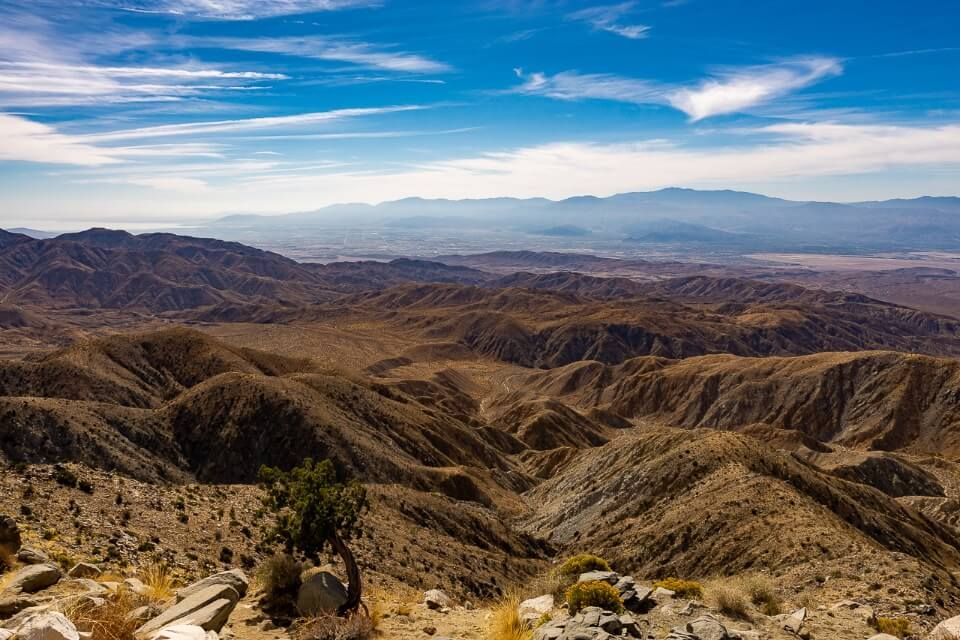 Hazy view over San Andreas fault, Coachella valley and even Mexico on a clear day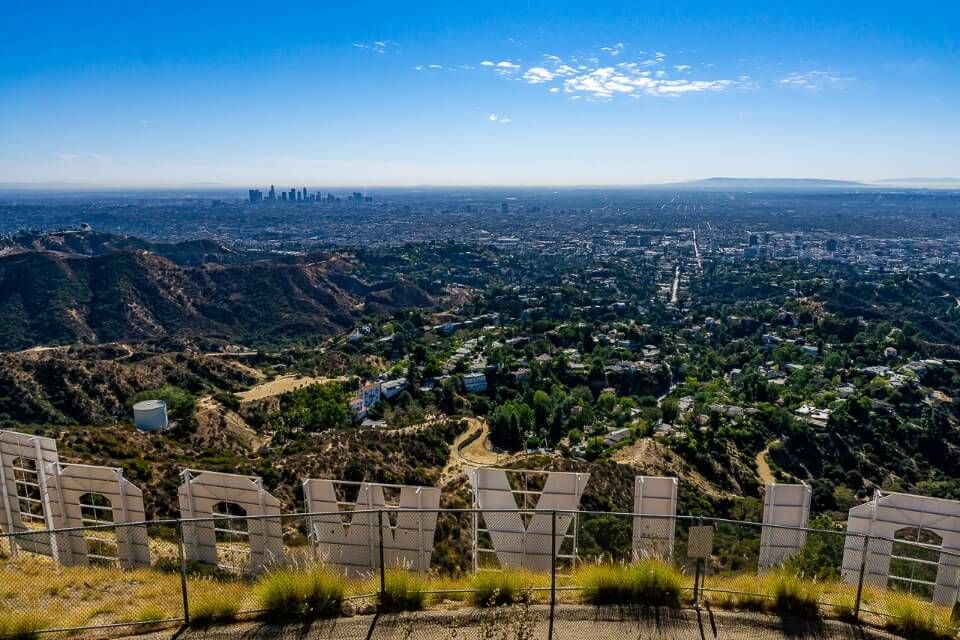 One of the most famous pictures of America – Los Angeles city from behind the Hollywood sign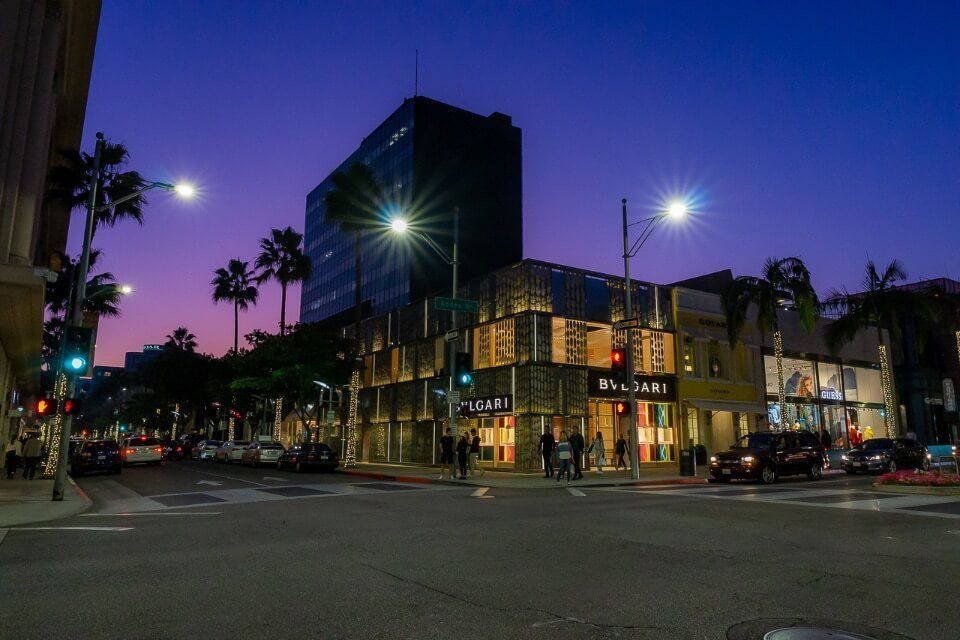 Purple sky on a warm night shopping along high end Rodeo Drive in Beverly Hills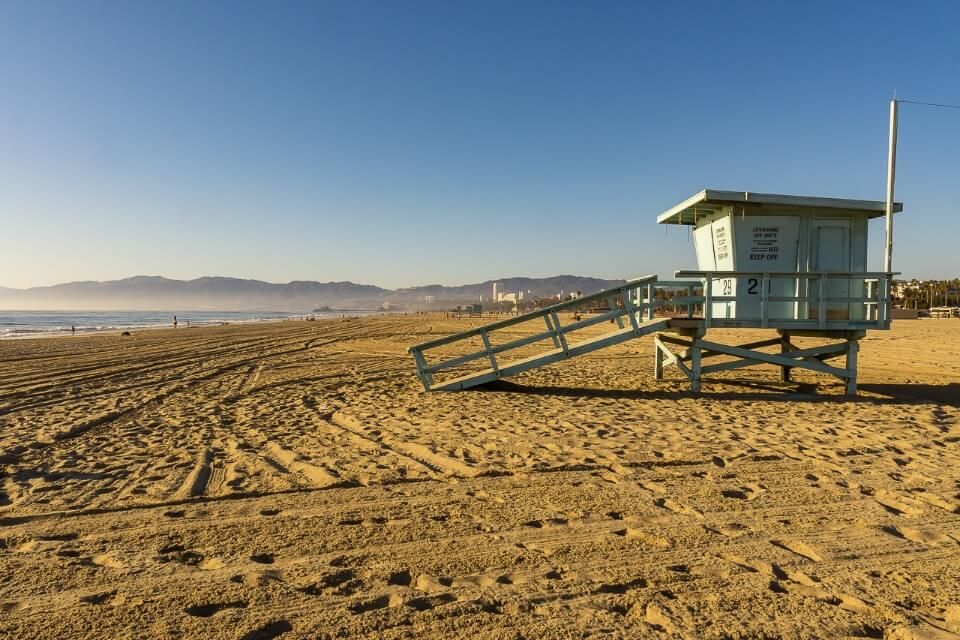 Lifeguard tower at sunset on Venice Beach with Santa Monica Pier just visible in the distant haze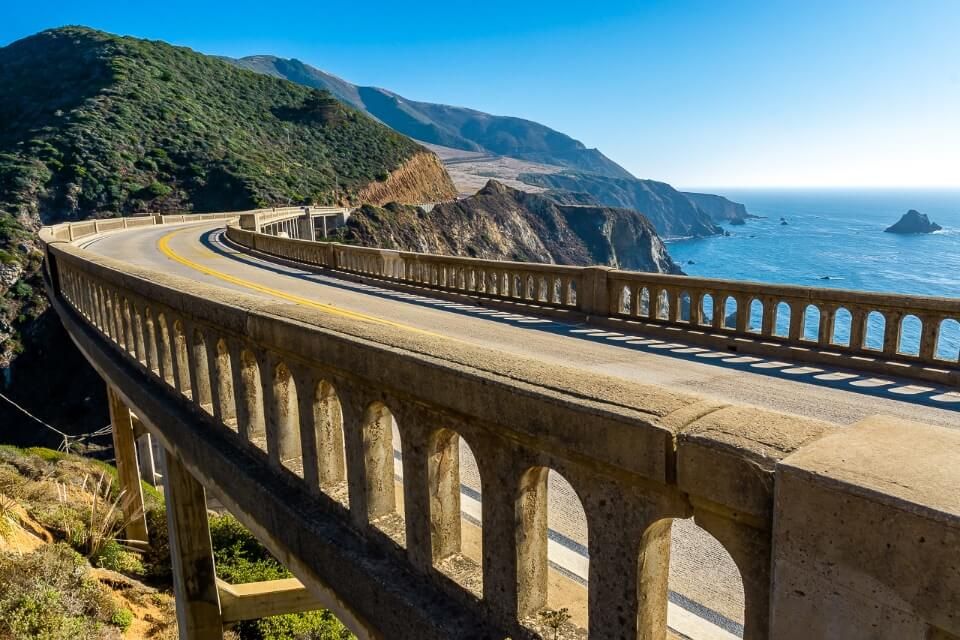 Bixby Bridge is a popular stop for photos along the Big Sur coastline of California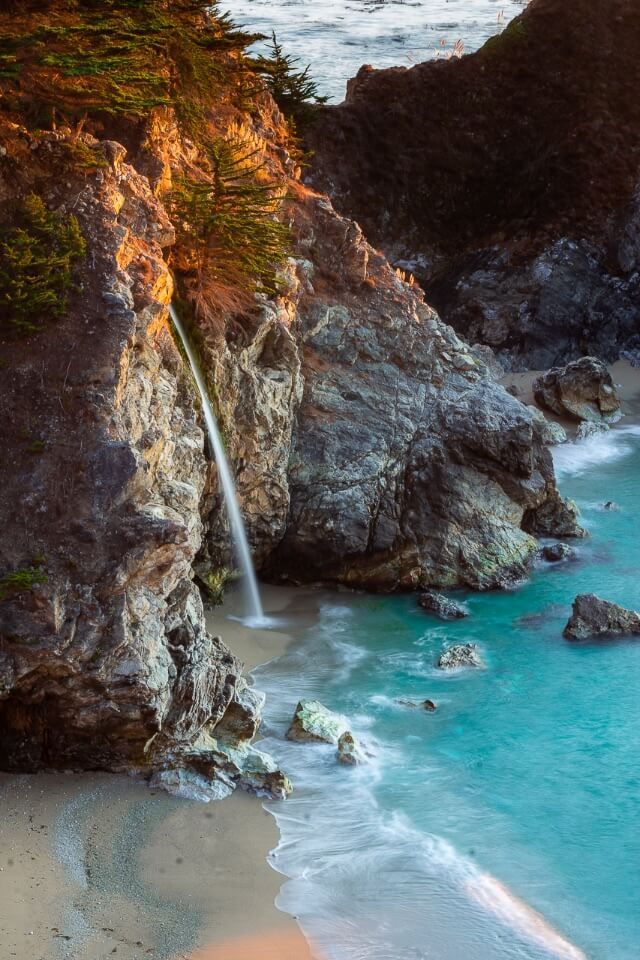 Stunning McWay Falls plunging onto sand and the Pacific Ocean at sunset
Perspective picture showing the vastness of California's Pacific Coast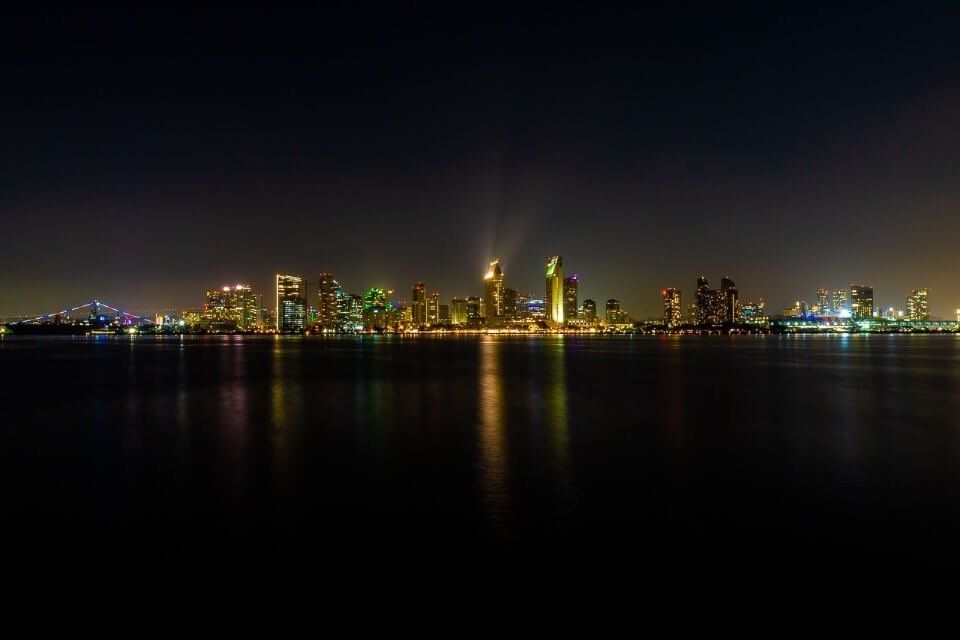 One of our favorite cities in America – picture of San Diego skyline at night taken from Coronado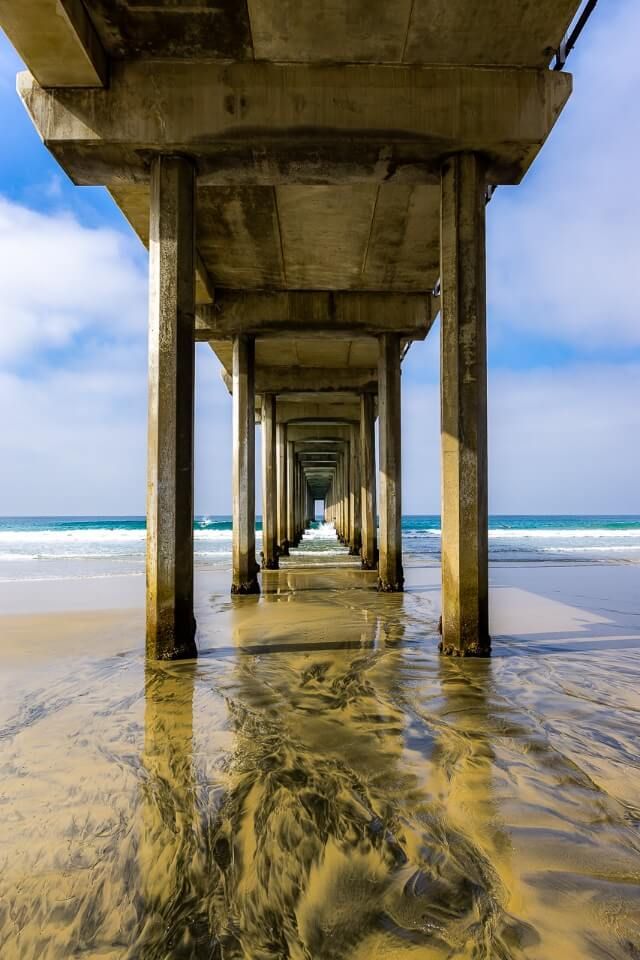 Incredible tunnel vortex perspective Scripps Memorial Pier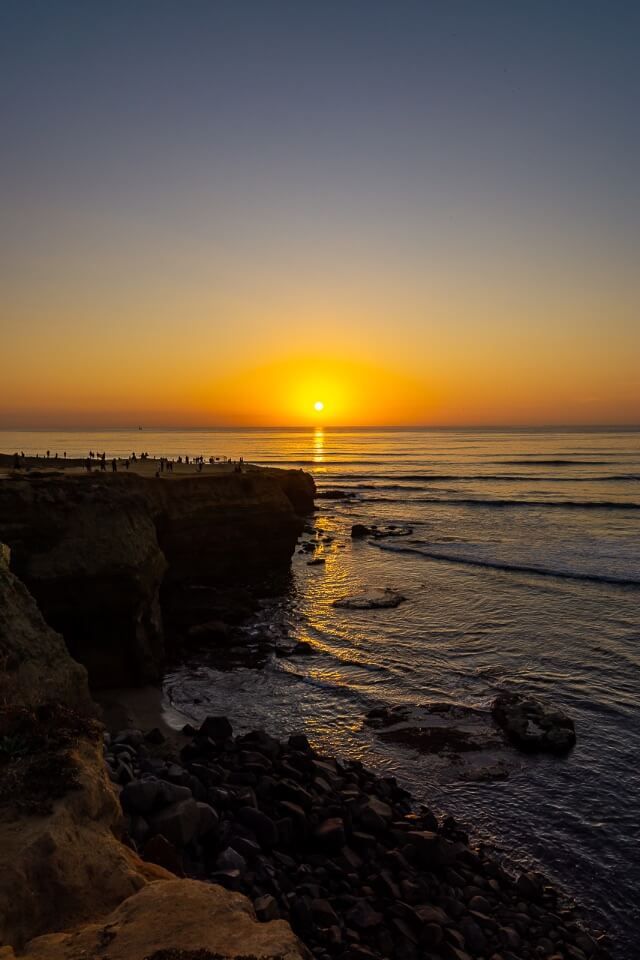 Stunning California sunset over the Pacific at aptly named sunset cliffs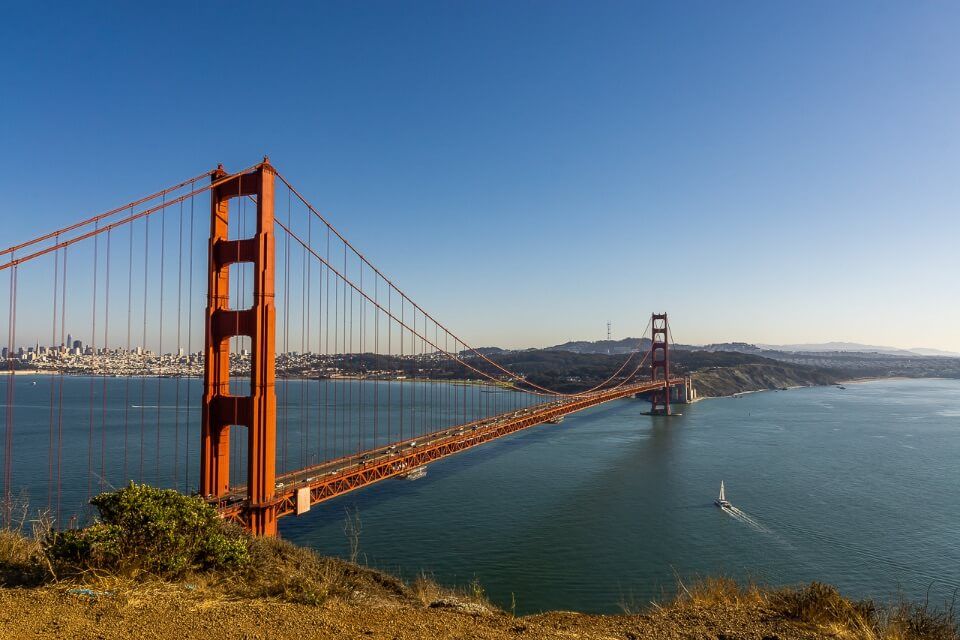 One of the all time iconic great pictures of America – San Francisco's Golden Gate Bridge
California and Powell Street picture of Oakland Bridge at Sunrise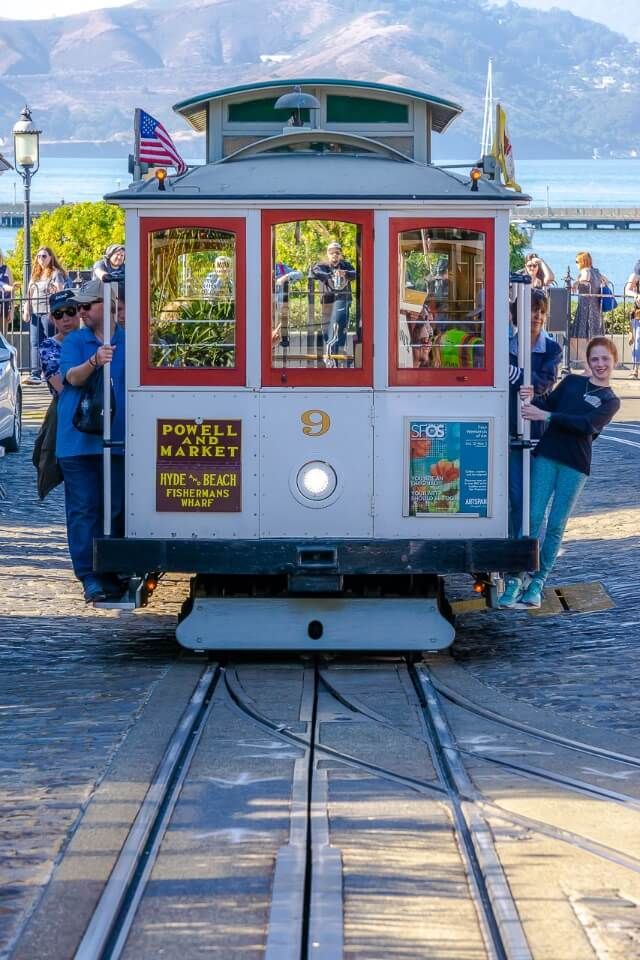 Tourists on the world famous San Francisco cable car at Hyde and Beach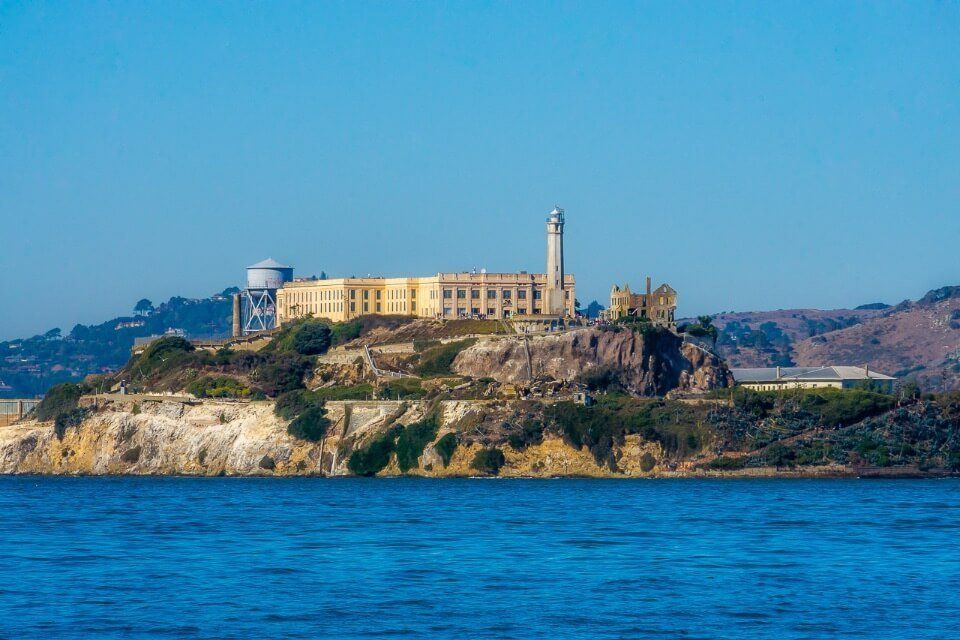 Solitary, eerie and spine tingling Alcatraz island isolated in San Francisco Bay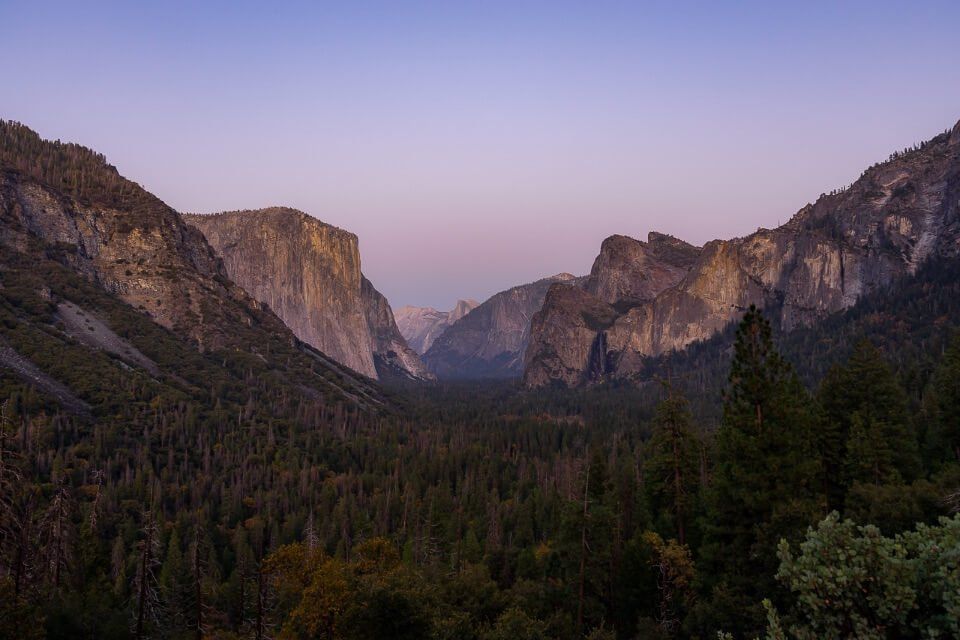 Epic Yosemite valley picture from Tunnel View – purple haze after sunset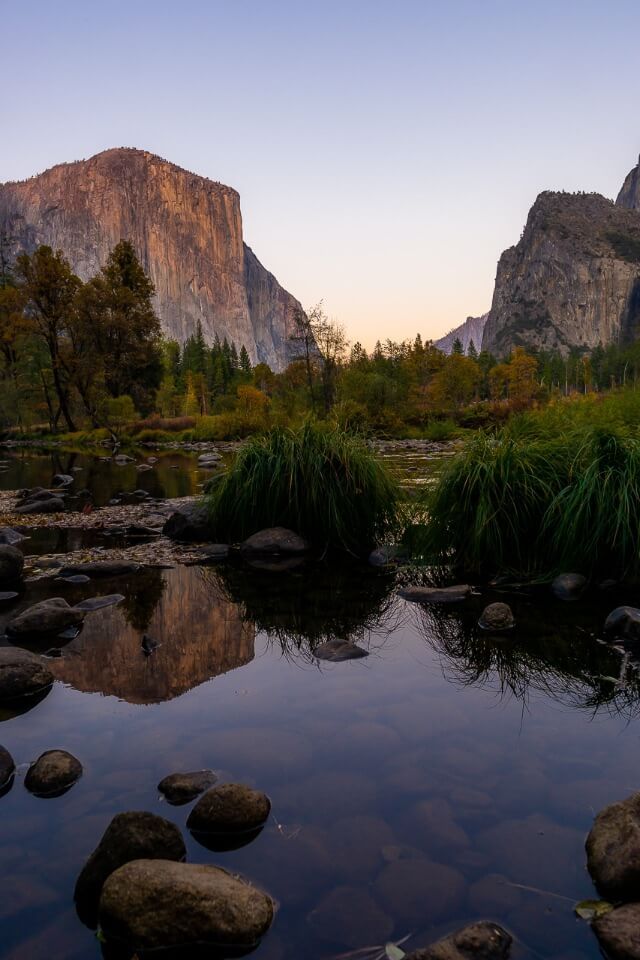 Valley view before sunrise El Capitan reflecting in the Merced River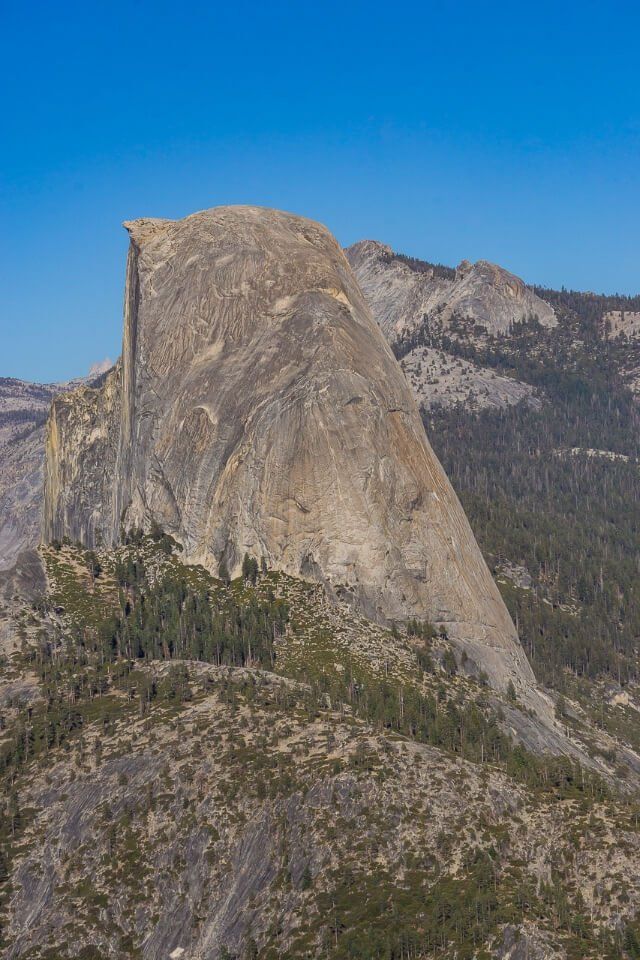 Perfect perspective of Half Dome – like a knife through Granite butter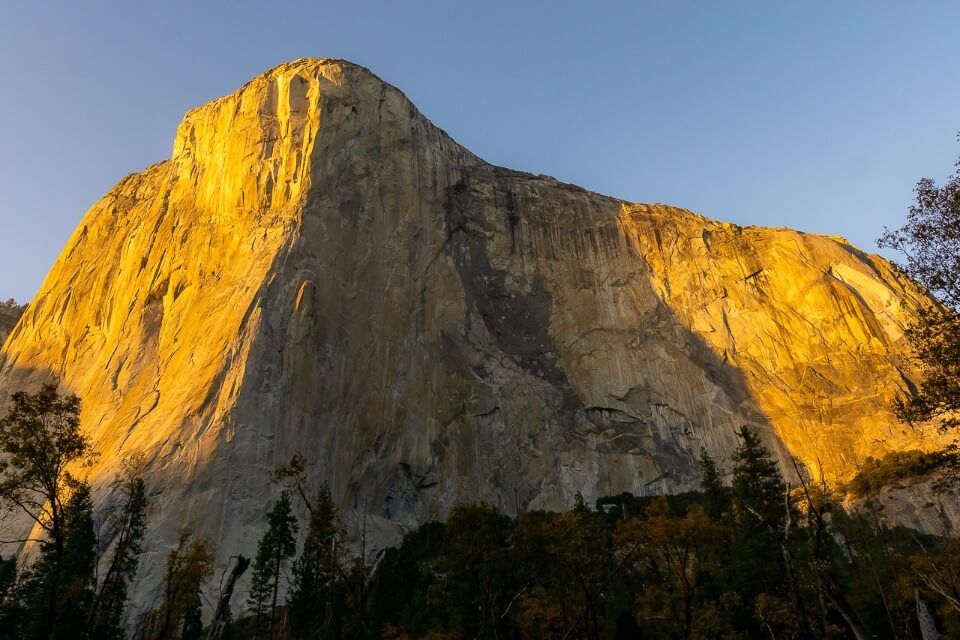 Awe-inspiring picture of El Capitan as the first rays of sun illuminate the dawn wall
Pictures of America: ILLINOIS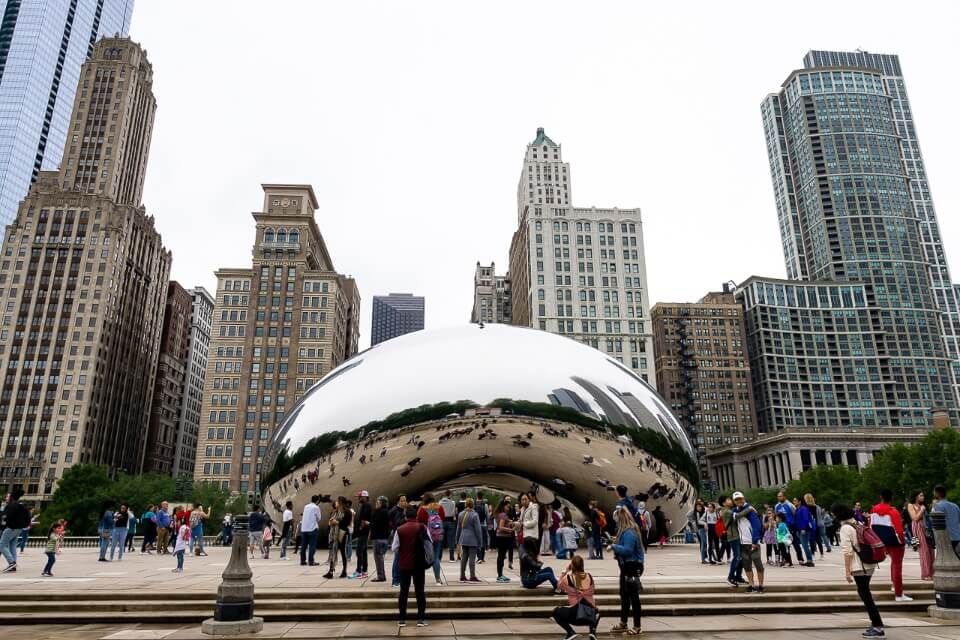 Bean shaped sculpture Cloud Gate mirroring tourists and Windy City skyscrapers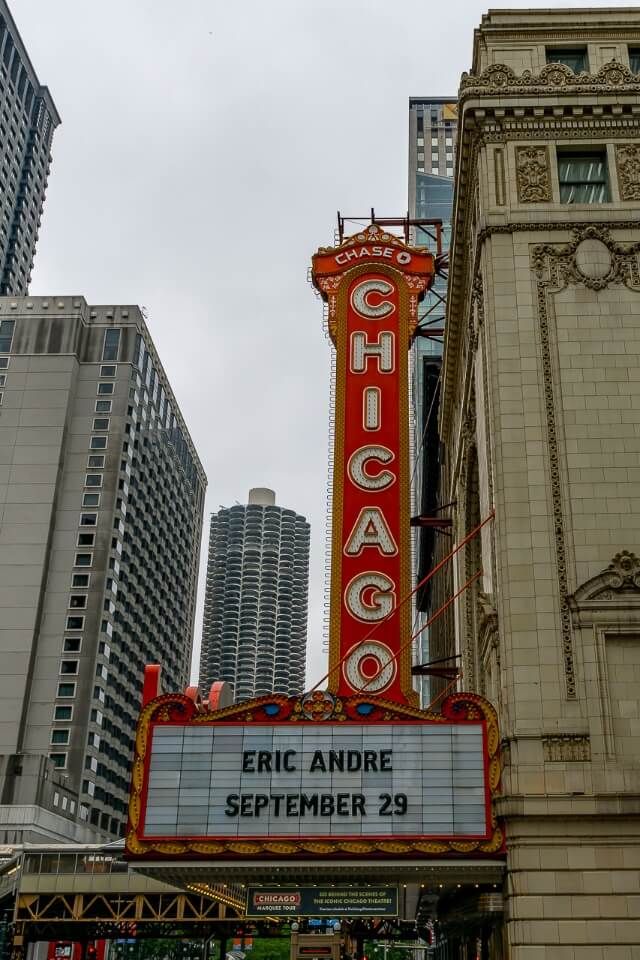 Famous red Chicago sign at the Chicago theater on a dull grey day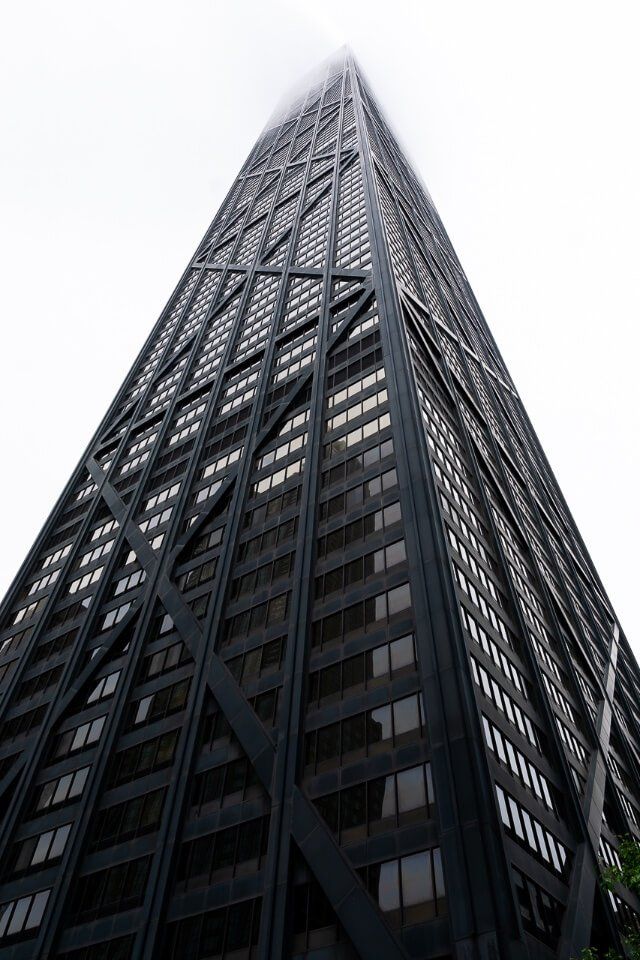 Awesome shot of Willis tower disappearing into thick dense clouds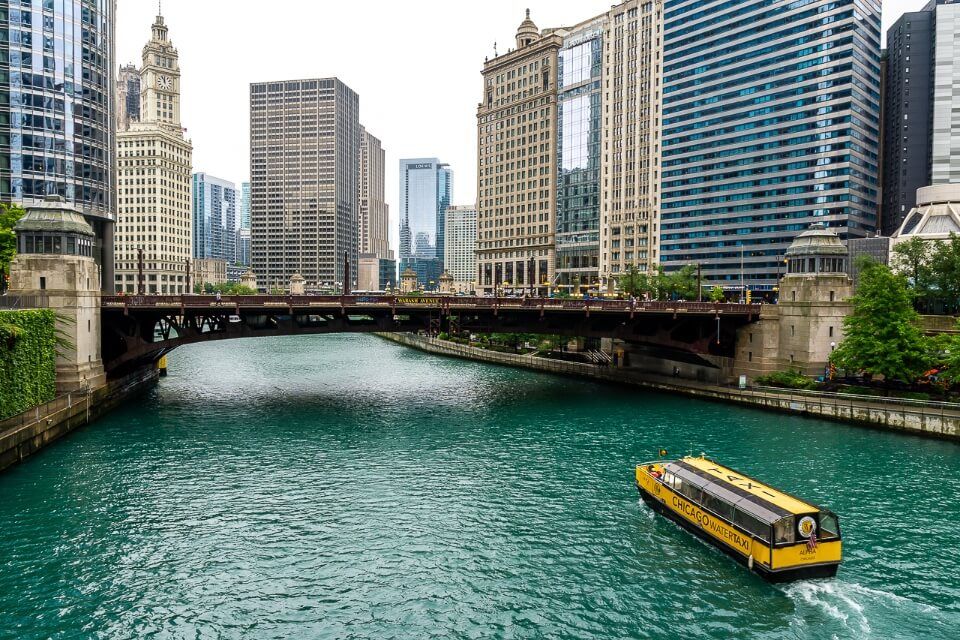 Chicago water taxi on turquoise Chicago river surrounded by tall city buildings
Pictures of America: MAINE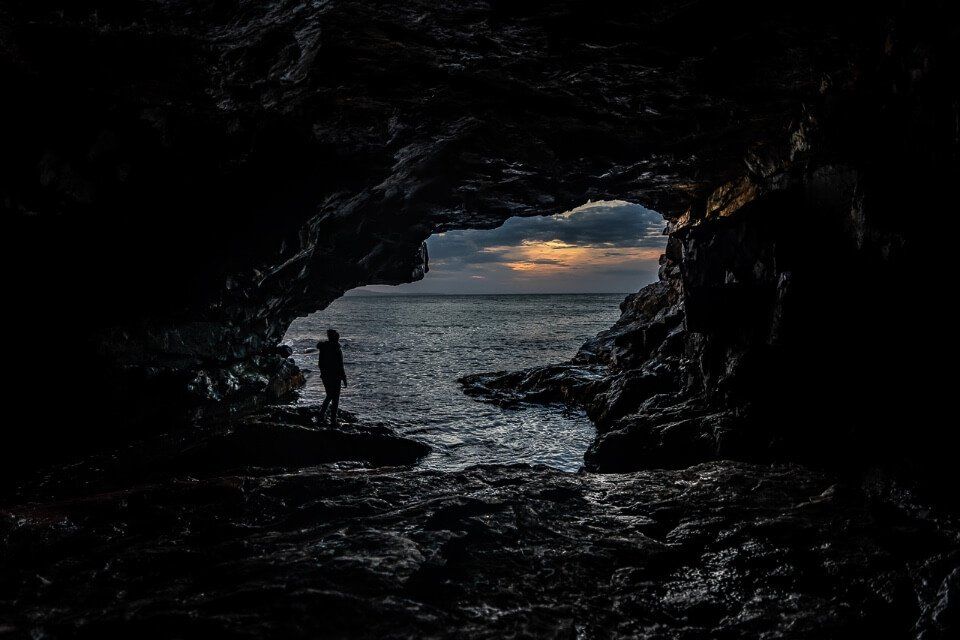 Kristen inside a hidden cave at high tide silhouetted against the Atlantic Ocean at sunrise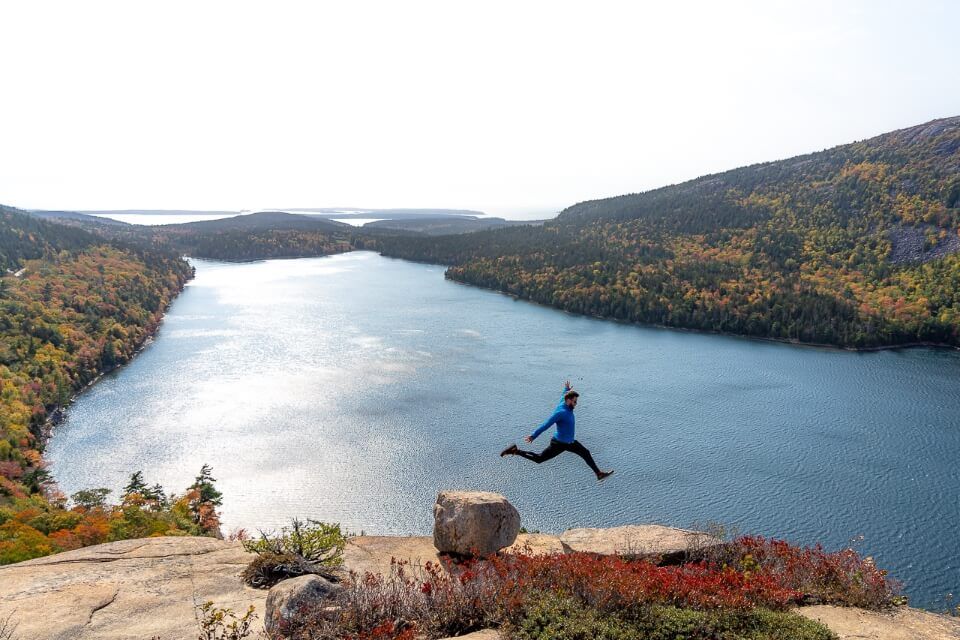 Mark taking a leap of faith – South Bubble and Jordan Pond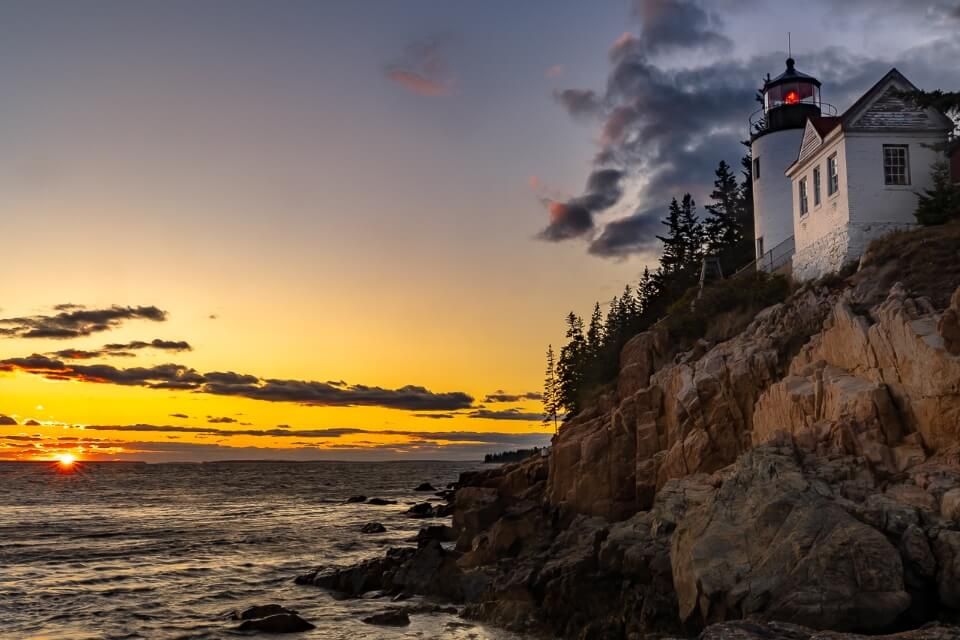 Beautiful sunset picture of Bass Harbor lighthouse – Northeast America
Pier jutting out into Boothbay Harbor at low tide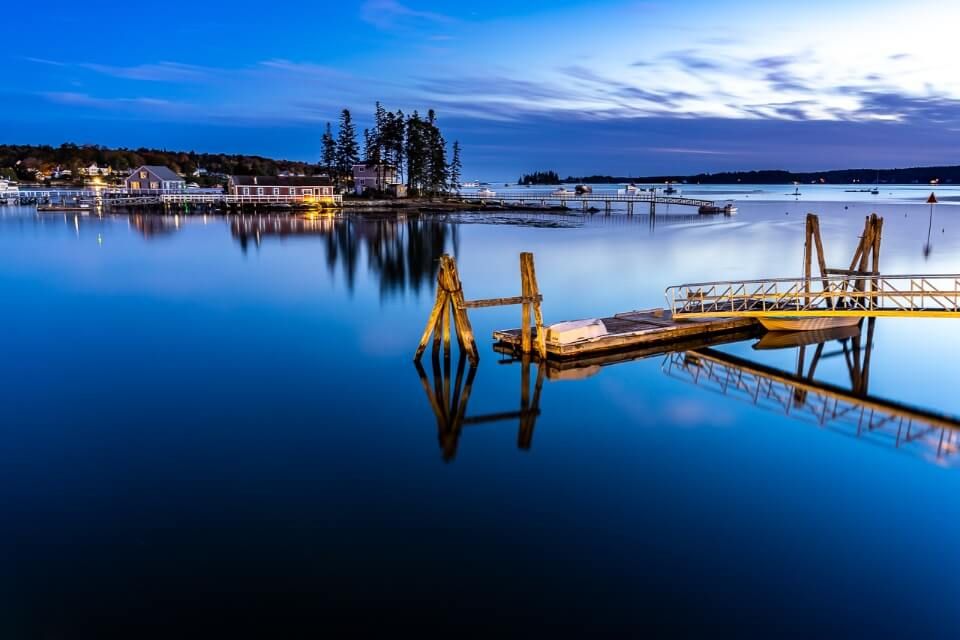 McFarland Island at dusk with floating wooden jetty and metal bridge reflecting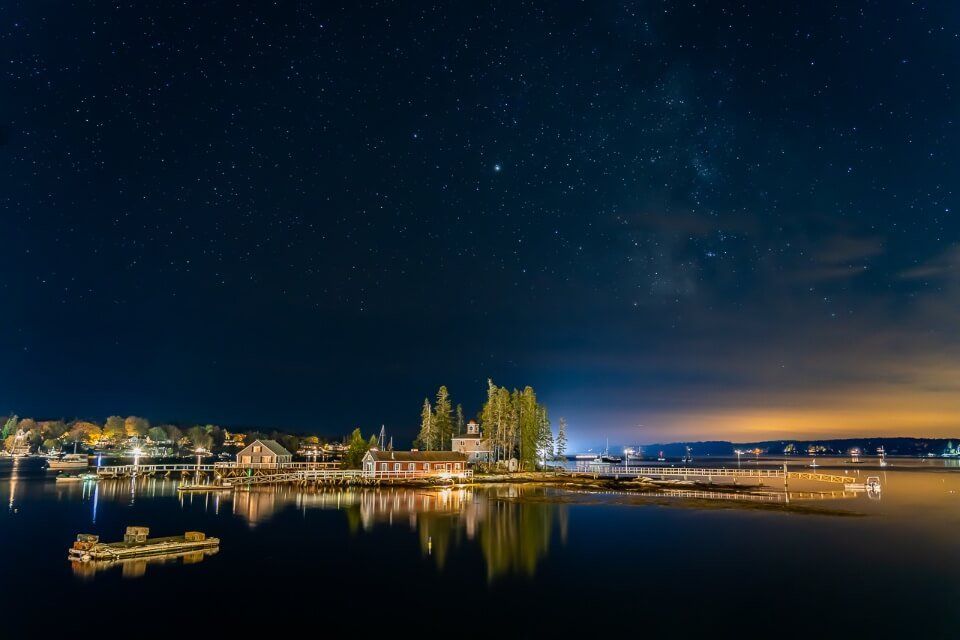 Night sky picture of McFarland Island with stars not long after sunset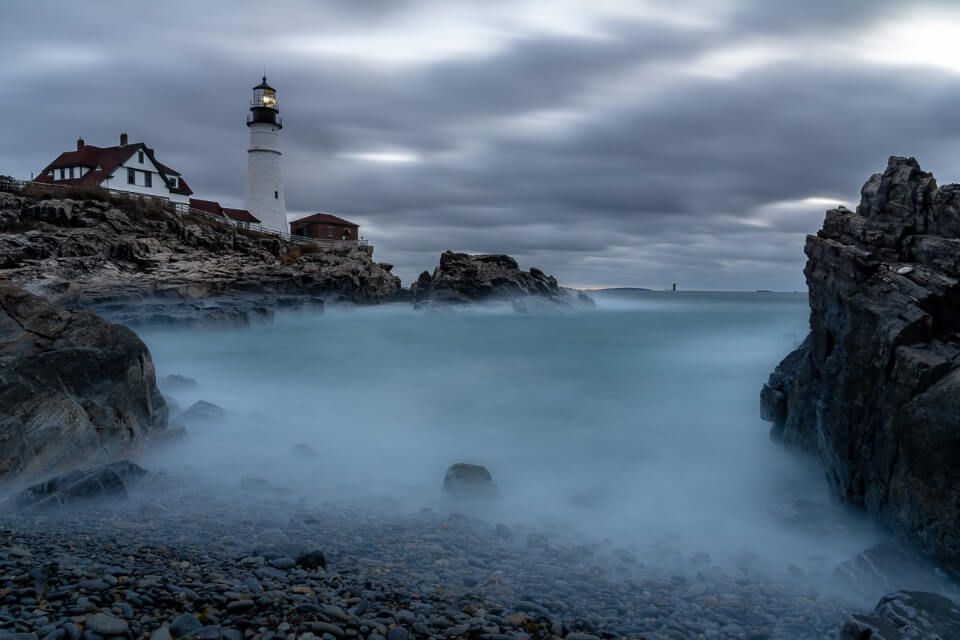 Long exposure of rough seas on a cloudy morning at sunrise – Portland Head Lighthouse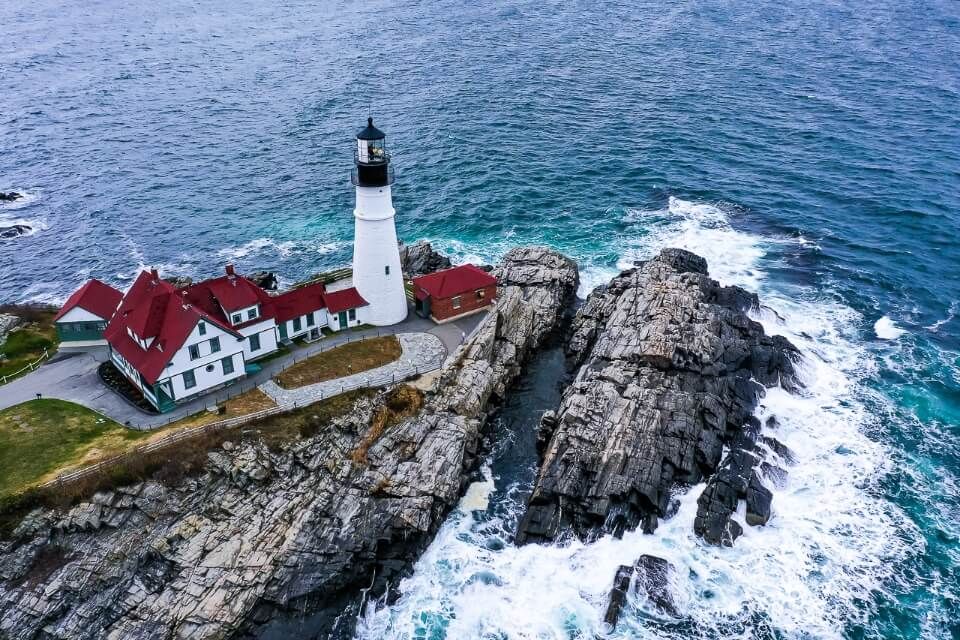 Drone picture of Portland Head Lighthouse in Northeast America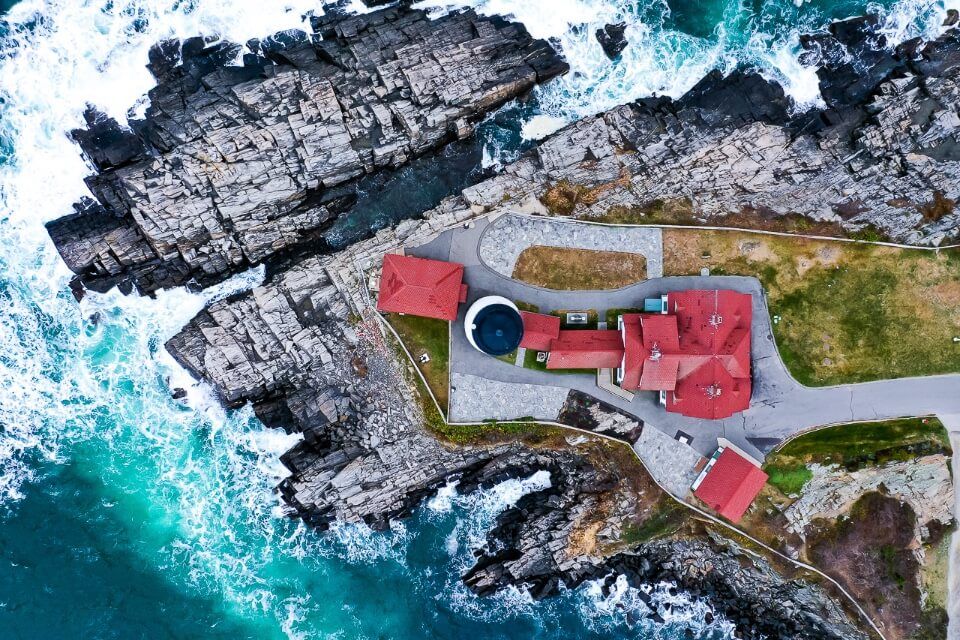 Birds eye view of Portland Head Lighthouse taken by drone in high wind as waves crash on rocks
Pictures of America: NEVADA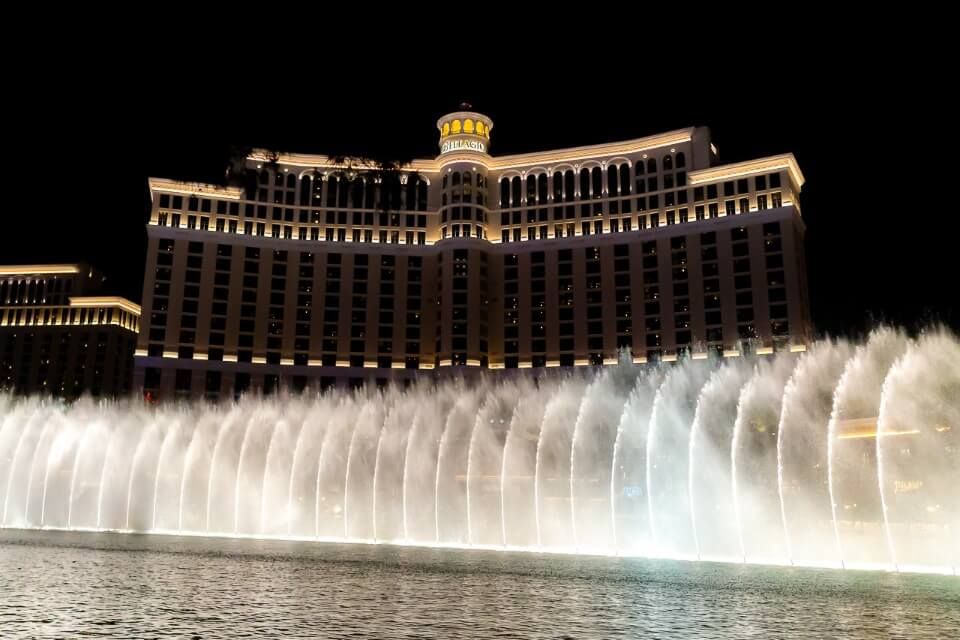 Another famous popular culture picture of America – the dancing fountains in front of Bellagio casino hotel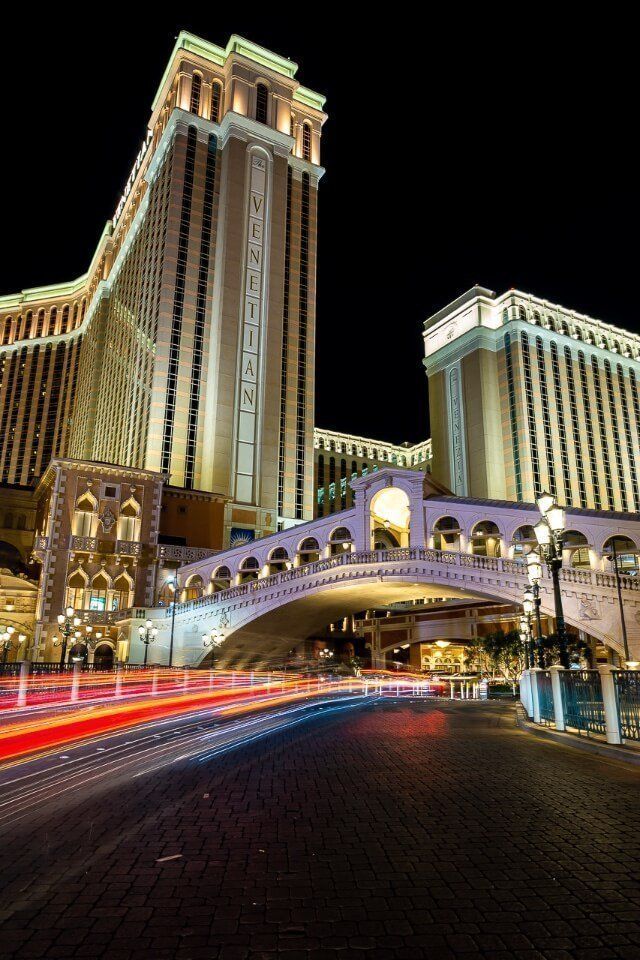 Long exposure car lights in front of the illuminated Venetian hotel in Las Vegas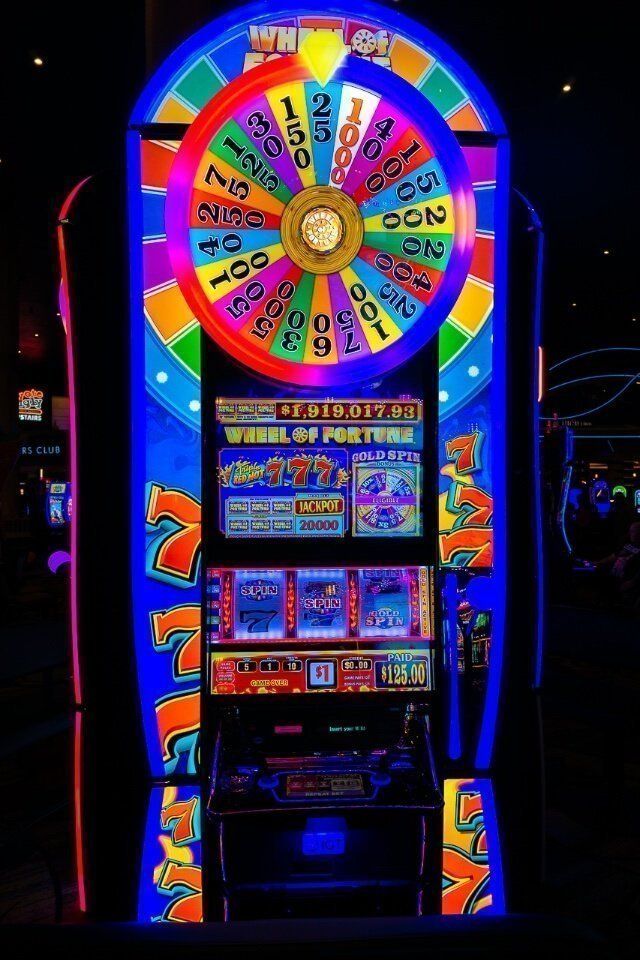 Pictures of America: NEW HAMPSHIRE
Franconia Notch State Park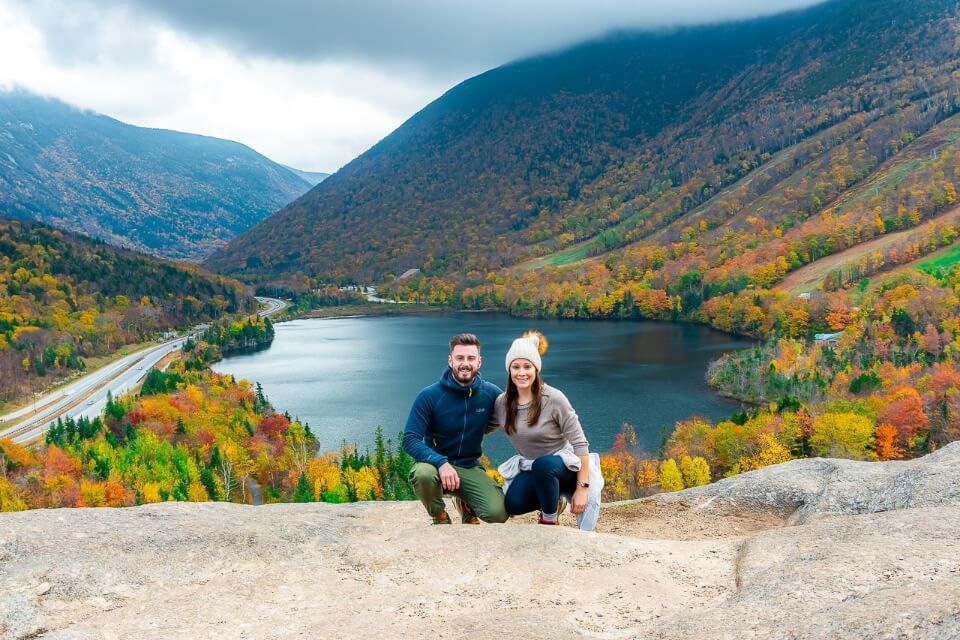 Mark and Kristen at Artist's Bluff in Franconia Notch State Park on a cloudy day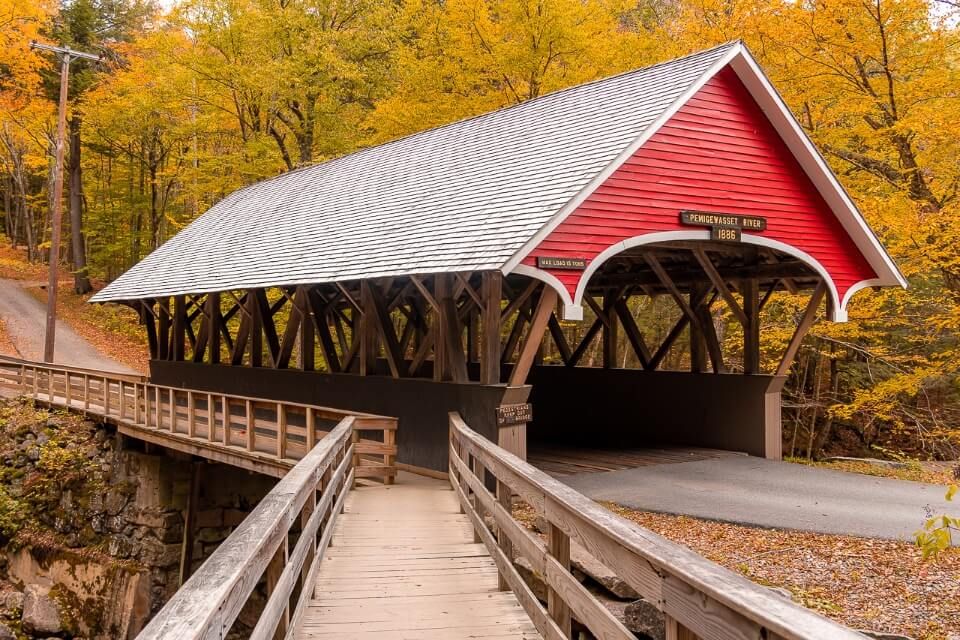 Gorgeous Flume Covered Bridge crossing the Pemigewasset River in Flume Gorge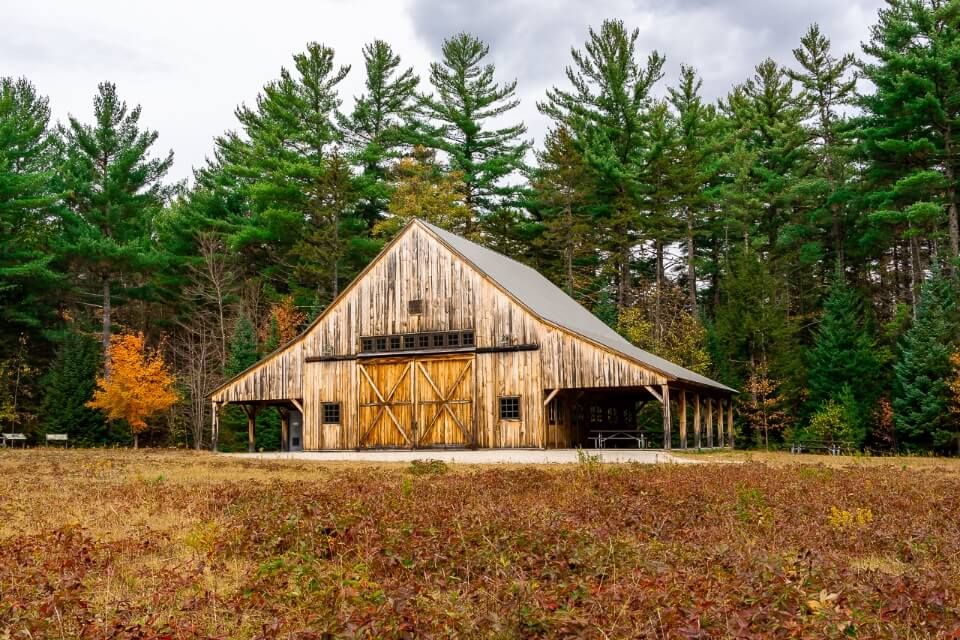 Attractive old barn backed by emerald green trees just off the main road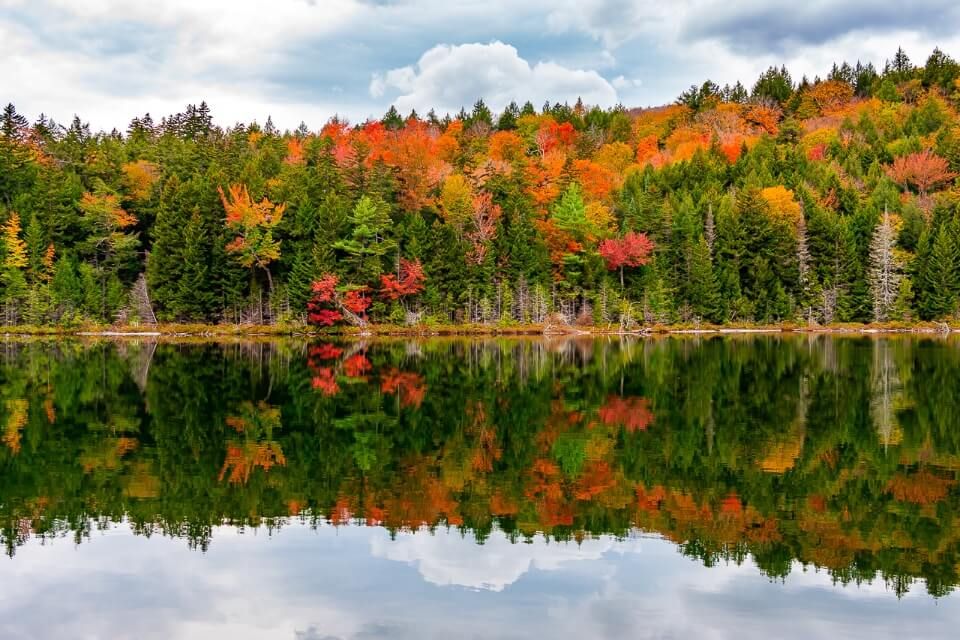 Wonderful fall foliage colors reds, oranges, yellows and greens reflecting in Falls Pond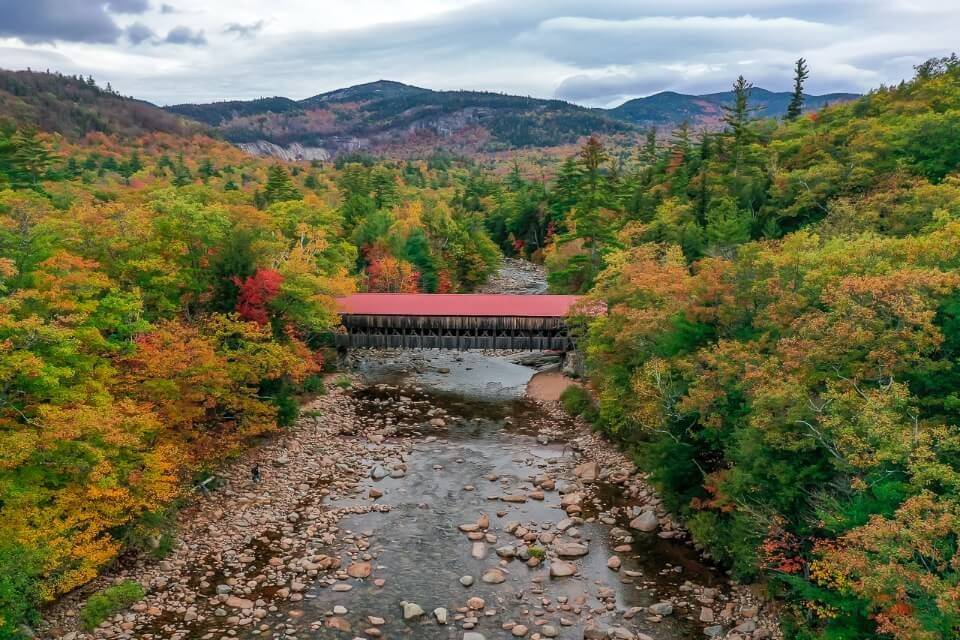 Drone picture of Albany Covered Bridge with rolling hills and cloudy sky background
Pictures of America: NEW YORK
Buttermilk Falls State Park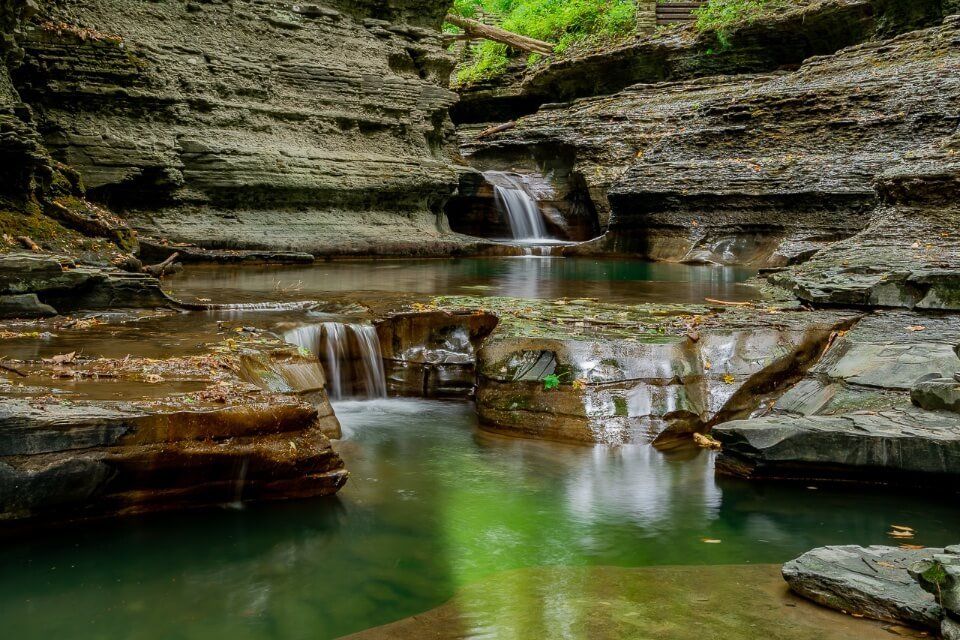 Picturesque plunge falls and pools along Buttermilk Creek to Buttermilk Waterfall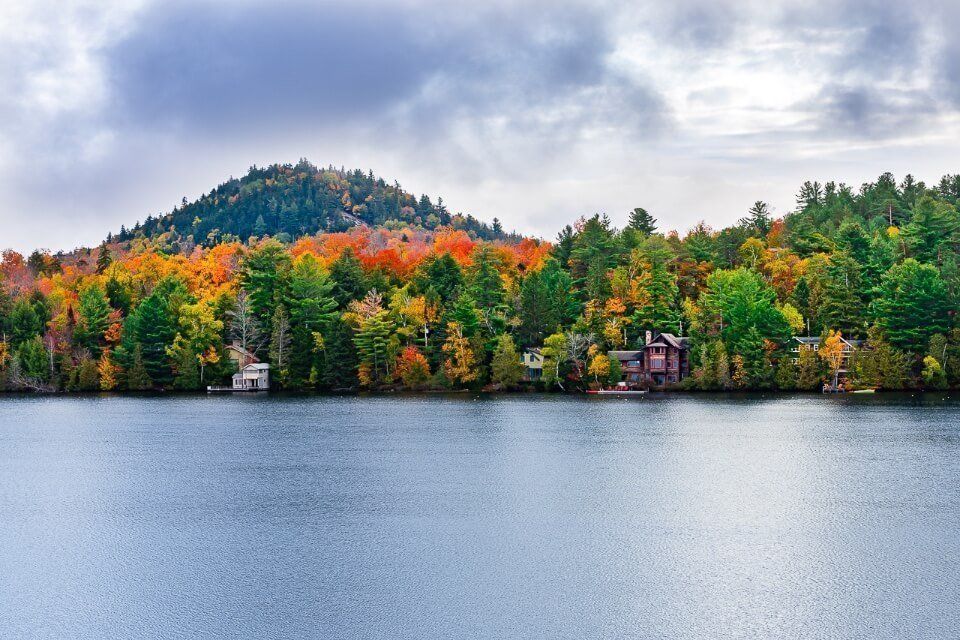 Gorgeous fall colored trees surrounding houses along the shores of Mirror Lake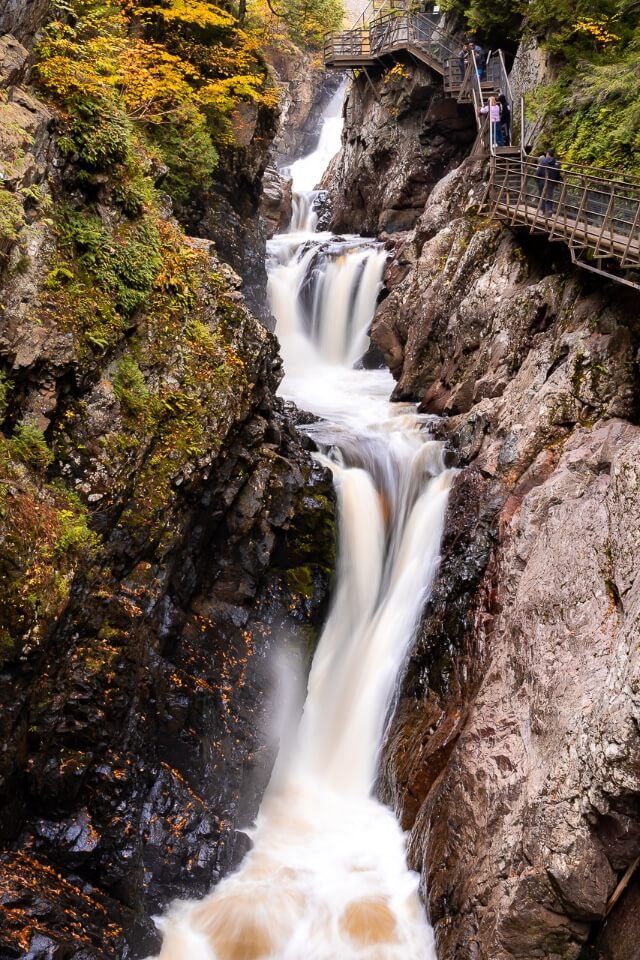 Powerful narrow waterfall cutting through High Falls gorge near Whiteface Mountain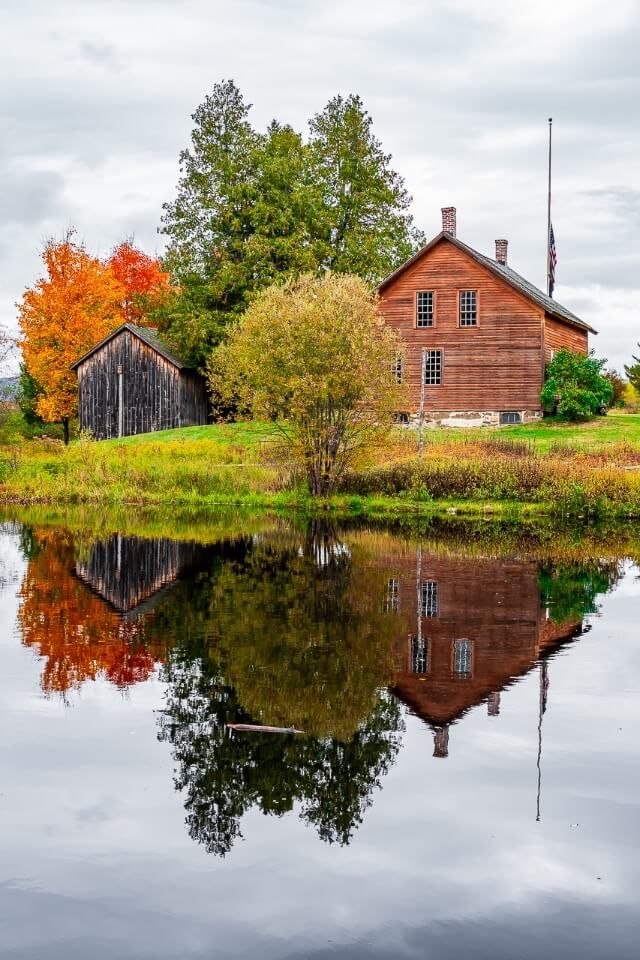 Perfect reflection of barns and trees at John Brown historic site near Ski jump in Lake Placid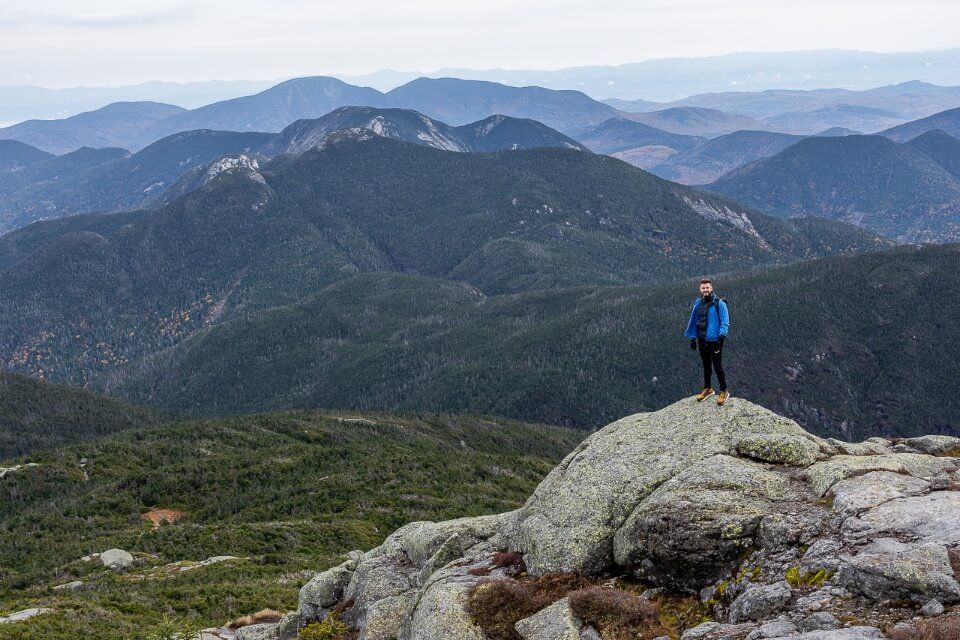 Mark at the summit of Mount Marcy – highest of the high peaks in New York's Adirondacks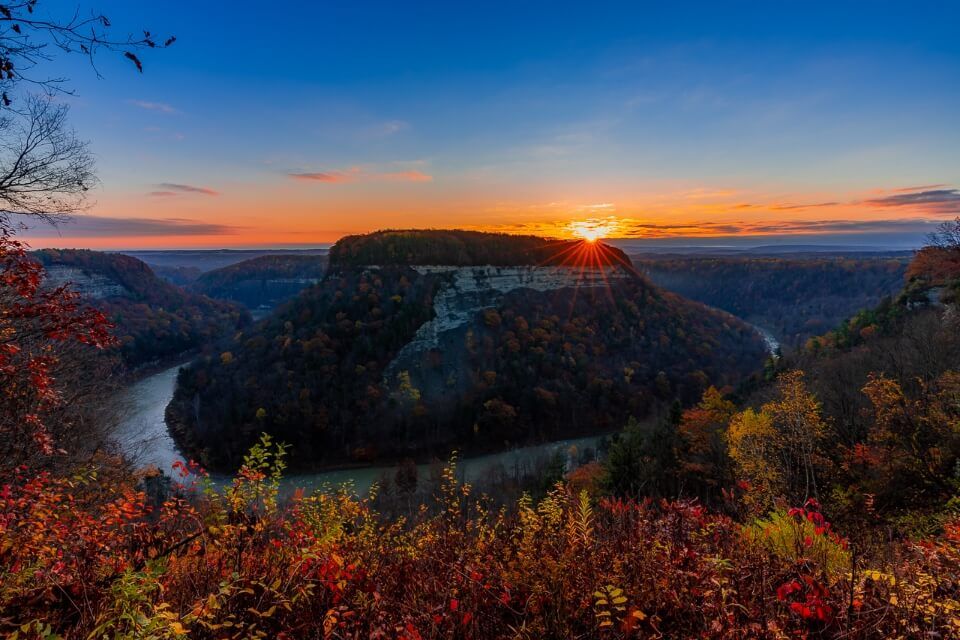 Mind blowing sunrise picture at Great Bend Overlook – one of our favorite sunrises in America
Robert H Treman State Park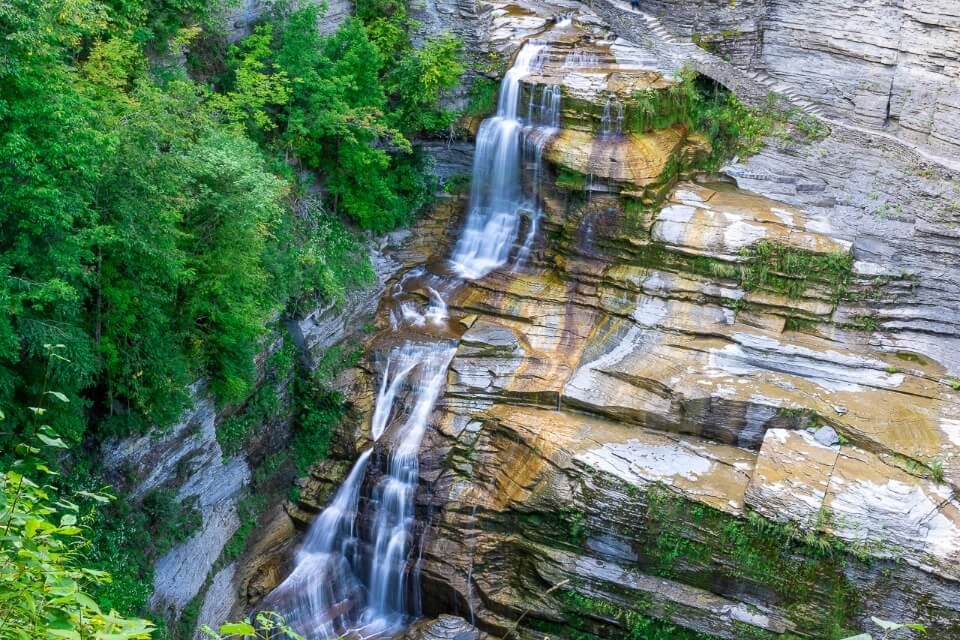 Lightly flowing 115ft tall Lucifer Falls multi-tier cascade waterfall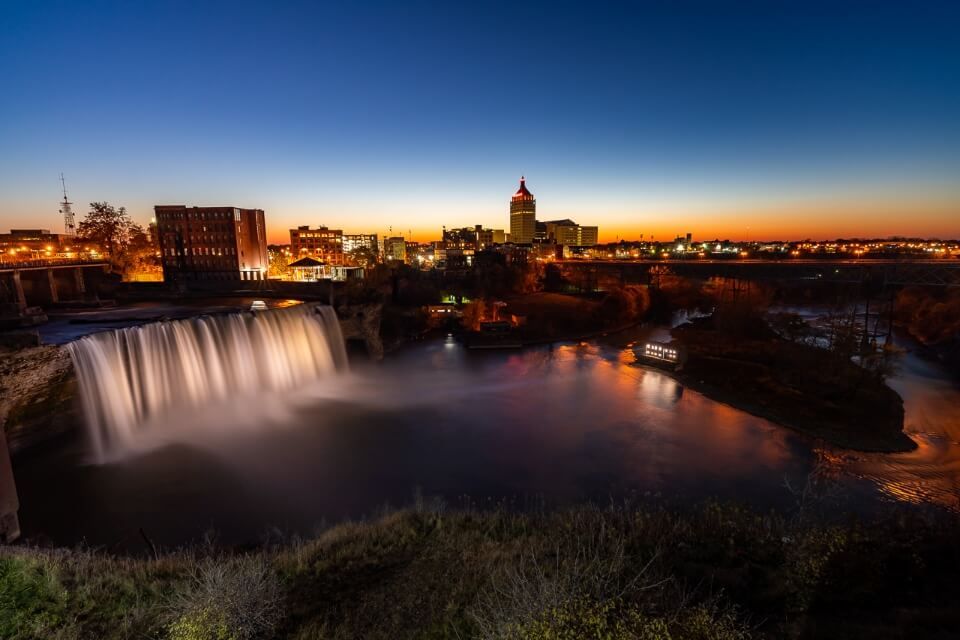 High Falls waterfall, Rochester city skyline and beautiful sunset colors all in one photograph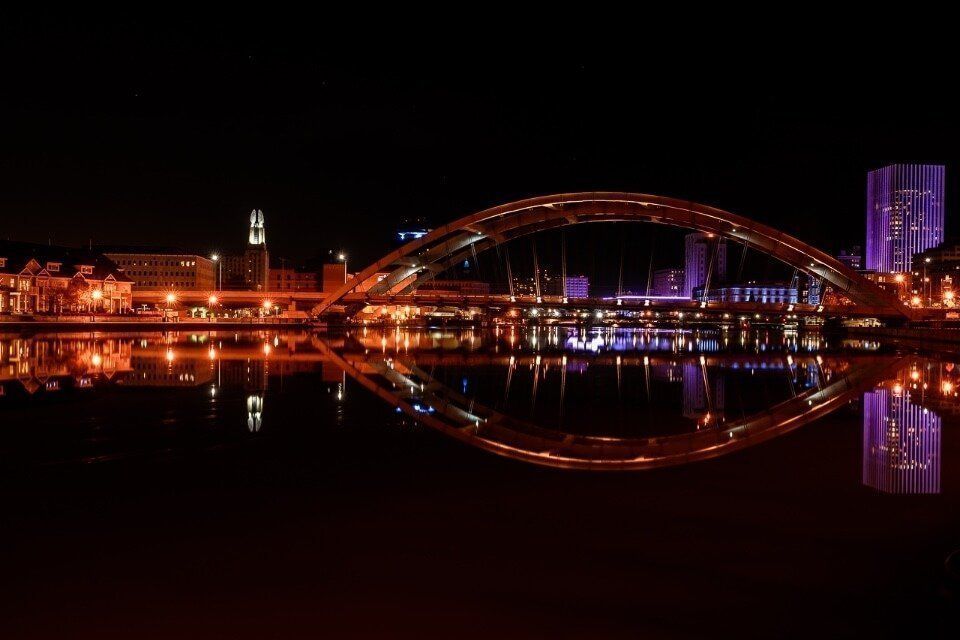 Frederick Douglass-Susan B Anthony Memorial Bridge and high rise buildings reflecting in the Genesee River
Taughannock Falls State Park
Tallest single drop waterfall east of the Rockies – Taughannock Falls flowing very lightly in Summer drought
Spectacularly mesmerizing scene at Rainbow Falls – climax of Watkins Glen gorge trail
Pictures of America: SOUTH DAKOTA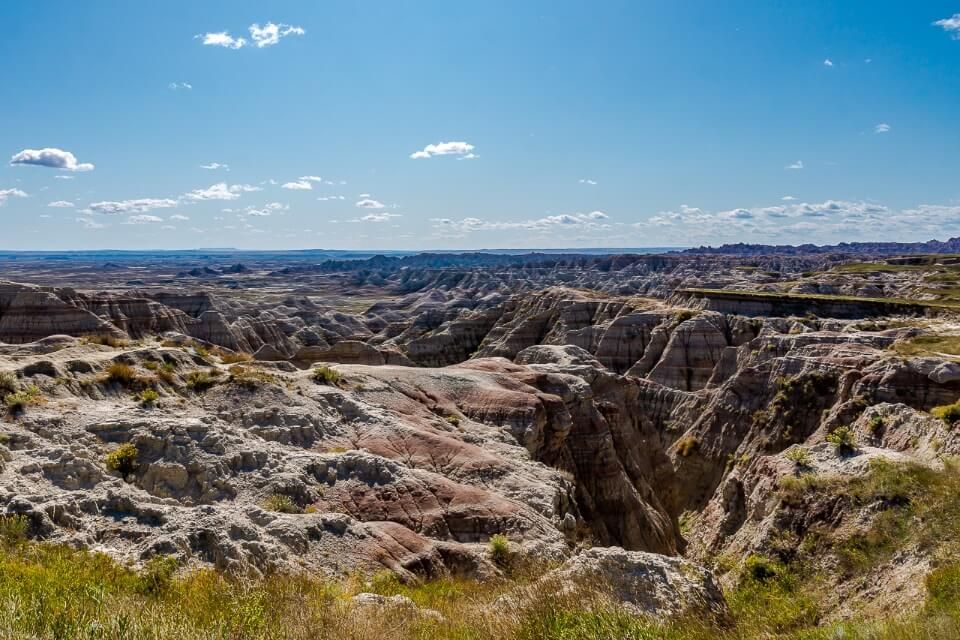 Smooth rocks with colorful layers stretching as far as the eye can see and huge open blue sky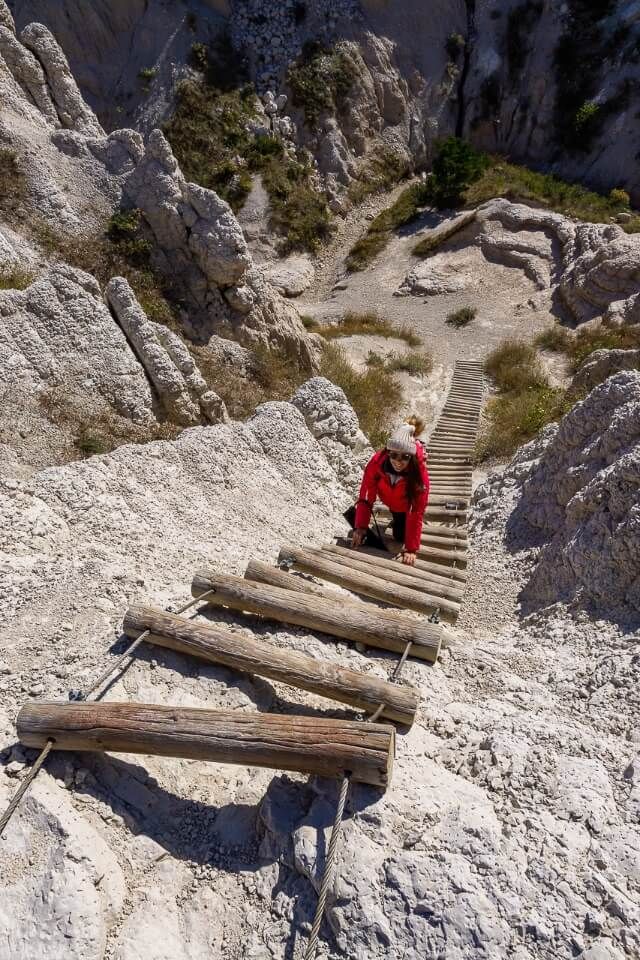 Kristen climbing a tall ladder on Badlands best hike – Notch Trail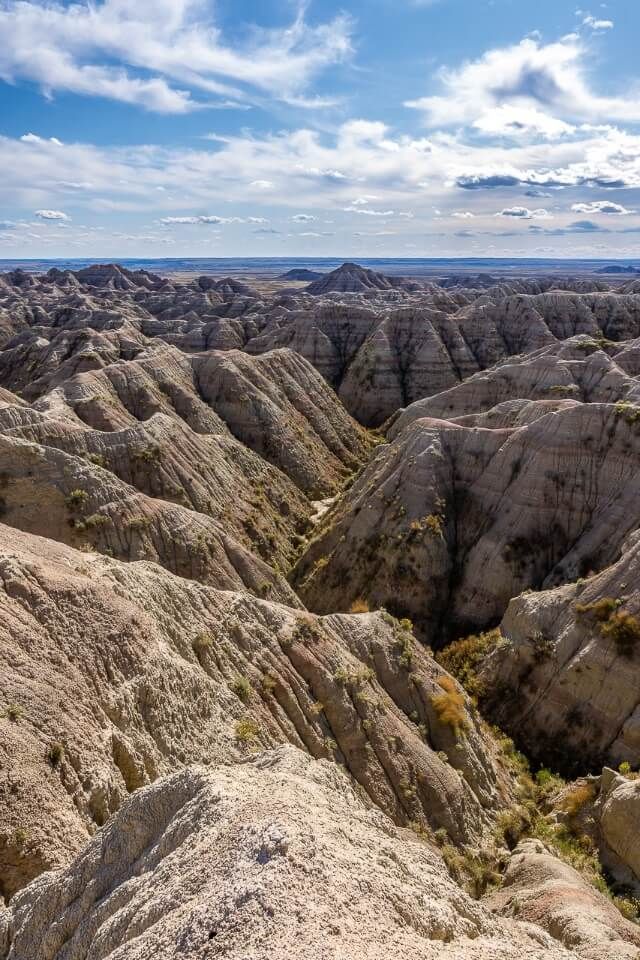 Intriguing alien landscape image taken from Badlands Loop Road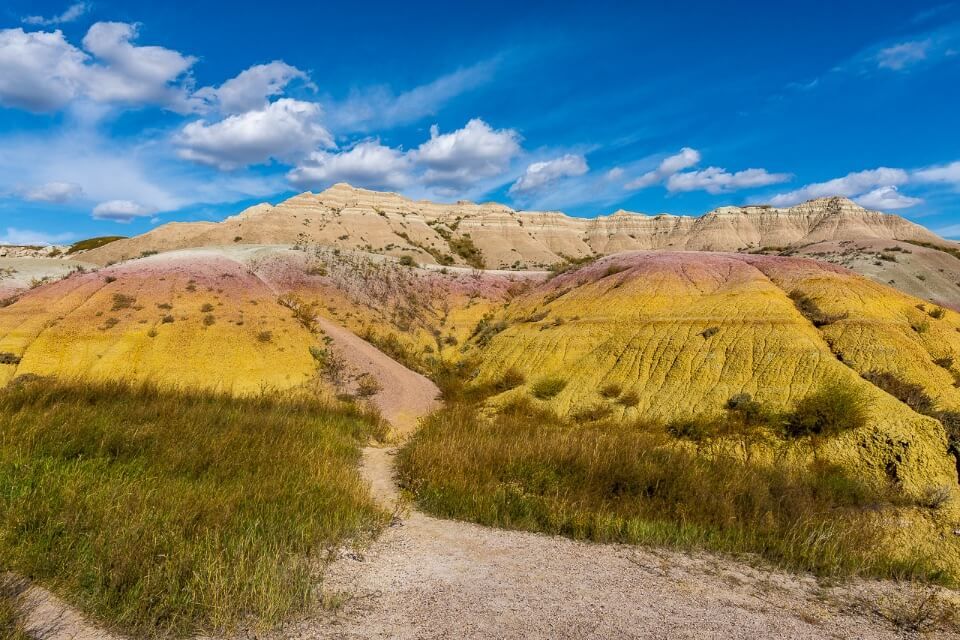 Yellow mounds is the most unique picture of Badlands in the desolate American Midwest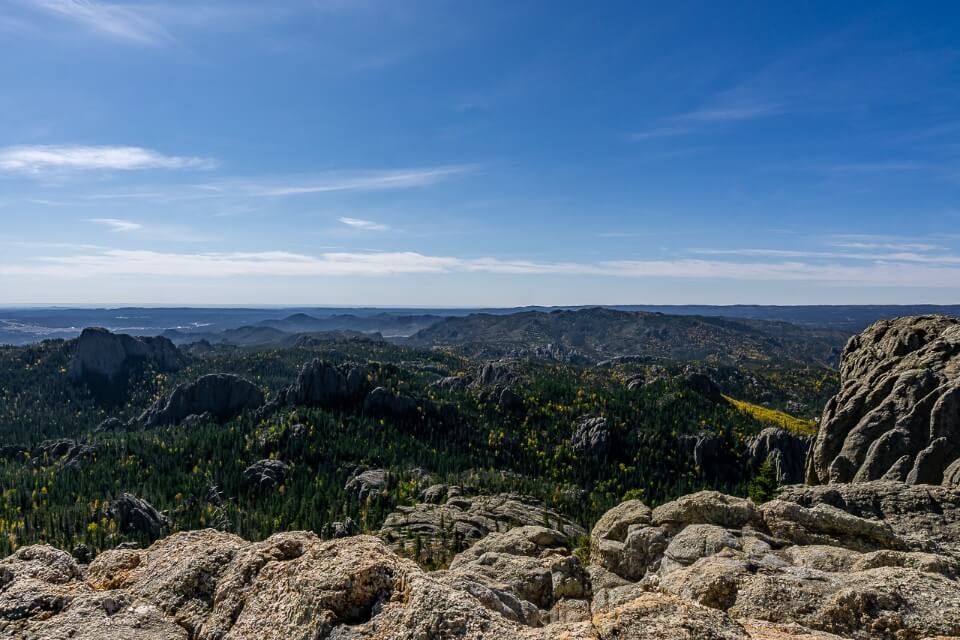 Amazing summit views from Black Elk Peak into South Dakota, Nebraska, Wyoming and Montana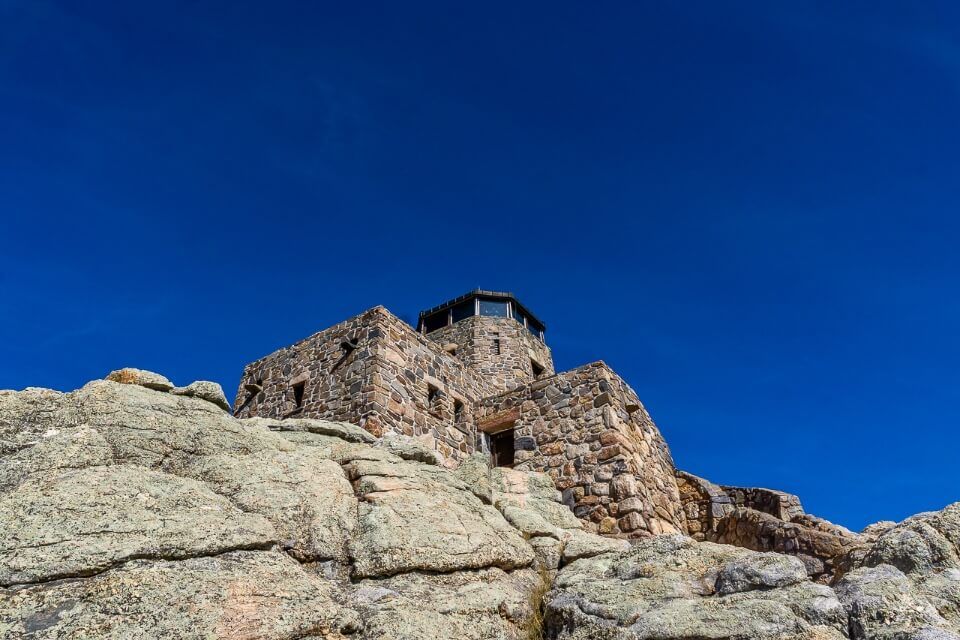 Harney Peak lookout tower (fire watch) at the summit of Black Elk Peak hiking trail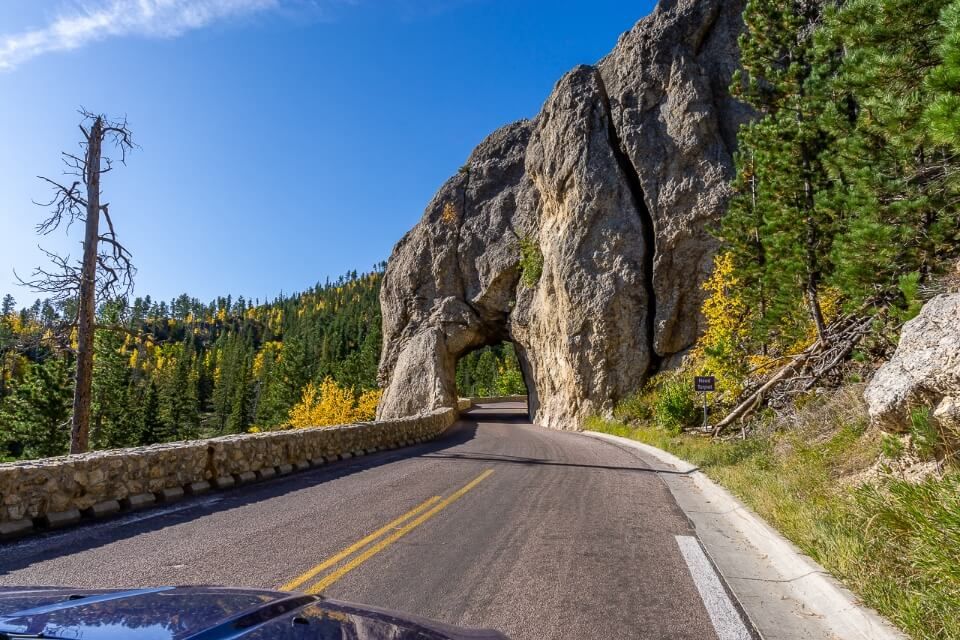 Arched tunnel on stunning Needles Highway scenic drive in Custer State Park, SD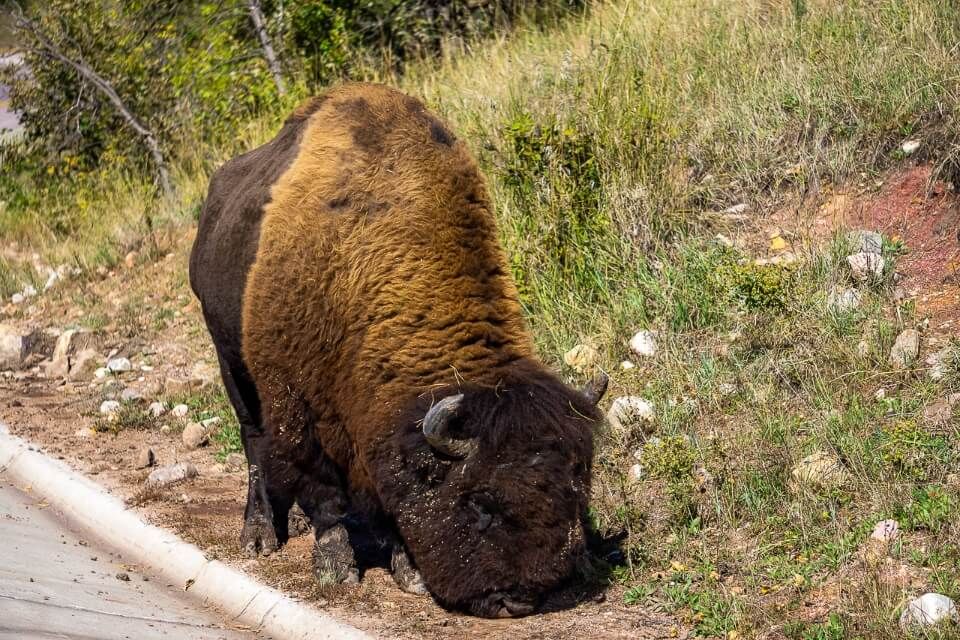 Enormous Bison grazing on a road side in Custer State Park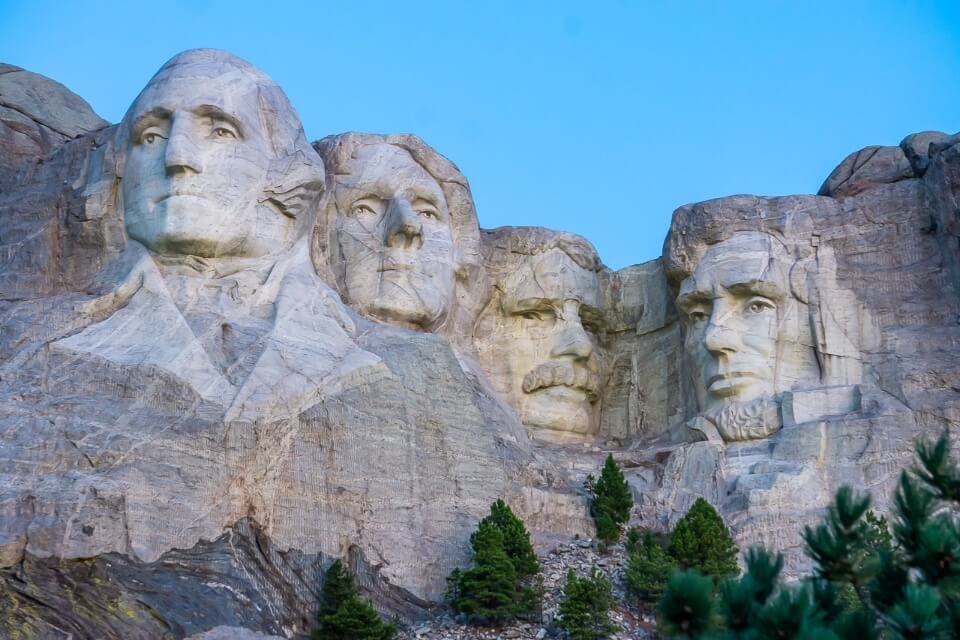 Towering grey granite rocks of Mount Rushmore before sunrise
First rays of sunlight illuminate the four presidents in a pink glow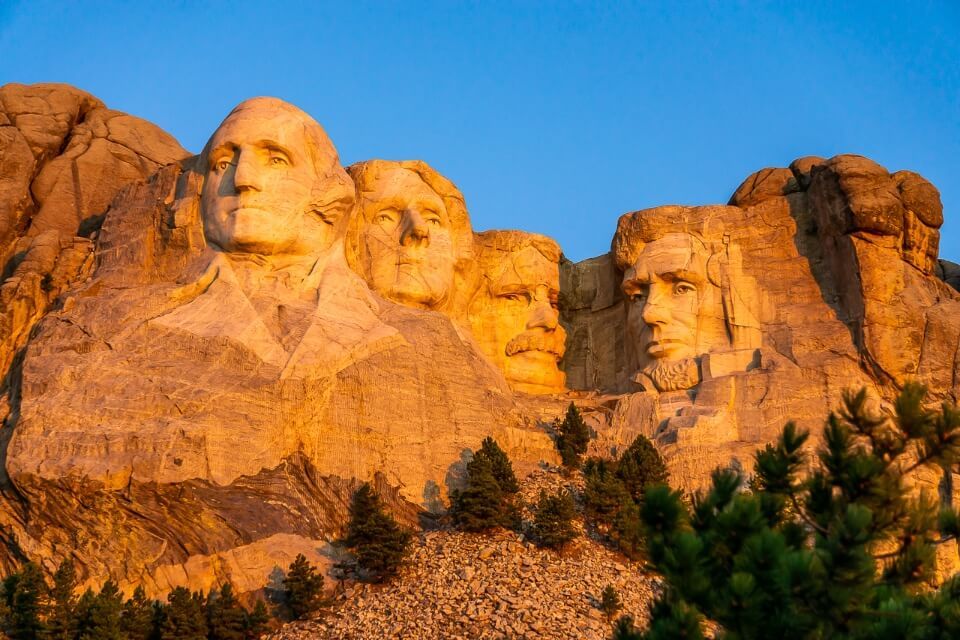 Full strength of sunrise turns Mount Rushmore orange to create an iconic picture in America
Pictures of America: UTAH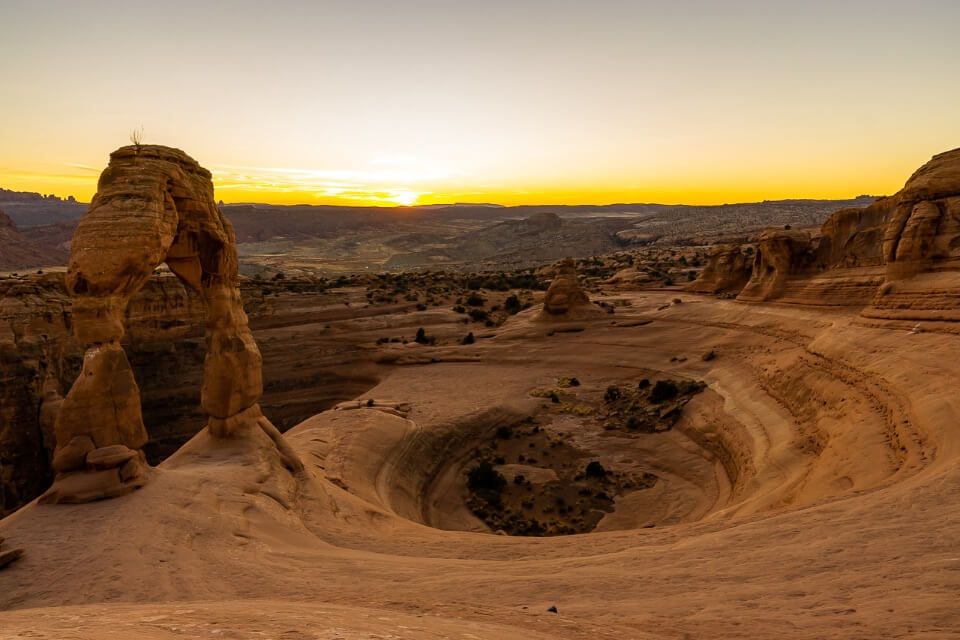 Beautiful sunset at Delicate Arch – bowl depression, logic-defying arch and wide open landscape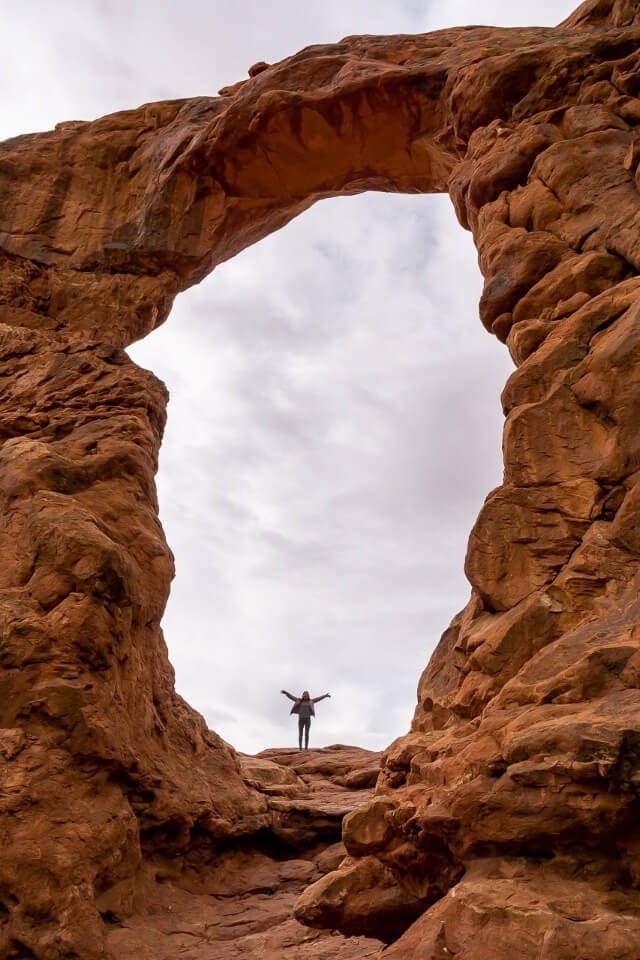 Kristen as perspective to show the massive size of South Window Arch
Epic picture of Delicate Arch as the sun is setting with starburst effect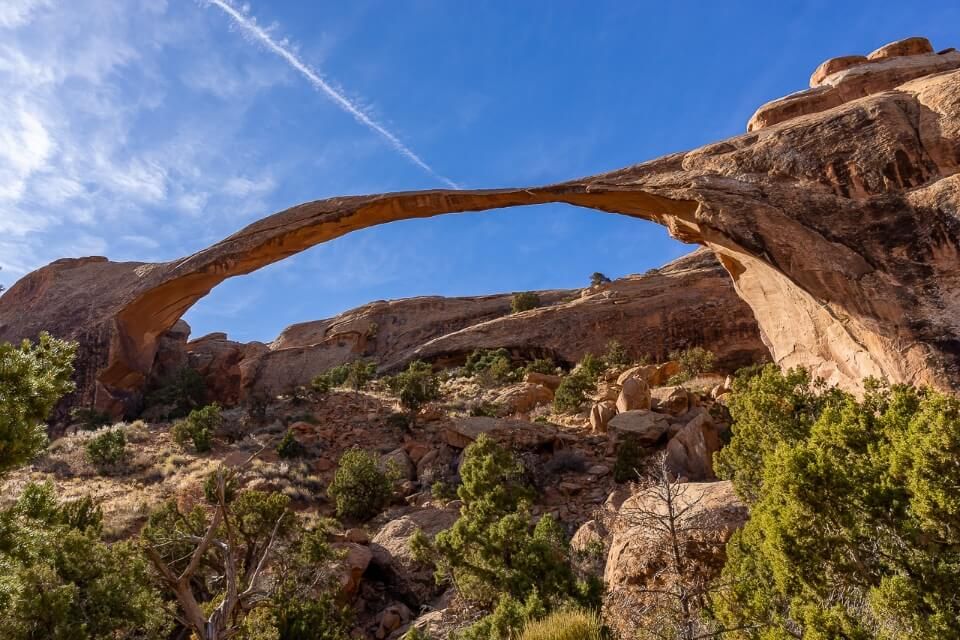 At 93 meters long and only 3.4 meters thick at its widest, Landscape Arch is an impressive natural stone structure
Bryce Canyon National Park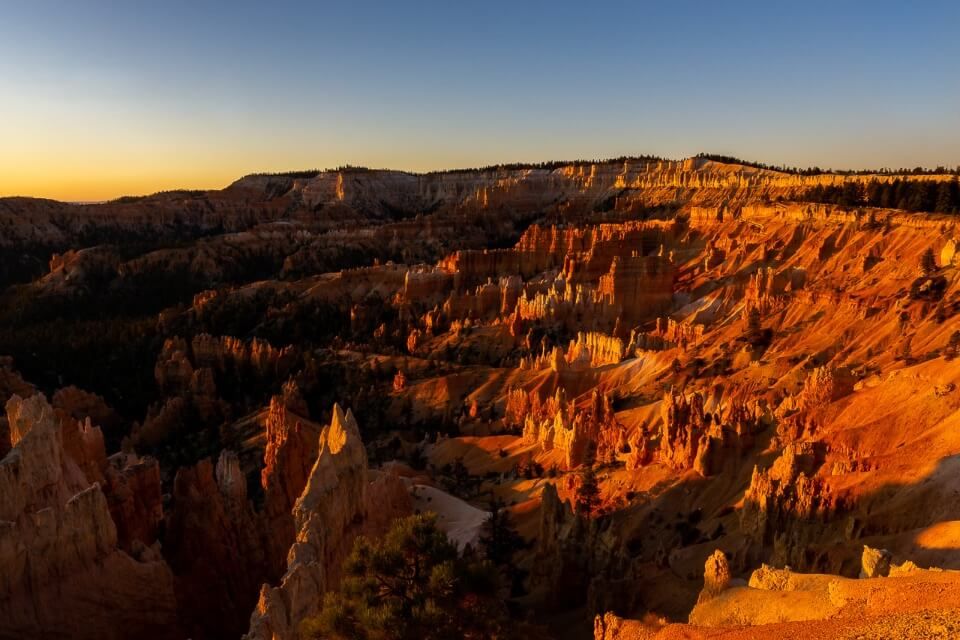 Spectacular burning red sunrise over Bryce Canyon amphitheater at first light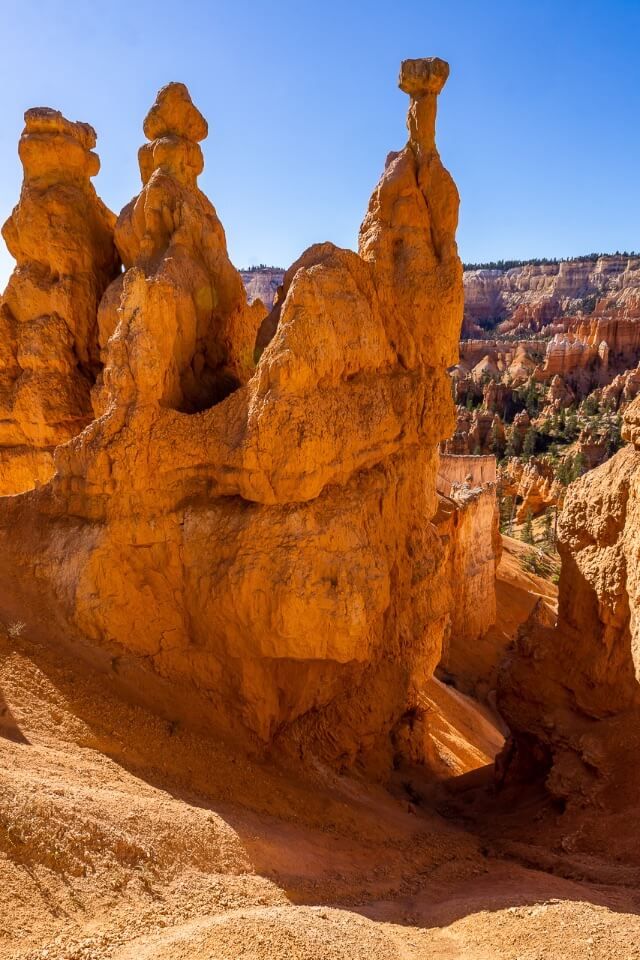 Typical hoodoos of Bryce Canyon scattered throughout the main amphitheater
Man made arched doorway cut through orange rock to create a hiking trail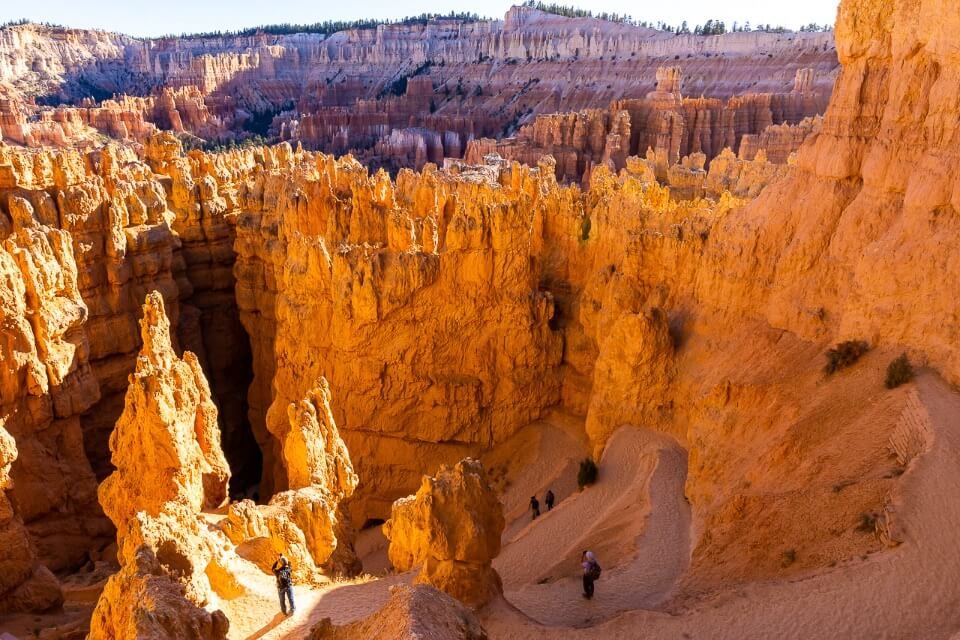 Fascinating canyon landscape opened up for hikers by creating a series of sandy switchbacks
Canyonlands National Park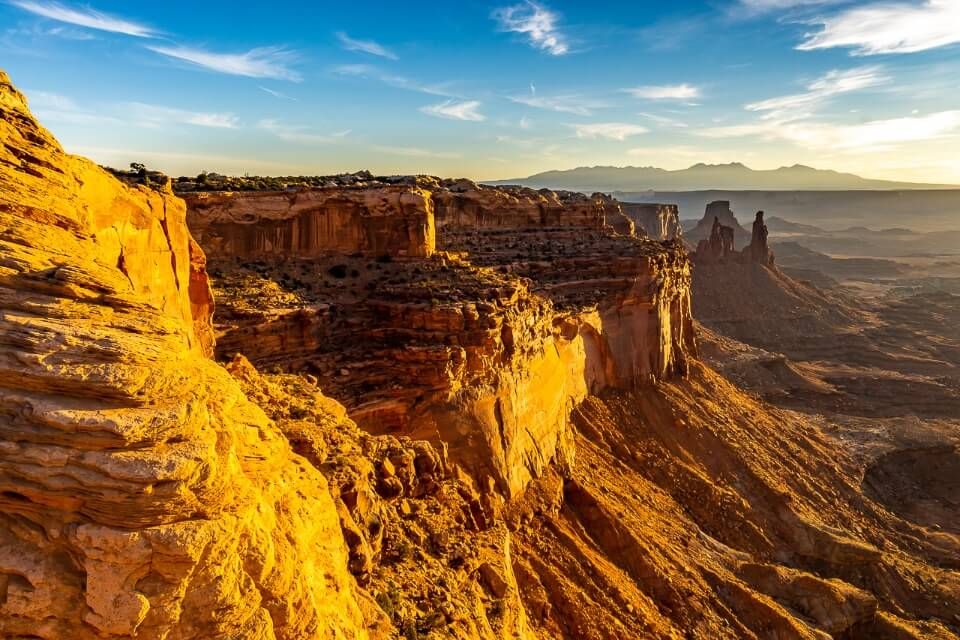 Dramatic and rugged landscape lit up golden yellow at sunrise through Mesa Arch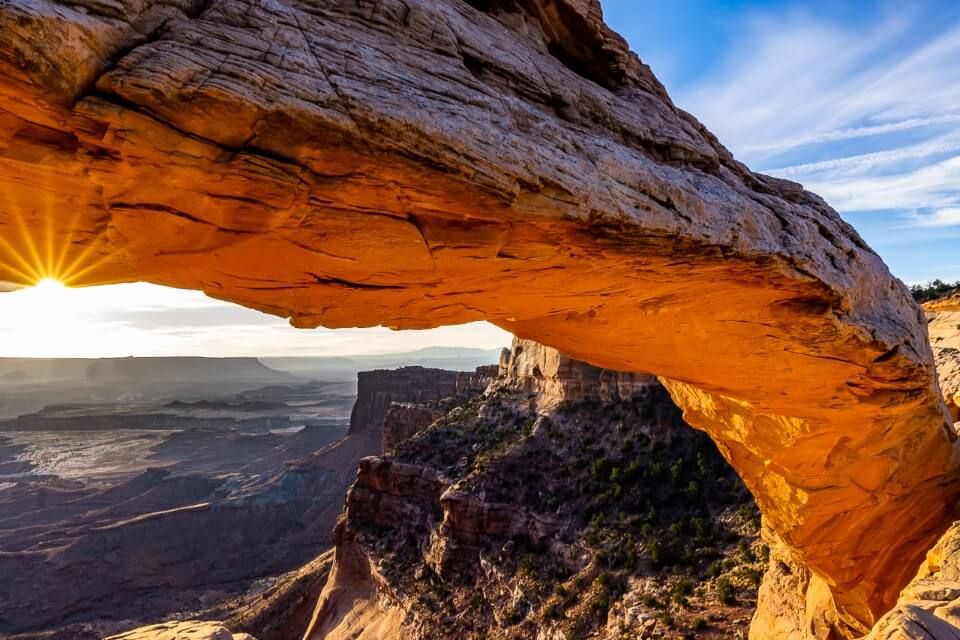 Immense red glow underneath Mesa Arch in Canyonlands as sunlight hits the canyon wall below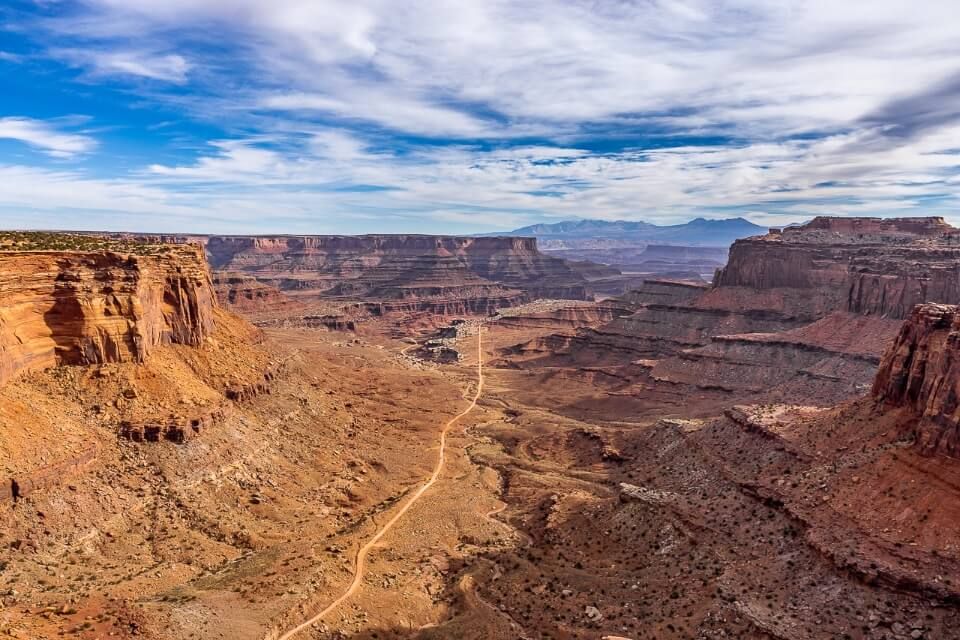 Off-road dirt track showing perspective of grand scale at Canyonlands
Capitol Reef National Park
Fruita Barn is the most photogenic picture to take at underrated Capitol Reef National Park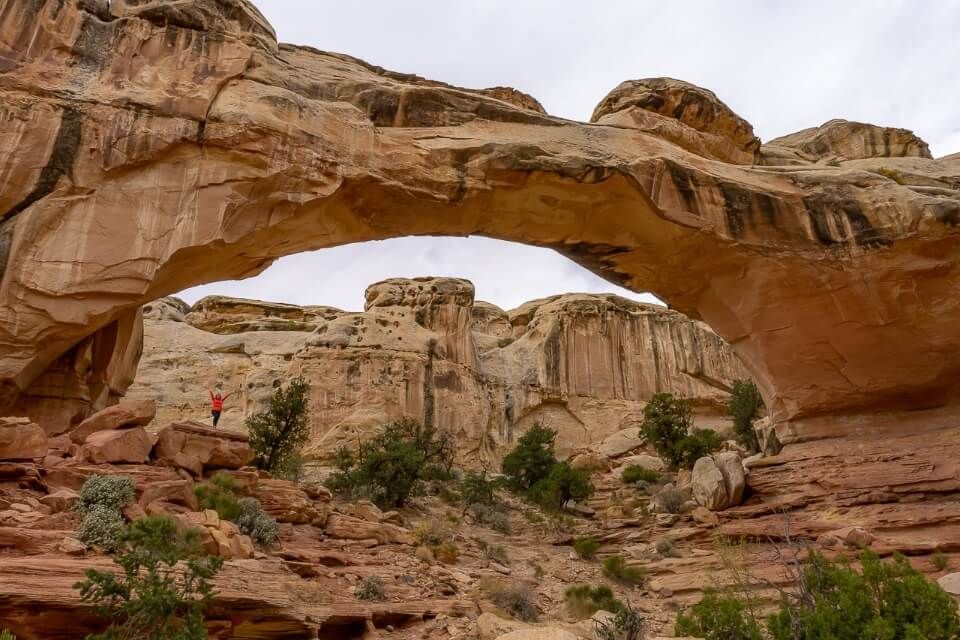 Hickman Bridge is the unmissable family friendly hike with natural arched structure climax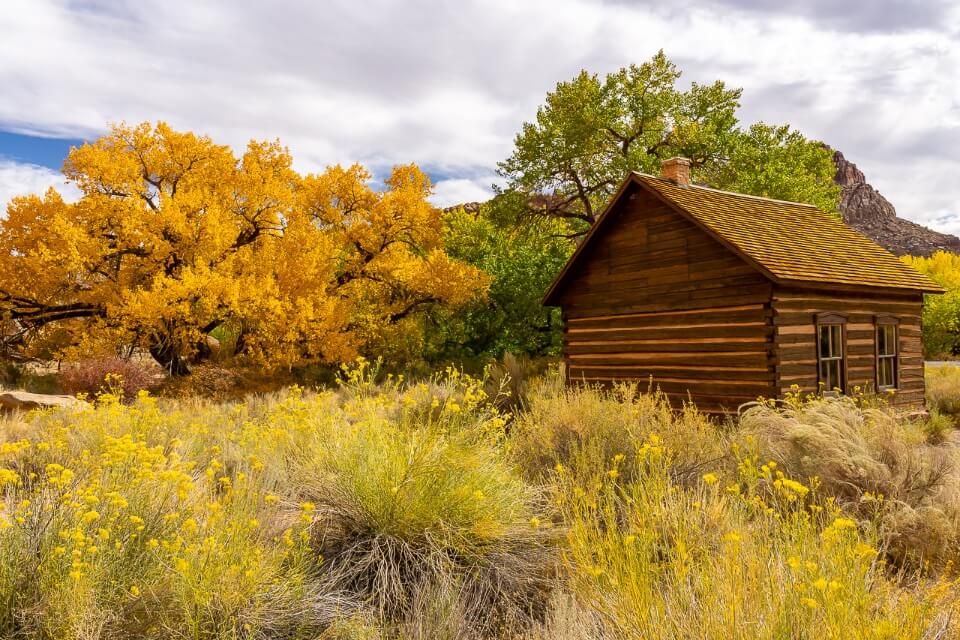 Fruita schoolhouse wooden building surrounded by vibrant fall colored trees and brush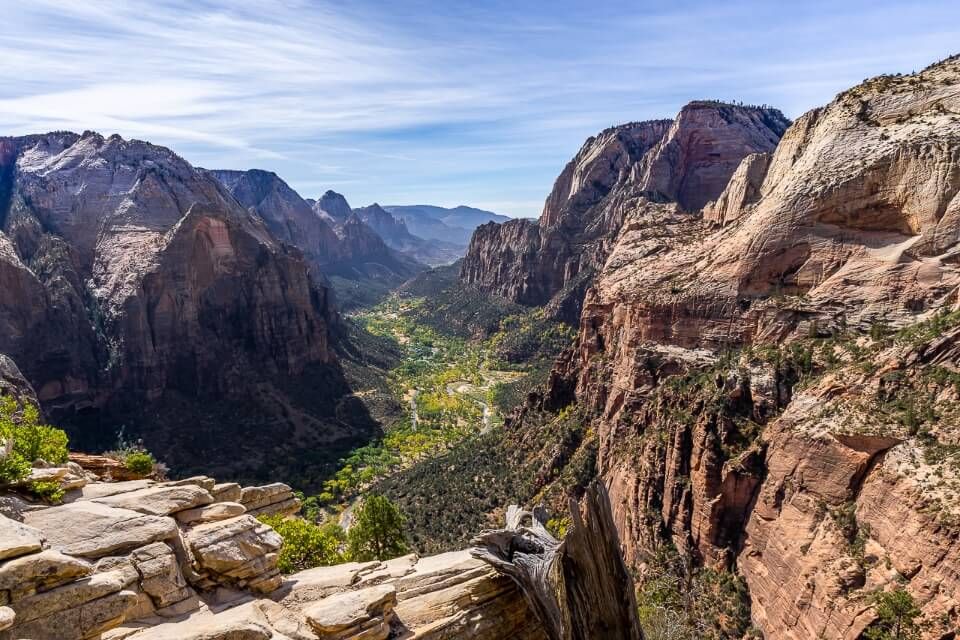 Iconic Zion canyon overlook from dangerous Angels Landing hiking trail – worth it for the view?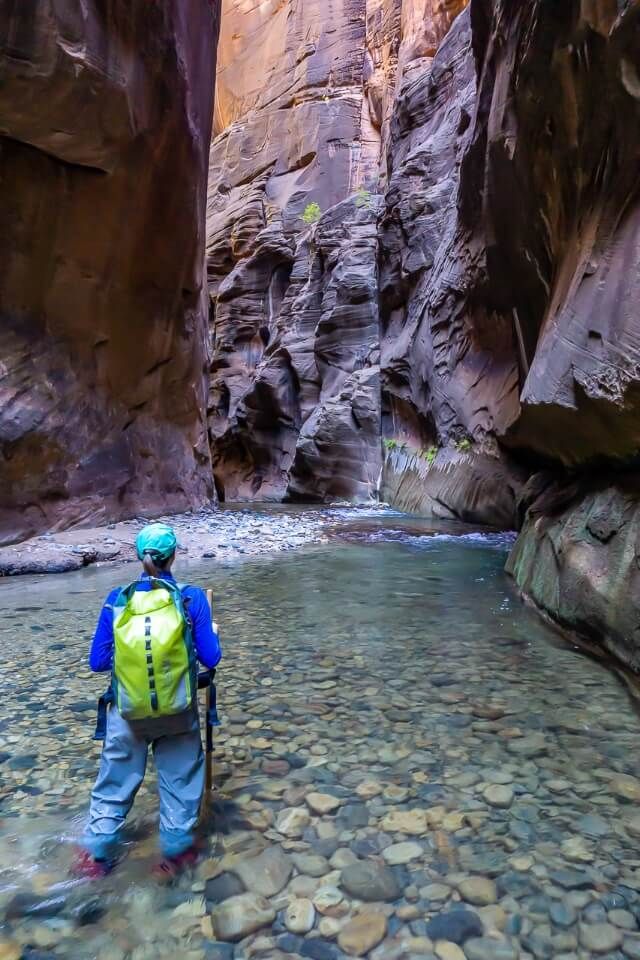 Kristen hiking the amazing Narrows slot canyon river trail in full waterproofs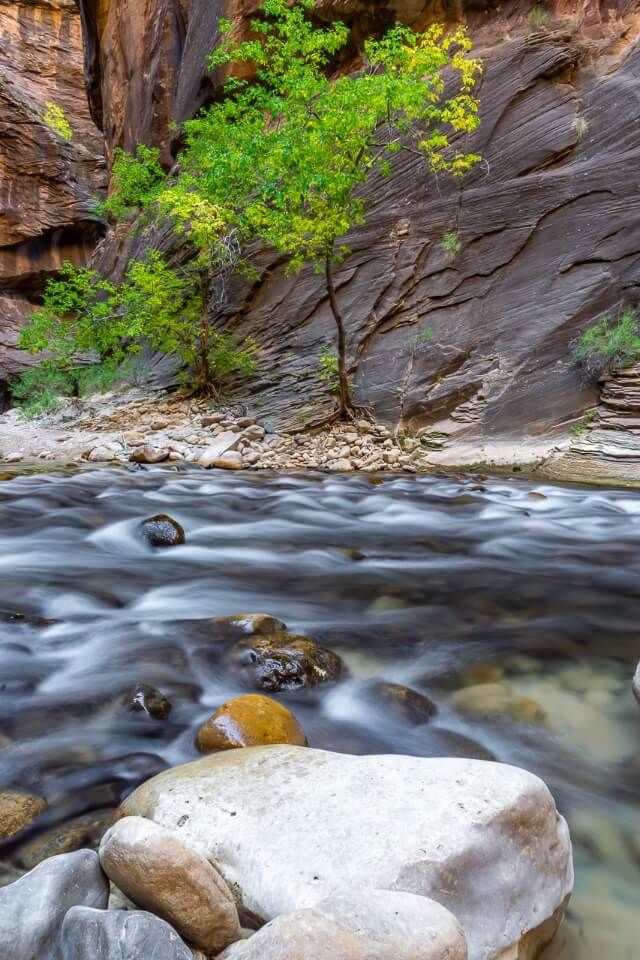 Rare lush green tree on the Narrows hike flanked by towering cliff rock faces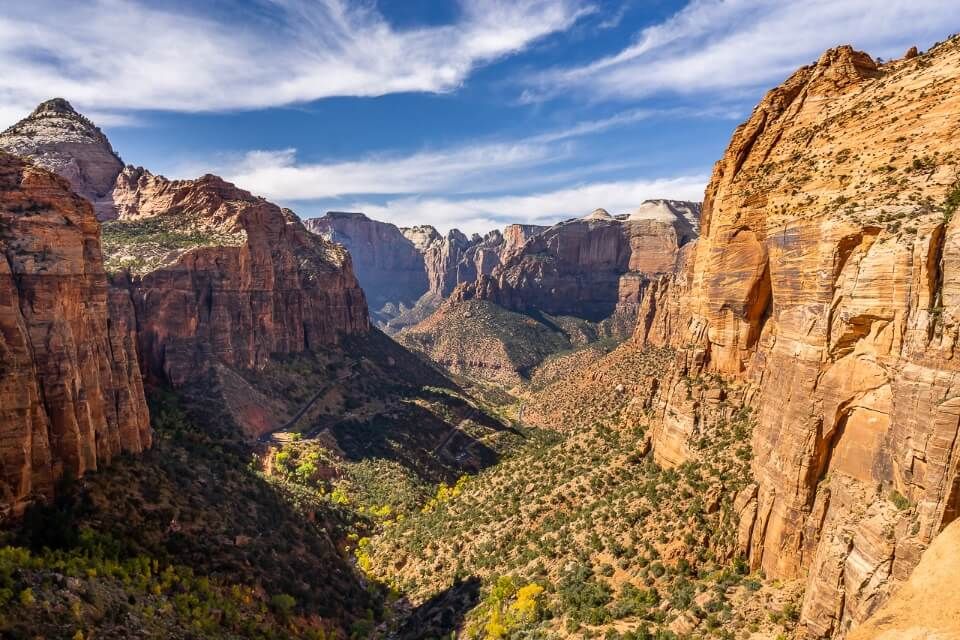 Zion's other canyon overlook – aptly named Canyon Overlook is equally as impressive
Pictures of America: VERMONT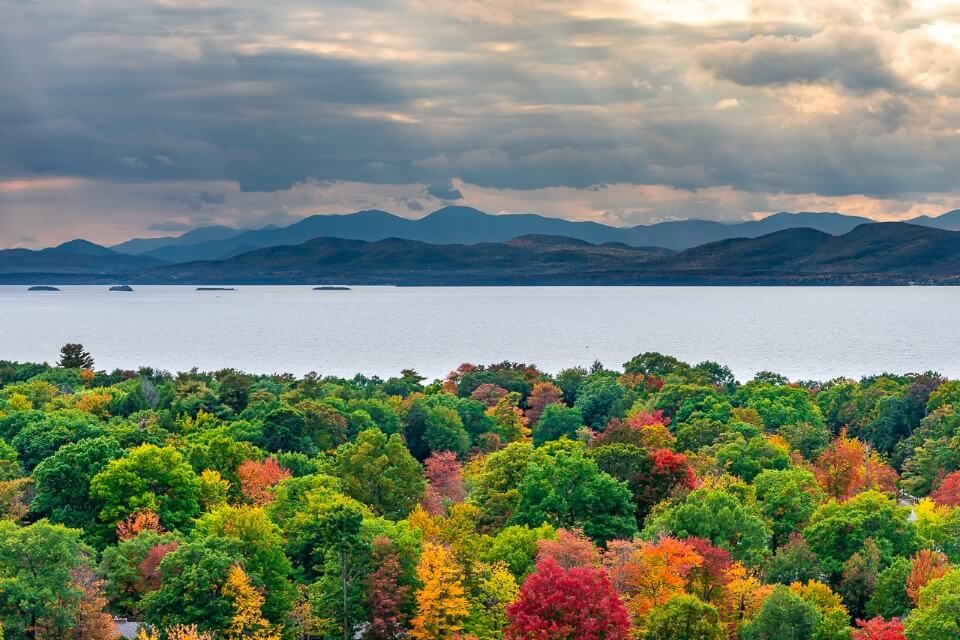 Special view of fall color trees, Appletree Bay, rolling hills and sun beams penetrating thick clouds from Ethan Allen Tower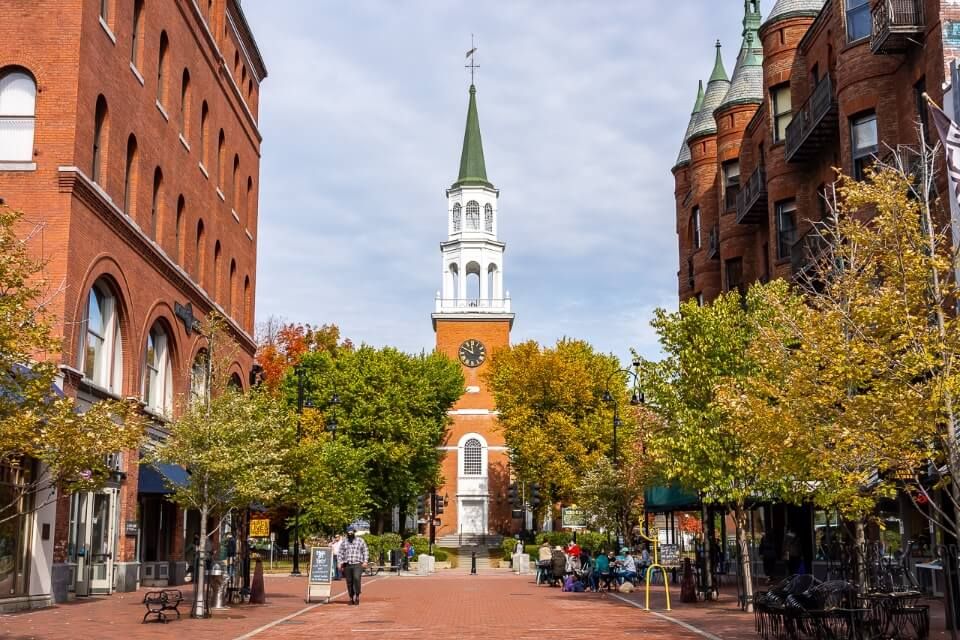 Burlington's most famous picture – ornate church at the end of Church Street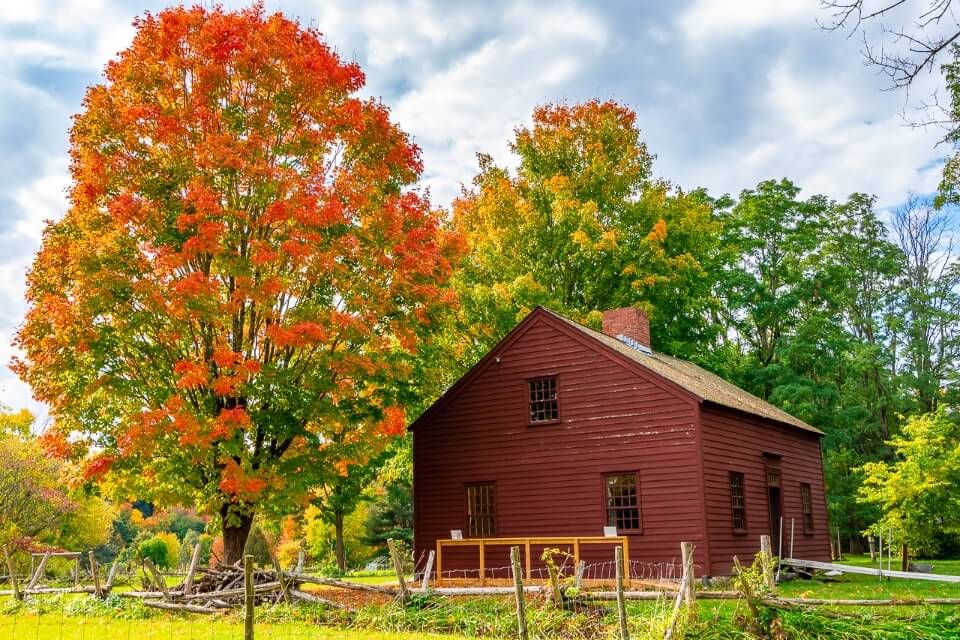 Picturesque barn surrounded by fall colors at Ethan Allen Homestead Museum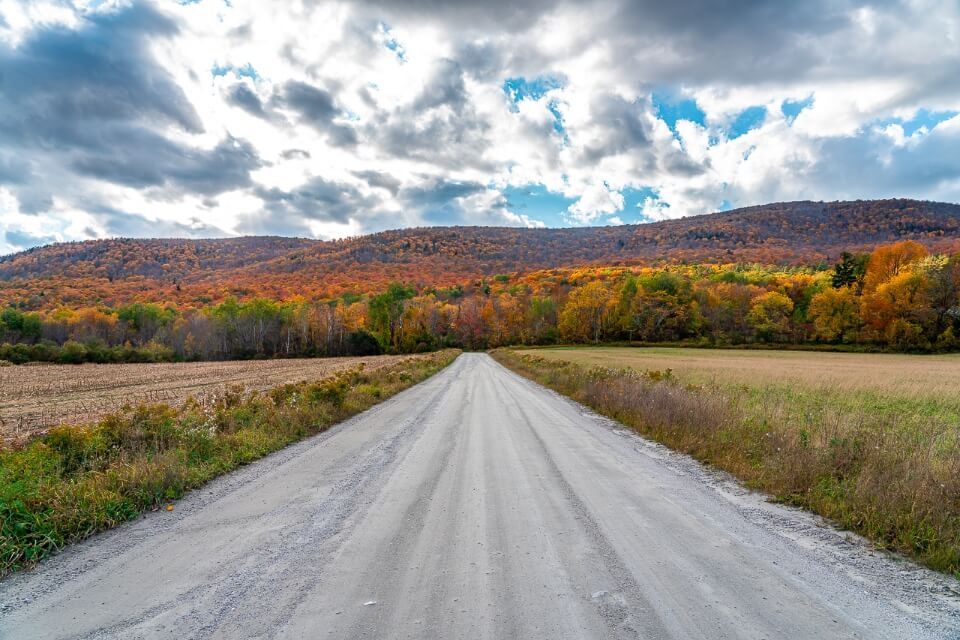 Open countryside roads leading through hills and colorful trees near Manchester, VT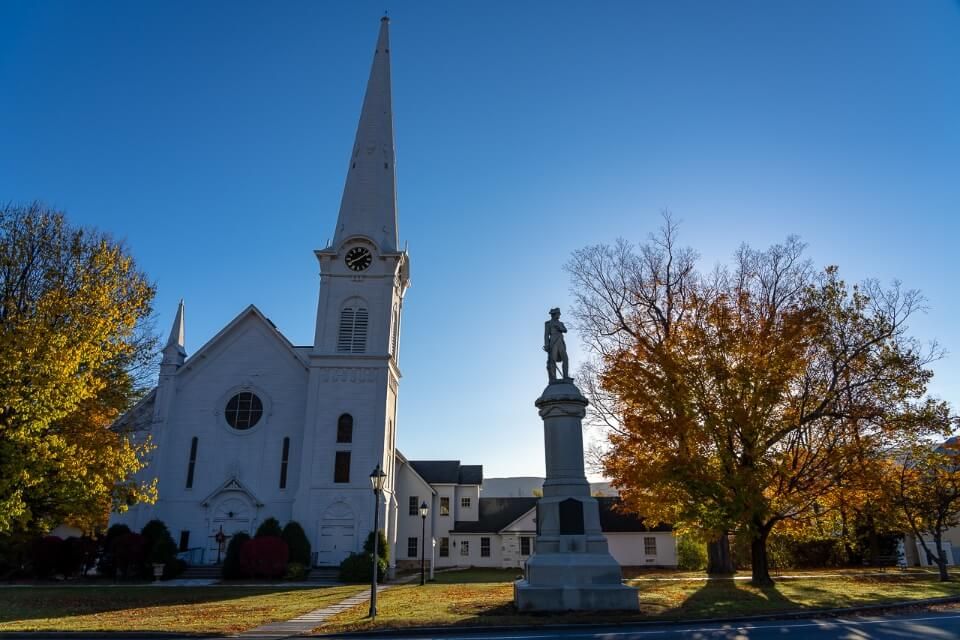 White church in Manchester just before the sun rises over distant hills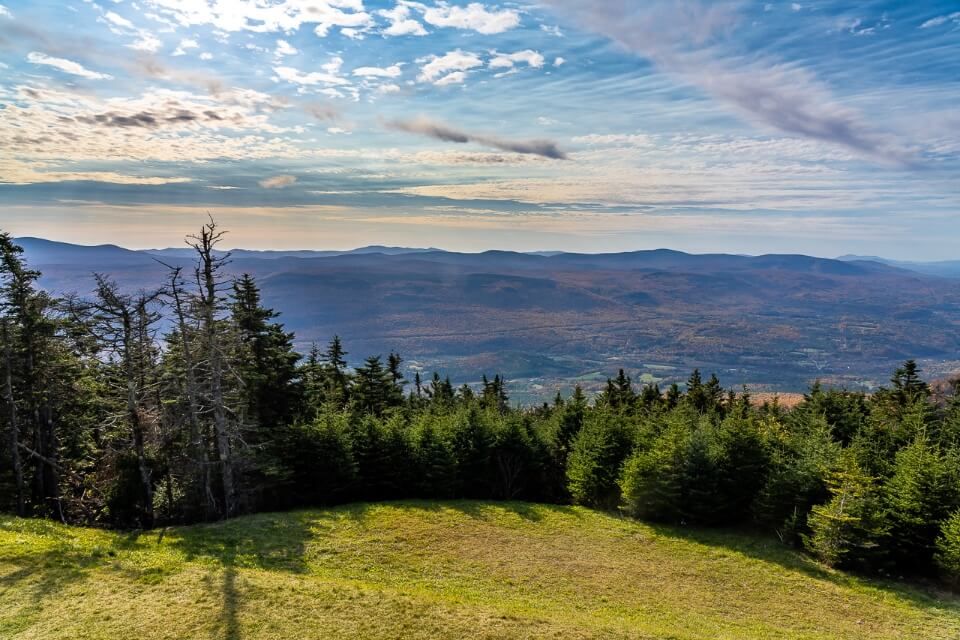 Wonderful view of rolling Vermont hills from the summit of Equinox Mountain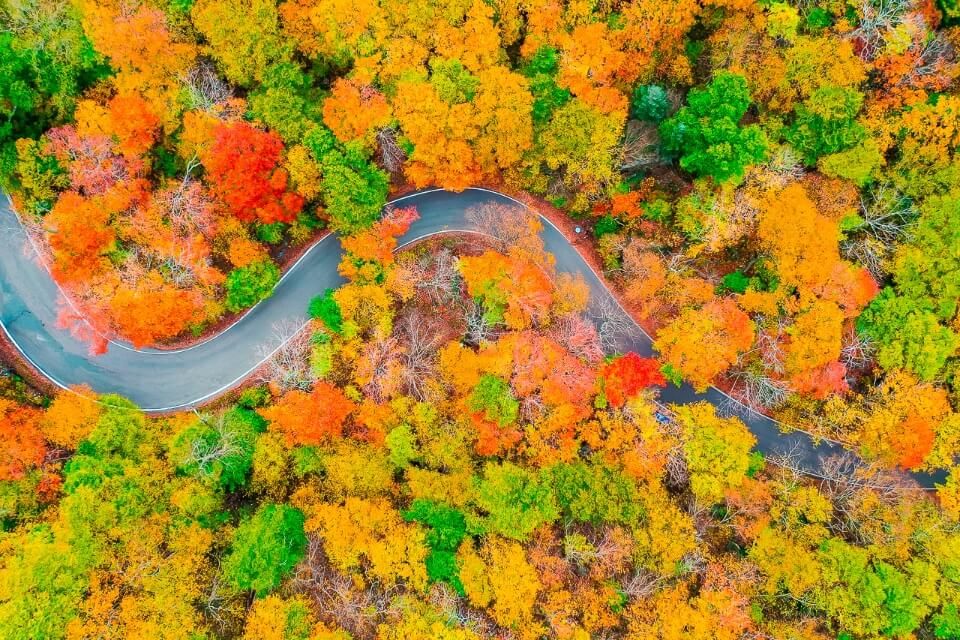 Perfect drone photograph of curving Smugglers Notch pass in fall near Stowe mountain resort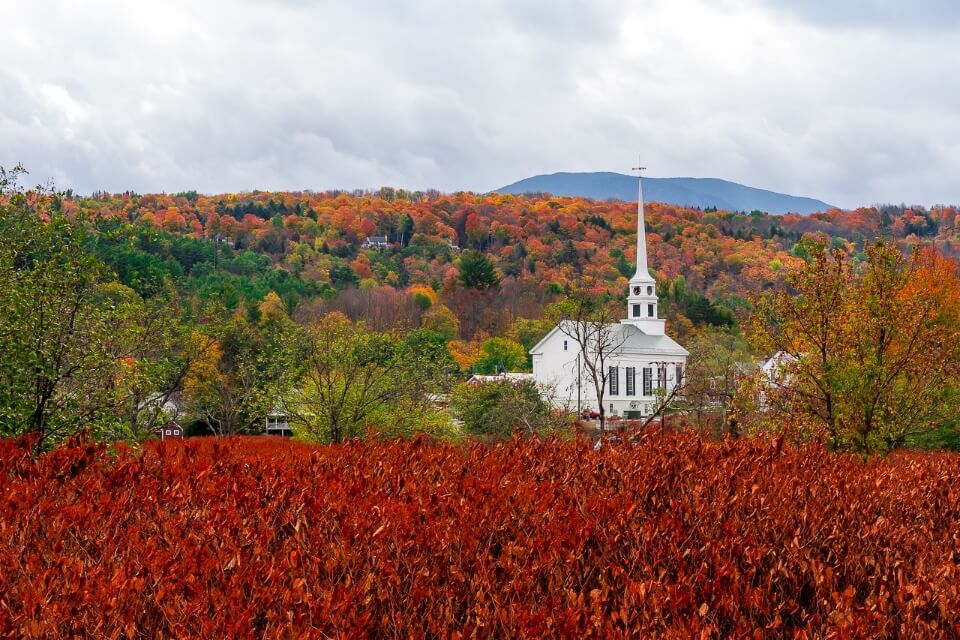 Hugely popular church photograph in fall with burnt orange leaves foreground in Stowe
Beautifully crafted historic Cornish-Windsor Covered Bridge over the Connecticut River between VT and NH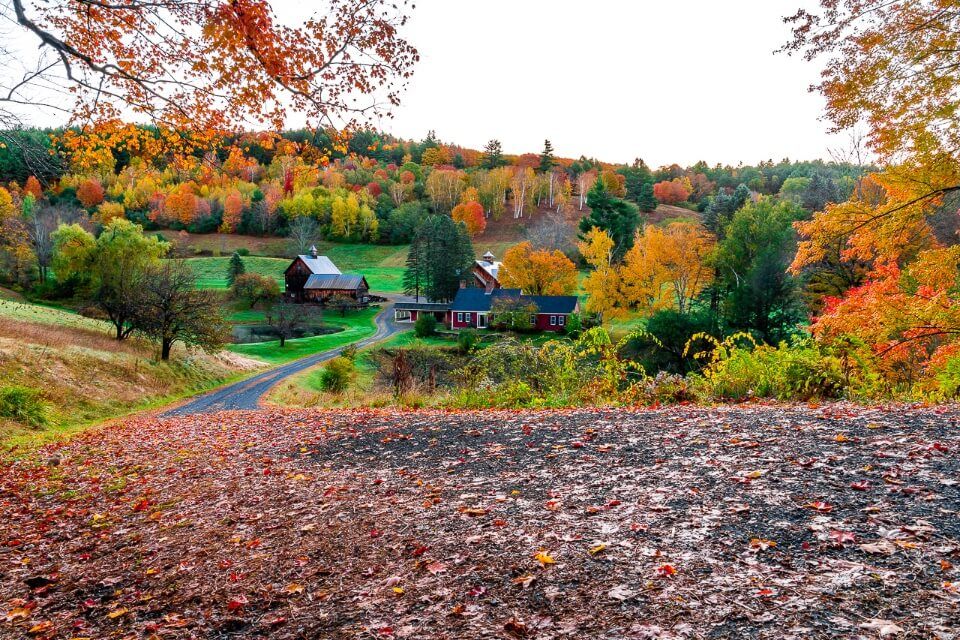 Wildly popular sunrise photography location – Sleepy Hallow Farm before sunrise
Gorgeous Woodstock Middle Covered Bridge with man silhouetted in pedestrian walkthrough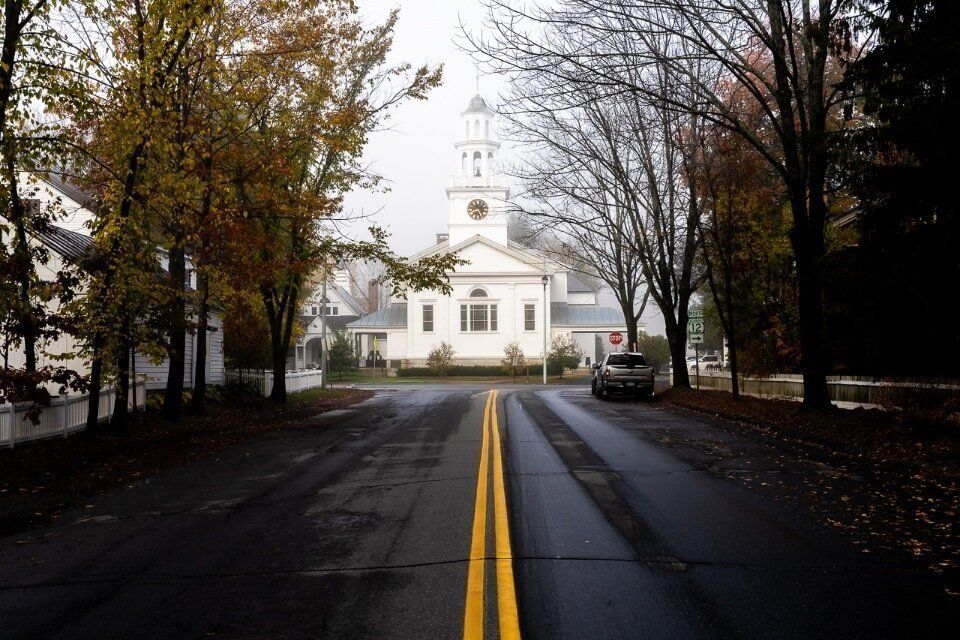 Eerie mist and light creating huge contrast between white church and dark street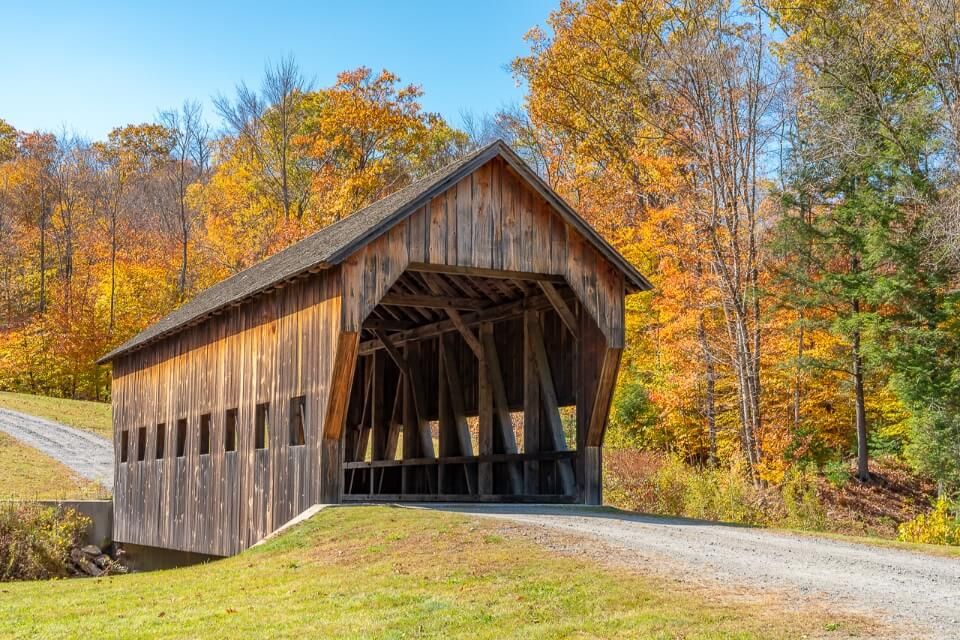 Immaculate wooden Covered Bridge in Fall – somewhere near Woodstock
Pictures of America: WYOMING
Grand Teton National Park
T.A. Moulton barn on Mormon Row at sunrise – one of our favorite pictures in America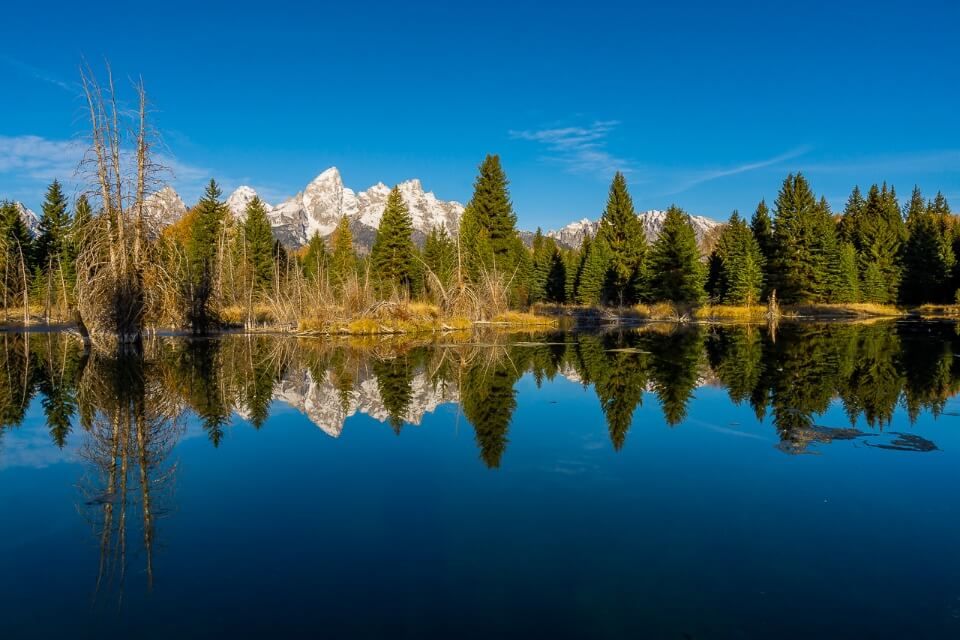 Lovely sunrise reflection photograph at Schwabacher's Landing in Grand Teton National Park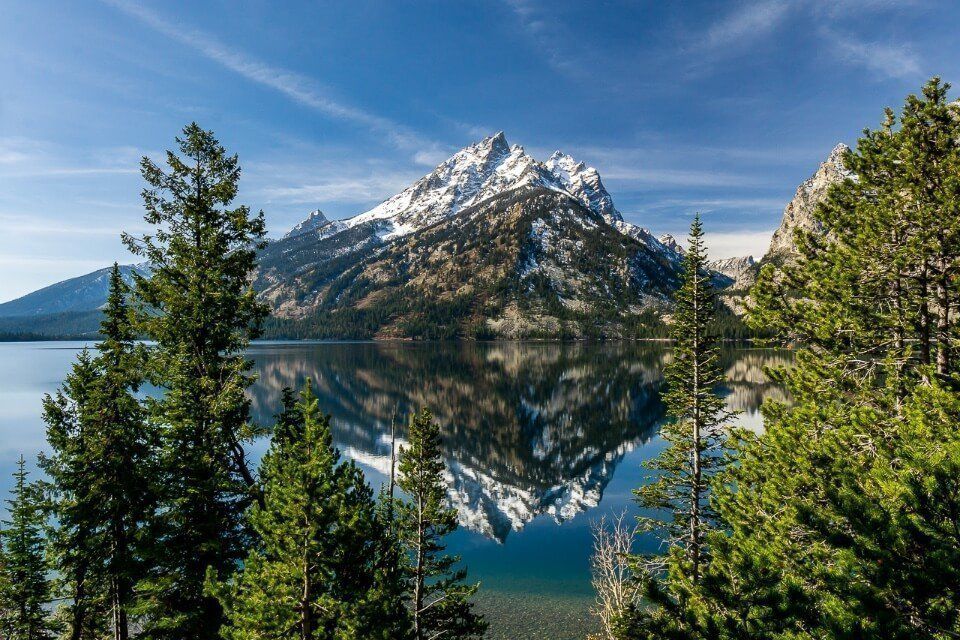 Beautiful snow capped mountain reflecting in Jenny lake between trees
Yellowstone National Park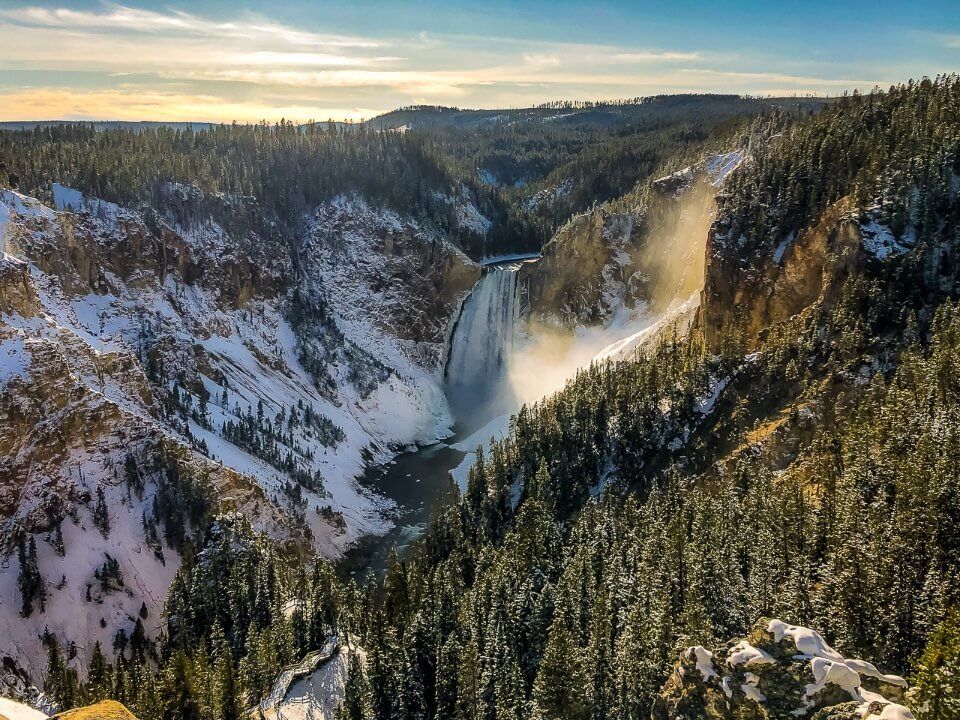 Mighty Yellowstone Falls cutting through Grand Canyon of the Yellowstone with snowy hills
Vibrant colors of Grand Prismatic Spring – one of the most popular spots at Yellowstone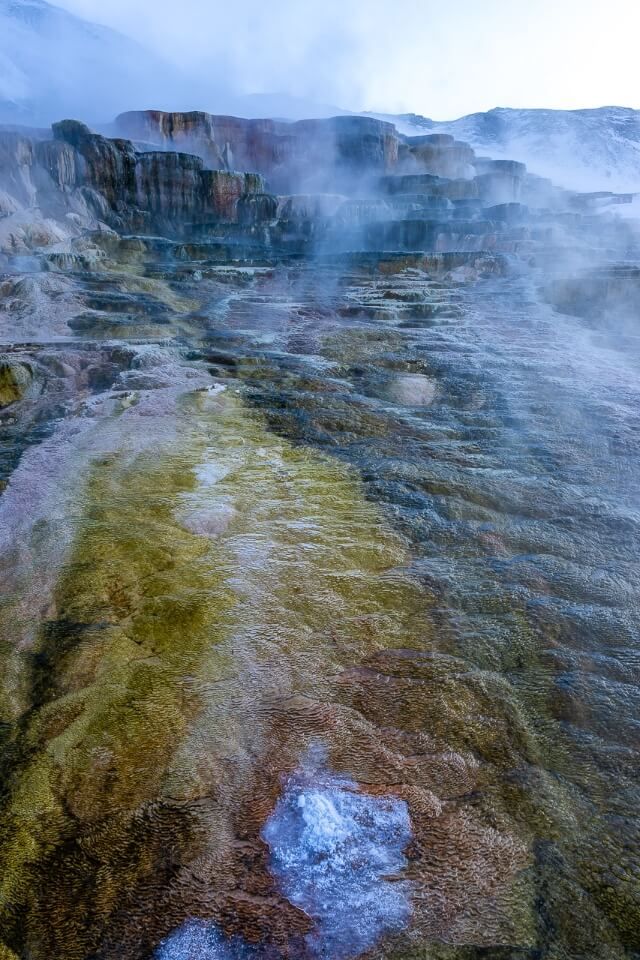 More vibrant colors at Mammoth Hot Springs before sunrise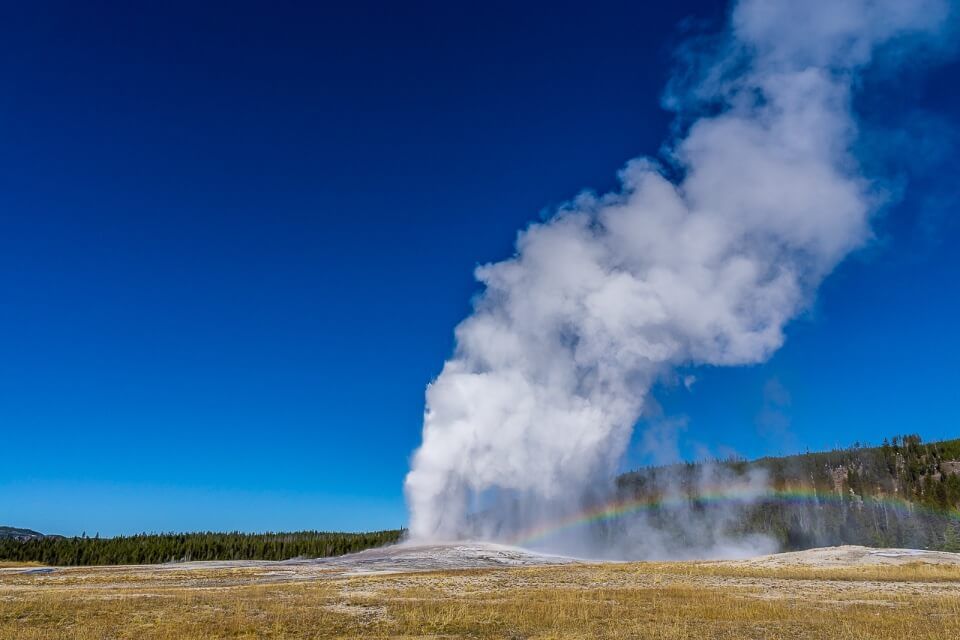 Yellowstone's centerpiece – Old Faithful geyser erupting creating a colorful rainbow
---
We hope these pictures of America inspire you to travel the US!
Please let us know if you have any questions or need any help with planning your trips to any of the places mentioned in this post. Don't forget your camera!
-Happy Travels-
Mark and Kristen
Note: This article contains affiliate links. When you make a purchase using one of these affiliate links, we may earn a small commission at no extra cost to you.
All Rights Reserved © Where Are Those Morgans, LLC. Republishing this article and/or any of its contents (text, photography, maps, graphics, etc.) in whole or in part is strictly prohibited.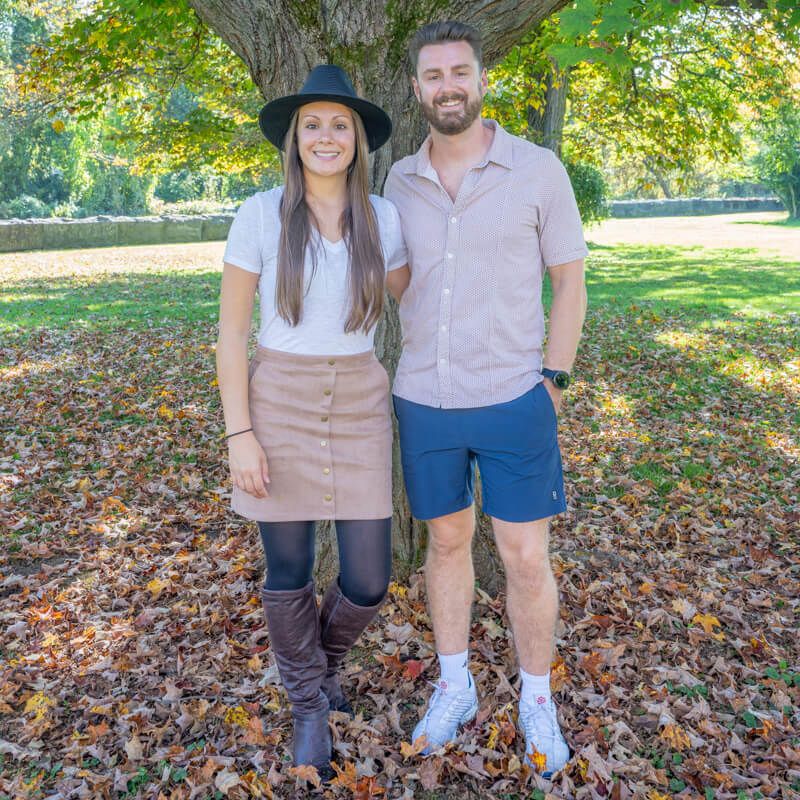 Mark and Kristen Morgan are travel, hiking and photography experts. Over the last 6 years traveling full time, they have explored more than 40 countries and 30 US states.
Their work has been featured in USA Today, Gestalten, Get Your Guide, CityPASS and Condé Nast Traveler along with various other publications.