The tiny town of Woodstock in central Vermont epitomizes a captivating and quintessential New England village, filled with attractive historic buildings and a relaxing aura. So what should you do when you visit such a tranquil place? Well, we're going to show you the 15 best things to do in Woodstock, Vermont to get your travel itinerary filled up to the brim.
Woodstock may be tiny in size but it is enormous in popularity and it is one of the most visited places in all of New England during Fall. Visiting Woodstock falls into the category of 'a calming and peaceful escape', which might come as a relief if you are driving a longer and more action packed New England road trip.
There are a a handful of must-visit attractions in Woodstock but there is no need to rush around. Woodstock is one of the most beautiful places to visit in Vermont. It is a place you take things slowly, enjoy the finer things in life and appreciate the sound of birds chirping or colorful leaves rustling in the wind.
Descriptive words like quaint, charming and picturesque can be overused at times. However, in this instance, the extraordinarily idyllic town of Woodstock in central Vermont is all of those adjectives, with a splash of enchantment and a dash of irresistible appeal thrown in for good measure.
Let's take a look at 15 of the best things to do in Woodstock, Vermont!
Top Tips For Visiting Woodstock In Vermont
Before we jump into the best things to do in Woodstock VT, let's take a brief look at some our top tips for you to consider when planning your trip:
Woodstock is an incredibly popular touristy stop off in Vermont.
We highly recommend including a stop in Woodstock on any USA road trips including Vermont.
It's hard to put into words how beautiful Woodstock is in the Fall season.
Hotels are not cheap, so we recommend you book ahead to find value.
If Woodstock is too expensive, consider staying somewhere nearby instead.
Depending on your travel style, you could spend 1 hour or 1 day in Woodstock, VT.
The town is very small but there are plenty of places to park.
Take time to simply walk around the town and green spaces.
But also jump in the car and drive around the maze-like narrow country roads.
Bring spare batteries for your camera, you're going to need them!
We enjoyed our visit to Woodstock in Fall so much that we were left with no choice but to include it in our popular guide to the 50 best places to visit in the USA.
Best Things To Do In Woodstock, Vermont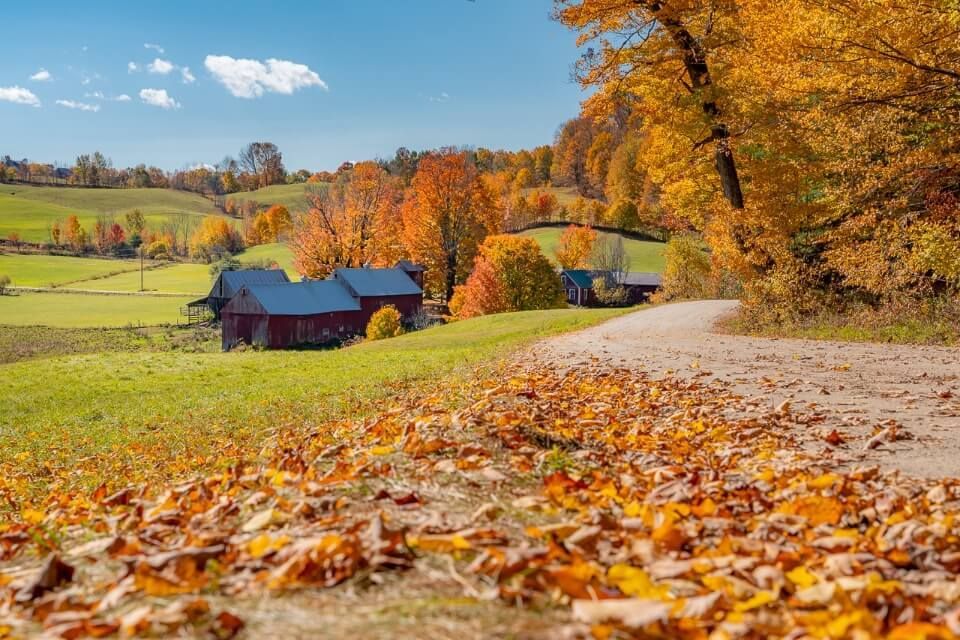 1. Admire Jenne Road Farm
The town of Woodstock is lovely to walk around, but the best way to really see this stunning part of Vermont is to explore the country roads and find magazine front cover scenes such as the one at Jenne Road Farm.
Magazine front cover is not an exaggeration. Jenne Road Farm is regarded as one of the most photographed barns in the world.
It has appeared on television adverts, every single New England fall foliage calendar and it was even used in a scene from timeless classic movie Forrest Gump.
What we love most about this experience is how understated it is. The only sign you will find is a tiny board stating 'maple syrup' with an arrow. There are no bells and whistles, despite its obvious fame.
We were shocked to be the only car on the dirt road when we visited in October, which is when it is most popular. It goes without saying, but keep your distance and don't get too close to the private barn.
Photographers will typically stand in a line next to a tree close to where we took our photo above. There's even a sign showing photographers where to stand to get this iconic New England picture.
To reach Jenne Farm, head South from Woodstock on VT-106 until you reach Jenne Road. It's just over 8 miles and should take no longer than 15 minutes.
This is one of those truly unmissable things to do in Woodstock for serious photographers.
2.

Taste Local Cheese & Syrup At Sugarbush Farm
Sugarbush Farm is a completely different experience. You won't need your camera for this one but you will need your taste buds ready to sample 15 kinds of cheese and 4 grades of maple syrup produced on site.
Not only can you can taste delicious cheeses and syrup but you can also walk around a maple syrup self guided tour with information about tapping sap lines and boiling houses. Plus, farm animals roam the grounds in Summer, perfect for the younger kids.
The farm is open every day from 9am – 5pm and the entire visitation is free of charge. However, your wallet will be in danger once you've tried the cheese and syrup, you can trust us on that one!
Find more information at the Sugarbush Farm website.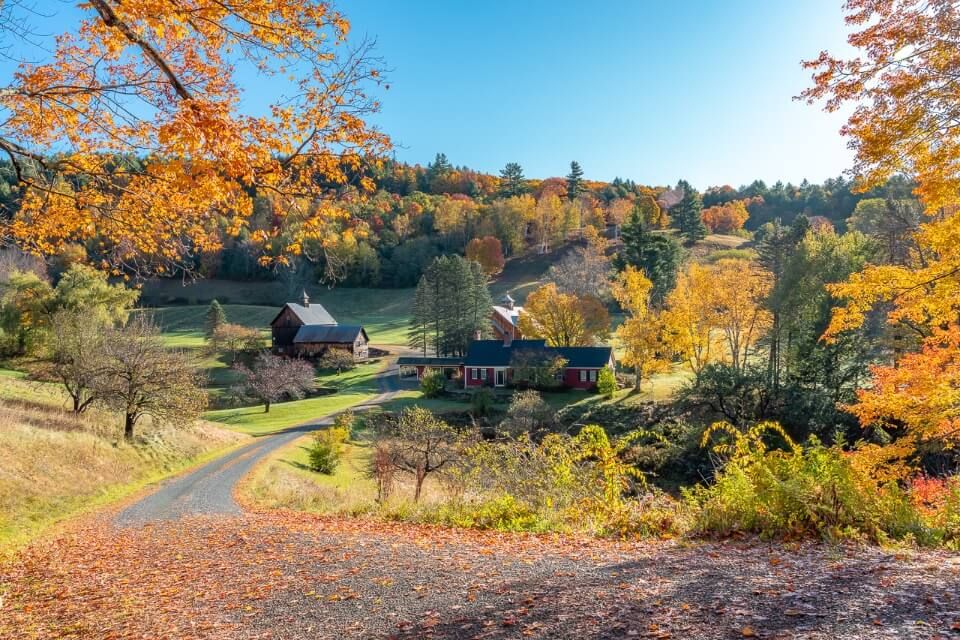 3. Photograph Stunning Sleepy Hollow Farm
Finishing off our favorite farms in the area with another of those insanely photogenic Vermont postcard scenes. We have to be honest, we're not sure why this one at Sleepy Hollow Farm isn't quite as famous as Jenne Road?!
Remember we said we were the only car at Jenne Road? The same can't be said here. We were two among maybe 15-18 other photographers at a frustratingly dull sunrise.
We decided to come back later in the morning once the grey blanket had burnt off and fortunately the beautiful fall colors were illuminating upon our return.
If we could choose just one place to photograph again in New England during Fall it would be Sleepy Hollow Farm. It looks gorgeous in photos but it looks even better in person.
Please remember this is a private farm and you can't go down the road at all. There is a sign but some people choose selective reading ability at times!
Photographers – Don't forget your tripod if you visit for sunrise, you'll need it for low light to keep your ISO down.
Sleepy Hollow Farm is under 3 miles from Woodstock. Heading north on Old River Road, turn left onto Cloudland Road and follow it until you reach the farm. There are no parking spaces and it is on a very narrow road, so you'll have to get your vehicle tucked right in against the side.
4. Don't Miss Nearby Taftsville Covered Bridge
Vermont is home to more covered bridges per square mile than any other US state and Woodstock is one of the best places to set up base for a bridge hunt.
Taftsville covered bridge was built in 1836 and is the oldest standing example of a historic covered bridge in Vermont, which makes it a dead-cert on your Woodstock itinerary. It is 189 ft long and has an attractive classic red colored exterior.
A small dam and waterfall along the Ottauquechee River are located just to the northwest side of Taftsville covered bridge as you look at a map.
You can park up on Old River Road and walk down a riverside path to open up incredibly photogenic views looking back at the bridge and waterfall.
The only issue is with electrical pylons and lines, which do go some way to ruining the picture – but people need power, right?! Hopefully in future those lines can be moved underground.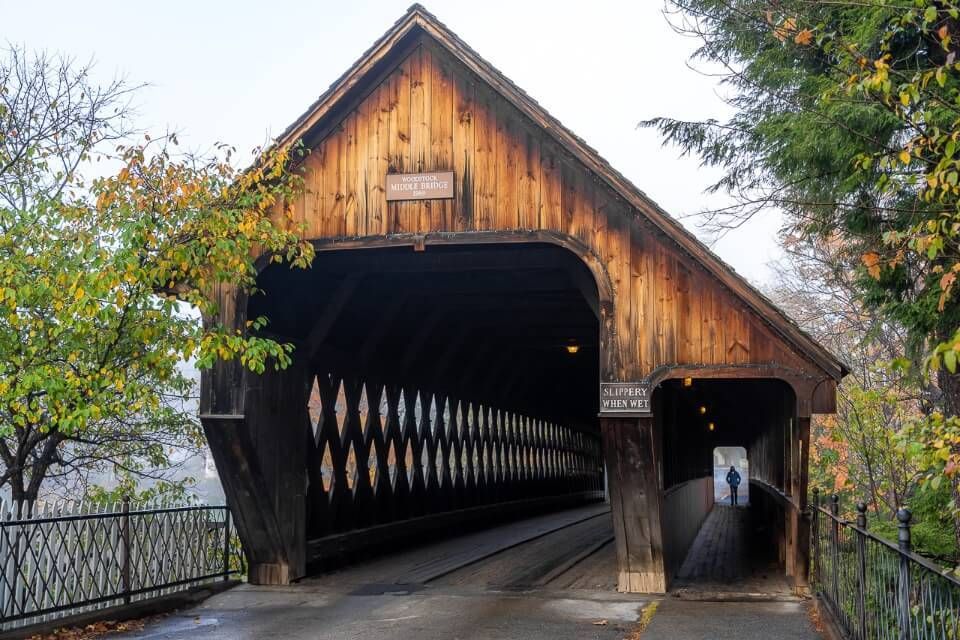 5. Walk Across Woodstock Middle Covered Bridge
Taftsville is important because it's the oldest in Vermont, but you don't even need to leave Woodstock to see your first example of a stunning covered bridge.
In fact, the gorgeous dark wooden colored Woodstock Middle covered bridge is smack-dab in the center of Woodstock, right on the edge of 'The Green'.
If you look on google maps, the bridge appears on Elm Street, but that isn't correct. Woodstock Middle covered bridge is on Mountain Ave, crossing the Ottauquechee River.
There are ample places you can park alongside The Green if you're not staying in Woodstock or are just driving through. Don't miss the chance to walk through the bridge to grain an appreciation for expert craftsmanship and intricate details in the design.
Personally, we thought Woodstock Middle covered bridge was one of the most visually appealing of all the bridges we saw in Vermont. Not all bridges have pedestrian access, which makes this particular bridge in town one of the things you can't miss when in Woodstock, VT.
6. See Jersey Dairy Cows At Billings Farm & Museum
One of the most popular things to do in Woodstock is to walk around the Billings dairy farm and learn about farming in Vermont from the late 1800's to the present day.
Billings farm was established way back in 1871 and is best known for its Jersey dairy cow breeding. However, this is more than just a farm.
Not only can the kids pet farm animals and explore a working farm, there is also a huge emphasis on farming education. Exhibits and display showcase what life was, and is, like as a farmer in Vermont.
You can walk around the old farm manager's house built in 1890, stroll along a riverside path or through gardens when in season, soak up gorgeous views over acres of land and self guide your way through farm life exhibits.
There are two dedicated parking lots for Billings farm and you do not need advanced reservations. You can either drive or walk to the farm from downtown Woodstock, which is just half a mile away.
Entrance prices are US$ 16 / adult, US$ 8 / ages 4-15 and Free for under 4's.
Opening hours vary depending on season, check times here.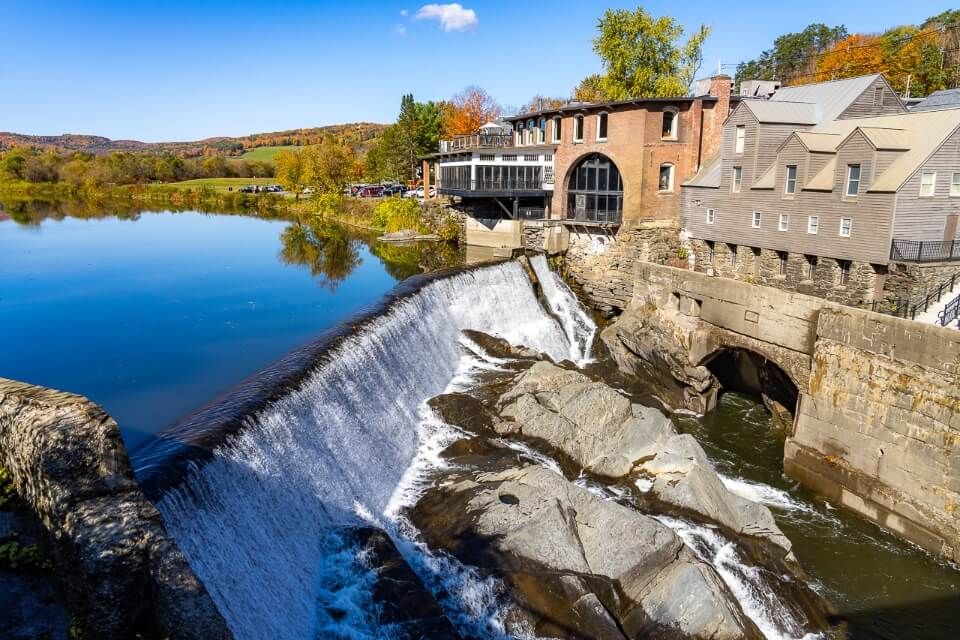 7. Explore Quechee Gorge and Village
Quechee is a popular stop along the typical Vermont or New England road trip, but many only visit the Quechee Gorge bridge before moving on to Woodstock.
We highly recommend you set aside a little more time, firstly to walk along the easy gorge-side trail but mostly to visit the village of Quechee itself afterwards.
Views over Quechee gorge are best from the bridge, but the gorge-side walk is still picturesque and worth 15 or 20 minutes to blow off the cobwebs.
Once done with the gorge, continue towards Woodstock but turn right on Waterman Hill Road and descend until just before Quechee covered bridge.
Park up and walk through the pedestrian walkway on Quechee covered bridge. To the right you will see a collection of boulders in the Ottauquechee River, but the view to the left is the reason for including Quechee village on your trip to Woodstock.
The waterfall and dam with perfectly reflective water surface above create a stunning scene, no matter the season you visit.
See the overhanging veranda and red brick building in the photo above? That is the award winning and very highly regarded restaurant the Mill at Simon Pearce, along with a glassblowing studio, which is open to the public.
See information about glassblowing viewing hours and the Mill to book reservations.
8. Enjoy The Stunning Woodstock, VT Architecture
Perhaps surprisingly for this region in Vermont and New England, Woodstock is not quite as colonial as you might imagine.
In fact, you will find a wonderfully diverse array of 18th and 19th century architectural styles just from exploring the immediate local area.
From pristine Georgian symmetry to palladian style windows of the Federal architectural style and of course colonial revival, which is is encapsulated by the Marsh Billings Rockefeller house in the park.
All you need to do is walk around The Green, Elm Street and Central Street for an architectural feast.
The entirety of Woodstock Village Historic District is listed on the National Register of Historic Places, which says enough in itself. You just know this is going to be a remarkably charming town.
Don't miss the Norman Williams Public Library, a beautiful building open to the public just off The Green.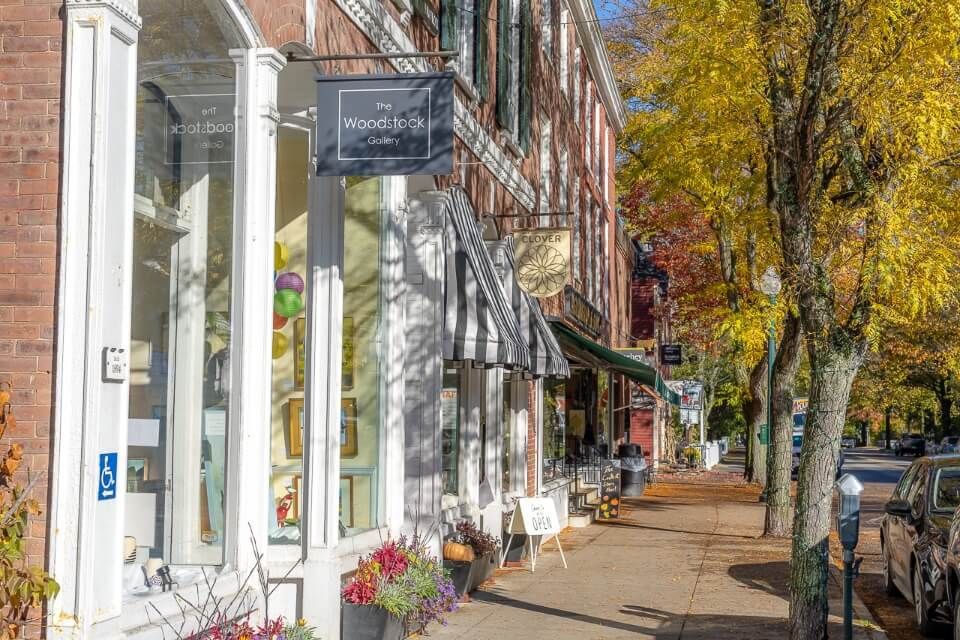 9. Walk Around Woodstock Town Shops
Shopping might be the last thing on your mind when visiting a quaint town such as Woodstock, Vermont. However, shopping here is a much more relaxing experience than a typical day at the mall.
Small independent stores, bookshops, galleries, farmers markets and quaint cafes are perfectly arranged along two very pedestrian friendly streets in town.
The best part? You won't find a tacky gimmicky gift shop in sight.
Supporting local businesses is paramount to the continued prosperity in a touristy town like Woodstock. Don't be shy about popping in for a coffee at Mon Vert or Soulfully Good.
The one place you should definitely check out is F.H. Gillingham and Sons. We were instantly drawn to the general store simply from its exterior, but inside we found an incredibly wide range of products in a traditional and historic setting.
This family run business is still to this day run by the 5th generation since opening in 1886. It's next to impossible to walk around and not buy something!
10.

Be Wowed By Radiant Fall Foliage
As you can clearly see from our photos in this guide to the best things to do in Woodstock Vermont, we visited in Autumn for the fall foliage season.
You can visit any time of year and you will still get the same experience of a picturesque and charming town. But the colors in fall just elevate its staggering beauty to another level.
Our best advice when visiting Woodstock in fall is to explore every nook and cranny of the entire region. Let's say within a 10 mile radius of the town.
You will find classic and iconic fall images, but you will also find unique takes on Woodstock in the Autumn by exploring off the beaten path. Visit all of the even smaller villages nearby, walk along rivers and find elevated positions to look back on the town.
With that said, if you're not up for a drive, the town of Woodstock itself has more than enough trees to enjoy those fiery autumnal colors of the fall season.
You also can't miss Manchester VT in the south of the state if you're looking for more special fall colors. Manchester is located in the heart of Green Mountain National Forest, which means rolling hills of vibrant Autumnal foliage for miles.
Need a hand planning your New England fall road trip?

Our popular 40+ page New England Fall Road Trip Guidebook includes the 10 best places to visit (including Woodstock VT) and 8 example itineraries ranging from 5-14 days to help you plan a successful leaf-peeping vacation.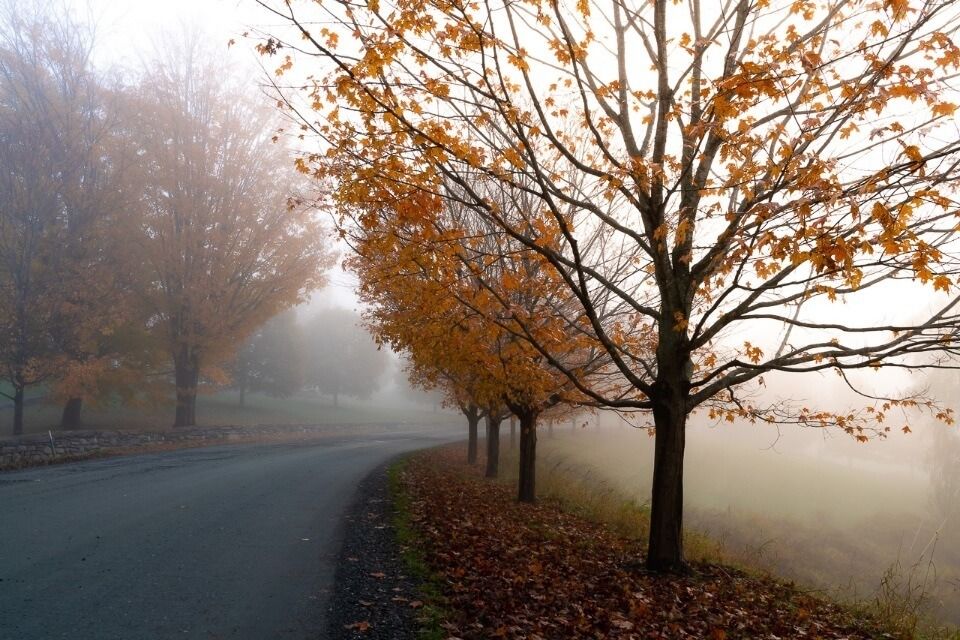 11.

Woodstock Vermont Photography Locations
This will not surprise you – When we visited Woodstock in October, every single person we saw had a camera. Even if you just use your smartphone, we can guarantee you will leave Woodstock with hundreds of gorgeous images.
So, where should you go with your camera to take home the best photos?
Well, you should start with the two farms we talked about earlier, Jenne Road Farm and Sleepy Hollow Farm are not to be missed. Next, the town of Woodstock is extremely photogenic so get busy with your camera in town.
After that, you have all of the covered bridges near Woodstock to check out. They include Woodstock Middle, Quechee, Lincoln, Tafstville and even Cornish-Windor.
There's a lookout point near Mount Tom with exceptional views over the town of Woodstock, which in Fall are just so impressive.
But our advice is the same as before, jump in the car and drive around the narrow country roads. Try to find something new, maybe a road with colorful trees arching overhead or another covered bridge not listed on every single article online.
Don't forget you can use your drone around rural parts of Vermont as long as not within 5 miles of an airport. This works great in Fall.
We stumbled across possibly the most stunning covered bridge when driving to Jenne Road Farm. It was just off the road leading into a private property but we hadn't read about it beforehand.
You can see this bridge in our favorite 7 covered bridges to see in Vermont.
What beautiful but unique photograph will you find around Woodstock?
12.

Best Hikes Near Woodstock, Vermont
Most visitors to Woodstock will pass through in a day or maybe two, which makes finding time for a hike difficult. Especially when there are plenty of awesome hikes in other parts of Vermont, such as the awesome town of Stowe in the North.
However, for those who do have the time available for a hike on a longer visit, you have a handful of great hiking options right near town.
Don't forget about Quechee gorge as mentioned above and remember, Woodstock is very close to the Appalachian Trail.
Mount Tom and The Pogue – The most popular hike in Woodstock is within Marsh Billings Rockefeller National Historic Park. You can access Mount Tom via multiple entrances and trailheads but we would suggest starting at the parking lot for Billings Farm and Museum. The full loop including both The Pogue (pond) and Mt Tom (Woodstock town views) is just over 4 miles with 650 ft elevation gain.
Mount Peg – This short 1.3 mile roundtrip loop gains around 300 ft in elevation to provide views looking back over Woodstock, but this time from the South side of town.
Luce's Lookout – Set your google maps for 'The Lookout Trailhead' and drive a quick 8 miles north up VT-12 before turning onto Greengate Road. This is a 2.5 out and back trail with old lookout at the top providing more excellent valley views.
Woodstock Aqueduct Trails – This time set your google maps for 'Aqueduct Trails' and a 2.7 mile drive through West Woodstock will bring you to the trailhead. You can choose how far to hike through forest with boardwalks. Be aware that this is primarily a mountain bike trail.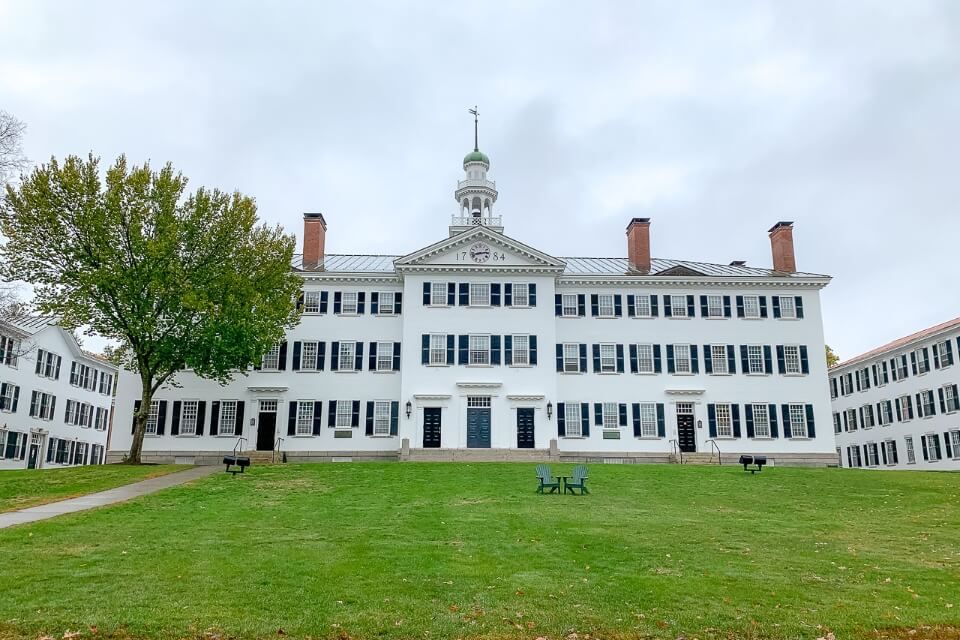 13. Dartmouth College and King Arthur Flour
Have you ever looked around the campus of an Ivy League university? Why not take the opportunity when visiting Woodstock and just 20 miles from Dartmouth College?
Dartmouth is actually just inside the New Hampshire border in Hanover on the other side of the Connecticut River. The Ivy League college is the ninth oldest US institution of education, welcoming students since as far back as 1769.
Conveniently, the King Arthur Baking Company sits right on the other side of the bridge connecting the two states. Have you ever baked with King Arthur flour? It makes magic happen in the kitchen!
But what can you do a the King Arthur flagship campus?
Well, you can take a class in the baking school, watch expert bakers making bread and pastries, eat breakfast or lunch, shop for an array of baking recipes and of course accept every free sample.
See more information about visiting King Arthur Baking Company.
14. Marsh Billings Rockefeller National Historic Park
We have referenced this park a few times throughout this list of the best things to do in Woodstock, Vermont but now it's time to get into more detail about the Marsh Billings Rockefeller National Historic Park.
Run by the NPS (national park service), this 643 acre plot of land is named after all of the previous owners of an old dairy farm and forest.
The land was transferred by the Rockefellers to the NPS in 1992 and in doing so gave Vermont its only unit within the US national park system.
You already know about the loop hike beginning and ending at the Billings Farm lot, via The Pogue and Mt Tom, but there are many more things to do once inside the park.
You can take a guided tour of the magnificent Marsh Billings House, walk under 400 year old trees on pristine Vermont carriage roads, bird watch, take a woodland workshop or cross country ski during Winter.
Be sure to check the park calendar for any upcoming events for your dates of visiting Woodstock.
Find more information including maps of Marsh Billings Rockefeller Park here.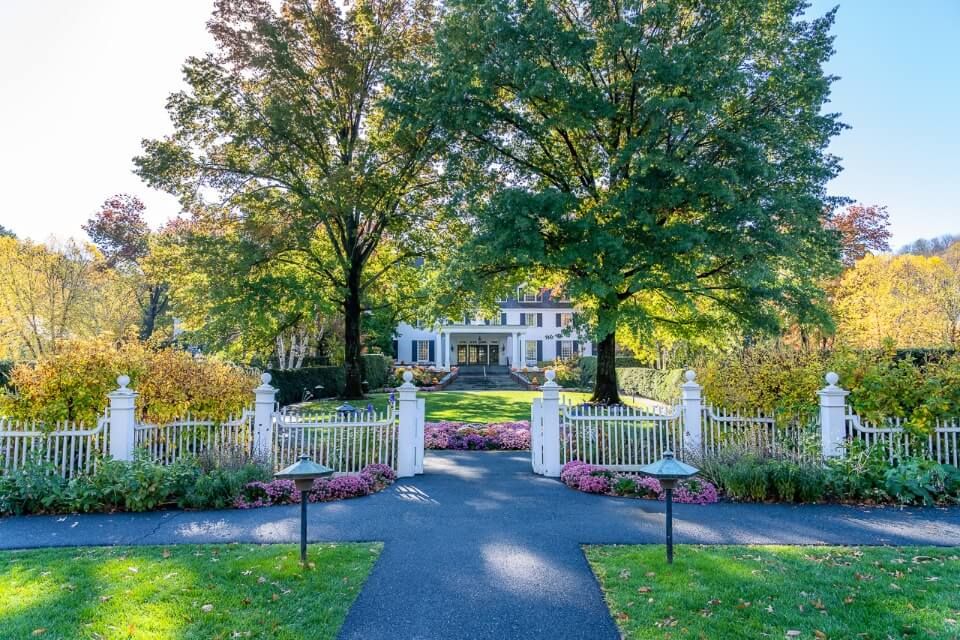 15. Stay At The Impressive Woodstock Inn
The Woodstock Inn is the place to stay in town if you're celebrating something special or have one final splurge in your New England road trip travel budget.
From both the outside and inside, the Woodstock Inn oozes class. It is perfectly located right in the center of The Green in town, ideal for walking to everything you might need throughout your stay.
>> Book Woodstock Inn: Direct | Booking.com
The Woodstock Inn isn't cheap, but there are plenty of other lodging options to stay at during your time in Woodstock.
You can either read our complete guide to the 7 best hotels in Woodstock VT on our sister site Best Hotels Anywhere, or click on any of the top rated hotels in town below to see availability for your dates:
Map Of Best Things To Do In Woodstock Vermont
Red Markers

– Locations of the best things to do in Woodstock Vermont.
Click or touch the map to activate.
Zoom in and out, move around the map of Woodstock VT to find locations of the best things to see and do in the area.
More From Vermont
Discover the 10 best places to visit on a New England Fall Foliage Road Trip with itineraries covering 5 days, 7 days and 10 days.
More From New England
---
We hope this guide to the best things to do in Woodstock, Vermont helps you plan your visit!
Have you been to Woodstock? What were your favorite things to do in the area?
Please let us know if you have any questions or need any help planning your visit in the comments below.
Happy Travels,
Mark and Kristen
Was This Post Helpful? Pin It For Your Visit!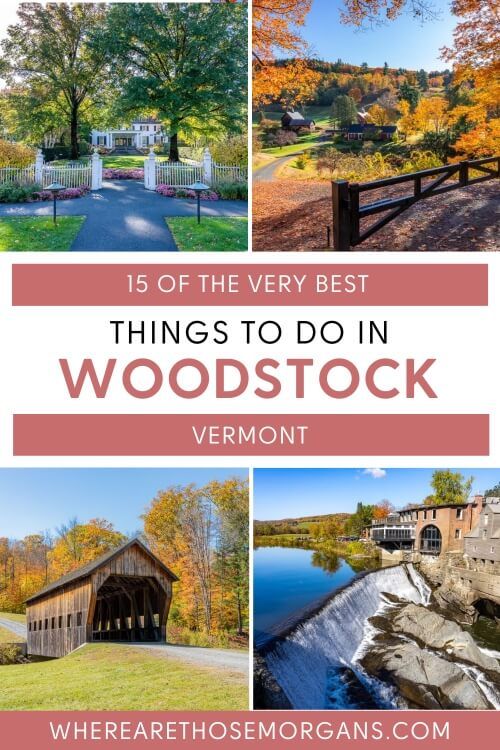 Note: This article contains affiliate links. When you make a purchase using one of these affiliate links, we may earn a small commission at no extra cost to you.
All Rights Reserved © Where Are Those Morgans, LLC. Republishing this article and/or any of its contents (text, photography, maps, graphics, etc.) in whole or in part is strictly prohibited.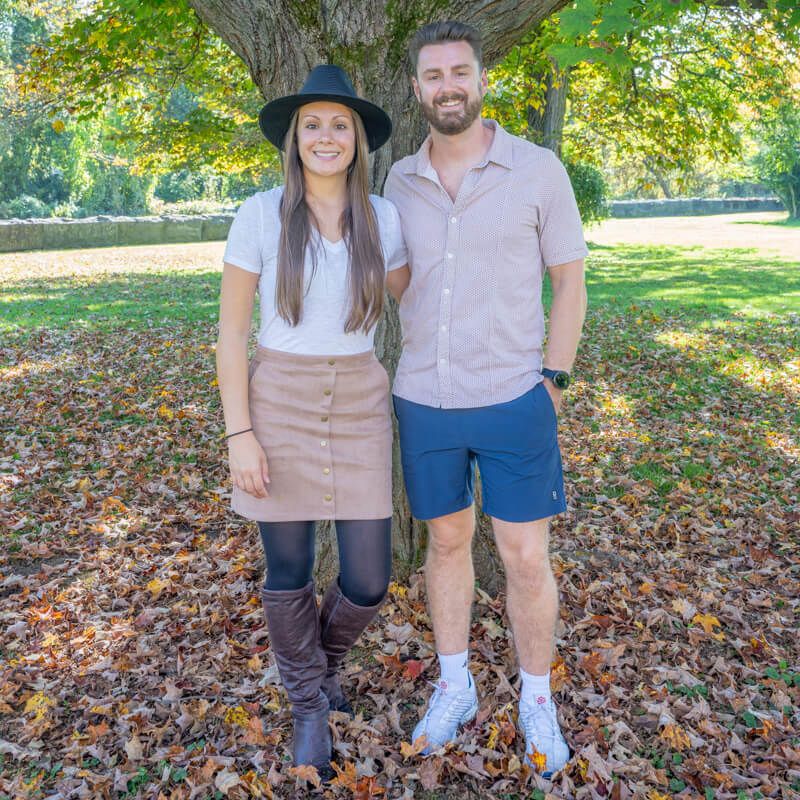 Mark and Kristen Morgan are travel, hiking and photography experts. Over the last 6 years traveling full time, they have explored more than 40 countries and 30 US states.
Their work has been featured in USA Today, Gestalten, Get Your Guide, CityPASS and Condé Nast Traveler along with various other publications.