On a handful of magical days during the coldest months of the year, New York City's iconic Central Park transforms into a snow white winter wonderland. Winter in New York is brutal but beautiful.
Imagine crisp and powdery snow falling so heavily it covers the ground like a thick blanket, skyscrapers disappearing into dense low hanging snow clouds and excitable kids using road signs, garbage bin lids or any flat object they can find to sit on and ride the gentle hills of Central Park.
As the only two people walking up Fifth Avenue head first into harsh horizontal blizzard-like snow (wearing two pairs of socks, two pairs of pants, three top layers with heavy duty winter coats and fur lined hoods) we wondered what we'd eaten for breakfast to do something this stupid!
But once we arrived at the Plaza hotel and entered Central Park's southeast corner, we quickly congratulated ourselves for sticking it out and realizing one of our childhood dreams of exploring Central Park on a bona-fide snow day.
We're going to show you the very best places to visit and things to do throughout Central Park in Winter, with photographs and a map so you can create a path around the world famous park on your own NYC snow day.
*Please note this post may contain affiliate links. If you click on one, we may earn a small commission at no extra cost to you!*
Why Visit Central Park in Winter?
Manhattan's "back yard" is a 4 season showpiece and it is visited by tens of millions of tourists each year.
Along with walking over the Brooklyn Bridge, walking around Central Park is up there with the best free things to do in New York City.
Also, if you've ever seen Home Alone 2 around Christmas, you will know there are some nostalgic filming locations not to be missed in Central Park!
Let's break the Central Park seasons down:
Spring blooms with an incredibly photogenic and vibrant cherry blossom season.

Summer in Central Park means endless luscious deep emerald green colors (perfect for viewing from Top of the Rock).

Autumn is arguably the most beautiful time of year to visit Central Park with stunning Fall foliage orange and yellows.

Winter is generally dull, stark and barren. But on those handful of special snow days, Central Park morphs into an unimaginably spectacular whitewashed adventure playground for kids and adults alike.
Best Places to Visit in Central Park on a Winter Snow Day
Central Park is huge. We're talking 843 acres huge.
You could easily spend 2 full days walking around every nook and cranny, under every arch and through every garden.
However, we're going to show you only the most famous and easily accessible on a typical touristy NYC itinerary. You can then prioritize which places to visit on your Central Park winter snow day.
1. The Mall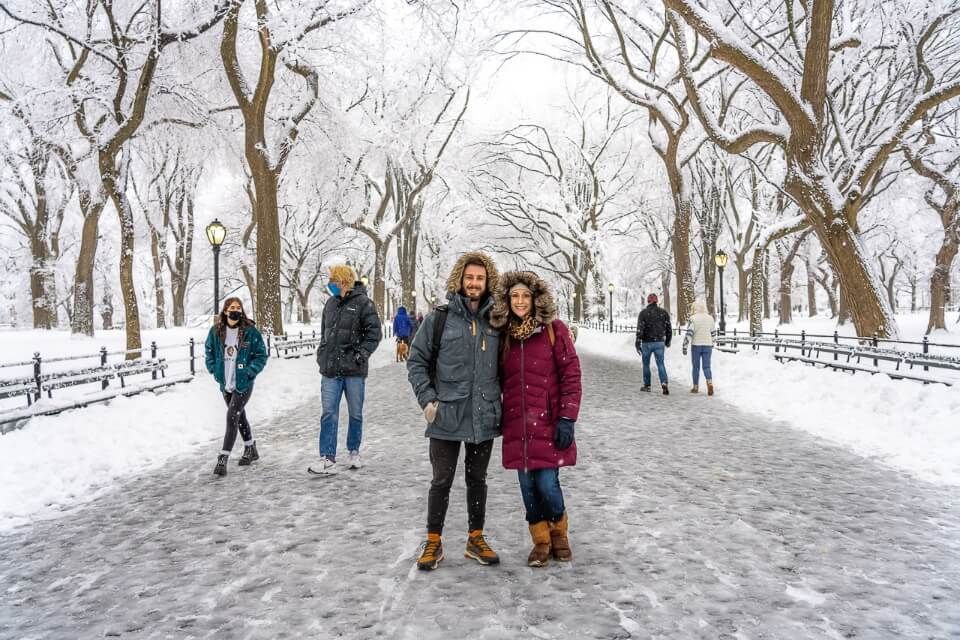 The Mall is a popular pedestrian promenade lined with trees, benches and commemorative statues. On a normal day, expect to find the Mall overflowing with dog walkers, coffee drinkers, tourists and locals.
It runs in a straight line through the park from 66th street to 72nd street and ends at a staircase leading down to Bethesda Terrace.
The Mall is one of the most popular parts of Central Park to visit and photograph in Winter.
We saw dozens of photographers crouching over snow covered benches, setting up tripods right in the center of the path and even grabbing shots of an enormous Octopus snow statue.
2. Bethesda Terrace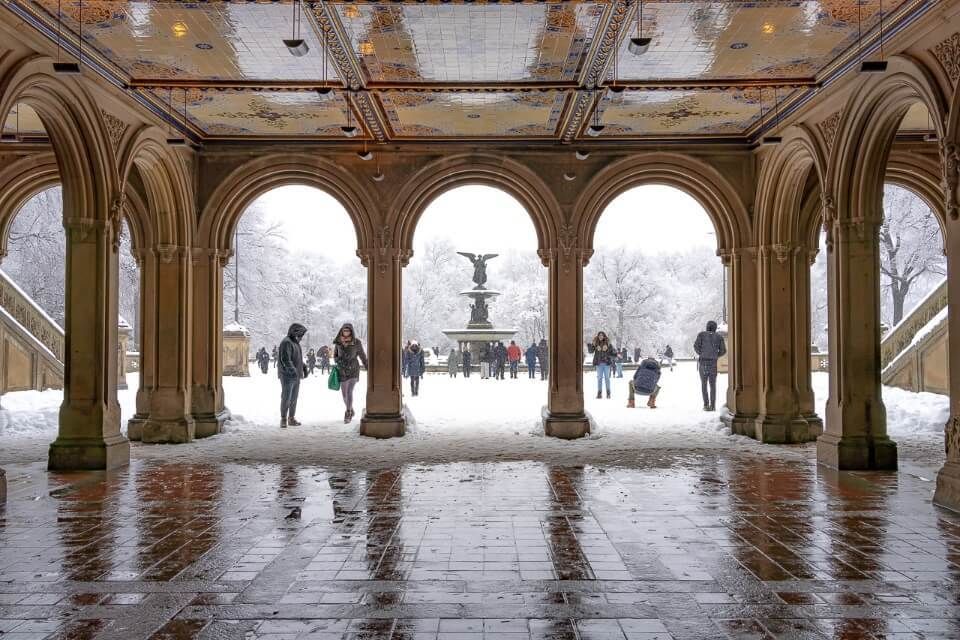 Our personal favorite and top recommendation for best place to visit in Central Park in Winter is Bethesda Terrace.
We couldn't get enough of the kaleidoscopic tiled ceiling and perfect symmetry. Light bounces and reflects off the Arcade floor and walls to illuminate Bethesda Terrace's intricately designed Minton tile ceiling a gorgeous orange glow.
And that's just the inside facing the stairs to the Mall. Turn around 180 degrees and you'll find 3 arches with Bethesda Fountain framed precisely in the center arch.
Couples use the center arch with fountain background as the top Central Park selfie spot. You can expect to see dozens of wedding / engagement shoots throughout the day.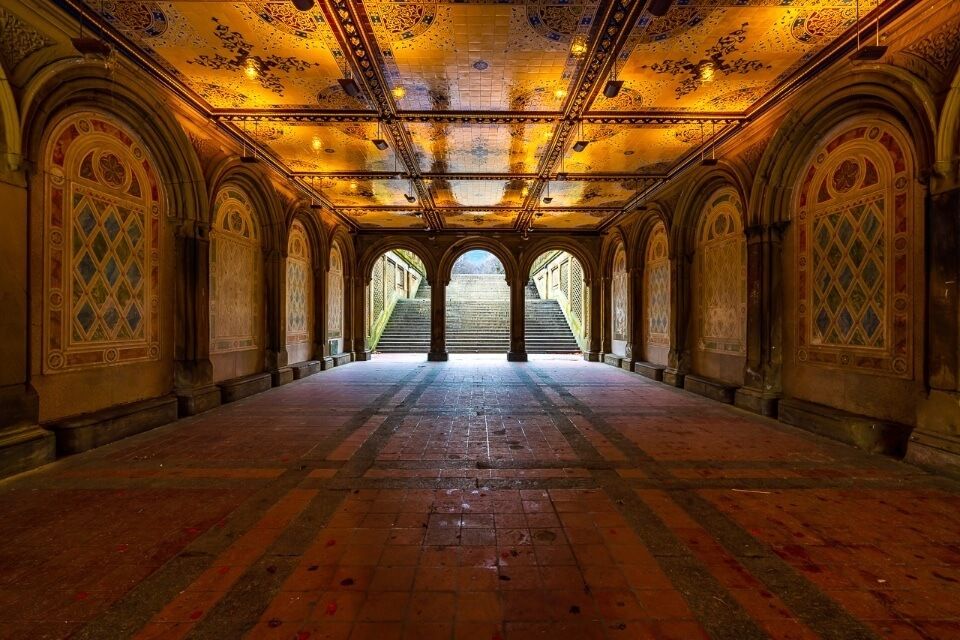 Arrive early to have a chance of getting your tripod set up and getting a few shots off before the masses arrive.
We couldn't resist adding an extra photograph in here to show off the beautiful orange symmetry! This was taken a little later in the season once the snow had melted.
Be aware that Bethesda Terrace is likely to be the busiest place in all of Central Park on a Winter snow day.
3. Bow Bridge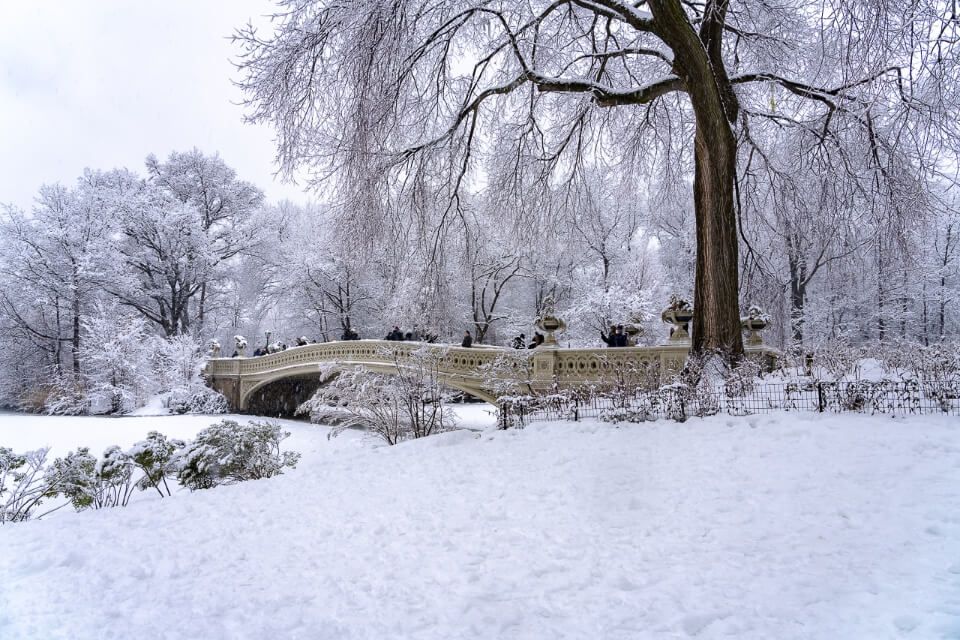 Bow Bridge is arguably the most photogenic bridge inside Central Park, especially when there's a perfect water reflection.
However, Winter offers a different take on Bow Bridge.
The Lake frozen solid, Manhattan's Upper West Side and famous El Dorado apartment buildings shrouded in heavy grey snow clouds and tree branches drowning in icicles.
4. The Ramble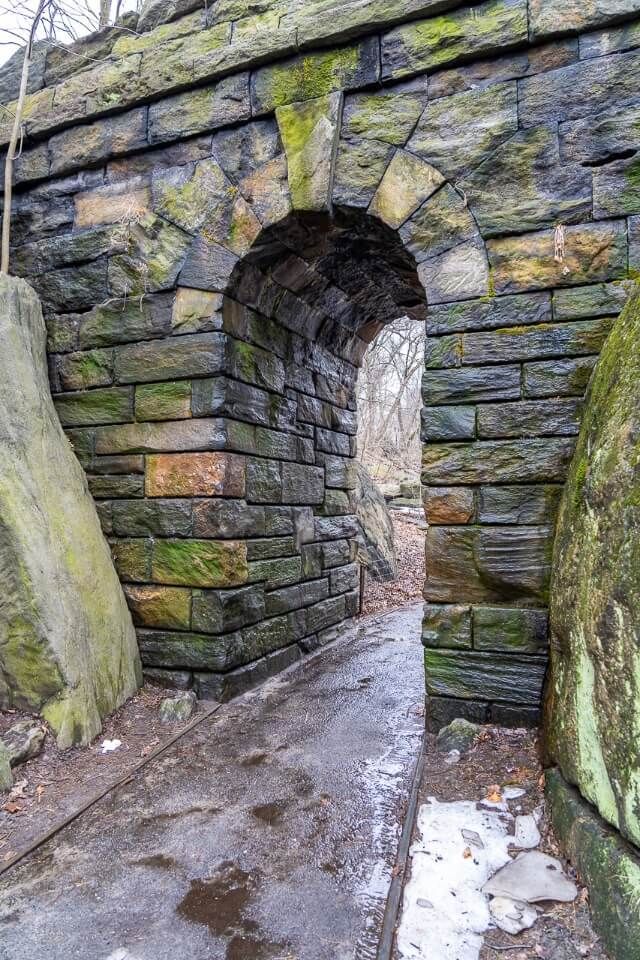 The Ramble is a maze of incoherent and narrow winding paths seemingly leading to nowhere. It is the perfect place to walk around in Winter with no real purpose but to simply enjoy nature.
Stone arches, short but steep climbs, gardens, an old abandoned cave and ponds await.
Don't miss Ramble Stone Arch and Azalea Pond for photographs but do take care when walking around The Ramble in snow and icy conditions.
5. Strawberry Fields / John Lennon Memorial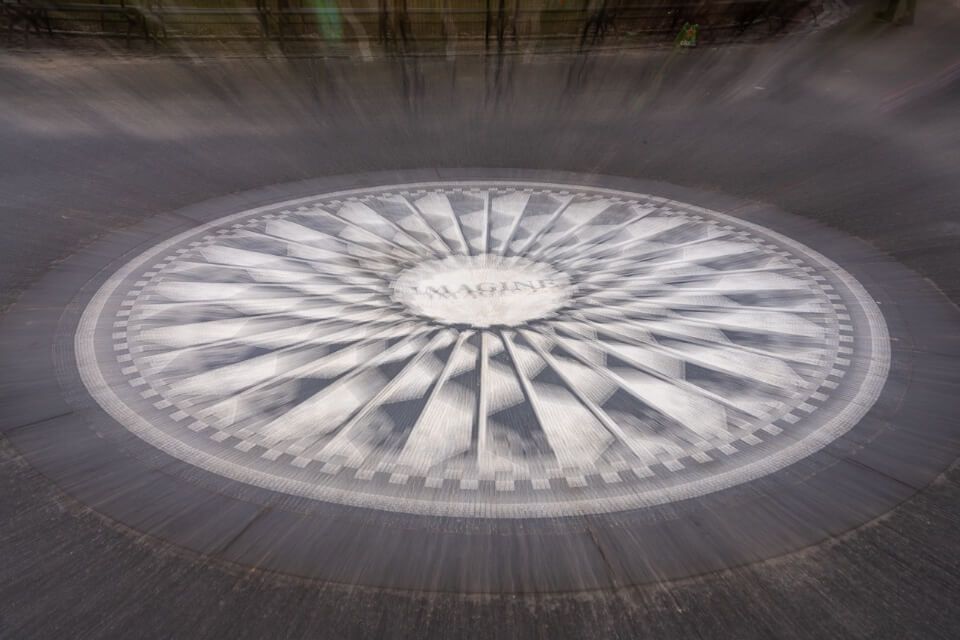 On 72nd street, just inside Central Park opposite the Dakota building you will find a memorial to Beatle John Lennon.
A circular black and white tiled mosaic reading 'Imagine' is surrounded by curving rows of benches leading to three paths. Don't miss this spot in Winter as snow is removed from the mosaic, adding a natural frame.
6. Wagner Cove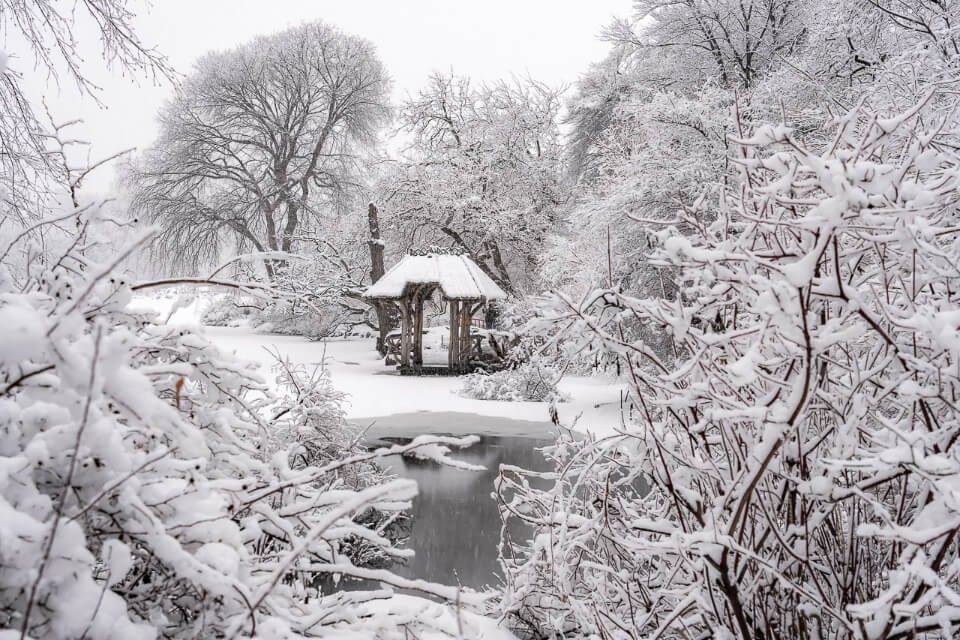 Wagner Cove is one of the lesser known Central Park 'hidden gems' and during a snowy Winter day it is easily one of the most picturesque.
A rustic and understated wooden shelter sits on the edge of The Lake near Strawberry Fields, which hosts a number of low key but extremely desirable weddings each year.
Vibrant leaves burst out of curving tree trunks during Summer and Fall but in Winter with snow and ice, the landscape turns into a postcard perfect scene.
Walk around to the shelter but our top tip is to get the best photographs from a viewing platform opposite The Falconer sculpture.
7. Wollman Ice Rink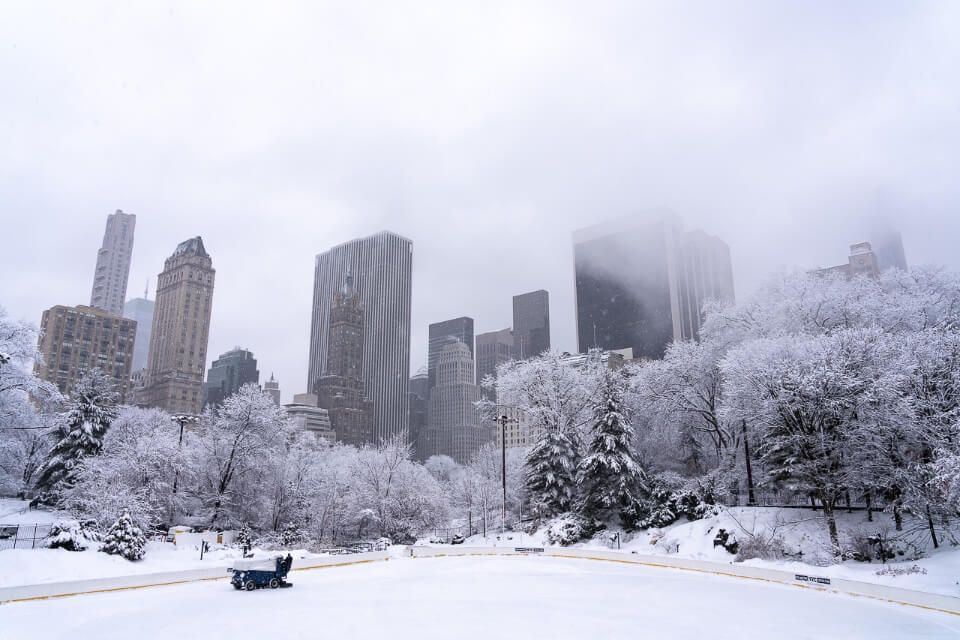 Pulling on a pair of skates and taking to the ice in front of the world famous NYC skyline is one of the most memorable reasons to visit Central Park during the Winter.
The Wollman Ice Rink has been a staple of NYC Christmas tourism since 1986.
Harry and Marv chasing young Kevin on the ice is brought to our screens several times each year, making a visit to the rink unmissable for first time visitors to the city!
Find ticket information here.
8. The Plaza Hotel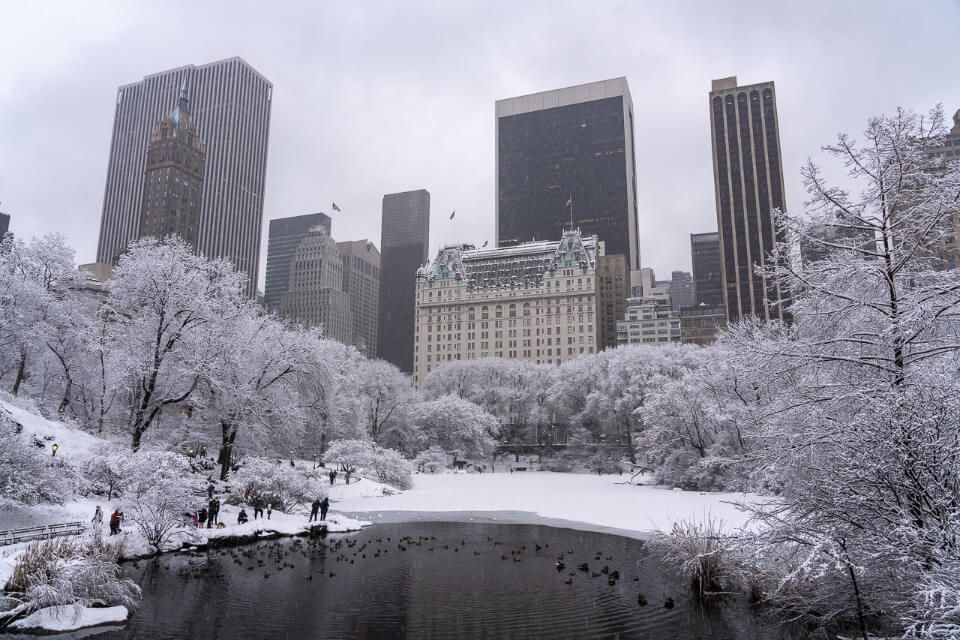 Although technically not inside Central Park (and yes it's another Home Alone 2 nostalgia reference!), the Plaza Hotel in Winter is possibly going to be the first time you begin to feel the excitement build as you approach the park.
"New York's most exciting hotel experience" is on the corner of 5th avenue and 59th street. Note: at the time of writing the Plaza is temporarily closed.
Walk to Gapstow Bridge and grab a photo with Central Park's Pond in the foreground for the best view of the Plaza and skyline.
9. Belvedere Castle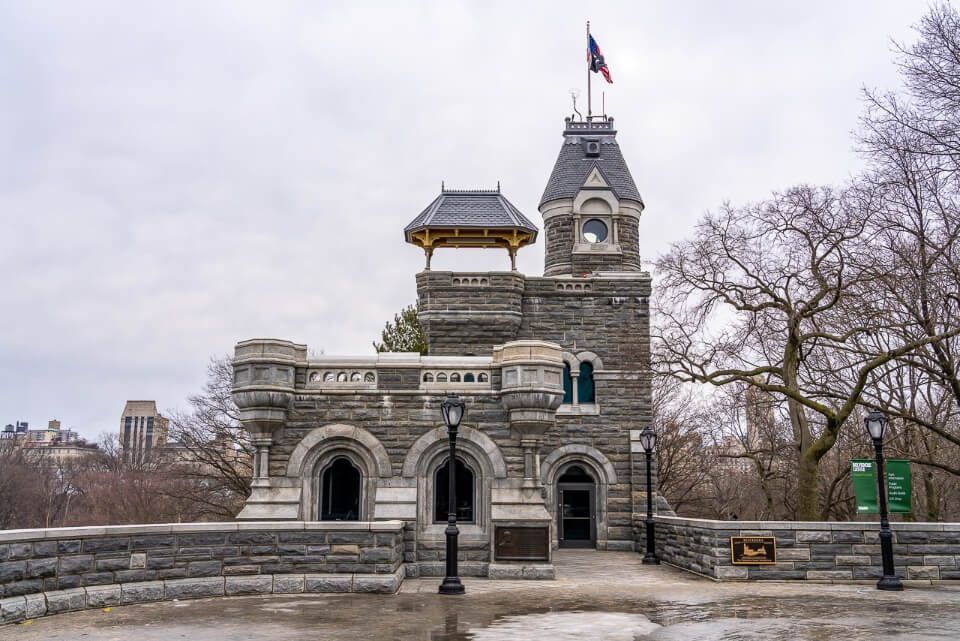 Back inside Central Park, Belvedere Castle is the next place to discover on your Winter walk.
Belvedere Castle is more of a decorative structure than a typical 'castle' and it sits at the top of Vista Rock, the second highest point in Central Park.
Since 1919, the building has been home to Central Park's weather station. The building stands out thanks to its Gothic architecture and overlooks Turtle Pond, which is likely to be frozen over in Winter.
10. Jacqueline Kennedy Onassis Reservoir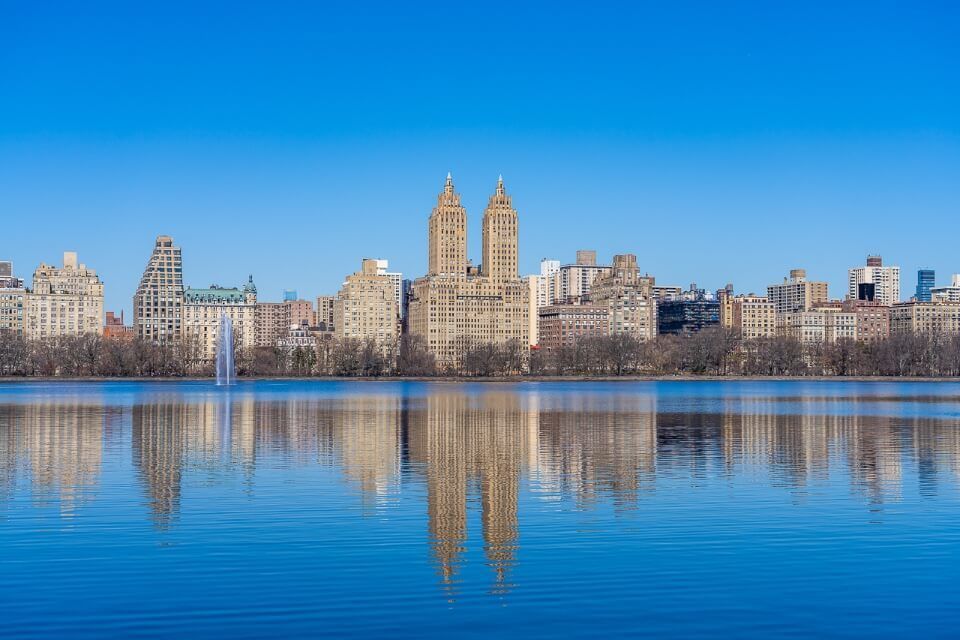 Heading further North into Central Park, you will find the enormous 106 acre Jacqueline Kennedy Onassis reservoir, which holds over 1 billion US gallons of water and is around 40 feet deep.
At just over 1.5 miles, a loop run around the reservoir is enormously popular among local New Yorkers looking to blow off the cobwebs. However, don't expect to see too many runners in Winter when the paths are covered in snow.
Reflection photographs of Upper East or Upper West side can be captured if conditions are favorable with flat and still water.
We took this photograph right after the snow had thawed and a brilliant blue color had returned. The park was overrun with New Yorkers exercising after a long, cold and covid depressing Winter!
11. Glen Span Arch / The Loch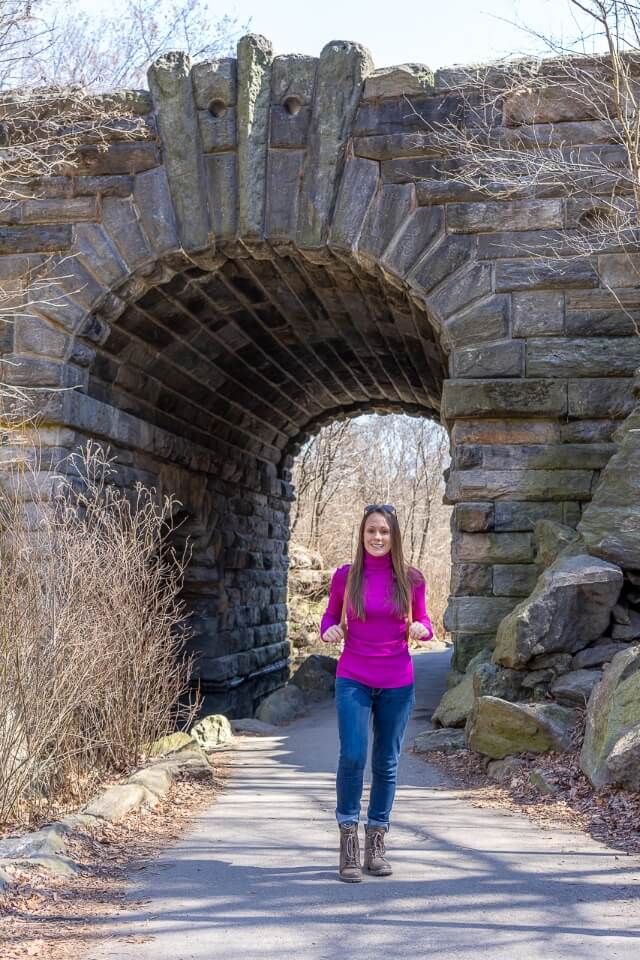 Continue further to the northwest in Central Park and you will reach The Ravine. Here you will find a secluded woodland area with picturesque streams, ponds and waterfalls.
The Loch is a stream flowing from The Pool to Harlem Meer. Glen Span Arch and Huddlestone Arch can be found at each end of the stream. If you're short on time, prioritize Glen Span Arch, one of the most attractive in Central Park.
Bird watchers will enjoy this quieter side to Central Park. Fewer tourists make it up this far.
We visited the northern section of Central Park at the beginning of March on a beautiful sunny day right after the snow had melted but this entire region of the park would be a great place to explore on a snow day.
12. Central Park Museums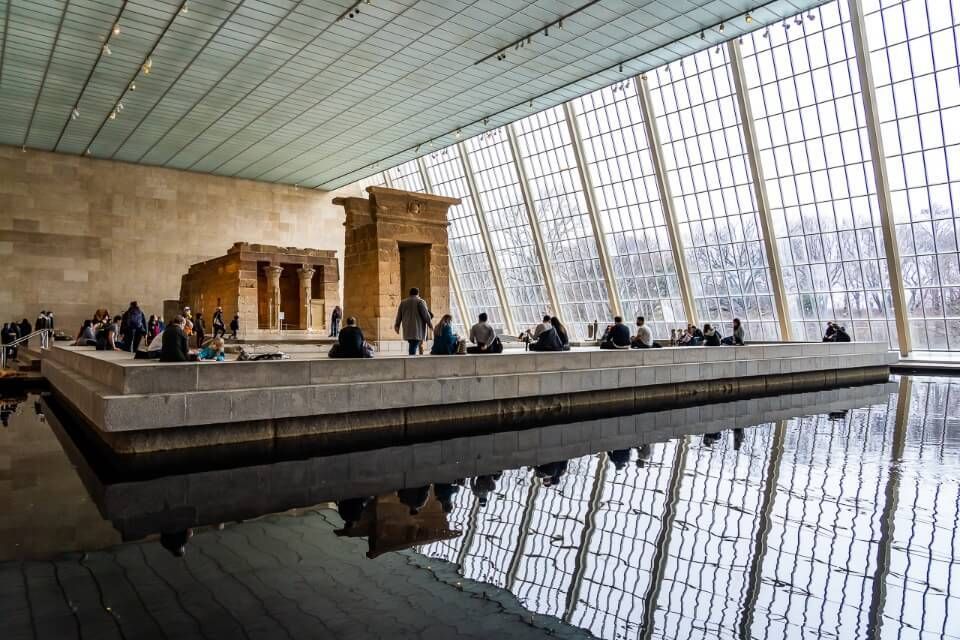 Even on a spectacularly beautiful and exciting snow day in Central Park, it can become too cold to handle!
The perfect solution? Choose between one of many fantastic museums on the edges of Central Park.
Here are our three top recommendations:
Metropolitan Museum of Art

American Museum of Natural History

Guggenheim Museum
Any will offer respite from the severe chill and a place to dry off. Plus, the museums are awesome!
If we were pushed to suggest just one of the museums, we personally would recommend you do the Met. Plan to spend at least 2 to 3 hours inside, if not more.
All three museums listed (plus nine more of NYC's very best attractions) are included with New York CityPASS.
Central Park in Winter Map and Itinerary
Click or touch the map of Central Park in Winter to activate. Scroll around the map, zoom in / out and get to know the area before visiting.
Suggested route:
Find the perfect NYC hotel near Central Park

OR walk up 5th avenue / take a Yellow line subway to 5 Avenue Station.

Enter Central Park from the southeast near the Plaza hotel.

Walk to Gapstow Bridge and Wollman ice rink.

Head up the Mall to Bethesda Terrace and Bow Bridge.

Don't cross to the Ramble just yet. Instead turn around and walk to Wagner Cove and John Lennon memorial.

Loop around the West of The Lake and enter the Ramble near Ramble Stone Arch.

Get lost in the Ramble maze for a while, before making tracks for Belvedere Castle.

If you need a break from the cold and snow, walk to the Met and explore for a few hours.

If not, continue around the East side of Kennedy reservoir and walk through North Meadow to reach the Ravine.

Finish with the Loch and Glen Span before walking to 103 Street subway to take Blue or Orange lines.
Where To Stay In New York City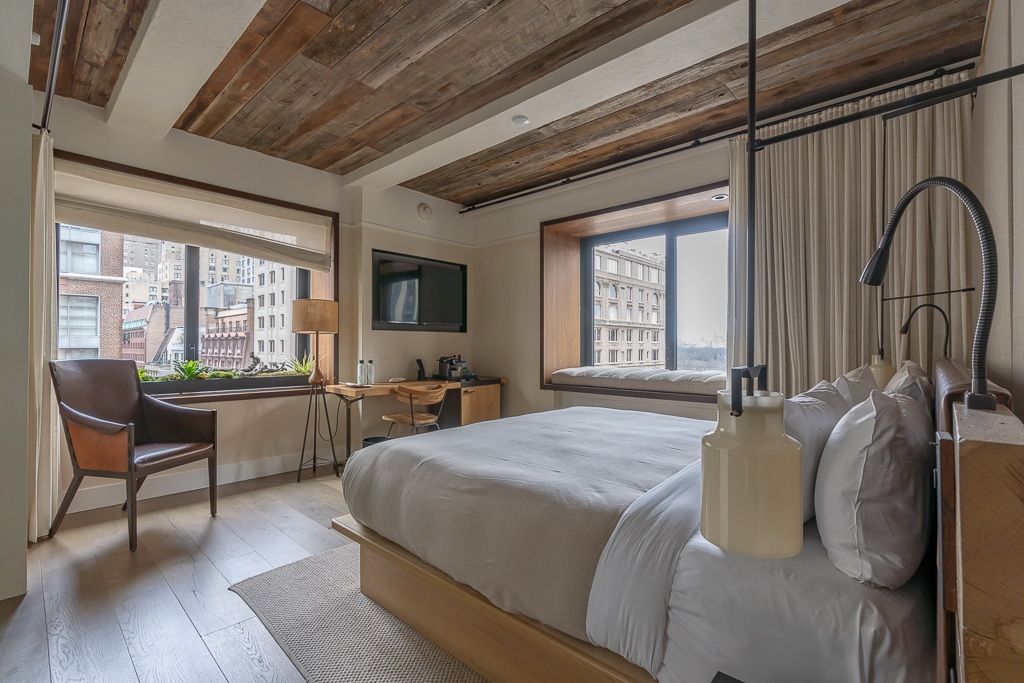 Most visitors to New York tend to stay around Times Square and Midtown Manhattan for central location and better value rooms. But Central Park is also a popular place to stay in NYC, especially around Winter.
Our extremely popular where to stay in New York City guide covers the six major neighborhoods visitors should consider (including Central Park) and lists the top rated hotels within each area. Or you can head over to our hotels site to read our complete guide to the 12 best hotels near Central Park.
1 Hotel Central Park is our top recommendation for a hotel room a stones throw from the park. The room we had is pictured above. It is on the higher end of the budget spectrum but it is wonderful.
But if you're looking for best value for your stay in NYC, here are the hotels we see most visitors to our site booking:
The Archer – One of our personal top picks located near Bryant Park with views over Empire State Building.
CitizenM – Centrally located at Times Square, close to Broadway and Rockefeller Center.
MOXY NYC – Rooftop bar and good value between Penn Station and Times Square.
Cambria Hotel – Affordable highly rated hotel with rooftop terrace located between Midtown and Chelsea.
Read More About New York City
Need Help Planning Your Visit To New York City?
NYC is a vacation planning beast and it can be overwhelming trying to get every aspect right. Trust us, we know!
After living in New York City and exploring non-stop for 3 months, we created a comprehensive NYC travel guidebook & itineraries that will answer every question you have about where to stay, what to do, where to eat and how to get around the city.
Click see details below to read more about how we can help you plan your dream trip to New York City!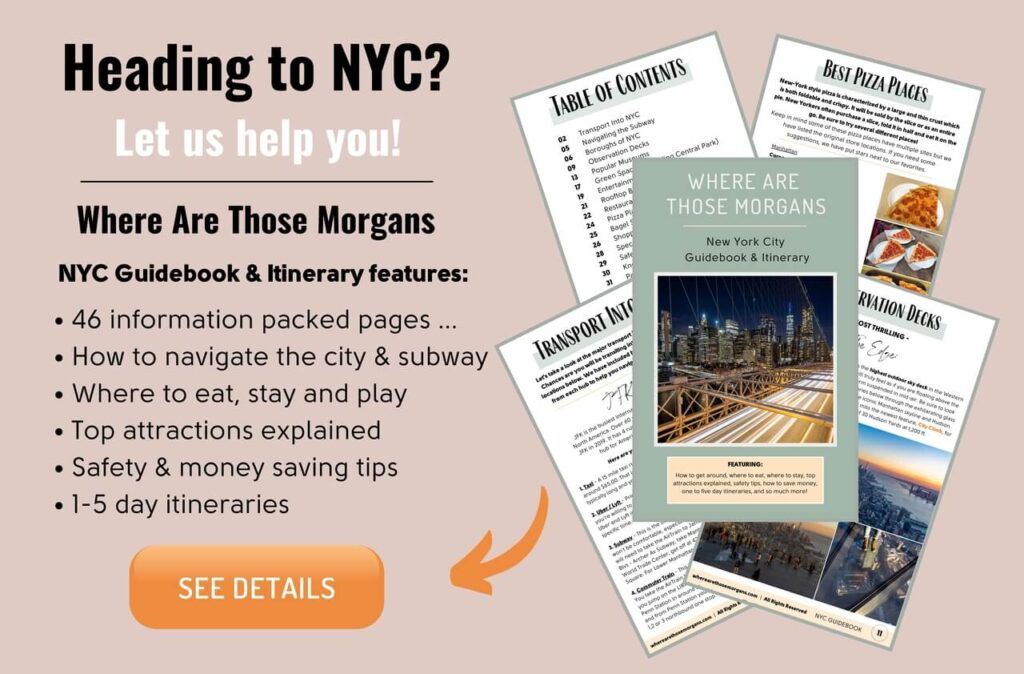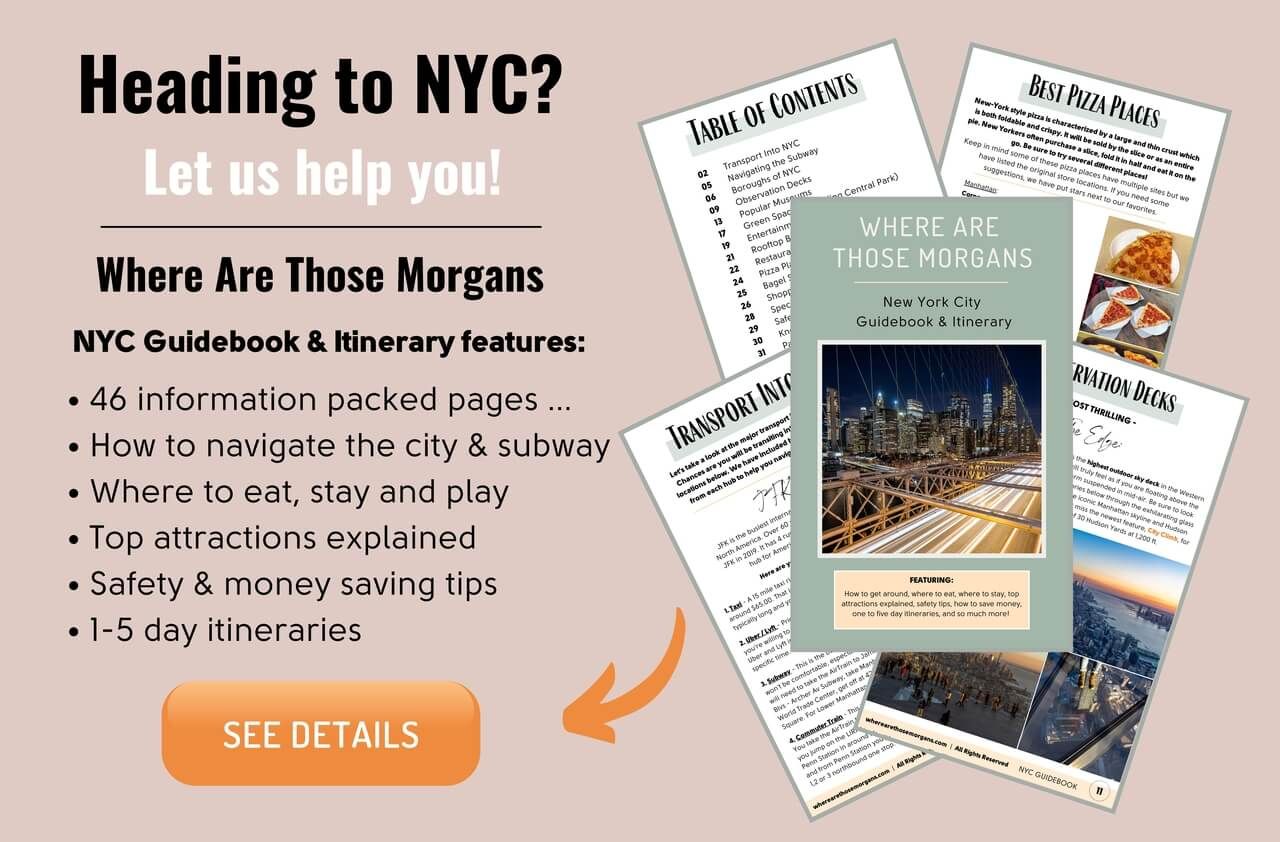 We hope this Central Park in Winter guide helps you plan your own magical NYC snow day!
Once you're done with the snow, why not warm up with a spot of delicious afternoon tea at the Whitby Hotel just a few blocks from Central Park!
Have you been to NYC? What is your favorite season?
Please let us know if you have any questions or need any help planning your visit.
Happy Travels,
Mark and Kristen
Was This Post Helpful? Pin It For Your Visit!