Picture nineteen waterfalls plunging through a spellbinding natural gorge, complimented by exquisitely crafted man made stone staircases and bridges. No, you have not been summoned to the council of Elrond in Rivendell. You are hiking the Glen Creek gorge trail to Rainbow Falls inside Watkins Glen State Park, the extraordinary crown jewel of New York's Finger Lakes region.
Rainbow Falls is an incredibly photogenic natural terrain and unquestionably the park's gasp-for-air, weak at the knees knockout feature. But Watkins Glen State Park is not a one trick pony.
The entire 1.5 mile length of hiking Watkins Glen gorge trail is breathtakingly beautiful and we reserve the superlative 'breathtaking' only for genuine wow moments on our travels.
This comprehensive travel guide covers all you need to plan the perfect visit Watkins Glen State Park. You will find information about parking lots, entrance fees, campgrounds, nearby hotels and restaurant options.
However, our main focus is to provide you with hiking and photography insights along the spectacular Watkins Glen Gorge Trail. We want you to be fully prepared so you can make the most of your visit.
Let's dive right in (not literally, jumping in the water is not permitted!):
*Please note this post may contain affiliate links. If you click on one, we may earn a small commission at no extra cost to you. Thank you for supporting the free content we provide! Read more in our disclosure policy.*
Watkins Glen State Park Factfile
State Park: Watkins Glen
Region: Finger Lakes
State: New York
Address: 912 N Franklin St, Watkins Glen, NY 14891
Telephone: (607) 535-9989
Campgrounds: 279
Cabins: 9
Area: 778 acres
Things to do: Hiking, Waterfalls, Photography
Major Waterfall: Rainbow Falls
Open: All year (Gorge trail closed end Oct to end May)
Annual visitors: ~ 1 million
Where is Watkins Glen

State Park?
Watkins Glen State Park encompasses a long but narrow area of land surrounding Glen Creek, which flows directly into the Southern most tip of Seneca Lake.
The park's main entrance is located on a main road running directly through central Watkins Glen. You can easily walk to the State Park from anywhere in town.
There is no need to stay in Ithaca, Corning or any other nearby city. Watkins Glen has a variety of accommodation and restaurant options for visitors ranging from budget to luxury.
However, we do highly recommend visiting the other awesome State Parks around New York's Finger Lakes if you have extra time.
Distances to Watkins Glen State Park from nearby cities include:
Rochester NY – 80 miles (1h 30m)

Syracuse NY – 90 miles (1h 40m)

Scranton PA – 125 miles (2h 20m)

Buffalo NY – 146 miles (2h 30m)

Albany NY – 205 miles (3h 30m)

New York, NY – 242 miles (4h 20m)
If you're flying into the region to tour the Finger Lakes wineries or watch NASCAR, be sure to search for flights using Skyscanner (the best flight search engine) and hire a car with Rental Cars (top rated car hire company).
You might want to read our expert tips on how to find and book cheap flights.
Here are the closest airports to Watkins Glen State Park for you to consider:
Rochester International, NY – 87 miles (1h 35m)

Syracuse International, NY – 90 miles (1h 40m)

Buffalo Niagara International, NY – 138 miles (2h 20m)

Newark, NJ – 231 miles (4h 00m)
Is Watkins Glen State Park Gorge Trail Open?
Watkins Glen State Park remains open year round to visitors, but the star attraction Gorge Trail which features Rainbow Falls is closed to hiking from roughly the end of October through the middle or end of May weather dependent.
Keep a close eye on the "opening hours" tab of the official Watkins Glen State Park website for updates on exactly which date you can hike the Gorge Trail after re-opening for the season.
If you arrive into Watkins Glen State Park in March, April or November for example, you will not be able to hike the Gorge Trail to Rainbow Falls.
Parking and Entrance Fee at

Watkins Glen State Park
Entrance and Parking Fees
The first thing to mention is Watkins Glen State Park is free to enter but you will pay a fee of US$ 8 to park a vehicle in one of its three designated parking lots.
However, there are three simple ways you can avoid paying for parking when visiting Watkins Glen State Park:
1. Leave your car at the hotel you stayed in and walk to the entrance.
2. Park on any of the side streets along N Franklin Street, there are no parking meters in town.
3. Hike Watkins Glen gorge trail in under 2 hours, courtesy of 2 hours free parking at any lot in town.
Watkins Glen is one of the most popular State Parks in America and parking will inevitably be a problem if you visit on weekends in Summer or Holidays.
Parking lots and side street spaces will fill up quickly, plus trails will be extremely busy which makes visiting in under 2 hours a challenge.
Let's take a look at each of the Watkins Glen State Park lots:
Watkins Glen Main Entrance
Parking at the main entrance to Watkins Glen State Park is more convenient but also busier than any other access point. If you don't think you can make it round the park in under 2 hours, be sure to pay US$ 8 at the ticket machine before you begin your hike.
By parking here you will begin your hike up Gorge Trail from the lowest elevation and climb 800 steps to reach Upper entrance to Watkins Glen, before returning on Indian Trail downhill back to the main parking lot.
There is one small car park right at the visitor center but a larger car park on the opposite side of Franklin Street will accommodate far more vehicles. You will find restrooms and a snack bar / gift shop.
Both parking lots will fill up quickly on weekends, throughout NASCAR and holidays. If you don't have a hotel in town and you don't feel comfortable finding a parking spot along a side road, plan to park here if space is available.
Personally, we paid to park at this car park because we arrived before sunrise to beat the crowds and knew we would spend more than 2 hours inside.
We wanted to hike and get photographs of the stunning Watkins Glen gorge and rainbow falls without an army of people!
South Entrance
Turn off Franklin just to the South of Glen Creek onto Old Corning Road and take the first right to reach Watkins Glen South Entrance.
At South Entrance you will find restrooms, a snack bar, swimming pool, picnic area and playground, plus access to the beginning of Gorge trail via Couch's Staircase. This is also where South Rim trail begins and ends.
All campgrounds, cabins and pavilions are located next to the parking lot at South Entrance.
Upper Entrance
Alternatively, you can drive (or take a seasonal shuttle bus) 1.5 miles from downtown Watkins Glen to Upper Entrance. Simply follow Steuben Street (409) and park at the top of Gorge Trail.
From here you will descend first but must return up 800 steps to your car, unless you took the shuttle! Parking, picnic area, snack bar and restrooms are all you will find at Upper Entrance.
If you visit on a crazy busy day, try this parking lot as fewer people will know about it.
Hiking the Spectacular Watkins Glen State Park Gorge Trail
The incredibly scenic Watkins Glen Gorge Trail is a short but stunning hike you won't forget in a hurry. We even included Watkins Glen Gorge Trail in our popular guide to the 50 best hikes in the US.
The gorge trail hike is family friendly thanks to a stone wall flanking the edge of the path through Watkins Glen, which prevents young children falling. Unfortunately, it is not accessible for those with mobility issues.
You certainly don't need to be an Olympic athlete to hike the Watkins Glen Gorge Trail but 800 steps shouldn't be underestimated.
Spray from waterfalls in full flow and wet leaves on the paths can cause slippery stone surfaces, so please tread carefully.
Hike Summary:
Watkins Glen Gorge Trail Hiking Distance: 1.5 miles one way
Watkins Glen Gorge Trail Hiking Difficulty: Moderate (800 steps on ascent)
Let's walk through exactly what you can expect from hiking the stunning Watkins Glen Gorge Trail.
Entrance Tunnel and Sentinel Bridge
Watkins Glen's enchanting gorge trail begins before you begin your hike or even climb your first step.
The opening scene is a tall and narrow crack in the Earth, with a small silky waterfall flooding through the bottom and an exposed ornate stone bridge connecting the two sides.
A flour mill complete with waterwheel was once in operation at the entrance. Water was engineered to turn the wheel by controlling the flow with dams, troughs and tunnels.
Crossing Sentinel Bridge takes you inside the narrow creek but to reach the arched overpass, you must first climb a man-made spiral staircase cut into a turret.
It already feels like an adventure!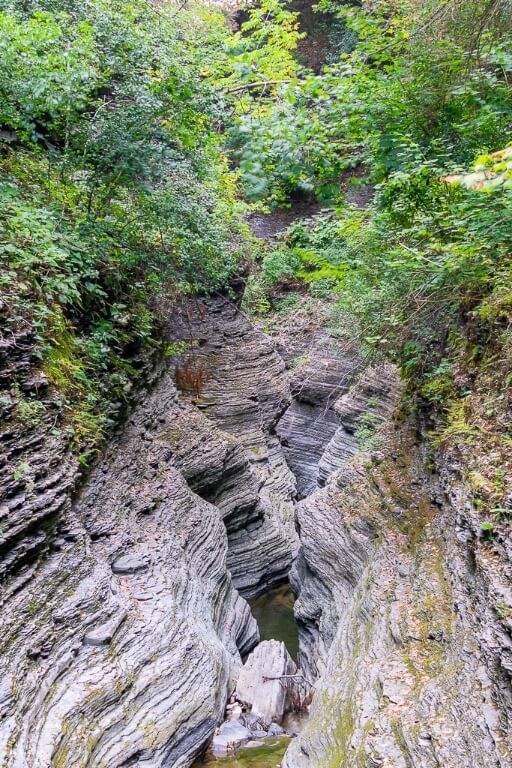 As soon as you enter the gorge, you know this is going to be a special landscape.
Not even 1 minute along the trail you will be able to look directly down this extremely narrow and picturesque section of Glen Creek.
Low running water allows much greater detail in the eroded shale rock to be appreciated. But this is just an appetizer for the main course coming later.
Cavern Cascade and Spiral Tunnel
If you've researched and prepared for hiking the Watkins Glen gorge trail, you probably know all about Rainbow Falls from magazine front covers or google images.
But one of the best things about hiking the Watkins Glen gorge trail is the amount of surprises you will encounter. Cavern Cascade is one of those pleasant surprises.
You will notice a staircase joins the trail to your left as you follow the man-made stone path hugging the side of the gorge. Don't make the turn, that is Couch's Staircase which connects to South Entrance.
It appears as though there must be a dead end ahead. All you can see is a thin 30-40 ft high waterfall flowing out of a 3 meter wide gully caused by shale rock eroding underneath tougher sandstone layers.
Follow the path and you will notice it curves around and underneath Cavern Cascade before continuing inside the rock to another spiral staircase.
Reach out to feel the force of Cascade Falls but don't expect to stay dry!
The Narrows, Glen Cathedral and Central Cascade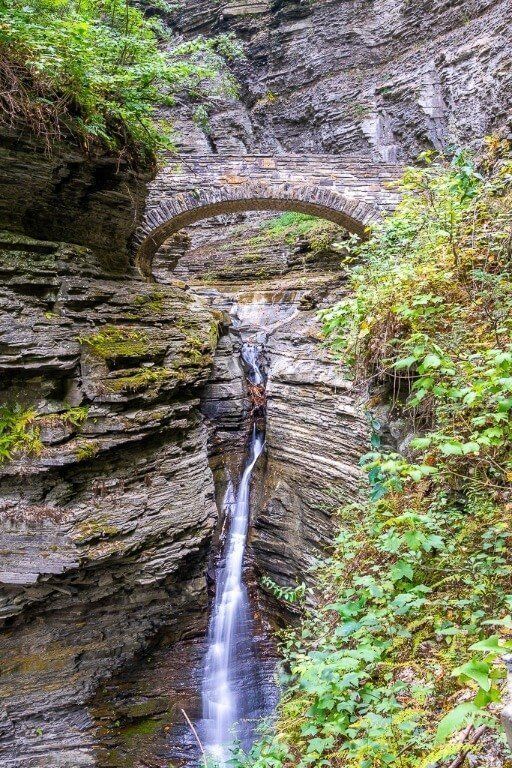 As the Watkins Glen gorge hiking trail continues through Glen Creek, you will climb small sets of steps and hug one side of the canyon before crossing to the opposite flank.
The Narrows is a section of the trail hidden from sunshine and light, which means it is always moist and cool. The perfect environment for moss to thrive.
A series of wispy waterfalls exit from paper thin gullies formed as water further erodes the soft sedimentary rock. You will be wowed by more expert masonry as you cross a lovely stone bridge spanning the top of Central Cascade.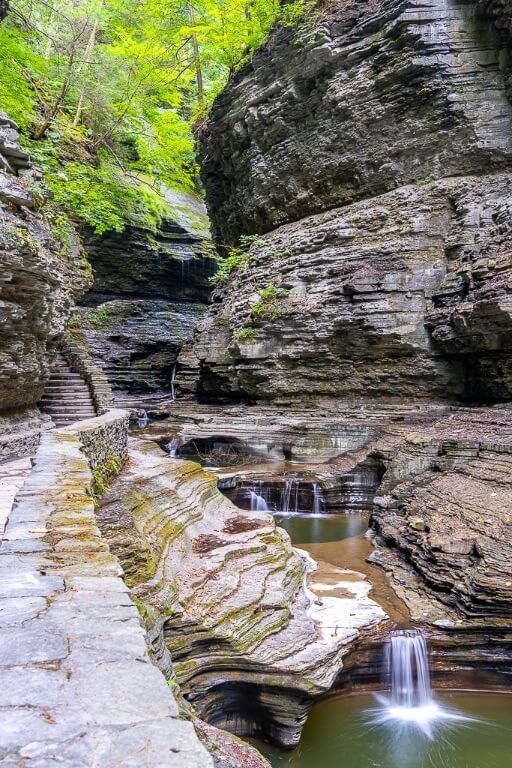 At just 60 ft, the tallest waterfall in the gorge isn't enormous. However, it is incredibly scenic and accentuates the beauty of this section of Watkins Glen State Park.
Tiny 1 meter plunges flow between pothole pools, like a slinky snaking down a staircase, before flowing to its next big drop as gravity helps it along to Cavern Cascade.
Just when you don't think it can get any better, right around the next corner ahead is the visual climax along the Watkins Glen gorge trail hike.
Rainbow Falls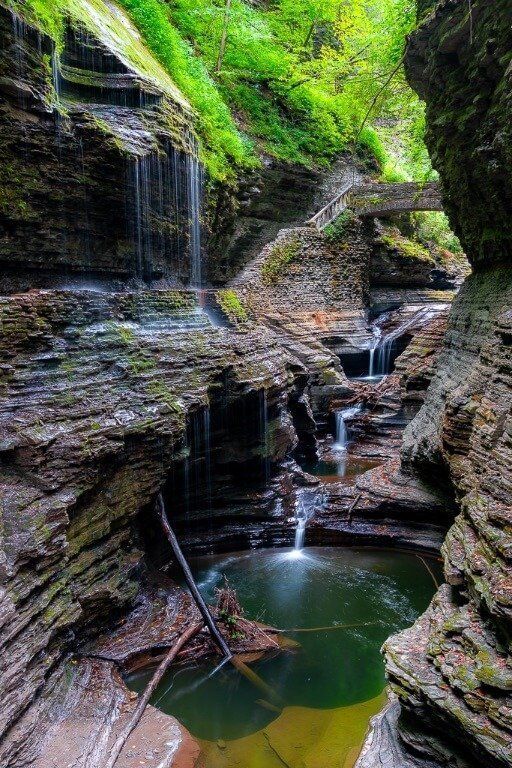 There is just so much to admire about Rainbow Falls, from waterfalls to pothole pools, wispy water falling from above, the gorgeous stone staircase and bridge in the background, vibrant colors and dark shadows contrasting.
Rainbow Falls gives a new meaning to out of this world imagery. We were truly blown away, as you might be able to tell!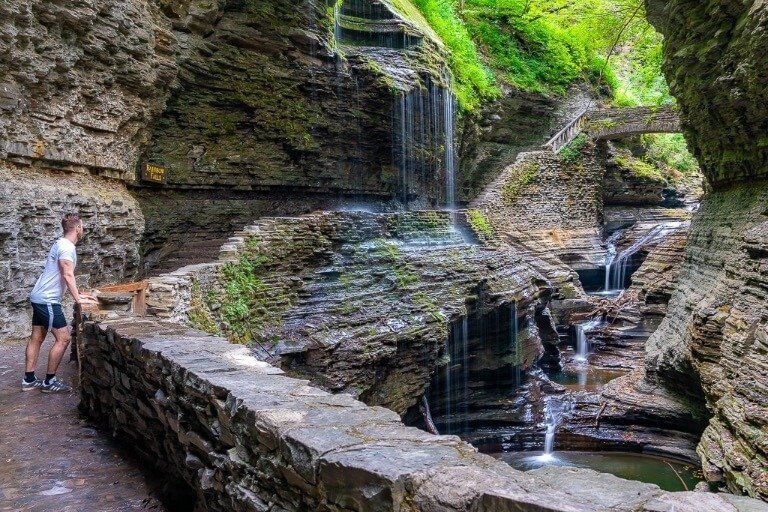 Do you know why it is called Rainbow Falls?
If you visit on a sunny late afternoon at just the right time for sun rays to penetrate the canyon, rainbows appear as light reflects and refracts in water droplets.
Rainbow Falls is dramatic, beautiful, piercing, striking and delicate all in one emotional punch. It's almost too much information for the brain to handle and requires a good 5-10 seconds to process what you're looking at.
This is the cherry on top of an extremely tasty ice cream sundae, so spend the most amount of time here.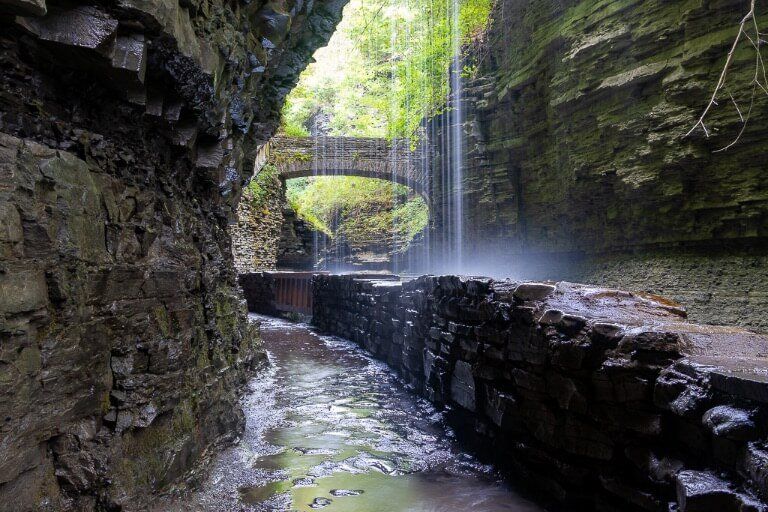 What you can't help but appreciate is the fantastic design and execution of man-made walkways, staircases and bridges. They blend in to the gorge as though they were not made by man but by erosion themselves.
When you've been blown away by rainbow falls, continue underneath the wafer thin but wide waterfall, covering all camera equipment!
NY Waterfalls: Rainbow Falls is one of our favorite waterfalls but there are more to discover in our updated compilation of the Best Waterfalls in New York State.
Spiral Gorge and Mile Point Bridge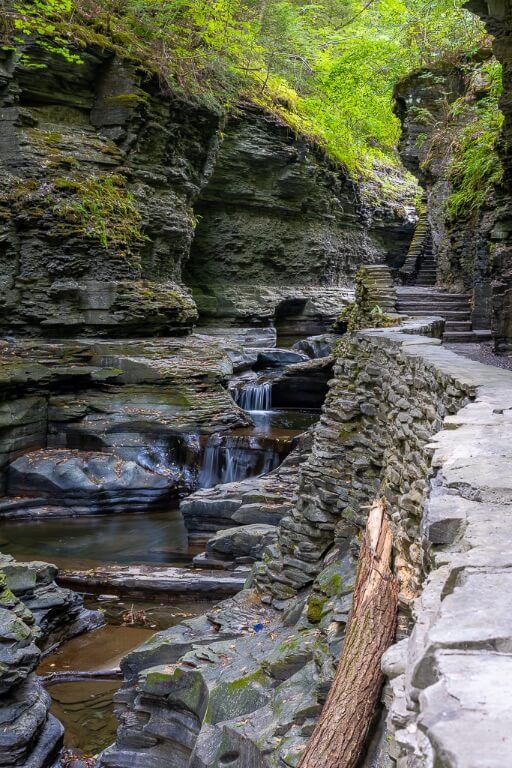 Although the pinnacle has been reached at Rainbow Falls, the Watkins Glen gorge trail hike still has a few more spectacular sights up its sleeve.
Follow the trail along narrow spiral gorge as you pass more pothole pools, waterfalls and steps.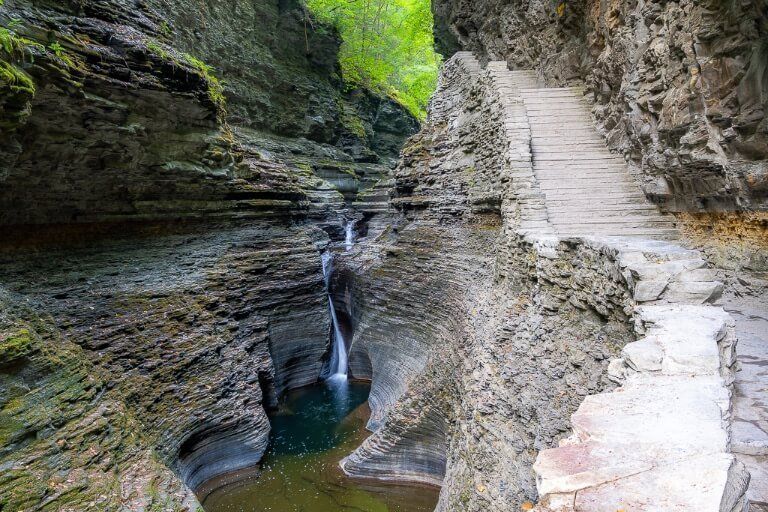 One of the final scenes on your hike is the smooth section of the Watkins Glen gorge trail pictured above. Note the curvaceous shale rocks and colors where water levels can reach in full flow after Winter.
Each of the stone staircases next to sections of the gorge look like they could be from a fantasy novel and personally, we couldn't get enough.
Return to Main Entrance Via Indian Trail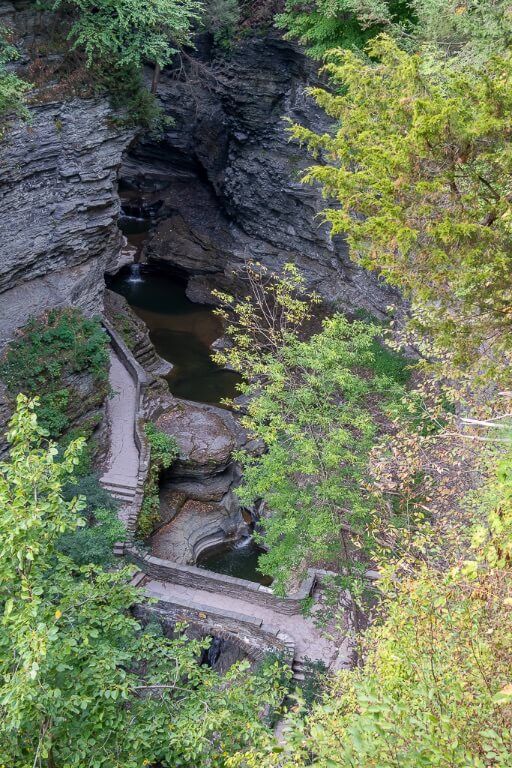 Mile Point Bridge is a small and less impressive bridge than any you've seen so far. A small cut through leads to Indian Trail and this path follows North Rim all the way back to Watkins Glen State Park main entrance.
You will pass by a cemetery and a small number of lookouts but none of them have views close to being comparable to inside the gorge itself.
In truth, once you leave Watkins Glen gorge trail, it's just a case of hiking double time back to your car. The only stop off of note is a suspension bridge over the gorge, which leads to South Entrance and is worth a photograph.
When standing on the suspension bridge, imagine that in 1935 the water level was just 5ft below you after an unprecedented flood.
Rainbow Falls Photography at Watkins Glen State Park
Watkins Glen is an illustrious and celebrated nature photography location and Rainbow Falls is its star attraction.
When writing this article, a regional Autumn 2020 AAA magazine arrived in the post and guess what the cover photo was?
Yep, Rainbow Falls.
Perfect photography conditions for Rainbow Falls and Watkins Glen would be along the lines of early morning on an overcast October weekday. Perfect for vibrant Autumnal colors, no crowds and optimal lighting.
But not everyone can be so selective, so arriving early is the best advice we can give you.
Smartphones are capable for social media but you can take home spectacular photos of Rainbow Falls with a good camera.
Rainbow Falls in Watkins Glen Gorge is so incredibly special. We had no choice but to include Watkins Glen in our guide to the 50 best places to visit in the USA.
Watkins Glen Rainbow Falls Photography Tips
Mirrorless or DSLR camera, lens with focal length anywhere between 12-35 depending on how wide you prefer. We shot between 24-35mm with our Sony FE 24-105 G lens and Sony A7R IV.
You need a tripod for stability to capture the silky waterfall effect but there are places you could set your camera on a wall. Put a hoodie or jacket between the wall and your camera for protection.
Shoot 0.3 second to 3 second exposures using shutter speed priority mode. Start at 1 second and then at faster / slower shutter speeds until you're happy with how the water looks.
If you're just starting out, shoot in RAW & JPEG. You can use your jpeg now but once you have more experience you will be grateful for the RAW file you can go back to and edit in post.
Visit early in the day before intense daylight but if it is bright, use a ND filter to stop down the light or CPL filter to dim the glare.
Our top tip – You will see a lot of glare in the closest pool if you try to capture a frame with the entire bridge in shot. Move to your right, cutting off some of the bridge but removing the glare entirely.
FAQ's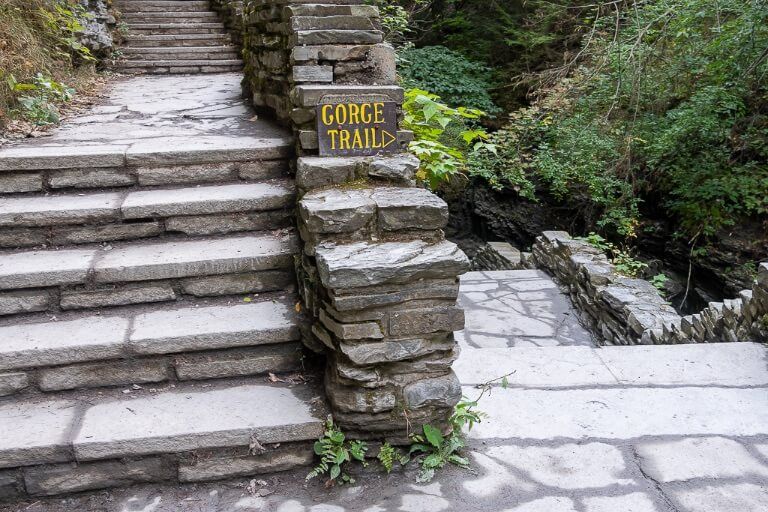 How Long Does it Take to Walk the Watkins Glen Gorge?
Watkins Glen gorge trail is only 1.5 miles long but it does come with 800 steps to climb throughout the hike. You could walk it in 30 minutes if you didn't stop.
Realistically with plenty of stopping to enjoy the scenery you should allow for at least 1 hour 30 minutes just for hiking the Watkins Glen gorge trail one way.
Can You Drive Through Watkins Glen State Park?
Unlike many State and National parks offering scenic drives, Watkins Glen does not have a driving route. The gorge is very narrow and only just wide enough for a walking trail to be created without damaging the natural environment.
You must leave your car in the town of Watkins Glen.
Are Dogs Allowed at Watkins Glen?
Yes, dogs are allowed to accompany hikers on all trails in the park with the exception of the gorge trail. Dogs must be kept on leashed no longer than 6 ft in length. You can not take dogs on any section of Watkins Glen State Park gorge trail.
Is Swimming Allowed at Watkins Glen State Park?
No, swimming at any point along Watkins Glen State Park gorge trail is prohibited, including all waterfalls (especially Rainbow Falls), creeks and pools throughout Glen Creek.
Best Time to Visit Watkins Glen State Park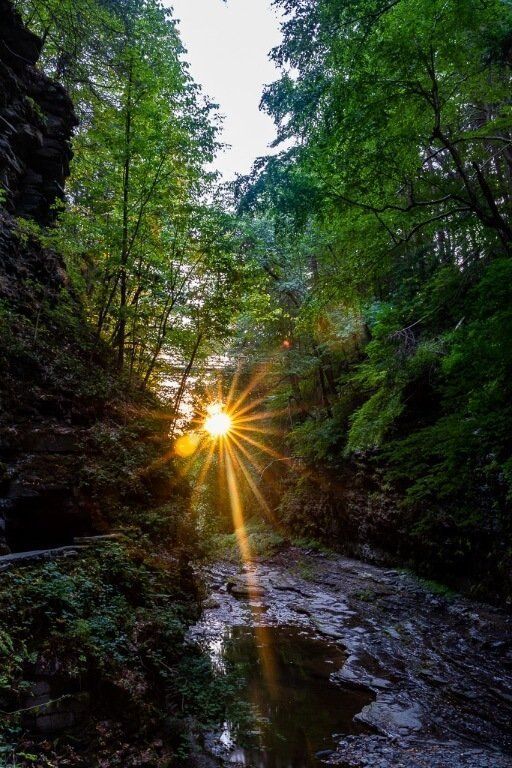 Best Time Of Year To Hike Watkins Glen State Park Gorge Trail
Spring – The best time for heavily running water through Glen Creek as snow melts.
Summer – Hot and humid but longer daylight hours, gorge trail will be packed full.
Fall – Best time for vibrant Autumnal foliage in New York, comfortable hiking conditions.
Winter – Gorge trail closes, unfortunately you'll have to wait until Spring (mid to late May).
Winter: The only state park gorge trail in state parks around Ithaca NY to remain open during Winter and early Spring is Taughannock Falls.
Best Time Of Day For Hiking Watkins Glen Gorge Trail To Rainbow Falls
Morning – Best time to visit, we arrived at 6am as the only car in the parking lot.
Midday – Not recommended between 11am-2pm, most crowded part of the day.
Afternoon – Late afternoon the gorge trail will become quieter again.
When visiting one huge waterfall like Yosemite Falls or Taughannock Falls, the most important aspect to consider is volume of water.
However, Watkins Glen is not about one great big plunging waterfall, so the best time to visit does not depend on amount of recent rainfall.
When To Avoid?
Watkins Glen State Park will be extremely busy on weekends between April and October, particularly during holidays.
We visited on the Tuesday right after Labor Day weekend at sunrise and had the entire gorge to ourselves for at least 1 full hour.
When we met other photographers, they told us about Instagram images showing Rainbow Falls completely wall to wall with people on Labor Day Monday.
Timing is everything if you want to enjoy the gorge not only for photography, but also to experience the out-of-this-world aura that it exudes.
Where To Eat Near Watkins Glen State Park
You don't need to leave the village of Watkins Glen to find fantastic eateries. But be aware these places fill up quickly for dinner so try booking ahead or arriving a little earlier than usual.
Here are some of the top rated places to eat within half a mile of Watkins Glen State Park main entrance:
Where To Stay Near Watkins Glen State Park
The best way to visit Watkins Glen State Park is by staying in a hotel the night before and waking up early to be the first person hiking the gorge trail. Having this entire park to yourself is truly magical.
You might find our guide on how to find the best hotel deals helpful.
Watkins Motel (Budget)
There are a number of budget friendly motels in town but the most highly rated by guests is Watkins Motel which just so happens to be the closest hotel to Watkins Glen entrance!
Check availability and prices for the Watkins Motel here.
Watkins Glen Harbor Hotel (Luxury)
Watkins Glen Harbor Hotel is located perfectly on the banks of Seneca Lake, a stone's throw from the best restaurants in town and just half a mile to Watkins Glen gorge entrance.
This top rated hotel overlooking a small marina features fitness center, indoor pool, bar and on site restaurant.
Check availability and prices for the Watkins Glen Harbor Hotel here.
Watkins Glen State Park Camping
If hotels don't fit your budget or you'd prefer to be outdoors surrounded by nature, there are 279 campsites and 9 rustic cabins at Watkins Glen State Park for you to consider.
Campgrounds and cabins are located at the State Park's South Entrance.
Campgrounds
Camping / RV at Watkins Glen is open from Mid May – Mid October and requires a 2 night minimum stay. Peak season is end of June – end of August.
Off season: US$ 18 per night (US$ 26 with electric hookups)
Peak season: US$ 28 per night (US$ 38 with electric hookups)
Rustic Cabins
Rustic cabins open Mid May – Mid October and require a minimum stay of 3 nights all season. These cabins are rustic which means you bring your own bedding etc.
All season: US$ 58 per night but you have to stay minimum 3 nights, so your total 3 night stay is US$ 174.
More information on campgrounds and rustic cabins at Watkins Glen.
Watkins Glen State Park Map
Here's a link to our Watkins Glen State Park Map.
Click into the interactive map, zoom in / out and move around the area to find all recommended restaurants, hotels, points of interest and parking lots.
Map Key:
Purple – Hotel recommendations in Watkins Glen, NY
Light Red – Restaurant recommendations in Watkins Glen, NY
Dark Green – On site tent / RV / cabin accommodation and pavilions
Blue – Trailheads
Maroon – Parking lots at each entrance
Orange – All points of interest for hiking and waterfalls
More From The Finger Lakes
More From The Adirondacks
---
We hope this guide to hiking the amazing Watkins Glen State Park gorge trail helps with planning your visit!
Have you been to Watkins Glen? Which is your favorite State Park around the Finger Lakes?
Please let us know if you have any questions or need any help planning your visit by scrolling down to the comments box below.
Happy Travels,
Mark and Kristen
Was This Post Helpful? Pin It For Your Visit to Watkins Glen State Park!