Artists Bluff Trail in Franconia Notch State Park NH is a popular hike and one of the most photogenic stops on a New England road trip in fall.
A short but steep climb through dense forest leads to Artists Bluff; a rocky observation platform providing stunning views over Echo Lake and rolling hills covered in trees, which are particularly striking during peak fall foliage season at the end of September and beginning of October.
Artists Bluff is a locals favorite, a trail people return to year after year and the perfect place to take a short break on your visit to New Hampshire.
Photographers and Instagrammers simply can't afford to miss this short trail with huge reward, especially in fall when vibrant colors are glowing spectacularly.
Here's what you need to know about hiking the Artists Bluff trail in New Hampshire!
What Is Artists Bluff Trail In New Hampshire?
Artists Bluff is an incredibly popular viewpoint overlooking Echo Lake, Cannon Mountain and the picturesque surroundings in Franconia Notch State Park, NH.
If you're on Instagram or you just love fall foliage, you might already know about the famous Artists Bluff hike, which we have also included in our popular guide to the 50 best hikes in the US.
Artists Bluff 'observation deck' is big enough to accommodate dozens of people at once, with a flat and spread out rocky outcrop as your seating area.
We highly recommend stopping at Artists Bluff as part of a New Hampshire road trip including nearby ultra-popular Flume Gorge and the incredibly scenic Kancamagus Highway.
Bald Mountain
Artists Bluff is part of a loop trail which also includes Bald Mountain, a second summit providing more fantastic panoramic views but from a higher vantage point.
It is almost the same distance to do Artists Bluff and back to the parking lot as it is to complete the loop with Bald Mountain. Just something to consider when you visit.
Note there is a scrambling section near the top of Bald Mountain, but that makes it more fun for avid hikers.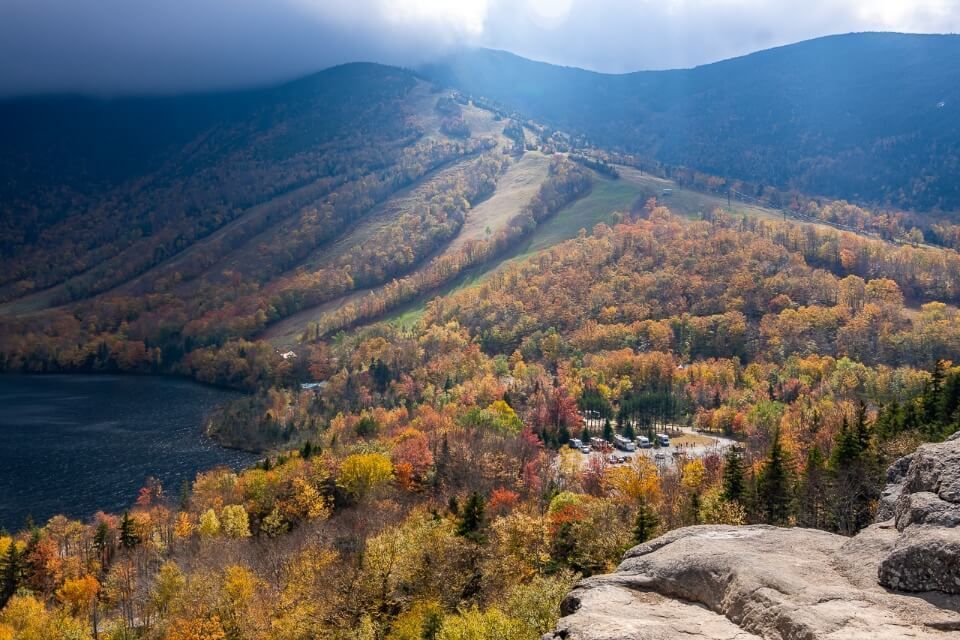 Parking And Trailhead For Artists Bluff Trail
There are two parking lots you can use for hiking Artists Bluff Trail in Franconia NH:
Cannon Mountain Ski Resort
Cannon Mountain RV Park
Technically, the trail proper and the one you find on All Trails is Cannon Mountain Ski Resort. However, we're going to show you how to save time by cutting out a long flat portion of the loop trail by parking at the RV park instead.
If you plan to hike the full loop including Bald Mountain it doesn't matter which lot you park in. But if you just want to hike the shortest route possible to see the view from Artists Bluff, park at the RV lot instead.
Directions To The RV Parking Lot
If you're driving North or South on 93, take the turn onto Profile Road to the North of Echo Lake. Drive 1 minute and you'll find a parking lot on the left side, park here.
We approached Artists Bluff from the North but we wanted to see the small town of Franconia itself on the way. If you do the same, here's how to get from the town of Franconia to the parking lot we used for the shortcut trail to Artists Bluff:
From Franconia you will follow NH-18 for 4.5 miles
Do NOT park at the first place that looks like parking – that is Cannon Mountain ski resort.
Drive a further half mile to park at the RV parking lot.
In Google Maps, use 'Canon Mountain RV Park' as destination.
Note: There are bathrooms you can use in the parking area before and after you hike.
How To Access Artists Bluff Trailhead From The RV Lot
Here's how to reach the Artists Bluff trailhead directly from the RV parking lot:
Walk up to the main road and carefully cross to the other side
Walk east (turn right) on the main road for around 2-3 minutes
Find the Artists Bluff trail sign and enter the forest
You are on the official trail but you've cut out half a mile of hiking each way
Location For Parking
In the photograph above our parking directions, you can just about see a parking lot in the bottom of the image. This is Cannon Mountain RV Park.
Click or touch the map above to activate, scroll around, zoom in and out to see the exact location of the parking lot to access the shortcut for hiking Artists Bluff Trail.
Artist Bluff Trail Details
Trail Distance: 0.5 miles roundtrip (1.5 miles with Bald Mountain)
Type of Trail: Out and back (or longer loop with Bald Mountain)
Trail Difficulty: Moderate
Time Required: 1.5 – 2 hours
Elevation Gain: 200 ft (or 400 ft with Bald Mountain)
Trailhead: Near Cannon Mountain RV Park
Need a hand planning your New England fall road trip?

Our popular 40+ page New England Fall Road Trip Guidebook includes the 10 best places to visit, 8 example itineraries ranging from 5-14 days and an extensive interactive map to help you plan a successful leaf-peeping vacation.
Artists Bluff Hike Walkthrough
Now you know exactly where to park in order to take the shortcut up to Artists Bluff, let's get stuck into the trail itself.
Remember, Artists Bluff is a very short but very steep trail. Despite the lack of distance, you will find your heart rate will explode on the climb!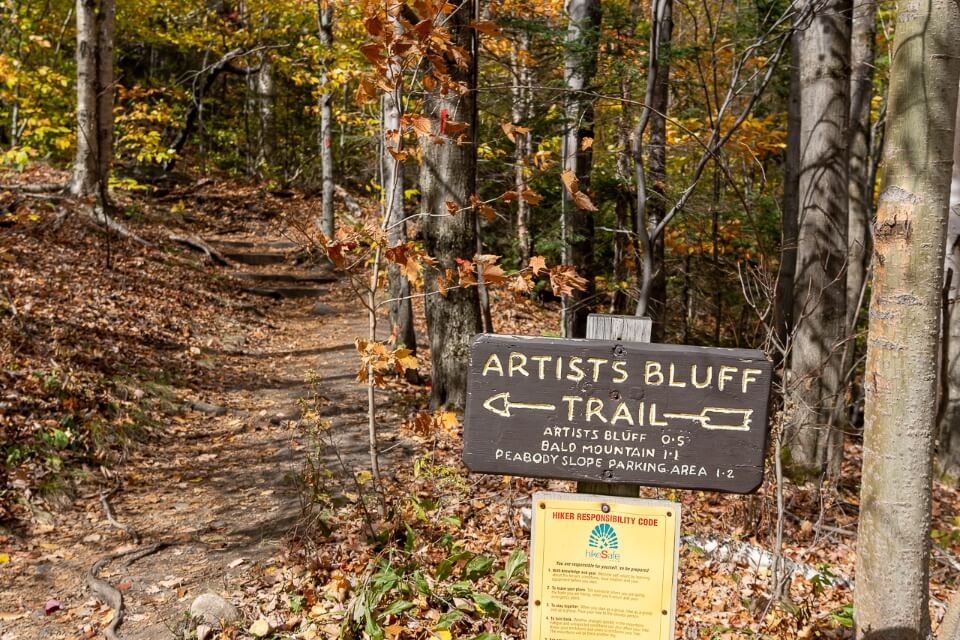 The Climb
Right after you enter the forested area in the photograph above, the trail begins to climb.
Artists Bluff is a very attractive hike, through forest and up a steep bank with maybe one or two instances in which you will need to use your hands.
Be careful of slipping on the steep dirt packed sections, particularly after rainfall and watch out for tree roots that looks worryingly like snakes!
It won't take long before you reach a fork with people probably not sure about which way to go. Take the right spur and this leads you directly to Artists Bluff within a minute or two.
The Summit
After the steep lung busting climb, flat land can't come soon enough.
You will circle around huge boulders and all of a sudden the view over Echo Lake just appears right in front of you, like a grand reveal.
Our advice is to move away to the left because this is the only way onto and out from the bluff. By moving left you can walk along the flat rock and find a much quieter spot to soak up the views.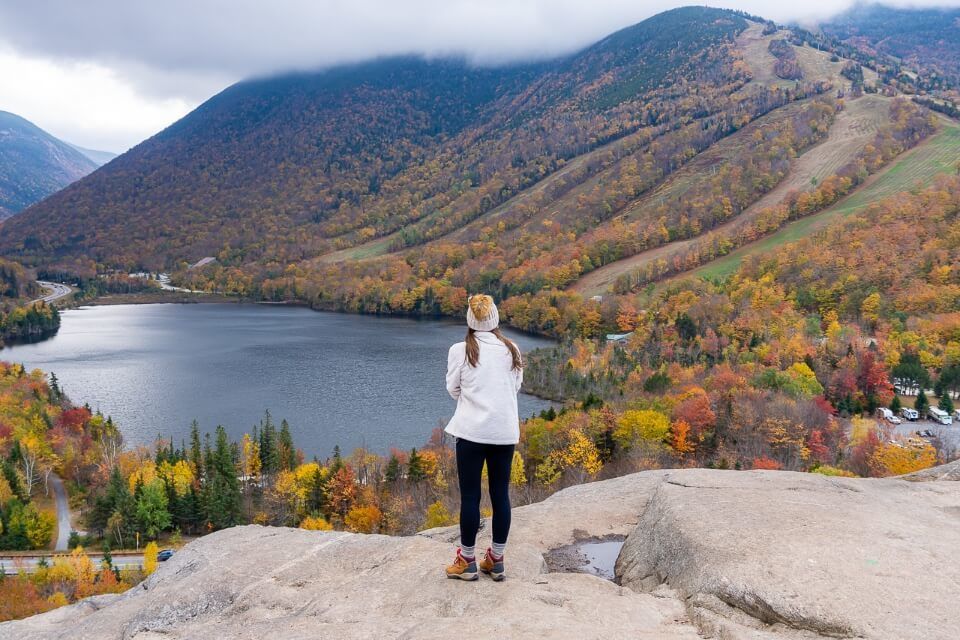 As you can see, we visited on a day with incredibly dense and low hanging grey rain clouds. But despite the dull weather, you can still appreciate those beautifully rich and vivid Fall colors in the nearest trees.
Our biggest complaint about Artists Bluff trail is the highway running to the left side of Echo Lake as you enjoy this view. However, the road makes access to this hike far more convenient.
We met loads of awesome like minded people at the summit, chatted about how amazing Fall is in New England and swapped stories about nearby Flume Gorge, Kancamagus Highway and Stowe in Vermont.
The Descent
Despite the sun intermittently breaking through those monster rain clouds, we didn't have time to wait for them to clear.
The trail descent is steep, so please take care on the way back to the parking lot. It should take you less than 20 minutes to get back to your car.
It was mid afternoon when we left the summit and the trail was becoming busier with large groups, maybe going up to wait for sunset.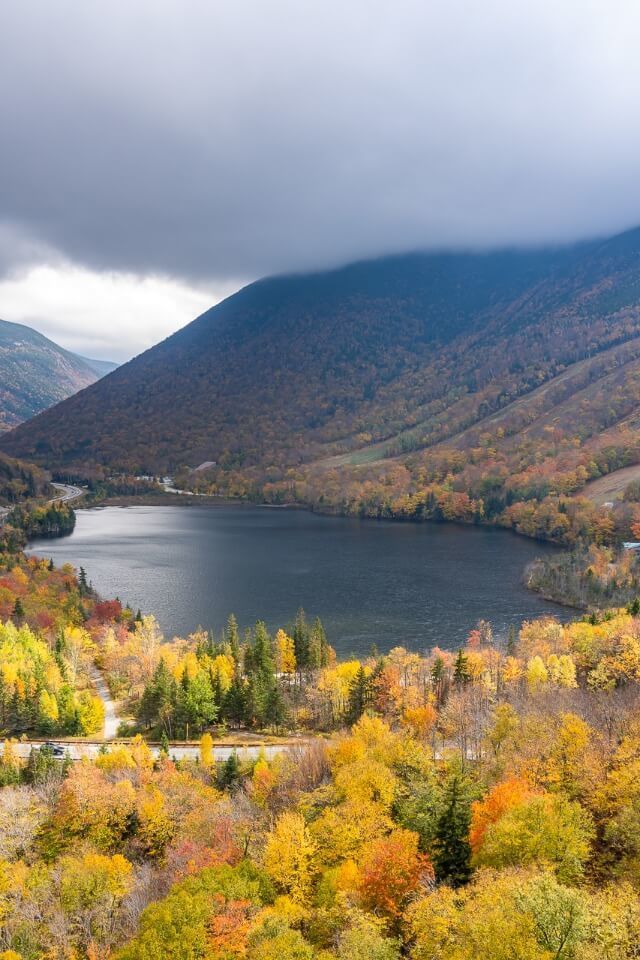 Pros and Cons
Let's take a quick look at the pros and cons of hiking Artists Bluff trail in New Hampshire.
Pros
Excellent reward for very little work
Awesome views
Wide open and flat rocky deck fit for considerable crowds
Nice warm up for more difficult hikes nearby
Fall is considerably more attractive
Cons
Very short trail
Can become extremely crowded in Summer and Fall
Highway ruins the scenery
Unpredictable weather
South facing directly into the sun
Tips For Hiking Artists Bluff Trail In NH
Here are our top tips for the Artists Bluff hike:
Hike early to avoid crowds.
Sunset is extremely popular and the descent takes 15 minutes so no concerns about hiking in the dark.
Robust shoes are more suited due to steep incline.
No hiking equipment or specialist gear required.
Can be bad for bugs so don't forget repellant.
Artists Bluff is a dog friendly trail.
Pack a small bottle of wine to enjoy at the top!
Need a campsite near Artists Bluff? Take advantage of our exclusive 30 day free trial of The Dyrt PRO to get reservations at sold out campgrounds with no extra booking fees and gain access to free dispersed camping locations around New Hampshire. You can try PRO for free, no strings attached!
Best Time To Hike Artists Bluff Trail NH
The best time to hike Artists Bluff is at the end of September and beginning of October when vibrant fall foliage colors light up the rolling hills surrounding Echo Lake.
We personally hiked Artists Bluff on October 6th and we were a few days past peak fall colors for that particular year. It is important to remember peak fall colors will land on different days each year.
The hike to Artists Bluff is open year round and it is still a fantastic view when the leaves are green or covered in snow. It's just that little bit more iconic in autumn.
Plan your New England Fall Foliage Road Trip with our 5 days, 7 days and 10 days itineraries, plus full guide on the best places to visit in fall.
More From New England
Are you hiking Artists Bluff as part of a longer visit to New England?
Read our most popular guides to more amazing places and things to do in the area:
---
We hope this short hiking guide to the Artists Bluff Trail helps you plan your visit to New Hampshire!
Please let us know if you have any questions about this hike or your visit to New England in the comments below.
Happy Hiking,
Mark and Kristen
Was This Post Helpful? Pin It For Your Hike!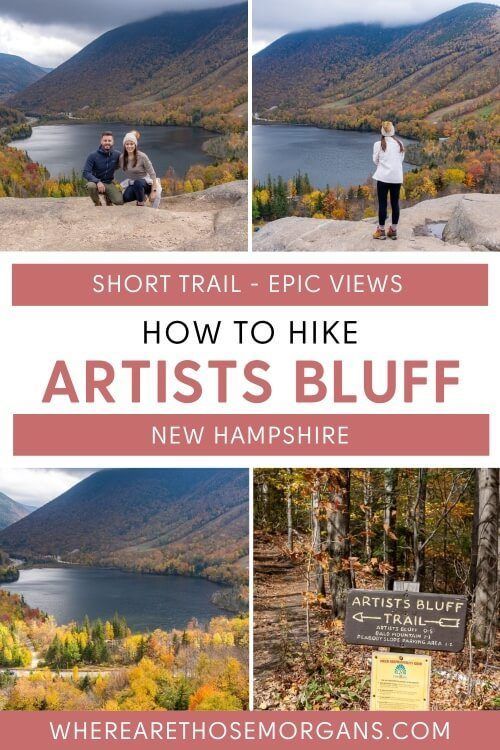 Note: This article contains affiliate links. When you make a purchase using one of these affiliate links, we may earn a small commission at no extra cost to you.
All Rights Reserved © Where Are Those Morgans, LLC. Republishing this article and/or any of its contents (text, photography, maps, graphics, etc.) in whole or in part is strictly prohibited.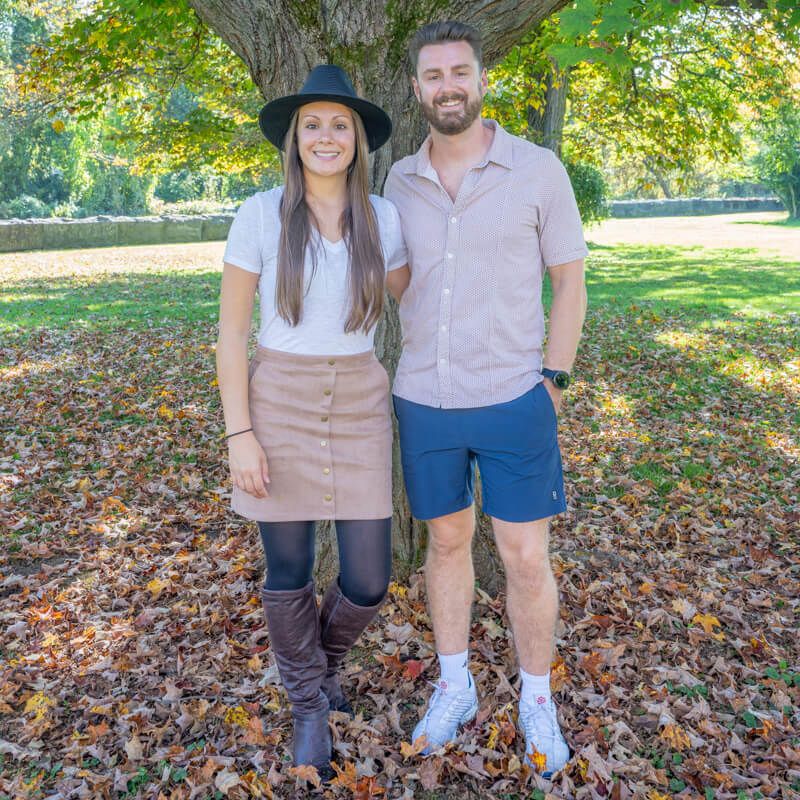 Mark and Kristen Morgan are travel, hiking and photography experts. Over the last 6 years traveling full time, they have explored more than 40 countries and 30 US states.
Their work has been featured in USA Today, Gestalten, Get Your Guide, CityPASS and Condé Nast Traveler along with various other publications.