Schwabacher Landing is one of the most spectacular sunrise photography locations in Grand Teton national park. Along with two famous Moulton Barns along Mormon Row, the unique riverside viewpoint at Schwabacher Landing is the reason thousands of nature and landscape photographers visit this truly stunning part of America each year.
If there is one single location showcasing the immense natural beauty of Grand Teton, it is Schwabacher Landing. Any time of day you will be able to take stunning photographs, but sunrise is the best and most popular time to visit the landing for photographers.
Rugged snowy peaks along the Teton range glow under the first light of day and river surface water is motionless. This scene creates the perfect opportunities for print-worthy mountain reflection photographs in the Snake River.
We are going to explain all you need to know about visiting Schwabacher Landing with a special focus on unforgettable sunrise photography.
What Is Schwabacher Landing In Grand Teton?
Schwabacher Landing is a famous photography spot along the banks of the Snake River with spectacular Grand Teton mountain reflections.
It is one of those places we have to thank geology for giving us such a perfect piece of landscape.
Grand Teton's picturesque Snake River meanders at a perfect angle for exquisite natural mountain reflections at eye level (or tripod level).
The most iconic reflections are limited to the first quarter mile from the parking lot but you can hike the full 1.8 miles out-and-back trail along the banks of the river for solitude and different perspectives.
Grand Teton is one of the most attractive and best USA national parks, and this stunning spot at Schwabacher Landing is a favorite among visitors.
Why Visit At Sunrise?
Sunrise is the time to be active in Grand Teton national park to capture the essence of what make this such a popular environment for photographers. Taking sunrise photos from Schwabacher Landing is definitely one of the best things to do in Wyoming for lovers of nature.
During our visit, we only had one morning free in Grand Teton so we had to decide between Mormon Row and Schwabacher Landing for civil twilight, before moving to the other immediately after sunrise.
Let's take a look at why sunrise is the best time to be on site at Schwabacher Landing with fingers on shutters:
Colors
From Schwabacher Landing you are looking almost directly West at Grand Teton and its sister peaks.
At sunrise, the Sun will burst out of the horizon directly behind you and illuminate the mountain caps a beautiful red color, before quickly turning to yellow.
Gradually, deep blues and purples of dawn will turn light blue as the sky lights up.
You can see the Teton range glowing red at first light in the image below from Mormon Row, just a few miles from Schwabacher Landing.
You would be able to photograph these glowing red snow capped peaks reflecting in the river at Schwabacher Landing, as long as you arrive at the beginning of civil twilight.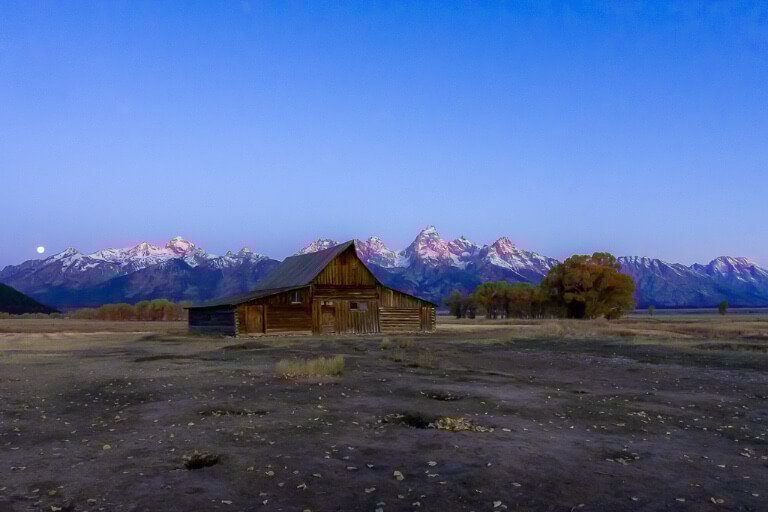 Wildlife
Colors and sunlight aside, dawn is the time of day when wildlife is most active in Grand Teton national park. Fresh water around the Landing draws an abundance of wildlife at dawn, before humans arrive into the park.
If you're lucky, you might see Otter, Eagles, Coyote or even a Moose.
We just about caught a Moose as it was leaving the Landing. If only we left Mormon Row a few minutes earlier! A gap in nearby rolling hills allowed us to photograph the Moose as it walked through a patch of sunlight.
An Otter was playing on a huge slab of ice in the Snake River, running from one side to the other and diving in the river. No Eagle sightings for us unfortunately!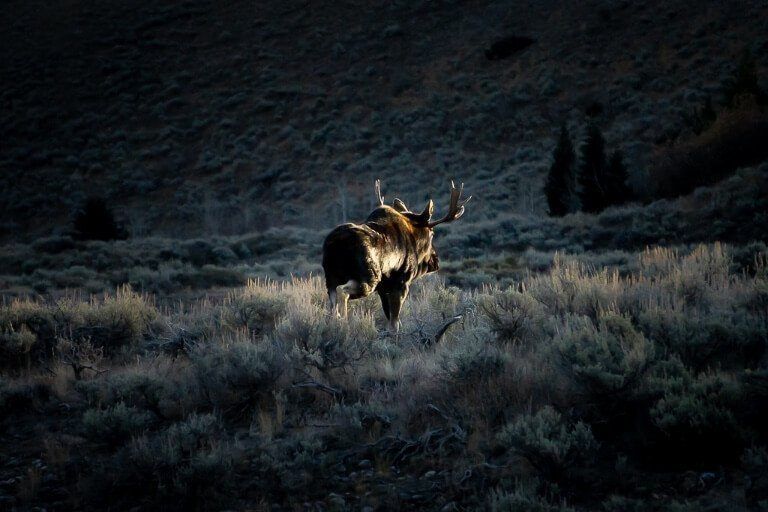 Directions To Schwabacher Landing
One of the best aspects of visiting Schwabacher Landing (especially at sunrise) is how convenient it is to access the viewpoint.
To reach the parking lot, simply take Schwabacher's Landing Road right off the main highway (89 / 191) for 1 mile. Be aware that this 1 mile spur road is a gravel track and can be bouncy.
Most vehicles will be fine but very low riding cars could find things a bit more difficult.
In Winter and early Spring the road closes when deep snow falls across Grand Teton national park. Many people park safely near the road entrance and hike (with snowshoes) to the Snake River.
Jackson To Schwabacher Landing
Almost all visitors to Grand Teton staying over a night will set up base in Jackson Hole, Wyoming. Jackson is a great little town with tons of hotels and restaurants for all types of traveler.
Flying direct into Jackson Hole airport or Salt Lake City international are your most convenient options. Read our 7 day Salt Lake City to Grand Teton and Yellowstone road trip itinerary for more information.
Visiting Schwabacher Landing from Jackson is very easy, just follow the main road North out of town and don't turn off until you see a brown wooden sign stating 'Schwabacher's Landing Road'.
The turn off is just 4 miles past the point in which Teton Park road joins the main highway.
Total driving distance from Jackson is 17 miles, which should take around 25-30 minutes to drive with clear conditions.
When To Arrive
If you want to capture the best of sunrise at Schwabacher Landing, you need to get organized.
Here are annual sunrise times for Grand Teton. Be sure to check the time in advance and try to arrive at the Landing no later than the start of civil twilight.
We always advise arriving for a sunrise photo shoot at the beginning of civil twilight because you need to park up, grab your gear, wrap up, walk to the exact location you want to take photographs and set up your gear.
If you arrive at 'sunrise', you will miss the most spectacular scenery.
Schwabacher Landing Photography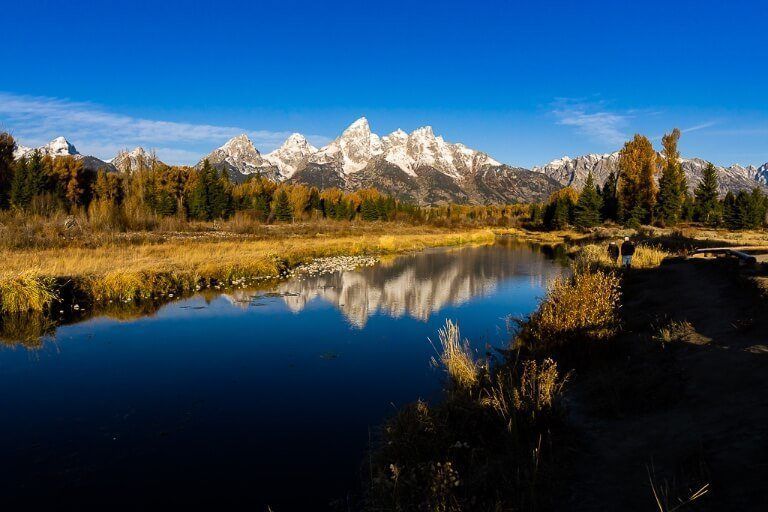 Dark shadows in foreground with remnants of yellows illumining the snow caps of Teton after sunrise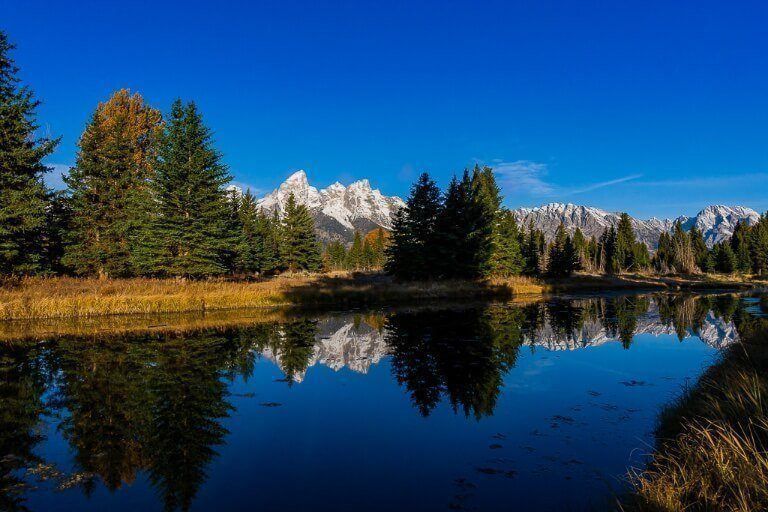 Perfect mountain reflections on a very cold, icy morning in Fall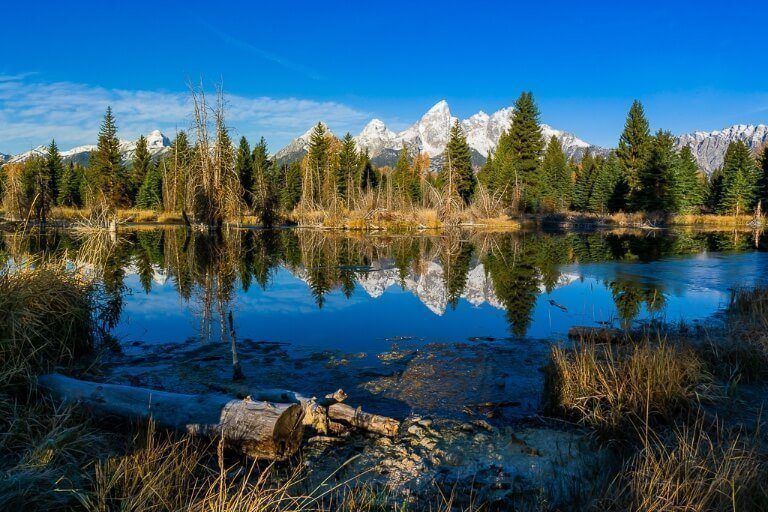 Colorful green trees with yellows reflecting alongside the Teton Range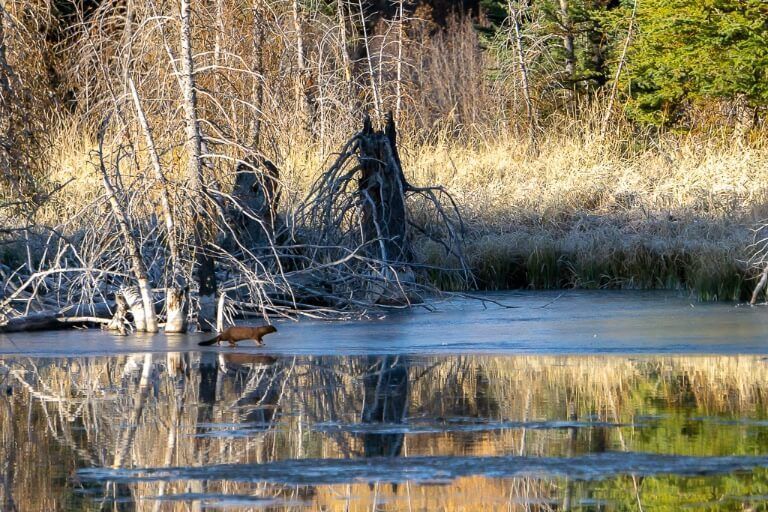 Otter playfully diving in river and running across ice sheet on top of river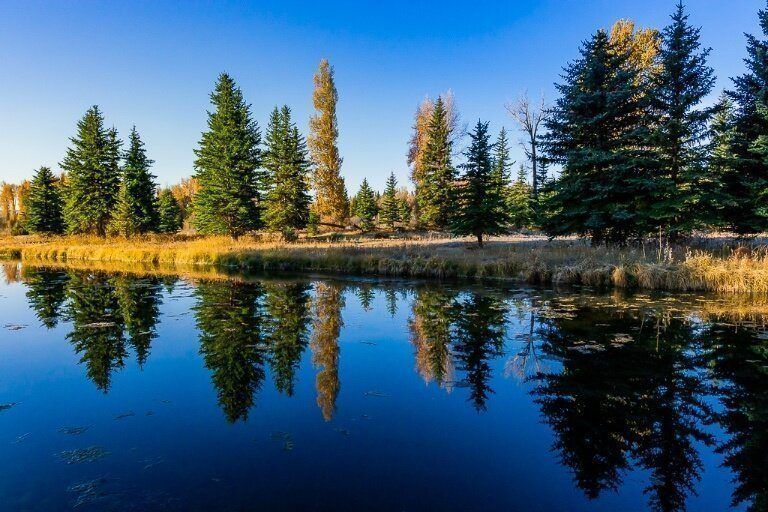 Turning South into the sunlight illuminates half of the riverbank after sunrise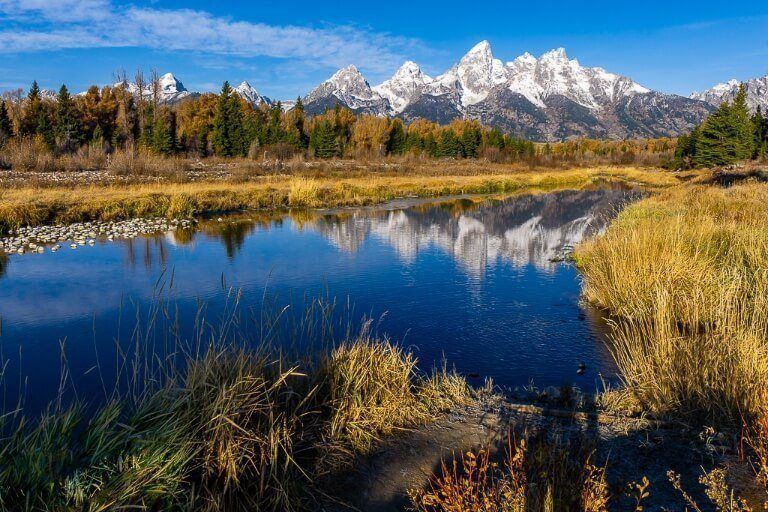 Later morning, lighter skies and wind blowing on the river surface breaks up picture perfect reflections
---
Schwabacher Landing Or Mormon Row?
Comparing Grand Teton's two most iconic sunrise photography locations is difficult because both offer entirely different propositions.
The barns are unique but the river reflections are more striking. Both are wonderful locations for taking photographs, easy to access, perfect for beginners and professionals, are blessed with stunning backgrounds and have glowing sunrise features.
If you have 2 mornings free to explore the Tetons, please make sure you do a sunrise at both locations. We will return and spend at least one full sunrise at each of the two spots.
If you only have one morning free for photography and we had to give you an answer, we'd say spend your sunrise at Mormon Row and then race over to Schwabacher Landing immediately afterward (as we did!).
Read our sunrise and sunset photography guide to Mormon Row next and see which you prefer.
Where to Stay in Jackson
Grand Teton is fortunate enough to have the awesome town of Jackson on its doorstep, which means fantastic dining and hotel options for visitors to the park.
Here are the top rated hotels for you to consider spanning all budgets in Jackson, Wyoming:
Read More About Grand Teton and Yellowstone

…
---
We hope this photography guide helps you plan your Schwabacher Landing sunrise visit at Grand Teton National Park!
Have you been to Grand Teton? Where are your favorite photography locations in the park?
Please let us know if you have any questions or need any help planning your visit.
Happy Snapping,
Mark and Kristen
Was This Post Helpful? Pin It For Your Visit!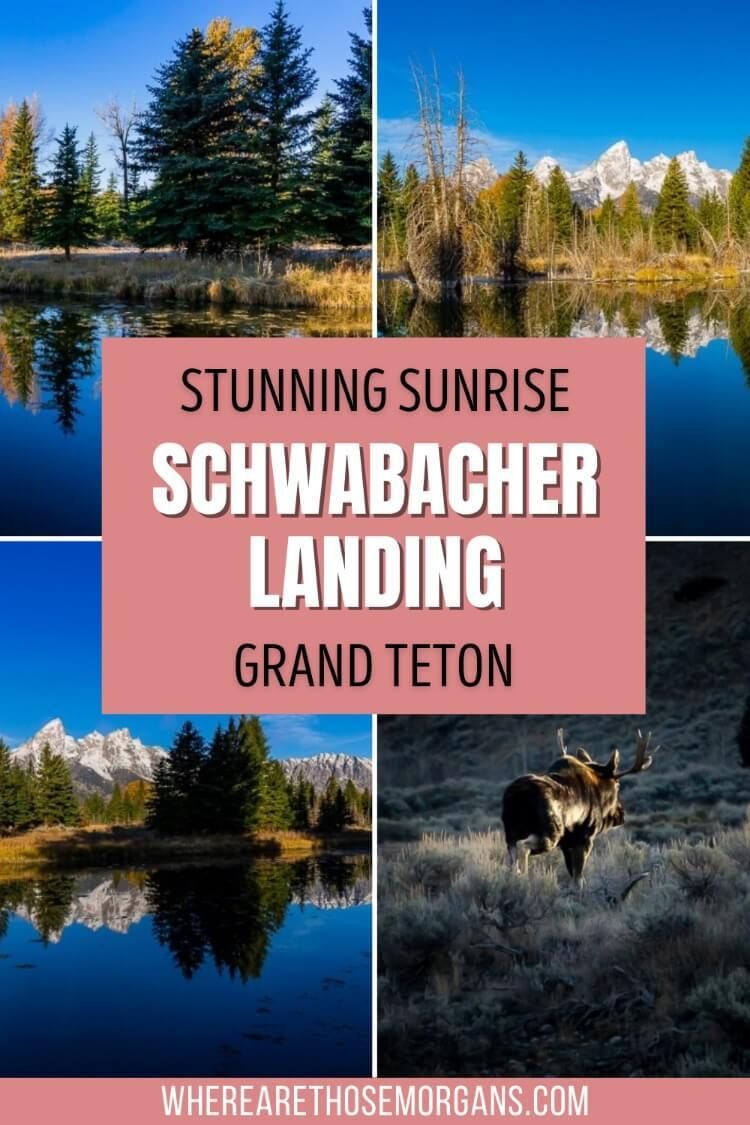 Note: This article contains affiliate links. When you make a purchase using one of these affiliate links, we may earn a small commission at no extra cost to you.
All Rights Reserved © Where Are Those Morgans, LLC. Republishing this article and/or any of its contents (text, photography, maps, graphics, etc.) in whole or in part is strictly prohibited.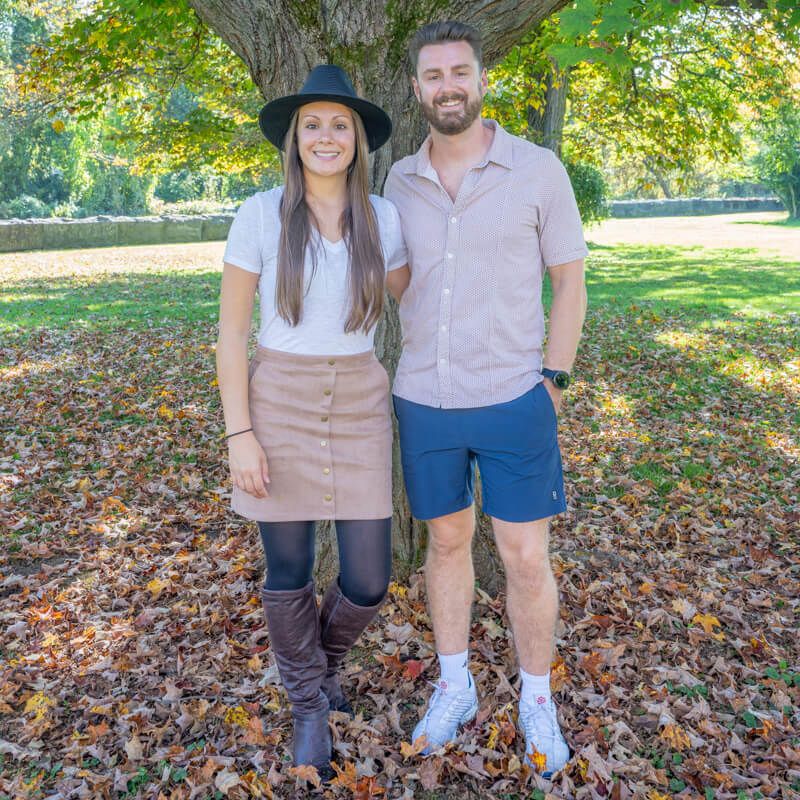 Mark and Kristen Morgan are travel, hiking and photography experts. Over the last 6 years traveling full time, they have explored more than 40 countries and 30 US states.
Their work has been featured in USA Today, Gestalten, Get Your Guide, CityPASS and Condé Nast Traveler along with various other publications.