Letchworth State Park in Western New York is home to over 60 miles of hiking trails, postcard-perfect waterfalls, epic gorge overlooks and stunning photography locations.
Dubbed 'the Grand Canyon of the East', Letchworth was voted the most stunning US State Park back in 2015. Nice accolades. But can they be backed up with natural beauty?
You bet they can.
Picture this: Over thousands of years the Genesse River relentlessly carves through shale, silt and sandstone rock, eroding deeper and deeper, forming sheer gorge walls as high as 600ft.
In its path of slow destruction, the Genesee created three significant waterfalls in close proximity – unimaginatively named Upper, Middle and Lower falls.
But perhaps its greatest topographical achievement is a spectacular U-shaped 270 degree meander – similar to Horseshoe Bend in Arizona but on a much larger scale and covered in trees in place of sand.
We've personally spent a lot of time at Letchworth, mainly at failed sunrise or astro photography shoots – damn clouds!
This NY State Park is a treasure trove filled with natures finest ingredients. Watch our Letchworth State Park YouTube video to see its best highlights.
Our ultimate guide to Letchworth covers directions, entrances, waterfalls, hiking and photography locations to help you plan the perfect visit.
*Please note this post may contain affiliate links. If you click on one of them, we may earn a small commission at no extra cost to you!*
Letchworth State Park Factfile
State Park: Letchworth
Region: Genesee River
State: New York
Address: 1 Letchworth State Park, Castile, NY 14427
Telephone: (585) 493-3600
Campgrounds: 257
Cabins: 81
Area: 14,427 acres
Things to do: Hiking, Waterfalls, Photography
Major Waterfall: Middle Falls
Open: All year
Annual visitors: ~ 800,000
Letchworth

State Park Entrances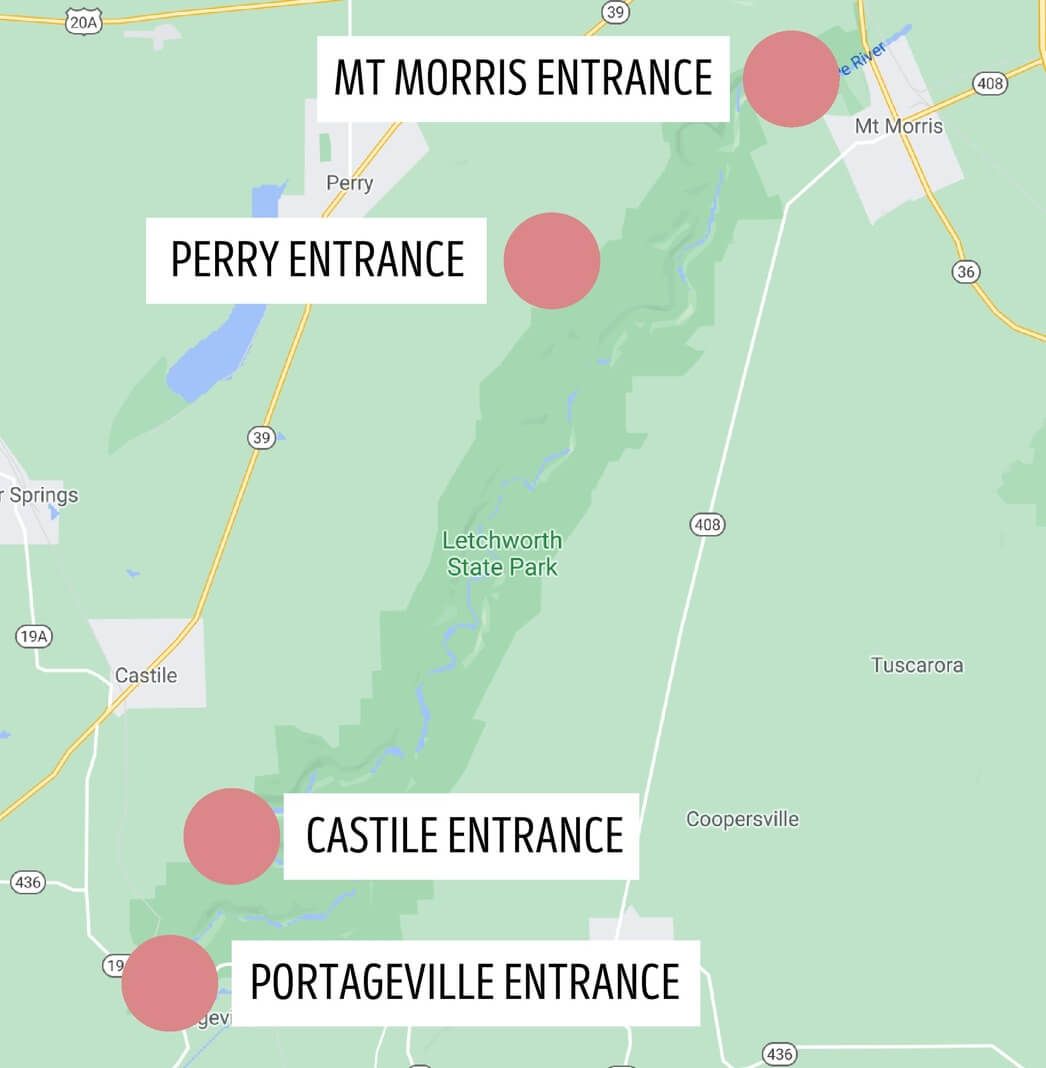 Letchworth State Park is located on the Western edge of the New York Finger Lakes region. The park is itself shaped similarly to the famous lakes – like a finger – as it follows the Genesee River for a total of 17 miles.
There are 6 entrances, 4 West of the Genesee and 2 East of the Genesee. Unless you have a few days in the area, ignore the 2 East entrances, all of the best highlights are West of the river.
Of the 4 entrances West of the river, you can enter via the very top (Mount Morris/main entrance), a quarter of the way down (Perry entrance), four fifths of the way down (Castile entrance) or the very bottom (Portageville entrance).
Many visitors arrive from the North – such as Rochester or Buffalo – but almost all of the major highlights at Letchworth are in the South end of the park.
Bear in mind, if you enter Letchworth at North entrance and drive the entire way through the state park, slow speed limits mean it will take longer to reach the waterfalls than driving around the edge of the park on faster roads and entering via Castile or Portageville to the South.
But it is far more scenic in the park.
Therefore, if you're pressed for time (such as arriving in time for sunrise) drive around and enter at Castile OR if you have plenty of time, enter at North and enjoy the scenery!
We tend to enter via Castile for sunrise, spend the day hiking, drive through the park and leave via North.
Letchworth

State Park Directions
Distances and directions from nearby cities to closest Letchworth State Park entrances include:
Rochester NY to North entrance – 43 miles (45m) on I-390 S

Syracuse NY to North entrance – 115 miles (1h 48m) on I-90 W / I-390 S

Buffalo NY to Castile entrance – 58 miles (1h 10m) on NY-400 S / NY-78 S

Toronto Canada to Castile entrance – 250km (2h 50m) on QEW / NY-400 / NY-78

New York, NY to Portageville entrance – 319 miles (5h 15m) on I-80 / I-380 / I-81 / I-86 / I-390
If you're flying into the Finger Lakes region to road trip the awesome state parks, search for flights using Skyscanner to pick up the best deals and search for airport hire cars with RentalCars.
We use and always recommend both platforms.
Here are the closest airports to Letchworth State Park for you to fly into:
Rochester International, NY – 40 miles (42m)

Syracuse International, NY – 115 miles (1h 50m)

Buffalo Niagara International, NY – 60 miles (1h 15m)

Newark, NJ – 312 miles (4h 50m)
Related: Our Expert Tips On How To Find And Book Cheap Flights
Parking and Entrance Fee at

Letchworth State Park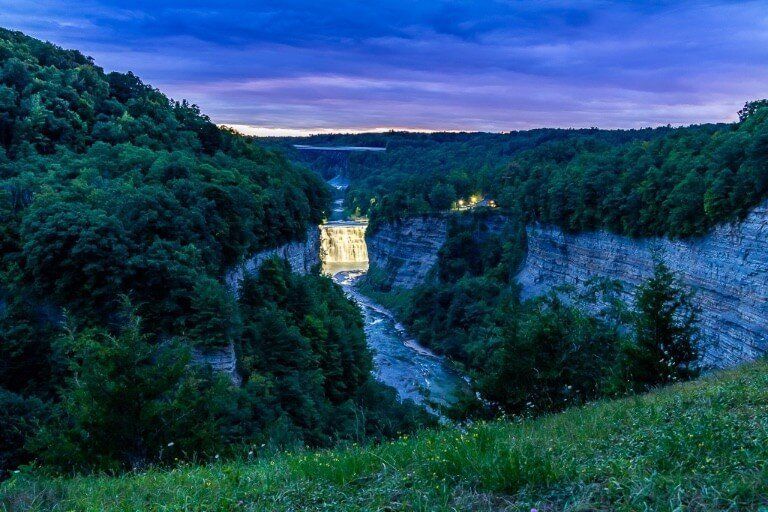 Entrance to Letchworth State Park is US$ 10 per vehicle from the end of May until the end of October between 9am and 5pm.
Entrance is free if you arrive between November and mid May any time of day OR arrive any day of the year before 9am or after 5pm.
The park is 17 miles long and you will find ample parking at various designated parking areas along the main through road.
If you arrive on a holiday weekend in Summer and can't get parked at the main attractions, try the next parking area along and walk along the (mostly flat) hiking trails hugging the gorge.
Letchworth State Park: Three Awesome Waterfalls
Letchworth is home to not one, not two but three noteworthy waterfalls. Whoever named them lower, middle and upper falls must have been feeling entirely uninspired but at least they are easy to remember!
Each of the falls have distinguishing features making them unmissable on a day trip to Letchworth.
Let's take a look at each of the major Letchworth State Park waterfalls:
1. Letchworth Lower Falls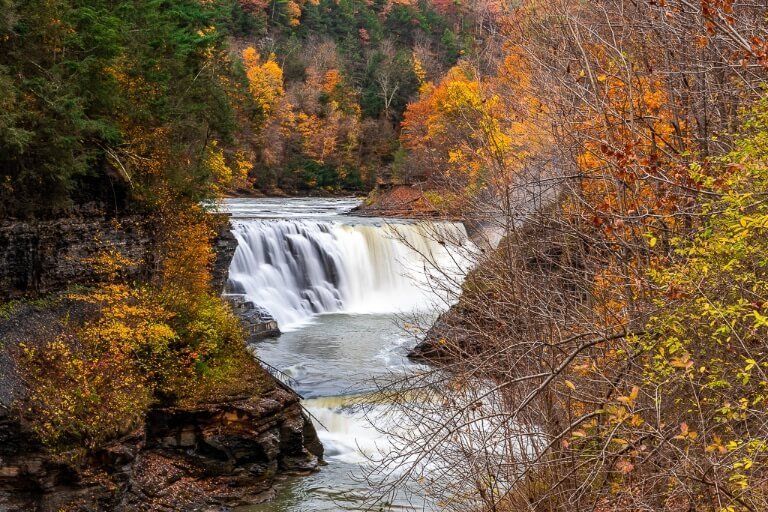 Lower Falls is Letchworth's smallest, quaintest, quietest and arguably prettiest waterfall.
To reach Lower Falls, park at any of the lots along Park Road between Inspiration Point and Lower Falls Trailhead. Walk along gorge trail until you reach a brown sign pointing down a set of 127 stairs to reach Lower Falls and a stone footbridge.
Take the next path down to the gorgeous stone bridge for awesome up-gorge views of the waterfall.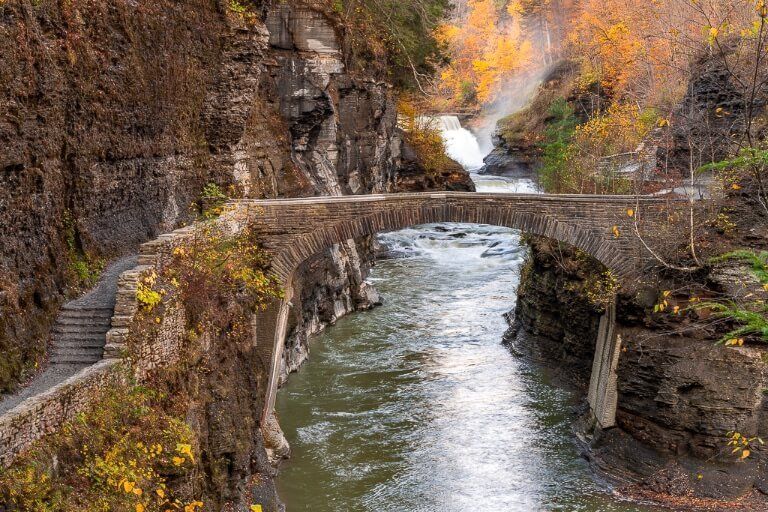 Cross the bridge and follow the cliff-hugging path as it turns left before arriving at an obvious overlook point. Don't try to climb the mound – it might not end well!
Instead, enjoy the gorgeous view looking up-river at the ornate bridge and waterfall combination. This is the perfect photography location for Lower Falls.
Cross back over the bridge and walk along the wooded path following the Genesse toward Lower Falls – you will find photography opportunities difficult to come by. There are a number of small rocky outcrops to get shots between trees but be careful with footing.
Crowds will be much thinner here when compared to Middle and Upper falls.
2. Letchworth Middle Falls
Standing at 107 ft tall and over 250 ft wide, Middle Falls is Letchworth State Park's powerful centerpiece.
Middle Falls resembles a much smaller version of Niagara Falls with huge volumes of water crashing over its relatively short drop. This is the most popular cataract waterfall of the three in the park.
Park at either Glen Iris Inn parking lot or Middle / Upper Falls parking lot for easiest access to Middle Falls.
You can get up close and personal with Middle Falls. Either stand in a rounded stone observation point right in front of the waterfall or stand almost in touching distance on its right hand side. The likelihood of getting wet (from water vapor) in both places is very high!
However, the most iconic and beautiful view of Middle Falls is from Inspiration Point, which we'll cover in photography locations.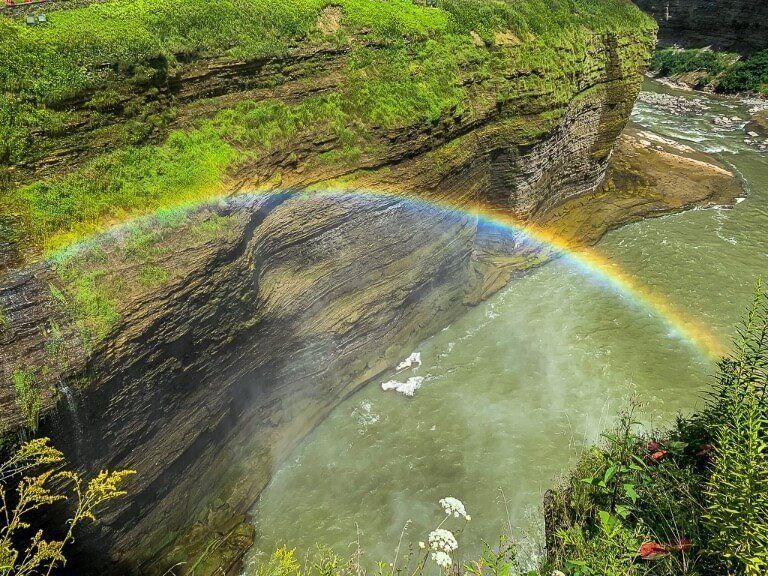 Middle Falls has a colorful surprise if you visit on a sunny day around lunchtime or mid afternoon.
Standing right by the side of the waterfall, turn to look into the canyon and through clouds of water vapor you should be able to see a bright rainbow shining deep inside the gorge.
Photography can be difficult close to Middle Falls because of the relentless vapor cloud. Either be patient and wait for a rare clearing (wind changing direction for example) or take a drying cloth to wipe your lens / filter.
For the ultimate Letchworth State Park experience, take a look into Balloons over Letchworth with whom you can ride a hot air balloon right over Middle Falls.
3. Letchworth Upper Falls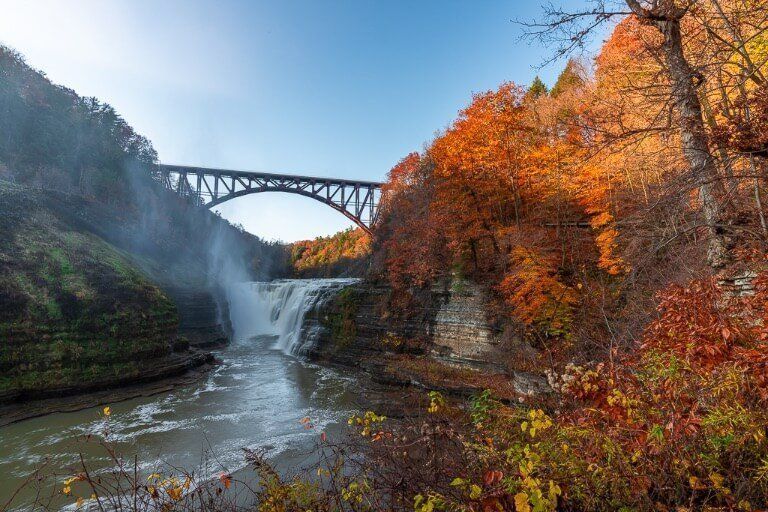 Letchworth Upper Falls curves like a narrow horseshoe and is framed by its outstanding man made feature – a steel arched railroad bridge. Upper Falls and the railroad bridge can be seen in the distance behind Middle Falls from Inspiration Point.
Park at either Middle / Upper Falls for front-on views or a smaller lot close to the bridge (at bridge height) for side-on views. Parking at the bridge will mean you have to take steps down to see the waterfall but the elevated steps also offer excellent elevated views into Upper Falls.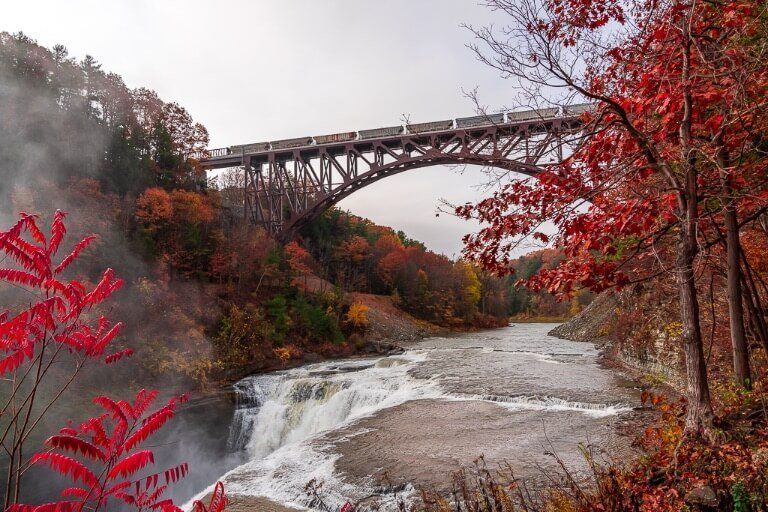 At the bottom of the steps you can get a lovely shot of the waterfall with the railroad bridge – and if you strike it lucky, a freight train will pass over the Genesee River.
Remember to freeze the train in motion you'll need a fast shutter speed – which is the opposite of what you will have been doing with a slow shutter to capture silky waterfalls! That being said a train could look artistic with a slow shutter speed.
Visiting in peak Fall season with naturally vibrant colors and tones creates a stunning image. If you visit in Summer, all trees and vegetation are lush green. Personally, we prefer Fall!
Plan your trips to all of the most stunning NY waterfalls with our continuously updated list of best waterfalls in New York!
Hiking Trails At Letchworth State Park, NY
Letchworth has over 60 miles of hiking trails for visitors to explore but Gorge side paths are by far the most heavily trafficked. Expect extremely crowded trails in Summer, especially on weekends.
East of the Genesee – If you're looking for solitude and peaceful nature hiking, enter the park via one of two East entrances and walk along sections of 20 mile long Letchworth trail. You won't see many other hikers!
Gorge Trail – However, if you just want to tag on a few shorter hikes to stretch your legs in between waterfall viewing, pick a couple sections of the Gorge trail. Gorge runs parallel to Park Road and links all of the major Letchworth waterfalls.
Our Routine – What we usually do is park at Lower Falls Trailhead (where it's typically less busy), walk down to Lower Falls, then continue past Inspiration Point, Middle Falls and Upper Falls before returning back along the same trail to the car. Our hike ends up around 4-5 miles return trip.
There are certain sections with steep banks and steps to be aware of but on the whole this gorge trail is flat and easy. Purple painted dots on trees mark trails in the higher elevation sections.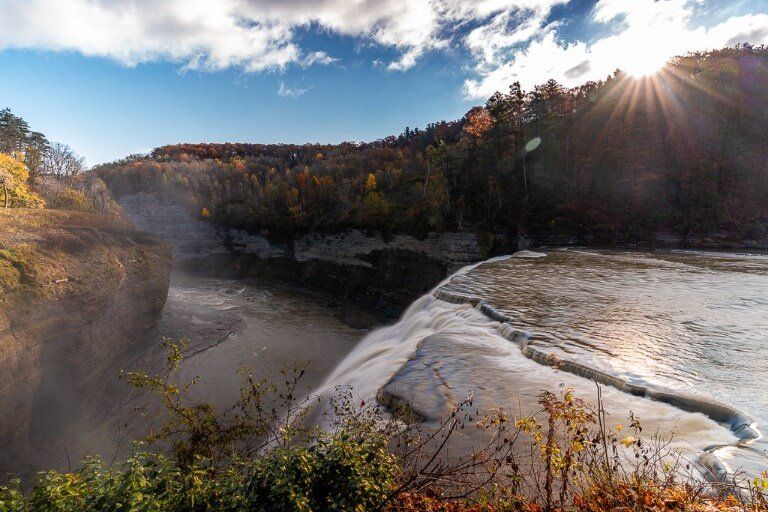 Other West of Genesee Trails – If you want to escape the vast crowds but stick to the Genesee's West bank, you will find over a dozen trails of varying length between the busy waterfall areas and the North of Letchworth.
Look out for small signs in forest clearings stating Trail # X (between 1-21). There are no hiking trail sign posts on the roads so drive slowly and keep your eyes peeled on both sides.
Dogs – Allowed on leashes and many dog walkers prefer to use quieter forest trails North of the waterfalls.
Best Photography Locations In Letchworth State Park
Letchworth is an incredibly photogenic New York State Park – it won most stunning park for a reason!
As we became more interested and proficient in photography, we realized Letchworth is a gold mine for local photographers. We've not once had a sunrise or astro shoot to ourselves!
But where are the best locations and what do you need to know?
Well, excluding the obvious close up images you will take at each waterfall, there are 2 unmissable photography locations for you to consider:
Great Bend – Letchworth State Park Sunrise Photography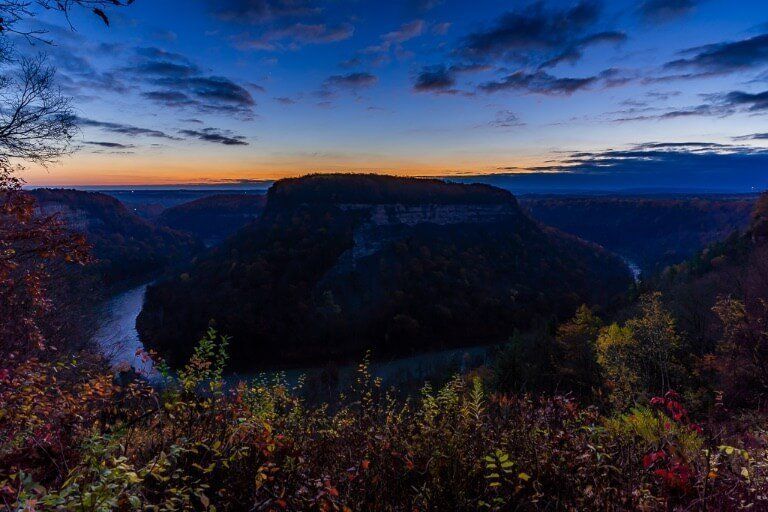 In our opinion the most spectacular time of day to be at Letchworth State Park is between civil twilight and sunrise. If you plan to shoot a sunrise, ignore the waterfalls and instead set up between Great Bend Overlook at Archery Field Overlook.
Enter via Castile entrance, turn left on Park Road and around 50 meters ahead there's a place you can park on the road side. Look to your right and you will see the most incredible part of Letchworth – a horseshoe shaped bend in the Genesee River with towering cliffs and a gargantuan center 'island' dotted with thousands of colorful trees.
The sun will rise directly behind the island and if you're extra lucky, there will be mist and clouds down in the horseshoe shaped gorge creating a mesmerizing scene.
We've personally woken up early and arrived at the park before civil twilight 4 times. Three were cloudy (despite weather forecasts saying otherwise!) but one was clear and beautiful.
Inspiration Point Overlook – Letchworth Waterfalls, Sunset and Astro Photography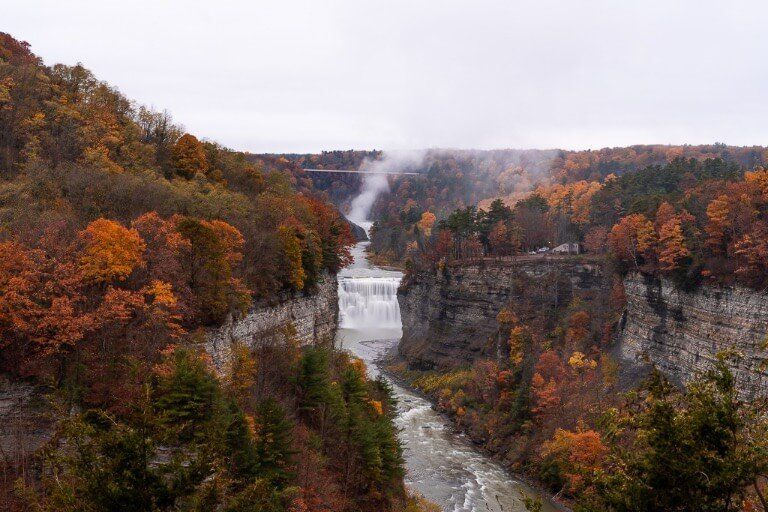 After the sunrise location described above, Inspiration Point is our second favorite location at Letchworth.
Views from the overlook are sublime, looking straight down the deep Genesee gorge flanked by colorful trees until it reaches Middle Falls and Upper Falls AND the railroad bridge!
One of the major photography problems here is the sky. It always seems to be washed out grey and never bright blue with big fluffy cotton-wool clouds when we visit!
Letchworth's most outstanding features are East / Southeast facing, which makes shooting at sunset challenging.
You have 2 options: Inspiration Point but the sun will be way off to the right of Middle / Upper Falls OR cross to the East side of the Genesee and find a good spot looking directly at the sun with Middle Falls or the gorge as foreground.
Are you into astrophotography?
Well, you're in luck – the waterfalls are directly Southwest of Inspiration Point.
So, if you visit in Fall when the Milky Way becomes visible to the Southwest and time it right for a clear night with little to no Moon – you can make some exceptional photographs.
Letchworth State Park Beginner Photography Tips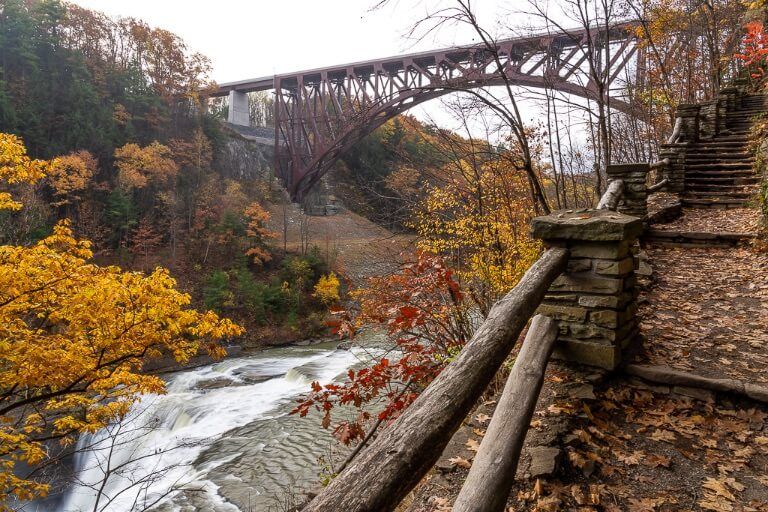 Photography Tip 1 – Tripod
You'll be shooting waterfalls at Letchworth and in order to get the beautiful silk water effect you will need a tripod. The tripod will keep your camera stable for long exposures. However, there are some instances where you can carefully set your camera on a wall. Just be sure to take a spare hoody or down jacket to protect the camera and lens from damage.
Photography
Tip 2 – ND Filter
Waterfalls will spray a lot of water droplets onto your lens or filter if one is attached. If you're shooting during daylight, don't forget an ND filter will stop down light so you can shoot longer exposures of the waterfalls.
Photography Tip 3 – Shutter Speed
Aim for shutter speeds of between 0.6 seconds to 2 seconds for waterfalls. Try each interval and look through your view finder on playback to see which you prefer.
Photography Tip 4 – Wide Angle Lens
Sunrise at Great Bend is epic but you will definitely need a tripod and if you have one – a wide angle lens. You need wide angle to capture the entire horseshoe shaped bend (24mm almost gets it all but not quite, we had to use our 16mm). Alternatively, you could capture 3 or 4 vertical images moving left to right and stitch them as a pano in Lightroom.
Photography Tip 5 – Arrive Early
Arrive before sunrise. In fact, arrive at the start of civil twilight. That way you can choose your spot before others turn up, enjoy the stunning deep blue hues before sunrise and set your gear up slowly. There's nothing worse than arriving late to a sunrise shoot!
Photography Tip 6 – Telephoto Lens
Take a telephoto lens for Inspiration Point so you can compress (bring closer) Middle Falls and Upper Falls / Railroad Bridge. Middle Falls lights up at dusk which makes for a great photograph if you can get the right composition.
Photography Tip 7 – Drone
You cannot fly a drone in Letchworth State Park unless you contact ahead of time (at least 10 days) and get clearance. Is it worth the effort? Yes!
In summary, here's a list of the equipment you need for optimal shooting at Letchworth State Park, New York:
Camera with wide angle, standard and telephoto lenses

Tripod with extendable center column to get some height & clear walls!

ND filter either fixed or variable to stop down light during day

High quality cleaning kit to keep lenses / filters free of water vapor

Drone with prior approval
Head on over to our photography gift guide which consists of the cameras, lenses, tripods, filters and all other equipment we personally use and recommend.
Best Time to Visit Letchworth State Park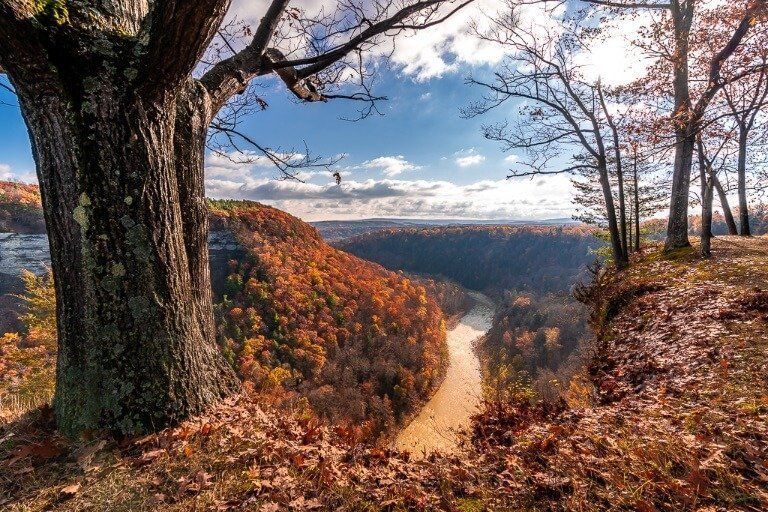 Best time of Year
Spring is the best time for heavy running waterfalls in Letchworth State Park as snow melts and runs into the Genesee River. Colors begin to blossom and temperatures are cool for hiking.
Summer is busy and humid during the day, trails will be crowded and parking can be a problem. However, it is the best time of year for camping, sunrise and astro photography.
Fall is spectacular of course for vibrant foliage and our favorite time of year to visit the park. Comfortable hiking temperatures and fewer people make up for the cold mornings and nights taking photographs!
Winter is stunning at Letchworth, the crowds thin out and snowfall creates a different proposition altogether. Snowmobiling, cross country skiing and other Winter activities can be found here.
Note: In Winter – South entrance (Portageville) road closure as far as Upper / Middle Falls. Enter via Castile. Limited restrooms – Inspiration Point, Middle Falls, Trailside Lodge, Highbanks and Dam Overlook open.
Best time of Day
Sunrise is the absolute best time of day for photography and far fewer crowds on hiking trails. Remember it is free to enter before 9am.

Between 10am and 4pm the park is naturally going to be busier, particularly in Summer, on weekends and holidays.
Hotels Near Letchworth State Park
One of Letchworth's downsides is a lack of easy access hotel options and nearby amenities. If you don't want to camp or stay inside the park at the Glen Iris Inn or lodges, you'll need to find a hotel in a small town close to the park.
Mt Morris and Geneseo are the best options for those who like to have amenities at hand. However, there is a fantastic isolated B&B option much closer to Letchworth's major highlights.
Below are the top rated hotels we can find for you to consider near Letchworth State Park. Start by reading our in depth tips and easy to follow process about how to always book the cheapest hotels.
Letchworth Farm
Located just 6 miles (10 minutes drive) from Letchworth's Portageville entrance, Letchworth Farm has an exceptionally high guest rating of 9.5. Breakfast is included and the grounds look amazing. Horse stables and equestrian theme throughout.
Click below to check availability and prices.
Country Inn & Suites by Radisson – Mt Morris
Ideally located just 30 seconds drive from Letchworth's North (Main) entrance, Country Inn & Suites offers an indoor pool and small gym, plus included breakfast. It is the highest guest rated hotel in Mt Morris at 8.4.
Click below to check availability and prices.
Big Tree Inn – Geneseo
Geneseo has a handful of highly rated hotels (see them all here) but Big Tree Inn is right in the middle of town – so you wouldn't need to use the car if having a few drinks with dinner.
Rated 8.7 by guests, the historic Inn serves breakfast and is located 6.7 miles from Letchworth's North (main) entrance.
Click below to check prices and availability for your travel dates.
More from New York State …
Finger Lakes
Adirondacks
---
We hope this helped you plan your visit to Letchworth State Park New York!
Have you been to the New York Finger Lakes? Which is your favorite State Park in the area?
Please let us know if you have any questions or need any help planning your visit.
Happy Travels,
Mark and Kristen
Was This Post Helpful? Pin It For Your Visit!