Letchworth State Park in Western New York is home to over 60 miles of hiking trails, postcard-perfect waterfalls, epic gorge overlooks and stunning photography locations.
But with so many fantastic things to do at Letchworth State Park, where do you begin?
Our comprehensive guide on how to visit Letchworth will cover everything you need to know including:
Where to find Letchworth State Park
Entrance fee and parking information
18 best things to do at Letchworth
Top hiking trails + 3 must-see waterfalls
Amazing photography spots in the park
Best time of year and day to visit
Places to eat and hotels near Letchworth
Our own photos with tips for visiting
Now, let's start planning your visit to Letchworth State Park in New York!
Our Letchworth State Park Experience
Why trust us to help with planning your visit to Letchworth?
Kristen is a Finger Lakes native, growing up in a small town nearby and we also temporarily lived in the region when Mark first moved to the US in 2019.
We have personally spent a lot of time at Letchworth enjoying scenic hikes, soaking up gorgeous fall colors and patiently shooting photography at various times of day.
But also having traveled the US extensively, we think the Finger Lakes region in upstate New York is one of the best places to visit in America.
Our Letchworth State Park photos are even featured in Gestalten's Great American Road Trip.
This region offers a myriad of gorgeous topography and a fabulous wine scene not to mention it's one of the best locations in the US to experience vibrant colors of the fall foliage.
While we no longer live in the area, Kristen's family still lives in upstate New York and we always return to this beautiful region every year.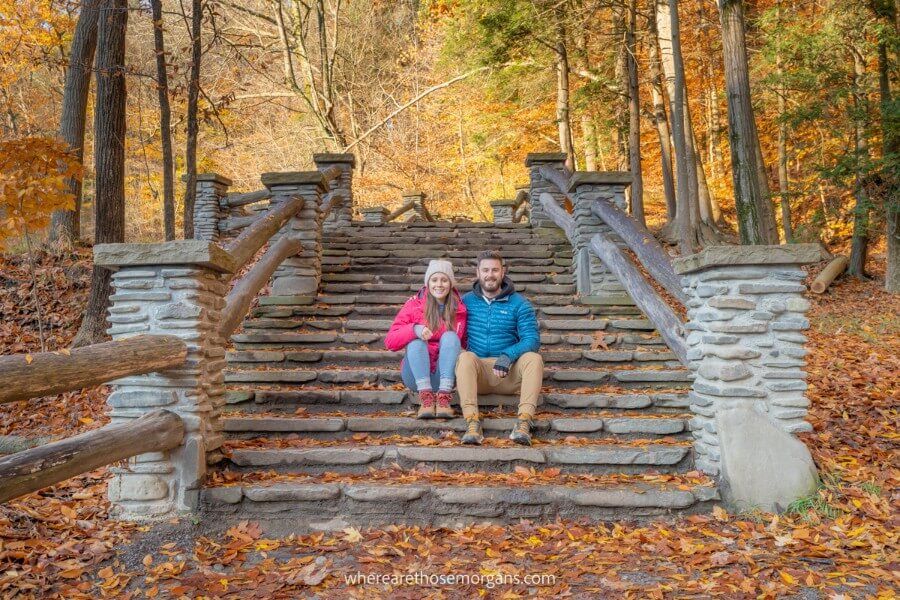 What Can You Expect From This Guide?
This comprehensive first time visitor guide covers everything you need to plan the perfect visit to Letchworth State Park in upstate New York.
You will find information about parking and entrance fees, a detailed description of Letchworth's popular hiking trails, best things to do at Letchworth as well as nearby hotel and restaurant options.
Our main focus is to provide you with hiking and photography insights to make the most of your trip to Letchworth State Park.
Heading to the Finger Lakes? Read our guide featuring amazing places to visit and best things to do in the New York Finger Lakes.
Letchworth State Park Factfile
State Park: Letchworth
Region: Genesee River
State: New York
Address: 1 Letchworth State Park, Castile, NY 14427
Telephone: (585) 493-3600
Campgrounds: 257
Cabins: 81
Area: 14,427 acres
Things to do: Hiking, photography, camping, swimming, waterfalls
Major Waterfall: Middle Falls
Open: All year
Annual Visitors: ~800,000
What Is Letchworth State Park?
Dubbed the Grand Canyon of the East, Letchworth was voted the most stunning US State Park in 2015.
Over thousands of years, the Genesee River relentlessly carves through shale, silt and sandstone rock, eroding deeper and deeper, eventually forming sheer gorge walls as high as 600ft.
In its path of slow destruction, the Genesee created three significant waterfalls in close proximity, known as Upper, Middle and Lower falls.
But perhaps the greatest topographical achievement is a spectacular U-shaped 270 degree meander, similar to Horseshoe Bend in Arizona, but on a much larger scale now covered in trees instead of sand.
This NY State Park is a treasure trove filled with nature's finest ingredients. Watch our Letchworth State Park YouTube video to see its best highlights.
Where Is Letchworth State Park?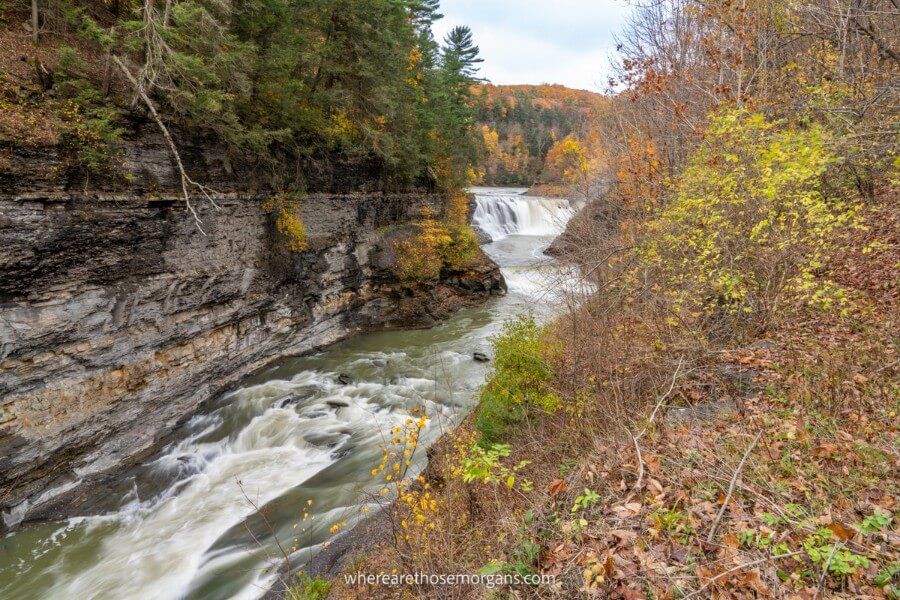 Letchworth State Park is located on the Western edge of the New York Finger Lakes region about 40 miles south of Rochester, NY.
The park itself is shaped similarly to the famous lakes, just like a finger, as it follows the Genesee River for 17 meandering miles into both Livingston and Wyoming counties.
Letchworth State Park Google Maps Location.
There are 6 entrances to Letchworth State Park. Four of these entrances are located to the west of the Genesee River while the other 2 entrances can be found on the east side of the river.
Letchworth State Park Entrances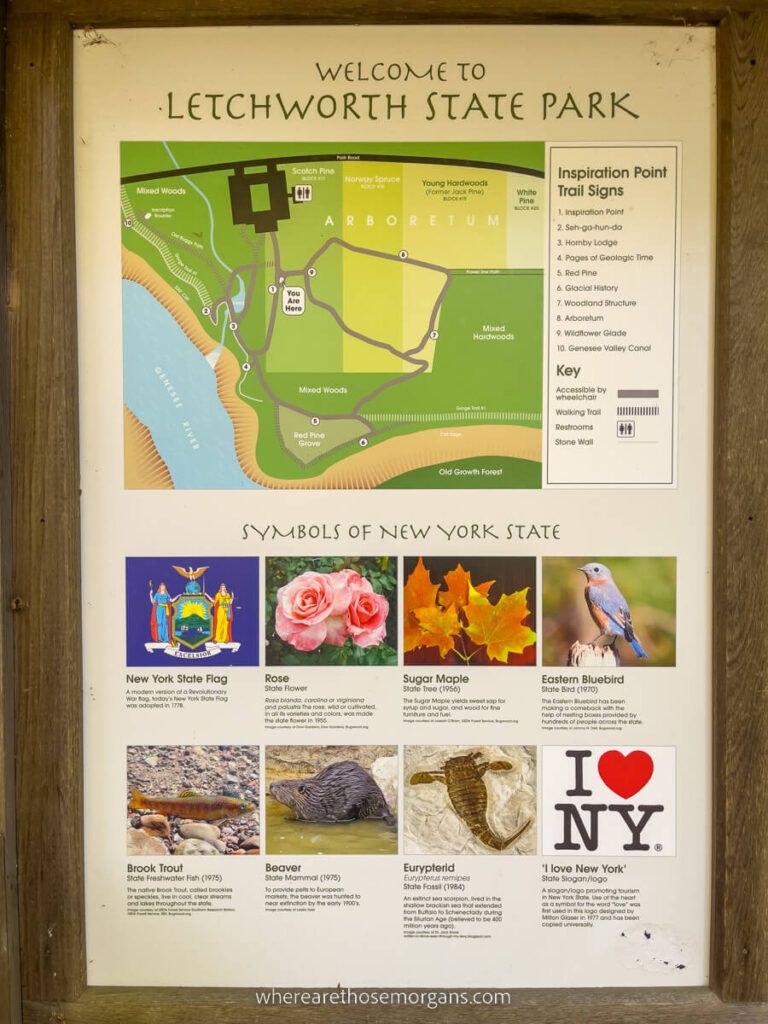 Let's take a look at the 6 entrance options you can use to visit New York's Letchworth State Park.
Unless you have a few days to spend in the area, we recommend you visit via one of the west entrances because all of Letchworth's best highlights are west of the Genesee River.
Below we will show you the Letchworth attractions located at each individual entrance. Depending on what you want to see, one entrance may be a better option for you.
West Entrances For Letchworth State Park
Both the Portageville and Castile entrances provide close access to the popular things to do at Letchworth State Park including the three waterfalls, scenic viewpoints, the historic Glen Iris Inn and many of the food options within the park.
Mount Morris Entrance – Mt. Morris Dam Overlook, Visitor Center, Dam Overlook Cafe, Harvey Swimming Pool, Highbanks Pool Snackbar

Perry Entrance – Highbanks tent and trailer camping, Highbanks Camp Store, Maplewood Lodge

Castile Entrance – Waterfalls, Autism Nature Trail, Footbridge Nature Shoppe, Glen Iris Inn, Humphrey Nature Center, Main Visitor Center, Letchworth Gift Shop, Lower Falls Restaurant, Scenic Overlooks, Upper Falls Snack Bar

Portageville Entrance – Same access to attractions at Castile Entrance
East Entrances For Letchworth State Park
The two east entrances are typically less busy so if you are looking to get away from the crowds, use one of the Letchworth's east entrances.
However, this side of the park will require more driving and you will be limited to what you can do at the east entrances.
Mt. Morris Dam & Recreation Area Entrance – Mt. Morris Dam and Visitor Center

Parade Grounds Entrance – Camping, Genesee Valley Greenway, Parade Grounds, Viewpoints of Middle and Lower Falls
Map Of Letchworth State Park Entrances
We created the map below to showcase the 4 Letchworth State Park west entrances so you can have a visual about where to enter based on your needs.
Many visitors arrive from the North coming from nearby Rochester or Buffalo, but most of the major highlights at Letchworth are found in the south end of the park.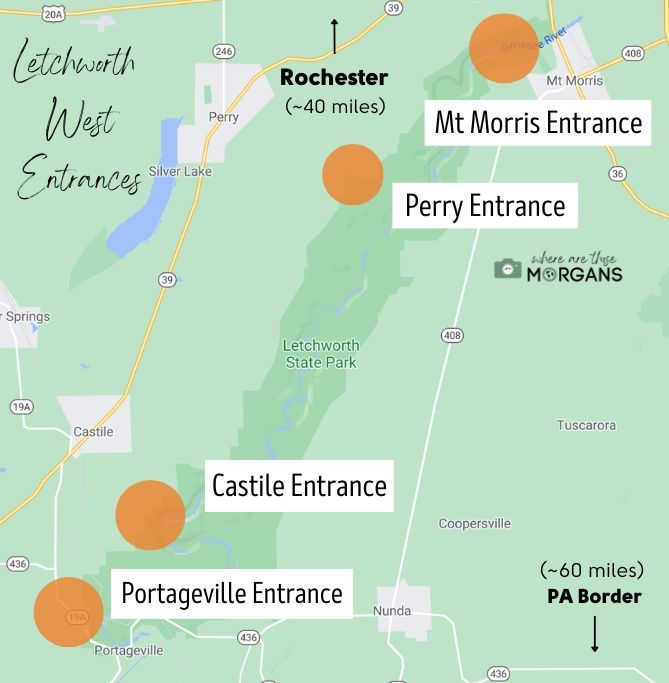 If you enter Letchworth at a northwest entrance and drive the entire way through the state park, it will be slow going due to the slower speed limits (35 mph in most sections).
This slower speed means it will take longer to reach the Letchworth State Park waterfalls compared to driving around the edge of the park on faster roads and entering via Castile or Portageville to the South.
However, entering at the northwest end of the park is a much more scenic drive.
Therefore, if you are pressed for time (such as arriving in time for sunrise) drive around and enter at Castile OR if you have plenty of time, enter at Northwest and enjoy the scenery.
Travel Tip: We usually enter Letchworth via Castile for sunrise, spend the day hiking, drive through the entire park and leave via one of the northwest entrances.
Letchworth State Park Directions
Here are distances from nearby cities closest to Letchworth State Park entrances:
Rochester NY to Mount Morris entrance – 44 miles (45m) on I-390 S
Syracuse NY to Mount Morris entrance – 115 miles (1h 48m) on I-90 W / I-390 S
Buffalo NY to Castile entrance – 58 miles (1h 10m) on NY-400 S / NY-78 S
Toronto Canada to Castile entrance – 250km (2h 50m) on QEW / NY-400 / NY-78
NYC to Letchworth (Portageville entrance) – 319 miles (5h 15m) on I-80 / I-380 / I-81 / I-86 / I-360
If you are flying into the Finger Lakes region to road trip the awesome state parks and stunning scenery, search for flights using Skyscanner and find airport hire cars with Rental Cars.
We regularly use and always recommend both platforms when booking trips.
Here are the closest airports to Letchworth State Park if you are coming from further afield:
Greater Rochester International Airport (ROC) – 40 miles (42m)
Syracuse Hancock International Airport (SYR) – 115 miles (1h 50m)
Buffalo Niagara International Airport (BUF) – 60 miles (1h 15m)
Newark Liberty International Airport (EWR) – 312 miles (4h 50m)
Want to find great deals on flights? Don't miss our popular guide featuring how to book cheap flights.
Can I Drive Through Letchworth State Park?
Yes, you can easily drive through Letchworth State Park. The park spans 17 miles with mostly paved roads and you can access the best things to do in Letchworth quite easily with minimal walking.
Many of the scenic overlooks in the park are located very close to the road, but most attractions are located on the west side of the Genesee River.
Lower Falls at Letchworth is only accessible via a short but fairly steep hiking trail.
There are several parking areas with plenty of parking spaces to accommodate crowds on busier days. Short paved paths lead to Middle and Upper Falls as well as the Glen Iris Inn.
Driving through Letchworth State Park, especially in the fall, is an amazing way to spend a day exploring the beautiful NY Finger Lakes region.
Is Letchworth State Park Open?
Letchworth State Park is open year round from 6:00am – 11:00pm. Many of the hiking trails remain open in the winter and become extremely popular with cross country skiers.
However, you can expect disruptions to access roads in and around Letchworth during the winter season following heavy snowfall in the Finger Lakes region.
There are many attractions within Letchworth State Park and each new season welcomes unique outdoor activities. You can visit Letchworth in every season and have a completely different experience.
Nearby Robert H. Treman, Buttermilk Falls and Watkins Glen State Park all have gorge trails that close to the public from fall through spring.
But similarly to nearby Taughannock Falls State Park, Letchworth remains open all year to visitors which makes this NY park worth visiting.
Letchworth State Park Entrance Fees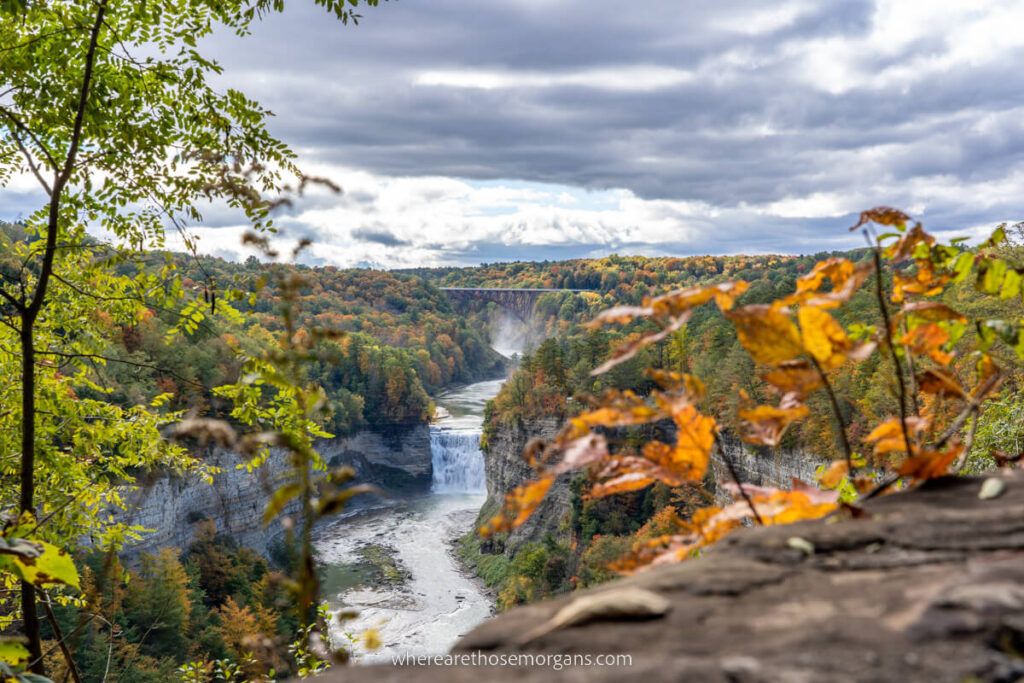 While there is no official entrance fee for Letchworth, most New York State Parks charge a vehicle entry fee.
The cost to enter Letchworth State Park is $10 per vehicle and $75 for commercial buses. Entrance fees are collected from the beginning May until the end of October between the hours of 9:00am and 5:00pm.
Entry to Letchworth is free if you visit between the months of November and April any time of day. There is also no entry fee to Letchworth if you enter the park before 9:00am and after 5:00pm any day of the year.
Travel Tip: We always arrive to Letchworth before sunrise to shoot landscape photography. This early arrival eliminates the vehicle entrance fee and gives us a prime parking spot.
New York State Empire Pass
If you are a frequent visitor to any NYS park, you should consider purchasing an Empire Pass. This wallet-sized pass grants you unlimited day use vehicle entry to NYS Parks, including forests, beaches, trails and so much more.
Empire passes are available for the individual season, multi-year or lifetime use. Just present your pass at the entrance station and your Empire Pass will waive the vehicle fee for day use entry.
Another benefit to the Empire Pass is the pass can be for an entire household. This pass is not assigned to a specific vehicle so it can be used by parents, grandparents or anyone in the family.
The 2023 Season Empire Pass will be accepted through December 31, 2023 and you can purchase it online or in person at any of the NY state parks.
Price for the New York State Empire Pass:
2023 Season Empire Pass – $80
3-Year Empire Pass – $205
5-Year Empire Pass – $320
Lifetime Empire Pass – $750
For more information or to purchase an Empire pass, click here.
Letchworth State Park Parking Options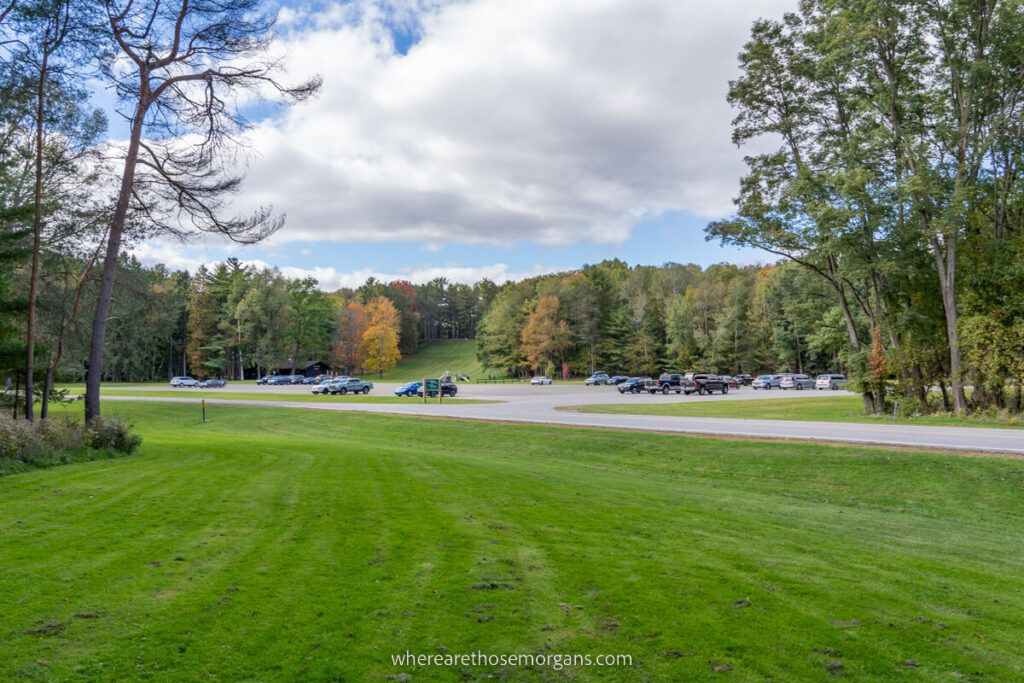 Letchworth State Park is 17 miles long in total and because there are multiple entrances, you will usually be able to find ample parking throughout the entire park.
But if you visit during a holiday weekend in summer, you may have trouble finding parking at the main attractions.
Each of the main regions in Letchworth have large parking lots and when these lots fill up, you can always find parking along the road.
We recommend you use our guide to figure out what things you want to do in Letchworth and then park by that specific activity or region.
After you have finished your Letchworth activity, you can always move your vehicle to another location.
We have included parking information throughout this guide when applicable so you will know exactly where to go when visiting.
Travel Tip: The parking lot by Middle Falls and the Glen Iris Inn or Inspiration point is always the busiest so if this is where you plan to go, we suggest you try to arrive early to beat the crowds.
18 Best Things To Do In Letchworth State Park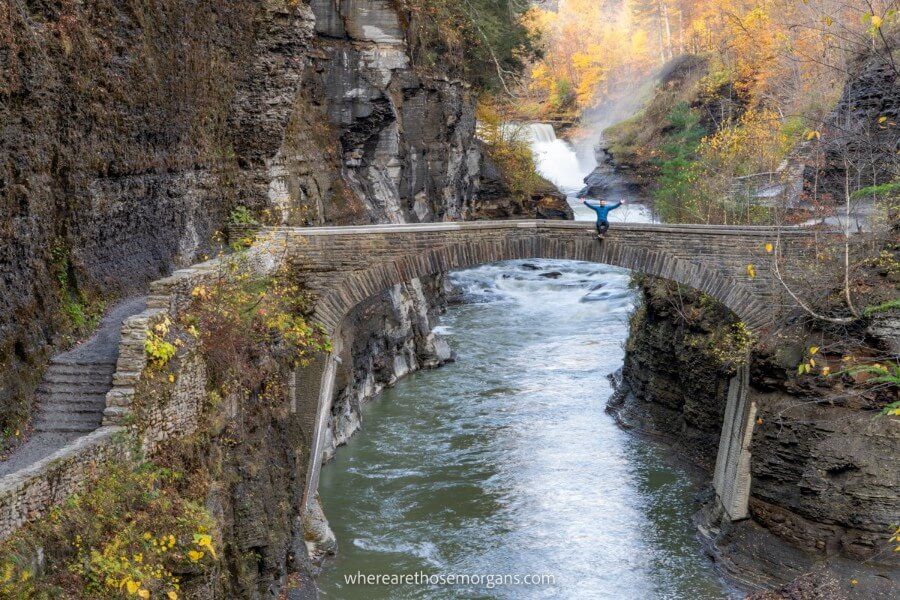 Letchworth State Park well known for hiking and photography, but there is something here for the entire family ranging from swimming pools and whitewater rafting to hunting and balloon rides.
We have visited Letchworth State Park multiple times and always find new trails or activities. Below we have listed popular things to do at Letchworth with a few unique options.
1. Visit Letchworth's Three Popular Waterfalls
You can easily visit Lower, Middle and Upper Falls at Letchworth along the Gorge Trail. Later in this guide, we will show you how to get to each waterfall and what to expect.
2. Rent A Campsite Or Cabin
With over 300 cabins and campsites to choose from, Letchworth makes for an extremely popular camping location. But camping sites fill quickly especially in the summer months so it's best to reserve as soon as possible.
If you are interested about camping options at Letchworth, scroll to the bottom of our guide.
3. Hike The 28 Trails At Letchworth State Park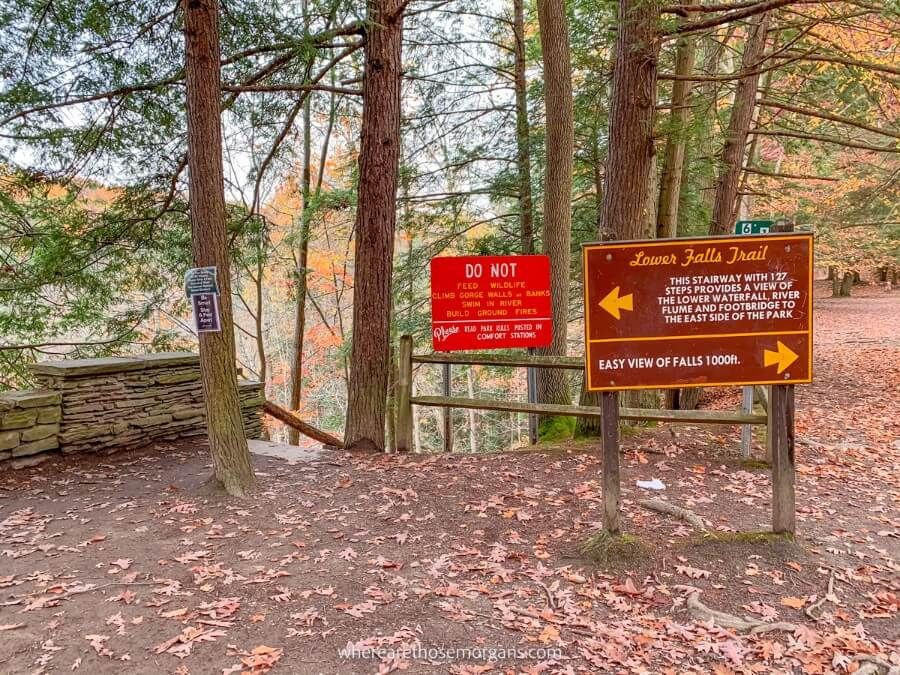 Letchworth State Park has over 60 miles of hiking trails for visitors to explore. But the gorge trails are by far the most heavily trafficked. You can expect extremely crowded trails in summer, especially on the weekends.
There are 28 official Letchworth State Park hikes each with varying lengths ranging from easy to moderate difficulty with some of the moderate trails having steep slopes.
We like how the hiking trails in Letchworth are located on both the east and west side of the park so you have access to trails no matter how you enter.
If you are looking for solitude and a peaceful hiking experience, enter the park via one of the two east entrances. Here, you will find a 20 mile stretch of the Letchworth Trail which connects a 900+ mile Finger Lakes Trail System.
The good news is you won't see as many hikers if you opt for the east side. But if you stick to the west bank of the Genesee, you will find over a dozen trails of varying length between busy waterfalls and the area north of Letchworth.
The hiking trails on the west side are the most trafficked areas, but certainly worth a visit. Later in this Letchworth guide, we will discuss the most popular trails with highlights of each hike.
4. Photograph The Historic Genesee Arch Bridge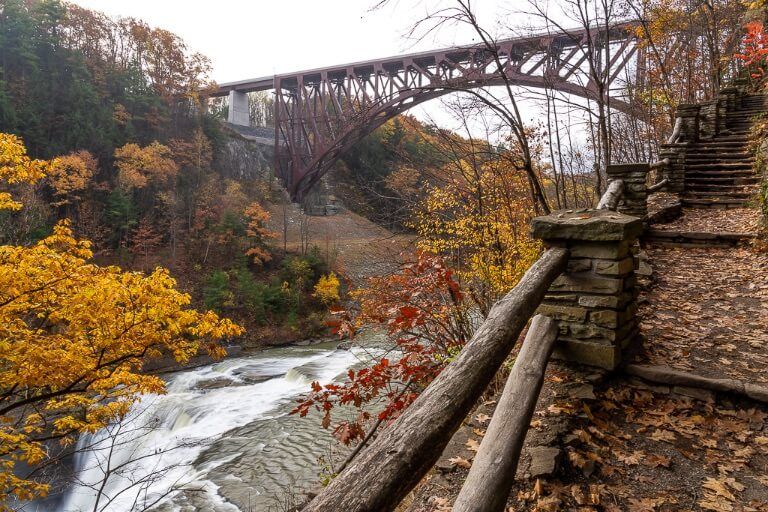 The Genesee Arch Bridge (or Portage Bridge) is a famous steel railroad bridge near Upper Falls in Letchworth State Park.
Since the original bridge was built in 1875, the Genesee Arch bridge has been replaced two times. At the time of its original construction, this bridge made headlines as the longest and tallest wooden bridge in the world.
The bridge stands 234 ft above Upper Falls and 850 ft across the gorge. This railroad bridge is easily one of the most photographed locations in Letchworth State Park.
If you are lucky enough, you will see a train cross the Genesee Arch Bridge when you visit.
5. Humphrey Nature Center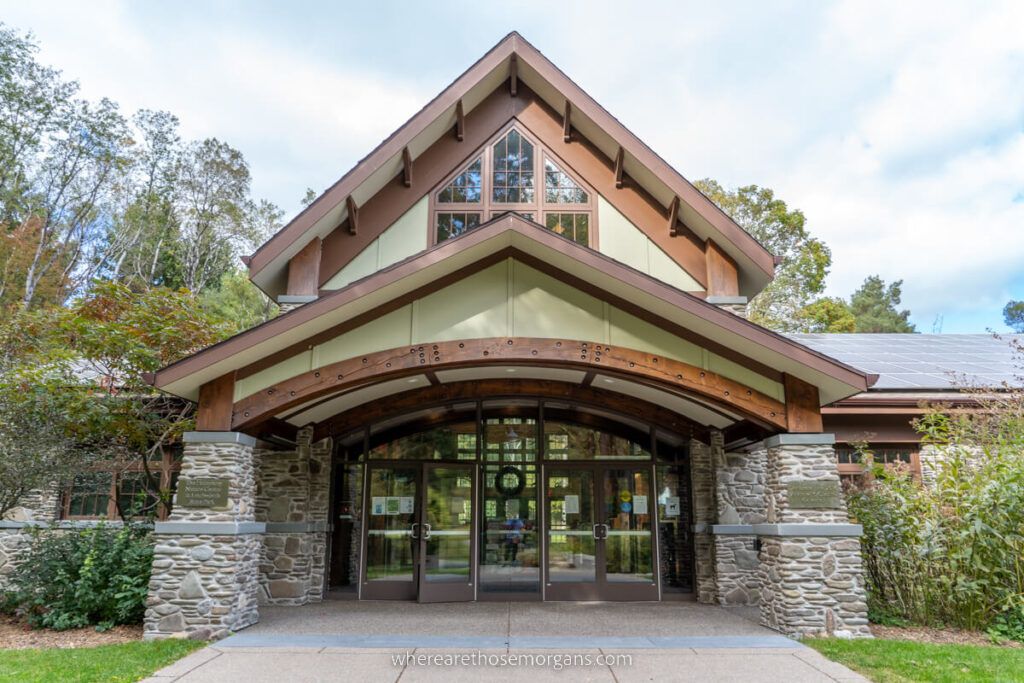 The Humphrey Nature Center is found near the Castile Entrance and it is open daily from 10:00am – 5:00pm.
Opened in 2016, this center is a great place to visit if you want to learn more about Letchworth through interactive exhibits featuring history, geology and river ecology of the park.
In addition to the exhibits, the Humphrey Nature Center features a video through the gorge during each of the four seasons, an outdoor classroom, butterfly garden and bird observation station.
Programming is available to teach kids about geology, wildlife and botany. Check the Humphrey Nature Center events here.
There are also short hiking trails originating at the Nature Center leading to Trout Pond, Inspiration Point Overlook and patches of old growth forest.
Travel Tip: Kids will love the tree slide in the Humphrey Nature Center!
6. Autism Nature Trail (ANT)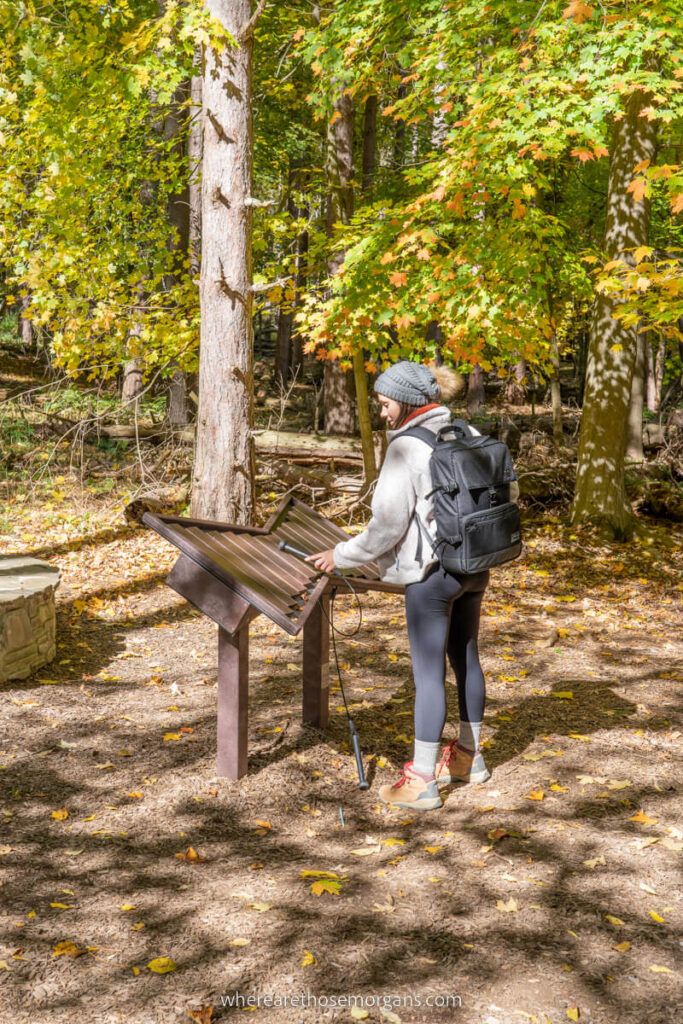 The Autism Nature Trail is one of the newest experiences at Letchworth State Park and this beautiful trail is designed for visitors with autism spectrum disorder (ASD) as well as different levels of abilities.
This trail is a 1.0 mile loop with eight different stations appropriate and enjoyable for visitors of all abilities or ages. Short cuts are also available if you don't want to walk the entire trail.
Here are the eight stations at the Autism Nature Trail:
Celebration Station – Chalkboards for recording impressions
Design Zone – Area to construct creations from natural materials
Meadow Run & Climb – A place to build strength + coordination
Music Circle – Three nature-inspired instrument with 2 alone zones
Playful Path – Series of loops made from multiple surfaces
Reflection Knoll – Quiet place to listen to nature
Sensory Station – Items commonly found in the forest
Sunshine Slope – Gentle slope in full sun with cuddle cocoons
Personally, we thought the ANT was incredibly well done and we had a lot of fun playing with the kids along the trail. The Trailhead Pavilion serves as the entry and exit point for the ANT.
Travel Tip: Use the Castile entrance from NYS Route 39/19A to reach the Autism Nature Center quickly. Once inside Letchworth, it's about a 5 minute drive to reach the ANT next to the Humphrey Nature Center.
7. Stop By The Letchworth Visitor Center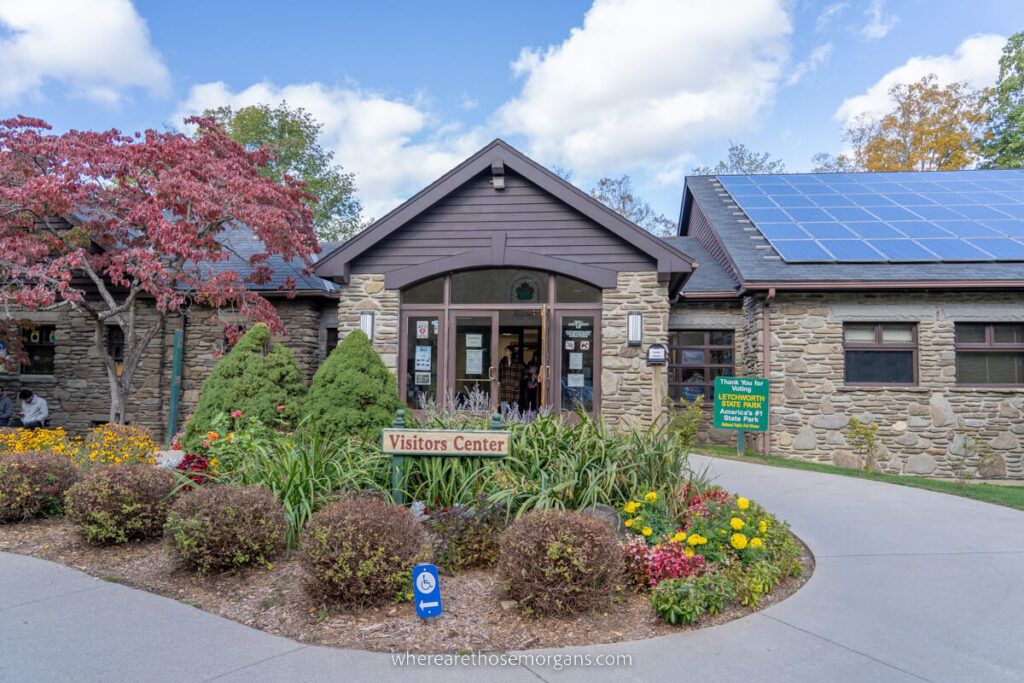 Visitor centers are always a great way to start your visit to a State or National Park. The two visitor centers in Letchworth are located near the south end entrances at Castile and Portageville.
The largest Letchworth visitor center is located near Inspiration Point. Stop here for the main offices to the park, a staffed desk, informational kiosks, gift shop, and restrooms.
Staff at the visitor center can help answer any questions you may have about the park with maps, guides, tips or anything you may need.
8. See The Mount Morris Dam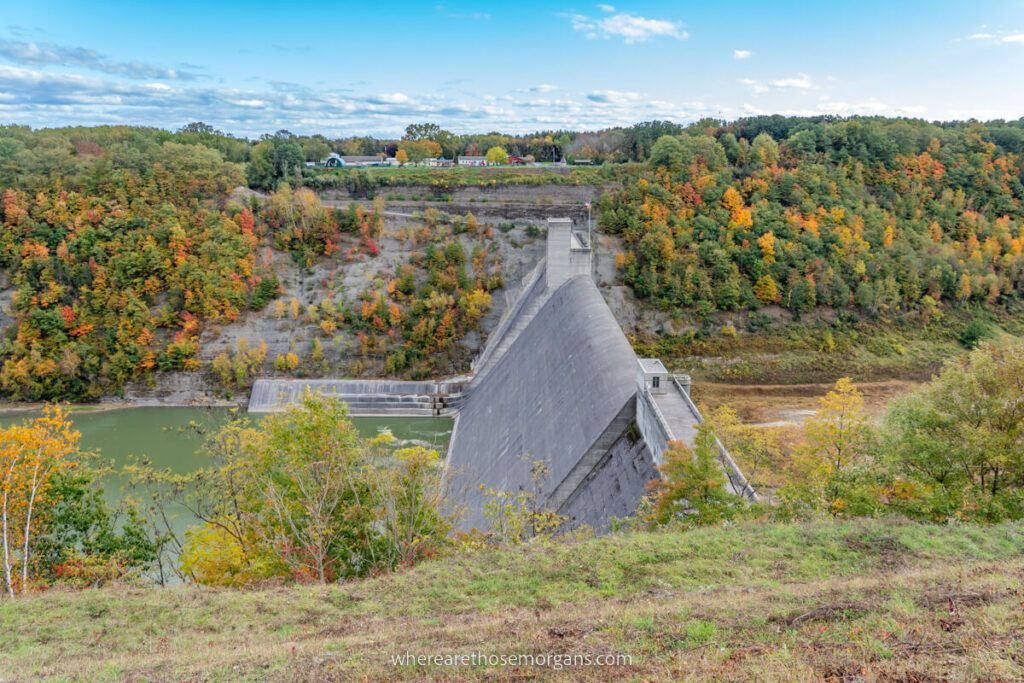 The Northern section of Letchworth State Park is home to the Mount Morris Dam. This is a fully functional dam created by the United States Army Corps of Engineers and one of our favorite attractions in the park.
You can book guided tours through the 1.5 mile dam and you will learn how this dam has provided flood protection for 67 miles of the Genesee River Valley since the 1940s.
>> Book a Mount Morris Dam tour here.
9. Swim At The Harvey Swimming Pool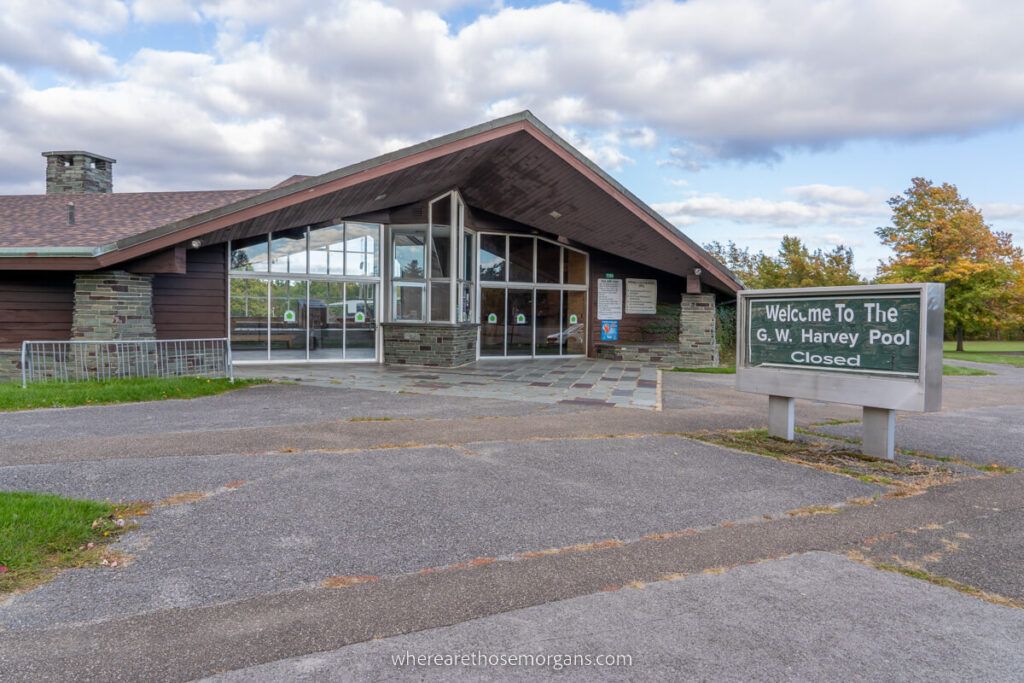 The Harvey Swimming Pool is found at the Highbanks Recreation Area in the northern section of Letchworth State Park and it is typically open from late June to Labor Day in September.
Swimming hours at this Olympic-sized swimming pool are 11:00 am – 5:45 pm Monday to Friday and 11:00 am – 6:45 pm on both weekend or holidays.
The Highbanks Recreation Area is a very popular place to swim in the summer, but it's also good for camping, hiking, biking and enjoying a picnic. There are numerous playgrounds here for kids too.
10. Learn At The William Pryor Letchworth Museum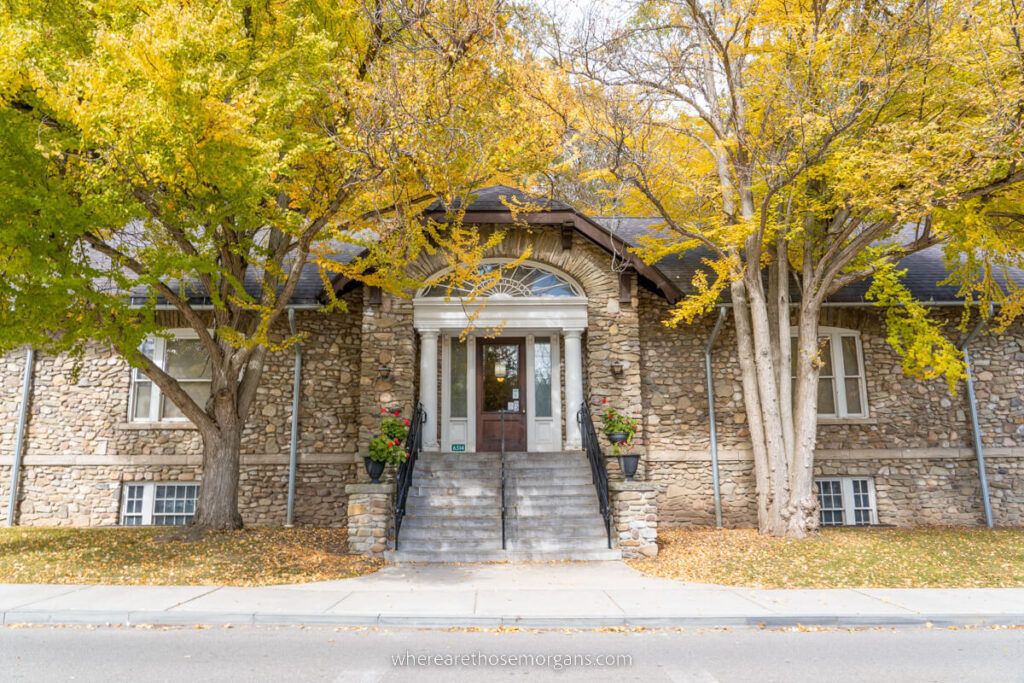 The William Pryor Letchworth Museum is home to a collection of Indigenous and pioneer artifacts from the Genesee Valley as well as archeological and natural history displays.
The museum is located near the Glen Iris Inn by Middle Falls and is open from 10:00am to 5:00pm everyday May through October.
If you have time, we recommend stopping by this small museum because there are interesting artifacts and photographs about Letchworth State Park.
11. Bring Binoculars To Watch The Birds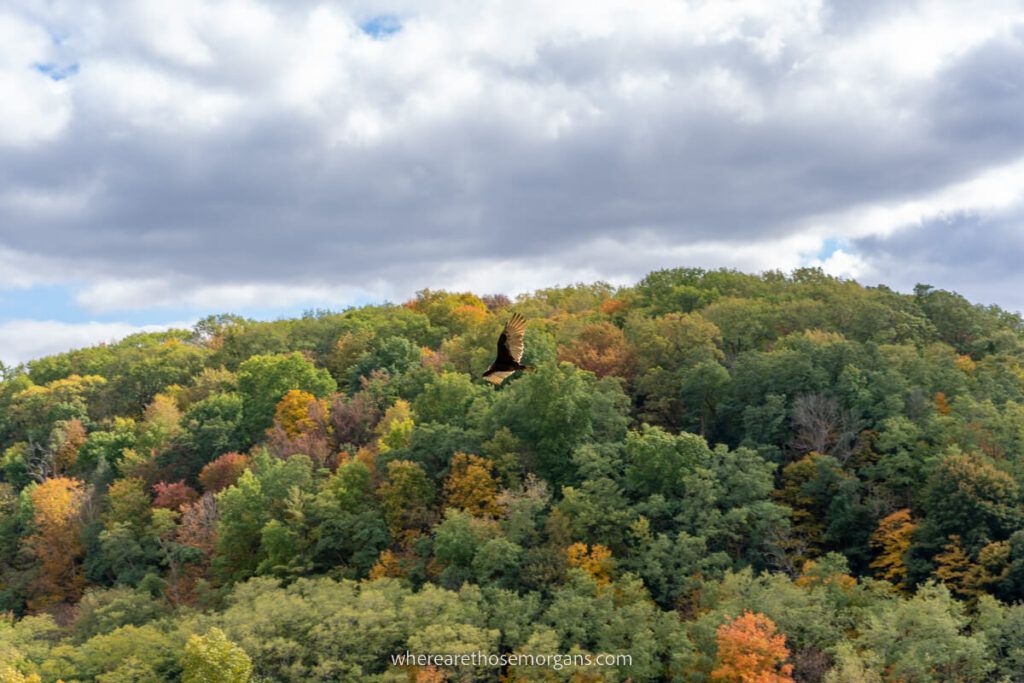 Did you know, the Mount Morris Dam attracts over 2,000 Canada Geese in the winter?
Neither did we, but this means there are many bird conservation areas in Letchworth so the park is a perfect location for birdwatching.
You will find Great Blue Heron rookeries, 75 species of Neotropical migratory songbirds, 30 species of warblers, 534 pairs of Hooded Warblers and even winter roosts of 15-20 Turkey Vultures.
This small list has only scratched the surface of birds you can expect to see at Letchworth so don't forget the binoculars.
12. Enjoy Letchworth's 5 Scenic Viewpoints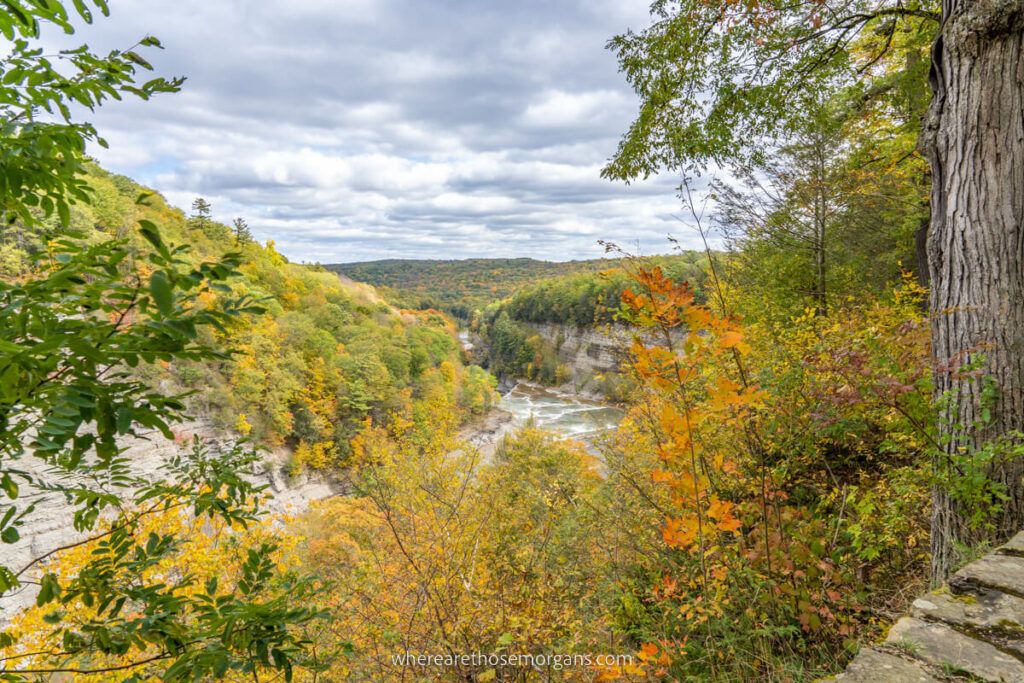 Letchworth State Park is one of our favorite places in upstate New York for watching gorgeous sunsets and sunrises. As soon as the fog creeps over the valley, the scenery is breathtaking.
There are numerous locations scattered throughout the park where you can watch a stunning sunset or sunrise with your loved one.
Or if you visit during the day, you will have stunning views of the entire park if you visit each of Letchworth's scenic viewpoints.
Here are the 5 best viewpoints at Letchworth State Park:
Inspiration Point
Great Bend Overlook
Eddy's Overlook
Archery Field Overlook
Hogs Back Overlook
Use our interactive map at the end of this Letchworth guide to locate all 5 Letchworth overlooks when you visit.
13. Fly High Over Letchworth State Park In A Hot Air Balloon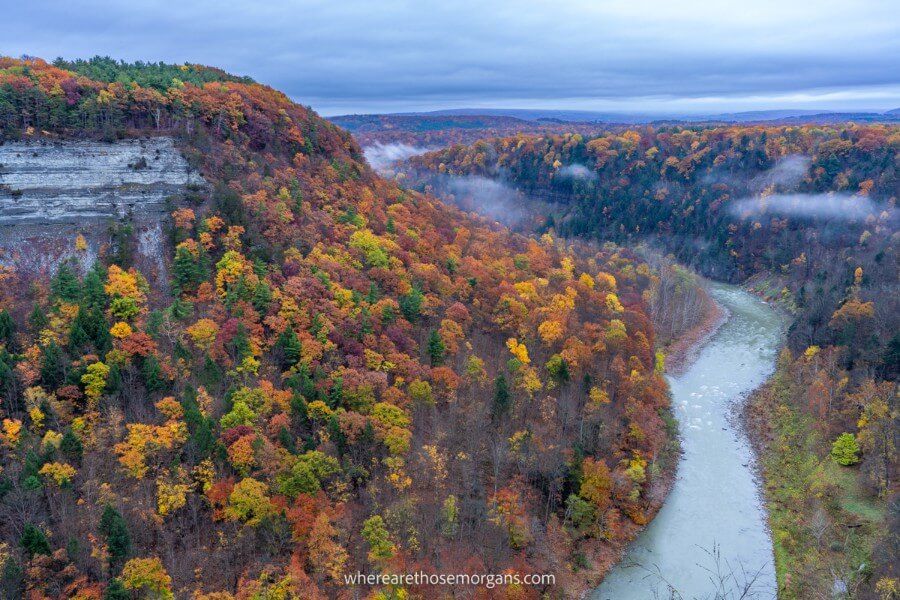 If you want to see the magnificent views of Letchworth State Park from the sky, you should consider a hot air balloon ride over the entire valley.
Balloons Over Letchworth provides tours from the parking lot of Upper Falls and the balloon ride will continue as you traverse along the Genesee River.
The shared basket price is $365 per person and a private flight is $1400 per couple.
14. Go White Water Rafting
Adventure Calls Outfitters offers white water rafting adventures through the Genesee River. If you are a thrill seeker, this is a great activity for you!
During your ride, you might see beavers, deer, eagles, hawks, raccoons, and river otters as you zoom down the water. The price for white water rafting is around $50 per person.
15. Have A Picnic At Wolf Creek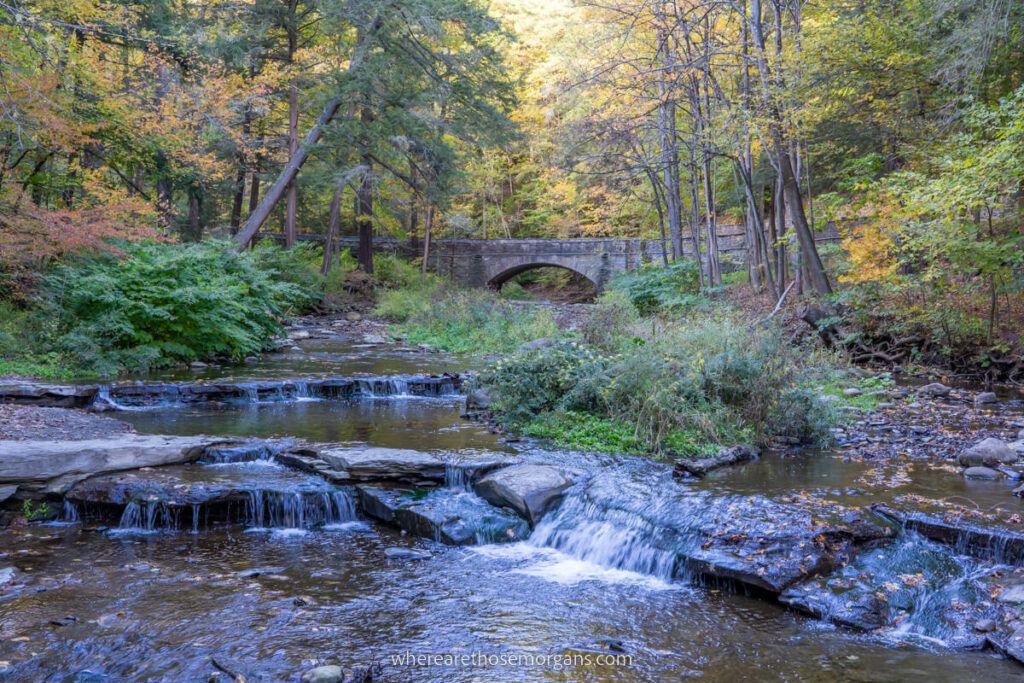 If you are looking for a place to slow down and enjoy some lunch, we always love to visit the area by Wolf Creek because there are numerous picnic tables in a relaxing setting.
Look for a small parking area near Wolf Creek right off E Park Road. When you pull in, you will see picnic tables located in the shade directly next to the creek.
Sometimes Wolf Creek can become very busy, but you have the option to walk across the bridge to the other side of this small cascading waterfall.
16. Stop By The Council Grounds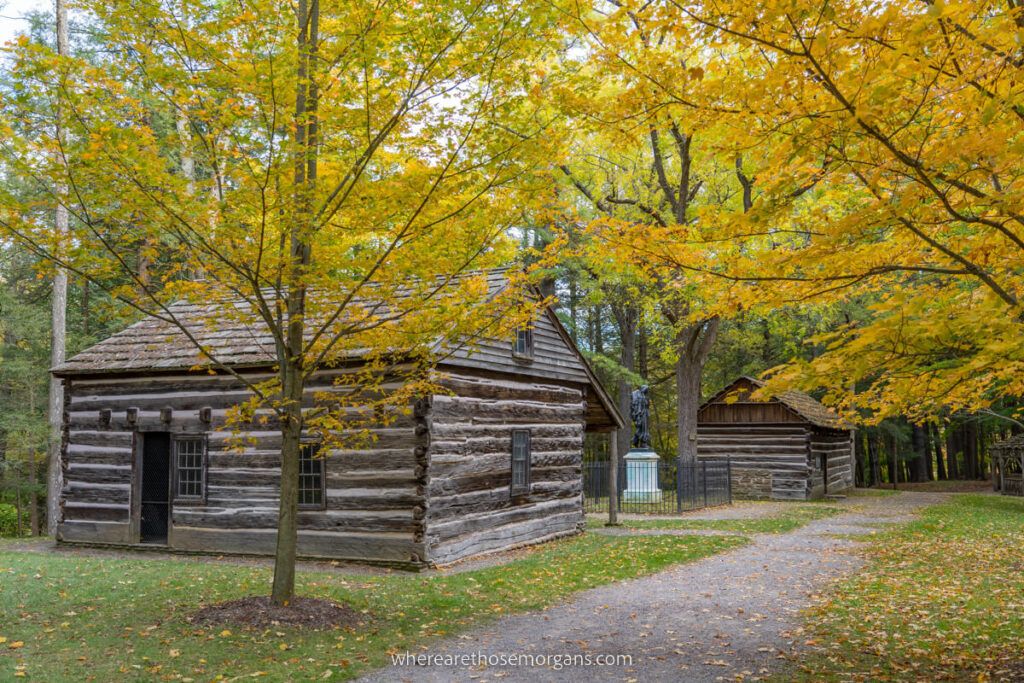 The Council Grounds is certainly a lesser known area of Letchworth, but offers a glimpse into the past with two old dwellings as well as the gravesite of Mary Jemison.
If you are interested in learning about the history of Letchworth, we recommend you visit because the first house closest to the parking lot is a Revolutionary War-era Seneca Council House.
The second log cabin at the Council Grounds was home to Mary Jemison. It originally stood on the Gardeau Flats along the Genesee River and was built in the early 1800's.
You can also find the start of trail #2 near the Council Grounds.
17. Enjoy A Meal In Lower Falls Restaurant Or Glen Iris Inn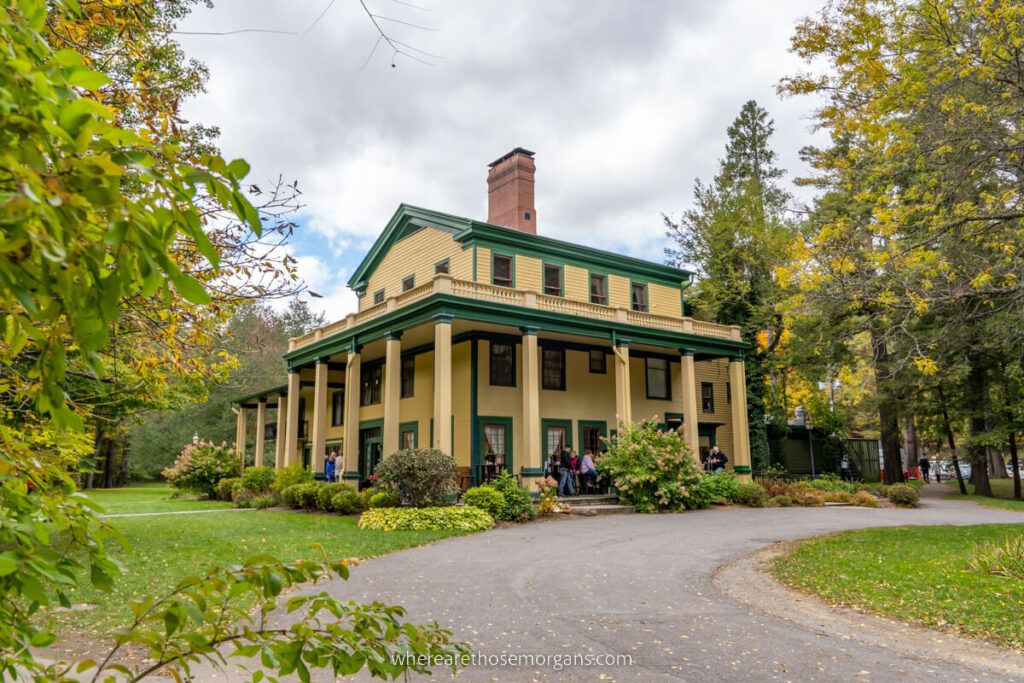 If you are getting hungry while exploring Letchworth State Park, the two main food options are the Glen Iris Inn or Lower Falls Restaurant.
Built in 1828, the Glen Iris Inn is the old country estate of William Pryor Letchworth and has been welcoming guests for both meals and overnight stays since 1914.
The Glen Iris Inn overlooks Middle Falls and offers a high-end American restaurant. Caroline's Dining Room at the Inn serves breakfast, lunch and dinner daily.
Lower Falls Restaurant often has mixed reviews. This restaurant has been the exact same for decades and while the food isn't amazing, it offers a great atmosphere.
You can expect an extensive menu at Lower Falls Restaurant with burgers, subs, grilled chicken sandwiches, salads, ice cream, veggie burgers and more.
Both of these restaurants will close in the winter season so plan accordingly.
18. Visit The National Warplane Museum
While this museum is not directly in Letchworth State Park, it is located about 7 miles north near the town of Geneseo, NY and this is an activity for the history lovers.
Founded in 1944, this museum features aircrafts from World War II, the Korean War and the Vietnam War as well as honors the men and women who have served.
The National Warplane Museum also hosts the annual Geneseo Air Show which showcases modern fighter jets and vintage warplanes from the United States Air Force.
Hiking Trails At Letchworth State Park, NY
Hiking at Letchworth State Park can be tricky because there are no official trail signs located along the roads. You basically have to drive slowly and keep your eyes peeled for the trail you want.
But you will find the popular hiking trails just by the crowds alone. If you are hiking a lesser known trail, look for small signs in front of the forest clearings stating trail numbers.
28 Hikes At Letchworth State Park
Each hiking trail in Letchworth corresponds with a specific number #1 – 23, except for the Letchworth section on the Finger Lakes Trail.
We have listed all 28 Letchworth State Park trails in order as well as included length and difficulty.
Here is a detailed map of Letchworth hiking trails here. Use this hiking map of Letchworth to help you scout out the trailheads for each hike on your bucket list.
If you want to see the best hiking trails at Letchworth, keep scrolling.
(1) Gorge Trail – Moderate, 7.0 miles
(2) Mary Jemison – Easy, 2.5 miles
(2A) Hemlock – Moderate, 2.5 miles
(3) Trout – Easy, 0.75 miles
(4) Birch – Easy, 0.75 miles
(5) Lee's Landing – Easy, 1.0 mile
(6) Portage – Easy, 0.5 miles
(6A) Footbridge – Moderate, 0.5 miles
(7) Genesee Valley Greenway – Easy, 5.75 miles
(8) River Road – Easy, 2.75 miles
(8A) Bluejay – Easy, 0.5 miles
(9) Dishmill Creek – Moderate, 3.0 miles
(10) Big Bend – Easy, 2.5 miles
(10A) Trillium – Easy, 0.5 miles
(11) Deer Run – Easy, 1.5 miles
(12) Seneca – Moderate, 0.75 miles
(13) St. Helena – Moderate, 1.25 miles
(14) Gardeau – Moderate, 0.5 miles
(15) Smokey Hollow – Easy, 2.25 miles
(16) Bear Hollow – Easy, 2.0 miles
(17) Big Flats – Easy, 1.25 miles
(18) Kisil Point – Easy, 1.75 miles
(19) Gibsonville – Easy, 0.5 miles
(19A) Chipmunk – Easy, 0.5 miles
(20) Highbanks – Easy 4.75 miles
(21) Powerline – Easy, 0.75 miles
(22) Sycamore – Moderate, 0.75 miles
(23) Wildlife Loop – Easy, 1.0 mile
(FLT) Finger Lakes Trail – Easy, 24 miles (also called Letchworth Trail)
Looking for a new hiking app? Read our guide to the best hiking apps for both beginners and pros or use our link to receive 20% off a Gaia GPS hiking subscription.
8 Best Hikes In Letchworth State Park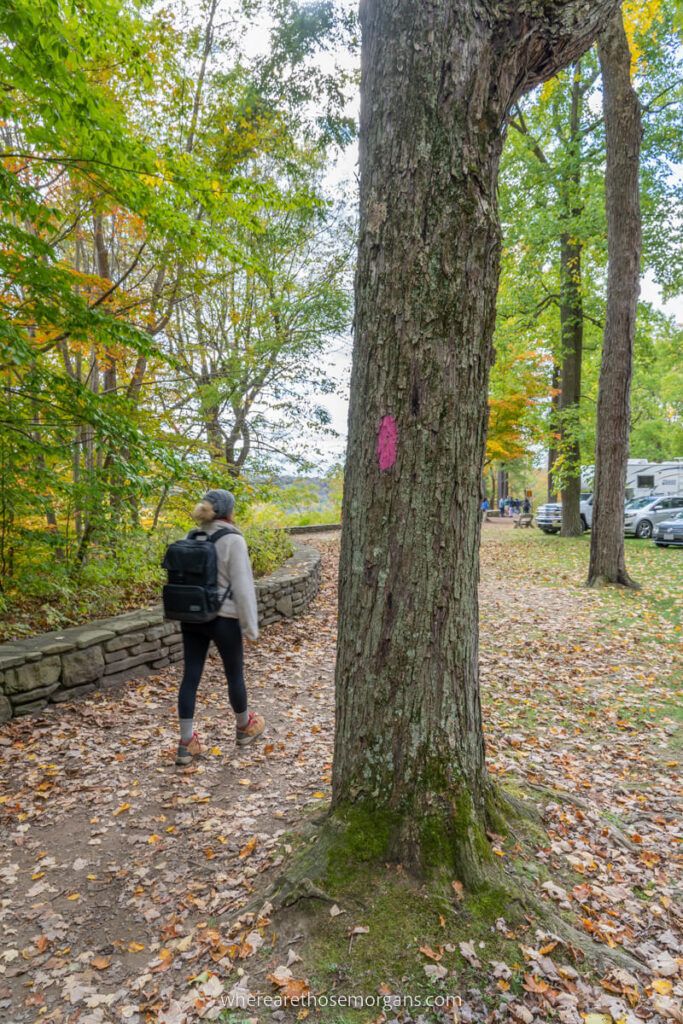 If you are a first time visitor to Letchworth, we recommend you start with the best hikes listed below. But if you are a returning visitor, we suggest you try a few of the lesser known trails we listed above.
These well known hiking trails at Letchworth will feature most of the gorgeous views.
1. Gorge Trail (#1)
The Gorge Trail is one of the most popular trails at Letchworth State Park and it runs parallel to Park Road. This hike links Upper, Middle and Lower Falls as well as passes many scenic viewpoints including Inspiration Point.
The entire Gorge Trail is about 14.0 miles (7.0 miles one way), but most people only hike a small section of this trial depending on what they want to see.
Certain sections along the Gorge Trail have steep banks and many steps, but overall this trail is considered moderately challenging.
How To Get To The Gorge Trail:
Drive to the Glen Iris Inn and park at Middle Falls parking lot. This parking lot will lead straight to the viewpoint for Letchworth Middle Falls.
Middle Falls Parking Lot Google Maps Location.
From here, you can follow the Gorge Trail left about 1.5 miles to Lower Falls or head right for about 0.5 miles to Upper Falls where you will see the famous Genesee Arch Bridge.
Hiking Tip: If you have the time, be sure to hike both ways to see all 3 Letchworth waterfalls.
2. Mary Jemison Trail (#2)
The Mary Jemison Trail is dedicated to the famous White Woman of the Genesee and this is consistently one of the best Letchworth hikes.
This is an easy 2.5 mile hike in the woods with two access points, one at Council Grounds and the other at the railroad bridge parking area.
Check recent comments for the Mary Jemison Trail here.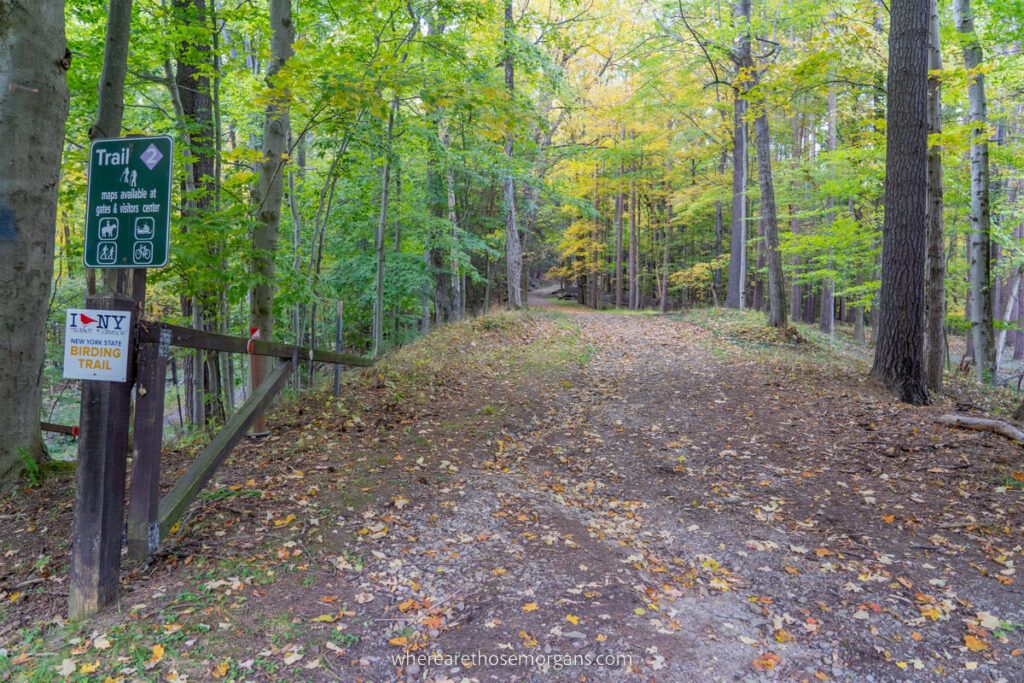 3. Hemlock Trail (#2A)
The Hemlock Trail is just shy of 3.0 miles featuring century old hemlock trees as well as the 50 ft (15m) Deh-ga-ya-soh Falls and multiple ravines.
This trails veers off the Mary Jemison Trail near Council Grounds and then passes Trout Pond as well as Trailside Lodge as it continues to the Castile Entrance.
Check recent comments for the Hemlock Trail here.
4. Lee's Landing (#5)
This easy 1.0 mile trail follows an old wood launch which was used to transport lumber to the city of Rochester. Keep in mind this is an easy way down, but it will be a moderate climb back up.
Lee's Landing trail begins off the Gorge Trail near the Footbridge Nature Shop just past the cabin area B.
Check recent comments for Lee's Landing here.
5. Portage Trail (#6)
This short half a mile trail was originally made in the 1930s to helps portage canoes travel down the river by avoiding the park's three big waterfalls.
The Portage trail is an easy trail that follows the gorge edge and several small overlooks. This trail terminates in the woods by the stone footbridge which connects the east and west of the park.
Check recent comments for the Portage Trail here.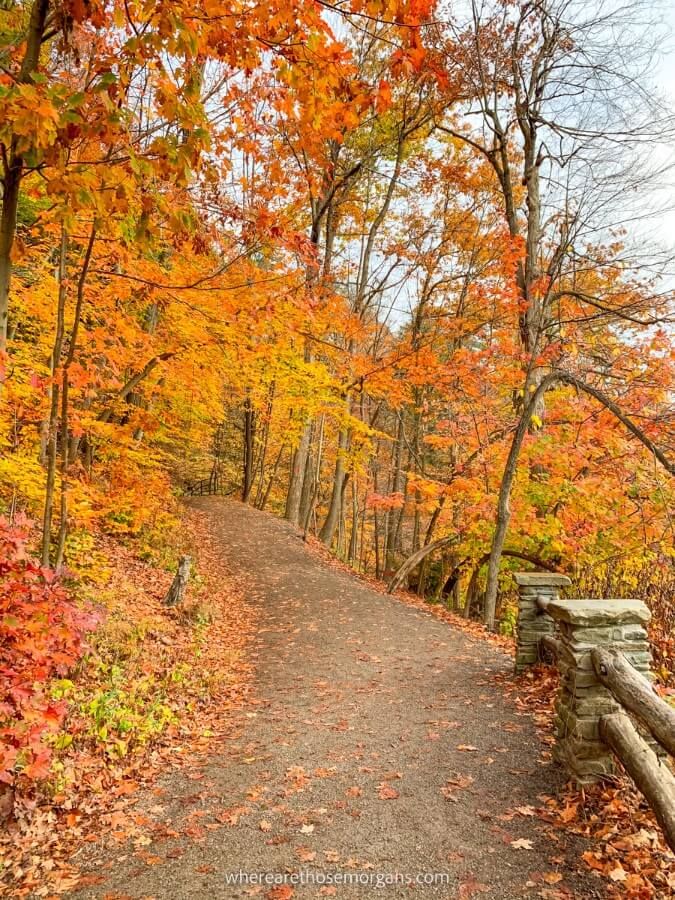 6. Footbridge Trail (#6A)
Together with the Portage trail, the Footbridge Trail connects the wilder eastern side of the park to the more popular western side of Letchworth.
This is the only trail that crosses the Genesee River and is great for views of Lower Falls.
After crossing the river, the trail transitions to a dirt road. The 0.5 mile Footbridge Trail can be accessed from the north via stone steps.
7. Genesee Valley Greenway Trail (#7)
The Genesee Valley Green Way (GVG) trail is a fairly easy 5.75 mile trail with a few moderate ups and downs.
This hike follows the path of the former Genesee Valley Canal which existed from 1836 to 1878, followed by the Pennsylvania Railroad. The GVG also briefly connects with the Letchworth Trail.
Check recent comments for the Genesee Valley Greenway Trail here.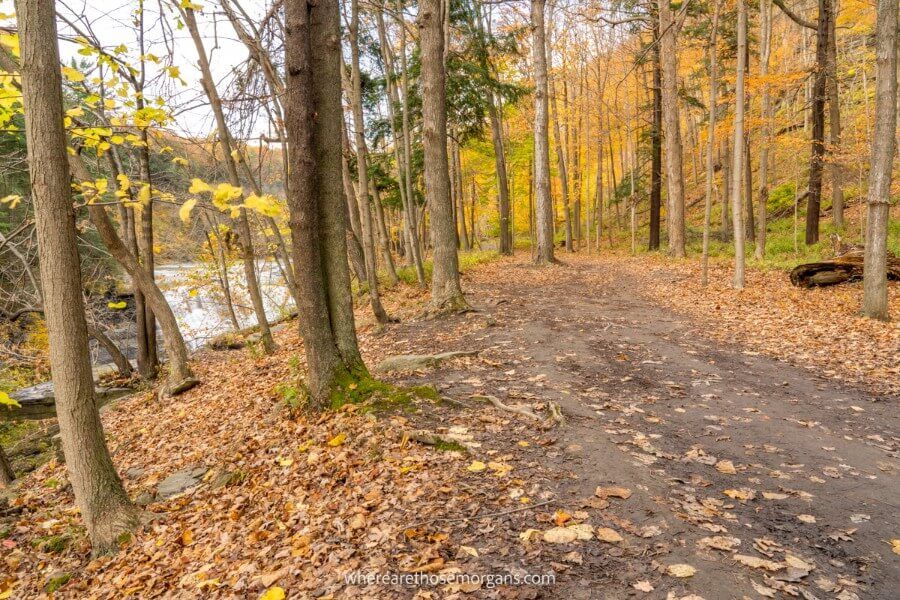 8. Finger Lakes Trail (FLT) – Letchworth Section
This 24.0 mile trail is a great backpacking or a long day hike option. This trail follows the eastern rim of the gorge and passes through many of Letchworth's best sites.
The Letchworth section of the longer Finger Lakes Trail is marked with yellow blazes. We often day hike sections of this trail when we want a longer hike.
Our Typical Letchworth Hiking Route
With so many Letchworth hiking options, it can be overwhelming when it comes to knowing where to start. Here is our typical hiking route when hiking and photographing Letchworth State Park:
Park the Lower Falls trailhead (where it is typically less busy), hike down to Lower Falls, then continue past Inspiration Point, Middle Falls and Upper Falls before returning back along the same trail to the car.
Our hike ends up being around 4-5 miles return trip.
Are Dogs Allowed On Letchworth State Park Hiking Trails?
In Letchworth, dogs are allowed on hiking trails as long as they are leashed. Many dog walkers use the quieter forest trails north of the waterfalls.
Letchworth State Park Waterfalls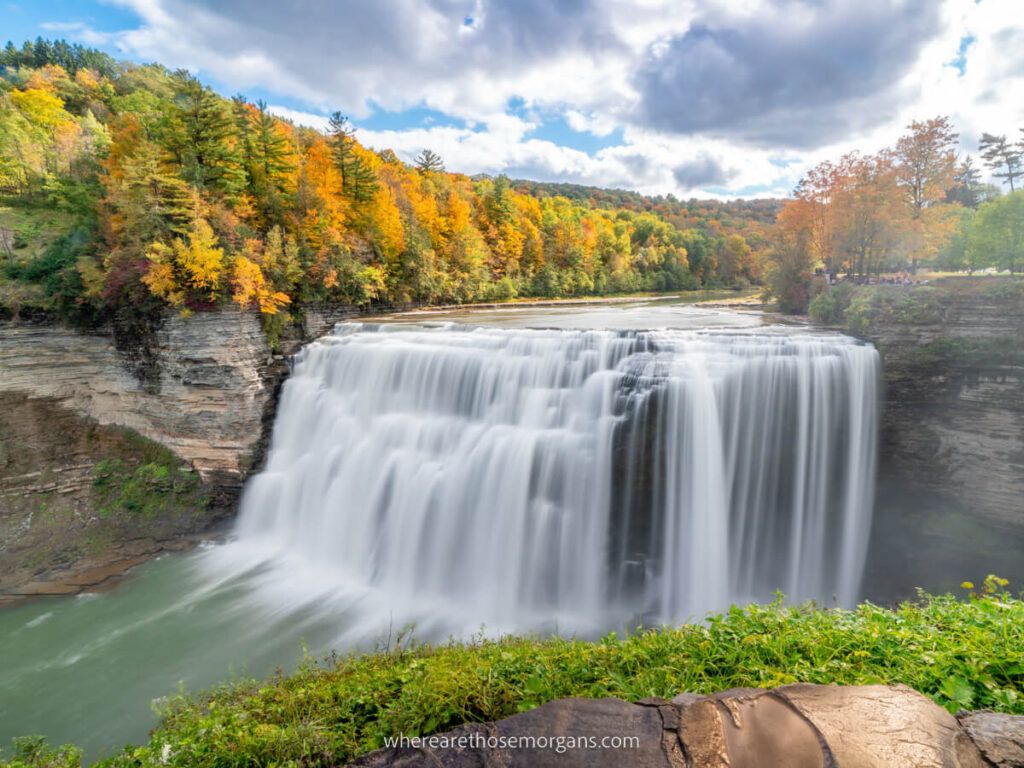 Letchworth is home to not one, not two, but three noteworthy waterfalls.
We always joke that whoever named them Lower, Middle and Upper falls must have been feeling entirely uninspired but at least they are easy to remember.
Each waterfall at Letchworth State Park has a distinguishing feature which make them unmissable on a day trip.
Let's take a look at each of the three major Letchworth State Park waterfalls:
1. Letchworth Lower Falls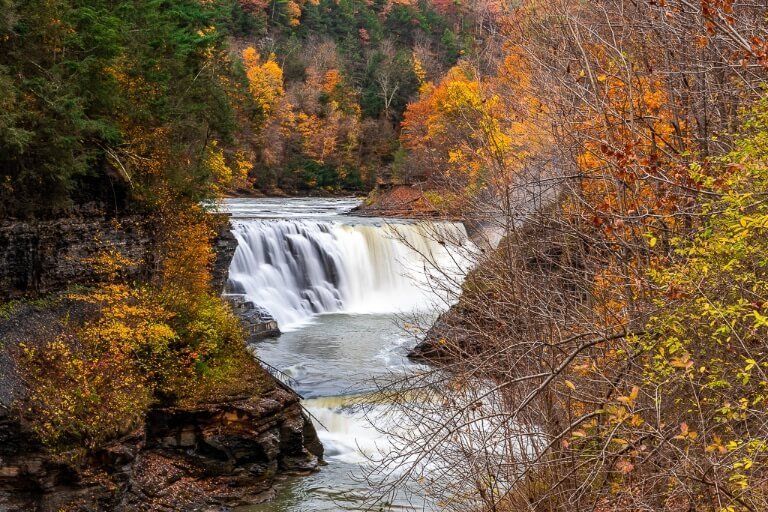 Lower Falls is Letchworth's smallest, quaintest, quietest and arguably prettiest waterfall.
To reach Lower Falls, park at any of the lots along Park Road between Inspiration Point and Lower Falls Trailhead.
Walk along the Gorge Trail until you reach a brown sign pointing down a set of 127 stairs to reach Lower Falls and a stone footbridge.
Take the next path down to the gorgeous stone bridge for awesome up-gorge views of the waterfall.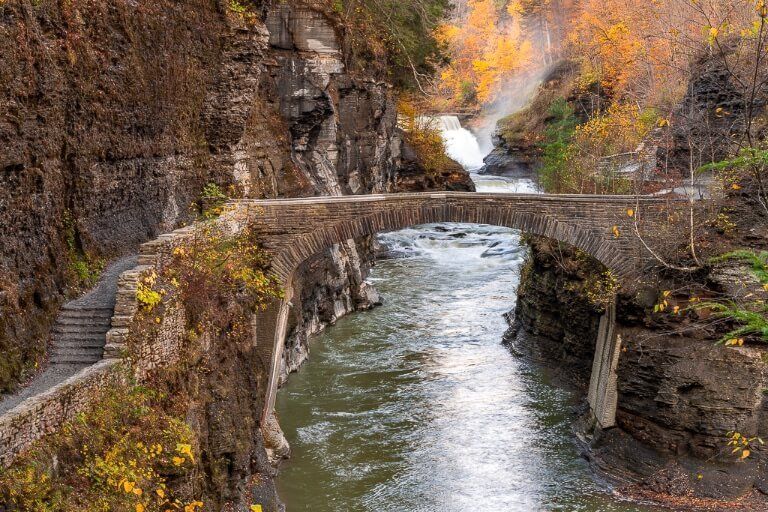 Cross the bridge and follow the cliff-hugging path as it turns left before arriving at an obvious overlook point. Please don't try to climb the mound and leave no trace during your visit.
Instead, enjoy the gorgeous view looking up-river at the ornate bridge and waterfall combination. This is the perfect photography location for Lower Falls.
Cross back over the bridge and walk along the wooded path following the Genesee toward Lower Falls.
You will find photography opportunities easy to come by. There are a number of small rocky outcrops to get shots between trees but be careful with footing.
Crowds will be much thinner here when compared to Middle and Upper falls.
2. Letchworth Middle Falls
Standing at 107 ft tall and over 250 ft wide, Middle Falls is Letchworth State Park's powerful centerpiece.
Middle Falls resembles a much smaller version of Niagara Falls with huge volumes of water crashing over its relatively short drop. This is the most popular cataract waterfall of the three in the park.
Park at either Glen Iris Inn and Middle Falls parking lot or Upper Falls parking lot for easiest access to Middle Falls.
You can get up close and personal with Middle Falls. Either stand in a rounded stone observation point right in front of the waterfall or stand almost in touching distance on its right hand side.
The likelihood of getting wet (from water vapor) in both places is very high. However, the most iconic and beautiful view of Middle Falls is from Inspiration Point, which we'll cover in photography locations.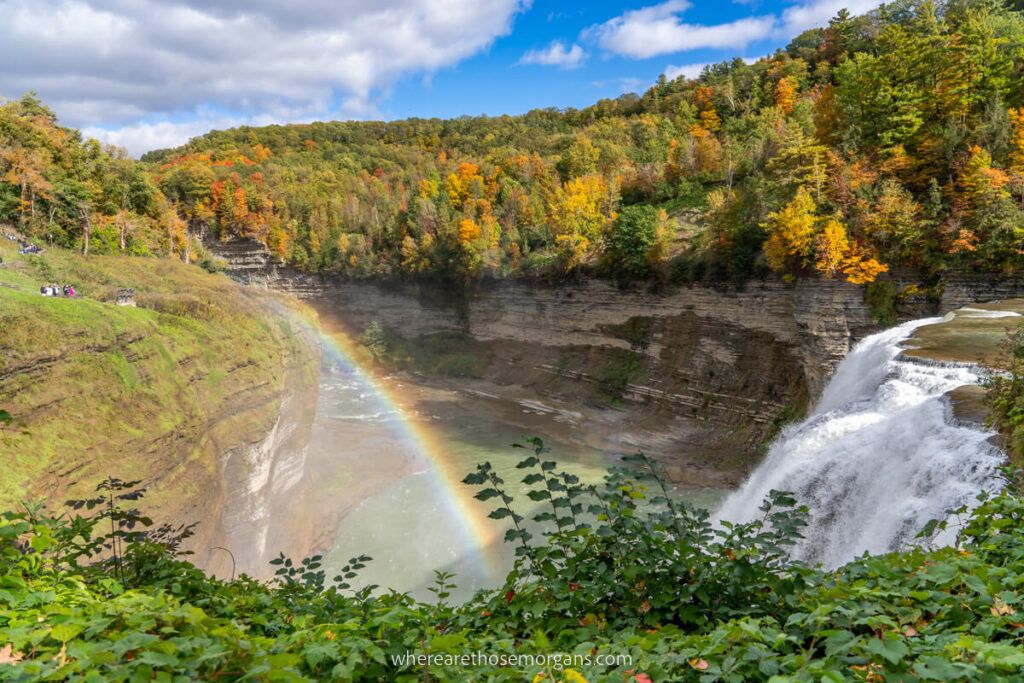 Middle Falls has a colorful surprise if you visit on a sunny day around lunchtime or mid afternoon.
Standing right by the side of the waterfall, turn to look into the canyon and through clouds of water vapor you should be able to see a bright rainbow shining deep inside the gorge.
Photography can be difficult close to Middle Falls because of the relentless vapor cloud. Either be patient and wait for a rare clearing (wind changing direction for example) or take a drying cloth to wipe your lens and filter.
For the ultimate Letchworth State Park experience, book a hot air balloon ride with Balloons over Letchworth to ride right over Middle Falls.
3. Letchworth Upper Falls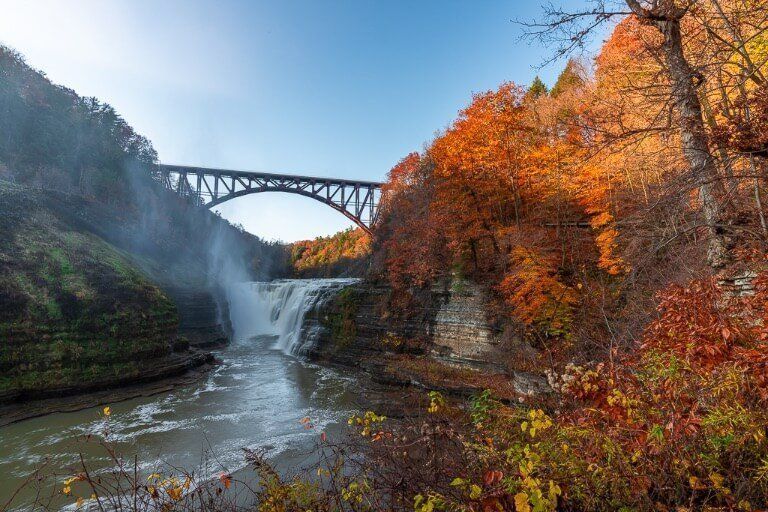 Letchworth Upper Falls curves like a narrow horseshoe and is framed by its outstanding man made feature – a steel arched railroad bridge.
Upper Falls and the railroad bridge can be seen in the distance behind Middle Falls from Inspiration Point. Park at either Middle or Upper Falls for front-on views or a smaller lot close to the bridge (at bridge height) for side-on views.
Parking at the bridge will mean you have to take steps down to see the waterfall but the elevated steps also offer excellent elevated views into Upper Falls.
Upper Falls at Letchworth is sometimes referred to as High Falls and these terms can be used interchangeably.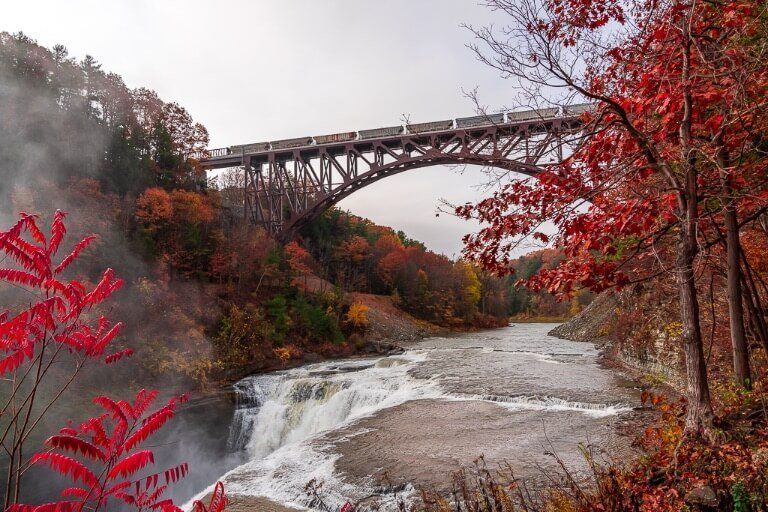 At the bottom of the steps you can take a lovely shot of the waterfall with the railroad bridge and if you strike it lucky, a freight train will pass over the Genesee River.
Remember to freeze the train in motion, you'll need a fast shutter speed which is the opposite of what you will have been doing with a slow shutter to capture silky waterfalls!
That being said a train could also look artistic with a slow shutter speed.
If you visit in summer, all trees and vegetation surrounding the waterfalls are lush green. Personally, we prefer visiting in peak fall season with naturally vibrant colors and tones creating stunning images.
Like waterfalls? You might like to read about the best waterfalls in New York State OR where to find stunning falls in the Finger Lakes.
Best Photography Locations In Letchworth State Park
Letchworth is an incredibly photogenic New York State Park and it is easy to see why it won most stunning State Park.
During the pandemic when we were hunkered down in upstate NY, we used Letchworth State Park as one of our regular haunts. We had several sunrise and astro photography shoots to ourselves.
The best photography locations in Letchworth State Park are:
Lower Falls
Middle Falls
Upper Falls
Great Bend Overlook
Inspiration Point
As we just discussed Letchworth State Park's three waterfalls in detail, this photography section will cover only Great Bend Overlook and Inspiration Point.
1. Best Sunrise Location: Great Bend Overlook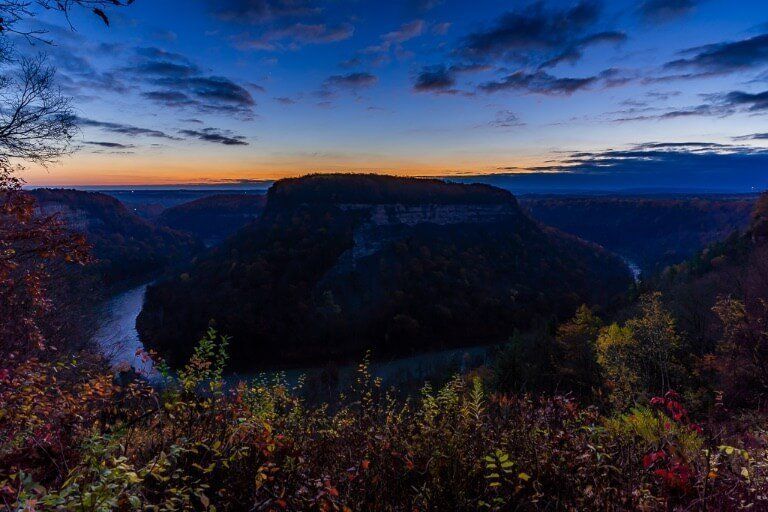 In our opinion, the best time of day to visit Letchworth State Park is between civil twilight and sunrise. The Great Bend Overlook is the best sunrise photography location at Letchworth.
If you plan to shoot a sunrise, ignore the waterfalls and instead set up between Great Bend Overlook near Archery Field Overlook.
Enter via the Castile entrance, turn left on Park Road and about 50 meters ahead next to fence, there is a small section of roadside parking with about 3 spaces for cars.
Look to your right and you will see the most incredible part of Letchworth, a horseshoe shaped bend in the Genesee River with towering cliffs and a massive center island dotted with thousands of trees.
The sun will rise directly behind the island and if you're extra lucky, there will be mist and clouds down in the horseshoe shaped gorge creating a mesmerizing scene.
We have personally woken up early and arrived at the park before civil twilight 4 times. Three mornings were cloudy (despite weather forecasts saying otherwise) but one lucky morning was clear and beautiful.
Photography is all about patience and you often lose more than you win when it comes to weather. But if you wake up to watch the sunrise at Letchworth State Park, you are never losing even if it's cloudy.
2. Best Sunset Location: Inspiration Point Overlook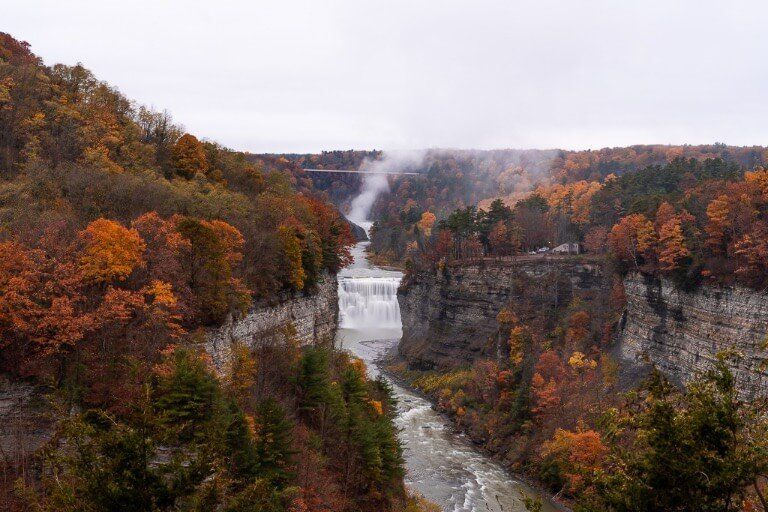 Inspiration Point Overlook is the best waterfall, sunset and astrophotography viewpoint at Letchworth. After the sunrise location described above, Inspiration Point is our second favorite spot.
Views from Inspiration Point are sublime, looking straight down the deep Genesee gorge flanked by colorful trees until it reaches Middle Falls, Upper Falls and the railroad bridge.
But one of the major photography problems here is the sky. It can be washed out and very grey instead of bright blue showcasing large fluffy cotton clouds, a photographers dream.
At this viewpoint, Letchworth's most outstanding features are east and southeast facing, which can also make shooting at sunset challenging.
You have two photography options for sunet…
Inspiration Point but the sun will be way off to the right of Middle and Upper Falls OR
Cross to the East side of the Genesee and find a good spot looking directly at the sun with Middle Falls or the gorge as foreground
However, if you are interested in astrophotography, the good news is that two these waterfalls are directly southwest of Inspiration Point.
So if you visit in fall when the Milky Way becomes visible to the Southwest and time it right for a clear night with little to no Moon, you will be able to create some pretty exceptional photographs.
Letchworth State Park Photography Tips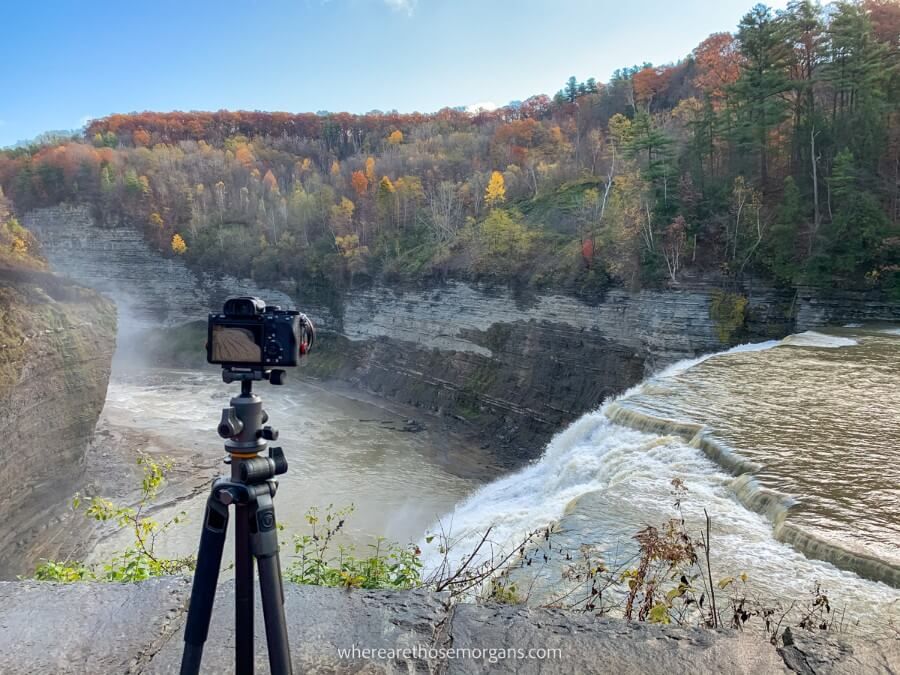 If you are heading to Letchworth for photography, we have a few tips for your trip. This is an incredibly photogenic place and it's very difficult to take a bad photo.
But first, let's get the cat out of the bag… can you fly a drone in Letchworth State Park?
Drone Photography In Letchworth
Yes, you can fly a drone in Letchworth State Park with the proper permission. In order to fly a drone, you must contact the park ahead of time (at least 10 days) and receive the proper clearance.
This rule is extremely important because helicopters often fly very low into the gorge. Do not fly your drone without permission at Letchworth State Park.
For more information and a drone flying application, visit the NY State Parks official website.
Photography Equipment At Letchworth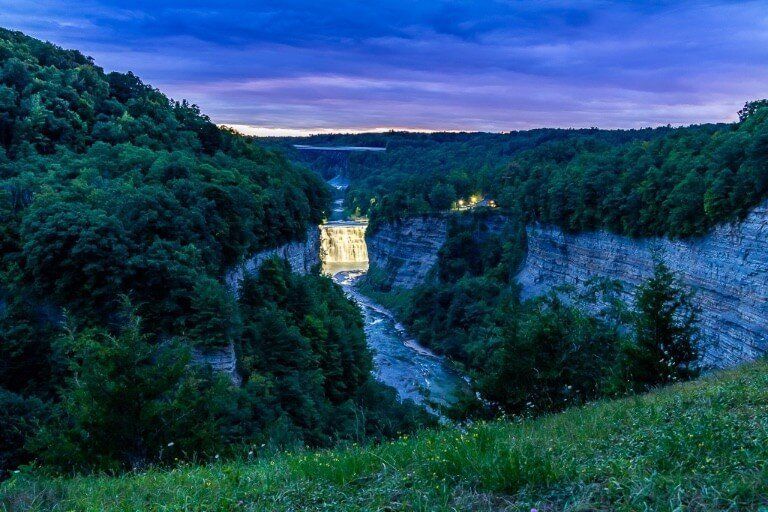 Here are the photography items we always bring when visiting Letchworth:
Photography Tip: Middle Falls lights up at dusk which makes for a great photo if you can get the right composition and weather conditions.
Photography Tips For Letchworth State Park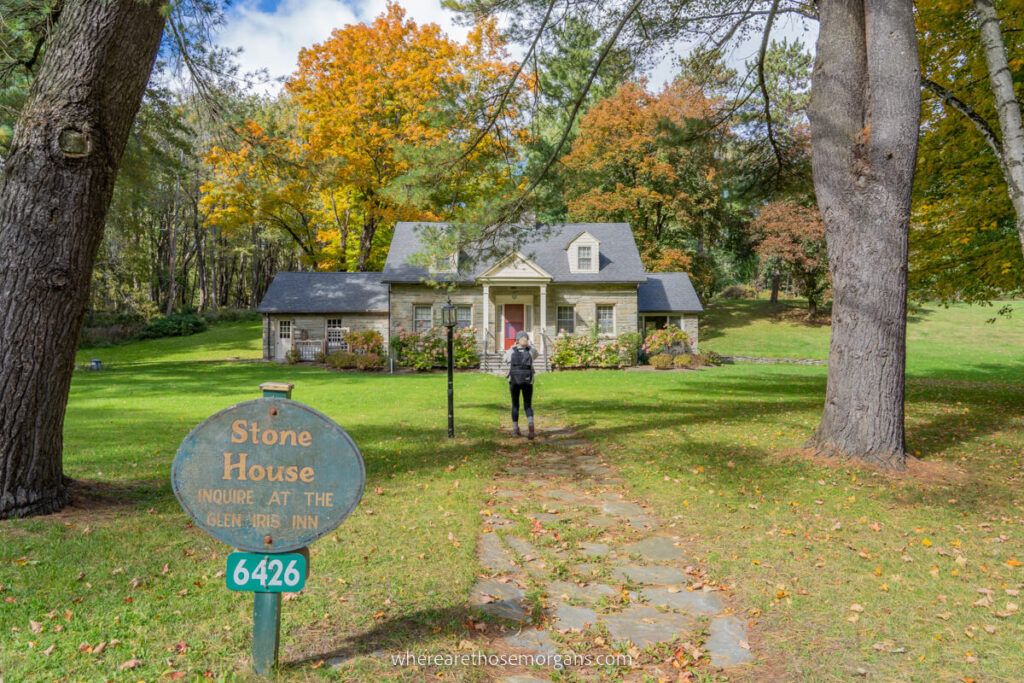 Letchworth is a photographers playground, but there are a few things you can do to help make sure you leave with stunning photos of the park.
Arrive to Letchworth early in the day – The best time of day is the start of civil twilight when you can see light on the horizon but not the sun. If you arrive at this time, you can choose your photography spot before others turn up. Be sure to enjoy the stunning deep blue hues before sunrise and set your gear up slowly.

Continually adjust your shutter speed – Aim for a shutter speed between 0.6 to 2.0 seconds when shooting the waterfalls at Letchworth. Try each interval and look through your viewfinder on playback to see which setting you prefer.

Be patient – As the days goes on, the park will become increasingly busier. Start with the major Letchworth photography locations first and then hit some of the lesser known areas later in the day.
Like photography? You might like to shop our gift guide for photographers featuring products we always use or visit our Photography Guides for more photo resources.
Letchworth State Park NY Weather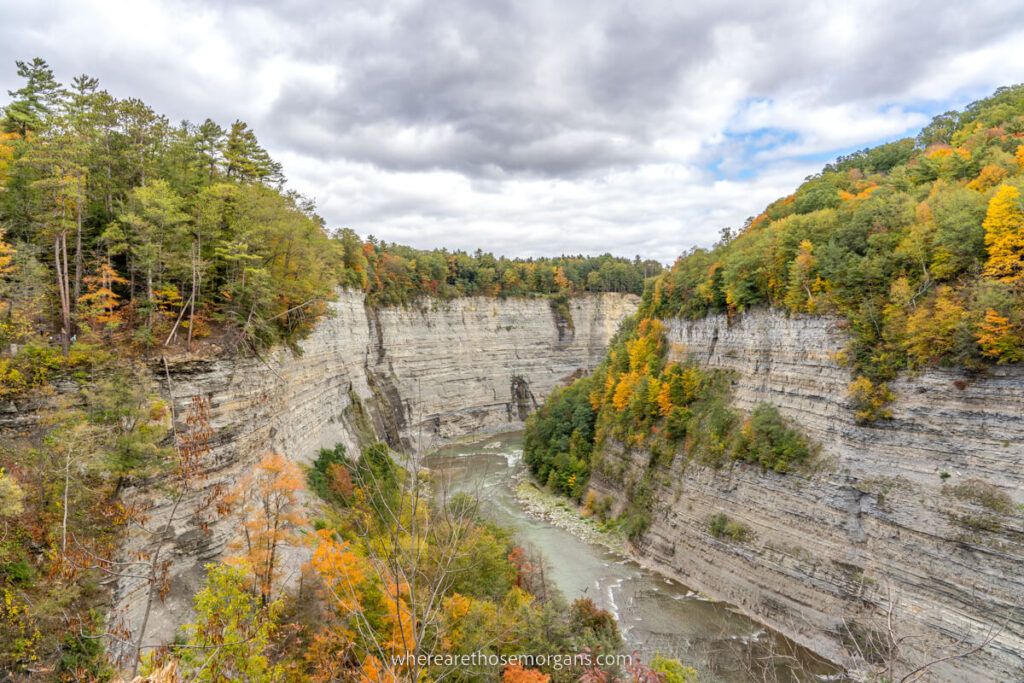 Letchworth State Park is typically cold and temperate, with short hot summers followed by long cold winters. The park also experiences several days of rainfall each month, even during the driest months of the year.
Here are typical average temperatures you can expect when visiting Letchworth:
JAN: High 32°F – Low 16°F
FEB: High 34°F – Low 16°F
MAR: High 43°F – Low 23°F
APR: High 55°F – Low 34°F
MAY: High 68°F – Low 46°F
JUN: High 77°F – Low 55°F
JUL: High 81°F – Low 59°F
AUG: High 79°F – Low 57°F
SEP: High 73°F – Low 50°F
OCT: High 61°F – Low 41°F
NOV: High 48°F – Low 32°F
DEC: High 37°F – Low 23°F
(Source: NOAA)
Letchworth State Park is located in western New York close to Rochester, Buffalo, Lake Erie and Lake Ontario.
This region benefits from extremes in all four seasons of the year, which means hot summers, perfect temperatures in spring and fall, and very cold winters.
Lake Effect Snow At Letchworth State Park In Winter
Winter in particular feels the extreme around Letchworth and western New York because of a localized weather event known as "Lake Effect Snow".
Freezing cold air moves southeast from Canada and passes over the warmer waters of Lake Ontario, which leads to evaporation and eventually enormous snow dumps once it reaches western New York.
This means at any given time, Letchworth can receive a few feet of snow in a short period of time. This can impact on visiting with road closures, but it can also make for spectacular winter photography.
December, January and February are the snowiest months of the year at Letchworth, but don't be surprised if you experience snow during a visit in November or March.
How Much Time Do You Need At Letchworth State Park?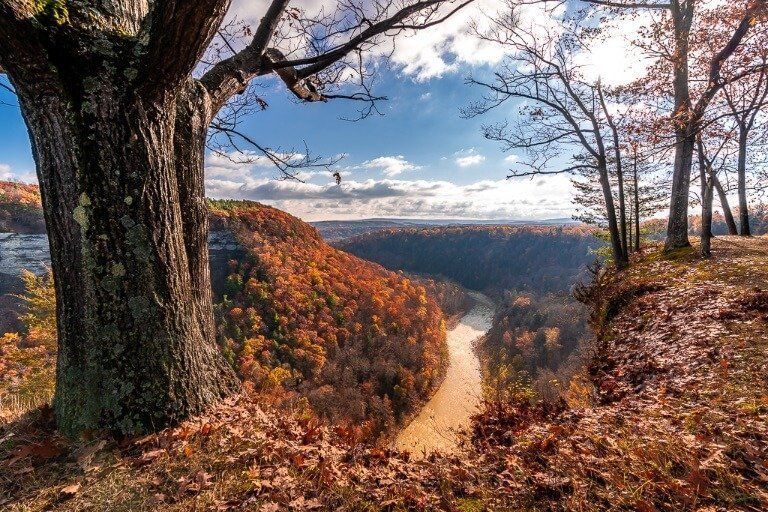 First time visitors to Letchworth State Park should plan for at least half a day to allow time for exploring the three major waterfalls and hiking the gorge trail.
Technically, Letchworth can be visited in around 2 to 3 hours but that would only include the bare minimum and it wouldn't do the park justice. If you are interested in sunrise photography or hiking more of the major trails in the park you will need to plan for a longer visit.
Best Time To Visit Letchworth State Park
Letchworth State Park is stunning any time of the day and year. But there are certain times we believe this park truly shines.
Unfortunately, Letchworth State Park will be extremely busy on weekends between April and October, particularly during holidays.
From experience, we recommend staying clear on these days unless it's the only time you can make your visit. Let's take a look at what you can expect in each season and the best time of day to visit.
Spring In Letchworth
Spring is the best time to visit Letchworth State Park for heavily running waterfalls as snow melts and runs into the Genesee River.
In late spring, vibrant green colors begin to blossom and and temperatures are cooler which is perfect for hiking.
Summer In Letchworth
Summer is extremely busy, hot and humid during the day at Letchworth. Hiking trails will be crowded and parking can be problematic.
However, this is the best time of year for camping, watersports as well as sunrise and astro photography around the park.
Winter In Letchworth
Winter can be stunning at Letchworth with minimal crowds and snowfall blanketing many of Letchworth's quintessential attractions.
Snowmobiling, cross country skiing and other winter activities are very popular at Letchworth in December, January and February.
Travel Tip: In winter the south entrance (Portageville) has a road closure as far as Upper and Middle Falls. You should enter via Castile. Restrooms are available at Inspiration Point, Middle Falls, Trailside Lodge, Highbanks and the Dam Overlook.
Letchworth State Park Fall Foliage – Best Time Of Year To Visit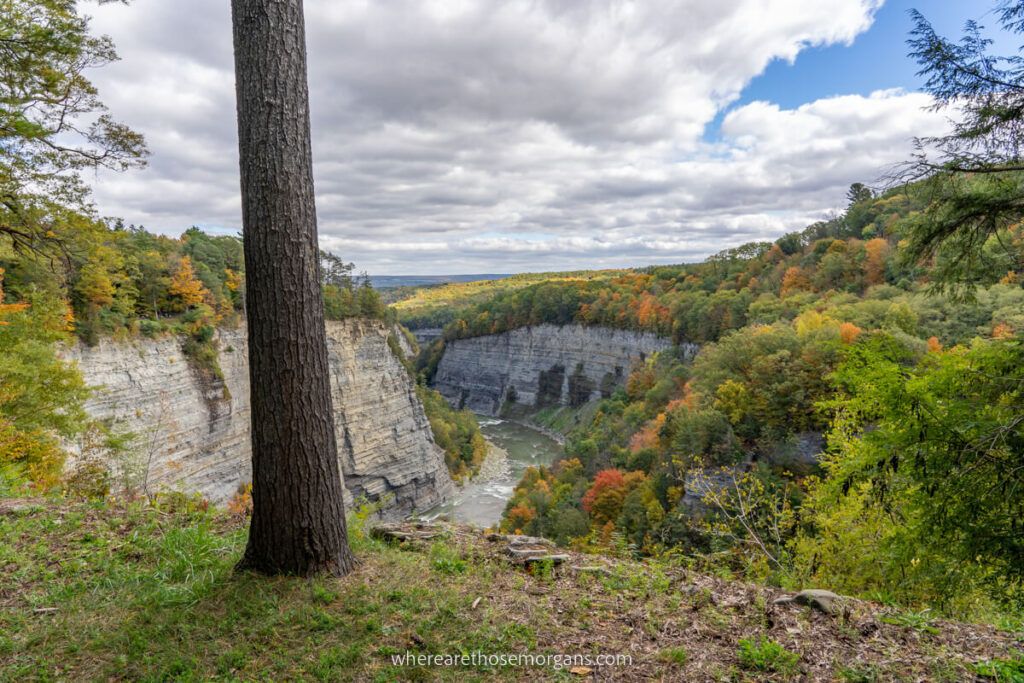 Fall is the most picturesque time of year to visit Letchworth State Park with vibrant and spectacular fall foliage lighting up the banks of the Genesee River.
You will find the entire park transforms into an oasis of browns, reds, pinks, yellows and oranges. But perhaps the most special spots for fall foliage photos are Upper Falls and Inspiration Point.
Autumn is our favorite time of year to visit Letchworth, not only for the leaves but also thanks to comfortable hiking temperatures and fewer people when compared to summer.
Best Time Of Day At Letchworth
Sunrise is the best time of day for photography at Letchworth State Park, plus you will find fewer crowds on hiking trails. You will also be able to enter Letchworth for free before 9:00 am.
Between 10:00am and 4:00pm the park is naturally going to be busier, especially in summer on weekends and holidays.
Visiting Letchworth later in the early evening can also be a great idea. The crowds will thin and softer light creates better natural images, particularly around and right after sunset.
At night, you will find several photographers with tripods lining up to take long exposures of the waterfalls. This is especially true in summer when the nights are warmer.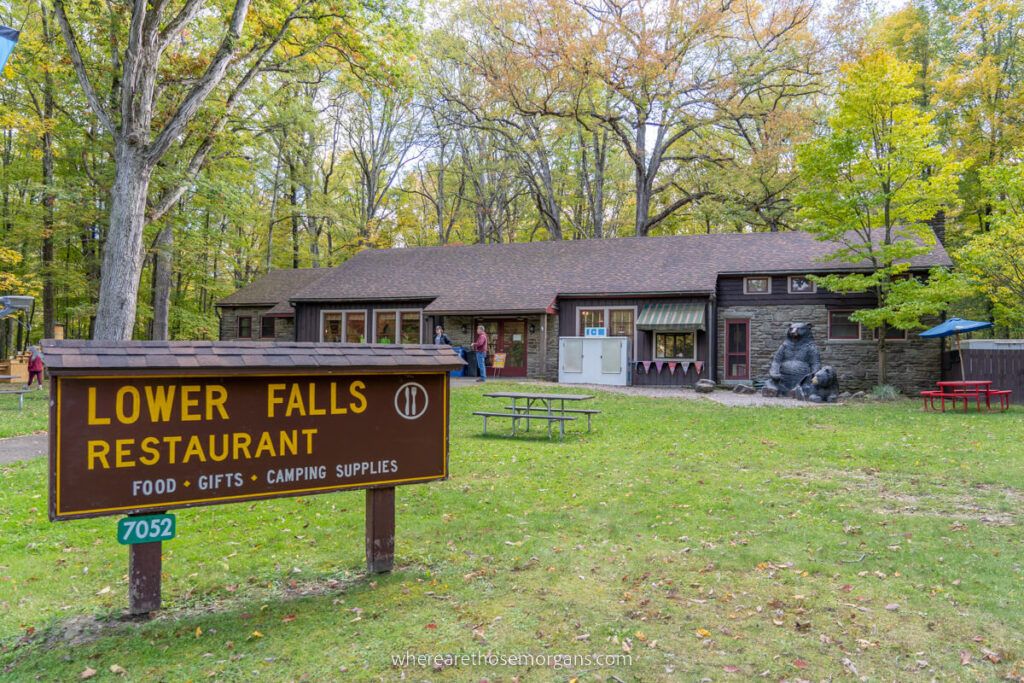 Places To Eat In And Near Letchworth State Park
There are a few food options located directly inside Letchworth State Park and all food concessions in the park are run by the Basics.
You will also find a few food options located a little bit outside of the park in the surrounding towns of Mount Morris, Castile and Perry.
Food South End Of Letchworth
Glen Iris Inn – Breakfast, lunch + dinner in a historic building (see menu)
Letchworth Gift Shop – Coffee, drinks + snacks
Lower Falls Restaurant – Daily specials, ice cream, wood + ice
Upper Falls Snack Bar – Ice cream, drinks, grilled + fried food
Footbridge Nature Shoppe – Drinks and snacks
Food North End Of Letchworth
Dam Overlook Cafe & Gifts – Coffee bar, snacks + ice cream
Highbanks Camp Store – Coffee, ice cream, groceries, wood, ice + camping supplies
Highbanks Pool Snack Bar – Food + drinks
Where To Eat Outside Of Letchworth
Travel-Tip: If you don't mind a little driving, we would recommend you eat at the Dinosaur Bar-B-Que. This restaurant is about 45 minutes or 40 miles from the Castile entrance located in downtown Rochester. Kristen grew up on Dinosaur BBQ and it has since become one of Mark's favorite restaurants since moving to the US. Reservations are highly recommended.
Hotels Near Letchworth State Park
One of Letchworth's downsides is a lack of easy access hotel options and nearby amenities.
If you don't want to camp or stay inside the park at the Glen Iris Inn or Letchworth lodges, you will need to find a hotel in a small town close to the park which will require a short drive.
Mount Morris and Geneseo are the best options for those who like to have amenities at hand. However, there is a fantastic isolated B&B option much closer to Letchworth's major highlights.
You also might find our guide on how to find the best hotel deals helpful for booking accomodation.
Here are the top rated hotels near Letchworth State Park:
Letchworth Farm In Nunda
Located just 6 miles (10 minutes drive) from Letchworth's Portageville entrance in Nunda. Letchworth Farm has an exceptionally high guest rating of 9.4.
Breakfast is included and the grounds are stunning with horse stables and equestrian themes throughout.
>> Book the Letchworth Farm here.
Country Inn & Suites by Radisson In Mt. Morris
Ideally located just 30 seconds drive from Letchworth's Mount Morris entrance, Country Inn & Suites offers an indoor pool and small gym, plus includes breakfast.
This is the highest guest rated hotel in Mt Morris at 8.8 and would be a great option of you are visiting Letchworth for photography purposes.
>> Book the Country Inn & Suites by Radisson here
Temple Hill Bed & Breakfast (Geneseo)
Geneseo has a handful of highly rated hotels (see all Geneseo Hotels here), but the Temple Hill Bed and Breakfast is top rated with consistently happy travelers and high ratings.
Rated 9.7 by previous guests, this historic B&B serves breakfast with access to an outdoor swimming pool if you are visiting during the summer months. Letchworth's main entrance is located 6.6 miles from the Temple Hill Bed and Breakfast.
>> Book the Temple Hill Bed and Breakfast here
Letchworth State Park Camping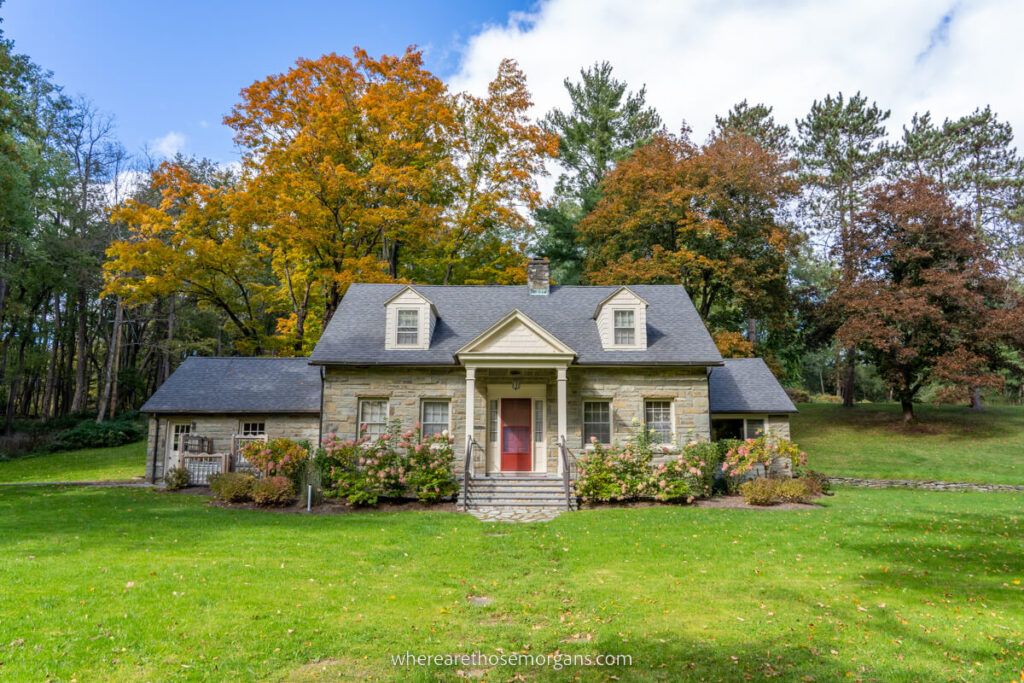 If hotels don't fit your budget or you would prefer to be outdoors surrounded by nature, there are 81 cabins and 257 campsites at Letchworth State Park for you to consider.
For cabins and campgrounds, reservations can be made anywhere from 1 day to 9 months in advance.
>> Book campgrounds or cabins at Letchworth here
Amenities include a comfort station, convenience store, convenience store, laundry, picnic tables, showers, swimming, volleyball and a water fill-up station.
Campgrounds At Letchworth
All campground loops at Letchworth are open from May until October. The 257 campsites are available in numbered loops, #100-800.
Letchworth campsites costs $27-30/night plus there is a $5 out of state resident fee/night.
The Perry entrance is the best way to enter for Highbanks tent and trailer camping.
Cabins At Letchworth
The 81 Rustic Cabins at Letchworth are available in alphabetical sections, A-E. Each section is open slightly different times of the year:
A Cabins: May – Nov
B Cabins: May – Oct
C Cabins: May – Nov
D Cabins: May – Sep
E Cabins: May – Sep
Letchworth Cabins cost $132 – 568 per week or 1/4 the weekly charge for a nightly rate.
The Castile entrance is the best way to enter for the A and B cabins. The Parade Grounds entrance is the best way to enter for the D and E cabins, but is closed in the winter. The Perry entrance is the best way to enter for C cabins.
Glen Iris Inn
The Glen Iris Inn was acquired by William P. Letchworth in 1859.
This historic inn has been renovated many times, but currently has a total of 15 air conditioned guest rooms with 11 standard rooms and 4 luxury suites.
Rooms at the Glen Iris Inn range anywhere from $145-305 per night. Additional accommodation options include the Pinewood Lodge, Pinewood Lofts, Caroline's Cottage, the Stone House and the Chalet House.
>> Book the Glen Iris Inn here
Maplewood Lodge
The Maplewood Lodge is a historic lodge at Letchworth located near the Highbanks tent and trailer camping area by the Perry entrance.
This lodge fits 8 people with 3 bedrooms, 1.5 bathrooms, kitchen, dining room and living room.
Prices for the Maplewood Lodge include $350 per night with a 2 night minimum and $523 per holiday weekend with a 3 night minimum.
>> Book the Maplewood Lodge here
Parker's Hideaway
Parker's Hideaway is another historic lodge at Letchworth located near the Highbanks tent and trailer camping area by the Perry entrance.
This lodge fits 6 people with 2 bedrooms, 1.5 bathrooms, kitchen, dining room and living room. The cost for the Parker's Hideaway includes peak and non-peak (end of June to end of August) pricing.
Peak season includes a 5 night minimum, non-peak season includes a two night minimum and holidays include a three night minimum.
Peak time – $1000 per 5 day week (Fri – Wed)
Non Peak time – $1000 per 3 day week (Fri – Wed) or $300 per night
>> Book Parker's Hideaway here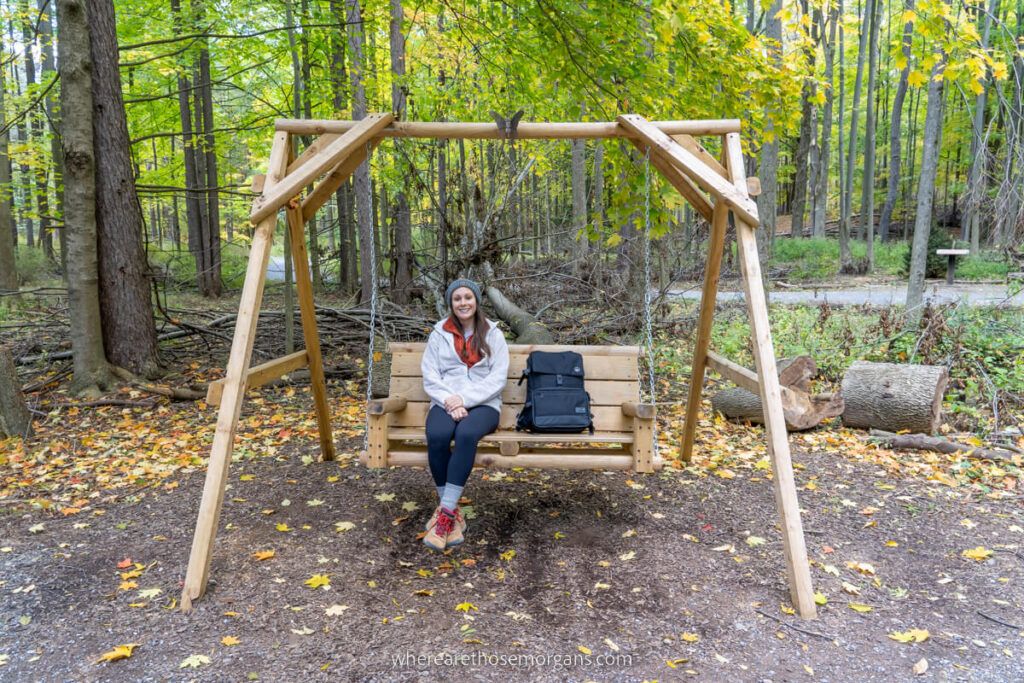 Is Letchworth State Park Worth Visiting?
Yes, Letchworth State Park is worth visiting because it offers things to do for entire family including hiking trails, white water rafting, hot air balloon rides, photography opportunities and so much more.
Not only has Letchworth been voted most stunning State Park in the US, but this is an adventure playground for all kinds of activities throughout all four seasons.
Letchworth State Park Interactive Map
Click on our Letchworth State Park map to zoom in or out and move around the area to find all recommended restaurants, hotels and points of interest.
Bright Red – Points of Interest
Maroon – Restaurant recommendations
Blue – Hotel recommendations + camping options
You can also access our map for Letchworth State Park via this link.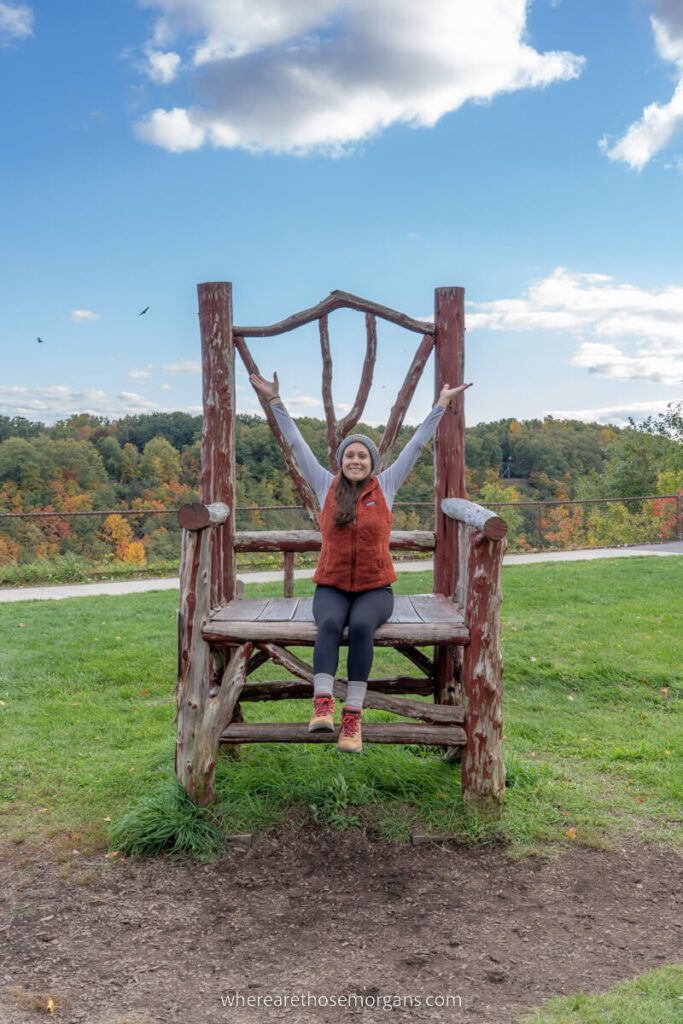 What To Do Near Letchworth State Park
If you are visiting Letchworth State Park as part of a larger upstate New York road trip, there are many things you can do nearby.
Here are the best things to do near Letchworth State Park:
Here are museums and wine trails near Letchworth:
FAQ's For Letchworth State Park
Let's take a look at some of the most frequently asked questions regarding Letchworth State Park.
Where Are The Best Waterfalls At Letchworth State Park?
The easiest way to see the 3 waterfalls at Letchworth is to drive to the Glen Iris Inn and park in the nearby Middle Falls parking lot. From Middle Falls, you can follow the Gorge Trail left for 1.5 miles to Lower Falls or take the Gorge Trail right about 0.5 miles right to Upper Falls.
What Is The Best Entrance For Letchworth State Park?
The Portageville and Castile entrances in the southwest are the best entrances for Letchworth State Park. You will have immediate access to popular attractions including the three waterfalls, scenic viewpoints, the historic Glen Iris Inn and most of the food options in the park.
What Is Letchworth State Park Known For?
Letchworth State Park is known as the Grand Canyon of the East featuring many outdoor activities including hiking, waterfalls, bird watching, photography and winter sports like cross country skiing.
How Much Does Letchworth State Park Cost?
A $10 vehicle entrance fee is collected at Letchworth State Park from the months of May to October between the hours of 9:00am and 5:00pm. Vehicle entry fees are waived to Letchworth with the Empire Pass and if you are visiting the park outside of these times, entrance is free.
Our Popular Finger Lakes Guides
More New York State Guides
Want more New York content? Head over to our New York Travel Guides to explore the Finger Lakes, Adirondacks and the best of NYC.
---
We hope this guide featuring things to do at Letchworth State Park helps with planning your visit to upstate New York!
Please let us know if you have any questions about visiting Letchworth State Park or upstate New York in the comments below.
Happy Hiking,
Mark and Kristen
Enjoy This Letchworth State Park Guide? Pin It For Later!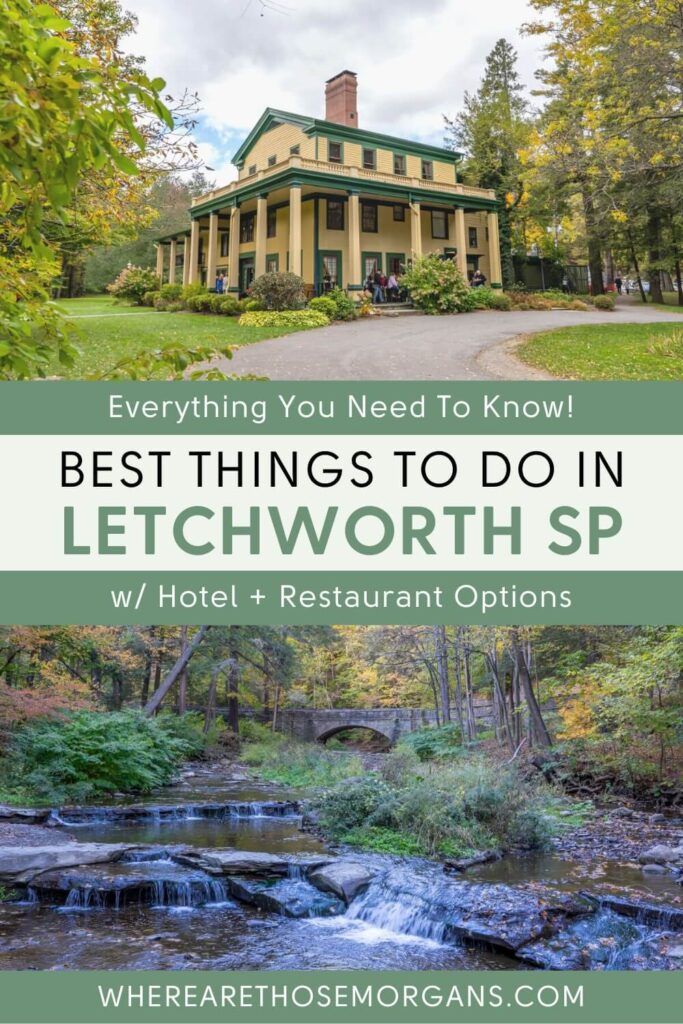 Note: This article contains affiliate links. When you make a purchase using one of these affiliate links, we may earn a small commission at no extra cost to you.
All Rights Reserved © Where Are Those Morgans, LLC. Republishing this article and/or any of its contents (text, photography, maps, graphics, etc.) in whole or in part is strictly prohibited.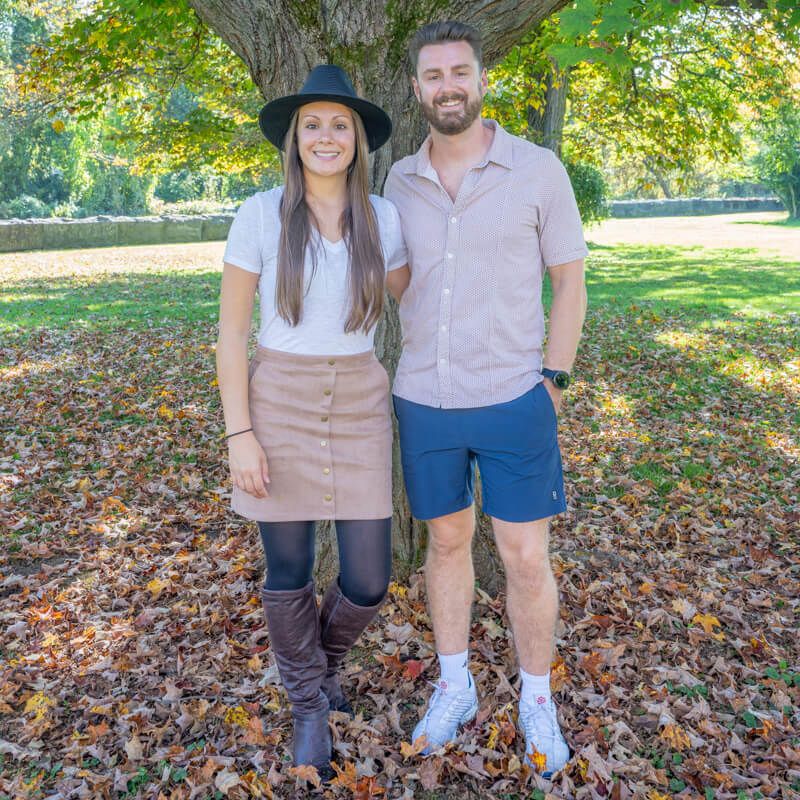 Mark and Kristen Morgan are travel, hiking and photography experts. Over the last 6 years traveling full time, they have explored more than 40 countries and 30 US states.
Their work has been featured in USA Today, Gestalten, Get Your Guide, CityPASS and Condé Nast Traveler along with various other publications.