Picturesque, charming and immensely popular resort village Lake Placid is idyllically located at the heart of the Adirondack Mountains in Upstate New York. We're going to show you the 9 best things to do on your first visit to Lake Placid NY, including the top hiking trails, stunning waterfalls and awesome viewpoints.
Gaining international fame through hosting the 1980 Winter Olympics, many associate Lake Placid NY with snow and skiing. And they would be right. Lake Placid transforms into a beautiful Winter Wonderland around Christmas and the early months of the year.
However, you will find a surprisingly diverse list of nearby attractions perfect for visiting in the warmer months of Spring, Summer and Fall.
Hikers will know the summit of Mount Marcy is the highest point in the state of New York and world famous peak Fall foliage season descends upon Lake Placid around the beginning of October each year.
Your first visit to Lake Placid NY will be filled with adventure, relaxation, beautiful scenery, hiking and fond memories.
Here are the best things to do when you arrive in the Adirondacks!
*Please note this post may contain affiliate links. If you click on one, we may earn a small commission at no extra cost to you!*
Where Is Lake Placid NY?
Lake Placid is a paradise for outdoor enthusiasts, surrounded by spectacular Adirondack Mountain wilderness, pure glacial lakes and endless forested land.
However, being located in the far Northeast of New York – just 40 miles from Vermont and 65 miles from the Canadian border – means Lake Placid isn't the easiest place in the US to reach. It might be worth considering visiting Lake Placid as part of a wider USA road trip through the northeast.
Let's take a look at driving times from major cities and airports near Lake Placid:
Driving Times, Distances and Directions To Lake Placid NY
Burlington, VT – 1h 55m / 60 miles via US-7, ferry, NY-22 S and NY-9N

Montreal, QC – 2h 05m / 180km via 15 S, I-87 and NY-9N

Portand, ME – 5h 30m / 295 miles via I-95, I-89, VT-125 and NY-9N

Boston, MA – 4h 50m / 254 miles via I-93, I-89, VT-125 and NY-9N

New York, NY – 4h 45m / 290 miles via I-87 and NY-73

Rochester, NY – 4h 50m / 278 miles via I-90, I-81 and NY-3

Buffalo, NY – 5h 50m / 345 miles via I-90, I-81 and NY-3

Toronto, ON – 5h 45m / 525km via ON-401, NY-345 and NY-86
Airports Near Lake Placid NY
From further afield in the US or internationally, you stand a better chance of picking up a cheap flight from your origin airport if you land at either JFK, Newark or Boston-Logan. Budget airlines operate in these airports and you can hire a car upon arrival.
However, if you'd prefer to fly much closer to Lake Placid and spend less time driving, you can either fly into Plattsburgh (PBG) direct from Washington Dulles or fly into Adirondack Regional Airport direct from Boston.
Alternative airport options include Albany in New York, Montreal in Canada and Burlington in Vermont.
Our advice is to research all options thoroughly, look at price vs convenience ratio and pick a winner.
Recommended Travel Planning Resources For Lake Placid
Flights: We always use and recommend finding flight options using Skyscanner's flight search engine. You will find more options at better prices.
Hire car: Similarly, we use and recommend finding prices for vehicles using Rental Cars search engine. In both instances, use prices you find as reference points and try to beat them.
Further reading: Read our best tips on finding cheap flights when you travel, including 15 steps you can follow to save money.
9 Best Things To Do In Lake Placid NY
We think Lake Placid NY is among the best places to visit in the USA and we hope this guide helps you make the most of your vacation to the wonderful Adirondack Mountains region.
So, let's dive right into some of the best things you can do on a first visit to New York's High Peaks region.
1. Walk Around Mirror Lake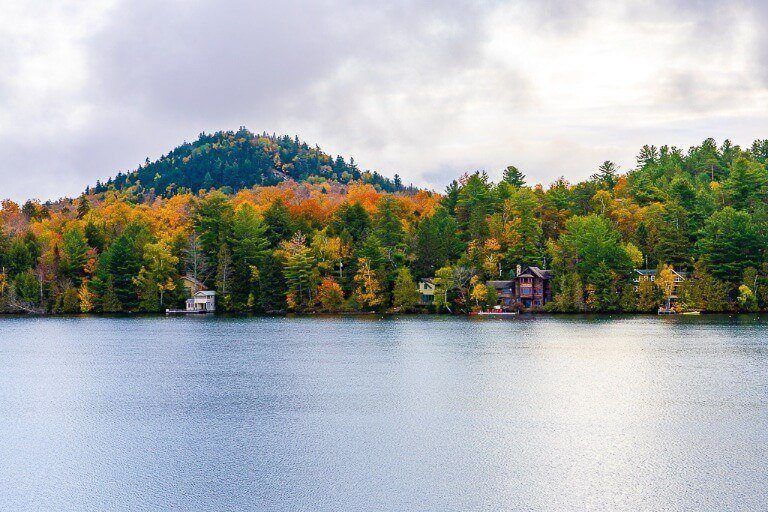 Let's begin with one of the very best things to do in Lake Placid for all visitors. Every first time visitor to Lake Placid should take a relaxing walk around Mirror Lake, which is the beating heart of the small town.
Lake Placid's shopping and dining scene is built mostly around the western shores of Mirror Lake. So as you walk through town you will naturally gravitate to the banks of the lake.
You could choose to stay in town, photograph Mirror Lake with rolling hills covered in trees and relax.
But you can also walk a flat, easy and scenic loop trail around the entire lake. The 2.6 mile unofficial hiking trail is suitable for all ages and abilities, dog walkers, runners and ice cream eaters visiting Lake Placid NY!
You will pass by luxurious wooden houses on the lake and walk among gorgeous tree lined paths. Don't forget to enjoy views over Mirror Lake and if you're an early riser, you might even get to see a reflection.
2. Visit The Lake Placid NY Olympic Ski Jumping Complex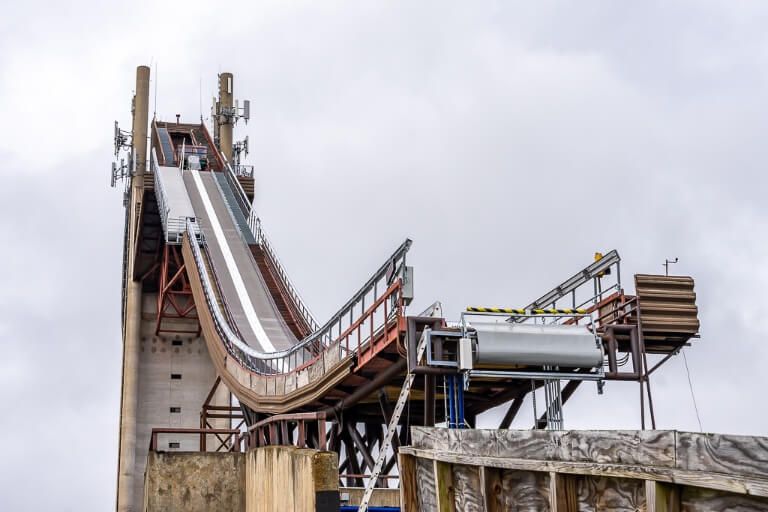 Lake Placid is home of the 'Miracle on Ice' hockey match from the 1980 Winter Olympics but what many don't know is Lake Placid also held the 1932 Winter Olympic Games.
You can visit the Olympic Museum in Lake Placid right on main street to see the miracle on ice, speed skating oval and hall of fame.
Olympic Museum tickets are US$ 8 per adult and the museum is open Thurs – Mon | 10am – 5pm.
However, when visiting Lake Placid, you can't miss the 2 towering ski jump runs a few miles South of town. The ski jumps measure in at 90m and 120m tall, both of which can be accessed by a gondola ride from the parking lot.
Take an elevator up to a 360 degree viewing platform atop the 120m ski jump for amazing views over Lake Placid, Whiteface Mountain and the Adirondack region.
You can look straight down the 120m ski jump and see it as though you were about to crouch into a run yourself.
Tickets are US$ 20 per adult and the gondola / elevator combination is open Weds – Sun | 9am – 4pm.
More ski jump information.
3. Photograph Historic John Brown Barn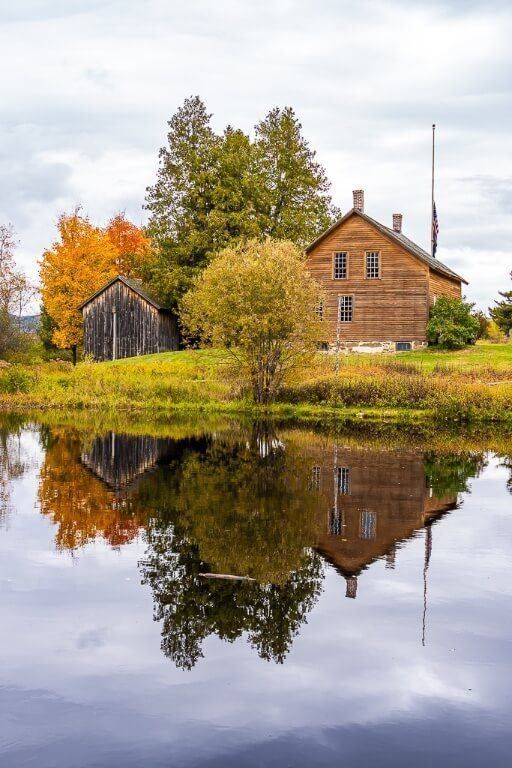 Located right behind the ski jumping complex, you can find the historic site and home of John Brown, run by New York State parks.
Brown was a famous abolitionist who fought for liberation of slaves in the South on the eve of the American Civil War. Eventually he gave his own life to the cause.
During a daring raid of the US arsenal at nearby Harper's Ferry, Brown was captured in October 1859, hung and brought back to this house where he was buried.
You can read about this piece of important history, walk around attractive gardens and of course take home a fantastic reflection photograph of Brown's barns and trees.
Top-tip: Visiting in Fall will give you the most amazing colors.
Admission to the historic house and grounds is free.

The house is open every day except Tuesday from 10am – 5pm.
More John Brown information.
4. Drive Or Hike To The Summit Of Whiteface Mountain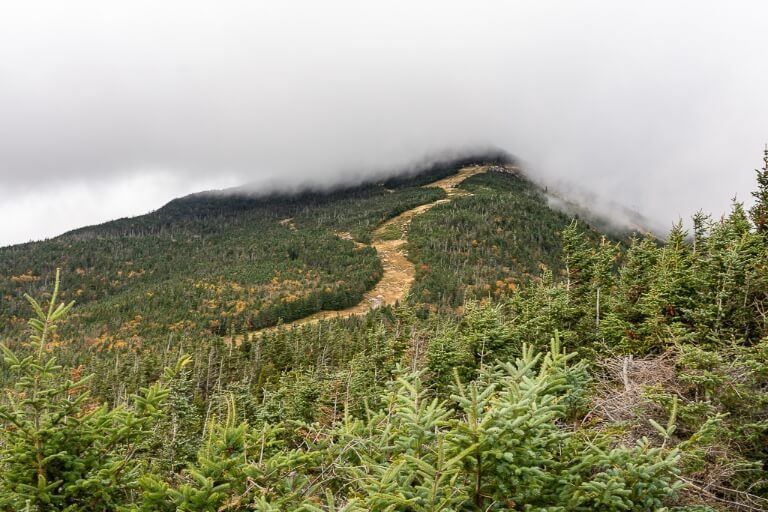 Whiteface Mountain is the fifth highest peak in New York and is one of the most popular attractions near Lake Placid thanks to its ease of access for all visitors to the area.
Views from the top overlook the entire Adirondack region, plus Montreal, Vermont and even Hew Hampshire on a very clear day.
What makes Whiteface unique is that you can of course choose to hike, but you can also take a less physically intensive option by driving up Whiteface Veterans Memorial Highway all the way to just below its summit.
Why drive when you could hike?
Well, because you have Mount Marcy to hike. However, if you are in Lake Placid for at least 3 full days, hiking Whiteface Mountain in addition to Mt Marcy would make for a fantastic double header on the trails.
With that said, we know most visitors will be driving and you will gain 2,300 feet elevation in just five miles from the toll house. Views open up valleys, rolling hills and even skyscrapers in downtown Montreal, Canada.
From the parking lot, a passage into the mountain and an elevator ride take you to within a stones throw of the top, leaving just a short path to the summit sign.
Tickets are US$ 15 for vehicle and driver. Add US$ 15 for 1 additional passenger or add US$ 25 for 2-5 additional passengers.

The road is open from June until October | 8.45am – 5.30pm.
More Whiteface Mountain information Whiteface Mountain information.
5. Take Cloud-Splitter Cable Car To Little Whiteface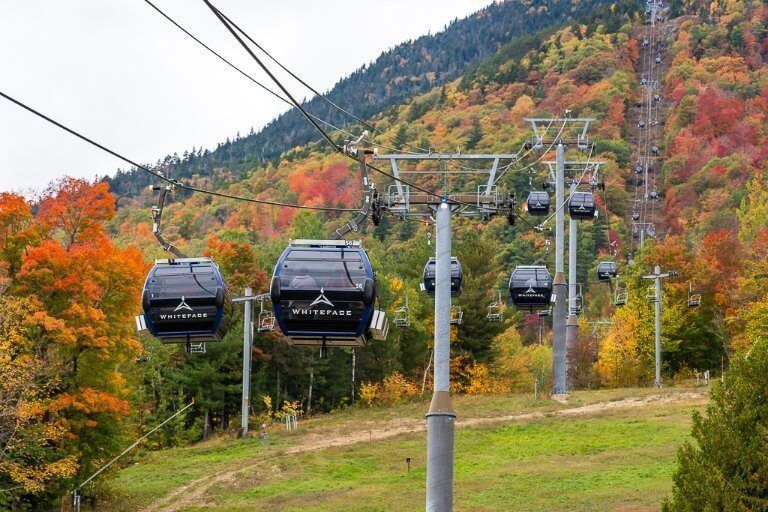 A fantastic alternative to driving the toll road or hiking to Whiteface Mountain summit is to take the Cloud-Splitter gondola ride from the base of Whiteface Mountain to Little Whiteface near Lake Placid NY.
Little Whiteface is a lower peak between the town of Lake Placid and Whiteface Mountain, primarily used in Winter as a ski resort. Cloud-Splitter is the main ski lift gondola.
However, in warmer months when there is no snow on Little Whiteface, you can walk around the top and admire views over Lake Placid, Lake Champlain and nearby Whiteface Mountain summit.
But why would you take the gondola to a lower peak when you could drive up to its summit?
Well, like when we visited Lake Placid, the region is often covered in thick grey clouds. Those dense rain clouds tend to hold firmly around the taller mountains.
There's not much point driving to the summit of a mountain if you'll be lost inside an ocean of cloud!
Little Whiteface is low enough to avoid being engulfed and you can still see a portion of the same views. Plus, it's closer to Lake Placid so less driving time and more attraction time.
Tickets cost US$ 24 per adult and opening times are 8am – 4.30pm daily outside of ski season.
More cable car information cable car information.
6. Walk Inside High Falls Gorge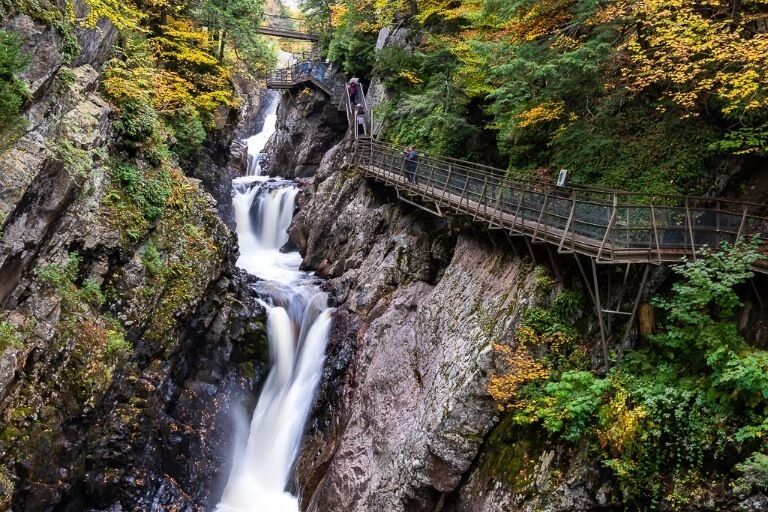 No matter how you decide to visit Whiteface Mountain, there is one place you have to walk an easy hiking trail on the way from Lake Placid and that is the stunning High Falls Gorge.
A half mile boardwalk trail takes you inside a narrow gorge and passes by 4 small but attractive waterfalls. High Falls Gorge is perfect for the whole family and is child friendly for the entire hike.
At the furthest point, you can look back up the gorge at a stunning triple tiered narrow waterfall cascading through rock and trees.
The short hike here shouldn't take longer than an hour. Arrive early to avoid crowds inside the gorge.
Parking is right off the main road and overflows on busier days in peak season.
Tickets cost US$ 13 per adult and US$ 10 for ages 4-12. Opening times are 9am – 4.30 pm between May and October.
Read our detailed guide to visiting High Falls Gorge for more information.
7. Hike Mount Marcy The Highest Point In New York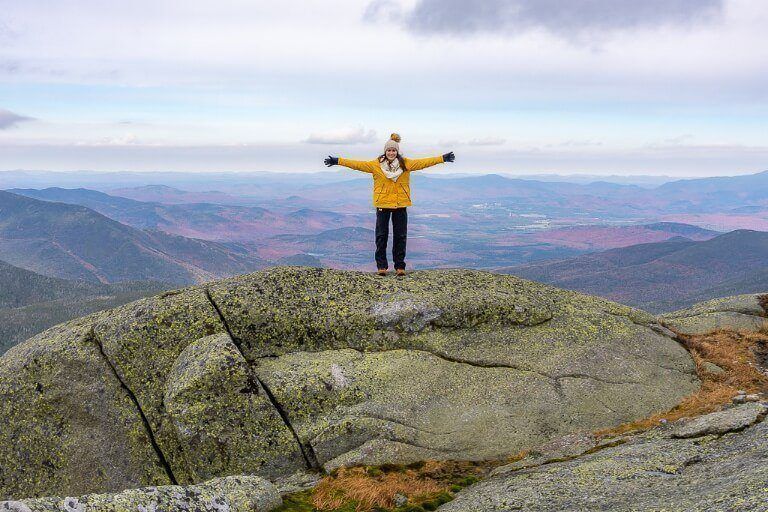 If there's only one thing you do in Lake Placid, make it hiking Mount Marcy. The highest of the high peaks is a hugely popular hike in warmer months and is our top Lake Placid recommendation. We have also included Mt Marcy in our list of the 50 best hiking trails in the USA.
You will need an excruciatingly early start and it is a long grueling day. But it's worth the effort to say you've hiked to the summit of New York's highest point.
The trail is rated as strenuous due to being almost 15 miles roundtrip but it isn't technical. Expect total hiking time to be anywhere between 7-11 hours. This time is dependent on how quickly you hike and how many stops you take.
Weather plays a big factor in the success of this hike and can change at any time. Most of the trail is in forest but the last section is steep and completely exposed above the tree line. Mt Marcy's rounded cone-shape summit take a battering from the wind so pack carefully.
Park at Adirondack Loj parking lot and aim to arrive around 5.30am to guarantee a space. Hike the shorter (and more popular) Van Hoevenberg trail.
8. Relax In Charming Lake Placid Town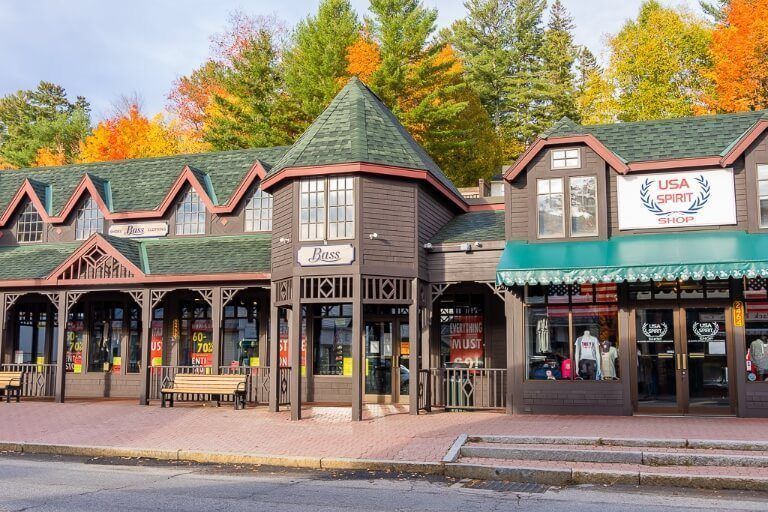 With so many fun things to do around Lake Placid, it can be easy to forget about taking a step back and enjoying the Alpine village experience.
Independent stores, restaurants, cafes, bars, outdoor gear shops, Adirondack chocolates and much more can be found just by walking along the main street.
The wooden buildings look amazing in Winter when surrounded by deep snow, but Fall foliage colors are a close second.
If you're staying in Lake Placid, you'll likely gravitate towards this area in the evening. But if you decide to stay outside of town, be sure to drive in and spend some time walking around Lake Placid.
9. Hit The Slopes In Winter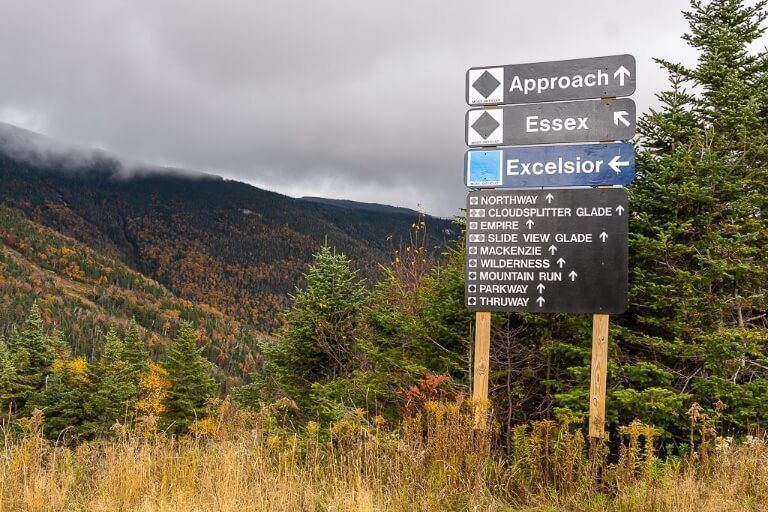 Finally, if you visit in Winter, Lake Placid NY is a different experience altogether.
Sleigh rides, snowshoeing, ice skating, snow tubing and cross country skiing are popular activities when Lake Placid is white over.
Whiteface Mountain is New York's premier downhill ski resort and the best place to hit the slopes with 90 trails covering 25 miles.
One of the highlights of skiing on Whiteface is later in the season when black diamond runs 'The Slides' open up. Experienced skiers can ski down 1,000m+ in a single run.
This run is known as the greatest vertical drop East of the Rockies.
More skiing information skiing information.
Places To Stay In Lake Placid NY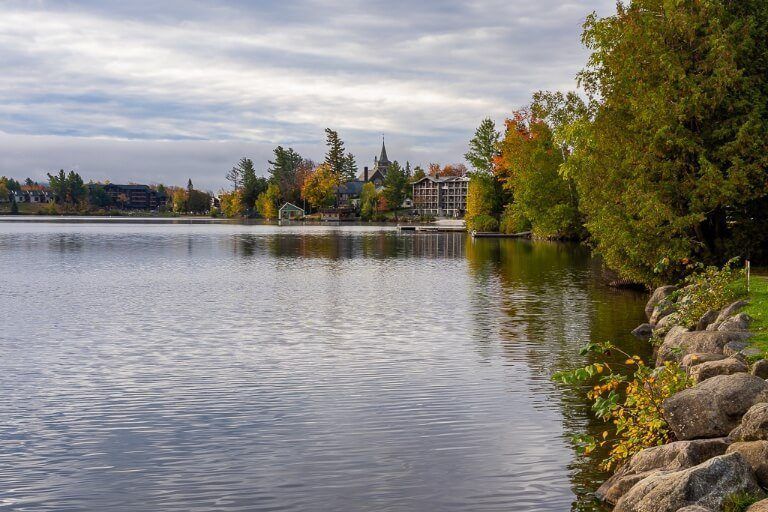 Lake Placid is a wonderful place to vacation at any time of year but it does come with a price tag. If you visit in peak seasons, such as Summer holidays, peak Fall foliage and peak skiing, you can expect prices to inflate heavily.
Fortunately, you do you have an array of lodging options spanning the budget range.
If you want to stay close to Mirror Lake, plan to spend more of your budget on accommodation costs. But if you can live without being right on the lake, cheaper hotels can be found a little further out.
With that said, when we visited Lake Placid in Fall, we paid more per night in a 'budget' hotel than in most other mid-range hotels on our New England road trip.
We've rounded up a varied list of the best places to stay in Lake Placid for all visitors. The list is based on a combination of top guest rating, best location and price.
Click on any of the accommodation options to see availability and prices for your dates of travel:
Each accommodation option in the list has a rating out of 10 as per Booking.com who we use to book all accommodation when traveling.
If none of the options above work, here's a complete list of all accommodation in Lake Placid.
If you're traveling on a low to mid range budget, we recommend you read our tips on booking cheap hotels with 15 steps you can take to find the best deals.
Top Lodging Recommendation
We do have a favorite place to stay near Lake Placid but it's a bit of a drive. Around 20 miles away (30 minutes drive) in Keene Valley, you will find Snow Goose B&B.
Our experience at Snow Goose was fantastic. Having hiked Mount Marcy earlier in the day, we checked into a lovely room with adjustable water bed and amazing bathroom. The owners are wonderful and serve the best homemade breakfast each morning.
Next time we're in the Adirondacks we will be staying here again. But don't just take our word for it, the B&B is rated at 9.5 / 10 on Booking.com by other guests.
Read More About New York State
Adirondacks
Finger Lakes
---
We hope this best things to do in Lake Placid NY travel guide helps with planning your vacation!
Have you been to the Adirondacks? What were your favorite things to do in the area?
Please let us know if you have any questions or need any help planning your visit.
Happy Travels,
Mark and Kristen
Was This Post Helpful? Pin It For Your Visit!