New York City is one of the world's most iconic urban photography arenas. We're going to help you to take home the most amazing photos from your visit to New York by showing you over 60 of the best instagram spots, tourist classics and hidden gem NYC photography locations.
New York City is a gold mine of unique photography locations. From world famous buildings and landmarks to mind blowing skylines and interior architecture, NYC is an adventure playground for beginners and professional photographers alike.
After 3 months of living in New York City in Winter, step counts in the 100's of thousands, snapping in sun, rain, snow and darkness – we have created a 60+ strong list of the best places to take pictures in NYC. You will find a map of all locations and photography tips to help you prepare effectively.
So, if you're planning a NYC itinerary and want to find some of the best, most symbolic and most unique photography locations in town, get your camera charging, clear off those SD cards and read on!
Top Tips For NYC Photography
Before we get into this collection of best photography locations, we're going to share our top general NYC photography tips to give you a heads up on what you can expect and how to make the most of your time:
Weather and season both play a huge role in NYC photography. We were lucky with some aspects and not so lucky with others, that's how the cookie crumbles. The same will apply to your visit.

Try to shoot as much as possible at dawn and dusk, during golden hours and at night.

If you want to take stunning pictures of NYC at night, you will need to carry around a tripod.

Immerse yourself into as much as possible in the city. That means become a fully fledged tourist! Take a boat tour, a helicopter tour, go into subway stations, walk everywhere, get off the beaten path and of course hit all of the major tourist landmarks.

No time for taking long food breaks? Grab a quick and tasty breakfast at one of the best bagel joints in NYC and pick up slices of the best NYC pizza for lunch or dinner.

NYC crowds can be both a problem and an asset. Use crowds in Grand Central or Times Square to your advantage with long exposures to create a cool ghosting effect.

Smartphones take fantastic images these days. They will be fine for many of the best photography locations in NYC but they do have certain limitations.

Shoot in RAW if using a camera. Even if you're a beginner, always shoot in RAW + JPEG. Use your JPEG files until you advance your skills but having the RAW files available for later is essential. Yes, we're talking from experience!

Buy a New York CityPASS to save a substantial amount of money on total costs for visiting the major tourist attractions such as Empire State Building, Top of the Rock and The Met

.
Read our comprehensive guide to using the New York CityPASS or head over to the official CityPASS website to learn more.
Map of Best Photography Locations In NYC
This map will show you the exact locations of the best NYC photography locations in this list.
Remember, NYC is one of the top bucket list vacation spots in the US and it is overflowing with unique photography spots. Use this list and map for ideas but be sure to look for new locations of your own as you explore the city.
Click or touch to activate the map, zoom in / out, move around Manhattan and Brooklyn to find each photo spot.
Icons are labeled with the corresponding numbers in this list to make things easier.
Dark Red

– Central Park photography locations
Purple – Midtown Manhattan photography locations

Green

– Lower Manhattan photography locations
Dark Blue – Brooklyn photography locations

Grey

– Bonus extra photography locations
Refer to this map throughout your visit to New York City to plan your photography itinerary efficiently.
Central Park – Best NYC Photography Locations
Central Park is one of the most photogenic areas in all of New York City. It's also enormous! You could quite easily spend a full day in the park and come away with a list of '50 awesome Central Park photography locations'.
However, we will fight the temptation and only give you our 7 most unmissable spots:
1. Bethesda Terrace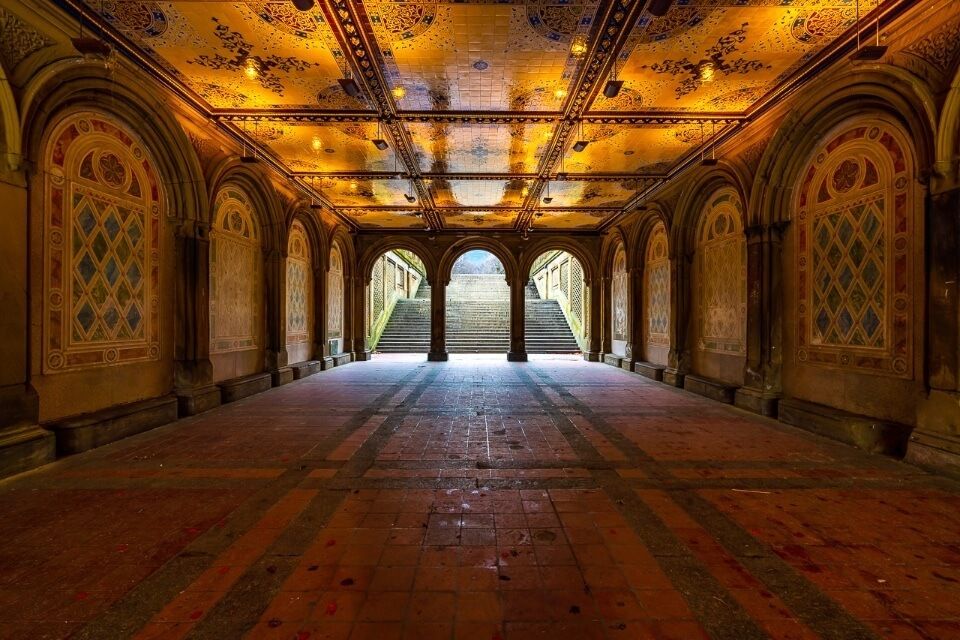 Let's kick things off with one of our favorites – Bethesda Terrace. You may recognize the stunning tiled ceiling, perfect symmetry and column arches from the movie John Wick 2.
Bethesda Terrace is a very popular NYC photography location. In order to get a picture like this one with nobody in it, you're going to have to arrive early.
The key to getting a great image here is to make sure you get the symmetry right. Line your tripod and camera up as centrally as possible to give yourself the best shot of achieving a perfect center in post editing.
*Pro Favorite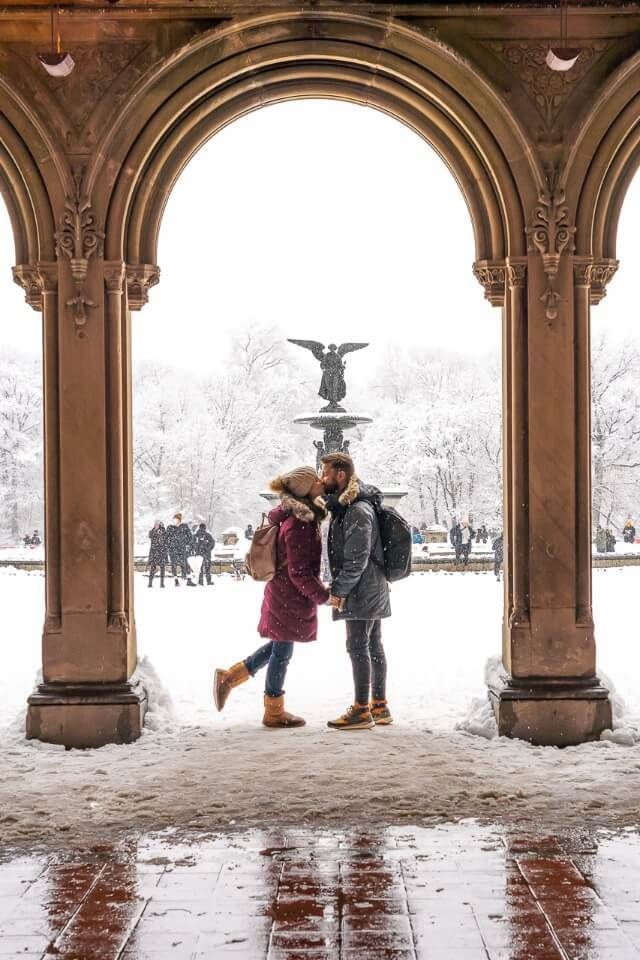 Turn 180 degrees from the staircase in the first photo to see the other side of Bethesda Terrace.
Standing in the center arch (of 7 arches in a row) directly in front of Bethesda Fountain is easily one of the best instagram spots in all of New York City.
We were lucky enough to be walking around Central Park on a stunning snow day in Winter, which added a magical element to this popular selfie location.
Top tip: There are always engagement and wedding photo shoots in Bethesda Terrace. Watch the pros and see if you can find a unique perspective.
*Instagram Favorite
2. The Mall
Walk up the steps from Bethesda Terrace and you'll find yourself at one end of The Mall, Central Park's most popular pedestrian walkway.
This tree and statue lined promenade is beautiful to visit in all seasons of the year, but as you can see Winter gives it a Narnia-esque appeal.
The frozen trees frame subjects standing in the center of the esplanade perfectly.
A good tip here is to raise the center column on your tripod to get above head height, then you'll be able to see the entire straight line of The Mall behind subject heads.
We tried it but there were too many people and our heads were disappearing into an ocean of Winter jackets.
3. John Lennon Memorial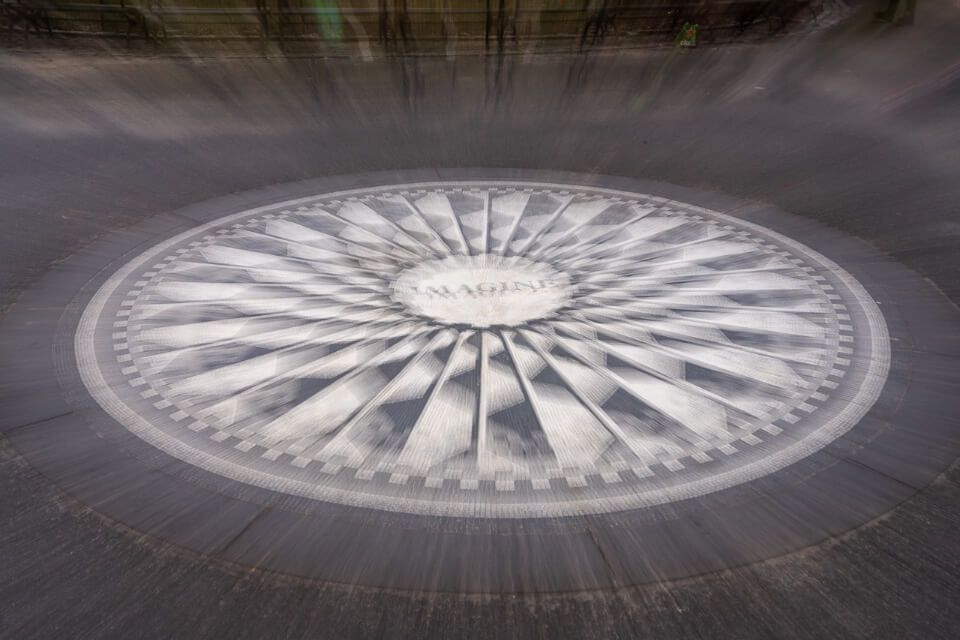 The John Lennon memorial is a black and white mosaic with the word 'IMAGINE' written in the center.
We got a few wide angle shots using nearby curved benches as leading lines but we also met some other photographers who told us about a trick they were using to create a very apt effect with the mosaic.
Set a slow shutter and zoom out as the image exposes.
It was a bright day and we didn't have our ND filter with us at the time (always carry an ND filter just in case!), so in order to get a shutter speed of 0.2 seconds, we had to drop our ISO to 50 and narrow our aperture to f/22.
Once we had 0.5s exposure, we set a 2 second timer and quickly zoomed out from 24mm to around 36mm as the image exposed. The technique is great but a longer exposure would have allowed us to control the effect more easily.
Give it a try during your visit.
4. Solomon R Guggenheim Museum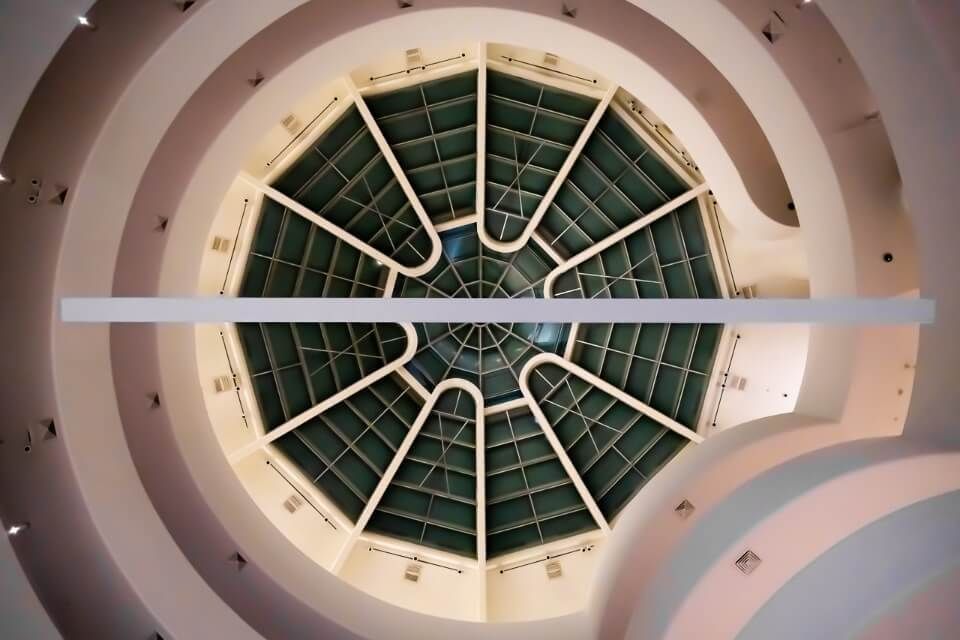 This shot looking directly upward from the bottom of Guggenheim Museum is our favorite 'hidden gem' NYC photography location from around Central Park.
It's not exactly a secret, but far fewer visitors to New York City know about this one. This was taken just inside the entrance. Walk into the middle of the ground level and line yourself up as best you can in center.
The problem here is they won't let you set up a tripod inside and it is very dark. No natural light means you're forced to go with a wide open aperture and then adjust ISO to keep your shutter speed around 1/125s so you can expose without blurring the image handheld.
We had to go as far up as ISO 8000 to shoot in shutter priority at 1/125s. An ISO that high means a lot of grain to deal with but it's better than getting a blurry image.
5. Bow Bridge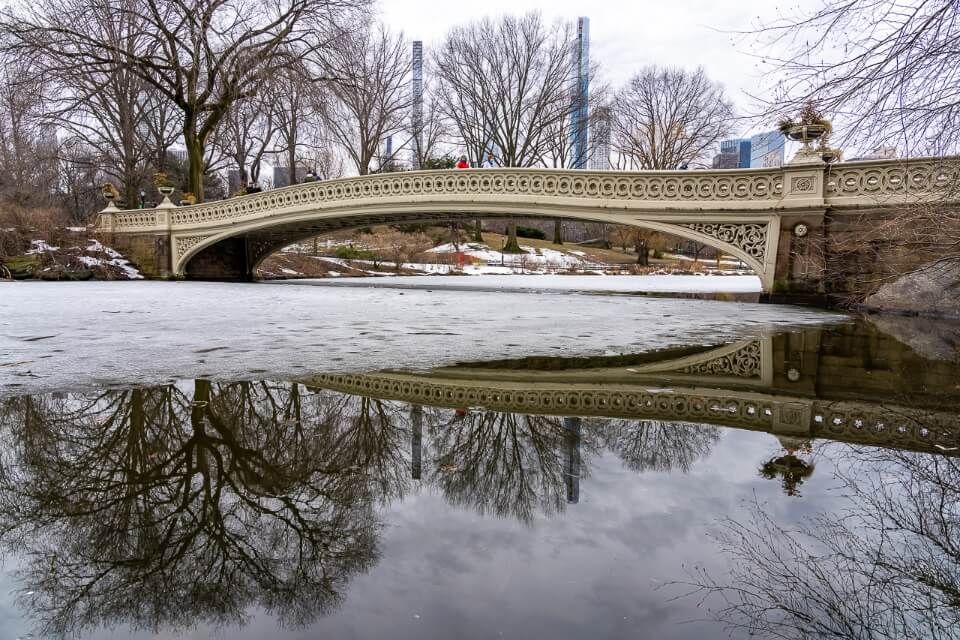 Bow Bridge is one of the most attractive features in Central Park. There are a number of places you can get a great shot of Bow Bridge, typically taken from the opposite side to what we have in the image above.
You can get a brilliant photo of Bow Bridge with Upper West Side buildings such as El Dorado from the other side.
We chose this photograph because it was the only time we visited this part of Central Park without the water being completely white or frozen solid and we wanted a reflection.
6. Jacqueline Kennedy Onassis Reservoir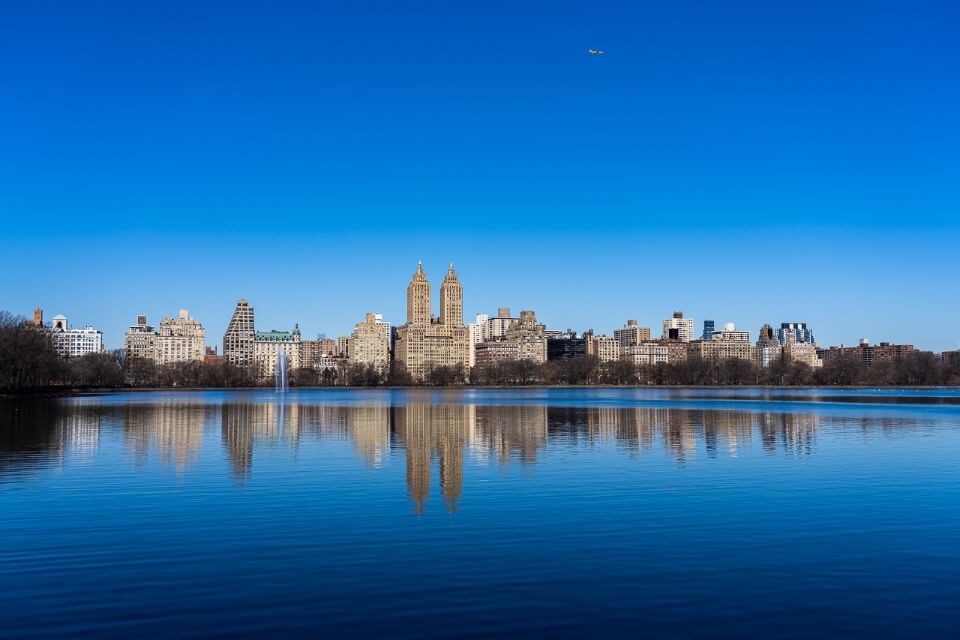 Later in Spring we visited the northern parts of Central Park and had a beautiful bright blue sky with deep blue reservoir. The ideal image here is to get the Upper West Side buildings with a perfect reflection but we visited too late in the day.
An early start will give you a better chance of getting a coveted reflection photograph of the Jacqueline Kennedy Onassis reservoir with a long exposure and flat water surface.
7. The MET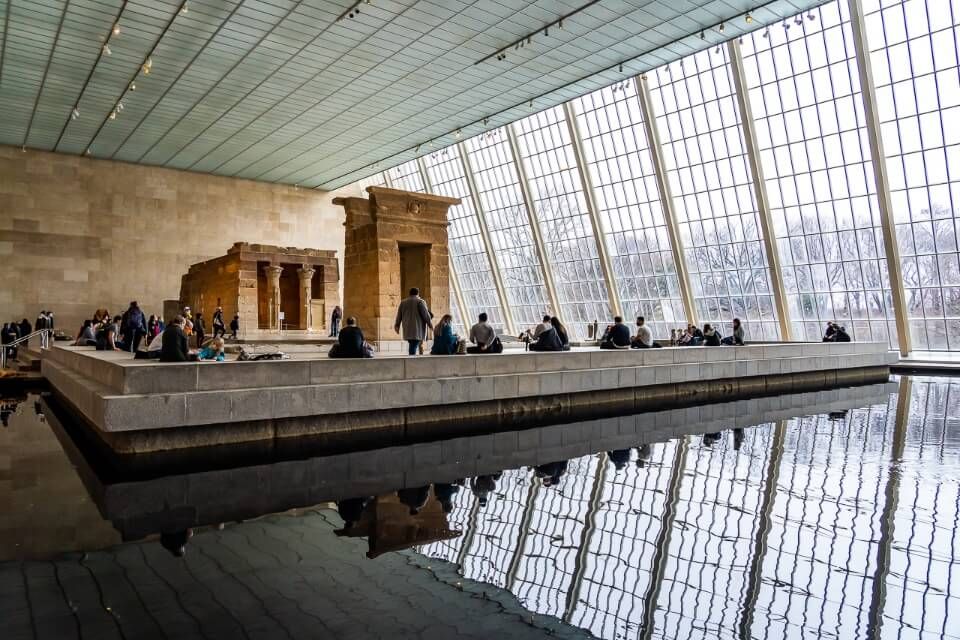 Not only is The MET an incredibly interesting museum, it also has a number of great photography spots. This one inside the Egyptian exhibit would be perfect with fewer people and a wider lens.
There's another nice photo inside the very same room. If you line up the doorway and the column from in front of the water feature, there are 2 sculptures to frame the foreground.
Also, use paintings upstairs to create images with people as foreground subjects. One of the best is the enormous 'Washington crossing the Delaware' painting (Gallery 760).
Midtown Manhattan – Best NYC Photography Locations
Now we're getting into the meat of best NYC photography locations. Midtown Manhattan is the most popular place to stay in New York City for first time visitors.
So, it's likely you'll be based in a hotel close to many of the photo spots in this section. That means you have better access for sunrise, sunset and night photography here.
We're classing Midtown Manhattan as 59th Street at Central Park down to 14th Street at Union Square. Many of New York City's most famous neighborhoods fall into this classification so expect to be very active in Midtown.
Here are our top 20 places to take pictures in Midtown Manhattan:
8. St Patrick's Cathedral
You can't miss St Patrick's Cathedral when walking down 5th avenue. Its stunning architecture stands out like a sore thumb along the famous shopping street.
You can either go for a 45 degree angled shot of the front and side facades or go all out for the front with a wide angle like this one.
We think the cathedral looks better at night against a darker sky with subtle stone colors illuminated gently by artificial light.
9. Atlas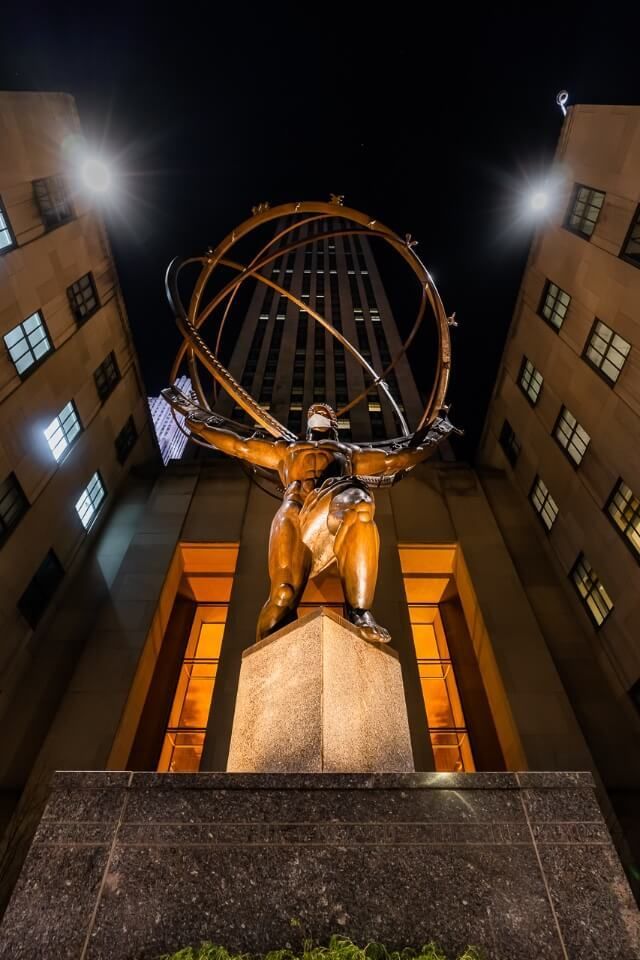 Spin around 180 degrees on your heels and you'll be looking straight at Atlas. Cross the road from St Patrick's Cathedral and crouch down in front of the Greek Titan Atlas carrying the world on his shoulders.
Angle your camera up and go wide to get as much of the scene in as possible or zoom in to focus more on Atlas. He even has a mask to do his part in the fight against coronavirus.
10. Rockefeller Center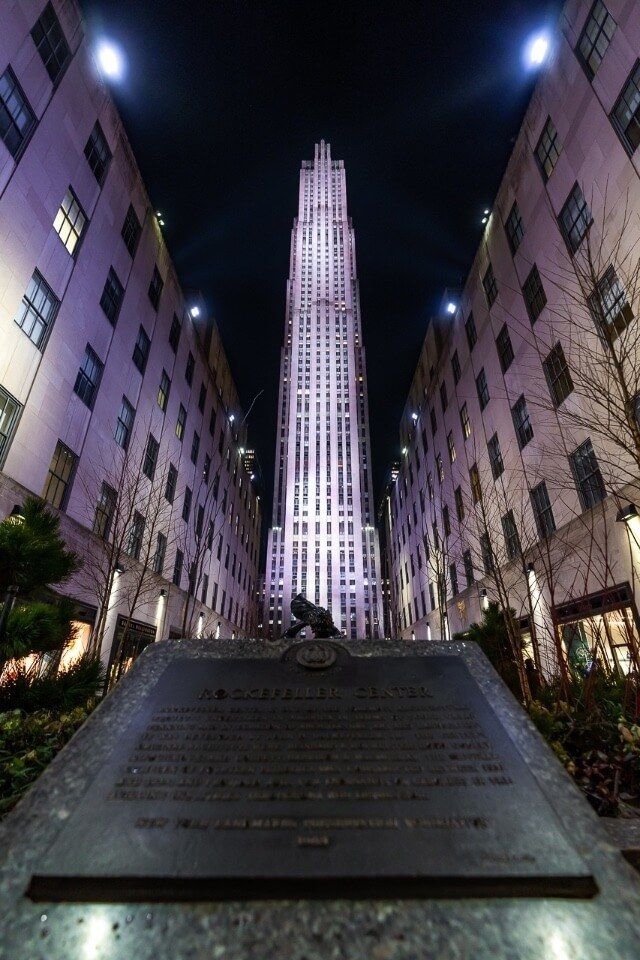 Sticking with the ultra wide theme, walk 250 ft south to look up at the impressive Rockefeller Center. There are a number of places you can get a similar image to the plaque we have used here, including a water feature and a metal statue.
Again, we think the darkness of night allows for a more impactful image than what you will get during the day.
11. Top of the Rock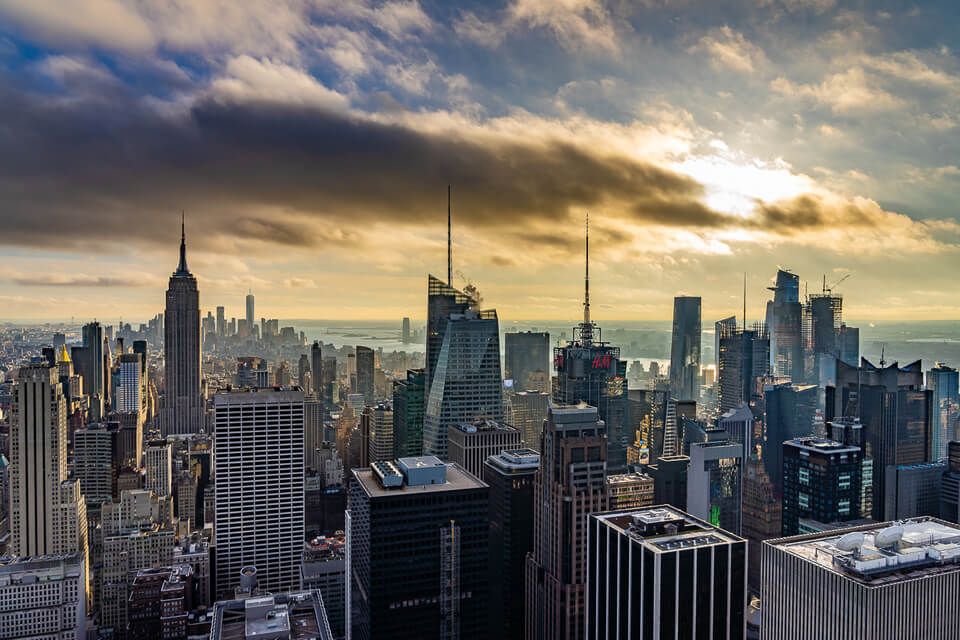 Looking up at the Rockefeller Center from below is one thing, but standing on top of its outdoor 70th floor is another. We personally think Top of the Rock is one of the best and most iconic NYC photography locations.
From the top you can look north to Central Park (especially nice in Summer and Fall), or south to soak up the entire Midtown and Lower Manhattan landscape.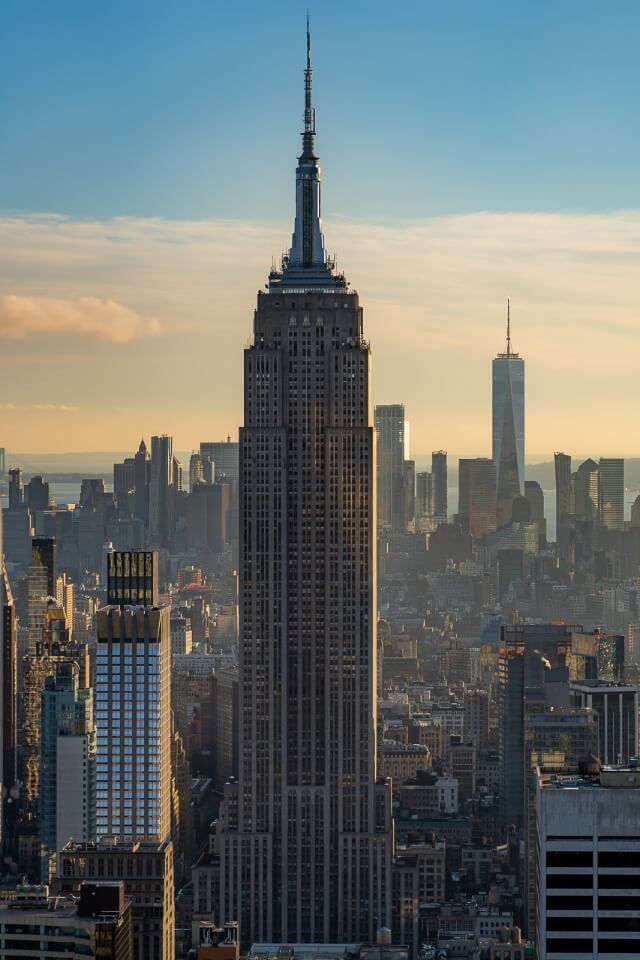 Another unique photograph at Top of the Rock is to zoom in (compress) on both the Empire State Building and One World Trade Center way off in the distance to put them next to each other.
It's impossible to ignore a Lord of the Rings Two Towers reference!
Remember, you can see the Empire State Building illuminating at night perfectly from Top of the Rock.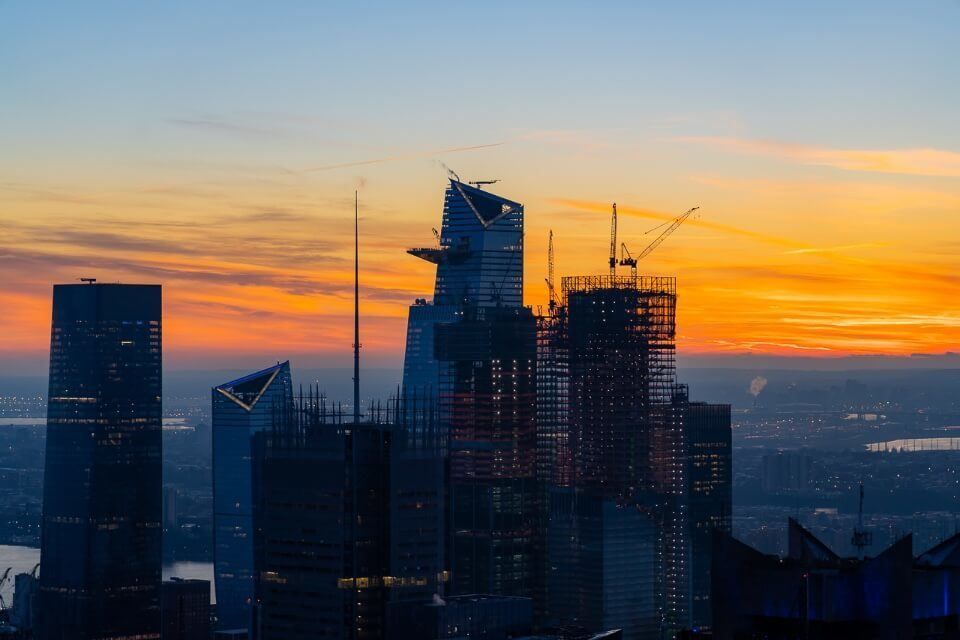 Standing on Top of the Rock means you will watch the sun setting directly behind Edge at Hudson Yards. The area is under significant development and scaffolding provides a fantastic silhouette.
Top tip: One of our best NYC photography tips is that Top of the Rock 70th floor is the only observation deck in the city with a clear 360 view over the skyline without glass panels or metal fences.
*Instagram and Pro Favorite
12. Radio City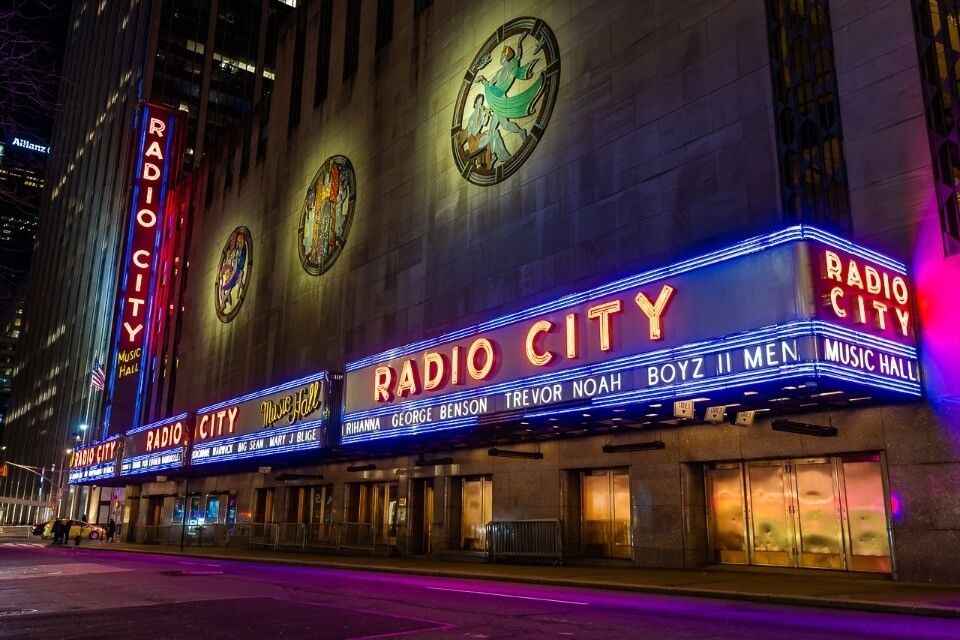 Radio City is one of the most vibrantly lit up places at night in Midtown Manhattan. We loved the bright colors radiating out into the New York night.
We were hoping for deep and still puddles in the road to get a reflection shot but it was dry each time we were at Radio City, so we settled for the classic side profile image instead.
You can also get a photo right on the nearby corner to get both exterior sides of the building.
13. Grand Central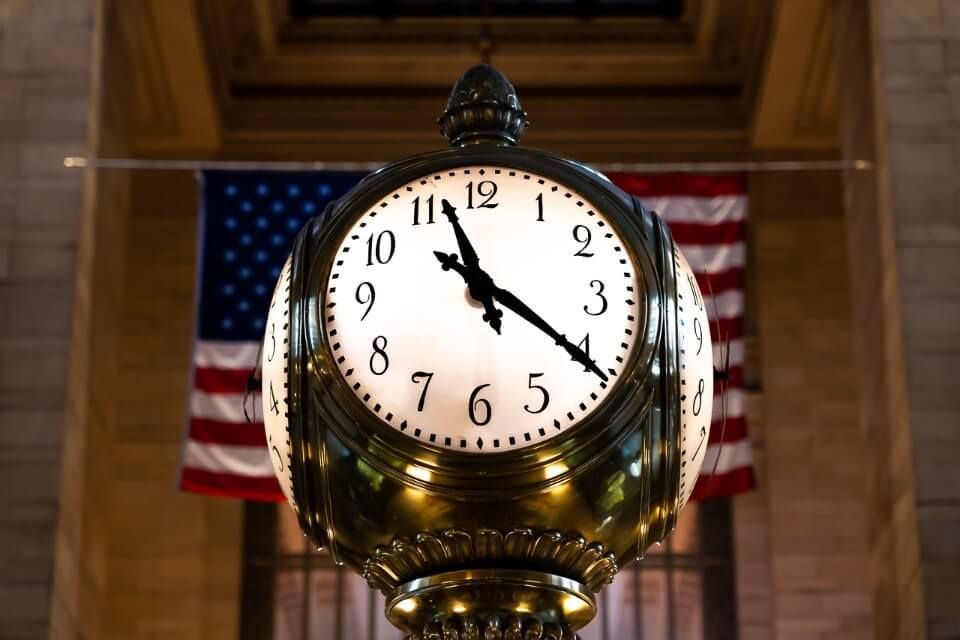 Grand Central terminal is a world famous landmark in which you will be wowed by beautiful architecture and a number of incredibly photogenic features.
First and foremost is the opal faced clock perched on top of the information booth in the center of the main concourse. All you need to get a nice shot here is a lens you can zoom with and a wide aperture to bokeh the background.
We used f/4 at 105mm from a few feet back to bring the famous stars and stripes flag 'closer' to the clock but not in focus. Try getting the clock face on, in between faces and with subjects in the foreground as part of a wider shot.
The main concourse walls and ceiling are stunning but difficult to capture with almost permanent scaffolding in place.
Here's how to get one of the best photographs you can take in Grand Central:
Put your subject 20 feet in front of the clock and centered to the steps opposite.

Walk up those steps, stand in the middle and look back at the main concourse.

Put your camera on the stone barrier (or a tripod if you can get away with it!) and set a 2-5 second exposure with your subject staying perfectly still.

This will create a really interesting ghosting effect but your subject will be crystal clear in focus.
We lived in NYC during coronavirus when the city was incredibly quiet. We tried to get this photo but there just weren't enough people around to make it work.
14. Chrysler Building
Hugely underrated, the Chrysler Building is one of our favorites. The art deco design is gorgeous and it was actually the tallest building in New York City for 11 months back in 1930.
Finding a good perspective of the Chrysler Building is fairly challenging. Sometimes the best views are the ones you don't expect or imagine.
The image above was taken when we were walking around the back end of Grand Central through an unexpected gap in the building layout.
Finding unique takes on NYC photographs is difficult but sometimes the lesser known streets are full of surprises.
15. Manhattanhenge
From lesser known to very well known. Manhattanhenge is arguably the most unique of all photography locations in NYC thanks to its grid street layout.
On just a handful of occasions each year, sunrise or sunset lines up perfectly with the East-West grid streets of Manhattan to create some truly incredible perspective photography.
Two weeks either side of the Winter solstice and Summer solstice, you can watch sunrise (Winter) or sunset (Summer) at the end of a 'tunnel' row of buildings.
The image above is of 42nd street from the Tudor Bridge, which becomes packed full of photographers on the 4 days each year in which the full sun is on display. The Chrysler Building looks awesome from this vantage point.
Top tip: A super telephoto lens (even a teleconverter!) is required to get the very best sun shots here. Otherwise the sun will be a tiny yellow speck at the end of the tunnel.
It's still a really cool urban photo on a normal day though, right?!
*Pro Favorite
16. Fifth Avenue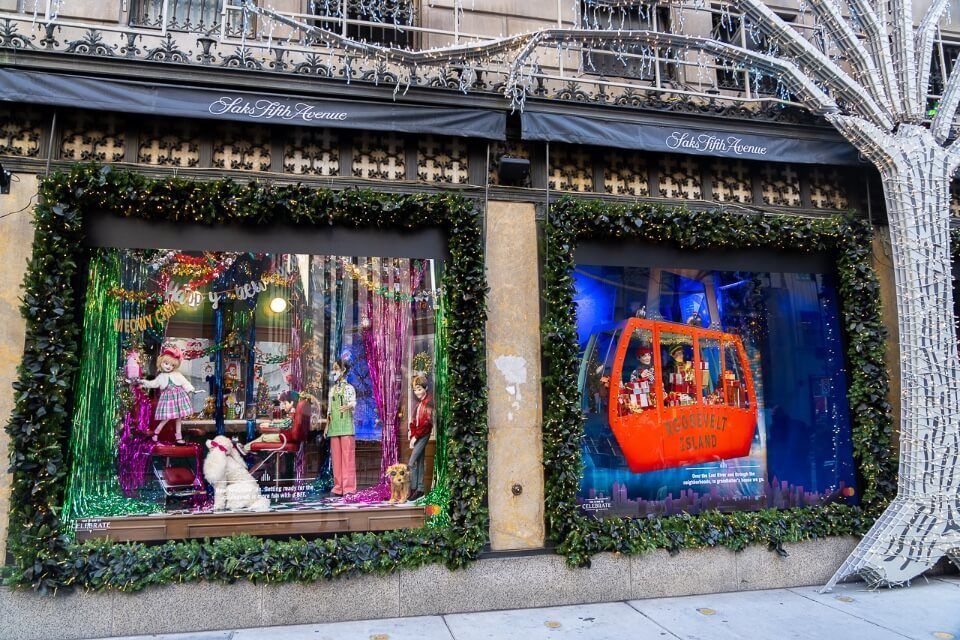 Fifth Avenue is the most famous shopping street on Earth. You could take one of a number of photos along 5th but we went with a Saks department store window story during Winter.
A classic New York photo that's easy to get on fifth avenue is someone buying a hotdog from a mobile hotdog stand.
17. New York Public Library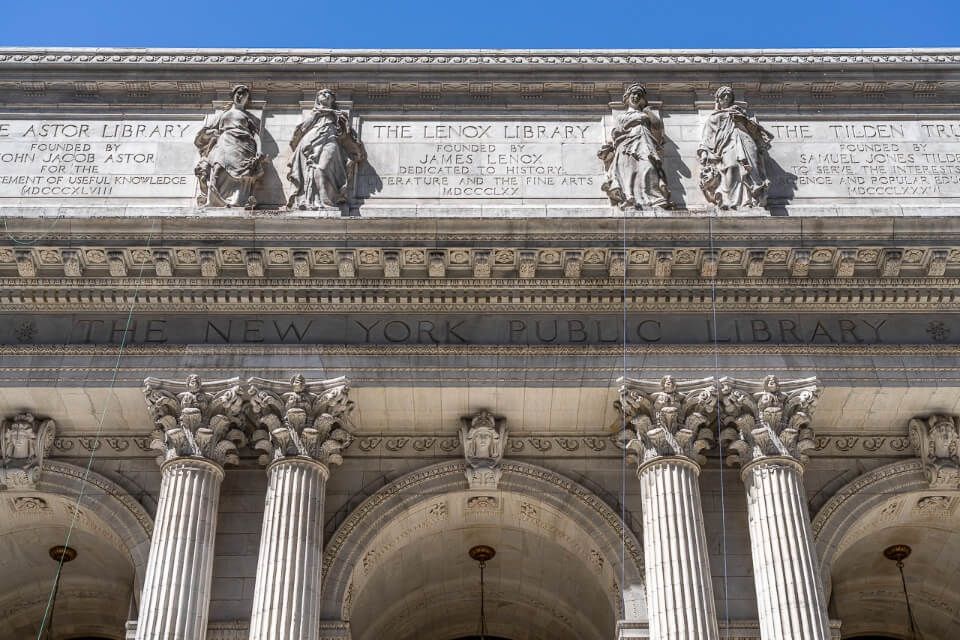 Definitely one of the most prominent buildings along fifth avenue, the NY library is unmissable.
The library was closed the entire time we lived in NYC but if its open when you visit, be sure to head inside for a photograph of the beautiful hall.
18. Bryant Park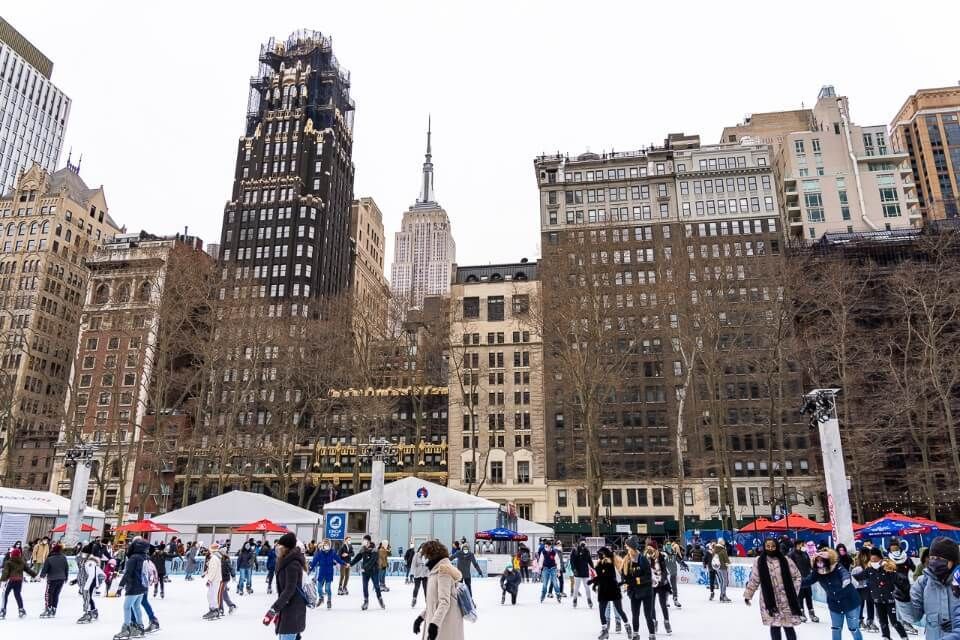 This photograph in Bryant Park doesn't look like much but it holds personal meaning for us.
Seeing all these ice skaters having fun was the first time we'd seen people out and about in New York City during the covid pandemic. The previous weekends since moving, the city was unnervingly empty.
Bryant Park has excellent views of the Empire State Building and you will find plenty of hot chocolate vendors on a cold Winter's day.
19. Times Square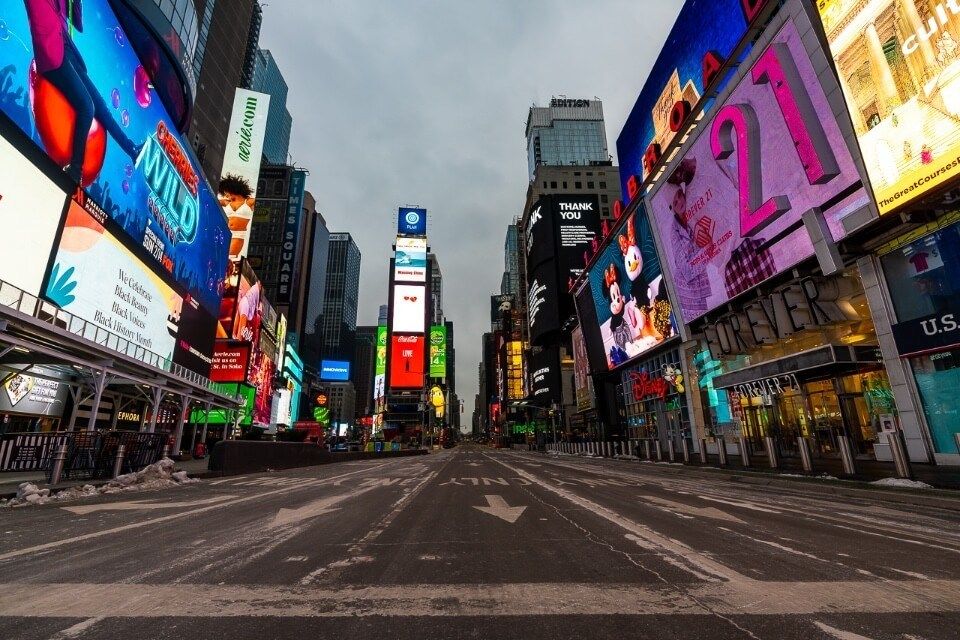 Have you ever seen Times Square with no people and no cars? Or does that sound like we're spinning a tale?
Well, these are real photographs with no editing.
But times square is a crazy, manic, sensory overload so how did we get it to ourselves?
Like we've mentioned, we were in New York at the peak of the pandemic and that meant most businesses in Manhattan were closed. We couldn't eat out anywhere or even get a coffee for the first few weeks. But it also meant barely anyone was around.
So, we turned up just before sunrise and had the entirety of Times Square to ourselves for a while. Someone else eventually had the same idea as we did (pictured sat on the metal frame below).
It was actually quite an eerie aura, like we'd woken up in a post apocalyptic New York City.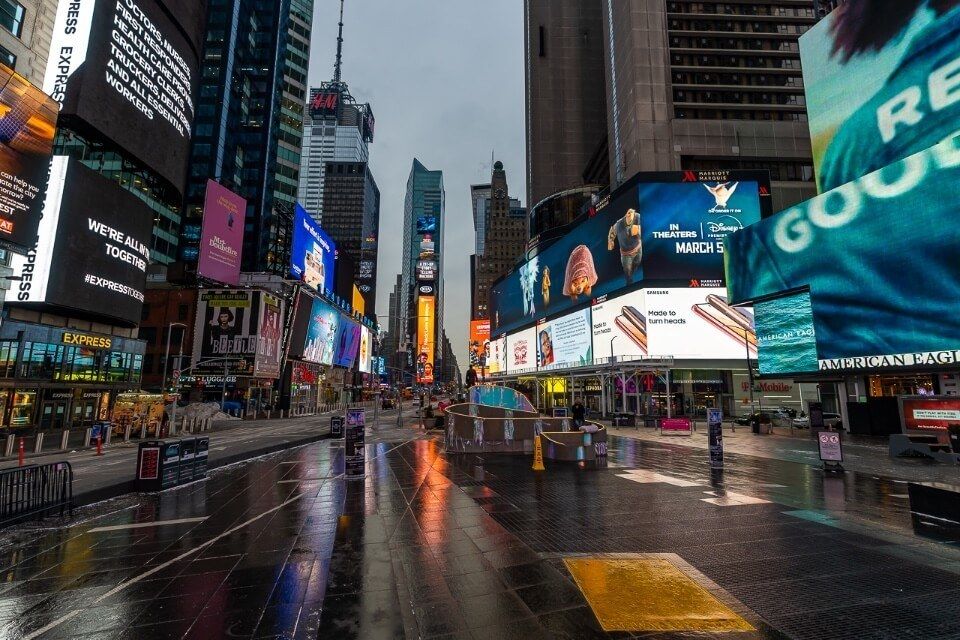 Times Square is an intriguing place to photograph. Especially during normal times when it's always overflowing with tourists.
A red staircase open to the public provides an elevated view over times square but there are objects in direct line of sight.
The best tip we can offer is to take more images than you usually would, in case someone's head pops into view or a billboard changes during your exposure.
Otherwise, there are no real obvious photography tips or rules here. Just turn up, snap away and see what you can conjure up.
20. Edge NYC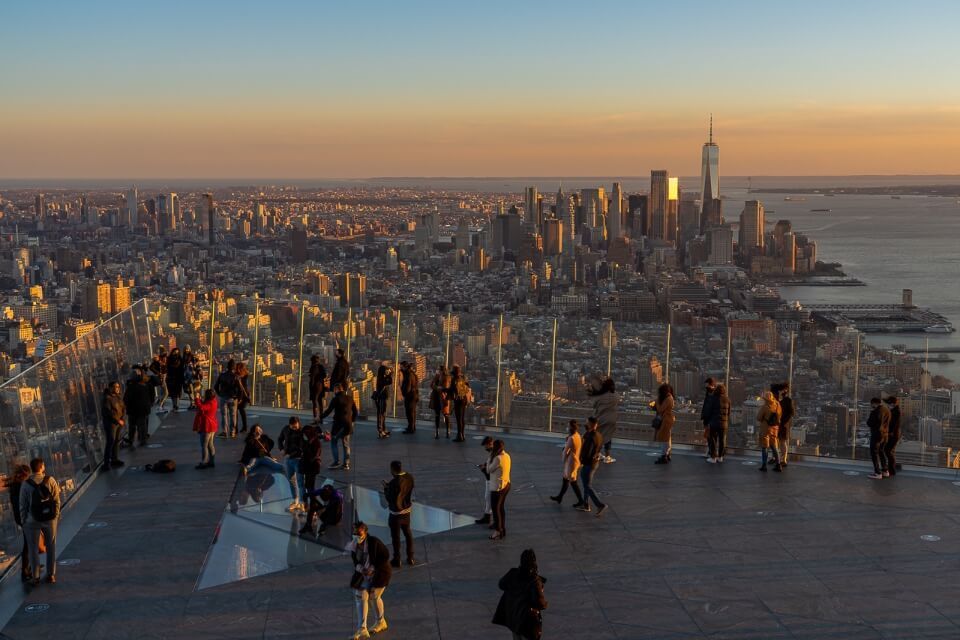 Edge at Hudson Yards turned out to be one of our favorite overall experiences in New York City. The latest NYC super-tall observation deck is sleek, modern and offers a unique perspective over the famous skyline.
The classic instagram spot is right in the corner where the two glass paneled edges meet. But there's also the glass floor looking down 100 floors to the streets of Manhattan below.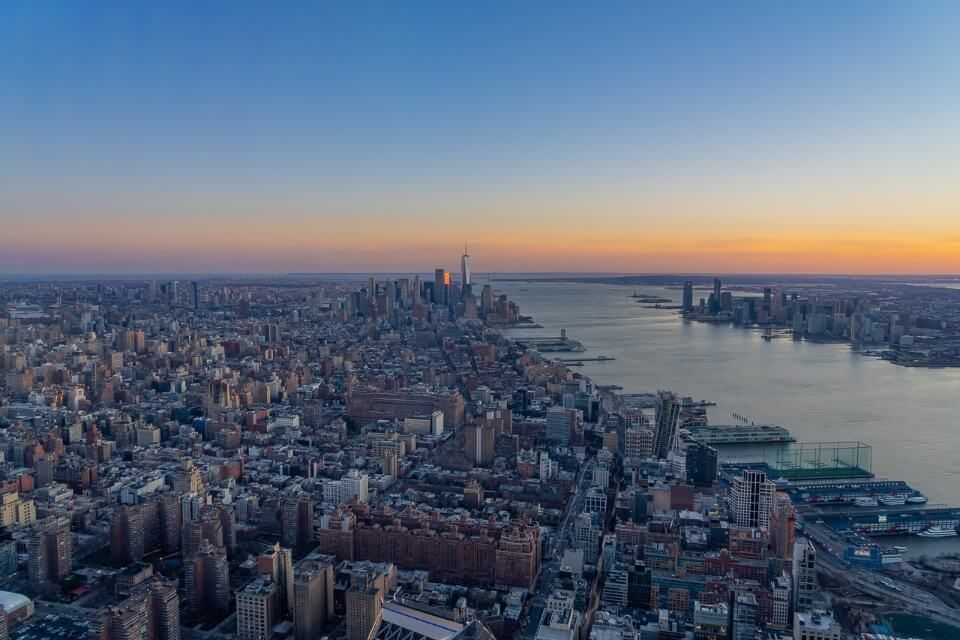 To get the first photo with Lower Manhattan looking so close, buy a drink in the champagne bar so you can access the amphitheater seating area and zoom in to around 100mm.
The second image is easier to capture but is also from the seating area so we didn't have to contend with the glass panels refracting light. Sunset is a particularly special time to visit Edge.
Further Reading: Our complete guide to visiting Edge at Hudson Yards observation deck.
*Instagram Favorite
21. Vessel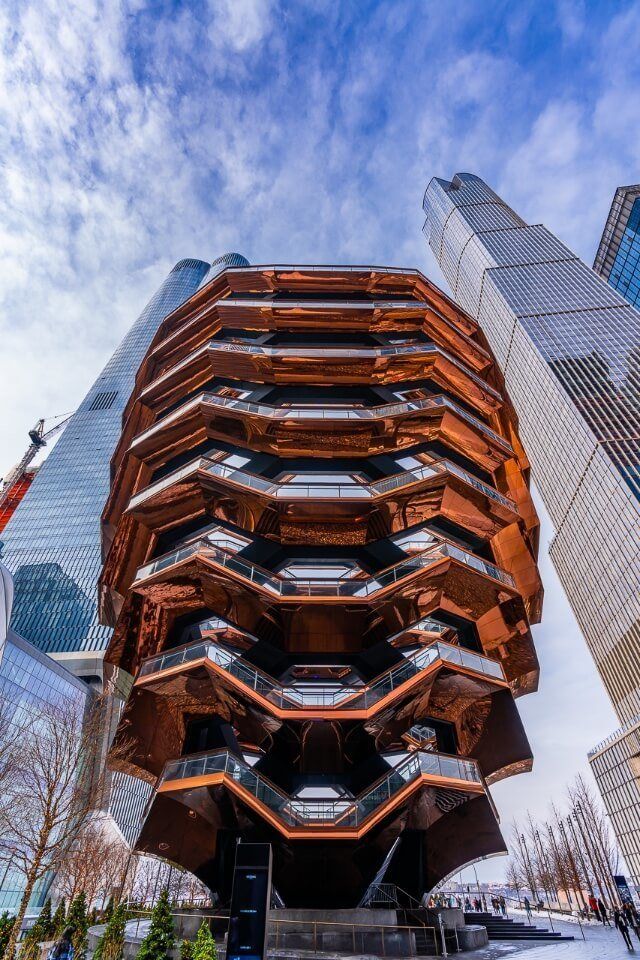 We love unique buildings and structures. Who doesn't?!
Vessel is about as unique as it gets where original architecture is concerned. It seems so out of place and random, but at the same time it is mesmerizing and sucks you in like an inescapable gravitational force.
We couldn't climb it due to the pandemic, but the best photographs are of its exterior anyway. Your problems are finding the right place to take the photo and time of day.
Most people were shooting from the opposite side to our image, where there's more room to get Vessel into frame without using a wide angle. But the background is then a shopping mall and the sun.
Luckily, we had our 16mm lens, which was plenty when standing at the entrance to Hudson Yards shopping mall.
We would have preferred to get this exact shot a few hours later as the sun sets directly between Vessel floors but we didn't have time to wait around.
22. Penn Station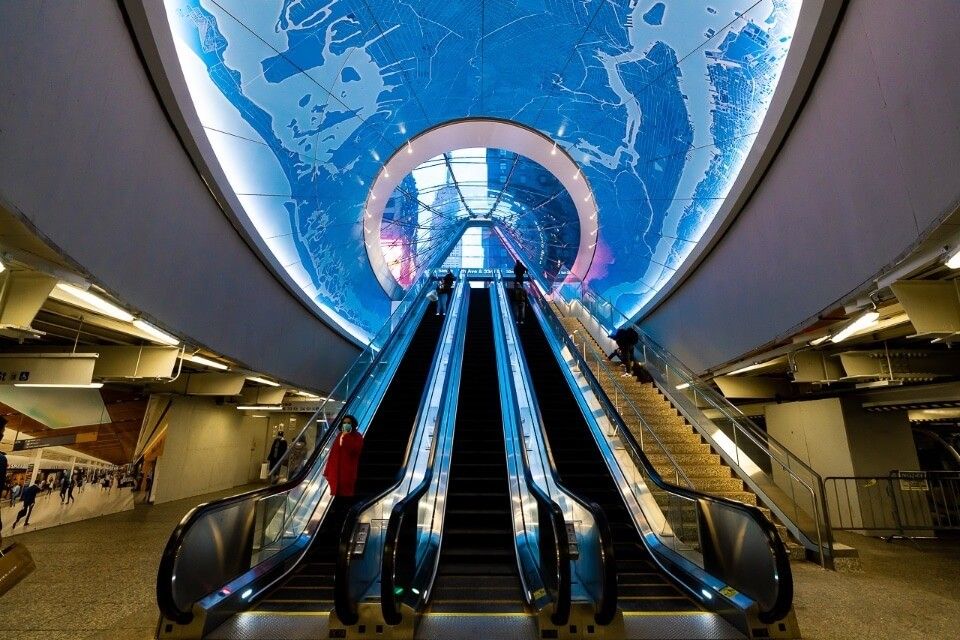 The beauty of photography locations in NYC is that there's always something new to get stuck into. New developments often lead to new instagram spots and this one at Penn Station is no exception.
A shiny new entrance on 34th street and 7th avenue leads to an escalator down below ground (and on to Moynihan train hall). Look up behind you to see that you've descended through an impressive and vibrant blue globe with map.
The first thing we thought was how similar it was to the escalator in London's Natural History Museum. Why can't all escalators be this cool?!
23. NYC Rooftop Bar (Refinery)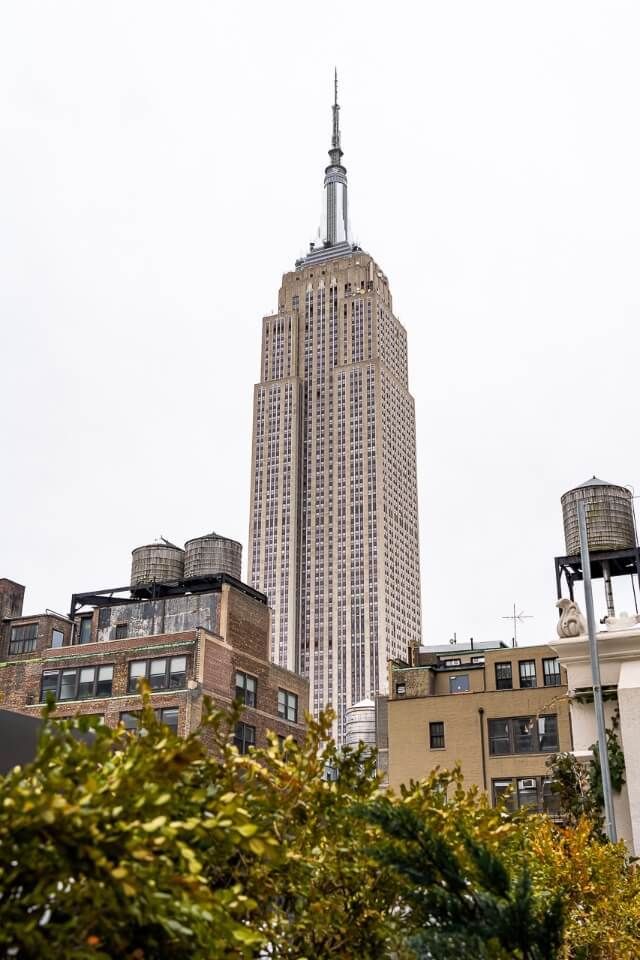 Rooftop bars have been providing tourists with stellar views over city skylines for decades. New York City is one of those places you simply can't afford NOT to venture up to a rooftop bar.
Many of the better rooftop bars are located within close proximity to the Empire State Building, like this one called Refinery. The rooftop restaurant here looked great but it was busy, so book in advance if you plan to eat up here.
What could beat a nice meal with a glass of wine or a great big ice cold beer and an epic view of the Empire State Building for photographers in NYC?
24. Empire State Building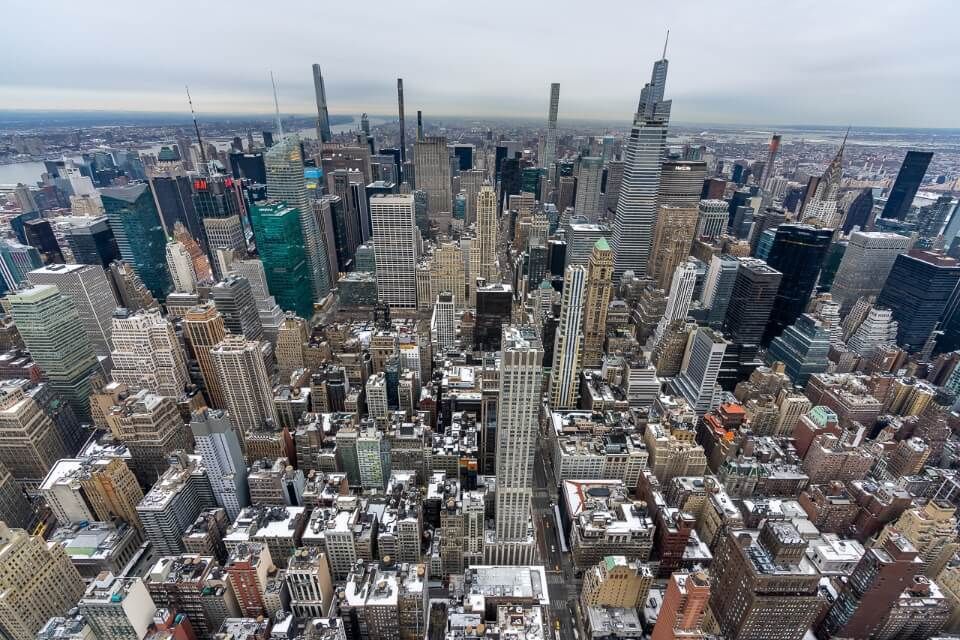 On to the centerpiece NYC poster child itself. The Empire State Building is symbolic and emblematic of elitism and rapid growth in New York City.
As far as photography of the Empire State Building exterior goes, you can grab a street shot from right outside Macy's department store or try the various intersections between Madison avenue and 6th avenue along 33rd or 34th streets.
After that, head inside. Allow some time for the exhibits inside Empire State if you are interested in the history and construction of an icon.
Once at the top, look out in any direction and you'll see nothing but a sprawling concrete jungle. And that's exactly what makes it so special up here.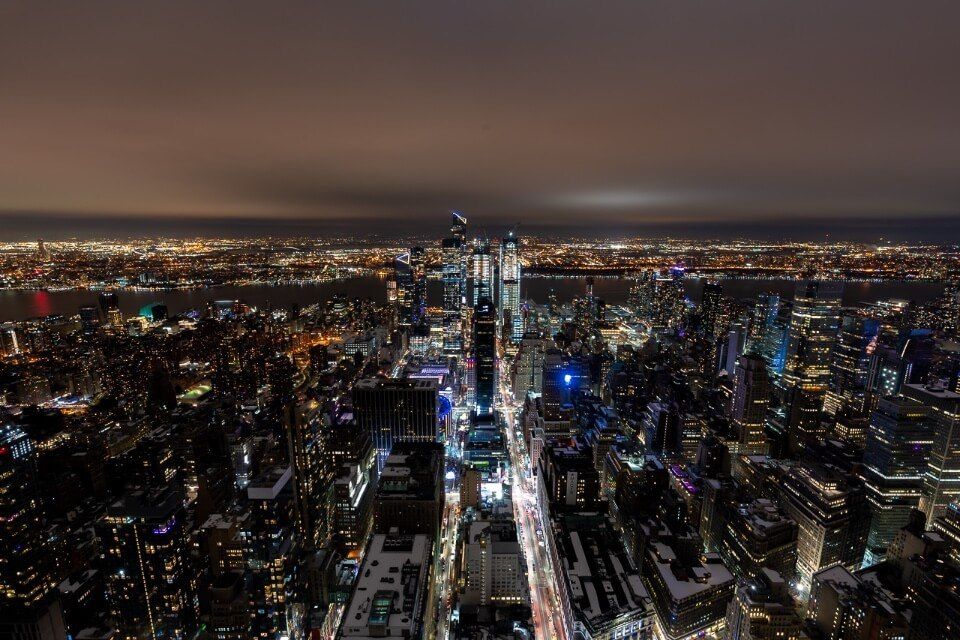 In both our images you might notice a dull sky. That's because we hit the 82nd floor on a cold Winter's day with relentless low hanging dense snow clouds. At night the city lights are reflecting off the snow clouds.
Looking South to Lower Manhattan, West to Edge at Hudson Yards and North to Rockefeller are the three best sides to focus your time.
Day and night offer different but equally as amazing perspectives. Use the diamond shaped mesh fences to frame your skyline and don't forget to angle downward to get more city blocks in your image.
At night, we think the West view towards Edge at Hudson Yards is the better choice. The concrete concentration of buildings is less impressive, but 33rd and 34th streets run perfectly ahead in center all the way to the Hudson River.
Those two roads light up with traffic and the Hudson River also creates a leading line half way up the frame.
Top tip: No tripod allowed, so you'll need to improvise. Find a flat wall and rest your lens hood on it, poking through a diamond shaped hole. Put the body down on the metal bar and you have a stable shot … but wear a strap!
25. Flatiron Building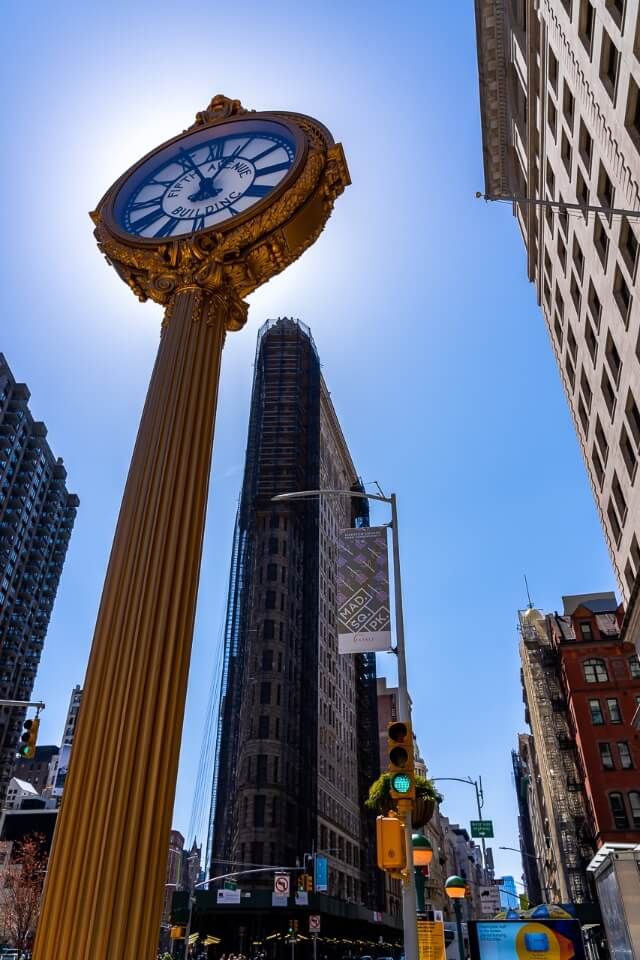 Our biggest disappointment from a photography perspective in New York City, the Flatiron Building had scaffolding the entire way up its famous narrow curving edge in front of the gold clock.
This is normal, it happens all the time. You just have to make the most of it.
We also visited on a beautiful clear day and the sun was bang in the middle of the sky. Bad timing on our part, but you can't be everywhere at once.
We used the clock face to hide blazing ball of fire but there's no hiding from the scaffolding and construction work on the Flatiron.
Turns out the Flatiron is a fairly difficult place to find a good angle for photography. The nearby buildings are compact and it's taller than we imagined.
Our advice would be to visit at night to get a long exposure with car light trails on both sides.
26. The High Line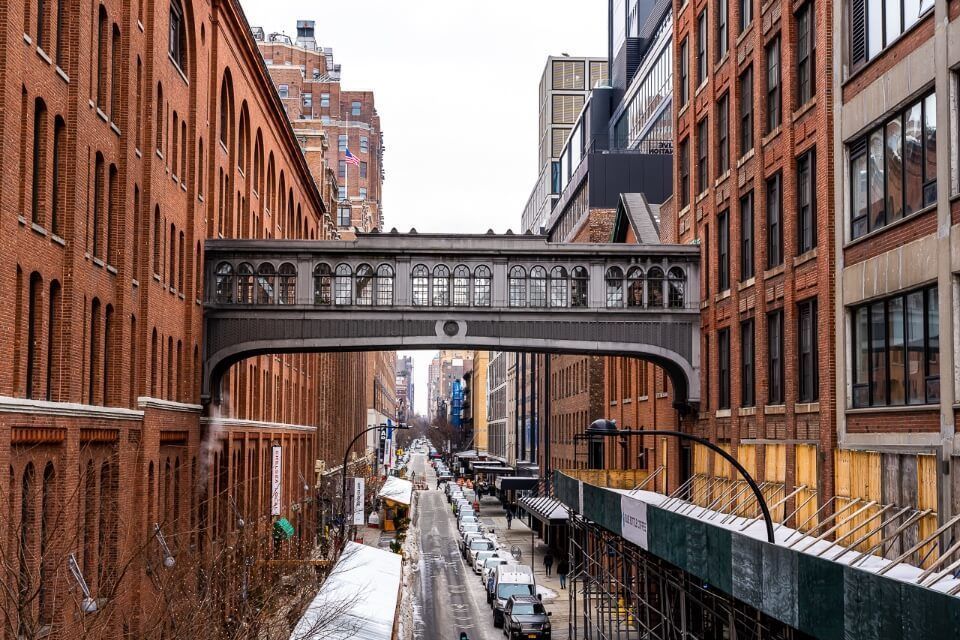 In Summer, the High Line is a bustling elevated green oasis. In Winter, the snow and cold dampen that spirit. But Winter means it's far quieter and easier to get photographs.
There are a number of streets with industrial buildings and gorgeous bridges connecting one side to the other. Keep your eyes peeled for these types of shot as you walk the High Line.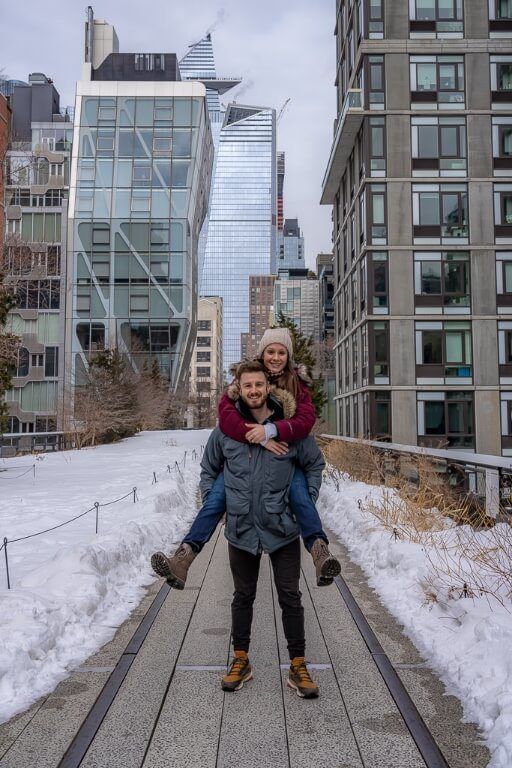 We even had time for a quick 10 second timer selfie on the High Line!
If you look closely at the top background you will see the Edge observation platform, which is conveniently where the High Line ends.
27. Chelsea Market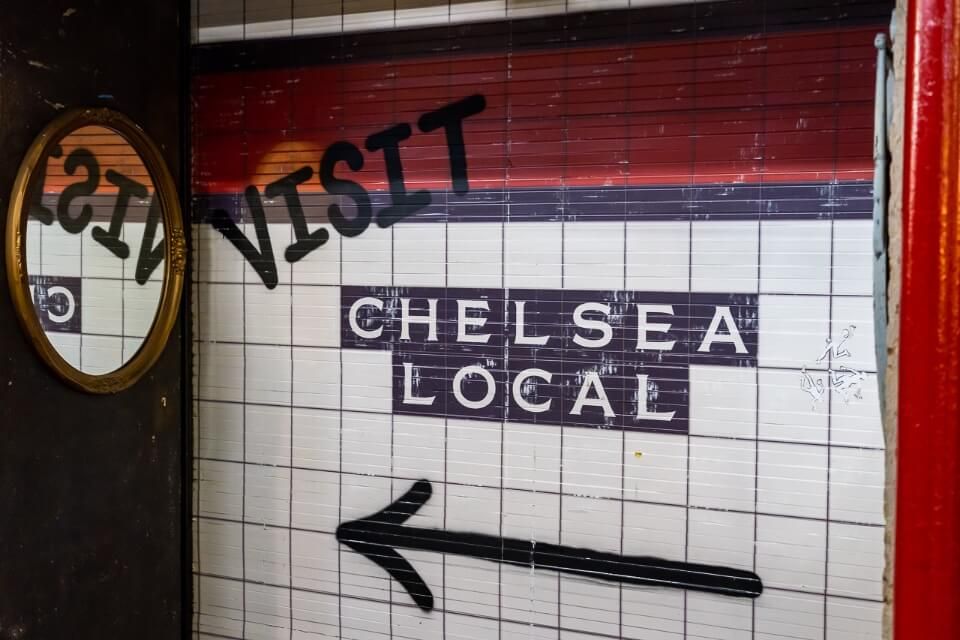 Chelsea Market is one of those places you could spend all day walking around. We were almost at running pace as we had to make a cruise departure and in the process didn't have time to stop for photos.
We grabbed a quick photo on the way out but there are plenty of places you can get much better images at Chelsea Market.
Lower Manhattan – Best NYC Photography Locations
Continuing South, let's move on to the 'bottom' of New York's famous Manhattan borough next.
Lower Manhattan (or Downtown) is delineated on 14th street, encompassing the financial district, SoHo and Lower East Side neighborhoods.
Before we moved to New York, we never realized how many of the popular touristy things to do in NYC are down in Lower Manhattan. Be sure to include this area in your NYC photography quest.
Let's get into 16 of the best NYC photography locations in downtown Manhattan:
28. Friends Apartment Exterior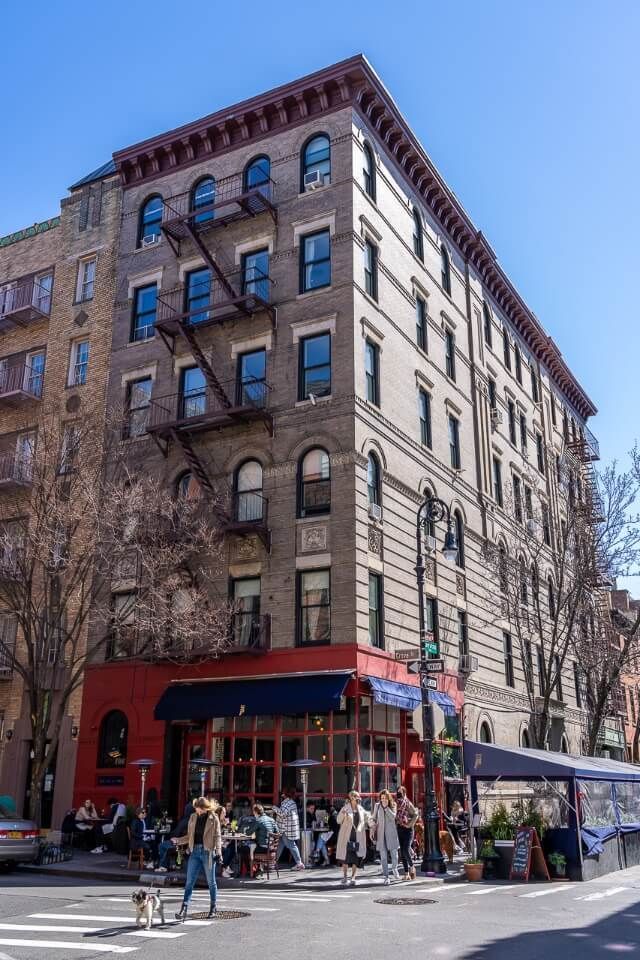 Yes, this is the very building from the Friends apartment exterior shots. Although the cast filmed entirely in Warner Bros studio Hollywood, all exterior scenes are from New York.
The area around Greenwich Village is lovely to walk with plenty more photography opportunities.
29. Washington Square Arch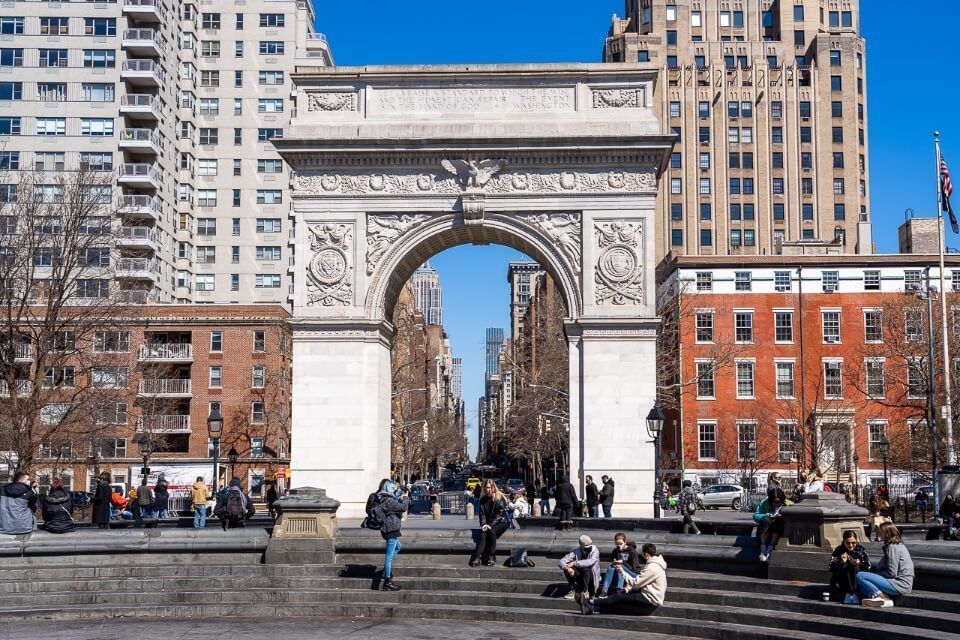 Another great spot for looking along one of New York's grid-style streets is inside Washington Square Park.
Through the Washington Square Arch, you can see right up 5th avenue even as far as the Empire State Building if you compress your image.
30. SoHo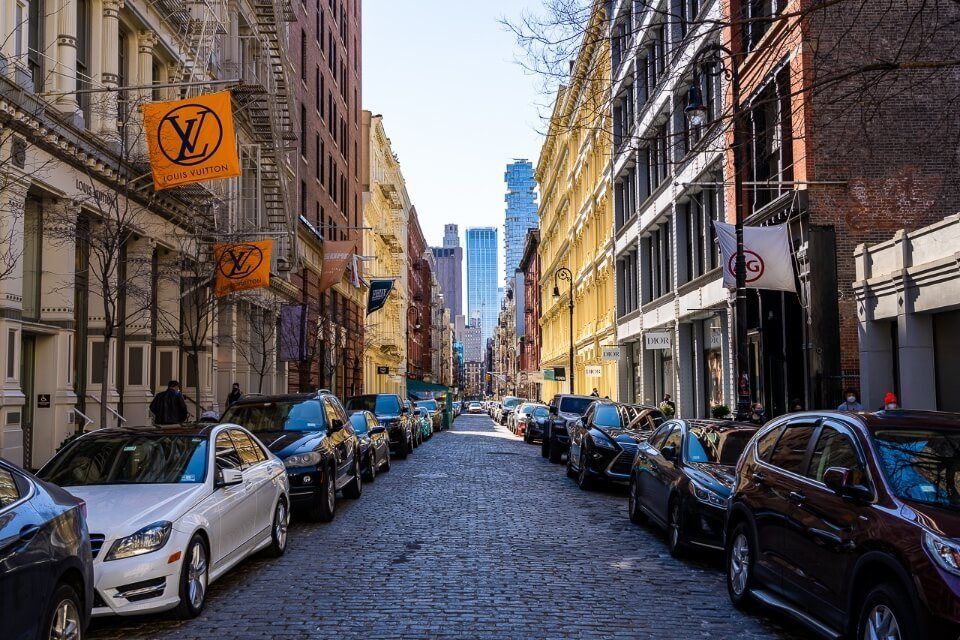 SoHo is an extremely photogenic area to walk around but it's also a tricky NYC photography location. The first reason is shadows due to the narrow streets and the second reason is tall buildings within those narrow streets.
The best thing you can do is find a cobblestone street with colorful buildings lining the sides.
31. One World Trade Center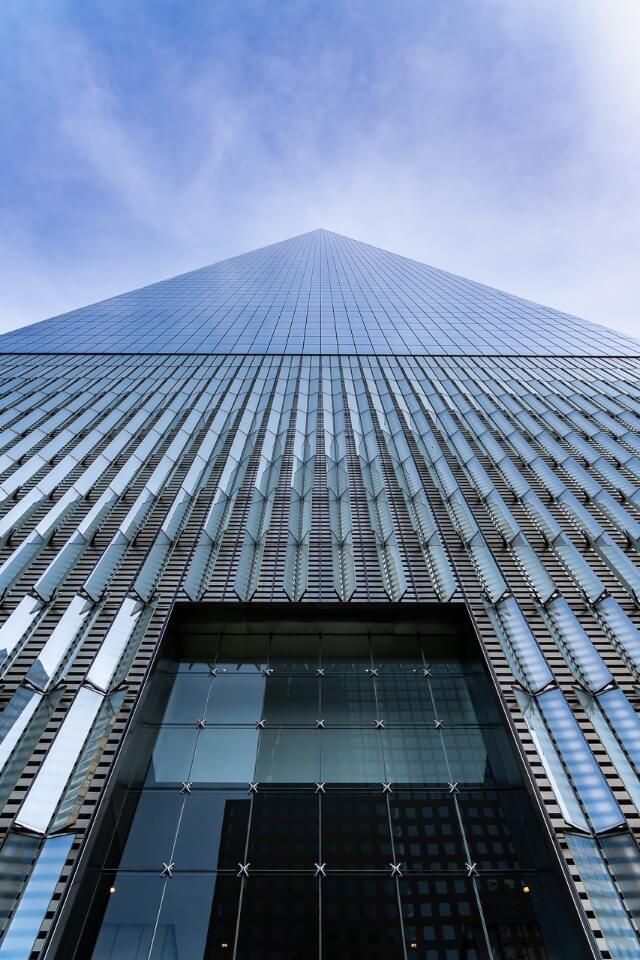 One World Trade Center is the tallest building in the Western Hemisphere at 1,776 ft. You can go to the observation deck for awesome views over Brooklyn, Statue of Liberty and back up towards Midtown.
Or you can look up from the very base of One World Trade Center as we did here. Its enormous height makes it appear as though it's a glass pyramid leading to another dimension.
32. Ocuclus
Where do we begin with Oculus?!
Another original piece of NYC architecture for photographers to soak up, Oculus looks like a winged dove in flight from the outside.
A brilliant white, winged, smooth and spectacular structure sits among tall glass buildings and couldn't possibly be any more out of place. But we mean that in the best way.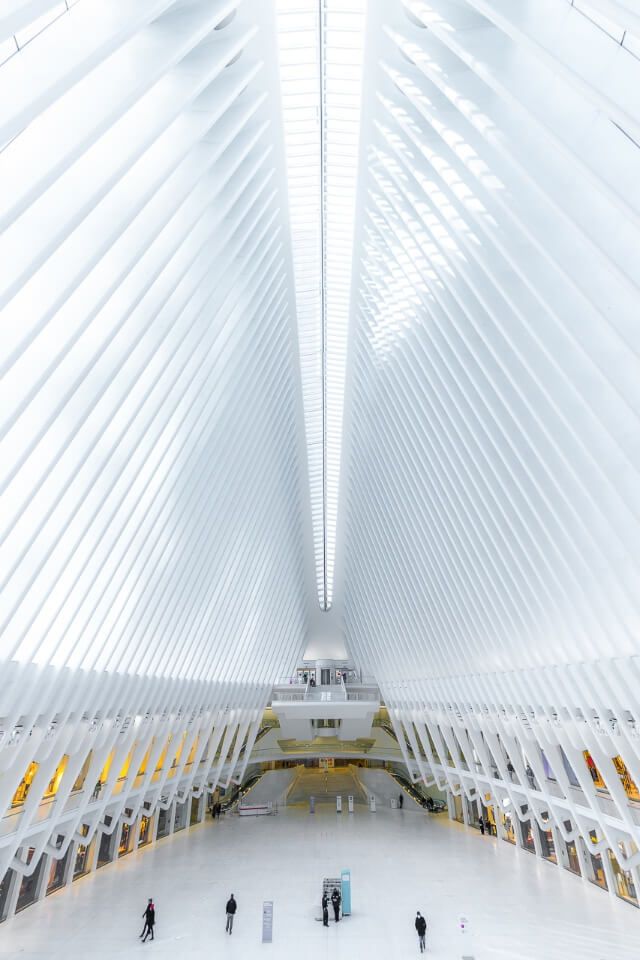 Once you step through the entrance to Oculus, prepare to be blown away by an extraordinary interior design.
The symmetry is precise and the overwhelming amount of white takes a second for your eyes to adjust and comprehend exactly what it is you're looking at.
Dim orange lights from shops are the only other color contrasting with white inside Oculus. Different times of day offer various types of photograph.
Top tip: Avoid a sunny mid morning or afternoon when huge shadows are cast on the floor.
33. 9/11 Memorial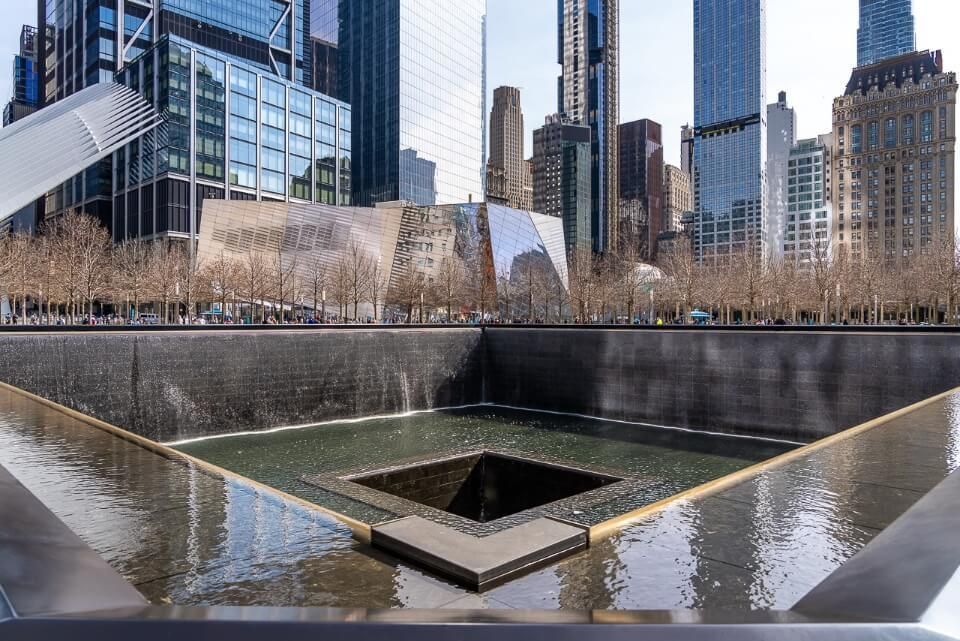 9/11 museum is a sobering but fascinating experience. Once you're done inside – if you still feel up to it with emotions running high – spend a few minutes walking around the memorial grounds.
Read the names alongside each pool and stop when you reach a corner to take a picture.
34. Trinity Church / Wall Street
Money never sleeps on Wall Street. A few images to take are of 40 Wall Street (the Trump Building) and Federal Hall with the George Washington statue right outside.
But the best picture is taken from Wall Street looking through the narrow strip of buildings perfectly framing the ornate Trinity Church.
35. NYSE / Fearless Girl Statue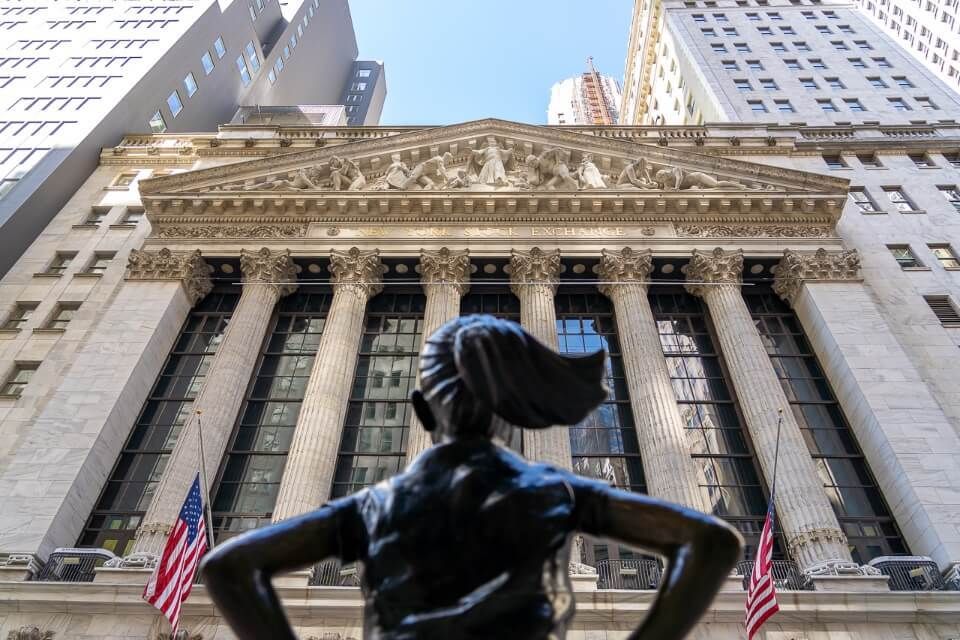 A few steps away you will see crowds of tourists gathering and standing with their hands on hips looking up at the New York Stock Exchange.
Why? Because they're getting instagram selfies with the Fearless Girl.
This is actually a tricky shot to capture. You need to sit on the curb behind and angle your camera severely upward. Try bokeh on both the statue and NYSE to see which you prefer.
*Tourist Classic
36. Charging Bull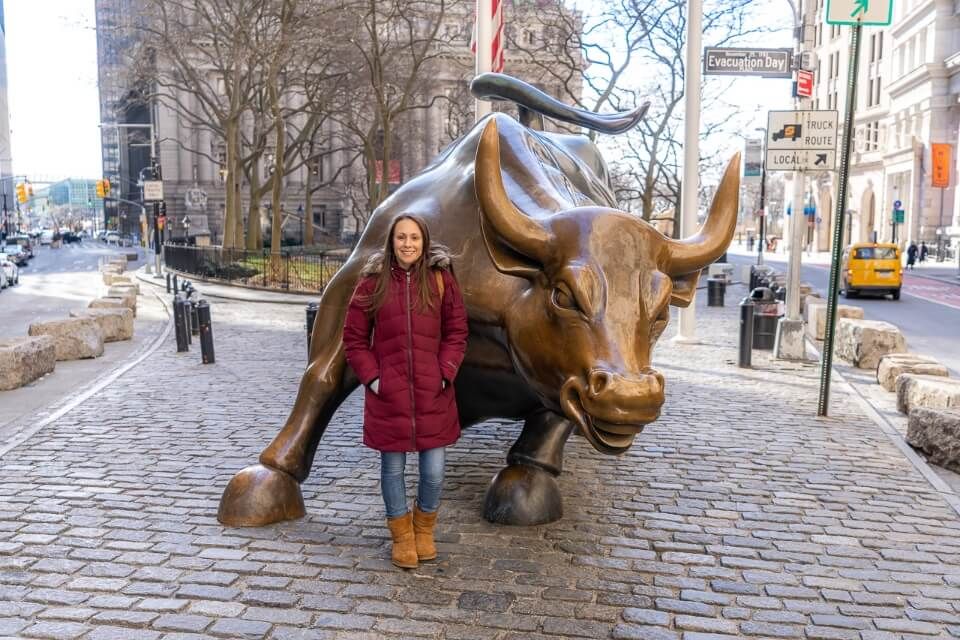 Another of Lower Manhattan's super-touristy NYC photography locations and always packed full with tourists is Charging Bull at Bowling Green.
The first time we saw it, everyone was lining up at the bull's head. The second time … Yep, its testicles.
Rubbing those oversized testes is supposed to bring you good fortune. So don't hesitate, give those bronze balls a good ol' rub!
This is an easy photograph to add to your NYC collection.
*Tourist Classic
37. Statue of Liberty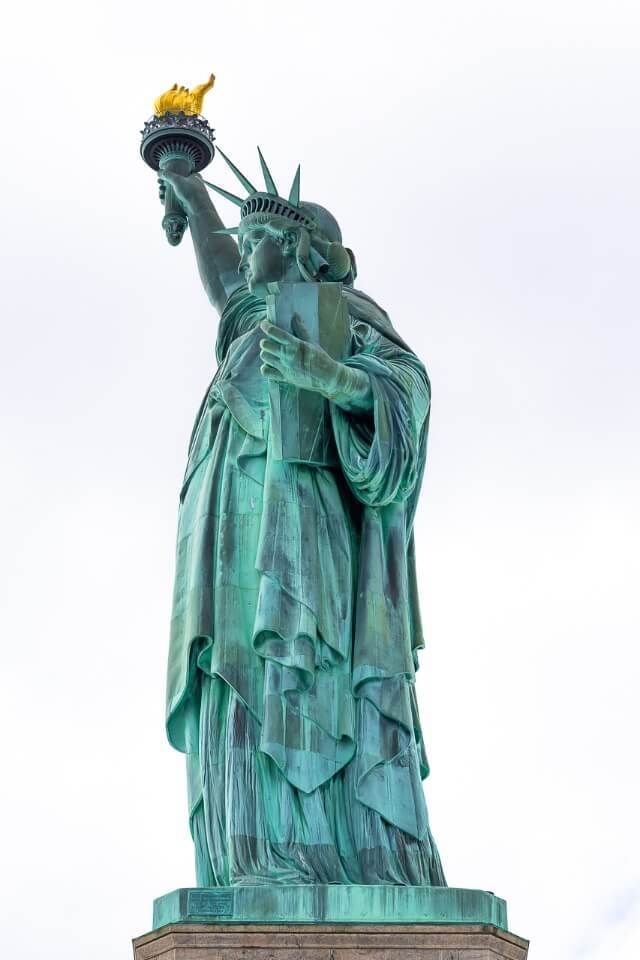 Lady Liberty is about as New York as you can get. Which means Liberty Island is an unmissable stop for those on a best photography locations in NYC hunt.
Did you know there's only way to reach Liberty Island?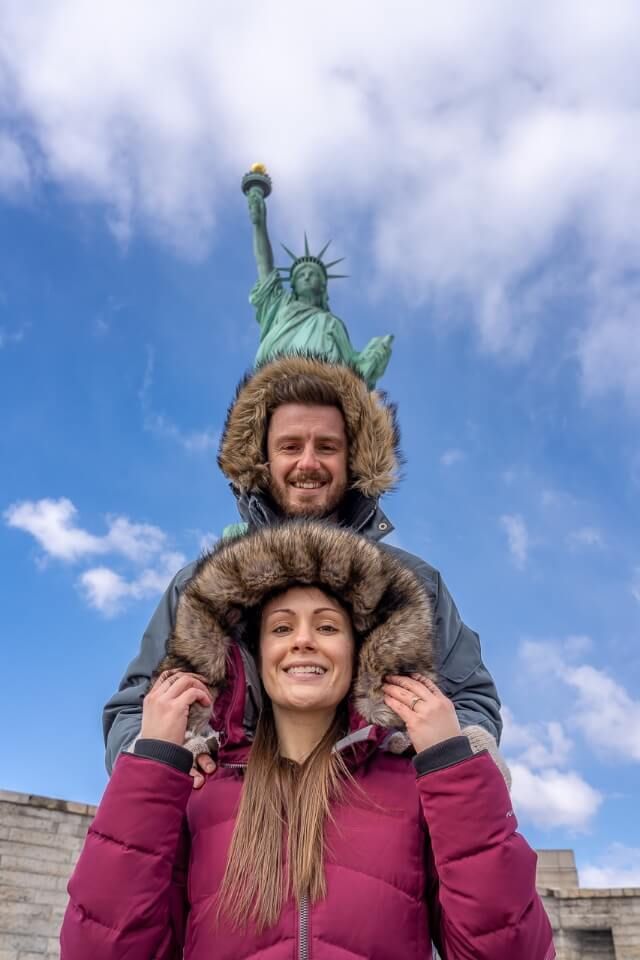 You can grab some awesome shots from the ferry as you approach and pass around the front-on view, so a solid walk around lens such as a 24-70mm or 24-105mm is perfect.
Once on the island, you can get up close and personal with the Statue of Liberty. This is one of the all time great NYC instagram selfie spots, so take time thinking about ways you can get a cool perspective photo.
We played around a bit with perspective and had some fun, if only we had a spare fur lined hood for Lady Liberty.
*Instagram Favorite
38. Ellis Island Immigration Museum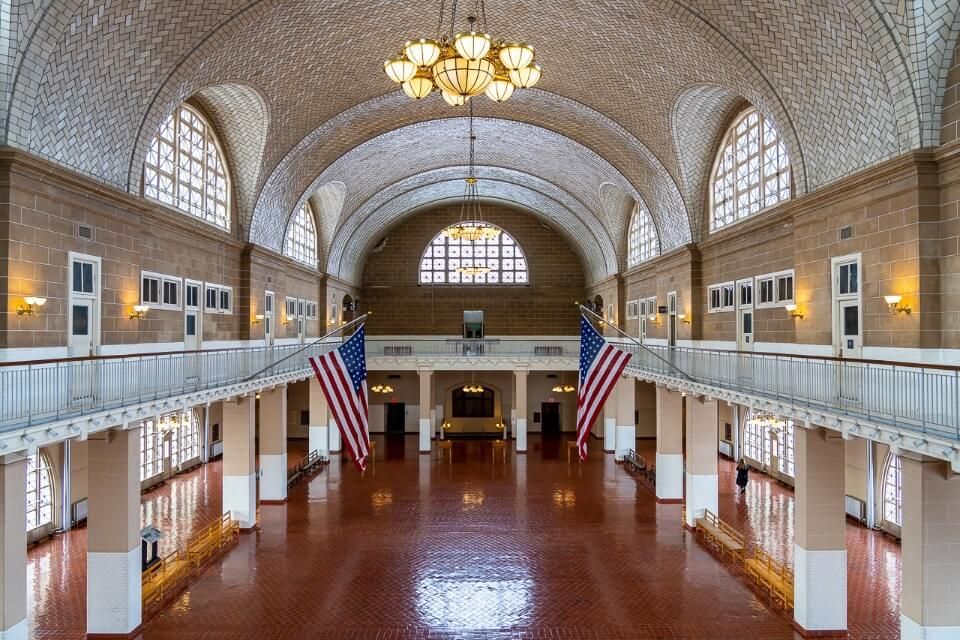 Not to be missed on the Statue of Liberty tour is Ellis Island National Museum of Immigration.
The museum is incredibly interesting and many of you reading this now will have ancestors who passed through this very same grand arrivals hall.
Once you've learned about how Europeans landed in New York, head up to the second floor to get this awesome photograph.
39. Pier 15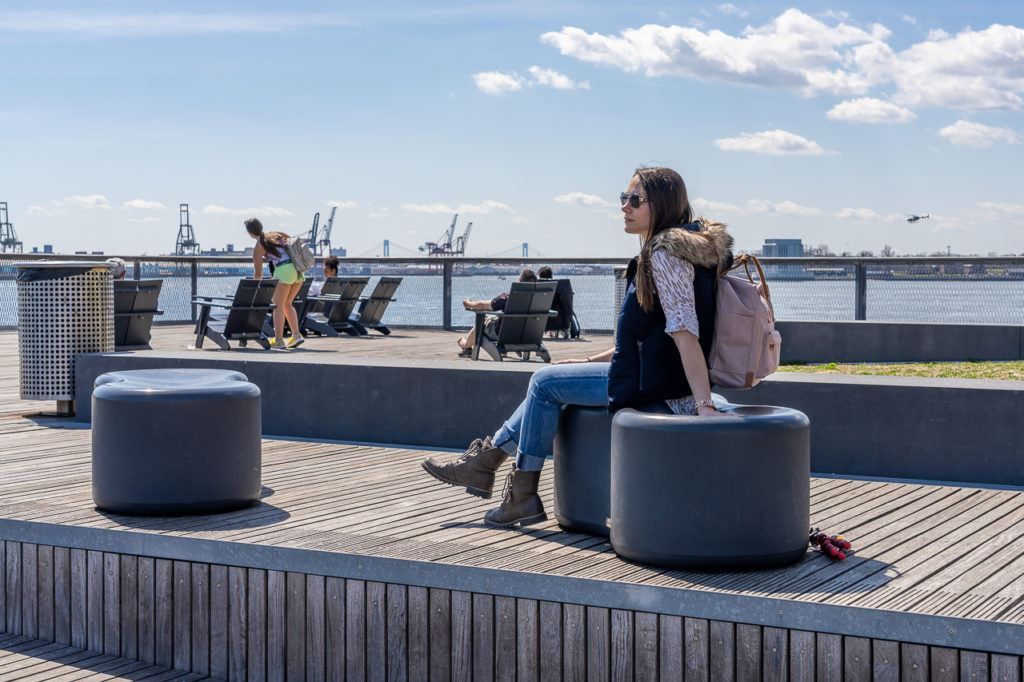 Lower Manhattan has a number of Piers running along its East River boundary and we highly recommend you check them out on your visit to the city.
Pier 15 is a two story structure open to the public for relaxing, watching nearby helicopter tours and the Brooklyn Bridge. The bottom floor has outdoor restaurant dining and there's even music playing.
You can use Brooklyn to one side or Lower Manhattan skyline to the other for pictures here.
40. Pier 17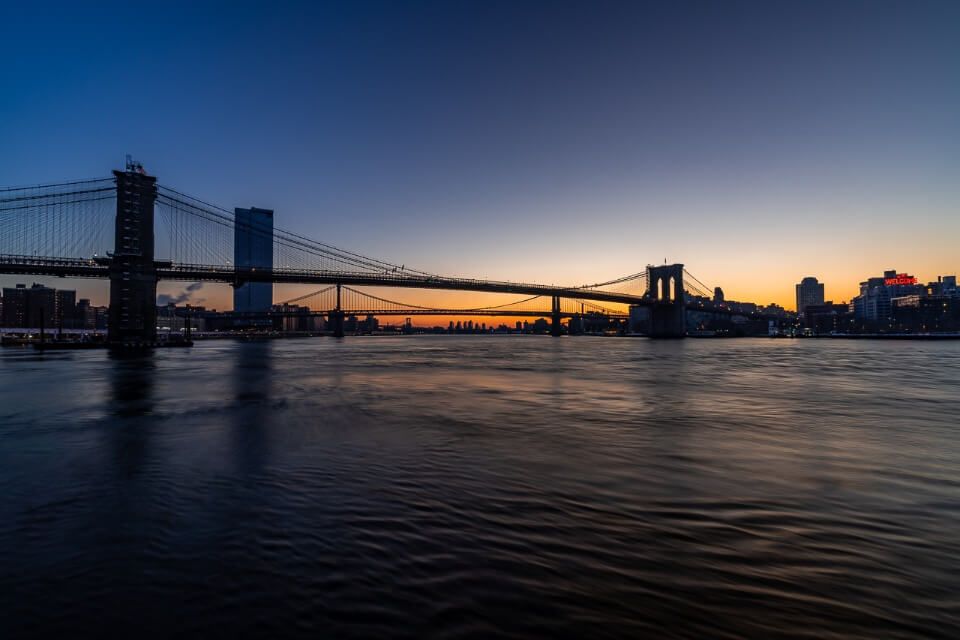 Just a few minutes walk will lead you to Pier 17, where we have another (relatively!) hidden gem NYC photography location for you to check out.
As you can see, sunrise over Brooklyn Bridge and Manhattan Bridge is beautiful from this spot. To reach it, walk all the way to the far back corner behind Pier 17. Aim to arrive at least 30 minutes before sunrise and do not forget your tripod!
See the buildings right in the middle of the bridge silhouetted in orange? That is Williamsburg in Brooklyn.
41. South Seaport District
South Seaport District is an old industrial area and one of the first pieces of occupied land in New York City.
It has been redeveloped and the area is pedestrian friendly with quaint independent stores below polished brick buildings.
42. Chinatown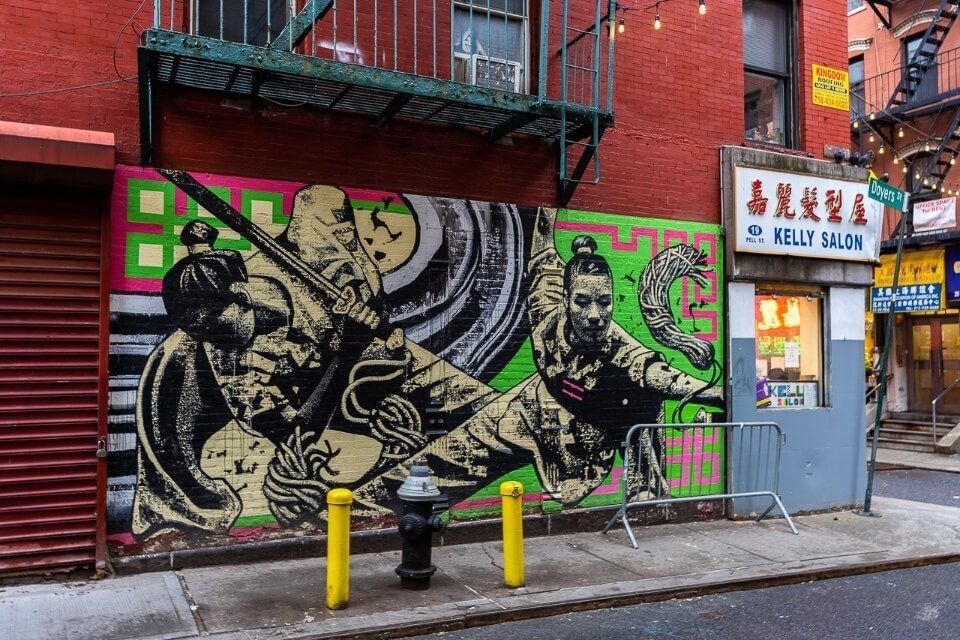 We visited Chinatown on a dull, grey morning which gave the area a gritty and cold feel. It is an extremely photogenic part of Lower Manhattan, you just have to find the right streets to walk down.
Explore Chinatown later in the day when it is lit up and alive with throngs of people for the best photographs.
43. Manhattan Bridge (Hole in Fence)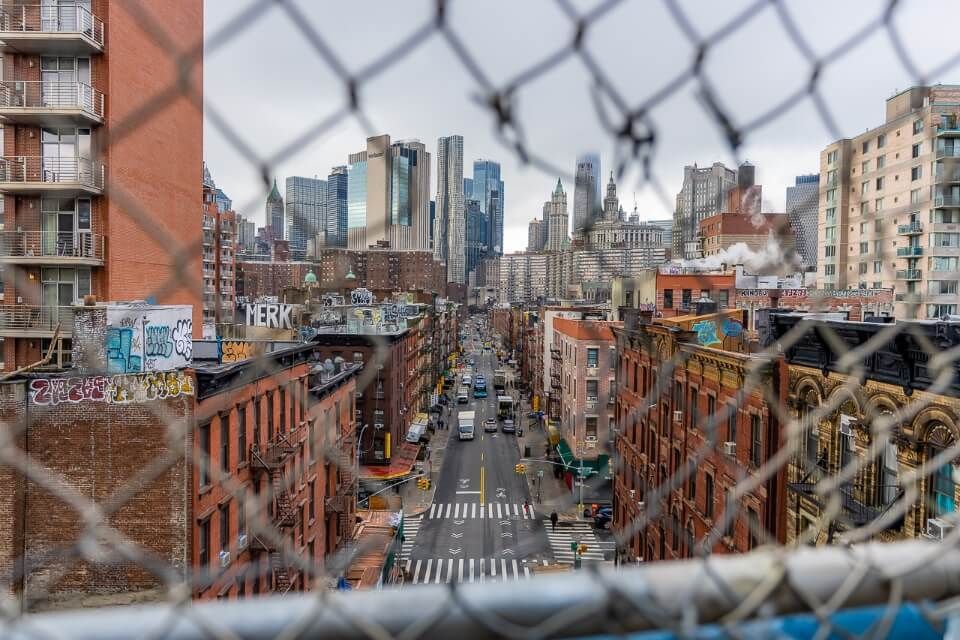 The 'mythical' Manhattan Bridge hole in the fence picture is incredibly popular among pro photographers.
We walked a long way up the Manhattan Bridge thinking they'd all been covered up before we came to this hole. And there are plenty more along the bridge.
The trick is to decide which effect you like the most – bokeh on the fence or bokeh on the Chinatown street behind. Or you could just narrow your aperture to f/16 or f/18 to get the whole scene in focus.
*Pro Favorite
Brooklyn – Best NYC Photography Locations
Cross the East River by bridge or subway to reach the famous borough in which over 30% of all New Yorkers call home – Brooklyn. It also happens to have some of the most iconic and best views in the city.
Much of Brooklyn's photography scene is centered around Brooklyn Bridge with the Lower Manhattan skyline as a compelling background. If you have more time on your NYC itinerary, be sure to explore further into Brooklyn and Williamsburg.
This list could have been much larger but we are sticking with 10 we think are most achievable for visitors to the city:
44. Brooklyn Bridge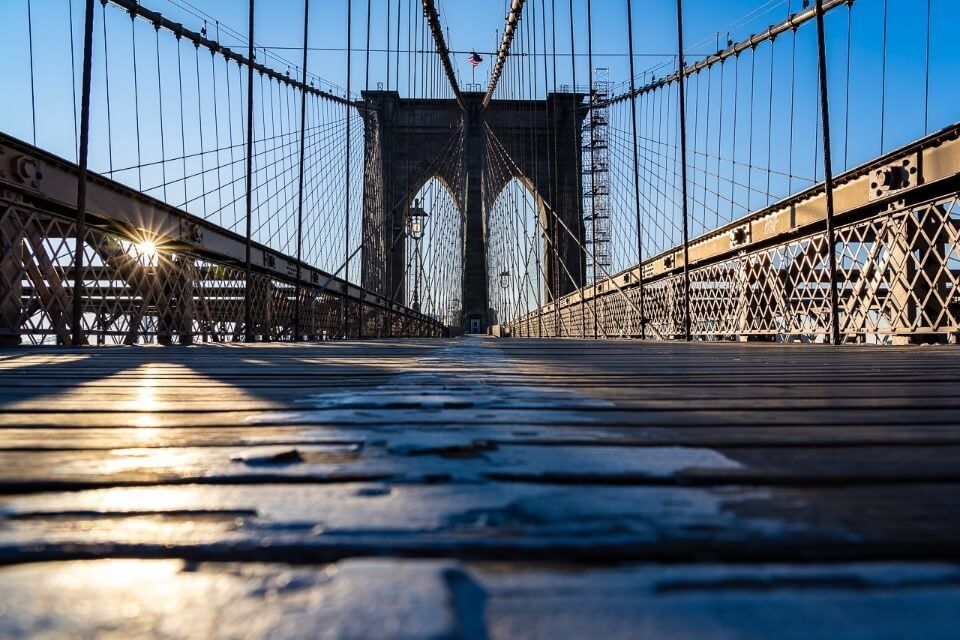 Brooklyn Bridge Sunrise
If you're in New York City with any type of camera, you will spend a lot of time around Brooklyn Bridge. Many of the most popular instagram images and professional photographs are taken on or of the famous granite giant.
Sunrise is the best time to photograph Brooklyn Bridge if you want it all to yourself. As suggested above, start early at Pier 17 before sunrise, then quickly head to the pedestrian walkway. Cross to half way and watch as Lower Manhattan illuminates behind you.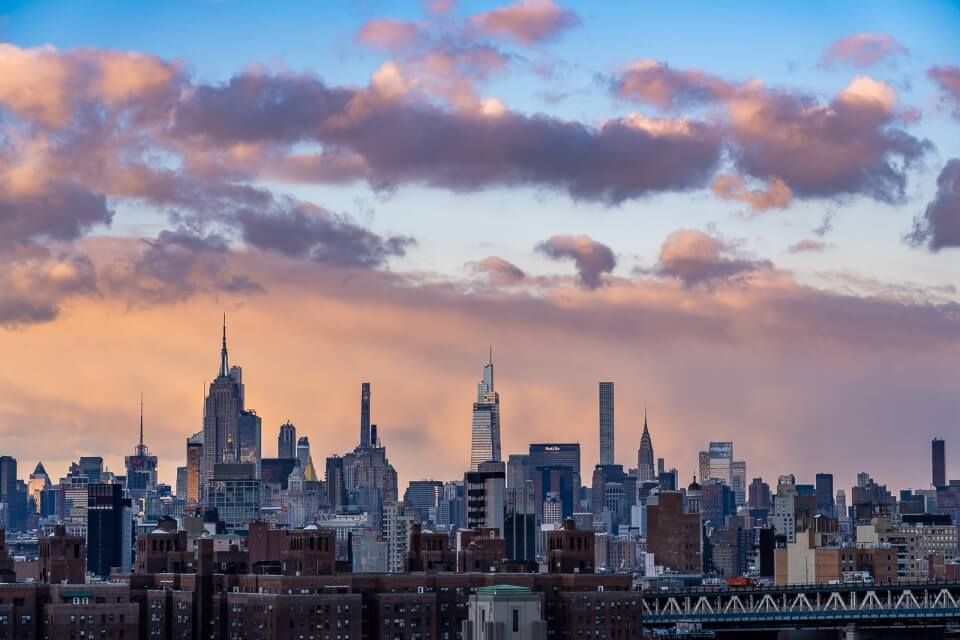 Brooklyn Bridge Sunset
Sunset is by far the most sought after and popular time to walk across the Brooklyn Bridge. That means crowds and a lot of background noise!
You will struggle to get a tripod set up simply because it is just too busy, with cyclists flying by and throngs of tourists.
The sun will set somewhere behind the Statue of Liberty or Lower Manhattan, depending on time of year. You can use various parts of the bridge and city skyline to create unique foregrounds or starbursts.
Top tip: Don't forget to look the other way. If you have a telephoto lens, turn away from the sunset and look at Midtown Manhattan. Stunning colors and clouds often combine to provide a stunning sky above Midtown.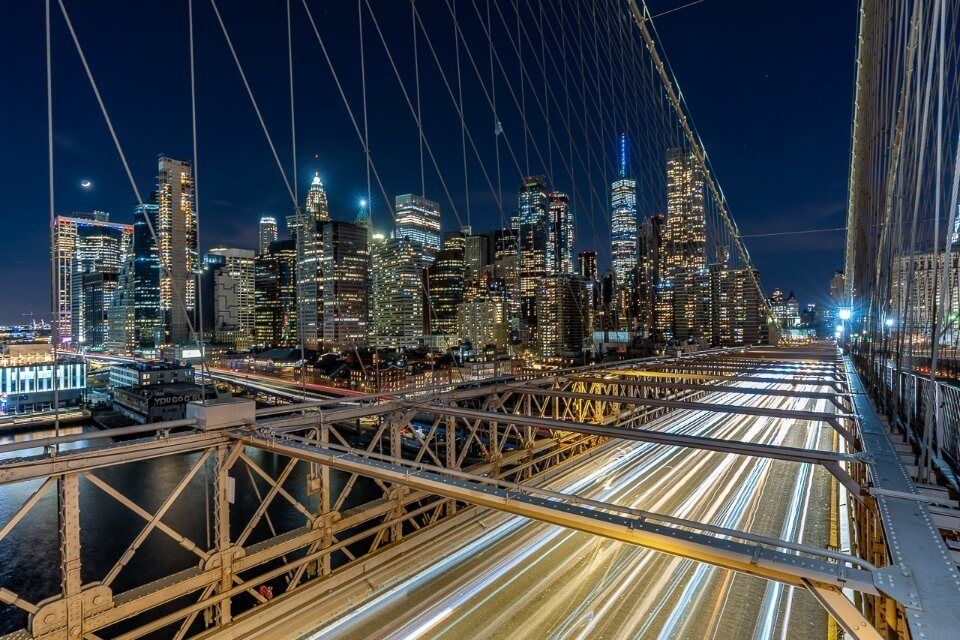 Brooklyn Bridge Night
Sunset turns into night but unlike most famous sunset locations, don't expect people to vanish as soon as the sun disappears. Brooklyn Bridge bursts into life at night as Lower Manhattan lights up.
Photography can be a challenge at night. There is enough light from lamps on the bridge to keep your ISO moderately low. Remember to keep shutter speed around 1/125s if handholding, but ideally use a tripod if it isn't too busy.
Get a great shot in the center of the pedestrian walkway with steel cables and granite columns. If you want to take a long exposure like the photo above, you really do need a tripod (or gorilla pod).
The problem with long exposures on Brooklyn Bridge is vibrations from people walking and cars passing by underneath.
Top tip: Use something heavy (like a backpack) to weigh down the center column on your tripod for improved stability.
*Pro Favorite
45. Dumbo – Manhattan Bridge View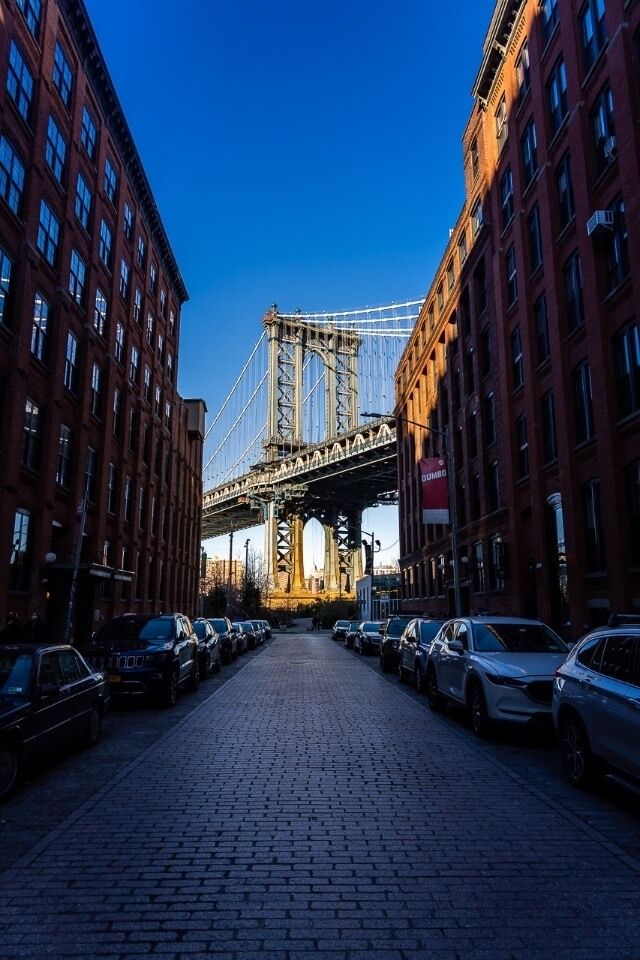 Dumbo is home to another of the best and most unique NYC photography locations. The Manhattan Bridge looks enormous through the perfectly framing houses along Washington Street.
With a smartphone, you'll need to take your photo from the intersection of Washington and Water streets. Expect big crowds and you will need to be patient.
If you have a camera with telephoto lens, try exposing from close up, then moving backward and zooming in to bring the bridge closer.
Right through the center of the bridge column, you will see the Empire State Building, which lights up at night. We took a hundred photos of this scene, from 16mm to 105mm at sunrise, during the day and at night.
We had to wait around a lot for selfie shoots but eventually small gaps do appear.
Top tip: Sunrise gives you the best chance of getting Washington Street to yourself and it also happens to be when the bridge lights up under the early morning sun.
*Instagram and Pro Favorite
46. Pebble Beach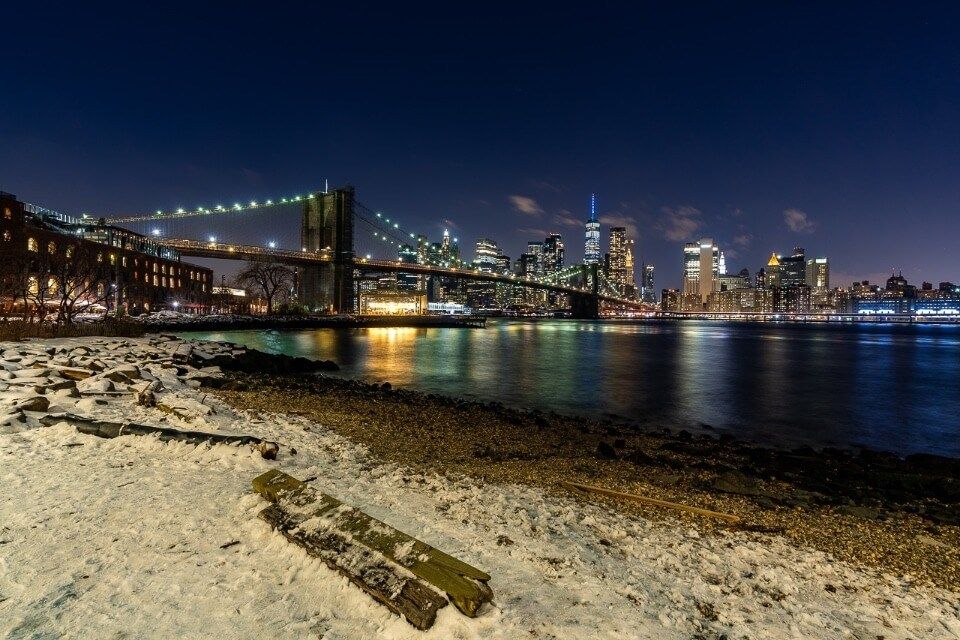 Back to Brooklyn Bridge and we're starting at the further away classic photography location, Pebble Beach. It snowed the day we visited, which added a nice snowy element to the pebbly shore.
We went with the 16mm wide angle shot to capture Time Out Market building on the left with the Manhattan skyline behind Brooklyn Bridge.
With a 10-15 second exposure to smooth the East River, you will likely have boats pass by which create a break in the river surface.
See the bright orangey yellow glass building? That is Jane's Carousel, where we're heading next for a closer view.
47. Jane's Carousel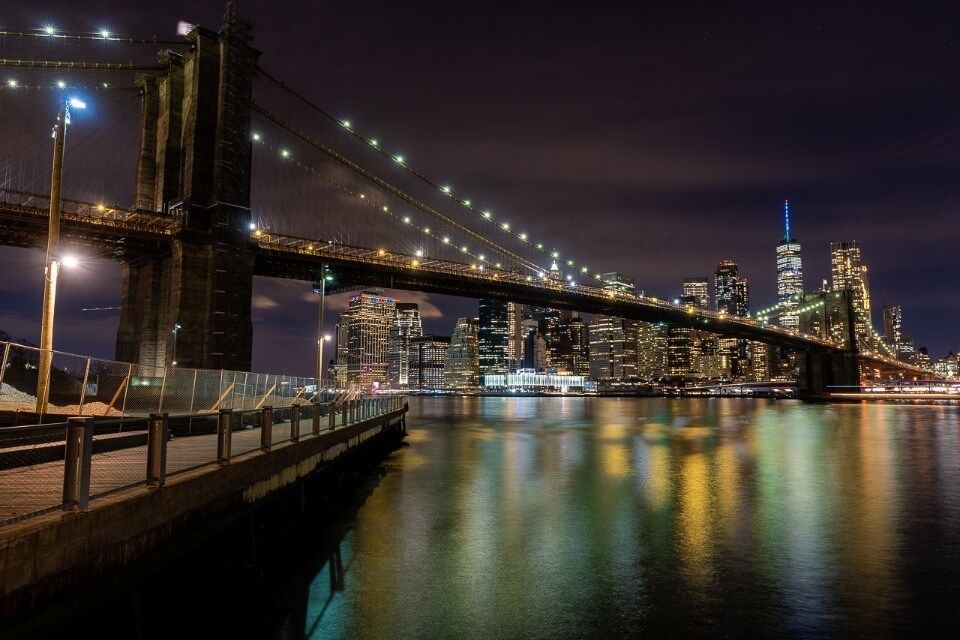 Right next to the glass carousel, you will find a boardwalk promenade. There is just one section where the boardwalk extends further out into the river, creating the perfect place to set up your tripod.
From this close, you can either use a wide angle to capture more of the scene (like above) or turn vertical and zoom in on the far column with Manhattan behind.
Marriage proposals and wedding shoots are extremely frequent in this very spot though, so you may have to give up your spot for a greater cause.
48. Time Out Market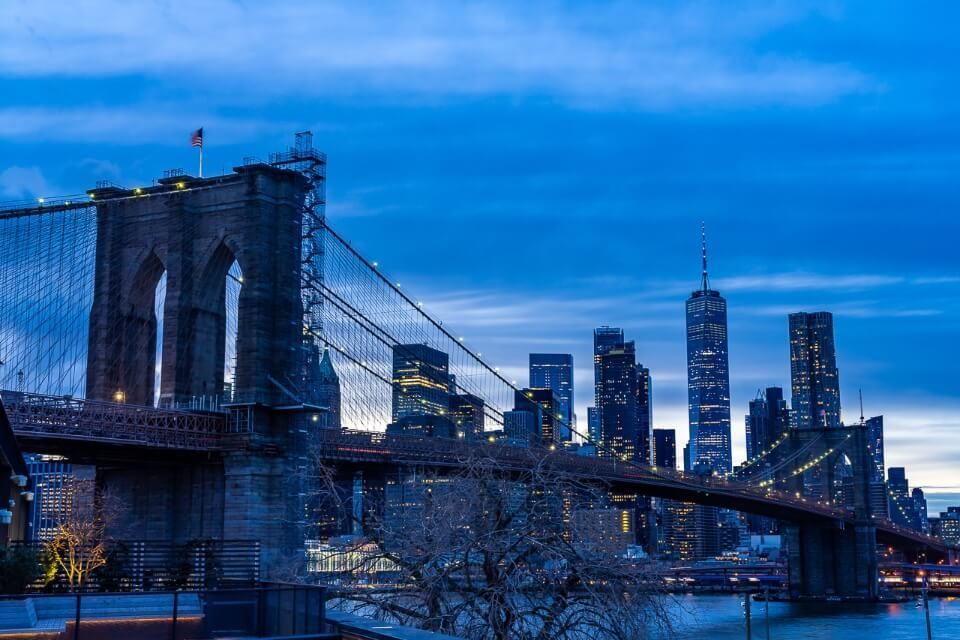 Head into Time Out Market for dinner and then walk up to the roof for another wonderful perspective of the Brooklyn Bridge.
It was a freezing cold Winter's day during covid when we hit the rooftop and there were at least 6 or 7 others up there. Expect this location to be very busy in warmer weather and plan accordingly.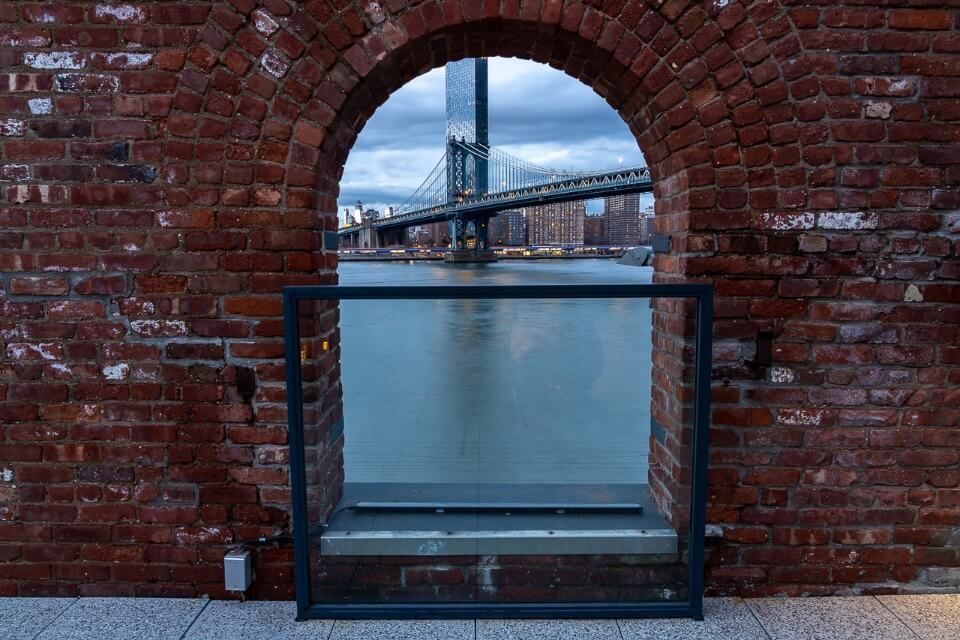 Half way up the staircase, don't miss this easy shot of the Manhattan Bridge through a brick arch window.
The glass building right in line with the bridge column ruins a lot of Manhattan Bridge images but it looks like an extension of the column from this angle.
49. Brooklyn Bridge Park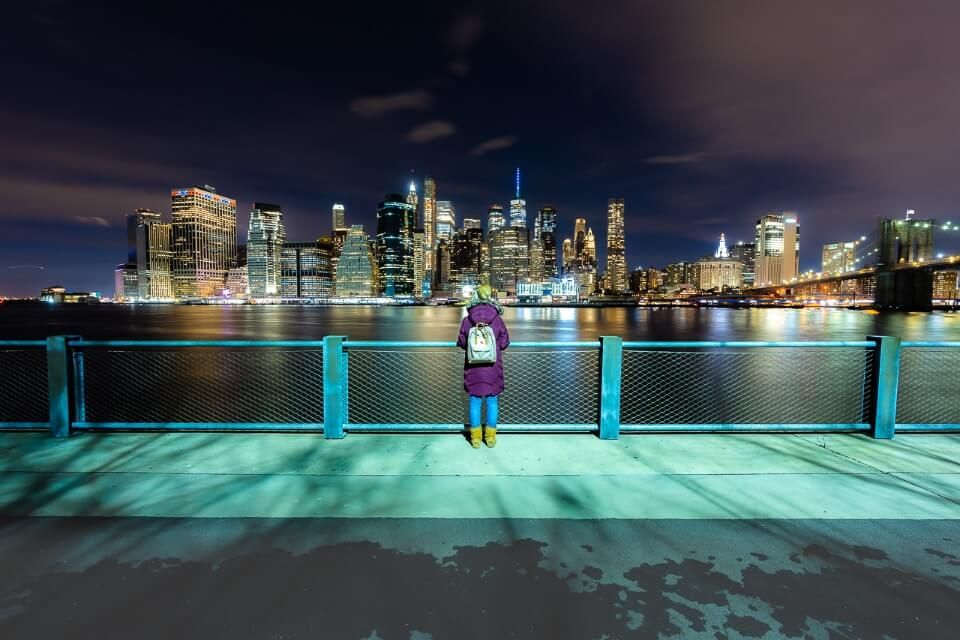 Walk under Brooklyn Bridge and over to the waterfront park. Stop anywhere along the wide open promenade for this amazing view over Lower Manhattan.
There's a ton of room here so you'll have no problems finding a free spot. You can also get an elevated view from here in a small amphitheater-like seating area.
50. Old Pier 1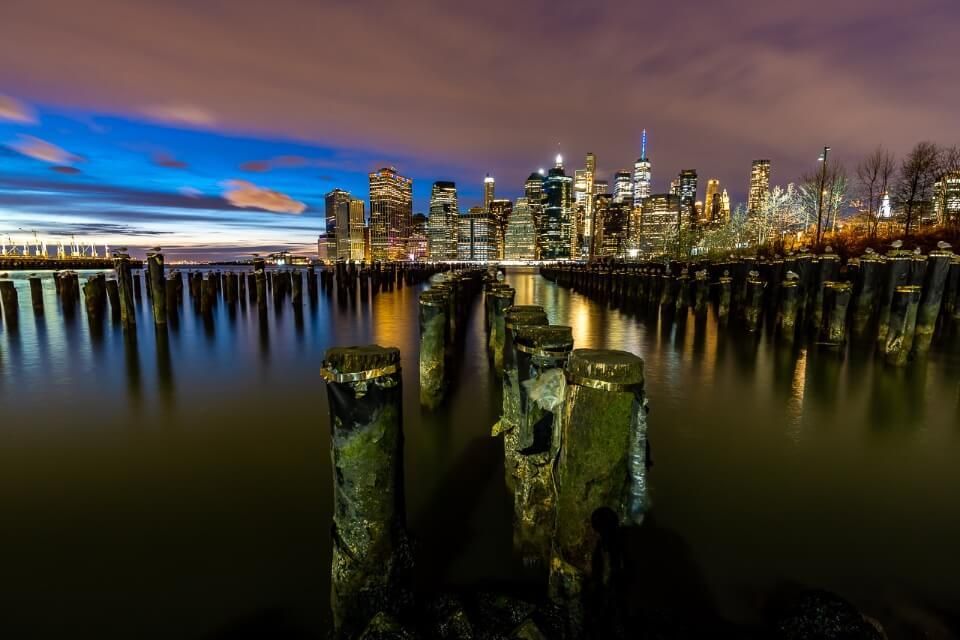 The view over Manhattan from Old Pier 1 is epic. There are so many ways you can get this shot and we decided to show two very different images.
This horizontal 16mm image taken just after sunset shows the full scene with stunning colors in the sky. Long exposures will smooth the water, so all you have to do is find a nice spot for symmetry.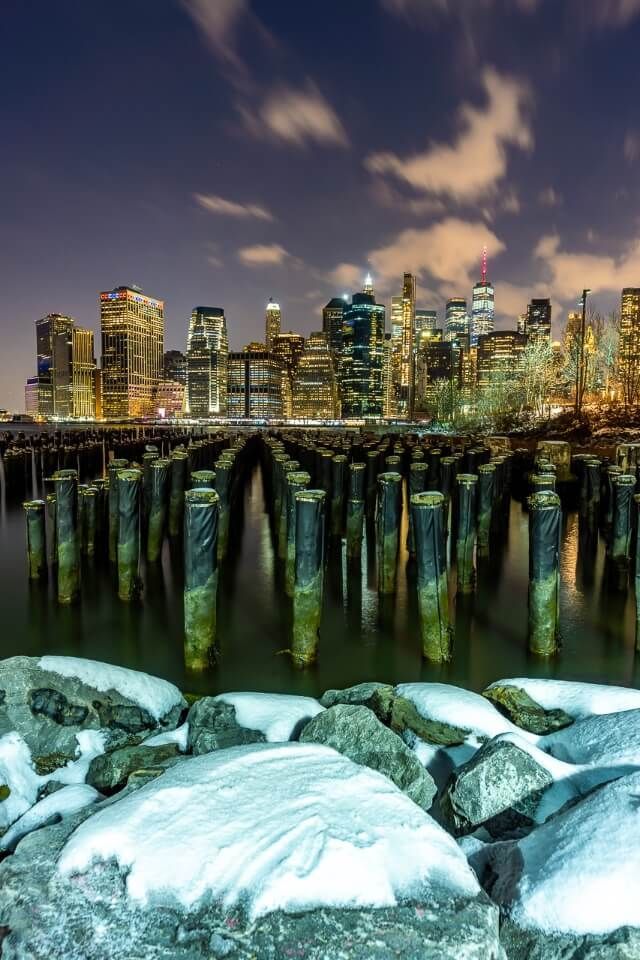 We turned the camera's orientation, stepped back a few paces and zoomed in to include the short snowy wall as foreground but also compress the skyline.
Fast moving clouds with a long exposure create a blurry effect in the sky. Both times we visited Old Pier 1 we had the whole thing to ourselves.
There are around 3 or 4 ideal spots in which you can get the wooden poles lined up perfectly.
*Pro Favorite
51. Prospect Park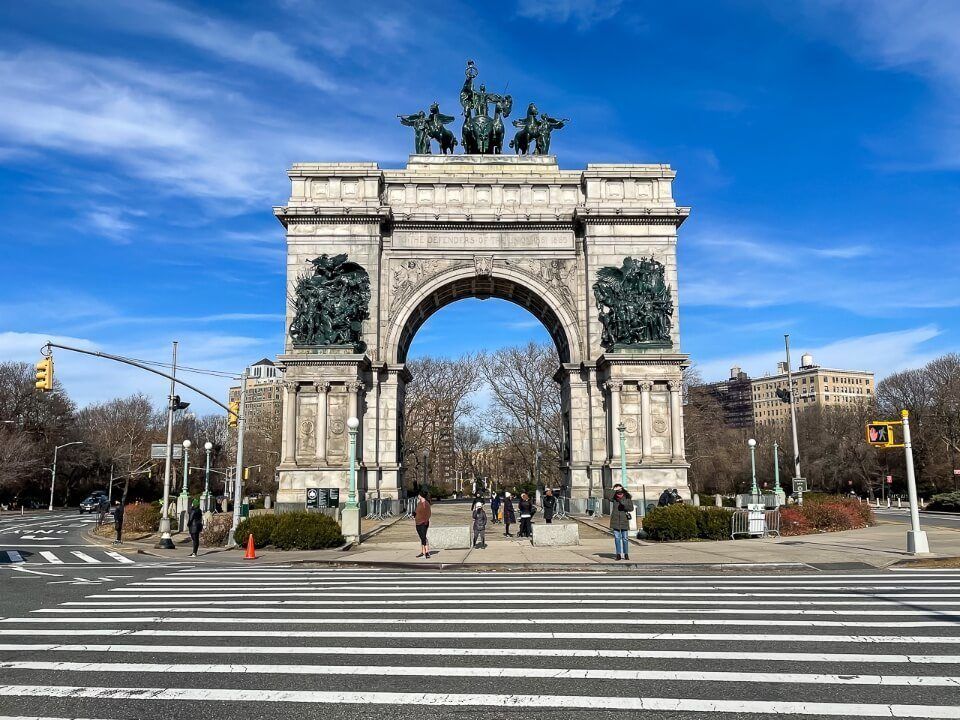 Enough of the bridge. Prospect Park is like downtown Brooklyn's version of Central Park.
There are a handful of arched bridges you can walk under and take pictures looking back out. Right at the North entrance to Prospect Park you will find Grand Army Plaza with the Soldiers and Sailors Memorial Arch.
If you're visiting during the day, you can easily create a nice starburst effect against the arch.
52. Domino Park
Williamsburg's Domino Park promenade is the perfect place on the opposite side of the East River to look back over Midtown Manhattan.
At 24mm we captured almost all of Midtown, from Edge on the left, Empire State Building in the center and Chrysler Building tucked away to the right.
53. The Bushwick Collective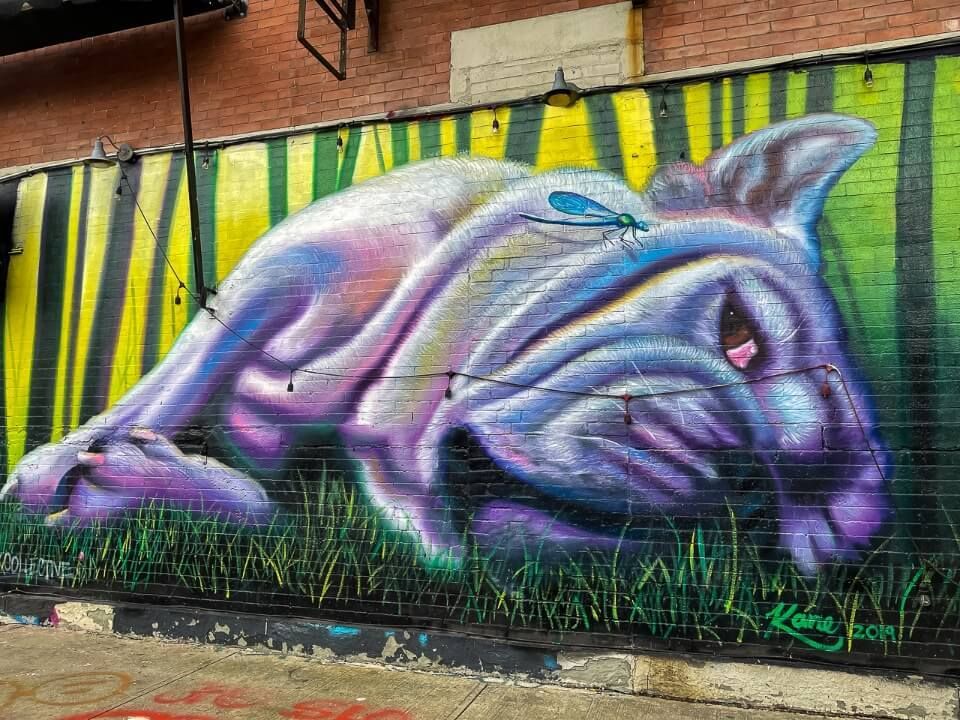 Bushwick is the place to go in Brooklyn if you are a fan of street art and amazing murals. There are a handful of entire streets covered in artwork.
It's not the easiest place to reach and you will have to take a subway detour but it's definitely worth it if this type of photography is up your alley.
Plus, if visiting later in the day you can stop off at YES nightclub for a cocktail and dance.
Bonus Extras – Best NYC Photography Locations
We've grouped together a bunch of awesome NYC photography locations that have no exact location, require taking the water or air, are season dependent or aren't permanent fixtures.
That sounds confusing but it will all make sense below.
54. Wagner Cove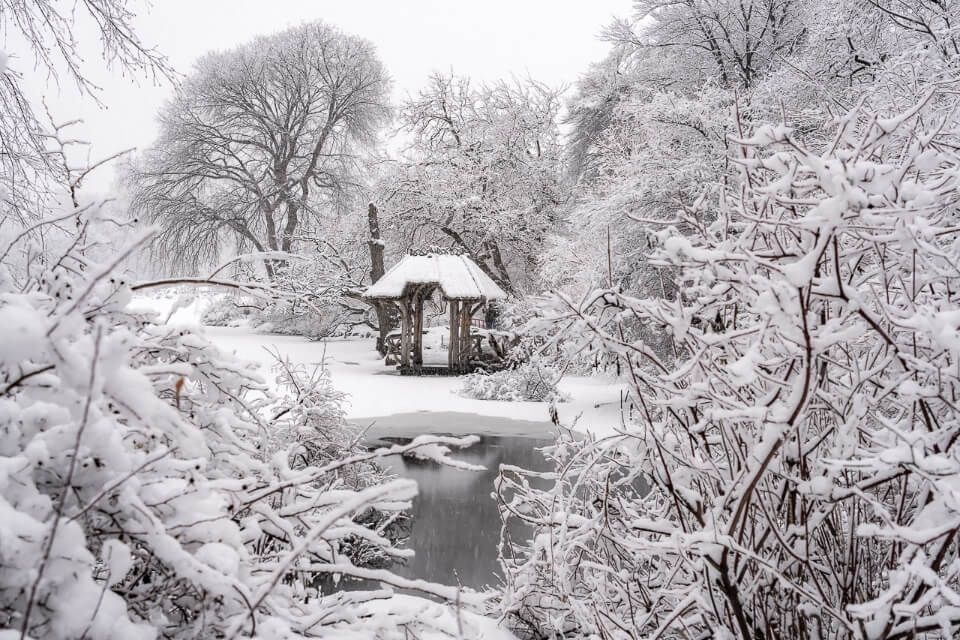 We could have included this in the Central Park photography locations but don't think this image would be as magical if it wasn't covered in snow and ice.
If you're visiting in Winter, this exact location is right next to the Daniel Webster monument overlooking Wagner Cove.
55. Unique Temporary Exhibits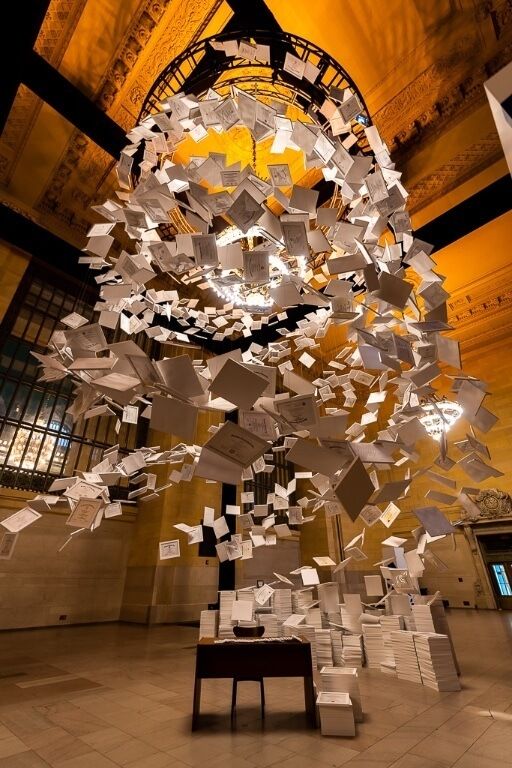 Yes, we know that temporary mean this particular exhibit will not be available for you to photograph on your visit to NYC. However, there will be many more like this one for you to find.
That means if you do your research (instagram is the easiest way) before you arrive, it is likely you will be able to learn about any new pop-up exhibits like this one we saw on instagram.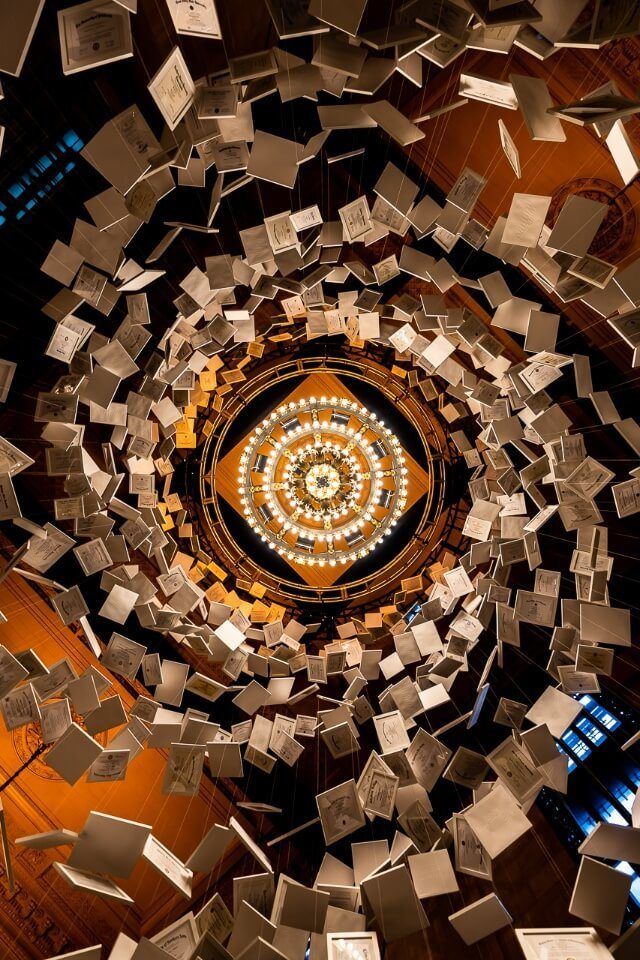 This exhibit in Vanderbilt Hall, Grand Central Terminal was called 'Da Vinci of Debt'. It was made up of 2,600 real college diplomas and looks like something out of Harry Potter.
We loved both perspectives from in front of and below this awesome photography exhibit. Keep your eyes peeled and be among the first to get new exhibits on instagram.
56. Rockefeller Christmas Tree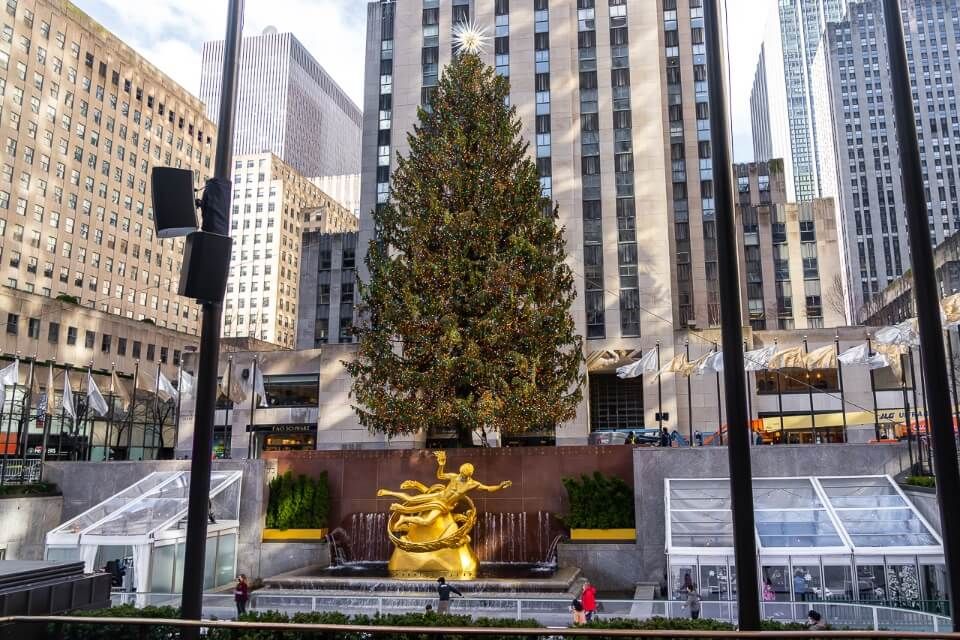 Another famous NYC photograph you can only get around the Winter season is the Rockefeller Christmas Tree from Home Alone 2.
It's right behind the tiny ice rink near the Lego store entrance. Getting a picture in the middle of the day does not help display the magic of Christmas, so try to visit in the evening.
57. NYC Taxi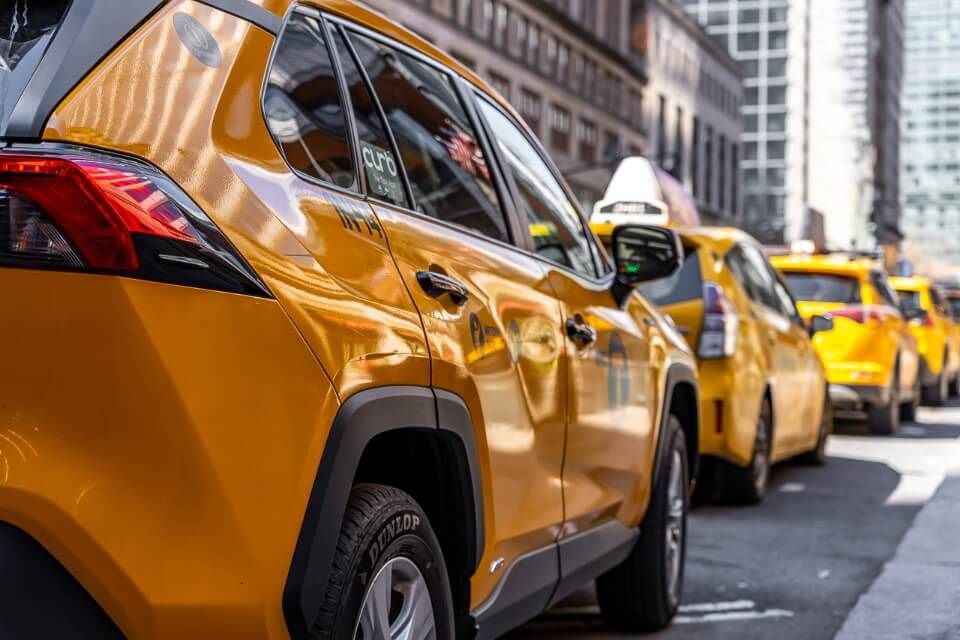 No photography visit to NYC would be complete without taking home a classic yellow cab picture. The only problem is newer cars don't make for the same traditional, vintage and old taxi images.
If you have time on your hands, find a great frame with foreground and background, line up your shot and just wait for a taxi to drive past.
If you don't have the spare time, get this same photograph right outside Grand Central terminal where the taxi's line up all day.
58. Pershing Square Grand Central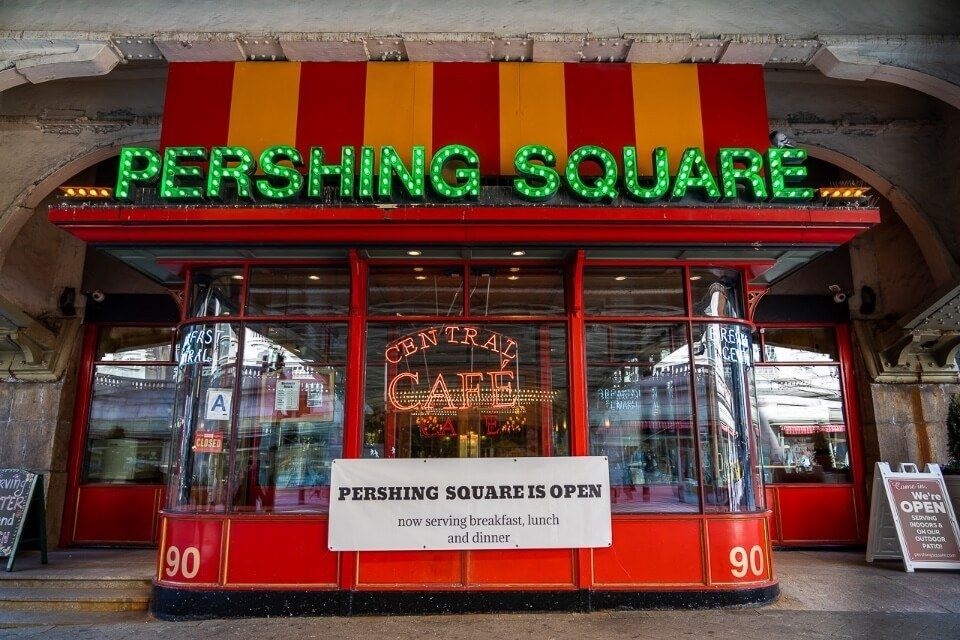 Right over the street and under the bridge from where the line of taxi's are located, you will find Pershing Square. It's a cafe that looks small from the outside but is actually huge inside and a great place for breakfast.
We included it in this section to illustrate cafes, restaurants and bars also make for great NYC photography locations, you just have to get creative.
59. Boat Tour (Circle Line Cruises)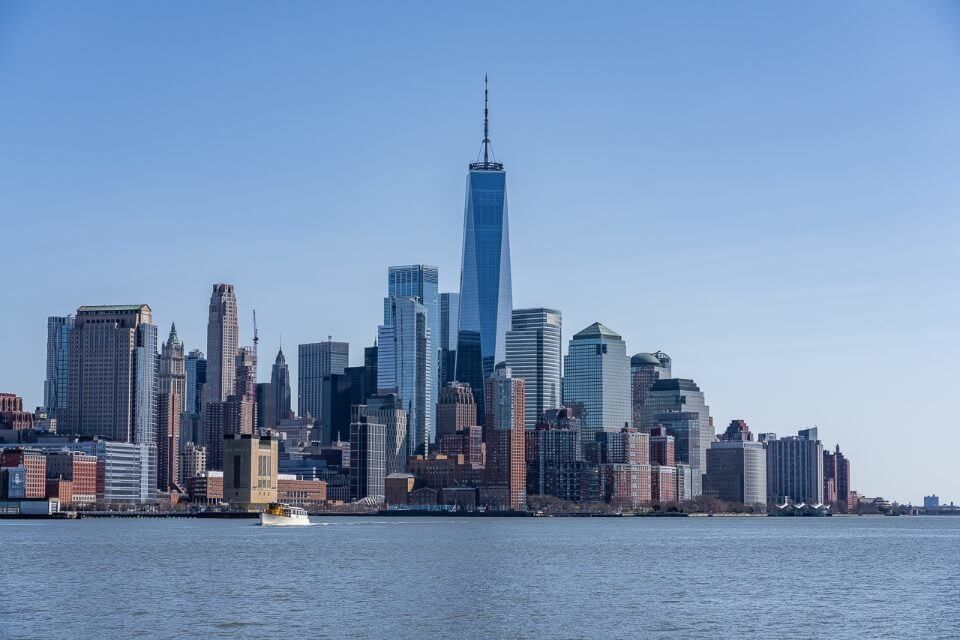 NYC skyline perspectives feature prominently in any urban landscape photographers gallery. So, to find unique takes on an incredibly popular image, you need to get offshore.
There are dozens of boat tours and ferries you can jump on to get a Manhattan skyline shot. Here are just a few to consider:
Statue of Liberty ferry

Circle Line boat tour (this image)

Staten Island ferry (free)

Governors Island ferry

City Experiences (Hornblower)
60. NYC Helicopter Tour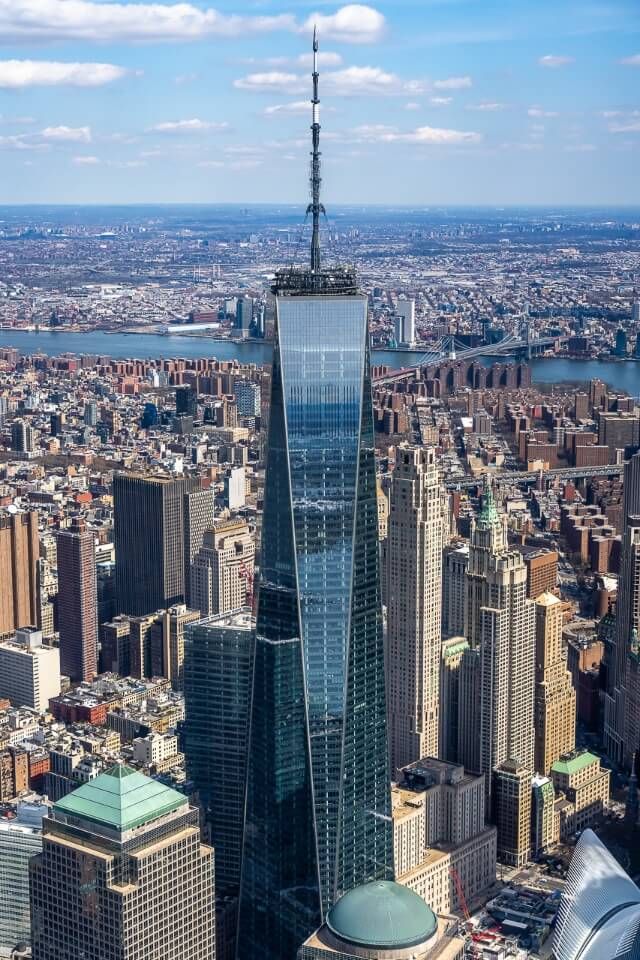 Take things up a level, quite literally, by jumping in a chopper for a helicopter ride over NYC. If you're looking for a less frequently seen Manhattan photography perspective, this is it.
There are a handful of Helicopter tours offering various routes, features and price points.
You can take amazing photographs from all tours but if you're going up with the sole purpose of photography or vlogging, you should try a 'doors off' tour.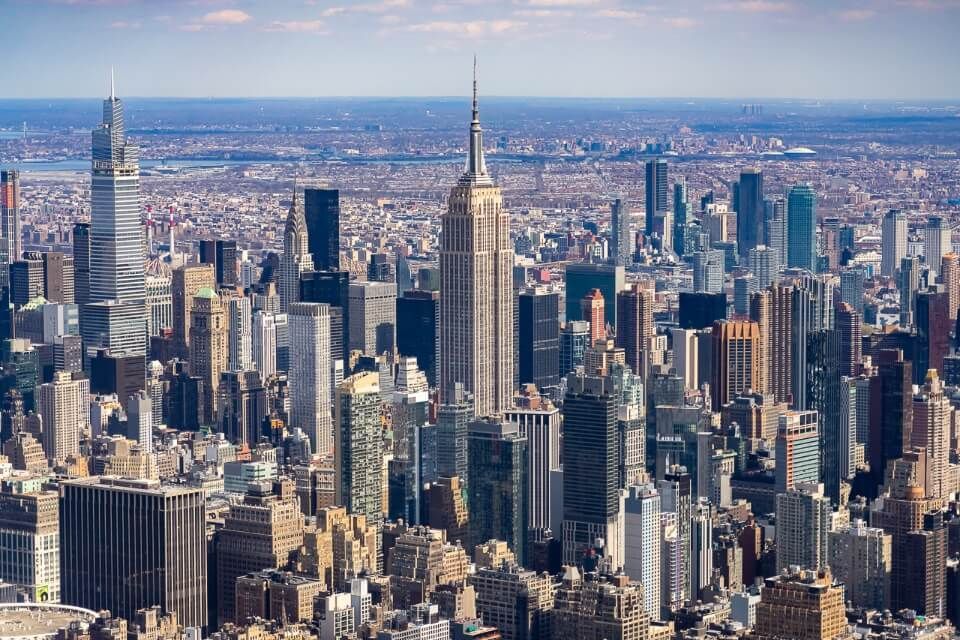 Seeing the New York City skyline from above is a bucket list experience and we highly recommend it, but they don't come cheap.
When you're up in the air, remember to keep your shutter speed incredibly fast. We're talking 1/4000s, or even 1/5000s to freeze the image. Constant shaking, vibrating and speed means you need a very fast exposure.
Top tip: If you're in a helicopter with windows and doors on, wear a neutral color so you don't reflect in the windows and remember to get your lens close to the glass to limit refracting light / glare.
61. Smoke Stacks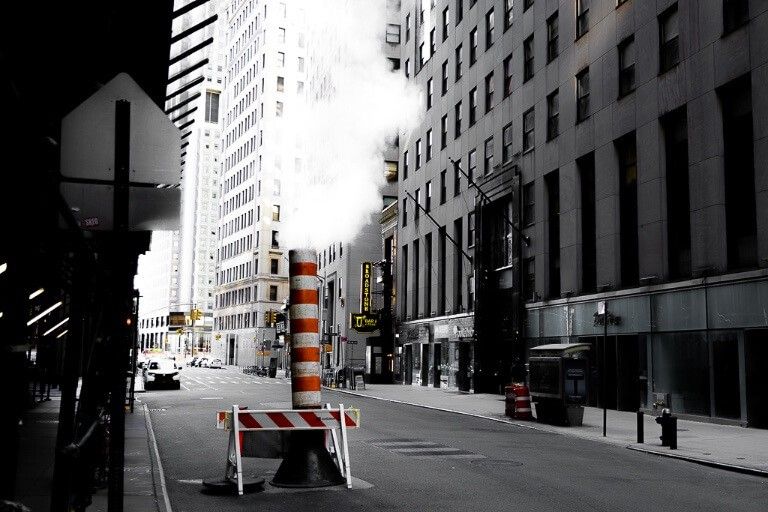 When you walk around New York City, you will see dozens of smoke stacks billowing steam out of the ground. They grab your attention because they are unique.
The first thing you think is 'how can I get a photograph of that'?! It's a classic street shot you can't miss. Just work out the best way to make it look like a typical urban image. No frills.
To accentuate the red smoke stacks and yellow cab, we dialed down 'vibrance' and dialed up 'saturation' in Lightroom.
This time we did wait around for a taxi to appear into our frame.
62. Subway Station / Trains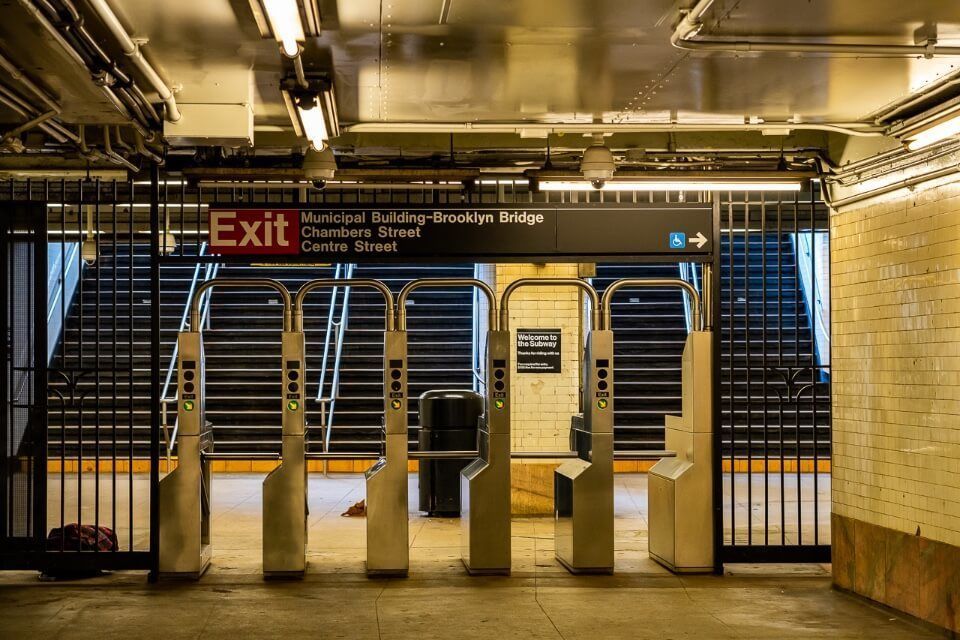 And to finish, we couldn't miss out one of the most iconic NYC photography locations – a subway station.
We left New York with some nice artsy subway images but went with a classic here that subtly shows exactly how an empty subway entrance looks.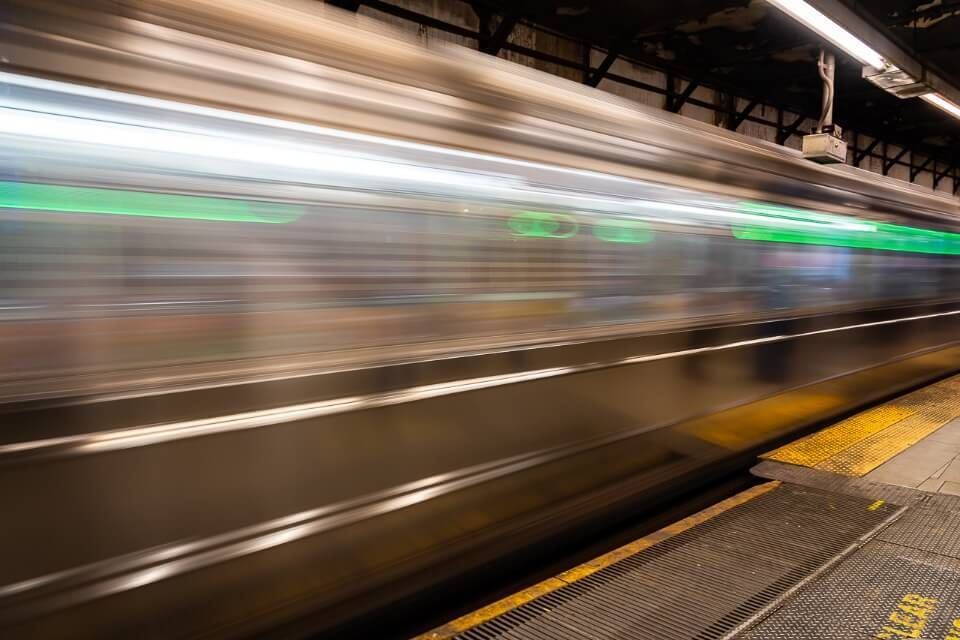 One thing you have to do in a subway station is take a nice long exposure of a subway train departing or arriving into a station. This image is just a handheld 1.5s exposure of the green line train to illustrate the point.
The best shot to get is in the center of a platform, looking straight between two tracks as two trains move at speed on each track simultaneously.
We tried a few times to get this image. However, we couldn't find an attractive enough platform with tiled columns or get two trains pass at the same time.
This one will take patience!
Our Popular NYC Guides
Best Of New York City
Bagels – Bagels are the only thing you should be eating for breakfast in New York! Here's our roundup of where to find the best bagels in NYC.
Museums – With over 100 museums in NYC it can be hard to narrow down which ones you should visit, here's our version of the 10 best museums in New York City.
New York City Pass – With so many popular New York Passes how do you choose? In this guide, we give you a detailed comparison for all New York City passes.
Need Help Planning Your Visit To New York City?
NYC is a vacation planning beast and it can be overwhelming trying to get every aspect right. Trust us, we know!
After living in New York City and exploring non-stop for 3 months, we created a comprehensive NYC travel guidebook & itineraries that will answer every question you have about where to stay, what to do, where to eat and how to get around the city.
Click see details below to read more about how we can help you plan your dream trip to New York City!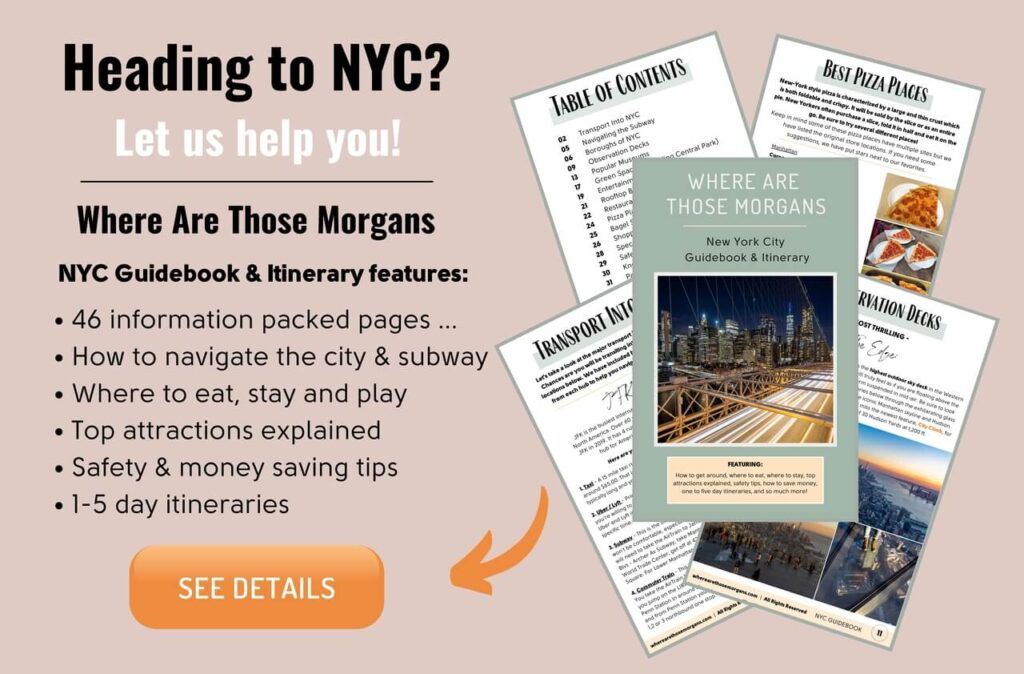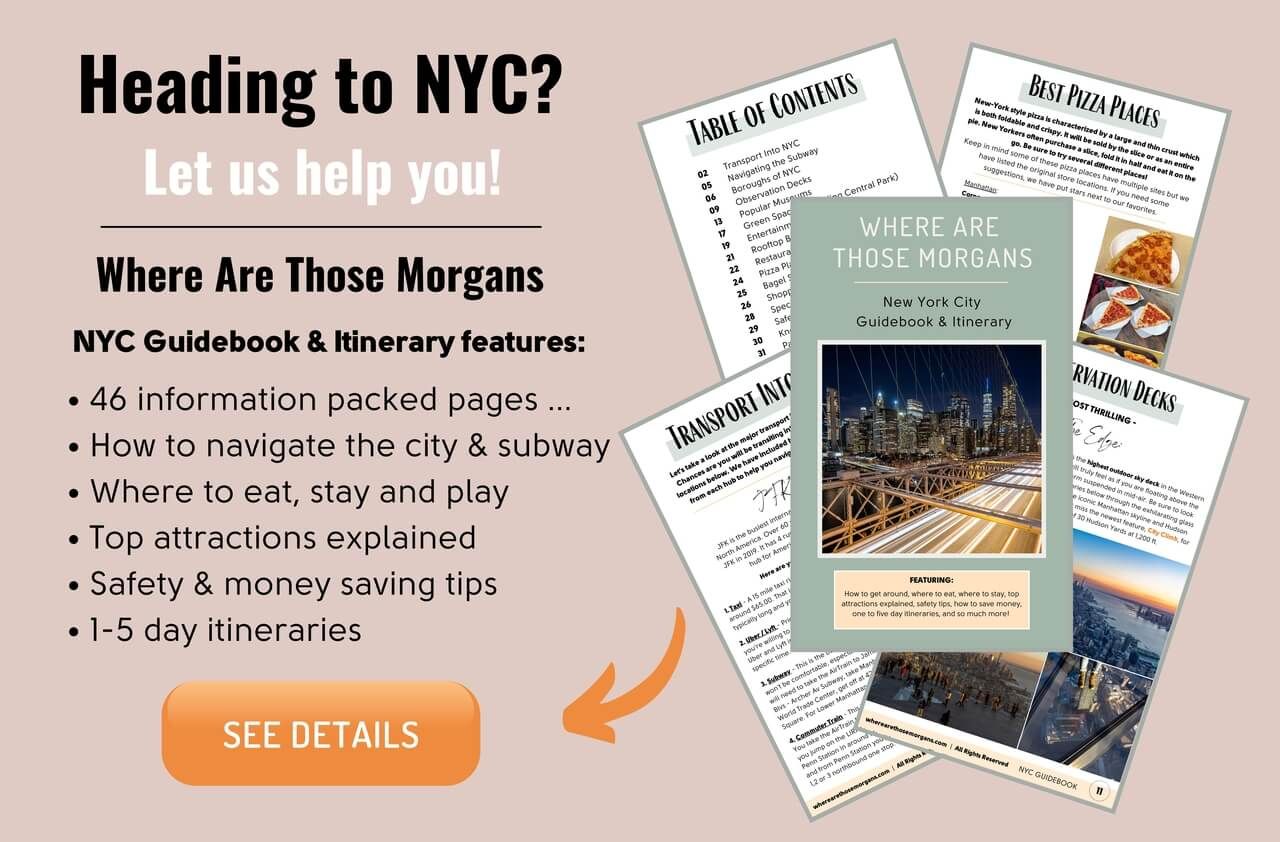 ---
We hope this best photography locations in NYC inspires you to get out with your camera!
Have you been to NYC? Where are your favorite photography locations in the city?
Please let us know if you have any questions or need any help planning your visit.
Happy Snapping,
Mark and Kristen
Was This Post Helpful? Pin It For Your Visit!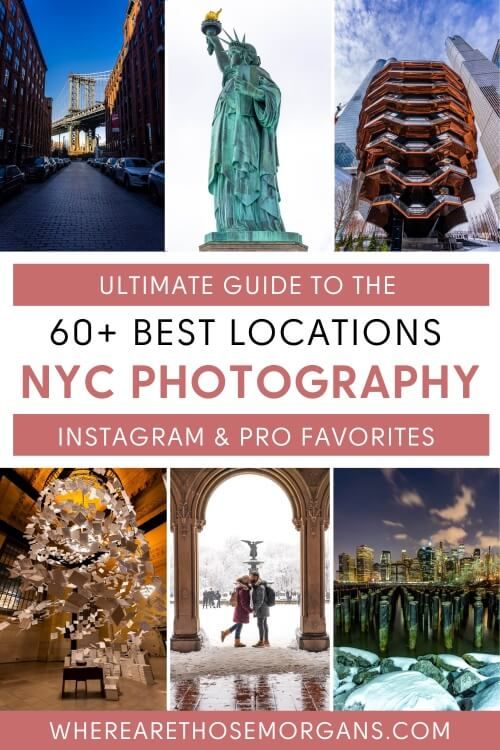 Note: This article contains affiliate links. When you make a purchase using one of these affiliate links, we may earn a small commission at no extra cost to you.
All Rights Reserved © Where Are Those Morgans, LLC. Republishing this article and/or any of its contents (text, photography, maps, graphics, etc.) in whole or in part is strictly prohibited.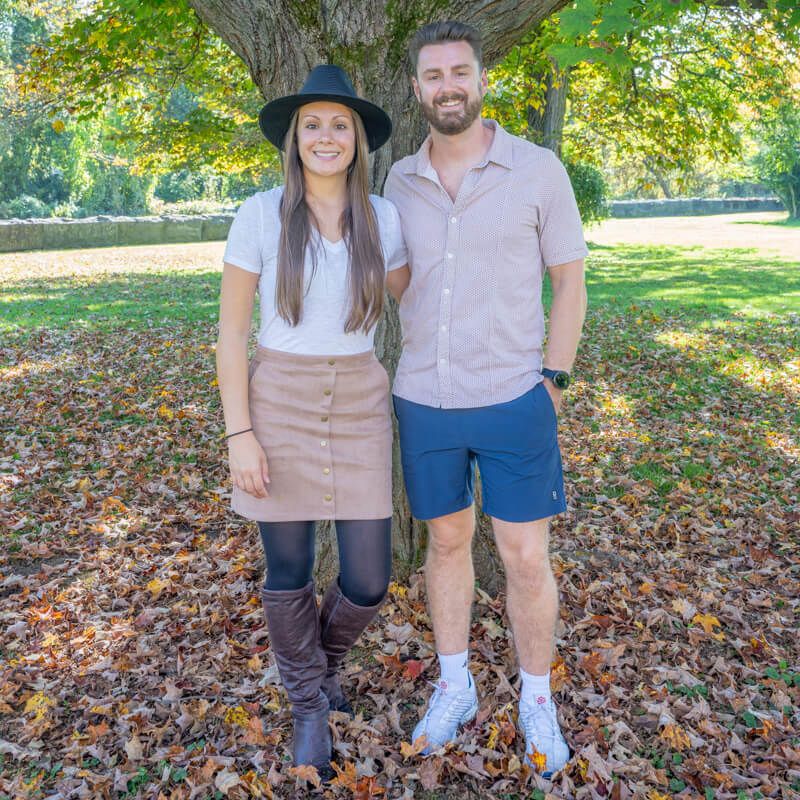 Mark and Kristen Morgan are travel, hiking and photography experts. Over the last 6 years traveling full time, they have explored more than 40 countries and 30 US states.
Their work has been featured in USA Today, Gestalten, Get Your Guide, CityPASS and Condé Nast Traveler along with various other publications.