Flume Gorge is an unmissable stop when visiting New Hampshire for the first time, featuring historic covered bridges, cascading waterfalls and a picturesque 800 ft long gorge. We're going to walk you through the stunning Flume Gorge so you know exactly what to expect in Fall.
Franconia Notch State Park is an incredibly attractive and popular part of NH between Spring and Fall, with Flume Gorge being one of the star attractions.
We highly recommend walking through Flume Gorge in between hiking Artists Bluff and driving the spectacular Kancamagus Highway.
Flume Gorge was one of our favorite New England road trip stops in fall, with gorgeous Autumnal colors glowing and a tranquil aura. However, water levels were low and far less impressive than a visit in Spring or early Summer and that's the trade off.
Let's take a relaxing stroll through Flume Gorge!
What Is Flume Gorge In New Hampshire?
The Flume is a postcard perfect narrow gorge with towering granite walls covered in moss on both sides. Imagine 90 ft tall walls just 12 ft apart at the narrowest point, for a total of 800 ft in length at the base of Mount Liberty.
Wooden boardwalks transport visitors through the gorge, providing access to the narrowest sections with waterfalls, boulders and pools.
But there's more to Flume Gorge, including two very different but charming covered bridges, sections of peaceful forest trail and a spectacular viewpoint over endless rolling hills.
The 2 mile Flume Gorge loop hike is easy, fun and beautiful – but expect crowds and arrive early to avoid foot traffic, especially in the narrow gorge section.
Looking for hiking inspiration? Check out our popular guide to the 50 best hikes in the US next!
Flume Gorge Entry Prices
Age 13 +: $18
Age 6-12: $16
Under 6: Free
Important: You must reserve tickets in advance at New Hampshire State Parks. Select a date and preferred time slot along with number of tickets required.
If you do not pre-book tickets, you cannot enter Flume Gorge. Worst case if you arrive without tickets is you can go online and book for the next available slot.
However, in peak season it is unlikely there will be any time slots available due to the popularity of Flume Gorge.
Tickets can be printed or more conveniently displayed on smartphone devices with a bar code for scanning.
Where Is Flume Gorge, NH?
Flume Gorge is located along Daniel Webster Highway near Lincoln, New Hampshire.
It is just 6 miles drive from nearby Artists Bluff and 7 miles from the beginning / end of Kancamagus Highway.
Click or touch to activate the map. Scroll around, zoom in / out and get to know the local area.
Flume Gorge Hiking Trail Details
Distance: 2 miles
Elevation: 500 ft gain
Type: Loop
Time: 1.5 – 2 hours
Dogs: Not permitted
Need a hand planning your New England fall road trip?

Our popular 40+ page New England Fall Road Trip Guidebook includes the 10 best places to visit, 8 example itineraries ranging from 5-14 days and an extensive interactive map to help you plan a successful leaf-peeping vacation.
Flume Gorge New Hampshire Walkthrough
OK, let's get stuck into the 2 mile Flume Gorge loop trail.
You won't need any more than a few hours for this scenic hike. Read our list of best things to bring on a day hike for packing tips.
When we visited, Flume Gorge was a one way hike only going counterclockwise due to coronavirus. However, by the time you visit this may no longer be the case.
If you have the choice, both ways are great but counterclockwise means you go up the gorge rather than down it.
There are some steep inclines and you will have to climb decent amount of steps along the Flume Gorge trail.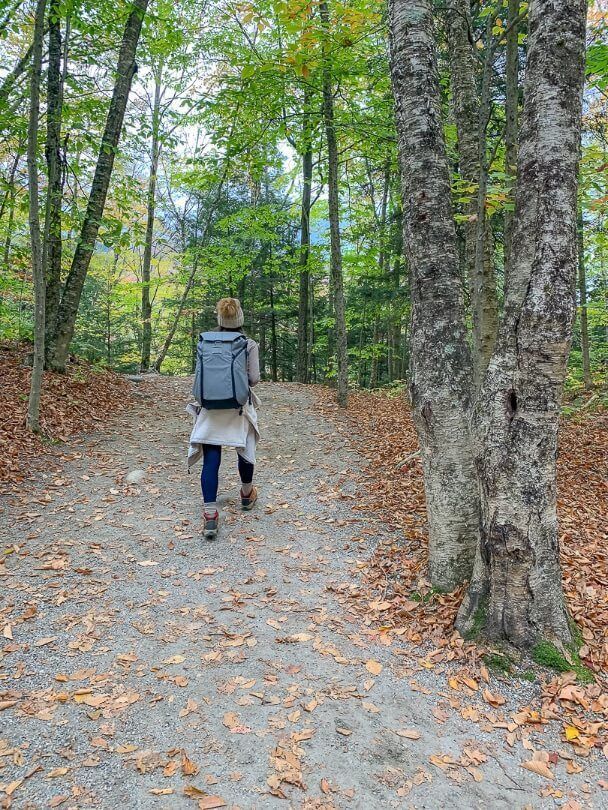 Beginning The Hike
Early arrivals will stand a better chance of getting a parking spot and having a much more relaxing time inside Flume Gorge. However, that isn't always possible. At the very least, plan ahead and book a time slot before arriving.
Join a line near the visitor center and wait to have your tickets checked or scanned. There are bathrooms and a restaurant at the visitor center.
Follow the flat trail through forest until it forks. How will you know where the fork is? Just look for a giant boulder!
As noted above, counterclockwise is the way we walked when the trail was one-way only, so let's take the right fork here.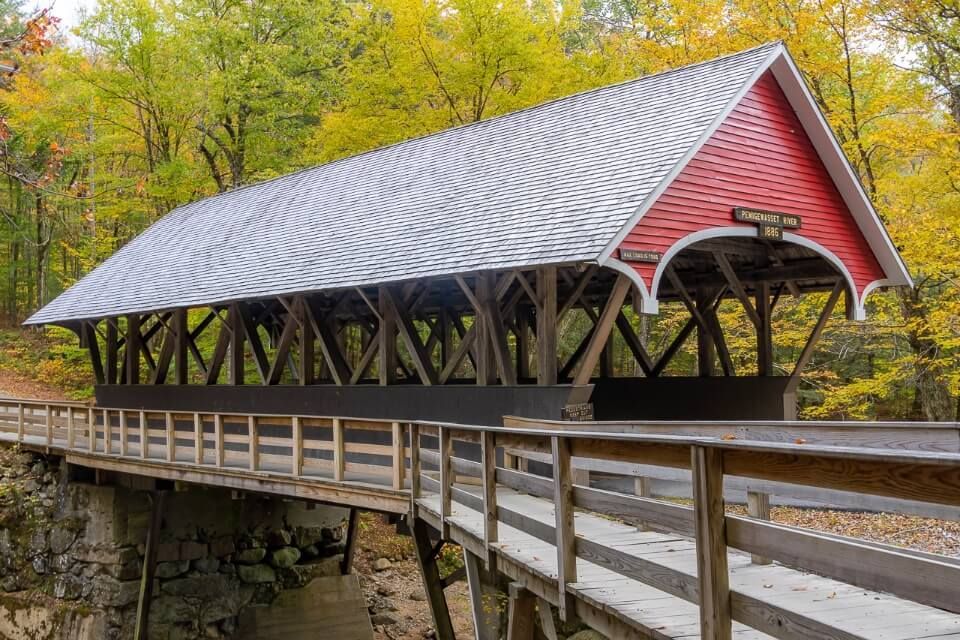 Flume Covered Bridge
Almost immediately you can look down to your right hand side and see a huge wooden structure. This is the strikingly beautiful Flume Covered Bridge, one of many gorgeous covered bridges in New Hampshire.
The trail has a nice gradual switchback leading down to the bridge. Make sure you get your photos from the elevated vantage point before descending.
Flume Covered Bridge crosses the Pemigewasset River and despite displaying a sign stating 1886, the bridge was actually built in 1871.
Visiting in Fall means low water but radiant yellows and oranges in the leaves which create a picture perfect backdrop for the bridge.
We set our tripod up here and it took at least 20 minutes to get a shot with no people in it!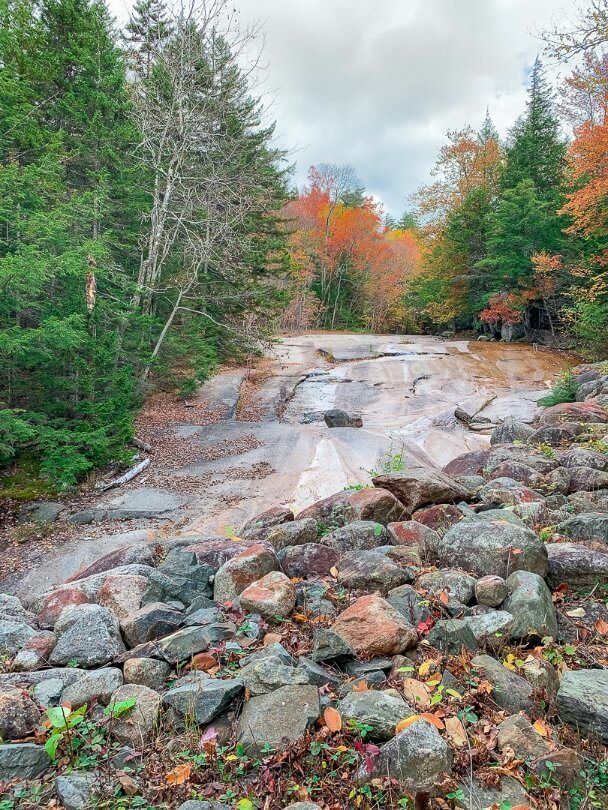 Table Rock
The next major marker you will pass is Table Rock at the bottom of Flume Brook. It might not look like much in Fall but the waterfall will be heavier in Spring and early Summer.
Table Rock is an open rock face made of Conway granite that has been exposed as a result of constant water erosion over time.
It is very slippery on the rocks when the water is low so please do not attempt to walk on them and keep a close eye on the kids.
Those vibrant autumnal colors make up for the lack of water, right?!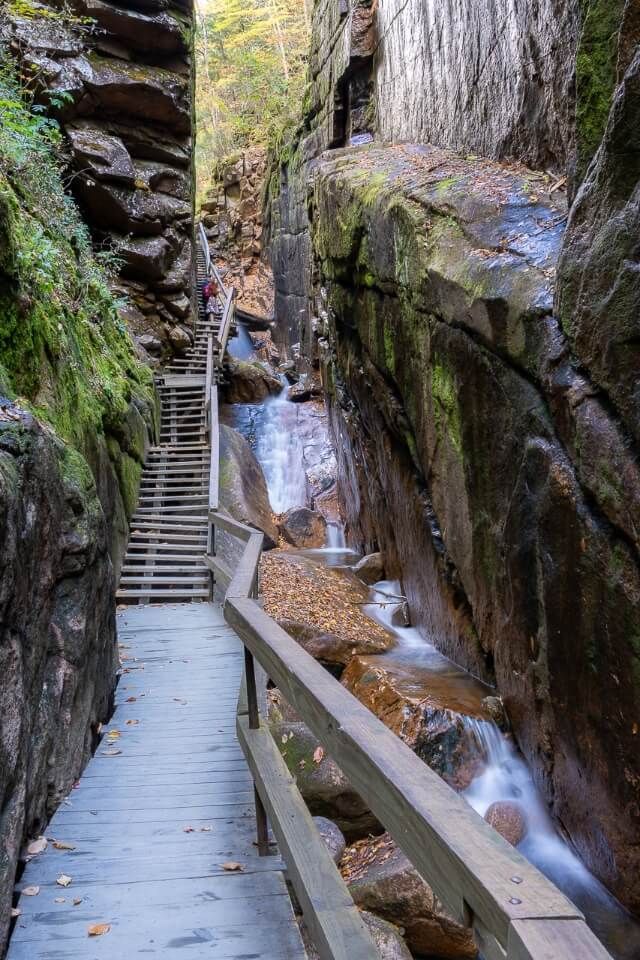 Flume Gorge
Shortly after Table Rock you will enter the narrow passage leading into Flume Gorge. This is the highlight of the hike so be sure to take your time.
Quaint wooden boardwalks and rails cross Flume Brook as you ascend through the tall granite walled natural ravine. Look closely at the walls and try to find flowers, trees and mosses growing.
The boardwalk tightly hugs the left wall and a set of narrow steps gains elevation as you begin to leave Flume Brook.
In Spring and early Summer the gorge may be roaring under the sound of heavy flowing water cascading through the narrow walls. In Fall, you will find just a light trickle, as we found out.
Avalanche Falls
At the risk of sounding like a broken record, late Summer and Fall are not the best time to see a full force 'Avalanche' waterfall. It's little more than a wispy waterfall later in the year.
However, visit in Spring or early Summer and you should see the reason it gets its name.
The waterfall is at the top of a fairly long step climbing section as you leave Flume Brook. There are various vantage points to see Avalanche Falls but the best is looking back at the boardwalk after you pass the waterfall.
Again, this could be a long wait for a clear shot if you take your tripod for a long exposure.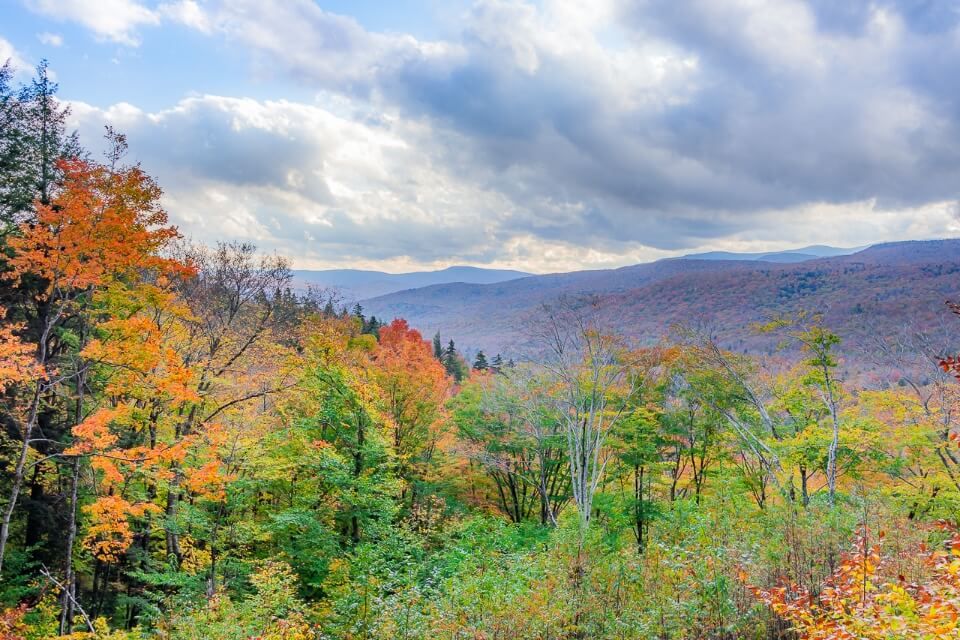 Stunning Summit Overlook
Right at the top of the climb you will find a very short spur trail leading to the left side. Take it!
This is the highest elevation point in Flume Gorge. Magnificent views over New Hampshire scenic rolling hills and distant peaks open up perfectly.
In Spring and Summer this view will be an ocean of green but in Fall you benefit from a wide range of warm fiery colors mixed with the greens.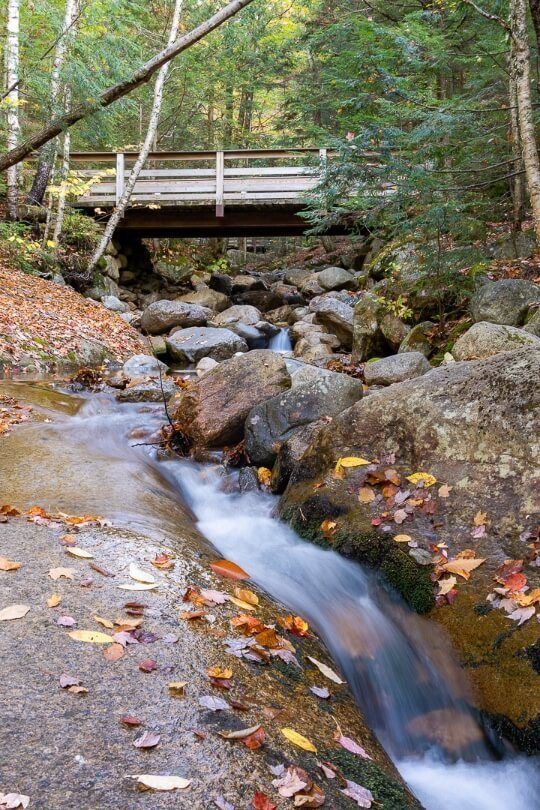 Liberty Gorge
After a long section of relaxing downhill walking, you will eventually reach a small spur trail leading to Liberty Gorge.
Follow the spur for a minute and look back upstream through Cascade Brook gorge toward a small but attractive bridge.
The wafer thin stream with fallen autumnal leaves scattered is worth a short detour. Just take care on the rocks when getting a photograph here as they can be dangerous when wet.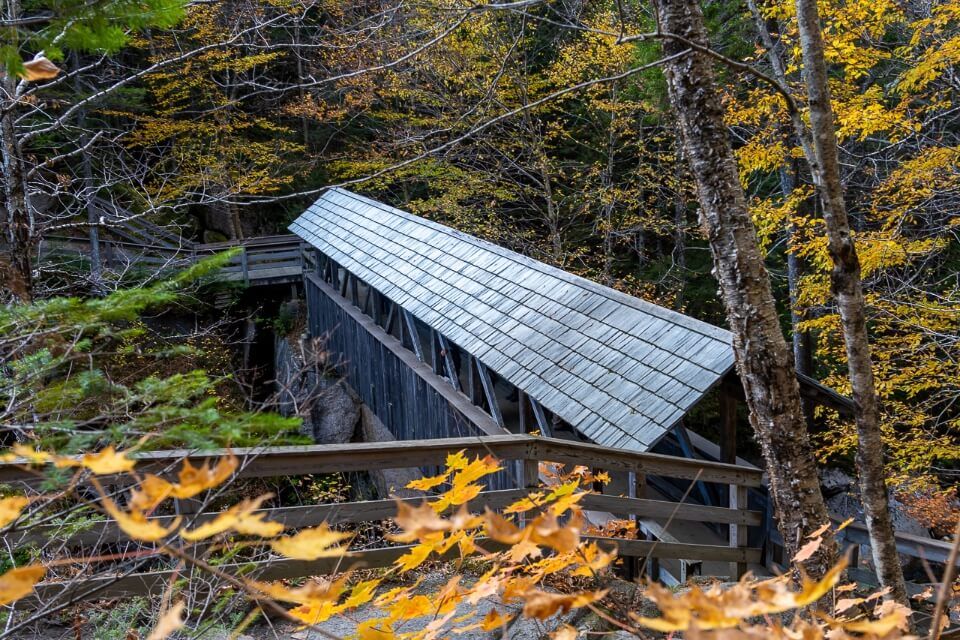 Sentinel Pine Covered Bridge and The Pool
At the end of this downhill section you will cross the Pemigewasset River for a second time. Another river crossing means another gorgeous covered bridge, this time a pedestrian only narrow wooden bridge.
Sentinel Pine Covered Bridge is incredibly photogenic both from the exterior and from inside the tunnel like bridge.
What you can't see is the enormous 16 ft circumference of a Sentinel Pine tree forming the base of the wooden bridge. After it fell under intense wind during a hurricane in the 1930's, the tree was used to build this stunning bridge around.
Below the bridge you will see The Pool, a 40 ft deep basin in the Pemigewasset formed thousands of years ago. During times of high water, you will see cascades plunging into The Pool from high cliffs surrounding Sentinel Pine.
Follow wildwood path back to the visitor center, passing by gigantic glacial boulders and re-joining the trail where you forked earlier.
Best Time To Visit Flume Gorge NH?
As we've referenced many times, the time you visit Flume Gorge will have an impact on what you see.
Flume Gorge In Fall
We can tell you from experience that water levels are low but autumnal colors are striking during Fall foliage leaf peeping season.
Fall is the most beautiful time to visit but if you're a fan of waterfalls, try early Summer instead.
Top tip – It does rain a lot in Fall around Franconia Notch so be prepared for a wet day. We had a windy and rainy day during our visit in October.
Flume Gorge in Spring and Summer
Spring and Summer mean emerald green colors and gushing water crashing through Flume Gorge.
You lose the warm and radiant colors but you gain powerful waterfalls.
Flume Gorge In Winter
You can walk through Flume Gorge during a snowy New Hampshire Winter, it is open all year.
However, no staff are on site, no restrooms are available and you enter the gorge at your own risk.
Use our ultimate New England Fall Foliage Road Trip planning guide to create the perfect leaf peeping itinerary with these 10 best stops.
More From New England
Are you hiking Flume Gorge in New Hampshire as part of a longer visit to New England?
Read about more amazing places and things to do in the area.
---
We hope this in depth walkthrough to Flume Gorge in Franconia Notch State Park, NH helps you plan your visit to this wonderful part of New England!
Please let us know if you need any help planning your visit in the comments below.
Happy Travels,
Mark and Kristen
Was This Post Helpful? Pin It For Your Visit!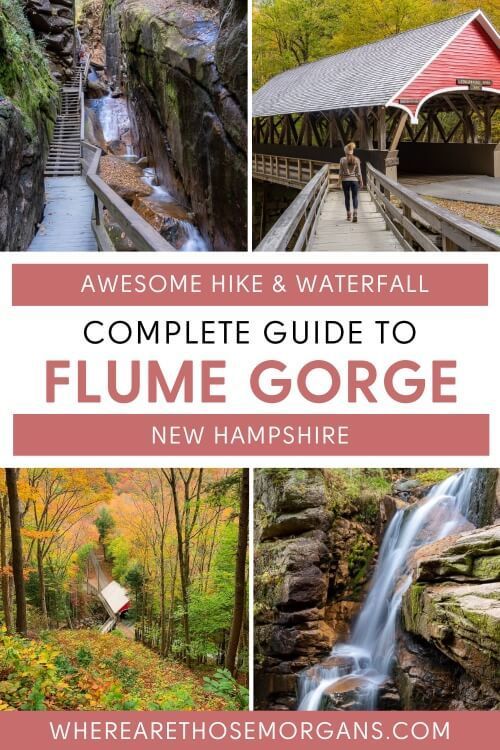 Note: This article contains affiliate links. When you make a purchase using one of these affiliate links, we may earn a small commission at no extra cost to you.
All Rights Reserved © Where Are Those Morgans, LLC. Republishing this article and/or any of its contents (text, photography, maps, graphics, etc.) in whole or in part is strictly prohibited.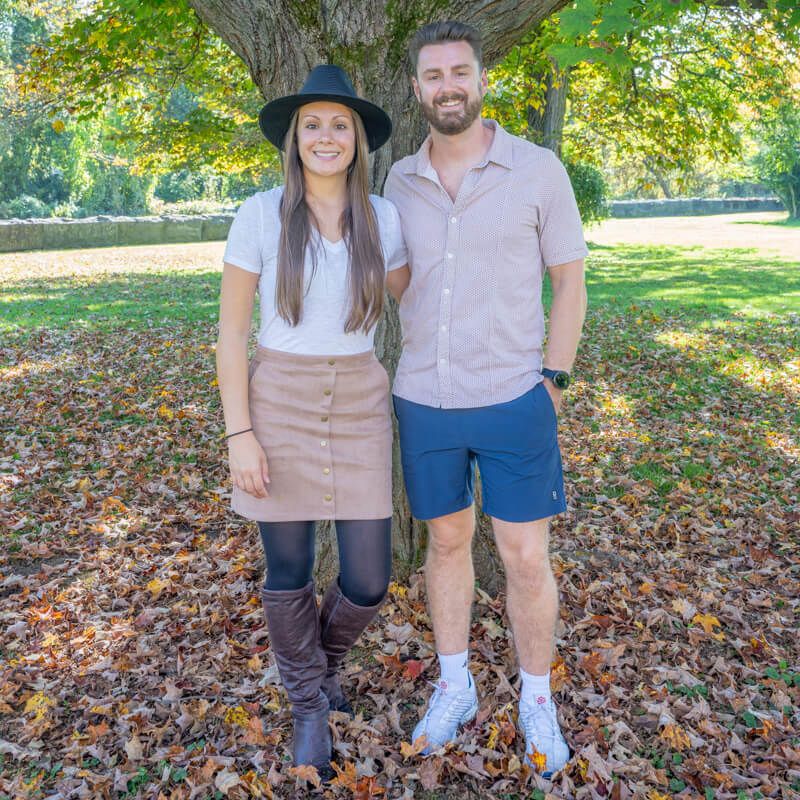 Mark and Kristen Morgan are travel, hiking and photography experts. Over the last 6 years traveling full time, they have explored more than 40 countries and 30 US states.
Their work has been featured in USA Today, Gestalten, Get Your Guide, CityPASS and Condé Nast Traveler along with various other publications.