Top of the Rock NYC was one of the two original observation decks built in New York City. While the famous Empire State Building opened in 1931, Top of the Rock opened just a few years later in 1933.
A visit to New York is not complete without visiting one of these original icons. This guide will tell you everything you need to know for your visit to Top of the Rock observation deck.
But why should you read our guide about Top of the Rock?
Well, because when we lived in New York City in 2021 we experienced Top of the Rock twice. We went once in the morning and again at sunset on a different day. Then, we went back up again during a visit in 2022. Our experiences have given us great perspective about the best time to visit.
Our goal is to give you all the information you need so you know exactly what to expect as well as the where to go for the best photo spots.
Here's how we will help you plan your trip to Top of the Rock:
What is Top of the Rock and how to get there
Top of the Rock ticket and tour options
A photo walkthrough and detailed explanation for all 3 floors
Best time to visit and tips for your visit
Final thoughts with pros and cons
Now, let's climb Top of the Rock NYC observation deck!
*Please note this post may contain affiliate links. If you click on one, we may earn a small commission at no extra cost to you! Read more in our disclosure policy.*
What Is Top Of The Rock In NYC?
The Top of the Rock observation deck is located at the top of 30 Rockefeller Plaza.
This Rockefeller building is one of the 14 original art deco structures within the Rockefeller Center complex. These buildings were commissioned in the 1930s by the Rockefeller family between 5th and 6th Avenue.
The complex also includes Radio City Music Hall and is well known for being home to the Rink at Rockefeller Center as well as the annual lighting of the Rockefeller Christmas tree.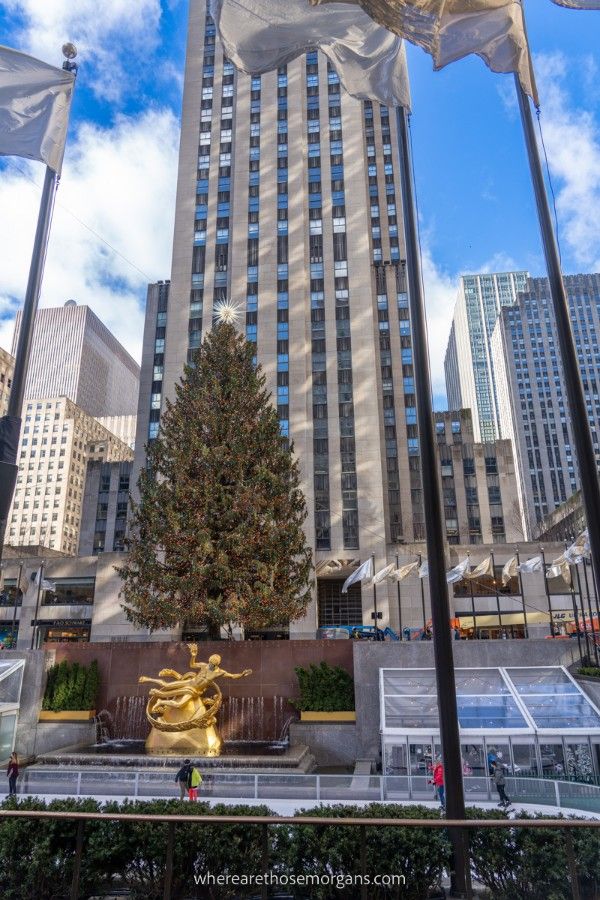 How Many Floors Is Top Of The Rock?
Constructed between the years of 1931 and 1933, the iconic structure at 30 Rockefeller Plaza is now a 70 floor class-A office building.
The Top of the Rock observation deck can be found at the top 3 floors featuring a panoramic 360-degree unobstructed view from the 70th floor.
Where Is Top Of The Rock In NYC?
If you are looking at a map of Manhattan, 30 Rockefeller Center is between Times Square and Central Park.
Top of the Rock is in Rockefeller Plaza on 5th and 6th Avenue or 49th and 50th Street. You will most likely recognize the prominent building from the street before heading to the entrance.
Access to the building entrance is on W 50th Street, closer to 6th avenue and opposite Radio City. A bright red carpet with "Top of the Rock" in huge letters builds instant excitement.
Top Of The Rock Address: 30 Rockefeller Plaza, New York, NY 10112
Click here for the Google Maps location.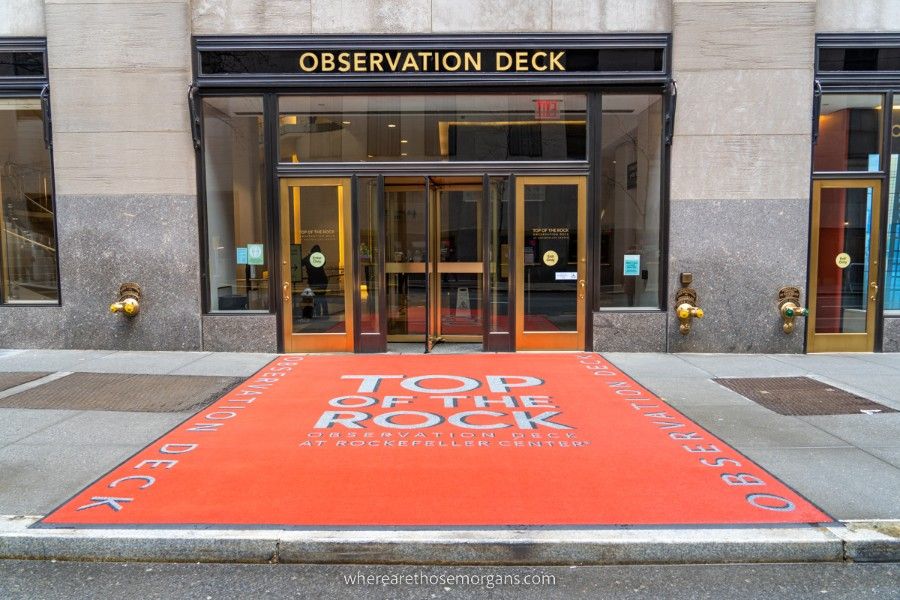 How To Get To Top Of The Rock
You can get to Top of the Rock in many different ways.
Subway
B, D, F, M trains: Take train to 47th-50th St Rockefeller Center
1 train: Take train to 50th St then walk east on 50th St to Rockefeller Center
6 train: Take train to 51st St then walk west on 50th St to Rockefeller Center
N, Q, R, trains: Take train to 49th St and walk east on 49th St to Rockefeller Center
NYC Bus
5th Ave (south) or Madison Ave (north): Take the M1, M2, M3, M4 or M5 bus to 50th St
Broadway: Take the M7 bus and exit at 50th St then walk east to Rockefeller Center
49th and 50th St: Take the M50 bus and exit between 5th / 6th Ave
Discounted parking is available at the Rockefeller Center SP+ garage located on 25 West 48th St. Grab your parking spot and discount here.
You can also arrive by Uber, Lyft or taxi but this might not be the most cost effective option.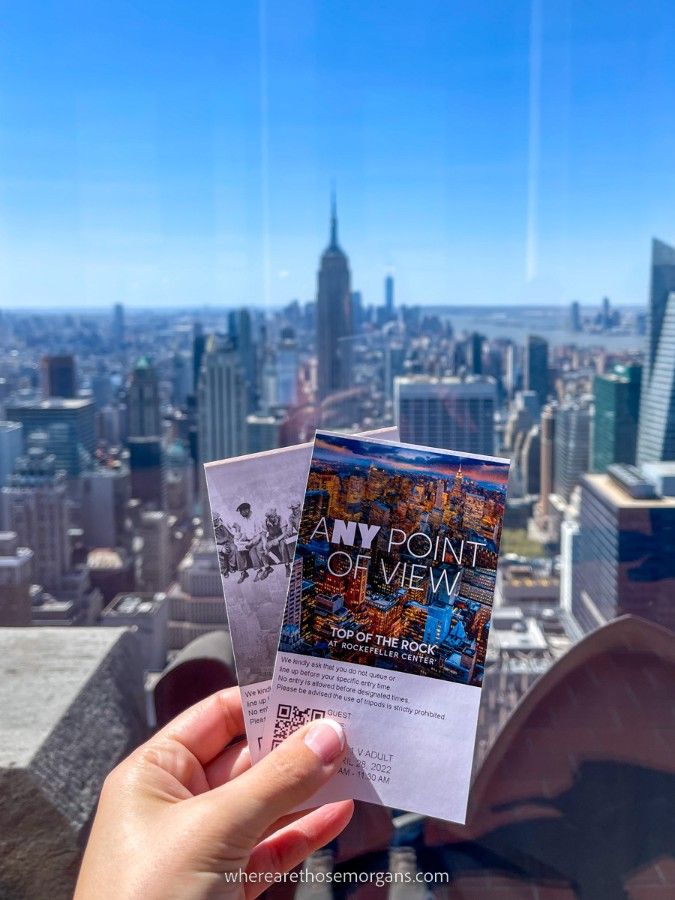 Top Of The Rock NYC Tickets
You will need a ticket to visit Top of the Rock.
There are three main ticket options, but if you choose to visit during the sunset slot, you will pay $10 more for your ticket.
The general admission ticket grants you access to all 3 levels of observation decks with no time limit and 360 degree unobstructed views.
The two other ticket options will include additional add ons from the basic general admission.
General Admission – Online tickets begin at $40 for adults and $34 for children (6-12) for day time tickets.
Express Pass – General Admission + Immediate entry to viewing decks + Priority elevator access and 20% discount at gift shop. Online tickets begin at $75.
VIP Tour – General Admission + Skip the line + Exclusive tour of the top of 30 Rockefeller Plaza and Rainbow Room. Online tickets begin at $110.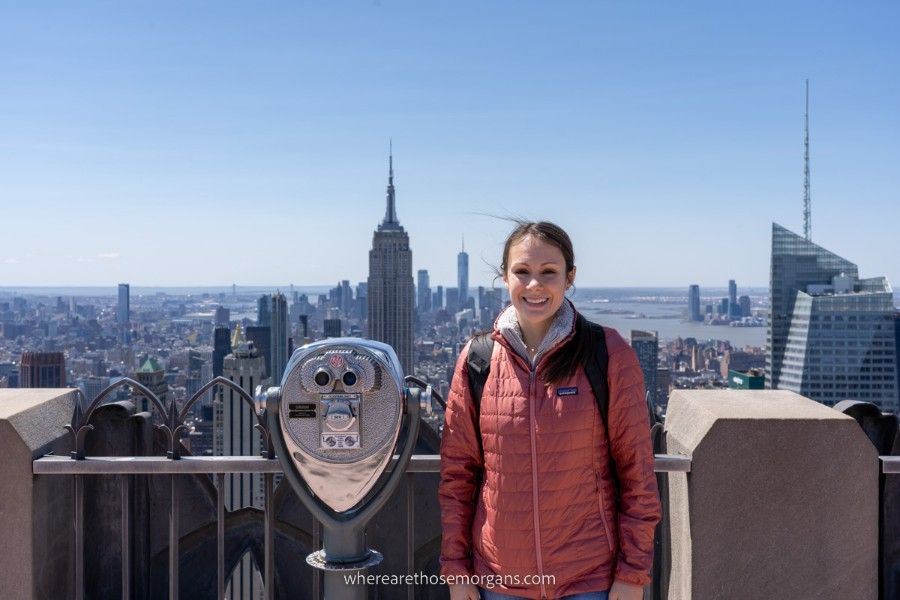 How To Buy Top Of The Rock NYC Tickets
There are many ways to purchase Top of the Rock tickets. Compare prices on each platform before purchasing.
You can buy directly from the official Top of the Rock website or onsite at Top of the Rock.
Or you can purchase an entry ticket through:
Click on the links to compare reviews and prices for each platform.
We visited Top of the Rock with our New York CityPASS. If this is your first visit to NYC, we would recommend either a New York CityPASS or New York Sightseeing Pass depending on your needs.
You might also consider a Go City New York Pass.
Read our detailed comparison to the New York attractions passes to help you decide which pass you should purchase for your visit to the Big Apple.
Travel Tip: If you have a New York attraction pass, you will not have to pay the extra $10 for a sunset time slot.
Reserve Your Time Slot
No matter how you purchase your tickets, we recommend you buy your tickets in advance. Sunset time slots on Top of the Rock are extremely popular and can sell out extremely quickly.
If you are using one of the New York attraction passes, you will be able to reserve your time slot in advance or the pass will grant you instant entry.
Rockefeller Center Tours
The Rockefeller Center is brimming with rich history, culture and of course, stunning architecture. You can combine your Top of the Rock visit with a tour of the Rockefeller Center.
This combination ticket is called the Rock Pass ticket and costs $56.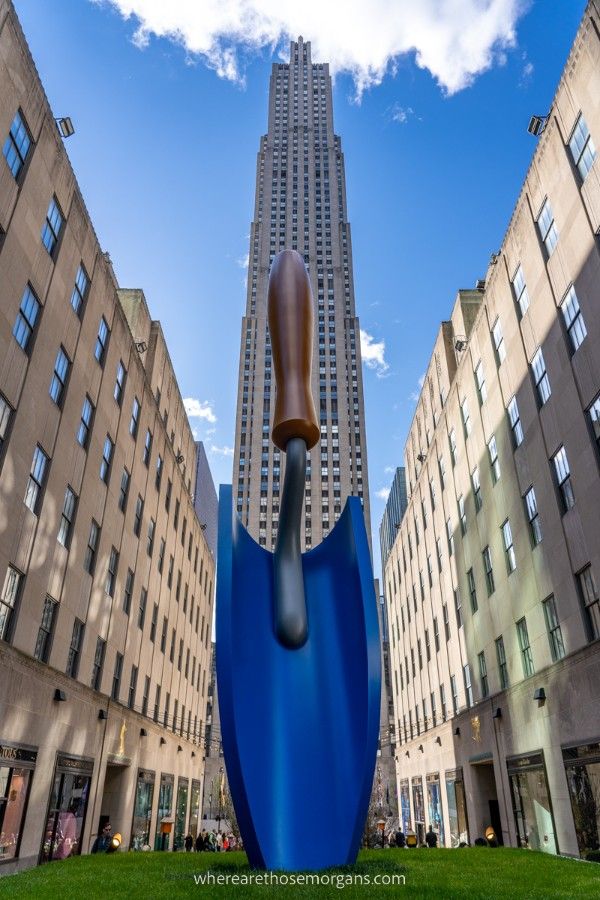 Things To Do At Top Of The Rock
Top of the Rock originally opened to the public in 1933, but then closed in 1986. In November 2005, the Top of the Rock reopened after a full renovation and restoration.
During your visit, you will experience three different floors and learn history about this influential building. Unlike many of the other NYC Observation decks, Top of of the Rock is not a one way system.
You can travel between each floor at your convenience and revisit any of the previous floors any time you want. There is also no time limit to how long you can stay at Top of the Rock.
Below we will walk you through exactly what you should expect for your visit with a complete photo walk through of each floor and exhibit.
Ticket Entrance And Joie Chandelier
Top of the Rock is open every day of the week from 9:00am-11:00pm with last entry at 10:20pm, 7 days a week. But hours of operation may vary on holidays.
As you enter through the main entrance, you will climb the stairs to the next level (or take the elevator) but be sure to notice the stunning Joie Chandelier made from 14,000 crystals.
This chandelier was specifically created for Top of the Rock by Swarovski and is currently the largest of its kind. The entire chandelier hangs a whopping 3 stories in the grand atrium lobby.
If you stand in the lobby and look up, you may notice the chandelier looks very similar to the exterior shape of 30 Rockefeller Center from upside down.
Once you show your timed entry ticket, you will be lead through security for a bag check. Both times we visited, this line moved extremely quickly and only took a few minutes.
After you pass through security, you will now have the chance to explore the Mezzanine exhibit.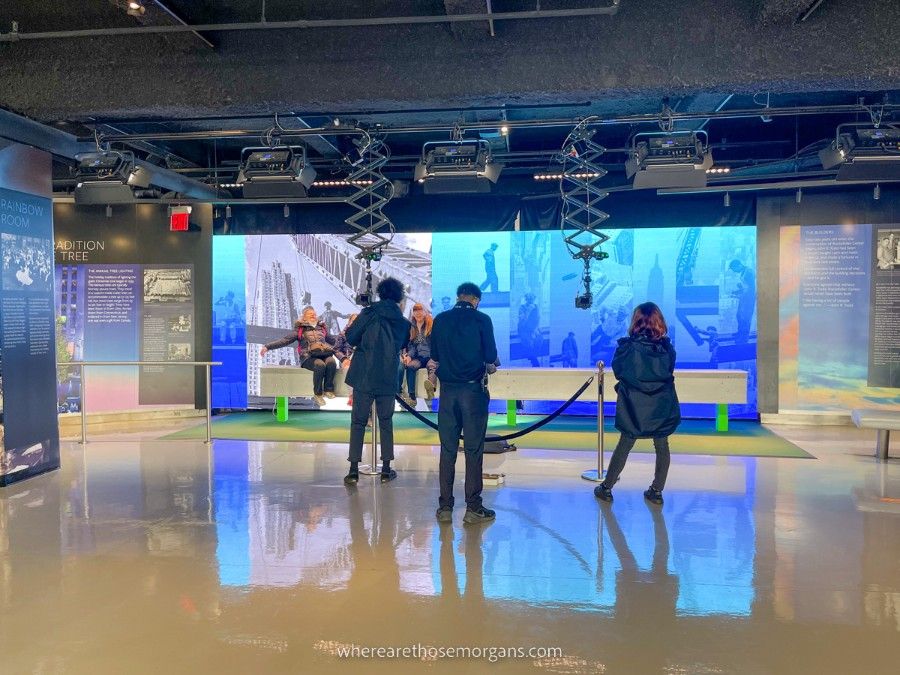 Mezzanine Exhibit
This is an exhibit you should not miss because it explores the history of the Rockefeller Center. You will also learn about John D. Rockefeller and creation of Top of the Rock.
We won't give away any information so you can learn when you visit. But as you wander through this exhibit, there will be Top of the Rock staff taking your photo which you can purchase later after your visit.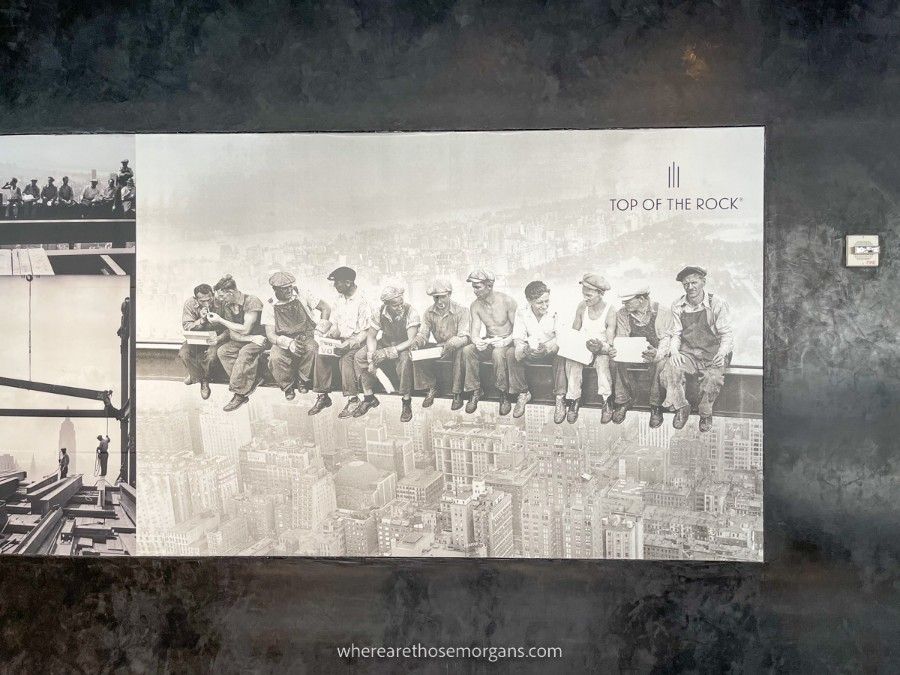 Beam Walk
As you continue walking through this section, you will come across a famous photograph of construction workers eating lunch on a steel beam with Central Park in the background.
This photo was take during the construction of this building which is pretty cool to think about. You can opt to walk in their footsteps on the interactive beam walk.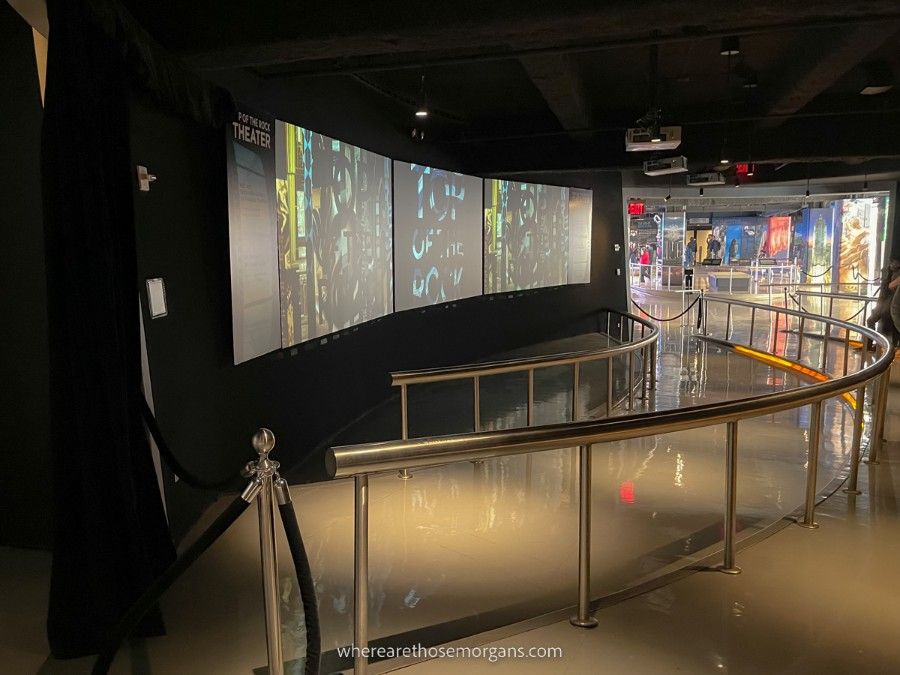 Theatre
Before heading to the elevators, the last stop is the theater. There are three short films you can choose to watch or you can continue to the sky shuttle elevator. Each short clip has a 4 minute run time.
The three short films at the Top of the Rock theatre include:
NBC & Rockefeller Center, An American Tradition
The history of the Rockefeller Center
The Rockefeller Center Christmas Tree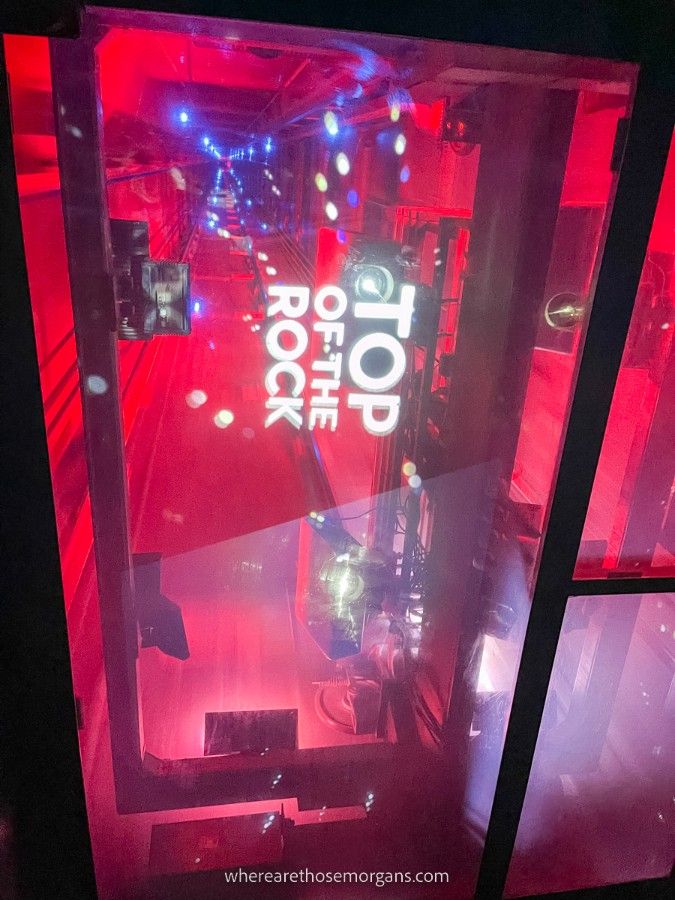 Sky Shuttle Elevator Experience
As you step into the Sky Shuttle, get ready to experience a climb of 850 feet in 42 seconds. This elevator has a glass ceiling and will reach floor 67 of the Rockefeller Center.
Be sure to look up to see a light show projected against the glass and watch an animation about the history of New York City.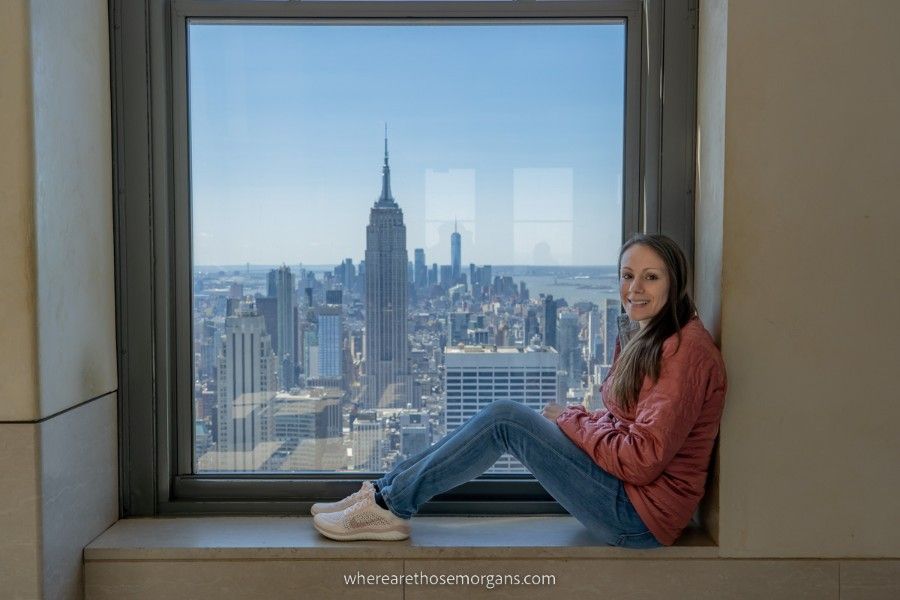 67th Floor
As you step our of the elevator, you will now be at the 67th floor. This floor is filled with iconic photo locations as well as both outdoor and indoor viewing platforms.
The enclosed room has large windows which create frames for Manhattan and the Empire State Building. But there are two additional outdoor platforms with large glass panels for you to take in the skyline.
One of the best photo spots at Top of the Rock is located in the window sill near the first outdoor viewing platform as you come out of the elevator.
There will most likely be a long line for this photo spot so it is pretty easy to find.
But if you look out the window, you will see the Empire State Building standing right in the middle of the window frame. Sit on the frame and get your perfect photo!
On the 67th floor, there is also an interesting Radiance Wall which was another creation by Swarovski. This wall is made from glass panels, blown glass, crystal cluster and fiber optic lights.
Be sure to look closely for crystal figurines and tiny animals in the wall. You can also see this wall as you exit if you miss it the first time around.
As you head to the escalators for the next floor, you will pass by a small gift shop. This is a good place to purchase a souvenir or the photo from earlier in the previous exhibits.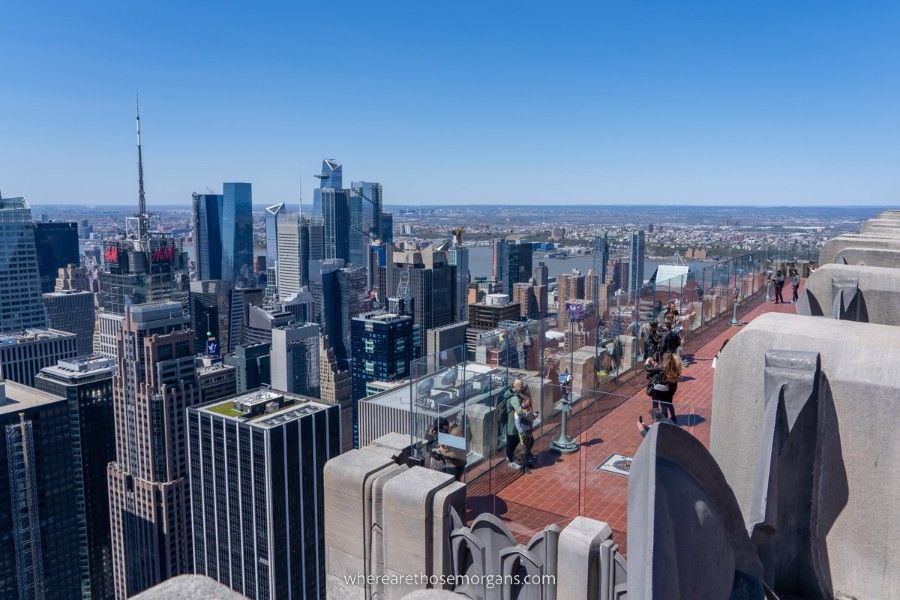 69th Floor
As you make your way up to the next floor via escalator, this next floor will consists of a 270 degree outdoor viewing platform with a breezeway.
The platform on this floor faces North, West and South from behind large glass panels. The deck is fairly wide and can fit a substantial amount of people. There is also another small gift shop.
If it is windy or cold, the breezeway is a good place to hide from the elements. Once you enter the breezeway, a color will be assigned to you which will follow your every step throughout the room. Kids love this space.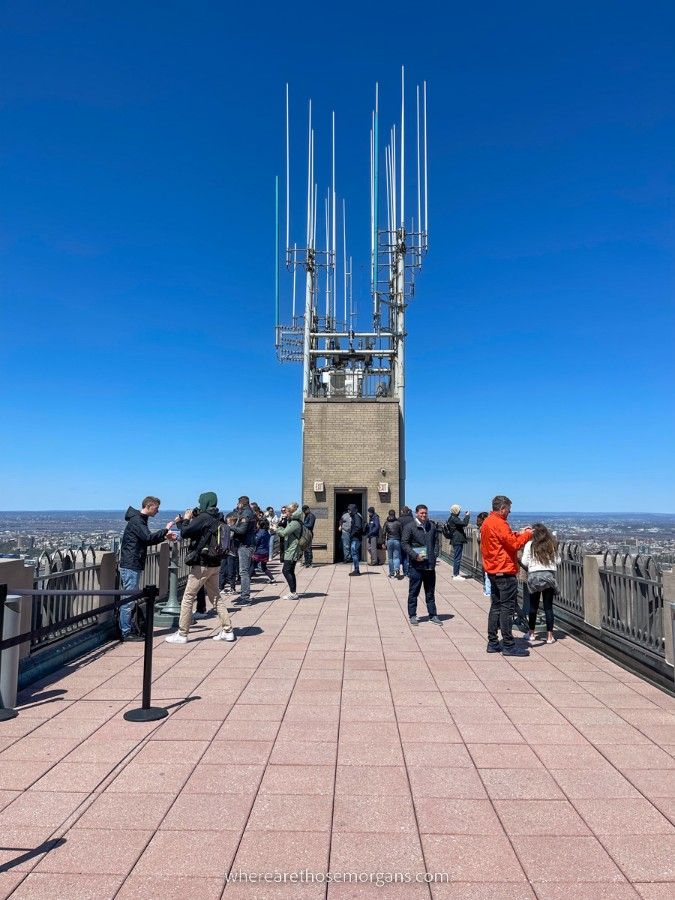 70th Floor
As you climb the stairs to the 70th floor, this is the true climax of Top of the Rock NYC. This floors offers a full 360 degree unobstructed view without glass barriers.
However, this floor is a bit smaller compared to the other two levels and can get extremely crowded. This section is shaped like a rectangle and there are two main sections so be sure to visit both.
Below are the iconic sights you can expect to see in each direction from Top of the Rock:
Southeast: Chrysler Building, Brooklyn
Southwest: Empire State, One World Observatory, Midtown, Lower Manhattan, Hudson Yards
After you finish taking in the views and snapping photographs, you can choose to leave Top of the Rock or visit one of the previous floors. As you exit, you will pass through another gift shop.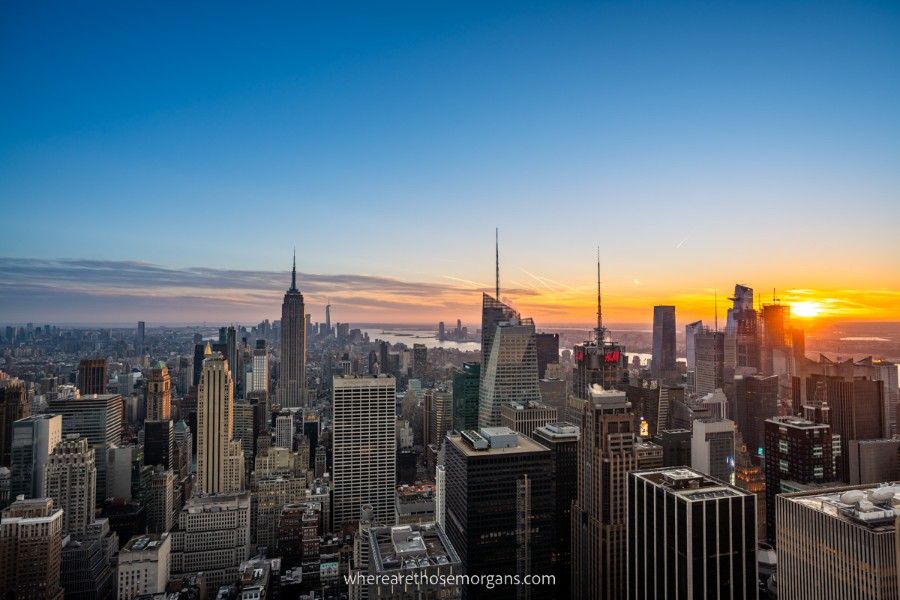 Best Time To Visit Top of The Rock
The best time to visit Top of the Rock is an hour before sunset because you will be rewarded with gorgeous views of the sun setting behind the stunning Manhattan skyline.
Once the sun drops below the west horizon, right behind Edge and Hudson Yards, Midtown will be illuminated under an orange glow.
Sunset offers the softest light of the day which will yield better photos. If you visit at sunset, you can also always opt to wait until the sun has set to experience Top of the Rock at night as well.
Is Top of The Rock Better At Day Or Night?
We visited Top of the Rock one hour before sunset, but we have also visited at the first time slot of the day at 9:00am which was great for minimal crowds.
If you visit Top of the Rock during the day, you will see a varied urban landscape view with Central Park as well as the entire Manhattan skyline as far as the Statue of Liberty and Brooklyn Bridge.
If you visit Top of the Rock during the night time slot, the Empire State Building is illuminated beautifully and the New York City skyline seems to exude light from every angle.
Is Top Of The Rock Worth It?
Yes, Top of the Rock is worth it because this building is one of the original observation decks in New York City.
What we really like about Top of the Rock is the gorgeous view of the Empire State Building you won't get from any other observation deck in New York City. The ESB almost seems to be a mirage you can just reach out and touch.
Is Top Of The Rock Higher Than The Empire State Building?
The Empire State Building observation deck height is higher compared to the Top of the Rock.
The Top of the Rock maxes out at 259m while the Empire State Building maxes out at 381m.
Read our popular guide which compares the Top of the Rock versus the Empire State Building for more information.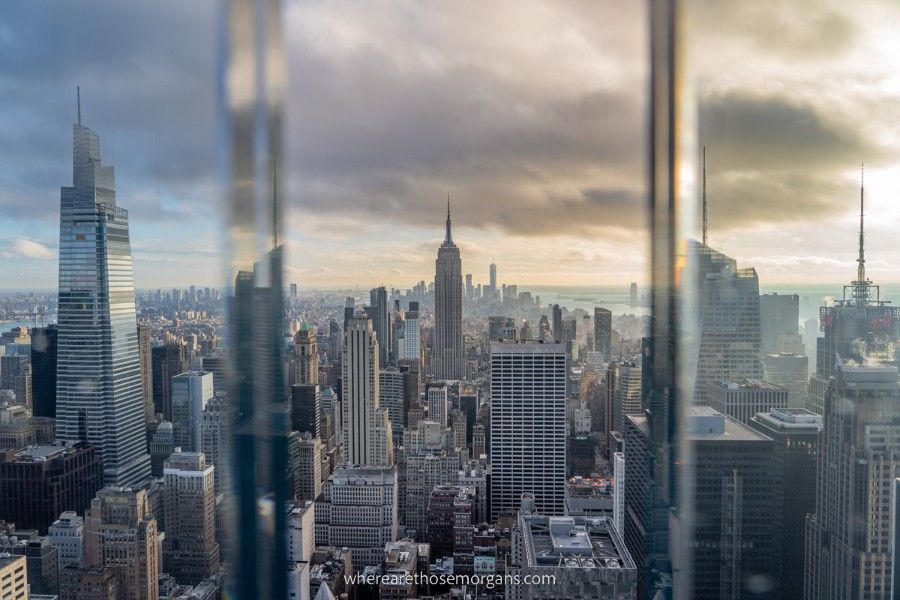 Tips For Visiting Top of The Rock NYC
Here are a few important tips to consider for your visit:
Purchase your tickets in advance – If you want to visit at the coveted sunset time, your best chance of getting tickets is purchasing them online and reserving your time slot.
Early morning is less crowded – While sunset is the best time to visit for the views, it is the worst time to visit for the crowds. So if you want minimal crowds, visit early at 9:00am.
Bring a jacket or coat – With three levels of outdoor viewing platforms, you will want something to help keep you warm when you are up so high.
TOR is kid friendly – Strollers are allowed at Top of the Rock and kids under 6 are admitted for free with a paid guardian.
Be patient when taking photos – If you are trying to take a photo from one of the outdoor viewing platforms, you may have to take a few shots or wait for the wind to die down. Be patient and enjoy the views.
Visit out of season – Summer months are going to be very busy at Top of the Rock, especially at sunset. Consider visiting New York in April or another shoulder month to avoid crowds.
Our Overall Experience
Top of the Rock is one of our favorite observation decks in New York City. The exhibits are informational and the views of Manhattan are stunning.
But what really takes the cake for us is that iconic view of the Empire State Building. Because Top of the Rock is slightly shorter than the Empire State Building, the ESB just seems to loom in the distance.
We also like to no frills experience at Top of the Rock. We came for amazing views of New York City and that is exactly what you get at this observation deck at a fair price.
Pros To Visiting Top Of The Rock NYC
Up close and best unobstructed view of the Empire State Building
Only observation deck with great views of Central Park
View includes every other observation deck in one direction
Educational and interesting exhibits about the history of Top of the Rock
Both indoor and outdoor viewing spaces on multiple levels
Unique ability to take photos over New York with no glass panels on the 70th floor
Reasonably priced observation deck for what you get
Not a one way system so you can visit floors multiple times
Cons To Visiting Top Of The Rock NYC
Lowest elevation observation deck in NYC
Crowds can be large at sunset
No cafe, cocktail bar or restaurant available
Outside viewing platforms can be extremely windy and cold
Not as many frills as other NYC observation decks
Difficult to see lower Manhattan landmarks
Lacks height and thrill compared to other observation decks
Top Of The Rock Images
We loved our visit to Top of the Rock observation deck and took many photos.
Below, we will share our favorite photographs and give you some ideas about where to take great photos.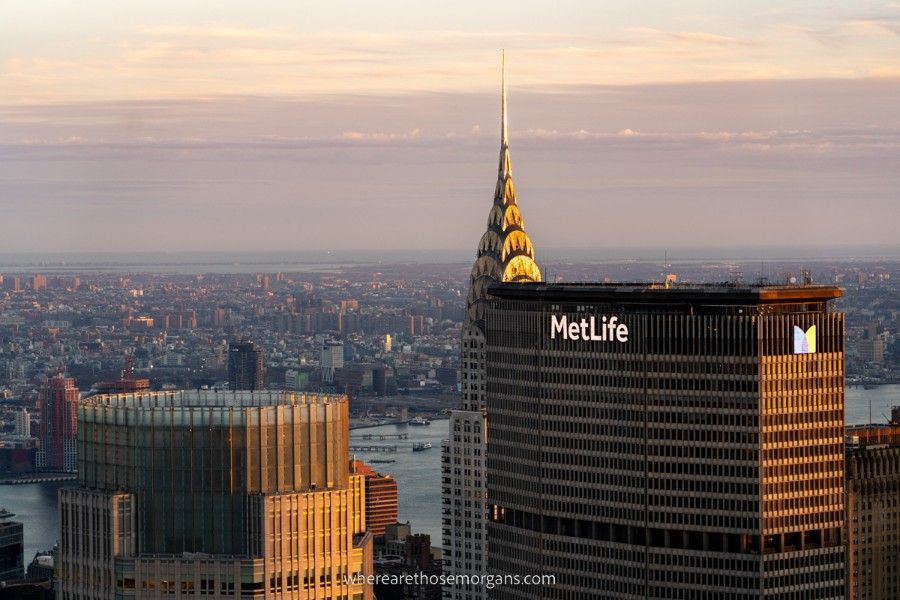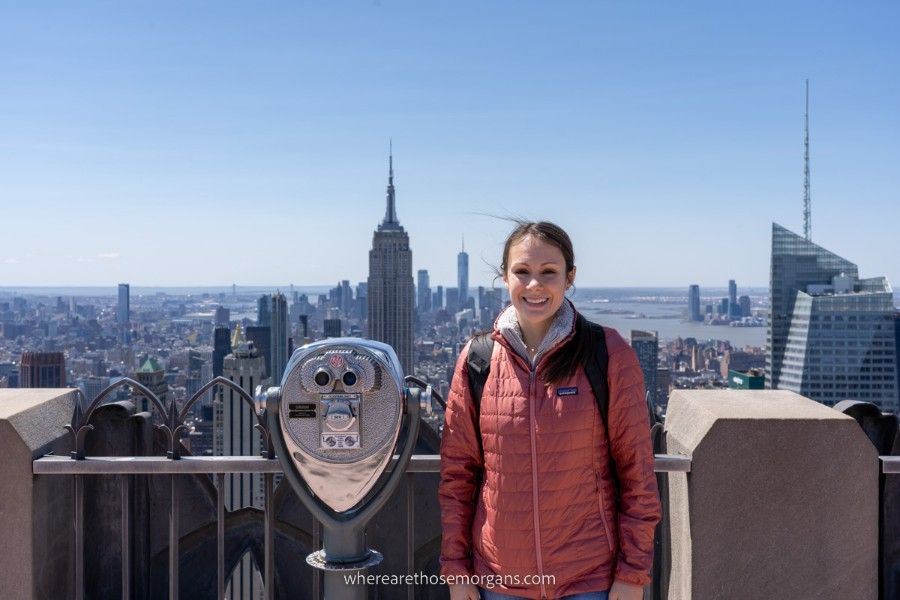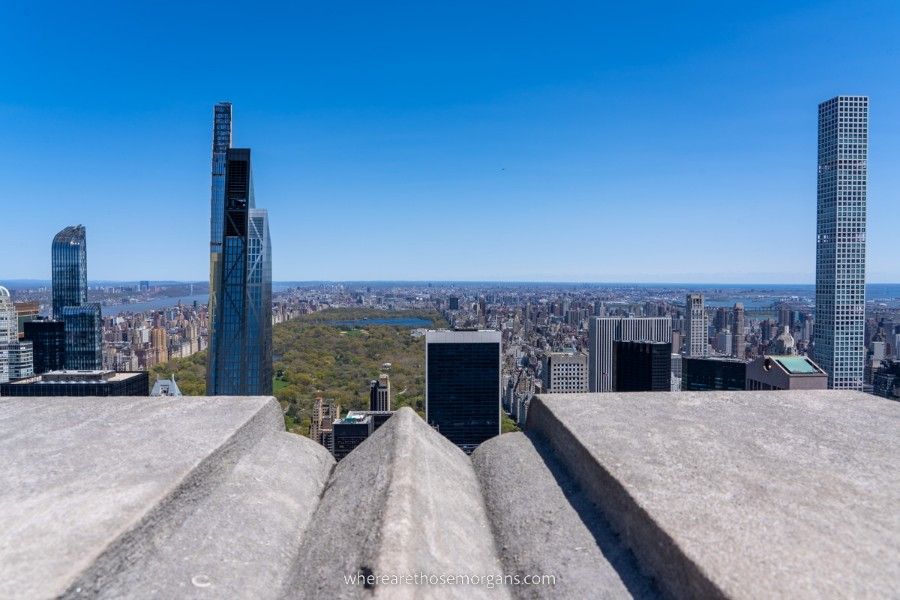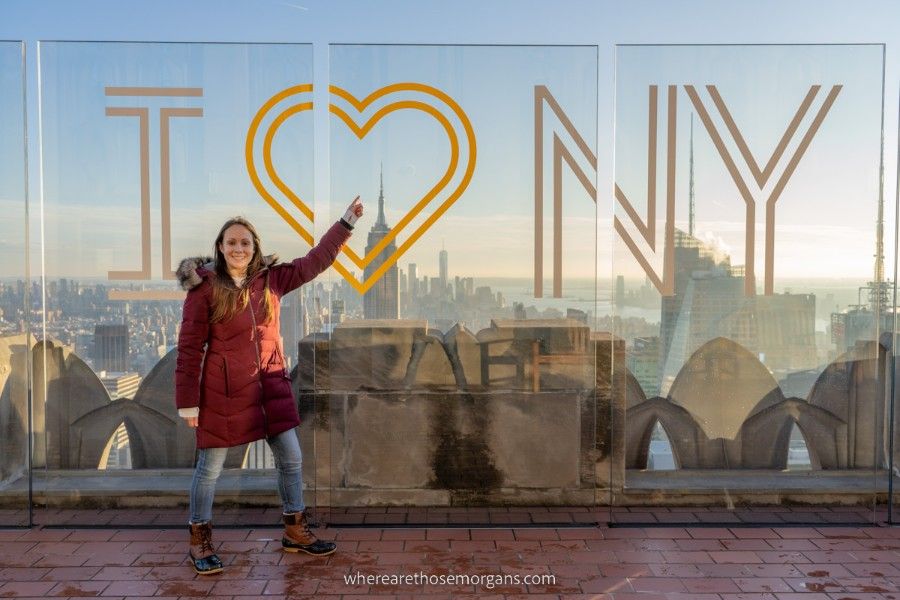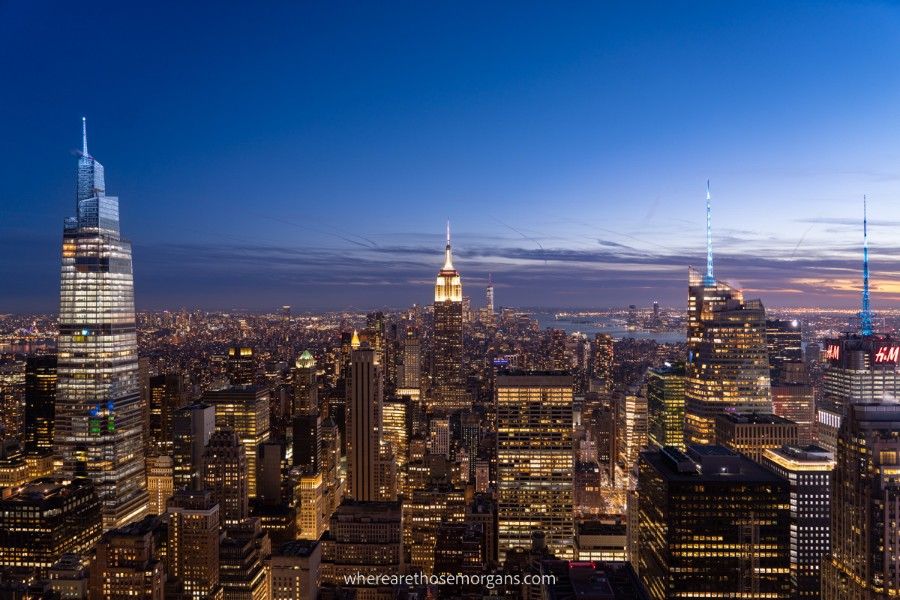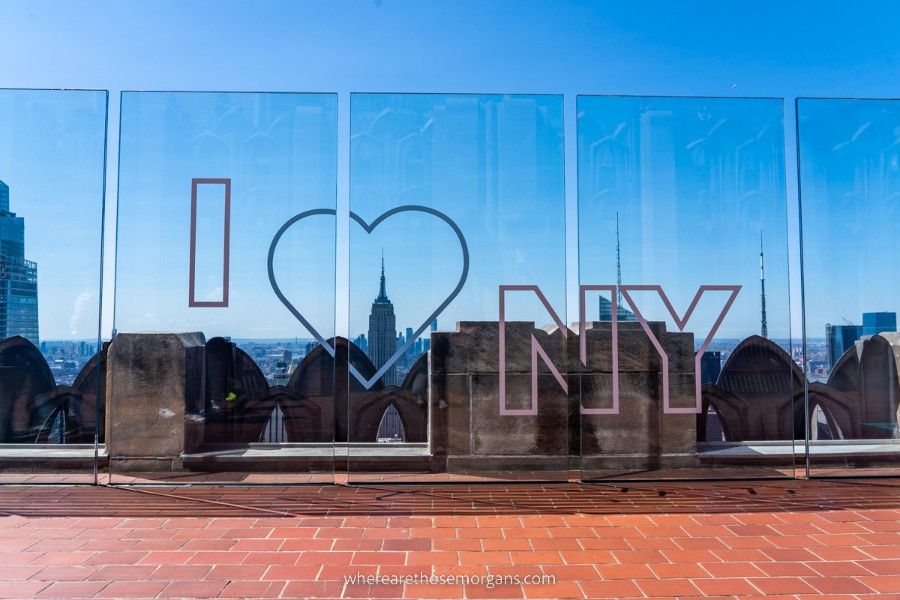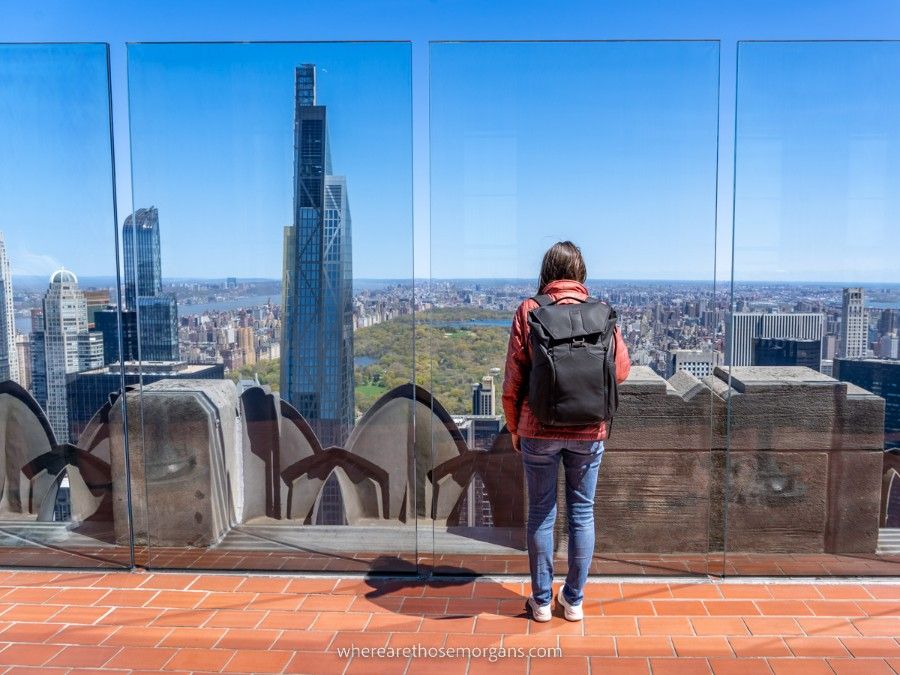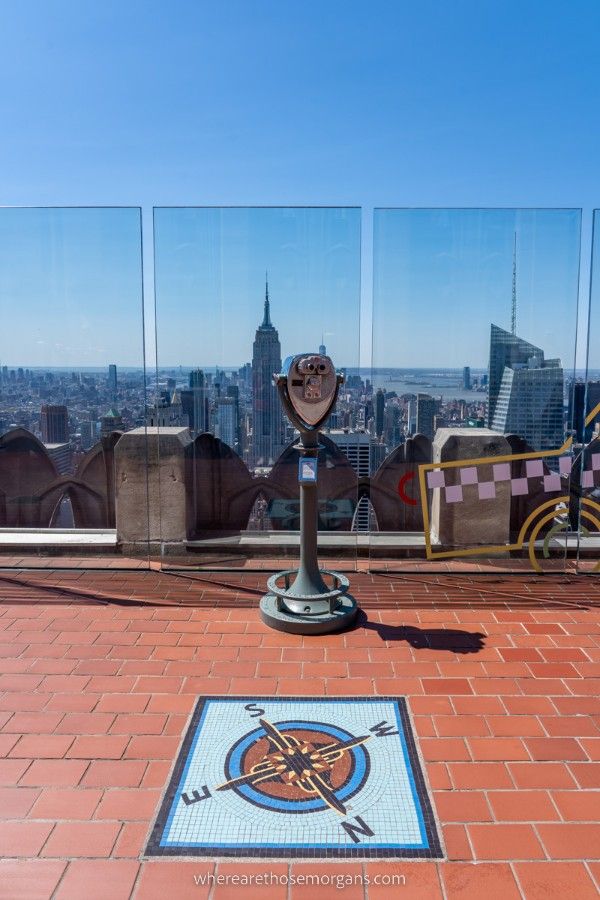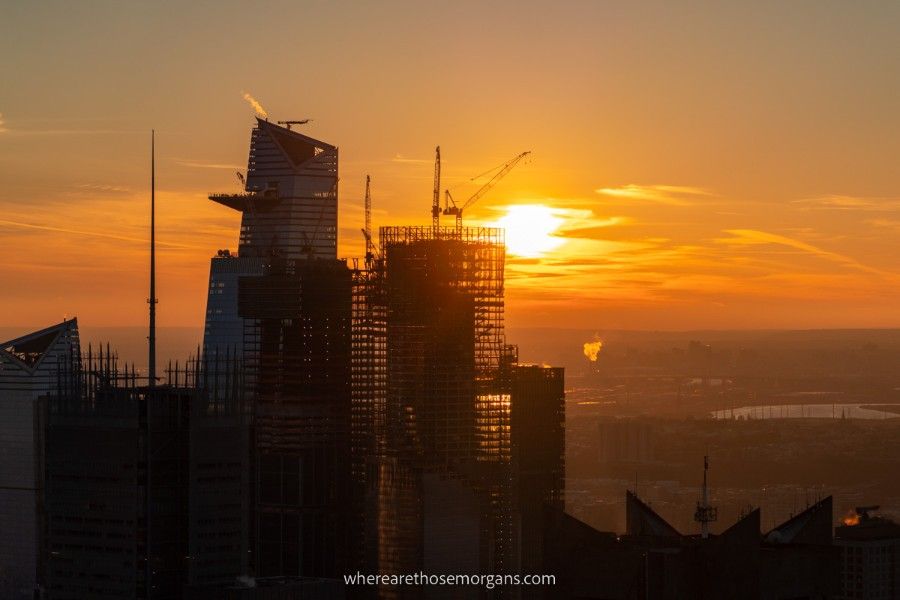 Is Top Of The Rock The Best Observation Deck In New York?
Unfortunately, this answer depends on your preferences.
Below is a quick overview for the 5 New York City observation decks (including Top of the Rock).
We understand you may not have time to visit each observation deck so it's important for you to have all the facts before you make a decision about which one to visit.
Edge at Hudson Yards – New York's highest outdoor sky deck with an optional City Climb experience taking you 1,200 ft above Manhattan.
One World Observatory – The tallest observation deck with a different perspective to the others. But while you are closer to Brooklyn Bridge and Statue of Liberty, the sunset is much less impactful.
Empire State Building – The most iconic observation deck filled with history and glamour. The 360 degree view of surrounding concrete buildings is stunning, but it's the most expensive option.
SUMMIT One Vanderbilt – The newest addition to New York City's high vantage points. But this is more than just an observation deck, it's an entire experience.
Top Of The Rock – The shortest and unglamorous option from the outside, but in our opinion, the observation deck with the best view in all of New York City.
Can't make up your mind about which NYC observation deck to visit? Don't miss our popular guide to the best observation decks in New York City ranked with pros and cons.
Frequently Asked Questions
Let's take a look at some of the most asked questions regarding Top of the Rock NYC!
How Long Does A Visit To Top Of The Rock Last?
An average visit to Top of the Rock usually lasts around 45 minutes. If you plan to take many photos, you may want to give yourself extra time.
Can You See Central Park From Top Of The Rock?
Yes, you can see Central Park from Top of the Rock, especially if you visit during the day.
Is There A Restaurant At Top Of The Rock?
No, there is no restaurant, cafe or cocktail bar at Top of the Rock.
Our Popular NYC Guides
Attractions – Here's our complete roundup of the very best things to do in New York City for all visitors covering free, cheap and iconic attractions.
Itinerary – Our popular 4 days in New York City itinerary helps thousands of visitors plan the perfect visit to New York every year.
Photography – Our guide to the best photography spots in New York City includes over 60 famous photo locations around the city.
Hotels – Here's our comprehensive guide on exactly where to stay in New York City based on the six popular NYC neighborhoods.
Winter – Are you planning a trip to New York in December, January or February? There are 10 important things you need to know about visiting New York City in Winter.
Best Of New York City
Pizza – Sampling famous New York pizza is unmissable on any trip to the big apple, here's our popular guide to where you can find the very best pizza in NYC.
Bagels – Bagels are the only thing you should be eating for breakfast in New York! Here's our roundup of where to find the best bagels in NYC.
Museums – With over 100 museums in NYC it can be hard to narrow down which ones you should visit, here's our version of the 10 best museums in New York City.
New York Attraction Pass – With so many popular NYC attraction passes how do you choose? In this guide, we give you a detailed comparison for each New York pass.
Want more New York content? Head over to our New York travel guides to explore the Finger Lakes, Adirondacks and the best of NYC.
---
We hope this guide to Top of the Rock NYC helps with planning your visit to this iconic observation deck!
Please let us know if you have any questions about Top of the Rock or New York City in the comments below.
Happy Summiting,
Mark and Kristen
Was This Post Helpful? Pin It For Your Visit!