The tiny alpine-style town of Stowe in northern Vermont encapsulates a quintessential charming, idyllic and rural New England town surrounded by rolling hills and colorful leaves. We're going to show you the 15 best things to do in Stowe, Vermont to help plan your visit during all four seasons.
Vermont is one of the most naturally beautiful states you will visit on a New England road trip and Stowe is one of its star attractions. The quaint town is located at the base of "4000'er" Mount Mansfield, tallest peak in the enchanting Green Mountains and all of Vermont.
But with so many picturesque towns to visit in Vermont, what sets Stowe apart? Well, Stowe is a four season resort filled with adventure.
You can ski at one of New England's top rated resorts in Winter, hike and cycle stunning countryside in Spring or Summer, and photograph radiant fall foliage in Autumn.
You will find a diverse selection of things to do in Stowe, plenty for the entire family and for the more adventurous. In fact, many of the most fun things to do in Vermont are here in the town of Stowe.
Our advice is to bring your camera and plenty of spare batteries because Stowe Vermont is about as picture perfect as you will find anywhere in the US.
Let's get right into the best things to do in Stowe, Vermont!
Top Tips For Visiting Stowe, VT
Before we jump into the best things to do in Stowe VT, let's take a quick look at some our top tips for you to consider when planning your trip:
Accommodation is surprisingly varied and affordable if you plan to stay in Stowe
Book in advance to get the best deals for your budget range
Stowe Mountain Resort is one of the premier ski resorts in Vermont and New England
Any US road trips through Vermont should include a stop in Stowe
Fall is just as busy as Summer thanks to vibrant autumnal foliage
Two days is the typical amount of time visitors spend here
But Stowe makes for an excellent day trip option if visiting nearby Burlington VT
Expect clouds and rain in Fall
Stay somewhere between town and the ski resort for best location
Best Things To Do In Stowe, Vermont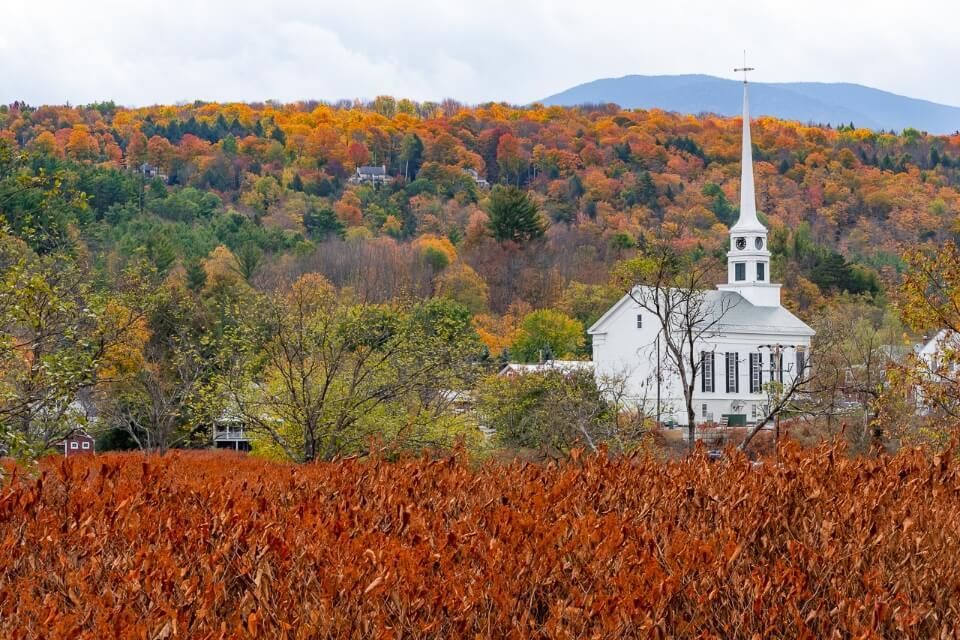 1. Photograph The Famous White Church In Stowe
Google Stowe Vermont and look at the top images.
You're going to see snow, fall foliage colors and photographers favorite – Stowe community church. The symbolic white building and 170 ft tall steeple commands the eyes attention, particularly when it is encircled by exquisite fall foliage colors.
Any photographer taking a trip to New England will have the Stowe church near the top of their photo wishlist. We'd go as far as saying it is one of the most photographed churches in the US.
So what do you need to know?
Well, the church has a parking lot with cars parked right in front of it and there are unsightly power lines doing their best to ruin this image for anyone but a pro who can remove them in post processing.
The good news is those power lines will soon be underground.
Here are the two best places to take your photographs of Stowe church:
The parking lot of Salon Salon, which is just 0.2 miles after turning onto Mountain Road. Salon Salon is on google maps so set your destination and you'll find plenty of parking spots here off the main road.
Sunset Rock, which can either be walked to from town or you can park in a very small lot off Taber Hill road.
The church looks best in Fall when burnt oranges, golden yellows and fiery reds illuminate the foreground and background. Take a 'walk around' lens capable of zooming, a 24-70mm or 24-105mm will do the trick.
In our image above we shot at 66mm from the field in front of Salon Salon. The clouds were thick and blanketed, which meant the colors weren't lit up by sunlight. But it's still a stunning scene!
2.

Drive The Auto Toll Road To Mount Mansfield Peak
When road tripping the US Northeast, you will have the chance to drive directly up some of the tallest peaks in each state.
New Hampshire's highest peak is Mount Washington and you can drive to the top, the same applies to Mount Mansfield in Vermont and you guessed it – the auto toll road begins right here in Stowe.
4.5 miles of zig zagging left to right and climbing 3,850 ft in elevation will lead you to a parking lot.
There are plenty of hiking options once at the summit. However, even just a short hike will lead to spectacular 360 degree views over New York's Adirondack Mountains, Lake Champlain and endless miles of rural Vermont.
At US$ 26 plus US$ 9.50 per passenger, the auto toll road is just as steep in price as it is in incline. But it is worth the money once you see the remarkable views from its summit.
Here's what you need to know:
The toll road is open between 9.30am and 4.30pm from late Spring until mid Fall.
Only drive this road if you are confident on very narrow roads, with cars passing on tight bends and steep drops to the side.
Cars are the only vehicles permitted to drive this road, no RV's and no motorcycles.
More information can be found here.
This one is perfect for the family, those with accessibility concerns and anyone who just loves an awesome view!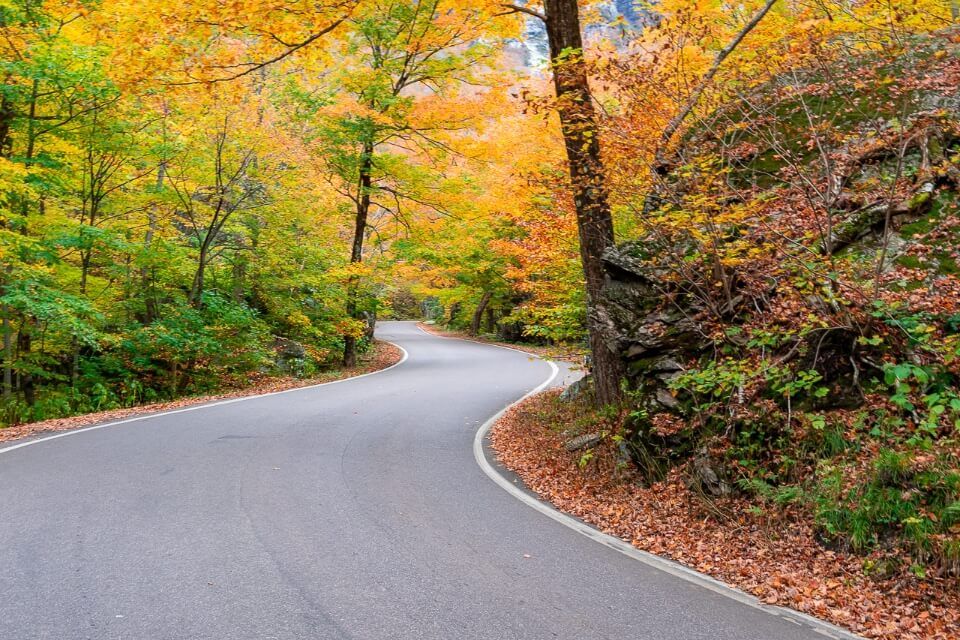 3. Drive Winding Smugglers Notch Pass In Stowe VT
Mount Mansfield marks the far northern edge of Vermont's Green Mountains but the nearby Sterling Range continues a wall of tall peaks. Smugglers Notch is a pass breaking through a low point between the two ranges.
The Notch is an old trade route turned improvised road and now narrow mountain pass with a colorful history. Cattle herders illegally trading with Canada and liquor smuggling between the US and Canada during Prohibition were once rife on the pass.
Today, Smugglers Notch is an incredibly picturesque winding and narrow road cutting through forest. All you need to do is jump in your car, drive very slowly around the hidden bends and park at the top of the pass.
If you own a drone, now is the time to fly. Find a safe gap in the trees and send your flying camera even just 100 ft into the sky to open up special valley views.
No drone? No problem, just enjoy the unique drive.
It won't take long to drive up, turn around and drive back down to continue with more of the best things to do in Stowe, VT.
4.

Ride A Bike Into Lamoille Valley
If you're visiting Stowe, Vermont with your family, is there anything more easy going but inclusive than a relaxing bike ride alongside a river on an old railroad track?!
There's loads to see and stop at along the way, stunning scenery at all times and it will be a little quieter than the major attractions in Stowe.
Not sure if you're up for all the pedal power action? Well, you can choose between normal bikes and e-bikes with pedal assist. There are also modified e-bikes with 2 child seats attached for families with younger kids in tow.
Standard bikes cost US$ 20 for a half day and US$ 30 for a full day. E-bikes cost US$ 40 for 2 hours but if you want the e-bike for longer, it's better to join a guided tour.
Guided tours come in various forms including standard or with boat tours, brewery stops, tea stops or a fall foliage tour. Typical season runs from June through October. A half day tour costs US$ 55 or a full day costs US$ 75, with extras for boats, beers or tea.
How do you reach the bike rental place?
Cross entirely over Smugglers Notch, drive down the other side to Jeffersonville, hang a right and continue to Johnson. Set your destination for Lamoille Valley Bike Tours on google maps.
Here's the Lamoille Valley Bike Tours website for more information. No pre-booking, call on the day for availability.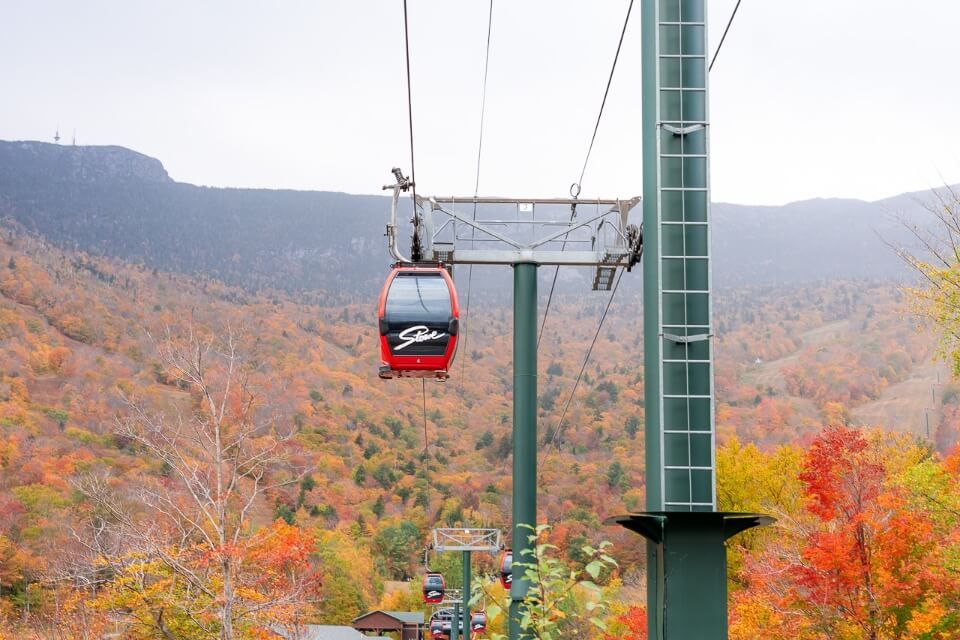 5. Take The Gondola SkyRide
Are you visiting Stowe in Summer or Fall?
Instead of driving or hiking to the top of Mount Mansfield, you could choose the less stressful and less exhaustive but slightly more expensive route up – Stowe Gondola SkyRide.
At US$ 32 per adult and US$ 22 per child, tickets aren't exactly cheap.
But taking the gondola to the summit of Mt Mansfield is incredibly convenient, especially for hikers who prefer to walk along the summit trails. Plus, you just know you are going to get those classic valley views from a gondola ride!
You can soar to the top of Mt Mansfield via gondola from mid June to mid October.
Here's the SkyRide page to book tickets in advance.
6.

Winter Sports In Stowe Mountain Resort
It's easy to imagine Stowe as a purely Summer and Fall travel arena but Stowe Mountain Resort is one of the best places to ski on the entire US East Coast, let alone just in Vermont.
With over 450 acres of skiing area and over 100 ski trails, Stowe Mountain Resort welcomes skiers of all abilities from all over the US looking for East Coast snow in Winter.
Equipment can be hired and lessons can be taken for beginners or those who haven't hit the slopes recently.
But it isn't just downhill skiing in Stowe. There are around 30 miles of groomed cross country tracks and approximately 20 miles of backcountry skiing for the adventurous type.
The fun doesn't stop at the end of the slope, with an ice rink and indoor climbing wall providing family friendly fun. Then of course, there's nothing better than apres-ski after a long day on the snow.
Find more information about skiing at Stowe Mountain Resort on the Ski Vermont site.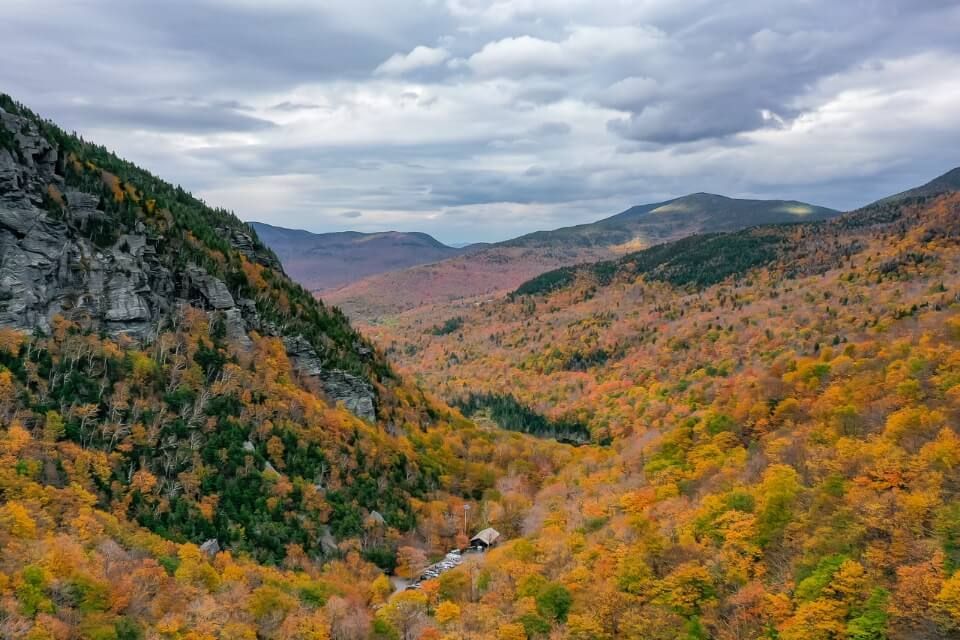 7. Visit Stowe VT In Fall For Radiant Foliage
Roll things back a season from snow to dazzling fall colors and you will be visiting Stowe at arguably its most desirable time of year.
New England is blessed with extraordinarily radiant fall foliage each year from the end of September to the middle of October and Stowe is one of those truly unmissable stops on the classic New England fall road trip route.
Fall colors in Stowe elevate a picturesque region into a postcard perfect region. Everything from hikes to drone shots and covered bridges to the church just look better in fall.
Although our dark, mysterious and moody drone shot above doesn't do the colors justice, it is a bleak reminder that frustratingly persistent clouds are common here in fall.
Peak foliage colors are hard to predict, but you can give yourself the best chance of timing it right by planning for the last week of September or first two weeks of October.
Our best advice for visiting in fall is to spend as much time as possible exploring different areas at varying altitudes, colors change at different times depending on elevation and latitude.
One of the most beautiful parts of Vermont for fall foliage later in the peak season is Manchester VT in the south of the state. It is located in the heart of Green Mountain National Forest, which means endless miles of rolling hills covered in an ocean of autumnal colors.
Need a hand planning your New England fall road trip?

Our popular 40+ page New England Fall Road Trip Guidebook includes the 10 best places to visit (including Stowe VT) and 8 example itineraries ranging from 5-14 days to help you plan a successful leaf-peeping vacation.
8. Hike Sunset Ridge Trail To Mt Mansfield
You have plenty of choice for hikes if you drive or gondola to the summit of Mt Mansfield. But one of the most popular approaches for avid hikers looking for a moderate challenge is to take on Sunset Ridge Trail instead.
This 3.3 mile one way (6.6 miles round trip) out-and-back trail from Underhill State Park to Mount Mansfield summit is a very popular hike. Expect hiking time to be around 4 hours, plus driving time each side.
Despite the time of day represented in the name 'sunset' trail, this hike is the common means of hikers reaching the summit of Mt Mansfield for sunrise via a night hike with head torches.
New Hampshire is the home of '4000'ers or four thousand footers' but Vermont also has 5 peaks taller than 4,000 ft. Mt Mansfield is the tallest of those, so it's a real collectors item for serious hikers.
To reach the parking area, drive from Stowe Mountain Resort over Smugglers Notch and down the other side. Turn left on Pratt Road and left again on Pleasant Valley Road, before joining Mountain Road and reaching Underhill State Park.
You begin on Eagle Cut Trail and CCC road before merging onto Sunset Ridge after one mile. You can include a short spur trail to Cantilever Rock before the trail climbs out of the tree line. Once exposed, views open up and the trail joins Long Trail to the summit.
Parking costs US$ 4 per vehicle and you can read recent comments about the trail on All Trails.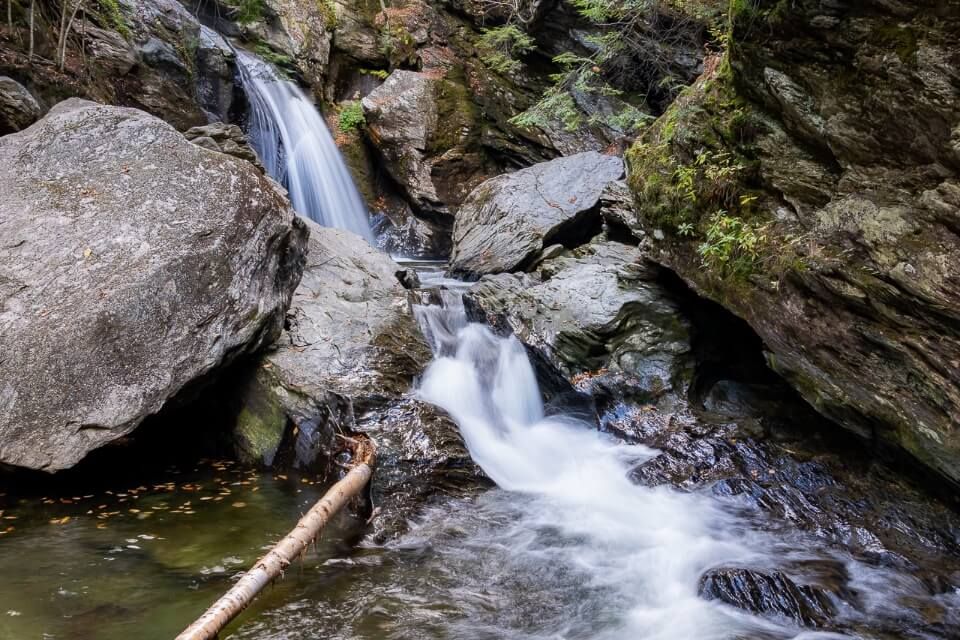 9. Hike The Short Bingham Falls Waterfall Trail
Sunset Ridge is awesome, but it only works if you have at least two days to enjoy the best of Stowe, Vermont.
Let's move onto two easier and less time consuming hikes now, starting with a short but steep trail leading down to a gorgeous waterfall just minutes from the auto road and mountain resort – Bingham Falls.
Park at the Bingham Falls trailhead. There's plenty of roadside parking but we still recommend you arrive early in the morning or later in the afternoon to avoid fighting for spaces.
The trail is around 0.5 miles one way (1 mile round trip) but the last part is a series of very steep and uneven steps down to the waterfall area. Please take care here, especially after rain or storms.
Leaves on the ground can make this area very slippery in Fall. Remember, the waterfall will be running low in Fall when compared to late Spring or early Summer.
Once you reach the waterfall area, you will notice it requires some light bouldering to get a good vantage point. Again, take care on the rocks.
Lastly, this is not just a waterfall. It is also a very popular swimming hole and everyone knows about it so expect crowds if you visit on weekends or in peak season.
If you're looking for somewhere to take a dip on a sweltering day, Bingham Falls is the perfect place to cool down.
10.

Soak Up The Best Of Rural Stowe Via 'Rec Path'
OK, so there's the town of Stowe and Stowe Mountain Resort. But how do you go between the two?
Well, the obvious and most used method is by car. However, for those with more time to spare and a desire to explore, we can't recommend Stowe Recreational Path more highly.
You can pick up the Stowe town end of the 5.5 mile greenway directly behind the photogenic white community church. The trail passes by shops, restaurants and hotels as it follows the West Branch Little River. Eventually the 'Rec Path' ends at Brook Road, which is close to swanky Top Notch Resort.
The paved path is only suitable for walkers, joggers, cyclists, snowshoers and cross country skiers. No motorized vehicles are permitted on the path, which is why it is so highly regarded by pedestrians.
You will walk or cycle through forest, over bridges and be surrounded by lush scenery. There are plenty of places to stop and even swim in the river.
It also opens up the potential for a few more glasses of wine or pints of craft beer before taking a relaxing (and perhaps slightly wobbly) walk back up the recreational path to your hotel.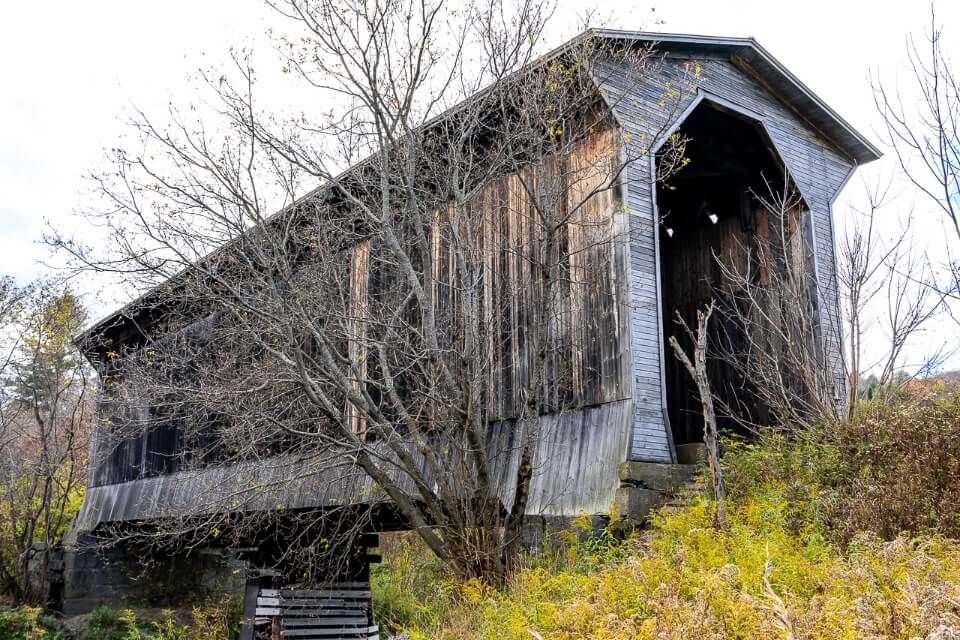 11.

Visit Nearby Vermont Covered Bridges
There are covered bridges all over the US Northeast, but when we think of covered bridges, we think of New Hampshire and Vermont in particular.
Ask anyone who has been on or is planning a New England road trip and one of the things they will say you can't miss is hunting covered bridges.
Despite having more covered bridges per square mile than any other US state, Vermont's bridges are scattered and require planning if you want to see more than a handful.
The enchanting town of Woodstock in the South of Vermont is a great place to set up base for a covered bridge finding expedition. However, Stowe also has a few covered bridges you can include on your visit to the Northern parts of Vermont.
Begin with Gold Brook covered bridge just a few miles South of Stowe. The bridge itself doesn't come close to competing for the title of most picturesque covered bridge in Vermont, but it does come with a unique and chilling story.
In the 1800's a woman named Emily was supposed to meet her lover at Gold Brook covered bridge to elope. However, the man never showed and in a rage Emily hung herself from the rafters. Over time the story became so famous locally that the bridge is informally known as Emily's Bridge.
Other bridges to consider in the area:
Brown's River Covered Bridge
Grist Mill Covered Bridge
Red Covered Bridge
Fisher Covered Railroad Bridge (photo above)
Read about 7 of our favorite Covered Bridges in Vermont based mainly around Woodstock in central VT.
12.

Walk To Moss Glen Falls Near Stowe
Let's move onto another of Stowe's short and easy walks leading to a scenic waterfall and pool – Moss Glen Falls.
Notice how we said walk and not hike?
From parking to the waterfall is no more than a half mile round trip, which is perfect if you have an hour spare or are leaving Stowe and want a quick pit stop at a gorgeous spot.
Moss Glen Falls is a 125 ft cascade waterfall surrounded by trees. If you want a more challenging hike, continue past the waterfall for a 5 mile roundtrip trail on VAST 100.
However, there are no summit views so we'd recommend going for Stowe Pinnacle Trail instead, which is just 6 miles away (near Emily's Bridge) and offers amazing summit views.
To reach Moss Glen Falls: Head North out of Stowe on VT-100, simply turn right onto Moss Glen Falls road and park up for arguably the best effort to reward thing to do in Stowe.
Parking is very limited and this place will get busy on weekends or in peak season, so as usual try to arrive early or late in the day.
Photographers don't forget your tripod and ND Filter for soft silk water photos. Dogs are allowed on leashes.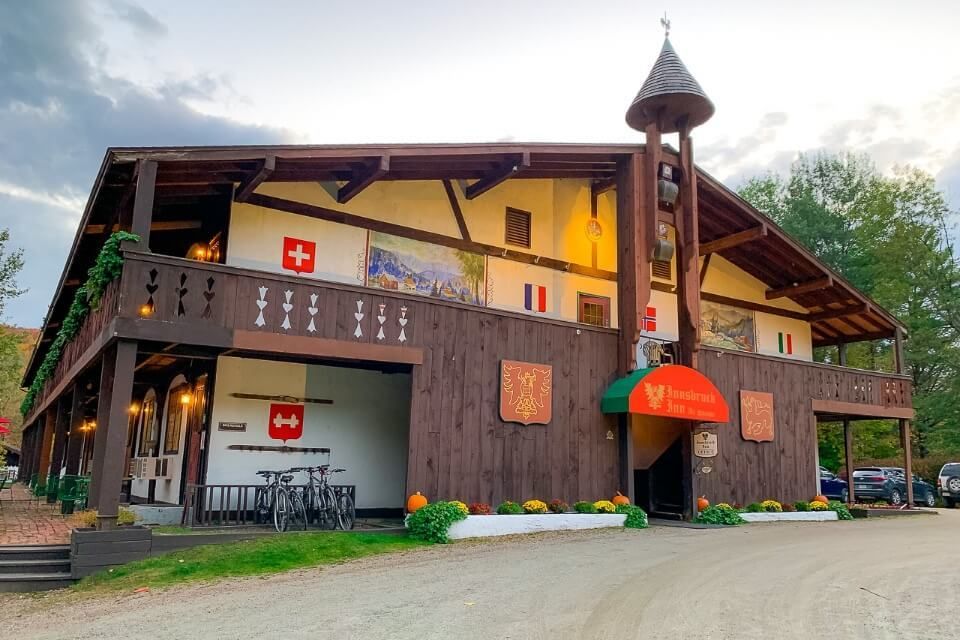 13. Stay In An Austrian Themed Hotel In Stowe, VT
There are a handful of places in the US offering traditional alpine-style lodging options, but Stowe will leave you feeling as though you could have been teleported directly to the Austrian Alps. Minus the jagged and dramatic mountains!
Hotel prices can easily get out of control when you visit a popular touristy place. However, you will be pleased to learn that Stowe, Vermont is not one of those places.
Booking a hotel in Stowe is refreshingly easy and affordable, at least it was when we took our Fall New England Road Trip in October. Winter may be a different story, when thousands descend upon the Mountain Resort.
Is there a better sight than a traditional wooden ski lodge covered in thick white snow, with a fire and a beer waiting at the end of a long day skiing?!
With that said, you certainly don't have to stay in an alpine-style lodge.
Stowe has a variety of highly rated accommodation available, you can read our popular guide listing the 12 best hotels in Stowe VT on our sister site or select one of our top picks below:
14. Take The Ben & Jerry's Ice Cream Tour In Waterbury
If you love ice cream, there's a good chance you've nailed a few tubs of Ben & Jerry's in your time, right?
Well, just a few miles from Stowe, Vermont you can take a tour around the very first Ben & Jerry's factory, where the magic began back in 1978.
Transforming from just a renovated gas station beginning into a world famous ice cream brand, Ben & Jerry's origins, story and factory tour are an unmissable thing to on your visit to Stowe, VT.
Covid has temporarily shut down the tour but it will reopen in October 2021, hopefully without closing again.
But even without the tour, you can still try an eclectic mix of ice cream flavors at the scoop shop and walk around the 'Flavor Graveyard' to find your old favorite.
If the kids are in tow, you simply have no choice but to enjoy a visit to the original Ben & Jerry's ice cream factory.
Check out the official Ben & Jerry's website for more information.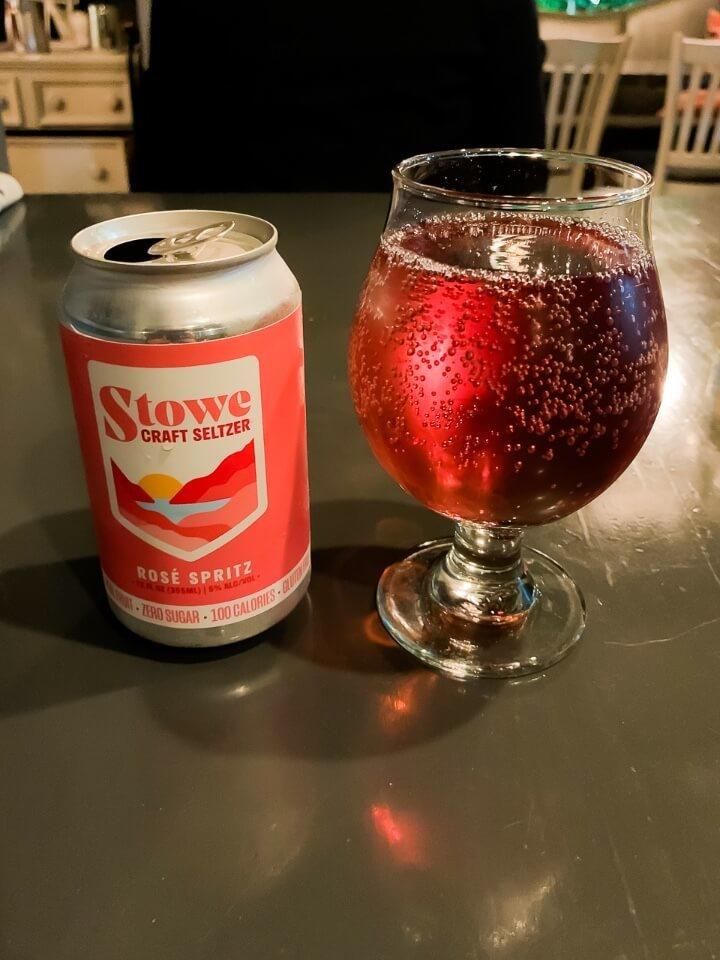 15. Eat And Drink Your Way Through Stowe, VT
One of Stowe's greatest assets is its collection of excellent places to eat and drink.
Let's start with an important tip here – many restaurants and cafes close for business on Mondays, Tuesdays and or Wednesdays. Check the days you will be visiting to see what is open in town.
If you only have one or two days total in Stowe, you're seriously going to have to choose between at least a half dozen awesome options.
Does your hotel have breakfast included? If not, drive into Stowe town and grab a table at popular breakfast spot Butler's Pantry. Don't forget to book a table in advance if you visit in peak season or on a weekend.
Top rated eateries between Stowe and the Mountain Resort for snacks, lunch and dinner include (in order from town heading northwest):
Cork Restaurant
Plate
Harrison's Restaurant
Doc Ponds
Ranch Camp
The Bench
The Deep End
Stowe Bee Bakery
Piecasso
Idletyme Brewing Company (we ate here with a few beers in the garden and it was great)
Map Of Best Things To Do in Stowe, Vermont
Red Markers

– Locations of the best things to do in Stowe Vermont.
Click or touch the map to activate.
Zoom in and out, move around the map of Stowe VT to find each of the 15 best things to see and do in the area.
More From Vermont
Planning a trip to New England in Autumn? Here are the 10 best places to see on a New England fall foliage road trip.
More From New England
---
We hope this guide to the best things to do in Stowe Vermon
t
helps you plan your visit!
Have you been to Stowe? What were your favorite things to do in the area?
Please let us know if you have any questions or need any help planning your visit in the comments below.
Happy Travels,
Mark and Kristen
Was This Post Helpful? Pin It For Your Visit!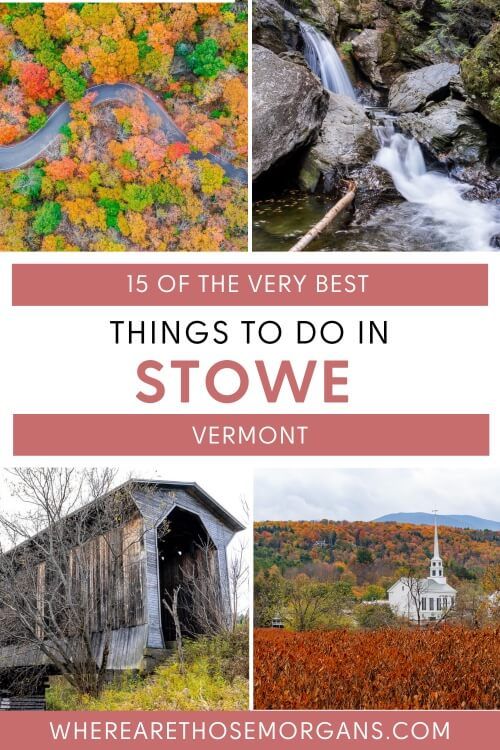 Note: This article contains affiliate links. When you make a purchase using one of these affiliate links, we may earn a small commission at no extra cost to you.
All Rights Reserved © Where Are Those Morgans, LLC. Republishing this article and/or any of its contents (text, photography, maps, graphics, etc.) in whole or in part is strictly prohibited.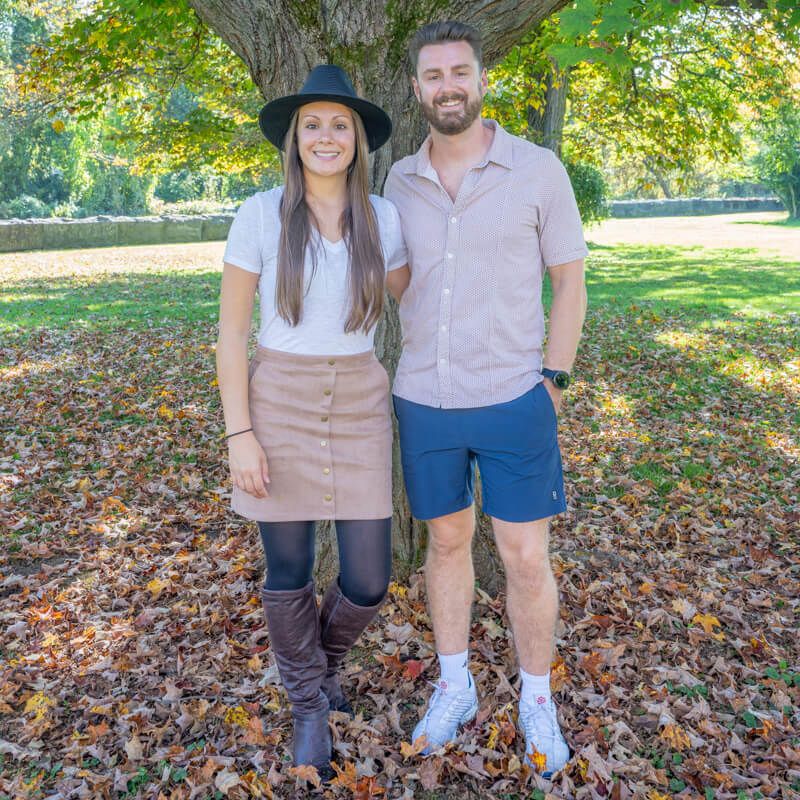 Mark and Kristen Morgan are travel, hiking and photography experts. Over the last 6 years traveling full time, they have explored more than 40 countries and 30 US states.
Their work has been featured in USA Today, Gestalten, Get Your Guide, CityPASS and Condé Nast Traveler along with various other publications.