Unique hikes, spectacular Ocean views, picturesque lakes and stunning photography make Acadia one of the most beloved of all the top USA National Parks. We're going to show you the 17 best things to do in Acadia National Park to help you plan your visit to the far reaches of the American Northeast.
Don't be fooled by Acadia's small size, there are plenty of things to keep you busy. We recommend you plan for at least 2 full days, but a 3 day Acadia itinerary would be better suited to those who are here to hike.
Many northern US parks have just one peak season in Summer. However, Acadia has two distinct 'peak' seasons – firstly in Summer and secondly when beautifully vibrant Autumnal foliage lights up the park in Fall.
Book your Bar Harbor hotel early, pack your best hiking shoes and don't forget your camera! Let's get stuck into the most unmissable things to do in Acadia National Park.
*Please note this post may contain affiliate links. If you click on one, we may earn a small commission at no extra cost to you!*
Top Tips For Visiting Acadia National Park, Maine
Before we jump into the best things to do in Acadia National Park, let's take a brief look at some our top tips for you to consider when planning your trip:
Boston is a popular place to fly into when visiting Acadia
Book accommodation early – see the best hotels near Acadia National Park
Fall is almost as busy as Summer thanks to stunning autumnal foliage
We suggest allowing at least 2 full days in the park but 3 days is perfect
Acadia is a popular stop on some of the best USA road trips from Spring through Fall
Always start early in the morning to avoid crowds on trails and get parking spots
Climb Beehive before Precipice if you are unsure about fear of heights
Bubbles is one of the harder places to get a parking spot
Bass Harbor Lighthouse is ultra-popular around sunset
Take packed lunches and snacks into the park each day
Carry at least 1 gallon of water to last the day
Important: Vehicle reservations for Cadillac Summit Road are required for May 24 through October 22, 2023. Reservations are sold for $6 as a sunrise or daytime ticket.
Best Things To Do In Acadia National Park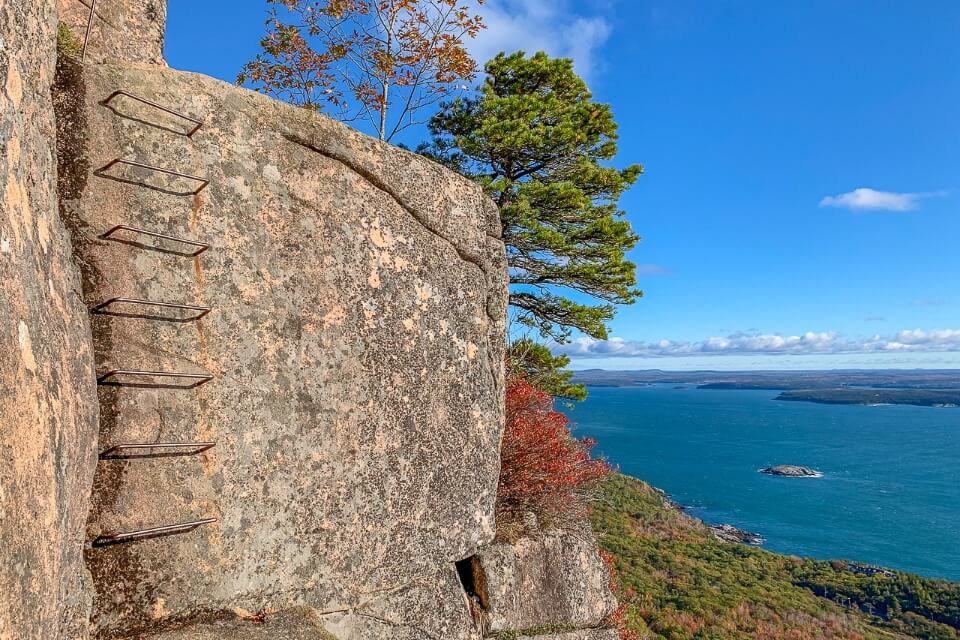 1. Hike The Best Trails In Acadia National Park
One of Acadia's greatest assets is its diverse range of short hiking trails.
You can walk a flat family friendly trail around a picturesque lake surrounded by colorful trees in Fall, hike a quick forest trail to a summit with gorgeous views over the bay and even climb up sheer face granite rocks via iron rung ladders for an adrenaline rush.
Precipice Trail in Acadia is listed in our popular guide to the 50 best hikes in the US.
Acadia National Park's hikes are typically short and fairly steep, climaxing with spectacular ocean and lake views at each summit.
That means you can plan to hike 2, 3 or even 4 trails in a day and be rewarded with stunning lake, island or Ocean views every time.
Our Acadia hiking resources to help with planning:
Here are more awesome Acadia hikes also include in your itinerary:
Acadia Mountain
Beech Mountain
Jordan Pond Loop
North / South Bubble
Cadillac Mountain
Ocean Path
Great Head
Gorham Mountain
If you would like to learn more about all of these hikes, read our guide to the 10 best hikes in Acadia National Park next.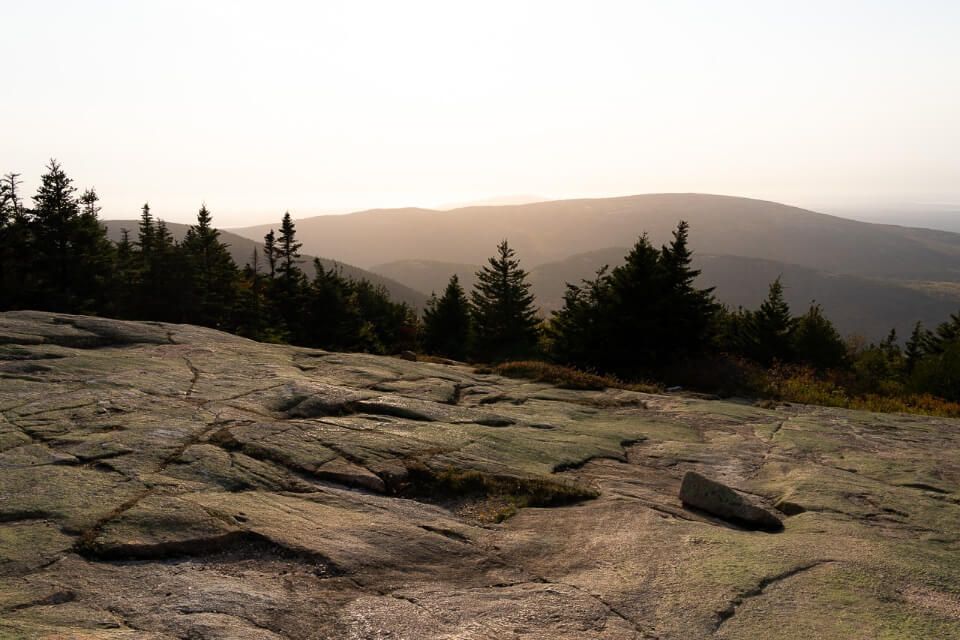 2. Cadillac Mountain
Cadillac Mountain is the highest point on the entire US eastern seaboard. You can drive directly to its summit or hike a 4 mile roundtrip trail from the Loop Road on North Ridge Trail.
The best time to be at the top of Cadillac Mountain is at sunrise, when you will be among the very first people in the United States to see the sun creep over the eastern horizon.
Acadia is one of the top USA vacation spots and timing it right with a beautiful sunrise at Cadillac Mountain would be like hitting the jackpot.
One of the most amazing ways to summit Cadillac Mountain is to night hike with headlamps to arrive for sunrise. We plan to do this next time we visit.
Of all the amazing things to do in Acadia National Park, summiting Cadillac Mountain is by far the most popular. Unsurprisingly, overcrowding is a problem.
As of 2021, advanced reservations are required to drive your vehicle to the summit. This is in place to reduce congestion, particularly at sunrise.
Tips for visiting Cadillac Mountain:
Tickets are available 2 days in advance at 10am.
Go to Recreation.gov and be ready with your details filled in to apply for a sunrise time slot right at 10am.
Each member of your party can apply at the same time to give you a better chance of getting a slot.
Daytime visits to Cadillac Mountain still have great views but may be hazy.
It can be extremely windy at the summit so take layers, even on a warmer day.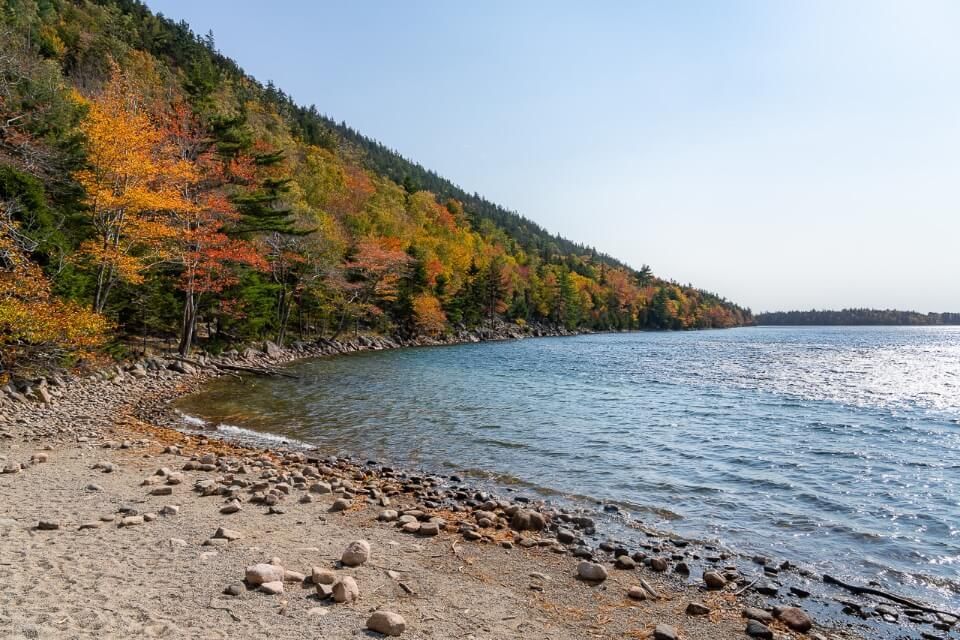 3. Jordan Pond
Jordan Pond is the most beloved water feature in Acadia National Park and is ideally located right on the Loop Road for easy access.
It is the deepest lake in Acadia at 150 ft (46m). You can't swim in the lake but you can kayak or canoe on its surface surrounded by stunning mountain and forest scenery.
Jordan Pond House is the only fully serviced restaurant inside Acadia National Park and sits right at the southern point of the lake. If you can get a table, this is a fantastic place to grab lunch.
Here are the best ways to see Jordan Pond:
Jordan Pond House – Eat lunch with stunning views from the southern tip of the lake.
Loop Trail – Hike the family friendly 3.4 mile loop around Jordan Pond.
South Bubble – Hike to South Bubble for the very best view over Jordan Pond.
Top tip: If you're lucky enough to get a parking spot for the Bubbles, walk through the forest to Jordan Pond's northern edge so you don't have to battle for another parking spot near the restaurant.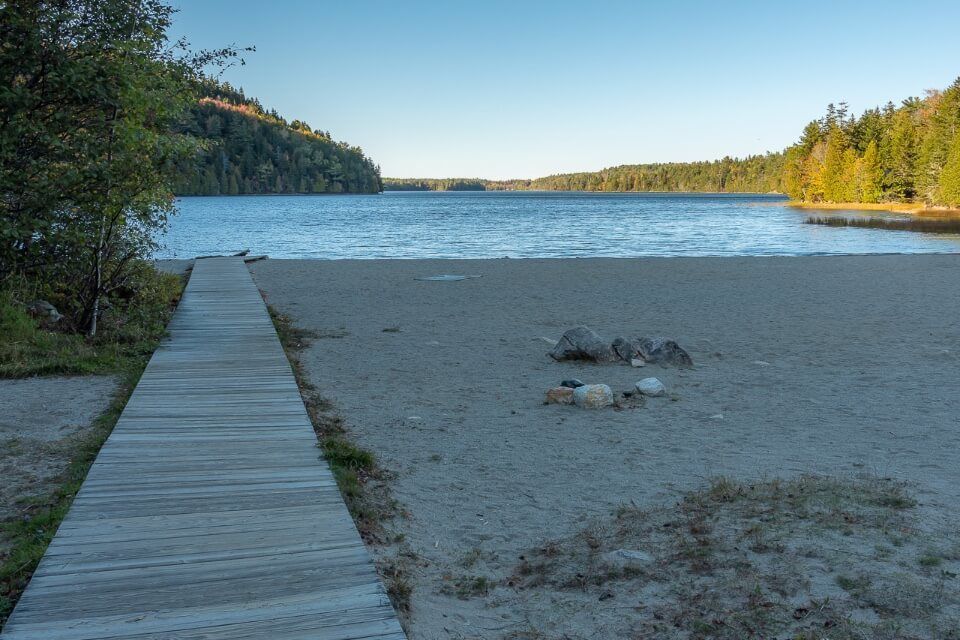 4. Echo Lake
Echo Lake is one of our top 'hidden gem' recommendations in Acadia National Park. Swimming is not permitted in Jordan Pond, but you can swim to your heart's content in Echo Lake.
Locals and savvy tourists flock to the small beach area here to swim in warm fresh water, rather than cold salt water at Sand Beach near Beehive Trail.
The photo above was taken in early evening so the beach was in shade. We had already hiked both Acadia Mountain and Beech Mountain, both of which are to either side of Echo Lake.
Echo Lake has plenty of parking spaces and is the perfect alternative to Jordan Pond.
Top tip: Include Echo Lake with hikes up Acadia Mountain and Beech Mountain, before continuing to Bass Harbor Head Lighthouse for sunset.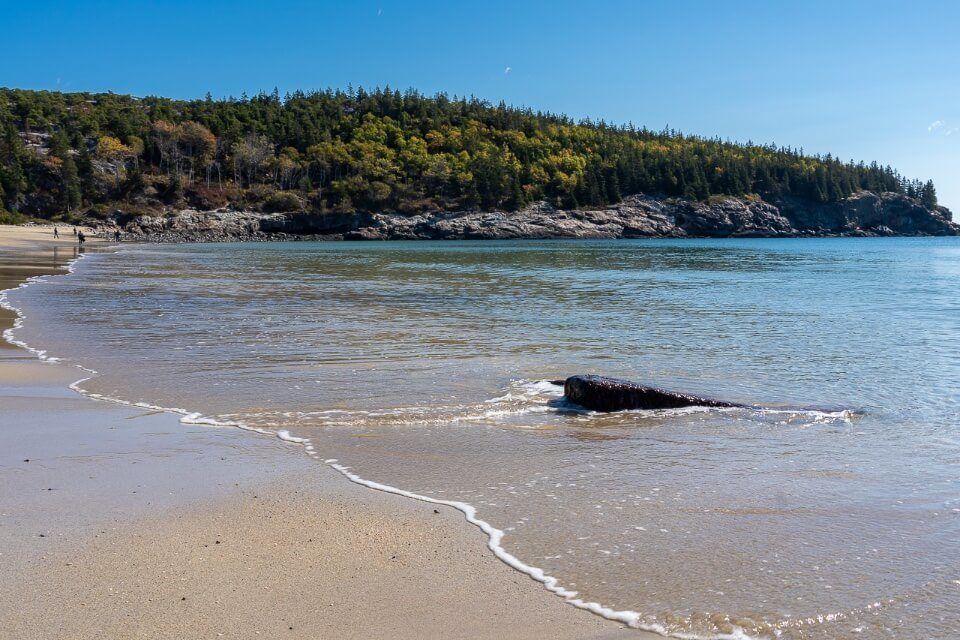 5. Sand Beach
Sand Beach is a natural stopping off point along Park Loop Road. It has the first major parking lot after entering through the Sand Beach ranger pay station and is where Ocean Path Trail begins.
The beach itself is under 300 yards long and is comprised mainly of shell fragments. People do sunbathe here in Summer but you're in Acadia and there's plenty of awesome things to be getting on with!
Beehive Trail begins right behind the Sand Beach parking lot. We climbed Beehive, descended and walked across Sand Beach before walking along Great Head trail.
If you don't mind some very light scrambling on rocks, we recommend walking along the Great Head path until excellent views over the beach open up as you look backwards.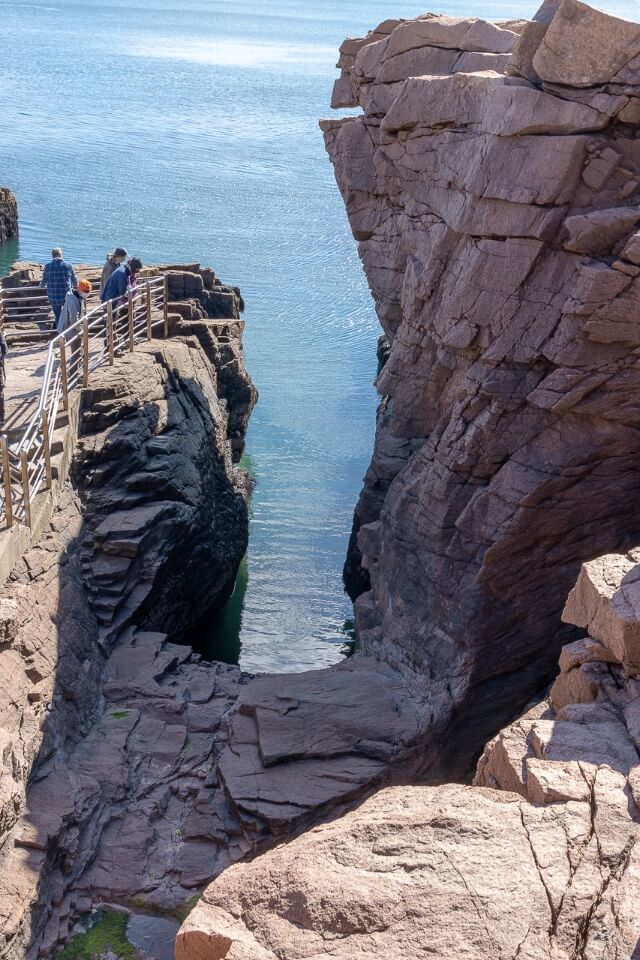 6. Thunder Hole
See those people looking slightly confused as they peer expectantly over the railing in the photo above?
That's because water is supposed to be rushing into the narrow inlet, smashing the back and jumping 40 ft up into the air with a thunderous roar.
But we visited Acadia on a calm and still day, so Thunder Hole was more like Whimper Hole!
A small cavern at the base of the inlet creates a loud clap as air and water is forced out when big waves crash into the rocks.
Thunder Hole is half way along Ocean Path between Sand Beach and Otter Point, so it may be a natural place to stop if you're walking the entire trail.
Top tip: Unsurprisingly, our best advice is to gauge water conditions before making the effort to visit Thunder Hole. If the sea is calm, don't waste your time.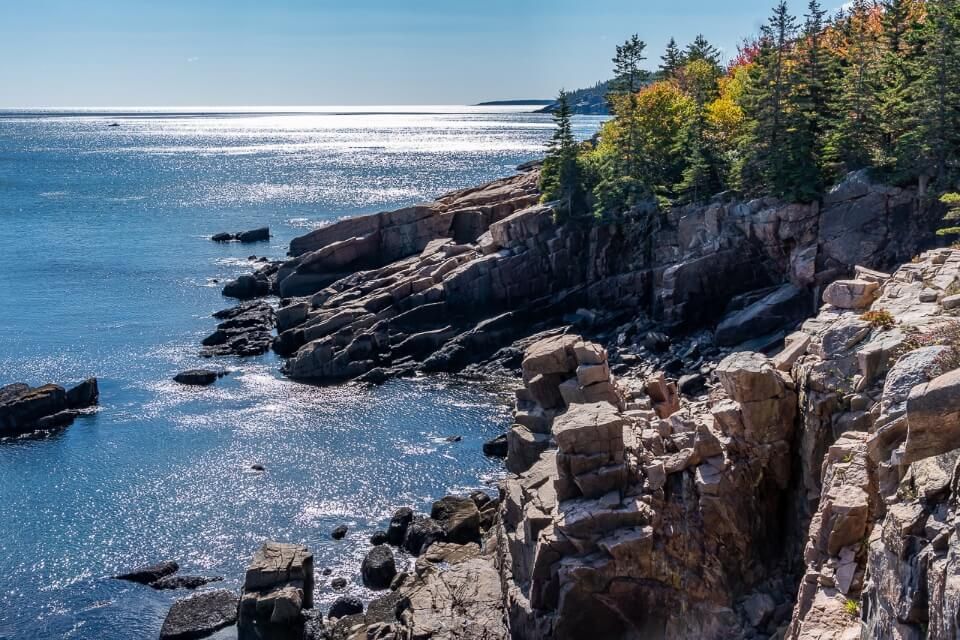 7. Ocean Path To Otter Point
Acadia's beautifully photogenic and famous tree lined rugged rocks can be appreciated for just over 2 miles.
The trail begins at Sand Beach and ends at Otter Point, with Thunder Hole the halfway point.
However, only the Sand Beach to Thunder Hole portion is accessibility friendly. Uneven gravel paths account for the second half to Otter Point.
If you've ever seen a photograph of Acadia's coastline, it was likely taken from somewhere along this section of Ocean Path.
This is a relaxing hike with gorgeous Ocean views and offers the chance to walk (safely!) on sections of boulders near the waters edge.
Top tip: Follow the trail past Otter Point as far as Otter Cove for views over Dorr and Cadillac Mountains.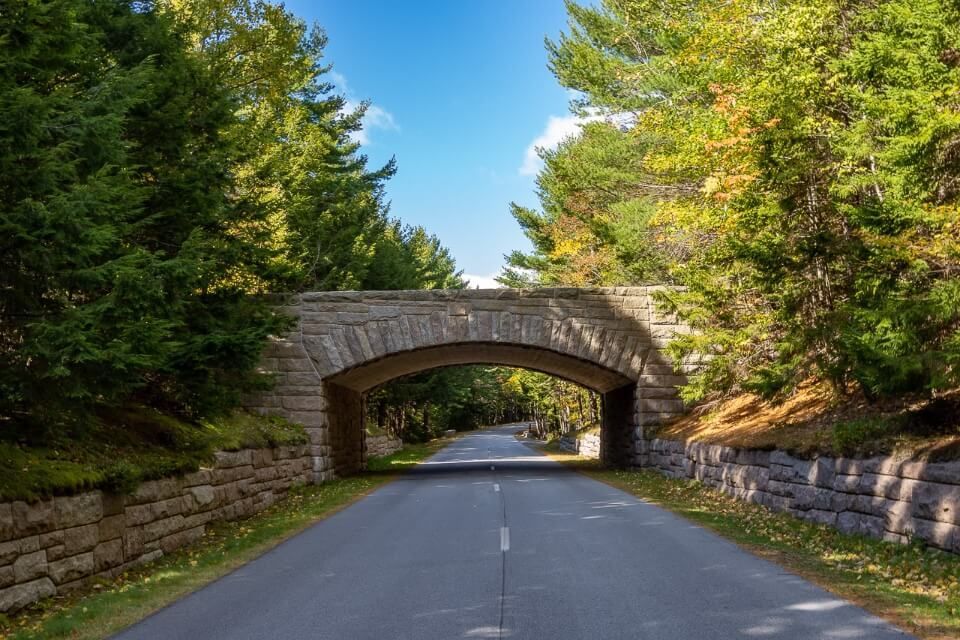 8. Park Loop Road
Scenic Loop roads are always one of the best ways to see US National Parks and Acadia's 27 mile loop delivers on the type of scenic drive you expect.
Acadia Park Loop road passes by many of the best attractions, trailheads and overlooks, giving those with accessibility or mobility concerns a way to see the park's natural beauty.
The road carries visitors from mountains to beach and from lake to forest trail.
In peak season (Summer and Fall) you can expect this loop road to be extremely congested. We can't stress enough how important it is to start your day early and get on the loop road before it becomes crowded.
Note that Acadia Park Loop road only covers the eastern portion of Mt Desert Island and you will need to take other roads to access hikes or attractions on the western side of Mt Desert Island.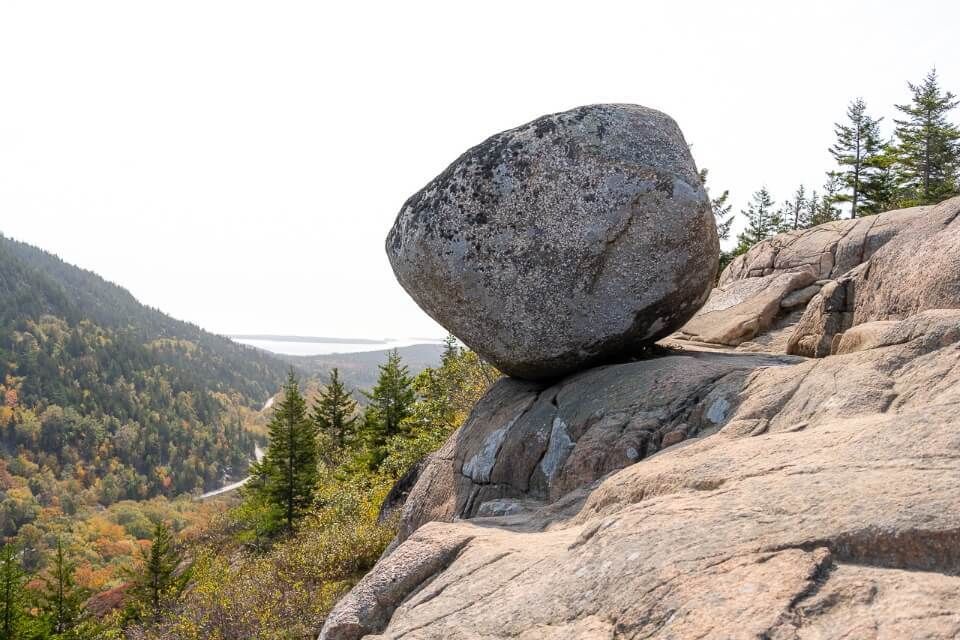 9. Bubble Rock
Precariously balanced on the edge of South Bubble trail summit, you will find glacially formed Bubble Rock appearing as though it must surely roll over at any moment.
The classic photo is the one of you giving it a big heave-ho but it won't budge. What you won't realize until you stand next to it is how enormous the boulder is and how steep the drop off is below.
However, Bubble Rock is just a sideshow. Views over Jordan Pond from South Bubble summit (just a few meters from Bubble Rock) are spectacular.
We'd say South Bubble is one of the most unmissable hikes in Acadia, simply for its summit view. North Bubble also has a fantastic view but it is partially obscured by trees.
Both can easily be reached in under a mile from Bubbles trailhead but parking is notoriously challenging. Very limited spaces and no overflow or roadside parking permitted make this frustratingly hard to get a spot.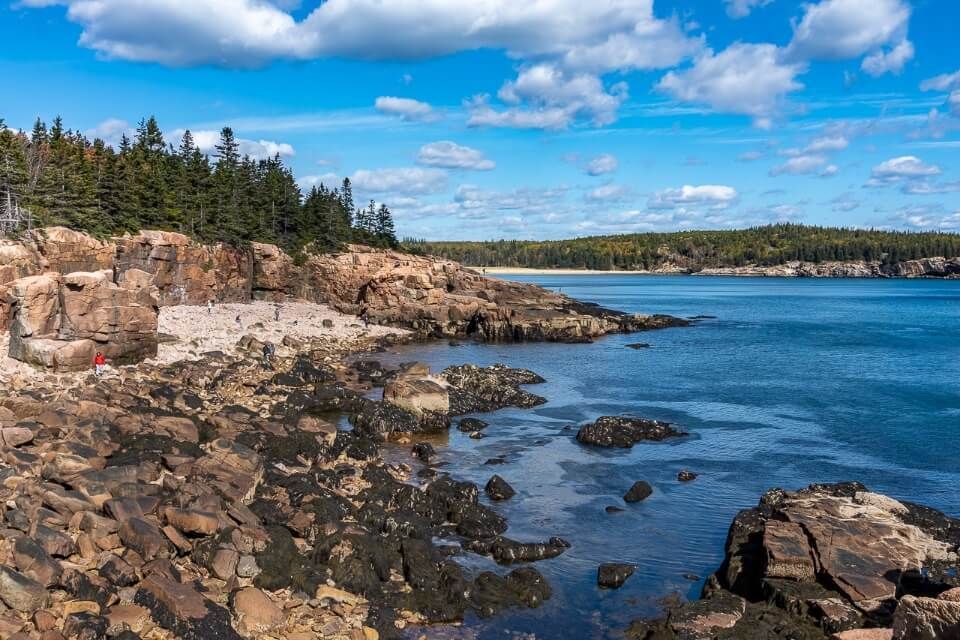 10. Schoodic Peninsula
Schoodic Peninsula is the only part of Acadia National Park on the mainland. It is a small area directly opposite Ocean Path across Mt Desert Narrows.
This area of the park is incredibly secluded when compared to the attractions on Mt Desert Island but it does take around 1 hour to drive from Bar Harbor to Winter Harbor.
A loop road allows you to drive around Schoodic Peninsula, from which you have similar rugged coastline views to Ocean Path but with a tenth the amount of people.
Hikers can walk the trail to Schoodic Head for excellent views over the Gulf of Maine and of course the major mountains on Mt Desert Island, including Cadillac Mountain.
Top tip: We only recommend visiting Schoodic Peninsula if you have at least 3 days on your Acadia itinerary or you prefer to be away from crowds.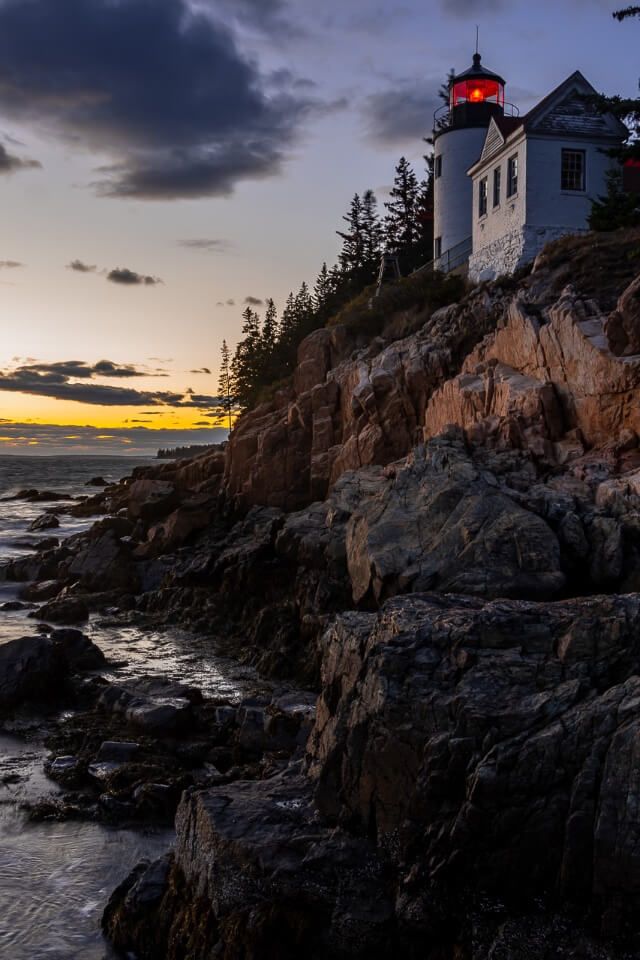 11. Bass Harbor Head Lighthouse
Taking photographs of Bass Harbor Head Lighthouse at sunset is one of the best things to do in Acadia National Park.
However, this is on everyone's Acadia bucket list so this place is insanely busy at sunset.
Bass Harbor Head is one of the most famous lighthouses on the US east coast. It's bright red light beams out to sea once darkness takes over and the scenery here is gorgeous.
We visited in October and tried to get a parking spot at 3.30pm, which was 2 hours before sunset. The line of cars waiting to get parked took us 45 minutes just to get into the parking lot.
After that, we had to navigate very uneven rocks to set up our tripod without standing in the way of others who were already there.
About an hour before sunset, the rocks will be overrun with people and tripods.
If it is windy and busy, you will need to take care along these rocks.
We strongly recommend photographers arrive early to get a parking spot and also a good vantage point along the rocks.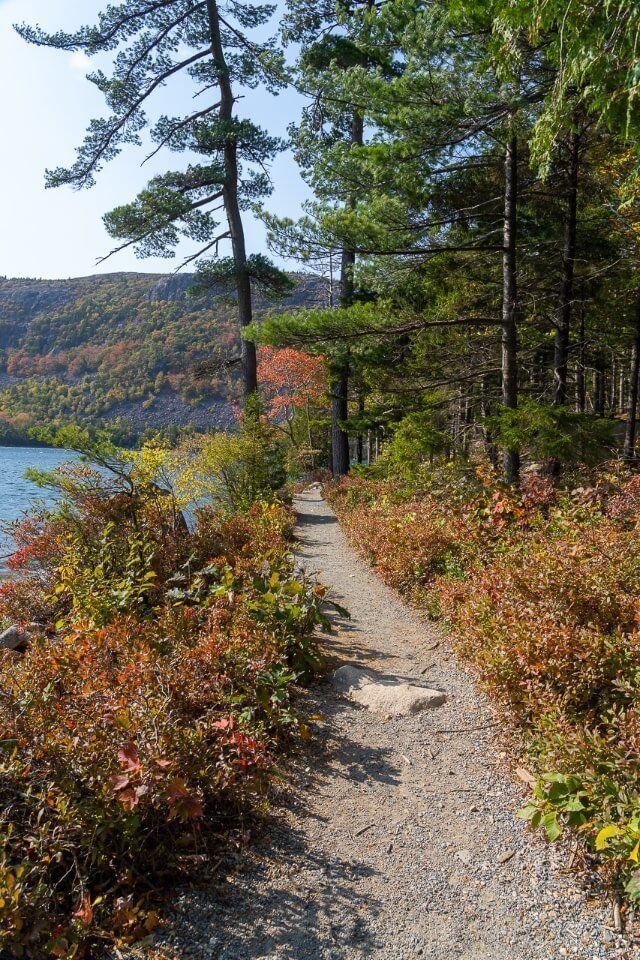 12. Carriage Roads
When you arrive into Acadia, you will already have a list of the thing you want to do, such as hike Precipice Trail and see the sunrise from Cadillac Mountain.
However, if there's one thing you should also do given enough time on your itinerary, it is get off the beaten path and hit the old carriage roads.
There are 45 miles of essentially hidden paths perfect for walking, cycling and even horse drawn carriage riding. No cars are allowed on these roads and dogs are allowed on leashes, so this is prime time family space.
These scenic and relaxing carriage roads connect all of the major Acadia attractions, centering around Eagle Lake and Jordan Pond. Stunning gatehouses await at certain entrances and stone bridges cross various streams in the network of roads.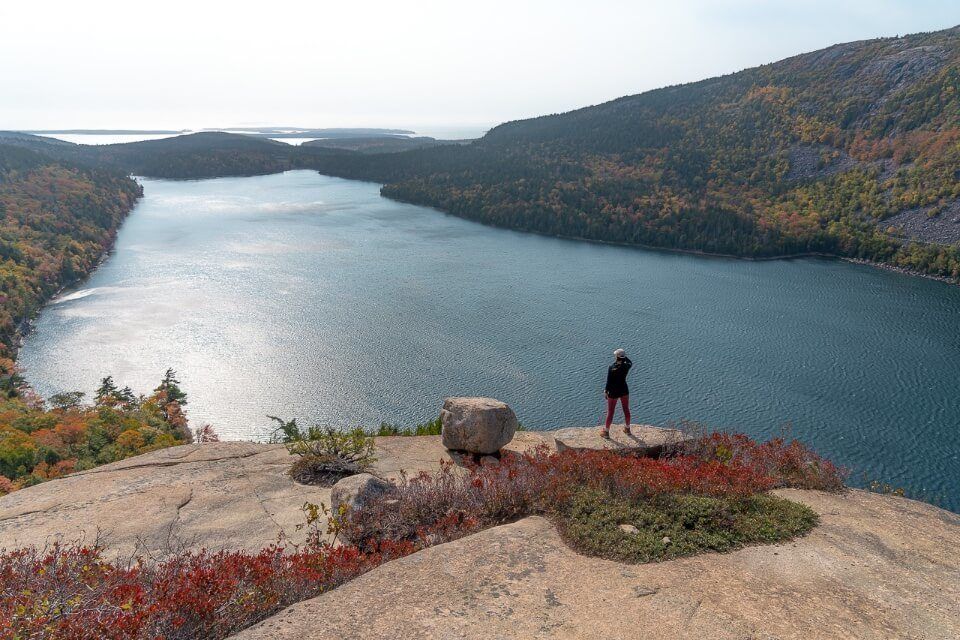 13. Stunning Viewpoints Over Lakes and Islands
Acadia National Park is uniquely located right on the coast, which means any high vantage points are instantly going to have great views.
But Acadia goes one better, it has exceptionally beautiful views over ocean, islands, lakes, ponds and tree lined hillsides.
If there's only thing you do when visiting Acadia, it has to be standing on top of as many mountain summits as possible.
Acadia Mountain and Beech Mountain are relatively short and easy trails with fabulous views. Precipice and Beehive might be renowned for adrenaline seekers but both also have underrated summit views.
The photo above is from South Bubble overlooking Jordan Pond. It was right in the middle of the day, this shot is South facing and the sun was blazing right ahead of us so the sky is blown out.
This particular view from South Bubble is better at sunrise or sunset when the sun is to either side. But the point here is to get up as high as you can in as many different places as you can fit into your Acadia vacation.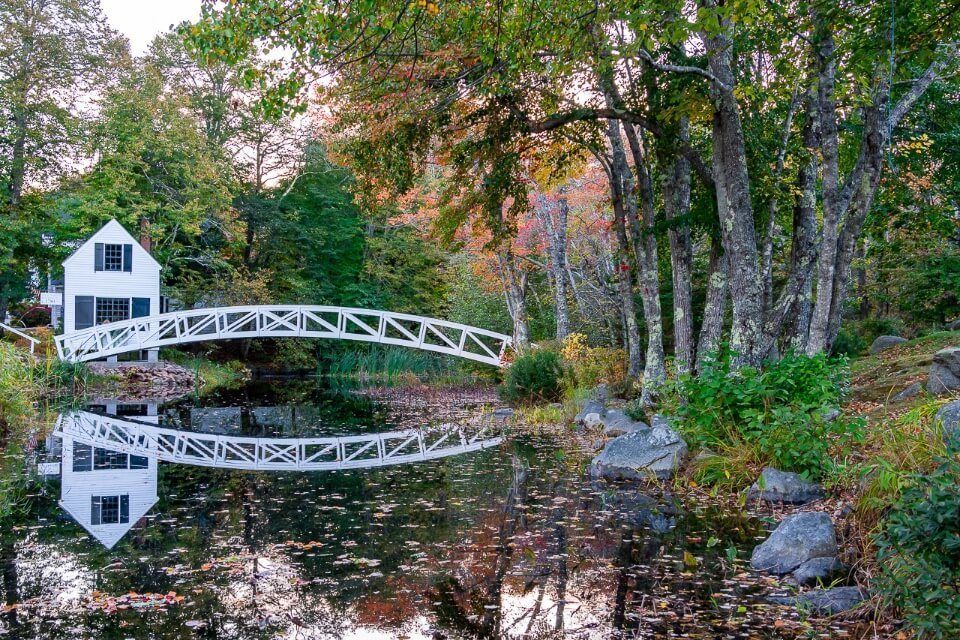 14. Acadia Photography
It might not have the majestic valley of Yosemite, nor the staggering beauty of sunrise and sunset at Grand Canyon – but Acadia is a surprisingly photogenic national park.
Bass Harbor Lighthouse is up there with the most popular Acadia photography locations, along with Jordan Pond and basically every mountain summit in the park.
However, there are a few lesser known spots, including this gorgeous white bridge reflection image in Somesville. Fall is the most visually stunning time to capture this particular image.
Sunrise, sunset, golden hours and night time are the best time to be out with your camera. Don't forget your tripod and ND filter, they will both come in handy in Acadia.
Bar Harbor and the small villages in the area do emit some light but not much, which means astrophotographers can have great success. Lakes make for excellent foreground at night.
We have a real hidden gem coming up next.
Remember back at the start we mentioned about getting tickets for sunrise at Cadillac Mountain? Well, we tried but were unsuccessful, so we needed a new place to visit at sunrise.
Research led us to reading about a mysterious cave that exists underneath Schooner Head Overlook (near Sand Beach entrance station).
So, next morning we walked down to the cliff edge and found the cave entrance. The tide was high and it was a little dangerous but we are very experienced hikers and in good shape so we climbed down and into the cave.
As you can see from the image, it turned out to be quite some cave. Had there not been any clouds, the sun would have risen bang in the middle of the cave entrance. Can't have all the luck, right?!
Important: Please do not try to find or access this cave if you are not confident with a bit of climbing / scrambling. When the rocks get wet, they are very dangerous.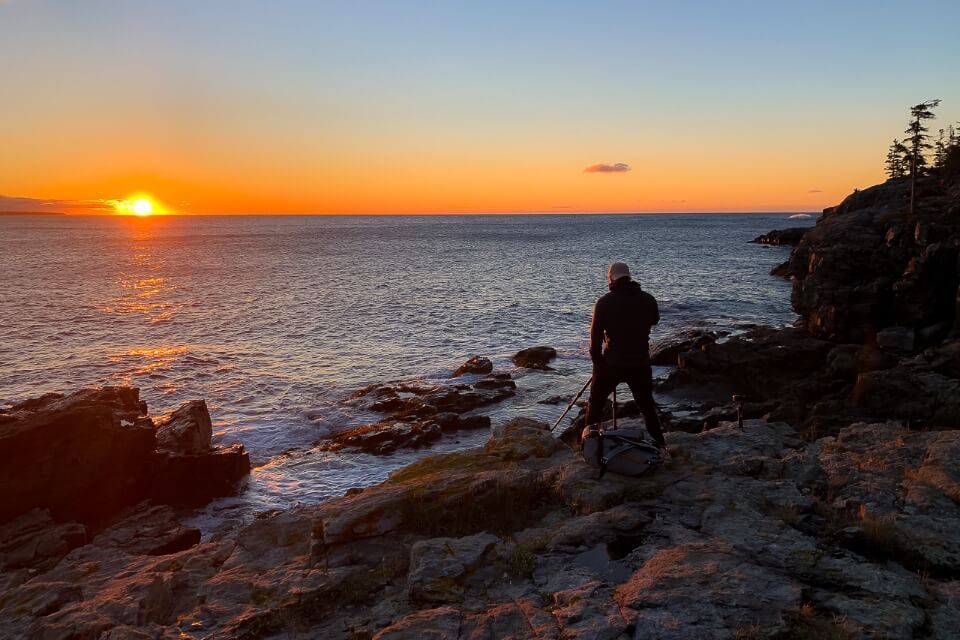 16. Acadia Sunrise
We have eluded to sunrise a number of times in this list of the best things to do in Acadia and that's because it is one of the most amazing places to see the sun rising in the US.
After our cloudy cave sunrise, we did go down again the next morning but the tide was high, rocks were wet and we weren't up for another sketchy climb.
So instead we just set up along the rocks at Schooner Head, right on the ocean front. Not a bad way to watch a beautiful sunrise!
Cadillac Mountain is the popular choice but this goes to show it's not the end of the world if you can't get a ticket.
And remember, if you are desperate to summit Cadillac Mountain for sunrise, you can always night hike the 2 mile trail (one way) from Cadillac North Ridge Trailhead.
Or if you prefer a challenge, wake up earlier and hike the 4 mile (one way) Cadillac South Ridge Trail, which is a more scenic route.
Other places to consider spending sunrise with fewer people:
Champlain Mountain summit (the top of Precipice Trail).
Beehive Trail summit.
Great Head overlook.
Anywhere else east facing without obstruction.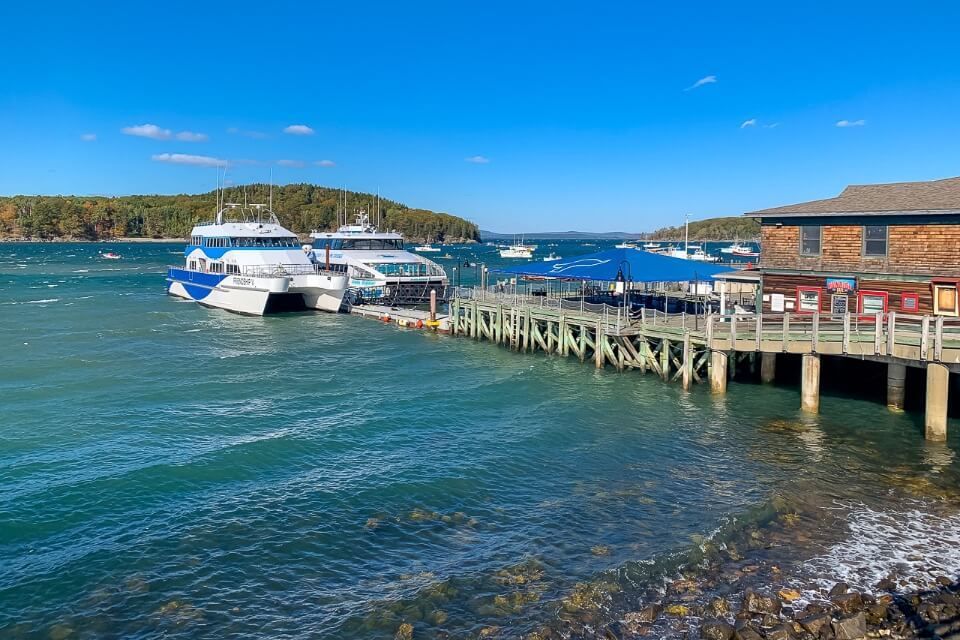 17. Bar Harbor
Although not technically a part of Acadia National Park, Bar Harbor is very likely to be the place you book a hotel and eat out each day on your trip.
Bar Harbor isn't the cheapest place you'll visit this year so prepare to take a hit on your travel budget. But staying here gives you perfect access to Acadia and saves driving in / out each day.
There are dozens of eateries, shops, breweries, souvenir places and hotels in Bar Harbor. You won't be stuck for choice but restaurants will fill early so advanced reservations are recommended.
We spent a few hours in town but it was blowing a gale and during covid restrictions so we definitely didn't see the best of Bar Harbor. Next time!
Map Of The Best Things To Do In Acadia National Park
Click or touch the map to activate.
Scroll around Acadia National Park, zoom in and out to find each of the 17 best things to see and do in the park.
This visual representation can help you plan your Acadia itinerary.
Blue Markers

– Locations of the best things to do in Acadia National Park
More From Acadia
Are you visiting Acadia to hike? Here are the 10 best hikes in Acadia National Park for all visitors.
More From New England
---
We hope this guide to the best things to do in Acadia National Park helps you plan your visit!
Have you been to Acadia? Do you have any more suggestions for things to do in the park?
Please let us know if you have any questions or need any help planning your visit in the comments below.
Happy Travels,
Mark and Kristen
Was This Post Helpful? Pin It For Your Visit!