Unique hikes, spectacular ocean views, picturesque lakes and stunning photography make Acadia one of the most beloved of all the top USA National Parks. We're going to show you the 20 best things to do in Acadia National Park to help you plan your visit to the far reaches of the American Northeast.
Don't be fooled by Acadia's small size because there are plenty of activities to keep you busy. We recommend you plan for at least 2 full days, but a 3 day Acadia itinerary would be better suited for hikers.
In our guide to Acadia national park, we will show you:
The different regions of Acadia National Park
Hotel options for exploring Acadia
20 top things to do in Acadia
Detailed interactive map for your visit
Our personal Acadia national park photos
Now, let's explore the best things to do in Acadia National Park!
Important: Vehicle reservations for Cadillac Summit Road are required for May 24 through October 22, 2023. Reservations are sold for $6 as a sunrise or daytime ticket.
*Please note this post may contain affiliate links. If you click on one, we may earn a small commission at no extra cost to you. Thank you for supporting the free content we provide! Read more in our disclosure policy.*
Our Acadia National Park Experience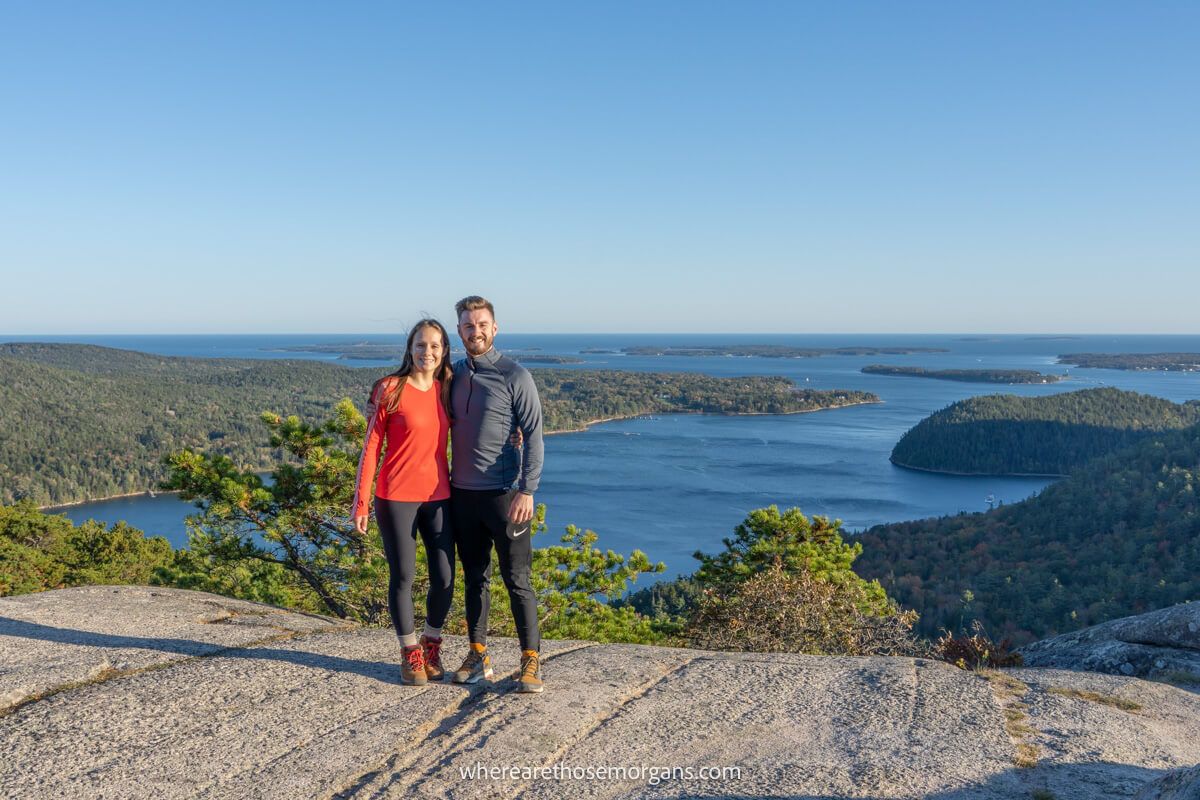 We visited Acadia National Park in October 2020 as part of a larger autumnal New England Road Trip.
During this trip, we hiked many of the best hikes in Acadia and thoroughly explored the best places to visit in Acadia national park.
Many northern US parks have just one peak season in summer. However, Acadia has two distinct peak seasons, firstly in summer and secondly when beautifully vibrant autumnal foliage lights up the park.
So if you plan to visit in peak fall season, we also have a few tips for visiting Acadia in October.
What Can You Expect From This Guide?
This comprehensive first time visitor guide covers everything you need to plan the perfect visit to Acadia National Park in Maine.
We created this guide to cater to every visitor because if you only have one day to experience Acadia, your itinerary will be different from someone who has three days to visit the park.
After reading our Acadia guide, you will know exactly where to visit and what to do with your time frame. We have also provided an Acadia interactive map at the end.
Our main focus is to provide you with hiking and photography insights to make the most of your trip to Acadia National Park.
Acadia National Park Facts
National Park: Acadia
State: Maine
Website: NPS.gov
Address: 25 Visitor Center Road, Bar Harbor, ME 04609
Telephone: (207) 288-3338
Campgrounds: Blackwoods, Seawall, Schoodic Woods, Duck Harbor
Accommodation: No official NPS lodges
Backcountry camping: Not allowed
Popular activities: Hiking, bird watching, tidepooling, stargazing
Acadia annual visitors: ~ 4.0 million visitors per year
Best time to visit: Spring and fall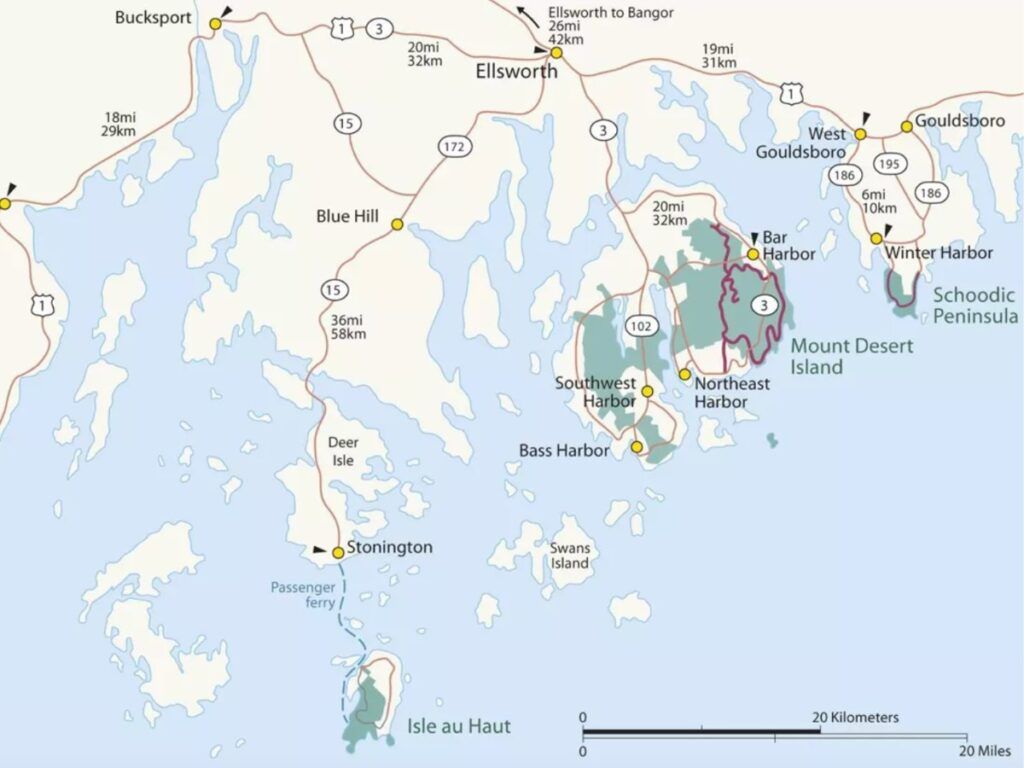 Regions Of Acadia National Park
There are 4 main regions to Acadia national park:
Mount Desert Island
Schoodic Penonsula
Isle au Haut
Outer Islands
Main Desert island is the largest island off the coast of Maine. Most of the best activities in Acadia are located on Main Desert Island and it is split into an eastern or western side.
The eastern side of Main Desert Island is the most visited region in Acadia national park. This is where you will find Cadillac Mountain, Jordan Pond, Otter Cliffs, Sand Beach and Thunder Hole.
Western side of Mount Desert Island is less visited because it's more secluded. This is where you will find Acadia Mountain, Bass Harbor Head Light Station, Beech Mountain and Each Lake Beach.
The Schoodic Peninsula showcases the best of Maine's stunning coastline. This is where you will find Schoodic Point, Blueberry Hill, and Frazer Point.
Isle au Haut and the 18 Outer Islands in Acadia can only be visited by passenger ferry. So it's safe to say, most visitors spend their time in Acadia exploring the Main Desert Island.
Entrance Fee For Acadia National Park
Similar to most US National Parks, Acadia charges an entrance fee. Here are the prices and fees for entrance into Acadia National Park for 2023:
$35 – Vehicle with up to 15 passengers valid for 7 consecutive days
$30 – Motorcycles with driver and one passenger valid for 7 consecutive days
$20 – Per person with no car (walk, bicycle) valid for 7 consecutive days
$70 – Acadia annual pass valid for 12 months at Acadia only
All passes are valid for 7 days after purchase. Any visitor with an America The Beautiful pass are provided access to Acadia for no additional cost.
You can also purchase your Acadia pass online in digital form prior to your visit. After purchasing your pass online, save it to your phone incase you need to show it to a ranger.
If you plan to visit many national parks, you might also like to use a National Parks Passport to document your adventures.
Interested in the National Park Pass? Read our popular review about an America the Beautiful pass.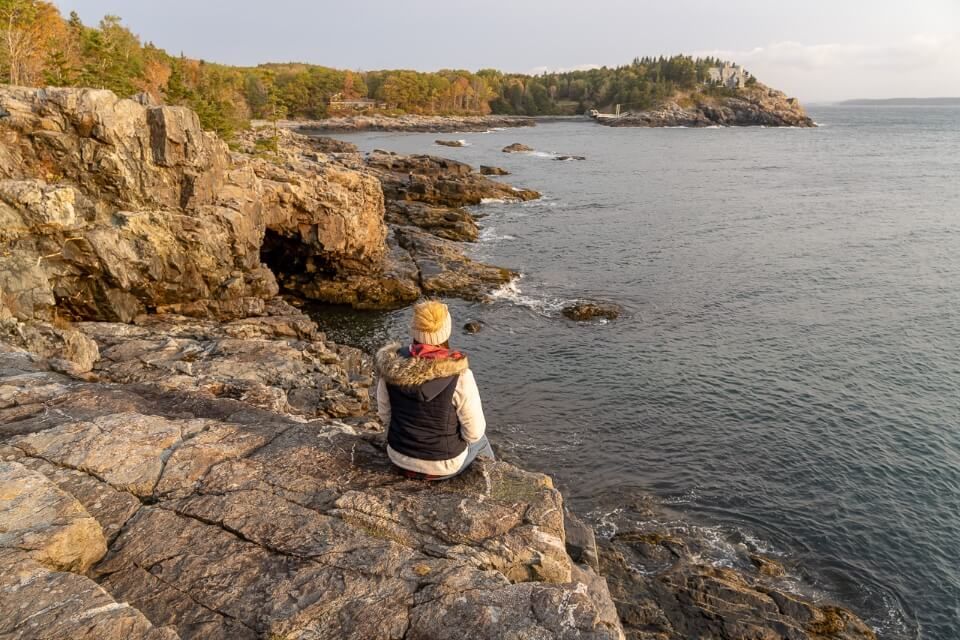 Where Is Acadia National Park?
Often called the Crown Jewel of the North Atlantic Coast, Acadia National Park protects the highest rocky headlands in the state of Maine.
With almost 4 million visitors, Acadia was the 5th most visited national park in the United States in 2022. Visitors can enjoy over 120 miles of hiking trails, 45 miles of carriage roads and 27 miles of scenic drives.
Acadia experiences all four seasons and the first snowfall typically occurs around the beginning of November.
The summer temperature in Acadia ranges from 45-90°F (7-30°C) while the winter temperatures range from 14-35°F (-10-2°C).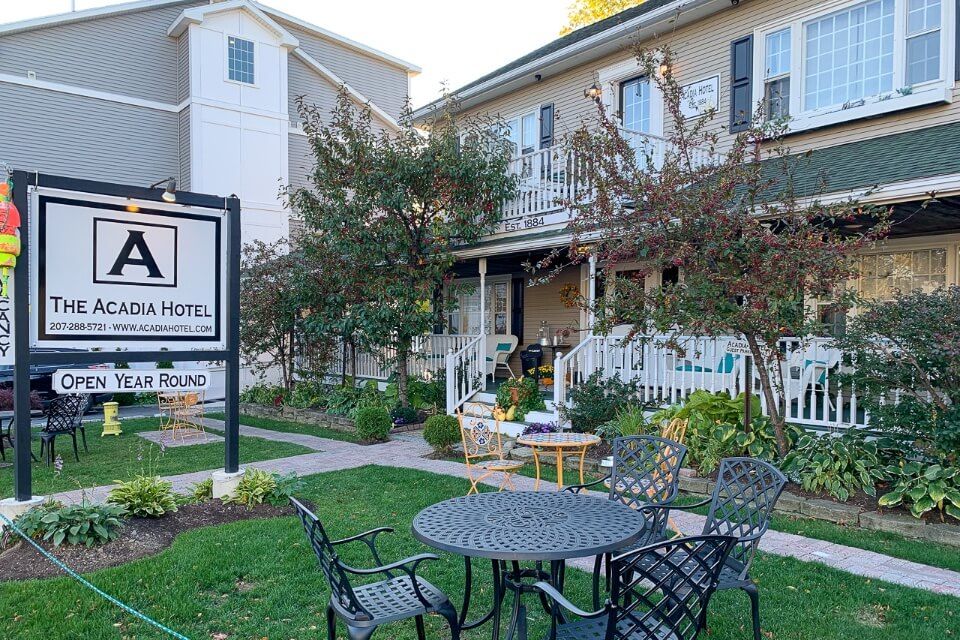 Where To Stay Near Acadia National Park
Acadia has no official National Park lodges. Therefore, along with every other visitor to Acadia, you are left with a choice between one of the campgrounds or finding a hotel in a nearby area.
There are five main accommodation regions for Acadia national park:
Bar Harbor
North Mt Desert Island
Northeast Harbor
Southwest Harbor
Ellsworth
We stayed in the town of Bar Harbor when we visited Acadia because it has a great central location. But it is not cheap, especially in peak seasons of summer and fall.
We wrote a very detailed guide featuring the best places to stay near Acadia, you can read next. But if you want a quick summary, here are the most booked hotels we see based on our statistics:
Bar Harbor
Once a summer retreat for wealthy families in America, this quintessential Maine coastal town is now a popular gateway to Acadia. Almost all hotels are within walking distance to popular restaurants.
North Mt Desert Island
Located about 10 miles from Bar Harbor after crossing Mt Desert Narrows from the mainland onto Mount Desert Island.
Northeast Harbor
Northeast Harbor is a small residential village on the east side of Somes Sound near the bottom of Mt Desert Island. This area has a handful of inns, restaurants and it's close to some of Acadia's best hikes.
Southwest Harbor
Located about 25 minutes drive from Bar Harbor, this small community is very close to Bass Harbor Head Lighthouse.
Ellsworth
Ellsworth is a great option for those visitors on a budget, but it is the farthest distance from Acadia national park.
All hotels recommendations discussed above are included on our interactive map for Acadia at the bottom of this guide.
This way you can physically see where each hotel is located to help you make a better decision.
Acadia National Park Campgrounds
There are four campgrounds available in Acadia National Park:
Blackwoods Campground on the east side of Mount Desert Island
Seawall Campground on the west side of Mount Desert Island
Schoodic Woods Campground on the Schoodic Peninsula
Duck Harbor Campground on Isle au Haut (only accessible by mailboat)
Can't find a campground? Use our exclusive 30 day free trial of The Dyrt PRO to find both free and paid campsites near Acadia or use Dyrt Alerts to snag a spot at a sold out campground nearby.
What Are The Best Things To Do In Acadia National Park?
As we mentioned earlier in our Acadia guide, most visitors will spend their time on Mount Desert Island when visiting the park.
So it makes sense most our Acadia national park must see attractions are located on this large island.
To make things even easier for you, we will split the popular Acadia activities between the eastern and western side of the island so you know exactly where to go when you visit.
But first, we will start with the main highlight of Acadia national park: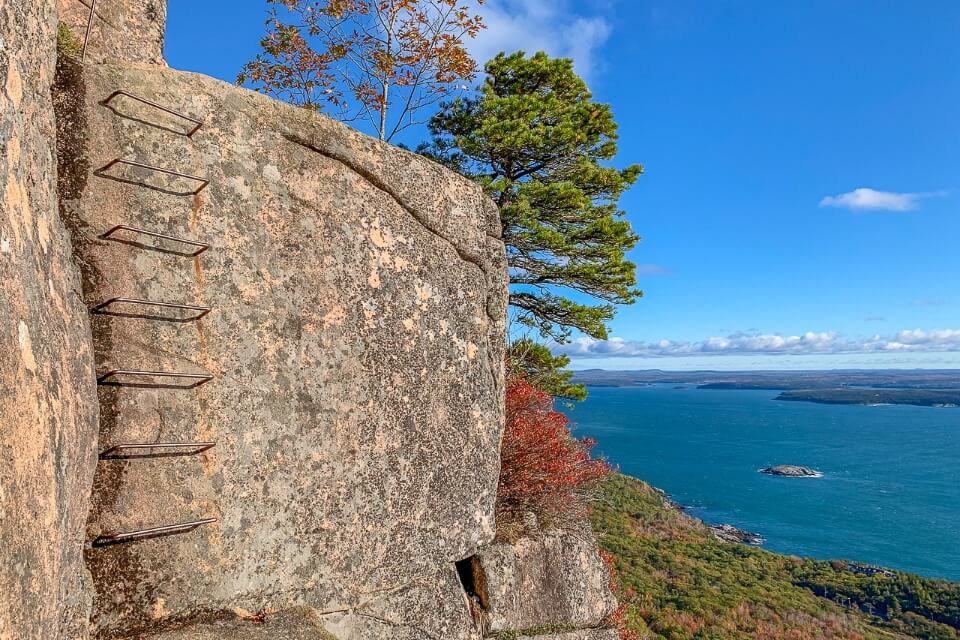 1. Hike The Best Trails In Acadia
One of Acadia's greatest assets is the diverse range of short hiking trails.
You can walk a flat family friendly trail around a picturesque lake surrounded by colorful trees in fall, hike a quick forest trail to a summit with gorgeous bay views and climb up sheer face granite rocks via iron rung ladders for an adrenaline rush.
Acadia National Park's hikes are typically short and fairly steep, climaxing with spectacular ocean and lake views at each summit.
That means you can plan to hike 2, 3 or even 4 trails in a day and be rewarded with stunning lake, island or ocean views every time.
Precipice Trail in Acadia is even listed in our popular guide to the 50 best hikes in the US.
Here are great resources for the best hikes in Acadia national park:
Here are additional Acadia hikes to include in your itinerary:
Acadia Mountain
Beech Mountain
Jordan Pond Loop
North / South Bubble
Cadillac Mountain
Ocean Path
Great Head
Gorham Mountain
Want to hike all of the best trails in Acadia? Use our popular guide to find the 16 best hikes in Acadia national park next.
Best Things To Do On Mount Desert Island Eastern Side
The eastern side of Mount Desert Island features the best of Acadia. It is the most visited region in the park and can be accessed by car, bicycle or bus.
Most of our best things to do at Acadia national park can be found on the east side of the main island. Plan to spend most of your time in this location.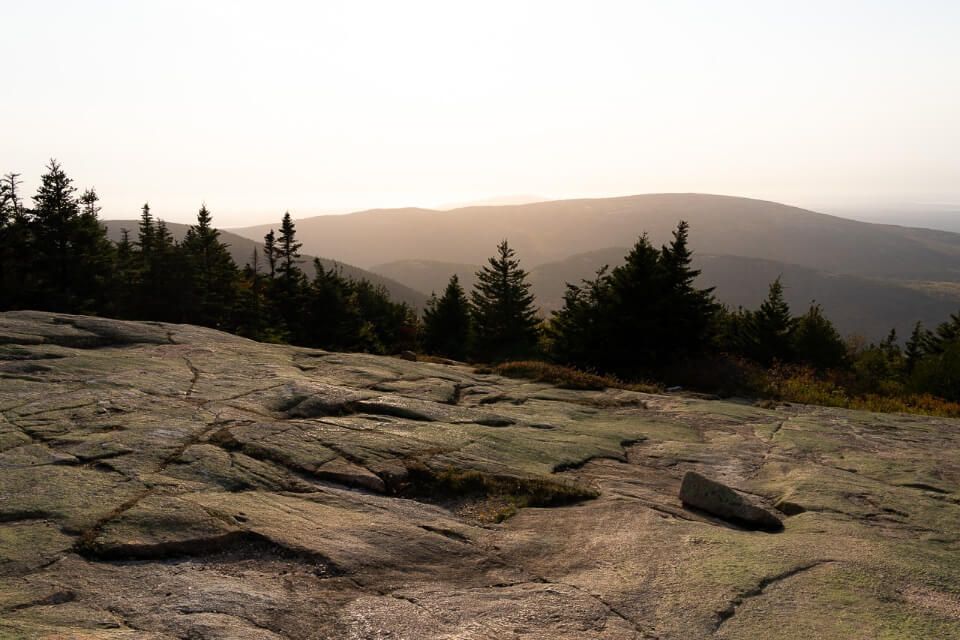 2. Summit Cadillac Mountain
Acadia is one of the top USA vacation spots and timing it right with a beautiful sunrise at Cadillac Mountain would be like hitting the jackpot.
Cadillac Mountain is the highest point on the entire US eastern seaboard. You can drive directly to its summit, hike the shorter North Ridge Trail or hike the longer South Ridge Trail.
The best time to be at the top of Cadillac Mountain is at sunrise, when you will be among the very first people in the United States to see the sun creep over the eastern horizon from October to March.
Of all the things to do in Acadia National Park, summiting Cadillac Mountain is by far the most popular. But unsurprisingly, overcrowding is a problem and as of 2021, advanced reservations are required.
Here's what you need to know about winning a permit to drive up Cadillac Summit Road:
Acadia Park Loop Road is closed until April 14, 2023
Vehicle reservations are required from May 24 through October 22, 2023
Reservation sales begin around 90 days in advance
30% of vehicle reservations are available 90 days in advance, the remaining 70% will be allocated 2 days in advance at 10:00am ET
Reservations cost $6 ($4.00 for the ticket + $2.00 non-refundable administrative fee)
Choose between sunrise or daytime vehicle reservation with a 30 minute timed-entry window
Go to Recreation.gov and be ready with your details to apply for a sunrise time slot right at 10am
Each member of your party can apply at the same time to give you a better chance
Travel Tip: Daytime visits to Cadillac Mountain still have great views but may be hazy. It can also be extremely windy at the summit so take layers, even on a warmer day.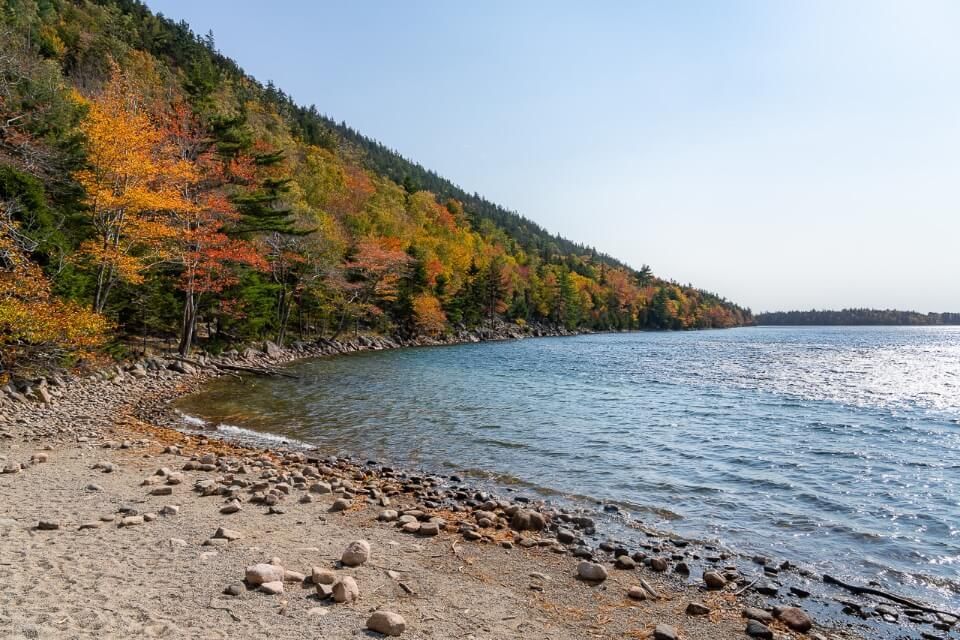 3. Enjoy The Views At Jordan Pond
Jordan Pond is the most beloved water feature in Acadia National Park. This beautiful pond is ideally located right on the Loop Road for easy access so it's one of the must do things in Acadia.
It is the deepest lake in Acadia at 150 ft (46m). You can't swim in Jordan Pond but you can kayak or canoe on its surface surrounded by stunning mountain and forest scenery.
Jordan Pond House is the only fully serviced restaurant inside Acadia. This restaurant sits at the southern point of the lake and it offers one of the best views in Acadia national park.
Since the 1890's, this house has been serving tea and popovers. If you can get a table, this is a fantastic place to grab lunch in Acadia. You can make lunch or dinner reservations here.
Here are the best ways to see Jordan Pond:
Jordan Pond House – Eat lunch with stunning views from the southern tip of the lake
Path Loop Trail – Hike the family friendly 3.4 mile loop around Jordan Pond
South Bubble – Hike to South Bubble for the very best view over Jordan Pond
Hiking Tip: If you're lucky enough to get a parking spot for the Bubbles, walk through the forest to Jordan Pond's northern edge so you don't have to battle for another parking spot near the restaurant.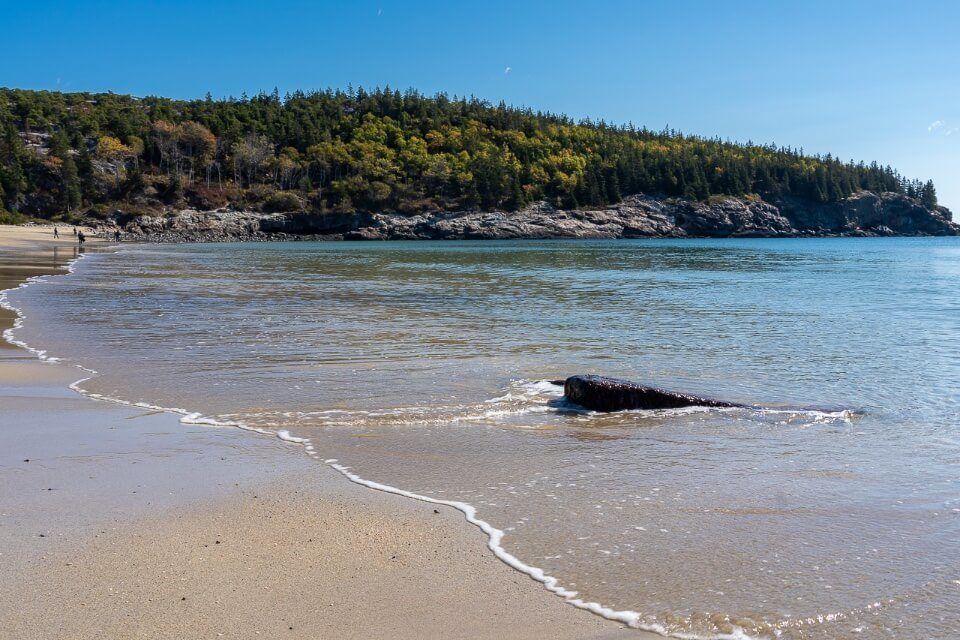 4. Take A Dip At Sand Beach
Sand Beach is a natural stopping off point along Park Loop Road. It has the first major parking lot after entering through the Sand Beach ranger pay station and it is where Ocean Path Trail begins.
According to the NPS, the beach itself is about 300 yards long and is made up of about 70% shell fragments. It is also one of the most visited places in Acadia national park.
Sand Beach is open for swimming from mid-June to the beginning of September. The water temperatures are typically posted on a beach bulletin board and you can check conditions here.
Beehive Trail begins right behind the Sand Beach parking lot. We climbed Beehive, descended and walked across Sand Beach before walking along Great Head trail.
If you don't mind some very light scrambling on rocks, we recommend walking along the Great Head path until excellent views over the beach open up as you look backwards.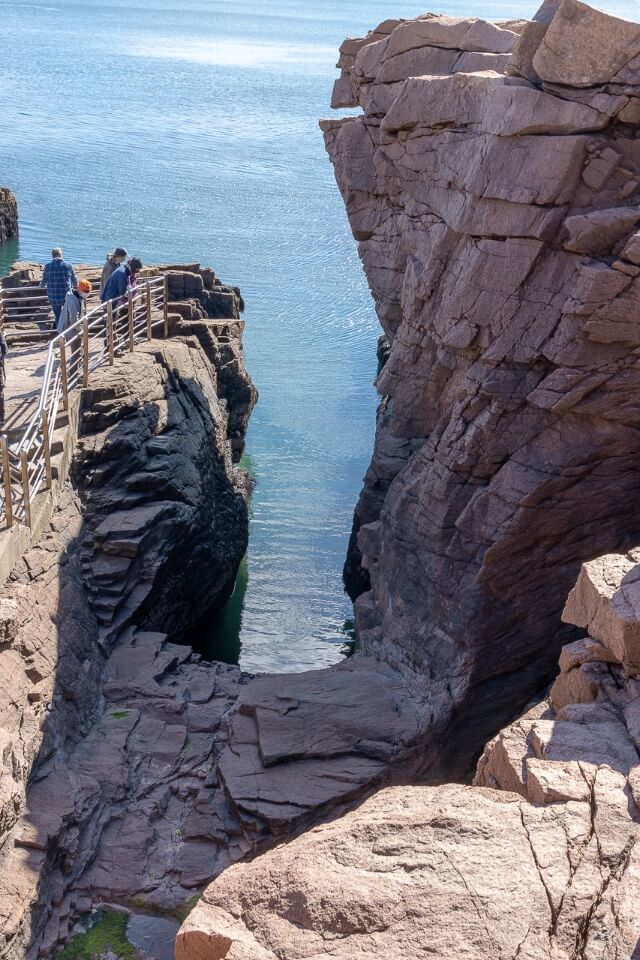 5. Experience Thunder Hole
The photo above shows visitors in Acadia looking down over the railing to Thunder Hole. This carved out channel is one of the best places to see in Acadia because it shows the power of ocean tides.
When the tides turn or a storm occurs, water is forced into this narrow inlet. The air produced during this phenomenon causes a thunderous repercussion along with 40ft splashing waves crashing on to the rocks.
Thunder Hole is located half way along Ocean Path between Sand Beach and Otter Point, so it may be a natural place to stop if you're walking the entire trail.
We visited Thunder Hole in Acadia on a calm and still day when the tides were not turning. So Thunder Hole was more like Whimper Hole.
Travel Tip: Try to visit Thunder Hole about 1–2 hours before high tide for your best chance of hearing the famous thunder roar.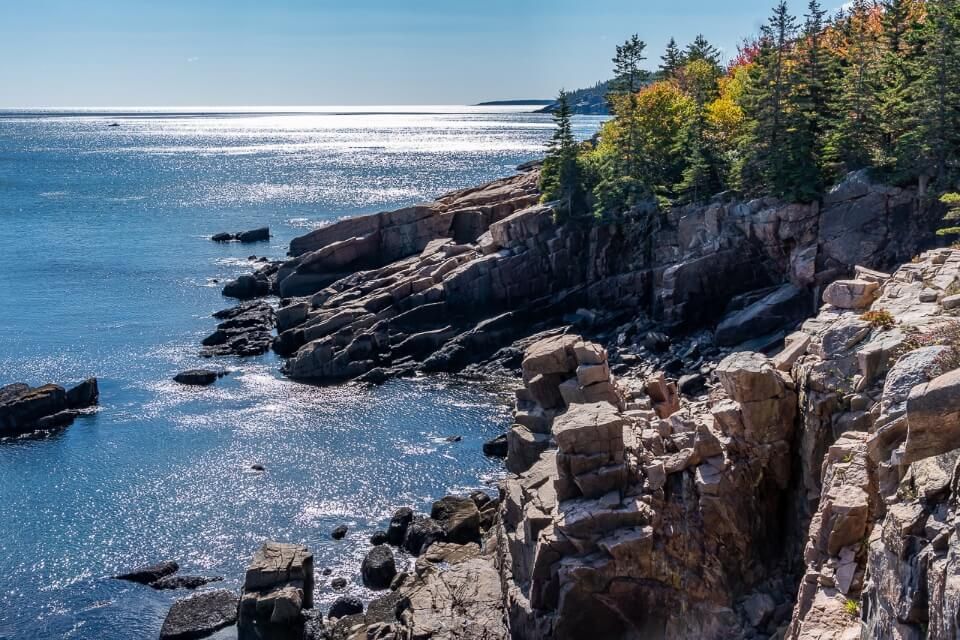 6. Walk Ocean Path To Otter Point
Acadia's beautifully photogenic and famous tree lined rugged rocks can be appreciated for just over 2.0 miles. This walk is without a doubt one of the best spots in Acadia national park.
The Ocean Path Walking trail begins at Sand Beach on the eastern shore of Mount Desert Island. It ends at Otter Point with Thunder Hole as the halfway point.
However, only the Sand Beach to Thunder Hole portion is accessibility friendly. Uneven gravel paths account for the second half to Otter Point.
If you've ever seen a photograph of Acadia's coastline, it was most likely taken from somewhere along this section of Ocean Path.
Ocean Path is a relaxing hike with picturesque cliffs and gorgeous ocean views. This trail offers visitors the chance to walk on sections of boulders near the waters edge so be sure to wear good shoes.
Hiking Tip: Follow the trail past Otter Point as far as Otter Cove for views over Dorr and Cadillac Mountains.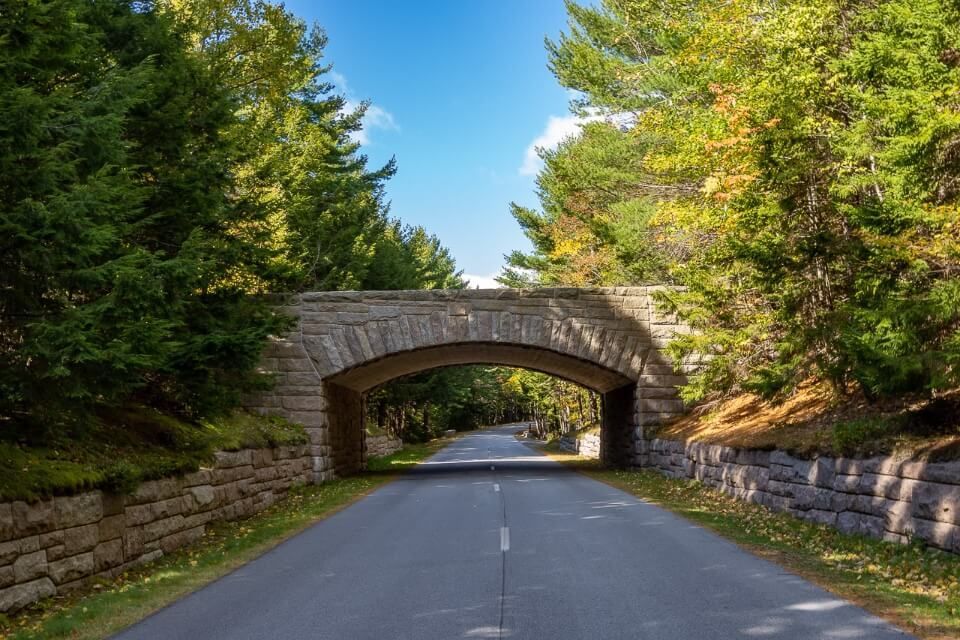 7. Drive Park Loop Road
Scenic Loop roads are always one of the best ways to see US National Parks. Driving the 27 (43km) mile Park Loop Road is one of the top things to do in Acadia national park.
Built between 1921 and 1958, this road carries visitors from mountains to beach and from lake to forest trails. It also helps to separate the main local roads and the carriage roads (discussed later).
The Acadia Park Loop Road passes by many of the best attractions, trailheads and overlooks, giving those with accessibility or mobility concerns a way to see the park's natural beauty.
In peak seasons of summer and fall, you can expect Park Loop Road to be extremely congested. We can't stress enough how important it is to start your day early and get on the loop road before it becomes crowded.
Travel Tip: Acadia Park Loop Road only covers the eastern portion of Mt Desert Island. You will need to take other roads to access hikes or attractions on the western side of Mt Desert Island.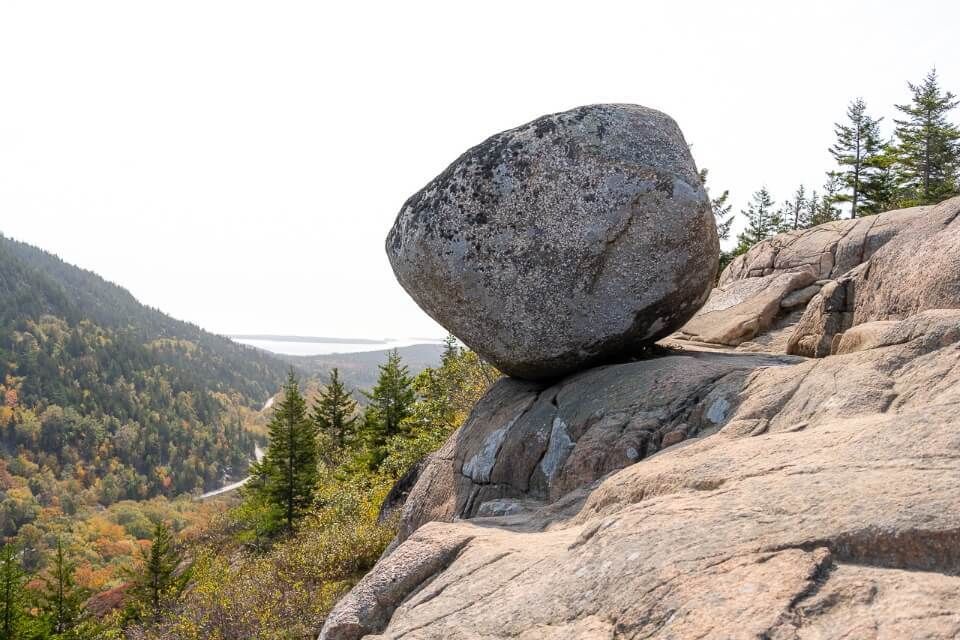 8. Find Bubble Rock
Precariously balanced on the edge of South Bubble trail summit, you will find glacially formed Bubble Rock appearing as though it must surely roll over at any moment.
The classic Acadia photo is the one of you giving it a big heave-ho, but it won't budge. What you won't realize until you stand next to it, is how enormous the boulder is and how steep the drop off is below.
However, Bubble Rock is just a sideshow. Views over Jordan Pond from South Bubble summit are spectacular (just a few meters from Bubble Rock).
We would say South Bubble is one of the most unmissable hikes in Acadia, simply for its summit view. North Bubble also has a fantastic view but it is partially obscured by trees.
Both trails can easily be reached in under a mile from Bubbles Trailhead but parking is notoriously challenging. Very limited spaces with no overflow or roadside parking make this frustratingly hard to get a spot.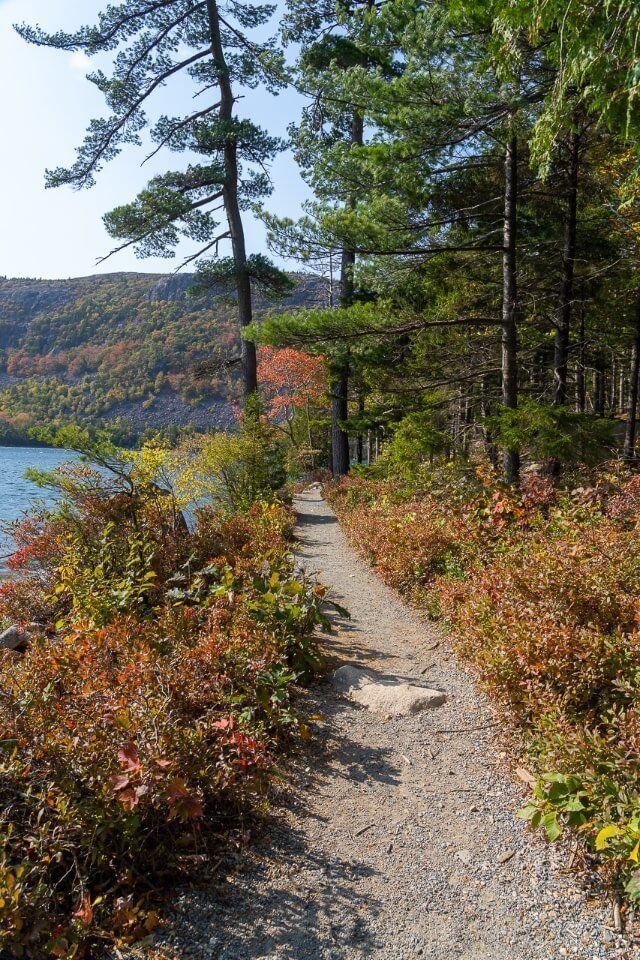 9. Explore The Historic Carriage Roads
When you arrive, you probably already have a list of the things you want to do in Acadia, such as hike Precipice Trail and see the sunrise from Cadillac Mountain.
However, if there's one thing you should also do given enough time on your Acadia itinerary, it is get off the beaten path and hit the old carriage roads.
There are 45 miles of essentially hidden paths perfect for walking, cycling and even horse drawn carriage riding. No cars are allowed, but dogs are allowed on leashes, so this is prime time family space.
These scenic and relaxing carriage roads connect all of the major Acadia attractions, centering around Eagle Lake and Jordan Pond. Stunning gatehouses await and stone bridges cross various streams throughout the intricate network.
Visitors wanting to travel via horseback can book a carriage ride through Wildwood Stables. You can also board horses at the stables for those wanting to vacation with their horses.
10. Wild Gardens Of Acadia
Created in 1961, the Wild Gardens of Acadia are a unique educational resource designed to showcase hundreds of Acadia's native plants.
This garden is an Acadia hidden gem because it is a peaceful place to visit with the family. Themed habitats such as mountains, seaside, heath, coniferous forest and many others are represented.
You will find the Wild Gardens of Acadia in Sieur de Monts which located along the Park Loop Road. Visitors can also explore the Abbe Museum, the Great Meadow Wetland and historic memorial paths.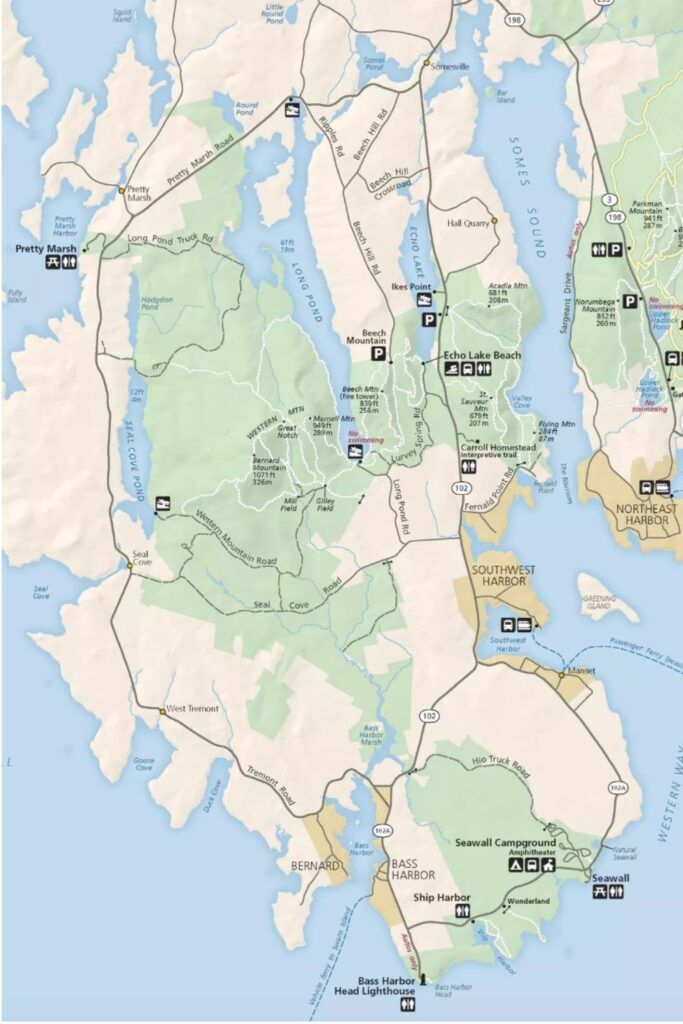 Best Things To Do On Mount Desert Island Western Side
The western side of Mount Desert Island is more secluded, but it features stunning coastal views. It is a more quieter section of the park and can be accessed by car or bus.
Even if you only have short time in Acadia, this region of the park is worth visiting because it is home to some of Acadia's best views and a swimming spot.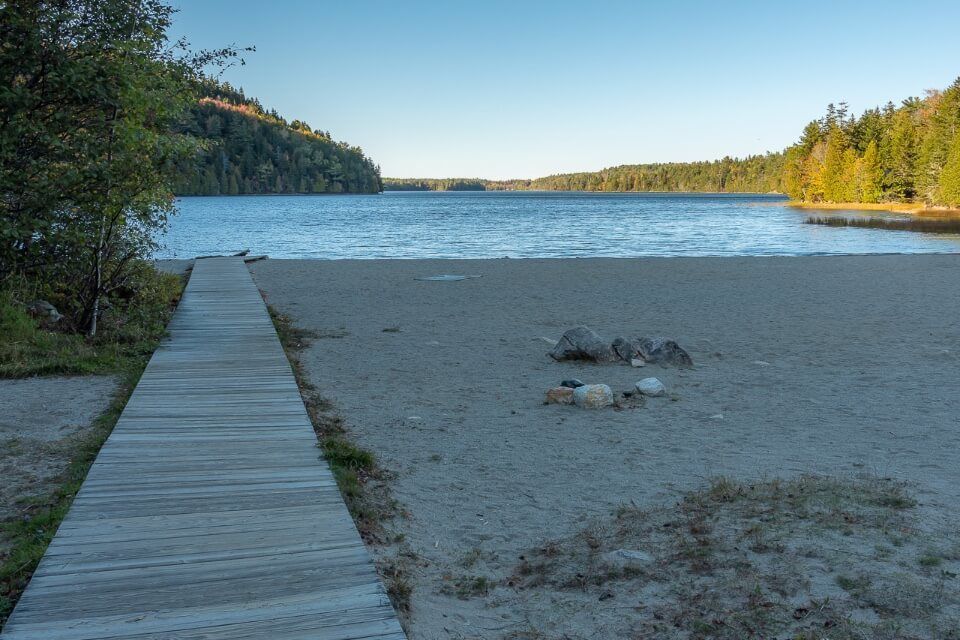 11. Swim At Echo Lake
Echo Lake is one of our best hidden gem recommendations for Acadia National Park. Swimming is not permitted in Jordan Pond, but you can swim to your heart's content in Echo Lake.
Locals and savvy tourists flock to the small beach area here to swim in warm fresh water, rather than cold salt water at Sand Beach near Beehive Trail.
The photo above was taken in early evening so the beach was in shade. We had already hiked both Acadia Mountain and Beech Mountain, both of which are to either side of Echo Lake.
Echo Lake has plenty of parking spaces and is the perfect alternative to Jordan Pond.
Hiking Tip: Include Echo Lake with hikes up Acadia Mountain and Beech Mountain, before continuing to Bass Harbor Head Lighthouse for sunset.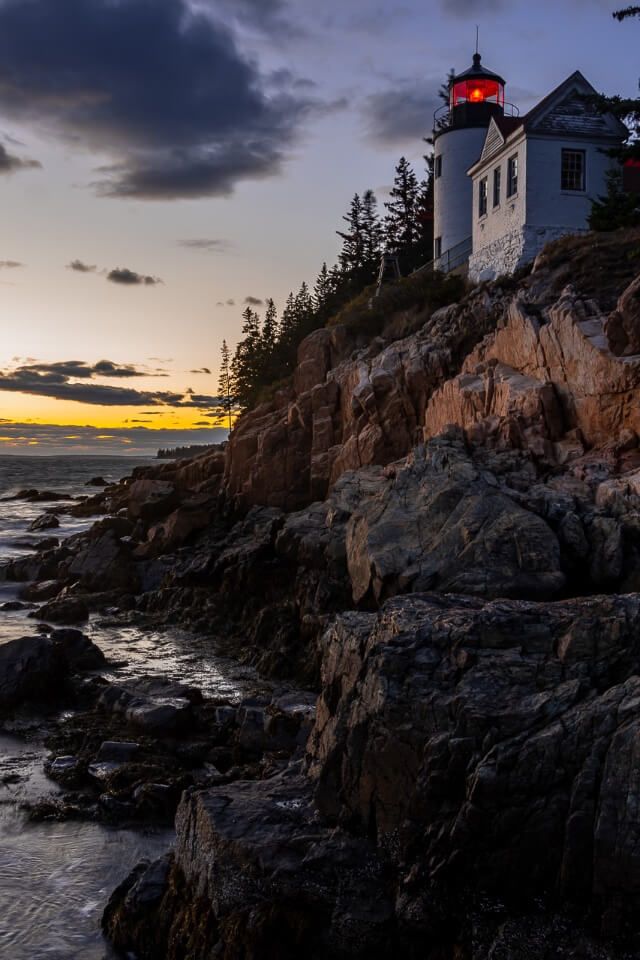 12. Bass Harbor Head Lighthouse
Taking photos of Bass Harbor Head Lighthouse at sunset is one of the best things to do in Acadia National Park, especially for those who love photography.
Bass Harbor Head is one of the most famous lighthouses on the US east coast. It's bright red light beams out to sea once darkness takes over and the scenery here is absolutely gorgeous.
However, this lighthouse is also on everyone's Acadia bucket list so this place is insanely busy at sunset.
Just to give you an example, we visited in October and tried to get a parking spot at 3:30pm, which was 2 hours before sunset. The line of cars waiting to get parked took us 45 minutes just to get into the parking lot.
After that, we had to navigate very uneven rocks to set up our tripod without standing in the way of others who were already there.
Here are a few tips for visiting Bass Harbor Head Lighthouse:
The parking lot is limited to about 25 cars and you will have to wait for a spot
Roadside parking is not allowed along the entrance road and 102A
About an hour before sunset, the rocks will be overrun with people and tripods
If it is windy and busy, you will need to take care along these rocks
Photography Tip: We strongly recommend photographers arrive very early to get a parking spot and also a good vantage point along the rocks.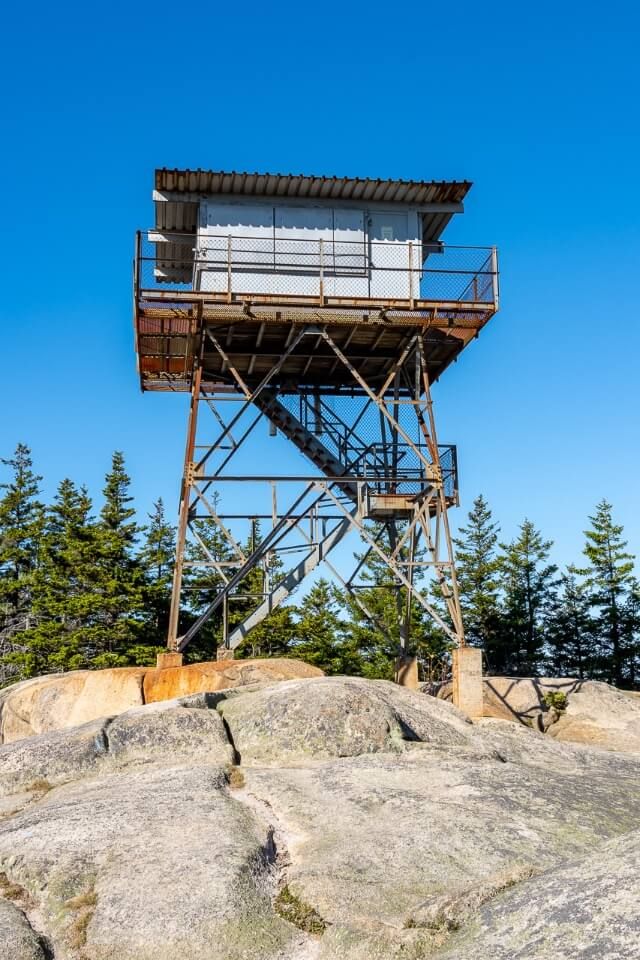 13. Beech Mountain Fire Tower Trail
This loop trail is the only hike in Acadia National Park leading to a fire lookout tower so it's a popular thing to do for first time visitors. But the fire tower is padlocked so you can not climb to the top.
We think one of the best photo spots in all of Acadia National Park can be found when hiking down Beech Mountain Loop as the trail opens up with views over Long Pond.
Other Fun Things To Do In Acadia National Park
This last section includes an eclectic mix of must do activities in Acadia national park.
These are great options if you have more time, plan to visit in the fall season or want to experience something unique.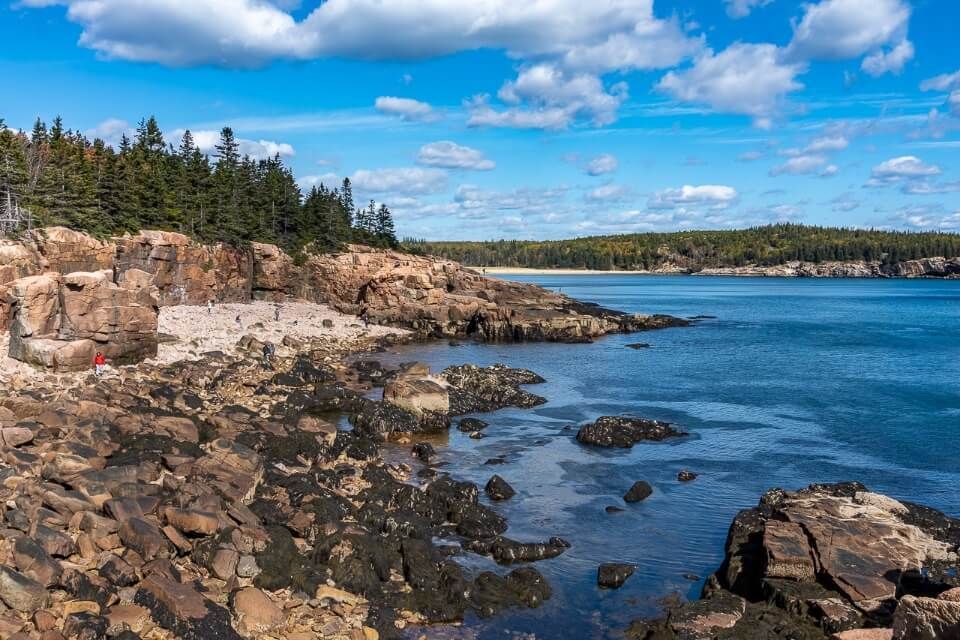 14. Schoodic Peninsula
Schoodic Peninsula is the only part of Acadia National Park on the mainland. It is a small area directly opposite Ocean Path across Mt Desert Narrows.
This area of the park is incredibly secluded when compared to the attractions on Mt Desert Island. But it does take around 1 hour to drive from Bar Harbor to Winter Harbor.
A loop road allows you to drive around Schoodic Peninsula, from which you have similar rugged coastline views to Ocean Path but with a tenth the amount of people.
Hikers can walk the trail to Schoodic Head for excellent views over the Gulf of Maine and of course, the major mountains on Mt Desert Island, including Cadillac Mountain.
Travel Tip: We only recommend visiting Schoodic Peninsula if you have at least 3 days on your Acadia itinerary or you prefer to be away from crowds.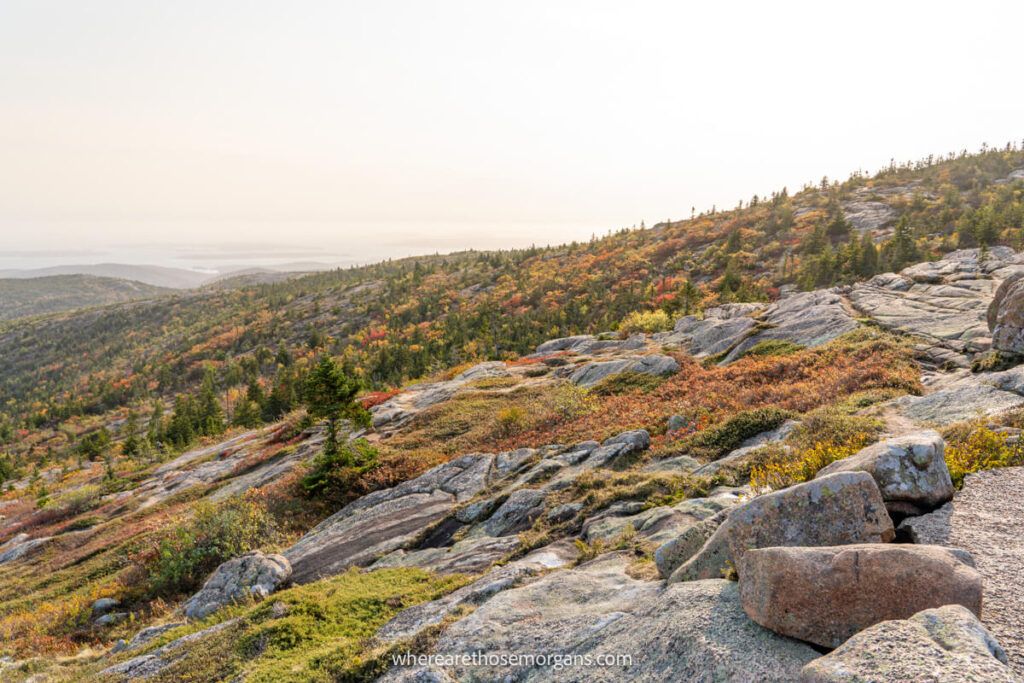 15. Take In The Stunning Fall Foliage
Visiting Acadia in fall affords you a unique opportunity to see one of the busiest and most highly regarded US national parks in all its glory.
This park showcases exceptionally beautiful views over the ocean, numerous islands, beautiful lakes, calm ponds and tree lined hillsides which make it the perfect spot for leaf peeping.
Autumn in Acadia is the best time of year. What we like about visiting Acadia during the fall season is the colors are spread all throughout the park so you don't have to travel far to take it all in.
Here are the best places to see the fall foliage in Acadia:
Jordan Pond – The trees encircling Jordan Pond are filled with vibrant autumnal leaves
Beehive Trail – Views are of rolling hills covered in radiant leaves and the ocean
Cadillac Mountain – Gaze over colorful leaves for miles from the highest point in Acadia
Loop Road – Driving the Acadia Loop Road takes you past countless fall foliage spots
Carriage Roads – Hire a bike and cycle through the quieter parts of Acadia filled with color
Want to learn more about Acadia in fall? Don't miss our popular guide featuring everything you need to know about visiting Acadia national park in the fall season.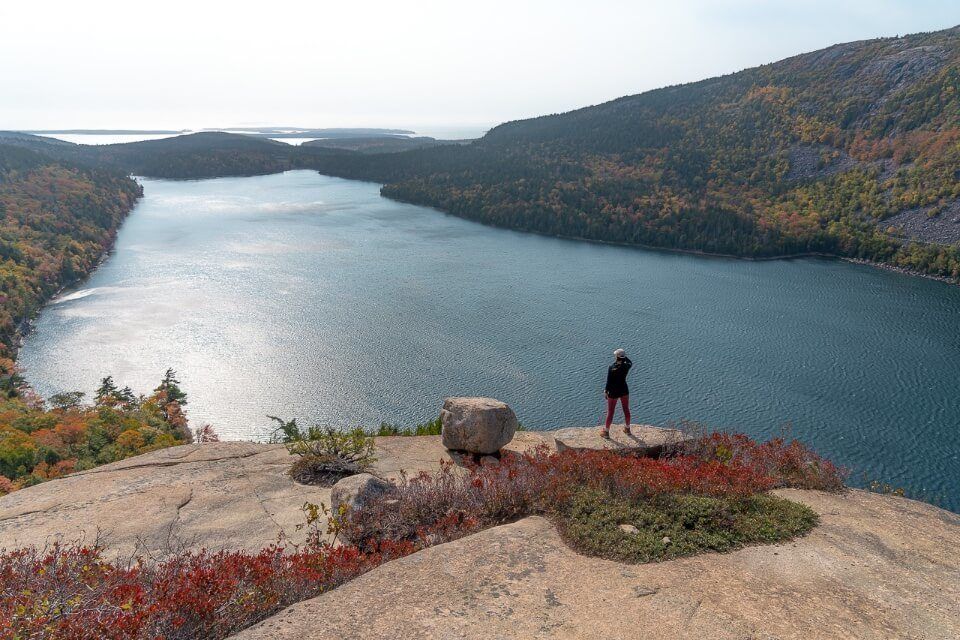 16. Birdwatching In Acadia
Birdwatching is one of the best things to do in Acadia because a variety of birds can be found in the park. This is a great way to connect with nature and learn from various ranger programs.
Most visitors do not know Acadia is home to over 308 species of birds including over 20 species of warblers. Acadia also participates in extensive recovery efforts for the peregrine falcon.
Beginning March 1st, several of Acadia's popular hiking trails are closed until August to protect peregrine falcons from human disturbance during nesting season.
Here are the best birdwatching locations in Acadia:
Cadillac Mountain – Hawks
Otter Point – Seabirds and songbirds
Carriage Roads – Songbirds
Thompson Island – Shorebirds, terns and gulls
Schoodic Point – Tern, woodpecker, vireo
Use this Acadia Bird Checklist to find popular species in the park.
17. Tidepooling
One of the best things to do in Acadia with kids is tidepooling. This natural phenomenon occurs two times a day as the plants and animals are exposed during low tide.
The best time to go tidepooling is 1.5 hours before and 1.5 hours after low tide. Just be mindful of where you step and always leave no trace.
Here are the best places to go tidepooling in Acadia:
Bar Island
Schoodic Peninsula
Ship Harbor
It is common to see barnacles, vibrant algae, marine snails and small sea anemones when tidepooling in Acadia.
18. Ride The Island Explorer Bus
If you want to help reduce air pollution and avoid parking congestion, riding the Island Explorer Bus is an eco-friendly thing to do in Acadia.
This free park shuttle provides service between popular park destinations such as campgrounds, carriages roads and trailheads. It also visits the local communities and Bar Harbor-Hancock County Regional Airport.
The clean propane-powered bus typically operates from the end of June to the beginning of October. Here are the free Acadia shuttle routes and timetables.
All busses have bike racks with ability to transport up to six bikes, but fat-tire bikes or e-bikes will not fit. Only well behaved and leashed pets are allowed on Acadia shuttles.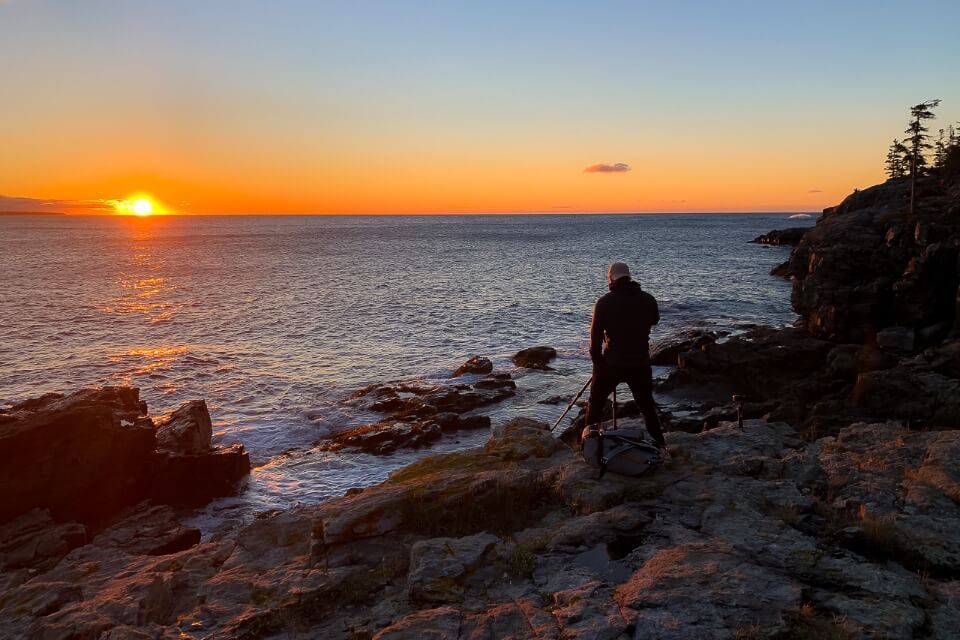 19. Catch A Sunrise In Acadia
We have eluded to sunrise a number of times in this list of the best things to do in Acadia because it is one of the most amazing places to see the sun rising in the US.
But if you can't secure a ticket for sunrise at Cadillac Mountain, you have other options. One of our favorite sunrise locations in Acadia is right along the rocks at Schooner Head.
You can always night hike the 2.0 mile trail (one way) from Cadillac North Ridge Trailhead if you are desperate to summit Cadillac Mountain for sunrise.
Or if you prefer a challenge, wake up earlier and hike the 4 mile (one way) Cadillac South Ridge Trail, which is a more scenic route.
Other places to consider spending sunrise with fewer people:
Champlain Mountain summit (the top of Precipice Trail)
Beehive Trail summit
Great Head overlook
Anywhere else east facing without obstruction
Need new hiking gear for a sunrise hike? Use our popular day hike packing checklist to find exactly what you need.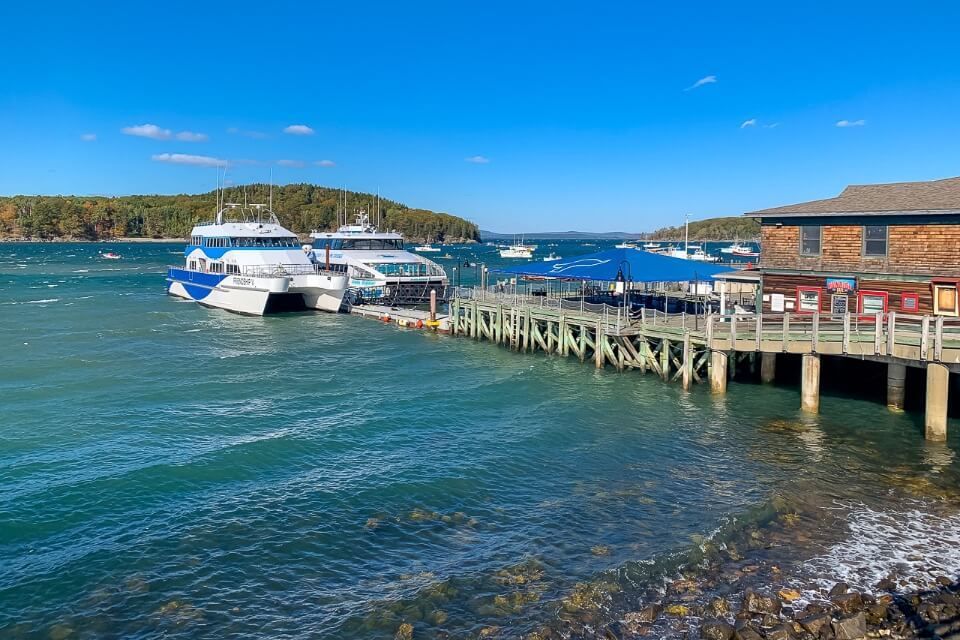 20. Have Some Lobster In Bar Harbor
Although not technically a part of Acadia National Park, Bar Harbor is very likely to be the place you book a hotel and eat out each day on your trip. So it's a great place to try that famous Maine lobster!
Bar Harbor isn't the cheapest place to visit. But staying in Bar Harbor gives you perfect access to Acadia and saves you from driving long distances in or out each day.
There are dozens of eateries, breweries, souvenir shops and hotels in Bar Harbor. You won't be stuck for choice but restaurants will fill early so advanced reservations are recommended.
Here are popular restaurants in Bar Harbor:
Hiking Tip: Walk the easy Bar Island Trail which is only accessible during low tide in Bar Harbor for beautiful views of the harbor and Cadillac Mountain.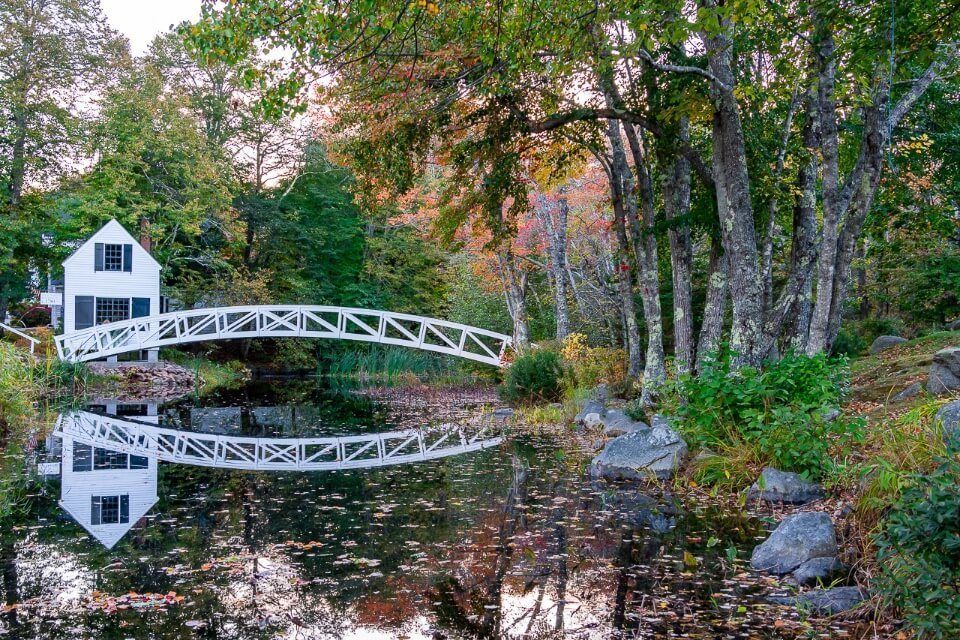 Photography Tips For Acadia National Park
It might not have the majestic valley of Yosemite, nor the staggering beauty of sunrise and sunset at Grand Canyon, but Acadia is a surprisingly photogenic national park.
Bass Harbor Lighthouse is up there with the most popular Acadia photography locations, along with Jordan Pond and basically every mountain summit in the park.
However, there are a few lesser known spots including this gorgeous white bridge reflection image in Somesville. Fall is the most visually stunning time to capture this particular image.
Sunrise, sunset, golden hours and night time are the best time to be out with your camera. Don't forget your tripod and ND filter, they will both come in handy in Acadia.
Bar Harbor and the small villages in the area do emit some light but not much, which means stargazing is also another popular thing to do in Acadia. Lakes make for excellent foreground at night.
Map Of The Best Things To Do In Acadia National Park
Click to activate our interactive map then zoom in or out to move around and familiarize yourself with the locations for the 20 top things to do in Acadia national park.
This visual representation can help you plan your Acadia itinerary.
Acadia Activities key:
Light Red – Locations for the best things to do in Acadia national park
Dark Blue – Acadia hotel recommendations
Maroon – Popular Bar Harbor restaurants
You can also access our Acadia things to do interactive map here.
Conclusion For Must Do Activities In Acadia
Our guide is filled with 20 of Acadia's hidden gems, but if you are looking for a quick answer, here are recommendations for things to do in Acadia:
Best for nature lovers: Bike the carriage roads
Most unique activity: Grab a popover at Jordon Pond
Best view in Acadia: Cadillac Mountain
Most adventurous hike: Precipice Trail
Best family activity: Tidepooling
Amazing scenery: Ocean Path To Otter Point
Best for influencers: Bubble Rock
And there you have it, our favorite Acadia national park things to do!
Top Tips For Visiting Acadia National Park, Maine
Now that you know exactly where to go when visiting Acadia, let's take a brief look at some our top tips for you to consider when planning your trip:
Boston is a popular place to fly into when visiting Acadia
Book accommodation early and read our guide to the best hotels near Acadia National Park
Fall is almost as busy as summer thanks to stunning autumnal foliage
We suggest allowing at least 2 full days in the park but 3 days is perfect
Acadia is a popular stop on some of the best USA road trips from spring through fall
Always start early in the morning to avoid crowds on trails and get parking spots
Climb Beehive before Precipice if you are unsure about fear of heights
Bubbles is one of the harder places to get a parking spot
Bass Harbor Lighthouse is extremely popular around sunset
Take packed lunches and snacks into the park each day
Carry at least 1 gallon of water to last the day
Need to book a flight? We recommend using Skyscanner or you can read our guide on how to book cheap flights.
Places To See In Acadia FAQ's
Let's finish with the most asked questions about best things to do in Acadia National Park.
How far is Bar Harbor from Acadia national park?
Bar Harbor is the quintessential Maine coastal town and it is located less than 2 miles from the entrance of Acadia national park on Mount Desert Island. The town of Bar Harbor itself is not officially part of Acadia, but it is located very close to the park so it's a popular spot for accommodation options.
What are the top five things to do in Acadia?
The 5 most popular things to do in Acadia are Cadillac Mountain, Park Loop Road, exploring the carriage roads and summiting the Beehive or Precipice Trails.
Is Acadia national park worth visiting?
Yes, Acadia is worth visiting because it is one of the most popular national parks in the entire United States. The park comes alive during the fall season showcasing vibrant colors, but it also features stunning ocean views, popular hiking trails and picturesque coastlines.
Our Popular Acadia Guides
More New England Guides
Want more Maine content? Head over to our Maine Travel Guides to explore Acadia National Park and beyond.
---
We hope this guide to the best things to see in Acadia National Park helps with planning your visit to Maine, USA!
Please let us know if you have any questions about what to do in Acadia National Park in the comments below.
Happy Hiking,
Mark and Kristen
Find This Acadia Activities Guide Helpful? Pin It For Your Visit!