Delicate Arch and its deep bowl depression are the stars of an extraordinary sunset show in Arches National Park, Utah. This in depth guide will walk you through the fun hike to Delicate Arch, including what time you need to arrive for prime sunset position, plus hiking and photography tips.
Mother Nature has chiseled some of her finest landscapes in the Utah National Parks and Delicate Arch is one of her masterpieces.
Sunset is by the far the most popular time to sit back and relax on the Delicate Arch 'viewing platform' – but first we have to get you there and in good time. Prepare to have your mind blown by a stunning scene stretching as far as the distant horizon.
Plus, there's a surprise in store after sunset that you can't miss.
Here's a hint – you'll need a torch!
Important 2023 Update: Visitors between April 1st to October 31st will require a timed entry ticket when entering from 7:00am – 4:00pm.
*Please note this post may contain affiliate links. If you click on one, we may earn a small commission at no extra cost to you. Thank you for supporting the free content we provide! Read more in our disclosure policy.*
What Is Delicate Arch?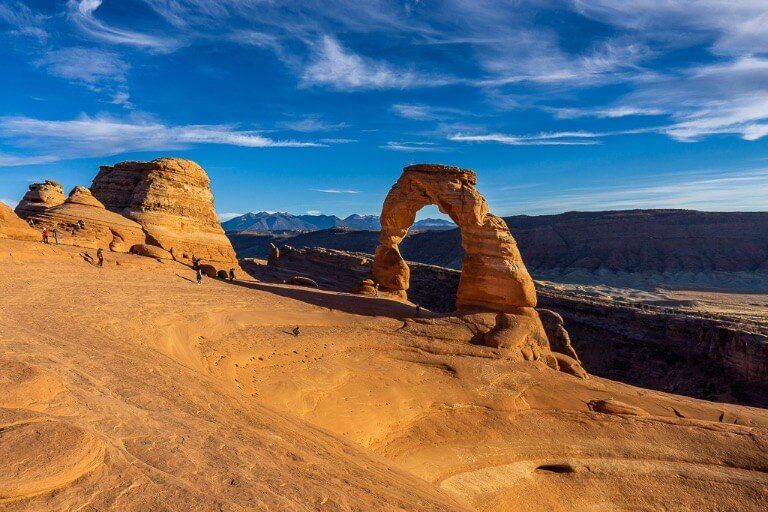 Delicate Arch is the largest free standing monolithic sandstone Arch in Arches National Park and one of the most famous geological features in the United States.
Don't let photographs deceive you of its size. The opening inside the magnificent Delicate Arch frame measures in at an impressive 46 feet high and 32 feet wide. A circus act could fit a lot of people standing on shoulders inside its frame!
Photographers and hikers flock from around the world to wonder in amazement at how this staggering arch-and-bowl combination has formed. With Mother Nature as conductor; water, ice and erosion were the orchestral sections of geological change.
From a personal perspective, the uniqueness of Delicate Arch and its immediate surrounding is one of our favorite landscapes to date. What makes it so special is its obvious and majestic vertical protrusion in an otherwise horizontal terrain.
Find a car with a Utah plate and you'll see Delicate Arch as its symbol. Such is its renown.
Essential Reading: Plan your visit to Arches with this awesome sunrise to stars one day itinerary covering both Arches and Canyonlands National Parks.
Where Is Delicate Arch?
When you plan your trip, we'll assume you intend to set up base in Moab (recommended). Driving time is approximately 35 minutes to cover 18 miles between Moab and Delicate Arch trailhead.
The trailhead has a parking lot but it is relatively small and will fill up in peak season. If the parking lot is full, you can park 1 mile further down Delicate Arch road where Upper/Lower Delicate Arch viewpoint trails begin.
However, parking here would mean an additional 2 miles are added to your roundtrip hike up to the arch and back. Consider this when planning your arrival time for sunset at Delicate Arch.
Note: You can walk the easy / flat trails to lower or upper arch view if you don't have time to hike or if you are unable to hike.
Don't forget you can enter Arches for free if you buy an America the Beautiful National Park pass.
The pass costs US$ 80 but includes entrance to all US national parks for 1 year. Arches will cost you US$ 30 without a pass. Only buy the pass if you intend to visit a few more national parks in the next year.
Do You Need A Reservation To Enter Arches National Park?
Arches National Park will require a timed entry ticket from April 1st to October 31st in 2023. Tickets are required for all visitors arriving to Arches between 7:00am and 4:00pm daily.
Please make sure you get your ticket in advance before visiting Arches. The only way around not having a ticket is to enter before 7:00am or after 4:00pm.
Get your timed entry ticket on the Arches NPS website.
Note: Tickets are not required for those with camping, backcountry, Fiery Furnace, or special use permits.
Best Time To Arrive For Sunset At Delicate Arch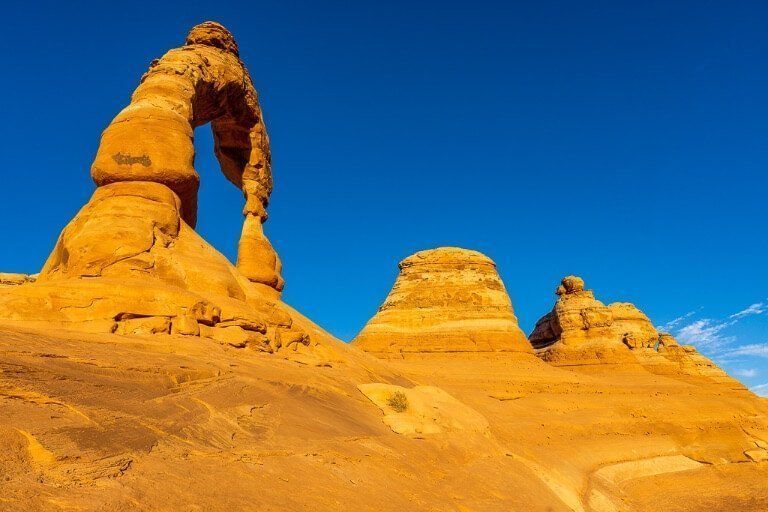 You should plan to summit the trail at least 1 hour before sunset so you can appreciate its grandeur in daylight and take a lot of photographs!
For example, if sunset is at 6.45pm, plan to summit no later than 5.45pm. That's plenty of time to hike the awesome Devil's Garden trail before heading up to Delicate Arch for sunset.
This is particularly important for those with entry level cameras that tend to perform poorly in low light. For professional photographers, arriving early allows you to scout the location to consider exactly where you want to set up for sunset and beyond.
Check sunset times for Delicate Arch.
Delicate Arch Hike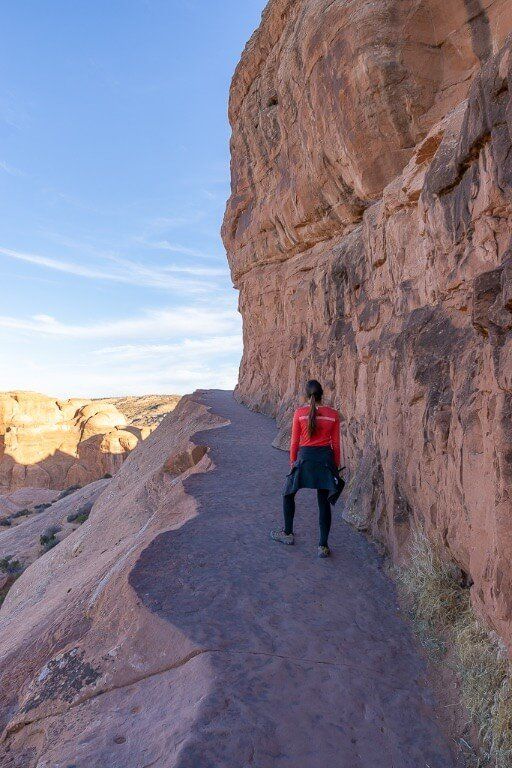 We were so excited to see Delicate Arch at sunset that we completely disregarded what the hike would be like. It turned out to be a huge bonus!
Delicate Arch is one of our top three hikes at Arches National Park, read our complete guide to the three best hikes at Arches to see the others. You will find a perfect one day hiking itinerary including all three hikes.
Here's a walkthrough of the cool hike to Delicate Arch so you know exactly what to expect:
You will begin this moderate difficulty hike at Delicate Arch parking lot. Follow a wide open flat trail passing by the old Wolfe Ranch homestead before crossing a bridge over Salt Wash.
Wolfe Ranch is an old cabin built by a Civil War veteran who lived in Arches National Park until 1910. A little further up the trail you will pass by rocks with Ute art work (petroglyphs) consisting of animals such as Bighorn Sheep.
After half a mile of steady incline, you will reach what can only be described as a gigantic acutely angled rock slab. You will have no clearly defined path to follow and can simply walk in a direct straight line up the slick rock slab. There are some instances where stairs have been carved into rock and in Winter you can follow rock piles / cairns to the top.
After the slick rock slab levels out and you pass by Frame Arch (which can be used as a frame for Delicate Arch), you will navigate a narrow rock ledge for the final 600 feet.
Reaching the summit and seeing the Delicate Arch and bowl depression against its dramatic backdrop for the first time is a genuine breathtaking moment. So much so, we had to include Delicate Arch in our popular guide to the 50 best hikes in America.
Delicate Arch Hike Length: 3 mile roundtrip (1.5 miles each way)
7 Delicate Arch Photography Tips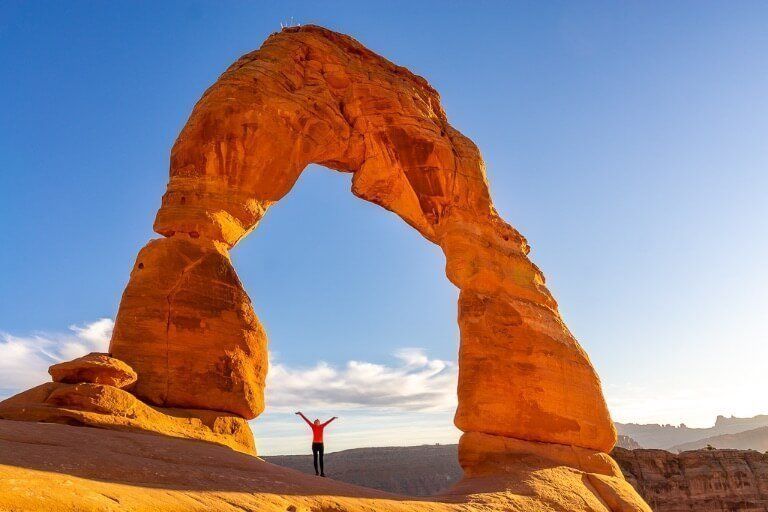 Tip #1 – Viewing platform. As you arrive at the summit, quickly look around to assess where you would like to photograph sunset. With the arch ahead, look to your left to find a 'viewing platform' on which other photographers are probably already set up. The sun will set to your right.
Tip #2– Get creative! Before sunset, walk all the way around Delicate Arch, taking photographs from various angles including below the arch. You will find there are countless perspectives to shoot but most people just take the typical front on photograph.
Tip #3 – Use extreme caution when walking around the bowl. People have died falling into the depression because it is unexpectedly steep. Wear robust footwear and take extra care when concentrating on photography rather than foot placement!
Tip #4 – Sun stars. Open up your aperture to F11+ for fun sun stars against Delicate Arch's frame. Narrow and widen the angle of opening between the arch for perspectives.
Tip #5 – Ask for help. Other photographers will take photographs of you under / next to Delicate Arch. Your tripod might struggle with the angle of rock below. Not worth risking!
Tip #6 – Be patient. Particularly in peak season, there could be hundreds of people at Delicate Arch for sunset. You will not easily be able to take photographs of the arch without people in your frame.
Tip #7 – Golden hour is your golden ticket. The second the sun disappears, so do the masses. Now is your best chance to photograph Delicate Arch with no people, no glare and awesome colors in the sky. The cooling orange rocks turn to deep browns.
Bonus – Magnificent Stargazing at Delicate Arch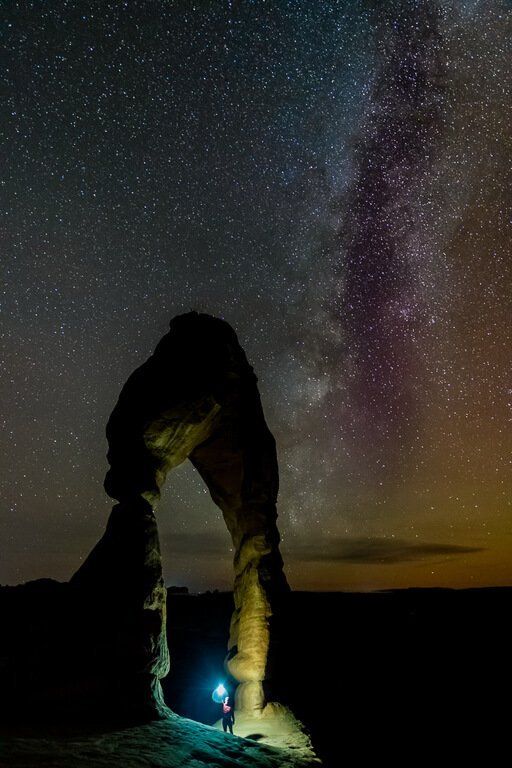 For photography enthusiasts and plain lovers of nature, do not miss the chance to witness a mesmerizing night sky appear above Delicate Arch. We were fortunate to have timed it for new moon as the Milky Way shone just to the side of Delicate Arch.
We were a little late in the season (November) but we weren't alone! There were other nature lovers who stayed with us for the stars and another couple joined after hiking up in darkness for an astrophotography shoot.
You might need to move down from the 'viewing platform' and set up closer to Delicate Arch. As you move closer, you will need to change the angle of your frame to include both the arch and Milky Way.
Stay a while after dark but it might take a long time for the orange colors of dusk to disappear from the far horizon, as you can see!
Don't forget you can paint the arch with a torch or even your smartphone.
7 Tips For Visiting Arches National Park At Sunset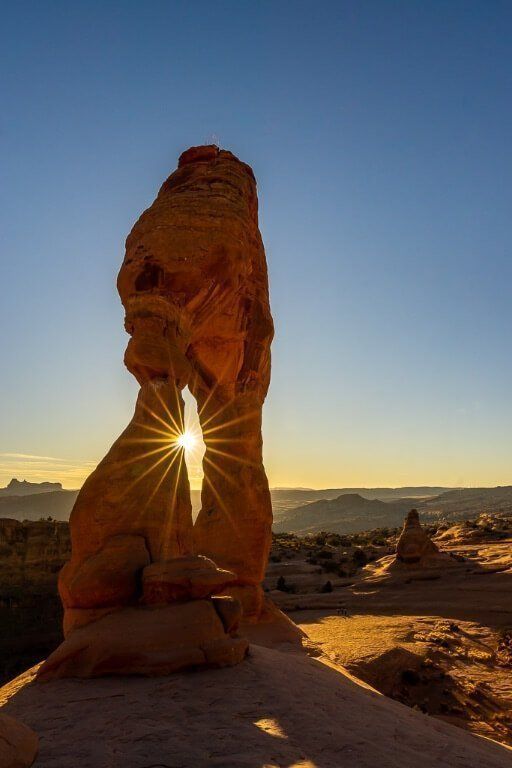 Tip #1 – Don't forget your torch. In fact, take two and a head torch! Even if you don't stay for astrophotography, you can still use torches on the descent immediately after sunset.
Tip #2 – Take care on the way down if you do decide to stay for the stars. But it's an easy path to walk and follow so you shouldn't have any issues.
Tip #3 – Visit in Spring (April and May) or Fall (September and October) for fewer crowds and comfortable temperatures.
Tip #4 – Only visit between 12-4pm if you absolutely can't make it for sunset or sunrise. However, sunrise at Mesa Arch in Canyonlands should be your first sunrise choice.
Tip #5 – Don't forget to carry at least 1 liter (1 quart) of water per person on the hike to Delicate Arch. Carry more in Summer when temperatures are regularly over 100 Fahrenheit. Take plenty of snacks if you plan to stay up for sunset and stars. Trust us, they will save the day!
Tip #6 – Carry a wide angle lens around 16mm-24mm. You don't need a fish eye or telephoto lens.
Tip #7 – Don't forget your tripod, photographing Delicate Arch at sunset is one of the best things to do in Utah and you won't be able to get the photos you want without a tripod.
Other Awesome Areas To Explore At Arches National Park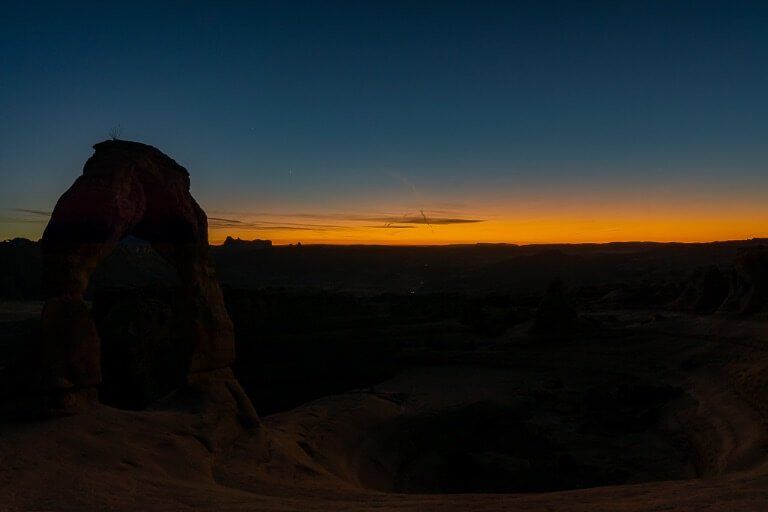 Arches is one of the best national parks to visit in the US for hiking and photography. Here's what else you should do during your trip:
Devil's Garden Trail
This 7 mile loop trail is partly primitive and can be challenging at times but as far as scenery-to-effort ratios go, this hike is up there with the best.
You will get lost, it will take 3-4 hours and you will need a lot of water. However, 7 distinct arches and 1 spire tower await your discovery.
The Windows
The area of Arches National Park with the highest concentration of natural sandstone arches includes popular North and South Window, Turret Arch and Double Arch.
North Window is another excellent arch to capture the Milky Way through.
Where To Eat And Stay In Moab, Utah
Moab is a lovely little town packed full of hotels and restaurants.
Our top dining recommendation has to be Thai Bella Moab – this place serves incredibly delicious Thai food. Their spicy chicken peanut sauce is different level!
We have stayed at both Aarchway Inn and Expedition Lodge in Moab. Both were affordable and excellent stays.
Read our popular guide on the 12 best hotels near Arches National Park to see the top rated cheap, mid range and luxury hotels around Moab, Utah.
You may also find our guide on how to book the cheapest hotels useful for future hotel bookings.
Delicate Arch Sunset & Stargazing Interactive Map
Click into this map, zoom in / out and move around to orientate yourself with Moab and Arches. You will find everything referenced in this article to help plan your visit.
Our Popular Utah Guides
More US Southwest Guides
Want more Utah content? Head over to our Utah Travel Guides to explore the Mighty Five National Parks and beyond.
---
We hope this helped you plan your Delicate Arch sunset hike and photography shoot at Arches National Park!
Please let us know if you have any questions about any of Delicate Arch or any of Utah's Mighty 5 National Parks.
Enjoy the Sunset,
Mark and Kristen
Was This Post Helpful? Pin It For Your Visit to Delicate Arch!