Delicate Arch and a deep bowl shaped depression are the stars of an extraordinary sunset show in Arches National Park, Utah. We are going to walk you through the popular sunset hike to Delicate Arch and share our top hiking and photography tips for this truly unique formation.
Is hiking the Delicate Arch trail worth it?
Yes! Mother Nature has chiseled some of her finest landscapes in the Utah National Parks and Delicate Arch is one of her masterpieces. The short but steep hike leads to one of our favorite sunset photo spots in the US at Delicate Arch.
In this guide we will cover:
What is Delicate Arch trail?
Where do you park for the hike?
Hiking trail walkthrough
Delicate Arch sunset photos
Hiking + photo tips
Let's hike Delicate Arch Trail to watch a stunning sunset in Arches National Park, Utah!
*Please note this post may contain affiliate links. If you click on one, we may earn a small commission at no extra cost to you. Thank you for supporting the free content we provide! Read more in our disclosure policy.*
What Is Delicate Arch?
Delicate Arch is the largest free standing monolithic sandstone arch in Arches National Park and one of the most famous geological features in the United States.
The vast opening inside the Delicate Arch frame measures in at an impressive 46 feet high and 32 feet wide. To the immediate northwest of Delicate Arch is a deep bowl shaped depression which adds drama to the already spectacular scene when standing at the trail summit.
Water, ice, wind and erosion have formed the iconic Arches National Park landscape. There are areas with higher volumes of arches and longer arches but we think Delicate Arch is the most visually stunning area in Arches.
Photographers and hikers flock from around the world to wonder in amazement at how this staggering arch-and-bowl combination has formed.
Find a car with a Utah plate and you'll see Delicate Arch as its symbol, such is its renown.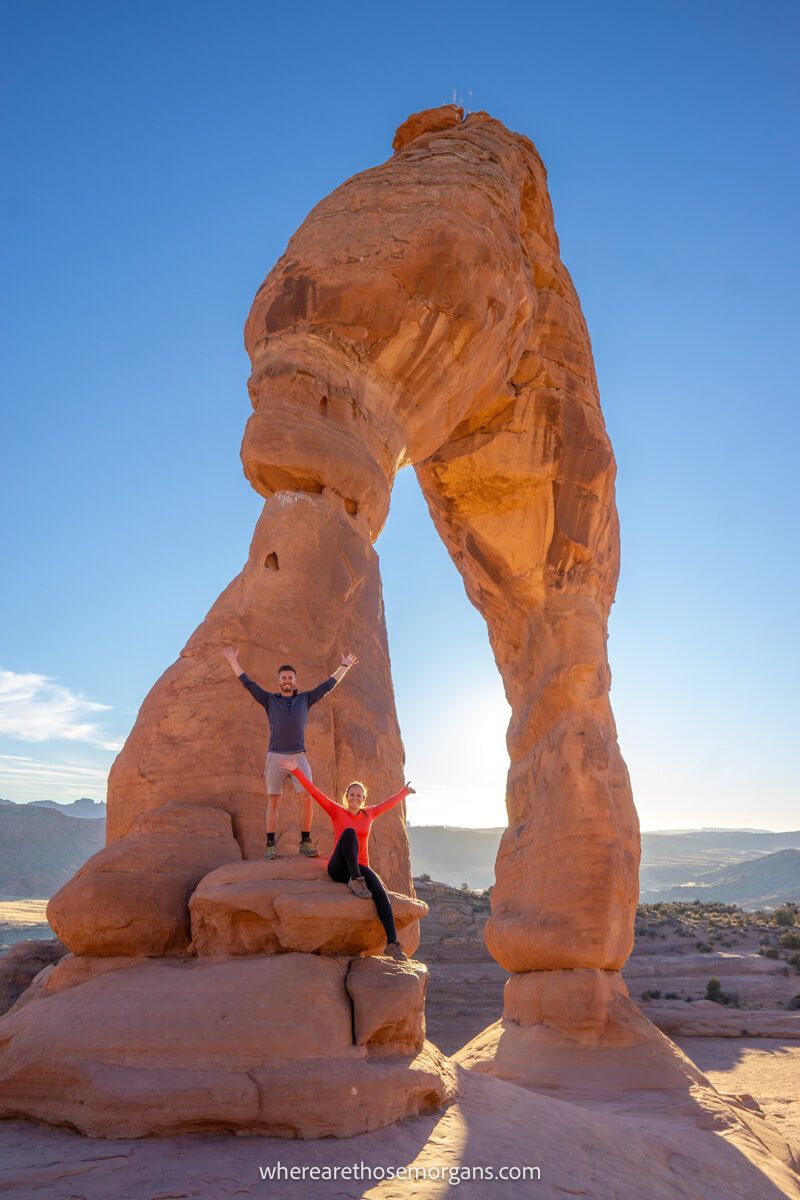 Our Delicate Arch Experience
During our visit to Moab we wanted to explore the best of Arches and Canyonlands but we didn't have much time. Mesa Arch in Canyonlands and Delicate Arch in Arches were our top photo spots, and Devils Garden Trail was top of our hiking list.
We created an action packed Arches and Canyonlands in one day itinerary, which started with sunrise at Mesa Arch, before exploring the popular areas of Canyonlands Island in the Sky district, heading over to Arches to see the Windows, hike Devils Garden and end with a magical sunset at Delicate Arch.
It was one of our favorite days of travel to date and we can't wait to go back to Moab, Arches and Canyonlands to explore further and longer.
We sat at Delicate Arch with our old beginner camera gear and warm clothes watching a stunning sunset on Mark's birthday in November. After everyone else left, we stayed right where we were and waited for the milky way to shine bright above Delicate Arch. It was amazing!
Want more amazing hikes? Delicate Arch Trail in Arches is just one of our 50 best hikes in the US to add to your bucket list.
Where Is Delicate Arch?
Delicate Arch is located at the summit of a short but steep hike which begins 13 miles drive from Arches National Park visitor center.
You will find Delicate Arch trail located around half way between The Windows and Devils Garden. These three trails together make up the best hikes in Arches National Park.
From Moab, it takes around 40 minutes to drive the 18 miles to Delicate Arch trailhead. Plan for this drive to take longer if you visit Arches in peak season or on a weekend.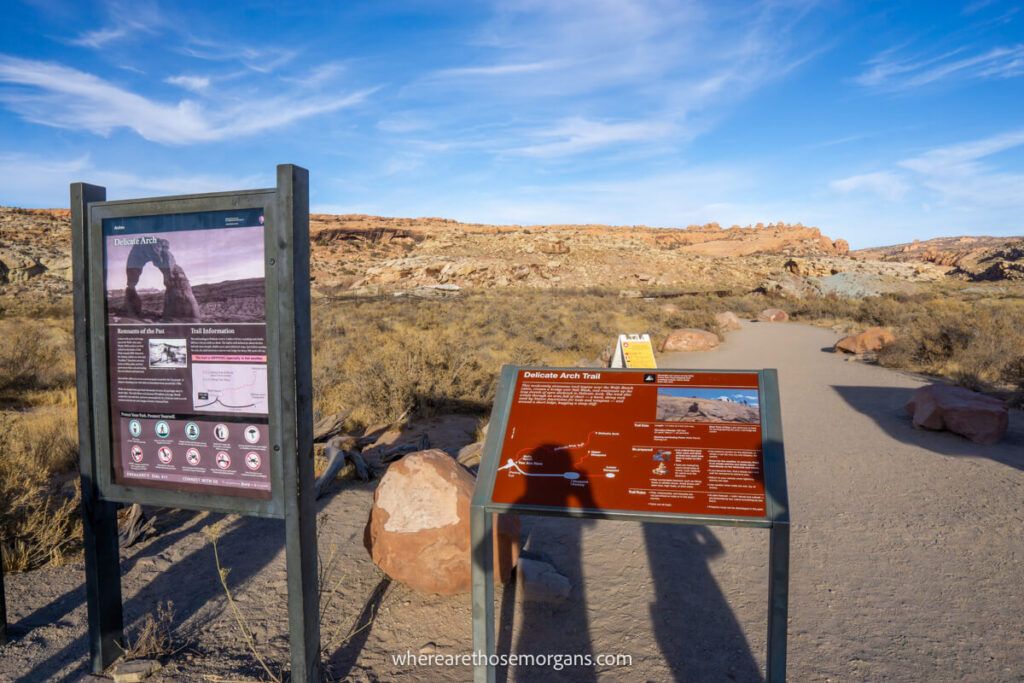 Delicate Arch Trailhead Parking
Wolfe Ranch parking lot is the best place to park for accessing Delicate Arch Trailhead in Arches National Park.
There are plenty of spaces in the main lot and there is also an overspill parking area on the opposite side of Delicate Arch Road to Wolfe Ranch.
Here is the exact Google Maps location for Delicate Arch Trailhead.
However, with that said we know the parking lots fill on the busier days in Arches. If both lots are full at Delicate Arch trailhead, continue 1 mile further to Upper/Lower Delicate Arch Viewpoint parking lot.
The views over Delicate Arch from this perspective are good but they are nowhere near as amazing as from right next to the formation. We recommend hiking the additional 1 mile extra each way, just make sure you allow enough time if you want to hike Delicate Arch for sunset.
Are you planning to visit more national parks this year? Read our guide on why the America the Beautiful National Park pass is well worth buying.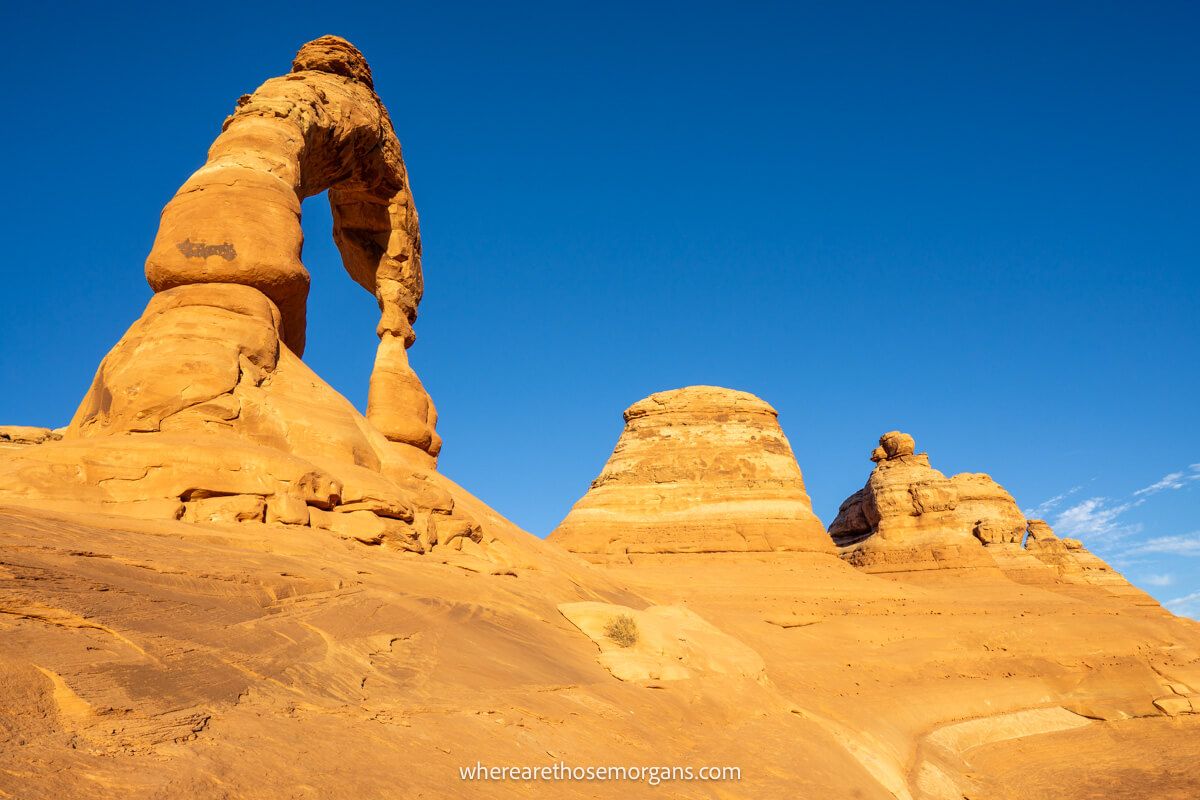 Do You Need A Reservation To Enter Arches National Park?
Arches National Park requires a timed entry ticket from April 1st to October 31st in 2023. Tickets are required for all visitors arriving to Arches between 7:00am and 4:00pm daily.
Please make sure you get your ticket in advance before visiting Arches. The only way around not having a ticket is to enter before 7:00am or after 4:00pm.
Get your timed entry ticket on the Arches NPS website.
Note: Tickets are not required for those with camping, backcountry, Fiery Furnace, or special use permits.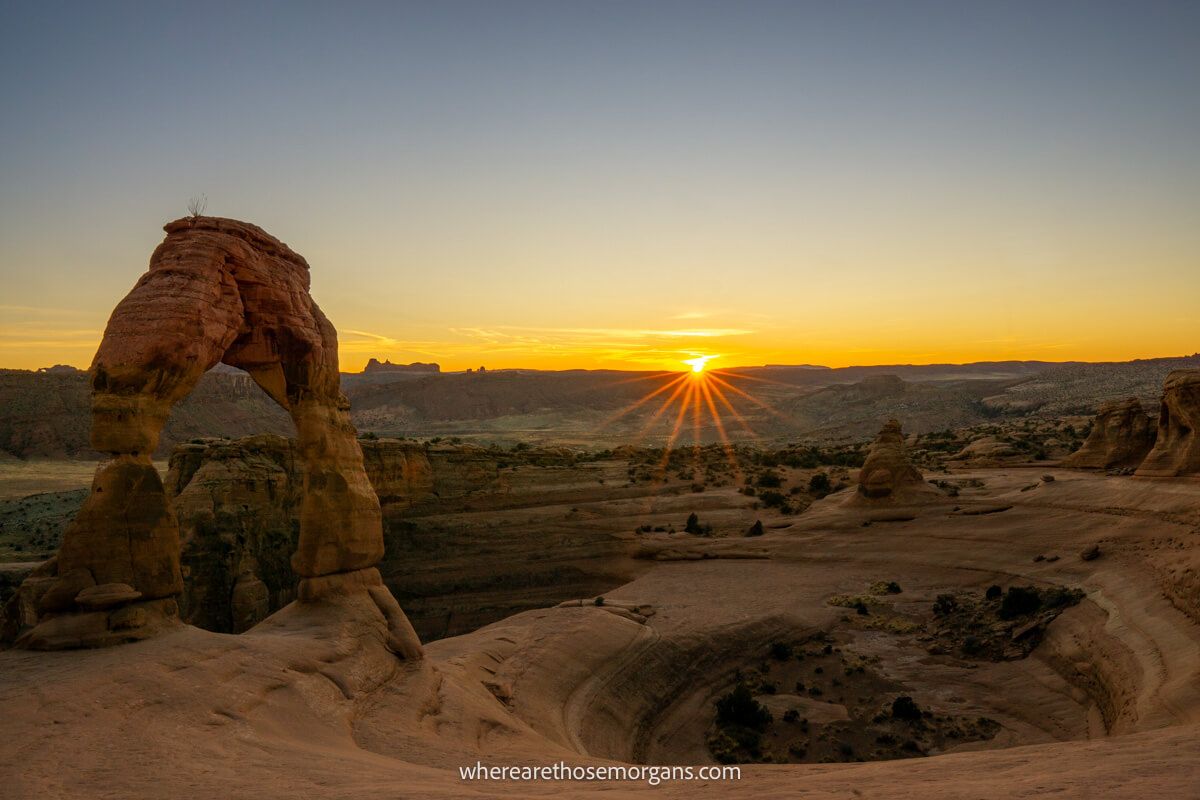 Delicate Arch Sunset
Sunset is the most popular and most beautiful time of day to hike Delicate Arch in Arches National Park.
You should plan to summit the trail around 1 hour before sunset so you can appreciate the unique Delicate Arch landscape before it gets dark.
For example, you should plan to summit no later than 5.30pm if sunset is at 6.30pm. Check sunset times for Delicate Arch and allow enough time for the hike.
We think this makes for the perfect end to a fantastic day exploring Arches and Canyonlands, but let's cover some of the most important aspects of planning a Delicate Arch sunset hike.
Is Delicate Arch Better At Sunrise Or Sunset?
We think sunset is the best time of day to summit the Delicate Arch trail. You can look directly west at Delicate Arch, the bowl depression and the sun setting over a flat distant horizon.
If you only have one day in the Moab area, we highly recommend you watch sunrise at Mesa Arch in Canyonlands and then watch sunset at Delicate Arch.
Sure, it would be great to see the closer side of Delicate Arch light up at sunrise but we definitely would not prioritize that over Mesa Arch.
How Busy Is Delicate Arch At Sunset?
We were surprised at how busy it was when we visited Arches in November and hiked to Delicate Arch for sunset. It was a clear but cool evening on a weekday and there must have been 50 people up there.
In peak season, on weekends and especially on holiday weekends, we expect the Delicate Arch area would be extremely busy for sunset.
Visit in the off season like we did if you want to avoid the sunset crowds at Delicate Arch and around Arches in general.
Where Can You Watch The Sunset At Delicate Arch?
When you summit Delicate Arch trail you will be looking straight ahead at the bowl depression and Delicate Arch is directly behind.
At this point you are looking southeast, so you need to head left around the bowl and you will see an area up to the left side with photographers.
Once you reach that area, you can turn to look west with both Delicate Arch and the bowl ahead of you. This is the best place to watch sunset at Delicate Arch.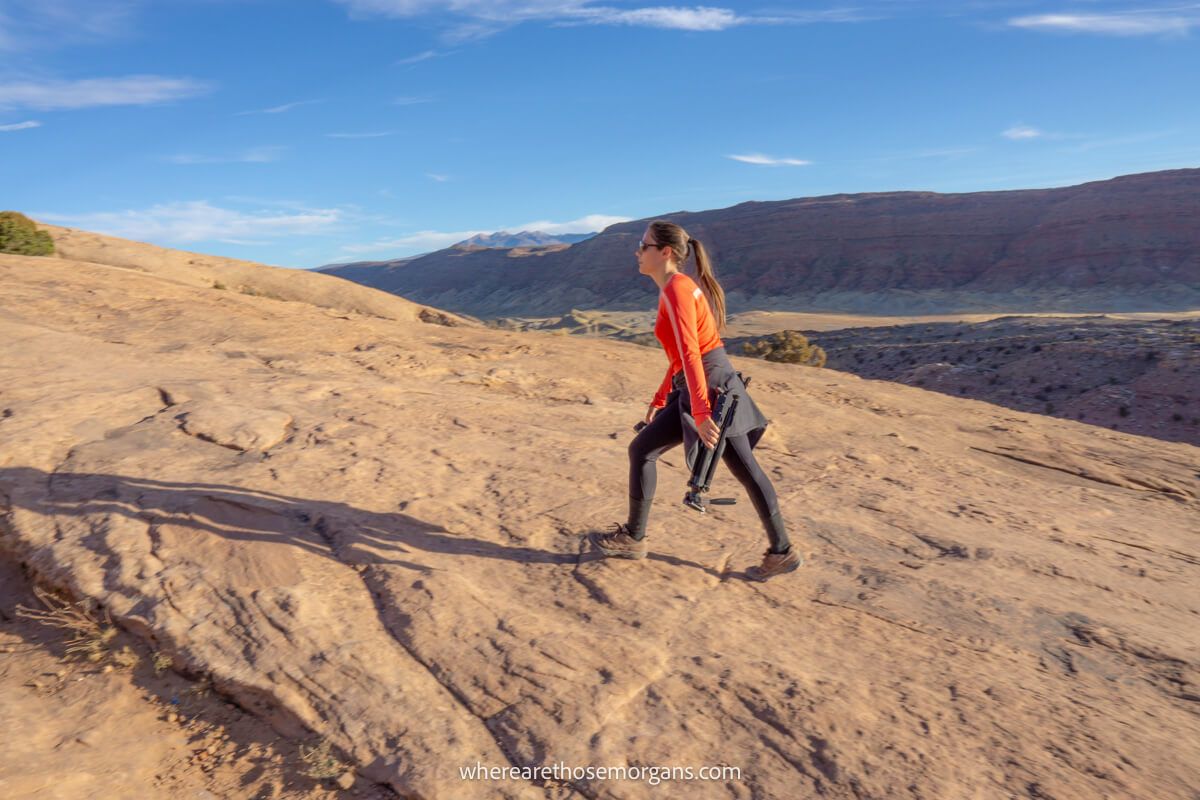 How Long Is The Delicate Arch Hike?
Delicate Arch Trail is a 3 miles roundtrip out and back hike with an elevation change of 480 feet. Total hiking time should be between 1 to 2 hours.
Hikers will climb consistently until reaching the summit before turning around and heading back down the exact same way.
The Delicate Arch hike is rated as moderately difficult on All Trails and we agree with that rating. It isn't a long hike but the middle part of the trail is steep.
If you are looking for adventure trails, check out our list of the best hikes in Zion National Park.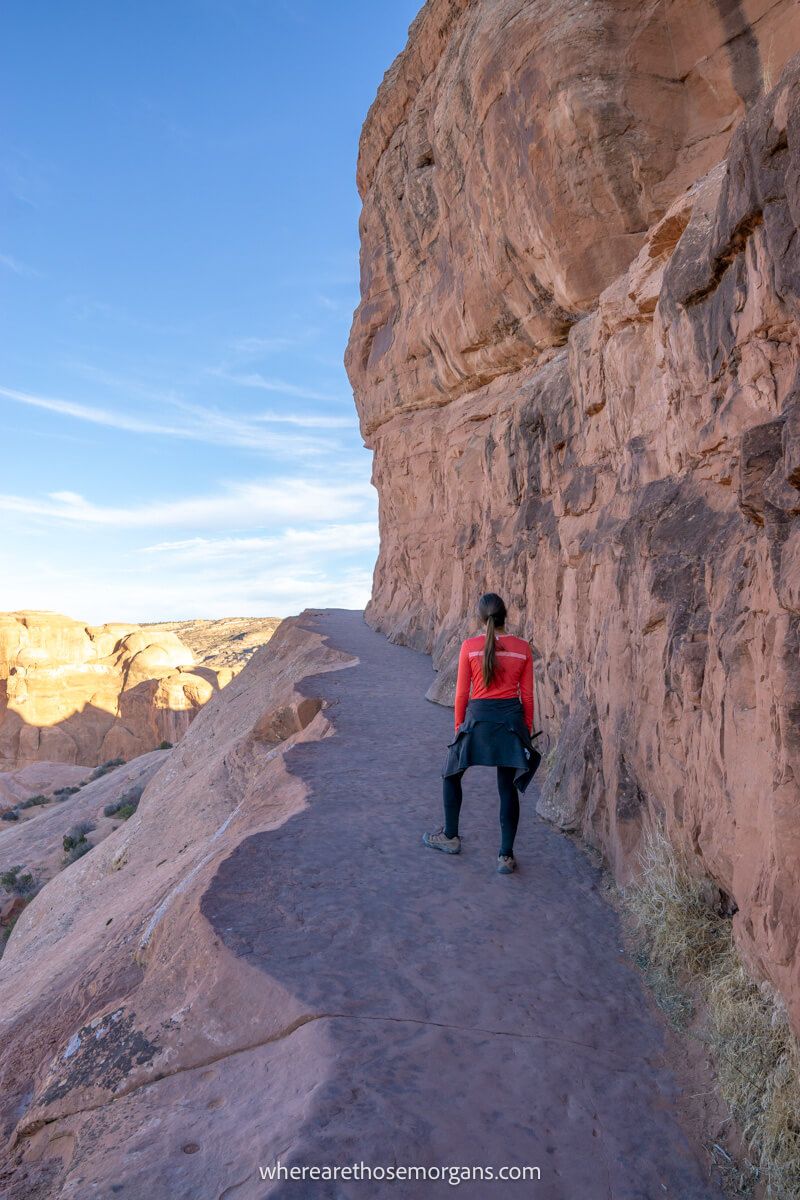 Hike To Delicate Arch For Sunset
Let's walk through a basic Delicate Arch Trail guide:
1. Park at Wolfe Ranch parking lot 1 hour and 30 minutes before sunset.
2. Pass by the old Wolfe Ranch homestead before crossing over Salt Wash.
3. Look out for rocks with Ute art work (petroglyphs) displaying animals.
4. Forge your own path when the trail turns to a solid angled rock slab.
5. There is no defined trail so either walk directly up or zig zag for a gradual approach.
6. Pass by Frame Arch (which can be used to frame Delicate Arch).
7. Follow the narrow and winding path hugging a wall tightly.
8. Summit the trail, step into the bowl and you will see Delicate Arch.
Once you summit you will instantly realize why Delicate Arch easily makes our list of the 25 best hikes in Utah.
The hike to Delicate Arch is easy enough to follow, but you do have to walk up slick rock for a large portion of the trail. We strongly recommend you wear sturdy shoes with good grips, especially after rainfall or snow.
You might also want to consider tracking your hike with one of the best hiking apps like Gaia GPS or All Trails so you can see where you are at all times.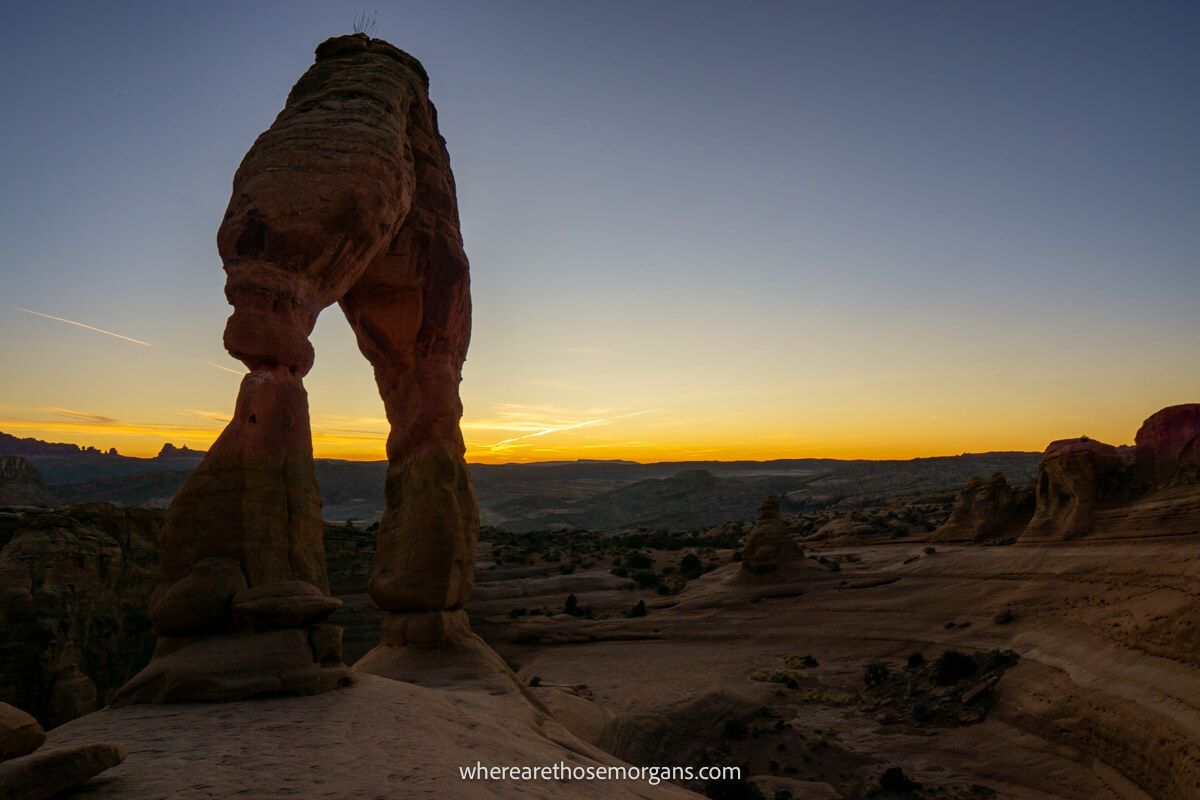 Sunset Hiking Tips
Let's take a quick look at our top sunset hiking tips for Delicate Arch:
1. Take plenty of light sources for the descent after sunset, including headlamps and your smartphone torch.
2. Take care on the way down if you decide to stay for stargazing and it is really dark. The path is easy to walk and follow so you shouldn't have any issues.
3. Hike Delicate Arch for sunset in spring or fall for fewer crowds and more comfortable temperatures.
4. Carry at least 1 liter (1 quart) of water per person on the hike to Delicate Arch. Carry more in summer when temperatures are regularly over 100 Fahrenheit.
5. Take plenty of snacks if you plan to stay up for sunset and stargazing. Trust us, they will save the day!
6. Carry a wide angle lens with a focal length of 16-35mm if possible. You don't need a fish eye or telephoto lens.
7. Do not forget your tripod! Photographing Delicate Arch at sunset is one of the best things to do in Utah and you won't be able to get the sharp photos you want without a tripod.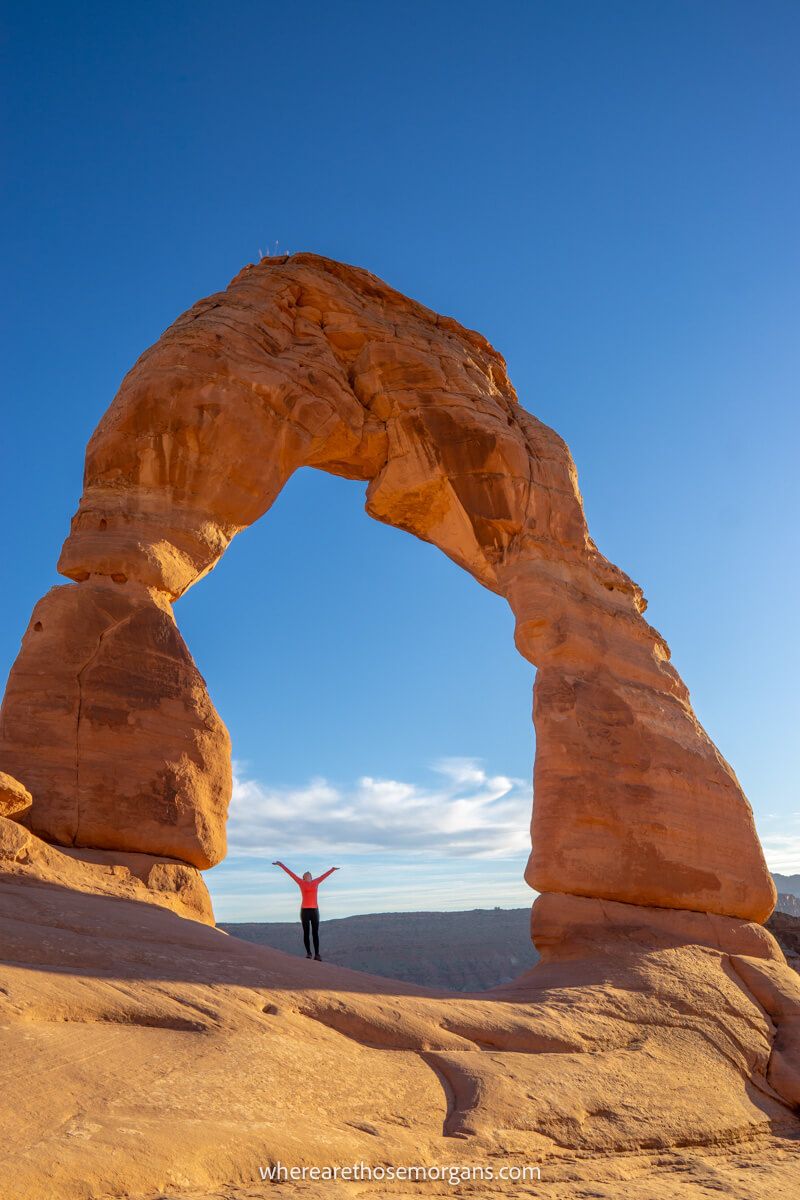 Tips For Taking The Best Delicate Arch Photos
Now, let's take a look at our top Delicate Arch sunset photo tips:
1. Before sunset, walk all the way around Delicate Arch, taking photos from various angles including below the arch. You will find there are countless perspectives to shoot but most people just take the typical west facing photo.
2. Use extreme caution when walking around the bowl. People have died falling into the depression because it is unexpectedly steep. Wear robust footwear and take extra care when concentrating on photography rather than foot placement.
3. Open up your aperture to F10 and narrower to create fun starburst of the sun against Delicate Arch's sandstone frame.
4. Other photographers will take photos of you underneath or next to Delicate Arch. It helps to speed up the process of everyone getting a selfie so the scene is clear of people at sunset.
5. Particularly in peak season, there could be hundreds of people at Delicate Arch for sunset. You will not easily be able to take photographs of the arch without people in your frame.
6. Golden hour is your golden ticket. The second the sun disappears, so do the masses. Now is your best chance to photograph Delicate Arch with no people, no glare and awesome colors in the sky.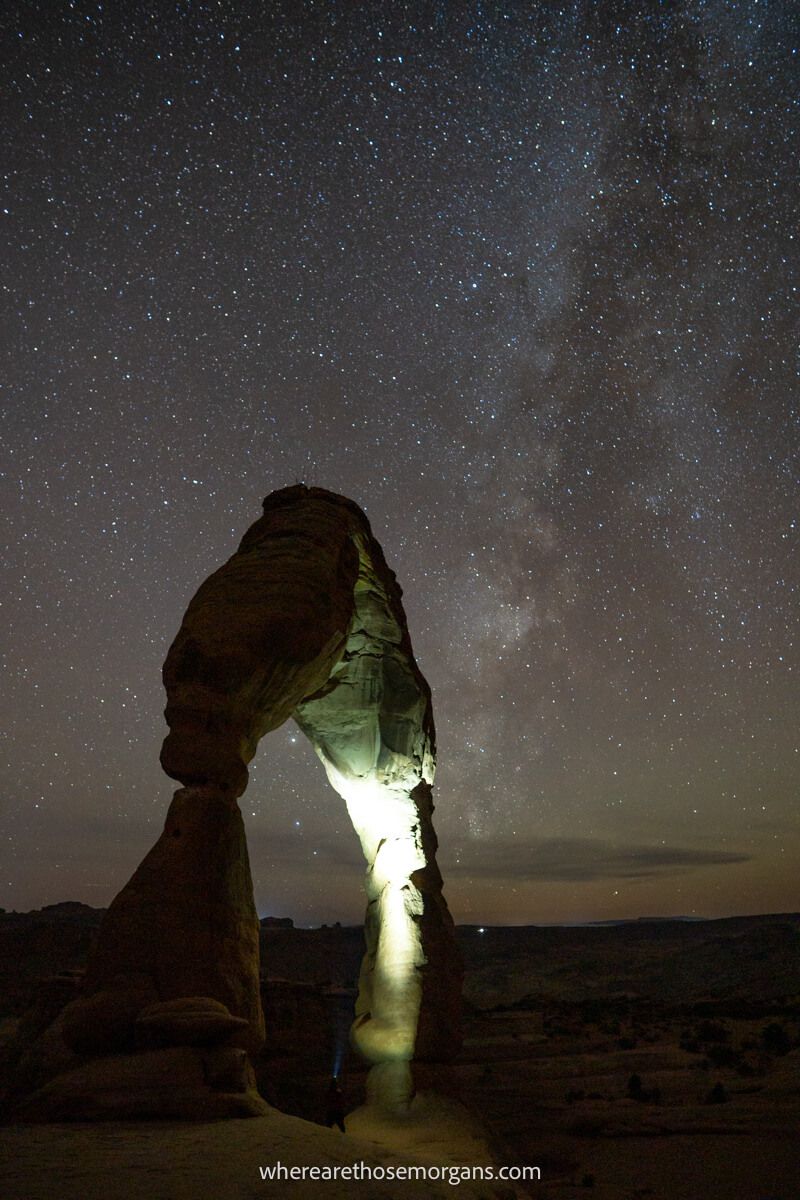 Stargazing
Photography enthusiasts should not miss the chance to witness a mesmerizing night sky appear above Delicate Arch.
We were fortunate to have timed it for new moon as the Milky Way shone brightly just to the side of Delicate Arch. There is barely any light pollution around Arches.
And despite it being late in the season, we were not alone! Three others stayed up with us and another couple actually hiked up just for the Milky Way which was cool.
Delicate Arch is a superb subject for framing a Milky Way, it is a shame we had our old camera gear back then but we will certainly be back for another astro shoot here with our significantly upgraded gear and skillset!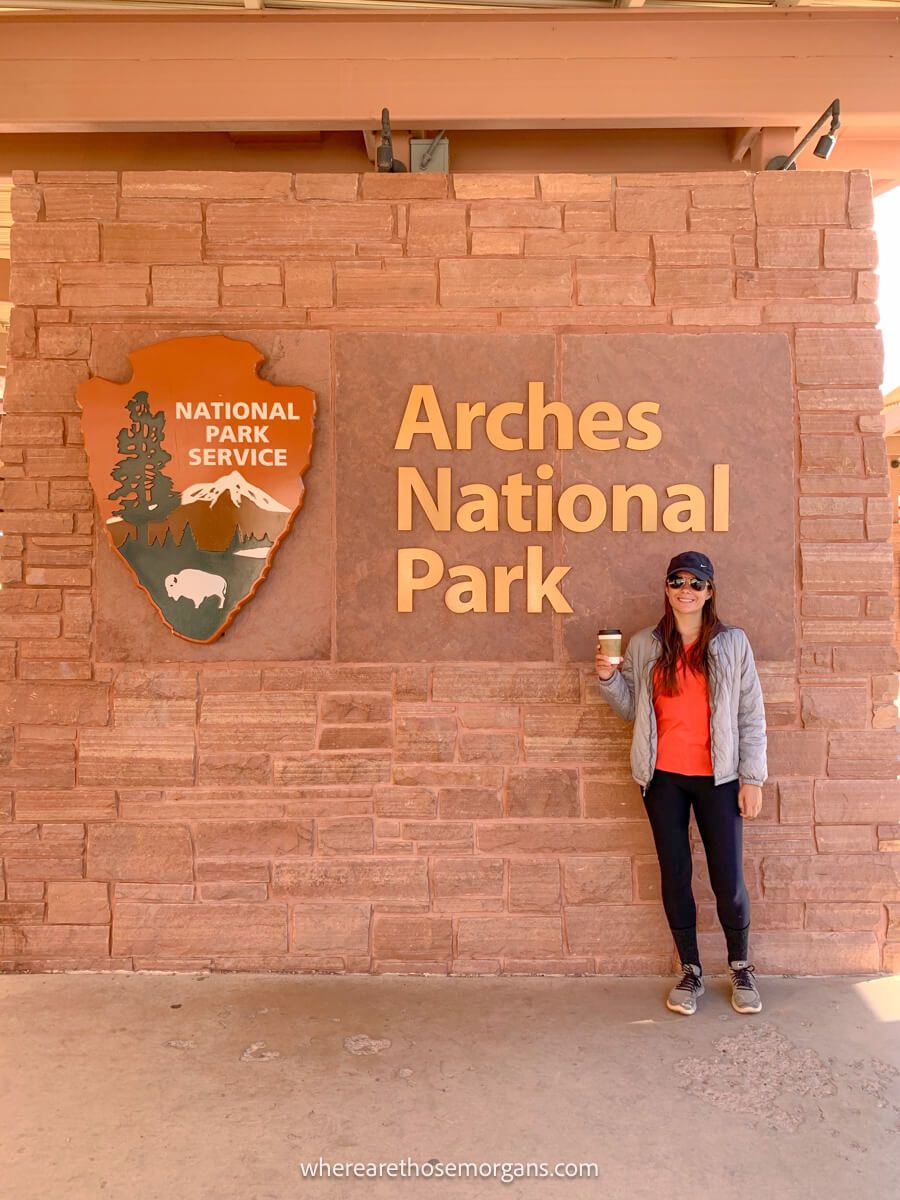 What Else Can You Do In Arches?
Arches is one of the best national parks to visit in the US for hiking and photography.
Here's what else you should do during your trip:
Hike Devils Garden Trail
See The Windows, Double Arch and Cove of Caves
Book a tour of the Fiery Furnace
Hike Park Avenue Trail
Photograph the Balanced Rock
Camp under the stars in Devils Garden campground
Hike to Sand Dune Arch and Broken Arch
Explore the areas directly around Arches National Park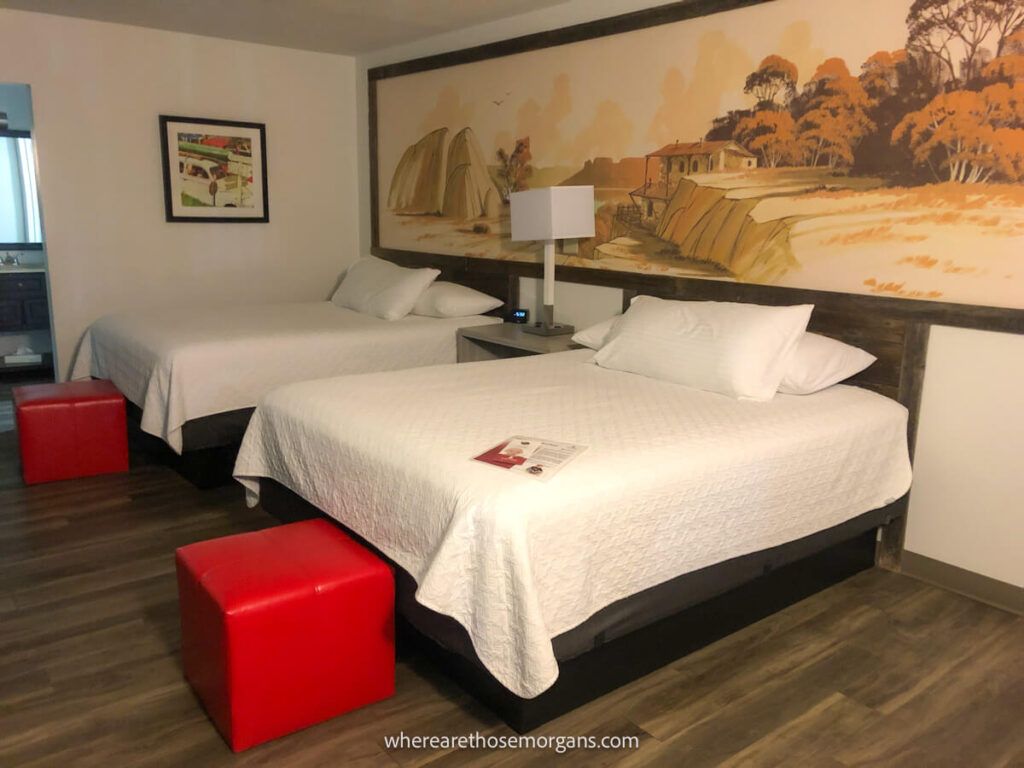 Where To Eat And Stay In Moab
Are you planning to stay in Moab when you visit Arches?
We really like Moab, it is a lovely small town packed full of hotels and restaurants.
Our top foodie recommendation has to be Thai Bella Moab. This place serves delicious Thai food and their spicy chicken peanut sauce is on another level.
For hotels, we have stayed at both Aarchway Inn and Expedition Lodge in Moab. Both were affordable and excellent stays.
You can read our popular guide to the 12 best hotels near Arches National Park on our sister site Best Hotels Anywhere for a more in depth look at your lodging options.
A great place to start for saving money on hotels is with our popular guide on how to book cheap hotels.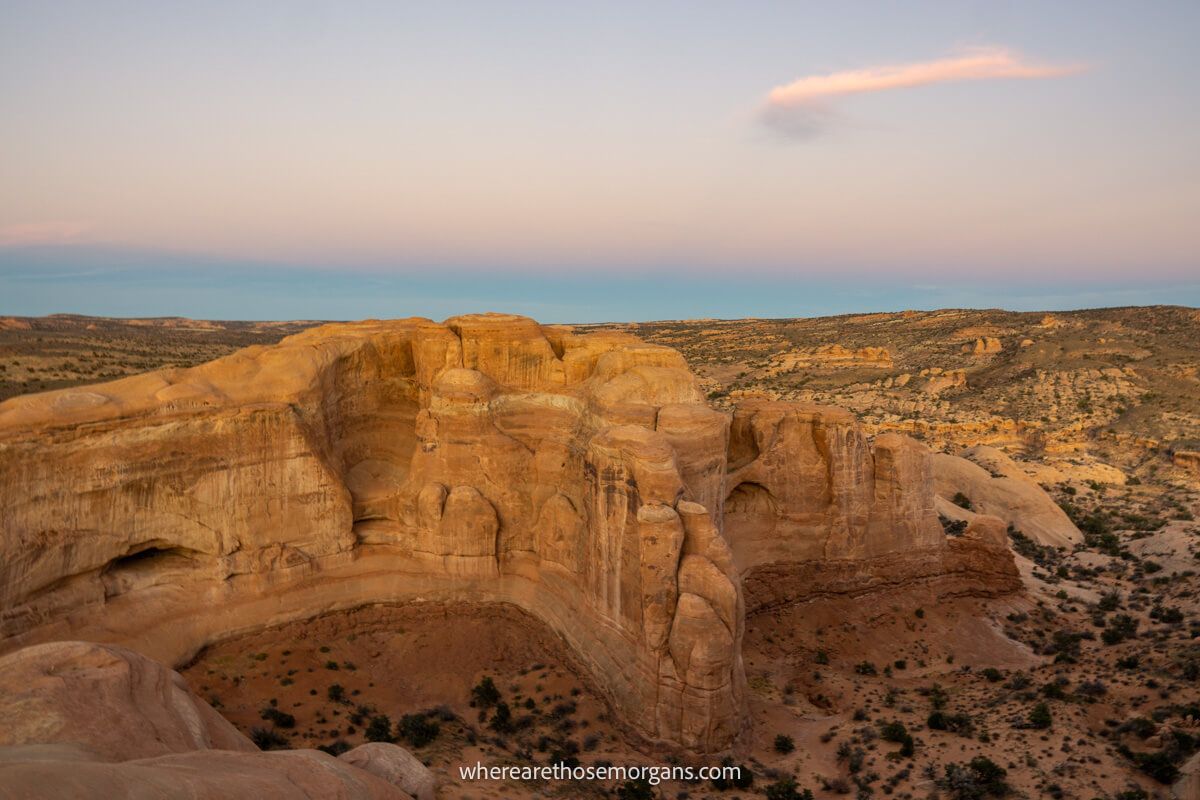 Delicate Arch FAQ's
Let's Let's take a quick look at some of the most frequently asked questions about hiking Delicate Arch for sunset in Arches National Park, Utah.
Is sunset the best time to hike Delicate Arch?
Yes, the best time of day to see Delicate Arch is at sunset so you should plan to begin hiking the trail at least one hour and thirty minutes before sunset. This will give you enough time to summit, take photos of the landscape and enjoy a stunning sunset.
Is Delicate Arch a hard hike?
The hike to Delicate Arch is moderately difficult. It is a short but steep hike and the middle section of the trail is on slick rock with no specific path. Experienced hikers will have no issues with the hike and beginner hikers should factor in a little more time for stops on the way up.
Our Popular Utah Guides
More US Southwest Guides
Want more Utah content? Head over to our Utah Travel Guides to explore the Mighty Five National Parks and beyond.
---
We hope this Delicate Arch sunset hiking guide helps with planning your visit to Arches National Park!
Let us know if you have any questions about the Delicate Arch hike in the comments below.
Happy Travels,
Mark and Kristen
Was This Guide Helpful? Pin It For Your Visit to Delicate Arch!