Emerald Bay State Park is one of the most popular places to visit in Lake Tahoe. We are going to show you everything you need to know about visiting the stunning Emerald Bay State Park area near South Lake Tahoe, including the best things to do, popular hikes and beautiful photo spots.
Is Emerald Bay State Park in Lake Tahoe worth visiting?
Yes! There are many picturesque places to visit around Lake Tahoe but we think Emerald Bay is the most photogenic and attraction packed area on either side of the lake. In addition, Emerald Bay is so close to the tourist heavy resort city of South Lake Tahoe that you can easily visit any time of day.
In this guide we will cover:
Why is Emerald Bay so popular?
Parking and fees
Best things to do in Emerald Bay State Park
What else is nearby
Let's start planning your trip to Emerald Bay State Park in Lake Tahoe, California!
*Please note this post may contain affiliate links. If you click on one, we may earn a small commission at no extra cost to you. Thank you for supporting the free content we provide! Read more in our disclosure policy.*
Why Is Emerald Bay State Park So Popular In Lake Tahoe?
Let's start with the most obvious Emerald Bay question first time visitors have when visiting Lake Tahoe.
With so many fun hikes, sandy beaches and gorgeous photo spots around Lake Tahoe, what makes Emerald Bay so special?
For starters Emerald Bay is just so incredibly photogenic
There are several fantastic hikes condensed into the areas surrounding Emerald Bay
Beaches and the lake are accessible
The bay is secluded, isolated and calm
Emerald Bay is excellent for hikers, photographers and families
There is so much to like about Emerald Bay in Lake Tahoe. It is our top recommendation for first time visitors to the Lake Tahoe area and we promise you will not be disappointed.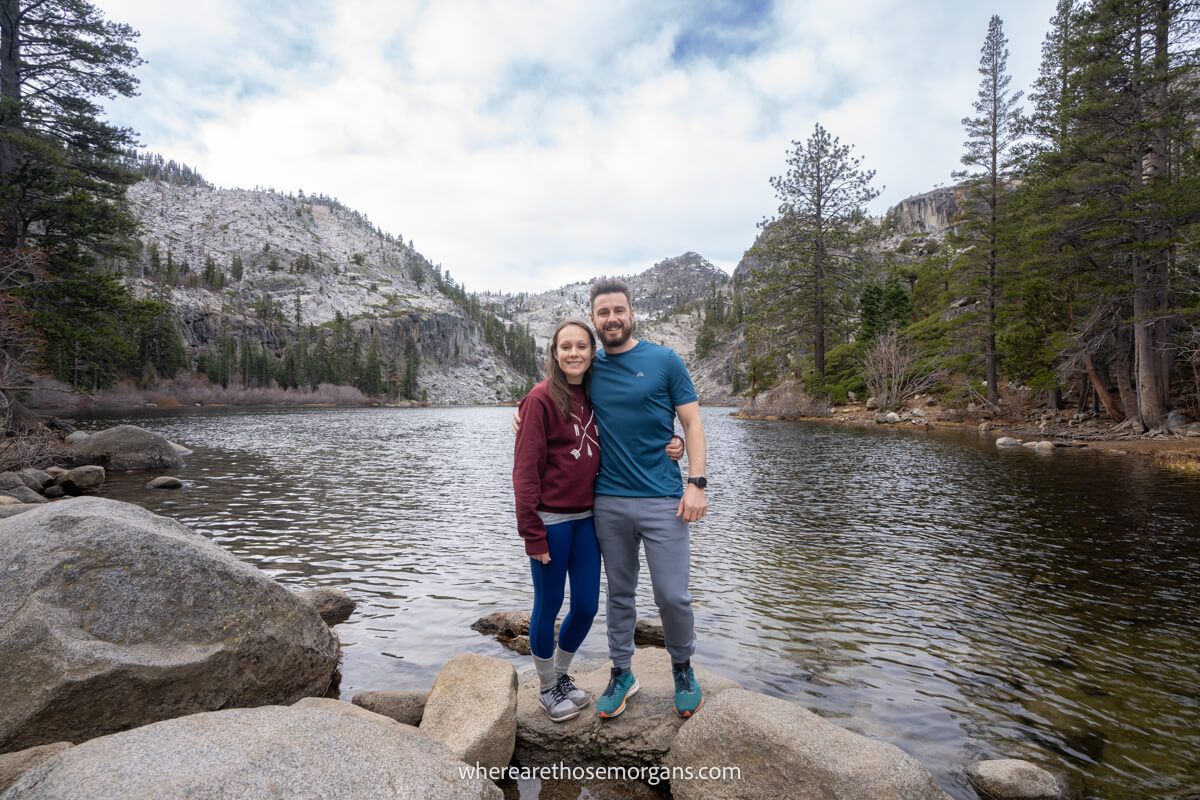 Our Emerald Bay Experience
Emerald Bay was top of our hit list during our week long stay in Lake Tahoe. During our research we saw how attractive the bay looked in photos and we knew it would be the focal point of our trip.
We explored the entire shoreline from top to bottom, hiked as many trails as possible and filled our camera sim cards with thousands of photos. And we have to say Emerald Bay was our favorite part of Lake Tahoe.
Our major highlight was watching two completely different sunrises over Emerald Bay from two hidden spots in the State Park area.
We also hiked a handful of trails, walked down to the lake, saw Vikingsholm and then watched the moon rise and reflect on the still waters of Emerald Bay next to Fannette Island.
Next time we are in Lake Tahoe we will no doubt spend more time exploring further afield in the Emerald Bay State Park region.
How Did Emerald Bay Lake Tahoe Form?
The elongated horseshoe shaped Emerald Bay and its surrounding mountains were formed at some point during the last Ice Age which ended around 11,700 years ago.
Today, the rugged granite mountains hugging the shores of the glacial Emerald Bay showcase some of the most striking scenery in the Lake Tahoe area.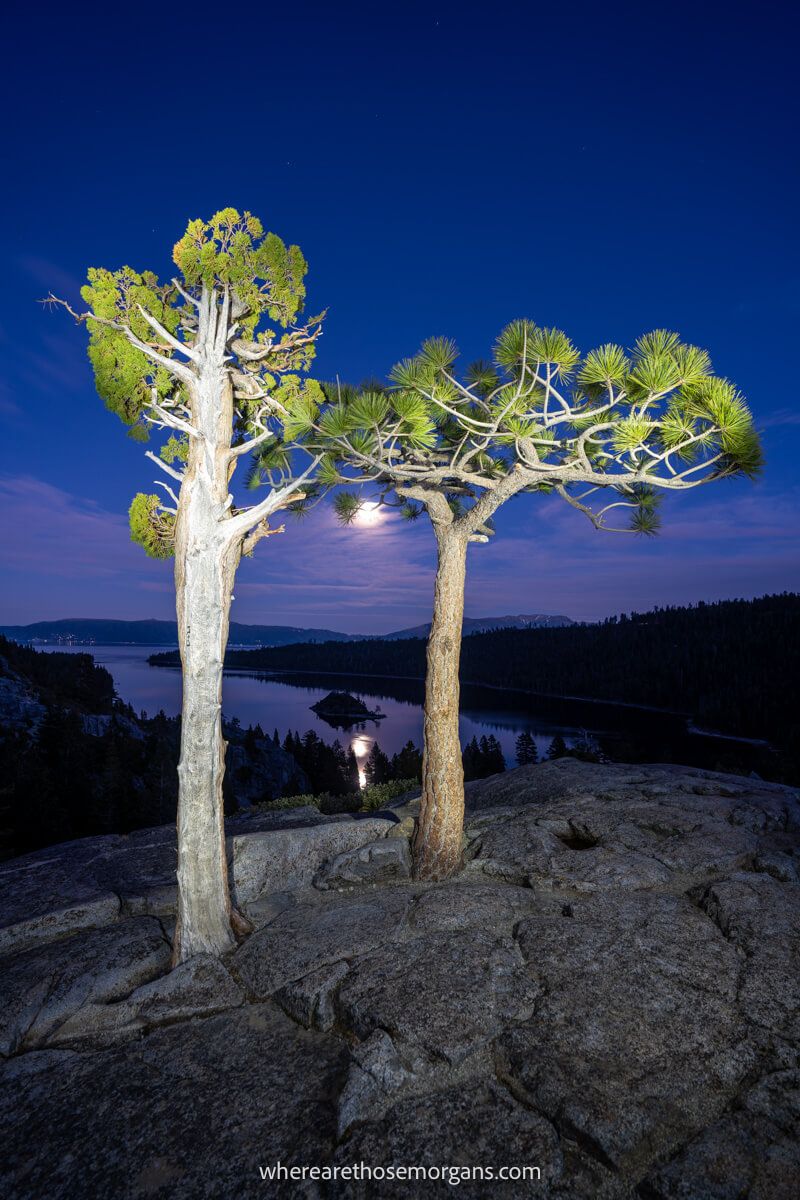 Where Is Emerald Bay State Park?
Emerald Bay State Park is located 12.3 miles west of South Lake Tahoe on the southwest shores of Lake Tahoe in the Sierra Nevada Mountains of California.
You can reach Emerald Bay State Park in around 25 minutes from the popular resort city of South Lake Tahoe.
Here are driving distances and times from key areas around Lake Tahoe:
South Lake Tahoe, CA – 12 miles / 25 minutes
Tahoe City, CA – 27 miles / 50 minutes
Incline Village, NV – 39 miles / 1 hour 10 minutes
Carson City, NV – 40 miles / 1 hour and 5 minutes
Reno, NV – 74 miles / 1 hour 30 minutes
San Francisco, CA – 196 miles / 3 hours 35 minutes
The Emerald Bay area is relatively easy to access but the roads around Lake Tahoe are narrow, winding and heavy with traffic.
We recommend planning for your drive to Emerald Bay to take longer than your GPS or maps app displays.
What Is The Best Place To Park At Emerald Bay?
The best place to park at Emerald Bay is the roadside parking lot on highway 89 at Desolation Wilderness near Eagle Falls Trailhead parking lot.
This parking area is central with easy to access to the top attractions within Emerald Bay State Park. Use this exact location on Google Maps for the best place to park when you visit Emerald Bay.
If you visit Lake Tahoe in peak season or on a busy weekend, you will find cars parked on both sides of highway 89 around the long sweeping curve of Emerald Bay.
We will show you the best place to park for each of the attractions below when relevant.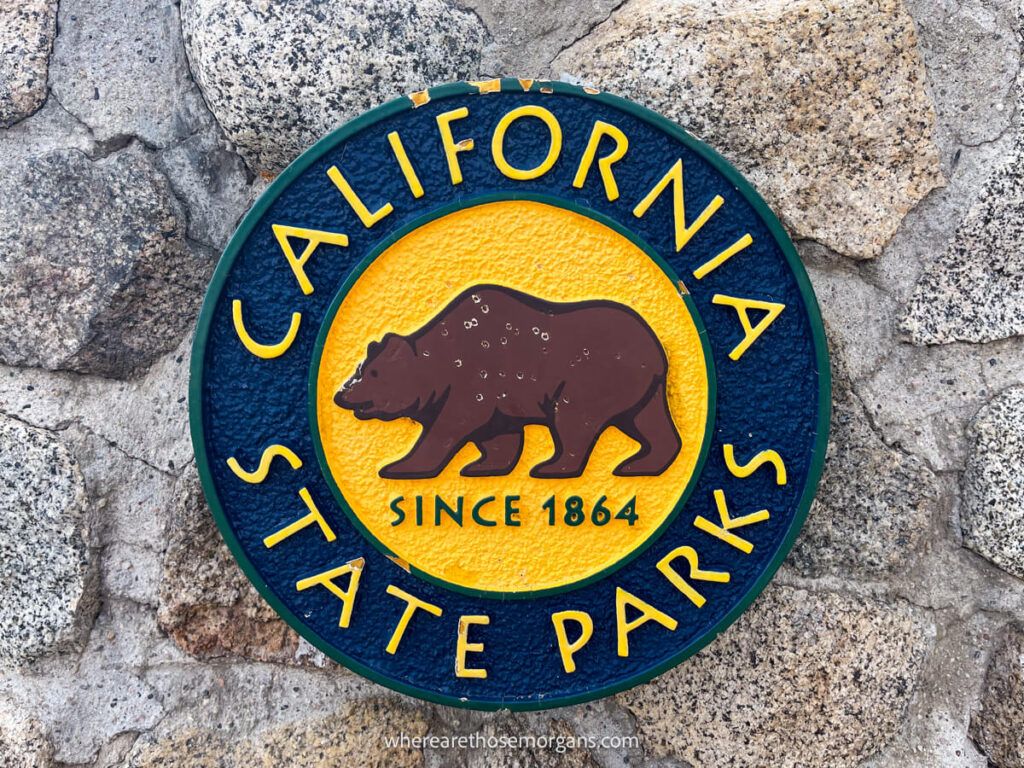 Is There An Entrance Fee To Emerald Bay State Park?
No, there is no fee to enter Emerald Bay State Park. However, there are various seasonal fees associated with parking in specific lots in the Emerald Bay area.
Ticket machines are present at both the designated Eagle Falls Trailhead parking lot and Emerald Bay State Park Lookout.
Typically, you will pay between $5 and $10 to park (season dependent) but after checking recent comments by hikers on All Trails for Eagle Falls Trail in June 2023, it appears as though parking is free.
Whether or not parking fees are in place when you visit Emerald Bay, the fact there is no entrance fee is a bonus considering it is such a popular area.
You will find fees at other state parks around Lake Tahoe and we know from experience how quickly state park fees can add up in California, especially when driving the PCH from San Francisco to San Diego!
10 Best Things To Do In Emerald Bay State Park Lake Tahoe
OK, now you know about parking, fees and why it is so popular, let's get stuck into the 10 best things you can do when you visit Emerald Bay State Park!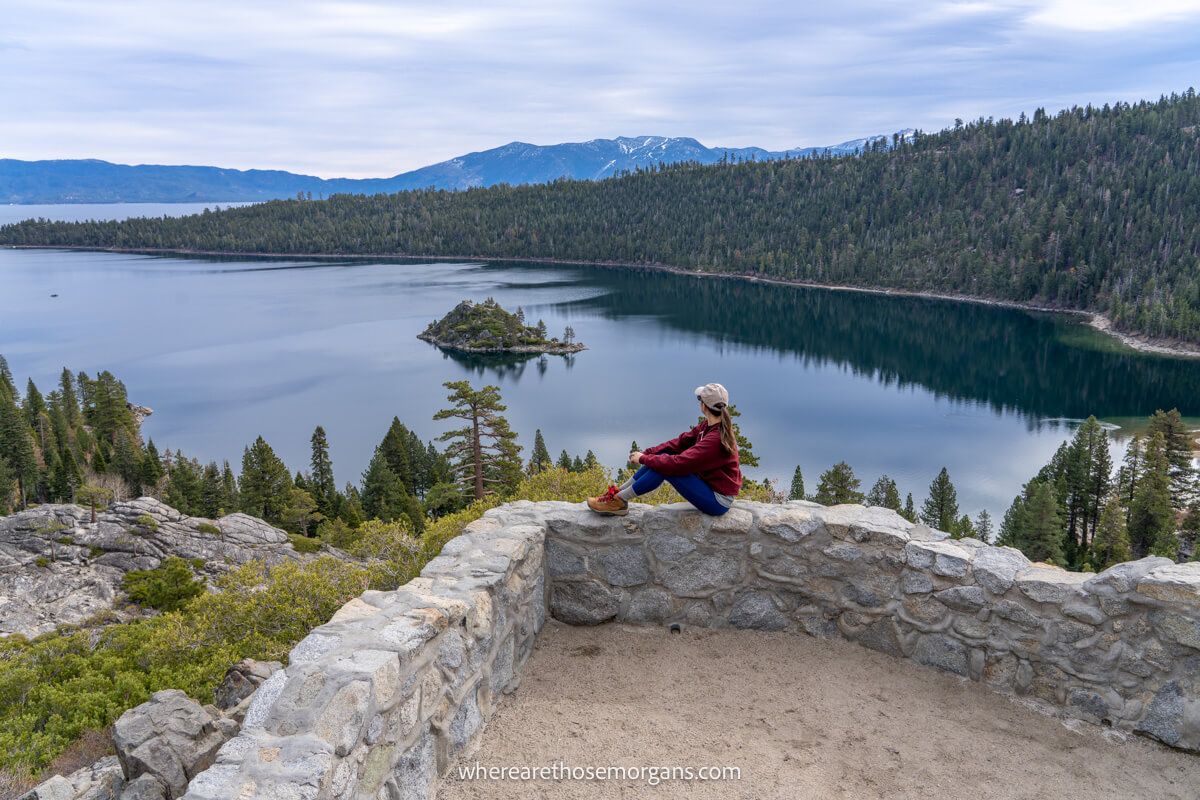 1. Hiking
Hiking is the quintessential thing to do in Emerald Bay State Park. The best way to see and explore the area is by foot and there are several trails you can hike ranging from easy through hard.
In fact, the only way to reach the waters of Emerald Bay is by hiking from the main parking areas on highway 89.
We hiked to Eagle Lake and down to Emerald Bay during our visit, but next time we are in Lake Tahoe we will be staying longer so we can hike more trails way up into the mountains.
Best Hikes In Emerald Bay State Park
Here are the most popular hikes in Emerald Bay to add to your bucket list:
2. Emerald Bay Trail (hike from parking lot to the beach)
3. Rubicon Trail
4. Granite Lake Trail
5. Cascade Falls Trail
6. Mt Tallac Trail (very popular hike close to Emerald Bay)
How Long Is The Hike Down To Emerald Bay?
The hike from Emerald Bay State Park Lookout parking lot down to Emerald Bay is one mile long and loses 400 feet in elevation.
It is a relatively steep gradient, but the trail is wide and easy going underfoot so anyone can hike down to Emerald Bay. The ascent is a lung buster and a calf burner but it is only one mile long, so you can do it!
The hike down is well worth the effort to get up close with Vikingsholm, swim in Emerald Bay, relax on the beach or kayak to Fannette Island.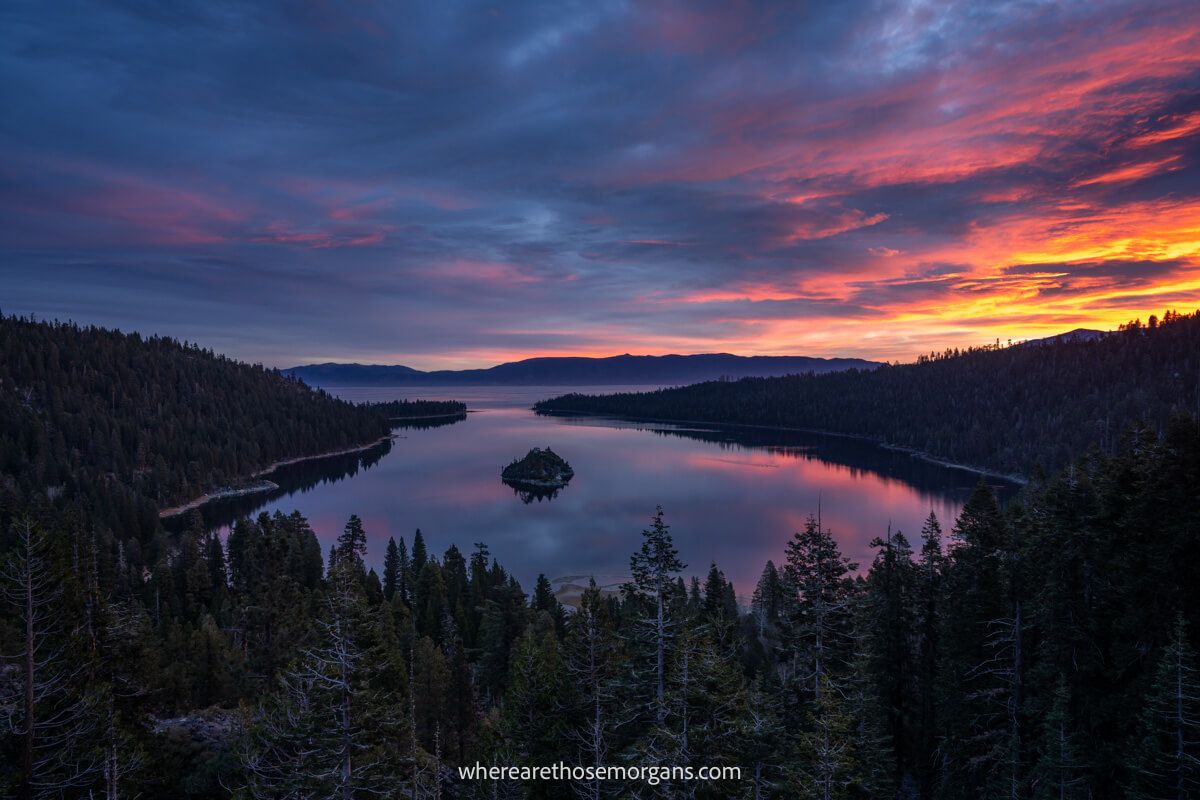 2. Photography
The entire Lake Tahoe landscape is visually stunning but we think Emerald Bay is the most photogenic area and the place you should prioritize as a hobbyist or professional photographer.
We woke up early two days in a row to watch two very different Emerald Bay sunrise events. One was cloudy with vibrant pinks, reds and oranges in the sky and the other was clear with a deep blue sky.
There are plenty of photo spots in Emerald Bay to discover on your visit to Lake Tahoe. You can head for the classic locations and find unique perspectives on hiking trails around the bay.
Best Photo Spots In Emerald Bay State Park
Here are some of our favorite Emerald Bay Lake Tahoe photo spots:
1. Sunrise in this tiny parking area on the side of highway 89
2. Overlooking the bay from this location
3. Inspiration Point
4. Eagle Falls waterfall (sunrise is best)
5. Fannette Island
6. Tahoe Rim Trail (overlooking Emerald Bay)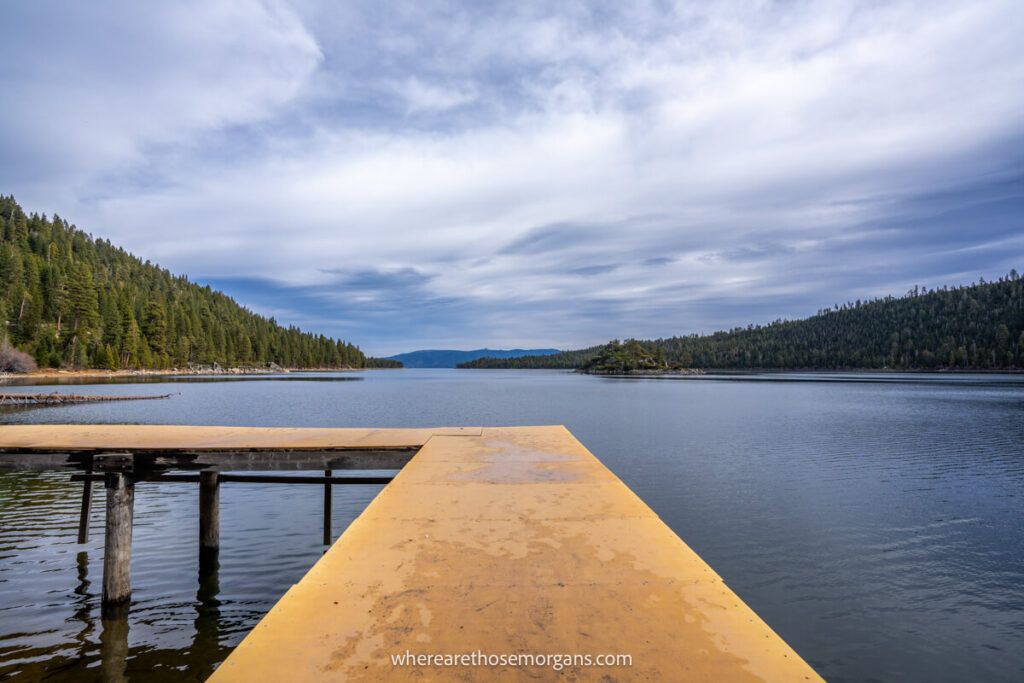 3. Water Activities
One of the best things to do in Emerald Bay State Park Lake Tahoe is hit the water during warmer months of the year.
We visited Lake Tahoe in November so water sports were not even a consideration for us!
However, when the sun is shining, you simply cannot miss the chance to take a dip in the cool glacial waters of Emerald Bay.
You can swim in Emerald Bay State Park and there are plenty of beach access areas around the bay. Either go in the water near Vikingsholm or find a small secluded beach away from the crowds.
Best Water Activities In Emerald Bay State Park
Here are just some ways you can enjoy the water around Emerald Bay:
1. Swim around the shallower areas (the water is cold!)
2. Kayak to Fannette Island
3. SUP around the bay (stand up paddleboard)
4. Rent a boat and pilot it to Emerald Bay
5. Snorkel or even scuba dive (which we cover later in the guide)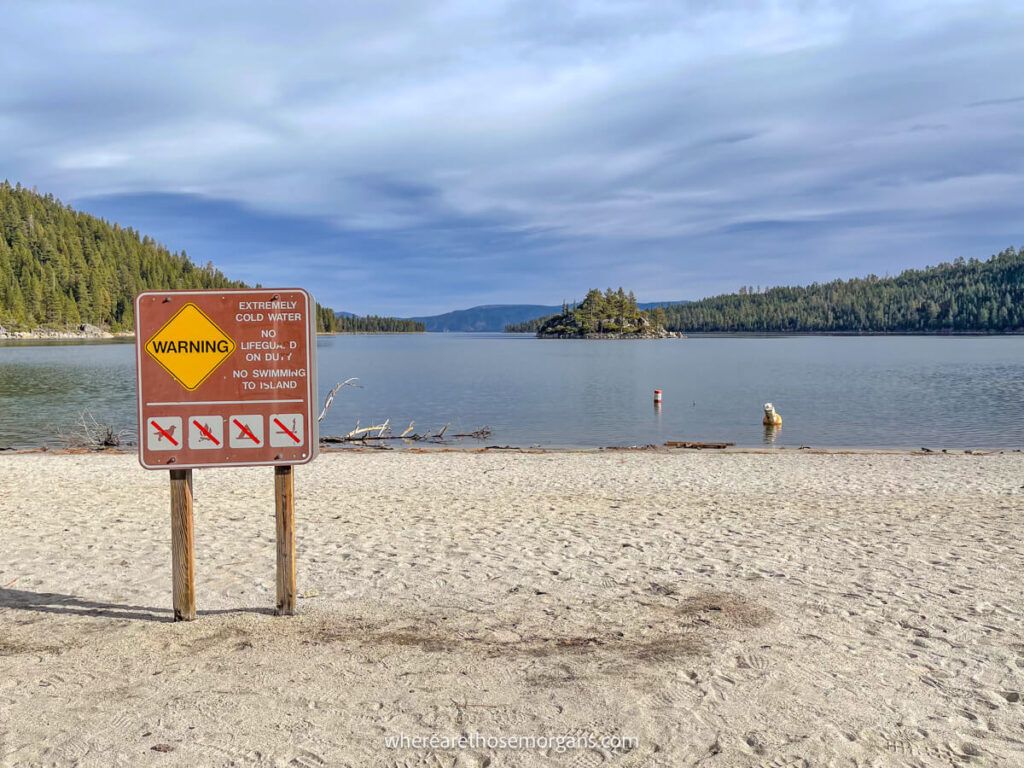 4. Fannette Island
Fannette Island is a granite rock rising 150 feet out of Emerald Bay and it is incredibly unique as Lake Tahoe's only island. This single stubborn granite rock would not budget as the glaciers carved out Emerald Bay.
Although it appears small from highway 89, Fannette Island is actually quite large and it can be explored by anyone.
Visitors will find an old tea house which was occassionally used to serve tea to the owners of Vikingsholm back in the late 1920's.
How To Get To Fannette Island
The only way to reach Fannette Island is by boat, kayak or SUP.
Tourists are not permitted to swim from any beach in Emerald Bay to Fannette Island. The water is freezing cold, which makes such a long swim very dangerous.
Camping and dogs are not allowed on Fannette Island, but you can kayak over and climb to the stone remains of the tea house.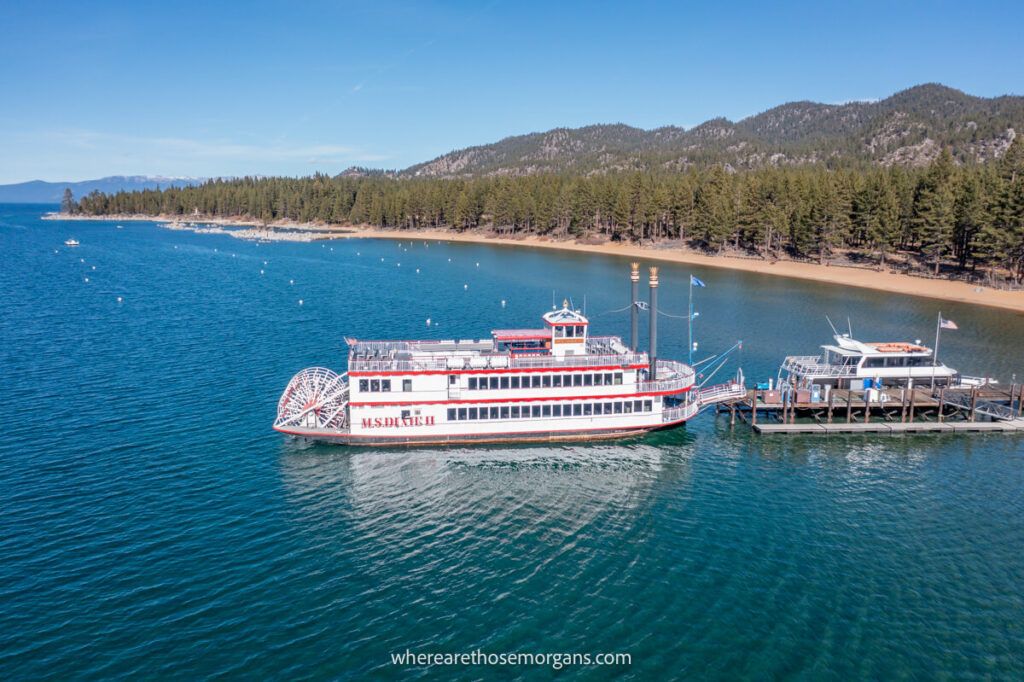 5. Emerald Bay Cruises
One of the most popular ways to enjoy the best of Emerald Bay is to take one of many sightseeing cruises operating in the area.
Taking a narrated tour of the bay with a glass of wine sounds like a far more relaxing way to explore on a visit to Lake Tahoe, right?!
Well there are many different ways you can take to the waters, from cheaper cruises all the way through to private boat hire.
What Are The Best Emerald Bay Cruises In Lake Tahoe
Here are the most popular Emerald Bay cruise options: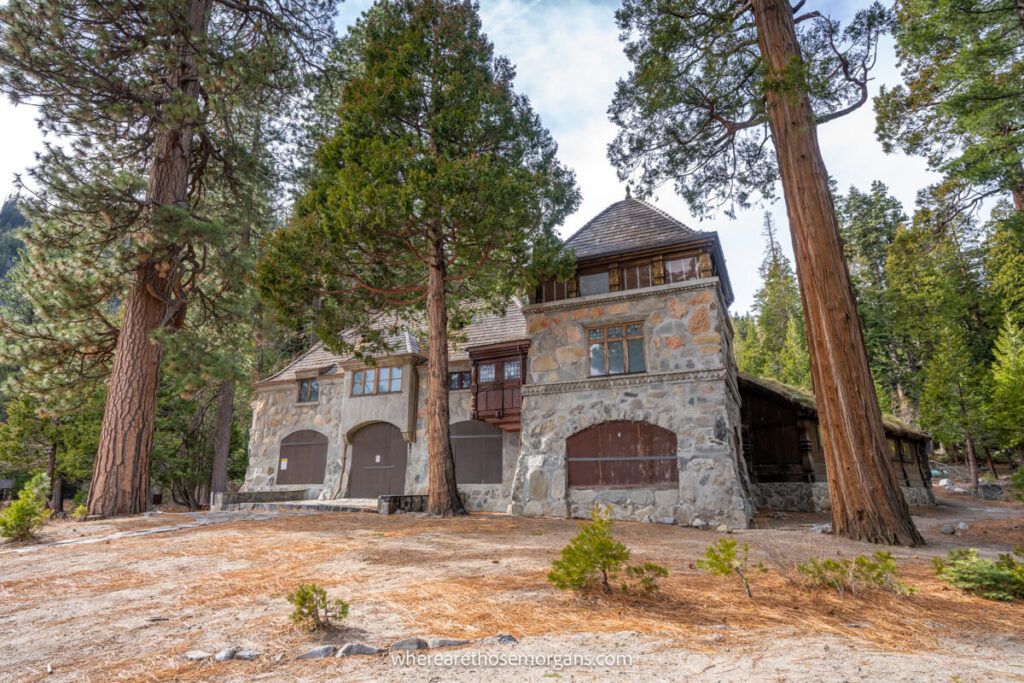 6. Vikingsholm
Vikingsholm is a Scandinavian style castle located on the shores of Emerald Bay. The building was completed in 1929 as a holiday home for Lora Knight who purchased the land including Fannette Island.
Today, visitors to Emerald Bay State Park can take tours of Vikingsholm in the summer months. The area is open year round, but anyone visiting outside of summer will not be able to enter the building.
You can only buy tour tickets on site at the Vikingsholm visitor center between June and September. Unfortunately, we were not able to tour the castle because we visited Lake Tahoe in November.
This fine example of Scandinavian architecture is among the most famous structures around all of Lake Tahoe, so it is something you should definitely add to your Emerald Bay itinerary.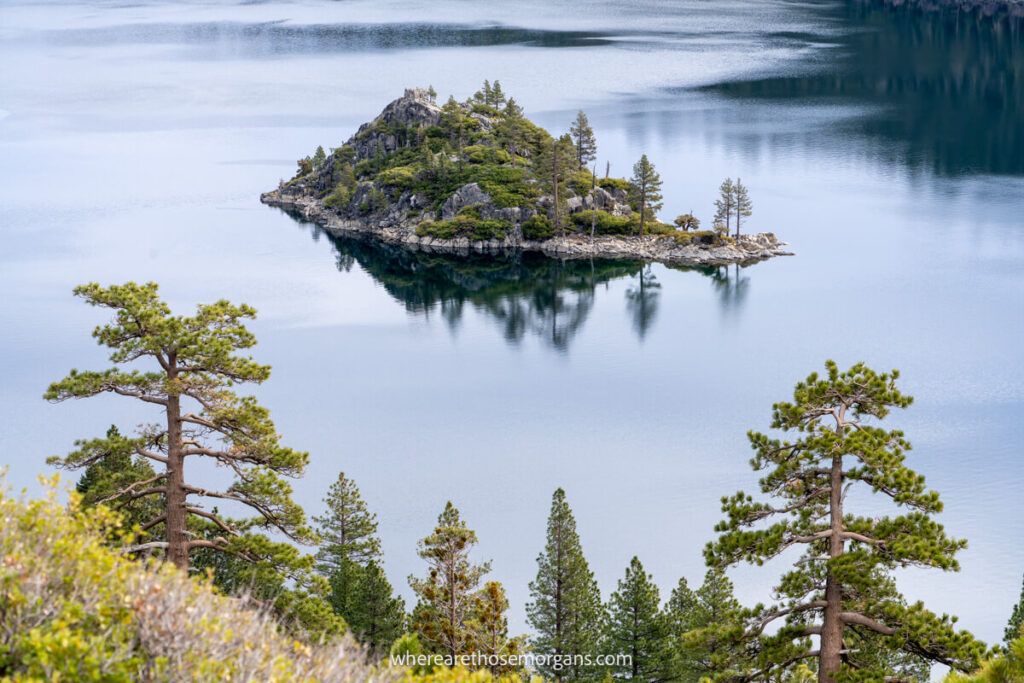 7. Maritime Heritage Trail
Did you know that you can scuba dive a designated underwater trail in Emerald Bay?
As of 2018, visitors to Lake Tahoe with appropriate training and experience can scuba dive or snorkel dive to several underwater sites with interpretive panels on the Maritime Heritage Trail.
Divers can follow a trail to discover watercraft and barges that now reside on the bed of Emerald Bay. Dive sites are on both sides of the bay.
This is definitely one of the most unique things to do in Emerald Bay Lake Tahoe so don't miss out if you are a scuba diver!
Learn more about the Maritime Heritage Trail.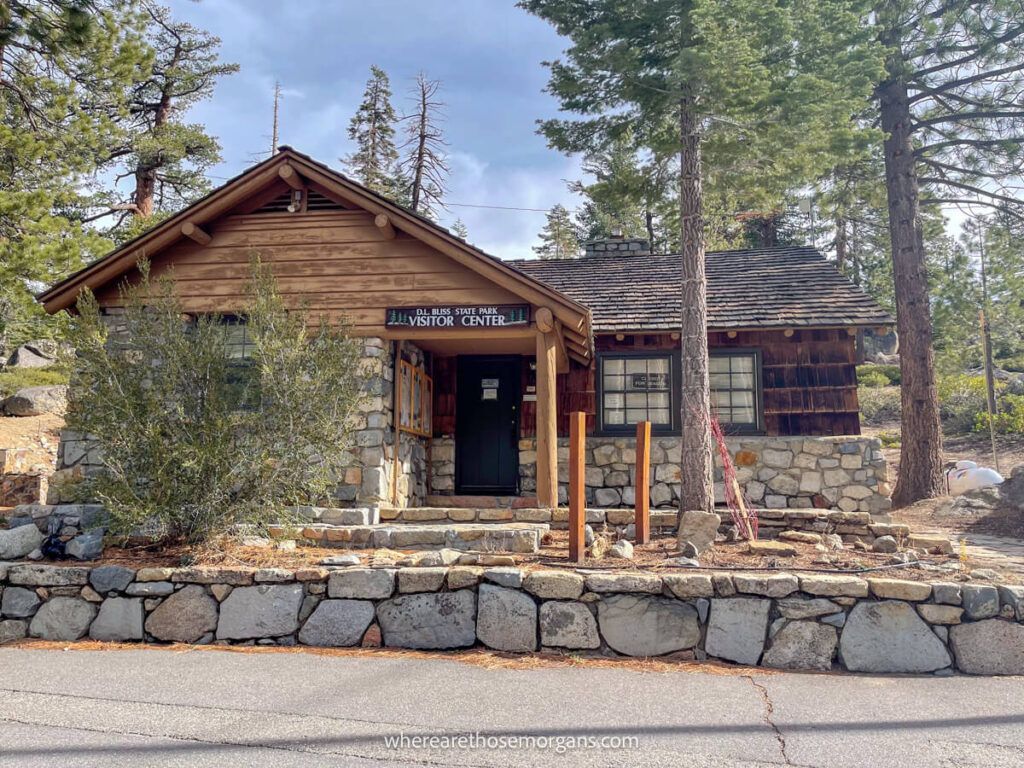 8. DL Bliss State Park
DL Bliss State Park directly borders Emerald Bay State Park to the north.
You are able to hike the shoreline hugging Rubicon Trail between the two parks but you can also drive from one to the other if you prefer not to hike.
The best things to do in DL Bliss include photographing the Balancing Rock, relaxing on Lester Beach and hiking to Rubicon Point Light (which has the second highest elevation of any lighthouse in America).
Dogs are not allowed in Emerald Bay State Park, but they are welcome in developed areas of D.L. Bliss State Park like the campground and paved roads. However, dogs can't go on the beaches or on Rubicon Trail.
How Much Is The Entry Fee For DL Bliss State Park?
Parking costs $10 at DL Bliss State Park. There is no additional entry fee on top of the parking fee.
Note: DL Bliss State Park campground and the day use road are both closed in 2023 for infrastructure work. They will reopen in 2024 but in the meantime you can still hike from Emerald Bay to D.L. Bliss.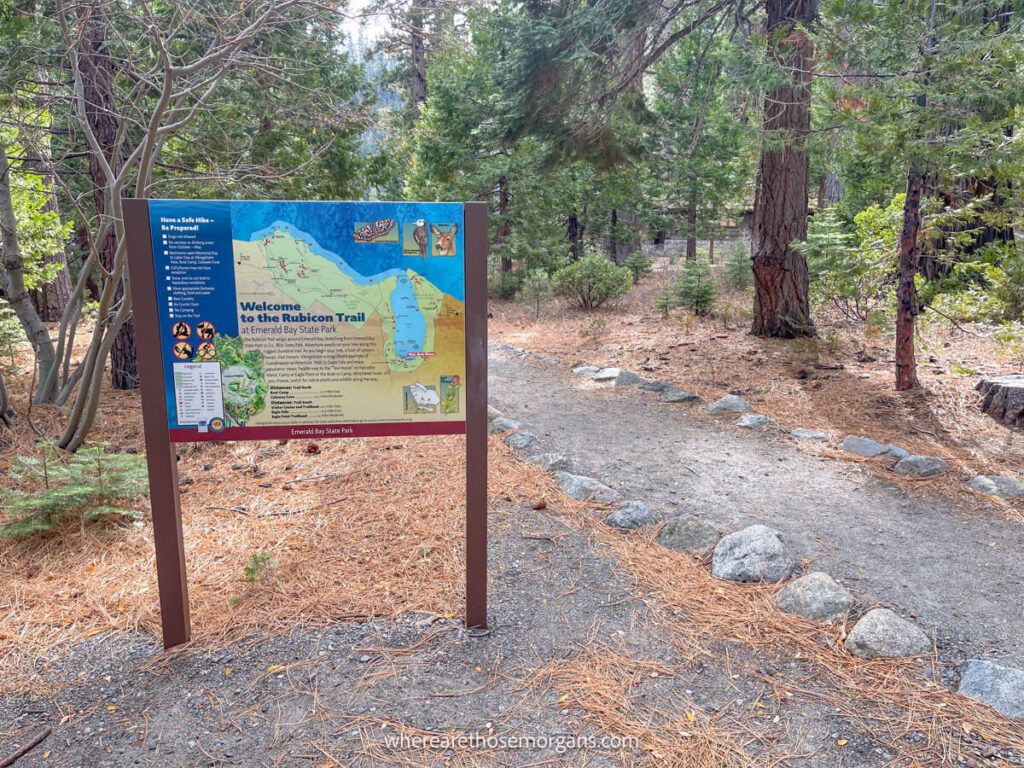 9. Rubicon Trail OHV
The Rubicon Trail is a 22 mile OHV route running from Wentworth Springs Campground to Lake Tahoe.
We didn't know until someone told us during our visit to Lake Tahoe that the Rubicon Trail is the most popular and best known 4×4 trail in the entire US.
Then it made sense. Oh, that's where the Jeep Rubicon gets its name from!
So, if you own a high clearance 4WD vehicle or you want to rent a Jeep Rubicon to drive the premier off roading route in America, this is your chance.
Although the route isn't technically in Emerald Bay State Park, it is set back in the mountains very close to the bay.
We rented a Jeep Rubicon to drive some of the best Jeep trails in Sedona in 2021 and it was one of the most fun things we have done in the states, so we highly recommend giving this a go.
Here is more information about the OHV Rubicon Trail.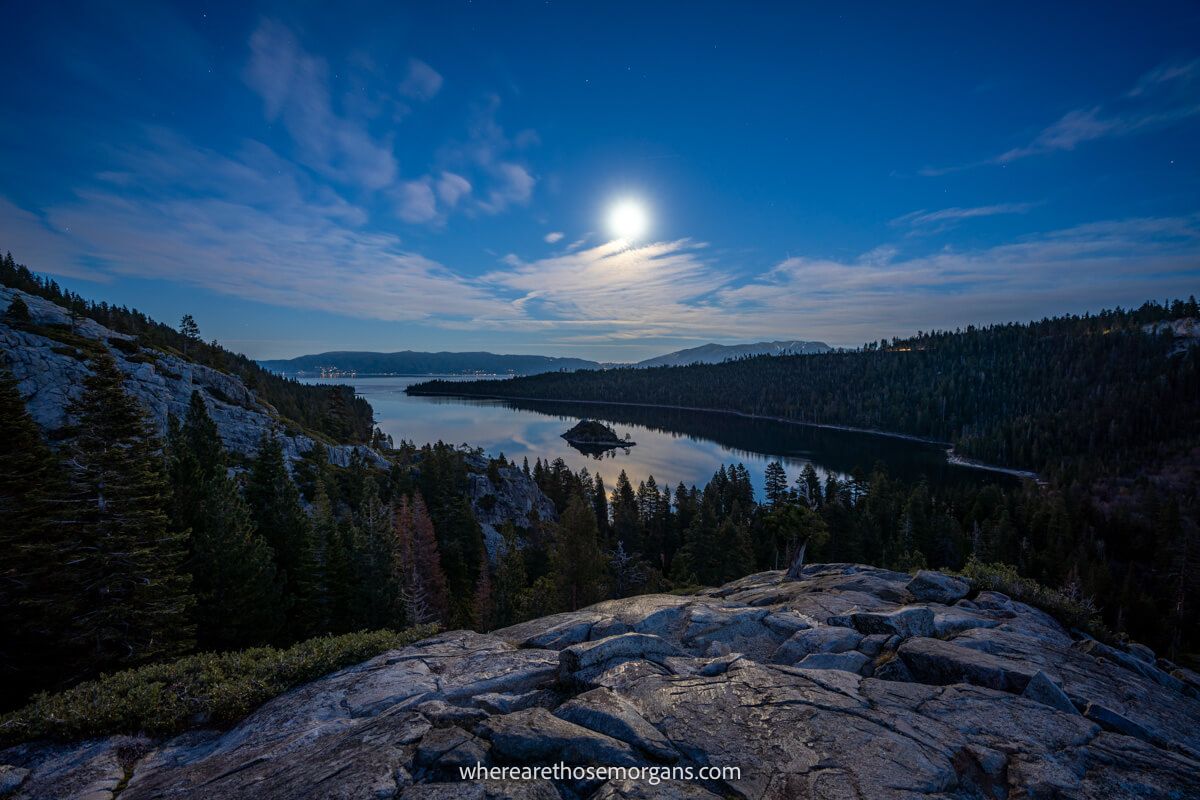 10. Camping
Camping in Emerald Bay State Park is incredibly popular. There are certainly worse places to wake up and unzip a tent for sunrise!
The best parts about camping are instant access to the top attractions in Emerald Bay Lake Tahoe, and the fact that you can avoid paying hefty nightly prices to stay at hotels in South Lake Tahoe.
There are 2 campgrounds in Emerald Bay State Park:
1. Eagle Point Campground
2. Boat In Campground
There is a lot of important and ever changing information about both Emerald Bay campgrounds so we advise you to check this California department of parks and recreation site for updates.
Are There Bears In Emerald Bay State Park?
Yes, Black Bears are very common around Emerald Bay State Park so it is crucial you store all food and drinks in storage lockers all day and night.
Bayview Trailhead has become a hot spot for bears breaking into vehicles looking for food. You can avoid any issues by keeping food and drinks out of your car.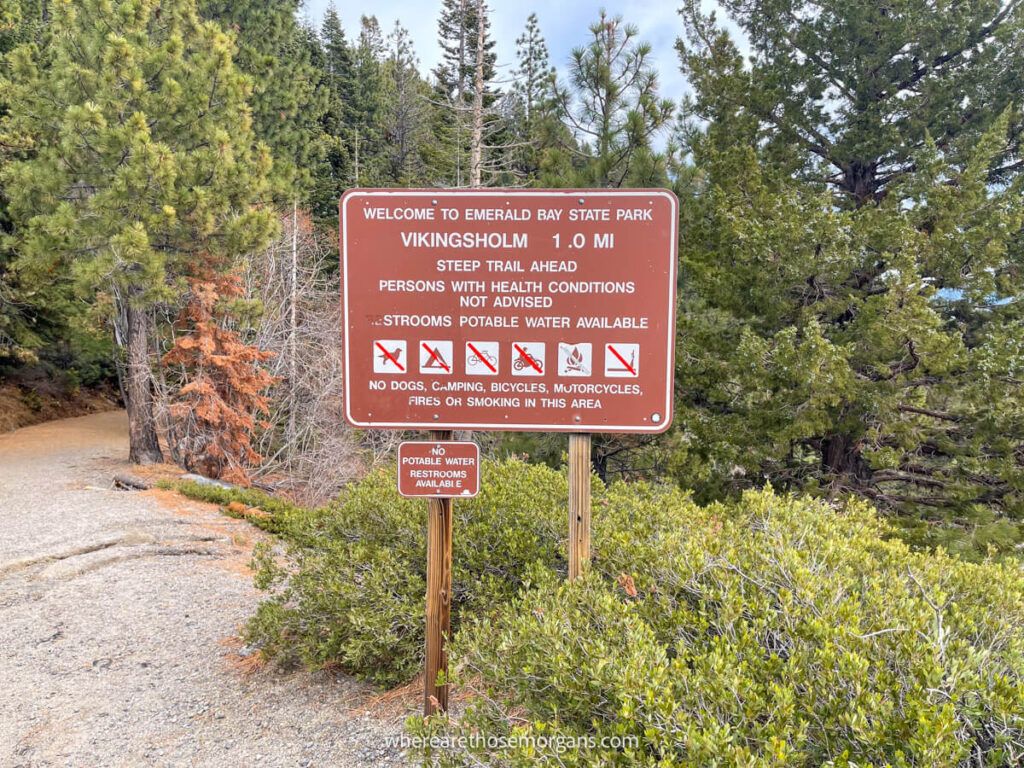 What Is The Best Time Of Year To Visit Emerald Bay?
Emerald Bay State Park is open year round but some of the top attractions like Vikingsholm are only open during the warmer summer months.
You can hike trails in Emerald Bay any time of year but if you visit in winter be sure to wear the correct gear such as boots with microspikes to combat patches of dangerous slick rock, ice and snow.
Although summer is best for swimming, daylight, hiking in higher altitudes, we would personally avoid visiting Emerald Bay in summer due to overcrowding, sky high hotel room prices and parking issues.
We think spring and fall are the two best seasons of the year to visit Emerald Bay State Park. You will benefit from fewer crowds, cheaper hotel rooms and more comfortable temperatures.
We visited Lake Tahoe at the end of November, which had several pros and cons. On the plus side it was quiet, affordable and easy to park. But on the negative side, it was cold in the mornings and evenings.
Emerald Bay Lake Tahoe FAQ's
Let's take a quick look at some of the most frequently asked questions about visiting Emerald Bay in Lake Tahoe, California.
Is Emerald Bay State Park worth visiting?
Yes, Emerald Bay is one of the most popular places to visit in Lake Tahoe because it is filled with hikes and attractions, it is easy to access from South Lake Tahoe and it is exceptionally photogenic. We highly recommend you spent a full day in Emerald Bay, starting at sunrise.
What is the best time to visit Emerald Bay?
We recommend arriving to Emerald Bay early in the morning so you can park in a designated space, watch a stunning sunrise and hit the trails before the area becomes overcrowded and too hot in summer.
Our Top Lake Tahoe Guides
More From California + Nevada
Want more California content? Head to our California Travel Guides to explore National Parks, popular road trips and things to do in major cities of the sunshine state.
---
We hope this guide to visiting Emerald Bay State Park helps with planning your trip to Lake Tahoe!
Please let us know if you have any questions about Emerald Bay below in the comments.
Happy Travels,
Mark and Kristen
Enjoy This Guide To Emerald Bay? Pin It For Your Visit!