Are you looking for a list of the very best things to do in San Francisco? We are going to walk you through the 40 best free, cheap and fun things to do in San Francisco including Alcatraz, the Golden Gate Bridge and a whole lot more from SF.
San Francisco, San Fran, SF, it doesn't matter what you call the Golden City. This place is a tourist magnet visited by millions each year. The city has evolved into a destination for just about anyone, with plenty of fun on offer for couples, groups and families.
We have personally visited San Francisco multiple times and we can't wait to show you the most unmissable things to see and do around the city based entirely on our own experiences.
Here's what we will show you in this guide:
Top 40 free, cheap and fun things to do in San Francisco
Are SF attractions passes worth buying?
Best things for families and couples to do in SF
Let's dive into the 40 best things to do in San Francisco, California!
What Is The Best Thing To Do In San Francisco?
Seeing the iconic Golden Gate Bridge is the best thing to do in San Francisco. Visitors can walk or cycle across the famous orange suspension bridge, photograph the bridge from several unique vantage points or sail underneath the bridge as part of a San Francisco Bay cruise.
If you only have a few hours or half a day spare for sightseeing in SF, make sure you see the Golden Gate Bridge.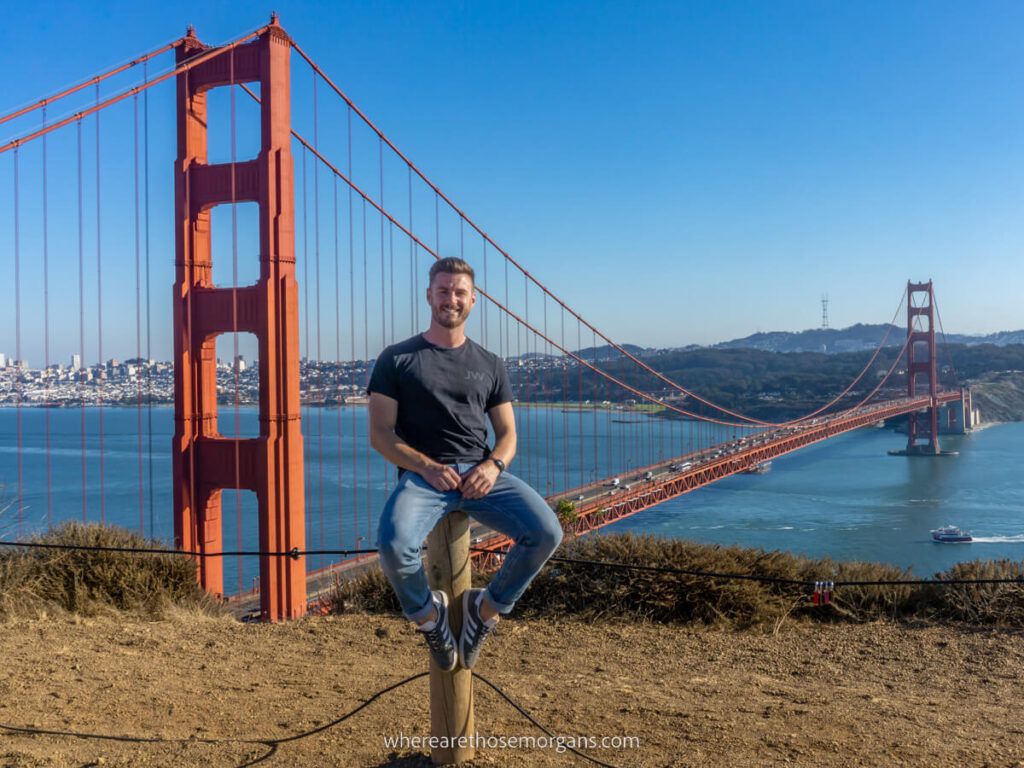 Our San Francisco Experience
Why would you listen to what we have to say about San Francisco?
Well, we have explored SF several times by foot and by car. We have taken a day and night tour of Alcatraz, been to the top museums, walked and cycled across the Golden Gate Bridge, found hidden gems and stayed at hotels in the most popular neighborhoods.
So we're definitely qualified to help you plan your own trip to SF!
Best Things To Do In San Francisco
Let's get stuck into the San Francisco activity action.
We are going to break down the 40 most fun things to do in San Francisco by price.
Here are the price brackets:
Free – Top 19 completely free things to do in San Francisco
Cheap – The 12 best things to do in San Francisco under $25
Expensive – The 9 most fun things you can do in SF costing over $25
Breaking things down into price brackets will help with planning your San Francisco itinerary.
Hotels, eating out and getting around in SF are more expensive than in many places in the US, so you'll need a few of these freebies to balance out your travel budget.
19 Best FREE Things To Do In San Francisco
We are kicking things off with everyone's favorite price category – free!
The following 19 things to do in San Francisco won't cost you a dime, plus they will throw you head first into the best of SF.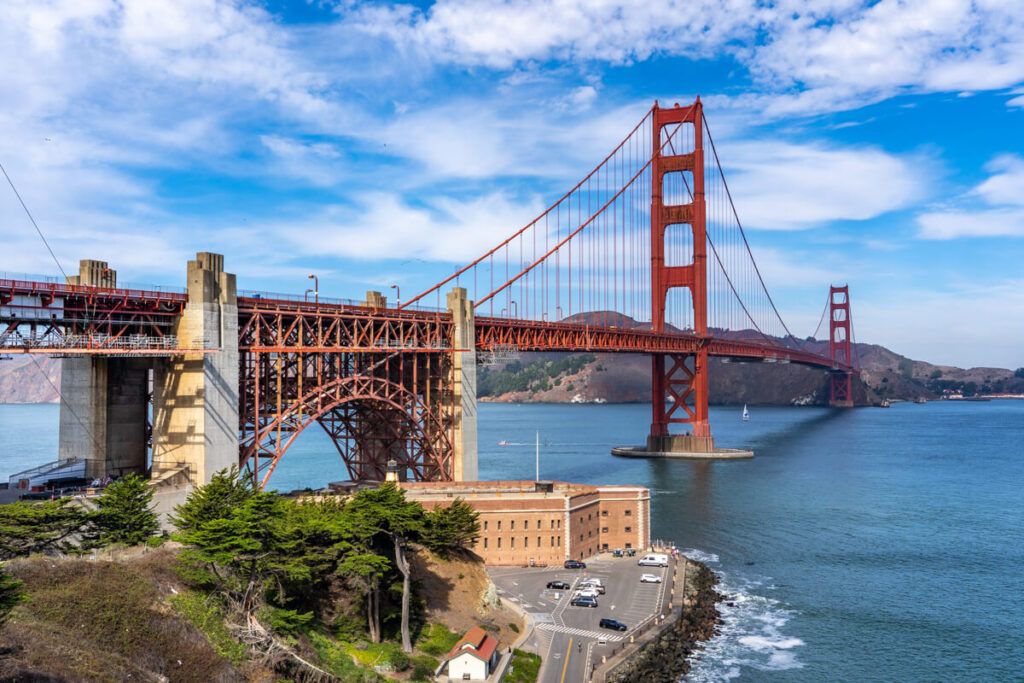 1. Golden Gate Bridge
San Francisco's Golden Gate Bridge is one of few truly unmissable things to do on a first time visit to SF.
We highly recommend walking or cycling across the legendary bridge for the most immersive experience.
You can drive your car and park in multiple parking areas on both sides of the bridge.
Best Places To See The Golden Gate Bridge
Here are the best viewpoints overlooking the Golden Gate Bridge:
Battery Spenser
H Dana Bowers Memorial Vista
Marin Headlands
Alcatraz
SF Bay Cruise
Marshall's Beach
Battery East
Crissy Field
On the bridge
Interested in photographing the bridge? Read our guide on the best Golden Gate Bridge photography spots.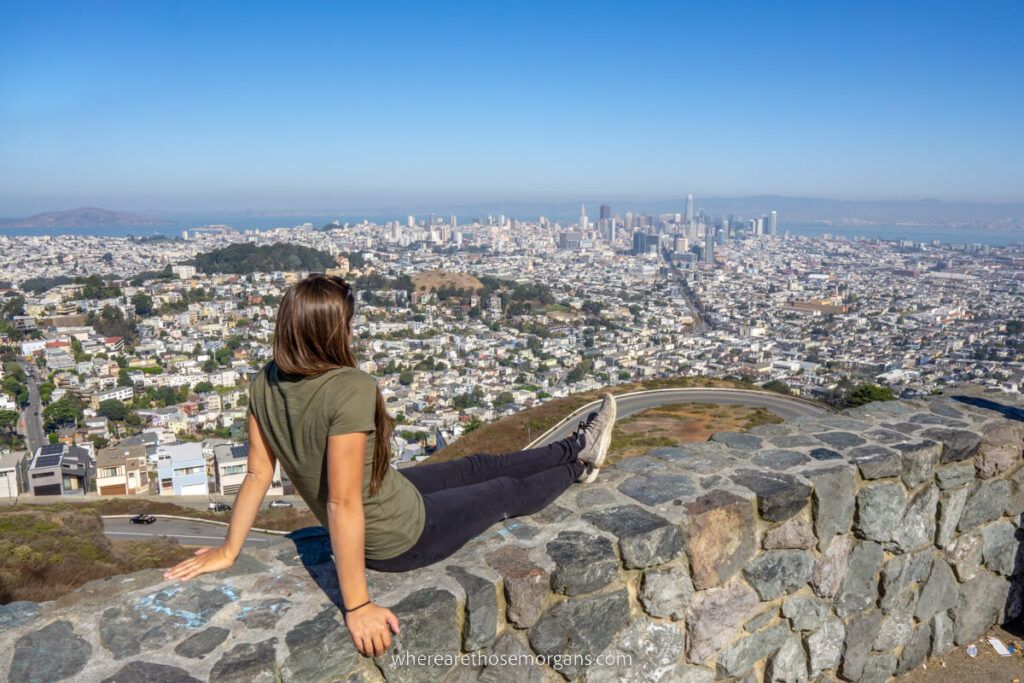 2. Twin Peaks
Twin Peaks is the best elevated viewpoint overlooking San Francisco.
You can see the entire city from Twin Peaks vista. Rolling hills filled with houses lead to the skyscrapers in San Francisco's Financial District and the bay.
Sunrise or sunset are the two best times of day to see SF from Twin Peaks, but you will need a car to reach the viewpoint.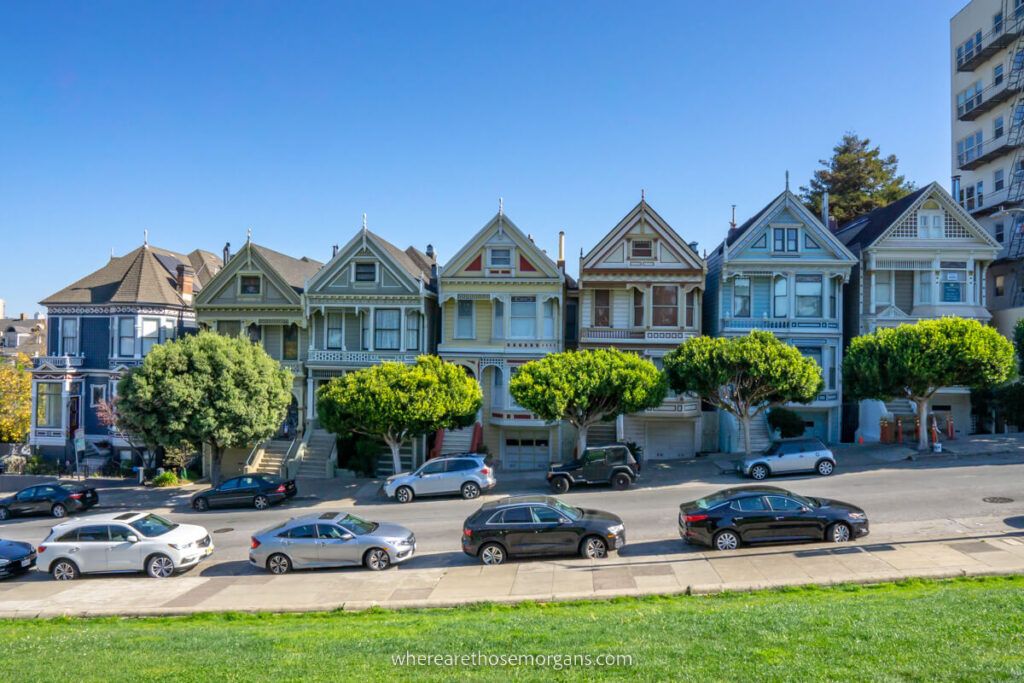 3. Painted Ladies
San Francisco's Painted Ladies are a row of 7 brightly painted Victorian houses on the edge of Alamo Square.
Known as "postcard row" and "seven sisters", this idyllic collection of adjoining houses were just a handful of thousands built during the California Gold Rush as a sign of wealth in the city.
Relaxing on Alamo Square and photographing the Painted Ladies are one of the best free things to do in San Francisco.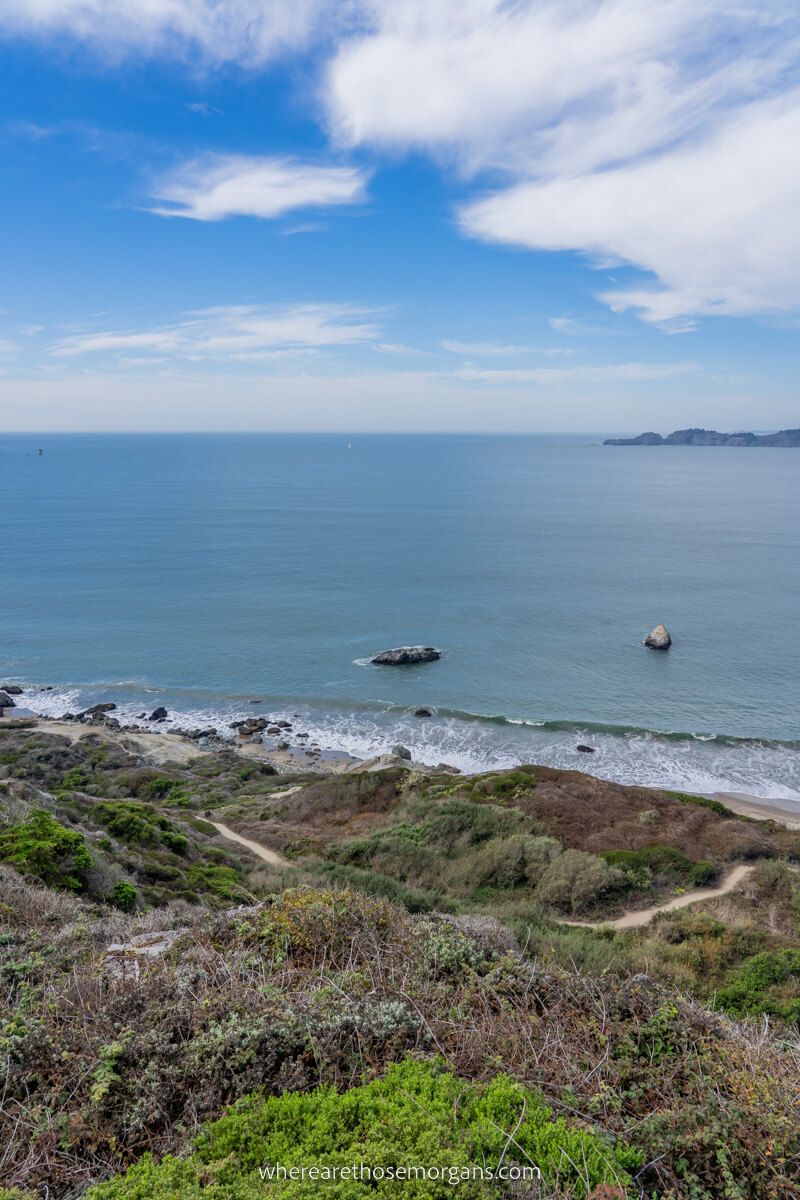 4. Beaches
Beaches won't be the first thing you think of when you start planning your San Francisco bucket list. But if you're the type of traveler who enjoys a brisk walk on the sand, you will be pleasantly surprised in SF.
Head west out of the touristy neighborhoods and you will find miles of beaches connected by headland trails. The beaches have fantastic views of Golden Gate Bridge.
Best Beaches In San Francisco
Here are the best beaches you can visit in SF:
Ocean Beach
Mile Rock Beach
China Beach
Baker Beach
Marshall's Beach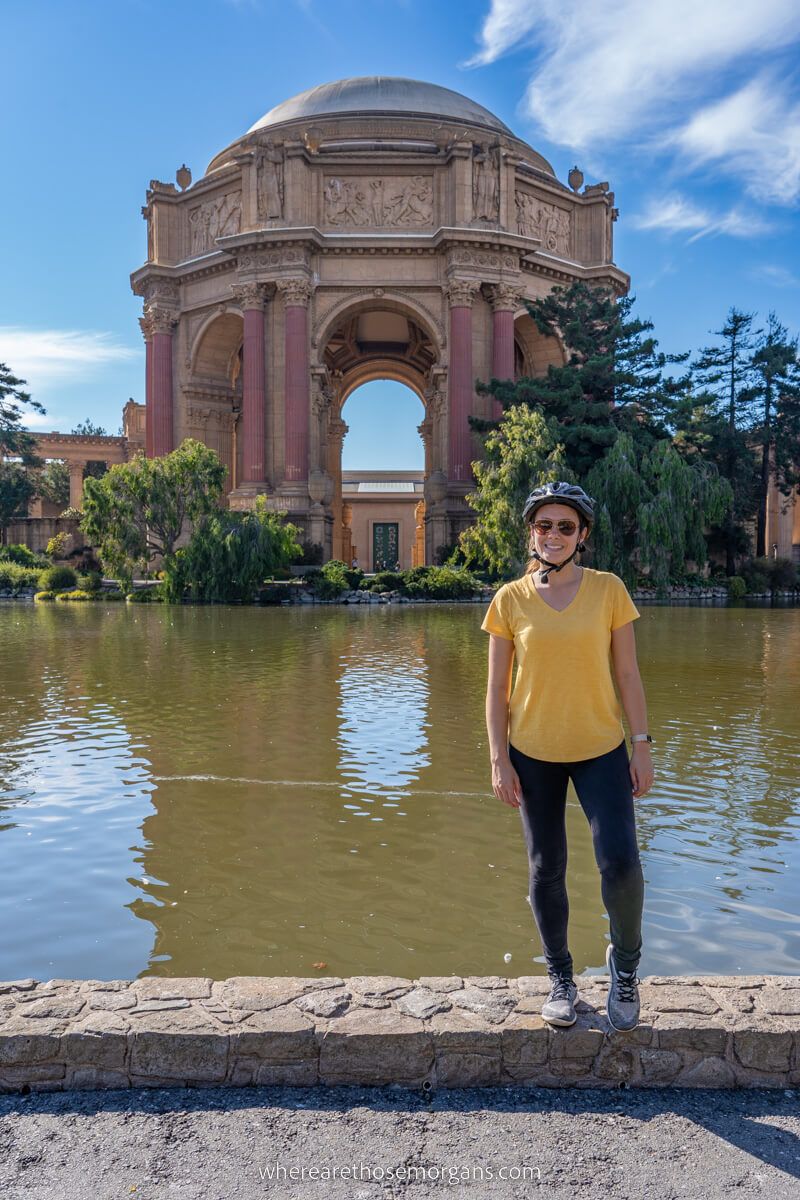 5. Palace Of Fine Arts
Palace of Fine Arts is one of the standout architectural wonders in SF.
Originally built for the 1915 Panama – Pacific Exposition, the Palace of Fine Arts today is a theater and convention center.
Greco-Roman columns and domes, a three quarter encircling lagoon and quaint gardens make for a picture perfect photo spot or picnic area for lunch.
Check the Palace of Fine Arts schedule of events to see if there are any performances during your visit.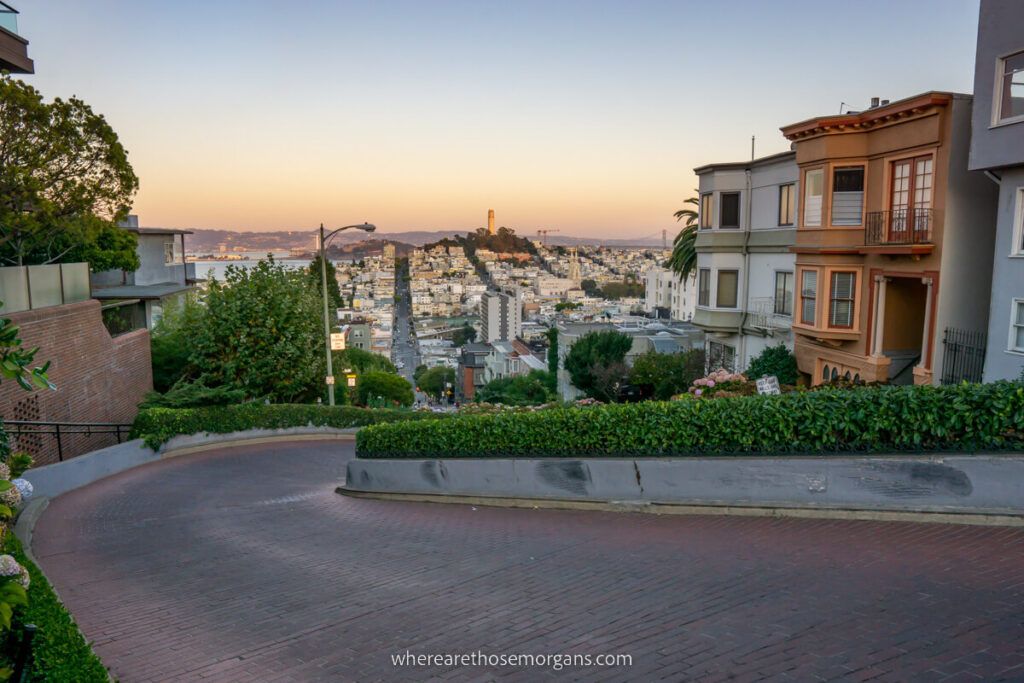 6. Lombard Street
Lombard Street is a famous twisting road descending a steep hill in the heart of residential San Francisco neighborhood Russian Hill.
Drivers can navigate eight hairpin turns or walkers can climb a staircase to either side of Lombard Street. This is one of the most popular instagram spots and unique things to do in San Francisco.
We found that Lombard Street was busiest around sunset and early evening. Just remember, this is a residential area so it is important to be respectful.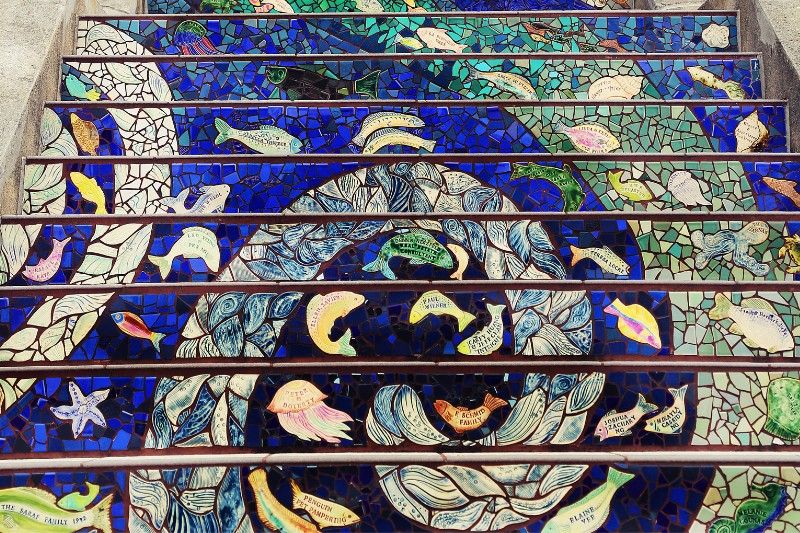 7. Tiled Steps On 16th Ave
The 16th Ave Tiled Steps was community led collaboration resulting in a 'Sea to Stars' themed mosaic flowing elegantly up 163 steps in the Golden Gate Heights district of San Francisco.
There are several picturesque staircases leading up the steep hills synonymous with SF, but 16th Ave takes the unofficial title for most attractive.
This is another excellent SF photo and instagram spot.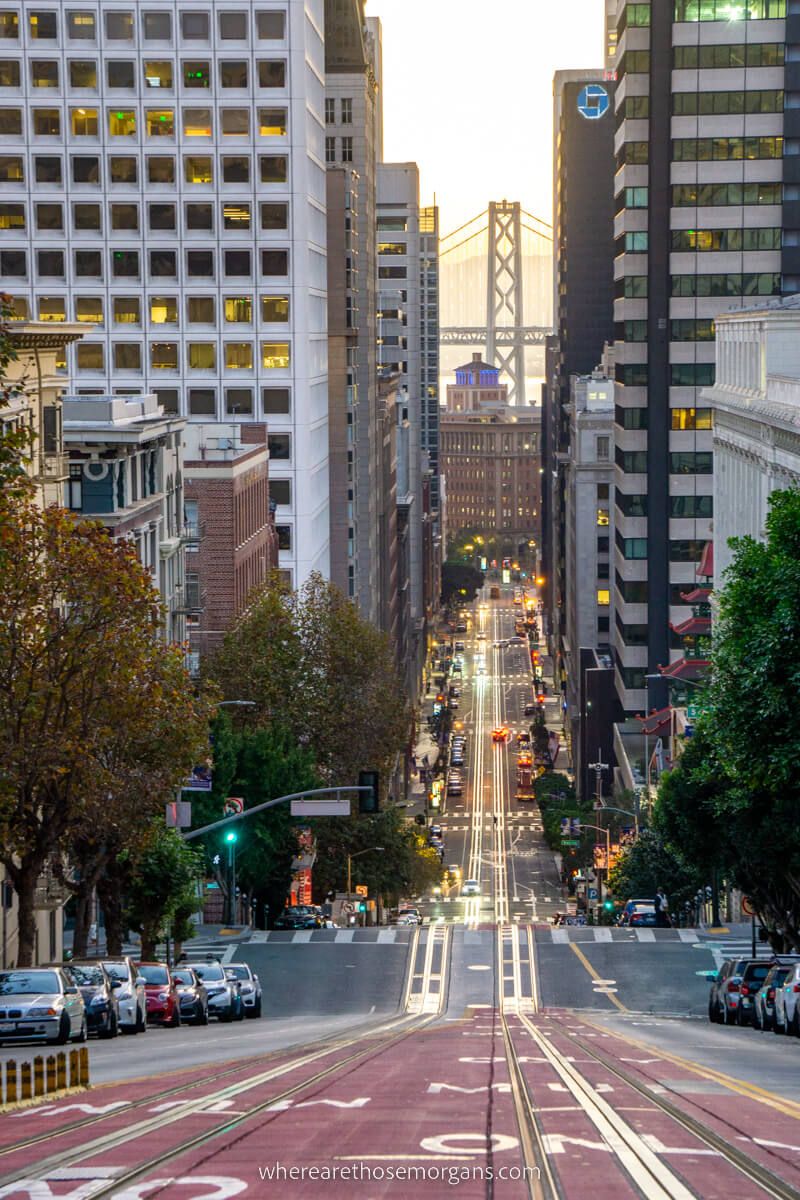 8. San Francisco Movie Locations
San Francisco has been the filming location for so many blockbuster movies over the years that you are never too far from a familiar looking street or building.
One of the best free things to do in San Francisco for movie buffs is to find some of the most iconic film locations.
Movies
Escape from Alcatraz – Alcatraz
The Rock – California Street and Alcatraz
Bullitt – Fisherman's Wharf, Russian Hill and Marina
Mrs Doubtfire – The house is located at 2640 Steiner Street in Pacific Heights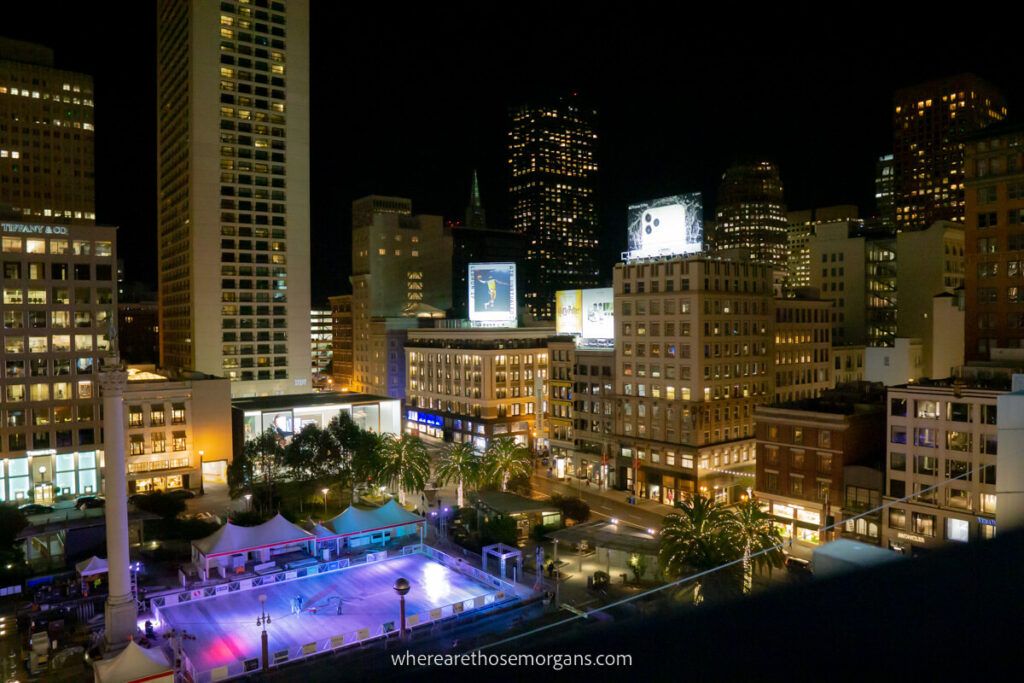 9. Union Square Shopping
Union Square is San Francisco's major shopping hub.
You can find everything from plush designer to low key independent stores in and around the Union Square neighborhood.
Head slightly north into Chinatown, east into Financial District or south into SoMa for more shopping opportunities.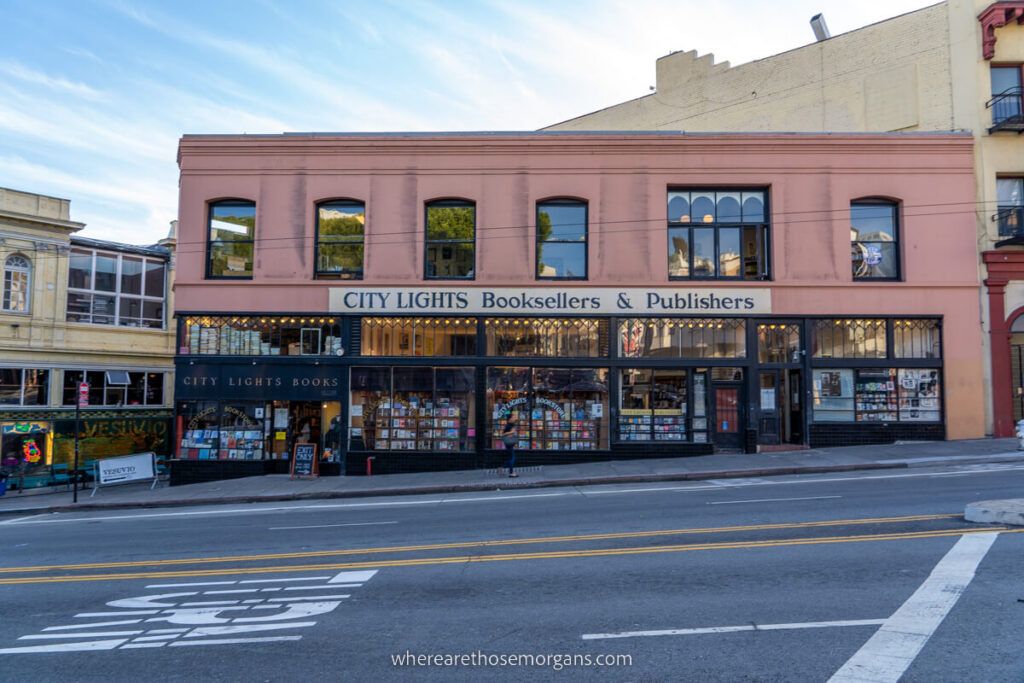 10. City Lights Bookstore
City Lights is a landmark bookstore and publishing house located between Chinatown and North Beach in San Francisco.
The quirky independent bookstore is exceptionally popular with locals and tourists alike. Narrow and creaky staircases lead visitors through a maze of bookshelves covering every topic imaginable.
Even if you don't need to buy a new book, it is still well worth taking a quick look around City Lights.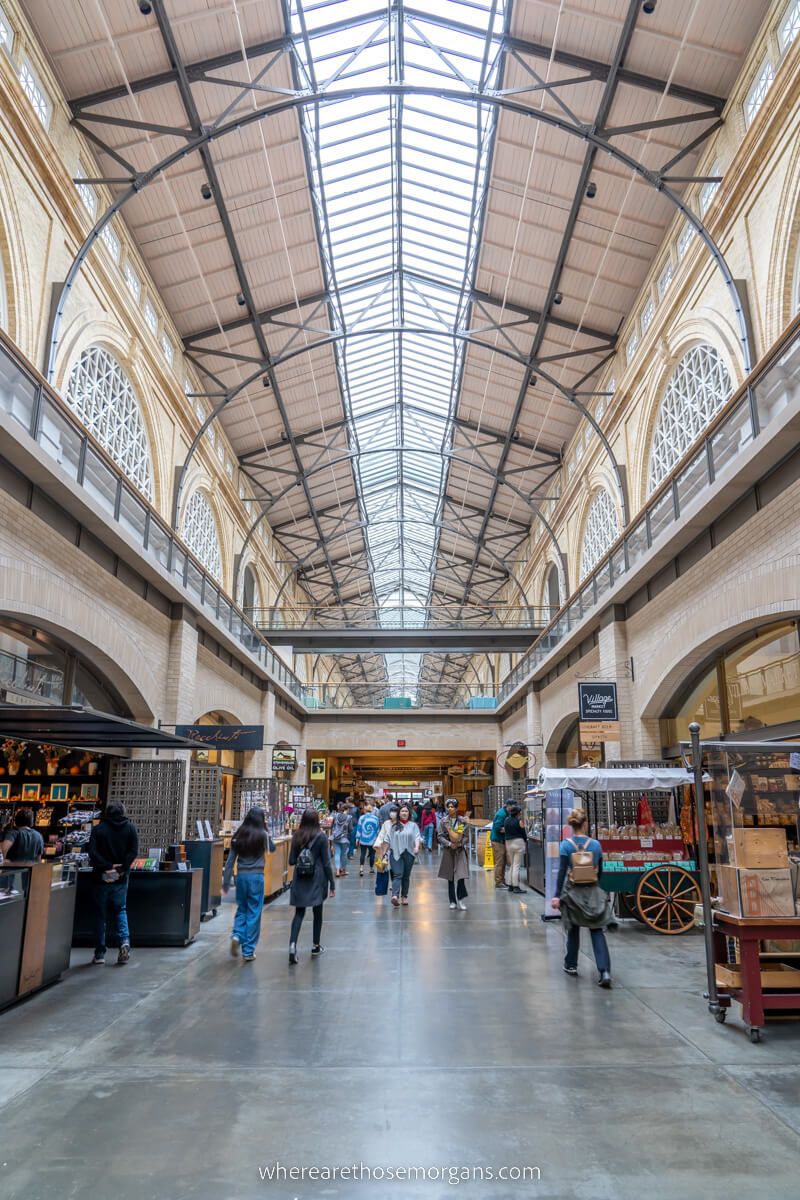 11. Ferry Building Marketplace
Ferry Building Marketplace is a ferry terminal located on the Embarcadero at the end of Market Street.
The popular weekly Ferry Plaza Farmers Market sells locally produced food on Tuesdays (10am – 2pm), Thursdays (10am – 2pm) and Saturdays (8am – 2pm).
If you visit outside of those times, you can grab a coffee, empanada or ice cream from a vendor permanently located inside the landmark structure.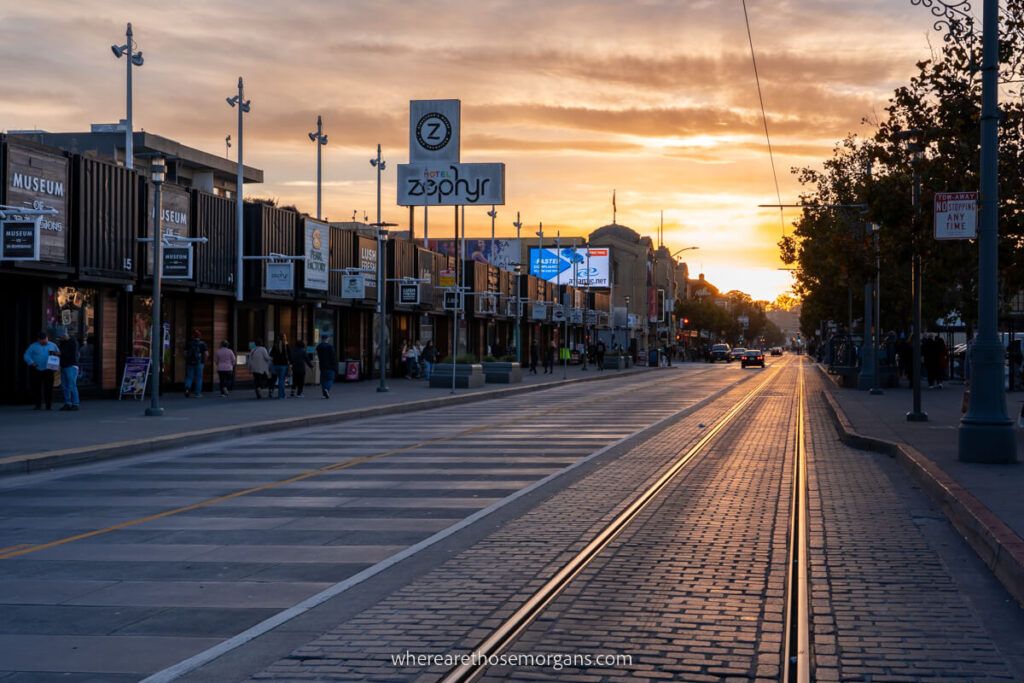 12. Fisherman's Wharf
Fisherman's Wharf is one of the most famous tourist spots in SF. Many families choose to stay here because it has loads going on for the kids.
You will find shops, top SF attractions and plenty of places to eat in Fisherman's Wharf. However, it is a little tacky so certain visitors may want to avoid the area.
Walking around the bustling piers, grabbing a hot dog or an ice cream and overspending on gimmicky attractions is among the most popular free things to do in San Francisco.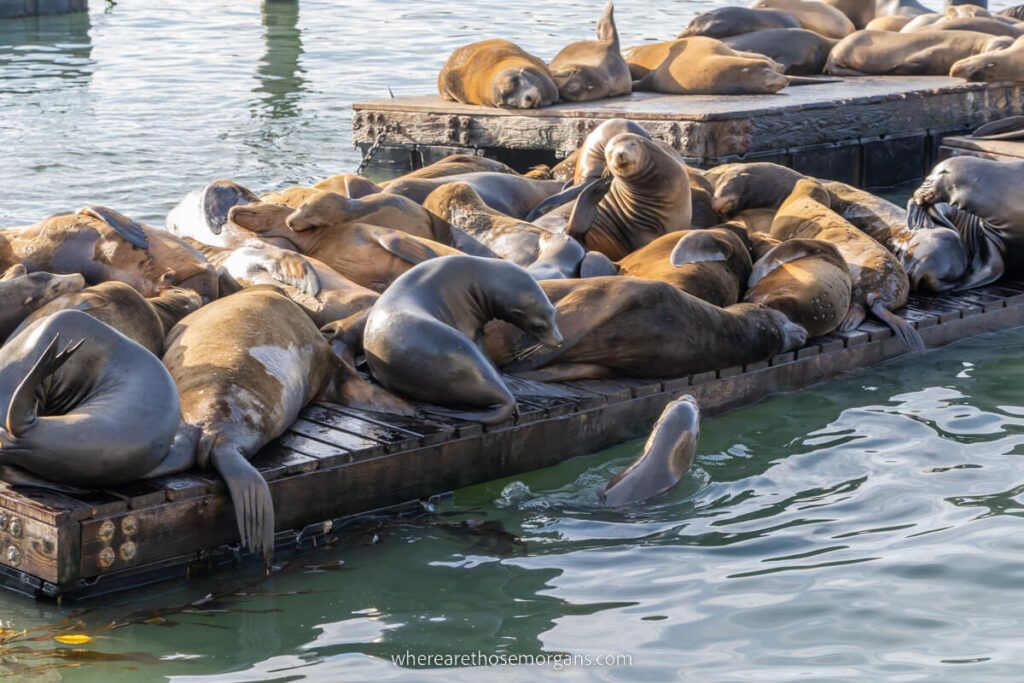 13. Pier 39
Pier 39 is the beating heart of Fisherman's Wharf and deserves it own spot on this list of best things to do in San Francisco.
You will naturally be drawn into Pier 39 like a gravitational force when you visit SF. Seafood restaurants and independent stores await, but the main attraction is a Sea Lion viewing area at the far end of the pier.
Thousands of tourist descend upon Sea Lion vista every day to watch the marine animals sleeping, playing and sunbathing on floating docks in the marina.
14. Musee Mecanique
Musee Mecanique is a family owned and operated museum filled with one of the world's largest privately owned collections of video arcade games and musical instruments.
The museum located on Pier 45 in Fisherman's Wharf is open 365 days a year and is it one of the most popular free things to do in San Francisco.
Machines are coin operated so if you want to play a game it might cost a couple of dollars or so.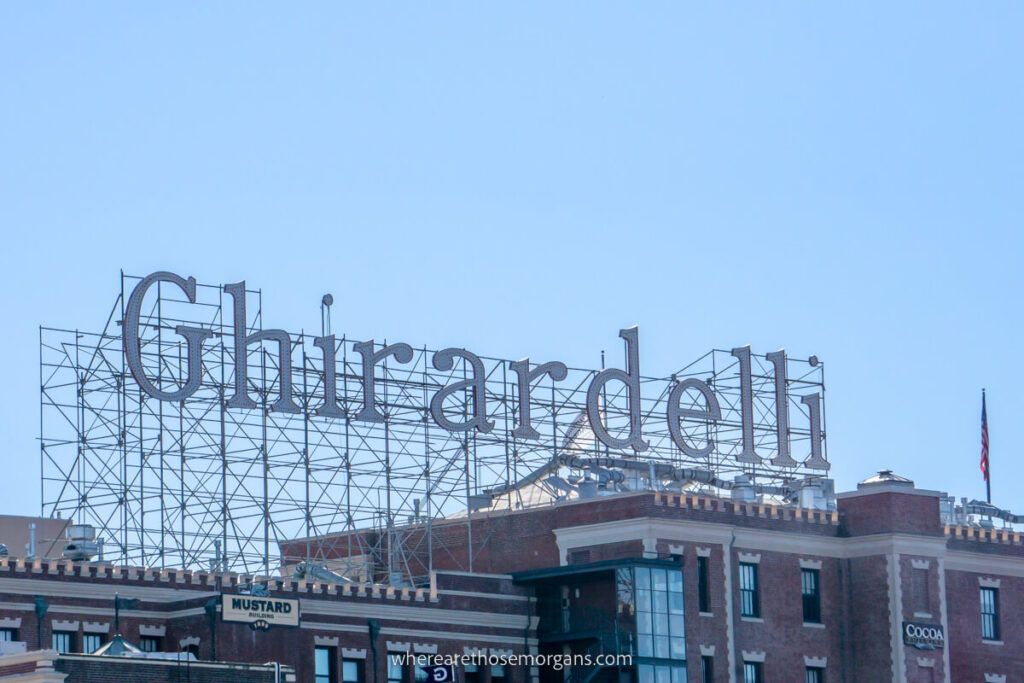 15. Ghirardelli Chocolate Experience
Ghirardelli Square is an upscale dining and shopping experience on the far west side of Fisherman's Wharf. At night, you can't miss the huge letters of Ghirardelli glowing red above Ghirardelli Square.
You will find the Ghirardelli Chocolate Experience, as well as other eateries and one of the finest 5 star hotels in California.
Step inside chocolate heaven, with wall to wall sugary delights the perfect gift to take home from your visit to SF.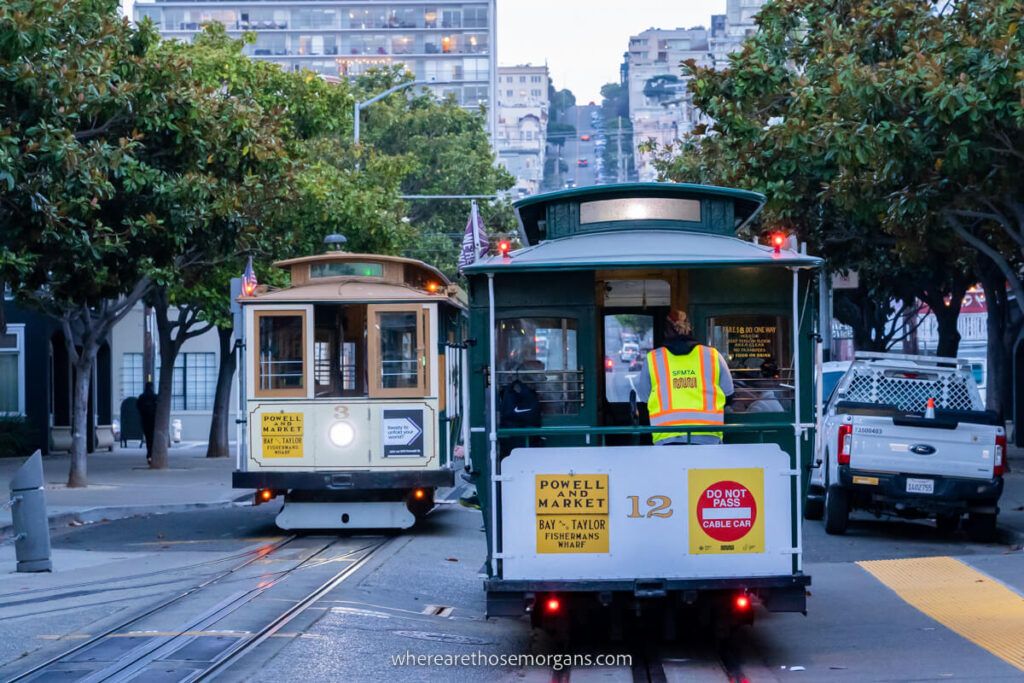 16. SF Cable Car Museum
The SF Cable Car museum at 1201 Mason Street in Nob Hill is another fantastic place you can visit in San Francisco for free.
Exhibits and educational boards about the history and development of San Francisco's famous Cable Car system explain everything a mechanically inclined visitor would ever want to know!
This is a small museum and won't take long to explore, but it is free and well worth a fleeting visit.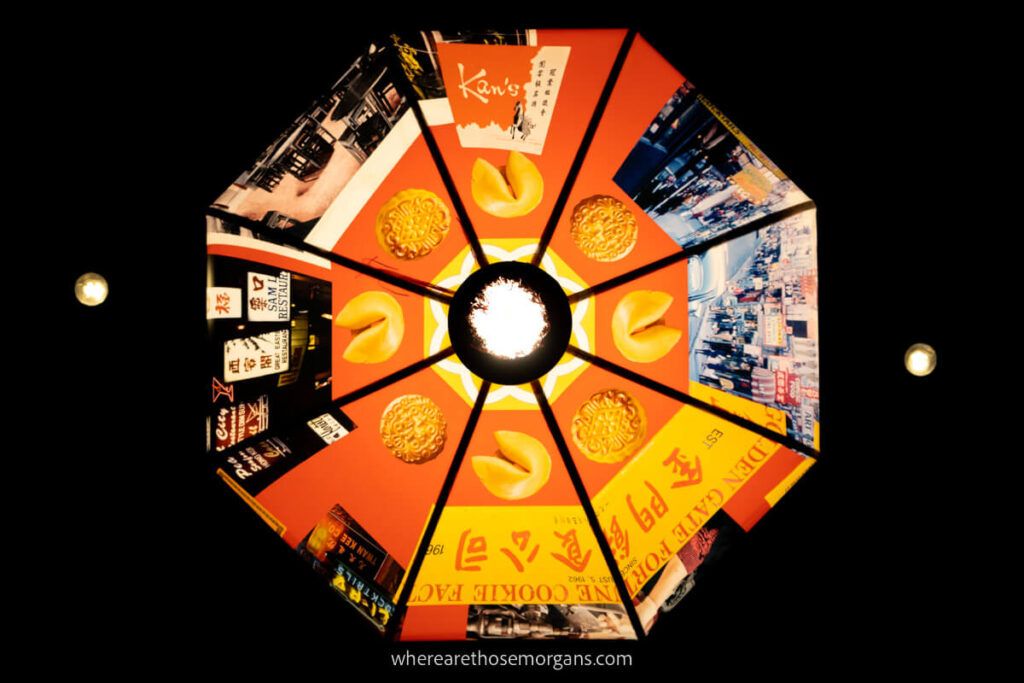 17. Chinatown
Chinatown is one of the most fun places to visit in San Francisco and we highly recommend you allow some time in your itinerary to walk the labyrinthine streets here.
The popular neighborhood is sandwiched between bustling Union Square and top SF attractions. Therefore anyone who prefers to walk around a new city will naturally pass through Chinatown several times.
You will find vibrantly colored lanterns and decor, hidden gems like the Golden Gate Fortune Cookie Factory, and a host of fantastic places to eat and drink.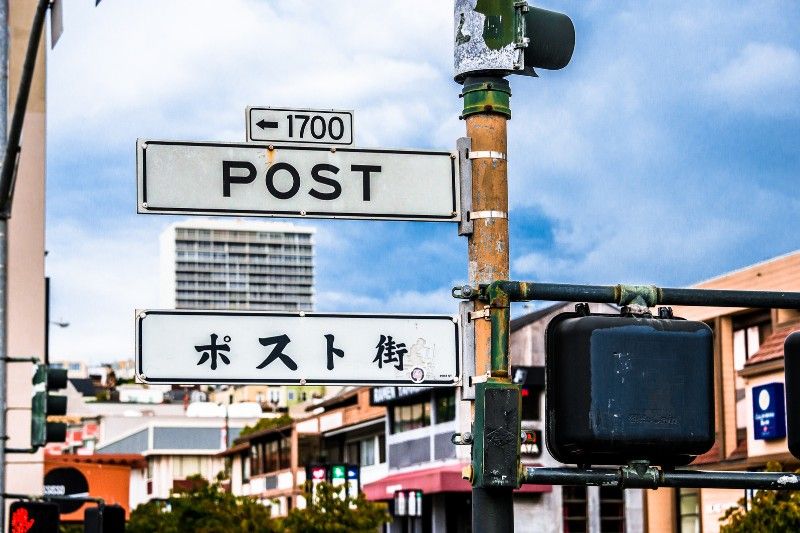 18. Japantown
Japantown is one of the most underrated places to visit in San Francisco. It is located far from any traditional SF attractions, which means it is rarely on any visitor itinerary.
However, if you are interested in Japanese art, culture and architecture, Japantown should be firmly in your plans. San Francisco's Japantown is the largest of just three remaining in the US.
You will find a 5 story peace pagoda, an eclectic mix of Japanese goods and of course plenty of ramen.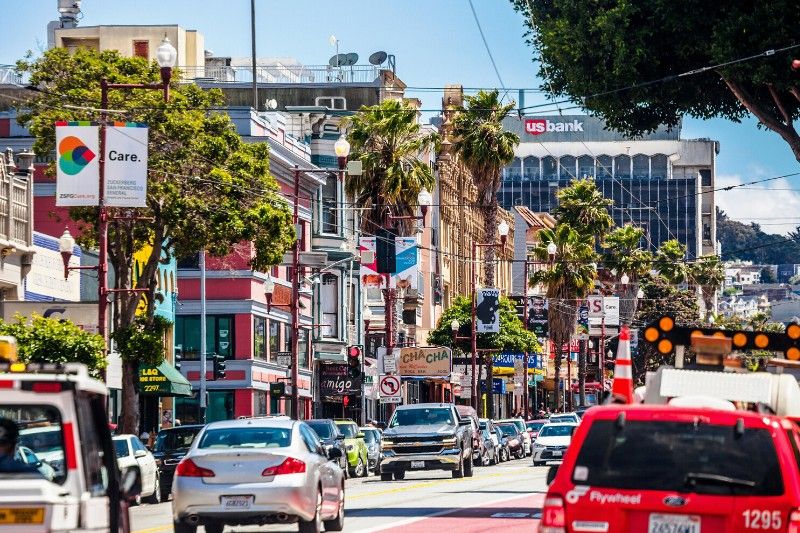 19. Mission District
Mission District – or The Mission – is one of San Francisco's most popular and in-vogue neighborhoods. It is a place full of life, color, passion, food and energy.
We highly recommend spending half a day wandering the vibrant streets or an evening socializing in Mission District during your first visit to SF. On a second visit, spend a whole day here.
Eat a tasty Mission style burrito, find a classy cocktail bar, admire art murals in Clarion Alley and visit The Castro Theater nearby.
12 Best CHEAP Things To Do In San Francisco
Let's move onto the most popular cheap things to do in SF.
The following 12 things to do in San Francisco will cost up to $25 per person at the very most.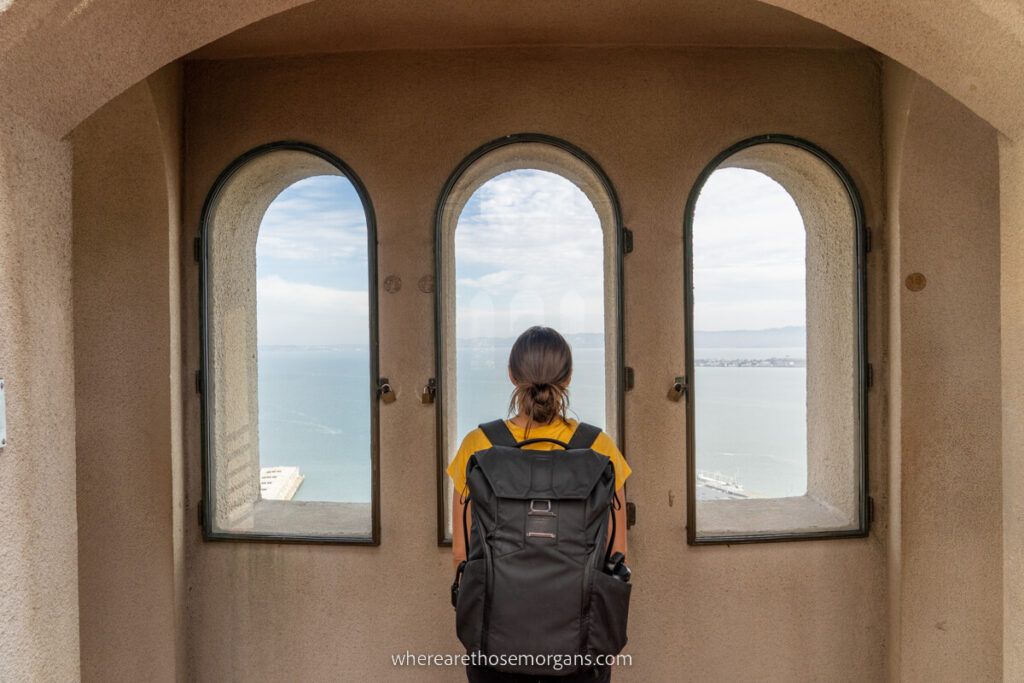 20. Coit Tower
Coit Tower is a 210 ft tall off-white cylindrical concrete tower located in the Telegraph Hill neighborhood of San Francisco.
You can see the prominent Coit Tower busting into the skyline from many parts of the city, but you can also go up to the top for a relatively low price.
There is an elevator, but it was broken the day we visited so we had to climb 250 steps to reach the rooftop observation deck.
Views are good but not as spectacular as you might imagine. Plus, photographers should know that the windows are all covered with perspex glass.
Coit Tower Tickets
Adult (18+) – $10
Youth (12-17) – $7
Child (5-11) – $3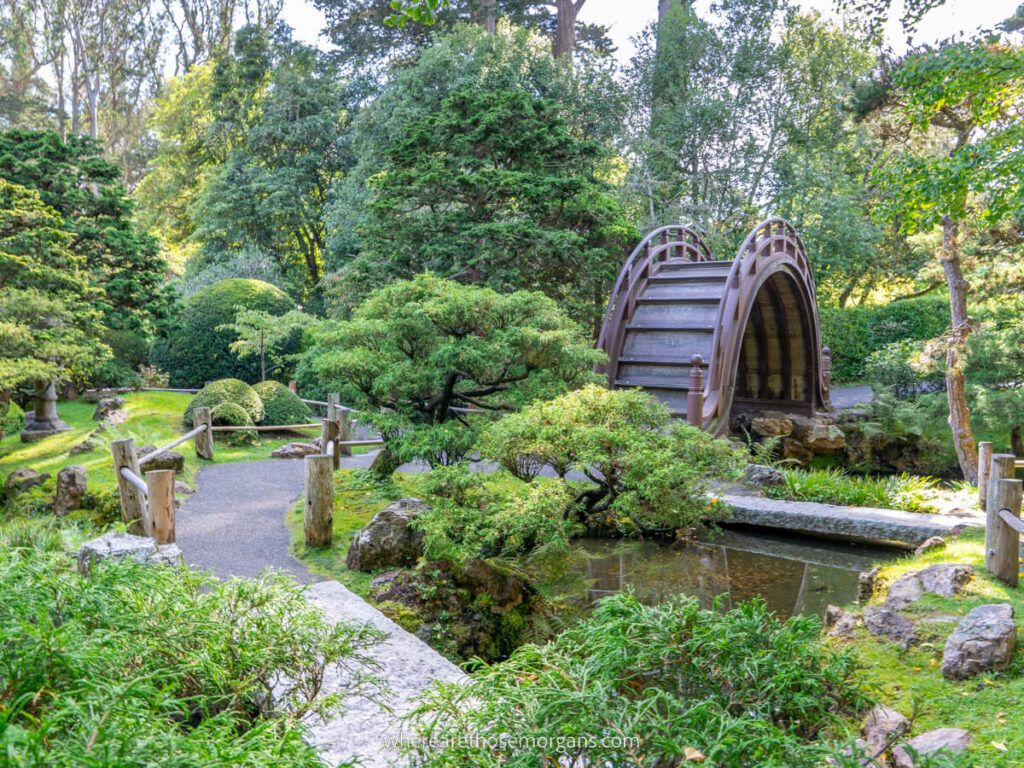 21. Japanese Tea Garden
San Francisco's Japanese Tea Garden is one of the most beautiful places in the city and it is among the best we've seen outside of Japan.
If you're visiting Golden Gate Park for museums and gardens, the Japanese Tea Garden with its intriguing history and stunning grounds is simply unmissable.
Japanese Tea Garden Tickets
Adult (18+) – $13
Youth (12-17) – $7
Child (5-11) – $3
Want to explore the Tea Garden? Read our complete guide to visiting the San Francisco Japanese Tea Garden for photos and things to do.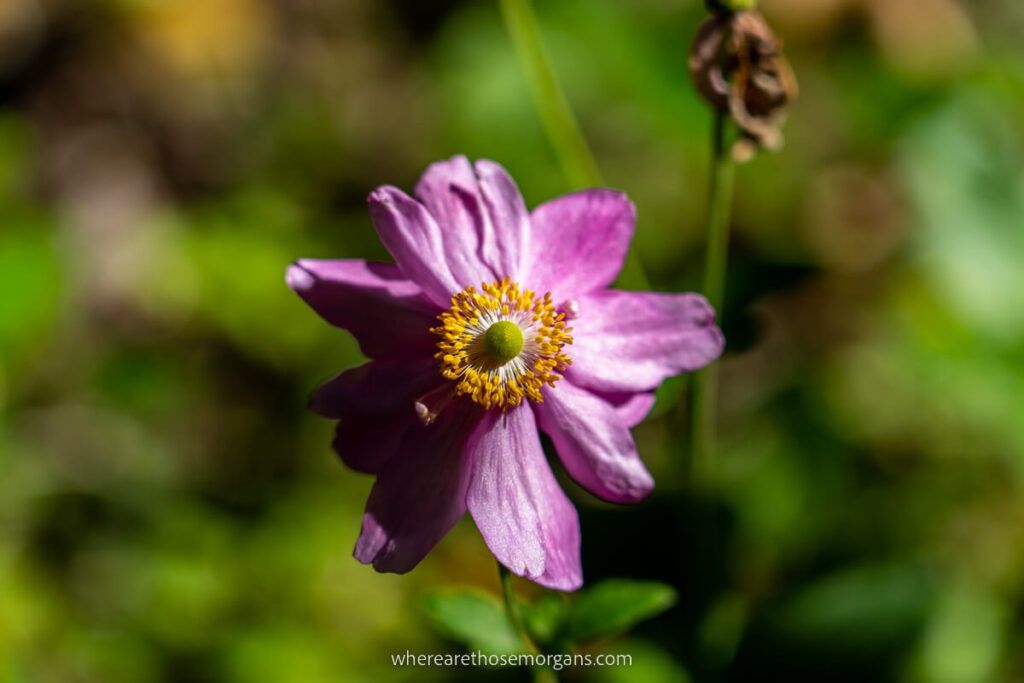 22. San Francisco Botanical Garden
SF Botanical Garden is a 55 acre oasis showcasing various plants, flowers and trees from around the world. It is located close to the Japanese Tea Garden in Golden Gate Park.
This place will be a much needed escape from your otherwise hectic city itinerary.
You could get lost in here for hours wandering around the diverse vegetation from Earth's continents and countries. Keep an eye out for what is in season during your visit.
Botanical Garden Tickets
Adult (18+) – $13
Youth (12-17) – $7
Child (5-11) – $3
Note: You can purchase a special Gardens of Golden Gate Pass which gives you entry to Botanic Garden, Japanese Tea Garden and Conservatory of Flowers at a discounted price.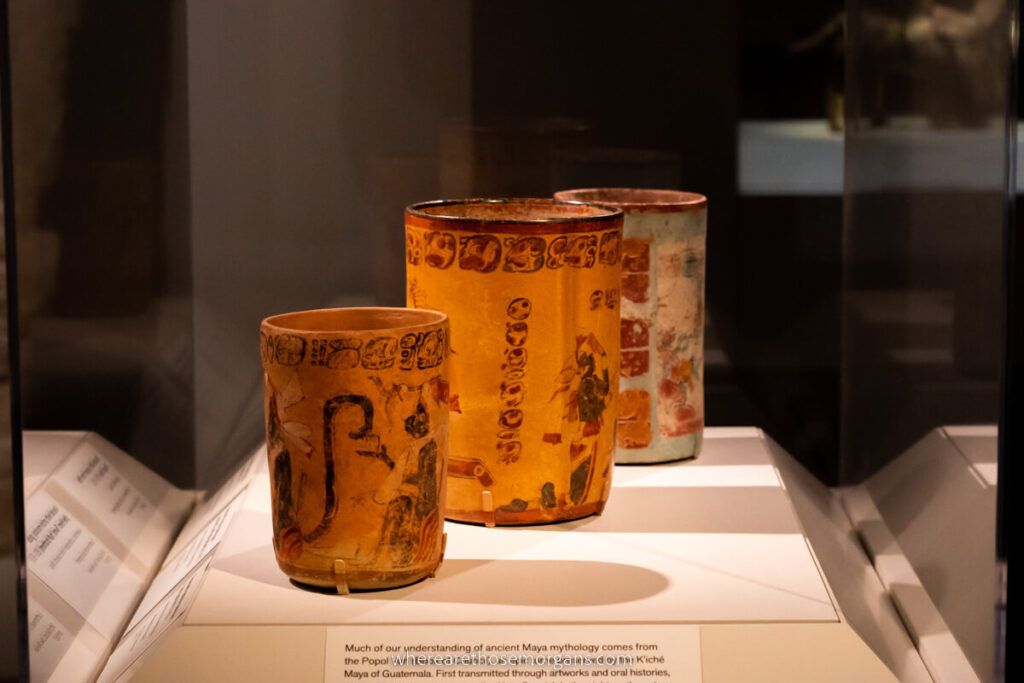 23. De Young Museum
The de Young Museum in Golden Gate Park makes up one half of San Francisco's Fine Arts collection. You can find the other half at Legion of Honor in Lincoln Park.
De Young was opened in 1895 and holds American art from the 17th century until today, plus art from Africa, Oceana and the Americas.
De Young Museum Tickets
Adult (18+) – $15
Youth (0-17) – Free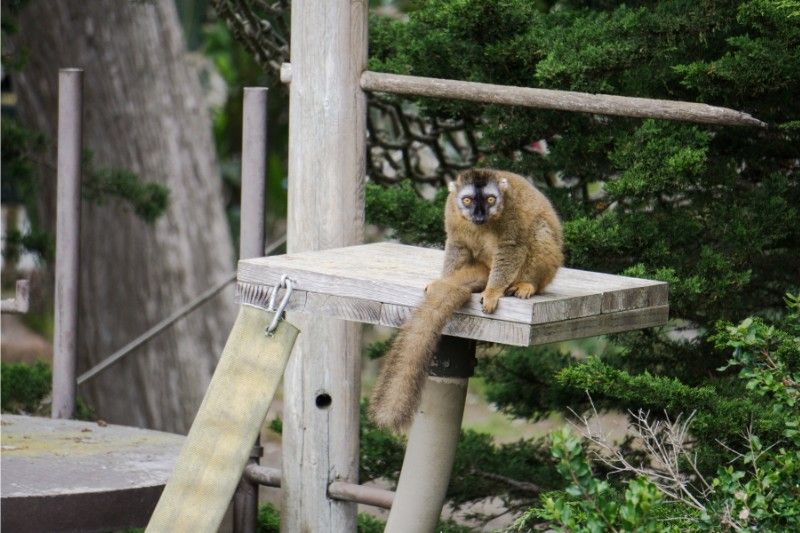 24. San Francisco Zoo
San Francisco Zoo is home to over 2,000 animals who live in 100 acres of peaceful gardens located right on the coastline near Ocean Beach.
You can take the L Line bus shuttle from several stations in Downtown SF to reach the zoo directly or you can drive yourself.
San Francisco Zoo Tickets
Adult (12+) – $25
Child (2-11) – $18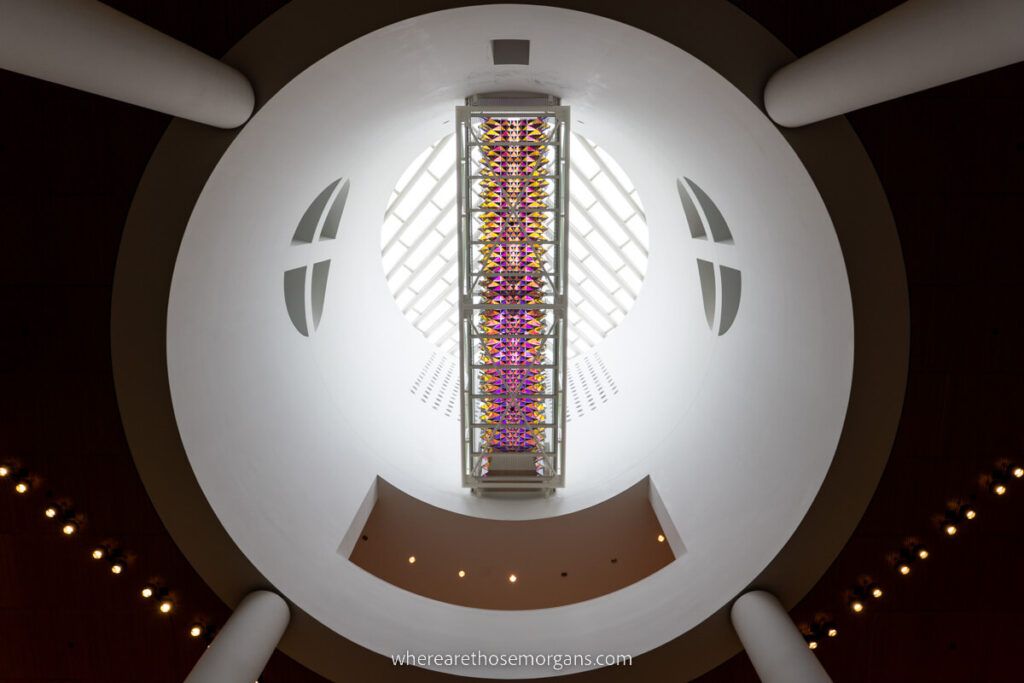 25. SF MoMA
San Francisco's Museum of Modern Art is one of the premier modern and contemporary art museums in the United States.
You will find multiple floors filled with some of the most thought provoking art installations of our era. Paintings are just the beginning!
SF MoMA Tickets
Adult (25+) – $25
Youth (19-24) $19
Child (0-18) – Free
26. Asian Art Museum
The Asian Art Museum of San Francisco is located in the Civic Center Plaza opposite City Hall. It houses more than 18,000 artworks and artifacts of Asian origin and influence.
It is the largest museum in the US dedicated solely to Asian art and it is widely regarded as having one of the greatest collections of Asian art in the world.
Note: The museum is closed on Tuesdays and Wednesdays.
Asian Art Museum Tickets
Adult (18+) – $20
Youth (13-17) – $14
Child (0-12) – Free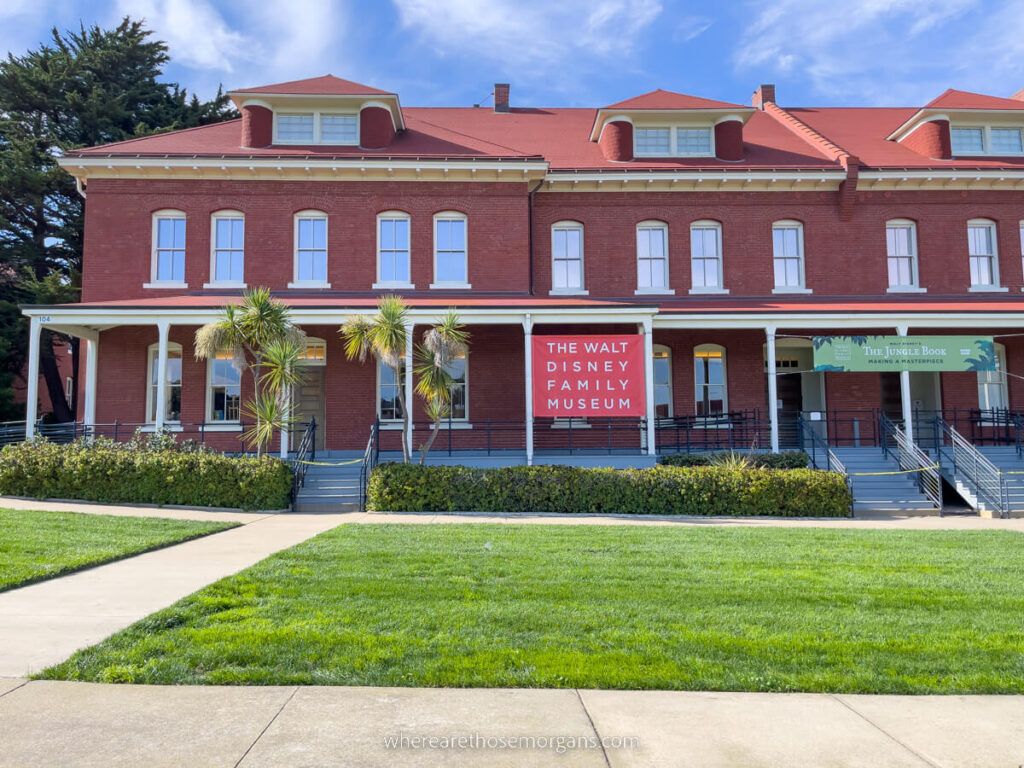 27. Walt Disney Family Museum
The Walt Disney Family Museum is a San Francisco favorite showcasing the life and legacy of legendary animator Walt Disney, who transformed the entertainment industry.
Located in the peaceful Presidio area close to Golden Gate Bridge, the Walt Disney Family Museum features original artwork and hands on exhibits perfect the whole family.
Walt Disney Family Museum Tickets
Adult (18+) – $25
Youth (6-17) – $15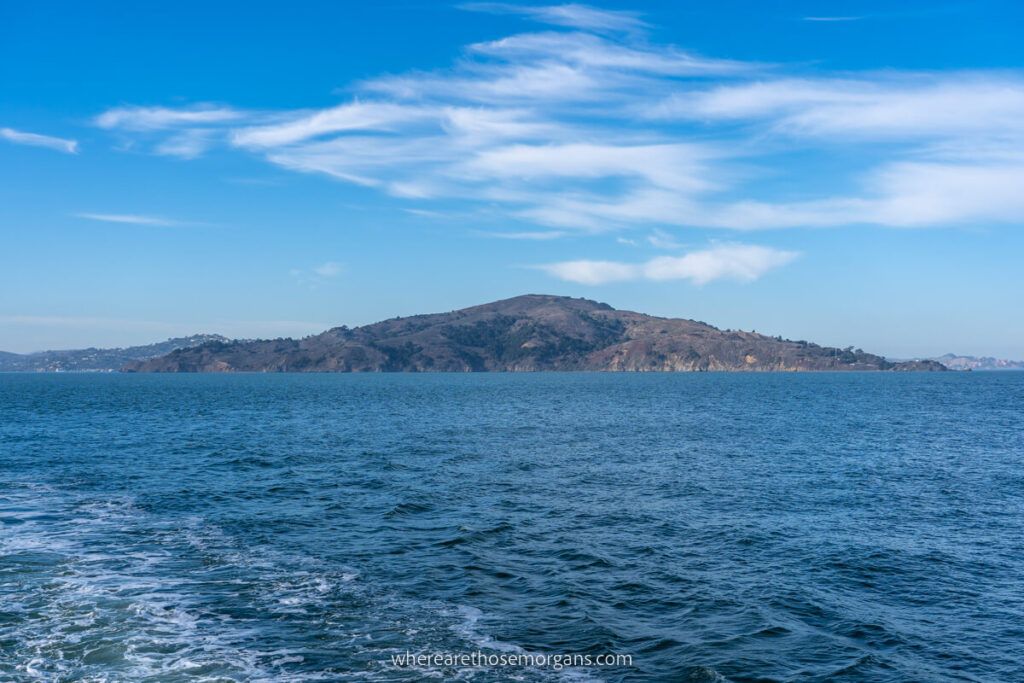 28. Angel Island
Angel Island State Park is a the perfect half day trip for families or couples to take from Pier 41 in Fisherman's Wharf.
Ride the ferry to Angel Island for some of the best views overlooking San Francisco Bay, Alcatraz and the city skyline.
After arrival, take the open top tram to learn about the colorful history of Angel Island, including Civil War and immigration. The island is known as the "Ellis Island of the West" for a reason!
Angel Island Ferry Tickets (Each Way)
Adult (19+) – $14
Youth (5-18) – $7
Note: Roundtrip ferry tickets must be purchased together before departing for Angel Island. Total prices are $28 per adult and $14 per youth, which includes Angel Island State Park entrance.
29. Boudin Bakery Sourdough
Boudin is the original creator and oldest of all San Francisco sourdough bakers, and you won't taste sourdough bread like this anywhere else in the world.
A popular lunch time special is soup eaten out of a round sourdough bread roll, with tomato and clam chowder the best sellers.
Foodies looking for the best things to do in San Francisco simply can't miss Boudin, which is located in Fisherman's Wharf.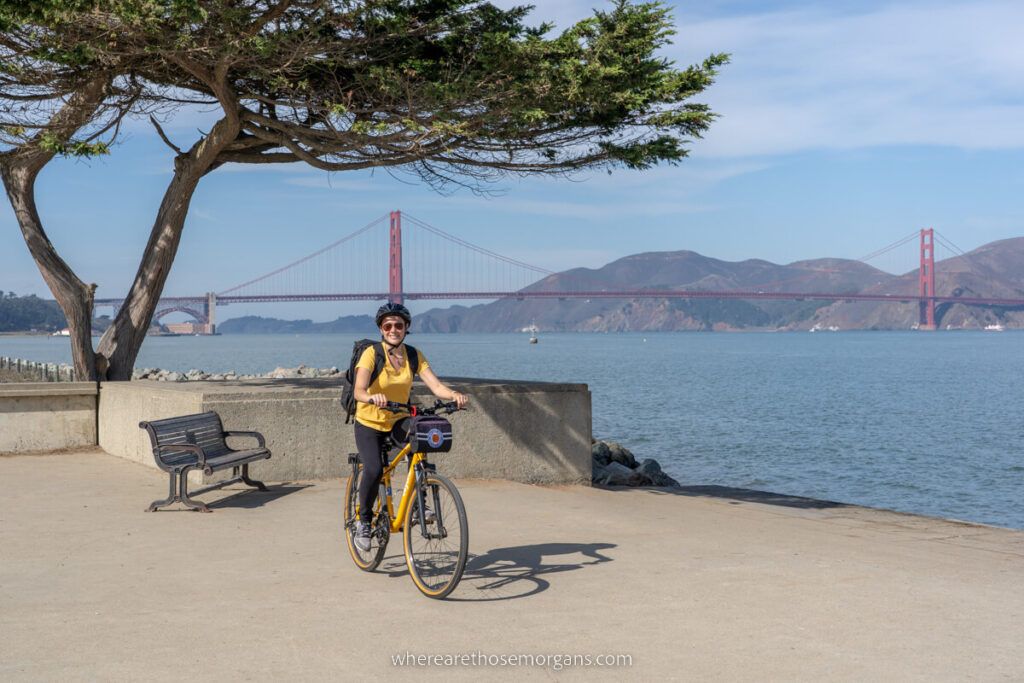 30. Bike Rentals
Renting a bike is one of the most obvious yet effective cheap things to do in San Francisco.
Once you have a bike, you can hit the coast hugging bicycle path through Marina and Presidio until you reach the Golden Gate Bridge.
Cycling across the bridge is awesome, but you need to be aware of pedestrians and more importantly, locals on road bikes who are going much quicker than you.
We cycled all the way down to Golden Gate Park to visit the museums before looping back to Palace of Fine Arts and Fisherman's Wharf.
The route is great but it is very hilly so be warned!
How Much Is Bike Rental In SF?
We hired our bikes in San Francisco with Bay City Bike Rentals but there are a handful of alternatives to consider.
Bay City Rentals are based in Fisherman's Wharf, which makes it easy to hit the coastal path straight away.
Price at time of writing:
From $25.60 per person for a full day.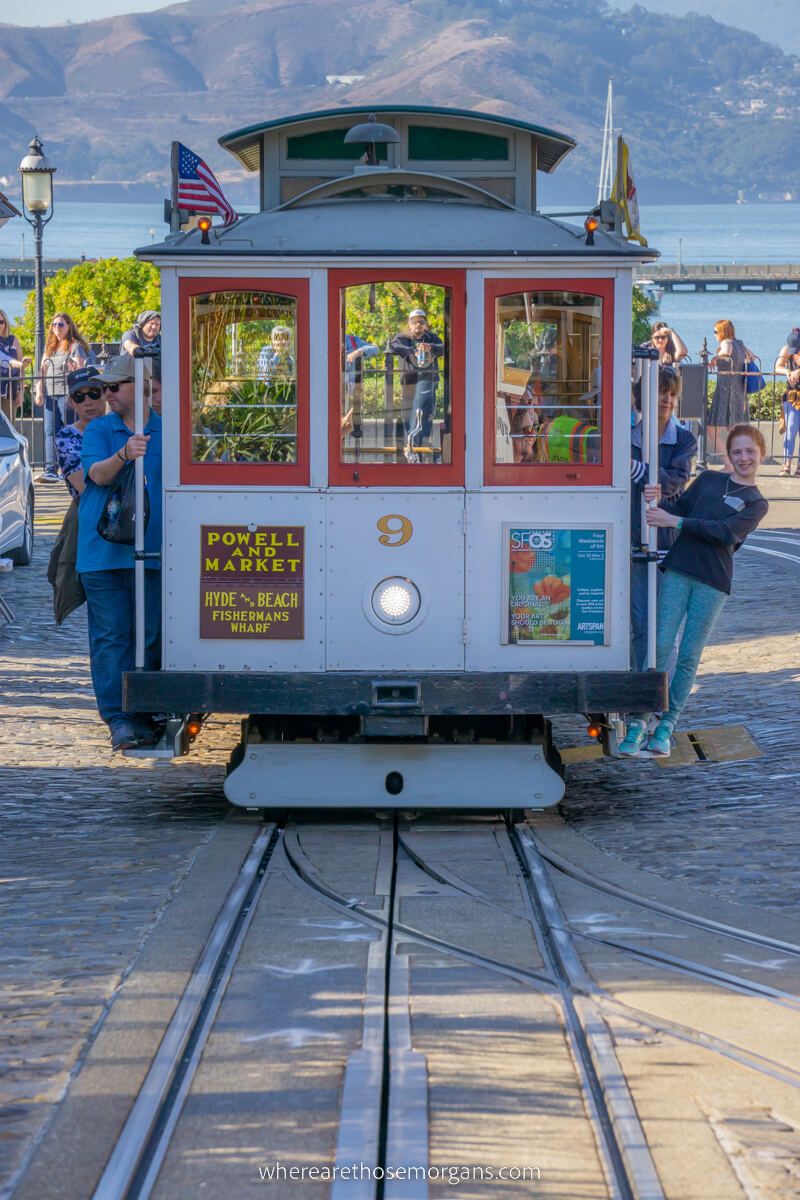 31. Ride The SF Cable Car
Rounding out our list of best cheap things to do in San Francisco is riding the iconic cable car. This one is a must and it is suitable for the entire family.
For just $6 per person, you can hop on a cable car and ride it through the famed streets of SF.
The most famous place for tourists to start and end a cable car ride is the Powell / Mason cable car turnaround in Fisherman's Wharf.
9 Best EXPENSIVE Things To Do In San Francisco
With free and cheap things to do in San Francisco covered, that leaves one final category.
One word is expensive, but another is fun!
The following fun things to do in San Francisco will cost you upwards of $25 per person, but none of them will break the bank.
Important – Several of the top paid attractions in SF listed below are included on various types of San Francisco City Passes.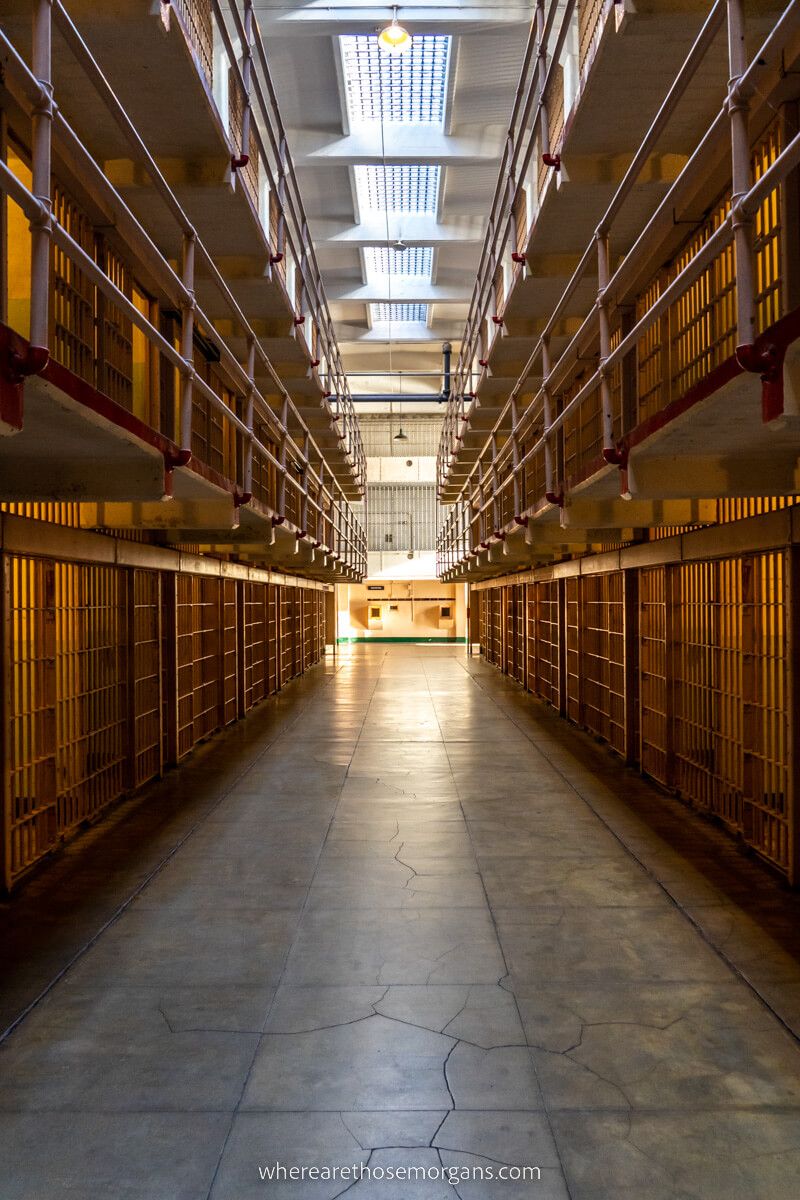 32. Alcatraz Tour
Alcatraz is the most famous paid San Francisco attraction by a distance. We have personally taken the day and night tour, both of which were fantastic.
We don't want to give too much away, but we can say that the NPS have done a superb job with the self guided audio tour of Alcatraz prison and grounds.
If there is only one thing you pay for during your visit to SF, make it Alcatraz. Trust us, you will not be disappointed!
Want to visit Alcatraz? Read our ultimate guide to the Alcatraz day and night tours, including ferry ticket information and times, plus what you can expect on the tour.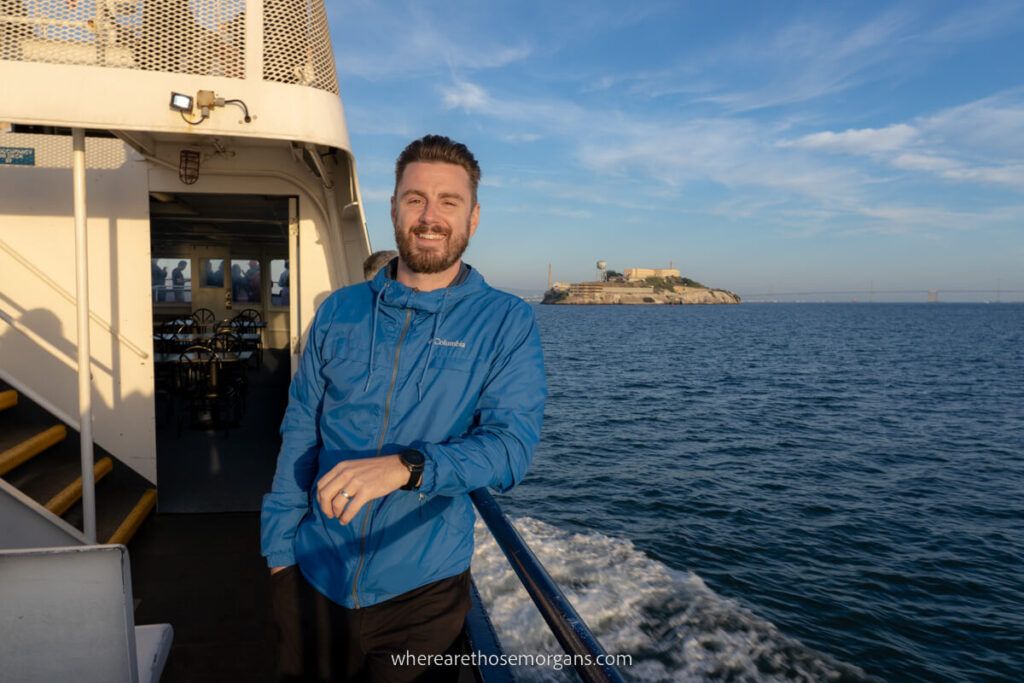 33. San Francisco Bay Cruise
San Francisco Bay Cruises are one of the best ways to see the Golden Gate Bridge and city skyline. You will also pass by Alcatraz without stopping.
You can choose to sail during the day or at sunset. We advise booking in advance, especially for the sunset time slot.
We took a sunset cruise with Blue and Gold Fleet. The ticket office can be found right in Fisherman's Wharf between Pier 39 and Pier 41.
Blue + Gold Fleet Bay Cruise Tickets
Adult (18+) – $37
Youth (12-17) – $31
Child (5-11) – $26
Note: Prices listed above are for the basic 60 minute daytime bay cruise. Sunset cruise tickets are more expensive.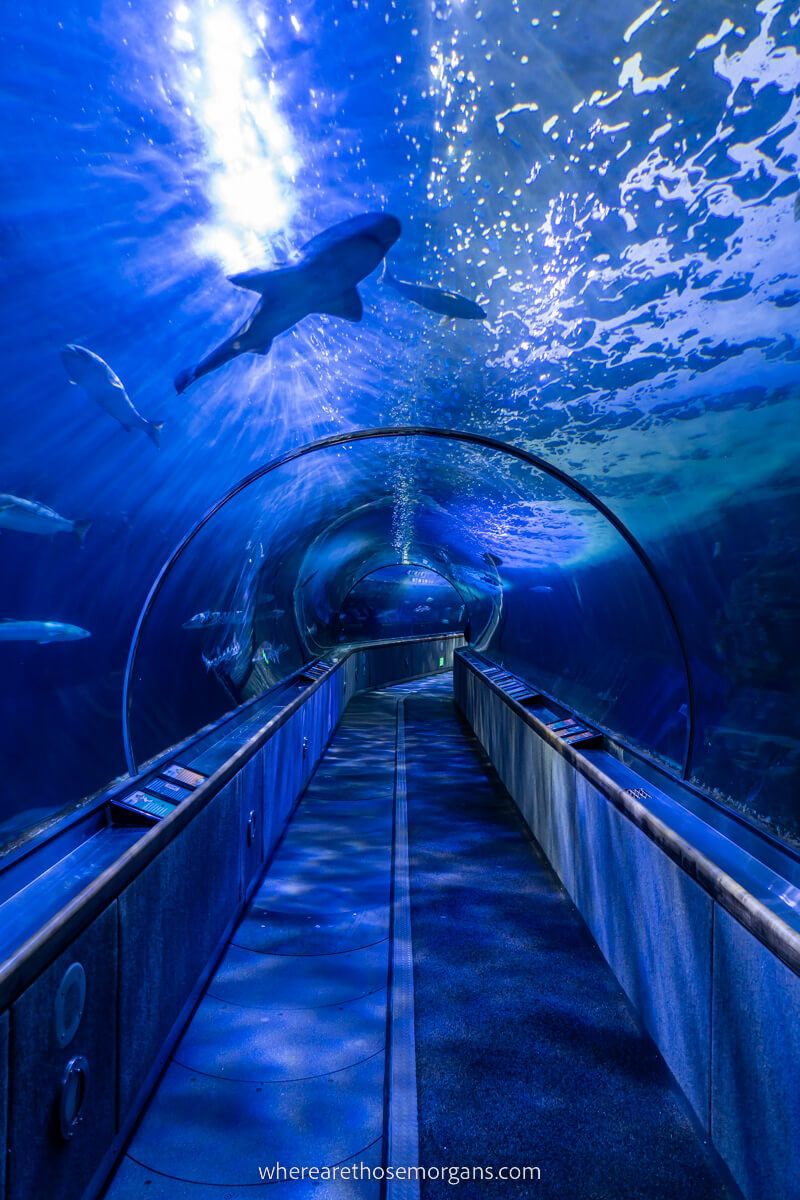 34. Aquarium Of The Bay
Aquarium of the Bay is San Francisco's small but popular and extremely family friendly aquarium located in Fisherman's Wharf.
The highlight of this aquarium are two long tunnels covered on both sides and above by marine life including sharks. Take your time walking through the tunnels!
Aquarium of the Bay Tickets
Adult (13+) – $31.75
Child (4-12) – $21.75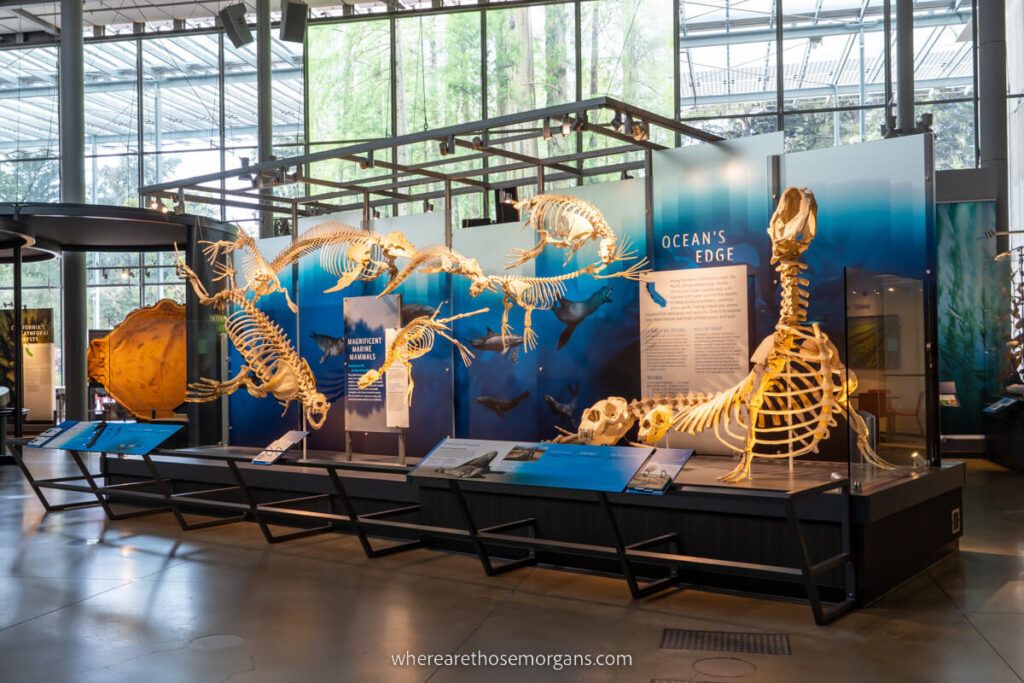 35. California Academy Of Sciences
California Academy of Sciences is one of the world's only aquarium – rainforest – planetarium – museum collections under one roof.
It is essentially a dream come true for parents who need to entertain the kids!
We spent a good few hours exploring each of the areas and could have stayed longer. Book planetarium shows as soon as you arrive so you don't miss out.
California Academy of Sciences Tickets
Adult (18+) – $35.75
Youth (3-17) – $28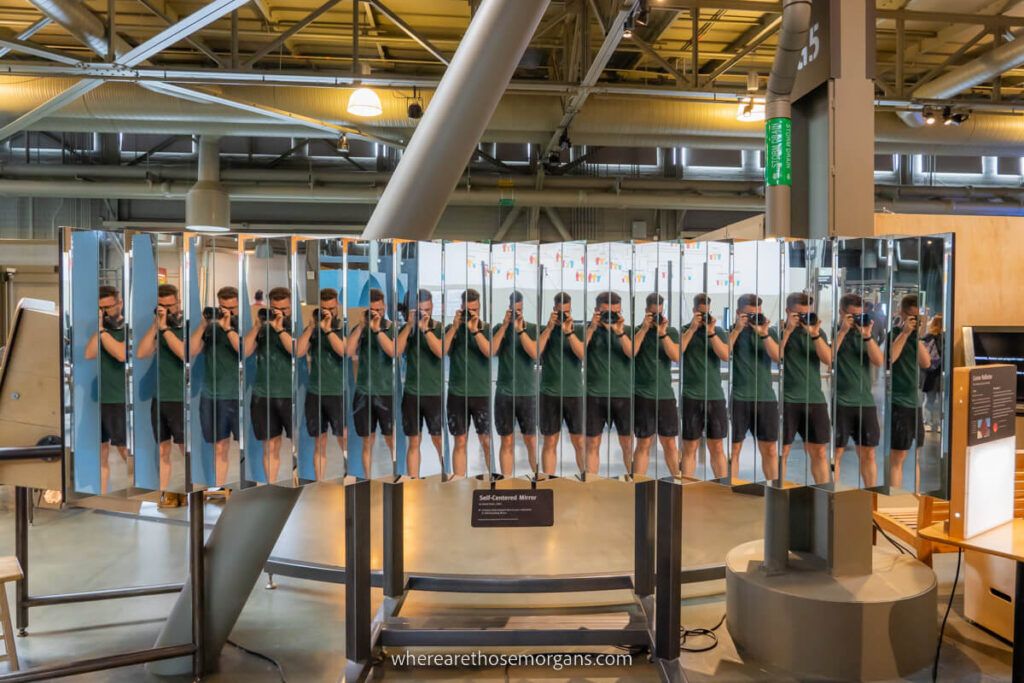 36. Exploratorium
Exploratorium is a fully immersive and interactive hands on experience for adults and children alike.
Visitors to the museum will find endless devices, machines and instruments to play or tinker with. It is like taking a physics or biology class at school, but fun!
We enjoyed Exploratorium far more than expected, realizing that you're never too old to enjoy playing with toys when they are educational!
Exploratorium Tickets
Adult (18+) – $39.95
Youth (4-17) – $29.95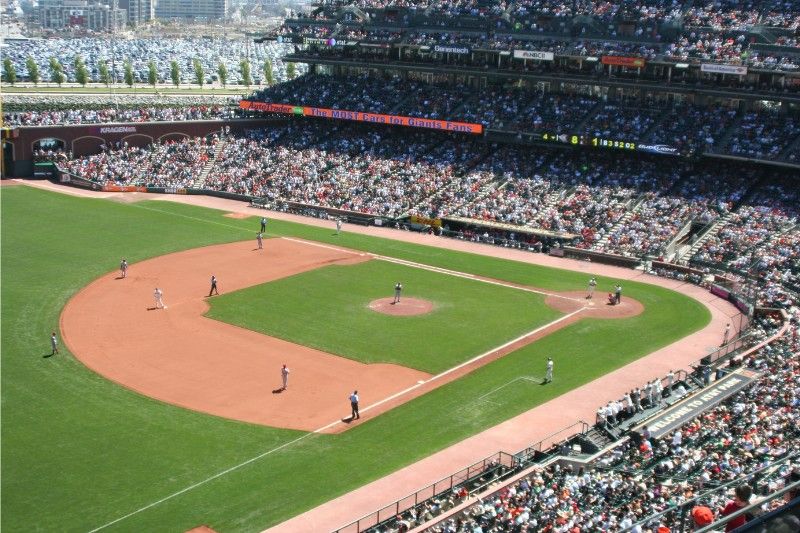 37. Watch A Sports Team
San Francisco is home to several major sports teams.
Domestic US travelers may even be visiting SF just to watch their team come to town. But international travelers visiting SF for the first time should also try to catch a NFL, baseball or basketball game.
Watching sports teams in the US isn't cheap (trust us, we know as Buffalo Bills fans!) but they are a bucket list experience you have to try at least once.
Which Sports Teams Are In San Francisco?
Here are the major teams you can consider watching on your visit to SF:
NFL – San Francisco 49ers
Baseball – San Francisco Giants
Basketball – San Francisco Golden State Warriors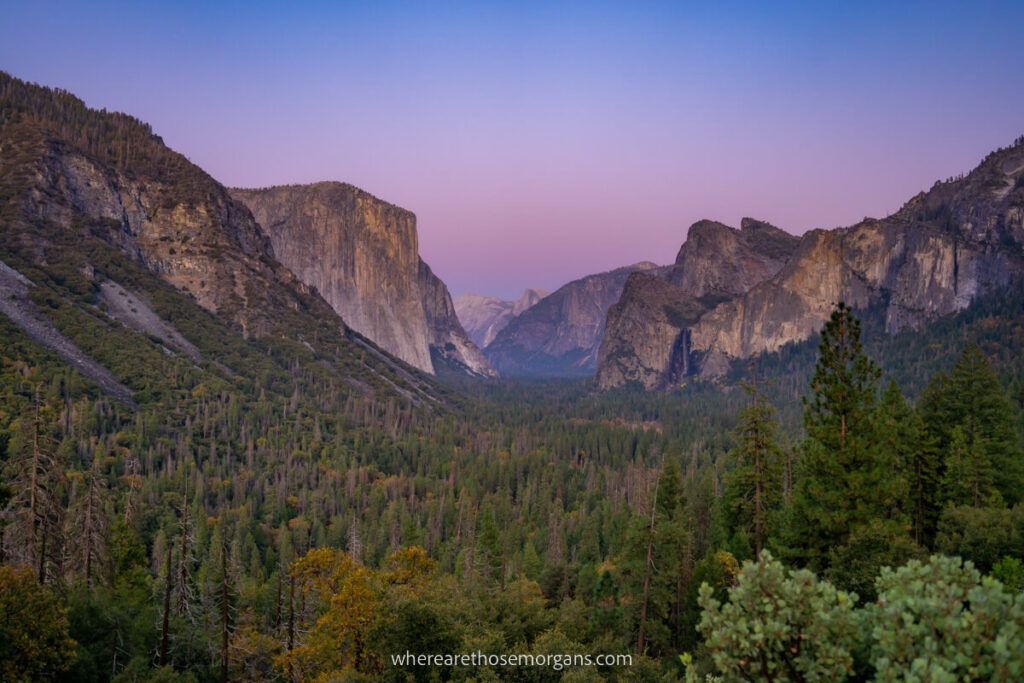 38. Take A Day Trip
If you have planned a 7-10 day trip to Sf, or you are a returning visitor to the city and you've already done all the touristy things listed in this guide, it could be time to hire a car and take a day trip.
SF is close to several beautiful landscapes, but you'll need to get an early start to get ahead of the morning rush hour traffic.
We put day trip in the expensive category because after gas, food and activities you will likely spend more than $25 per person.
Best Day Trips Near San Francisco
Yosemite National Park – It's a heck of a long day trip at 3 hours 30 minutes driving each way, but Yosemite is one of the most majestic landscapes on Earth.
Lake Tahoe – A slightly shorter drive time could take you to the shores of spectacularly beautiful Lake Tahoe.
Point Reyes – At just over 1 hour each way, Point Reyes National Seashore could be a more realistic day trip option.
Big Sur – Perhaps the most popular and desirable day trip from SF is driving down California 1 on the Pacific Coast Highway to Monterey, Carmel and Big Sur.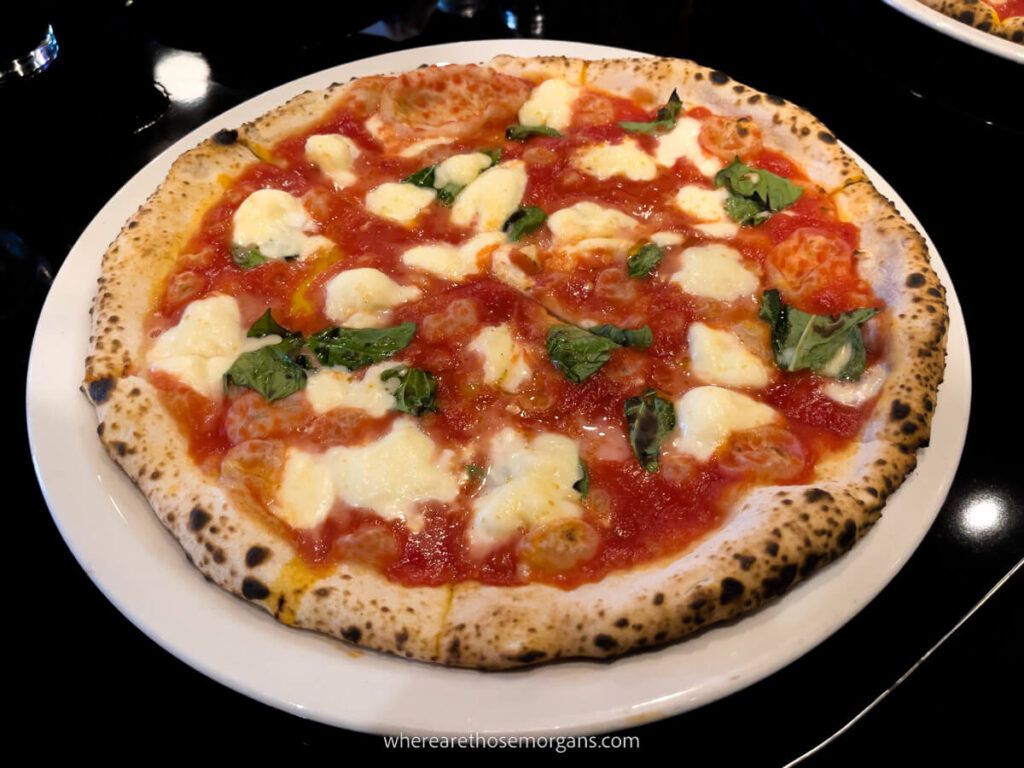 39. Eat + Drink
When planning your bucket list of best things to do in San Francisco, remember that you are in one of America's most popular, diverse and expensive cities.
As a result, you know you are going to be in for a culinary treat.
There are hundreds of amazing places to eat and drink in SF, from boozy bars to classy cocktail lounges and from hole in the wall eateries to high end dining.
Chinese, Japanese, Mexican, Italian and Californian food are all fabulous in San Francisco.
However, you will need to set aside a significant portion of your travel budget for eating out.
It really isn't cheap, and once the beers and wine start flowing with tax plus tip on top, your wallet is in trouble!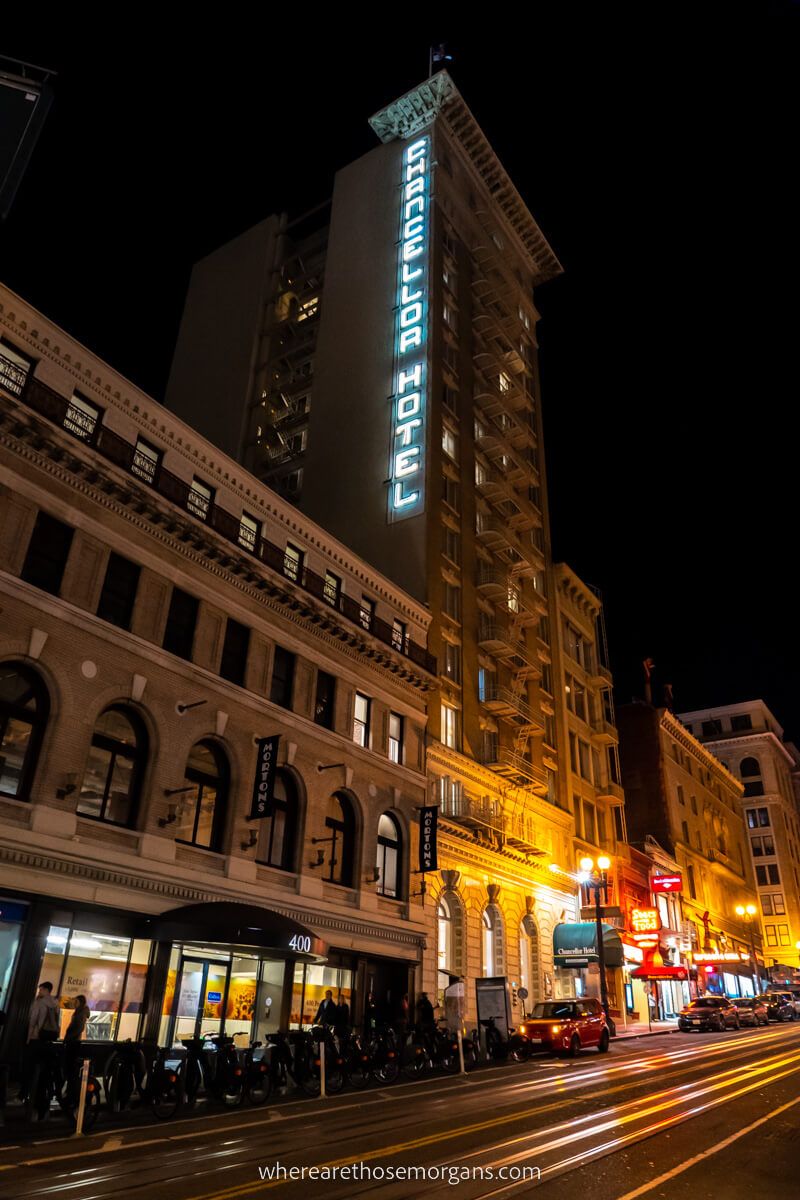 40. Stay In A Luxury San Francisco Hotel
Completing our guide to the best things to do in San Francisco is staying in a luxury SF hotel.
Now, let us warn you that hotels in SF are expensive.
We've traveled the US and the world extensively, and we even have another website dedicated to helping travelers find the best hotels.
But every time we go to San Francisco our bank balance takes a hit on lodging.
Fisherman's Wharf and Union Square are the two most popular neighborhoods for first time visitors to stay. But we suggest also looking at SoMa, Financial District and Mission as alternatives.
If you really want to do one of the best things in SF, why not splurge on a luxury hotel? There are a handful of 5 star hotels in town for those with a healthy travel budget to enjoy.
Looking for a hotel in SF? Read our complete guide to the 20 best hotels in San Francisco, including the top rated cheap, mid range and luxury hotels in the most popular areas.
San Francisco Attractions Passes
Many of the best paid things to do we listed in this guide are included with each of the popular San Francisco attraction passes.
Having used these passes in cities all around the world, we can speak directly from experience when we say they can save you money.
You should consider purchasing one of these San Francisco passes if you plan to visit several of the top attractions in the Golden City.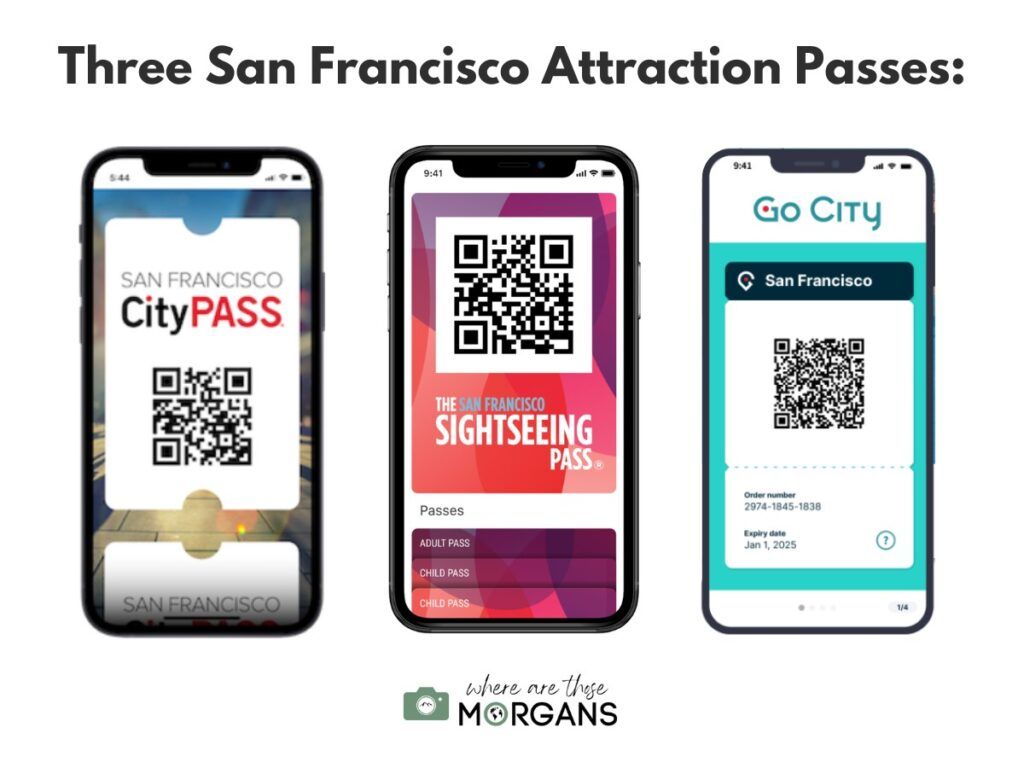 3 Major San Francisco Attractions Passes
Here are the 3 SF attractions pass competitors:
San Francisco CityPASS (or C3 Pass)
San Francisco Sightseeing Pass
Go City San Francisco Pass
If this is your first time in SF, we would recommend the San Francisco Sightseeing Pass or the San Francisco CityPASS.
These two SF passes offer different ways of bulk saving on attractions.
CityPASS is best for seeing fewer top attractions, whereas Sightseeing Pass is better if you want to do loads of fun things in San Francisco.
You can read our San Francisco CityPASS review for more information on this particular pass.
If you are a returning visitor to SF and want to visit unique attractions, we would recommend the San Francisco Sightseeing Pass or the Go City San Francisco Pass.
These two passes offer more attraction options compared to CityPASS.
Not sure which pass is best for you? Read our detailed comparison of all 3 San Francisco attractions passes to help decide which pass will save you the most money on your visit to the Golden City.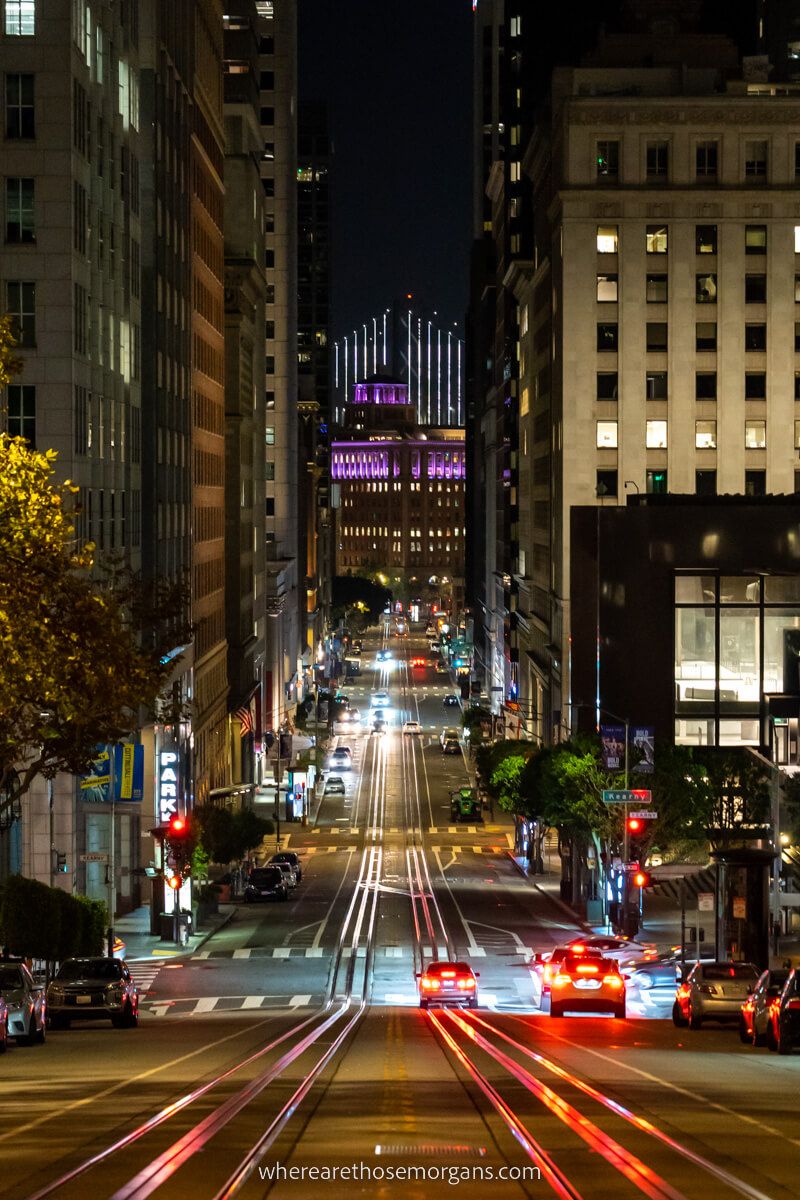 Best Free Things To Do In San Francisco
Are you visiting San Francisco on a shoestring budget? Let's take a look at the top things you can do in SF for free:
Walk the Golden Gate Bridge
See SF from Twin Peaks
Photograph the Painted Ladies
Explore diverse SF neighborhoods
Photograph Lombard Street
Best Things To Do In San Francisco For Couples
Taking a couples trip to San Francisco? Let's take a look at the top things you can do as a dynamic duo:
Take a walk on Ocean Beach
Wander through the Japanese Tea Gardens
Take a sunset cruise on SF Bay
Grab a sourdough lunch at Boudin Bakery
Eat and drink your way through SF
Best Things To Do In San Francisco For Families
Are you taking the kids on vacation? Let's take a look at the top things for families to do in San Francisco:
Visit Aquarium of the Bay or SF Zoo
Take a tour of Alcatraz
Play with interactive exhibits at Exploratorium
Watch the Sea Lions at Pier 39
Watch a baseball, basketball or NFL game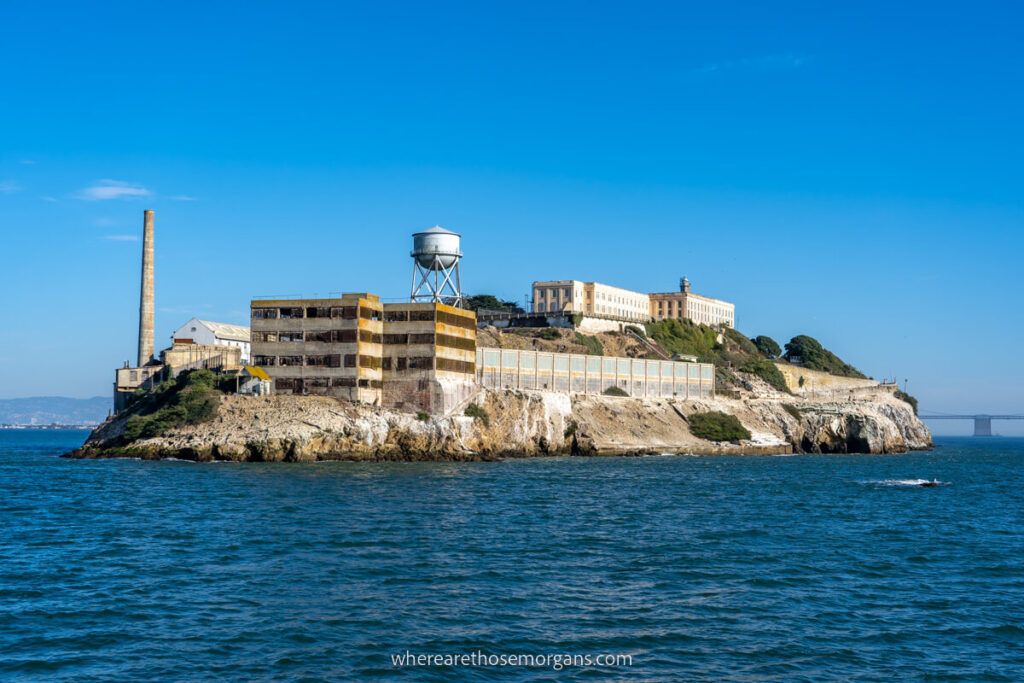 Best Things To Do In San Francisco FAQ's
Let's take a quick look at some of the most frequently asked questions about the best things to do in San Francisco.
What Should I Not Miss In San Francisco?
When visiting San Francisco you should not miss the Golden Gate Bridge, a Tour of Alcatraz, eating tasty sourdough bread, a San Francisco Bay Cruise, riding the iconic SF Cable Car, a visit to the interactive Exploratorium and Coit Tower observation deck.
Is Fisherman's Wharf Worth Seeing?
Fisherman's Wharf is a little tacky and always crowded but it is definitely worth seeing on a first visit to San Francisco. You will find independent shops, seafood restaurants, Pier 39, Sea Lions, SF aquarium and the famous Boudin Bakery all located in Fisherman's Wharf.
How Many Days In San Francisco Is Enough?
Three days is the minimum amount of time you need in San Francisco to see the top attractions and get a good feel for the city. However, you could easily spend a week visiting popular attractions as well as taking multiple day trips from the city.
Our Top San Francisco Guides
More Things To Do Guides
Our Popular California Guides
Want more California content? Head to our California Travel Guides to explore National Parks, popular road trips and things to do in major cities of the sunshine state.
---
We hope this guide to the best things to do in San Francisco helps with planning your visit to California!
Please let us know if you have any questions about visiting San Francisco below in the comments and have a great trip.
Happy Travels,
Mark and Kristen
Enjoy This San Francisco Guide? Pin It For Later!
Note: This article contains affiliate links. When you make a purchase using one of these affiliate links, we may earn a small commission at no extra cost to you.
All Rights Reserved © Where Are Those Morgans, LLC. Republishing this article and/or any of its contents (text, photography, maps, graphics, etc.) in whole or in part is strictly prohibited.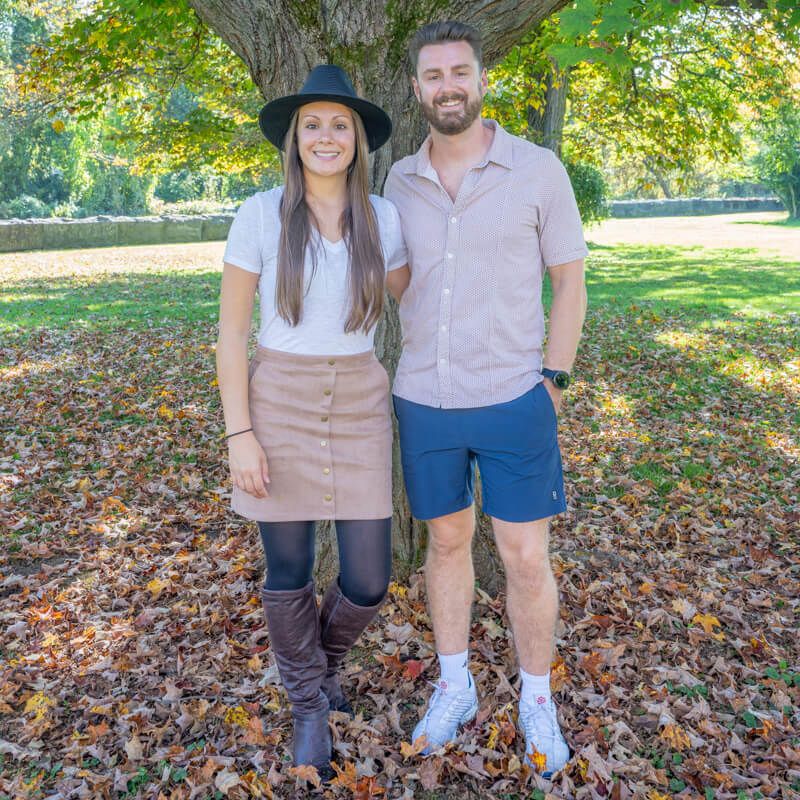 Mark and Kristen Morgan are travel, hiking and photography experts. Over the last 6 years traveling full time, they have explored more than 40 countries and 30 US states.
Their work has been featured in USA Today, Gestalten, Get Your Guide, CityPASS and Condé Nast Traveler along with various other publications.