Day hiking The Enchantments trail. Wow! Where do we begin? Well, the 18.6 mile thru hike from Stuart / Colchuck Lake trailhead to Snow Lakes trailhead is amazing, challenging, rewarding and exhausting. We're going to share our best advice, top tips, honest opinion and a complete step by step walkthrough of day hiking The Enchantments to help you prepare for your hike.
Taking on the mammoth day hike – or thru hike as it is also known – of The Enchantments Trail is no joke. You will need to start in the early hours of the morning, organize transport for each trailhead, climb 4,549 ft of steep elevation gain and then descend 6,688 ft over 18.6 miles.
Once you've summited Aasgard Pass, the Core Enchantments are a spectacularly beautiful prize. Deep blue lakes shimmer under sunlight and glowing golden larches illuminate the rocky landscape if you time it right. The descent is seemingly never-ending, painful and a real mind over matter challenge to conquer.
Is it worth the pain? Without question. Would we do it again? On our last mile we said 'never again' but now with hindsight – Yes, in a heartbeat.
The key message here is you need to prepare correctly for this trail. Plan in advance, organize transportation, wear the right gear, pack the right gear and be mindful of the time.
We're going to walk you through everything you need to know, step by step, so you set off from Colchuck Lake trailhead at 5am and arrive (completely wrecked!) into Snow Lakes trailhead 12 or 13 hours later.
This is a lot of information to absorb but it will set you up perfectly for this amazing hike.
Let's day hike The Enchantments Trail in Leavenworth, Washington!
*Please note this post may contain affiliate links. If you click on one, we may earn a small commission at no extra cost to you!*
Day Hiking The Enchantments FAQ's
Is The Enchantments Trail A Hard Hike?
Yes, day hiking The Enchantments is very hard. It isn't just the distance that makes it a seriously strenuous hike, it is the nature of the steep elevation gains and losses throughout.
There are very few periods in which you are walking on flat level ground, which makes covering any real distance at speed a challenge. The going is slow for pretty much the entire hike.
The Enchantments is among the hardest day hikes on our popular list of the best hiking trails in the US.
Can anyone hike The Enchantments?
No, The Enchantments is not a hike to take lightly. At a minimum, you need a good or very good level of fitness and stamina.
A key aspect to consider is this hike is equal parts a physical and a mental battle. As exhausted as your body will be by the end, your mind will be even more tired.
We would also recommend that anyone who suffers from ankle, knee or hip problems to carefully consider if this hike is a good idea. Neither of us have ever ended a hike with a joint aching but Kristen suffered with an ankle issue and Mark had a knee problem.
Both were as a result of constant pounding, relentless stepping up and down (rarely flat) and solid rocky ground with little give over a prolonged period.
Is Day Hiking The Enchantments More Difficult On The Way Up Or Way Down?
This is an interesting one and seemed to be the hot topic of the day when we met other hikers on The Enchantments. Some said the way up and others the way down.
The thing you will hear over and over when climbing Aasgard Pass is "Almost at the top, it's all downhill from there". But that isn't something to look forward to! The downhill is hard.
Personally, we found both to be tough.
The first section is in darkness and it's all uphill to Colchuck Lake.
Aasgard Pass is extremely steep and pretty awful.
But the descent is just so (so, so, so!) long and unforgiving.
We have to be honest, we wanted the hike to be over as soon as we left the Core Enchantments. Going down isn't much fun as you have to descend 6,688 ft (that's 1.26 miles vertical elevation loss) and the final 5 or 6 miles are hellish.
How Long Does Day Hiking The Enchantments Take?
It is hard to put a number on how long The Enchantments is going to take you to hike. There will be trail runners who do it in 6 or 7 hours on one end of the spectrum, and there will be hikers who take 15 or 16 hours to finish on the other.
How fast do you normally hike?
We would say we are average hikers, who take things at a decent pace but spend a lot of time stopping for photos and soaking up summit views.
If that sounds familiar, you can expect hiking The Enchantments to take between 12 and 13 hours to complete.
Is It Better To Hike Stuart / Colchuck Lake To Snow Lake Or The Opposite Direction?
The busy September peak golden larches day we hiked the trail, around 95% of people hiking The Enchantments began at Stuart / Colchuck Lake trailhead and ended at Snow Lake trailhead.
Starting at Stuart / Colchuck Lake trailhead means you climb 4,549 ft and descend 6,688 ft.
Starting at Snow Lakes trailhead means you climb 6,688 ft and descend 4,549 ft.
Both are hard and both are amazing. But as we were going down toward Snow Lakes trailhead, we both remarked that coming up this way would have been even harder and going down Aasgard Pass would be nerve-racking.
What Is The Best Way To Organize Transport For Trailheads?
Aside from getting a very early start, organizing transport for hiking the point to point Enchantments trail is the most important thing to sort before arriving into Leavenworth.
Here are three options:
Have a family member or friend drop you off at Stuart / Colchuck Lake trailhead and pick you up from Snow Lakes trailhead 12 hours later.
Take two separate cars, leave one at Snow Lakes trailhead and drive up to Stuart / Colchuck Lake trailhead. At the end of the hike you will need to pick up your second car and you will not be happy!
Book (in advance!) a shuttle bus service so you can park your one and only car at Snow Lakes trailhead, have the shuttle drive you to Stuart / Colchuck Lake and then you can simply drive away after your hike.
Option 3 is clearly the best and most convenient, right?!
We booked our shuttle online with 'loop connector shuttle'. It was very easy to book and we received an easy to understand email with precise meeting location and time.
Spaces are limited to 12 on each of the 3 runs the shuttle bus makes each morning at 5am, 6am and 7am. We booked ours a month or so in advance and it cost us $24 per person.
The alternative is to book a shuttle service with Leavenworth shuttle & taxi. Call (509) 548-7433 to book.
Directions To Trailheads For Day Hiking The Enchantments
Click or touch the map above to activate. Zoom in and out, move around the area and orientate yourself with the drive from Leavenworth.
The route above passes by Snow Lakes trailhead where you can park your car and take the shuttle, and continues all the way up to Stuart / Colchuck Lake trailhead.
Leavenworth to Snow Lakes trailhead is 5 miles and will take 10 minutes by car.
Leavenworth to Stuart / Colchuck Lake trailhead is 13 miles and will take around 34 minutes.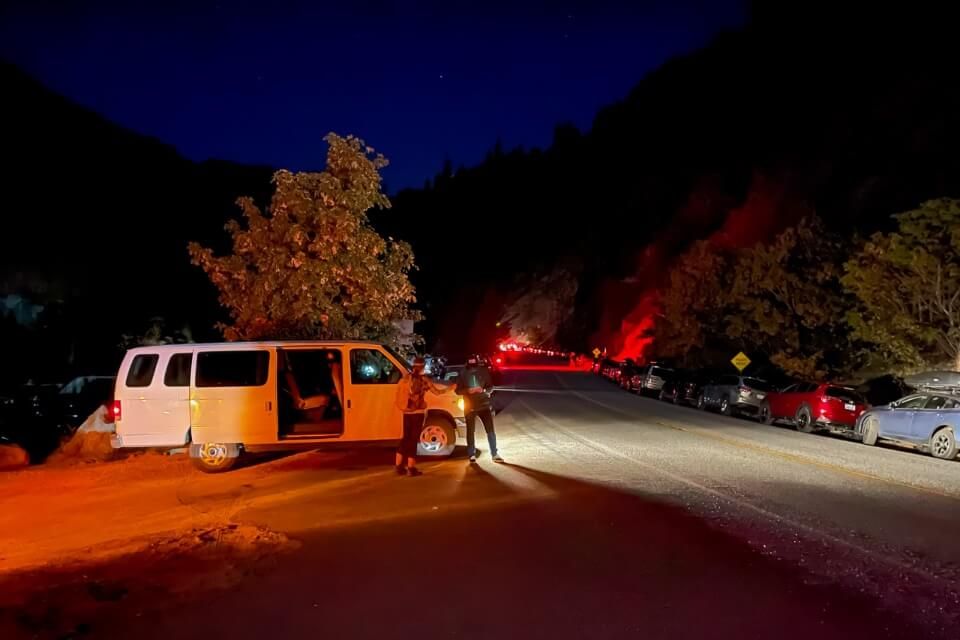 Parking At Snow Lakes Trailhead And Stuart / Colchuck Lakes Trailhead
Hiking The Enchantments trail is bucket list territory and with that comes the same old (tiresome) problems with parking. Too many people for the limited parking spaces. Another reason taking the shuttle is a solid all-round option.
If you're parking at Snow Lakes trailhead, there is a small parking area off of Icicle Creek Road. Once that is full, cars will begin to line both sides of the main through road.
We arrived to Snow Lakes trailhead at 4.45am. The lot was full and cars were parked on the roadside as far as we could see in the dark. Luckily, there was a spot free right as we saw the lines of cars, so we took it and walked around 100 ft to where the shuttle bus with 5am departure was waiting.
As the shuttle turned onto the Stuart / Colchuck Lake road, it very quickly bottlenecked and was slow going. Once we reached the trailhead, cars were awkwardly trying to reverse into open spaces on the roadside (parking is only permitted on the right side of the road as you go up).
The lot itself at the trailhead is primarily for those who have Enchantments Permits and are staying overnight in the core zone. Single day hikers are encouraged to park on the roadside and leave spaces in the lot for those who are on multi-day hikes.
Parking Passes
For both parking areas, you must display a pass to park. Do not forget to leave this on your dashboard before beginning your hike.
Tickets are given out in both parking lots, but particularly Stuart / Colchuck Lakes trailhead. Coming back to a ticket isn't the best way to end a bucket list hike, right?!
Passes you must display include:
NW Forest Service Pass
America the Beautiful Pass
Overnight visitor parking pass that comes with the overnight hiking Enchantments permit. Note that the designated permit holder or alternate group leader must be in your party if you plan to spend a night or two in the core Enchantments zone.
$5 day pass available at trailheads
So for day hikers, you need either a Northwest Forest Pass, America the Beautiful pass or to purchase a day pass on the day.
The Enchantments Trail Hiking Statistics Using Gaia App
We recorded our Enchantments hike using one of the best hiking apps on the market, Gaia GPS.
It details stats about feet of total elevation gain and loss, moving time and speed. But our favorite aspect of using Gaia is its offline map.
Throughout the hike we would check Gaia to see exactly where we were to help us understand how much further the next major landmark was.
You can sign up to Gaia GPS Premium here using our exclusive 20% off code.
There are no distance markers on the Enchantments trail or anything that gives you any indication of distance at all and following our progress kept us sane!
Here are the results from our hike:
Distance: 18.61 miles
Ascent: 4,549 ft
Descent: 6,688 ft
Average Speed: 1.4 mph
Moving Speed: 1.7 mph
Max Speed: 4.8 mph
Moving Time: 11h 15m
Stopped Time: 1h 41m
Total Time: 12h 52m
As you can see, we stopped a lot on the trail so we could take photos and refuel. Part of the stopped time can also be attributed to a dozen or two breaks we had to take on the ascent of Aasgard Pass.
It is important to be mindful of time so it's not too dark when you hike the last few miles, especially because you will be tired. But that doesn't mean you can't stop at the top and enjoy the scenery.
Also, note our moving speed at just 1.7mph. That may look very slow, but you will understand why when you are ascending and descending slowly yourself!
Day Hiking The Enchantments Trail Full Step By Step Walkthrough
The Enchantments Trail is one of the most popular in Washington State and is on many serious hikers' US hiking bucket list. Getting an overnight permit to sleep up in the Core Enchantments is not easy, so thousands of people day hike it each year instead.
We woke up at 3.45am and got back to our amazing B&B (more on that later) at 6.45pm. So, you're looking at around 15 hours wake up to finish time for an average couple hiking together with stops.
You will likely be a little quicker or slower, but this is a good guideline or reference point to use.
Typically we don't include too many photos in our hiking guides but this is The Enchantments … so you will find a lot of useful photos depicting exactly what you can expect from the trail.
Due to low light and the trail being a beast, we used our smartphone for photos for the entire trail, with the exception of the Core Enchantments in which we used our camera.
Let's begin!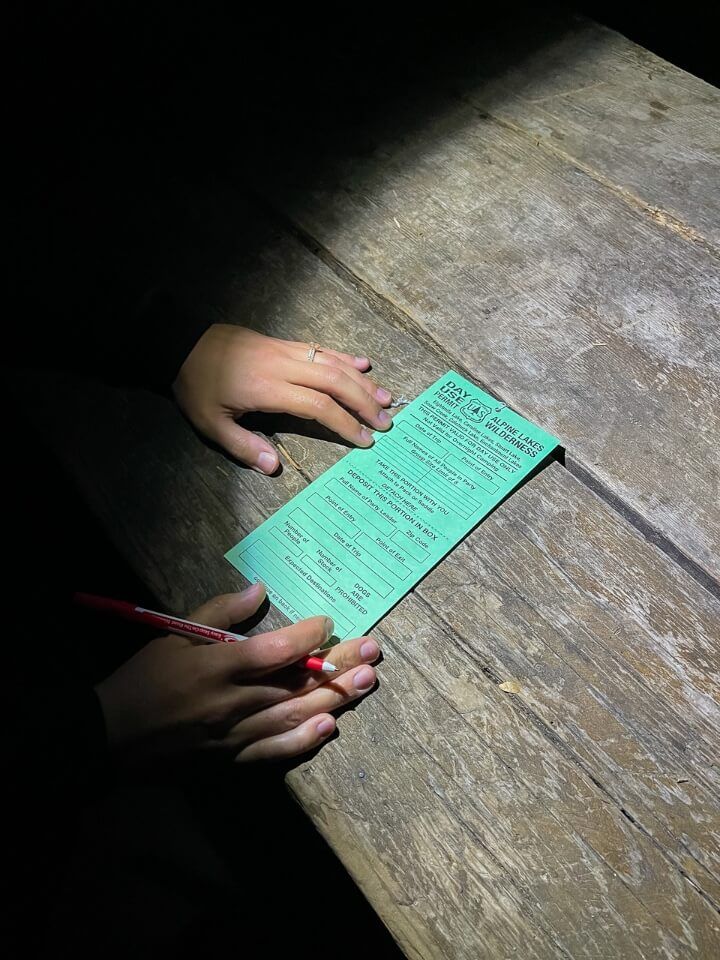 Early Start, Parking & Shuttle To Trailhead
No matter how you plan to day hike through The Enchantments, you are going to need an early start.
We set our alarms for 3.45am, slipped on our hiking gear and sipped on our very large cups of B&B coffee to-go, trying to make as little noise as possible at this horribly early hour of the morning.
By the time we arrived at Snow Lakes trailhead at 4.45am, the lot was full and the roadsides weren't far from being full. The first shuttle on the day we hiked was 5am and we booked it a month in advance.
The shuttle worked out perfectly for us. Twelve excited passengers talking about amazing hikes made the 20 or so minutes fly by and before we knew it, we'd climbed 2,000 ft and hopped out at Stuart / Colchuck Lake trailhead.
There is a vault toilet you can use in the parking lot. Please do use the toilet and not the forest.
You need to sign in / register your group for day hiking The Enchantments. Take a pen, grab a form, fill it out, rip off the bottom, post it in the box and tie the tag to your backpack.
Sunrise: If you want to make it up Aasgard Pass to enjoy sunrise in the Core Enchantment zone, you are going to need to set off from Stuart / Colchuck Lake trailhead around 4 or 5 hours before sunrise. That timeframe applies to an average hiking pace group.
Daylight or Darkness?
It could be pitch black, civil twilight or even daylight when you begin depending on the time of year you through hike The Enchantments.
We began our hike at 5.30am on September 25th, three days after the Autumnal Equinox and three months after the Summer Solstice.
It is around 4 miles from Stuart / Colchuck Lake trailhead to Colchuck Lake and we hiked in total darkness with head torches for 2 miles.
There may be enough daylight that you don't need head torches if you begin hiking at 5.30am in late May, June or July. But still bring two head torches per hiker no matter the time of year you hike, in case of emergency or finishing late at night.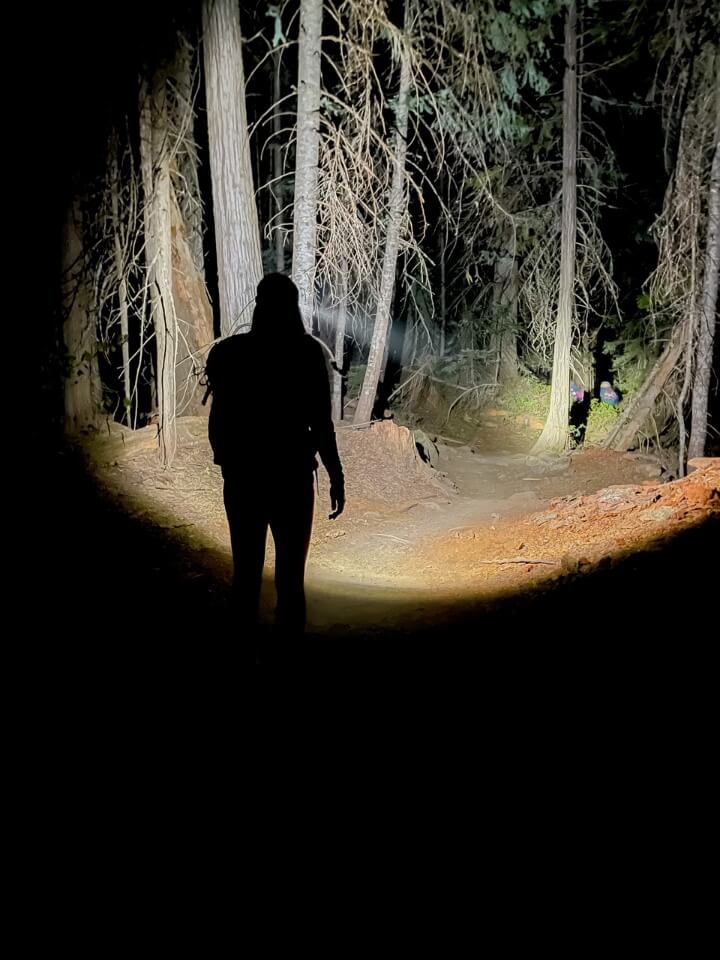 Begin The Hike To Colchuck Lake
So, it's 4 miles to Colchuck Lake. Once you reach the lake, you skirt around its edge and then ascend a mighty pass. You probably already know from research that Aasgard Pass is a 2,000 ft beast of a climb in under 1 mile.
However, you do need to be aware that before the 2,000 ft climb over Aasgard Pass, you have to gain 2,300 ft just to get to Colchuck Lake. We have to admit we overly concerned ourselves with Aasgard Pass and didn't really consider anything prior to it.
Stuart / Colchuck Lake trail begins softly. Bouncy dirt packed forest hiking at its finest. Adrenaline and guided only by head torch light make the hike start out fun and exciting.
The first mile and a half is gradual and hikers are in a hurry to reach Colchuck Lake. Once you cross a long wooden bridge, expect the trail to steepen and turn rocky.
Side note: It was insanely busy the morning we hiked The Enchantments because it was peak golden larch, on a weekend and fantastic weather. As a result, when stopping for a breather and looking back down the trail we could see a constant stream of head torches in the darkness.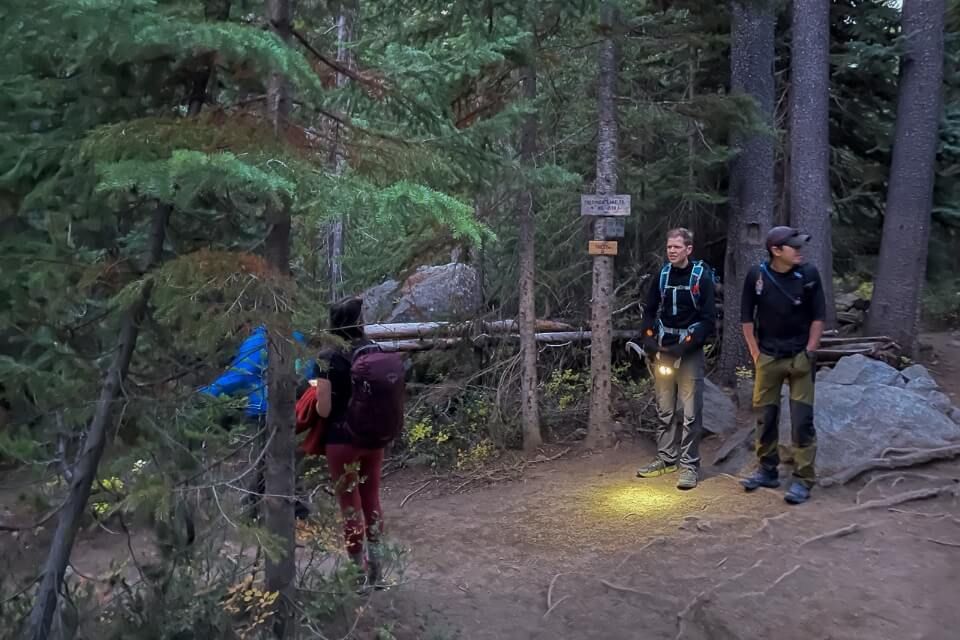 Left Turn At The Intersection
After some pretty steep trail sections (be ready for them!) over the next three quarters of a mile, you will eventually reach a flatter area with a 4 way X junction.
Right – Vault Toilet
Straight – Stuart Lake
Left – Colchuck Lake
You need to turn left here.
By all means use the toilet but then go straight ahead to Colchuck Lake. There are small wooden signs attached to a tree at the junction for directions (pictured above).
A very short section leads out from the trees and opens up an enormous boulder field. It was around here after leaving dense forest that we finally turned off our head torches.
You will come to another wooden bridge and once you cross, you will navigate through the boulder field on a talus slope along the bank of Mountaineer Creek.
This boulder section is short and before long you're back on forest trails. Between this point and Colchuck Lake for more than 1 mile, you are climbing switchbacks more or less the entire way.
The last half mile approach to the lake is steep and opens up views over valleys around. The tops of sharp mountains might be glowing orange under sunlight by now.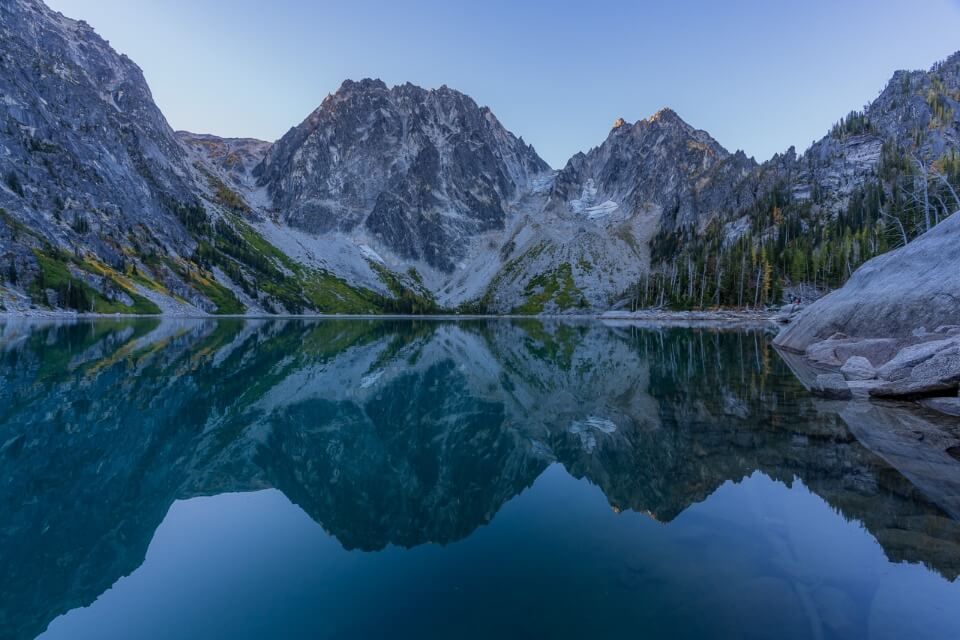 Colchuck Lake
You will know when the climb is over. The trail flattens, turns slightly to the right and you can see water through trees. Follow the maze of dirt trails until you find a spur leading down steeply to Colchuck Lake.
Go all the way down to boulders and stones right on the lakes edge. You are now looking at one of the most stunning lake views in the Cascade Mountain Range in Washington.
We stopped here for around 10-15 minutes, grabbed some photos (we got the camera out for the only time other than the Core), ate some snacks and took a breather. The lake was completely in shadow and it did get quite chilly.
From here, you can see Aasgard Pass ahead and in truth, it doesn't look so bad… Yet!
Enjoy pristine glass-like reflections of dramatic Cascade Mountains peaks in deep blue Colchuck Lake and if you're feeling brave enough take a dip to cool off. This is more suitable for a July hike than an end of September hike.
Don't spend too long resting here, you have a long way to go and time is of the essence. Continue circling around Colchuck Lake, soaking up the beautiful scenery and appreciating the relative flat surface.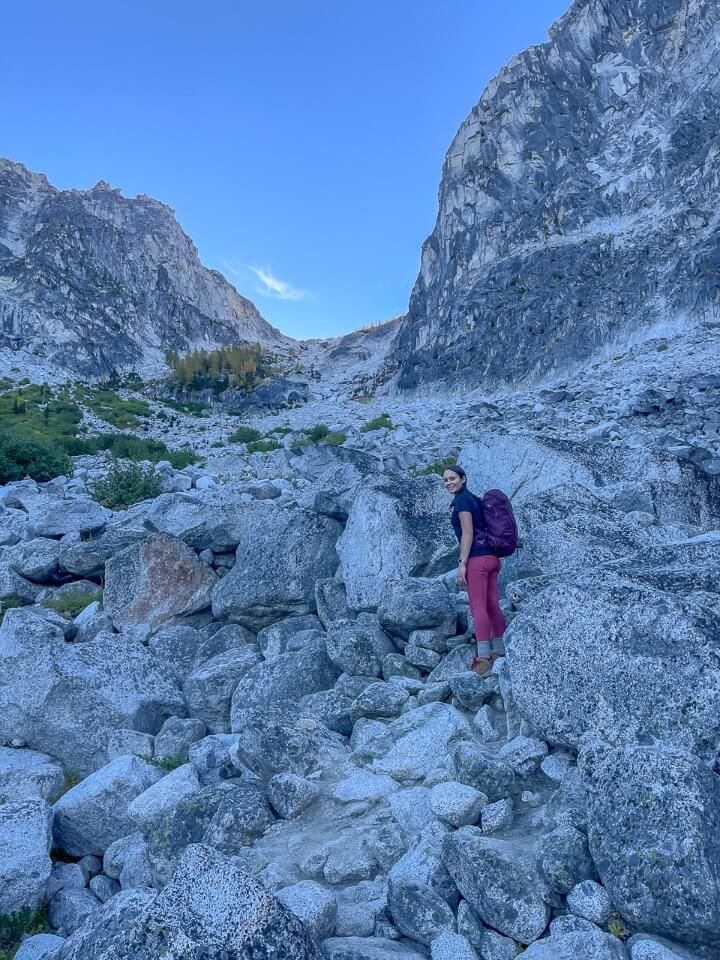 Walk To The Bottom Of The Pass
You've already climbed 2,300 ft and hiked around 4 miles. Now, you have to gain 2,000 ft in just three quarters of a mile. But first you must walk to the far end of the lake.
The easier walk around Colchuck Lake from the point you enter until the point you begin climbing Aasgard Pass is about another two-thirds of a mile.
Once on the far side, you will have to navigate more boulders and large stones. The best way to get through this section is to follow cairns. There should be enough light by now to see the piles of rocks unless you're going for a sunrise summit in Spring or Fall.
You can turn left and walk out onto a beach area on the southern edge of Colchuck Lake. Here, you will see tents and people camping who were able to get Enchantments Permits in the lottery.
This is the last point to take a short break before taking on Aasgard Pass. We'd prepared mentally for hiking to the top of the pass and knew it was going to be rough. But it still hurt … a lot!
Look for an obvious grove of larch trees around half way up the pass and to the left side of center. You are aiming for the left side of the grove, and to get there you need to follow cairns, other hikers and lightly beaten trail where possible.
Pictured above is the last time Kristen smiled for about an hour and a half!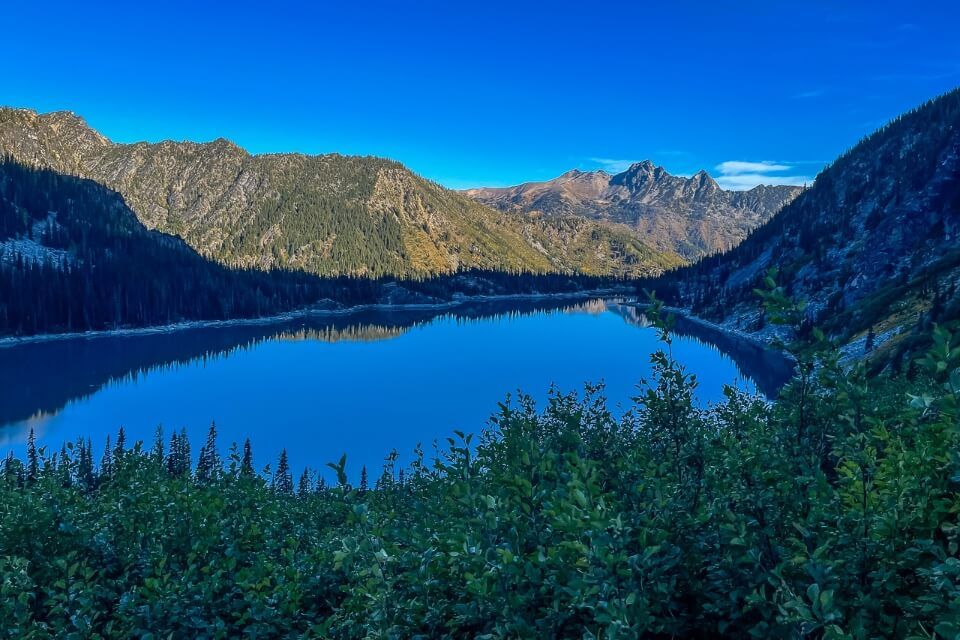 Climb The Brutal Aasgard Pass
There is no 'path' up, just a series of gravel trails and thousands of loose rocks. It is very steep, very slow going and very easy to lose your footing under loose stones.
Take your time, tread carefully and take breaks often. We didn't see anyone fall or hurt themselves, but everyone was hurting from the sheer incline.
Our calves, hamstrings, quads, glutes, lower backs … basically everything was burning. It can be tough on ankles, knees and hips, so strap up and use poles if you need support with weight distribution.
Take time to look back over Colchuck Lake when ascending like in the photo above, and appreciate the dramatic sharp rocks encircling you, such as Colchuck Peak and Dragontail Peak to your right side.
Once you reach the larch grove, you are half way up and doing well. Keep mentally focused on the goal of reaching the top and remember 'It's all downhill from there'. Other hikers are incredibly supportive on the ascent and everyone helps each other with motivation.
Pass more steep sections of loose rocks and cross over a creek of rushing water. There are sections in which you will need to use your hands and feet to scramble / climb larger rocks and boulders.
For the final push you will navigate even more large boulders but by now you will be fatigued so it is important to go at a sensible and safe pace.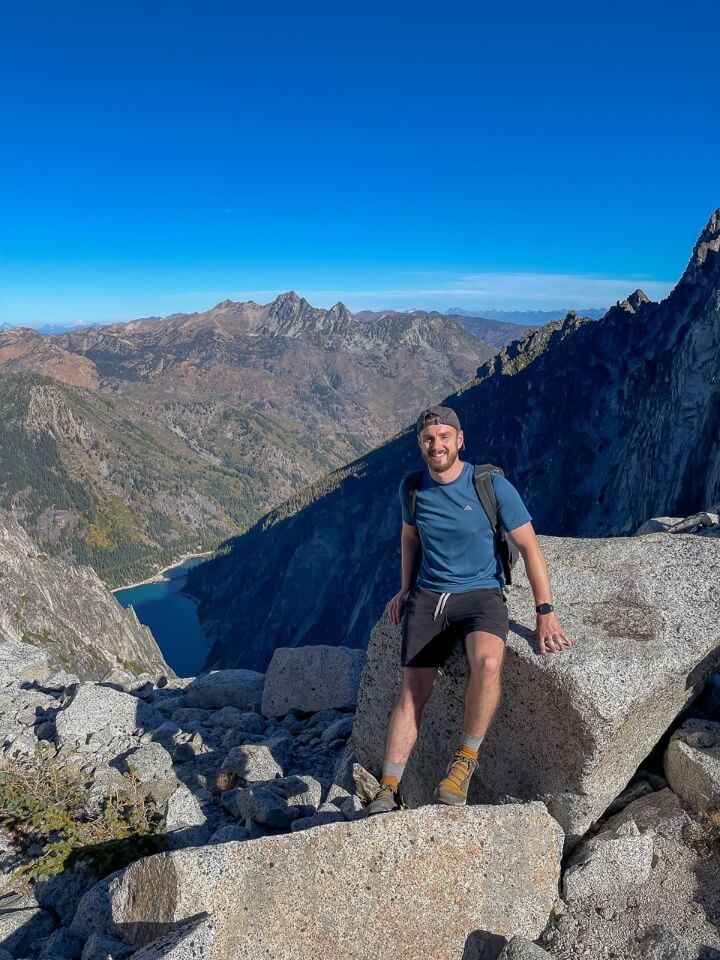 Summiting Aasgard Pass
Summiting Aasgard Pass at 7,800 ft elevation is a wonderful feeling, bordering on emotional.
You've conquered a ridiculously steep climb surrounded by sharp jagged mountain peaks.
You finally come out of shadow and into the sun if hiking in Fall as we did.
All of the elevation gain is complete for day hiking The Enchantments.
You are exhausted but feel great satisfaction.
Views from these much higher elevations looking back down the pass, all around and even as far as Mt Baker in the distance are remarkable.
But we're about to burst your bubble.
You are 4 – 4.5 hours into your hike, having completed just 5 of 18.6 miles, and you are wrecked from the savage climb up Aasgard Pass.
Now, you have the Core Enchantments to enjoy (and it is worth the harsh ascent!), but remember you still have 13.6 miles to hike today. And 'downhill' does not mean a nice gentle stroll down a flat bouncy path. In fact, downhill is much worse.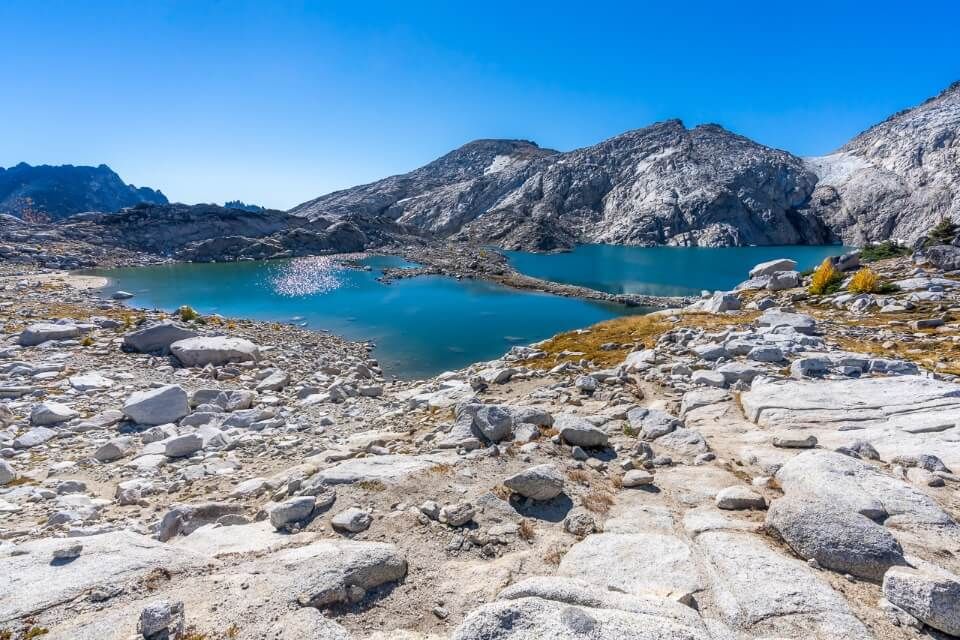 Core Enchantments
We'll get to the downhill later. First, it's time to soak up one of the most extraordinarily beautiful places you can visit in Washington, the Core Enchantments.
It all starts in Upper Enchantments. From here, you will slowly and gradually descend through Middle and Lower Enchantments until you reach the end of the Core.
Imagine walking down a set of stairs that takes 3 steps before you go down the next step and each step has a short drop. A bit like shelves.
That is what it is like to walk through the Core Enchantments. Each flat section filled with blue lakes and golden larches is a little lower than the last.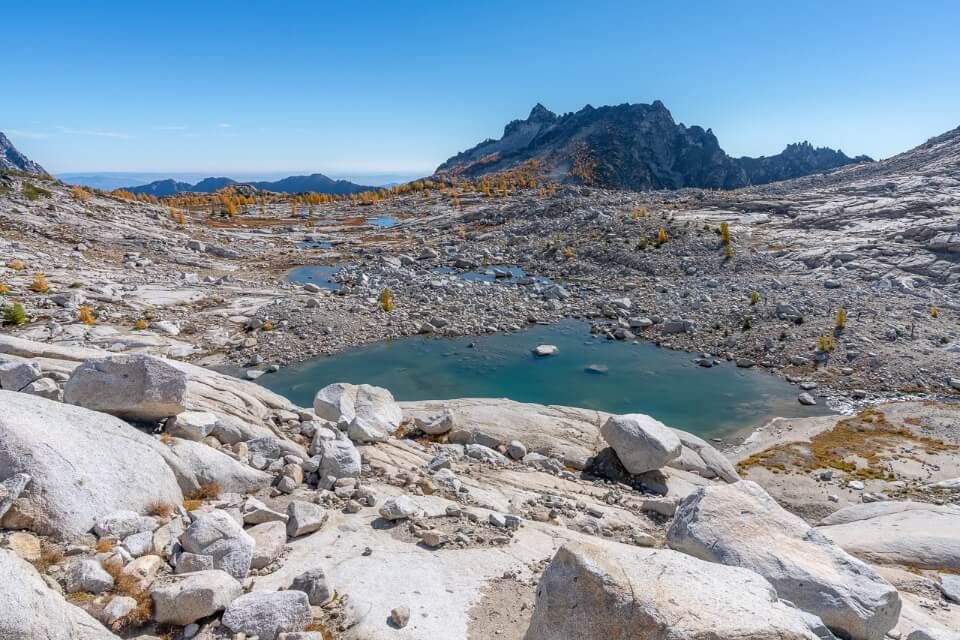 Upper Enchantments
Right after summiting Aasgard Pass, you have a little more (far less steep) climbing to do but it's only a few minutes. The first views over the Core Enchantments are of Tranquil Lake and Isolation Lake.
Personally, we stopped right at the top for a food break with awesome views over Isolation Lake. The sky was a deep blue and completely clear of clouds, and the sun was beating down on the exposed rocks and lakes.
We ate, applied a ton of sunscreen, and put on hats and sunglasses to offer some protection against the sun.
The trail through Upper Enchantments is not really a set path. You can walk freely over grey rocks in the same general direction as your fellow hikers, or there are cairns and large poles to follow if few hikers are around.
Upper Enchantments is the most barren and least attractive of the three Core regions. But it is still stunning. Ragged shark fin-like razor peaks encircle the smooth granite rock plateau dotted with azure lakes.
Hiking is now fun again, as you plot your way across gorgeous landscapes and golden larch trees begin to appear in more densely concentrated groves.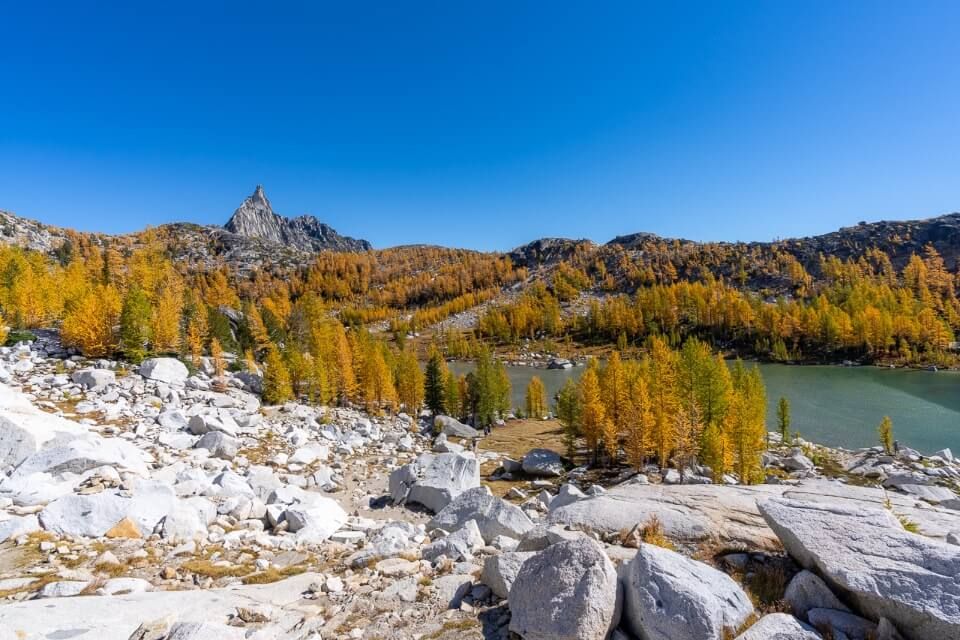 Middle Enchantments
The Middle Enchantments were our favorite part of day hiking this epic trail. All of a sudden the scenery transforms from amazing to truly staggering.
Walking along the final flat plateau section of Upper Enchantments, you will reach another shelf, which drops into an encampment and on the other side is one of the best individual views on the hike. Marking the beginning of Middle Enchantments, Crystal Lake and Ingalls Creek valley are just stunning.
Crystal Lake is quite a way down below and it would add on a fair bit of time, distance and effort to take a dip, despite its beauty. Better to take a few photos and move swiftly on through the Middle Enchantments.
Picturesque lakes come thick and fast now, just moments after leaving the view of Crystal Lake, you will arrive high above Inspiration Lake. The glass-like deep blue Inspiration Lake is surrounded 270 degrees by tall granite cliffs and a patch of larch trees hug its right flank.
A steep boulder descent leads down to this right flank and you walk alongside the edges of Inspiration Lake. In fact, we refilled our water from the lake and took a 5 minute break admiring the view.
Just minutes after leaving the edge of Inspiration Lake, you begin a gradual descent into Perfection Lake. This is where you will find the highest concentration of golden larches in Fall, surrounding the lake and flat grassy meadows.
Walk around the northern tip of Perfection Lake and follow the lakeside trail as it twists beautifully through light forest and larch groves. The trail gains slight elevation and turns east until you reach Sprite Lake.
We stopped here for a longer lunch break because views back over Perfection Lake, Upper Enchantments and Little Annapurna are postcard perfect.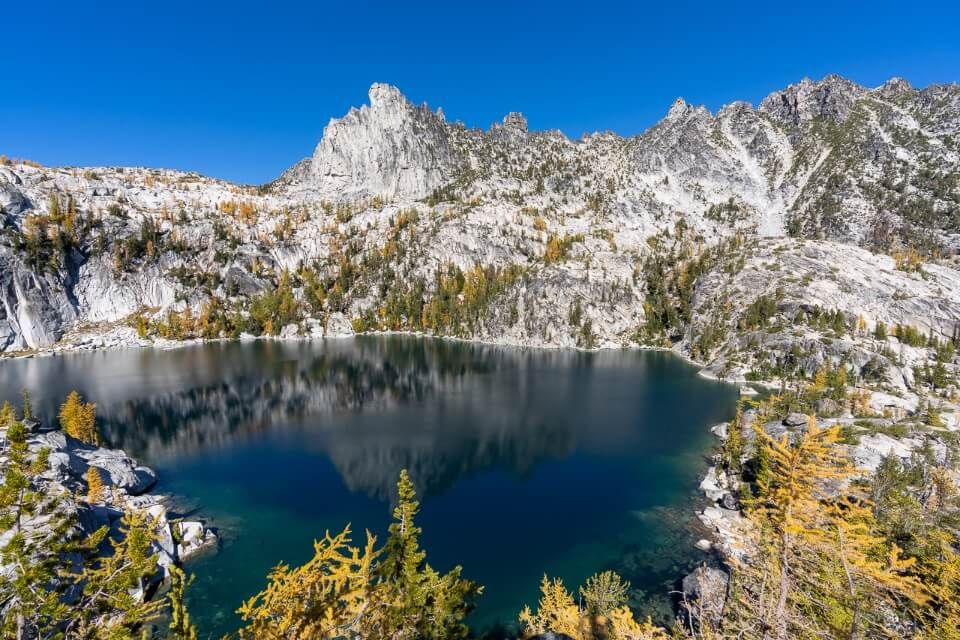 Lower Enchantments
Sprite Lake marks the end of Middle Enchantments. A longer and more open descent drops down into Lower Enchantments. This is the first time you really get to open up a stride within the Core Enchantments.
But before you know it, you will reach oddly shaped Leprechaun Lake nestled at the base of McClellan Peak. To pass around Leprechaun Lake, you must traverse narrow ledges and descend large boulders with a relatively steep drop into the lake itself.
Once safely over the scrambling section, you climb a steep rocky patch in an open landscape. The trail isn't easy to follow here but as long as you keep to the right hand side as it steeply gains elevation, you will then keep Lake Viviane to your left.
Lake Viviane is beautiful and arguably the most idyllic lake since you left Colchuck Lake hours ago. From the vantage point you now stand on, Lake Viviane is deep below you and surrounded by towering granite.
There are a number of sketchy scrambling sections when passing by this final lake in the Core Enchantments. A bottleneck of anxious hikers going both ways had piled up thanks to a particularly tricky sequence of footwork and hand placements.
And that's it. Core over. Just 3 miles after summiting Aasgard Pass.
Right after Viviane, you will reach a ledge and a view stretching for miles into a valley below. You can see two bodies of water, they are snow lakes and they are your next destination.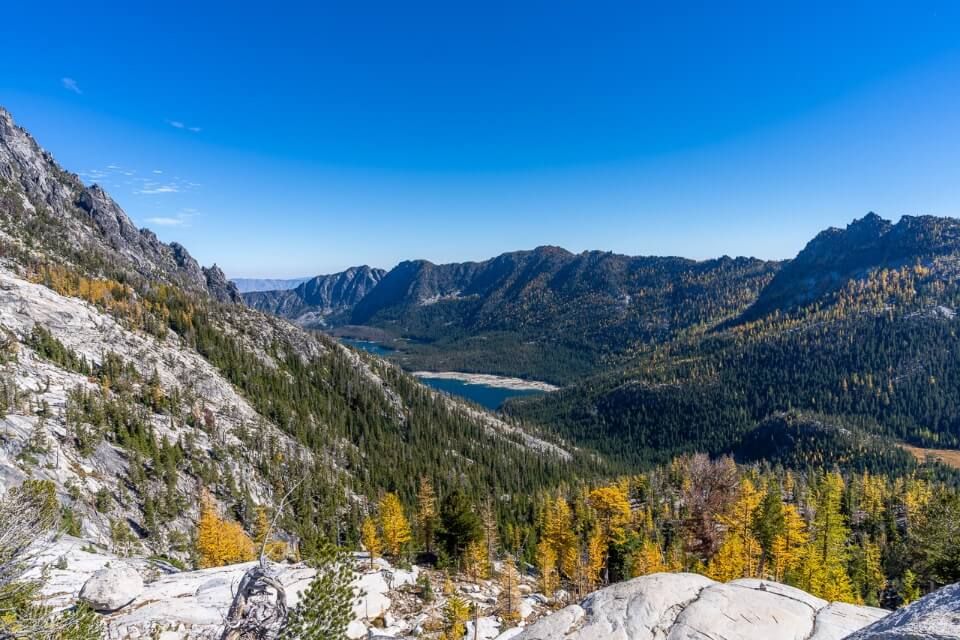 Steep Descent To Snow Lakes
This is where the real mental and physical challenge begins.
We summited Aasgard Pass at 10.15am and reached this point by 1.15pm after hiking through the Core Enchantments. This was now 7 hours and 45 minutes after beginning the hike and we had covered 8.5 miles. We had 10 miles to go.
And to make things worse, the descent turned out to be incredibly difficult. It is taxing on both the muscles and on the mind, and it begins immediately.
The descent is steep and you will have to navigate open rock faces with no clear path or foot placements. There are scrambling sections and shuffle down on your butt sections. Your ankles, knees and hips will groan, your muscles will burn and you will need to take care of those fatigued joints.
It is 3 miles and 1,400 ft of steep downhill gradient elevation loss to reach Lower and Upper Snow Lake from Viviane Lake. And the problem is you can never get any speed up because it is too steep.
With all that said, the scenery is still beautiful and try to remember you are hiking one of the top bucket list US trails. Plus, after the openly exposed Core Enchantments, you get a welcome respite from the sun and elements.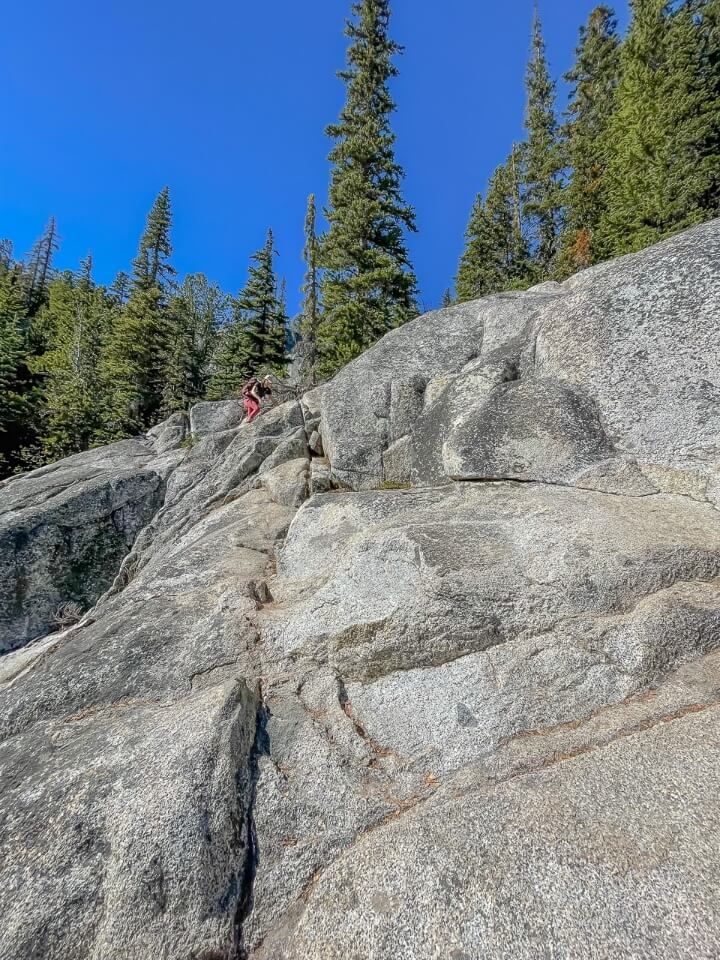 Long Grueling Downhill Elevation Loss
Reaching Snow Lakes feels like a real milestone.
We took a well deserved break, filled up with water and ate a ton of snacks. It can't be far now, we've cracked out the worst of the downhill… right?
Wrong.
It is 7 miles from Snow Lakes to the trailhead. And you still have to descend more than 4,000 ft in elevation.
Our bodies were already at the stiff and aching stage by the time we reached Snow Lakes, let alone the next 7 miles of trail with three quarters of a mile in total elevation loss!
You will hug the southern edge of the first of Snow Lakes and follow it northeast as it dissects the two lakes. The trail is like a dream, soft underfoot and bouncy. Picking up a walking pace has never felt better.
Crossing over a long and narrow bridge between the lakes, you can look to the left and see the end of The Core Enchantments from which you have just descended.
You enter a forest section which feels great again underfoot but that doesn't last long. The trail turns to stones and gravel, and every step begins to hurt.
Nada Lake is a long and narrow lake surrounded by trees and just when it comes into distant sight, so does an unexpectedly intriguing and powerful waterfall spraying water almost upwards instead of down with gravity.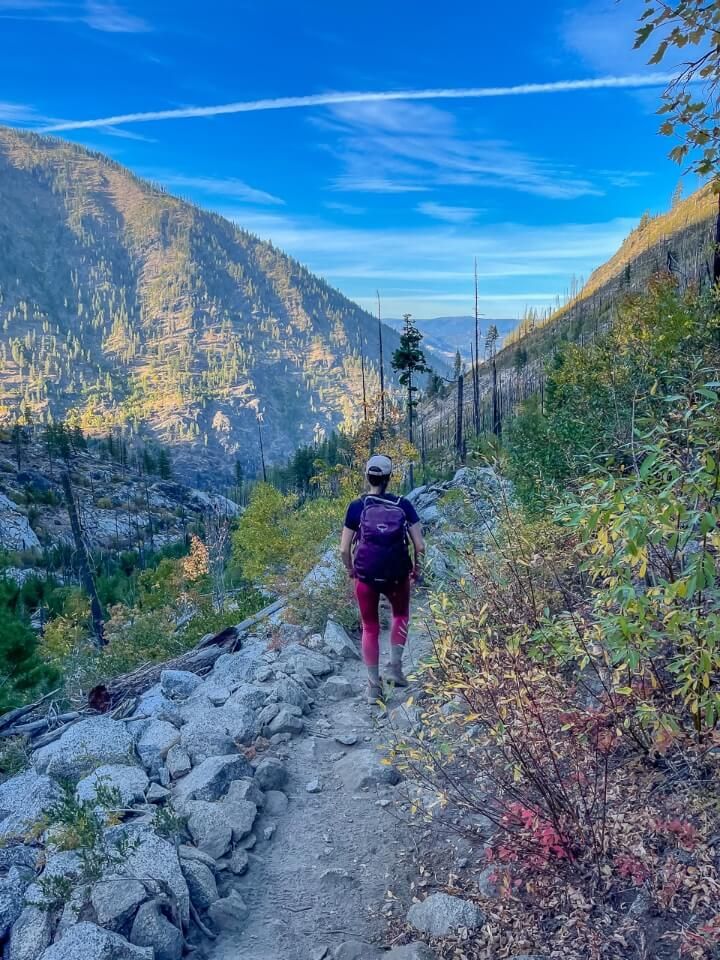 Final Switchbacks To Snow Lakes Trailhead
Eventually, you will reach the left flank of Nada Lake before the trail disappears into forest.
You will continue to lose elevation, turn corners, snake through forest and cross creeks for what feels like an eternity.
When we look back on the trail, it is this final 5 or so miles that we struggle to remember and can only piece it together from photos we took along the way.
The penultimate set of switchbacks on a narrow section of trail drops through dense forest with vegetation bursting out in all directions. Another short set of switchbacks, followed by another.
By now, you are spent. Hikers are hobbling, grimacing and running on fumes. A combination of grit, determination, muscle memory and aspirin are all that keep your legs moving.
The final set of switchbacks are a killer. Yes, intense delight at being able to see the parking lot helps, but ankles and knees from repetitive movements and constant pounding.
You've been hiking The Enchantments for 12 or 13 hours by this point. These last 20 or so switchbacks are tough but you're almost done. Dig deep and remember it is mind over matter.
Finally, after 18.6 miles of brutal hiking, you will come to a wide wooden bridge crossing Icicle Creek and a short steep hill brings you to the trailhead parking lot.
Relief, delight, fatigue and a real sense of achievement wash over you in an instant. You've successfully day hiked The Enchantments.
The Enchantments Hike Distances And Difficulty Summary
Stuart Lake trailhead to Colchuk Lake:
Distance – 4 miles
Difficulty – Moderate / Hard
Colchuck Lake to Aasgard Pass Summit:
Distance – 1.5 miles
Difficulty – Very Hard
Core Enchantments:
Distance – 3 miles
Difficulty – Easy / Moderate
Lake Vivian (Lower Enchantments) to Snow Lakes:
Distance – 3 miles
Difficulty – Very Hard
Snow Lakes to Snow Lakes trailhead:
Distance – 7 miles
Difficulty – Very Hard
Footwear For Hiking The Enchantments Trail
On any old day hike, you can probably get away with wearing a pair of running shoes and not really giving it much thought.
But hiking The Enchantments is not just any old day hike. This is a punishing 18.5 mile hike with over 4,500 ft elevation gain and over 6,500 ft elevation loss that will take anywhere between 10 – 15 hours to walk.
There are very few sections of this hike in which you are walking on flat ground. It is almost exclusively either gaining or losing elevation. Constant stepping up or down motions.
Your feet are the most important thing to consider. If you get it wrong, your feet will be in pieces by the end.
We knew it was a long hike and we knew we weren't going to run any sections of this one. So, we went with robust shoes. Kristen wore her Columbia boots and Mark wore Adidas Terrex Free Hikers.
It wasn't a terrible decision by any means, but we both wished we'd worn something a little less bulky. The up and down movements were killing us by the end with such clunky footwear. And we did have blisters.
Personally, we would have been better taking our trail runners. Still sturdy and robust, but far more flexible and pliable for those endless stones and steps.
However, the key is to find the perfect socks and shoes combination for your hiking style. Thick socks and big boots might be your favorite and trusted combo.
Whatever works for you normally, play it safe and go with that. Don't try out a new idea or new pair of untested shoes on this one.
What To Pack For Hiking The Enchantments Trail
Packing effectively is another important aspect of hiking The Enchantments trail. A lot depends on weather conditions and we were lucky with beautiful sun and warmth at the end of September.
We considered taking two cameras, two lenses and our camera gimbal so we could photograph and video the hike. But after careful consideration we decided one camera and one lens was enough weight to carry.
It was the single best decision we made. We were tired enough by the end without that additional weight.
The key is to pack as lightly as possible but make sure you have enough food to sustain you, a water filter and essential safety gear.
Here's what we packed:
Food – Sandwiches, energy / granola bars, trail mix, muffins, fruit gummies, chocolate bars, energy gels.
Water – 2.5L reservoir for our Osprey Skimmer 28 backpack, 1 x 1 liter water bottle, plus a LifeStraw to filter water from the water bottle.
(Important: You need to carry some form of water filtering method to stay hydrated.)
Media: Camera and lens, smartphone.
Clothes: Thin and lightweight fleece layers, gloves, down jackets, spare socks and baseball caps.
(Mark wore shorts and t shirt, Kirsten wore leggings and t shirt to hike most of the day.)
First Aid: Full emergency first aid kit with emergency foil blanket, band aids and aspirin.
Head torch: We used a head torch for the morning but many will also need one for the evening.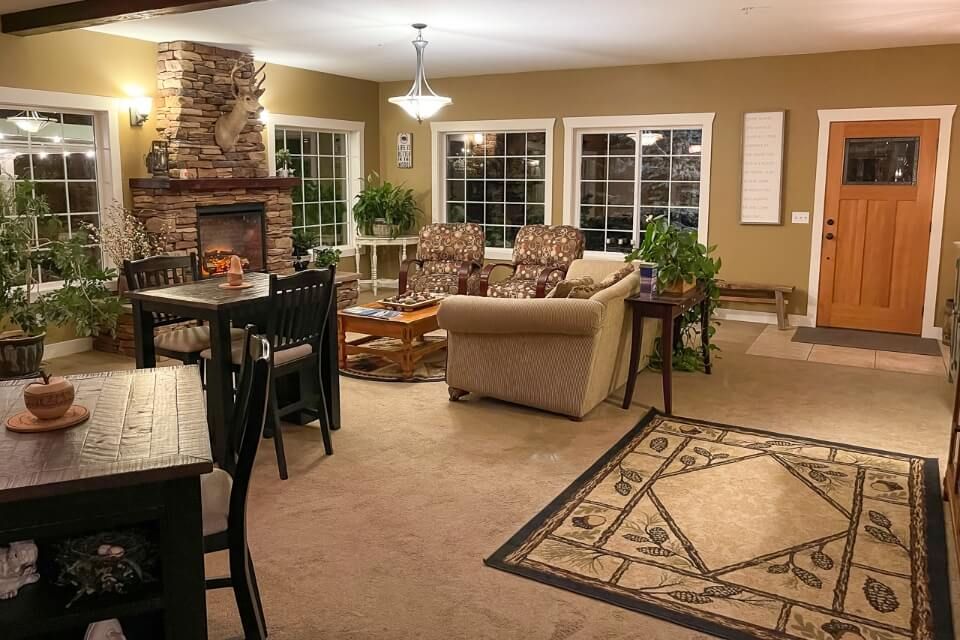 Where To Stay In Leavenworth
Leavenworth is a year round Bavarian themed resort town with a full festival and event calendar. It is one of the best spots for vacations in the US and has something for everyone.
Due to Leavenworth being an exceptionally popular destination year round, visitors are spoiled for choice when it comes to lodging.
We have stayed in Leavenworth on two separate occasions and both times we struck lucky with accommodation:
Enzian Inn: The first time we stayed right in town, near the bars so we could stagger home after a few steins and bratwursts. It has a swimming pool, basketball court, mini golf course and amazing breakfast spread with a view.
Granite Hills Inn: The second time we were hiking The Enchantments. Instead of staying in town, we wanted a place closer to the trailhead and away from the noise of town. It was perfect. Peaceful, lovely owners, exceptional homemade breakfast and jacuzzi bath. Pictured above.
Granite Hills Inn is 2.4 miles from Snow Lakes trailhead. It took us 4 minutes to drive home at the end of the hike. Sandy made us some delicious homemade raspberry muffins to take on our hike, which we devoured at Colchuck Lake!
Need a campsite near The Enchantments? Take advantage of our exclusive 30 day free trial of The Dyrt PRO to get reservations at sold out campgrounds with no extra booking fees and gain access to free dispersed camping locations around The Enchantments. You can try PRO for free, no strings attached!
Top Tips For Hiking The Enchantments Trail
Wake up and set off early. It's better to start in the dark than end in it later when exhausted.
You might not need head torches if you hike in May, June or July.
But still take two head torches per hiker, just in case of accidents or emergencies.
Pack lightly but safely and sensibly.
Do not forget a means of water filtration.
Wear the right footwear and socks.
Do not try to go up the east side of Aasgard Pass.
Bring swimsuits to swim in lakes if it's warm enough.
The hike is open and exposed. Wear appropriate clothing, hats, sunglasses and sunscreen.
Mountain goat mothers can be aggressively protective of their kids. You don't want to mess with mountain goats.
Encourage and motivate others, this is not an easy hike.
Take a minute to appreciate you are hiking one of the best trails in the US!
Best Time Of Year To Day Hike The Enchantments Trail
Day hiking The Enchantments is going to be amazing no matter the time of year you take it on. But we do think we hiked it on the very best weekend of the entire year at the end of September.
Larch trees turned peak golden colors at exactly the right time for us. Fortunately, we picked that weekend and not the one before to book the loop connector and Granite Hills Inn B&B. The weekend before it never stopped raining.
May and October are going to introduce dangerous elements such as ice and heavy rain. The trail is already challenging enough but once you throw rain and slippery surfaces into the equation, The Enchantments can quickly become treacherous.
June, July and August are the safest bets for giving yourself the best shot at a dry day with the most daylight hours. But if you want to see those golden larches, you need to wait until mid – end of September.
Pros And Cons To Day Hiking The Enchantments Trail
One of the most remarkably spectacular hiking trails in Washington
Most friendly and supportive hike we've ever done
Core Enchantments section is amazing
Usually relatively quiet on weekdays for 'lost world' feel
Summer weekends and peak golden larch season very busy
Parking not easy with point to point trail
Very long day and slow going with very little flat hiking
Steep ascent and descent is tough on joints
More Photos From Hiking The Enchantments Trail
Here are just a few more of the photos we took on both smartphone and camera to give you a more complete picture of what it's like hiking The Enchantments trail at the end of September.
These remaining photos are in order as we hiked the trail from start to finish.
This is the trailhead for Stuart Lake / Colchuck Lake and the place you begin The Enchantments hike. See the boxes on the left panel? You drop your day use hiking wilderness permit in those boxes.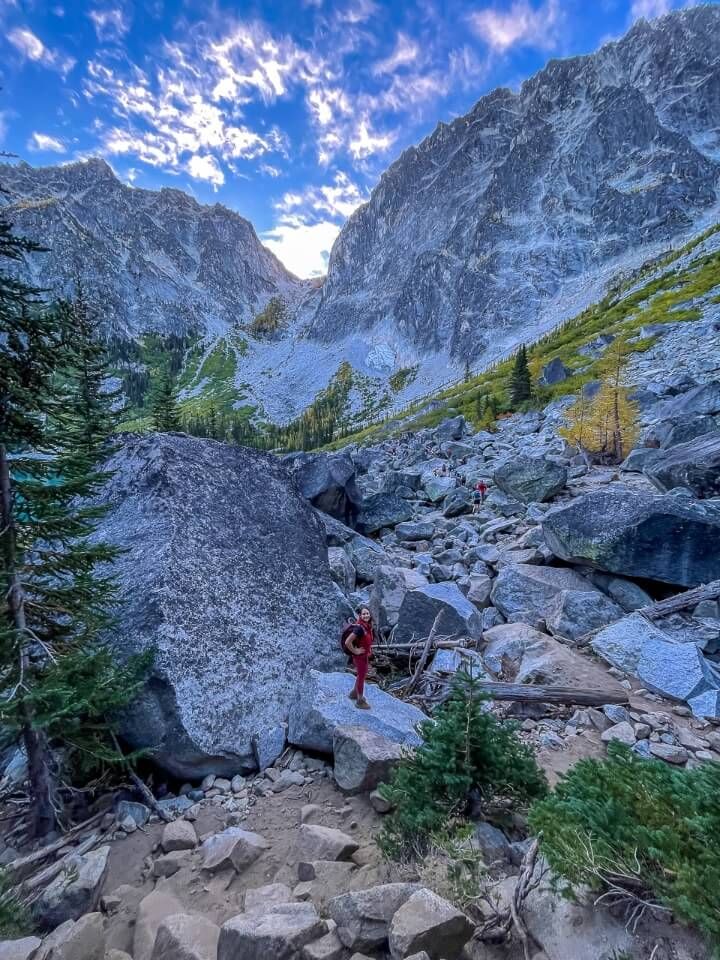 Smartphone picture in the dark isn't very clear but you can see the boulder field leading around the edge of Colchuck Lake toward Aasgard Pass.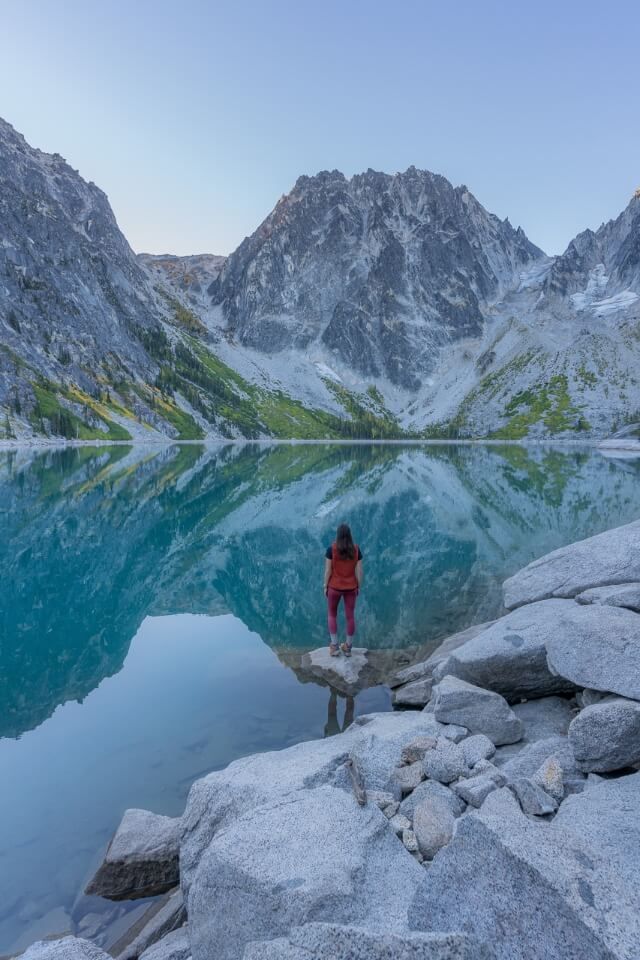 This is where we had our first break of the day at Colchuck Lake. The water was freezing so we didn't go in but what a beautiful glass-like reflection!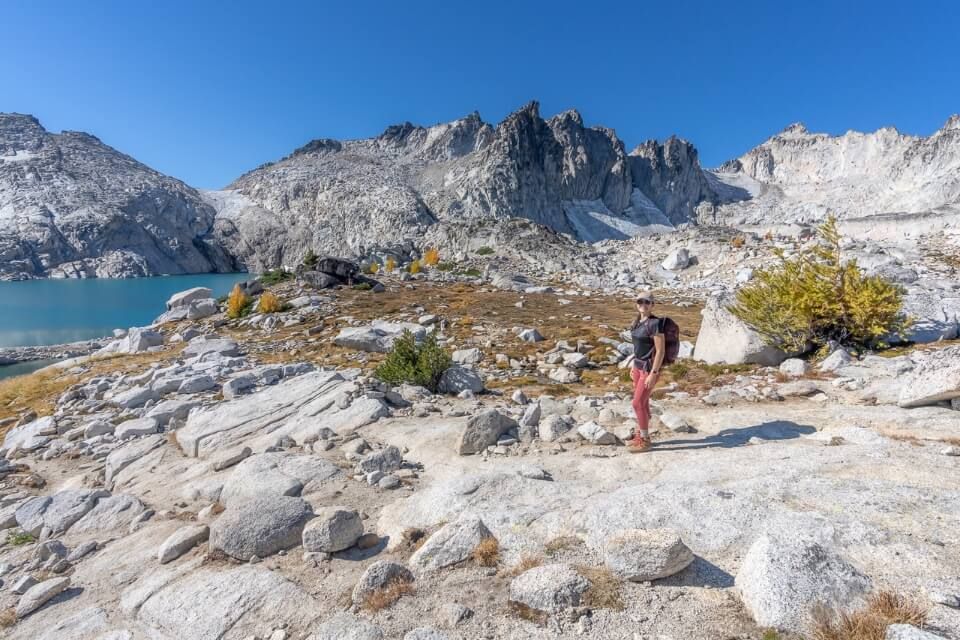 Kristen finding her smile again after first entering the Core Enchantments with Isolation Lake to the left.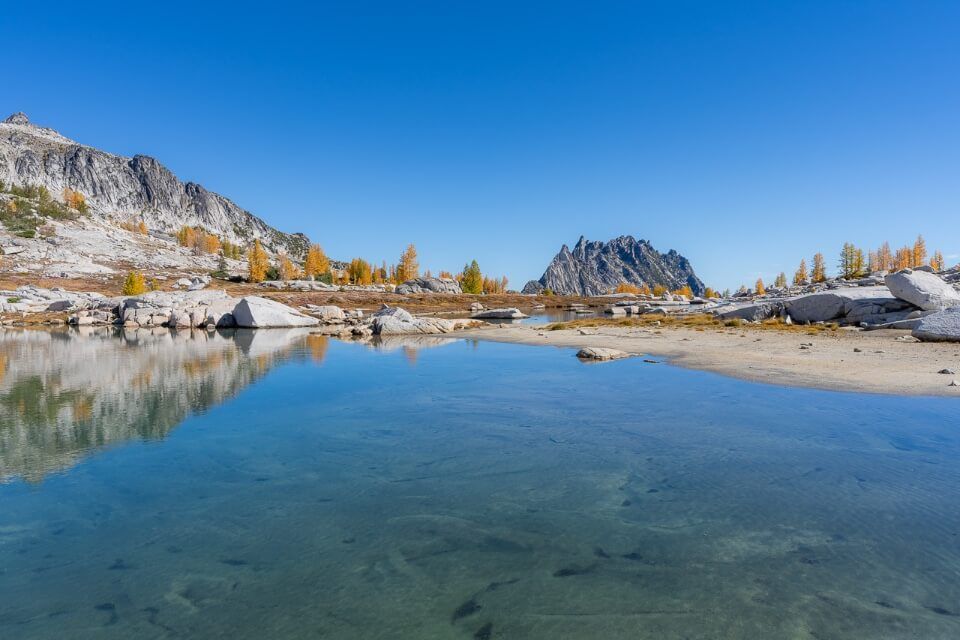 Upper Enchantments with shallow water and golden larches beginning to pop up more frequently.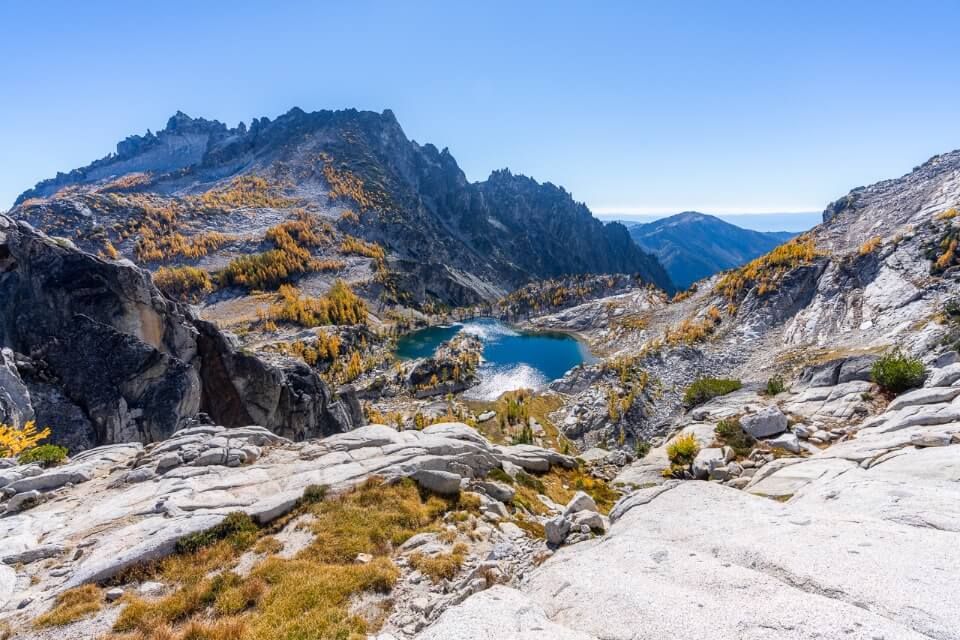 Crystal lake is one of our favorite views on the entire hike.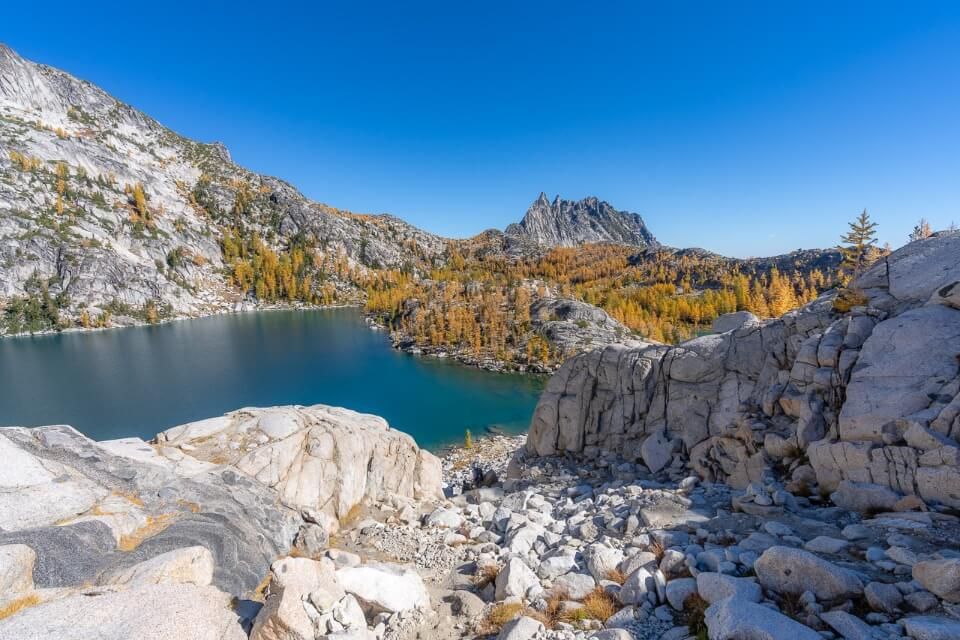 Stunning view looking down on Inspiration Lake. The boulders front and right are the trail leading down to those radiant golden larches.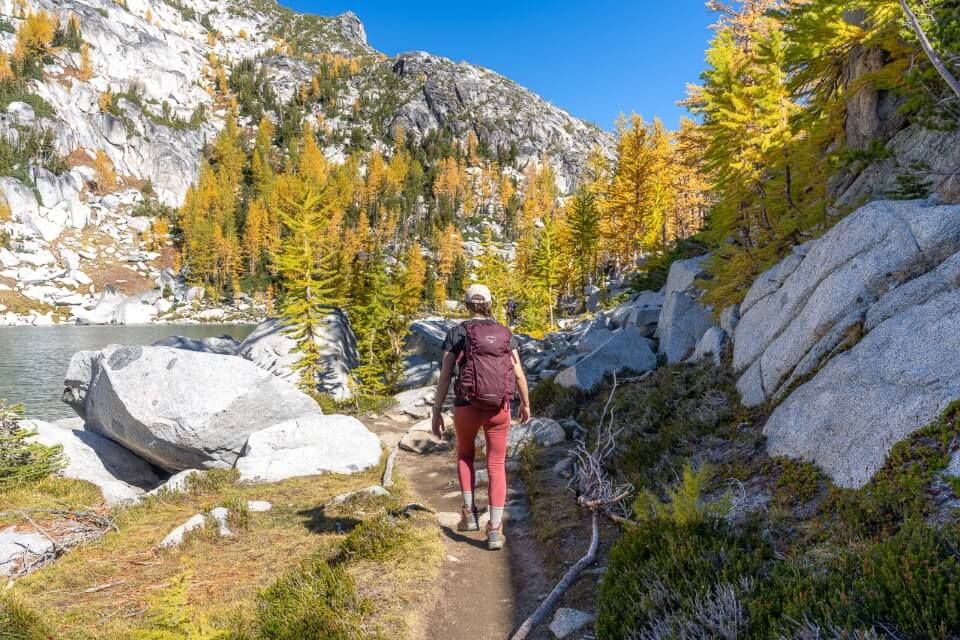 Here we are skirting along the southern edges of Inspiration Lake among those golden larches, right before we took a break right on the waters edge.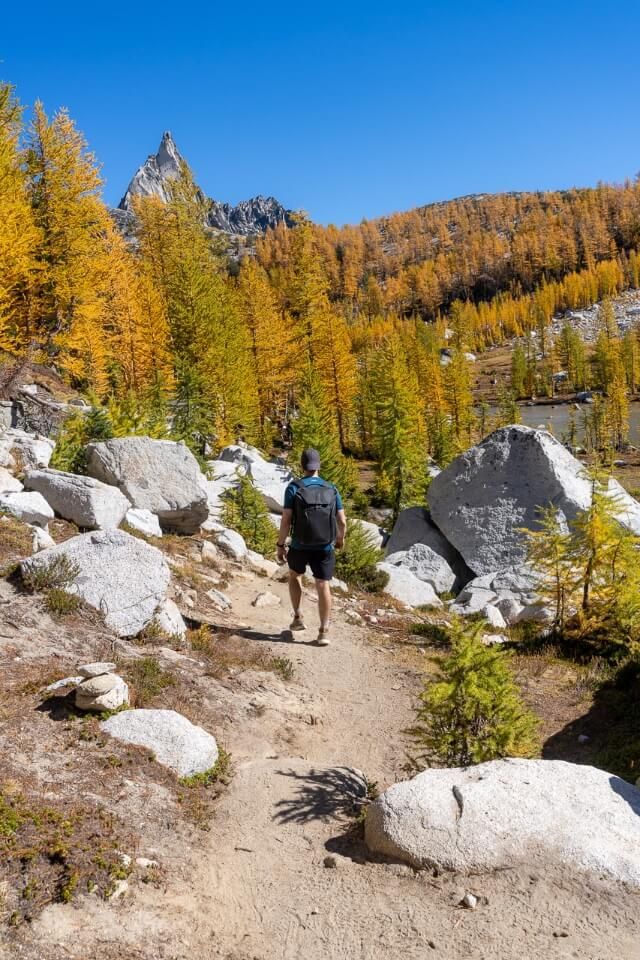 Hiking down toward Perfection Lake in the Middle Enchantments with bright and vibrant golden larches glowing against a brilliant blue sky.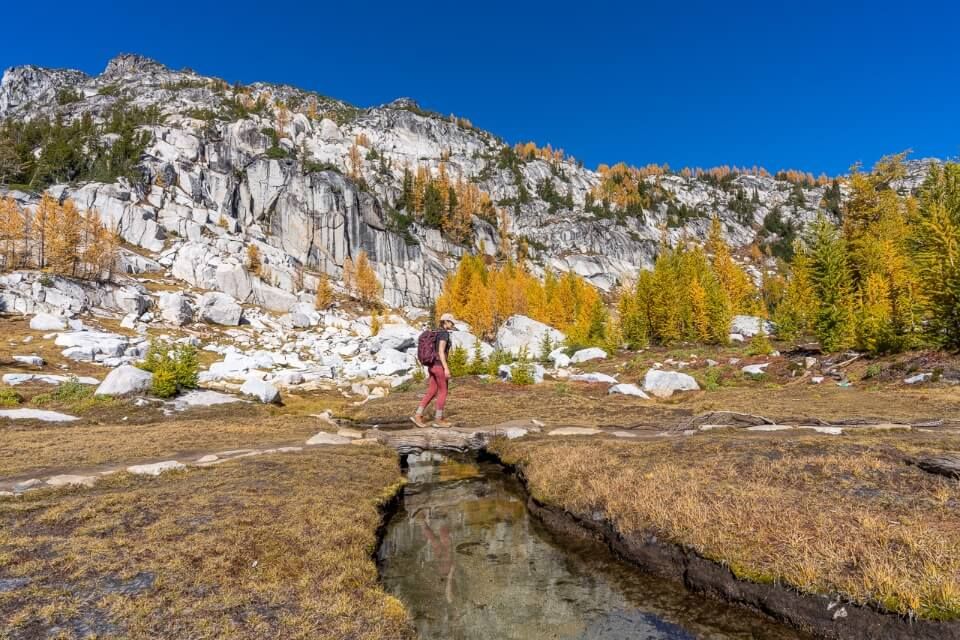 A rare flat section of The Enchantments trail! Crossing a small bridge with towering granite rocks behind.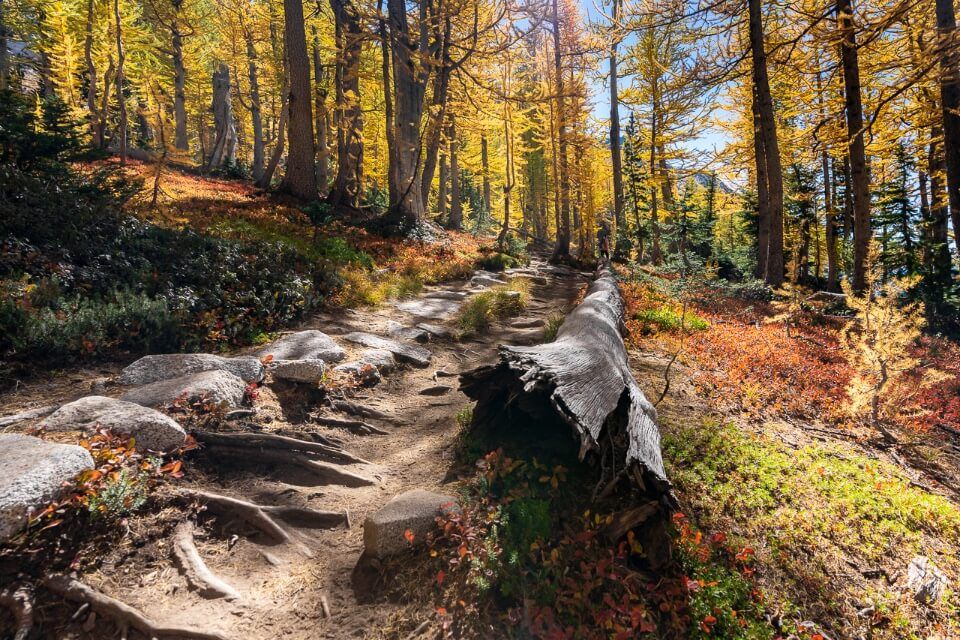 One of our favorite photos from the day hike. We took this when circling around the eastern side of Perfection Lake as the trail turned into forest.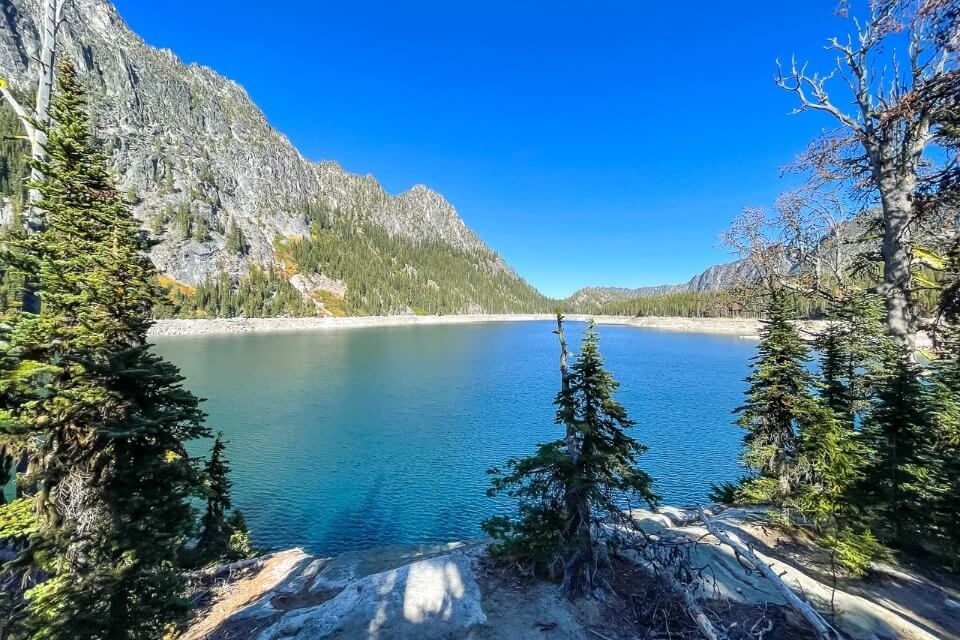 This is the spot we took a break along side Snow Lakes after the steep descent section from Lake Viviane.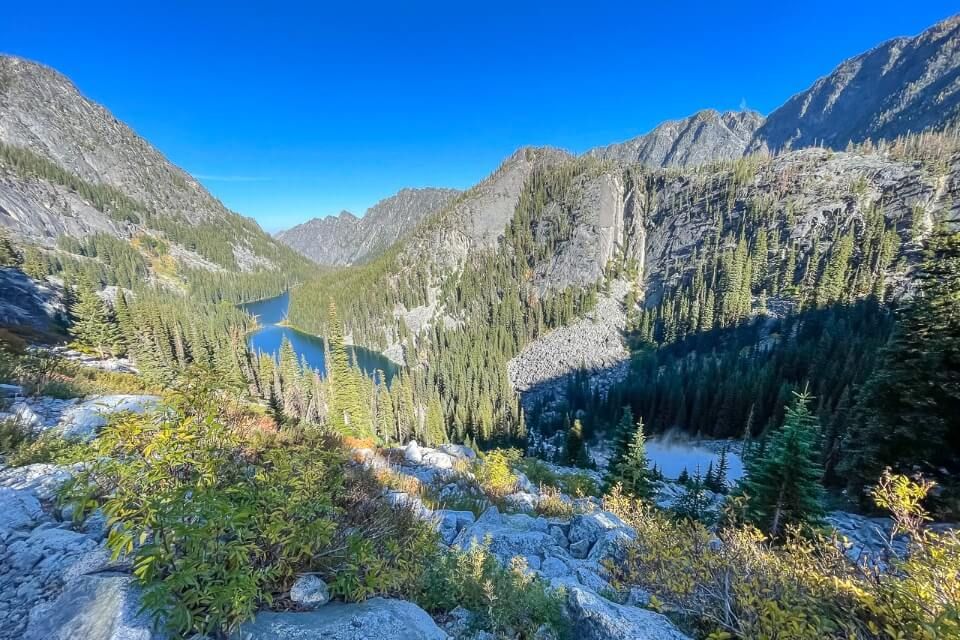 This is the view over Nada Lake later in the descent after Snow Lakes. The trailhead is a long way past the end of those lakes you see here.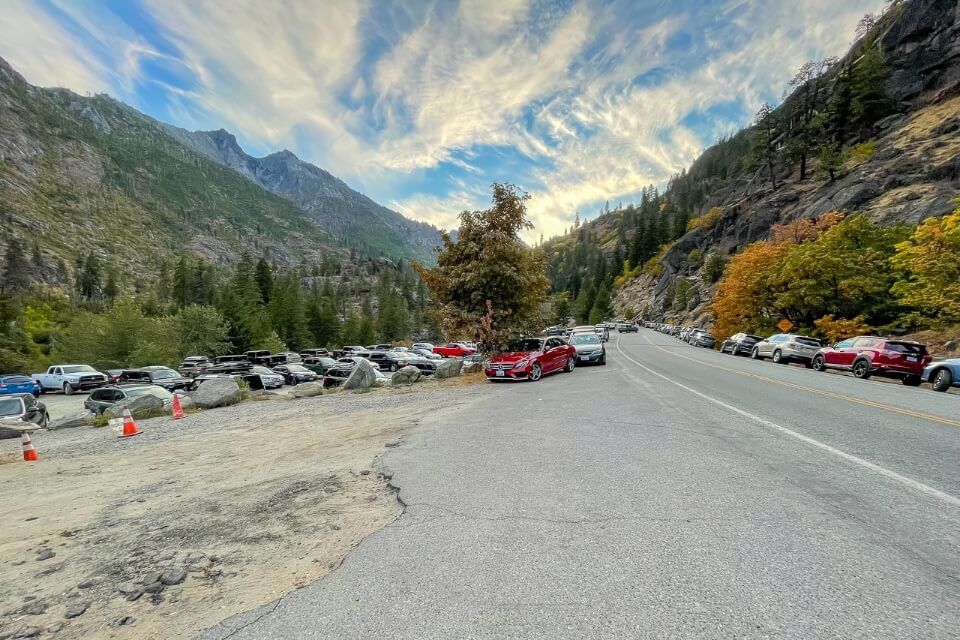 Snow Lakes parking lot after completing The Enchantments trail around 6.30pm. Dusk wasn't far off and there are still a lot of cars here, so head torches are a necessity if hiking later in the season.
More Day Hikes In Washington
More Bucket List US Hikes
---
We hope this complete guide to day hiking the extraordinary Enchantments trail helps with planning your hike!
Please let us know if you have any questions about day hiking The Enchantments trail in the comments below and good luck with the hike.
Happy Hiking,
Mark and Kristen
Was This Post Helpful? Pin It For Your Hike!