Yosemite National Park photography has a bit of everything: Awe-inspiring sunrises, viewpoints from folklore, iconic granite domes, giant Sequoia trees, golden meadows and powerful waterfalls.
Arriving into the valley as a photographer is like opening a treasure chest filled with gold bars and diamond rings.
Californian gold may have dried up in the 1800's but nature and landscape photographers descend upon the stunning Sierra Nevada mountain landscape to take home priceless images and memories instead.
We spent 3 amazing days at Yosemite in October during the Fall season, so we have stunning Autumnal colors and excellent reflection shots but little to no water from the famous waterfalls. A Spring visit next time will remedy our lust for Yosemite's waterfalls.
In this Yosemite photography guide you will find our favorite pictures from the most scenic areas of what is one of the most picturesque and best USA National Parks.
We want to inspire you to visit Yosemite, so let's get to it!
2023 Update: You do not need an advanced reservation to visit Yosemite National Park this year. The only exception is weekends in February for those who want to see Horsetail Fall on fire.
*Please note this post may contain affiliate links. If you click on one of them, we may earn a small commission at no extra cost to you!*
Lay of the Land
We've ordered the most popular Yosemite photography locations from North to South as you look at a map of the area.
In order to reach each of the places listed below you will need a minimum of 2 days in Yosemite but 3 days would make life much easier.
Read our comprehensive 3 day Yosemite itinerary covering everything you need to plan your visit.
There are many many parts of Yosemite we did not manage to see on our first visit, but we will be back to explore further and off the beaten path.
Here are the most famous of Yosemite's landmarks and viewpoints:
Tioga Road Yosemite Photography
Tioga road is North of Yosemite Valley and serves as the picturesque Northeast entrance into Yosemite. The road closes in Winter due to treacherous conditions at 9,943 ft altitude in the Sierra Nevada mountains.
We visited Yosemite just a week before it closed for Winter and had clear blue skies but bitterly cold days. On a typical 3 day Yosemite itinerary, spending a half day (ideally as you enter or leave the park) exploring along Tioga road is recommended.
Best stops include Lembert Dome, Tuolumne Meadows, Tenaya Lake, Olmsted Point and Tuolumne Grove. If you have more time, there are plenty of longer hikes beginning on Tioga road. The most popular is Cathedral Lakes.
Lembert Dome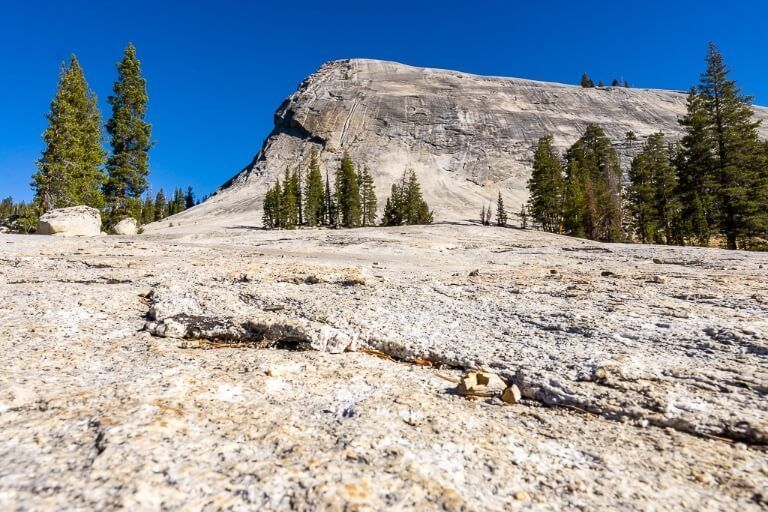 Lembert Dome smooth side face from below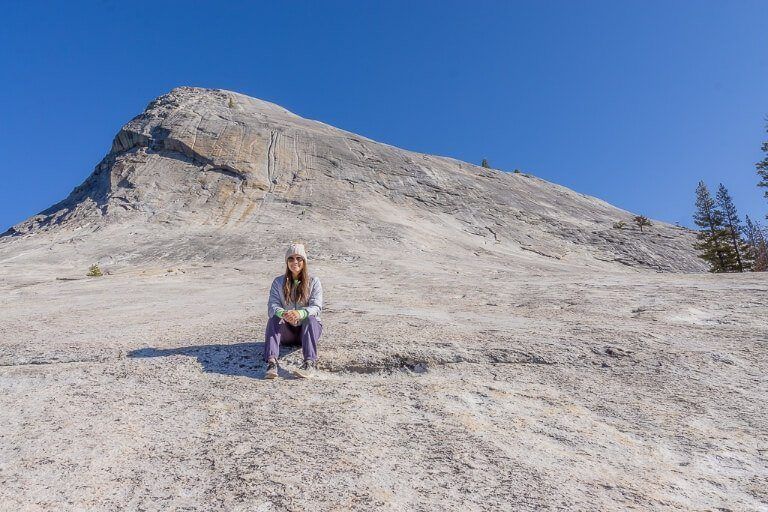 Kristen half way up Lembert Dome before it gets seriously steep!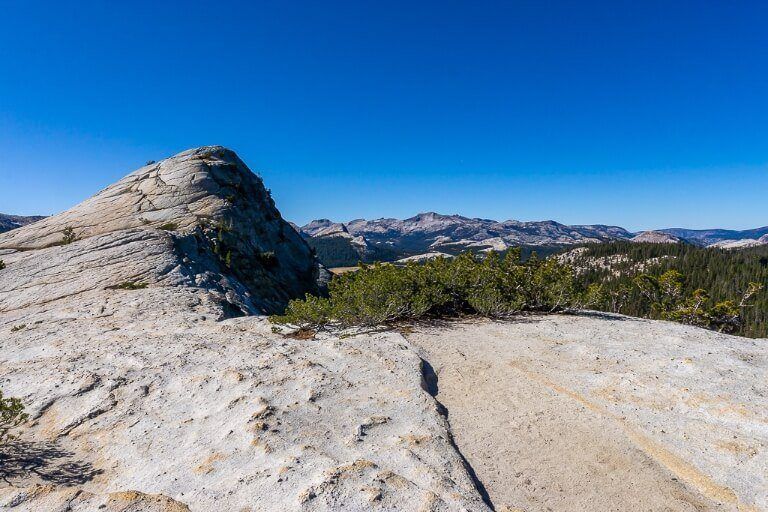 Sweeping view of the High Sierras from Lembert Dome Summit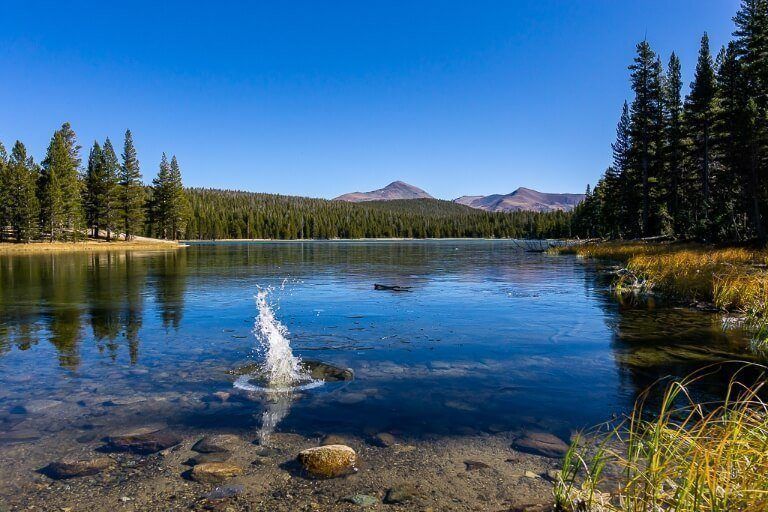 Rock landing in frozen lake on the hike to Lembert Dome summit
Tenaya Lake and Olmsted Point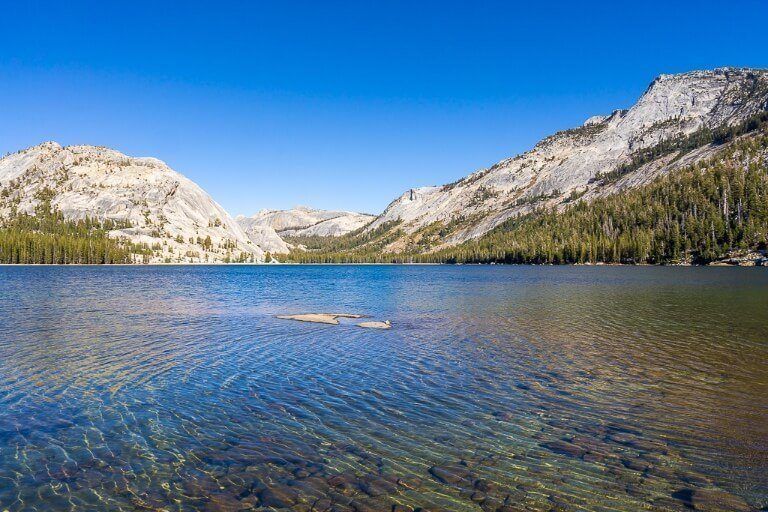 Tenaya Lake picnic area looks through a gorgeous granite rock valley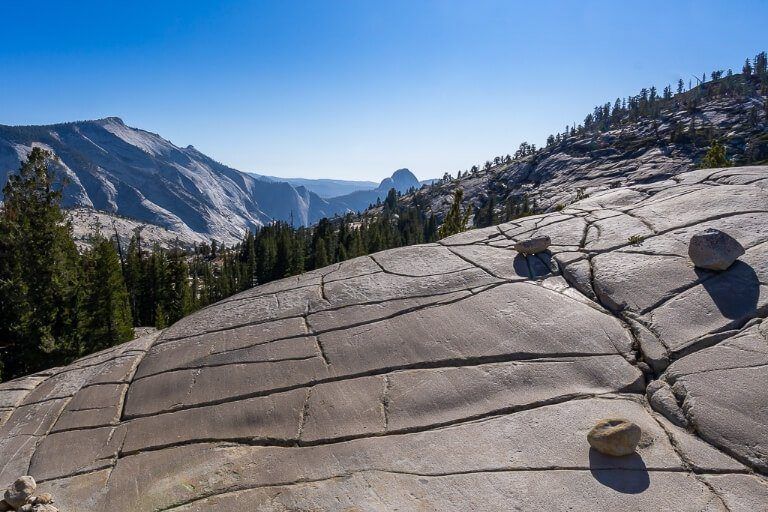 Super-smooth granite rock with wide and deep cracks cutting through the surface, Olmsted Point
Tuolumne Grove Giant Sequoia Trees and Big Oak Flat Road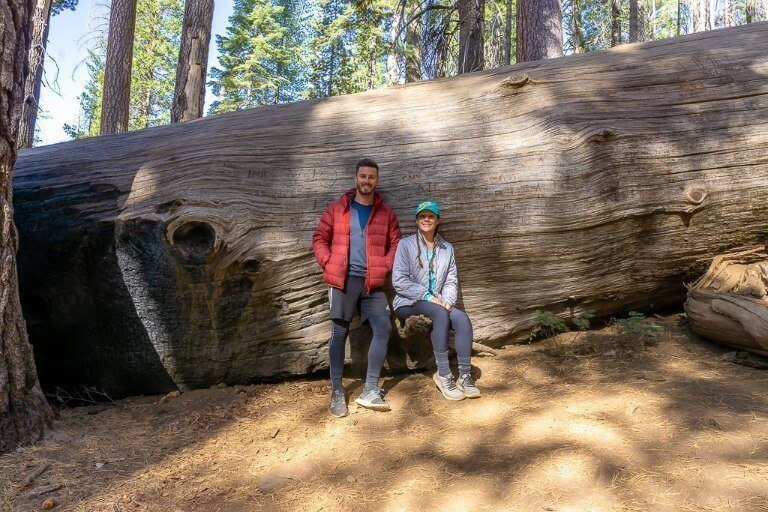 Mark and Kristen stood in front of a fallen Giant Sequoia Tree showcasing its enormous girth
Gigantic pine cone highlighted by the sun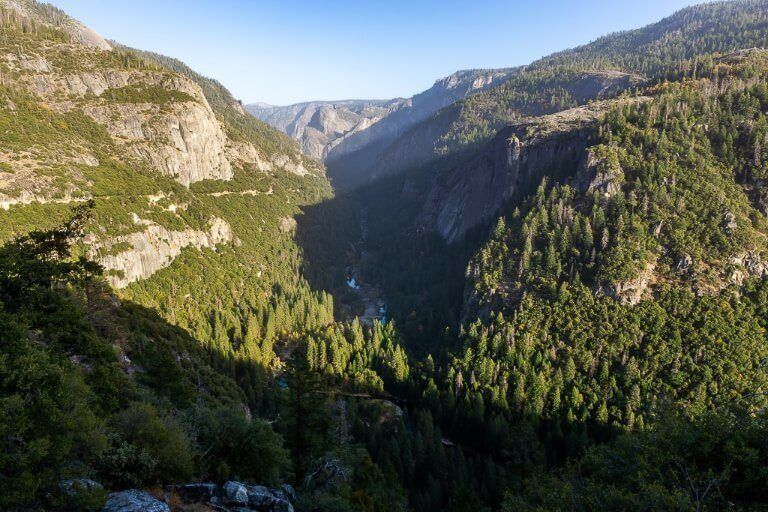 Big Oak Flat Road hugs the cliff side and descends into Yosemite Valley
Do you need help planning your visit to Yosemite National Park?

Our popular 50 page Yosemite Guidebook and Itinerary covers every aspect of planning a trip to Yosemite including hikes, hotels, restaurants, getting around, things to do and so much more!
Yosemite Valley Photography
Yosemite Valley is a staggeringly beautiful playground for beginners and professionals to get lost in photography.
No hiking is required to reach a viewpoint inside the valley, you can simply drive your car around the loop road and pull in at any of the roadside lots.
Each of the picnic / beach areas is worth a visit. Walk to the Merced River for stunning reflection photographs (mainly in Fall when the water levels are low) of granite domes and colorful trees.
Even just wandering out into the meadows along Cook's Meadow Loop reveals stunning views in both directions.
Season and time of day are important for photography in Yosemite. Each season and time of day will yield its own results and each will mean you miss out on something.
Yosemite Valley Meadows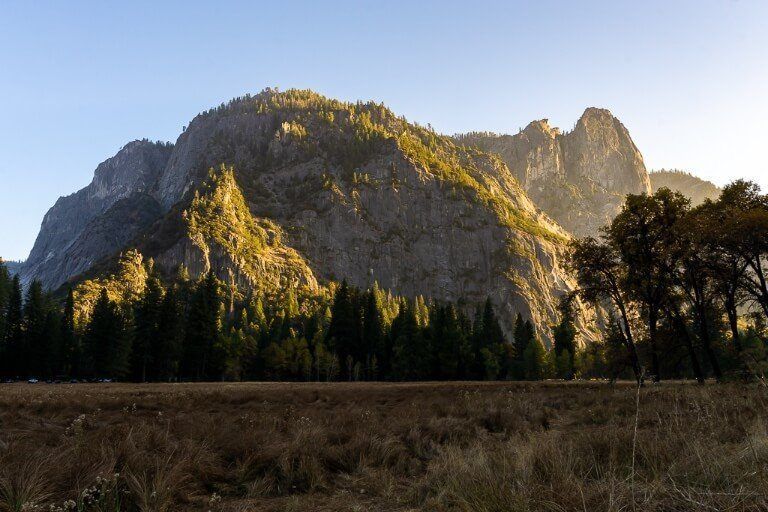 Golden yellow light at sunset illuminating the Western facing side of a huge granite formation in the valley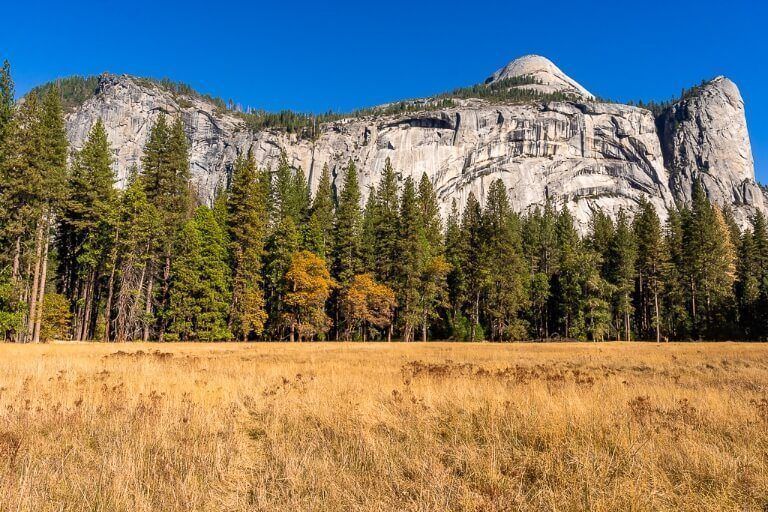 Golden meadows, green trees and bright granite rocks in Fall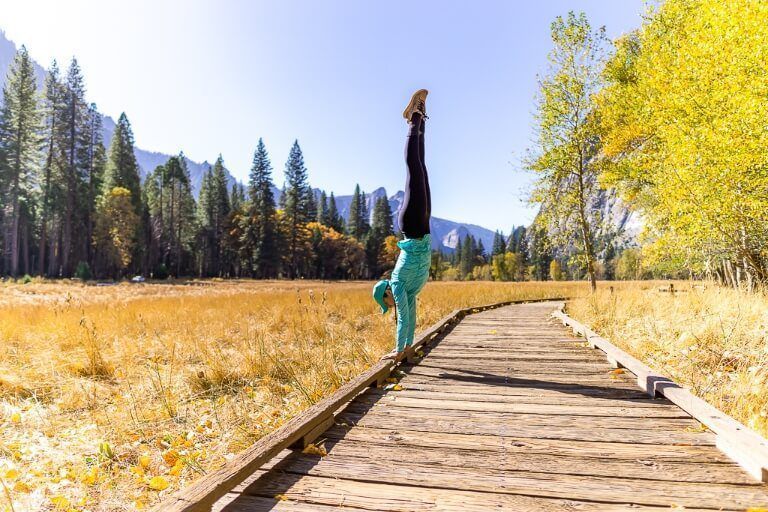 Kristen reliving her gymnastics days on a bright day along Cook's Meadow Loop in the valley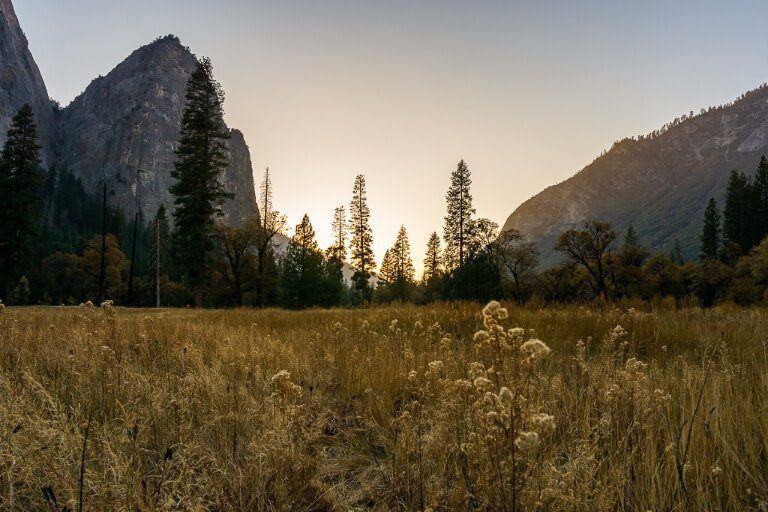 Sunset on a hazy October evening in Yosemite Valley meadow
Merced River and Reflections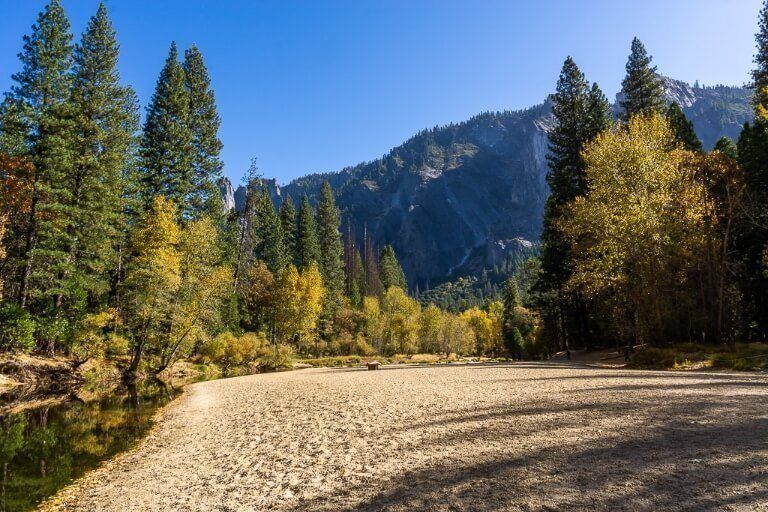 Sentinel Beach picnic area on the valley loop road looking East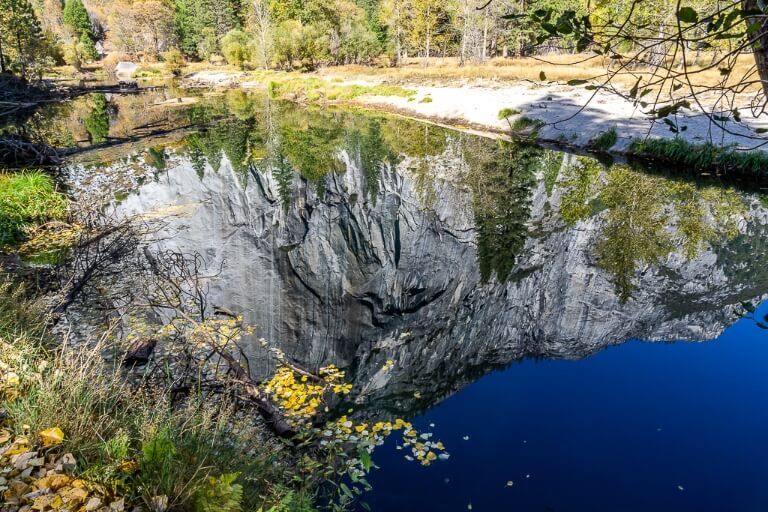 Water so still the reflection is as clear and pristine as the granite rock itself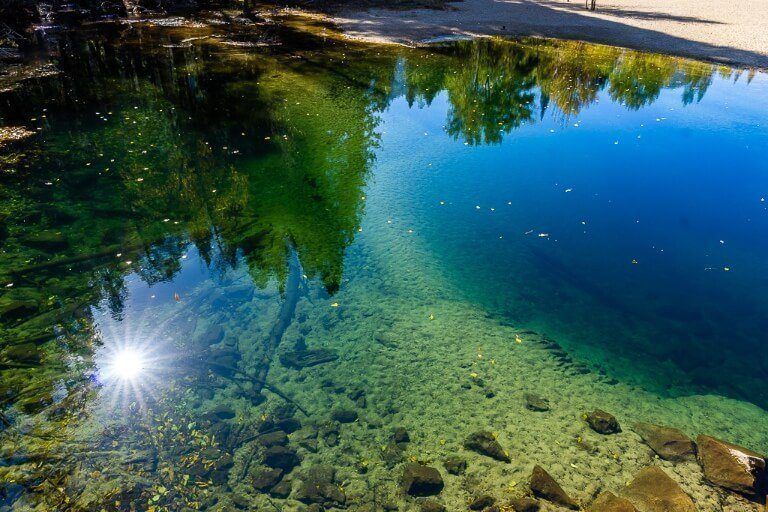 Cool starburst with the Sun and light penetrating different depths creating greens and blues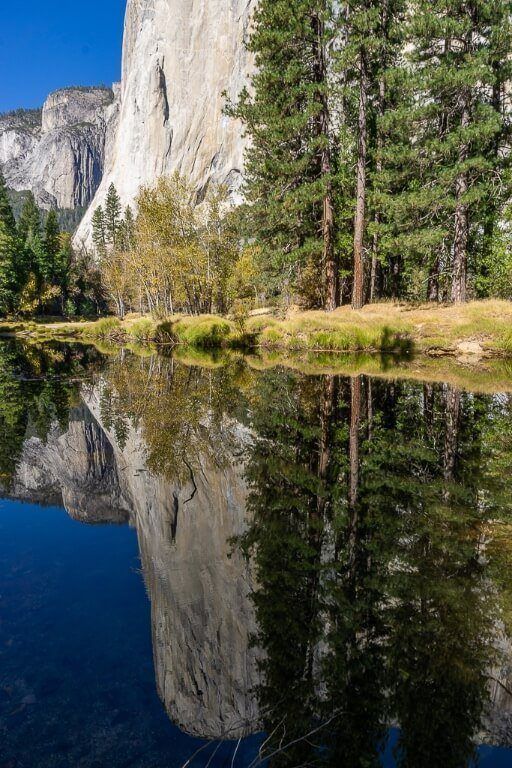 Perfect reflection of flat granite wall (this is where we needed our A7R IV and 16-35mm lens!!)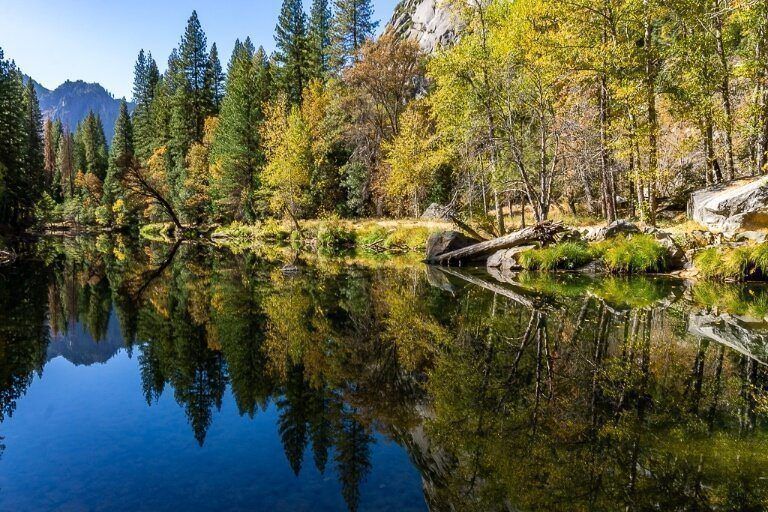 Spectacular reflection with Fall colors turning and a perfectly still river
Bridalveil Falls and Yosemite Falls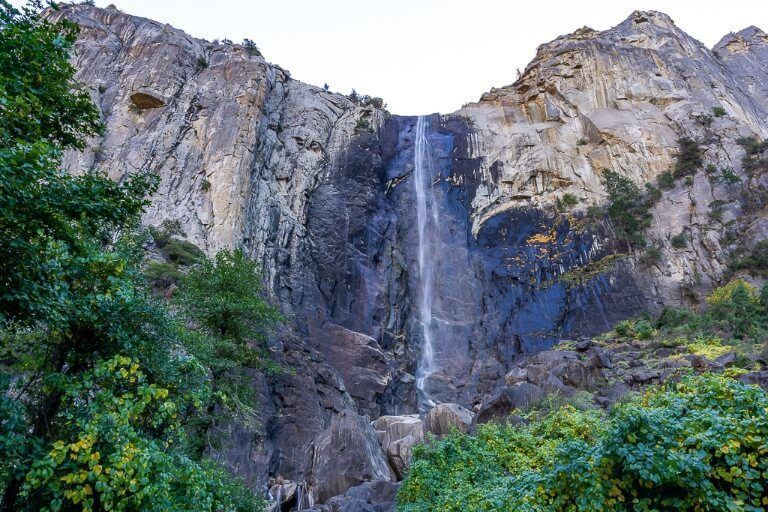 Our Fall visit resulted in low volumes of water flowing over Bridalveil Falls …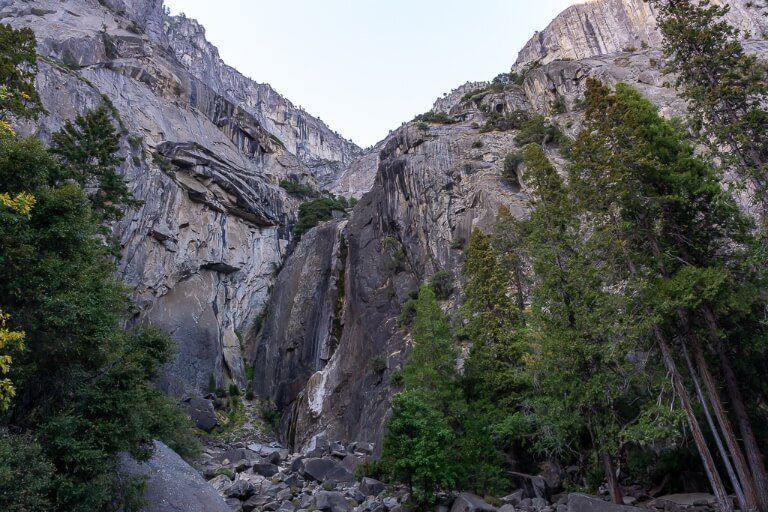 … and absolutely no water flowing over Yosemite Falls! Sigh.
Valley View Photography Yosemite National Park
Valley View is one of the most popular overlook viewpoints in all of Yosemite and an especially spectacular photography location.
We think sunset is the best time to be here to catch the last rays of day seemingly set El Capitan's West facing wall on fire with a stunning red glow. Purple and blue colors of dusk begin to combine with a light haze to create a serene sunset.
You can find Valley View by driving as though you are leaving Yosemite Valley toward the end of the one-way loop road and stopping at the very last pullover before the loop begins again.
Don't forget your tripod if you do visit at sunset and wrap up if visiting outside of Summer – you can trust us on that one!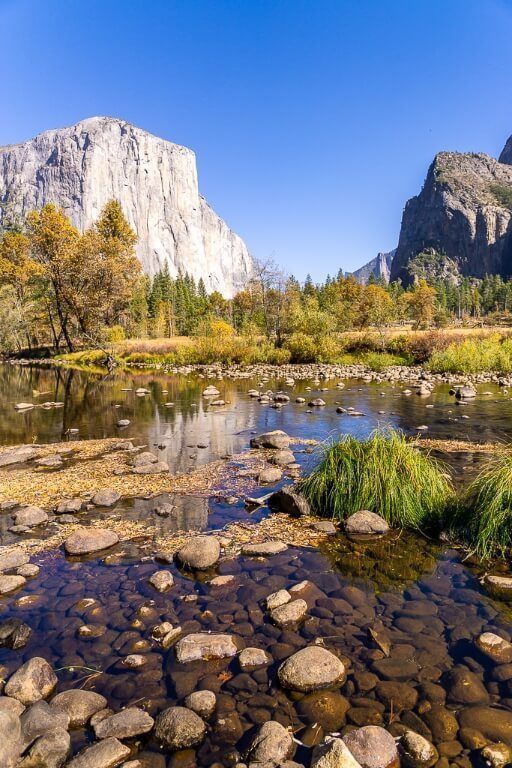 Which do you prefer? Valley View during the brightest part of the day, or …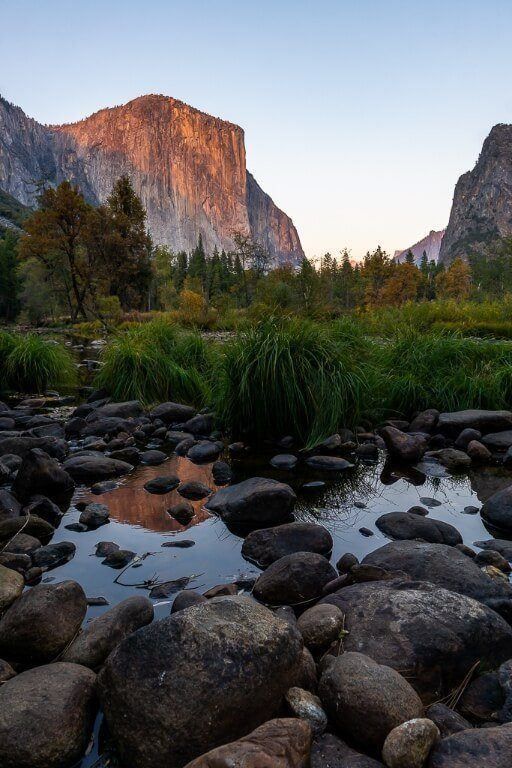 … Valley View at sunset with El Cap glowing red? We vote sunset!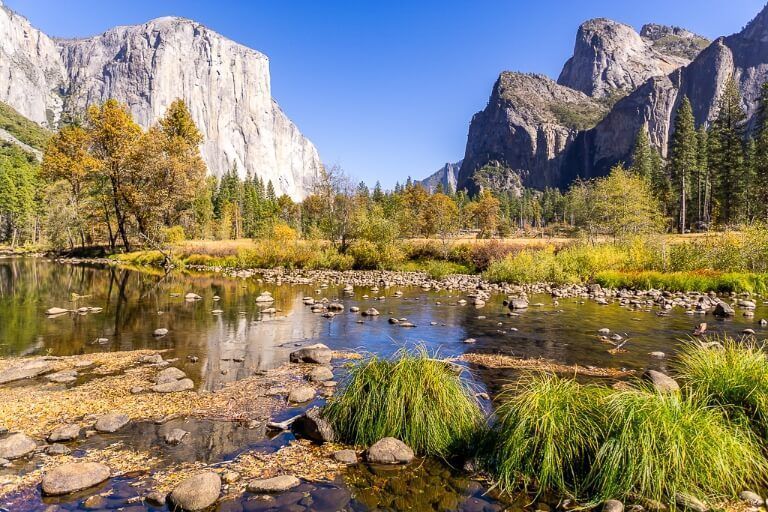 Glorious late October weather from Valley View making photography at Yosemite incredibly enjoyable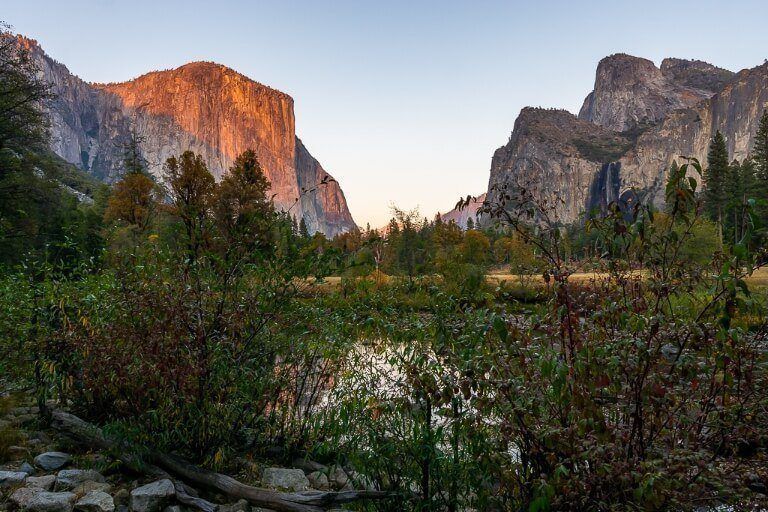 Burning red rocks of El Capitan at sunset from behind some vegetation along the banks of the Merced
El Capitan Yosemite Photography
El Capitan is one of the two most famous granite formations in Yosemite National Park. Partly down to how awesome it appears in the valley and partly because of rock climbers accomplishing free climbs up its Dawn Wall.
El Cap commands your attention as you explore Yosemite valley. It is best photographed at sunrise when it's front facing wall illuminates a bright yellow at dawn, or sunset as mentioned in the Valley View section above.
Here are some closer up photographs from El Capitan Meadow and at the base of the adventurous climb.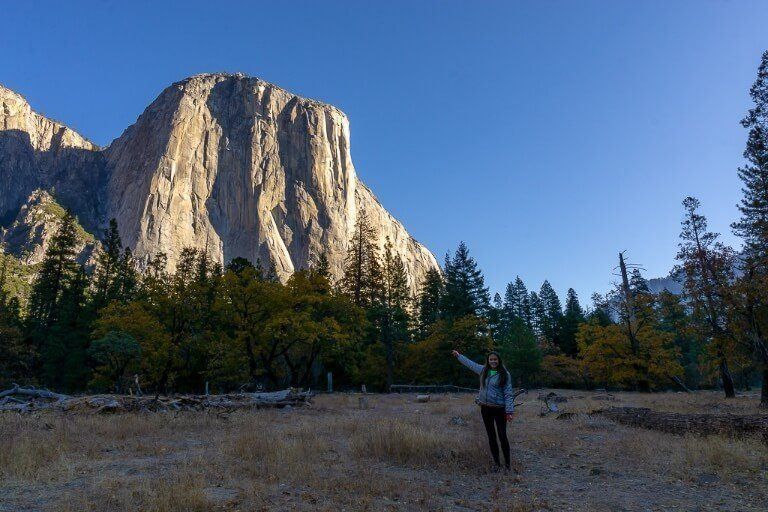 Kristen in shadow pointing at the majestic El Capitan shimmering just after sunrise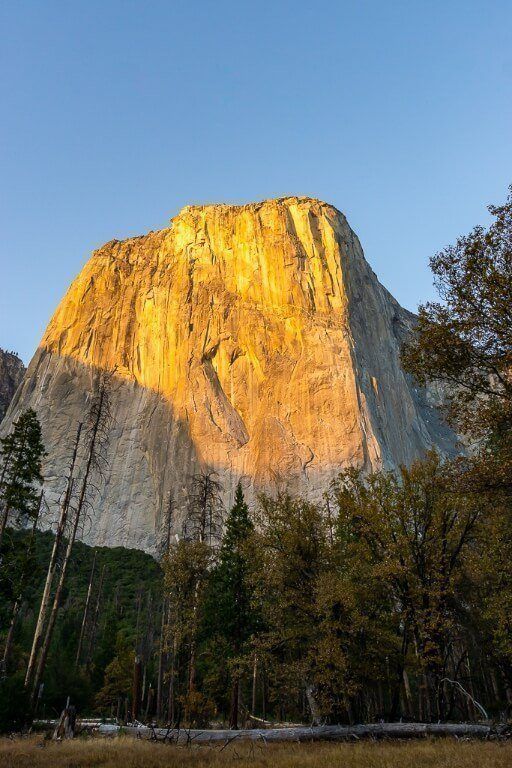 El Capitan meadow around 20 minutes before sunset – one of the best places to see the grand size of the popular formation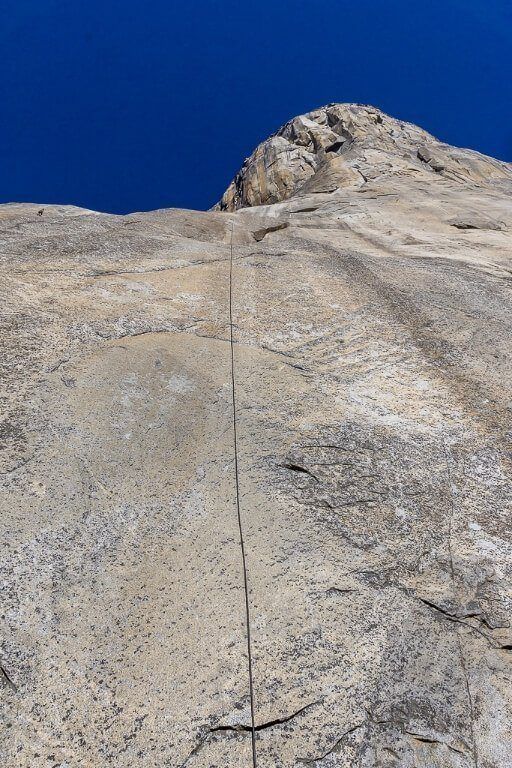 The base of El Capitan with a rope dangling enticingly … an ant sized climber is on the very top left of the rock face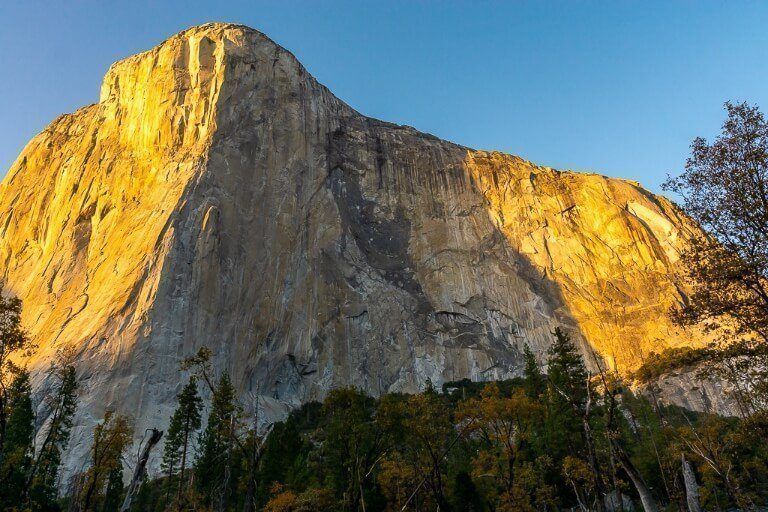 We got a little closer to El Capitan around 30 minutes before sunset to see it illuminating a deep Yellow
Yosemite Mist Trail / John Muir Trail Photography
Half Dome is the undisputed king of Yosemite but it's difficult to get a permit to hike the chained section to its summit. For most visitors to Yosemite, the Mist and John Muir Loop trail is the most popular hike.
Mist trail passes by Vernal Fall and Nevada Fall, summiting beside Liberty Cap. The trail to Half Dome continues from this summit but due to permit limitations, very few hikers will continue to Half Dome. Almost all hikers will loop around and descend back into Yosemite valley via John Muir trail.
The Mist / John Muir loop is still a fantastic hike and Liberty Cap is still an impressive granite dome!
Here are some of our photographs from the trail.
Vernal Fall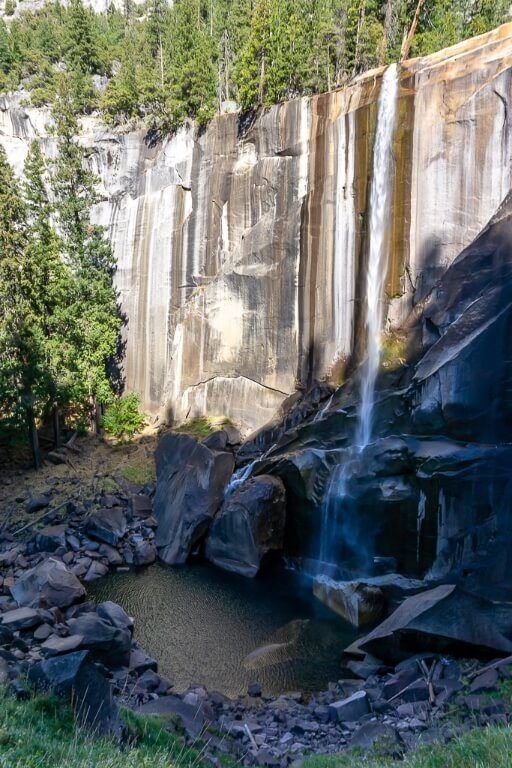 Vernal Fall from a side profile with plunge pool surrounded by rocks
Mist Trail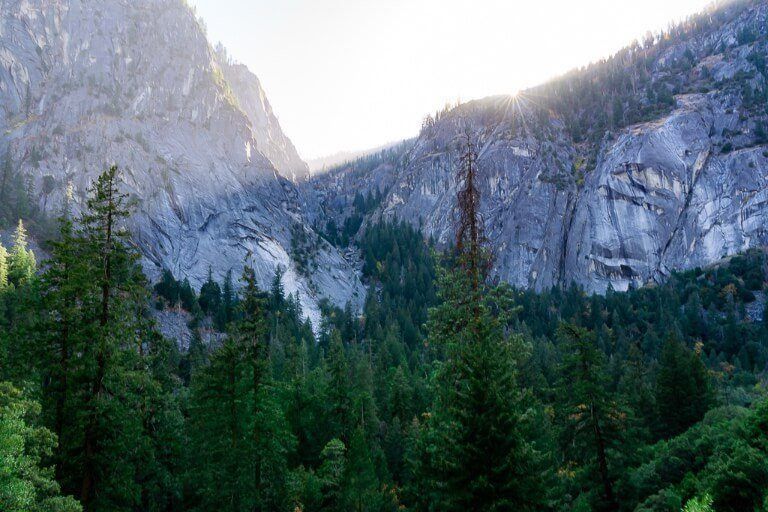 Starburst with the Sun on an appropriately misty morning climbing the Mist Trail
Liberty Cap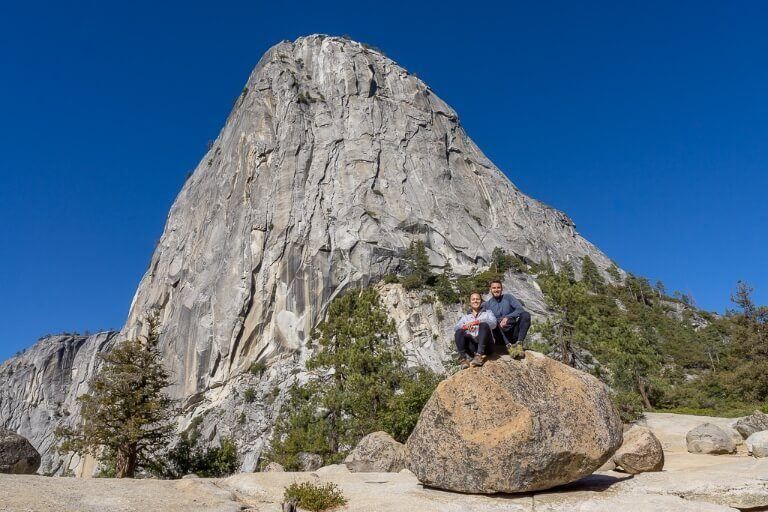 Mark and Kristen perspective shot on a big boulder backed by enormous Liberty Cap
John Muir Trail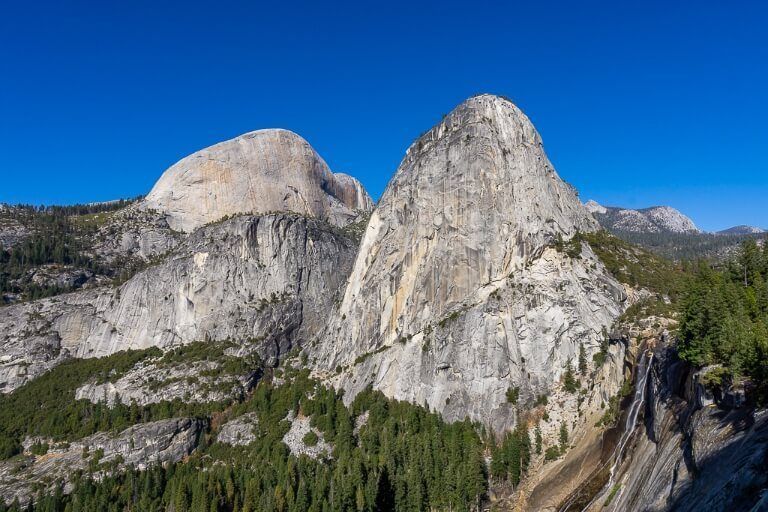 Sweeping view of Nevada Fall to the bottom right, Liberty Cap prominent front left and the back of Half Dome to the left
Read our complete guide to the amazing Yosemite Mist Trail featuring maps, hike walkthrough, Vernal Fall and Nevada Fall to help with your hiking plans.
Yosemite Tunnel View Photography
Tunnel View is Yosemite's quintessential viewpoint with some of the most famous photographs taken from this overlook.
The view is from the same side of Yosemite valley as Valley View, but Tunnel View is from a much higher elevation which gives uninterrupted views across the entire valley. That's a lot of uses of the words valley and view!
As you enter Yosemite from the North and join the loop road, take the very first right toward Wawona road and Bridalveil Falls. Continue past the falls parking lot and climb until you reach a tunnel. Park up before the tunnel and walk over to the very obvious viewpoint.
It's a tough call to say which is the 'better' scene between Valley View and Tunnel View because both are awe-inspiring. However, if pushed, we would probably go for Tunnel View due to the symmetry of the valley from here.
El Capitan to the middle-left, Bridalveil Falls to the middle-right and even Half Dome just about appears in the background.
If you have a telephoto lens you can compress the three major formations to appear much large and closer in the image but we only had our entry level (crop sensor) camera with 16mm prime lens at the time.
During the day you can expect dramatic shadows but try to arrive for sunset and stay until the sun completely disappears for amazing purple / blue hazy hues in the sky.
We also managed to capture the Milky Way rising right above the tunnel with a cool orange glow.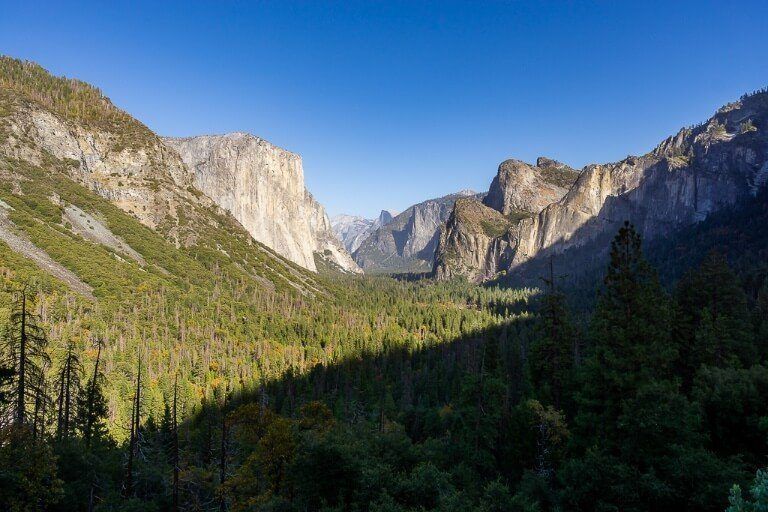 Tunnel View during early afternoon on a clear day – Half Dome just about visible center back, Bridalveil Falls middle right and El Capitan middle left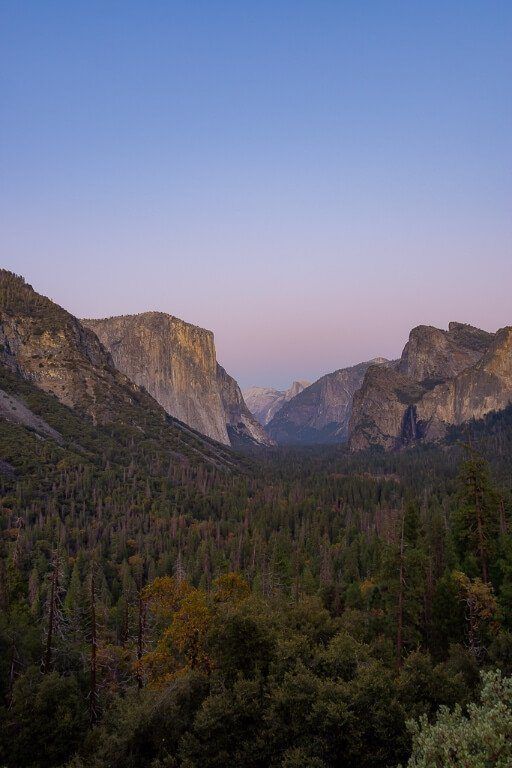 Dusk brings hazy but serene purples and pinks to the sky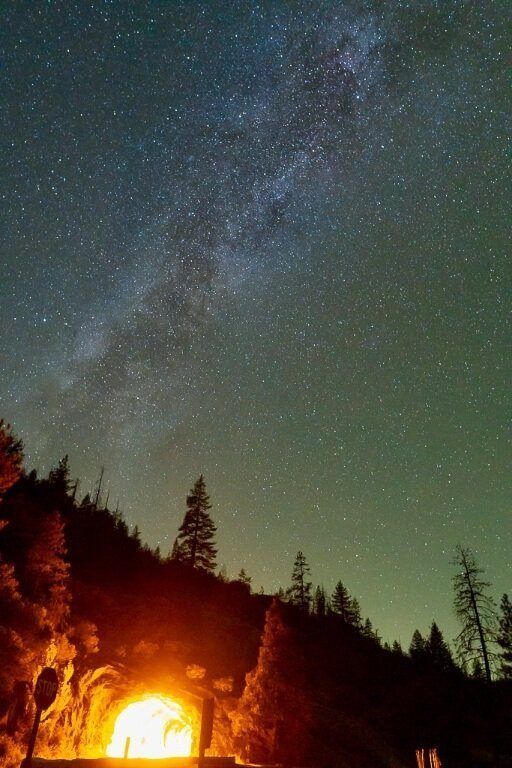 Milky Way over the entrance to Wawona Tunnel around 8pm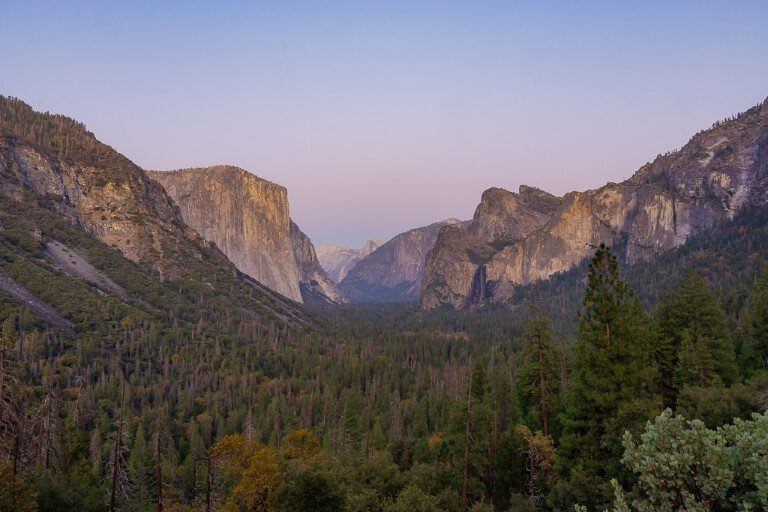 Spectacular symmetry of Yosemite Valley – one of the best photography locations in the National Park
Half Dome / Glacier Point Yosemite Photography
Everywhere you go in Yosemite, the first thing you think is 'can I see Half Dome from here?' – but the best place to see Half Dome is from Glacier Point right at the end of Glacier Point road.
Glacier Point road is a pain in the backside to drive with extremely narrow and constantly winding roads. No surprise to hear it closes in Winter. Your reward is breathtaking views over Half Dome and Yosemite Valley from an elevated vantage point.
In our 3 day Yosemite itinerary, we suggest visiting Glacier Point on the last day on your way out of Yosemite. The drive from Yosemite Valley to Glacier Point takes around 1 hour and sunset is the best time to see Half Dome from this epic viewpoint.
As you can see in the photographs below, it was late afternoon when we were at Glacier Point but we had a long drive to SF and unfortunately couldn't wait for sunset.
If you're in Yosemite just for photography, make the effort to be at Glacier Point for sunset and stay for amazing astrophotography opportunities. On our next visit to Yosemite, we will do a sunset here.
Mark and Kristen enjoying the incredible viewpoint stretching as far as the eye can see with Half Dome the star of the show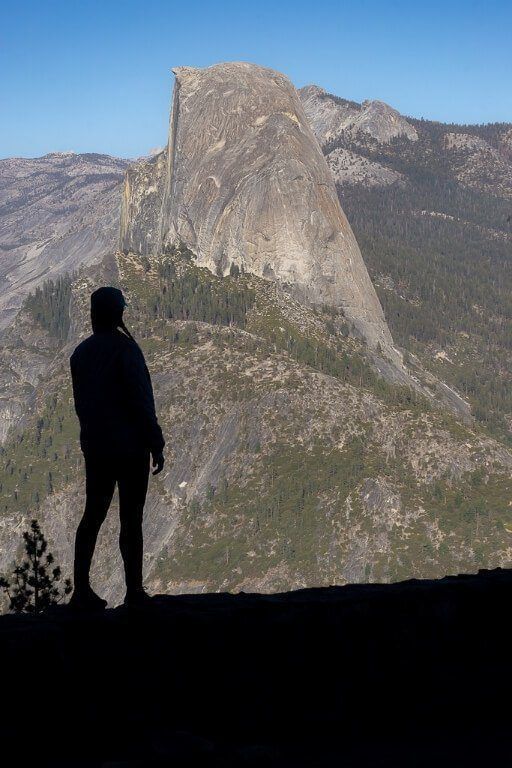 Kristen silhouetted in shadow with Half Dome dominating the landscape (used our entry level kit zoom lens here!)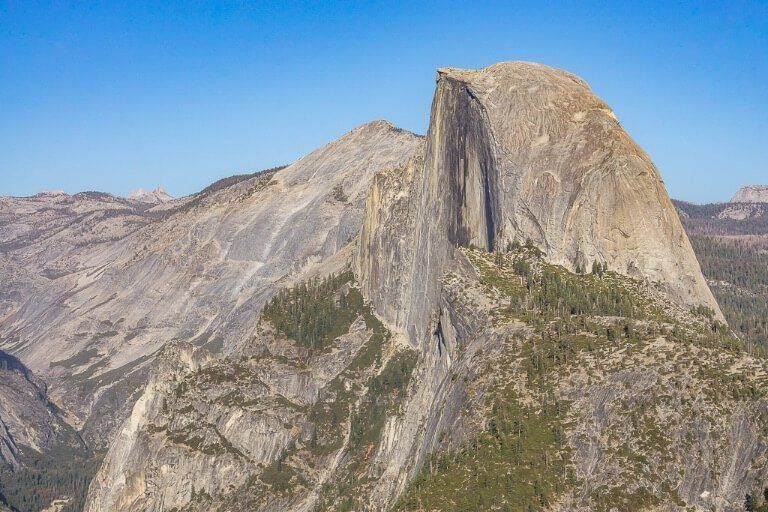 Close up of Half Dome showcasing the severity of its drop – like a knife through warm butter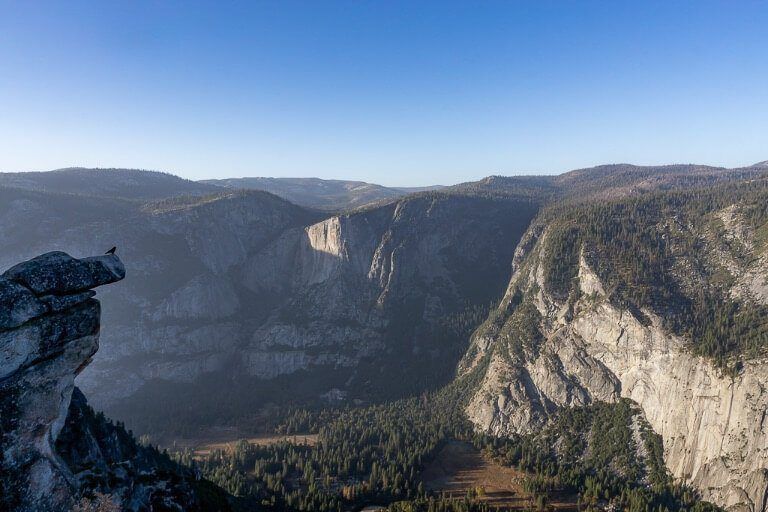 Huge bird perched on the edge enjoying its view over Yosemite Valley
Read More About Yosemite National Park

…
You May Also Like

…
Need Help With Planning Your Trip To Yosemite National Park?
Yosemite is a spectacular landscape and a firm favorite among nature enthusiasts. But it is also one of the more challenging US national parks to plan.
We have created a 50 page guidebook and itinerary filled with key information and expert advice, example itineraries for hikers and non-hikers, and all essential things to know for both planning and when you are on site in Yosemite.
If you want to make the most of your trip to Yosemite, our guidebook is the perfect resource for you.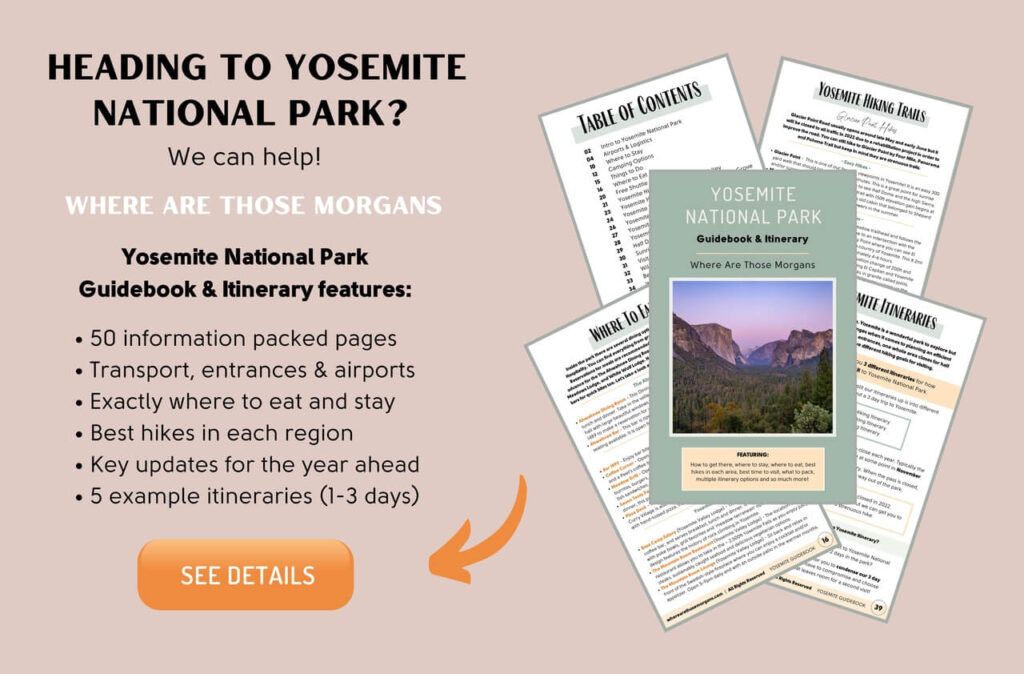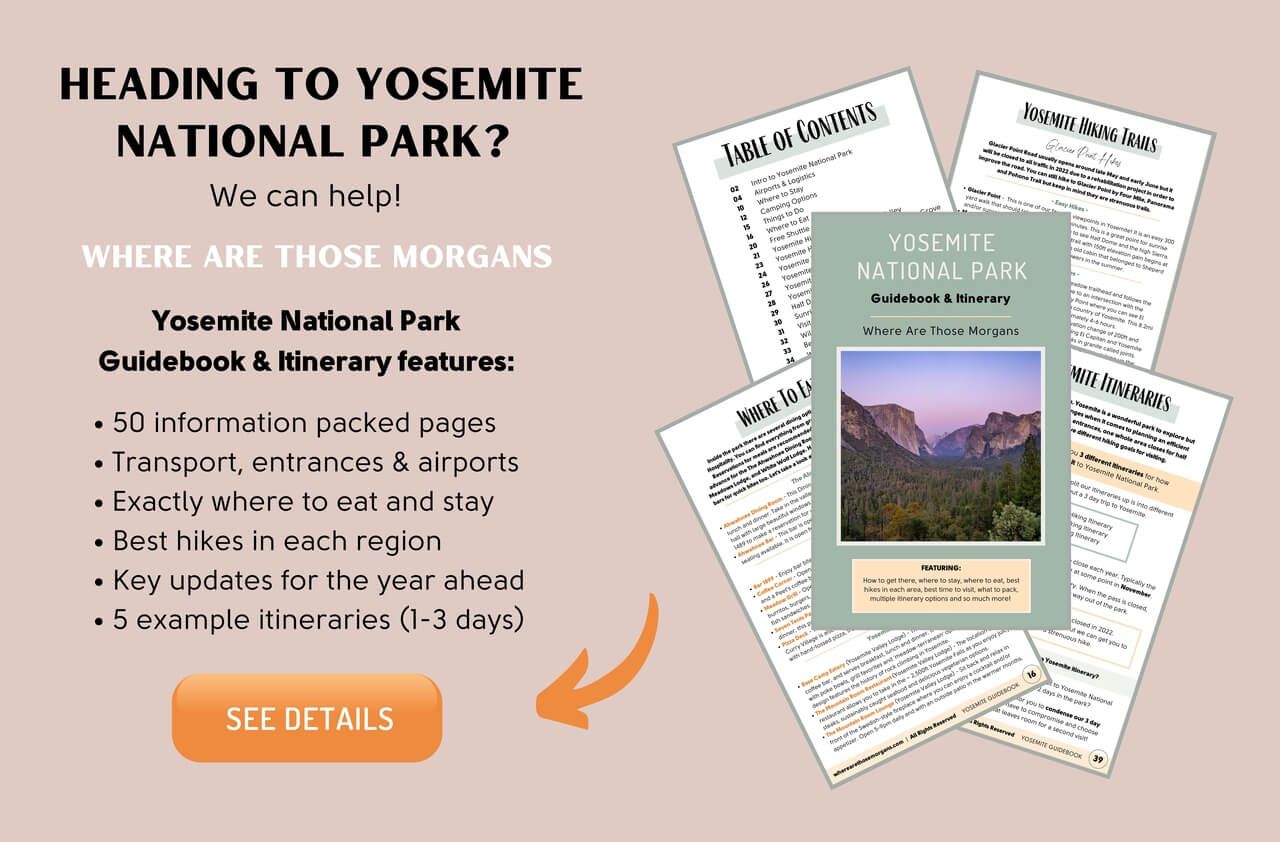 We hope this photography guide inspires you to visit Yosemite National Park!
Have you been to Yosemite? Where are your favorite photography locations in the park?
Please let us know if you have any questions or need any help planning your visit.
Happy Snapping,
Mark and Kristen
Was This Post Helpful? Pin It For Your Visit!